AFIO Weekly Intelligence Notes #27-08 dated 14 July 2008
25 July 2008 - AFIO National SUMMER Luncheon -
10:30 a.m. to 2 p.m.
Tysons Corner, Virginia

11 a.m. Speaker - Robert Wallace, Former Director of CIA's Office of Technical Service. Wallace is one of the three authors of
SPYCRAFT: The Secret History of the CIA's Spytechs,
from Communism to al-Qaeda

Befitting the topic, his talk will feature an image-rich multi-media presentation

and

Robert Wallace

Frances Townsend

1 p.m. Speaker - Frances Fragos Townsend, Esq., former White House Assistant, Homeland Security/Counterterrorism,
current member of President's Intelligence Advisory Board [PIAB],
speaking on Current and Emerging Threats

Ms. Townsend's remarks are
OFF THE RECORD
to encourage frank & spirited Q&A.

EVENT LOCATION: The Crowne Plaza
1960 Chain Bridge Road • McLean, Virginia 22102
Space limited. Make reservations now on this secure page.
---
Click here to view credits and sources, disclaimers, removal, methods of use of the links in this document.
The WIN in its entirety appears below; however, the document may also be viewed online by current members with usernames and passwords
at: https://www.afio.com/pages/currentwin.htm
Usernames and Passwords appear on AFIO Membership Cards.
They work only if the membership is current.
---
WIN CREDITS FOR THIS ISSUE: The WIN editors thank the following special contributors to this issue: dh and pjk.
All have contributed one or more stories used in this issue.
---
CONTENTS
Section I - INTELLIGENCE HIGHLIGHTS
Section II - CONTEXT & PRECEDENCE
Section IV - BOOK REVIEWS, ANNOUNCEMENTS, OBITUARIES AND COMING EVENTS
Current Calendar Next Two Months ONLY:
For Additional Events two+ months or more....view our online Calendar of Events
---
Section I - INTELLIGENCE HIGHLIGHTS
British Trade Official Accused of Espionage by Russians. Britain and Russia are facing fresh diplomatic confrontation after a British diplomat was accused of spying.

The Foreign Office confirmed the Russians suspected a senior diplomat in the British embassy's trade section of espionage. Local media in Moscow named him as Chris Bowers.

The accusation came just hours after Russia's ambassador in Britain, Yuri Fedotov, responded angrily to a string of reports quoting unnamed British security officials emphasizing the security threat posed by Russian spies in Britain. He singled out a report on BBC's Newsnight, in which a security source said there was Russian "state involvement" in the killing of former KGB officer Alexander Litvinenko in 2006 and an attempt on the life of another dissident, Boris Berezovsky.

MI5 has bolstered its counter-espionage efforts for the first time since the end of the cold war, mainly against Russian and Chinese spies in London. Counter-intelligence officers claim there are 30 agents operating out of the Russian embassy and trade mission in London - "the same level as in Soviet times". [Guardian/11July2008]

DNI Assigned to Oversee All Security Clearance Policy. The Director of National Intelligence will oversee security clearance investigations and related policies on access to classified information for all federal agencies, according to a new executive order issued by President Bush.

The move appears to significantly augment the authority of the DNI since it extends his reach to personnel policies and security clearances that are unrelated to intelligence information.

The new executive order also reiterates the familiar requirement of security clearance "reciprocity," i.e. that "background investigations and adjudications shall be mutually and reciprocally accepted by all agencies."

Illustrating why this requirement has never been satisfactorily implemented, the new order firmly prohibits agencies from imposing their own additional security requirements but then, in the very same sentence, allows exceptions for polygraph testing or, more generally, "to protect national security." [SecrecyNews/10July2008]

FBI Headquarters Not Cleared for Classified Intelligence. The Federal Bureau of Investigation, which is part of the U.S. intelligence community, has the lead responsibility for domestic surveillance of foreign intelligence and suspected terrorist targets.

So it seems like a rather crippling defect that the J. Edgar Hoover Building, the FBI headquarters in Washington, DC, cannot satisfy government standards for storage and use of classified intelligence documents.

"The Hoover Building does not meet the Interagency Security Committee's criteria for a secure Federal facility capable of handling intelligence and other sensitive information," the Senate Appropriations Committee observed in a new report on the 2009 Commerce, Justice and State Appropriations bill.

The FBI is in the process of constructing a Central Records Complex outside of Washington, DC. When completed, it will provide secure, centralized storage for classified intelligence, consistent with the security requirements of Director of Central Intelligence Directive (DCID) 6/9 and related guidelines. [SecrecyNews/10July2008]

Pentagon to Consult Academics on Security. The Pentagon has started an ambitious and unusual program to recruit social scientists and direct the nation's brainpower to combating security threats like the Chinese military, Iraq, terrorism and religious fundamentalism.

Defense Secretary Robert M. Gates has compared the initiative - named Minerva, after the Roman goddess of wisdom (and warriors) - to the government's effort to pump up its intellectual capital during the cold war after the Soviet Union launched Sputnik in 1957.

Although the Pentagon regularly finances science and engineering research, systematic support for the social sciences and humanities has been rare. Minerva is the first systematic effort in this area since the Vietnam War, said Thomas G. Mahnken, deputy assistant secretary of defense for policy planning, whose office will be overseeing the project.

But if the uncustomary push to engage the nation's evolutionary psychologists, demographers, sociologists, historians and anthropologists in security research - as well as the prospect of new financial support in lean times - has generated excitement among some scholars, it has also aroused opposition from others, who worry that the Defense Department and the academy are getting too cozy.

In its written call for proposals, the department said Minerva was seeking scholars who can, for example, translate original documents, including those captured in Iraq; study changes in the People's Liberation Army as China shifts to a more open political system; and explain the resurgence of the Taliban. The department is also looking for computational models that could illuminate how groups make what seem to be irrational decisions, and decipher the way the brain processes social and cultural norms. [NewYorkTimes/18June2008]

Pentagon Will Acquire, Build Spy Satellites. The Pentagon will buy and operate one or two commercial imagery satellites and plans to design and build another with more sophisticated spying capabilities, according to government and private industry officials.

The satellites could spy on enemy troop movements, spot construction at suspected nuclear sites and alert commanders to new militant training camps.

The Broad Area Surveillance Intelligence Capability (BASIC) satellite system will cost between $2 billion and $4 billion. It would add to the secret constellation of satellites that now circle the Earth, producing still images that are pieced together into one large mosaic.

A single satellite can visit one spot on Earth twice every day. BASIC's additional satellites will allow the photos to be updated more often, alerting U.S. government users to potential trouble, humanitarian crises or natural disasters.

The announcement of the BASIC program has been delayed for months, with Pentagon, Air Force, and National Reconnaissance Office (NRO) officials fighting over who should be in charge of buying, building and operating the satellites. They have also debated whose needs the system will cater to: senior military commanders or policy-makers in Washington.

The NRO ultimately won the right to buy and operate the satellites, besting the Air Force. And military commanders' needs trumped the White House. They will, for the first time, have the power to dictate what satellites will photograph when they pass overhead. The concept is known as "assured tasking."

Military commanders have long desired that kind of tasking control. Now, they submit their requests to a national intelligence authority that prioritizes the missions. And sometimes those requests are delayed or rejected. [Hess/WashingtonTimes/2July2008]

Cuban Spies' Ranks On Rise In State. Cuba's communist government has rebuilt its network of spies in Florida to the levels that existed before the FBI rounded up more than a dozen members of the Cuban spy Wasp Network, according to a U.S. Army expert on Cuban intelligence.

Lt. Col. Chris Simmons, an Army counterintelligence officer, said that within nine to 18 months of the network's 1998 dismantling, the number of Cuban agents and intelligence officers in the state was back up to pre-Wasp Network levels - or about 210.

Simmons' statement marks the first time a U.S. official has detailed the number of Cuban spies in Florida in recent years. He also outlined the spies' likely targets, including Cuban exile groups and U.S. military installations.

Simmons, a career counterintelligence expert, was in South Florida for interviews with local media - part of an effort to publicize the book he is writing with Ana Margarita Martinez, former wife of Wasp Network spy Juan Pablo Roque.

Simmons, who writes a periodic column for The Miami Herald's op-ed section, said he has been monitoring spies around the world since 1986 when he became a counterintelligence officer.

In the 1990s he ran Army counterespionage investigations in the United States and then switched to the Pentagon's Defense Intelligence Agency or DIA, doing Latin America counterintelligence.

Shortly after the Brothers to the Rescue shoot-down, Simmons became chief of Latin America for counterintelligence analysis at DIA specializing on Cuba. He retired from DIA recently and is now back at Army counterintelligence.

While at DIA, Simmons played a role in helping to catch Ana Belen Montes, perhaps Cuba's most significant mole within the U.S. armed forces. Montes, who was a Cuban spy for years, became the U.S. government's top intelligence analyst on Cuba at DIA. [MiamiHerald/2July2008]

South Korea Charges Two With Illegally Obtaining Military Secrets. South Korean prosecutors indicted two former naval officers on charges of stealing state secrets. The two men, now working for German submarine manufacturer Howaldtswerke-Deutsche Werft, allegedly obtained classified documents about South Korea's submarine program from a navy captain, who is also under investigation. [Jurist/7July2008]

Iranian 'Spy' Reveals Mossad Methods. The Iranian sentenced to death after being convicted of spying for Israel gave an interview with Iranian television discussing tactics used by Israeli intelligence.

The spy, Ali Ashtari, detailed the demands made of him by his Mossad handlers, who he said took advantage of his occupation as a computer broker whose clientele included top Iranian military officials.

"I was given a laptop computer so I could communicate with him and write to him by encoded and ciphered email, and he gave me two encrypted communication devices that I was to give to my clients, to test them out," said Ashtari, adding that he was told by his handlers to plant bugging equipment in the electronics he sold to his customers.

Ashtari says that among his clients were military acquisition officers from the Iranian defense ministry; and his handlers were apparently expecting to obtain information regarding Iran's missile program.

In a staged interview in the grand tradition of Iran's state-owned media, the spy was asked "if a senior military official asks to trade in an appliance or have it fixed, what do you do with it and how do you switch it?"

In response Ashtari said: "I take it to the company and it agrees to exchange or fix the appliance for him. The senior official who gave me the appliance becomes an intelligence source without his knowledge and I pass that information on, and tell them he has given me his equipment."

Ashtari goes on to explain that by bugging GPS (Global Positioning System) units Mossad agents were able to "see where that person was, know what he has and where he can be found."

Throughout the interview Ashtari is calm and composed - though one might expect someone convicted of an offense as grievous as spying for Israel to undergo physical or psychological torture, and that some sign of this would be apparent in his demeanor. [Ynet/10July2008]
---
Section II - CONTEXT & PRECEDENCE
Spy Cases Raise Concern on China's Intentions. Gregg W. Bergersen was a Navy veteran worried about how to earn some serious money after he left his career as an analyst at the Defense Department.

At 51 and supporting a wife and a child in the Virginia suburbs, he wondered how he could get a rewarding post-retirement perch at one of the military-related companies around the capital that flourish off lucrative government contracts and contacts.

Mr. Bergersen believed he had found what he was seeking when he was introduced to Tai Shen Kuo, a native of Taiwan, who had lived in New Orleans for more than 30 years. Mr. Kuo, an entrepreneur who imported furniture from China, was active enough in civic affairs to have been named to a state advisory board on international trade. He told Mr. Bergersen that he was developing a defense consulting company.

Now, Mr. Bergersen and Mr. Kuo, along with a third accomplice, are awaiting sentencing in a federal court for their involvement in one of many cases brought in the last year involving the illegal transfer of information to China.

The cases have intensified the evaluation in intelligence and law enforcement circles about the breadth of the threat from Beijing. Many have been similar to the one involving Mr. Bergersen, in that prosecutors describe them as carefully planned intelligence operations run by the Chinese government intended to steal national security secrets. Other cases, however, are less clear in their nature; some seem to be closer to violations of commercial export laws, with the transferred information intended to provide Chinese companies a technological benefit.

According to court papers and interviews, Mr. Kuo and his Chinese handlers ran what intelligence professionals call a "false flag" operation on Mr. Bergersen, a weapons systems analyst, making him believe that the information he was providing was going to Taiwan, an American ally, not Beijing. Nonetheless, surveillance tapes made by the Federal Bureau of Investigation showed that Mr. Bergersen understood he was engaged in a serious crime.

While Mr. Bergersen may have convinced himself that the offense was attenuated because the information was going to Taiwan, evidence shows he took the risk mainly because Mr. Kuo regularly promised to take him in as a partner in a defense consulting firm after he retired from the Pentagon and pay him $300,000 to $400,000 a year. Mr. Kuo also gave him small gifts and took him to Las Vegas, where he treated him to expensive shows and paid for his wagering, all of which were observed by F.B.I. agents.

Beyond the case of Mr. Bergersen, prosecutors in the last year have brought about a dozen cases involving China's efforts to obtain military-grade accelerometers (used to make smart bombs), defense information about Taiwan, American warship technology, night-vision technology and refinements to make missiles more difficult to detect.

In interviews, current and former intelligence and law enforcement officials demonstrated uncertainty as to the precise scope of the problem of Chinese espionage. But many officials offered a similar description of the pattern of the cases: Chinese government and state-sponsored industries have relied on the Chinese diaspora - using immigrants, students and people of second- and third-generation Chinese heritage - and regular commercial relations to operate a system in which some people wittingly or unwittingly participate.

One official described China's information-gathering efforts as "a full-court press and relentless." Analysts say China is involved in a well-orchestrated, deeply thought-out, strategic campaign.

One clue as to the degree of coordination of some of the operations is buried in court papers in the Bergersen case. According to one F.B.I. document, the mastermind was an unnamed Chinese government official based in both Hong Kong and Guangzhou, an industrial center formerly known as Canton. The official, identified only as "PRC official A," is described by people familiar with the case as a senior Chinese intelligence official who had been a central figure in two other recent Chinese espionage operations.

PRC official A, these people said, had also helped coordinate the activities of Chi Mak, a Chinese-born engineer who was sentenced in March to more than 24 years in prison for selling naval secrets to China. The information was not classified, Mr. Mak's lawyers argued at trial, although it was illegal to provide it to China.

Mr. Brenner noted testimony showing that Mr. Mak was a "sleeper agent" who worked his way up in the military contracting industry, an ascent he said "bespeaks a patience that the Chinese are especially good at."

At the trial, prosecutors presented a "tasking list" from Chinese government handlers that set forth a catalog of naval information Mr. Mak was to obtain. "You can get to know the dragon by its claw, and the list was a clear picture of the dragon's claw," Mr. Brenner said.

Mr. Mak and PRC official A also figure in a third major case, the one involving Dongfan Chung. Mr. Chung, a former Boeing engineer known as Greg, was convicted on economic espionage charges for providing China with company trade secrets related to several aerospace programs, including the space shuttle.

The documents say Mr. Chung decided to spy for China partly out of patriotic sentiment. A letter from a Chinese official to Mr. Chung read in part, "It is your honor and China's fortune that you are able to realize your wish of dedicating yourself to the service of your country."

The appeal to ethnic loyalty raises the sensitive issue of whether the authorities have reason to be more suspicious of Chinese researchers and students. Wen Ho Lee, a former scientist at Los Alamos National Laboratory was arrested in 1999 on 59 counts involving espionage and China. All but one of the charges was dropped after a judge found significant problems with the government's case.

Dr. Lee and many supporters contended that he had been unfairly singled out because of his Chinese heritage. He eventually received a settlement from the government and from several news outlets, including The New York Times, that had reported the early suspicions.

Steven W. Pelak, the export enforcement coordinator in the counterespionage section of the Justice Department, said there was an inherent protection against resorting to profiling or stereotyping. Almost all of the department's cases involving suspected Chinese espionage, Mr. Pelak said, come from companies that report a commercial inquiry or request that seems suspicious and not through surveillance because someone has Chinese heritage or connections.

It is also impracticable to keep close track of Chinese visitors to the United States, since they number about 600,000 a year, in addition to 60,000 students here at any one time. Chinese intelligence officials apparently believed that the Kuo-Bergersen channel had enough potential to assign a professional intelligence officer to live in New Orleans to act as a "cut-out," or intermediary, between Mr. Kuo and PRC official A. That person was Yu Xin Kang, a 33-year-old woman who was the third accomplice charged in the case.

Mr. Kuo was provided $50,000 by his Chinese handlers, which he used largely to get close to Mr. Bergersen by paying for trips, restaurant meetings and small gifts. At one point, according to F.B.I. surveillance tapes, Mr. Bergersen recounted how his wife discovered a large wad of cash he had received from Mr. Kuo. Thinking quickly, Mr. Bergersen told her it was gambling winnings from a European trip. To his dismay, she said she was entitled to half and took it. After Mr. Bergersen related this bit of ill fortune, Mr. Kuo offered to compensate him for the difference, but Mr. Bergersen declined.

Mr. Bergersen faces up to 10 years in prison at his scheduled sentencing Friday in Alexandria, Va. Mr. Kuo and Ms. Kang, scheduled for sentencing later this summer, face life in prison. [Lewis/NYTimes/10July2008]

---
African Smuggling Ring Possible US Terror Threat. The US government is concerned that operations that smuggle people from Africa into the US could be used to sneak terrorists into the United States now that passports and other travel documents have become harder to acquire and more difficult to fake.

Intelligence officials are focusing new attention on these networks that smuggle people from Djibouti, Eritrea, Somalia and Sudan - known havens for terrorists, including al-Qaida - according to an internal government assessment obtained by The Associated Press.

In the 12 months that ended last Sept. 30, U.S. officials caught 372 East Africans trying to get into the country, the assessment said. This is the most from these countries since the Homeland Security Department was formed in 2003. And 159 people from the same countries have been caught trying to enter since Oct. 1 - including 138 from Eritrea, far more than any other country in the Horn of Africa.

Authorities shut down one major East African pipeline in 2007, according to court documents reviewed by AP.

Mohammed Kamel Ibrahim, a 26-year-old Ghana citizen living in Mexico known as "Silk the Shocker," wrote in an Oct. 24, 2006, e-mail to an associate that he would have no problem smuggling somebody into the United States.

"i will pay my immigration friend 2 days before he comes so that he can be waiting for him immediately he gets out of the flight. that way there is no questioning," Ibrahim wrote in the same e-mail.

All of this would cost $5,000. Ibrahim explained that if the client wanted to pay $2,000 less, he would have to answer questions from authorities himself and not benefit from the corrupt immigration official.

Ibrahim, the accused ringleader, and his partner, Sampson Lovelace Boateng, a 53-year-old Ghana citizen living in Belize, known as "Pastor," were arrested last year in Mexico City and at the Miami airport, respectively. Their organization accounted for most of the pipeline from East Africa to the U.S., officials say.

According to documents filed in the U.S. District Court for the District of Columbia, the smugglers had associates in Africa, typically corrupt officials. And they chose their routes based on which transit points employ easily bribed authorities.

Routes have included traveling from East Africa to Johannesburg, South Africa, and from Johannesburg to Sao Paulo, Brazil. East Africans also flew from Abu Dhabi, Dubai, or Rome to Bolivia, Brazil, Cuba, Mexico and Venezuela in 2007, according to the intelligence assessment. In addition, the smugglers have access to fake and real Belizean, Bolivian, Chilean, Mexican, Peruvian and South African visas.

In the Boateng and Ibrahim smuggling cases, people were stored in luggage compartments of buses for as long as 12 hours and driven to the U.S.-Mexican border. The smugglers escorted clients as they walked across the border into the U.S. between official entry ports.

Ibrahim and Boateng used international carriers DHL and Federal Express to deliver payments and travel documents.

On July 29, 2006, Ibrahim sent an e-mail to an unidentified associate: "i have a visa deal from ethiopia but it is a little bit expensive. I am currently in Belize to collect for some guys. i will get it in 3 days but it will cost 5000usd."

The $5,000 would cover the visa and corrupt officials - the full smuggling package.

East Africans are mostly coming to the U.S. to find a better life because of job opportunities that don't exist in their home countries.

One senior intelligence official said there's little evidence yet of East Africans trying to cross into the U.S. to engage in terrorist activity. The official requested anonymity because the information in the assessment is not public.

As computer chips and biometrics are required more often for travel documents, terrorists will have a more difficult time entering the U.S. and could potentially use these smuggling routes as an alternative, said Hatfield, the immigration official who heads the human smuggling division.

The number of smuggling networks has remained steady over the past 10 years, with the highest concentration in Latin America, Hatfield said. It's the price and violence that have gone up. Ten years ago, it might have cost $500 to go from Mexico to Texas, whereas now it could cost up to $2,000.

People with terrorist ties still try to enter the country legally or with fake documents, Hatfield said, but ICE is keeping an eye on other potential methods now that there are heightened security checks. "We're watching those closely," he said.

Terrorists will continue to use whatever means necessary to get into the United States - including smuggling networks, said Janice Kephart, a former counsel on the Sept. 11 Commission. Because it's much harder to use false documents than it once was, these smuggling networks offer a good way to get into the country anonymously, she said.

The East African countries that Homeland Security is watching all have weak enforcement in place for travel documents and have connections to organizations with anti-American causes, Kephart said. [AP/7July2008]

---
Section V - BOOK REVIEWS, ANNOUNCEMENTS, OBITUARIES AND COMING EVENTS
Derring-do in revolutionary Russia: Alan Judd reviews Operation Kronstadt by Harry Ferguson. Until the October Revolution in 1917 Russia was a very important, if suffering and uncertain, partner to the Western Allies in the First World War. When the Bolsheviks seized power, aided by the Germans (who smuggled Lenin into Russia), the peace they made enabled the German Army to launch its last great attack - the Spring Offensive of 1918 - on the Western Front.

Civil war ensued in Russia as the divided Whites struggled to overthrow the better organised and more systematically brutal Reds. Allied policy was driven by a desire to get Russia back into the war on the right side, or at least to stop it aiding the Germans, and to limit the spread of the Bolshevik infection.

However, cost, war-weariness and divisions at home meant that strategy vacillated. Britain - the major player - intervened with naval and military forces substantial enough to merit the undying enmity of what became the Soviet Union, but insufficient to do the job the Whites kept failing to do.

Intelligence operations accompanied the military and naval forces, later recorded in a surprising number of published accounts (including Somerset Maugham's). Among the most vivid and exciting were those by Sir Paul Dukes, a musician, and Lieutenant Augustus Agar, V.C., D.S.O., RN.

This book draws on the accounts and unpublished papers left by those two young men.

Dukes was a precociously gifted pianist sent to pre-war Russia to further his studies, during which he learned to speak Russian as a native. By 1918, in the confusion following revolution, news of what was happening in Russia was very scarce - the British Embassy was sacked and the population cowed by Lenin's Red Terror.

Mansfield Cumming, the Chief of MI6, had previously worked closely with the Russians but was now tasked to send agents into the hostile chaos in order to find out what was gong on. Among these agents was the volunteer Dukes, whose mission was to establish - or re-establish - an agent network.

It was dangerous work. Not only was the formidable Cheka, forerunner of the KGB, getting into its stride, but there was hunger, hardship, violence, civil disorder, a state of war in the border areas and no knowing who could be trusted.

During two missions Dukes performed his almost impossible task brilliantly, enduring hair-raising and exhausting border crossings, sleeping in graves and, under various names, joining the Red Army, the Communist Party, the Petrograd Soviet and the Cheka itself.

Most of his reports have not survived but the fact of his knighthood on return - unique in the annals of MI6 - suggests their quality; for a period, the only information coming out of Russia was from Cumming's agents.

Lieutenant Agar, meanwhile, was experimenting with Coastal Motor Boats (CMBs) in Essex. These were early versions of what in the next war would be known as MTBs - Motor Torpedo Boats. They were very fast, very flimsy and very temperamental. Powered by aero-engines that were allergic to sea-water, each had to launch its torpedo from the stern and then get out of its way.

Agar was ordered with two boats and their crews to the Gulf of Finland on a secret mission: they were to get someone (Dukes, though they didn't know it) out of Russia. Fortunately, they were also put under the command of the senior naval officer in the Gulf - the firebrand Admiral Cowan - for any naval operations.

They never did meet Dukes; the rendezvous failed and he was eventually exfiltrated by a courageous courier. By the time the two men met afterwards in Cumming's Whitehall office, however, Agar and his crews - courtesy of Admiral Cowan - had virtually destroyed the capital ships of the Russian Baltic fleet.

Ferguson's account of both sets of operations is exciting and his enthusiasm - particularly for Agar's, of which more is known - is infectious.

He rightly credits humble contributors, such as the Russians who bravely sheltered Dukes, or Agar's genius of a mechanic, Hugh Beeley, and his notes are comprehensive and interesting.

But the book is warped by two needless, self-imposed disabilities. Firstly, he assumes the false omniscience of television drama documentary - 'he muttered under his breath' - almost as if he wrote with that in mind. Also, he often slips into the thriller clichés of an earlier era - 'all hell broke loose'.

Secondly, he seems to have chips on both shoulders about Cumming in person and MI6 in general. Almost every mention of either is disobliging or bitter, and sometimes plain wrong.

Of course there were cock-ups and mistakes, as always in espionage and war - particularly when the two combine - but the MI6 contribution in this area and others was greater than Ferguson sees (or perhaps wants to see), as will become evident when Keith Jeffery's authorised history is published.

Also, if Dukes was as badly handled by MI6 as Ferguson maintains, it is odd that he should have dedicated his account to Cumming and gone on to work for him later.

Ferguson is apparently a former MI6 officer and his book feels as if some grudge is being worked off. That's a pity, because it vitiates a good story that was due for retelling.

But it doesn't altogether ruin it and there are some surprises: Dukes's other contribution was that he was largely responsible for introducing yoga to the Western world. [Judd/Telegraph/13July2008]

---
SCIP Chapter Events: The Society of Competitive Intelligence Professionals (SCIP) has a number of upcoming chapter events. Please visit their website at www.scip.org for more information.
---
Ruth Greenglass, Witness in Rosenberg Case, Dead at 84. Ruth Greenglass, whose testimony in the sensational Rosenberg spy trial helped send her sister-in-law Ethel Rosenberg to the electric chair, has died. She was 84.

Greenglass had been living under an alias to avoid association with the Cold War case that led to the execution of Julius and Ethel Rosenberg in 1953.

Her death was revealed in court documents filed in late June. She died in New York on April 7, according to Social Security records.

Greenglass and her husband, David, were pivotal figures in the spy case. They confessed to being part of an effort to smuggle secrets to the Soviets, and turned in the Rosenbergs, their relatives, as the spies who recruited them to the task.

Historians continue to debate the truthfulness of their testimony concerning Ethel Rosenberg, whose guilt has long been questioned.

During the 1951 trial, the couple said they saw Ethel Rosenberg transcribing stolen atomic secrets on a portable typewriter in her New York apartment.

Their account was the best piece of evidence linking Ethel Rosenberg, David's sister, to an alleged plot to steal research data from the Manhattan Project.

By cooperating, David Greenglass, a wartime machinist in Los Alamos, N.M., who had been charged along with the Rosenbergs, was spared a possible death sentence. He served 10 years in prison. Ruth Greenglass was never charged.

Since then, decoded Soviet cables have seemed to confirm that Julius Rosenberg was a spy, but doubts have remained about Ethel's involvement.

David Greenglass has said in recent years that he made up the account about the typewriter to protect his wife, who, he claimed, may have also improvised the tale to appease prosecutors.

Born Ruth Leah Printz in 1924, Greenglass grew up on the Lower East Side of Manhattan, where she married as a teenager and became involved in Socialist causes.

David Greenglass said Julius Rosenberg recruited him to work as a spy after he was assigned to Los Alamos, where the Atomic bomb was being developed. The two were partners in a machine shop after the war ended.

After her husband's arrest in 1950, Ruth Greenglass was implicated as a coconspirator, but never charged. Following his release from prison, the couple lived in the New York area with their children under assumed names. Her husband is still alive.

Historians are seeking access to sealed grand jury transcripts from the Rosenberg case. The U.S. attorney's office in Manhattan said in a June 23 court filing that it would not oppose the release of transcripts from witnesses who have died or agreed to make their statements public. [Caruso/AP/11July2008]

Donald V. Mulcahy; CIA Administrator. Donald Vincent Mulcahy, 89, a senior administrator with the CIA who joined the agency when it began in 1947, died of complications of a respiratory ailment June 26 at the Fountains at Washington House, a retirement community in Alexandria.

He was born in Brockton, Mass., and graduated from Boston College. He served in the Navy during World War II and helped save the lives of several sailors when an oil container ship exploded while docked in the harbor at Recife, Brazil. He received the Navy and Marine Corps Achievement Medal for his efforts.

After the war, he returned to Boston College and earned a master's degree in sociology.

In 1947, he moved his family to Washington and began recruiting for the CIA. He retired from the agency as senior administrator in 1975.

He lived in Annandale before moving to Alexandria nine years ago.

His wife, Helen "Buddy" Mulcahy, died in 1999. Two sons also preceded him in death, Kevin Mulcahy in 1982 and Brendan Mulcahy in 1998.

Survivors include four children, Sheila Finan of Reston, Colleen Scott of Naples, Fla., Brian Mulcahy of Towson and Shawn Mulcahy of Annandale; 16 grandchildren; and 10 great-grandchildren. [Lamb/WashingtonPost/8July2008]

---
EVENTS IN COMING TWO MONTHS....
Monday, July 14, at 6:00 pm - AFIO Las Vegas hosts LTC Troy L. Sullivan III, USAF Commander, Air Force Office of Special Investigations [AFOSI], Detachment 206. Place: The Officers' Club at Nellis Air Force Base. All guests must use the MAIN GATE located at the intersection on Craig Road and Las Vegas Blvd. Address: 5871 Fitzgerald Blvd., Nellis AFB, NV 89191 Phone: 702-644-2582. For further information contact Christine J. Eppley, Chapter Corresponding Secretary at 702-295-0073 or at eppley@nv.doe.gov
Tuesday, 15 July 2008, 1130 to 2 - Arlington, VA - the National Intelligence Forum hosts a luncheon at Dan & Brads, Arlington Hilton, 950 N Stafford St. Arlington, VA 22203. PRINCIPAL SPEAKER: Mr. Stan Koryta, Technology Protection and Intelligence Coordination for Concurrent Technologies Corporation Huntsville Operations. For further information or to register email events@niefoundation.org
17 July 2008, 11:30 am - Colorado - AFIO Rocky Mountain Chapter meets at the Air Force Academy Officers Club. The luncheon features speaker Lt. Col. Joe Derdzinski, USAF about his experience in OSI and the evolution of internal security in a struggling Democracy. Please R.S.V.P. to Tom Van Wormer at 719-570-8505 or robsmom@divide.net The Buffet is $10.00.
19 July 2008 - Kennebunk, ME - AFIO Maine hosts former CIA operations officer, Bill Murray, on tension between India and Pakistan. Murray will be talking about the present tension between Pakistan and India. While not currently making headlines, the tensions between these two nuclear powers remains a prime concern. The threat posed by Taliban terrorists in Pakistan adds to an already unstable situation. The meeting, open to the public, will be held at the Kennebunk Free Library, 112 Main Street, Kennebunk at 2:00 p.m. For information call 207-364-8964.
Monday, 21 July 2008, 6:30 pm - Washington, DC - "Hot Topics, The FBI at 100: Beyond the Turf Wars" at the Spy Museum. In 1970, J. Edgar Hoover cabled FBI field offices "to discontinue all contact with the local CIA office." But twenty years later a new era of collegiality began with the Ames case. Former DCI George Tenet considered this to be "the jumping-off point in taking cooperation between the FBI and CIA seriously." Join two intelligence insiders as they discuss the murky truth and myth of Agency-Bureau relations—past, present, and future. In 1974, Ray Batvinis was assigned to the new untested role of Washington Field Office liaison with the local CIA base. As liaison, and throughout his 25 year FBI career, Batvinis worked closely with the CIA in joint counterintelligence training at FBI headquarters and in the field, and on a wide variety of specialized case management issues. He is joined by Burton Gerber, a 39-year veteran of the CIA, where he served as chief of station in three Communist nations and led the Agency's Soviet and European operations for eight years. He is currently a Professor in the Practice of Intelligence at the Georgetown University Center for Peace and Security Studies. The perspective of these experts will reveal the truth behind the turf wars. Tickets: $15; Advance Registration required. Tickets are non-refundable and do not include admission to the International Spy Museum. To register, call 202-393-7798; order online at www.spymuseum.org or in person at the International Spy Museum.
25 July 2008, 10:30 am to 2 pm - Tysons Corner, VA - AFIO National SUMMER Luncheon Frances Fragos Townsend, former White House Assistant, Homeland Security/Counterterrorism, current member of the President's Intelligence Advisory Board [PIAB], speaking on Current and Emerging Threats. Morning speaker is Robert W. Wallace, former Director of CIA's Office of Technical Service. Author of SPYCRAFT: The Secret History of the CIA's Spytechs, from Communism to al-Qaeda. Ms. Townsend served as Assistant to President George W. Bush for Homeland Security and Counterterrorism and chaired the Homeland Security Council from May 2004 until January 2008. She previously served as Deputy Assistant to the President and Deputy National Security Advisor for Combating Terrorism from May 2003 to May 2004. Ms. Townsend is currently providing consulting services and advice to corporate entities on Global Strategic Engagement and Risk as well as Crisis and Contingency planning. Ms. Townsend is a Contributor for CNN and has regularly appeared on network and cable television as a counterterrorism, national and homeland security expert. She has received numerous awards for her public service accomplishments. Ms. Townsend is a member of the Council on Foreign Relations and serves on the President's Intelligence Advisory Board. Mr. Wallace, a 32-year CIA veteran, served as Deputy Director and Director of the CIA's Office of Technical Service and directed the office's global response to the 9/11 terrorist attack on the United States.
Thursday, 31 July 2008, 12 noon – 1 pm – Washington, DC – "Marching Toward Hell: America and Islam After Iraq, at the Spy Museum. Free lunchtime author debriefing and book signing. Long before Osama bin Laden's name was known to all, Michael Scheuer was chief of the unit in charge of tracking him at the CIA. His expertise became understanding the motives and missions of Islamic extremists. That experience, and his role as the first chief of the U.S. government's rendition program, uniquely positions Scheuer to comment on national security issues. In Marching Toward Hell, Scheuer argues that because politicians in both parties have not made protecting Americans their first priority, U.S. citizens are in a worse position today than before 9/11. Based on his knowledge of foreign policy and his own background, Scheuer contends that every leading presidential candidate is getting it wrong. Join Scheuer to learn how he believes we have failed and his thoughtful suggestions for righting the course. Free, no registration required.
Thursday, 31 July 2008, 6:30 pm - Washington, DC - "Elite Surveillance Team" at the Spy Museum.
Can you spot an enemy spy or elude hostile surveillance? At the International Spy Museum Elite Surveillance Team (SPY/EST) under the leadership of former CIA officer Tony Mendez, you'll learn how to establish your own surveillance zone, design surveillance detection runs (SDRs), and then work with and against your teammates to test your skills. SPY/EST will meet at least quarterly and then work together as a team to further develop and perfect a surveillance zone and their own SDRs using the guidelines prepared by Mendez for training actual intelligence agents. Tickets: $180; Advance Registration required. Tickets are non-refundable and do not include admission to the International Spy Museum. *Includes four meetings with Mendez within membership year and guidelines on developing Surveillance Detection Runs. To register, call 202-654-0932 or email kray@spymuseum.org.
2 August 2008 - Melbourne Beach, FL - AFIO Florida Satellite Chapter Luncheon on U.S./Mexico Border Security. Mr. Alberto Lee will speak on this important topic at the Indian River Colony Club [IRCC], starting with a social hour at 11:30 a.m. followed by Lunch at 12:30 p.m. Send inquiries and registrations to Donna C at donnacz12@aol.com up to July 24. Cost is $17 pp.
Wednesday, 6 August 2008, 7:30 p.m. - Orange Village, OH - "America's Oil Dependence and What It Means for Our Future" featuring Dr. Gal Luft, Executive Director of the Institute for the Analysis of Global Security. Refreshments. No charge to attend. For location or further information contact mommybag@aol.com
Thursday, 14 August 2008, 6:30 pm - Washington, DC - "Spies on Screen: Rendezvous" - David Kahn at the Spy Museum. The 1935 film, Rendezvous, stars William Powell, a Washington, DC newspaperman turned code breaker during World War I. In his attempts to find a stolen code book, he must handle a ring of German spies, an assassination, and an attractive military mistress with sinister intentions. After the film, David Kahn, a leading expert in the history of cryptology and author of The Codebreakers, will discuss the historical basis for this romanticized account of high states WW I code-breaking. Tickets: $15; Advance Registration required. Tickets are non-refundable and do not include admission to the International Spy Museum. To register, call 202.393.7798; order online at http://www.spymuseum.org.
14 August 2008 - 23 August 2008 - UK to Russia - A Cold War Summit: From Cambridge To Moscow - Special Excursion explores history of Cold War, follows Cambridge Spy Ring in UK/Moscow, and an up-close look at Putin's latest movements of his intelligence services. Once-in-a-lifetime Trip with unusual, first-hand onsite presentations. This important one-time trip is organized and hosted by AFIO Members Dan Mulvenna and Nigel West. Purpose: To explore the history of the Cold War and its manifestations; to examine British and American-Russian relationships from 1945 to 1991; to delve into recent events that suggest the Cold War has new dimensions in Vladimir Putin's Russia, and to follow the path of the infamous Cambridge Five in England and Russia.
The price of oil had dropped, starving the Kremlin of the funds it desperately needed to keep pace in the arms race against the United States. Then all it took was the nudge of Gorbachev's perestroika and the dominoes began to fall: Afghanistan, Poland, Czechoslovakia and, finally, the Berlin Wall itself. Twenty years later and the price of oil is at an all-time high, and Russia has reemerged as a global superpower, albeit with a new ideology — capitalism. Flush with the confidence of petrodollars, the Kremlin is rattling its saber in Europe once again. And a former Russian spy, Alexander Litvinenko, dies in a London hospital, mysteriously poisoned by a fatal dose of radiation.
- Study Leaders, Nigel West — author of VENONA and other respected books on security, intelligence and espionage — and counterintelligence expert Dan Mulvenna, take you behind the curtain of Cold War intelligence and espionage.
- Discover hidden spy sites in Moscow with a former KGB colonel and Dan Mulvenna, security expert and professor at the Centre for Counterintelligence and Security Studies in Washington.
- Hear about the death of Alexander Litvinenko from a Russian consultant to the BBC's Panorama program.
- With staff at the Churchill Archives Centre, explore Cold War materials from its collection.
- Enjoy a reception with retired KGB officers in Moscow.
- Go behind the scenes at Bletchley Park, where codebreakers decrypted and interpreted Axis messages and broke the German Enigma Code during World War II.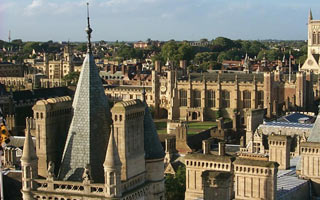 8 nights; 17 meals; 8 Breakfasts, 3 Lunches, 6 Dinners
$4,950.00 pp Group size limited to 48 or fewer participants

Itinerary: From Cambridge, England, to Moscow, Russia, from the "Cambridge Five" to Gary Powers to the recently murdered Russian spy Alexander Litvinenko, trace the trail of diplomacy and intrigue from the height of the Cold War to the global chess match with Russia today. With privileged access to unrivaled authorities in the fields of espionage and in 1950s Cold War politics, gain an understanding of the foreign policy conducted in public and the intelligence machinations that continue in the shadows. In this one-time program, join important writers and thinkers, including Andrew Lownie, Piers Brendon, Mike Sewell and Richard Aldrich to discuss the ramifications and intricacies of the "war," as well as commentators Glenmore Trenear-Harvey and Boris Volodarsz, to consider whether the Cold War has recently reemerged in Putin's Russia. Leading the way is Nigel West. Former member of the House of Commons and author of more than a dozen books on espionage, Nigel is considered the "expert's expert" on intelligence.
Based at the elegant Møller Center at Churchill College, Cambridge University, track the "Cambridge Five" - the ring of Soviet spies who passed information to the KGB and who infiltrated the British establishment. Follow in the footsteps of the notorious spies on a walking exploration through Trinity, St John's and King's Colleges. Explore Cold War materials in the Churchill Archives Centre, which houses Sir Winston Churchill's papers, as well as those of Margaret Thatcher and other prominent figures of the 20th century. At Bletchley Park - also known as "Station X" - see one of the Enigma Machines, including the rare "Abwehr G312," and check out the tales of World War II code-breaking, spies and strategic deception.
Continue the exploration of the Cold War from the other side, in Moscow. A retired senior KGB officer and Dan Mulvenna — professor at Washington's Centre for Counterintelligence and Security Studies — lead you on an exploration of spy sites throughout the Russian capital. See the graves of Kim Philby, the great British spy, and those of the famous "illegals" Rudolph Abel (Willie Fisher), Konon Molody, known to the West as Gordon Lonsdale, and Ramon Mercader — Trotsky's assassin. Go behind the scenes to areas not open to the public and learn about the Russian intelligence services and counter-terrorism at the FSB (formerly KGB) Intelligence Museum, located just off Lubyanka Square. Receive "briefings" on the KGB's view of the Cold War and on several famous Cold War spy cases by former KGB officers who have intimate knowledge of the affairs. Hear from Colonel Oleg Nechiporenko — Lee Harvey Oswald's first case officer at the Mexico City KGB station. Then meet and mingle with distinguished senior retired KGB officers at an elegant farewell reception.
Please Note: This program will operate only once and has a maximum capacity of 48. Each of two groups of 24 will have its own Group Leader and motorcoach but all participants will attend program events together. To explore or register for this once-in-a-lifetime excursion, visit:
http://www.roadscholar.org/prog/adv-main.asp?C=Y&src=%2Fprog%2Fadv%2Dmain%2Easp&Id=1%2D433E2Q

Sunday, 17 August 2008, 8:30 am - 5:00 pm - Summit Point, WV - "Drive To Survive: Anti Terrorist Driver Training" at BSR, 2026 Summit Point Rd., Summit Point, WV 25446.
For over thirty years BSR has trained the people whose lives depend on top-notch evasive driving - from hostage rescue personnel to counterterrorist units. As the recognized leader in vehicle anti-terrorist training for military and governmental application worldwide, BSR has developed a state-of-the-art program. Now they have custom-designed an exclusive one-day opportunity for SPY highlighting the best of their longer courses. The BSR Shenandoah Valley training center has acres of paved and dirt road circuits, skid pads, an off-road training arena, and instructors who have firsthand experience driving for their lives. Tickets: $1,200 (includes 6% WV sales tax); Advance Registration required. Phone registration only for this program, call 202.654.0932.
Tuesday, 19 August 2008 – Vienna, VA - THE SIXTH ANNUAL AFIO SOCIAL EVENT - The Boston Pops at the Wolf Trap Park in Vienna, Virginia. This year we have moved the annual social from Boston's Symphony Hall to the Wolf Trap Foundation for the Performing Arts on Tuesday, August 19 at 8:00 PM. The concert choice will once again be the Boston Pops Esplanade Orchestra.
Contact Mr. Wass and use AFIO Social in the subject line at wassinmaryland@aol.com if you would like to attend the pre-concert AFIO social at Wolf Trap. Reservations are now being taken however since we have limited amount of seats available for the social, we recommend contacting us before purchasing your concert tickets.
For those who plan on attending the concert and social at Wolf Trap [located at 1645 Trap Road, Vienna, Virginia 22182], you must purchase concert tickets directly through Wolf Trap for seating choices. RSVP requested before July 19. Wolf Trap Box Office - (703) 255-1868 to purchase tickets. http://www.wolftrap.org No portion of your purchase constitutes a donation to AFIO; therefore this is strictly a social event.
Monday, 15 September 2008 - New York, NY - AFIO New York Metro Chapter evening meeting on "How Baghdad Thieves Stole Iraq's Antiquities and CTTF Recovered the Stolen Loot." Colonel Matthew Bogdanos, U.S. Marine Corps Reserve -- the Author of "Thieves of Baghdad" explains how the Baghdad thieves stole Iraq's antiquities and how our counter-terrorism Task Force caught them and recovered their loot. Bogdanos led the investigation. He was awarded the Bronze Star for counter-terrorism operations in Afghanistan. He is currently an Assistant District Attorney in Manhattan. Buffet dinner and open bar - $40. per person. 5:30 PM - 6:00 PM Registration. Meeting starts 6:00 PM. New Location: 4 Columbus Circle (58th Street and 8th Avenue) The showroom space of STEELCASE, the global leader in the office furniture industry. Further information available from afiometro@yahoo.com
Thursday, 25 September 2008, 12:30-2:30 pm - Los Angeles, CA - AFIO L.A. Area Chapter hosts speaker on OPEN SOURCE INTELLIGENCE. Jake Katz, Assistant Director Emergency Operations Bureau for the Los Angeles County Sheriff's Department will discuss "Open Source Intelligence – The Sheriff's Approach." Event being held at the Hilton business building located at the LMU campus (Playa del Rey). Complimentary buffet lunch will be served, guests are welcome. Please RSVP by Monday September 15, 2008 via email to Vincent Autiero: AFIO_LA@yahoo.com
Tuesday, 2 December 2008 - New York, NY - AFIO NY Metro Chapter meeting features speaker Gordon Chang, author of NUCLEAR SHOWDOWN and THE COMING COLLAPSE OF CHINA.
Meeting location - 4 Columbus Circle in the NYC showroom of the office furniture manufacturer - Steelcase. Attractive, spacious, modern space overlooking Central Park.
58th Street and 8th Avenue. Buffet dinner and open bar: $40.00 per person 5:30 PM - 6:00 PM Registration. Meeting starts 6:00 PM. For inquiries or to register email afiometro@yahoo.com
---
For Additional Events two+ months or greater....view our online Calendar of Events
-----------------------------------------------------------------------
Disclaimers and Removal Instructions
Weekly Intelligence Notes (WINs) are commentaries on Intelligence and related national security matters, based on open media sources, selected, interpreted, edited and produced for non-profit educational uses by members and WIN subscribers.
REMOVAL INSTRUCTIONS: We do not wish to add clutter to inboxes. To discontinue receiving the WINs:
a) IF YOU ARE A MEMBER -- click here: UNSUBSCRIBE and supply your full name and email address where you receive the WINs. Click SEND, you will be removed from list. If this link doesn't open a blank email, create one on your own and send to afio@afio.com with the words: REMOVE FROM WINs as the subject, and provide your full name and email address where you are currently receiving them.
b) IF YOU ARE NOT A MEMBER, and you received this message, someone forwarded this newsletter to you [contrary to AFIO policies]. Forward to afio@afio.com the entire WIN or message you received and we will remove the sender from our membership and distribution lists. The problem will be solved for both of us.
CONTENTS of this WIN [HTML version recipients - Click title to jump to story or section, Click Article Title to return to Contents. This feature does not work for Plaintext Edition or for some AOL recipients]. If you wish to change to HTML format, let us know at afio@afio.com. The HTML feature also does not work for those who access their e-mail using web mail...however NON-HTML recipients may view the latest edition each week in HTML at this link: https://www.afio.com/pages/currentwin.htm
-----------------------------------------------------------------------

WINs are protected by copyright laws and intellectual property laws, and may not be reproduced or re-sent without specific permission from the Producer. Opinions expressed in the WINs are solely those of the editor(s) or author(s) listed with each article. AFIO Members Support the AFIO Mission - sponsor new members! CHECK THE AFIO WEBSITE at www.afio.com for back issues of the WINs, information about AFIO, conference agenda and registrations materials, and membership applications and much more!

(c) 2008, AFIO, 6723 Whittier Ave Suite 200, McLean, VA 22101. Voice: (703) 790-0320; Fax: (703) 991-1278; Email: afio@afio.com
Click here to return to top.