AFIO Weekly Intelligence Notes #28-08 dated 21 July 2008
CONTENTS

Section I - INTELLIGENCE HIGHLIGHTS

Section II - CONTEXT & PRECEDENCE

Section IV - BOOKS, EMPLOYMENT OPPORTUNITIES, OBITUARIES AND COMING EVENTS

Current Calendar Next Two Months ONLY:

National AFIO Luncheon

last call ... a few seats remain

for this Friday's

25 July 2008 - AFIO National SUMMER Luncheon

---


Fran Townsend

on Current and Emerging Intelligence and Counterterrorism Threats


---
Bob Wallace

on SpyTech


---


Details

here

---

For early planners.....


AFIO 2008 Fall Intelligence Symposium
Threats to U.S. Security
Technology Theft, Insider Threats, Economic Espionage
and International Organized Crime



Three Days: Day 1 [10/23] at MITRE Corporation; Day 2 [10/24] at Department of State:
Day 3 [10/25] at Sheraton-Premiere Hotel

SYMPOSIUM RESERVATION:
Draft agenda [available mid-August]; Early reservations are here

HOTEL RESERVATIONS available now at special AFIO Event Rate:
Make your Sheraton-Premiere Hotel reservations while low-rate window remains open.






Tentative Program
Wednesday, October 22: heavy hors d'oeuvres and evening registration for hotel-based attendees,
Thursday morning, October 23: Chapter workshop/breakfast; Main Reservations
Thursday, October 23: MITRE Corporation;
Friday, October 24: U.S. Department of State Intelligence Division;
Friday evening, October 24: Awards Banquet, Saturday morning, October 25: General membership meeting.
The program ends 11 a.m. Saturday October 25 leaving time for exploring local area Museums [International Spy Museum, the newly reopened Newseum, the new National Museum of Crime and Punishment, National Cryptologic Museum, Air & Space] and to make plans to return home.


WIN CREDITS FOR THIS ISSUE: The WIN editors thank the following special contributors to this issue: fwr and pjk. All have contributed one or more stories used in this issue.

Click here to view disclaimers, removal, methods of use of the links in this document.

The WIN in its entirety appears below; however, the document may also be viewed online by current members with usernames and passwords at this link.

Usernames and Passwords appear on AFIO Membership Cards.
They work only if the membership is current.
---
Section I - INTELLIGENCE HIGHLIGHTS
U.S. Aid Was a Key to Hostage Rescue in Colombia. The United States played a more elaborate role in the events leading up to this month's rescue operation of 15 hostages in the Colombian jungle than had been previously acknowledged, including the deployment of more than 900 American military personnel members to Colombia earlier this year in efforts to locate the hostages, according to an official briefed on these efforts.

In the earlier search-and-rescue effort with heavier American involvement, personnel included F.B.I. hostage negotiators embedded with Colombian counterparts at a location in San José del Guaviare, a provincial capital 200 miles southeast of Bogotá, and members of American Special Operations forces inserted into small Colombian reconnaissance teams tracking the rebels on foot through the jungle.

Hundreds of American support personnel members on the ground in Colombia complemented these elite forces, in addition to a frenzied intelligence-gathering operation located in the United States Embassy here, drawing on intercepts of the rebel group's radio systems, human intelligence, satellite imaging and "air breathers," as piloted surveillance aircraft are called in military jargon.

The plan devised by Colombian military intelligence officials first came into focus for the Americans in early June when they began intercepting communications pointing to three rebel units shifting in the jungle to converge near the village of Tomachipan, a location near where Venezuelan envoys picked up two hostages freed by the rebels in January.

While the Colombians devised and carried out the operation with a team of more than a dozen elite Colombian commandos disguised as aid workers, television journalists and rebels, they did so with some important assistance from the United States, which provides Colombia with $600 million of aid a year as part of a counterinsurgency and antinarcotics project that has made Colombia the top American military ally in Latin America.

While the Colombians and Americans generally agreed on the details of the operation as it was put into motion, some differences emerged, like when American officials resisted a plan to place two former rebels among the commandos aboard the helicopter, apparently in an attempt to assuage any concerns the guerrillas might have in handing over their captives.

In the end, just one former rebel member took part in the mission aboard the helicopter. On July 2, a small number of diplomats, military officers and intelligence officials gathered in a safe room at the American Embassy to monitor the operation.

The mission, originally intended to last 8 minutes on the ground as the hostages boarded the aircraft, ended up taking more than 25 minutes. The delays intensified the anxiety in the safe room in Bogotá, which was relieved only when an American military official in direct contact with a colleague in San José del Guaviare proclaimed, "Helos with pax," military slang for helicopters with passengers. [Romero/NYTimes/13July2008]

British Recruiters Seek Female Spies. Britain's secret spy agency, home to the very white and very male 007, is hunting for women and minorities to tackle global terrorism. More than 20,000 people have applied since MI6 began its open recruiting campaign about a year ago, in a drive that has all but replaced the famous shoulder tap used to recruit author Graham Greene and others in World War II.

MI6's website encourages mothers to apply and assures women they won't be used as "honey pots," or seductresses. Disabled applicants are welcome. And a special search is directed at minorities who speak Mandarin, Arabic, Persian and the Afghan languages of Dari and Pashto.

The drive comes as Britain prepares for the Equalities Bill, which will allow organizations to give female and ethnic minority candidates preference. Pola Uddin, the first Muslim woman in the House of Lords, told the AP it's time Bond had a taste of affirmative action.

MI6 hires between 250 and 350 recruits a year through the open recruitment process. The organization won't give a total number of personnel but said out of last year's recruits, 40% were women and 11% were from ethnic minorities. Positions include linguists, operational agents, technology officers, security guards, drivers and receptionists.

MI6, also known as the Secret Intelligence Service (SIS), evolved from the Secret Service Bureau created just before World War I to counter foreign espionage and collect intelligence. Eventually the bureau was divided into domestic (MI5) and foreign (MI6) operations.

MI5, the domestic spy agency, has also upped its recruiting drive. MI5 reported a temporary decline in female recruits a couple of years ago that some attributed to a British TV thriller, aired in the U.S. as "MI5," in which a female agent's head was dipped in a deep fryer. Two years ago it placed posters in gyms and sports magazines featuring a black woman in a T-shirt.

The security service now has around 3,600 employees and hopes to reach 4,000. About 43% are women, down from 51% in the 1990s, and 6.5% are minorities. MI5 has had two female chiefs since 1992.

The CIA has taken a similar path, with almost half of its work force hired since 9/11, according to spokeswoman Marie Harf. [USAToday/12July2008]

Russian Ambassador Denies Increase in Russian Spies in UK. The Russian ambassador to Britain denied claims by London that Moscow has increased its intelligence activity in the U.K.

In early July, British media quoted the country's security service as saying that Russia has flooded the country with secret agents in recent years, making the Kremlin a major menace to national security.

The reports came days before Prime Minister Gordon Brown's first meeting with Russian President Dmitry Medvedev at the Group of Eight summit in Japan, set for July 7-9.

"These statements are untrue and just ridiculous," Yury Fedotov told the Vesti channel, adding that the annual budget for the British intelligence service is 2 billion pounds sterling (almost $4 billion)."[Rian/15July2008]

NGA Could Serve as Model for Intelligence Joint Duty. In an effort to foster better cooperation across the intelligence community, a number of intelligence agencies are assigning civilian employees to temporary positions at different agencies.

An early practitioner was the National Geospatial-Intelligence Agency (NGA), which has been placing its people elsewhere since its inception, and could serve as a model if the intelligence community expands its effort, according to a senior NGA official.

The intelligence community-wide effort, which was implemented in June 2007, is known as joint duty, and requires that civilians rotate through joint positions at other intelligence agencies in order to gain promotion to senior ranks, according to a memo signed in June 2007 by Mike McConnell, the director of national intelligence.

NGA's effort, which began with its inception as the National Imagery and Mapping Agency in 1996, organizes about 14 percent of its work force into groups known as NGA Support Teams (NSTs), according to John Oswald, director of NGA's analysis and production directorate. The effort, which started with only 114 people, has expanded significantly over the years, Oswald said in a June 30 interview.

The NST concept is based on an earlier Defense Department effort that was focused on placing imagery analysts at combatant commands and service intelligence centers, Oswald said.

The NSTs are made up primarily of civilian government personnel but also include uniformed military personnel and contractors, Oswald said. The teams are deployed with military service organizations, combatant commands and civil agencies such as the Homeland Security Department, and serve both inside and outside the U.S., he said.

Oswald declined to specify the number of personnel in each support team but said the Marine Corps has a relatively small team, while an organization such as European Command receives a larger complement of NGA personnel.

Oswald credited the teams with helping to build trust with NGA customers, responding quickly to customer needs, and getting a better sense of what the customers want. While deploying personnel to work remotely can be more expensive than having them work at NGA's headquarters, the benefits justify the cost, he said.

In many cases, personnel who are deployed as part of an NST with a military organization may remain with their host longer than the uniformed military rotation cycle, helping to bolster continuity of expertise, Oswald said.

Some members of an NST return to NGA headquarters after two to four years, but most others remain at the host organization, though they stay in constant touch with headquarters and return for training, meetings and conferences, he said.

Those NST members who have returned to NGA headquarters have brought back insights that generated rapid improvement in tradecraft and prompted others to request the assignments, he said.

In addition to supporting their host organizations, the NSTs increasingly are offering intelligence that benefits policymakers and other agency customers traditionally provided for by staff at NGA headquarters. That helps avoid costly duplication of effort in a resource-constrained environment, Oswald said.

The teams have been so successful that customers have asked for a total of about 2,000 more NST personnel, Oswald said. This figure is more of a wish list than an achievable goal, and resource constraints likely will limit the agency to providing a small percentage of that figure, he said.

However, intelligence communitywide improvements with computer networks could help address some of this demand with personnel at NGA headquarters, he said. [FederalTimes/15July2008]

House OKs Bill Seeking More Access to Spy Secrets. The House passed legislation governing next year's intelligence budget that demands lawmakers be given greater access to the nation's most closely held secrets.

The bill is the latest attempt by Democrats, struggling to challenge President Bush on major national security issues, to step up their role in overseeing an intelligence program they say has gone astray. Lawmakers complain that the Bush administration left most of them out of the loop on highly classified - and controversial - matters, including creation and destruction of CIA interrogation tapes and Bush's warrantless wiretapping program.

The bill would block two-thirds of the federal covert operations budget until each member of the congressional intelligence committees is briefed on all secret operations under way. Panel members also would be granted access to any other details necessary to assess the value of intelligence operations.

The White House has threatened to veto the bill because it says it would go too far and infringe upon the president's right to protect intelligence. In a statement Wednesday, the administration said the bill could expose information previously protected under executive privilege, including pre-decision legal opinions, risk assessments and cost estimates.

The Senate still has to take up its version of the bill before a final measure can be sent to the president to sign. The Senate bill also is expected to provoke a veto threat because of a provision that would limit interrogation tactics used by the CIA.

The bill authorizes intelligence spending for the 2009 budget year, which begins Oct. 1. The amount in the intelligence budget is classified.

The Senate measure is similar to the House bill. But unlike the House version, the Senate's legislation includes a provision by Sen. Dianne Feinstein, D-Calif., that would limit the CIA and FBI to interrogation tactics listed in the publicly available Army Field Manual on Interrogation.

The White House is expected to block the final bill if it includes such a restriction. [Flaherty/AP/16July2008]

Former Head of Israeli Military Intelligence Quizzed for Disclosing State Secrets. The Shin Bet security service and the Israel Police have opened a criminal investigation against former Military Intelligence chief Eli Zeira, on suspicion of disclosing state secrets.

This marks the first time that the Shin Bet has investigated allegations involving state security against a senior officer; Zeira is a major general and former MI head. The investigation is focusing on the allegation that Zeira revealed the name of Ashraf Marwan, the Mossad agent and Egyptian businessman who died under mysterious circumstances in London about a year ago.

The investigation began two months ago, but was under a comprehensive four-month gag order until yesterday, when the Petah Tikva Magistrate's Court acceded to a request by Haaretz attorneys and eased the terms of the media blackout.

The prosecution began its examination after former Mossad chief Zvi Zamir and two former officers from the Israel Defense Forces' intelligence section, Brigadier General Amos Gilboa and Colonel Yossi Langotsky, filed a complaint against Zeira over four years ago. They provided Mazuz with documents containing prima facie evidence implicating Zeira. These included testimony, research studies and articles from scholarly journals, as well as the popular press in Israel and abroad indicating that Zeira was the source who fingered Marwan.

In the late 1990s, Zeira implied and explicitly stated to Israeli and foreign journalists that Ashraf Marwan was the Mossad agent who informed Israel about Egypt's plans to attack Israel on October 6, 1973. Zeira claimed that Marwan was a double agent who deceived Israel, a claim that was utterly refuted already in the 1970s, in thorough investigations by both MI and the Mossad. A few Israeli journalists who had heard the story from Zeira maintained their silence for a few years, but eventually it began leaking into press reports.

The first person to explicitly mention Marwan by name was Dr. Aharon Bregman, an Israeli historian who teaches at King's College London. It was in late 2002, in an interview to the Egyptian daily Al Ahram.

In June 2007, former Supreme Court justice Theodor Or found for the defense in a slander suit brought against Zamir by Zeira, ruling that Zeira had indeed leaked Marwan's name. The verdict explicitly mentioned Marwan, whose body was found near his London apartment two weeks later.

The London police are still investigating whether Marwan committed suicide by jumping out the window after his name was made public, or was murdered by Egyptian agents.

After Marwan's death, Zamir said he had no doubt that Marwan had killed himself because of Zeira's disclosures. [Melman/Haaretz/15July2008]

Adapx Raises Cash from CIA Unit. In-Q-Tel, the investment arm of the Central Intelligence Agency, is backing Seattle digital pen and paper startup Adapx.

Troy Pearsall, an executive vice president at In-Q-Tel, said that Adapx's technology "dramatically improves the way in which organizations streamline field data collection and dissemination."

Using a digital pen, military personnel, construction workers and other field workers can collect notes and other information in the device.

Adapx - which raised $10 million from OVP Venture Partners and others last December - plans to use the new capital to increase marketing of its Capturx software.

Lockheed Martin's Mike Moore said that soldiers could use it on patrol to record notes from interviews or plot information on a map. "Let's say you are a soldier on the streets of Iraq and you are trying to capture the issues people are having within a particular region so you can address those and work out solutions, you are able to write that up and immediately upload that as well," said Moore.

One can imagine CIA agents also interested in that capability. The terms of the funding from In-Q-Tel were not disclosed. [Cook/SeattlePI/14July2008]

Secrets Case Called a Puzzle. The Justice Department's unusually tough stand against a California aerospace engineer who kept a trove of classified information at his home is prompting puzzlement and speculation about whether something more nefarious was afoot or whether prosecutors are heralding a new era in the treatment of those who are cavalier with America's secrets.

Abraham Lesnik, 62, of Los Angeles, pleaded guilty last week to a single felony count of unauthorized possession of classified information, which he took home from his job at a Boeing facility in El Segundo, Calif. Lawyers and other experts who track the government's actions in such cases were taken aback by the prosecution's indication that it may seek a prison term of more than five years for Lesnik, who held a top secret clearance and specialized in anti-missile technology.

"Sixty-three months just for possession of classified is over the top. There must be something else going on here," a former top official in the Justice Department's Criminal Division, Robert Litt, said. "To the extent the government is saying everyone who improperly stores classified information deserves that kind of a sentence, that is ludicrous and is patently inconsistent."

Lesnik, who holds a doctorate in physics from the University of Chicago, pleaded guilty to having 11 classified documents at his home in the Valley Village neighborhood of Los Angeles. One of those was "top secret" and pertained to "national defense satellite threat mitigation." However, prosecutors said in a statement that Lesnik had "a very large number of classified documents" that he took from work using a "thumb drive."

"It is of great concern to the government any time an individual violates the rules governing possession of classified information," a Justice Department spokesman, Dean Boyd, said. The prosecution is expected to argue that the scientist repeatedly flouted the rules and put vital national secrets at risk.

In court, Lesnik said convenience was his motive. "I brought classified documents from my workplace to my home so I could work on them," he said, according to the Associated Press. His defense said it plans to seek probation and no jail time.

An attorney who helps private-sector employees obtain and retain security clearances, Sheldon Cohen, said the felony charge and threat of a long prison term were virtually unheard-of for acts driven simply by arrogance. "Even if someone doesn't care about the rules, it's draconian," he said. "Nothing like that ever resulted in a criminal prosecution."

The charge Lesnik pleaded guilty to is part of the Espionage Act. However, he was not charged with espionage, and there is no mention in the plea agreement about him working for a foreign state. "If it was intended to be turned over to a foreign government, they would charge him with that. There's not a word about that," Mr. Cohen said.

In 2006, ABC News reported that investigators on the case had concerns "as to whether classified data ended up in the hands of unauthorized individuals, including foreigners." Plea papers indicate that Lesnik may have failed to declare a foreign bank account, but they do not say where.

High-level government officials who fall into prosecutors' cross-hairs for mishandling classified information rarely get jail time. In 2005, a national security adviser to President Clinton, Samuel Berger, received probation after pleading guilty to a misdemeanor for removing and destroying copies of a highly classified report he reviewed at the National Archives. In 2001, Mr. Clinton pardoned a former director of central intelligence, John Deutch, as he was about to plead guilty to a misdemeanor for having classified information on home computers hooked up to the Internet.

Prosecutors seeking a tough sentence for Lesnik are expected to cite the case of a National Security Agency analyst, Kenneth Ford Jr., who was convicted by a jury of taking two boxes of classified documents home on his last day of work. Ford, who blamed an FBI informant and suggested a conspiracy, was sentenced to seven years in prison. [Gerstein/TheSun/10July2008]

---
Section II - CONTEXT & PRECEDENCE
True to Form, CIA Keeps its Spy Museum Hush-Hush. When the CIA's gadget gurus need a new piece of technology these days to meet the demands of agents in Iraq, Afghanistan or some other outpost in the war on terror, they often walk into the past.

It's all down the hall in the CIA Museum, where long-abandoned technological fantasies of the Cold War are taking on new relevance in the modern-day fight against terrorists and a whole new crop of hostile states.

A smaller option for remote surveillance? Maybe there's a way to adapt that old "Insectothopter" - a true-to-life robotic dragonfly that was developed in the 1970s to fly tiny listening devices through open windows in heavily guarded buildings. Or perhaps there's something to that tiny pigeon cam, built decades ago to be carried over hostile areas by trained birds.

"We're revisiting technologies all the time - (and) we look back to the lessons learned historically on using these technologies and build on those foundations," says Toni Hiley, the museum's curator and director since 1999.

Several times a week, Hiley says, she gets inquiries from operations officers or agency scientists about artifacts or files in the museum. So what sort of material are they looking at and how will it be used? That, of course, is secret.

Just like the museum itself.

With five galleries spread over 11,000 square feet, the CIA Museum holds artifacts that curators can only dream about at the nearby International Spy Museum in Washington, where about 700,000 people a year pony up for $20 tickets. But the only way for the public to see the CIA's exhibits is an online tour via the CIA's website. And nobody knows what the average taxpayer is paying for that virtual visit: The museum falls within the CIA's classified budget.

The CIA's permanent exhibits include all the classic, James Bond-style gadgets - stealthy pistols and fighting knives, cameras disguised as cigarette packs, even a pipe designed to receive radio messages and relay them silently to the user's ear by sending vibrations up his jawbone. There's also the desk of Gen. "Wild Bill" Donovan, who led the CIA's World War II predecessor, the Office of Strategic Services. And down the hall sits a two-man, semi-submersible boat developed to secretly drop CIA agents along hostile coasts.

Yet unlike, say, the National Cryptologic Museum, set up near the National Security Agency to promote public understanding of NSA's code-breaking and surveillance missions, the CIA Museum is inside the agency's headquarters on the secure Langley compound. Though everything on display is declassified, only agency employees and cleared guests can get to it.

"The museum is here to support the agency's mission, to support intelligence operations, to support the agency's training (and) ... recruitment," says Hiley, who gave a USA TODAY reporter and photographer a tour of the museum. "The museum not only preserves the tangible pieces of the agency's history, but we also preserve its culture."

The museum's collection is loaded with unique and historically important items, and it would behoove the agency to find ways to make it more accessible to the public, says Peter Earnest, a 35-year CIA veteran and executive director of the International Spy Museum.

Indeed, the newest exhibit offers an unprecedented look at the CIA's secret role in the Afghanistan war. There are photos of the seven-member team that launched the first U.S. operations in the country just days after the Sept. 11 attacks. There are displays of the native garb they wore, the weapons they carried, even a saddle used on clandestine horseback hunts for al-Qaeda leaders.

But the purpose of the exhibit - like the museum itself - is not to serve the public, Hiley says. Ever since then-CIA director William Colby suggested "a modest little museum" in the early '70s to educate and inform employees, she adds, the museum has been geared toward insiders.

All new CIA officers get a tour on their first day, and seasoned veterans also stroll in often. In 2007, about 4,000 people took officials tours, and Hiley estimates that the museum also gets tens of thousands of visits from employees and invited guests who stop by on their own.

"I've had officers tell me that they walk potential recruits through the museum," Hiley says, "and they often find that that person will sign on the dotted line after seeing the stories and the artifacts."

Open government advocates say all taxpayers should get the same chance to see the exhibits - and know what they cost.

The NSA has proved "it's possible for an intelligence agency to have a public museum if there's a will to do so," says Steven Aftergood, who heads the Project on Government Secrecy at the Federation of American Scientists. "All that's missing is a desire to serve the public."

The museum does loan pieces of its collection to public institutions - presidential libraries, the Smithsonian, etc. - but not to for-profit entities, such as the Spy Museum.

There was some discussion in decades past of building a publicly accessible museum on the fringe of the CIA's Langley compound, Earnest says, but it never got traction. And for security reasons, Hiley says, there's been no discussion in recent years of opening the museum to the outside world.

The museum could help people understand intelligence's role, Hiley says, but "that really isn't our mission." [Beiser/USAToday/13July2008]
A CIA Lesson From the Field: Never Trust Another Spy. As they complete their training at "The Farm," the CIA's base in the Virginia Tidewater, young agency recruits are taught a lesson they are expected never to forget during assignments overseas: There is no such thing as a friendly intelligence service.

Foreign spy services, even those of America's closest allies, will try to manipulate you. So you had better learn how to manipulate them back.

But most CIA veterans agree that no relationship between the spy agency and a foreign intelligence service is quite as byzantine, or as maddening, as that between the CIA and the Pakistani Directorate for Inter-Services Intelligence, or ISI.

It is like a bad marriage in which both spouses have long stopped trusting each other but would never think of breaking up because they have become so mutually dependent.

Without the ISI's help, U.S. spies in Pakistan would be incapable of carrying out their primary mission in the country: hunting Islamic militants, including top members of Al Qaeda. Without the millions of covert U.S. dollars sent annually to Pakistan, the ISI would have trouble competing with the spy service of its archrival, India.

But the relationship is complicated by a web of competing interests. First off, the top U.S. goal in the region is to shore up the Afghan government and security services to better fight the ISI's traditional proxies, the Taliban, there.

Inside Pakistan, the primary U.S. interest is to dismantle a Taliban and Qaeda haven in the mountainous tribal lands.

Throughout the 1990s, Pakistan, and especially the ISI, used the Taliban and militants from those areas to exert power in Afghanistan and block India from gaining influence there. The ISI has also supported other militant groups that carried out operations against Indian troops in Kashmir, something that complicates Washington's efforts to stabilize the region.

Of course, there are few examples in history of spy services really trusting one another. After all, people who earn their salaries by lying and assuming false identities probably don't make the most reliable business partners. Moreover, spies know that the best way to steal secrets is to penetrate the ranks of another spy service.

But circumstances have for years forced successful, if ephemeral, partnerships among spies. The Office of Strategic Services, the predecessor to the CIA, worked with the predecessors of the KGB to hunt Nazis during World War II, even as the United States and the Soviet Union were quickly becoming adversaries.

These days, the relationship between Moscow and Washington is turning frosty again, over a number of issues. But, quietly, U.S. and Russian spies continue to collaborate to combat drug trafficking and organized crime, and to secure nuclear arsenals.

The relationship between the CIA and the ISI was far less complicated when the United States and Pakistan were intently focused on one common goal: kicking the Soviet Union out of Afghanistan. For years in the 1980s, the CIA used the ISI as the conduit to funnel arms and money to Afghan rebels fighting Soviet forces in Afghanistan.

But even in those good old days, the two spy services were far from trusting of each other - in particular over the Pakistani quest for nuclear weapons. In his book "Ghost Wars," the journalist Steve Coll recounts how the ISI chief in the early 1980s, General Akhtar Abdur Rahman, banned all social contact between his ISI officers and CIA operatives in Pakistan. He was also convinced that the CIA had set up an elaborate bugging network, so he had his officers speak in code on the telephone.

When the general and his aides were invited by the CIA to visit agency training sites in the United States, the Pakistanis were forced to wear blindfolds on the flights into the facilities.

Since the attacks of Sept. 11, 2001, CIA officers have arrived in Islamabad knowing that they will probably depend on the ISI at least as much as they have depended on any liaison spy service in the past. Unlike spying in the capitals of Europe, where agency operatives can blend in to develop a network of informants, only a tiny fraction of CIA officers can walk the streets of Peshawar unnoticed.

And an even smaller fraction could move freely through the tribal areas to scoop up useful information about militant networks there.

Even the powerful ISI, which is dominated by Punjabis, the largest ethnic group in Pakistan, has difficulties collecting information in the tribal lands, the home of fiercely independent Pashtun tribes. For this reason, the ISI has long been forced to rely on Pashtun tribal leaders - and in some cases Pashtun militants - as key informants.

Given the natural disadvantages, CIA officers try to get any edge they can through technology, the one advantage they have over the local spies.

For example, the Pakistani government has long restricted where the CIA can fly Predator surveillance drones inside Pakistan, limiting flight paths to approved "boxes" on a grid map.

The CIA's answer to that restriction? It deliberately flies Predators beyond the approved areas, just to test Pakistani radars. According to one former agency officer, the Pakistanis usually notice.

As U.S. and allied casualty rates in Afghanistan have grown in the last two years, the ISI has become a subject of fierce debate within the CIA. Many in the spy agency - particularly those stationed in Afghanistan - accuse their agency colleagues at the Islamabad station of actually being too cozy with their ISI counterparts. There have been bitter fights between the CIA station chiefs in Kabul and Islamabad, particularly about the significance of the militant threat in the tribal areas.

Veterans of the CIA station in Islamabad point to the capture of a number of senior Qaeda leaders in Pakistan in recent years as proof that the Pakistani intelligence service has often shown a serious commitment to roll up terrorist networks.

And, they point out, the ISI has just as much reason to distrust the Americans as the CIA has to distrust the ISI. The CIA largely pulled up stakes in the region after the Soviet withdrawal from Afghanistan in 1989, rather than staying to resist the chaos and bloody civil war that led ultimately to the Taliban ascendance in the 1990s.

After the withdrawal, the U.S. tools to understand the complexity of relationships in Central and South Asia became rusty. The ISI operates in a neighborhood of constantly shifting alliances, where double-dealing is an accepted rule of the game, a phenomenon many in Washington still have problems accepting.

Until late last year, when he was elevated to the command of the entire army, the Pakistani spymaster who had been running the ISI was General Ashfaq Parvez Kayani. U.S. officials describe Kayani as at once engaging and inscrutable, an avid golfer with some odd affectations. He will spend several minutes carefully hand-rolling a cigarette, then, after taking one puff, he stubs it out.

The grumbling at the CIA about the ISI comes with a certain grudging reverence for the spy service's Machiavellian qualities. Some former spies even talk about the Pakistani agency with a mix of awe and professional jealousy.

One retired senior CIA official said that of all the foreign spymasters the CIA had dealt with, Kayani was the most formidable and may have earned the most respect at CIA headquarters in Langley, Virginia. The soft-spoken general, he said, is a master manipulator.

"We admire those traits," he said. [Mazzetti/IHT/20July2008]

---
Blows Below the Belt, by Andrei Soldatov. The latest round in a boxing match between Russia's and Britain's secret services began on July 4, when an article appeared in the British press quoting the MI5 counterespionage unit as saying that the number of Russian spies flooding the country had made Russia the third-greatest threat to Britain after Iran and al-Qaida. Meanwhile, in the Daily Mail, Member of Parliament Andrew MacKinley was accused of meeting too frequently with Alexander Polyakov, a counselor at the Russian Embassy who the MI5 suspects reports to Russian intelligence.

But that was only the beginning. On the BBC "Newsnight" program on July 7, an anonymous MI5 source stated that the agency considers the Russian government responsible for the poisoning death in London of former Federal Security Service agent Alexander Litvinenko and for the attempted murder of self-exiled billionaire Boris Berezovsky.

The Kremlin retaliated in a statement to RIA-Novosti on Thursday, when a source with the Federal Security Service claimed that Chris Bowers, the British Embassy's director of trade and finance, was a British intelligence agent.

Moscow's aggressive reaction underscores just how different the two countries' methods are in the prolonged conflict. For the past year, the British government has limited its reactions to political statements protesting Litvinenko's death, while Moscow has used more blunt instruments.

The British have initiated only one spy scandal in the past few years. In fall 2007, a former British Army cadet, Peter Hill, was arrested in Leeds. But this was a case of pure provocation. The cadet had written a letter to the Russian Embassy offering cooperation, but it was intercepted by the MI5. A British agent posing as a Russian intelligence operative named Andrei met with Hill in a cafe. The result: Hill spent a few months in jail, but all charges were later dropped. It is clear that Russian intelligence did not suffer in any way from this operation for the simple reason that it was not involved.

Britain behaved exactly the same way in the Litvinenko affair. The British prosecutor's office was careful to name only the prime suspect in the murder case, Andrei Lugovoi, but not the person or entity that ordered the killing or their possible motive. This was a deliberate attempt to avoid having to pose any awkward questions to the Kremlin.

Sanctions against Russia were limited to dissolving a commission on the struggle against terrorism - a nonfunctioning body for all intents and purposes - and four Russian diplomats were expelled from London in July 2007. But this was not because the Kremlin had ordered Litvinenko's murder. It was because Russia refused to extradite a Russian national to stand trial in a foreign country, something that would have violated its own Constitution.

The ensuing BBC episode did not help matters. The MI5 source offered only his opinion and not the official position of the agency. Sure enough, a few days later, a Downing Street spokesman repudiated the unidentified source and announced that MI5 did not have the authority to make official statements and that Litvinenko was killed by a single individual who should stand trial.

The problem is that Moscow - in contrast to London - did not constrain itself in this battle of the spies. While the British are content to complain about the number of Russian spies roaming their country, the Kremlin takes the more drastic steps of shutting down the British Council in Russia and sending FSB agents into TNK-BP. While the British suggest that one of their army cadets is getting a little too cozy with the Russian Embassy staff, the FSB delivers a knockout blow, pushing a high-ranking diplomat out of a group involved in the sensitive TNK-BP negotiations.

These differing approaches reflect the different cultures in the two countries. The British apparently feel that it is necessary to keep the door open for compromise at all times, while officials in the Kremlin consider this approach a sign of weakness. It resembles some sort of strange boxing match in which the British fighter constantly appeals to the referee and the audience, while his Russian opponent punches him repeatedly below the belt.

Andrei Soldatov, a columnist for Novaya Gazeta, is director of Agentura.ru Studies and Research Center, which specializes in terrorism and intelligence issues. [Soldatov/MoscowTimes/15July2008]

---
Section V - BOOKS, EMPLOYMENT OPPORTUNITIES, OBITUARIES AND COMING EVENTS
Best Ever CIA Book? The Envelopes, please ...by Jeff Stein. Readers may remember my July 7 post questioning hyper-blogger Spencer Ackerman's calling Tim Weiner's book Legacy of Ashes: The History of the CIA, as "the greatest ever written about the CIA."

In any event, it got me to thinking about whether there might actually be a "best" book about the CIA. So I invited some veteran Washington national security writers to put forth their own nominations.

My own off-hand nomination for "best" had been The Man Who Kept the Secrets: Richard Helms & the CIA, by Thomas Powers. Maybe I just had Powers on my brain, but I also recommended the anthology of Powers' clear-eyed essays on the CIA, Intelligence Wars: American Secret History from Hitler to Al-Qaeda, which I'd just re-read last summer.

But many of the other books put forth by my scribbling pals could have been finalists in the "best ever" category.

One that immediately rang a bell with me was Wilderness of Mirrors: Intrigue, Deception, and the Secrets that Destroyed Two of the Cold War's Most Important Agents, by the longtime CBS Pentagon correspondent, David C. Martin.

That riveting tale of legendary CIA officials James Jesus Angleton and William Harvey was nominated by my CQ blogging colleague, David Corn, whose day job is Washington editor of the crusading liberal monthly Mother Jones.

Corn is no slouch in the CIA books category, either, having authored Blond Ghost: Ted Shackley and the CIA's Crusades, another great tale of a major agency figure, as well as co-written Hubris: The Inside Story of Spin, Scandal, and the Selling of the Iraq War, with Newsweek national security correspondent Michael Isikoff.

(Before leaving Shackley, I hope it's not egregiously immodest to mention that the late CIA man played an important role in one of my own books, as the CIA station chief in A Murder in Wartime: The Untold Spy Story that Changed the Course of the Vietnam War.)

Another great Angleton book, meanwhile, Cold Warrior: James Jesus Angleton, the CIA's Master Spy Hunter, by Tom Mangold and Jeff Goldberg, was recommended by Dan Moldea, a longtime Washington-based investigative reporter. It has always been at the top of the list for serious intelligence aficionados.

Another of the big-sweep books, The CIA and the Cult of Intelligence, by John Marks and Victor Marchetti, was published 33 years ago but still deserves a "best" ranking, says my pal John Dinges, the highly respected author of three books dealing with CIA involvement in Latin America.

Marchetti had recently quit the CIA, where he had been executive assistant to the deputy director. John Marks was a former State Department officer who had quit after returning from a tour in Vietnam.

"It is still my favorite as a tour de force on the CIA," says Dinges, also a professor at Columbia University's Graduate School of Journalism. "It was written when the secrets were still secrets and was the first and best revelation of how the agency actually worked, with some great first-time exposures. I keep the battered paperback on my desk bookshelf and have used it in all my book research. It's the one published with deletions ordered by the CIA."

Prolific national security reporter Laura Rozen, also at Mother Jones, recommended another John Marks book that I heartily endorse, The Search for the Manchurian Candidate: The CIA and Mind Control, which just coincidentally happens to be the subject of this week's SpyTalk column.

Speaking of big books that have been around for awhile, three-time Pulitzer winner Knut Royce, Newsday's former investigative ace, picked The Second Oldest Profession, by the veteran British writer Phillip Knightley.

"It's a little dated now but ... it was a very good read and raised numerous red flags that have come to pass," Royce e-mailed me.

"Knightley's book... covers CIA and European intelligence (especially British) in the 20th Century. But he wrote it with a sense of humor and stripped much of the heroics and glamour associated with the trade found in so many books on the subject," Royce said.

"He fleshed out real characters, detailed numerous operations - most of them screwups - and concluded that we would be as safe, and considerably richer in our public treasuries, if we trimmed our massive intelligence organizations."

Last year Royce and Peter Eisner, a former Newsday and Washington Post editor, co-authored a celebrated book on the Niger uranium con job. The Italian Letter: How the Bush Administration Used a Fake Letter to Build the Case for War in Iraq, is a terrific inside look at a sad chapter of the CIA.

Other "best CIA book" recommendations wandered into specific chapters in the agency's history, such as Stephen Kinzer's riveting All the Shah's Men: An American Coup and the Roots of Middle East Terror (which I called "as good as Grisham" in The Washington Post when it came out in 2003).

Corn also flagged The Perfect Failure: Kennedy, Eisenhower, and the CIA at the Bay of Pigs, by venerable military historian Trumbull Higgins, as "the best Bay of Pigs book I've read"

Rozen also loved, as I did, Charlie Wilson's War: The Extraordinary Story of How the Wildest Man in Congress and a Rogue CIA Agent Changed the History of Our Times, by the late 60 Minutes producer George Crile. Read the book, then see the movie.

Another reader favorite was In Search of Enemies: A CIA Story by disillusioned agency officer John Stockwell, who was handed the CIA's baton, a cold war death rattle, in Angola in the 1970s.

But for my money, Frank Snepp's Decent Interval: An Insider's Account of Saigon's Indecent End, Told by the Cia's Chief Strategy Analyst in Vietnam, is as good as it gets.

The more things change, the more they stay the same. Jump forward three decades and we have another disillusioned CIA officer, Robert Baer, ripping aside the curtains on the agency's lame pre-9/11 performance in See No Evil: The True Story of a Ground Soldier in the CIA's War on Terrorism,

I thought George Clooney perfectly caught my friend Baer in the movie adaptation, Syriana.

But folks, you can't make this stuff up.

Unless you're John Le Carre, of course, and a very few others.

Next, "best ever" CIA novels? [SpyTalk/Stein/15July2008]

---
Intelligence Professional Sought to Teach Online Course for Bush School at Texas A&M. "I'm writing to ask for your help in locating an intelligence veteran to teach an online intelligence course for the George Bush School of Government and Public Service at Texas A&M University. Everything is done online, so the person can be located wherever there is internet access. We're looking for a graduate level survey course on intelligence that would cover all the major disciplines (HUMINT, covert action, SIGINT, IMINT, and counterintelligence). I have taught the course in the past but will no longer be able to do so. The new instructor can use my syllabus as a starting point or design a completely different course, as he/she prefers. Our staff at the Bush School will assist the instructor with technology issues, design, recording of lectures, graphics, administration, etc. The instructor will be compensated separately for course development and for course delivery. Ideally, the course would be designed this fall, delivered next spring, and then repeated regularly thereafter. If all goes well, we are looking for a long-term relationship. Teaching intelligence online to committed graduate-level students is a lot of fun, a good way to stay professionally engaged, and a rewarding contribution to the future of our profession." Anyone interested in additional information should contact Jim Olson at 979-862-8827 or jolson@bushschool.tamu.edu.
Naval Special Warfare Intelligence Scenario Developer: McMunn Associates, Inc has an immediate requirement for a scenario developer and instructor with specific subject matter expertise in cryptology as it relates to Naval Special Warfare (NSW). This position will develop, implement, and instruct NSW related scenarios in support of the Center for Naval Intelligence efforts to provide team training to deploying NSW intelligence personnel at the Fleet Intelligence Training Center and the Naval & Marine Corps Intelligence Center. 4 years minimum experience
Required Capabilities:
- Recent experience directly supporting deployed NSW operations as a Navy Enlisted Cryptologic Technician or Officer.
- Intimate knowledge of the Signals Intelligence (SIGINT) discipline with particular emphasis on tactics, techniques, and procedures as they relate to NSW operations worldwide.
- A complete understanding of the typical intelligence information, analytical processes, and C4I infrastructure that supports NSW at the tactical/operational levels.
- Superb written and verbal communicative skills.
Desired Capabilities:
- Experience in course development and training.
Salary Range: Highly competitive total compensation package. Salary negotiable based on experience and qualifications.
Geographic Location: San Diego, CA
Job Location: On-site in Government facility
Work Schedule: Full-time position; normal working hours
Travel Requirement: Up to maximum of 25% (defined as 25% of your time traveling) to coordinate scenario development efforts
POC is Molly Ryan, mryan@mcmunn-associates, Inc or 703-481-6100 ext. 103

Counterintelligence Instructor. Tier 1 Group (T1G) is looking for qualified applicants to fill a full-time counterintelligence instructor position. T1G is a GSA approved, disabled-veteran operated company. T1G is headquartered in Jacksonville, NC. We are focused on delivering military training services. Our primary clientele have been the U.S. Military and other U.S. Government agencies, including the Department of Homeland Security as well as various federal, state, and local law enforcement agencies. By design, our staff has a diversity of experience in various organizations. We use this as an advantage in both the development, and delivery, of training. This breadth of experience allows for a better understanding of our clients' perspectives, as well as a source of new and enhanced techniques.
Requirements: Must be a citizen of the United States of America. Must have current counterintelligence (HUMINT/SIGINT) experience. Must have a top secret security clearance. Must have relevant experience. Must have current US Passport. Must be willing to travel inside the USA for short periods of time (2-4 weeks). Must be willing to sign exclusive non-competition agreement.
Instructions for submitting Resumes: Ensure that your resume is a MS Word Document. Save the resume as your first & last name (example John Doe). Send resume to Info@t1g.com

Wal-Mart Risk Assessment Managers. Please see the below job descriptions for a Sr. Risk Assessment Manager (position 24173) and a Risk Assessment Manager (Position 24172) currently open with Wal-Mart Stores, Inc. The positions are located at the Home Office in Bentonville, AR.
If interested please visit www.walmartstores.com/careers, then search for the position numbers. Wal-Mart Stores, Inc. is an EOE.

JOB No 1: Sr. Risk Assessment Manager
PPR 26
Oversees strategic project design and work; Provides program oversight for all problem cases; conducts higher level investigations on incidents involving actual, possible or perceived workplace violence by assessing threat, risk and disruption potential; conducting interviews; providing recommendations; provides SME for high risk cases. Directs development of risk analytic products and processes; manages information collection efforts related to identified, perceived, emerging, or on-going risk concerns to the company. Develops strategic plans to maintain situational awareness re various issues that may impact global business interests.
Minimum Requirements:
1. 5 years experience in risk analysis including problem mitigation, independent decision making, creating written communications and working under pressure situations
2. Including 2 years experience in project management
3. Including 3 years of experience supervising direct reports or project teams
OR
1. Bachelor's Degree in Political Science, Business, Criminal Justice, Legal, International Studies, Foreign Language, Statistics or related field.
2. Including experience in risk analysis including problem mitigation, independent decision making, creating written communications and working under pressure situations
3. 2 years experience in project management
4. 2 years experience supervising direct reports or project teams
Preferred Requirements:
1. Advanced degree with coursework in Political Science, Business, Criminal Justice, Legal, International Studies, Foreign Language, Statistics or related field
2. Foreign language proficiency (preferred: Spanish, Mandarin, Japanese, Portuguese)
3. Experience using the following Wal-Mart Computer Systems: Claim Zone, Vendor Master, FACT, telnet, HOST
4. Experience working internationally and/or studying international cultures
5. Experience in project management

Job No. 2: Risk Assessment Manager
PPR 24
Provides subject matter expertise and guidance in areas of risks (i.e. geo-political, operational, safety, security, supply chain). Investigates and provides case management of incidents involving actual, possible or perceived violence in the workplace by assessing threat, risk and disruption potential; developing mgmt strategies; conducting interviews; providing recommendations. Managing projects through the work of others assigned to project. Provides 24/7 on-call support as a subject matter expert to global risk incidents. Develops strategic plans to maintain situational awareness of variety issues that may impact global business interests.
Minimum Requirements:
1. 3 years experience in risk analysis including problem mitigation, independent decision making, creating written communications and working under pressure situations
2. Including one year experience in project management
3. Or Bachelor's Degree in Political Science, Business, Criminal Justice, Law, International Studies, Foreign Language and 1 year experience in risk analysis including problem mitigation, independent decision making, creating written communications and working under pressure situations.
Preferred Requirements:
Bachelor's Degree with coursework in Political Science, Business, Criminal Justice, Legal, International Studies, Foreign Language or related field
2. Foreign language proficiency (Preferred: Spanish, Mandarin, Japanese, Portuguese)
3. Experience working internationally and/or studying international cultures
4. Experience in the following Wal-Mart Computer Systems - ClaimZone, Vendor Master, FACT, Telnet, HOST
5. Experience in project management, experience conducting electronic research

---
John Robert (Bob) Runyon. John Robert Bob Runyon, 72, of Punta Gorda, Florida, died early Thursday morning, July 3, 2008 after a long illness at Charlotte Regional Medical Center in Punta Gorda.

Born in Perth Amboy, New Jersey, Bob was a retired SMSGT in the United States Air Force. He served his country proudly for 22 and one half years. After retiring, he pursued an interest in and frequently visited the Indians from the Darien Province in Panama. He loved helping these people and considered this his favorite home. Bob earned a Bachelor's degree in Criminal Justice from the University of Nebraska, and worked in various fields of law enforcement for several years before moving to Florida in 1992. He was a member of the VFW, American legion, and the Punta Gorda Lions Club.

Bob is survived by his loving family, wife Mary; five children, Mark Runyon of Englewood, FL, Robert Gudfinnsson of Iceland, Debbie Runyon of Janesville, Wisconsin, Veronica Runyon and Roberta Duck, both of Albuquerque, NM; three stepchildren, Thomas Dvorak of Leawood, KS, Anne Sewell of Lenexa, KS, and Sheila Ireland of Omaha, NE, and 15 grandchildren. [Abjournal/6July2008]
Captain David Harold Kouba - hero of Hmong Secret CIA War. On April 24, Capt. Kouba was found dead in his home in Las Vegas. He had lost the fight to a decade old illness that eventually led to terminal cancer. He died at the age of 69.

David H. Kouba was born on July 11, 1938 at St. Luke's Hospital in Cedar Rapids, Iowa. He was the oldest son of Harold Louis Kouba and Vida Eileen Vernon.

Upon graduation from Alburnett High School in 1957, Kouba entered college at Fayette, IA. After a year, Kouba left college and joined the US Army Reserves for a short period. He then went onto Texas Christian College where he got his pilot license and began crop dusting in Mississippi and Australia. With his skills, specifically for the job, Kouba was hired by Continental Air Services, Inc. (CASI) and began the most memorable career of his life. Captain Kouba was one of many civilian pilots who flew in Laos during the U.S. Secret War against Communism in Southeast Asia.

He flew many missions in and out of Laos from 1968 to 1975. Captain Kouba flew support for USAID, Public Health, Public Works, USIS, and other civilian projects. The Captain also played a vital role to the CIA including SAR (Search And Rescue) missions, delivering "hard rice", food, medicines, and other supplies to both refugees and ground troops. These pilots were sent on many night missions to re-supply the teams observing the movement of North Vietnamese troops and military supplies along the Ho Chi Minh Trail through coordination with US military planes that orbited the night sky of Laos and Vietnam.

In 1974, Air America was forced to withdraw from Laos, leaving CASI to fulfill the remaining covert obligations of the US Government; they flew until the day Laos fell.

Kouba is credited with flying the last Porter plane out before the communists took over the country. For nearly eight years of his flight time in Laos, Kouba was recognized to have taken some of the best photos in the "upcountry" part of Laos. The panorama sweeps of various Lima Sites, including Long Cheng (LS-98), were well documented.

By May 14, 1975, he was among the few remaining American civilian pilots in Southeast Asia. A Top Secret mission was given to Captain Kouba and chopper pilot Jack Knotts. They were given the task of flying the last "upcountry" mission to evacuate Jerry Daniels (Hog), who was a CIA Case Officer, and Major General Vang Pao (VP), commander of Military Region 2 of the Royal Lao Army, out of their headquarters at Long Cheng. Jack Knotts flew both Hog and VP out of Long Cheng to Muang Cha (LS-113). From there, Kouba flew both men out to safety into Udorn (T08), Thailand. Kouba placed this entry in his log book: "Arrived at Long Chieng at dawn to evacuate General Vang Pao and head customer 'Hog'. All was in turmoil. Danang, Vietnam all over. Meos were beginning to mob aircraft. We took off at 10:47 and this ended the Secret CIA base of Long Chieng, Laos."

One month after the evacuation, Capt. Kouba left Southeast Asia and spent 32 years living in the States. In 1976 Kouba married in Texas and shortly after relocated to Florida where he operated a Plant Nursery Factory. He continued to fly while running the plant, and at the same time voluntarily provided shelter and support to assist Laotian refugees who were resettled in Florida.

In 1992, Kouba and his wife divorced, they had no children. In 1997, he remarried and shortly after that divorced.

Capt. Kouba leaves behind his mother, two brothers, a step-brother and step-sister, five nephews and two nieces.

A memorial service is scheduled for July 20, 2008 in Clovis, CA. [AAPress/18July2008]

---
EVENTS IN COMING TWO MONTHS....
25 July 2008, 10:30 am to 2 pm - Tysons Corner, VA - AFIO National SUMMER Luncheon
25 July 2008 - AFIO National SUMMER Luncheon -
10:30 a.m. to 2 p.m.
Tysons Corner, Virginia

11 a.m. Speaker - Robert Wallace, Former Director of CIA's Office of Technical Service. Wallace is one of the three authors of
SPYCRAFT: The Secret History of the CIA's Spytechs,
from Communism to al-Qaeda

Befitting the topic, his talk will feature an image-rich multi-media presentation

and

Robert Wallace

Frances Townsend

1 p.m. Speaker - Frances Fragos Townsend, Esq., former White House Assistant, Homeland Security/Counterterrorism,
current member of President's Intelligence Advisory Board [PIAB],
speaking on Current and Emerging Threats

Ms. Townsend's remarks are
OFF THE RECORD
to encourage frank & spirited Q&A.

EVENT LOCATION: The Crowne Plaza
1960 Chain Bridge Road • McLean, Virginia 22102
Space limited. Make reservations now on this secure page.
Frances Fragos Townsend, former White House Assistant, Homeland Security/Counterterrorism, current member of the President's Intelligence Advisory Board [PIAB], speaking on Current and Emerging Threats. Morning speaker is Robert W. Wallace, former Director of CIA's Office of Technical Service. Author of SPYCRAFT: The Secret History of the CIA's Spytechs, from Communism to al-Qaeda. Ms. Townsend served as Assistant to President George W. Bush for Homeland Security and Counterterrorism and chaired the Homeland Security Council from May 2004 until January 2008. She previously served as Deputy Assistant to the President and Deputy National Security Advisor for Combating Terrorism from May 2003 to May 2004. Ms. Townsend is currently providing consulting services and advice to corporate entities on Global Strategic Engagement and Risk as well as Crisis and Contingency planning. Ms. Townsend is a Contributor for CNN and has regularly appeared on network and cable television as a counterterrorism, national and homeland security expert. She has received numerous awards for her public service accomplishments. Ms. Townsend is a member of the Council on Foreign Relations and serves on the President's Intelligence Advisory Board. Mr. Wallace, a 32-year CIA veteran, served as Deputy Director and Director of the CIA's Office of Technical Service and directed the office's global response to the 9/11 terrorist attack on the United States.
Thursday, 31 July 2008, 12 noon – 1 pm – Washington, DC – "Marching Toward Hell: America and Islam After Iraq, at the Spy Museum. Free lunchtime author debriefing and book signing. Long before Osama bin Laden's name was known to all, Michael Scheuer was chief of the unit in charge of tracking him at the CIA. His expertise became understanding the motives and missions of Islamic extremists. That experience, and his role as the first chief of the U.S. government's rendition program, uniquely positions Scheuer to comment on national security issues. In Marching Toward Hell, Scheuer argues that because politicians in both parties have not made protecting Americans their first priority, U.S. citizens are in a worse position today than before 9/11. Based on his knowledge of foreign policy and his own background, Scheuer contends that every leading presidential candidate is getting it wrong. Join Scheuer to learn how he believes we have failed and his thoughtful suggestions for righting the course. Free, no registration required.
Thursday, 31 July 2008, 6:30 pm - Washington, DC - "Elite Surveillance Team" at the Spy Museum.
Can you spot an enemy spy or elude hostile surveillance? At the International Spy Museum Elite Surveillance Team (SPY/EST) under the leadership of former CIA officer Tony Mendez, you'll learn how to establish your own surveillance zone, design surveillance detection runs (SDRs), and then work with and against your teammates to test your skills. SPY/EST will meet at least quarterly and then work together as a team to further develop and perfect a surveillance zone and their own SDRs using the guidelines prepared by Mendez for training actual intelligence agents. Tickets: $180; Advance Registration required. Tickets are non-refundable and do not include admission to the International Spy Museum. *Includes four meetings with Mendez within membership year and guidelines on developing Surveillance Detection Runs. To register, call 202-654-0932 or email kray@spymuseum.org.
2 August 2008 - Melbourne Beach, FL - AFIO Florida Satellite Chapter Luncheon on U.S./Mexico Border Security. Mr. Alberto Lee will speak on this important topic at the Indian River Colony Club [IRCC], starting with a social hour at 11:30 a.m. followed by Lunch at 12:30 p.m. Send inquiries and registrations to Donna C at donnacz12@aol.com up to July 24. Cost is $17 pp.
Wednesday, 6 August 2008, 7:30 p.m. - Orange Village, OH - "America's Oil Dependence and What It Means for Our Future" featuring Dr. Gal Luft, Executive Director of the Institute for the Analysis of Global Security. Refreshments. No charge to attend. For location or further information contact mommybag@aol.com
Thursday, 14 August 2008, 6:30 pm - Washington, DC - "Spies on Screen: Rendezvous" - David Kahn at the Spy Museum. The 1935 film, Rendezvous, stars William Powell, a Washington, DC newspaperman turned code breaker during World War I. In his attempts to find a stolen code book, he must handle a ring of German spies, an assassination, and an attractive military mistress with sinister intentions. After the film, David Kahn, a leading expert in the history of cryptology and author of The Codebreakers, will discuss the historical basis for this romanticized account of high states WW I code-breaking. Tickets: $15; Advance Registration required. Tickets are non-refundable and do not include admission to the International Spy Museum. To register, call 202.393.7798; order online at http://www.spymuseum.org.
14 August 2008 - 23 August 2008 - UK to Russia - A Cold War Summit: From Cambridge To Moscow - Special Excursion explores history of Cold War, follows Cambridge Spy Ring in UK/Moscow, and an up-close look at Putin's latest movements of his intelligence services. Once-in-a-lifetime Trip with unusual, first-hand onsite presentations. This important one-time trip is organized and hosted by AFIO Members Dan Mulvenna and Nigel West. Purpose: To explore the history of the Cold War and its manifestations; to examine British and American-Russian relationships from 1945 to 1991; to delve into recent events that suggest the Cold War has new dimensions in Vladimir Putin's Russia, and to follow the path of the infamous Cambridge Five in England and Russia.
The price of oil had dropped, starving the Kremlin of the funds it desperately needed to keep pace in the arms race against the United States. Then all it took was the nudge of Gorbachev's perestroika and the dominoes began to fall: Afghanistan, Poland, Czechoslovakia and, finally, the Berlin Wall itself. Twenty years later and the price of oil is at an all-time high, and Russia has reemerged as a global superpower, albeit with a new ideology — capitalism. Flush with the confidence of petrodollars, the Kremlin is rattling its saber in Europe once again. And a former Russian spy, Alexander Litvinenko, dies in a London hospital, mysteriously poisoned by a fatal dose of radiation.
- Study Leaders, Nigel West — author of VENONA and other respected books on security, intelligence and espionage — and counterintelligence expert Dan Mulvenna, take you behind the curtain of Cold War intelligence and espionage.
- Discover hidden spy sites in Moscow with a former KGB colonel and Dan Mulvenna, security expert and professor at the Centre for Counterintelligence and Security Studies in Washington.
- Hear about the death of Alexander Litvinenko from a Russian consultant to the BBC's Panorama program.
- With staff at the Churchill Archives Centre, explore Cold War materials from its collection.
- Enjoy a reception with retired KGB officers in Moscow.
- Go behind the scenes at Bletchley Park, where codebreakers decrypted and interpreted Axis messages and broke the German Enigma Code during World War II.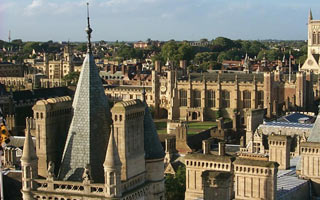 8 nights; 17 meals; 8 Breakfasts, 3 Lunches, 6 Dinners
$4,950.00 pp Group size limited to 48 or fewer participants

Itinerary: From Cambridge, England, to Moscow, Russia, from the "Cambridge Five" to Gary Powers to the recently murdered Russian spy Alexander Litvinenko, trace the trail of diplomacy and intrigue from the height of the Cold War to the global chess match with Russia today. With privileged access to unrivaled authorities in the fields of espionage and in 1950s Cold War politics, gain an understanding of the foreign policy conducted in public and the intelligence machinations that continue in the shadows. In this one-time program, join important writers and thinkers, including Andrew Lownie, Piers Brendon, Mike Sewell and Richard Aldrich to discuss the ramifications and intricacies of the "war," as well as commentators Glenmore Trenear-Harvey and Boris Volodarsz, to consider whether the Cold War has recently reemerged in Putin's Russia. Leading the way is Nigel West. Former member of the House of Commons and author of more than a dozen books on espionage, Nigel is considered the "expert's expert" on intelligence.
Based at the elegant Møller Center at Churchill College, Cambridge University, track the "Cambridge Five" - the ring of Soviet spies who passed information to the KGB and who infiltrated the British establishment. Follow in the footsteps of the notorious spies on a walking exploration through Trinity, St John's and King's Colleges. Explore Cold War materials in the Churchill Archives Centre, which houses Sir Winston Churchill's papers, as well as those of Margaret Thatcher and other prominent figures of the 20th century. At Bletchley Park - also known as "Station X" - see one of the Enigma Machines, including the rare "Abwehr G312," and check out the tales of World War II code-breaking, spies and strategic deception.
Continue the exploration of the Cold War from the other side, in Moscow. A retired senior KGB officer and Dan Mulvenna — professor at Washington's Centre for Counterintelligence and Security Studies — lead you on an exploration of spy sites throughout the Russian capital. See the graves of Kim Philby, the great British spy, and those of the famous "illegals" Rudolph Abel (Willie Fisher), Konon Molody, known to the West as Gordon Lonsdale, and Ramon Mercader — Trotsky's assassin. Go behind the scenes to areas not open to the public and learn about the Russian intelligence services and counter-terrorism at the FSB (formerly KGB) Intelligence Museum, located just off Lubyanka Square. Receive "briefings" on the KGB's view of the Cold War and on several famous Cold War spy cases by former KGB officers who have intimate knowledge of the affairs. Hear from Colonel Oleg Nechiporenko — Lee Harvey Oswald's first case officer at the Mexico City KGB station. Then meet and mingle with distinguished senior retired KGB officers at an elegant farewell reception.
Please Note: This program will operate only once and has a maximum capacity of 48. Each of two groups of 24 will have its own Group Leader and motorcoach but all participants will attend program events together. To explore or register for this once-in-a-lifetime excursion, visit:
http://www.roadscholar.org/prog/adv-main.asp?C=Y&src=%2Fprog%2Fadv%2Dmain%2Easp&Id=1%2D433E2Q

Sunday, 17 August 2008, 8:30 am - 5:00 pm - Summit Point, WV - "Drive To Survive: Anti Terrorist Driver Training" at BSR, 2026 Summit Point Rd., Summit Point, WV 25446.
For over thirty years BSR has trained the people whose lives depend on top-notch evasive driving - from hostage rescue personnel to counterterrorist units. As the recognized leader in vehicle anti-terrorist training for military and governmental application worldwide, BSR has developed a state-of-the-art program. Now they have custom-designed an exclusive one-day opportunity for SPY highlighting the best of their longer courses. The BSR Shenandoah Valley training center has acres of paved and dirt road circuits, skid pads, an off-road training arena, and instructors who have firsthand experience driving for their lives. Tickets: $1,200 (includes 6% WV sales tax); Advance Registration required. Phone registration only for this program, call 202.654.0932.
Tuesday, 19 August 2008 – Vienna, VA - THE SIXTH ANNUAL AFIO SOCIAL EVENT - The Boston Pops at the Wolf Trap Park in Vienna, Virginia. This year we have moved the annual social from Boston's Symphony Hall to the Wolf Trap Foundation for the Performing Arts on Tuesday, August 19 at 8:00 PM. The concert choice will once again be the Boston Pops Esplanade Orchestra.
Contact Mr. Wass and use AFIO Social in the subject line at wassinmaryland@aol.com if you would like to attend the pre-concert AFIO social at Wolf Trap. Reservations are now being taken however since we have limited amount of seats available for the social, we recommend contacting us before purchasing your concert tickets.
For those who plan on attending the concert and social at Wolf Trap [located at 1645 Trap Road, Vienna, Virginia 22182], you must purchase concert tickets directly through Wolf Trap for seating choices. RSVP requested before July 19. Wolf Trap Box Office - (703) 255-1868 to purchase tickets. http://www.wolftrap.org No portion of your purchase constitutes a donation to AFIO; therefore this is strictly a social event.
Monday, 15 September 2008 - New York, NY - AFIO New York Metro Chapter evening meeting on "How Baghdad Thieves Stole Iraq's Antiquities and CTTF Recovered the Stolen Loot." Colonel Matthew Bogdanos, U.S. Marine Corps Reserve -- the Author of "Thieves of Baghdad" explains how the Baghdad thieves stole Iraq's antiquities and how our counter-terrorism Task Force caught them and recovered their loot. Bogdanos led the investigation. He was awarded the Bronze Star for counter-terrorism operations in Afghanistan. He is currently an Assistant District Attorney in Manhattan. Buffet dinner and open bar - $40. per person. 5:30 PM - 6:00 PM Registration. Meeting starts 6:00 PM. New Location: 4 Columbus Circle (58th Street and 8th Avenue) The showroom space of STEELCASE, the global leader in the office furniture industry. Further information available from afiometro@yahoo.com
Thursday, 25 September 2008, 12:30-2:30 pm - Los Angeles, CA - AFIO L.A. Area Chapter hosts Jake Katz, Assistant Director Emergency Operations Bureau for the Los Angeles County Sheriff's Department will discuss "Open Source Intelligence - The Sheriff's Approach." Event being held at the Hilton business building located at the LMU campus (Playa del Rey). Complimentary buffet lunch will be served, guests are welcome. Please RSVP by Monday September 15, 2008 via email to Vincent Autiero: AFIO_LA@yahoo.com
Tuesday, 2 December 2008 - New York, NY - AFIO NY Metro Chapter meeting features speaker Gordon Chang, author of NUCLEAR SHOWDOWN and THE COMING COLLAPSE OF CHINA.
Meeting location - 4 Columbus Circle in the NYC showroom of the office furniture manufacturer - Steelcase. Attractive, spacious, modern space overlooking Central Park.
58th Street and 8th Avenue. Buffet dinner and open bar: $40.00 per person 5:30 PM - 6:00 PM Registration. Meeting starts 6:00 PM. For inquiries or to register email afiometro@yahoo.com
---
For Additional Events two+ months or greater....view our online Calendar of Events
-----------------------------------------------------------------------
Disclaimers and Removal Instructions
Weekly Intelligence Notes (WINs) are commentaries on Intelligence and related national security matters, based on open media sources, selected, interpreted, edited and produced for non-profit educational uses by members and WIN subscribers.
REMOVAL INSTRUCTIONS: We do not wish to add clutter to inboxes. To discontinue receiving the WINs:
a) IF YOU ARE A MEMBER -- click here: UNSUBSCRIBE and supply your full name and email address where you receive the WINs. Click SEND, you will be removed from list. If this link doesn't open a blank email, create one on your own and send to afio@afio.com with the words: REMOVE FROM WINs as the subject, and provide your full name and email address where you are currently receiving them.
b) IF YOU ARE NOT A MEMBER, and you received this message, someone forwarded this newsletter to you [contrary to AFIO policies]. Forward to afio@afio.com the entire WIN or message you received and we will remove the sender from our membership and distribution lists. The problem will be solved for both of us.
CONTENTS of this WIN [HTML version recipients - Click title to jump to story or section, Click Article Title to return to Contents. This feature does not work for Plaintext Edition or for some AOL recipients]. If you wish to change to HTML format, let us know at afio@afio.com. The HTML feature also does not work for those who access their e-mail using web mail...however NON-HTML recipients may view the latest edition each week in HTML at this link: https://www.afio.com/pages/currentwin.htm
-----------------------------------------------------------------------

WINs are protected by copyright laws and intellectual property laws, and may not be reproduced or re-sent without specific permission from the Producer. Opinions expressed in the WINs are solely those of the editor(s) or author(s) listed with each article. AFIO Members Support the AFIO Mission - sponsor new members! CHECK THE AFIO WEBSITE at www.afio.com for back issues of the WINs, information about AFIO, conference agenda and registrations materials, and membership applications and much more!

(c) 2008, AFIO, 6723 Whittier Ave Suite 200, McLean, VA 22101. Voice: (703) 790-0320; Fax: (703) 991-1278; Email: afio@afio.com
Click here to return to top.