AFIO Weekly Intelligence Notes #29-08 dated 28 July 2008
CONTENTS

Section I - INTELLIGENCE HIGHLIGHTS

Section II - CONTEXT & PRECEDENCE

Section IV - BOOKS, OBITUARIES AND COMING EVENTS

Current Calendar Next Two Months ONLY:

AFIO NATIONAL EVENTS

AFIO 2008 Fall Intelligence Symposium
Threats to U.S. Security
Technology Theft, Insider Threats, Economic Espionage
and International Organized Crime




Three Days: Day 1 [10/23] at MITRE Corporation; Day 2 [10/24] at Department of State:
Day 3 [10/25] at Sheraton-Premiere Hotel

SYMPOSIUM RESERVATION:


HOTEL RESERVATIONS available now at special AFIO Event Rate:
Make your Sheraton-Premiere Hotel reservations here while low-rate window remains open.



Tentative Program
Wednesday, October 22: heavy hors d'oeuvres and evening registration for hotel-based attendees,
Thursday morning, October 23: Chapter workshop/breakfast; Main Reservations
Thursday, October 23: MITRE Corporation;
Friday, October 24: U.S. Department of State Intelligence Division;
Friday evening, October 24: Awards Banquet, Saturday morning, October 25: General membership meeting.
The program ends 11 a.m. Saturday October 25 leaving time for exploring local area Museums [International Spy Museum, the newly reopened Newseum, the new National Museum of Crime and Punishment, National Cryptologic Museum, Air & Space] and to make plans to return home.


 

Click here to view disclaimers, removal, methods of use of the links in this document.

The WIN in its entirety appears below; however, the document may also be viewed online by current members with usernames and passwords at this link.

Usernames and Passwords appear on AFIO Membership Cards.
They work only if the membership is current.
---
Section I - INTELLIGENCE HIGHLIGHTS
Ex-Australian Spy Chief wins $375,000 Defamation. A former head of Australia's Defense Intelligence Organization (DIO) has been awarded $375,000 in damages after successfully suing the publishers of the now defunct Bulletin magazine for defamation.

Frank Lewincamp had taken action against ACP Magazines in the ACT Supreme Court over two articles published in 2004.

The articles suggested the former spy chief had abused his position by deliberately stopping the flow of intelligence to Australian soldiers in East Timor during the Interfet military operation.

The ruling follows a related win for Mr. Lewincamp last month when the same court awarded damages against the author of an internal defense review who said the politicization of the DIO was misleading the government and was "life-threatening".

In delivering his judgment from Adelaide via video link on Wednesday, Justice Anthony Besanko said the two Bulletin articles had implied Mr. Lewincamp had failed in his duties as DIO director by allowing a pro-Jakarta lobby to distort intelligence assessments, and that he had abused his position to deliberately stop the flow of intelligence to Australian soldiers in East Timor.

Justice Besanko found there was no defense to the defamatory imputations.

The court will determine what form an apology should take next month. [TheAge/23July2008]

Former Argentine Army Chief to Serve Life in Prison. A court sentenced one of Argentina's most feared former military leaders to life in prison for the 1977 kidnapping, torture and killing of four activists.

Luciano Benjamin Menendez, 81, was commander of the regional Third Army Corps in Cordoba for five years during Argentina's 1976-83 military dictatorship.

Menendez, who was already under house arrest for previous convictions related to the dictatorship's "dirty war" against leftists, will be transferred to a prison.

The verdict was symbolic both because of Menendez's gruesome reputation as controller of one of the dictatorship's worst torture centers and because he was ordered to serve the rest of his sentence in prison.

The four victims, Hilda Palacios, Humberto Brandalisis, Carlos Lajas and Raul Cardozo, were kidnapped in 1977.

According to prosecutors, they were taken to the prison and torture center known as La Perla, which was run by the Third Army Corps, and killed the next month. Their bodies were then dropped in the street to make it seem as if they had been killed in a shootout, before being collected by authorities.

The others convicted on Thursday are Hermes Rodriguez, Jorge Acosta, Luis Manzanelli, Carlos Vega, Carlos Diaz, Oreste Padovan and Ricardo Ramon Lardone, a civilian who worked for military intelligence.

About 13,000 people were killed during the dictatorship, according to official numbers, but human rights groups claim the number is closer to 30,000. [Kusnetz/AP/23July2008]

Spook School: CIA-Funded UW Program Trains the Next Generation of Online Spies. When classes at the University of Washington resume this fall, some students at the school will be under the watchful eye of a Central Intelligence Agency spook. In fact, some of them will even be learning from him.

This fall, Dr. Tim Thomas, a CIA agent specializing in "open source" data mining, will begin a two-year stint as an officer-in-residence at the UW's Institute for National Security Education and Research (INSER), which is financed by the Office of the Director of National Intelligence. That office is an umbrella organization for groups such as the U.S. Marine Corps Intelligence Department, the Department of Homeland Security, and the CIA - which will provide the university with $2.5 million in grant money over the next five years.

INSER focuses on so-called "open source" intelligence - gathering information from publicly available documents, newspapers, TV shows, and blogs in other countries. Under Thomas's tutelage, students will learn the fine art of data mining and intelligence gathering, and discuss U.S. foreign policy and the strategic differences between the cold war and the war on terror.

While INSER focuses more on information retrieval and intelligence gathering than espionage, the UW has kept the program fairly quiet. INSER has been around since January 2007, but faculty members - including UW spokesman Norm Arkans - were unable to provide many details about the program. What's more, students don't appear to be aware that intelligence agencies are present on campus.

Dr. Thomas was not available to talk about the curriculum for his course or address concerns about the CIA's presence on campus. [Spangenthal-Lee/TheStranger/25July2008]

Office of Technology Assessment Archive. The Federation of American Scientists is offering a new online collection of resources pertaining to the Office of Technology Assessment (OTA), the congressional advisory organization that produced an enduring body of science policy literature before it was terminated by Congress in 1995.

"The OTA was an invaluable resource that informed Congress about an incredibly broad range of science and technology issues," said Henry Kelly, President of the Federation of American Scientists and a former OTA staff member. "Numerous reports, on subjects such as transportation, energy, health care, and information technology remain relevant more than 10 years after OTA issued its final report."

The new archive includes all of the official OTA publications, which have also been published online by Princeton University's Woodrow Wilson School (www.princeton.edu/~ota), as well as various previously unreleased documents and memoranda, interviews, and related materials. [SecrecyNews/22July2008]

Radovan Karadzic Captured After Tip Off From MI6 and US Intelligence. Britain's Secret Intelligence Service MI6 has long been involved in the hunt for Balkans war crimes suspects, but has often found its efforts compromised by local authorities still loyal to the fugitives.

The latest, successful, operation to capture Karadzic was launched with a new more co-operative government power in Belgrade however, and no leaks or warnings were able to help Karadzic escape at the last minute, as he is rumored to have done before. According to British sources Karadzic's capture was a combination of human and signals intelligence ­ old fashioned detective work and high tech modern surveillance and tracking techniques.

Before his capture Karadzic, who faces multiple counts of genocide for his role leading ethnic Serbs in the 1992-1995 war in Bosnia, was rumored to be hiding in remote monasteries or to have been spirited out of country by a network of supporters.

In fact, the intelligence trail led to the heart of Serbian capital Belgrade, where he was hiding in plain sight having grown a profuse beard and long hair that effectively masked his identity.

Under the false name Dragan Dabic, Karadzic promoted himself as a "Spiritual Explorer" and a practitioner of alternative medicine. So confident was he of his disguise that he even gave public lectures on the subject of 'Human Quantum Energy'.

Images of 'Dr. Dabic' available on the internet at one such public appearance show him surrounded by colleagues who remain utterly unaware of his real identity, despite his clean-shaven features being among the most notorious in the Balkans. [Quetteville/Telegraph/23July2008]

Report: Is Data Sharing Stopping Terrorists? Nearly seven years after 9/11, the government still can't measure how well an office created to improve information sharing on terrorism may be helping prevent attacks, congressional investigators say.

The Information Sharing Environment was formed partly in response to criticism that a lack of information-sharing among government agencies was one reason the U.S. didn't prevent the 9/11 terrorist attacks on Washington and New York.

A Government Accountability Office report says the ISE has "begun to develop some performance measures, but they focus on counting activities accomplished rather than results achieved."

For example, the investigators said the ISE is able to determine the number of organizations that have procedures for acquiring and processing reports on suspicious activities, but the ISE does not measure what difference such information is making in helping prevent terrorist attacks.

The program manager of the ISE, Thomas McNamara, generally agreed with the report's recommendations, which included that the ISE develop performance measures that show what has been and what remains to be accomplished at the ISE. [Simmons/AP/23July2008]

Pakistan Puts Spy Agency Under Civilian Control. Pakistani Prime Minister Yousaf Raza Gilani put the military's main spy agency under the control of the Interior Ministry, a move seen as asserting civilian authority over the intelligence network.

The Inter Services Intelligence (ISI) agency is known to have wielded great influence on foreign and security policies, especially towards India and Afghanistan.

Critics say it played a major role in the creation of the Islamist Taliban movement which took control of Afghanistan in the 1990s and harbored al Qaeda until it was forced from power by U.S.-led forces in the wake of the September 11 attacks.

Last month, Pakistan denied accusations by Afghan authorities that the ISI was behind an attempt by Taliban militants to kill Afghan President Hamid Karzai in April.

Security analysts said the decision was the first move by the civilian government formed after February elections, led by the party of slain former Prime Minister Benazir Bhutto, to assert its authority over Pakistan's intelligence network. [Haider/WashingtonPost/26July2008]

Spy Aircraft That Weighs Just Three Grams. Dutch engineers have developed a miniature remote-controlled aircraft that flies by flapping its wings like a dragonfly, has an on-board camera and weighs just three grams.

Delfly Micro, made by engineers at Delft University of Technology, can fly for approximately three minutes and has a maximum speed of five meters per second, reports Eurekalert.

The 10-cm long aircraft has a miniature battery weighing about one gram and a tiny camera weighing about 0.5 grams on board. The camera transmits TV quality image signals to a ground station and therefore allows the DelFly to be operated remotely by an operator from a computer.

It can be maneuvered using a joystick as if the operator was actually in the cockpit of the aircraft.

The Delfly Micro is a successor to the universities earlier DelFly I (weight 23 grams and length 50 cm) and DelFly II (weight 16 grams and length 30 cm) aircrafts.

Such ultra-small, remote-controlled, camera-equipped aircraft could be eventually used for observation flights in difficult-to-reach or dangerous areas. [SindhToday/26July2008]
---
Section II - CONTEXT & PRECEDENCE
New Defense Strategy Calls for Increasing Investment in Irregular Capabilities. The Pentagon's new national defense strategy calls on the Army, Navy, Air Force and Marines to boost investments in irregular warfare capabilities by assuming "greater risk" in traditional combat capability areas, a controversial conclusion that Defense Secretary Robert Gates endorsed last month over the objections of top Pentagon brass.

"U.S. predominance in traditional warfare is not unchallenged, but is sustainable for the medium term given current trends," states the 2008 National Defense Strategy, a copy of which was obtained by InsideDefense.com. "The 2006 [Quadrennial Defense Review] focused on non-traditional or irregular challenges. We will continue to focus our investments on building capabilities to address these other challenges, while examining areas where we can assume greater risk."

That conclusion, Pentagon officials say, is being used to guide investment decisions this summer in drafting the fiscal year 2010 budget proposal and the accompanying five-year program. InsideDefense.com reported June 12 that Gates approved the new strategy despite the fact the service chiefs disagreed with the risk-assessment portion of the document.

It also forms a final flourish in a sweeping new defense strategy, details of which have not previously been reported, that significantly expands the set of challenges the U.S. military must prepare to deal with beyond major wars and counterinsurgency operations to include space and cyber threats, natural and pandemic disasters and growing global competition for resources.

In a foreword, Gates said the strategy aims to distill "valuable experience" gained during operations since 2001 and forms a "blueprint" for the next administration to consider as it inherits the management of two wars and a massive bureaucracy with a nearly $700 billion annual budget.

The Defense Department has not made the document public yet; sources say the Office of the Secretary of Defense is hoping to unveil it along with the National Military Strategy, prepared by the Joint Staff, which was not ready as of last month.

The 23-page defense strategy sets five objectives: defend the homeland; win the long war; promote security; deter conflict; win the nation's wars.

It calls for the U.S. military to "display a mastery of irregular warfare comparable to that which we possess in conventional combat," and develop "better intelligence capabilities" to recognize "new forms of warfare."

The strategy sets operations in Iraq and Afghanistan in a broader context: "[We cannot lose sight of the implications of fighting a long-term, episodic, multifront, and multidimensional conflict more complex and diverse than the Cold War confrontation with communism."

While Iraq and Afghanistan are central fronts in the current war against violent extremist movements, success in those operations "alone will not bring victory," states the strategy.

The strategy calls for a new form of "jointness," where the military better coordinates planning and operations with civilian arms of the government. The document also acknowledges that irregular operations require the use of force - to capture and kill terrorists - but also must include "efforts to understand and address the grievances that often lie at the heart of insurgencies."

To deal with conventional military threats, the strategy makes explicit the Pentagon's plan to deal with China.

The strategy singles out Iran and North Korea as states which "threaten international order," Iran through its pursuit of nuclear technology and enrichment capabilities and North Korea through its nuclear and missile proliferation activities as well as its "counterfeiting of U.S. currency" and narcotics trafficking.

Looking out over the next two decades, the strategy calls for Pentagon planners to consider a much wider array of challenges, particularly non-military factors that could require a U.S. military response.

While the Defense Department was widely viewed as the most capable arm of the federal government during the response to the aftermath of Hurricane Katrina in 2005, the new strategy asserts the Pentagon must not be the lead agency in responding to a domestic crisis.

Defending the nation from attack upon its territory is a core responsibility of the Defense Department, states the document. "Yet, in the long run the Department of Defense is neither the best source of resources and capabilities, nor the appropriate authority to shoulder these tasks. The comparative advantage, and applicable authorities, for action reside elsewhere in the U.S. government, at other levels of government, in the private sector, and with partner nations," the document states. [Sherman/InsideDefense/22July2008]

Beijing's Red Spider's Web. The fall of the Soviet Union and the end of the Cold War had a profound impact not only on how security and intelligence professionals viewed the world of espionage but also on the motivations of the players and the targets of their espionage activities.

Global rivalries centered on technology development, and intellectual capital replaced the old divides of East versus West and communism versus capitalism as the primary driver of the new espionage war; in this globalized competitive economy the battlefield has widened to include private companies and corporate spies.

During the height of the Cold War, no other nation could match the desire and ability of the Soviet Union's KGB to steal American corporate and military secrets, particularly technology secrets. That has since changed, however. In today's information age, the People's Republic of China (PRC) has replaced and even improved on the KGB methods of industrial espionage to the point that the PRC now presents one of the most capable threats to US technology leadership and by extension its national security.

What we know thus far about China's espionage activities against US weapons laboratories and other technology development programs is cause enough for concern. The US intelligence community's official damage assessment of Chinese espionage targeting America's nuclear technology secrets tells us this much:

* China obtained by espionage classified US nuclear weapons information that probably accelerated its program to develop future nuclear weapons. This collection program allowed China to focus on critical paths and avoid less promising approaches to nuclear weapon designs.

* China obtained at least basic design information on several modern US nuclear re-entry vehicles, including the Trident II (W88).

* China obtained information on a variety of US weapon design concepts and weaponization features, including those of the neutron bomb.

However, there are many things we don't know. For example:

* We cannot determine the full extent of weapons information obtained.

* We believe it is more likely that the Chinese used US design information to inform their own program than to replicate US weapon designs.

There is much more to China's quest for US technology. China enjoys the significant advantage of unprecedented access to American academic institutions and industry. At any given time, there are more than 100,000 PRC nationals in the United States attending universities and working throughout US industries. It is important to note here that these individuals are not assumed to be spies, but given their status as PRC nationals they remain at higher risks of being a major component of the PRC's nebulous industrial intelligence collection operation.

In fact, there are very few professional PRC intelligence operatives actively working on collecting US technology secrets compared to the number of PRC civilians who are actively recruited to routinely gather technology secrets and deliver those secrets to the PRC. Thus, the PRC employs a wide range of people and organizations to serve as its "white glove", and do its dirty work abroad, including scientists, students, business executives and even phony front companies or acquired subsidiaries of US companies as evidenced by a string of recent high profile cases.

Nowhere is the nexus of the military-industrial complex in the PRC more evident than in the codification of the 1997 "16-character policy", which makes it official PRC policy to deliberately intertwine state-run and commercial organizations for casting a cloud of ambiguity over PRC military modernization.

The 16-character policy is important because it provides commercial cover for military industrial companies to acquire dual-use technology through purchase or joint-venture business dealings, and at the same time for trained spies who work directly for the PRC's military establishment, whose operational mandate is then to gain access to and steal the high-tech tools and systems developed by the United States and its Western allies.

The two primary PRC organizations involved in actively collecting US technological secrets are the Ministry of State Security (MSS) and the Military Intelligence Department (MID) of the People's Liberation Army (PLA). The MSS, now headed by Minister Geng Huichang, relies on professionals, such as research scientists and others employed outside of intelligence circles, to collect information of intelligence value. In fact, some research organizations and other non-intelligence arms of the PRC government direct their own autonomous collection programs.

According to US Federal Bureau of Investigation (FBI) estimates, there are currently more than 3,000 corporations operating in the United States that have ties to the PRC and its government technology collection program. Many are US-based subsidiaries of Chinese-owned companies; while in the past they were relatively easy to identify, recent studies indicate that many have changed their names in an effort to distance themselves from their PRC owners.

China's espionage efforts targeting proprietary technologies developed in the United States stretch back decades, but China's spy craft has evolved rapidly and now presents a serious challenge that many in the West are unprepared to counter. For example, recent cases investigated by the FBI have involved entire families of naturalized American citizens from China. In addition, China has clearly taken a long-term view of espionage against the US technology industry, handling some agents for decades.

Many PRC domestic intelligence activities are directed against foreign businessmen or technical experts. The data elicited from unsuspecting persons or collected by technical surveillance means is used by Chinese state-run or private enterprises. Prominent Beijing hotels, such as the Palace Hotel, the Great Wall Hotel and the Xiang Shan Hotel, are known to monitor the activities of their clientele.

Chinese government-owned companies have also been involved in schemes to steal the intellectual property of US companies. They have done this using the corporate equivalent of sleeper cells - foreign executives hired by US companies on work visas, as well as naturalized American citizens who then establish US companies for the purpose of gaining access to the proprietary data of other US firms.

While America is preoccupied with the "war on terror", a quiet global espionage war is being waged by the PRC. And in many ways, the Chinese espionage threat holds greater overall importance and should be an immediate priority for US foreign policy.

Unlike radical terrorist groups, who have been pushed into a corner and are far less capable of coordinated action on a global scale, China's espionage program is well funded and its foot soldiers number in the thousands. More important, its targets are not well-defended government facilities and iconic structures, but poorly defended commercial technology secrets that feed America's economic and military advantage. Taken alone, these bits of information often appear harmless, but when viewed within the context of data collected over the course of years, and sometimes decades, those bits quickly become diamonds in the rough. [Verton/AsiaTimes/22July2008]

---
Outing the CIA Interrogator: Scrambled Logic at The Times, by Joel F. Brenner. In late June, The Times ran a story about a former Central Intelligence Agency interrogator who, in the words of its public editor, "used shrewd psychology, not rough stuff, to get Khalid Shaikh Mohammed, the mastermind of the 9/11 attacks, to talk." The Times published the interrogator's name over the objections of his lawyers and the CIA, who fear for his safety.

In supporting this decision, The Times public editor invoked the public's right to know. But this was a conclusion, not a premise. Unfortunately neither The Times nor its public editor has examined this asserted public interest with the same appetite they displayed for examining and discounting the interrogator's interest in his own safety. So let's correct the balance.

The public editor cited two reasons to publish the name. First, the reporter said that "using the name was necessary for credibility." Really? Great stories are often told using pseudonyms, and The Times frequently withholds attributions from its stories. It generally does so for good reasons that its readers understand.

What The Times may have meant is that by using the man's real name, the story would be a better read. I doubt it. But if so, The Times was weighing the man's safety against a literary interest, not the public interest.

The second asserted reason for publishing the man's real name, tossed off in the last sentence of the public editor's four-column piece, was to avoid hobbling news organizations "when trying to tell the public about some of the government's most important and controversial actions." This is nonsense. The Times was going to tell the public about these interrogations whether the interrogator's name was used or not.

On the other side of the balance, the public editor cited the case of another interrogator who, when his name was made public, suffered more than a dozen death threats, had his house put under police guard, and was told to take his family out of the country till the affair blew over. In the public editor's own words, he also "lost his job with a major accounting firm because executives expressed fear that Al Qaeda could attack its offices to get him ..."

These are substantial prices to pay for outing an identity. By publishing this interrogator's real name, The Times put him at risk for similar treatment and worse.

Journalists face difficult decisions every day about the prudence of publishing private information. But in this case the decision to out the individual had nothing to do with the media's responsibility to inform the public about important government policies or actions.

The Times also trivialized the risk to the man by putting him to the impossible burden of showing with near certainty that he would be harmed. This was morally confused. This man and many others like him undertake difficult, dangerous, and lawful missions on behalf of their country, and they deserve better from The Times. [Brenner/SecrecyNews/25July2008]
---
Section V - BOOKS, OBITUARIES AND COMING EVENTS
Spies For Hire, The Secret World of Intelligence Outsourcing, by Tim Shorrock, reviewed by Jeff Stein. Not long ago I had lunch with a recently retired senior CIA officer who worked himself into an expletive-laced rage over private contractors who had taken up seats in the agency's sanctum sanctorum, the clandestine services where the spies roam.

Many of them, he said, had spent only a few years working for the agency. Then they performed Washington's version of alchemy, turning their top-secret security clearances into gold-plated jobs with the new breed of Beltway bandits, the intelligence contractors, at twice their old pay.

Unlike in decades past, when firms such as Boeing and Lockheed provided spy planes and satellites and other hardware that the CIA could not possibly build itself, the new breed of contractor offers the CIA guys in trench coats and black ops gear, ready to do the work the agency traditionally has done.

My CIA acquaintance, who retired as chief of a large European station, groused that making money had replaced duty, honor, country in the spy ranks - and along with it, accountability. "If they make a mistake," he asked, "do you think their company is going to admit it, if it threatens their contract?"

Late last year, CIA Director Michael V. Hayden finally jammed a crowbar into the revolving doors, barring ex-employees from returning to work on their old projects for 18 months.

As investigative reporter Tim Shorrock notes in this valuable (and angry) book, contractors have long had the run of the Pentagon and CIA, working hand in hand on projects ranging from reconnaissance satellites to Predator drones. But Shorrock persuasively shows that the business has changed dramatically in recent years, beginning even before the Sept. 11 attacks set off a homeland security gold rush.

Today, intelligence contracting is a $45 billion-a-year industry, he says, chewing up three quarters of the estimated $60 billion intelligence budget. It is no longer limited mainly to providing hardware; its reach now extends from top to bottom, from data-mining contractors who sift the Internet for terrorist activity to spy handlers, regional intelligence analysts and ex-special operations troops who run paramilitary operations.

Cold War-era hardware, such as the U-2 spy plane, unquestionably made us safer. Has outsourcing made us safer in an age of non-state terrorism? Shorrock does not think so. As the U.S. occupation of Iraq was tanking in 2006, he writes, intelligence contractors gathered "over sushi and Chinese hors d'oeuvres . . . sipping cognac" at a conference at the Mandarin Oriental Hotel in Washington, where they gloated over their business fortunes. "The industry's on a roll," one investment adviser told him, even if the war on terror isn't.

The new buzz phrase, according to Shorrock, is "net centric warfare," a contractor-supplied technology that pushes information out "to the soldier at the tip of the spear," allowing him "to download data, imagery, and intelligence from computer bases located in nearby command posts or from spy planes flying overhead." Net centric warfare "is right in the sweet spot we provide for our customers," Shorrock quotes Robert Coleman, president of ManTech International, a top intelligence contractor, telling investors at the Mandarin Oriental. The event's keynote speaker was former CIA Director George Tenet, who within three months of his speech "would join, either as a director or an adviser, four companies that were directly involved with the high-tech military strategies he was endorsing," Shorrock writes.

This is a movie version of Washington, of course, with black-hat war profiteers right out of Catch-22's M & M Enterprises. Beyond the caricatures is a world in which contractors necessarily fill gaps in U.S. intelligence capabilities and provide valuable new technology. Yes, they're turning a profit along the way, but is that inherently evil, as Shorrock suggests? His book would have benefited mightily from interviews with some of the officials he lampoons. But one-sided though it is, it contains some important, timely truths about the influx of private entrepreneurs into America's spy agencies.

Shorrock - a frequent contributor to such liberal muckraking magazines as Mother Jones, the Nation and the Progressive - dates the beginning of the intelligence "outsourcing boom" to the Carter and Reagan years, when cutting the federal payroll became a Washington mantra. But it was during the Clinton administration that the privatization of intelligence went on steroids, abetted by industry-dominated study commissions championed by Vice President Al Gore and Defense Secretary William Cohen. Oh, the savings, purred the representatives of Boeing, Lockheed Martin, L-3 Communications and other contracting giants on the board of the National Defense Panel, which recommended a vast privatization of national security activities. More than 30,000 government jobs, it estimated, could be cut.

"A revolution in business affairs," Gore and Cohen said in a joint statement.

"A corporate vision for the Defense Department," said Cohen, more precisely.

The revolution was accompanied by the collapse of the Soviet Union, which was to provide a "peace dividend" through reductions in national security spending. The soft part of the budget, as always, was personnel. R. James Woolsey, faced with cuts as Bill Clinton's CIA director in 1993, slashed the number of large CIA stations by more than 60 percent and of case officers working overseas by more than 30 percent, Shorrock reports.

The spies were out in the cold. Yet Woolsey was "ferocious" in defending the intelligence community's technical budget, according to Spies for Hire: "He fought vigorously to increase spending on expensive high-technology programs - precisely the vehicles that were funding the great leaps being made at the time by Titan, Martin Marietta, and other companies he advised before going to the CIA."

That's a nasty swipe. Is Shorrock suggesting that Woolsey fired spies to make a buck for his pals? Alas, Woolsey doesn't get space to defend himself. In any event, as has been fully reported elsewhere, the CIA was sadly lacking HUMINT - spy handlers collecting human intelligence - when al-Qaeda's storm hit landfall in New York and Washington.

So the old boys who had been cut from the rolls, or had retired, saw an opportunity. One of them was Richard "Hollis" Helms, a 30-year CIA veteran who retired in 1999. "In the months after the 9/11 attacks, he began taking notice of the many retired intelligence officers who were being hired by defense contractors," Shorrock writes. He "seized the moment" and created Abraxas, which quickly grew into a company with $65 million in revenues and more than 200 former intelligence officers on its payroll, "the largest aggregate of analytical counter-terrorism capabilities outside of the U.S. government."

Would the United States be better off if those operatives were working as CIA employees, reporting directly to agency supervisors rather than to private bosses whose loyalty to the company's bottom line may trump the nation's national security? After reading Shorrock's strenuous indictment, you will wonder. Simon & Schuster. 439 pp. [Stein/WashingtonTimes/1June2008]

---
Milton Zaslow, 87; Played Major Role In U.S. Intelligence. Mr. Zaslow, 87, a seminal figure at the National Security Agency who played a significant role in U.S. intelligence from World War II through the Vietnam War, died of cardiac arrest July 15 at Holy Cross Hospital in Silver Spring.

Because he worked for an agency that holds some of the government's most secret information, an agency that for years was itself a secret, the full details of Mr. Zaslow's career might never be known. But by the time he retired in 1979, he was the NSA's second-highest-ranking civilian.

His career at NSA included oversight of the agency's operations in Vietnam during the long war. He was involved in a variety of matters, including the reports of hostile action in the Gulf of Tonkin, which launched America's major intervention in the war, to providing signals intelligence for the failed 1970 rescue attempt of Americans held at the Son Tay prisoner of war camp in North Vietnam.

The New York native had just graduated from the City College of New York when the United States entered World War II. Trained in intensive Japanese-language classes, he was commissioned an Army second lieutenant and put in charge of 10 linguists, mostly Japanese Americans whose families were interned in the United States.

His unit translated captured diaries and documents picked up on battlefields, then accompanied Marines, acting as translators, in Tinian, one of the main Northern Marianas Islands. They swam ashore on Okinawa on Aug. 6, 1945, the day that the United States dropped an atomic bomb on Hiroshima.

His unit was among the first to enter Nagasaki after an atom bomb was dropped there, and it stayed to help with reconstruction.

After World War II, he transferred to the Army Security Agency, an NSA precursor. Posted to China, he began reading thousands of messages that led to the discovery of Chinese troop movements.

Fifty years later, Mr. Zaslow told a spellbound crowd at the opening of a Korean War exhibit at the NSA's museum, "I have been waiting a long, long time to talk about this." He said that despite their claims at the time, top military officials, including Gen. Douglas MacArthur, were briefed six months before the Chinese invaded. "But he said, 'Well, maybe they're not coming anyway, so maybe we can win the war,' " Mr. Zaslow told the audience.

The NSA was formed in 1952, and Mr. Zaslow rose through the ranks, leading its offices in Japan in the early 1960s, serving as the NSA's first liaison to the Pentagon in 1969 and overseeing the group dealing with the Soviet Union and Eastern Bloc nations. He was stationed in London from 1975 to 1978.

According to an oral history project conducted for the NSA's Center for Cryptologic History, he said he "absolutely" believed that North Vietnam attacked U.S. ships in the Gulf of Tonkin in August 1964, although it has since been documented that there was no attack.

At the time, he was in constant touch with other NSA officials in Vietnam. "We saw the beginnings of Vietnamese actions. We reported them. And we reported the hostile actions on two occasions . . . in both cases before the event took place," he said. "Now there have been many arguments since then that there was a spurious raid that never took place. That's not what we felt we saw."

During the Vietnam War, the NSA, the CIA and military officials decided to raid the Son Tay POW camp, 20 miles west of Hanoi, where 50 to 100 U.S. service members were held.

As Mr. Zaslow was briefing the secretary of defense and chairman of the Joint Chiefs of Staff about the raid's progress, an officer rushed in, saying North Vietnam had launched MiG fighters.

Supremely confident in his intelligence, Mr. Zaslow responded, "No MiGs," according to NSA historian Robert J. Hanyok in "Spartans in Darkness: American Signal Intelligence and the Indochina War, 1945-1975," which was declassified this year.

The raid failed. The POWs had been moved months earlier. But there were no MiGs.

Mr. Zaslow was the NSA's deputy director for telecommunications and computer services until his retirement in 1979.

His wife, Elinor "Nonie" Zaslow, died in 1996. Survivors include two children, William Zaslow of Rogersville, Mo., and Ellen Zaslow of San Francisco. [Sullivan/WashingtonPost/25July2008]
---
EVENTS IN COMING TWO MONTHS....
Thursday, 31 July 2008, 12 noon – 1 pm – Washington, DC – "Marching Toward Hell: America and Islam After Iraq, at the Spy Museum. Free lunchtime author debriefing and book signing. Long before Osama bin Laden's name was known to all, Michael Scheuer was chief of the unit in charge of tracking him at the CIA. His expertise became understanding the motives and missions of Islamic extremists. That experience, and his role as the first chief of the U.S. government's rendition program, uniquely positions Scheuer to comment on national security issues. In Marching Toward Hell, Scheuer argues that because politicians in both parties have not made protecting Americans their first priority, U.S. citizens are in a worse position today than before 9/11. Based on his knowledge of foreign policy and his own background, Scheuer contends that every leading presidential candidate is getting it wrong. Join Scheuer to learn how he believes we have failed and his thoughtful suggestions for righting the course. Free, no registration required.
Thursday, 31 July 2008, 6:30 pm - Washington, DC - "Elite Surveillance Team" at the Spy Museum.
Can you spot an enemy spy or elude hostile surveillance? At the International Spy Museum Elite Surveillance Team (SPY/EST) under the leadership of former CIA officer Tony Mendez, you'll learn how to establish your own surveillance zone, design surveillance detection runs (SDRs), and then work with and against your teammates to test your skills. SPY/EST will meet at least quarterly and then work together as a team to further develop and perfect a surveillance zone and their own SDRs using the guidelines prepared by Mendez for training actual intelligence agents. Tickets: $180; Advance Registration required. Tickets are non-refundable and do not include admission to the International Spy Museum. *Includes four meetings with Mendez within membership year and guidelines on developing Surveillance Detection Runs. To register, call 202-654-0932 or email kray@spymuseum.org.
2 August 2008 - Melbourne Beach, FL - AFIO Florida Satellite Chapter Luncheon on U.S./Mexico Border Security. Mr. Alberto Lee will speak on this important topic at the Indian River Colony Club [IRCC], starting with a social hour at 11:30 a.m. followed by Lunch at 12:30 p.m. Send inquiries and registrations to Donna C at donnacz12@aol.com up to July 24. Cost is $17 pp.
Wednesday, 6 August 2008, 7:30 p.m. - Orange Village, OH - "America's Oil Dependence and What It Means for Our Future" featuring Dr. Gal Luft, Executive Director of the Institute for the Analysis of Global Security. Refreshments. No charge to attend. For location or further information contact mommybag@aol.com
Friday, 8 August 2008 - Washington, DC - Annual Joint DACOR-DIAA-NIEF Forum. DACOR-Bacon House, 1801 F Street, NW, Washington, DC 20006. Pay at the door $15 cash or check to Mattison Ave Caterers. Social time starts at 1200 (cash bar), luncheon at 1230 MEDIA WAR: From Soft-Power to Soft-War, Prof. Russell Rochte, NDIC Prof. Rochte's talk, MEDIA WAR: From Soft-Power to Soft-War, will present his views on the "War of Ideas" as it is being fought through the International Media, examine the applications for "new media," and discuss tactics and techniques used daily in the "Infowar for Profit"? the contest for attention and influence in the global information environment. His presentation will conclude with a brief review of "Soft-War" and suggest a strategy for victory in the televised "War of Ideas." Discussion is expected and encouraged by this dynamic and persuasive speaker. Prof. Rochte, (LTC, USA (Ret)), is the senior faculty for Information Operations at the National Defense Intelligence College. He came to the NDIC in 2005 after serving as military faculty for Information Operations and Information Assurance at the National Defense University. To encourage candor, the forum does not allow media, notes, recordings, or attribution. RSVP by calling DACOR at 202 682 0500 ext 15
Include in your message: 1. Your affiliation, e.g., DIAA, NIEF, etc. 2. Event: Joint Forum on 8 August 3. Your name, spelling out your surname. 4. Your telephone number 5. Guests' names, spelling out surnames. Cancellations must be received (by calling DACOR) before 0900 hours, 7 August. Those who don't cancel on time will be billed.
Thursday, 14 August 2008, 6:30 pm - Washington, DC - "Spies on Screen: Rendezvous" - David Kahn at the Spy Museum. The 1935 film, Rendezvous, stars William Powell, a Washington, DC newspaperman turned code breaker during World War I. In his attempts to find a stolen code book, he must handle a ring of German spies, an assassination, and an attractive military mistress with sinister intentions. After the film, David Kahn, a leading expert in the history of cryptology and author of The Codebreakers, will discuss the historical basis for this romanticized account of high states WW I code-breaking. Tickets: $15; Advance Registration required. Tickets are non-refundable and do not include admission to the International Spy Museum. To register, call 202.393.7798; order online at http://www.spymuseum.org.
14 August 2008 - 23 August 2008 - UK to Russia - A Cold War Summit: From Cambridge To Moscow - Special Excursion explores history of Cold War, follows Cambridge Spy Ring in UK/Moscow, and an up-close look at Putin's latest movements of his intelligence services. Once-in-a-lifetime Trip with unusual, first-hand onsite presentations. This important one-time trip is organized and hosted by AFIO Members Dan Mulvenna and Nigel West. Purpose: To explore the history of the Cold War and its manifestations; to examine British and American-Russian relationships from 1945 to 1991; to delve into recent events that suggest the Cold War has new dimensions in Vladimir Putin's Russia, and to follow the path of the infamous Cambridge Five in England and Russia.
The price of oil had dropped, starving the Kremlin of the funds it desperately needed to keep pace in the arms race against the United States. Then all it took was the nudge of Gorbachev's perestroika and the dominoes began to fall: Afghanistan, Poland, Czechoslovakia and, finally, the Berlin Wall itself. Twenty years later and the price of oil is at an all-time high, and Russia has reemerged as a global superpower, albeit with a new ideology - capitalism. Flush with the confidence of petrodollars, the Kremlin is rattling its saber in Europe once again. And a former Russian spy, Alexander Litvinenko, dies in a London hospital, mysteriously poisoned by a fatal dose of radiation.
- Study Leaders, Nigel West - author of VENONA and other respected books on security, intelligence and espionage - and counterintelligence expert Dan Mulvenna, take you behind the curtain of Cold War intelligence and espionage.
- Discover hidden spy sites in Moscow with a former KGB colonel and Dan Mulvenna, security expert and professor at the Centre for Counterintelligence and Security Studies in Washington.
- Hear about the death of Alexander Litvinenko from a Russian consultant to the BBC's Panorama program.
- With staff at the Churchill Archives Centre, explore Cold War materials from its collection.
- Enjoy a reception with retired KGB officers in Moscow.
- Go behind the scenes at Bletchley Park, where codebreakers decrypted and interpreted Axis messages and broke the German Enigma Code during World War II.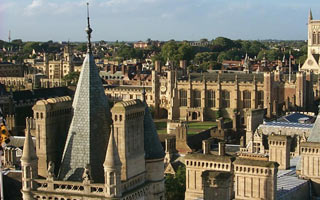 8 nights; 17 meals; 8 Breakfasts, 3 Lunches, 6 Dinners
$4,950.00 pp Group size limited to 48 or fewer participants

Itinerary: From Cambridge, England, to Moscow, Russia, from the "Cambridge Five" to Gary Powers to the recently murdered Russian spy Alexander Litvinenko, trace the trail of diplomacy and intrigue from the height of the Cold War to the global chess match with Russia today. With privileged access to unrivaled authorities in the fields of espionage and in 1950s Cold War politics, gain an understanding of the foreign policy conducted in public and the intelligence machinations that continue in the shadows. In this one-time program, join important writers and thinkers, including Andrew Lownie, Piers Brendon, Mike Sewell and Richard Aldrich to discuss the ramifications and intricacies of the "war," as well as commentators Glenmore Trenear-Harvey and Boris Volodarsz, to consider whether the Cold War has recently reemerged in Putin's Russia. Leading the way is Nigel West. Former member of the House of Commons and author of more than a dozen books on espionage, Nigel is considered the "expert's expert" on intelligence.
Based at the elegant Møller Center at Churchill College, Cambridge University, track the "Cambridge Five" - the ring of Soviet spies who passed information to the KGB and who infiltrated the British establishment. Follow in the footsteps of the notorious spies on a walking exploration through Trinity, St John's and King's Colleges. Explore Cold War materials in the Churchill Archives Centre, which houses Sir Winston Churchill's papers, as well as those of Margaret Thatcher and other prominent figures of the 20th century. At Bletchley Park - also known as "Station X" - see one of the Enigma Machines, including the rare "Abwehr G312," and check out the tales of World War II code-breaking, spies and strategic deception.
Continue the exploration of the Cold War from the other side, in Moscow. A retired senior KGB officer and Dan Mulvenna — professor at Washington's Centre for Counterintelligence and Security Studies — lead you on an exploration of spy sites throughout the Russian capital. See the graves of Kim Philby, the great British spy, and those of the famous "illegals" Rudolph Abel (Willie Fisher), Konon Molody, known to the West as Gordon Lonsdale, and Ramon Mercader — Trotsky's assassin. Go behind the scenes to areas not open to the public and learn about the Russian intelligence services and counter-terrorism at the FSB (formerly KGB) Intelligence Museum, located just off Lubyanka Square. Receive "briefings" on the KGB's view of the Cold War and on several famous Cold War spy cases by former KGB officers who have intimate knowledge of the affairs. Hear from Colonel Oleg Nechiporenko — Lee Harvey Oswald's first case officer at the Mexico City KGB station. Then meet and mingle with distinguished senior retired KGB officers at an elegant farewell reception.
Please Note: This program will operate only once and has a maximum capacity of 48. Each of two groups of 24 will have its own Group Leader and motorcoach but all participants will attend program events together. To explore or register for this once-in-a-lifetime excursion, visit:
http://www.roadscholar.org/prog/adv-main.asp?C=Y&src=%2Fprog%2Fadv%2Dmain%2Easp&Id=1%2D433E2Q

Sunday, 17 August 2008, 8:30 am - 5:00 pm - Summit Point, WV - "Drive To Survive: Anti Terrorist Driver Training" at BSR, 2026 Summit Point Rd., Summit Point, WV 25446.
For over thirty years BSR has trained the people whose lives depend on top-notch evasive driving - from hostage rescue personnel to counterterrorist units. As the recognized leader in vehicle anti-terrorist training for military and governmental application worldwide, BSR has developed a state-of-the-art program. Now they have custom-designed an exclusive one-day opportunity for SPY highlighting the best of their longer courses. The BSR Shenandoah Valley training center has acres of paved and dirt road circuits, skid pads, an off-road training arena, and instructors who have firsthand experience driving for their lives. Tickets: $1,200 (includes 6% WV sales tax); Advance Registration required. Phone registration only for this program, call 202.654.0932.
Tuesday, 19 August 2008 – Vienna, VA - THE SIXTH ANNUAL AFIO SOCIAL EVENT - The Boston Pops at the Wolf Trap Park in Vienna, Virginia. This year we have moved the annual social from Boston's Symphony Hall to the Wolf Trap Foundation for the Performing Arts on Tuesday, August 19 at 8:00 PM. The concert choice will once again be the Boston Pops Esplanade Orchestra.
Contact Mr. Wass and use AFIO Social in the subject line at wassinmaryland@aol.com if you would like to attend the pre-concert AFIO social at Wolf Trap. Reservations are now being taken however since we have limited amount of seats available for the social, we recommend contacting us before purchasing your concert tickets.
For those who plan on attending the concert and social at Wolf Trap [located at 1645 Trap Road, Vienna, Virginia 22182], you must purchase concert tickets directly through Wolf Trap for seating choices. RSVP requested before July 19. Wolf Trap Box Office - (703) 255-1868 to purchase tickets. http://www.wolftrap.org No portion of your purchase constitutes a donation to AFIO; therefore this is strictly a social event.
Monday, 15 September 2008 - New York, NY - AFIO New York Metro Chapter evening meeting on "How Baghdad Thieves Stole Iraq's Antiquities and CTTF Recovered the Stolen Loot." Colonel Matthew Bogdanos, U.S. Marine Corps Reserve -- the Author of "Thieves of Baghdad" explains how the Baghdad thieves stole Iraq's antiquities and how our counter-terrorism Task Force caught them and recovered their loot. Bogdanos led the investigation. He was awarded the Bronze Star for counter-terrorism operations in Afghanistan. He is currently an Assistant District Attorney in Manhattan. Buffet dinner and open bar - $40. per person. 5:30 PM - 6:00 PM Registration. Meeting starts 6:00 PM. New Location: 4 Columbus Circle (58th Street and 8th Avenue) The showroom space of STEELCASE, the global leader in the office furniture industry. Further information available from afiometro@yahoo.com
Thursday, 25 September 2008, 12:30-2:30 pm - Los Angeles, CA - AFIO L.A. Area Chapter hosts Jake Katz, Assistant Director Emergency Operations Bureau for the Los Angeles County Sheriff's Department will discuss "Open Source Intelligence - The Sheriff's Approach." Event being held at the Hilton business building located at the LMU campus (Playa del Rey). Complimentary buffet lunch will be served, guests are welcome. Please RSVP by Monday September 15, 2008 via email to Vincent Autiero: AFIO_LA@yahoo.com
14 Oct 2008 - Tampa, FL - The Suncoast AFIO Chapter meets in the MacDill Room at the MacDill AFB. Speaker TBA. Lunch is $15.00 inclusive. For further information email garyg@suncoastafio.org
Tuesday, 2 December 2008 - New York, NY - AFIO NY Metro Chapter meeting features speaker Gordon Chang, author of NUCLEAR SHOWDOWN and THE COMING COLLAPSE OF CHINA.
Meeting location - 4 Columbus Circle in the NYC showroom of the office furniture manufacturer - Steelcase. Attractive, spacious, modern space overlooking Central Park.
58th Street and 8th Avenue. Buffet dinner and open bar: $40.00 per person 5:30 PM - 6:00 PM Registration. Meeting starts 6:00 PM. For inquiries or to register email afiometro@yahoo.com
---
For Additional Events two+ months or greater....view our online Calendar of Events
-----------------------------------------------------------------------
Disclaimers and Removal Instructions
Weekly Intelligence Notes (WINs) are commentaries on Intelligence and related national security matters, based on open media sources, selected, interpreted, edited and produced for non-profit educational uses by members and WIN subscribers.
REMOVAL INSTRUCTIONS: We do not wish to add clutter to inboxes. To discontinue receiving the WINs:
a) IF YOU ARE A MEMBER -- click here: UNSUBSCRIBE and supply your full name and email address where you receive the WINs. Click SEND, you will be removed from list. If this link doesn't open a blank email, create one on your own and send to afio@afio.com with the words: REMOVE FROM WINs as the subject, and provide your full name and email address where you are currently receiving them.
b) IF YOU ARE NOT A MEMBER, and you received this message, someone forwarded this newsletter to you [contrary to AFIO policies]. Forward to afio@afio.com the entire WIN or message you received and we will remove the sender from our membership and distribution lists. The problem will be solved for both of us.
CONTENTS of this WIN [HTML version recipients - Click title to jump to story or section, Click Article Title to return to Contents. This feature does not work for Plaintext Edition or for some AOL recipients]. If you wish to change to HTML format, let us know at afio@afio.com. The HTML feature also does not work for those who access their e-mail using web mail...however NON-HTML recipients may view the latest edition each week in HTML at this link: https://www.afio.com/pages/currentwin.htm
-----------------------------------------------------------------------

WINs are protected by copyright laws and intellectual property laws, and may not be reproduced or re-sent without specific permission from the Producer. Opinions expressed in the WINs are solely those of the editor(s) or author(s) listed with each article. AFIO Members Support the AFIO Mission - sponsor new members! CHECK THE AFIO WEBSITE at www.afio.com for back issues of the WINs, information about AFIO, conference agenda and registrations materials, and membership applications and much more!

(c) 2008, AFIO, 6723 Whittier Ave Suite 200, McLean, VA 22101. Voice: (703) 790-0320; Fax: (703) 991-1278; Email: afio@afio.com
Click here to return to top.