AFIO Weekly Intelligence Notes #30-08 dated 4 August 2008
CONTENTS

Section I - INTELLIGENCE HIGHLIGHTS

Section II - CONTEXT & PRECEDENCE

Section IV - BOOK REVIEWS, OBITUARIES, CAREER OPPORTUNITIES, RESEARCH REQUESTS AND COMING EVENTS

Current Calendar Next Two Months ONLY:

AFIO NATIONAL EVENTS

CIA-OSI Conference
AFIO members are invited to attend a conference at CIA Headquarters on
Friday, 3 October 2008
from 1:30 - 5:15 p.m.
on the
History of the Office of Scientific Intelligence

Attendees will receive a special program with declassified documents, and a DVD filled with thousands of additional documents, photographs and videos as part of this new declassification.

The conference is unclassified.

Further details.....

---

Also in October.....

AFIO 2008 Fall Intelligence Symposium
Threats to U.S. Security
Technology Theft, Insider Threats, Economic Espionage
and International Organized Crime




Three Days: Day 1 [10/23] at MITRE Corporation; Day 2 [10/24] at Department of State:
Day 3 [10/25] at Sheraton-Premiere Hotel

SYMPOSIUM RESERVATION:
Draft agenda [available mid-August]; Early reservations are here

HOTEL RESERVATIONS available now at special AFIO Event Rate:
Make your Sheraton-Premiere Hotel reservations here while low-rate window remains open.


Tentative Program
Wednesday, October 22: heavy hors d'oeuvres and evening registration for hotel-based attendees,
Thursday morning, October 23: Chapter workshop/breakfast; Main Reservations
Thursday, October 23: MITRE Corporation;
Friday, October 24: U.S. Department of State Intelligence Division;
Friday evening, October 24: Awards Banquet, Saturday morning, October 25: General membership meeting.
The program ends 11 a.m. Saturday October 25 leaving time for exploring local area Museums [International Spy Museum, the newly reopened Newseum, the new National Museum of Crime and Punishment, National Cryptologic Museum, Air & Space] and to make plans to return home.


WIN CREDITS FOR THIS ISSUE: The WIN editors thank the following special contributors to this issue: cl, fwr and dh. They have contributed one or more stories used in this issue.

Click here to view disclaimers, removal, methods of use of the links in this document.

The WIN in its entirety appears below; however, the document may also be viewed online by current members with usernames and passwords at this link.

Usernames and Passwords appear on AFIO Membership Cards.
They work only if the membership is current.
---
Section I - INTELLIGENCE HIGHLIGHTS
Prosecutors Argue for More Secrecy in Aipac Case. A federal judge went too far when he ruled that two pro-Israel lobbyists charged with trafficking in classified information were entitled to present certain secret information in court to mount their defense, prosecutors argued in a new brief filed with a federal appeals court.

Large portions of the public version of the brief were blacked out, but the thrust of the government's argument was that Judge Thomas Ellis III should have treated the former employees of the American Israel Public Affairs Committee, Steven Rosen and Keith Weissman, more like typical spies and less like foreign policy advocates who stumbled into classified information as they pursued their work.

Messrs. Rosen and Weissman were indicted in 2005 on charges that they conspired to obtain classified information and disclose it to journalists and Israeli government officials. The pair, who have pleaded not guilty, are set to stand trial in October, but the trial date has been repeatedly delayed and lawyers expect it to be put off again as the parties await a ruling from the appeals court.

The precise information the two lobbyists allegedly obtained and relayed to others has never been described in public court filings. However, sources have said some of the information relates to Iranian involvement in attacks on American forces in Iraq.

The government is asking the appeals court to reverse a pre-trial ruling that the defendants were entitled to disclose two documents at trial, neither of which is described in detail in the public version of the new brief. One appears to be an American document used to prepare a briefing for Israeli officials. Another is an FBI report.

The defense's response to the new brief is due next month. [Gerstein/TheSun/28July2008]

India Resurrects Plans for Counter-Terrorism Agency After Latest Bombings. India is resurrecting plans to create a federal counter-terrorism agency after multiple bombings in the cities of Ahmedabad and Bangalore that killed a combined total of 51 people, according to the Home Ministry.

Shivraj Patil, the Home Minister, plans to meet Chief Ministers and police chiefs from India's states in the next few days to discuss the proposal, which has been bogged down by turf wars since 2004.

India rarely arrests, let alone convicts, terrorists, because of its poorly-trained and under-staffed law enforcement agencies and its chronically overloaded judicial system, experts say.

The main problem is that under India's constitution, which came into effect in 1950, law enforcement is the responsibility of state governments.

Counter-terrorism thus falls between several different national and state agencies with competing political masters and without even a central database to share information. The Research and Analysis Wing, roughly India's equivalent of MI6, is responsible for external threats, while the Intelligence Bureau, India's MI5, handles domestic security. The Central Bureau of Investigation, the closest thing to the United States' FBI, probes serious crimes, but only with the permission of state governments. The Home Ministry oversees a police force of 2.2 million officers, but they are commanded by state governments and often lack the training and equipment to handle even minor crimes.

The judiciary, meanwhile, has a backlog of 29.2 million cases, because of a shortage of judges and a surfeit of corrupt lawyers. Few judges are trained to handle complicated terrorism cases, which still fall under a law drawn up in 1967 and can take several years to complete.

The US State Department's terrorism report, published in April, said: "The Indian government's counter-terrorism efforts remained hampered by outdated and overburdened law enforcement and legal systems. [TimesOnline/28July2008]

British Man Responsible for Pentagon Hack Alludes to Possibility of US Military Tribunal. A 42-year-old British man accused of illegally accessing U.S. military intelligence databases will discover later this week whether he faces extradition to the United States and the possibility of being tried by military tribunal.

Gary McKinnon from Enfield, North London was initially arrested in 2002 for perpetrating what American prosecutors described as "The biggest military computer hack of all time," after bypassing security measures to access the Pentagon's classified databases. In the wake of his arrest, McKinnon claims he was offered a lenient sentence in exchange for a guilty plea by U.S. prosecutors but rejected it.

Consequently, the U.S. began extradition proceedings with McKinnon allegedly threatened with the prospect of being designated a terrorist and trial by a military tribunal. In 2006, a British High Court ruling approved extradition prompting an appeal to the House of Lords by McKinnon's lawyers who argued that coercion into plea-bargaining represented an unlawful abuse of the court process.

A self-taught IT expert and UFO enthusiast McKinnon accessed information within Army, Navy, Pentagon and NASA computer systems, but has always insisted that his motives were borne out of curiosity not malevolence.

McKinnon is now awaiting the House of Lord's decision with the outcome possibly determining whether or not he remains in the UK. A ruling in his (McKinnon's) favor would force the extradition process back to the Magistrates Court. A ruling against McKinnon would effectively open the way for extradition, although his legal team would almost certainly lodge a fresh appeal with the European Court of Human Rights. [Cheers.org/29June2008]

C.I.A. Outlines Pakistan Links With Militants. A top Central Intelligence Agency official traveled secretly to Islamabad this month to confront Pakistan's most senior officials with new information about ties between the country's powerful spy service and militants operating in Pakistan's tribal areas, according to American military and intelligence officials.

The C.I.A. emissary presented evidence showing that members of the spy service had deepened their ties with some militant groups that were responsible for a surge of violence in Afghanistan, possibly including the suicide bombing this month of the Indian Embassy in Kabul, the officials said.

The decision to confront Pakistan with what the officials described as a new C.I.A. assessment of the spy service's activities seemed to be the bluntest American warning to Pakistan since shortly after the Sept. 11 attacks about the ties between the spy service and Islamic militants.

The trip is reminiscent of a secret visit that the top two American intelligence officials made to Pakistan in January. Those officials - Mike McConnell, the director of national intelligence, and Michael V. Hayden, the C.I.A. director - sought to press Mr. Musharraf to allow the C.I.A. greater latitude to operate in the tribal territories. [Mazzett&Schmitt/NewYorkTimes/30July2008]

Chinese National Sentenced for Aiding Spy. A woman who helped a Chinese spy obtain U.S. military secrets has been sentenced in Virginia to a year and a half in prison.

Thirty-three-year old Yu Xin Kang (yoo shin kong) is a Chinese national who had been living in New Orleans with furniture salesman Tai Shen Kuo.

Kang at times served as an intermediary for Kuo in helping him get secret information about U.S.-Taiwanese military relations to the Communist government in Beijing.

The 18-month sentence issued is less than the 30 months sought by prosecutors. U.S. District Judge Leonie Brinkema said a lighter sentence was warranted in part because Kang was essentially a puppet doing Kuo's bidding. [AP/1August2008]

Counterspy Problems. A congressional report made public July 25 reveals continuing problems with the Energy Department's counterintelligence program designed to protect sensitive nuclear weapons secrets from foreign spies.

The Congressional Research Service (CRS) report on the department's counterspy problems revealed budget cuts that degraded counterintelligence analysis; a breakdown in communications between counterspy field offices and department headquarters, and a failure to reach strategic counterintelligence goals.

The report comes a decade after disclosures by the CIA that China obtained thorough espionage secrets on every nuclear weapon deployed in the U.S. arsenal.

The FBI has said it is continuing to investigate the loss of nuclear weapons secrets but has not caught the spies. [Gertz/WashingtonTimes/30July2008]

DNI Tells Analysts to Establish Broader Outside Ties. In a new directive that challenges the insular culture of U.S. intelligence agencies, Director of National Intelligence J. Michael McConnell has ordered analysts to cultivate relationships with outside experts "whenever possible" in order to improve the quality of intelligence analysis.

The DNI's July 16 directive on "Analytic Outreach" establishes procedures for implementing such outreach, including incentives and rewards for successful performance. [SecrecyNews/30July2008]

Sports Intelligence at Beijing Olympic Games. China has mounted an unprecedented intelligence operation to help Chinese athletes win as many medals as possible at the Olympic Games starting in Beijing on Aug. 8.

With the Beijing Olympics in mind, the General Administration of Sport of China (GASC) has been indulging in sports intelligence with technical input from the State Security (Guoanbu) ministry for the past four years. Roving units have been tasked with recruiting foreign coaches - often from the former Soviet block - but also keeping an eye on potential rivals of Chinese athletes. This is particularly the case in sports in which China doesn't want its pre-eminence to come under strong challenge. [IntelligenceOnline/24July2008]

Overhaul Elevates Intelligence Director. The White House has unveiled the largest overhaul of intelligence powers in a generation, spelling out the responsibilities of each intelligence agency in the wake of several reforms following the 2001 terrorist attacks.

President George W. Bush signed the executive order updating spy powers last week. Designed to bolster the power of the director of national intelligence, the revision has been a source of significant turf battles among intelligence agencies, which fear the rewrite of spy powers is coming at their expense.

Congress created the intelligence director's post as part of a series of intelligence reforms in 2004, but the extent of his authority has been a constant source of debate among intelligence officials and lawmakers.

The overhaul gives the intelligence director a greater role in hiring and firing agency heads, authority to remove barriers to intelligence sharing, and the responsibility for overseeing the acquisition of expensive programs such as new spy satellites. It also hands the intelligence director more power to direct midlevel intelligence officers. The revised order also gives the director the responsibility for developing policy governing relationships with foreign intelligence services, which had been handled primarily by the Central Intelligence Agency. Under the updated order, the CIA would be in charge of implementing the policy set by the intelligence director.

Director of National Intelligence Mike McConnell has been working on the rewrite for at least a year. Even after the intensive turf battles, intelligence officials said Wednesday that they were committed to working within the new rules.

The revised order states that the new law will be the only law that governs surveillance, in an attempt to quell the concerns of lawmakers who contend that President Bush ignored the law when he authorized a warrantless-spying program after the Sept. 11 attacks.

It largely steered clear of prickly civil-liberties issues, according to officials briefed on the matter. The most significant change gives the attorney general a greater role in overseeing all domestic intelligence activities, which intelligence officials cast as an enhancement of privacy.

The revised order says covert action will be run by the National Security Council at the White House, carried out by the CIA and overseen by the intelligence director. [Gorman/WallStreetJournal/31July2008]
---
Section II - CONTEXT & PRECEDENCE
The Science of Sniffing Out Liars. Armed with a doctorate in physiological psychology, Eric Haseltine has explored the boundaries of perception and illusion in commercial projects ranging from flight simulators for Hughes Aircraft to virtual reality and special effects for Disney theme parks. After the events of 9/11, he became engaged in the study of a different kind of illusion: the shadowy world of international espionage. He headed research and development for the National Security Agency in 2002, and in 2006 he was named associate director for science and technology for the Office of the Director of National Intelligence. One of his responsibilities involved research on how to extract information from people during interrogation and how to determine whether the information is valid.

Can science help us determine if someone is deceiving us?

The very high-tech stuff we rely on includes functional magnetic resonance imaging, magnetic encephalography, and some very, very sophisticated electroencephalography - one of the techniques used to test so-called guilty knowledge. That's where you expose somebody to something and they have guilty knowledge - they've seen it before, let's say. You can tell by looking at their brain response, up to a point, whether their brain has seen that thing or not. You say, well, do you know X, or have you seen X, and they say no, but their brain says otherwise.

Other work is trying to make traditional polygraphy better by using, for example, algorithms instead of humans to look at what's coming in on the needle. The polygrapher, who is only human, can have a positive or negative bias about the subject that will color the interpretation of what's on the needles, so there is a lot of work to make it objective. Algorithms can do a better job of telling if there is a good physiological response, but it's still a big leap to telling whether the person is lying. It's still in the basic research phase and far from being something that I would feel comfortable relying on, especially when it gets into the issue of cross-cultural communications. And there are other factors that we don't completely understand. For example, the kind of person you worry about the most is one who has what we call antisocial personality disorder [a person who is indifferent to the needs of others]. Those people seem to have low guilt and anxiety. Do they have the same physiological response as someone who is "normal"? Yes and no. Lying requires a mental workload, which, according to some scientists, drives up the blood pressure and heart rate regardless of your emotional state, and so there may be some similarities and there may not be. Those are questions that require more investigation. So I personally would not put a lot of stock in any of these measures, including polygraphy per se.

We now get into the category of things that I would call low tech, which I think have a fair amount of validity. For example, Paul Ekman looks at microexpressions as evidence of what you're really feeling. What he feels is that when you are suppressing things, things leak out in microbursts. If someone says, "Gee, I really am saddened by the death of my wife" and a microexpression shows that he is happy or contemptuous, then it would give you pause. By itself, I wouldn't call it lie detection. But it does give you information that would either support or not support the hypothesis of deception.

What are interrogators told to look for?

There isn't a lot of behavioral research data about which particular techniques are most effective. There was a Luftwaffe [German air force] corporal who was legendary in World War II for interrogating. His name was Hanns Scharff. He spoke flawless English. He was an incredibly gentle person. He was warm, he never in any way pressured interviewees, and he extracted tremendous intelligence. People who talked about being interrogated by him said they didn't know they were being interrogated. He had an incredible memory and he never wrote anything down. So you'd be walking out in the exercise yard, smoking a cigarette with him, and he'd just be talking. And he would remember everything.

Who makes a good spy or a good liar?

I don't think there's any one answer to that. Being a good actor, being a good poker player. Being a good con man. Con men are people who are sociopathic, who do not feel remorse, and who are very attuned, strangely, to other people and can read them very well. If I know what you really want to hear and what is in your heart of hearts, your fondest desire, because I'm good at reading you and I'm street-smart about assessing you, then I can feed you what you want to hear. A good con man does that. A good magician does that. You also have to have a good memory.

So behavioral scientists have a leg up on technology as far as interrogation goes?

I think that's right. You think of things like thermal imaging and pupil dilation, and you can look at heart rate with ultrawideband radar, and blood pressure and breathing rate and galvanic skin response - signals like sweat - and you can look at the constellation of all of these things, and they may tell you that the person is aroused or that he's having an autonomic response. But it's a big leap from that to "He's lying." I've undergone polygraphs, and I will tell you it's a very stressful experience. And some people react very differently to stress than others without being liars at all.

Does torture work as a method of extracting the truth?

I'm going to go back to the findings of the Intelligence Science Board, a group of scientists who advised the U.S. intelligence community and studied the most effective ways to gather information in a free society. When they looked at all the techniques that are used, their conclusion is that we don't have the behavioral science to give us the answers. As to coercive methods, I don't think we have good information to say one way or another. [The notion that] if you're in intense pain then you'll break may not be true.

What is the hottest area today in deception detection?

Human lie detectors. I think the low-tech training of humans to be better interpreters of information is where the most productive work is going to be. The reason being that you can either train a human to do it or train a computer to do it, and human brains are still much better computers than computers are.

Is there any technique that scares or worries you?

I think it's inevitable that with neuroscience we're going to get to a point where, without [a person's] cooperation, we can be pretty accurate about knowing what a person knows or feels or thinks. And so I wouldn't say it scares me, but I would say that there are going to be some really tough issues for society to deal with [regarding] where privacy and human dignity begin and the right of the larger group to protect itself ends.

It's kind of like the same question as: Is it okay to take the fingerprint of a criminal or a suspect? Yes. Is it okay to take their DNA? Less clear. Is it okay to find out what's going on in their brain without their cooperation? Let's say we can train a computer to do better than a human does looking at facial expressions and body language and everything else, right? I think that it will be possible and maybe not too far off in the future. So imagine if a computer can look at you through a camera and know whether you are suppressing information or having feelings that are not consistent with what you're saying, and you don't have any ability to volunteer that. I think that society has got to wrestle with that question. And I'm not saying that I'm scared, I'm saying that I'm not optimistic that there are any easy answers. [Kruglinski/DiscoverMagazine/28July2008]

Son of Famed Pilot/Journalist Francis Gary Powers Donates Items to Newseum. The Newseum announced the acquisition of items related to the career of journalist and pilot Francis Gary Powers. The donation of the items comes on the anniversary of Powers' death in the KNBC news helicopter crash in Los Angeles, Calif., on August 1, 1977.

The collection, donated by son Francis Gary Powers, Jr., on behalf of the Powers family, includes remnants from the KNBC helicopter crash; Powers's business cards from his careers with both KGIL-AM and KNBC; several pieces of Powers's personal letterhead from KNBC; and promotional photos of Powers with the airplane he piloted as a traffic reporter for KGIL and with the KNBC "telecopter."

Powers began his journalism career in 1972 as an airborne traffic reporter for San Fernando Valley radio station KGIL-AM. He was then hired in 1976 by KNBC to pilot their new news helicopter. Powers, 47, was killed when, on a return flight from covering brush fires in Santa Barbara County, his helicopter ran out of fuel and crashed just a few miles short of Burbank Airport. George Spears, a cameraman for KNBC, also died in the crash.

Prior to his career in journalism, Powers worked for the CIA as an operative and pilot in the U2 spy plane program, carrying out espionage missions over hostile regions. On May 1, 1960, Powers' spy plane was brought down by a missile over the Sverdlovsk in the former Soviet Union, causing a diplomatic flap that canceled a U.S.-Soviet summit. He spent 21 months in a Soviet prison before his exchange for Rudolph Abel, a Soviet spy. Following his release, Powers worked as a test pilot for Lockheed for seven years and, in 1970, co-wrote "Operation Overflight: A Memoir of the U-2 Incident."

The Newseum, located on historic Pennsylvania Avenue in Washington, D.C., blends five centuries of news history with up-to-the-second technology and hands-on interactive exhibits. The world's most interactive museum takes visitors behind the scenes of news and instills an appreciation of the importance of a free press and the First Amendment. The Freedom Forum, a nonpartisan foundation dedicated to free press, free speech and free spirit, is the main funder of the Newseum's operations. The Newseum, while independent of any media companies, receives additional support from foundations, media organizations and individuals. [Marketwatch/1August2008]

---
Al-Qaeda Turns More To Extortion, Abductions To Fund Fight, U.S. Says. Al-Qaeda in Iraq is increasingly embracing extortion and kidnapping to finance its operations as cash carried in by its dwindling foreign fighter network is drying up, according to U.S. intelligence and documents captured in Iraq.

Al-Qaeda in Iraq's funding scheme could drive an even deeper wedge between the terrorist organization and the Iraqi tribes and others who once joined forces against the U.S.-led invasion and occupation.

The smuggling network that funnels foreign fighters and weapons into Iraq has been under increasing pressure in the past year, squeezed from three sides: by Iraqi tribes that, repelled by the violence, are making it increasingly difficult for terrorist networks to operate and hide among them; by more effective U.S. and Iraqi military operations; and by governments in the region - notably Saudi Arabia and Morocco - that are cracking down on al-Qaeda and the smuggling networks that feed the insurgency.

The flow of foreign fighters into Iraq has been cut to an estimated 20 a month, a senior U.S. military intelligence official said. That is a 50 percent decline from six months ago, and one-fifth of the estimated number of foreign fighters who were infiltrating Iraq a year ago, the official said on condition of anonymity.

Ninety percent of the foreign fighters enter through Syria, according to U.S. intelligence. Foreigners are some of the most deadly fighters in Iraq, trained in bomb-making and with small-arms expertise, and more likely to be willing suicide bombers than Iraqis.

Foreign fighters toting cash have been al-Qaeda in Iraq's chief source of income. They contributed more than 70 percent of operating budgets in one sector in Iraq, according to documents captured in September 2007 on the Syrian border.

As income had dried up from foreign fighters, the group has adopted criminal tactics against Iraqis to raise money - carjackings, kidnappings for ransom, hijacking fuel trucks, counterfeiting and demanding protection money of local businesses, the senior official said.

The official said that as Iraq becomes more secure and the economy improves, al-Qaeda in Iraq has more wealthy Iraqi targets from which to extort money. [AP/30July2008]
---
Section V - BOOK REVIEWS, OBITUARIES, CAREER OPPORTUNITIES, RESEARCH REQUESTS AND COMING EVENTS
The Terminal Spy, A True Story of Espionage, Betrayal, and Murder by Alan S. Cowell, reviewed by Thomas de Waal. The gruesome murder of ex-KGB agent Alexander Litvinenko in London in November 2006 transfixed the world. The photograph of a recently vigorous man rendered gaunt, haggard and hairless appeared in newspapers and on television everywhere. By the time he died, Litvinenko, 44, had been virtually eviscerated by a tiny dose of polonium-210, a rare radioactive substance that had never before been diagnosed as a poison.

It is a compelling story that has inspired four books (Alan S. Cowell's The Terminal Spy is hot on the heels of Steve LeVine's Putin's Labyrinth, Martin Sixsmith's The Litvinenko File and Alex Goldfarb's and Marina Litvinenko's Death of a Dissident), a documentary that aired at the Cannes Film Festival and a forthcoming feature film starring Johnny Depp. All share the same cast of characters: the maverick agent; his patron, exiled Russian tycoon and political schemer Boris Berezovsky; the chief suspect, KGB agent turned businessman Andrei Lugovoi; and another KGB officer who knew all three men in the 1990s and then rose to become president of Russia, Vladimir Putin.

Cowell, who was London bureau chief of the New York Times at the time of the murder, has done an excellent job of reconstructing Litvinenko's last days, the police investigation and the background to the case. We follow Litvinenko to his fateful meeting with Lugovoi and at least two other Russians in the busy Pine Bar of the Millennium Hotel in central London. There, he drank green tea with honey and lemon from a pot that was so irradiated that both the bar and several of its employees were contaminated; among the worst affected was a staff pianist who apparently drank from the same teacup, even after it had been through the dishwasher. We then follow the traces of radioactivity backward across Europe, through London hotel rooms and a soccer stadium, Hamburg apartments and British Airways planes that fly to and from Russia. The trouble is that Cowell's dogged reporting - like pretty much all the work of Western journalists on this story - gets him only so far before the trail disappears in a blizzard of evasions and denials in Moscow.

Deprived of a satisfying end to his quest, Cowell infuses his story with a thriller atmosphere that sometimes seems forced. As a Londoner, I laughed at his depiction of parts of Muswell Hill, the very ordinary district in which Litvinenko lived, as some kind of grimy netherworld worthy of "The Third Man." We are also led down many detours of dubious relevance: A whole chapter, for example, covers the story of the maverick Italian security analyst Mario Scaramella, who met Litvinenko on the day of his death but was later discounted as a suspect.

I ran into Litvinenko a couple of times at Russia-related events in London but did not regard him as a trustworthy source. He seemed to be a manic personality who loved trading in lurid stories in the service of Berezovsky's feud with President Putin. Over the years, Litvinenko's allegations became ever more incredible: By 2005 he was accusing the FSB, the KGB's successor agency, of having links to al-Qaeda and of colluding in that summer's London subway bombings.

He also had a taste for public theatrics uncharacteristic of a secret agent. In Cowell's book we meet him in a succession of costumes ranging from Russian combat fatigues to a padded prison jacket he borrowed from former dissident Vladimir Bukovsky. On the day he won British citizenship, Litvinenko posed for a picture in front of a Union Jack wearing a Scottish tam-o'-shanter and KGB-issue fingerless gloves, brandishing a double-handled Chechen sword.

Litvinenko shot to prominence in November 1998 with one such act of theater, when he and a group of intelligence officers held a press conference in Moscow in which he was the only one not disguised; all the others wore ski masks. The group trumpeted allegations of a plot to assassinate Berezovsky and of corruption high up within the FSB, and the ensuing publicity may have embarrassed the new head of the agency, Vladimir Putin.

Cowell concludes that the quest for a motive for Litvinenko's murder "defied easy answers." But the 1998 press conference does suggest a plausible motive: revenge for the treachery of a comrade who spilled the secrets of the brotherhood. As Russians say, there is no such thing as a " former chekist," or intelligence officer.

If so, on whose initiative was he assassinated? Sixsmith, a former BBC correspondent in Moscow whose book on the Litvinenko case came out in 2007, is slighter on reporting but more insightful about the way Russia works. He cites a tradition of "initiative from below" in which subordinates liquidate enemies to please their superiors. The prominent critic of the Kremlin's human rights record, Anna Politkovskaya, for example, was murdered on Putin's birthday in what may have been a grotesque attempt to please "the boss."

Yet Litvinenko's murder was committed on foreign soil and with a weapon that only a select few could obtain. The use of polonium suggests two different but equally disturbing conclusions: Either the murder was authorized at a high level, or lower-level killers were able to lay their hands on an extremely dangerous substance manufactured in some of Russia's most secret military establishments.

This leads us back to the mystery of Andrei Lugovoi, a man who, according to all the available evidence, carried polonium across half of Europe and sat with Litvinenko in the hotel bar as he was poisoned, but whose actions do not fit those of an assassin. Lugovoi is a millionaire who had no obvious reason to get involved in this operation: He had plenty of money; he seemed to be on good terms with both Litvinenko and Berezovsky; he traveled to London with his wife and three children. Was he also set up or perhaps aiding a third man?

Lugovoi's reward for his notoriety was his election to the Russian parliament, but he is now effectively unable to travel to the West because he faces arrest in any country that has an extradition treaty with the United Kingdom. And he is likely to keep his silence on this hideous murder until long after many other books about it have been published. [deWaal/WashintonPost/27July2008]

Hostile Intent: U.S. Covert Operations in Chile 1964-1974, by Kristian Gustafson, reviewed by Intelligence Officer Hayden Peake. (Washington, DC: Potomac Books, 2007), 316 pp., endnotes, bibliography, photos, index. During his study of American foreign policy, Cambridge historian Kristian Gustafson found a "school of thought that wants to prove America's realpolitik aims and the subsequent actions of the CIA as the prime movers for all evil events in the developing world." CIA covert action in Chile was frequently cited as a case in point. Conventional wisdom held that the CIA arranged the downfall of Chile's elected president - Salvador Allende Gossens - intended to assassinate him, and was "successful in overthrowing him." By the end of the 1990s, thanks to the release of newly declassified material on CIA and State Department operations in Chile and reports from KGB defector, Vasili Mitrokhin, Gustafson was able to test these views against the historical record. In one case, for example, these records largely refute the undocumented Church Committee allegations that "the CIA supported and perhaps even helped plot the coup." Hostile Intent concludes that the evidence "suggests that the CIA did not attempt to organize a coup against Allende in 1973," played no role in selecting General Pinochet to head the new government, and that US corporations in Chile "had very little direct influence" on US foreign policy in Chile. Gustafson presents the details that support these iconoclastic views while acknowledging "several different [US] administrations, absolutely sought to thwart Allende's government and plans," but not by the drastic means asserted by many writers.

Specifically, the documentation confirms that some elements of the Chilean Army were quite willing to accept US help as they tried to prevent Allende - an avowed Marxist - from being elected and then from assuming office, and finally from holding on to the presidency. Throughout this period the Nixon-Kissinger administration pushed the CIA to achieve the same objectives because it did not want another Communist state in the Western Hemisphere. But the Chileans insisted on doing the difficult work themselves and Gustafson tells how they did it.

There are two curious surprises in Hostile Intent, one accurate the other not. The former example concerns Chilean authors writing about the coup; their books on the Allende regime barely mention the US involvement or the CIA. They focus instead on the actions of the Chilean army and the problems resulting from a Marxist economy. The second surprise is the bizarre story of an attempt to link the US directly to the coup. As originally reported by another Cambridge historian who heard it from a Chilean source, the then DDCI/Lt. Gen Vernon [Bill (sic)] Walters, accompanied by Hernandez Westmoreland, son-in-law of General William Westmoreland, "working independently" for DIA out of a hotel room in Santiago, secretly provided weeks of high level support to the coup plotters. The likelihood of General Walters - who was nicknamed Dick, not Bill - who was then DDCI, spending an extended period working for the DIA in Chile arranging a coup, without it ever becoming known is on its face, absurd. Add to this, the fact that General Westmoreland does not have a son-in-law with that unusual name, and a minor blemish is added to an otherwise strong presentation.

Hostile Intent makes a robust case that the conventional wisdom concerning the CIA and the Chilean coup must be significantly modified. While it is not likely to convince the true believer conspiracy theorist, its well reasoned firmly supported position is unlikely to be eroded by the historical sands of time.

Operation Broken Reed: Truman's North Korean Spy Mission that Averted World War III, by Lt. Col. Arthur L. Boyd (Ret.), reviewed by Intelligence Officer Hayden Peake. (Philadelphia, PA: Da Capo Press, 2007), 280 pp., no index.

Arthur Boyd writes that in 1952, Operation Reed was "conceived and implemented" by President Truman, his secretaries of defense and state, the chairman of the JCS, and the director of central intelligence. Its mission was to send a ten man team composed of Army, Navy, Air Force and CIA personnel "personally selected" by the president, into North Korea to assess the potential for atomic war. The cover story was that the team members were survivors from a bomber that crashed in the Sea of Japan and they were being escorted by truck across Korea towards the Yellow Sea by Chinese Communist army troops (actually Nationalist Chinese in PLA uniforms). The critical intelligence required would be gathered at various points along the way from Nationalist agents living in the region. Lt. Boyd's job was to radio encrypted reports to a communications plane flying nearby for direct retransmission to the president. Cyanide capsules were provided for use in the event of capture. Just before reaching the Chinese border, the team would be extracted by helicopter. Everything went according to plan until close to the end of the mission when real Chinese troops discovered the team and killed all but Boyd, the only one to escape.

Anticipating the obvious, Jay Young, described as a former CIA analyst, writes in an Afterword: "the details of Operation Reed may be hard to believe; however abundant historical and circumstantial evidence fully supports the authenticity of the mission." This attempt at reassurance, however, only raises genuine reasons for doubt when no evidence at all is cited! There are other disturbing factors that increase common sense skepticism: the book is putatively a day by day account, not based on notes yet filled with reconstructed dialogue and pseudonyms. The author reassures the reader that this is possible even after suffering "for fifty years with post-traumatic stress disorder." Finally editorial help was provided by author Michael Peterson who is "serving a life sentence without parole for a crime he did not commit." Operation Reed is a prime example of a trust me memoir. The only thing it confirms is that World War III was indeed averted; trust me.
---
CIA Analyst Thomas F. Troy; Historian of Agency's Early Years. Thomas F. Troy, a longtime Central Intelligence Agency officer and member of AFIO, who wrote an authoritative history of the spy agency's early years, died July 30 of cancer at his home in Bethesda. He was 89.

Mr. Troy joined the CIA in 1951 and was an analyst of Middle Eastern affairs. He spoke Arabic and traveled throughout Egypt and other African countries as well as Lebanon, Syria, Saudi Arabia, Pakistan, Turkey and Israel during his years with the agency.

He also compiled a history of the CIA's founding while working at the agency in the 1970s. After several years, he received clearance to publish the study, "Donovan and the CIA: A History of the Establishment of the Central Intelligence Agency," independently under his own name.

The book described the career of William J. "Wild Bill" Donovan, who founded the Office of Strategic Services during World War II, and how the OSS evolved into the CIA by 1947. Mr. Troy interviewed many figures from the agency's early days, and his work is considered a definitive record of the CIA's founding.

Mr. Troy's historical study received the National Intelligence Study Center's award for "best book of the year on American intelligence" in 1981.

In 1996, Yale University Press brought out his second book, "Wild Bill and Intrepid: Donovan, Stephenson, and the Origin of CIA," which drew on interviews with British intelligence chief William Stephenson, a legendary World War II spy known as the "man called Intrepid."

According to a Washington Post book review in 1996, Mr. Troy revised "the founding myth of the agency" by showing that Donovan, of the OSS, received more support from British intelligence services than was previously known. The CIA, therefore, "was not the brainchild of a lone bureaucratic gunslinger but the offspring of an Anglo-American liaison."

Mr. Troy also published a newsletter, "Foreign Intelligence Literary Scene," for several years, highlighting historical and literary developments in the intelligence world. It was among the first newsletters of its kind.

In it, Mr. Troy once criticized what he considered faulty reasoning behind a 1985 U.S. Supreme Court decision granting the CIA authority to shield its confidential sources from public scrutiny. He supported the effect of the decision but took issue with Chief Justice Warren Burger's assertion that the ruling was based on "legislative history."

Mr. Troy found that no such history existed. He was "no bleeding-heart critic of the Central Intelligence Agency," a 1986 Post article reported. "It's just that he can't abide bad history."

Thomas Francis James Troy was born July 28, 1919, in Cleveland and moved as a child to Oakham, Mass. He graduated from Holy Cross College in Worcester, Mass., in 1941 and joined an Army program studying the Arabic language at Princeton University. He also served in the Middle East with the Army Airways Communications System during World War II.

Mr. Troy received a master's degree in political philosophy from Fordham University in New York in 1948 and worked as a radio newscaster, freelance writer and college teacher before joining the CIA.

He had lived in Bethesda since 1968 and was a member of Holy Cross Catholic Church in Garrett Park. He was a member of the Knights of Columbus and a past Washington chapter president of the Catholic League for Civil and Religious Rights, a group that opposes anti-Catholic discrimination.

Mr. Troy contributed articles and book reviews to The Post, Commonweal and intelligence publications and was the founding editor of Foreign Intelligence Book Series, a company that published 19 works on intelligence.

Last year, Mr. Troy spoke about the OSS at a conference observing the 60th anniversary of the CIA, and he has been featured in documentaries and television interviews. At the time of his death, he was working on a biography of William Wiseman, who was the British intelligence chief in the United States during World War I.

Survivors include his wife of 55 years, Elizabeth Cashman "Liz" Troy of Bethesda; eight children, Thomas F. Troy Jr. of Toledo, James Troy of Olney, Catherine Franklin of Seattle, Ellen Bouchard of Cedar Rapids, Iowa, Jane Trebilcock of Healdsburg, Calif., and Mary Troy, Maggie Zimmerman and Ann Pottker, all of Bethesda; four sisters; a brother; and 23 grandchildren. [Schudel/WashingtonPost/2August2008]
---
Director, Center for Strategic Intelligence Research. The National Defense Intelligence College (formerly Joint Military Intelligence College) has a vacancy for the Director, Center for Strategic Intelligence Research (GG-15) to run the Center and oversee the Research Fellows attached to the College.

Vacancy Announcement Number A08-021333-02-DNM
Position: Director, Center for Strategic Intelligence Research
Area of Consideration: Open All Sources
Opening Date: 29-Jul -08
Number of Positions: 1
Location: Washington, DC
Closing Date: 19 Aug 08
Pay Plan/Series/Grade: GG-1710-15
Salary Range: From $115317 to $149000 annually

The incumbent serves as Director, Center for Strategic Intelligence Research responsible for advocating and guiding the production of high-quality research by faculty, research fellows, and students of the National Defense Intelligence College, and by other Intelligence Community and academic professionals who work with the College. The incumbent also ensures the quality of publications and extensive dissemination of that research produced by the National Defense Intelligence College (NDIC) Press, for the benefit of the Intelligence Community, academic and research institutions.
Additionally,
- Exercises technical and administrative supervision over a staff responsible for managing the activities and operations of the Center for Strategic Intelligence Research and NDIC Press in view of the College's mission, Department of Defense, Defense Intelligence Agency, Office of the Director of National Intelligence (ODNI) and Intelligence Community strategic research priorities.
- Develops international research relationships, particularly through foreign counterpart intelligence education institutions, in conjunction with the College's Center for International Engagement.
- Coordinates the College's Intelligence Research Fellows Program, ensuring that a substantial group of Fellows from Community agencies and selected individuals from the DNI's Fellows Program annually conduct relevant research and produce valuable, enduring products for the Community.
- Ensures that research products are made available in useful formats to all levels of the Intelligence Community and to leading institutions of higher education involved in intelligence studies.

Apply via http://www.dia.mil/employment/ if you have problems locating VA #021333 search on the keyword - 'NDIC'

---
Cold War Research Assistance: For a book entitled "The Inauguration of Organized Political Warfare: the history of the National Committee for a Free Europe", I would like to communicate with any former intelligence officials who have any information or material regarding the National Committee for a Free Europe (later known as the Free Europe Committee) and it's operations (1948-1972). My research does not focus on Radio Free Europe and Radio Liberty, which have been amply covered by other historians, but the other organizations and entities that were sponsored by the NCFE, particularly the various national committees of liberation (Hungarian National Council, Romanian National Council), the Assembly of Captive European Nations, Crusade for Freedom and the Free European University in Exile in Strasbourg.

My first journal article on this topic will be published in the next issue of East European Quarterly (September 2008). The book has been optioned for publication by East European Monographs, Boulder, Co. and will be distributed by Columbia University Press.

Any contacts, information or archival material on the topic would be much appreciated. Thank you in advance.

Katalin Kádár Lynn PhD
St. Helena, CA
Please contact me at: kbogar@earthlink.net or on my cell phone at 415 518-1089
---
EVENTS IN COMING TWO MONTHS....
Wednesday, 6 August 2008, 7:30 p.m. - Orange Village, OH - "America's Oil Dependence and What It Means for Our Future" featuring Dr. Gal Luft, Executive Director of the Institute for the Analysis of Global Security. Refreshments. No charge to attend. For location or further information contact mommybag@aol.com
Friday, 8 August 2008 - Washington, DC - Annual Joint DACOR-DIAA-NIEF Forum. DACOR-Bacon House, 1801 F Street, NW, Washington, DC 20006. Pay at the door $15 cash or check to Mattison Ave Caterers. Social time starts at 1200 (cash bar), luncheon at 1230 MEDIA WAR: From Soft-Power to Soft-War, Prof. Russell Rochte, NDIC Prof. Rochte's talk, MEDIA WAR: From Soft-Power to Soft-War, will present his views on the "War of Ideas" as it is being fought through the International Media, examine the applications for "new media," and discuss tactics and techniques used daily in the "Infowar for Profit"? the contest for attention and influence in the global information environment. His presentation will conclude with a brief review of "Soft-War" and suggest a strategy for victory in the televised "War of Ideas." Discussion is expected and encouraged by this dynamic and persuasive speaker. Prof. Rochte, (LTC, USA (Ret)), is the senior faculty for Information Operations at the National Defense Intelligence College. He came to the NDIC in 2005 after serving as military faculty for Information Operations and Information Assurance at the National Defense University. To encourage candor, the forum does not allow media, notes, recordings, or attribution. RSVP by calling DACOR at 202 682 0500 ext 15
Include in your message: 1. Your affiliation, e.g., DIAA, NIEF, etc. 2. Event: Joint Forum on 8 August 3. Your name, spelling out your surname. 4. Your telephone number 5. Guests' names, spelling out surnames. Cancellations must be received (by calling DACOR) before 0900 hours, 7 August. Those who don't cancel on time will be billed.
Thursday, 14 August 2008, 6:30 pm - Washington, DC - "Spies on Screen: Rendezvous" - David Kahn at the Spy Museum. The 1935 film, Rendezvous, stars William Powell, a Washington, DC newspaperman turned code breaker during World War I. In his attempts to find a stolen code book, he must handle a ring of German spies, an assassination, and an attractive military mistress with sinister intentions. After the film, David Kahn, a leading expert in the history of cryptology and author of The Codebreakers, will discuss the historical basis for this romanticized account of high states WW I code-breaking. Tickets: $15; Advance Registration required. Tickets are non-refundable and do not include admission to the International Spy Museum. To register, call 202.393.7798; order online at http://www.spymuseum.org.
14 August 2008 - 23 August 2008 - UK to Russia - A Cold War Summit: From Cambridge To Moscow - Special Excursion explores history of Cold War, follows Cambridge Spy Ring in UK/Moscow, and an up-close look at Putin's latest movements of his intelligence services. Once-in-a-lifetime Trip with unusual, first-hand onsite presentations. This important one-time trip is organized and hosted by AFIO Members Dan Mulvenna and Nigel West. Purpose: To explore the history of the Cold War and its manifestations; to examine British and American-Russian relationships from 1945 to 1991; to delve into recent events that suggest the Cold War has new dimensions in Vladimir Putin's Russia, and to follow the path of the infamous Cambridge Five in England and Russia.
The price of oil had dropped, starving the Kremlin of the funds it desperately needed to keep pace in the arms race against the United States. Then all it took was the nudge of Gorbachev's perestroika and the dominoes began to fall: Afghanistan, Poland, Czechoslovakia and, finally, the Berlin Wall itself. Twenty years later and the price of oil is at an all-time high, and Russia has reemerged as a global superpower, albeit with a new ideology - capitalism. Flush with the confidence of petrodollars, the Kremlin is rattling its saber in Europe once again. And a former Russian spy, Alexander Litvinenko, dies in a London hospital, mysteriously poisoned by a fatal dose of radiation.
- Study Leaders, Nigel West - author of VENONA and other respected books on security, intelligence and espionage - and counterintelligence expert Dan Mulvenna, take you behind the curtain of Cold War intelligence and espionage.
- Discover hidden spy sites in Moscow with a former KGB colonel and Dan Mulvenna, security expert and professor at the Centre for Counterintelligence and Security Studies in Washington.
- Hear about the death of Alexander Litvinenko from a Russian consultant to the BBC's Panorama program.
- With staff at the Churchill Archives Centre, explore Cold War materials from its collection.
- Enjoy a reception with retired KGB officers in Moscow.
- Go behind the scenes at Bletchley Park, where codebreakers decrypted and interpreted Axis messages and broke the German Enigma Code during World War II.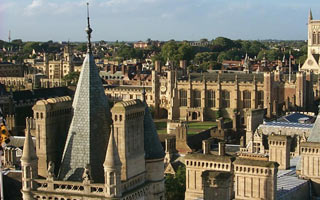 8 nights; 17 meals; 8 Breakfasts, 3 Lunches, 6 Dinners
$4,950.00 pp Group size limited to 48 or fewer participants

Itinerary: From Cambridge, England, to Moscow, Russia, from the "Cambridge Five" to Gary Powers to the recently murdered Russian spy Alexander Litvinenko, trace the trail of diplomacy and intrigue from the height of the Cold War to the global chess match with Russia today. With privileged access to unrivaled authorities in the fields of espionage and in 1950s Cold War politics, gain an understanding of the foreign policy conducted in public and the intelligence machinations that continue in the shadows. In this one-time program, join important writers and thinkers, including Andrew Lownie, Piers Brendon, Mike Sewell and Richard Aldrich to discuss the ramifications and intricacies of the "war," as well as commentators Glenmore Trenear-Harvey and Boris Volodarsz, to consider whether the Cold War has recently reemerged in Putin's Russia. Leading the way is Nigel West. Former member of the House of Commons and author of more than a dozen books on espionage, Nigel is considered the "expert's expert" on intelligence.
Based at the elegant Mřller Center at Churchill College, Cambridge University, track the "Cambridge Five" - the ring of Soviet spies who passed information to the KGB and who infiltrated the British establishment. Follow in the footsteps of the notorious spies on a walking exploration through Trinity, St John's and King's Colleges. Explore Cold War materials in the Churchill Archives Centre, which houses Sir Winston Churchill's papers, as well as those of Margaret Thatcher and other prominent figures of the 20th century. At Bletchley Park - also known as "Station X" - see one of the Enigma Machines, including the rare "Abwehr G312," and check out the tales of World War II code-breaking, spies and strategic deception.
Continue the exploration of the Cold War from the other side, in Moscow. A retired senior KGB officer and Dan Mulvenna — professor at Washington's Centre for Counterintelligence and Security Studies — lead you on an exploration of spy sites throughout the Russian capital. See the graves of Kim Philby, the great British spy, and those of the famous "illegals" Rudolph Abel (Willie Fisher), Konon Molody, known to the West as Gordon Lonsdale, and Ramon Mercader — Trotsky's assassin. Go behind the scenes to areas not open to the public and learn about the Russian intelligence services and counter-terrorism at the FSB (formerly KGB) Intelligence Museum, located just off Lubyanka Square. Receive "briefings" on the KGB's view of the Cold War and on several famous Cold War spy cases by former KGB officers who have intimate knowledge of the affairs. Hear from Colonel Oleg Nechiporenko — Lee Harvey Oswald's first case officer at the Mexico City KGB station. Then meet and mingle with distinguished senior retired KGB officers at an elegant farewell reception.
Please Note: This program will operate only once and has a maximum capacity of 48. Each of two groups of 24 will have its own Group Leader and motorcoach but all participants will attend program events together. To explore or register for this once-in-a-lifetime excursion, visit:
http://www.roadscholar.org/prog/adv-main.asp?C=Y&src=%2Fprog%2Fadv%2Dmain%2Easp&Id=1%2D433E2Q

Sunday, 17 August 2008, 8:30 am - 5:00 pm - Summit Point, WV - "Drive To Survive: Anti Terrorist Driver Training" at BSR, 2026 Summit Point Rd., Summit Point, WV 25446.
For over thirty years BSR has trained the people whose lives depend on top-notch evasive driving - from hostage rescue personnel to counterterrorist units. As the recognized leader in vehicle anti-terrorist training for military and governmental application worldwide, BSR has developed a state-of-the-art program. Now they have custom-designed an exclusive one-day opportunity for SPY highlighting the best of their longer courses. The BSR Shenandoah Valley training center has acres of paved and dirt road circuits, skid pads, an off-road training arena, and instructors who have firsthand experience driving for their lives. Tickets: $1,200 (includes 6% WV sales tax); Advance Registration required. Phone registration only for this program, call 202.654.0932.
Tuesday, 19 August 2008 – Vienna, VA - THE SIXTH ANNUAL AFIO SOCIAL EVENT - The Boston Pops at the Wolf Trap Park in Vienna, Virginia. This year we have moved the annual social from Boston's Symphony Hall to the Wolf Trap Foundation for the Performing Arts on Tuesday, August 19 at 8:00 PM. The concert choice will once again be the Boston Pops Esplanade Orchestra.
Contact Mr. Wass and use AFIO Social in the subject line at wassinmaryland@aol.com if you would like to attend the pre-concert AFIO social at Wolf Trap. Reservations are now being taken however since we have limited amount of seats available for the social, we recommend contacting us before purchasing your concert tickets.
For those who plan on attending the concert and social at Wolf Trap [located at 1645 Trap Road, Vienna, Virginia 22182], you must purchase concert tickets directly through Wolf Trap for seating choices. RSVP requested before July 19. Wolf Trap Box Office - (703) 255-1868 to purchase tickets. http://www.wolftrap.org No portion of your purchase constitutes a donation to AFIO; therefore this is strictly a social event.
Monday, 15 September 2008 - New York, NY - AFIO New York Metro Chapter evening meeting on "How Baghdad Thieves Stole Iraq's Antiquities and CTTF Recovered the Stolen Loot." Colonel Matthew Bogdanos, U.S. Marine Corps Reserve -- the Author of "Thieves of Baghdad" explains how the Baghdad thieves stole Iraq's antiquities and how our counter-terrorism Task Force caught them and recovered their loot. Bogdanos led the investigation. He was awarded the Bronze Star for counter-terrorism operations in Afghanistan. He is currently an Assistant District Attorney in Manhattan. Buffet dinner and open bar - $40. per person. 5:30 PM - 6:00 PM Registration. Meeting starts 6:00 PM. New Location: 4 Columbus Circle (58th Street and 8th Avenue) The showroom space of STEELCASE, the global leader in the office furniture industry. Further information available from afiometro@yahoo.com
Thursday, 25 September 2008, 12:30-2:30 pm - Los Angeles, CA - AFIO L.A. Area Chapter hosts Jake Katz, Assistant Director Emergency Operations Bureau for the Los Angeles County Sheriff's Department will discuss "Open Source Intelligence - The Sheriff's Approach." Event being held at the Hilton business building located at the LMU campus (Playa del Rey). Complimentary buffet lunch will be served, guests are welcome. Please RSVP by Monday September 15, 2008 via email to Vincent Autiero: AFIO_LA@yahoo.com
14 Oct 2008 - Tampa, FL - The Suncoast AFIO Chapter meets in the MacDill Room at the MacDill AFB. Speaker TBA. Lunch is $15.00 inclusive. For further information email garyg@suncoastafio.org
Tuesday, 2 December 2008 - New York, NY - AFIO NY Metro Chapter meeting features speaker Gordon Chang, author of NUCLEAR SHOWDOWN and THE COMING COLLAPSE OF CHINA.
Meeting location - 4 Columbus Circle in the NYC showroom of the office furniture manufacturer - Steelcase. Attractive, spacious, modern space overlooking Central Park.
58th Street and 8th Avenue. Buffet dinner and open bar: $40.00 per person 5:30 PM - 6:00 PM Registration. Meeting starts 6:00 PM. For inquiries or to register email afiometro@yahoo.com
---
For Additional Events two+ months or greater....view our online Calendar of Events
-----------------------------------------------------------------------
Disclaimers and Removal Instructions
Weekly Intelligence Notes (WINs) are commentaries on Intelligence and related national security matters, based on open media sources, selected, interpreted, edited and produced for non-profit educational uses by members and WIN subscribers.
REMOVAL INSTRUCTIONS: We do not wish to add clutter to inboxes. To discontinue receiving the WINs:
a) IF YOU ARE A MEMBER -- click here: UNSUBSCRIBE and supply your full name and email address where you receive the WINs. Click SEND, you will be removed from list. If this link doesn't open a blank email, create one on your own and send to afio@afio.com with the words: REMOVE FROM WINs as the subject, and provide your full name and email address where you are currently receiving them.
b) IF YOU ARE NOT A MEMBER, and you received this message, someone forwarded this newsletter to you [contrary to AFIO policies]. Forward to afio@afio.com the entire WIN or message you received and we will remove the sender from our membership and distribution lists. The problem will be solved for both of us.
CONTENTS of this WIN [HTML version recipients - Click title to jump to story or section, Click Article Title to return to Contents. This feature does not work for Plaintext Edition or for some AOL recipients]. If you wish to change to HTML format, let us know at afio@afio.com. The HTML feature also does not work for those who access their e-mail using web mail...however NON-HTML recipients may view the latest edition each week in HTML at this link: https://www.afio.com/pages/currentwin.htm
-----------------------------------------------------------------------

WINs are protected by copyright laws and intellectual property laws, and may not be reproduced or re-sent without specific permission from the Producer. Opinions expressed in the WINs are solely those of the editor(s) or author(s) listed with each article. AFIO Members Support the AFIO Mission - sponsor new members! CHECK THE AFIO WEBSITE at www.afio.com for back issues of the WINs, information about AFIO, conference agenda and registrations materials, and membership applications and much more!

(c) 2008, AFIO, 6723 Whittier Ave Suite 200, McLean, VA 22101. Voice: (703) 790-0320; Fax: (703) 991-1278; Email: afio@afio.com
Click here to return to top.