AFIO Weekly Intelligence Notes #47-08 dated 15 December 2008
CONTENTS

Section I - INTELLIGENCE HIGHLIGHTS

Section II - CONTEXT & PRECEDENCE

Section III - READING, OBITUARIES, CAREERS, ANNOUNCEMENTS AND COMING EVENTS

Current Calendar Next Two Months ONLY - and new items for 2009:

CIA's December 11th Kuklinski Conference receives considerable publicity

Worth your time are the following...

New Kuklinski Documents on Martial Law in Poland Released
Woodrow Wilson International Center for Scholars - Cold War International History Project

Story of CIA Kuklinski document release and PDF copies of many of the newly released documents - ready for you to download

---

Hear CIA Conference Report about
Ryszard Kulinski -
Polish Spy was Secret CIA Hero.

by Tom Gjelten, NPR

Faced with a growing dissident movement in 1981, the communist government in Poland declared martial law. The U.S knew it was coming, because a Polish army officer named Ryszard Kuklinski had secretly leaked the plan to the CIA. For nearly ten years, Kuklinski was the CIA's top spy in the Soviet bloc. This week, the agency marked the anniversary of Polish martial law with a program in Kuklinski's honor.

---

CIA holds symposium on Polish Cold War asset Col. Kuklinski

December 13, 2008 - Intelligence News

---

Review of the book that started public recognition of this remarkable, Cold War case:

A Secret Life - The Polish Officer, His Cover Mission, and the Price he Paid to Save His Country

Intelligence in Recent Public Literature

By Benjamin Weiser. New York: Public Affairs, 2004. 383 pages, now available in updated paperback with new postscript.

Reviewed by Thomas M. Troy, Jr. in CIA's Center for the Study of Intelligence publication Studies in Intelligence, Vol 48, No. 2.

WIN CREDITS FOR THIS ISSUE: The WIN editors thank the following special contributors to this issue: pjk and dh.

They have contributed one or more stories used in this issue.
---
Section I - INTELLIGENCE HIGHLIGHTS
Accused 'Human Terrain' Spy Free on Bond. Since 2003, the FBI has been investigating allegations that Issam Hamama spent a dozen years passing information to Saddam Hussein's intelligence operatives in Washington, D.C. Despite the investigations, Hamama was somehow able to secure a position as a translator with the Army's controversial Human Terrain social science program. It's the second federal felony case to hit the Human Terrain System in a month..

Over the summer, a federal grand jury indicted Hamama on four counts of conspiring to act as an agent of a foreign government, and making false statements. He was arrested on those charges in late November.

U.S. District Court Mona Majzoub released Hamama on a $100,000 unsecured bond and ordered him to surrender his U.S. and Iraqi passports.

If convincted, Hamama could face as much as 20 years in prison and a million dollars in fines.

Meanwhile, military officials are trying to figure out how Hamama managed to get the security clearance needed for the Human Terrain job. The Defense Industrial Security Clearance Office has blocked other Human Terrain applicants, on much flimsier grounds. [Shachtman/Wired/6December2008]

Embargo Foe Sues Author for "Spy" Claims. A veteran spy catcher, who publicly named people he claims are Cuban government agents, was sued in Miami federal court, where he was accused of malicious defamation.

Lt. Col. Chris Simmons is an Army Reserve counterintelligence officer and former Defense Intelligence Agency analyst with a career in catching Cuban spies. Now he's writing a book, starting a new business, and going on Spanish language TV shows to "name names.''

On Oct. 8, Simmons appeared on América TeVe Channel 41 show A Mano Limpia and identified anti-embargo activist Silvia Wilhelm as a Cuban government collaborator.

Wilhelm, executive director of Puentes Cubanos and the Cuban American Commission for Family Rights, filed a defamation suit against Simmons seeking more than $75,000.

Simmons had said former FIU professor Carlos Alvarez, convicted of spying for Cuba, identified Wilhelm in his confession to the FBI. She since ''retired'' from her duties after the FBI approached her, Simmons said.

''My suit speaks for itself,'' Wilhelm said Thursday. She referred questions to her attorney, Bruce Rogow, who could not be reached for comment.

Simmons, who lives in Virginia, also could not be reached.

Simmons caused a buzz in Spanish-languauge media when he first appeared on the show hosted by Oscar Haza naming several academics as spies for the government. He offered no proof. He has been on the show twice and identified seven people.

Simmons also accused frequent Miami Herald op-ed contributor Marifeli Pérez-Stable, who declined to comment.

Others accused of spying - FBI informant Gilberto Abascal, former deputy Assistant Secretary of Defense Alberto Coll, Cuba expert Julia Sweig and retired academic Gillian Gunn Clissold - also could not be reached for comment. All have denied Simmons' accusations.

Simmons has said he relied on declassified records, interviews with Cuban intelligence defectors and witnesses he didn't name. Collaborating with Simmons is Ana Margarita Martínez, who unwittingly married a Cuban spy who fled to Havana on the eve of the 1996 shoot-down of two Brothers to the Rescue planes. [Roblees/MiamiHerld/6December2008]

Financial Intelligence Uncovers Foreign Espionage in Canada. An unnamed foreign government has been orchestrating espionage activities in Canada over the past year, according to a report tabled in Parliament.

The annual report of the Financial Transactions and Reports Analysis Center of Canada - a little-known federal agency that collects financial intelligence - says a number of individuals were suspected of circumventing Canadian export controls through companies operating in Canada and abroad.

The individuals were said to be shipping restricted materials in a way that indicated they were trying to avoid being detected.

FINTRAC's report also pointed to millions of dollars worth of "suspicious financial transactions associated with the individuals and companies." More than $35 million in transactions were made between 2002 and 2007, many of them electronic funds transfers.

FINTRAC didn't identify the individuals or country involved, or if the investigation led to any arrests. It noted in its report that espionage is not on the decline and, in fact, has increased in some cases.

FINTRAC shares financial intelligence with law enforcement and CSIS when that information might help investigate cases of money laundering, terrorist activity financing or other security threats.

It said it provided intelligence for more than 200 criminal investigations in 2007-08, including the case of an international criminal gang producing and trafficking methamphetamine, also known as crystal meth. Twenty-three individuals were charged in connection with that investigation. [CBC/4December2008]

German Intelligence Admits to Spying on Charities in Afghanistan. Germany's foreign intelligence service, the BND, has admitted covert surveillance of a German relief group's communications in the Afghan capital Kabul.

The BND said it had scrutinized at least 2,000 e-mails, fax messages and telephone conversations from the Afghanistan NGO Safety Office (ANSO) between October 2005 and April 2008. ANSO is run by Bonn-based Welthungerhilfe, a group whose name translates to "world famine aid."

The BND said the surveillance, aimed at picking up signs of terrorist threats or other dangers, may have been unconstitutional. ANSO advises relief workers from several nations in Afghanistan about the danger of attacks. [DW/6December2008]

Pristina Regrets Arrest of German Agents. The Kosovo government expressed its regret over the handling of three German foreign intelligence agents who were arrested and detained in Pristina in November.

While it said it regretted the circumstances connected to the arrest and detention of the German trio of spies from Federal Intelligence Agency (BND), the Kosovo government said Sunday, Dec. 7, it would not officially apologize to Berlin for the arrests.

Deputy Foreign Minister Vlora Citaku in an interview published Sunday in the weekly Welt am Sonntag said the arrests were "a very unfortunately incident." She, however, said the Kosovo government would not apologize for the affair "with which we had nothing to do," adding that if a mistake had been made, "it was not the fault of our government."

The three members of the Germany's BND foreign intelligence service despite protestations from Berlin and the BND of their innocence spent 10 days in detention accused of throwing an explosive device at a European Union office.

Citaku said she could not rule out the possibility that other "players in the region" had an interest in destabilizing relations between Germany and Kosovo.

The men's arrest threw the BND into disarray, according to German media reports.

Until they were arrested, agency head Ernst Uhrlau was not aware Kosovar authorities were investigating the three men even though one of them had already been questioned by the police five days earlier. [DW/7December2008]

Pakistan's Spies Aided Group Tied to Mumbai Siege. Lashkar-e-Taiba, the Pakistani-based militant group suspected of conducting the Mumbai attacks, has quietly gained strength in recent years with the help of Pakistan's main spy service, assistance that has allowed the group to train and raise money while other militants have been under siege, American intelligence and counterterrorism officials say.

American officials say there is no hard evidence to link the spy service, the Directorate for Inter-Services Intelligence, or ISI, to the Mumbai attacks. But the ISI has shared intelligence with Lashkar and provided protection for it, the officials said, and investigators are focusing on one Lashkar leader they believe is a main liaison with the spy service and a mastermind of the attacks.

As a result of the assault on Mumbai, India's financial hub, American counterterrorism and military officials say they are reassessing their view of Lashkar and believe it to be more capable and a greater threat than they had previously recognized.

Pakistani officials have denied any government connection to the siege on Nov. 26-29, in which nine gunmen and 163 other people were killed, and on Sunday, one Pakistani official confirmed that security forces had initiated an operation against at least one Lashkar camp in Pakistani territory. The official gave no details about the operation, Pakistan's first known response against the group suspected of attacking Mumbai.

While Al Qaeda has provided financing and other support to Lashkar in the past, their links today remain murky. Senior Qaeda figures have used Lashkar safe houses as hide-outs, but Lashkar has not merged its operations with Al Qaeda or adopted the Qaeda brand, as did an Algerian terrorist group that changed its name to Al Qaeda in the Islamic Maghreb, American officials said.

Unlike Osama bin Laden and his top lieutenants, who have been forced to retreat to mountain redoubts in western Pakistan's tribal areas, Lashkar commanders have been able to operate more or less in the open, behind the public face of a popular charity, with the implicit support of official Pakistani patrons, American officials said. American and Indian officials believe that one senior Lashkar commander in particular, Zarrar Shah, is one of the group's primary liaisons to the ISI. Investigators in India are also examining whether Mr. Shah, a communications specialist, helped plan and carry out the attacks in Mumbai.

Lashkar-e-Taiba, which means "army of the pure," was founded more than 20 years ago with the help of Pakistani intelligence officers as a proxy force to challenge Indian control of Muslim-dominated Kashmir. Indian officials have publicly implicated Lashkar operatives in a July 2006 attack on commuter trains in Mumbai and in a December 2001 attack against the Indian Parliament. But in recent years, Lashkar fighters have turned up on the battlefields of Afghanistan and Iraq, fighting and killing Americans, senior American military officials have said.

As American, European and Middle Eastern governments crack down on Al Qaeda's finances, Lashkar still has a flourishing fund-raising organization in South Asia and the Persian Gulf region, including Saudi Arabia, counterterrorism officials say. The group primarily uses its charity wing, Jamaat-ud-Dawa, to raise money, ostensibly for causes in Pakistan. An Indian man arrested in connection with the attacks, Fahim Ahmad Ansari, had been described beforehand by Indian newspaper reports as a former member of the Students' Islamic Movement who met with Lashkar operatives in Dubai in 2003.

American officials said investigators were looking closely at the likelihood that the attackers had some kind of local support in Mumbai.

Although Pakistan's government officially banned Lashkar in 2002, American officials said that the group had maintained close ties since then to the Pakistani intelligence service. American spy agencies have documented regular meetings between the ISI and Lashkar operatives, in which the two organizations have shared intelligence about Indian operations in Kashmir. [Schmitt&Mazzetti&Perlez&Gillani&Williams/NewYorkTimes/8December2008]

Zimbabwean 'Spies' in Botswana Deported. Botswana has deported a considerable number of Zimbabwean Central Intelligence Organization (CIO) spies, according to the Botswana Gazette. It said that more than three Zimbabwean CIO officers operating in Botswana are deported every week. Quoting reliable sources, the Botswana Gazette said that some of the CIO officers came to Botswana claiming to be refugees. When questioned, the spies claimed that they left Zimbabwe in search of greener pastures. When arrested by the security forces, they claim that they had quit the CIO. According to the Gazette, some of them are police officers while others are army officers who claim to have retired. The deportation of the CIO spies comes in the wake of allegations by the Zimbabwean government that Botswana was providing military training for the Movement for Democratic Change (MDC) militiamen. When contacted for comment, the Director General of the Directorate of Intelligence and Security Services (DISS) in Botswana, Mr. Isaac Kgosi, declined to comment on the issue and said "We cannot divulge the operations of DISS to the media as that is against the law." [Afrik.com/11Deember2008]

Polish Spy Was Secret CIA Hero. Faced with a growing dissident movement in 1981, the communist government in Poland declared martial law. The U.S knew it was coming, because a Polish army officer named Ryszard Kuklinski had secretly leaked the plan to the CIA. For nearly ten years, Kuklinski was the CIA's top spy in the Soviet bloc.
This week, AFIO members were at the Agency as it marked the anniversary of Polish martial law with a program in Kuklinski's honor. [Gjelten/NPR/12December2008]

Germany Delivered Intelligence to US for Iraq War, Says Report. The German intelligence service played an important role in determining how the United States fought the war in Iraq, a retired US general told a German newsmagazine. Berlin has denied participating in combat operations.

Information from a pair of Germany's Federal Intelligence Agency (BND) stationed in Baghdad was extremely important, detailed and useful, according to retired US General James Marks.

Details provided by the BND agents about Iraqi troops' preparations convinced US war planners to push ahead the invasion and prevented an attack on Baghdad's airport after the German spies alerted the US to air defenses and oil trenches, Marks added.

The agents sent approximately 130 reports to their commanders in Germany and appeared to be aware their intelligence was being forwarded to the Americans, according to the Spiegel report. [dw-world/12December2008]
---
Section II - CONTEXT & PRECEDENCE
Spy Expo Sheds Light on 1941 Soviet Plan. Secret plans to blow up the Bolshoi Theatre and other Moscow landmarks if the Nazis occupied the city in 1941 went on display this week in an eye-opening exhibit on Soviet military counter-intelligence.

Hitler's jacket, a gun hidden inside a cane and Stalin's order that founded SMERSH - a wartime counter-intelligence service that appeared in the James Bond films - are also featured at Moscow's Central Armed Forces Museum.

Elderly veterans decked out in medals and officers of the FSB, the successor to the Soviet KGB, were on hand at Thursday's opening of 90 Years of Military Counter-Intelligence.

The exhibit's highlights include once-secret documents on the Moscow Plan from 1941, when German forces came within 30 kilometres of the Soviet capital.

"There was a genuine risk that German forces could have taken Moscow. So in the autumn of 1941, the so-called Moscow Plan was developed," said Vasily Khristoforov, chief archivist at FSB headquarters in Moscow.

Hundreds of agents were told to stay behind in Moscow with orders to attack German officers and destroy key buildings and infrastructure sites to prevent them from falling into Nazi hands.

More than 1,100 targets in and around Moscow were rigged with explosives, according to Mr Khistoforov.

"Thank God the Germans never took Moscow and it was not necessary to blow up the sites," he added.

The Bolshoi Theatre and the iconic St Basil's Cathedral on Red Square were among the buildings to be blown up, according to a document at the exhibit.

Another document, from October 1941, orders a group called Detachment 3R to stay in occupied Moscow and "carry out terrorist attacks against high-ranking German commanders, occupying authorities and traitors to the motherland".

The plan reflected the panic that gripped Soviet leaders as the invading forces approached.

Little was known about it until the 1990s.

More triumphant memories are also featured in the exhibit, which includes a military jacket worn by Hitler that Soviet forces took from his bunker after capturing Berlin in 1945.

A veteran of that operation, 90-year-old Leonid Ivanov, recalled on Thursday how he received a note from a fellow officer that said: "Send a car. We have found Goebbels' body," referring to the Nazi propaganda minister.

But Mr. Ivanov, a retired KGB general, was tight-lipped when a journalist asked him what happened to Hitler's body.

He said that Soviet forces had burned it and sprinkled the ashes in an undisclosed location, then added mysteriously: "The location is known to me. I have been there."

The exhibit marks the 90th anniversary of the founding of Soviet military counter-intelligence in 1918 and shows some early items, such as a French-made gun hidden in a cane used by tsarist agents before the Bolshevik revolution.

"All the European secret services used them," said Sergei Kozhin, a curator of the exhibit.

Little of the exhibit was devoted to the Cold War, although Mr. Ivanov recalled how Soviet spies began to confront their US and British counterparts while the countries were still allies against Nazi Germany.

"When we entered Germany the task was to find high-ranking Nazis and former Wehrmacht officers, but we were already switching over to work against the English and the Americans," he said.

"They began to recruit our soldiers. So we had to reorient ourselves against the British, the Americans, the French."

Mr. Ivanov and others touted the success of the Soviet Union's wartime military counter-intelligence service, SMERSH, which derives its name from the Russian words for "death to spies".

"Even our enemies, the heads of German intelligence, say that Soviet counter-intelligence outplayed them," said Mr. Khristoforov, the FSB archivist.

"Almost all the agents they sent were either uncovered or worked under our control. Only a handful escaped SMERSH."

Created in 1943, SMERSH only lasted three years until it was absorbed into other agencies, but it lived on in fiction as the nemesis of British superspy James Bond in Ian Fleming's novels.

In most of the Bond films however it was renamed SPECTRE, an international criminal group with an agenda of making money rather than promoting Communism.

Asked about the fictional SMERSH, Mr. Khristoforov was dismissive.

"This is pop culture material that has practically nothing in common with reality," he said. [ABC/5December2008]

U.S. Is Losing Global Cyberwar, Commission Says. The U.S. faces a cybersecurity threat of such magnitude that the next President should move quickly to create a Center for Cybersecurity Operations and appoint a special White House advisor to oversee it. Those are among the recommendations in a 44-page report by the U.S. Commission on Cybersecurity. The bipartisan panel includes executives, high-ranking military officers and intelligence officials, leading specialists in computer security, and two members of Congress.

To compile the report, which is entitled "Securing Cyberspace in the 44th Presidency," commission members say they reviewed tens of thousands of pages of undisclosed documentation, visited forensics labs and the National Security Agency, and were briefed in closed-door sessions by top officials from Pentagon, CIA, and British spy agency MI5. From their research, they concluded that the U.S. badly needs a comprehensive cybersecurity policy to replace an outdated checklist of security requirements for government agencies under the existing Federal Information Security Management Act.

The report calls for the creation of a Center for Cybersecurity Operations that would act as a new regulator of computer security in both the public and private sector. Active policing of government and corporate networks would include new rules and a "red team" to test computers for vulnerabilities now being exploited with increasing sophistication and frequency by identity and credit card thieves, bank fraudsters, crime rings, and electronic spies. "We're playing a giant game of chess now and we're losing badly," says commission member Tom Kellermann, a former World Bank security official who now is vice-president of security at Boston-based Core Strategy.

Kellermann should know: He had a hand in crafting the nation's cybersecurity strategy in 2003. But as he tells it, government efforts led by the Homeland Security Dept. have been stymied by bureaucratic confusion and an unwillingness by agencies and corporations to share information about cyber break-ins. The commission's report catalogues incidents afflicting financial institutions, large corporations, and government agencies, including some first detailed publicly over the last year in various BusinessWeek articles. In an ominous note for the private sector, the commission notes that "senior representatives from the intelligence community told us they had conclusive evidence covertly obtained from foreign sources that U.S. companies have lost billions in intellectual property." For more on the spread of malicious software, read Saturday's New York Times article, "Thieves Winning Online War, Maybe Even in Your Computer."

Kellermann describes a behind-the-scenes effort by several members of the commission, some of whom are advisors on President-elect Barack Obama's transition team, to convince him of the need for action "to stop the hemorrhaging of national secrets, proprietary information, and personal data. We need to begin to deal with this cancer." Informal briefings by members of the commission, starting last July, seem to have affected Obama's thinking, sources say. Those who worry about the problem are heartened by his July 16 vow to "declare our cyber-infrastructure a strategic asset" and to "bring together government, industry, and academia to determine the best ways to guard the infrastructure that supports our power." At the time, the candidate also pledged that, if elected, he would appoint a "national cyber advisor" who would report directly to the President.

As the world's corporations, governments, military forces, and computer users have gravitated to the Web, so have competitors, adversaries, criminals, and spies, including government-backed electronic operatives establishing footholds for potential attacks, according to groups such as the congressionally created U.S.-China Economic & Security Review Commission, which warned on Nov. 21 of the threat from China

"The damage from cyber attack is real," states the cybersecurity group's report, referring to intrusions last year at the departments of Defense, State, Homeland Security, and Commerce, and at NASA and the National Defense University.

The report continues: "The Secretary of Defense's unclassified e-mail was hacked and DOD officials told us that the department's computers are probed hundreds of thousands of times each day; a senior official at State told us the department has lost 'terabytes' of information; Homeland Security suffered 'break-ins' in several of its divisions, including the Transportation Security Agency; Commerce was forced to take the Bureau of Industry and Security offline for several months; NASA had to impose e-mail restrictions before shuttle launches and allegedly has seen designs for new launchers compromised. Recently, the White House itself had to deal with unidentifiable intrusions in its networks."

The report mentions some of the most severe threats, such as those being faced by U.S. war fighters in Iraq and Afghanistan, only hypothetically. It notes, for instance, that "the U.S. has a 'blue-force tracking' that tells commanders where friendly forces are located," and then goes on to posit a scenario under which an opponent could turn some of the blue signals to red, a color used to flag adversaries' forces. The implication is that an intruder might, for instance, provoke a so-called friendly-fire incident in which U.S. fighters mistakenly target U.S. personnel.

At least six members of the commission approached by BusinessWeek declined to share specifics of the most recent intrusions into the computers of companies, the Pentagon, the U.S. Central Command, and important centers of military operations such as Bagram Air Base in Afghanistan. Defense and intelligence officials also declined to describe the operational impacts of that massive penetration of corporate and military networks, but they did confirm that it culminated Nov. 22 in the raising of U.S. Strategic Command's threat level - known as INFOCON - which entailed banning plug-in devices such as thumb drives throughout the U.S. military and in some allied forces. Emergency briefings were also given to Obama and President Bush.

As first reported Nov. 28 by Los Angeles Times in "Cyber-Attack on Defense Department Computers Raises Concerns,", the intrusion and compromise of the U.S. military networks began with a piece of malicious software - or malware - known as agent.btz, which has also afflicted corporate networks in recent months, U.S. military officials and private cybersecurity specialists confirmed. Such intrusions have grown increasingly sophisticated and difficult to trace to their origins. The latest generation of malware, developed by gangs and governments with large sums of money at their disposal, can easily cloak its activities and capabilities.

Complicating the cleanup is not only the nature of the malicious software, but the sheer scale of the task: The U.S. military has around 7 million vulnerable electronic devices. U.S. military officials tell BusinessWeek that assuring themselves that they have cleansed their computers of the intruders that gained a foothold via agent.btz has grown increasingly uncertain and expensive. Forensics examinations and the reprogramming of each computer - which continues in the Pentagon, in Central Command headquarters in Tampa, and in military installations in Afghanistan - costs around $5,000 to $7,000 per machine, sources said.

Kellermann and other computer security consultants declined to discuss the threat to the U.S. military, though several said they were intimately familiar with it. But Kellermann said it was yet another example of how "the cyber security threat has really gotten out of control. But it's not only a national security threat. It's an economic security threat." [Epstein/BusinessWeek/8December2008]

Was the CIA Wrong (Again)? A year has passed since the release of the 2007 National Intelligence Estimate on Iran. In a stunning departure from all the previous estimates dating back to 1997 under Presidents Clinton and Bush, it declared: "We judge with high confidence that in fall 2003, Tehran halted its nuclear weapons program."

It also judged, with modest confidence, that Iran had not resumed its quest for nuclear weapons. If correct, this new assessment meant that previous ones, such as the 2004 NIE that also judged with "high confidence" that Iran was expanding its nuclear weapons capabilities under the cover of a civilian energy program, were based on flawed intelligence.

But was this astonishing reversal correct?

The 2007 intelligence estimate proceeded from both a reorganization of the so-called intelligence community and a re-evaluation of information the CIA had gotten on a clandestine nuclear weapon design program code-named by Iran "Project 1-11." Even though Project 1-11 had been in operation since 1997, the CIA did not get wind of it until 2004, when it obtained a stolen Iranian laptop that had been smuggled into Turkey. The computer's hard drive contained thousands of pages of documents describing efforts to design a warhead that would fit in the nose cone of the Iranian Shahab 3 missile and detonate at an altitude of 600 meters (which is too high for any explosion but a nuclear one to be effective).

From the warhead's specifications, which included the kind of high-tension electric bridge wire used in implosion-type nuclear weapons, the CIA deduced that the payload was a nuclear bomb similar to Pakistan's early bomb. Its conclusion that Iran was going nuclear was repeated in all the NIEs through 2006.

By 2007, however, the CIA and reorganized intelligence community re-examined the issue and doubts began to emerge. It turned out that shortly after the stolen laptop compromised Project 1-11, satellite photographs showed that buildings involved in it had been bulldozed, and conversations intercepted by the U.S. indicated that the project was being dismantled. Then a high-level defector from the Iranian Revolutionary Guard, General Ali-Reza Asgari, confirmed in his CIA debriefings that Project 1-11 had been terminated in 2003.

After a long review, and "scrubbing" the evidence for signs of deception, the CIA reached its new conclusion that Iran's 1-11 project really had ended by 2004. In the world of clandestine activities, it is hardly unexpected that a super-secret operation such as Project 1-11, once it was compromised, would be officially closed down, and the evidence seems convincing that it was shuttered.

The issue is why. One explanation is that Iran had abandoned its efforts to acquire nuclear weapons. Another is that Iran no longer needed Project 1-11 because Iran had solved the tricky problem of triggering a nuclear warhead through other means.

Three pieces of the puzzle uncovered by the UN's International Atomic Energy Agency cast a surprising light on how Iran has advanced its capabilities independently of Project 11-1. First, there is the digital blueprint circulated by the network of A.Q. Khan, the father of Pakistan's nuclear bomb. IAEA investigators decoding and analyzing the massive computer files of this network found that it had clandestinely provided clients with a detailed design of a nuclear warhead of the version used by first China then Pakistan.

Since the IAEA knew that Iran had been dealing with the Khan network since at least 2003, and features of that digital blueprint matched those described in the Project 11-1 documents, it was suspected that Iran acquired the digital blueprint, along with other components, from the Khan network. If so, it shortened the task of Project 1-11.

Then, in late 2007, IAEA investigators uncovered a detailed Iranian narrative, written in Farsi, that described how a Russian scientist helped the Iranians conduct experiments to help Iranian scientists solve a complex design problem: Configuring high-tension electric bridge wire to detonate at different points less than a fraction of a nanosecond apart. In an implosion-type bomb, this is crucial for properly compressing the nuclear core. As Olli Heinonen, the IAEA's chief inspector explained at a closed-door briefing in February 2008, these Russian-led experiments were "not consistent with any application other than the development of a nuclear weapon."

Finally, there is the Polonium 210 experiments that Iran conducted prior to 2004. Since Polonium 210 is used to initiate the chain reaction in early-generation nuclear bombs (and used in the Pakistan design), IAEA inspectors attempted up until 2008 to get access to the facility, or "box," in which the Polonium 210 was extracted from radioactive Bismuth.

Iran insisted that the Polonium 210 was only to be used for a civilian purpose - powering batteries on an Iranian spacecraft - and turned down these requests.

Iran had no known space program, but even if the extraction process was for civilian purposes, Iran's success with it meant that it could also produce Polonium 210 to trigger a nuclear bomb of the design furnished by the Khan network. So, even without further work by Project 1-11, it may have acquired all essential design elements for a nuclear weapon.

Design of course is only part of the equation. The other crucial part is obtaining a fissile fuel for the nuclear explosion, such as highly-enriched uranium.

In 1974, Pakistan, with the assistance of A.Q. Khan, had pioneered the path to nuclear proliferation by using centrifuges to enrich gasified uranium into weapon-grade uranium. In this process, the uranium cascades from one rapidly-spinning centrifuge to the next, each gradually increasing the proportion of the fissile isotope Uranium 235, until it becomes first low-enriched uranium for power plants, then, if continued, high-enriched uranium, for weapons. Iran built a similar facility in the massive underground caves at Natanz, able to house up to 50,000 centrifuges, which became operational in 2002.

Iran claimed this facility was intended for the production of low-enriched uranium for the Russian-built nuclear reactor at Bushehr to generate electric power (a facility Russia had agreed to fully supply as long as it operated). But the plant also could be used to produce weapons-grade uranium.

According to the IAEA, which monitors Natanz, by 2008 Iran had 3,800 centrifuges in operation and is adding another 3,000. It has also upgraded many of the older centrifuges, giving it about quadruple the capacity it had in 2003. To date, it has produced and stockpiled 1,380 pounds of low-enriched uranium, which is enough, if further enriched to weapons grade, to build a nuclear bomb.

The 2007 NIE deftly ducked this escalation with a footnote stating it was excluding from its assessment "Iran's declared civil work related to uranium conversion and enrichment," which meant Natanz. However, in light of all the developments in the past year, America's new president will have to confront the reality that Iran now has the capability to change the balance of power in the Gulf, if it so elects to do so, by building a nuclear weapon. [Epstein/InternationalHeraldTribune/10December2008]

U.S. Intelligence Officer Reveals Secret Story of Saddam Hussein's Capture. For the first time since the Army's 4th Infantry Division captured Saddam in a dramatic raid on Dec. 13, 2003, the U.S. intelligence officer who hunted him down has come forward with his story.

Staff Sgt. Eric Maddox, who still serves as an interrogator for the Department of Defense, described how he bucked what had been the strategy to find Saddam in the first months of the war - going after the big name players in the defeated government who were on the loose in the hopes that, if caught, they would reveal Saddam's whereabouts.

"I think the entire story of how Saddam was captured was misunderstood. It was an interrogation over four months. I interrogated over 300 people," Maddox said.

Maddox arrived in Iraq in July 2003. He had never interrogated anyone before. He was sent to Tikrit by his commander - known simply by his nickname of BamBam because of the secret nature of his work.

He thought he was going to be there two days, and he had brought one change of clothes - a short-sleeved baby blue oxford shirt. His detainees told him later that insurgents had put a price on his head - describing him only as "the guy in the blue shirt."

Through careful triangulation and the targeted renditions of low-level drivers and bodyguards - about 32 relatively unknown characters, none of whom ever served in prominent positions in Saddam's government - a Special Operations Task Force unit was taken to the farm in Tikrit where Saddam was hiding.

Maddox said he never tortured anyone, mostly because he doesn't think it works.

But he finally got his lucky break. He arrested a driver who, after eight hours of interrogation, revealed the name of the man who held the key to finding Saddam.

"He finally stopped and said, 'You don't get it do you?' Maddox recalled.

"I said, 'Who do you work for?'

"He said, 'I work for Muhammad Ibrahim.'

"I said, 'Who does he work for?'

"He said, 'He works for the president.'

"And I knew he was talking about Saddam. I said, 'What's he doing for him?'

"He said, 'he's running the insurgency.'

"I said, 'in Tikrit?'

"He said, 'No, in the whole country.'"

That interrogation took place on Dec 1. Over the next 13 days they rounded up 40 family members of Muhammad Ibrahim - anyone who knew him. A lead took them to a house in Baghdad on Dec. 12 - the last day of Maddox's tour in Iraq. They arrested three people - among them Muhammad Ibrahim's lieutenant. The other detainees had bags placed over their heads.

"So I was interrogating the lieutenant and eventually he said, 'I do know Muhammad Ibrahim,' Maddox recalled.

"I said, 'Where was he last night?'

"He said, 'He was at the house (where the raid had taken place).' "

Maddox thought he had escaped.

"I'm like, 'We just missed him.' And my interpreter says, 'No, he was at the house."

They had him.

"So I ran to the cell thinking he's one of these three guys," Maddox said excitedly. "So I lifted up the hoods."

They had Muhammad Ibrahim - the head of the insurgency and Saddam's right-hand man - and they hadn't even known it.

"So I looked at him and I said, 'You are Muhammad Ibrahim. I've been waiting to meet you.'

"And my translator says, 'He's been waiting to meet you too.'"

Maddox had three hours before he was to fly out of Iraq, since his tour was up. He told that to Ibrahim - and that he had 40 of his relatives in custody and 20 more on a list to nab.

"At the end of those two hours, he did say I'll take you to him (Saddam)," Maddox said.

The task force flew him from Baghdad to the farm in Tikrit. They spent several hours looking for Saddam. Ibrahim didn't want to finger him. Eventually, he walked to the spider hole and kicked a rope.

"The special ops team members noticed it. So they backed him away and pulled it up. And there he was," Maddox said.

Muhammad Ibrahim remains in an Iraqi prison. The Special Forces team found 11.2 million dollars at his house that had been used to fund the insurgency. His family members were set free.

Maddox returned to the U.S.

Saddam Hussein was hanged on Dec. 30, 2006. [Griffin/Foxnews/12December2008]



---
Intelligence Boosters, by Art Brown. This is the article I never intended to write. For former C.I.A. officers, the tipping point between debate-generating critique and "if they had only listened to me" pontification is easy to cross, and I had hoped to avoid the latter by simply refraining from attempts at the former. So let's be clear, I am not claiming to have been prescient. It took more than three years outside the agency for me to truly understand its problems and to see a possible solution.

To start with the bottom line, the C.I.A.'s human spy business is not answering the hardest questions. How can I know this, three years out of touch with the secret stuff? The answer is rather simple: because Osama bin Laden is still the head of Al Qaeda. And no one has been held accountable for failing to catch him.

By the evening of Sept. 11, 2001, every serving C.I.A. officer - indeed, every American - knew that the agency had one prime mission: "Get him!" But, after more than seven years and billions of dollars, we have failed. I recognize much has been done to damage Al Qaeda's networks but, make no mistake, no amount of "rendition" of bin Laden lieutenants can mask our failure to bring to justice the man who ordered 9/11.

There are other failures too, less dramatic perhaps but of even greater consequence. The clandestine creep of nuclear know-how threatens to put the worst weapons into the worst hands. If North Korea or Iran, or Shangri-La for that matter, claims the right to develop a nuclear fist, our intelligence services should know every detail about that program. Yet we collectively fail over and over again when North Korea tests a missile or nuclear reactor construction in the eastern Syrian desert come as a surprise. If the C.I.A.'s human spy arm was operating as a private business, it would be running at a loss. Think Detroit, not 007.

Why? First, the agency is simply too insular. It does not sufficiently tap into the expertise that exists across the breadth of America. The human spy components of the C.I.A. live in a cocoon of secrecy that breeds distrust of outsiders. This is one reason very few officers have BlackBerrys, and those few who do usually leave them in their cars when they go to work. Despite their reputation as plugged-in experts on other countries, many C.I.A. officers do not even have Internet access at their desks. Worse yet, they don't think they need it.

Second, the C.I.A. has a terrible problem with quality control. When I was still there, for example, C.I.A. spies reported on several occasions that Al Qaeda had plans to attack American military bases overseas - in countries that a quick Web search would have shown had no such bases. Quantity outweighed quality as folks in the spy business focused not on accuracy or impact, but on increasing amounts of product.

And that brings us to perhaps the most numbing factor, the lack of performance accountability. In my years in the agency, I cannot recall a single case where anyone was fired for failing to perform. I cannot even remember anyone being demoted. There is simply no job-threatening penalty for mediocrity. Think of this on Jan. 20, when we're likely to see Osama bin Laden sending an inauguration greeting to the new president.

So let me float a proposal borrowed from the business world. If you want to find answers to the hardest questions, why not reach broadly into the expertise of the country and assemble the best spy team possible?

On Shangri-La's nuclear ambitions, it would probably mean including a few engineers who build our own bombs. They could make sure you understand the missing parts of the puzzle and how those parts may be hidden. You'd also want successful entrepreneurs - both American and allied - who know how to make deals in Shangri-La and can point you to others who deal there more often.

It goes further. Good freelance reporters know how to find sources to fill in a hard story. The expertise of academia, where decades of insight often go untouched, could be balanced with a seasoned detective or tough prosecutor adept at turning a crook. The more military the topic, the more military folks you would want on its pursuit. The spy business simply isn't that difficult, and the sleight-of-hand techniques of the trade, some reaching back to Joshua's spies at Jericho, can be fairly quickly learned. It is creativity, judgment and the ability to reach a goal on time that are hard to teach.

The agency would not lure these outside experts with a career or give them ranks or titles. That only breeds the ladder-climbing trap that sees newly minted C.I.A. managers, six months into their assignments, planning how they might climb that next rung. Rather, the agency could compile teams of accomplished Americans for a fixed period of service and then let them return to their respective fields. (Much of the work could be done over the Internet, allowing some of them to keep their day jobs.) Their incentive would be the chance to make a real difference, with maybe a decent payment at the end if the project is a success.

Yes, there are some obstacles here. Using "normal" citizens in a covert role could require giving them legal protections that may not exist right now. Getting consensus among policymakers and Congress, and isolating the hard questions from the headlines of the day, will be a difficult challenge. And, more insidiously, wounded institutional pride at the C.I.A. could generate bureaucratic knife-fighting by employees who would rather see the quest fail than give credit to "amateur" operators. The safe bet is that none of this will ever happen.

But is it not worth trying? It would certainly be worth breaking some existing rules if we could really assemble a better spying apparatus from the best parts America has to offer. When it comes to the hard stuff, we couldn't do much worse.

[Art Brown, a 25-year veteran of the Central Intelligence Agency, was the head of the Asia division of the agency's clandestine service from 2003 to 2005.] [Brown/NYTimes/13December2008]



---
Section III - READING, DESTINATIONS, OBITUARIES, CAREERS AND COMING EVENTS
---
James Jesus Angleton, the CIA, and the Craft of Counterintelligence, by Michael Holzman - A major biography of a legendary American spymaster.

As chief of counterintelligence for the Central Intelligence Agency from the early 1950s to the early 1970s, James Jesus Angleton built a formidable reputation. Although perhaps best known for leading the agency's notorious "Molehunt" - the search for a Soviet spy believed to have infiltrated the upper levels of the American government - Angleton also played a key role in the U.S. intervention in the Italian election of 1948, in Israel's development of nuclear weapons, and in the management of the CIA's investigation of the assassination of John F. Kennedy. He later led CIA efforts to contain the Vietnam-era antiwar movement, including the campaign to destroy the liberal Catholic magazine Ramparts .

In this biography, Michael Holzman uses Angleton's story to illuminate the history of the CIA from its founding in the late 1940s to the mid-1970s. Like many of his colleagues in the CIA, James Angleton learned the craft of espionage during World War II as an officer in the Office of Strategic Services (OSS), where he became a friend and
protégé of the British double agent Kim Philby. Yet Angleton's approach to counterintelligence was also influenced by his unusual Mexican American family background and his years at Yale as a student of the New Critics and publisher of modernist poets. His marriage to Cicely d'Autremont and the couple's friendship with E. E. and Marion Cummings became part of a network of cultural connections that linked the U.S. secret intelligence services and American writers and artists during the postwar period.

Drawing on a broad range of sources, including previously unexamined archival documents, personal letters, and interviews, Holzman looks beneath the surface of Angleton's career to reveal the sensibility that governed not only his personal aims and ambitions but those of the organization he served and helped shape. [UMassPress/Sept2008]

---
Five Top Secret Sites in Moscow. Once barred to all but senior spymasters and the party faithful, many of Moscow's most secret sites are now open to the public. Grudgingly. Brace yourself for strong security and be prepared to pay. The author of a new Frommer's guide to the Russian capital reveals the best places to relive the Cold War:

Star City. It used to be a standing joke in Moscow that the Socialist utopia was alive and functioning in Zvezdny Gorodok (Star City), if nowhere else. While more than a decade of free market economics has taken its toll, the pristine tidiness and quite eerie silence are evocative of the centrally-planned show town this once was.

It can be visited independently, but Star City is still a "protected area" and security is tight. Written requests (with full passport information) should be sent to the Training Centre Excursions Department. Visitors to the museum will also need to contact its administration department separately, in advance Getting in isn't cheap: 7,500 rubles to visit the Training Centre, and a further 2,500 for the museum: about £240 in total. Patriarshy Dom Tours visit every month or so, for 2,000 rubles (£48).

Stalin's Secret Bunker. Built 1934-1939 in response to increasing German militarism, Stalin's World War II bunker - big enough to accommodate an entire tank battalion - lies beneath a football stadium on the city's eastern outskirts. Anyone familiar with the excesses of Moscow's early 1950s Stalinist architecture will not be surprised by what they find here: even in extremis, it seems the dictator's tastes still ran to the rococo, with the central Session Hall featuring marble pillars and ornate plasterwork.

Dodge the attendant and you might just get to sit behind the desk in his private office. The bunker is open by appointment only, and it's almost impossible to find: save money and aggravation with a guided tour. Russkie Prostori charge 155EUR for 1-2 people, including translation.

Stalin's Secret Bunker, 80 Sovietskaya Ulitsa. Metro: Cherkizovskaya, Partizanskaya

The Tagansky Protected Command Point. Sixty five meters below ground, this massive complex was built as a military communications centre, able to accommodate several thousand people for up to three months. Acquired by private investors in 2006, there are plans to develop it into a full-service Cold War Museum, complete with restaurants and bars. Go now, while the 600km of empty tunnels (complete with leaks, puddles and stray rodents) give a more accurate sense of 1950s Cold War paranoia.

The Tagansky Protected Command Point, 5th Kotelnichesky Pereulok d. 11. Metro: Taganskaya. Entrance fee 2,000 rubles, reducing to 1,100 rubles per person for groups of 10+.

The Lubyanka. While the Lubyanka remains strictly off limits (take a photo and you risk getting your camera confiscated by one of the Federal Security Service heavies prowling the forecourt), it is possible to eat in the former KGB canteen. Although the Lubyansky Restaurant these days is more cocktails and sushi than intrigues and cold borscht. Tours of the KGB Museum were halted in 2007, but you will find a short history (and a 24-hour "FSB Enquiry Line") at www.fsb.ru.

A short walk east on Novaya Ploshad, an austere grey boulder commemorates the victims to totalitarianism. Or at least it does at the moment. Erected by the Memorial human rights organization in 1991, the Solovetsky Stone was brought to Moscow from the former Solovetsky Special Designation Camp, one of the earliest labour camps from which the GULAG system was to evolve. Recently announced plans to build a power station under Lubyanskaya Ploshad, however, might give the authorities the excuse they need to move it out of sight.

Lubyansky Restaurant, Malaya Lubyanskaya Ulitsa d. 7. Metro: Lubyanka.

The Dom na Naberezhnoi (The House on the Embankment). So-called for Yuri Trifonov's novel of the same name, this 1931block was built to house the new party elite (including Stalin's in-laws and, later, Nikita Khrushchev). The life of privilege quickly soured, however, with almost 800 of the building's inhabitants falling victim to the Great Terror, and ending their lives in the GULAG. This museum, run by Trifonov's widow Olga, has tried to trace them all.

The Dom na Naberezhnoi, Ulitsa Serafimovicha d. 2. Entrance fee 60 rubles. Metro: Borovitskaya. [Gilbert/TimesOnline/9December2008]

Cold War Spy Games - Famous U2 Spy Plane Exhibit to Open. Fans of James Bond will learn what it really means to be a spy when they hear former United States Army Intelligence political operative Werner Juretzko speak during the opening of a U2 spy plane exhibit on Saturday.

"People are always intrigued with James Bond and spying," Juretzko said, adding that his experiences differ from those of 007's.

Juretzko, from Illinois, will open The Cold War Museum-Midwest Chapter's U2 spy plane exhibit at the New Berlin Public Library on Saturday. As a former prisoner of the KGB and Stasi, East Germany Ministry for State Security, Juretzko has in-depth knowledge of the Cold War.

The piece of a U2 spy plane exhibit centers on the international U2 incident of May 1, 1960, and the subsequent imprisonment of U.S. pilot Francis Gary Powers.

The Cold War Museum-Midwest Chapter is continuing to work on a permanent home in Hillcrest Park in Waukesha, near what is often called Missile Park and was home to one of eight Nike missile batteries in southeastern Wisconsin during the Cold War.

Cold War Museum-Midwest Chapter Chairman Chris Sturdevant said the plan for a permanent building is on track and that the designs for the building have been completed. Next, the museum needs to have those plans approved by the city of Waukesha and begin raising funds.

Sturdevant said the museum plans to expand a building that is already on the site for a cost of about $350,000. Overall, he said he thinks the museum's fundraising goal will be $500,000 to cover the expansion and other costs, such as maintenance and hidden costs.

Sturdevant said the museum might seek approval for its building plans sometime this year.

Meanwhile, The Cold War Museum-Midwest Chapter continues to sponsor exhibits and talks.

"It's a world-class exhibit," Sturdevant said of the U2 spy plane exhibit.

He said the exhibit will include a piece of the plane, a flight suit, reconnaissance photos and information on the life of Powers, including his training with the CIA, prison time and through his death in the 1970s.

"It's a really tragic piece in a sense, but it's an important part of history," Sturdevant said.

When the exhibit is closed April 29, Powers' son, Gary Powers Jr., will give a presentation.

Juretzko, originally from Germany, will give a presentation Saturday on the topic "Espionage: A Weapon during the Cold War," which will detail his time being brutally interrogated in prison and his release to the United States in 1961 after serving six years for military espionage.

"First of all, for the appreciation, So they can appreciate living in freedom. Just think if the other side won - we were pretty close at times," Juretzko said of why people should learn about the Cold War. [Michalets/GMToday/12December2008]
---
Lawrence R. Devlin, 86, C.I.A. Officer. Lawrence R. Devlin, who as the Central Intelligence Agency's station chief in Congo in 1960 avoided carrying out an order to assassinate the ousted prime minister, Patrice Lumumba, died Dec. 6 at his home in Locust Grove, Va. of emphysema. He was 86.

Recruited to the C.I.A. while studying at Harvard after service in World War II, Mr. Devlin served in some of the most dangerous hot spots of the cold war, earning renown and decorations within the agency for his work in Africa and later as station chief in Laos during the Vietnam War. The C.I.A. station in Vientiane, Laos, with 300 officers, was one of the largest at the time.

Mr. Devlin particularly treasured the memories of his service in Léopoldville, Congo, despite at times being jailed, beaten and threatened with execution. He was the boss of a small C.I.A. operation during a brutal postcolonial struggle for power, a story he recounted in a 2007 memoir, "Chief of Station, Congo: Fighting the Cold War in a Hot Zone" (Public Affairs).

In an episode that came to symbolize American excesses in the third world, Mr. Devlin, then 38, received word that he would be getting a visit from "Joe from Paris" with an important message. The messenger turned out to be Sidney Gottlieb, the agency's top poison expert, who passed on orders he said had been approved by President Dwight D. Eisenhower to kill Lumumba, who the United States feared might ally the mineral-rich Congo with the Soviet Union.

By his account, Mr. Devlin chose not to openly defy the order, believing he would be replaced by a more willing assassin. Instead, he said, he stalled. After Lumumba was slain by Congolese political opponents, Mr. Devlin said, he took from his safe the poison toothpaste Mr. Gottlieb had delivered to him and threw it in the Congo River.

The assassination plot was investigated in the 1970s by a Senate committee headed by Senator Frank Church, Democrat of Idaho. The panel raised some doubts about Mr. Devlin's version of events, saying agency cables portrayed him as taking an "affirmative, aggressive attitude" toward the assassination assignment. Mr. Devlin said he pretended to go along but never planned to carry the plot out.

Eugene Jeffers, who served as Mr. Devlin's deputy in Congo and on other assignments, said his boss kept the assassination order from him at the time to protect him but later gave the same account he would consistently tell over the next four decades.

Mr. Jeffers recalled Mr. Devlin's cool in the chaos after the coup backed by the C.I.A. that overthrew Lumumba. Once, approached by a trigger-happy Congolese soldier, Mr. Devlin defused a potentially lethal confrontation by calmly offering the soldier a cigarette, Mr. Jeffers said.

Lawrence Raymond Devlin was born June 18, 1922, in Concord, N.H., and grew up in San Diego. He attended San Diego State University for two years before enlisting in the Army in 1943, and he served for two years in North Africa and Italy and met his first wife, Colette, an ambulance driver with the French forces.

After finishing at San Diego State, he went to Harvard, where he worked toward a doctorate in international relations and was recruited for the C.I.A. He retired from the agency in 1974.

After the death of his first wife in 1984, he married Mary Rountree, who survives him. Besides his daughter from his first marriage, Maureen, of Great Falls, Va., who followed him into the C.I.A., his survivors include a stepson, Ashley Rountree of Paris; a stepdaughter, Meredith Rountree of Austin, Tex.; two grandchildren; and a stepgrandchild.

For many years after his government career, Mr. Devlin worked in Africa and Washington for Maurice Tempelsman, the diamond merchant best known as the companion of Jacqueline Kennedy Onassis.

"I knew all the ministers of mines," Mr. Devlin said in the interview. "In short, I was in a better position to negotiate than people who knew a lot about diamonds." When he came across valuable information, he said, he passed it to old friends in the C.I.A. [Nytimes/12December2008]

---
Threat Management Analyst. Security Management Resources, Inc., an international executive search firm whose global practice is focused exclusively on professional and executive level corporate security positions, is seeking candidates for the following opportunity.
TITLE: Threat Analyst
LOCATION: Texas
SALARY: Base $100K or more based on experience, great benefit package
RELOCATION: Yes, package paid by employer
SUMMARY: Our client, a Fortune 50 Company, is looking for a threat management analyst.
RESPONSIBILITIES: The person would need to have a good understanding of protective operations .We envision this to be about 60% protective intelligence/analytical work, 30% counter-surveillance operations and maybe only 10 percent EP work. This position would also support all of Company' security operations not just EP.
COMPETENCIES/ABILITIES: Requires analytical experience with a strong background in protective intelligence operations.
A Bachelor's Degree is required.
RESUME SUBMITTAL: Interested candidates should submit their resumes via the position posting on the SMR website at: http://www.smrgroup.com/SMR-Jobs.htm
Full Motion Video Intelligence Analyst sought to join a dynamic team working on mission critical assignments for government clients.
Booz Allen Hamilton, one of the fastest growing (and one of the most profitable companies) to remain private, currently ranked 4th of the top 50 firms, is seeking an Analyst who would work as part of a team performing Full-Motion Video (FMV) Processing, Exploitation, and Dissemination (PED) functions in support of Special Operations Forces. Access and integrate full-motion video data from airborne sensors and work with imagery, geospatial, and all source analysis to process, analyze, and produce integrated products based on the data. Interface with clients on a daily basis and produce and provide briefings based on analysis. Participate in ISR mission management, intelligence fusion, standards and evaluations, systems maintenance, and network support. This position requires deployments to potentially hazardous locations based on mission requirements and is located at Fort Bragg , NC .
A Qualified Applicant Must Possess the Following Basic Qualification:
-4+ years of experience with full-motion video, imagery, or geospatial analyses
-Ability to deploy to potentially hazardous locations in support of mission requirements
-TS/SCI clearance
In Addition to the Basic Qualifications Above, Highly Desirable Qualifications Include:
-Experience with performing full-motion video exploitation and analysis
-Experience in working with Special Operations Forces
-Experience with deploying in support of OEF or OIF operations
-BA or BS degree
If interested, please contact Nicole Boucher at +1-703-377-5271 or boucher_nicole@bah.com or view this or other announcements at www.boozallen.com.
---
Don Farley. I am looking for anyone who knew or worked with the late Donald W. Farley. Farley was a former Navy Corpsman and veteran of Iwo Jima who served as a medic in CIA Office of Medical Services (OMS) from 1951-1966. Farley served on Taiwan, Atsugi, Cherat Pakistan, Beirut, Saigon and other TDY assignments. He was wounded and lost his sight during the March 30, 1965 bombing of the US Embassy in Saigon and retired in 1966. I can be reached by email at jonathan_clemente@yahoo.com. Thanks, Jonathan D. Clemente, MD
---
EVENTS IN COMING TWO MONTHS....
16 December 2008 - Arlington, VA - The Defense Intelligence Alumni Association and the National Intelligence Education Foundation hold their National Intelligence Forum at the
Rock Bottom Restaurant and Brewery in the Ballston Common Mall. Pay at the door with a CHECK for $29 payable to DIAA, Inc Social time starts at 1130, lunch at 1200, program at 1245
Dr. Cindy L. Courville will speak on Africa Dr. Courville was U.S. Ambassador to the African Union. She has been Special Assistant to the President and Senior Director for African Affairs at the National Security Council, where she helped craft United States policy towards Africa. She is now on the Faculty of the National Defense Intelligence College.
The National Intelligence Forum covers topics of current interest. The Defense Intelligence Alumni Association and the National Intelligence Education Foundation sponsor it jointly. To encourage candor, the speaker must approve in advance media, notes, recordings, and attribution. The Defense Intelligence Forum is open to members of all Intelligence Community associations.
The restaurant is located on Level 1 of the Ballston Common Mall at the corner of Glebe Road and Wilson Boulevard. It's just two blocks from the Ballston-MU Metro Station on the Orange Line. Entrance to a covered walkway to the mall is at the Metro station exit. Park at Ballston Common Mall for 3 Hours for $1. RSVP by 9 December by email to diforum@verizon.net .
Include your name and the names of your guests, your association, your telephone number, and your email address.
15 January 2009 – San Francisco, CA – The AFIO Jim Quesada Chapter hosts Stanislav Levchenko, former Russian KGB Major. Levchenko defected to the United States in October 1979, and was instrumental in detailing the KGB's Japanese spy network to the U.S government, including Congressional testimony in the early 1980's. A Soviet court condemned Levchenko to death in 1981. Levchenko published his autobiography, On the Wrong Side: My Life in the KGB, in 1988. Major Levchenko's talk will focus on the new Russia and its imperial designs.
The meeting will be held at United Irish Cultural Center, 2700 45th Avenue, San Francisco (between Sloat and Wawona). 11:30 AM no host cocktails; noon - luncheon. $25 member rate with advance reservation and payment; $35 non-member rate. RSVP required. E-mail RSVP to Mariko Kawaguchi (please indicate meat or fish) no later than 5PM 1/05/09: mariko@cataphora.com or mail check made out to "AFIO" to: Mariko Kawaguchi, PO Box 117578 Burlingame, CA 94011. (650) 622-9840 X608.
20 -21 February 2009 - Baltimore, MD - Ethics in the Intelligence Community 2009 - The 4th Annual Conference of the International Intelligence Ethics Association
List of topics
• The Foundations of Ethics in Intelligence
• The Ethics of Intelligence Assassinations: The Israeli Experience
• The Application of Stakeholder Analysis to Covert Action
• Legitimizing Intelligence Ethics: A Comparison to Ethics in Business
• Surreptitious Physical Searches: An Ethics of Privacy
• Many Spheres of Harm: What's Wrong with Intelligence Collection
• The Ethical Implications of the Downing Street Memos
• The Role of Ethics Reform in Turkey's Bid to Join the EU
• Evolution of British Intelligence & Counter-Terrorism: Northern Ireland, 1969 - 1998.
Location: The Johns Hopkins University at Mt. Washington Conference Center Baltimore, Maryland
Register now and save $50.00. This year, on-line registration is available and encouraged by all attendees. You can reserve your space at the conference and get a hotel room at the same time!
Registration Fees: Individual - Institution - $450; Individual - $375; Student - $250
For more information about registration fees, including fees for early and late registration, go to http://intelligence-ethics.org/conference/09/index.html.
Registration fees include continental breakfast, lunch, and dinner on Friday, and continental breakfast and lunch on Saturday.
Lodging: The Mt. Washington Conference Center has 48 guestrooms for conference attendees. Single rooms with a queen-size bed and double rooms with two double beds are available.
The room rate is $150 per night.
If you have any questions, please feel free to contract us at conference2009@intelligence-ethics.org.
26 February 2009, Noon to 1 pm - Washington, DC - The Spy Within: Larry Chin and China's Penetration of the CIA
In October 1982, the FBI received chilling information from the CIA—the Agency had learned China was running a spy inside US intelligence, but the spy's identity, where he worked and for how long, and what information he was passing was unknown. Over the next three years, investigators worked frantically to identify the mole, to discover the secrets he'd betrayed and the agents he'd endangered, and to collect the evidence to prosecute him for his betrayal. The investigation ultimately revealed that for more than thirty years, Larry Chin, the CIA's leading Chinese linguist, had been a top Chinese penetration of the Agency. In the first book to explore Chin's betrayal, Tod Hoffman uses exclusive interviews, previously unreleased documents, and his own practical expertise as a former spy-catcher for the Canadian Security Intelligence Service to spin a captivating cat-and-mouse tale. Join Hoffman as he discusses the untold story of one of America's biggest spy cases.
International Spy Museum, 800 F Street, NW, Washington, DC, Gallery Place/Chinatown Metrorail Station
TICKETS: No registration required. Free.
4 March 2009, 6:30 p.m. - Washington, DC - Josephine Baker: Singer, Dancer, Spy - A discussion at Spy Museum
"I am ready to give the Parisians my life."—Josephine Baker
From Broadway to the Rue Fontaine, the extraordinary Josephine Baker was the toast of the international nightclub circuit. Born in the United States, the talented African American singer-dancer moved to France to escape racism in America and became an enormous star. She triumphed at the Folies Bergère and enjoyed the acclaim of European society. Her affection for France was so great that when World War II broke out, she volunteered to spy for her adopted country. Her café society fame enabled her to rub shoulders with those in the know, from high-ranking Japanese officials to Italian bureaucrats, and report back what she heard. She heroically stayed in France after the invasion working closely with the French Resistance to undermine the Nazi occupation. Her espionage exploits are just one chapter in Baker's extraordinary life. Join Jonna Mendez, former CIA chief of disguise, as she reveals Baker's intelligence work and places it in the context of her exciting and celebrated life.
International Spy Museum, 800 F Street, NW, Washington, DC, Gallery Place/Chinatown Metrorail Station
TICKETS: $15; Advance Registration required. Tickets are non-refundable and do not include admission to the International Spy Museum. To register, call 202.393.7798; order online at www.spymuseum.org; or purchase tickets in person at the International Spy Museum.
5 - 6 March 2009 - Houston, TX - "Terrorism, Crime & Business" Symposium - Understanding the Fundamental Legal and Security Liability Issues for American Business. A conference sponsored by St. Mary's University., School of Law, Center for Terrorism Law. Four Main Symposium Themes: • An overview of the aims and objectives of the global terror threat posed by al-Qa'eda-styled terror groups, sub-State terror groups, and "lone-wolf" terrorists.
• An analysis of the specific threats to American business sectors that are deemed part of the nation's "critical infrastructure," i.e., energy, petrochemical, electric utilities, communication, transportation, health, banking and finance, agriculture, water and shipping. • An understanding of the varied legal issues associated with terrorism and criminal negligence claims against businesses that have suffered a terror attack or serious criminal act in cyberspace or the physical world. • A comprehensive review of how to develop appropriate physical security methods.
SPEAKERS and LOCATION: The symposium will be held at the Federal Reserve Bank, 1801 Allen Parkway, Houston, Texas. The registration fee is $300.00, which includes breakout refreshments, a hosted lunch,
and extensive printed materials, e.g., Terrorism Law: Materials, Cases, Comments (5th Ed. 2009). Participants may qualify for Continuing Legal Education Credits (CLE). For registration information and details, contact Ms. Faithe Campbell at (210) 431-2219; fcampbell@stmarytx.edu. Additional information is also available at the Center for Terrorism Law website: www.stmarytx.edu/ctl.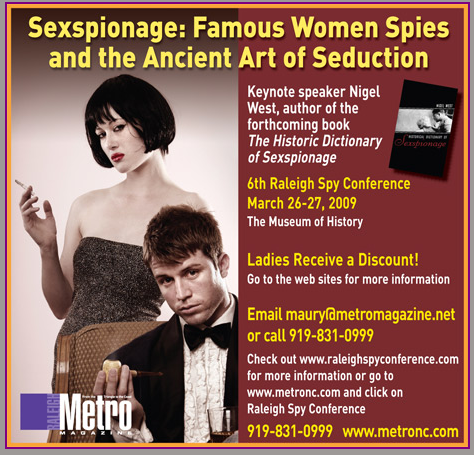 26 - 27 March 2009 - Raleigh, NC - "Sexspionage" The 6th annual Raleigh Spy Conference salutes lady spies - and their counterparts on the other side - with expert speakers delivering riveting tales of Sexspionage, the new term characterizing the current emphasis on gender in the murky world of international intrigue. Lady spies have played a crucial role in espionage for centuries, from ancient civilizations through the Biblical era, world wars, the Cold War and today's sophisticated environment of modern espionage. As the flood of newly declassified documents over the past 15 years attests, female operatives were responsible for many of the most daring intelligent operations of the modern era - while others played a notorious role working against the US. And the role of sex in spy adventures has taken center stage though the ages.
Speakers: Brian Kelley, retired CIA operations officer, presents videotaped, jailhouse interviews of convicted spies and their wives (the spouses of former FBI agents Earl Pitts and Richard Miller along with the former wife of CIA officer, Jim Nicholson); wives who were complicit in their husband's espionage (Barbara Walker, Anne Henderson Pollard and Rosario Ames) along with an interview of the former Soviet citizen who seduced FBI agent Richard Miller on behalf of the KGB.
Ron Olive, retired special agent from the Naval Criminal Investigative Service and author of "Capturing Jonathan Pollard: How One of the Most Notorious Spies in American History was Brought to Justice," that uncovered the role of Pollard's wife Anne.
I.C. Smith, former FBI Special Agent, presents the story of Katrina Leung, known inside the FBI as "Parlor Maid," who managed to seduce her two FBI case agents, compromising them during the course of the twenty year operation. She was first used by the FBI as a double agent, then "doubled back" or "tripled" by Chinese intelligence against the FBI and later becoming the only known "quadruple" (re-doubled back against the Chinese by the FBI) agent yet exposed.
Terry Crowdy, British espionage writer and researcher will offer the role of female spies and tales of seduction from antiquity, the Christian era to modern lady spies at work today. Crowdy's book "The Enemy Within" is considered one of the top surveys of espionage.
Nigel West, the keynote speaker, is a former MP - and a leading expert on modern espionage. He is the author of the forthcoming "Historical Dictionary of Sexspionage," due out before the conference.
Costs: Full registration for all sessions and one ticket to the Spy Gala: $250
For this special conference, ladies are invited to attend for $125.00, one-half off the registration cost.
Veterans, members of the military and the intelligence community: $175
Seniors over 62, teachers and students: $145.
Special discount for ladies! Only $125.000 for the entire conference package.
You can register online or call 919-831-0999. http://www.raleighspyconference.com
Event Location: Plans are under way to hold the 6th Raleigh Spy Conference at the Museum of History. Stay tuned for more details as event plans are finalized.
.
---
For Additional Events two+ months or greater....view our online Calendar of Events
-----------------------------------------------------------------------
Disclaimers and Removal Instructions
Weekly Intelligence Notes (WINs) are commentaries on Intelligence and related national security matters, based on open media sources, selected, interpreted, edited and produced for non-profit educational uses by members and WIN subscribers.
REMOVAL INSTRUCTIONS: We do not wish to add clutter to inboxes. To discontinue receiving the WINs:
a) IF YOU ARE A MEMBER -- click here: UNSUBSCRIBE and supply your full name and email address where you receive the WINs. Click SEND, you will be removed from list. If this link doesn't open a blank email, create one on your own and send to afio@afio.com with the words: REMOVE FROM WINs as the subject, and provide your full name and email address where you are currently receiving them.
b) IF YOU ARE NOT A MEMBER, and you received this message, someone forwarded this newsletter to you [contrary to AFIO policies]. Forward to afio@afio.com the entire WIN or message you received and we will remove the sender from our membership and distribution lists. The problem will be solved for both of us.
CONTENTS of this WIN [HTML version recipients - Click title to jump to story or section, Click Article Title to return to Contents. This feature does not work for Plaintext Edition or for some AOL recipients]. If you wish to change to HTML format, let us know at afio@afio.com. The HTML feature also does not work for those who access their e-mail using web mail...however NON-HTML recipients may view the latest edition each week in HTML at this link: https://www.afio.com/pages/currentwin.htm
-----------------------------------------------------------------------

WINs are protected by copyright laws and intellectual property laws, and may not be reproduced or re-sent without specific permission from the Producer. Opinions expressed in the WINs are solely those of the editor(s) or author(s) listed with each article. AFIO Members Support the AFIO Mission - sponsor new members! CHECK THE AFIO WEBSITE at www.afio.com for back issues of the WINs, information about AFIO, conference agenda and registrations materials, and membership applications and much more!

(c) 2008, AFIO, 6723 Whittier Ave Suite 200, McLean, VA 22101. Voice: (703) 790-0320; Fax: (703) 991-1278; Email: afio@afio.com
Click here to return to top.