AFIO Weekly Intelligence Notes #09-09 dated 10 March 2009
CONTENTS

Section I - INTELLIGENCE HIGHLIGHTS

Section II - CONTEXT & PRECEDENCE

Section III - LETTERS TO THE EDITORS, CAREERS, BOOK REVIEWS, OBITUARIES AND COMING EVENTS

Letters to the Editors

Current Calendar Next Two Months ONLY :

Wednesday, 11 March 2009 - Albuquerque, NM - The New Mexico Chapter of AFIO meets at the FBI Crest Academy
Sunday, 15 March 2009, 11:30 – 1:30 - Highland Heights, OH - AFIO Northern Ohio Chapter features "Where in the World is Osama bin Laden?" Counterinsurgency (COIN) in Afghanistan: Lessons from COIN Operations against Islamist Insurgency in India.
Thursday, 19 March 2009, 11:30 a.m. - Colorado Springs, CO - The Rocky Mountain Chapter of AFIO will meet in the Air Force Academy Officers Club.
Thursday, 19 March 2009 - Phoenix, AZ - The AFIO Arizona Chapter event features CIA Officer Diana Worthern.
19 March 2009 – San Francisco, CA – The AFIO Jim Quesada Chapter hosts Major Brian Shul, USAF, ret. The topic will be spy plane SR-71.
21 March 2009 - Kennebunk, ME - The Maine Chapter meeting features Dr. Terence Roehrig, Associate Professor of National Security Studies at the U.S. Naval War College in Newport, RI.
24-25 March 2009 - McLean, VA - NMIA hosts their 2009 National Intelligence Symposium at The MITRE Corporation Auditorium at the Classified/NOFORN Level
25 - 27 March 2009 - Raleigh, NC - "Lady Spies and the Art of Seduction" The 6th annual Raleigh Spy Conference salutes lady spies
Thursday, 26 March 2009, 6:00 pm - 7:30 pm - Miami, FL - The Ted Shackley AFIO Miami Chapter invites all members to a social event.
26 March 2009, 12:30 pm - Beverly Hills, CA - The AFIO Los Angeles Chapter luncheon features Dr. Gregory Treverton speaking on "Domestic Intelligence."
Wednesday, 1 April 2009, noon – 1 pm - Deceiving Hitler: The Masterman Memorandum: A Special Briefing at the International Spy Museum - Free Event.
Sunday, 5 April 2009, 11:30 – 1:30 - Highland Heights, OH - AFIO Northern Ohio Chapter features Frank Figliuzzi, Special Agent in Charge, FBI Cleveland Field Office, on "The Cyber Threat"
Tuesday, 14 April 2009, 6:30 pm - Washington, DC - "America on a Need to Know Basis: Secrecy in a Free Society" at the International Spy Museum.
18 April 2009, 1 - 6 p.m. - Richardson, TX - AFIO Members invited to CIA - University of Texas at Dallas conference on Air America.
20 - 24 April 2009 - Las Vegas, NV - The International Association of Law Enforcement Intelligence Analysts Annual Conference
23-26 April 2009 - Great Lakes, IL - The Midwest Chapter of AFIO will host its annual conference at the Great Lakes Naval Station.
24 - 26 April 2009 - Nashua, NH - The Naval Cryptologic Veterans Association New England Chapter (NCVA-NE) holds Spring Mini-Reunion
Saturday, 25 April 2009, 1100 - 1430 - North Andover, MA - AFIO New England Chapter meets to hear: Problems and Prospects on U.S. Intelligence.
30 April 2009, 8 am–6:30 pm - Gettysburg, PA - Spy City Tours™ Special - Intelligence in the Civil War: Gettysburg as a Case Study [International Spy Museum Special Event]
Wednesday, 3 June 2009, 6:30 p.m. - Washington, DC - Pakistan Today - The ISI, India, and What the Future Holds - at International Spy Museum

---

AFIO 2009 AUCTION SEEKS DONATIONS: Didn't get what you liked for Christmas, donate it to the AFIO 2009 auction and turn it into a tax-deductible gift....buy something at the auction you like. A variety of intelligence-related, but also unrelated items have done well at the annual AFIO online Auction. This is a good time to clear out items you might not want that others might find of use, and to find appealing new gifts for yourself. We accept books, paintings, prints, electronic devices [working ones only], pen sets, mugs, rare collectibles, unusual items, historic documents and other ephemera, watches and jewelry, jackets, scarves, sweaters and other imprinted clothing items, and too many other possibilities to list. To explore possible donations, or to send off your items immediately, call Gary at 240 344-6556, email him at wassinmaryland@aol.com or mail items to him at: AFIO, 6723 Whittier St Ste 200, McLean, VA 22101. Always indicate that the items you are sending are to be placed up at auction on your behalf. All donations to AFIO are final and items that do not sell cannot be returned but a donation receipt will sent for those, as well. We thank you now for your generosity.

AFIO Members are invited to the CIA- UTD Conference
on AIR AMERICA.
No charge for you to attend.
Saturday, 18 April 2009

Air America: Upholding the Airmen's Bond
A symposium acknowledging and commemorating
Air America's rescue efforts during the Vietnam War

April 18, 2009
1 pm – 5:30 pm
The University of Texas at Dallas Conference Center Auditorium
Reception and viewing of
CIA and UT Dallas exhibits to follow

This event is free and unclassified.
Event check-in is from 12:30 to 1:00 p.m.
Seating is limited so RSVPs are strongly encouraged.
If you do RSVP, a seat will be held for you until 12:50.

To RSVP, go to http://www.utdallas.edu/airamerica/

Quietly and courageously throughout the long and difficult Vietnam War, Air America, a secretly-owned air proprietary of the U.S. Central Intelligence Agency (CIA), remained the indispensable instrument of CIA's clandestine mission. This legacy is captured in a recent CIA Director's statement that the Agency's mission is to "accomplish what others cannot accomplish and go where others cannot go." While some of Air America's work may never be publicly acknowledged, much of the company's critical role in wartime rescue missions can now be revealed. This joint symposium with the CIA and The University of Texas at Dallas provides a forum for the release of thousands of pages of heretofore unavailable documents on Air America's relationship with the Central Intelligence Agency. Moreover, the symposium brings together many Air America veterans, a number of men rescued by Air America, and the CIA "customers" who often placed their lives and missions in the hands of this once-secret air proprietary.

Air America crews were not required to monitor military emergency radio calls, fly to the location of military personnel in distress, or place their lives at risk of enemy ground-fire and possible capture. They received no extra compensation for rescue work and sometimes lost wages for their efforts. However, in their flying community it was enough to know that a downed aviator was in trouble and that airmen should always come to the aid of other airmen. It was simply the Airmen's Bond.

Speakers/Panelists: To help commemorate Air America's rescue efforts during the Vietnam War, the symposium will include the following speakers and panel members:

Mr. Jim Glerum - Senior Operations Officer, CIA, Retired
Dr. Timothy Castle - Noted historian and author, CIA

Panel Discussion: Laos Rescues – Lima Site 85 and other Military Rescues

John Daniel - USAF Retired, Site 85 survivor, rescued by Air America
Loy "Rusty" Irons - Air America flight mechanic on Site 85 rescue helicopter
John "Woody" Spence - Paramilitary Officer, CIA Retired, Site 85 survivor, rescued by Air America
Admiral Donald Boecker USN Retired - A6 pilot, shot-down July 1965, rescued by Air America
Sam Jordan - Air America Pilot, Participated in rescue of Admiral Boecker

Panel Discussion: The Final Days: 1975 – Rescue Efforts during the fall of South Vietnam

Dr. John F. "Joe" Guilmartin - Professor, Ohio State University. Former USAF "Jolly Green" combat rescue pilot
Ed Adams - Air America Pilot. Conducted rescue operations in Laos and South Vietnam.
Marius Burke - Air America Pilot. Conducted rescue operations in Laos and South Vietnam.

Additional speakers planned include senior CIA officials speaking on the importance of openness and the release of declassified documents, senior military officers, pilots, and aviation historians.

Reception: The reception will include an opportunity to personally meet and talk to many Air America pilots and employees, those who worked with Air America, and those rescued by them, as well as the opportunity to view Air America exhibits from CIA and UT Dallas. This reception is being sponsored by the Association of Former Intelligence Officers.

Booklet and DVD: Each attendee will receive a commemorative booklet highlighting the symposium. The booklet will include articles on Air America, photos, and a selection of recently declassified documents that include first-hand accounts of rescues and evacuations, letters of thanks from President Nixon and others, The Airmen's Bond, and the article Why We Care by L. Michael Kandt, chaplain and general secretary of the Air America Association, Inc.

Each attendee will also receive a DVD containing electronic copies of the entire collection of newly declassified and heretofore unavailable documents. The DVD will also contain video interviews of Air America pilots, rare footage of Lima Site 85, and photos from the CIA and McDermott Library collections.

Declassified Research Documents: In conjunction with the symposium, The UT Dallas McDermott Library will receive copies of approximately 10,000 of the recently declassified CIA documents on Air America, which will be added to the University's History of Aviation Collection. These government papers augment existing Air America archives given to the University by the Air America Alumni Association. Now with the addition of the CIA materials, this collection is destined to become one of the finest sources in the nation to study this fascinating period of Cold War history.


RSVP NOW for this FREE conference,
RSVP directly to the University of Texas
at http://www.utdallas.edu/airamerica/


Hotel reservations are not available online
at the special conference rate.
By phone, only. Call to make your Hotel Reservations:
1-972-231-9600, or try 1-866-593-6300
Ask for the "CIA-UTD Air-America" rate of $85.00 valid to March 27. Register now.

Hyatt Regency – North Dallas [formerly known as the Richardson Hotel]
701 West Campbell Rd, Richardson, TX 75081

---

WIN CREDITS FOR THIS ISSUE: The WIN editors thank the following special contributors to this issue: fwr, pjk and dh.

They have contributed one or more stories used in this issue.
---
Section I - INTELLIGENCE HIGHLIGHTS
Spy Agency Gains Support for Key Cyber Role. The United States' top intelligence official argued last week that the National Security Agency should become the nation's cyber defender, adding his voice to the growing murmur of support for the agency's future role in cyberspace.

In comments before the U.S. House of Representatives' intelligence committee , the Obama administration's Director of National Intelligence, Dennis Blair, stated that the current lead agency on cybersecurity, the U.S. Department of Homeland Security, has not stepped up to the plate, while the NSA "has the greatest repository of cyber talent." Blair acknowledged that the NSA has to gain the trust of the American people and show that they can be held accountable, but that the capabilities of the agency make them best suited to the role of protecting U.S. networks against cyber attacks.

Blair's comments are not the first time that the National Security Agency has been suggested as a logical lead for the nation's cybersecurity defense efforts. Paul Kurtz, a consultant and advisor to the Obama administration's transition team, also recommended that the NSA take on a greater role in securing cyberspace in comments at a recent security conference. However, the NSA has suffered a public black eye for allegedly collecting data on and tapping the communications of U.S. citizens in the name of fighting terrorism.

In his comments, Blair - the nation's third Director of National Intelligence - argued that the agency and Congress have to work to improve the NSA's reputation and underscored the increasing importance of cybersecurity.

The lion's share of Blair's comments focused on the intelligence communities role in the fight against terrorism, nuclear non-proliferation and unrest caused by current economic conditions. [SecurityFocus/3March2009]

Estonia, NATO Weigh Damage Done By Russian Mole. This week's conviction in Estonia of former senior defense official Herman Simm as a Russian spy ends what officials have described as the biggest espionage scandal in NATO's history.

The question weighing most heavily on the minds of intelligence professionals in Estonia, at NATO, and allied capitals is the extent of the real damage done by Simm. The costs will not only be counted in systems compromised or plans leaked, but also in terms of loss of reputation, credibility, and prestige.

Simm's career as a Russian spy spanned a staggering 12 years. After Estonia joined NATO in 2004, Simm was until 2006 a "gold-card operative," to quote one Estonian security official. As head of Estonia's National Security Authority, he had full access to many NATO secrets and an intimate knowledge of its procedures.

Estonian Prosecutor-General Norman Aas told journalists in Tallinn on February 25 that investigators have established that Simm managed to pass on large amounts of material to his Russian handlers.

Aas said that "between the summer of 1995 and his arrest last September," Simm gave Russia's Foreign Intelligence Service (SVR) at least "a few hundred" classified Estonian and NATO documents.

Estonian officials have indicated the documents misappropriated by Simm include information about the deployment and battle plans of the Estonian armed forces on what is possibly NATO's most vulnerable flank.

Officials at NATO headquarters in Brussels declined to comment for this article, saying the alliance never discusses intelligence matters publicly. "NATO takes this very seriously," one NATO spokesperson said, however.

Correspondingly, the damage caused by Simm to NATO remains a matter for speculation. Western European media reported last fall that teams of intelligence officials from NATO headquarters converged on Tallinn after his arrest. Their findings have not been made public.

Simm's heyday fell in the period 2004-06, after which he was moved to a different post. Simm, now 61, retired in early 2008. Given these dates, it is unlikely that Simm could have seriously compromised NATO's cyberdefense project, spearheaded by Estonia in the wake of a wave of attacks on the country's Internet network in 2007.

Missile-defense issues and the war in Georgia would have also fallen largely outside the period of Simm's unfettered access to NATO secrets

What is more likely is that Simm compromised the German-manufactured Elcrodat system, which manages phone, fax, and other communications traffic between Brussels and NATO member states, as reported by the German weekly "Der Spiegel" on November 17, 2008.

Unlike Aldrich Ames, the Russian spy within the CIA, unmasked in the United States in 1994, Simm is said by officials to have cost neither Estonia nor its allies any "blown" agents - or their lives.

In purely intelligence terms, the damage caused by Simm is also likely to have been limited by most allies' reluctance to share hard-won information with any but a very few trusted allies. The United States, Britain, France, and Germany - to name the countries with the largest intelligence operations - carefully filter the data they make available to NATO with its 26 members.

But the Simm case is likely to reinforce suspicions by some of NATO's core countries that the new members can't be fully trusted.

Simm's Russian contact was identified by Estonian authorities this week as Sergei Yakovlev, alias Portuguese entrepreneur Antonio de Jesus Amorett Graf, resident in Madrid, and Simm's handler since 2002. "Le Nouvel Observateur" said its sources suggest Yakovlev has been arrested and is waiting to be exchanged for a Western agent in Russia.

And what of Simm himself? He is reported to have claimed that he was recruited by the KGB as a young law enforcement officer already before the fall of the Soviet Union. After independence, he remained a "sleeper" until 1995, when contact with him was resumed by the KGB's successor in foreign espionage, the SVR. Simm claims the SVR started blackmailing him, while Estonian authorities tend to emphasize Simm's need for recognition and reward as someone who had risen to the rank of colonel in the Soviet Union only to lose that status in Estonia after 1991.

The authorities also released a brief video recording of an interrogation, where a resigned-looking Simm says, "What is done, is done, and will have to be paid for." His 12 1/2-year sentence - less than the 15-year maximum for treason - was said to have been the result of a plea bargain. This removed the need for a potentially lengthy, damaging, and embarrassing appeals process.

The plea bargain may also have allowed his wife, Heete Simm, walk free. Estonian authorities admit they believe she was complicit in Simm's treason, but say they do not have enough evidence to prosecute her. Simm was also ordered to pay the Defense Ministry 20 million Estonian kroons (about $1.6 million) in damages.

The fact that someone like Simm could spy for Russia for personal gain has come as a shock in Estonia, which has always prided itself on having made possibly the cleanest break with its communist past among the former Soviet republics and satellites.

But while Estonia's civil service brims with young faces, there has never been a complete break with the Soviet past. The country's current prime minister, Andrus Ansip, was a high-ranking communist functionary in Soviet Estonia, Interior Minister Jueri Pihl is a product of the same Soviet-era law enforcement system as Simm, and Estonia's EU commissioner, Siim Kallas, was part of the Soviet Estonian nomenklatura in the 1980s. [Lobjakas/GlobalSecurity/2March2009]

CIA Destroyed 92 Interrogation Tapes. New documents show the CIA destroyed nearly 100 tapes of terror interrogations, far more than has previously been acknowledged.

The revelation Monday comes as a criminal prosecutor is wrapping up his investigation in the matter.

The acknowledgment of dozens of destroyed tapes came in a letter filed by government lawyers in New York, where the American Civil Liberties Union has filed a lawsuit seeking more details of terror interrogation programs.

"The CIA can now identify the number of videotapes that were destroyed," said the letter by Acting U.S. Attorney Lev Dassin. "Ninety two videotapes were destroyed."

The tapes became a contentious issue in the trial of Sept. 11 conspirator Zacarias Moussaoui, after prosecutors initially claimed no such recordings existed, then acknowledged two videotapes and one audiotape had been made.

The letter, dated March 2 to Judge Alvin Hellerstein, says the CIA is now gathering more details for the lawsuit, including a list of the destroyed records, any secondary accounts that describe the destroyed contents, and the identities of those who may have viewed or possessed the recordings before they were destroyed.

But the lawyers also note that some of that information may be classified, such as the names of CIA personnel that viewed the tapes.

John Durham, a senior career prosecutor in Connecticut, was appointed to lead the criminal investigation out of Virginia.

He had asked that the requests for information in the civil lawsuit be put on hold until he had completed his criminal investigation. Durham asked that he be given until the end of February to wrap up his work, and has not asked for another extension. [Barrett/AP/3March2009]

DHS's National Cybersecurity Center Director Resigns. Rod Beckstrom, director of the National Cybersecurity Center, an agency of the U.S. Department of Homeland Security has resigned.

In a letter of resignation to Secretary of the DHS Janet Napolitano, Beckstrom recommended that in the interim the agency appoint the Deputy Director, Mary Ellen Seale, as acting director.

Beckstrom wrote that the NCSC, "did not receive the appropriate support" from the DHS during the Bush administration. It needed that support to fulfill the agency's responsibility to protect the nation's cybersecurity across the country's civilian, military and intelligence communities.

Beckstrom said that there was a proposal to move the NCSC to a National Security Agency (NSA) facility and that the DHS's cybersecurity efforts are "controlled" by the NSA, which he believes is "a bad strategy on multiple grounds." He said it threatens the democratic process to have one organization directly or indirectly handle all top-level government network security and monitoring.

"During my term as Director we have been unwilling to subjugate the NCSC underneath the NSA," he wrote in his resignation letter. [SCMagazines/5March2009]

Intelligence Failures Crippling Fight Against Insurgents in Afghanistan, Says Report. A highly critical analysis of the US-led coalition's counterinsurgency in Iraq and Afghanistan has raised serious questions about combat operations in both countries - and the intelligence underpinning them.

The confidential document presents a bleak picture of a counterinsurgency effort undermined by intelligence failures that at times border on the absurd.

Based on scores of interviews with British, US, Canadian and Dutch military, intelligence and diplomatic officials - and marked for "official use only" - the book-length report is damning of a US military often unwilling to share intelligence among its military allies. It depicts commanders in the field being overwhelmed by information on hundreds of contradictory databases, and sometimes resistant to intelligence generated by its own agents in the CIA.

Counterinsurgency efforts are also shown as being at the mercy of local contacts peddling identical "junk" tips around various intelligence officials, with the effectiveness of the intelligence effort being quantified by some senior officers solely in terms of the amount of "tip money" disbursed to sources.

The report describes a rigid reliance on economic, military and political progress indicators regarded by the authors and interviewees as too often lacking in real meaning.

Its sources complain of commanders who have slipped into relying on "the fallacy of body counts", discredited after the war in Vietnam as a measure of success.

The report, prepared by the RAND national defense research institute for US Joint Forces Command in November and leaked to the Wikileaks website, reveals the case of Dutch F-16 pilots in Afghanistan who were ordered by the US to bomb targets, only to be refused access to American "battle damage assessments" showing what they had hit, on the grounds that the Dutch were not "security cleared" to view them.

Another interviewee describes how coalition forces at Camp Holland near Tarin Kowt in southern Afghanistan maintained 13 different intelligence sections, including US, Dutch, UAE, and Australian, all operating with minimal co-operation.

The unflattering document will make grim reading for President Barack Obama as he grapples with the worsening crisis in Afghanistan, confronted by an increasingly emboldened Taliban and its allies. With counterinsurgency tactics now placed at the center of the operations in Iraq and Afghanistan, the RAND report suggests that many of the national armed forces involved lack skills to operate effectively.

It calls for a substantial overhaul of how military intelligence is gathered, organized and acted on. Quoting senior officers, it questions many everyday operations - from weapons searches to the killing or arrest of wanted individuals - suggesting that they "alienate" the local population for little measurable gain.

Lieutenant General Sir John Kiszely, former the senior British military representative in Iraq, said: "There were some operations taking place in Iraq where the success of the operation... was judged solely against whether tactical success had been achieved; tactical success in terms of attrition of enemy forces, numbers killed or captured, numbers of weapons seized, amounts of explosives captured, extent of area controlled. By these criteria... a given operation would be judged a success, regardless of the fact that it had seriously alienated the local population, and the fact that, within a few months, other insurgents had re-infiltrated and regained control."

An anonymous source quoted in the report stated that "operational commanders" continued to "indulge in the fallacy of body counts, and a month in which more Taliban are killed than in the previous month" was seen as progress. He added: "This is actually more likely to reflect the fact that there are more enemy on the battlefield than there were before."

Despite the huge emphasis on counterinsurgency tactics in Iraq and Afghanistan in the last two years, the report's authors, Russell Glenn and Jamie Gayton, find it necessary to remind military readers of the importance of the civilian population in their efforts, not least in protecting civilians "against attack by both the enemy and your own forces".

Perhaps most damning of all, however, is the suggestion from several of those interviewed that often they felt that an overall strategy for what they were supposed to be doing was entirely lacking.

One of those interviewed was Brigadier General Theo Vleugels, who described his 2006 command experience in southern Afghanistan in terms worthy of a passage from Joseph Heller's Catch 22. "We didn't have a campaign plan when we started, but we later got one from my higher headquarters that was close to ours, which is not surprising as they told us to do what we told them we would do." [Moscaritolo/Guardian/6March2009]

Israeli Indicted for Recruiting on Behalf of Palestine Intelligence. The Jerusalem District prosecutor's office filed an indictment on Tuesday against Fahmi Shabaneh, an Israeli citizen, for serving in a senior position in the Palestinian Authority's General Intelligence, despite his Israeli citizenship. The suspect is also accused of recruiting Israeli residents as agents, and violating laws prohibiting citizens from joining foreign intelligence services or recruiting others to them.

According to the indictment for the past six years the 48-year-old Shabaneh served in high-ranking positions in the PA's General Intelligence Service. He is accused of serving as legal advisor to the PA, chief of operations in Hebron, and, for the past six months, as director of the service's internal security division.

According to the indictment, Shabaneh recruited an Israeli citizen by the name of Mutasam Abu Ganem, who lives in Jerusalem, as an informant for the General Intelligence. Shabaneh ordered Abu Ganem to provide him with information regarding people suspected of collaborating with Israel, and the latter did so.

The prosecutor also filed a request that Shabaneh remain in custody until the end of proceedings. [Glickman/IsraelNews/3March2009]

The Culture of Convenience Threatens IT Security, Intelligence Official Says. That cell phone or iPod you carry around every day can easily be turned against you by any number of nefarious groups, Joel F. Brenner, national counterintelligence executive for the director of national intelligence, warned a conference on information sharing sponsored by the Institute for Defense and Government Advancement.

According to The Washington Post's Walter Pincus:

The thrust of his presentation was to alert the audience and the public to the vulnerability of new electronic communications devices and the growth in the number and types of groups exploiting them.

Cellphones, he said, are great devices for sharing information, "but the mike can be turned on when you think it is off." An iPod's ear buds can be converted to a recording device when not in your ears. Brenner described thumb drives as "the electronic equivalent of unprotected sex" and the biggest source of what he calls "ETDs," or electronically transmitted diseases.

This culture of open communication doesn't just permeate ordinary Americans but the intelligence community as well, said Brenner.

While before 9-11 government agencies failed to share critical information, the intelligence community now worries sensitive information is sent carelessly, without regard to whom may be intercepting it.

"The next disaster," he said, could "well be caused by our relentless push to move information before we understand where it's going, only to find later that we moved it right into the lap of a hostile foreign intelligence service or terrorist organization."

When cultures of convenience and security clash, Brenner said, convenience wins everytime.

Brenner reported that government network intrusions have ballooned recently, as have the introduction of malicious software and viruses. In 2006 there were 2,172 attacks; last year there were 5,499.

Brenner told the conference what he told a Silicon Valley audience last year, that there is no silver bullet, "real or imagined, that can make this problem go away."

Executives' best bet is to train its employees in good information security practices while earning their loyalty so they can't be compromised by outsiders, he said. [Harwood/SecurityManagementNews/5March2009]

MI5 is Keeping a Closer Watch on Russian Spies. MI5 has increased its surveillance of suspected Russian spies following the murder of Alexander Litvinenko in London.

The director general of MI5, Jonathan Evans, told MPs on the Intelligence and Security Committee his agency was spending more time tracking Russian agents, with Russia accused of Cold War levels of espionage.

Mr. Litvinenko, a former agent for the FSB, the successor to the KGB, was poisoned by radioactive Polonium-210 in November 2006. The Kremlin has refused to extradite the main suspect, former KGB member Andrei Lugovoy.

The ISC is also to examine the vetting of relatives following the revelation that one of the women in the Max Mosley sex scandal was a partner of a member of the Security Service.

MPs said the intelligence and security services budget was still not enough to counter the terror threat, despite increases. [Cecil/EveningStandard/5March2009]

Israeli Spy Seeks Early Parole. The Tel Aviv District Court on Monday heard a petition by Nahum Manbar, who is serving a 16-year prison sentence for selling potentially harmful information to an enemy state, asking he be allowed to apply for early parole.

Manbar claims he has paid his debt to society: "I've been allowed to go on sanctioned vacations from prison for the past seven years so obviously, I'm not that dangerous," he told the court. "I'm 62 years old and I want to start a family." [Luvitch/IsraelNews/9March2009]

Canadian Federal Court Recognizes New "Covert Informer" Shield in Security Certificate Case. A novel Federal Court ruling restricts the ability of special advocates, during security certificate reviews, to test the veracity of confidential information supplied by covert informants of the Canadian Security Intelligence Service (CSIS).

On Feb. 27, the Federal Court publicly released two "expurgated" rulings on disclosure made secretly by Justice Simon Noel last November and December in the case of Mohamed Harkat of Ottawa, who has been detained under an immigration security certificate since 2002 without knowing the full evidentiary basis for the government's allegation that he is an al-Qaeda sleeper agent.

Harkat's "public counsel," Ottawa criminal lawyers Mathew Webber of Webber Schroeder and Norm Boxall of Bayne Sellar Boxall, told The Lawyers Weekly they are "very disappointed" by the Federal Court's restrictive view of the special advocates' (SAs) cross-examination role under the new security certificate regime enacted last year by the Immigration and Refugee Protection Act (IRPA).

The scope of disclosure to SAs is substantially narrower than he had expected, Webber explained. "While I consider the system imperfect, I had always taken some comfort in my hope or belief that my very qualified SAs were getting access, and now it appears clear that they are quite clearly not."

Justice Noel's November ruling denies the request of Harkat's two SAs, Toronto's Paul Copeland of Copeland Duncan and Paul Cavalluzzo of Cavalluzzo Hayes, to access the employment records of a former CSIS intelligence officer who investigated Harkat. The officer was later fired by CSIS after she surreptitiously continued a personal relationship with "a person of interest" in the Harkat investigation, despite written orders from CSIS to cease all contact.

Justice Noel did, however, order CSIS to disclose to the court and to the SAs any reports or other information related to the reliability and credibility of information connected with the ex-CSIS officer.

Justice Noel's December ruling rejects Cavalluzzo's and Copeland's in camera request last September for an order compelling unnamed CSIS informant(s) to appear for cross-examination by the SAs at a closed-door confidential hearing.

The judge recognizes, for the first time, a common law "covert human intelligence source" privilege (similar to police informer privilege in criminal cases) that shields the identity of CSIS informants in security certificate cases.

He went on to hold that in all but "exceptional" cases, this privilege or "immunity" will protect confidential CSIS informants from being identified to - or cross-examined by - the SAs.

The judge stipulated the only exception to CSIS informer privilege is when "a special advocate has established that he or she has a 'need to know' the identity of a covert intelligence source to prevent a flagrant denial of procedural fairness which would bring the administration of justice into disrepute."

Justice Noel elaborated that this "need to know" test may be met "where, in the judge's opinion, there is no other way to test the reliability of critical information provided by a covert human intelligence source except by way of cross-examination."

At the same time, he stressed that "covert human intelligence sources are vital to the functioning of intelligence agencies and to the national security of Canada" and that expanding the number of people who know a source's identity jeopardizes the personal safety of the source and national security.

Justice Noel's disclosure decisions are interlocutory and not subject to appeal, but counsel say the Supreme Court could eventually scrutinize the rulings as part of an anticipated future assessment of whether the new SA regime adequately protects the procedural fairness of Harkat and the other four men named in security certificates.

"We are going to have to address the constitutionality of [the cross-examination limits imposed on the SAs] for sure," predicted Boxall. "The concern over the SA regime has been, and this debate continues in England, whether it is a fix or just a fig leaf. And at this stage it is still too early to tell - the process isn't finished. But it's clear that the SAs who brought this motion clearly envisioned a different process. They thought it appropriate to have this tool. It's been denied to them [yet] it's one that I think many, if not most, people would have thought they would have."

The Supreme Court ruled last year in Charkaoui 2 that permanent residents and foreign nationals detained under security certificates have the right, under the common law rules of procedural fairness, to see the government's secret evidence against them, except to the extent that such disclosure is inconsistent "with legitimate public safety interests."

Security-cleared lawyers - who are appointed by the court to promote the interests of the named person at closed-door confidential hearings to assess the reasonableness of the government's contention that the detainee is a threat to national security - are tasked with arguing, in camera, for maximum disclosure of evidence to the named person and his counsel. The SAs are also supposed to test the reliability and credibility of the government's secret evidence by cross-examining the witnesses produced by the government in camera.

However Justice Noel rejected Copeland's and Cavalluzzo's request to interview and cross-examine the covert CSIS informants in the Harkat case because the SAs gave "no further justification" for their request, beyond their general goals of testing the source(s)' credibility, and possibly corroborating future testimony by Harkat about his reasons for coming to Canada in the mid-1990s.

The SAs contended that they are entitled to access all CSIS information related to the Harkat investigation, including informant information. This should be so, given their top-secret security clearance, their permanent pledge of secrecy and the fact that cross-examination would proceed in camera, they urged.

But Justice Noel said common law privileges may only be abrogated specifically by statute. The IRPA does not do so.

Justice Noel held that the relationship between CSIS and its covert human sources meets the conditions stipulated by Wigmore for recognizing a common law privilege. Covert sources are given absolute promises that their identities will be protected. These confidentiality guarantees are essential to the ability of CSIS to fulfill its mandate to protect Canada's national security, while protecting the source from retribution. The judge accepted the government's evidence that identifying a covert source to an SA, or requiring a covert source to testify in a closed proceeding, even anonymously, "will almost certainly end the Service's relationship with that source." [Schmitz/Lawyersweekly/9March2009]

Britain's MI5 May Have Aided CIA In Torture Under Bush Administration. Terrorist suspect Binyam Mohamed, a resident of the United Kingdom and terrorist suspect held for 7 years by US captors, alleges that those who tortured him were aided by Britain's military intelligence division, MI5.

UK resident Binyam Mohamed was born in Ethiopia in 1978 and sought asylum in Britain in 1994. In 2001, Mohemed converted to Islam and in May, he traveled to Pakistan and Afghanistan.

Mohamed claims he traveled to Pakistan and Afghanistan to get away from a life of drug use in London and to train as an aid and rescue worker for Muslims in Chechnya. But US military officials accuse Mohamed of working against anti-Taliban groups and of having trained with Al Queda. Former Attorney General John Ashcroft stated at the time of his capture that Mohamed had been part of a plan to detonate a "dirty bomb" in the United States.

Military officials claim that Mohamed was a high ranking member of Al Queda but it seems unlikely. He only visited Pakistan and Afghanistan for the first time in 2001 and didn't speak the language.

Mohamed was arrested by Pakistani immigration officers as he was planning to return to the UK in 2002. Mohamed alleges he was tortured in Morocco, Pakistan and Afghanistan from 2002 to 2004 before being sent to Guantanamo Bay where he suffered more abuses.

Mohamed was subjected to beatings where he suffered multiple broken bones, mutilation, and other torture for 18 months in Morocco. During that time, Mohamed says that he agreed to say whatever his torturers asked him to say to avoid further torture. After being held without a trial for seven years, charges against Mohamed were dropped and he was returned to the UK in February.

Mohamed claims that one of his interrogators was an MI5 agent known as "John" and that MI5 agents aided CIA agents by sending telegrams and memos prompting interrogators to ask specific questions.

The British Home Office says it does not condone the use of torture in interrogation but the organization, Human Rights Watch said in 2006 that while the UK claimed to combat torture worldwide, the British government was at the same time undermining the ban on torture.

British Members of Parliament are demanding an inquiry into the allegations that MI5 was involved in the torture of Binyam Mohamed.

Investigations into the torture of prisoners at Guantanamo Bay and in other locations around the world in the U.S. have a majority of Americans asking to see former President George W Bush, Dick Cheney and other high ranking government officials investigated. If MI5 agents were involved in colluding with the CIA in torturing terrorist suspects, who in the British government gave MI5 agents the green light to do so? [Examiner/8March2009]

Experts Call for SOCOM, CIA to Share Personnel. Special Forces soldiers and Central Intelligence Agency operatives could soon be moving seamlessly between the military and intelligence realms if Congress follows advice it received Tuesday.

The special operations community and the CIA each would benefit from a much closer integration of their personnel, Roger Carstens, a recently retired Special Forces lieutenant colonel who is a non-resident fellow at the Center for a New American Security, and Robert Martinage, senior fellow at the Center for Strategic and Budgetary Assessments, told a hearing of the House Armed Services Committee's terrorism, unconventional threats and capabilities subcommittee.

Martinage, who authored an 82-page report titled "Special Operations Forces - Future Challenges and Opportunities" that was published in November, argued for "increased institutionalized cooperation between the CIA and SOCOM [i.e. U.S. Special Operations Command], including hybrid career paths, so people could go back and forth between the two."

"Ideally, personnel should not only be able to move back and forth from CIA stations and SOF ground units, but also to compete for selected mid- and senior-level leadership positions in either organization," Martinage said.

The Defense Department should "migrate Special Forces [units] over to the CIA, suggested Carstens, who conducted a yearlong study of the U.S. special operations community for CNAS in 2008.

"I'm not talking about just onesies and twosies," he said. "Why not take a Special Forces company and just plop them down in Virginia and say, 'When you go to that company, you're spending a three year-long tour working for the agency'?"

CIA operatives as well as members of other government agencies, could also serve on A-teams, the 12-man units also known as operational detachments-alpha, or ODAs, that are the lowest echelon of command in Special Forces, Carstens said.

Such arrangements would have multiple benefits, they said.

What Martinage termed "flexible and routine detailing of SOF personnel" to the CIA would allow special operations forces to use the agency's Title 50 foreign intelligence authorities, which permit covert activities in which the U.S. role is hidden, he said. The same would be true if a CIA operative was serving on an A-team, according to Carstens, who noted that adding a State Department representative would give the A-team access to authorities under Title 22, the section of the U.S. Code that covers foreign relations.

Seconding a Special Forces company to the ground branch of the CIA's Special Activities Division would give the agency "a resident capability in foreign internal defense, which is not a bad thing," Carstens said. Foreign internal defense is the training of host-nation security forces in counterinsurgency and related techniques.

Any special operators detailed to the agency "would also benefit from being exposed to the tradecraft of National Clandestine Service personnel," Martinage said in his prepared remarks.

Contacted by Army Times, U.S. SOCOM spokesman Ken McGraw declined to answer questions on the relationship between the CIA and special operations forces.

"The Central Intelligence Agency is one of U.S. Special Operations Command's key interagency partners," he wrote in an e-mail. "It would be inappropriate to discuss the details of that partnership or speculate how the CIA and special operations forces may or may not integrate in the future." [Naylor/ArmyTimes/8March2009]

---
Section II - CONTEXT & PRECEDENCE
Foreign Spies Victimize US Businesses and Economy. The foreign intelligence threat within the United States is far more complex than it has ever been historically. The threat is increasingly asymmetrical insofar as it comes not only from traditional foreign intelligence services but also from nontraditional, non-state actors who operate from decentralized organizations.

Intelligence collection is no longer limited to classified national defense information but now includes targeting of the elements of national power, including our national economic interests. Moreover, foreign intelligence tradecraft is increasingly sophisticated and takes full advantage of advances in communications security and the general openness of US society.

In short, the foreign intelligence threat is more challenging than ever. In the fall of 2003, the Foreign Counterintelligence Program had investigations involving dozens of countries that focused on hundreds of known or suspected intelligence officers who were assigned to enter or travel within the United States. These investigations spanned all 56 field offices.

In order to meet these challenges, the Foreign Counterintelligence Program is being redesigned to become more nationally focused and directed. Through a more centralized program, the FBI will ensure its ability to establish priorities, be more proactive, and better engage other intelligence community agencies so that cooperation in important cases is immediate and seamless.

A centralized program will also ensure that infrastructure issues will be consistently addressed and coordinated in order to ensure workforce expertise, that staffing matches the articulated foreign intelligence threat, and that a sufficiently broad and reliable intelligence base is developed. From this foundation, the Foreign Counterintelligence Program will be positioned to achieve its strategic objectives and ultimately reach its goal to prevent harm to the United States through foreign intelligence activity inimical to US interests.

During the past year, the Foreign Counterintelligence Program has been invigorated by the introduction of a new and innovative National Strategy for Counterintelligence and a program plan, both of which are proactive in emphasis. At the same time, additional resources were introduced to the program. To enhance counterintelligence workforce expertise, a new four-week Counterintelligence Operations course was developed.

All special agents assigned to the Counterintelligence Program are required to successfully complete this course. Computer-based distance learning courses are also available to all personnel on a variety of counterintelligence topics. A counterintelligence training course for midlevel and executive managers was also initiated, covering topics in both the tactical and strategic areas of counterintelligence management.

The FBI plays an essential role in the US government's counterintelligence efforts and has the responsibility to produce domestic foreign intelligence in support of other members of the intelligence community.

The FBI also has the responsibility to oversee the integration of domestic law enforcement and intelligence efforts to address intelligence threats in support of Director of Central Intelligence imperatives. The counterintelligence strategy involves centrally managed, proactive, and nationally directed initiatives, with prioritized and strategic objectives that support DCI imperatives, overseen by experienced headquarters managers.

Success for the Foreign Counterintelligence Program will be reflected in the extent to which the FBI agents are able to: identify the objectives, the assets, and the operations of foreign intelligence services operating in the United States; disrupt the operations of those foreign intelligence services; and change the behavior of targeted institutions and individuals to minimize opportunities for their exploitation.

Government support of critical national research and development initiatives in a large number of agencies and involving thousands of government contractors must be protected. Compromise of these initiatives by those hostile to the United States would do irreparable harm. The FBI must effectively meet its responsibility to assess the threat against those projects and, with other Intelligence Community agencies, initiate operations to counter the threat.

Critical National Assets are any information, policies, plans, technologies, or industries that, if stolen, modified, or manipulated by an adversary would seriously threaten US national or economic security. The FBI has a major role in identifying threats to Critical National Assets and assessing their overall vulnerability, especially in the areas of economic espionage, academic research, and private sector research and development.

As the remaining world superpower, the United States is targeted from nearly every corner of the globe. The FBI will focus its counterintelligence resources on those countries and non-state actors having the greatest potential to harm US interests, and will work to gain a greater understanding of the threats they pose. Specifically, the FBI will examine threats related to terrorism, espionage, weapons proliferation, national infrastructure, US government perception management, and foreign intelligence activities. [Kouri/IntellectualConservative/26February2009]

Did Spy's Affair Taint Case Against Terror Suspect? Theresa Sullivan had been a dedicated and respected agent for the Canadian Security Intelligence Service, working her way up from the age of 23 to become a field officer with top security clearance and a $65,000 salary.

For more than a decade, the Ottawa spy rarely took a sick day and her employment record was unblemished. Then, in December 1996, she met a man the service classified as a "POI," a person of operational interest, and a few years later Sullivan's life began to unravel.

The details of this descent - a broken marriage, a relationship with a man identified only as A.B. and her firing from CSIS - is contained in a 2003 report by the Public Service Labour Relations Board.

While it seemed this sad story had been put to rest six years ago, Sullivan's firing was raised again last week in the high-profile case of terrorism suspect Mohamed Harkat.

The Ottawa man's supporters and lawyers now say the revelation raises questions about the veracity of the government's evidence in his case. And it poses vexing questions of how to bring terrorism suspects to justice when dealing with sensitive or classified evidence.

Concerns about Sullivan were contained in a Federal Court of Canada ruling released Feb. 27, which disclosed that the CSIS agent who interviewed Harkat before his detention six years ago was fired in 2002, after it was discovered she had refused to break off an improper relationship. Justice Simon NoŽl identified the agent in his ruling only by the initials T.S., but an examination of other documents in the case refer to Sullivan's interviews with Harkat, and government sources, who spoke to the Toronto Star on the condition they not be named, confirm that T.S. is Sullivan.

Sullivan's personal troubles began on Feb. 13, 1998, when she came home to discover her furniture was missing as well as some clothes. "She initially thought that her house had been burglarized but later realized that her husband had left her. It was a traumatic experience for her; she had no knowledge of her husband's intentions to leave her and she was devastated," states the report from the labor relations board, before which she grieved her dismissal.

For the year prior, Sullivan had been interviewing A.B. and noted that he "showed a personal interest in her." A week after the breakup with her husband, A.B. called and "seemed to know that something was wrong," even though Sullivan had not disclosed her personal crisis, the report stated. Soon after, he sent her a sympathy card. She said she found that "flattering," but immediately informed her supervisor.

Eventually, Sullivan provided A.B. with her home phone number and received a gold chain from him (which she also disclosed to her boss). By December 1998, she was told she must terminate the relationship, but Sullivan said she had grown "quite fond" of A.B. and they even discussed marriage.

She continued to see him. In April 1999, she traveled to see him (the report does not disclose where). But two months later, A.B. stopped calling and when he finally did call again in early 2000, Sullivan told him it was over.

CSIS began an internal investigation in December 2001, and a month later, Sullivan was fired.

"This was a very difficult period in Ms. Sullivan's life and 'A.B.' seemed at the time as the light at the end of the tunnel. However, by continuing this relationship with him, she was ignoring a direct order by the employer," wrote Guy GiguŤre, the deputy chair of the labour relations board in 2003, in denying her claim of wrongful dismissal.

Sullivan was one of the CSIS agents assigned to monitor Harkat soon after the Algerian arrived in Canada. The government is now trying to deport him under an immigration law known as national security certificates, which have been in existence since 1978, but used rarely. The law was rewritten last year after the Supreme Court of Canada ruled that the use of uncontested secret evidence was unconstitutional.

Now security-cleared special advocates are able to review and challenge the government's evidence against Harkat in closed-door sessions. The government contends the 40-year-old is an Al Qaeda sleeper agent. The special advocates assigned to Harkat's case appealed to the Federal Court for help last year - asking that they be given Sullivan's employment records and be able to cross-examine a key informant. (There is no public information indicating who this informant is, or whether A.B. provided information concerning Harkat.)

NoŽl denied their request, writing that giving access to a confidential informant could "reverberate throughout our intelligence network - nationally and internationally."

He also denied the request for Sullivan's records ruling that her private information was not relevant to the case, nor would it help "verify the accuracy and reliability of the allegations (against Harkat)." But NoŽl did order that the government produce a report that appears to analyze the intelligence provided by Sullivan. Exactly what this report contains is difficult to decipher, since dozens of words in NoŽl's written decision have been censored.

The decision disappointed Harkat and his lawyers. "The special advocates should test the material or the interviews, or (ask) her opinion of what she thinks about me," Harkat said in a telephone interview from his Ottawa home.

Harkat has been released from custody on strict bail conditions - some of which were relaxed yesterday in a separate ruling, which granted his request that he be allowed to stay at home in the day without the supervision of his wife.

Sullivan could not be reached for comment. In a 2003 interview with The Globe and Mail, she said she felt she had been judged too harshly and she had asked to be demoted or reassigned rather than fired outright. "We are talking about human beings, and it's only human nature that things like that would happen," she said. [TheStar/6March2009]
Statement to Employees by Director of the Central Intelligence Agency Leon E. Panetta on the Senate Review of CIA's Interrogation Program. On a strong bipartisan basis, the Senate Select Committee on Intelligence announced it will conduct a thorough review of CIA's terrorist interrogation program. I have discussed this with the Chairman of the committee, Senator Dianne Feinstein, and the Vice Chairman, Senator Kit Bond. They assure me that this review is a way for the committee to assess lessons learned from the program while our government devises a new interrogation policy.

CIA will, as always, cooperate with Congress in its exercise of legitimate oversight. I understand that the intelligence committees have been briefed over the years on terrorist detention and interrogation. The requirement now is to pull that historical information together, as well as information that may not have been provided. As I have said publicly, what I will not support is an inquiry designed to punish those who acted in accord with guidance from the Department of Justice. Senators Feinstein and Bond have made it clear to me that this is not the goal of this review.

CIA is a highly professional, mission-driven organization. Our engagement with the Senate intelligence committee is important. Our work on counter-terrorism is decisive. We will keep our focus right where it belongs≠on protecting the American people. The work you do is far too critical to accept anything less. I believe Congress, and the country at large, would agree.

Under this Administration, the guidelines for detention and interrogation have been made clear by the President's Executive Order: we will adhere to the Army Field Manual for interrogation, close the detention facilities, and abide by the law as it stands. I am confident that, under these guidelines, this great Agency can do its job of defending the strength and safety of the nation. That responsibility is what brings all of us to CIA. [Panetta/CIA.GOV/4March2009]

Dye Another Gray: UK Spies Getting Older. When 007 hits 65, should he be deep-sixed? No, say British intelligence chiefs, who want their older officers to keep working, even if it means Her Majesty's secret service has spies who hobble in from the cold.

Lawmakers disclosed Thursday that veteran intelligence operatives are being asked to keep working after their usual retirement date to tackle an unrelenting threat from terrorism.

Britain's veteran spies - like all senior government staff - must step down at the age of 65, according to government policy - but are instead being kept in their posts as exceptions to the rule.

In testimony to lawmakers published in a new report, the head of Britain's overseas intelligence agency MI6, John Scarlett, said the knowledge and skills of veterans is crucial to his agency's work.

"We need their experience.... Having retirement age as your major mechanism for moving people in and out of senior levels is not a good ideal," Scarlett told Parliament's Intelligence and Security Committee in a hearing last year.

The committee of lawmakers takes evidence in closed-door sessions and releases partial accounts of the meetings. The panel's latest report was released publicly Thursday.

Authors of the report said most staff of MI6 - or the Secret Intelligence Service - still leave their posts at 65 but exceptions are being made for senior officers. The report redacted evidence in which Scarlett told lawmakers the exact age of his oldest intelligence staff.

"This is the second successive year that the committee has raised concerns regarding the Secret Intelligence Service's policy on retirement age," the report said. "We remain concerned that the service's policy still does not seem fully to meet its business requirements. This should be dealt with as a matter of urgency."

MI6, like Britain's domestic spy agency MI5, has undergone a huge recruitment drive since the Sept. 11, 2001, attacks on the U.S., and the July 2005 transit network bombings in London.

In their report, committee members said Britain faces an unprecedented threat from terrorism.

"Al-Qaida and related terrorist groups have shown an exceptional level of ambition and willingness to carry out indiscriminate terrorist attacks, and the threat they pose is likely to persist for a considerable time," the report states.

In response to the committee's report, Prime Minister Gordon Brown's office said a government review will decide in the next few months whether to allow the service to continue employing spies past their 65th birthdays.

Britain's Cabinet Office said a mandatory retirement age of 65 is supposed to apply to all top-ranking civil servants, without exceptions.

Patrick Mercer, a lawmaker and former soldier who worked in military intelligence, said an exception must be made for senior spies.

"It's vital that people with that level of expertise are kept within the services, I don't think we should be pensioning off that amount of skill and wisdom," he said. [Stringer/AP/4March2009]

---
Section III - LETTERS TO THE EDITORS, CAREERS, BOOK REVIEWS, OBITUARIES AND COMING EVENTS
---
Praise for WIN 08-09. Amongst your best issue for a long time (not that all are less than good as they are all good). I especially appreciated the articles by Faddis and Giraldi - right on. We could watch much of the demise of the agency begin with Church-Pike and Dick Helm's anger in A LOOK OVER MY SHOULDER was both justified and his predictions were correct. No more risk taking, no more independent thinking, no more project initiation at the regional level. Rather, let's pick up on the latest technology and staff it, maybe it will produce something - remember, doing nothing results in no risk and no career threats!!! The creeping bureaucratic plague began its smothering of the agency in the mid-70s and continues to this day. It may have been slow, but it did overtake the agency.
William W. (Bill) Winn

--------------------------------
Comment on Senate Review. It is unfortunate that your article on the Senate's decision to review the Bush administration's detention and interrogation policies failed to note that the interrogation techniques used in military Survival Evasion Resistance and Escape (SERE) training were those used by communist and other totalitarian regimes. The objective was to prepare US personnel at high risk of capture by regimes that tortured. Until the Bush administration, there was never a proposal that these be adopted by the U.S. These techniques were used under very controlled conditions, but SERE training still resulted in several investigations involving the abuse of trainees in the programs. There are, unfortunately, those who let their zeal exceed both their common sense and their humanity.
Mike Pheneger, Colonel, USA (Ret.)

------------------------------------
AFIO WINs Has Too Much CIA Coverage. Just got around to reading the latest WIN and found myself thinking again of the concentration on CIA matters. As one who tends to pay particular attention to areas or affairs where Americans lives are being risked, the other side of the apparent CIA concentration is the lack of reporting on intel related to the actual American battle areas. This WIN [08-09] talks about Afghanistan/Pakistan activity but only from the CIA director's statement on CIA UAV strikes. And two lengthy opinion pieces on CIA in the Commentary section [both unnecessarily critical in my opinion], do nothing to relieve the CIA-fixation impression.

Suggest you take a look at the Investors Business Daily of Friday 27 Feb about Chas Freeman as the new head of the NIC. My perception is that it spells out a quite serious pro-PRC bias which is neglected in the WIN item.

I confess in advance to what can be viewed as excessive concern about AFIO focusing too much on CIA. It has been brought on by years of encountering in conversation with intel types, "Oh, yeah. AFIO, ...that's that CIA outfit, isn't it?" I should be expressing pleasure this week that the WIN carried the piece about naval intel instead of twitching at excessive CIA coverage.
Rear Admiral Don Harvey, USN (Ret)
---
Intelligence Career Seekers Sought for Invitation-Only Reception with Booz Allen Hamilton. Interview with Booz Allen Hamilton at an invitation-only open house reception. You must submit your resume on www.BAHexpo.com by March 13 for review in order to receive an official invitation to an evening of fine dining and cocktails at one of the Baltimore area's top restaurants.
Questions to: Nancy Mathew, Events Manager at TECHEXPO Top Secret, 276 Fifth Ave Ste # 303, New York, NY 10001, 212.655.4505 ext. 225, NMathew@TechExpoUSA.com or visit http://www.TechExpoUSA.com
The Henley-Putnam Strategic Security scholarship. This $5,000 scholarship will be awarded to qualified prospective students who are active military service members, veterans, or in the reserves, are interested in working in the field of Strategic Security, and who wish to pursue a degree in the area of Intelligence Management, Terrorism and Counterterrorism Studies, and the Management of Personal Protection, and is restricted to use at Henley-Putnam. The scholarship will be awarded to qualified students who apply by June 30, 2009 and are admitted and start classes by August 1, 2009.
For more information, visit Henley-Putnam Strategic Security Scholarship at the following address: http://www.henley-putnam.edu/712-185.htm
'Hunting Eichmann' Offers Fascinating Take on a True Spy Story. "Hunting Eichmann: How a Band of Survivors and a Young Spy Agency Chased Down the World's Most Notorious Nazi" by Neal Bascomb. In the confusion following the fall of Nazi Germany to the Allied forces in 1945, SS Lt.-Col. Adolf Eichmann vanished, leaving behind millions of dead including six million Jews. By the time Eichmann was identified as the architect of Hitler's "final solution," he was gone, some believed never to be seen again.

It wasn't until 1960 that Mossad agents caught up with Eichmann, living with his family under a false identity in a desolate suburb of Buenos Aires. Under the nose of the Argentine authorities, the Mossad kidnapped Eichmann and brought him to the young nation of Israel to stand trial for his crimes. The story - told in Neal Bascomb's "Hunting Eichmann" - remains one of the most stunning successes in the history of espionage and established the Mossad's reputation as one of the world's most effective intelligence agencies.

Bascomb's tale starts off slowly as he details the mostly fruitless attempts to locate Eichmann following his disappearance, but the story heats up as the trail does. So difficult was the task of finding and identifying the war criminal that even after weeks of surveillance, they couldn't be certain they had the right man until he was in their hands.

Any attempt to bring Eichmann to justice would have to be done without Argentine knowledge. Argentina had become a popular refuge for former Nazis, in part because they had sympathizers in that nation's government. Israel's leadership felt that not only couldn't the Argentines be relied upon to apprehend Eichmann, but any involvement on their part would result in Eichmann being tipped off in time to vanish for good.

The secrecy of the mission multiplied its challenges. Instead of sending diplomats to help the Argentines capture Eichmann, Israel would send the Mossad to do the job quietly. Perhaps the biggest problem would be smuggling Eichmann out of the country. In the end, the Mossad spirited him away on an Israeli airliner, disguised as a member of the crew.

Other obstacles of the mission were not so easy to predict. Some members of the team had lost their entire families to Eichmann's machinations. They underestimated the emotional strain of merely living in Eichmann's presence, tending to the needs of their shackled prisoner until his removal could be effected.

In many ways, an assassination mission would have been easier, permitting the Mossad operatives to melt away when the job was done. But as Bascomb notes, there was more at stake than simple revenge. As Europe rebuilt after the Second World War, Axis and Allies alike were eager to forget the past and move on. Few in power were interested in reopening old wounds by chasing Nazi war criminals. Putting Eichmann on trial would lay bare the horrors of the Third Reich, and remind world leaders of their responsibility to hold the guilty accountable.

Other more gripping books have been written about Eichmann's capture, some by members of the team that did it. But Bascomb's book brings some new information to bear, including the CIA's knowledge of Eichmann's whereabouts, information the agency declined to share with Israel because of what it saw as U.S. interests. The CIA says Bascomb's claim is not true.

Bascomb also details how the mission nearly also netted Josef Mengele, the notorious Auschwitz doctor who performed barbaric medical experiments on prisoners.

Although the story of Eichmann's capture has been told before, it's still a fantastic story, and deserves retelling. [AP/6March2009]

---
Rolfe Kingsley, CIA Pioneer, Helped Revive Agency's Soviet Division. Rolfe Kingsley, 91, a CIA grandee who helped revive the agency's troubled Soviet division in the late 1960s after a paranoia-fueled molehunt had decimated morale, died Feb. 25 at Collington Episcopal Life Care Community in Mitchellville. He had cancer.

Mr. Kingsley was among the earliest employees of the Office of Strategic Services, the World War II precursor to the CIA where he distinguished himself in operations in the Middle East and in Germany.

He joined the Central Intelligence Agency after its formation in 1947 and served the directorate of operations in Turkey and as chief of the European division, among other prominent Cold War assignments.

The Soviet division he inherited in 1968 was in shambles, he said. He faulted James J. Angleton, the agency's powerful chief of counterintelligence who was convinced a double agent existed in the division and passed along valuable information to the Soviets.

Angleton's fears were encouraged by KGB defector Anatoly M. Golitsin, who sent the CIA on a highly destructive hunt for an alleged Soviet mole within its own ranks. Many careers were destroyed by Golitsin, whose reliability was increasingly found dubious.

"When I took over, the place had simply quit working," Mr. Kingsley told Mangold in the book "Cold Warrior." "The division, the heart and soul of the CIA, simply wasn't functioning, it was only going through the motions...The atmosphere was one of defeat. The morale had been beaten down by the Golitsin thing."

"The molehunt was still continuing after four years, and we were getting the blame for everything," Mr. Kingsley added. "Every time a new Soviet defector came along and said he had seen such and such in Moscow, it was invariably assumed that the information had leaked from the division. But this simply was not the case."

Mr. Kingsley became a leading voice working to discredit Golitsin in favor of a far-more-reliable defector named Yuri Ivanovich Nosenko.

Mr. Kingsley planted serious doubts about Golitsin with CIA director Richard Helms after the defector had played down concerns about Soviet intentions toward Czechoslovakia in 1968.

Golitsin had reportedly claimed the Russian military maneuvers were merely an effort to draw the West into conflict. The inability to better predict the Soviet invasion of Czechoslovakia that August proved one of the worst U.S. intelligence failures of the era, according to a hearing later conducted by the House Select Committee on Intelligence.

Mr. Kingsley said he eventually persuaded Helms to shut off Angleton's access to the Soviet division reports - a major blow to Angleston's credibility.

The chief of counterintelligence was dismissed a few years later on grounds of domestic spying. Meanwhile, Mr. Kingsley retired in 1973 after serving in a plum assignment as chief of station in London.

Rolfe Kingsley Jr., whose father was a surgeon, was born in Manhattan, N.Y., and graduated in 1939 from Yale University. During World War II, he served in the Marine Corps before joining the OSS. His honors included the CIA Distinguished Intelligence Medal.

He spent much of his retirement in Haymarket with his wife of 59 years, Shirley "Tocky" Roadstrum. She died in 2004. A son, Rolfe, died in infancy. Survivors include a son, Scott Kingsley of Virginia. [Bernstein/WashingtonPost/4March2009]
---
EVENTS IN COMING TWO MONTHS....
Wednesday, 11 March 2009 - Albuquerque, NM - The New Mexico Chapter of AFIO meets at the FBI Crest Academy. Inquiries and registration to JOE YARDUMIAN at jjyard@q.com
Sunday, 15 March 2009, 11:30 – 1:30 - Highland Heights, OH - AFIO Northern Ohio Chapter features "Where in the World is Osama bin Laden?" Counterinsurgency (COIN) in Afghanistan: Lessons from COIN Operations against Islamist Insurgency in India. Speaker: Colonel Behram A. Sahukar (In Abstentia), The Parachute Regiment Indian Army (Retired)
Col. Behram presented his PowerPoint on this subject at the 8th Annual World Counterterrorism Summit in Herzliya, Israel in September, 2008 and that presentation went over to Chapter member Beverly Goldstein who, with Behram's permission, will make the presentation on his behalf at this event.
Location: Wellington's Restaurant, 777 Alpha Dr, Highland Heights at I -271 at Wilson Mills Rd. 440.461.9211 or 440.442.0055 Fax 440.442.8135
DRIVING DIRECTIONS: West on Wilson Mills to Alpha Drive (about ľ mile); right onto alpha Drive (if you see Kohl's, you've made the correct turn); immediate right into parking lot at strip mall; Wellington's is in front of you. We're in the alcove in the restaurant. Cost: $20 per person; Mail check with written RSVP, or pay at the door
RSVP: By mail (with check), email, or phone: to Michael S. Goldstein, Esq., 31300 Solon Rd Ste 6, Solon, OH 44139 (440) 424-4071 or email him at mgoldstein@msglpa.com
Thursday, 19 March 2009, 11:30 a.m. - Colorado Springs, CO - The Rocky Mountain Chapter of AFIO will meet in the Air Force Academy Officers Club. Our speakers will be The Honorable Ronald G. Crowder of the 4th Judicial District Court and Timothy Schutz. They will speak on the Colorado Judicial System.
Please RSVP to Tom Van Wormer at 719-5708505 or robsmom@pcisys.net The buffet is $10.00
Thursday, 19 March 2009 - Phoenix, AZ - The AFIO Arizona Chapter event features CIA Officer Diana Worthern. In the 1980s, retired CIA officer Diana Worthern managed CIA's "Back Room" to protect agents from an undetected mole in US intelligence and was directly involved in the mole hunt. She joins Arizona chapter's VP John Zebatto, a former colleague, to discuss the complex story of how the KGB penetrated the inner circle of US intelligence for a decade beginning in 1985. To RSVP please contact Simone via email ~ simone@afioaz.org or Art ~ artjkerns@afioaz.org
19 March 2009 – San Francisco, CA – The AFIO Jim Quesada Chapter hosts Major Brian Shul, USAF, ret. The topic will be spy plane SR-71.
RSVP required. The meeting will be held at United Irish Cultural Center, 2700 45th Avenue, San Francisco (between Sloat and Wawona). 11:30 AM no host cocktails; noon - luncheon. $25 member rate with advance reservation and payment; $35 non-member. E-mail RSVP to Mariko Kawaguchi (please indicate trout or corn beef) no later than 5PM 3/10/09: mariko@cataphora.com or mail check made out to "AFIO" to: Mariko Kawaguchi, P.O. Box 117578 Burlingame, CA 94011. (650) 622-9840 X608
21 March 2009 - Kennebunk, ME - The Maine Chapter meeting features Dr. Terence Roehrig, Associate Professor of National Security Studies at the U.S. Naval War College in Newport, RI. Dr. Roehrig will speak on "North Korea and the Outlook for Peace on the Korean Peninsula". He will examine the US-ROK alliance and recent changes, military balance on the peninsula, North Korea's nuclear weapons program and economic situation, and Kim Jong-il's health and succession among other issues. Dr. Roehrig received a Ph.D. from the University of Wisconsin in international relations focusing on Korea and East Asia. He has traveled to Korea many times and recently visited India and China to do research. The meeting will be held at 2:00 p.m. at the Kennebunk Free Library, 112 Main Street, Kennebunk, and is open to the public. For information call 207-364-8964.
24-25 March 2009 - Laurel, MD - Johns Hopkins University 2009 Unrestricted Warfare Symposium - Interagency Action for Attacks Involving Terrorism - Resources - Economy - Cyberspace, a symposium by Johns Hopkins University.
URW Website Schedule Registration Featured Speakers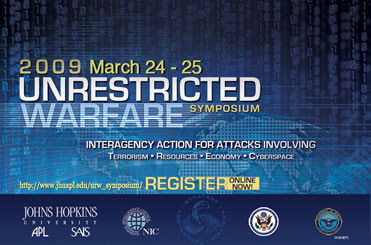 24-25 March 2009 - McLean, VA - NMIA hosts their 2009 National Intelligence Symposium at The MITRE Corporation Auditorium conducted at the SECRET/NOFORN security level.
The first session will include speakers from the DOD perspective and then each of the Service – level organizations who will address changes in budget, priorities, personnel, and mission. The second session focuses on Defense Intelligence Agency support to the warfighter.
Program details and online registration: http://www.nmia.org/upcomingevents.html
Questions: Contact the National Military Intelligence Association (NMIA) Voice: 540-338-1143 or Fax: 703-738-7487 Email: Admin@nmia.org
REGISTRATION FEE: $395. Telephone requests for refund will not be accepted.
Security Information: Visit Requests need to be submitted to MITRE for all Visitors attending a Classified Meeting. Requests should be submitted at least five days prior to the meeting date.
25 - 27 March 2009 - Raleigh, NC - "Lady Spies and the Ancient Art of Seduction" is theme of The 6th annual Raleigh Spy Conference The conference salutes lady spies - and their counterparts on the other side - with expert speakers delivering riveting tales of espionage.
Lady spies have played a crucial role in espionage for centuries, from ancient civilizations through the Biblical era, world wars, the Cold War and today's sophisticated environment of modern espionage. As the flood of newly declassified documents over the past 15 years attests, female operatives were responsible for many of the most daring intelligent operations of the modern era - while others played a notorious role working against the US.
Brian Kelley, popular former conference speaker and retired CIA operations officer, returns to Raleigh with a special presentation highlighted by videotaped, jailhouse interviews of convicted spies and their wives (the spouses of former FBI agents Earl Pitts and Richard Miller along with the former wife of CIA officer, Jim Nicholson); wives who were complicit in their husband's espionage (Barbara Walker, Anne Henderson Pollard and Rosario Ames) along with an interview of the former Soviet citizen who seduced FBI agent Richard Miller on behalf of the KGB.
Ron Olive, retired special agent from the Naval Criminal Investigative Service and author of the definitive book "Capturing Jonathan Pollard: How One of the Most Notorious Spies in American History was Brought to Justice," that uncovered the complicit role of Pollard's wife Anne. He will present a power point presentation on the role of the Pollards and the incredible damage they did to our national security.
I.C. Smith, former FBI Special Agent in charge, will return to Raleigh to present the inside story of Katrina Leung, known inside the FBI as "Parlor Maid," who managed to seduce her two FBI case agents and thus compromising them during the course of this twenty year operation. She was first used by the FBI as a double agent, then "doubled back" or "tripled" by Chinese intelligence against the FBI and later becoming the only known "quadruple" (re-doubled back against the Chinese by the FBI) agent yet exposed. The intelligence which the FBI derived from the Parlor Maid case went to four US presidents.
Terry Crowdy, British espionage writer and researcher will offer the role of female spies and tales of seduction from antiquity, the Christian era to modern lady spies at work today. Crowdy's book "The Enemy Within" is considered one of the top surveys of espionage.
Nigel West, the keynote speaker is an old friend of the Raleigh Spy Conference. The former Member of Parliament - and a leading expert on modern espionage - is the author of the forthcoming on this topic will be released at this special conference. West is a popular and engaging speaker sure to offer telling insights and entertaining stories on this intriguing subject.
Click here to view the Raleigh schedule of events.
Event Locations and Accommodations in Raleigh, North Carolina USA
Information about Raleigh, North Carolina USA can be found at www.visitRaleigh.com.
For map of downtown Raleigh area: click here
For an interactive map of Raleigh area: click here .
Conference Venue: The 6th Raleigh Spy Conference will be held at the NC Museum of History. 5 East Edenton Street (between Salisbury and Wilmington Streets) in downtown Raleigh, NC 27601 ph: 919-807-7900
Costs - Full registration for all sessions and one ticket to the Spy Gala: $250
Veterans, members of the military and the intelligence community: $175
Seniors over 62, teachers and students: $145.
Special discount for ladies! Only $125 for the entire conference package.
Registration: You can register online or call 919-831-0999.
Download Raleigh Spy Conference registration form, complete, and mail, fax or email while space remains: Registration Form Spy 09.pdf.
Thursday, 26 March 2009, 6:00 pm - 7:30 pm - Miami, FL - The Ted Shackley AFIO Miami Chapter invites all members to a social event at the REPUBLIC FEDERAL BANK, N.A., 1001 Brickell Bay Dr 19th Fl, Miami, FL. PARKING: Compliments of Republic Federal Bank, N.A.
EVENT: Appetizers will be served – beer, wine and soft drinks. This is a networking Social event for members and their invited guests.
COST: Complimentary, courtesy of AFIO and our sponsor, Republic Federal Bank, N.A.
HOSTS: The Board of Directors of the Miami Chapter.
Robert Heber, Tom Spencer, and Carlos Melendez.
26 March 2009, 12:30 pm - Beverly Hills, CA - The AFIO Los Angeles Chapter luncheon features Dr. Gregory Treverton speaking on "Domestic Intelligence." Treverton is current director of the RAND Corporation's Center for Global Risk and Security, who recently held the position of Vice Chair of the National Intelligence Council (NIC), overseeing the writing of America's National Intelligence Estimates (NIEs). Dr. Treverton's recent work examines terrorism, intelligence, and law enforcement, with a special interest in new forms of public-private partnership. The meeting will take place on the campus of Loyola Marymount University. Lunch will be provided for $15, for attendance reservations please email by no later than 3/20/09: AFIO_LA@yahoo.com check made out to "L.A. Area AFIO" mailed to Arthur Brooks 272 Lasky Drive, Beverly Hills, CA 90212
Wednesday, 1 April 2009, noon – 1 pm - Deceiving Hitler: The Masterman Memorandum: A Special Briefing at the International Spy Museum
As Britain entered its second winter of World War II, nightly German Blitzes rained fire on its cities and the threat of invasion had not yet passed. Yet wartime recruit and Oxford University Professor, J.C. Masterman, had the confidence and foresight to predict a time when the tables could be turned against the Nazis. Since the outbreak of war, the British Security Service MI5 had been collecting a group of double agents. The Germans appeared to trust these spies and pressed them for more information. This presented an enormous challenge for MI5—how to preserve the credibility of the double agents without giving away vital war secrets? In a secret memorandum of 1940, Masterman presented an amazing solution. Author of Deceiving Hitler, Terry Crowdy will reveal the content of the now declassified memorandum and explore to what extent the Allies were able to realize Masterman's plan to pull off an elaborate hoax on Hitler.
Free; No registration required! International Spy Museum, 800 F Street, NW, Washington, DC, Gallery Place/Chinatown Metrorail Station
Sunday, 5 April 2009, 11:30 – 1:30 - Highland Heights, OH - AFIO Northern Ohio Chapter features Frank Figliuzzi, Special Agent in Charge, FBI Cleveland Field Office, on "The Cyber Threat" Location: Wellington's Restaurant, 777 Alpha Dr, Highland Heights at I -271 at Wilson Mills Rd. 440.461.9211 or 440.442.0055 Fax 440.442.8135
DRIVING DIRECTIONS: West on Wilson Mills to Alpha Drive (about ľ mile); right onto alpha Drive (if you see Kohl's, you've made the correct turn); immediate right into parking lot at strip mall; Wellington's is in front of you. We're in the alcove in the restaurant. Cost: $20 per person; Mail check with written RSVP, or pay at the door
RSVP: By mail (with check), email, or phone: to Michael S. Goldstein, Esq., 31300 Solon Rd Ste 6, Solon, OH 44139 (440) 424-4071 mgoldstein@msglpa.com
Tuesday, 14 April 2009, 6:30 pm - Washington, DC - "America on a Need to Know Basis: Secrecy in a Free Society" at the International Spy Museum.
Some Americans wrestle with the concept of government secrecy, but the less vocal majority (and less litigious) quickly recognize that some loss of privacy outweighs living lives of fear of terror, rampant criminal acts, and constant public danger: safety afforded by good surveillance and secrecy. How much secrecy is too much and when does classification become control without bounds? Moderator Shelby Coffey III, senior fellow of the Freedom Forum and former editor and executive vice president of the Los Angeles Times, engages a panel of experts in an exploration of these crucial questions. Join Thomas S. Blanton, executive director of the National Security Archive; Peter Earnest, former chief of the CIA office responsible for FOIA, privacy, and litigation issues in the clandestine service; Ronald Goldfarb, author of In Confidence: When to Protect Secrecy and When to Require Disclosure: and Mike Levin, former chief of information policy at the National Security Agency; for a lively exchange of views on the inherent tension between the public's right to knowledge and the government's duty to safeguard vital national security information. Tickets: $15. www.spymuseum.org International Spy Museum, 800 F Street, NW, Washington, DC, Gallery Place/Chinatown Metrorail Station.
Saturday, 18 April 2009 - Richardson, Texas - CIA - University of Texas at Dallas hosts special conference on "Air America." Full details here.
20 - 24 April 2009 - Las Vegas, NV - The International Association of Law Enforcement Intelligence Analysts Annual Conference. The International Association of Law Enforcement Intelligence Analysts and the Law Enforcement Intelligence Unit, host their Annual Conference at the Flamingo Hotel in Las Vegas, NV. The theme will be "Criminal Intelligence: Improving the Odds". Internationally recognized speakers who are at the forefront of the war on crime and terrorism and those who are leaders in the intelligence community will be on hand to provide up-to-date information. Private security personnel are invited to attend non-law enforcement sensitive training at the nonmember rate. Speakers and workshops will involve training related to: criminal intelligence; international and domestic terrorism; legal issues in criminal intelligence; organized crime and gangs; and information sharing among law enforcement. See the LEIU website for updated confirmed speaker information. Seminar-related Activities: • Hosted Banquet – April 23, 2009; • Additional Activities TBA. For more information, please visit the LEIU website at http://leiu-homepage.org/events/index.php
23-26 April 2009 - Great Lakes, IL - The Midwest Chapter of AFIO will host its annual conference at the Great Lakes Naval Station. Registration is $10 per person. Hotel reservations ($65 per night) can be made through April 10th by calling the Navy Lodge at 1-847-689-1485. Mention that you are with the Midwest AFIO Chapter. For more information and to confirm your attendance, please contact Angelo Di Liberti ASAP at 847-931-4184.
24 - 26 April 2009 - Nashua, NH - The Naval Cryptologic Veterans Association New England Chapter (NCVA-NE) will hold its Spring Mini-Reunion at the Radisson Hotel Nashua.
The hotel is located at 11 Tara Boulevard, Nashua, New Hampshire 03062. For information, please call (518) 664-8032 or visit their website at http://ncva-ne.org. Local individuals who served with the U.S. Naval Security Group or with its counterpart in NETWARCOM are eligible and welcome to attend the mini-reunion. New members are welcome.
Point of Contact: Vic Knorowski, NCVA-NE Publicity Chair. 8 Eagle Lane, Mechanicville, New York 12118 (518) 664-8032
Saturday, 25 April 2009, 1100 - 1430 - North Andover, MA - AFIO New England Chapter meets to hear: Problems and Prospects on U.S. Intelligence. Guest speaker: Joseph Wippl, a retired CIA Senior Officer who served as Chief of the European Division in the National Clandestine Service and as Chief of Station in key posts throughout Europe. He is now teaching at Boston University. Mr. Wippl will address the Problems and Prospects for US Espionage.Where: In the Murry Lounge located in the Sakowich Campus Center on the campus of Merrimac College, 315 Turnpike St, North Andover, MA 01845. A map of the campus can be found here http://kahuna.merrimack.edu/map/map_new.html and on a separate page, directions here http://www.merrimack.edu/maps_directions/Pages/default.aspx or on the map page.
Local hotels can be found here http://www.merrimack.edu/about/visiting/Pages/Hotels.aspx
Schedule: Registration & gathering, 11:00 - 1200, Luncheon at 1200 followed by our speaker, with adjournment at 2:30PM.
Note, as this meeting is a one day event we have not made any hotel arrangements.
For additional information contact us at afionechapter@gmail.com
Advance reservations are $20.00, $25.00 at the door - per person.
Luncheon reservations must be made by 15 April 2009.
Mail your check and the reservation form to:
Mr. Arthur Hulnick 216 Summit Avenue # E102 Brookline, MA 02446 617-739-7074 or hlnk@aol.com
30 April 2009, 8 am–6:30 pm - Gettysburg, PA - Spy City Tours™ Special - Intelligence in the Civil War: Gettysburg as a Case Study [International Spy Museum Special Event]
Why was Lee surprised at Gettysburg? Why did Meade stand and fight on 3 July? How did Lee describe his defeat? Explore the dawn of modern American military intelligence with distinguished former CIA officers, Frans Bax and Barry Stevenson on this thought-provoking bus and walking tour of the Gettysburg battlefield. Developed for new and senior U.S. intelligence officers to illustrate the essentials of their craft through in-depth analysis of the three-day battle, participants will explore the use of intelligence for decision-making by Union General Meade and how a lack of timely, accurate intelligence undermined Confederate General Lee's capabilities. Key decisions and choices made by the military leaders on the battlefield will be explored in depth. The tour includes information on the development and use of intelligence in the American Civil War and will be of interest to students of the battle and lay people alike. Lunch at the historic Cashtown Inn is included.
Tickets: $180 To register: call 1-800-454-5768 and mention program #18181 or visit www.elderhostel.org/dayofdiscovery.
2 May 2009 - Washington, DC - The OSS Society William J. Donovan Award Dinner Honors General David H. Petraeus, USA, Commander, United States Central Command at the Mandarin Oriental Hotel, 1330 Maryland Ave SW, Washington, DC. Black Tie/Dress Mess. Cocktails, $150 pp. 6:30 p.m., Dinner 7:30 p.m. For further information or to register call 703-356-6667 or visit oss@osssociety.org
Wednesday, 27 May 2009, 6:30 pm - International Spy Museum presents Hot Topic: INTEL IN CYBERSPACE. WHAT: "Now, counterintelligence is a problem for everyone who has secrets to keep and … lives on a network…And that's all of us."— Joel Brenner, national counterintelligence executive for the Director of National Intelligence, 2008
In the past, spycraft depended on trained operatives, cutting-edge technologies, expensive systems, and highly specialized devices to conduct operations and collect intelligence. The "enemy" in today's society is able to carry out their intelligence gathering and attacks from any cyber-café in the world. The Internet contains a vast pool of information about every government agency, private company, major corporation – and many individuals. The average user with no advanced skills can purchase just about anything online, communicate in a dozen ways – from anywhere, and for the most part, remain anonymous. Terry Gudaitis, as cyber intelligence director at Cyveillance, a firm responsible for the protection of a majority of Fortune 500 companies and 30 million global consumers, knows firsthand the enormous threat of this explosive growth in internet accessibility. Drawing on her background as a former operations officer and behavioral profiler at the CIA's Counter Terrorist Center, Guidaitis will explore how the "enemy" is collecting information from the internet – and how they are using it to communicate, target people, case government facilities, and exploit assets. You may never log on as blithely again!
WHERE: International Spy Museum, 800 F St NW, Washington, DC, Gallery Place/Chinatown Metrorail Station
TICKETS: $12.50; Advance Registration required. Tickets are non-refundable and do not include admission to the International Spy Museum. To register: order online at www.spymuseum.org; or purchase tickets in person at the International Spy Museum.
Wednesday, 3 June 2009, 6:30 p.m. - Washington, DC - Pakistan Today: The ISI, India, and What The Future Holds.
"We know full well that terror is our enemy, not India."—Lt. Gen. Ahmed Shuja Pasha, Pakistan's intelligence chief, December 2008
With the November 2008 attacks in Mumbai, India, the ever-tense relationship between Pakistan and its eastern neighbor was again headline news. The Pakistani government officials condemned the attack, but the incident raised questions again about links between the Pakistani Directorate of Inter-Services Intelligence (ISI) and Islamic terror networks. How does the history of the ISI—and its partnership with the CIA during the 1980s—affect its actions and worldview? How do the United States and Pakistan look on their partnership in today's circumstances? These pressing questions will be considered by: Shuja Nawaz, director, South Asia Center at the Atlantic Council of the United States, author of Crossed Swords: Pakistan, Its Army, and the Wars Within; Bruce Riedel, senior fellow, foreign policy, Saban Center for Middle East Policy, Brookings Institution, former CIA officer and senior advisor to three U.S. presidents on Middle East and South Asian issues; and Ambassador Teresita Schaffer, the director of the South Asia Program, Center for Strategic and International Studies, who has written extensively and testified before Congress on Pakistani issues.
WHERE: International Spy Museum, 800 F St NW, Gallery Place/Chinatown Metrorail Station
TICKETS: $15; Advance Registration required. Tickets are non-refundable and do not include admission to the International Spy Museum. To register: order online at www.spymuseum.org; or purchase tickets in person at the International Spy Museum.
13 June 2009 - Boston, MA - AFIO Boston Pops Committee commemorates the 40th Anniversary of the Apollo 11 Moon Landing. Join AFIO Boston-based members at Symphony Hall for a special Boston Pops Concert celebrating our nation's triumphant achievement. Historic footage of the lunar landing provided by NASA will accompany a program of stirring patriotic music including Holst's The Planets. Honor one of America's proudest moments in space exploration with a spectacular Pops concert. The AFIO Pops Committee has relocated the event back to Boston for our seventh annual Pops social event. Conductor Keith Lockhart will lead the Pops at Symphony Hall, 301 Massachusetts Avenue Boston, MA 02115. Join other AFIO members and friends in the Hatch Room lounge located behind the orchestra level for a social hour before the performance begins. For tickets, call Symphony Hall Charge at 888-266-1200 or online at www.bso.org. Tickets sell from $18.00 to $85.00 and are now on sale. After purchasing your tickets, please contact Gary at wassinmaryland@aol.com so I can add your name to the list to look for at the 1 hour social prior to the concert. Ticket prices for attending this concert does not include a gift to AFIO however the Association of Former Intelligence Officers relies greatly upon the generosity of members, corporations, foundations, and the general public who understand and wish to encourage sound intelligence policy and education in the United States. These gifts allow AFIO and its chapters to carry out important activities in the areas of education, advocacy, seminars, publications, and conferences. Please help by making a financial donation to AFIO. Tax receipts will be issued for donations of $100 or more (does not include Pops ticket cost). All gifts to AFIO are tax deductible. AFIO is an IRS approved 501(c)(3) charity. We request this be done separately if you are able to contribute to AFIO. Gifts may be made here.
---
For Additional Events two+ months or greater....view our online Calendar of Events
-----------------------------------------------------------------------
Disclaimers and Removal Instructions
Weekly Intelligence Notes (WINs) are commentaries on Intelligence and related national security matters, based on open media sources, selected, interpreted, edited and produced for non-profit educational uses by members and WIN subscribers.
REMOVAL INSTRUCTIONS: We do not wish to add clutter to inboxes. To discontinue receiving the WINs:
a) IF YOU ARE A MEMBER -- click here: UNSUBSCRIBE and supply your full name and email address where you receive the WINs. Click SEND, you will be removed from list. If this link doesn't open a blank email, create one on your own and send to afio@afio.com with the words: REMOVE FROM WINs as the subject, and provide your full name and email address where you are currently receiving them.
b) IF YOU ARE NOT A MEMBER, and you received this message, someone forwarded this newsletter to you [contrary to AFIO policies]. Forward to afio@afio.com the entire WIN or message you received and we will remove the sender from our membership and distribution lists. The problem will be solved for both of us.
CONTENTS of this WIN [HTML version recipients - Click title to jump to story or section, Click Article Title to return to Contents. This feature does not work for Plaintext Edition or for some AOL recipients]. If you wish to change to HTML format, let us know at afio@afio.com. The HTML feature also does not work for those who access their e-mail using web mail...however NON-HTML recipients may view the latest edition each week in HTML at this link: https://www.afio.com/pages/currentwin.htm
-----------------------------------------------------------------------

WINs are protected by copyright laws and intellectual property laws, and may not be reproduced or re-sent without specific permission from the Producer. Opinions expressed in the WINs are solely those of the editor(s) or author(s) listed with each article. AFIO Members Support the AFIO Mission - sponsor new members! CHECK THE AFIO WEBSITE at www.afio.com for back issues of the WINs, information about AFIO, conference agenda and registrations materials, and membership applications and much more!

(c) 2009, AFIO, 6723 Whittier Ave Suite 200, McLean, VA 22101. Voice: (703) 790-0320; Fax: (703) 991-1278; Email: afio@afio.com
Click here to return to top.