AFIO Weekly Intelligence Notes #10-09 dated 17 March 2009
Happy St. Patrick's Day!
CONTENTS

Section I - INTELLIGENCE HIGHLIGHTS

Section II - CONTEXT & PRECEDENCE

Section IV - BOOKS, OBITUARIES AND COMING EVENTS

Current Calendar Next Two Months ONLY :

---

AFIO 2009 AUCTION SEEKS DONATIONS: Didn't get what you liked for Christmas, donate it to the AFIO 2009 auction and turn it into a tax-deductible gift....buy something at the auction you like. A variety of intelligence-related, but also unrelated items have done well at the annual AFIO online Auction. This is a good time to clear out items you might not want that others might find of use, and to find appealing new gifts for yourself. We accept books, paintings, prints, electronic devices [working ones only], pen sets, mugs, rare collectibles, unusual items, historic documents and other ephemera, watches and jewelry, jackets, scarves, sweaters and other imprinted clothing items, and too many other possibilities to list. To explore possible donations, or to send off your items immediately, call Gary at 240 344-6556, email him at wassinmaryland@aol.com or mail items to him at: AFIO, 6723 Whittier St Ste 200, McLean, VA 22101. Always indicate that the items you are sending are to be placed up at auction on your behalf. All donations to AFIO are final and items that do not sell cannot be returned but a donation receipt will sent for those, as well. We thank you now for your generosity.

AFIO Members are invited to the CIA- UTD Conference
on AIR AMERICA.
No charge for you to attend.
Saturday, 18 April 2009

Air America: Upholding the Airmen's Bond
A symposium acknowledging and commemorating
Air America's rescue efforts during the Vietnam War

April 18, 2009
1 pm – 5:30 pm
The University of Texas at Dallas Conference Center Auditorium
Reception and viewing of
CIA and UT Dallas exhibits to follow

This event is free and unclassified.
Event check-in is from 12:30 to 1:00 p.m.
Seating is limited so RSVPs are strongly encouraged.
If you do RSVP, a seat will be held for you until 12:50.

To RSVP, go to http://www.utdallas.edu/airamerica/

Quietly and courageously throughout the long and difficult Vietnam War, Air America, a secretly-owned air proprietary of the U.S. Central Intelligence Agency (CIA), remained the indispensable instrument of CIA's clandestine mission. This legacy is captured in a recent CIA Director's statement that the Agency's mission is to "accomplish what others cannot accomplish and go where others cannot go." While some of Air America's work may never be publicly acknowledged, much of the company's critical role in wartime rescue missions can now be revealed. This joint symposium with the CIA and The University of Texas at Dallas provides a forum for the release of thousands of pages of heretofore unavailable documents on Air America's relationship with the Central Intelligence Agency. Moreover, the symposium brings together many Air America veterans, a number of men rescued by Air America, and the CIA "customers" who often placed their lives and missions in the hands of this once-secret air proprietary.

Air America crews were not required to monitor military emergency radio calls, fly to the location of military personnel in distress, or place their lives at risk of enemy ground-fire and possible capture. They received no extra compensation for rescue work and sometimes lost wages for their efforts. However, in their flying community it was enough to know that a downed aviator was in trouble and that airmen should always come to the aid of other airmen. It was simply the Airmen's Bond.

Speakers/Panelists: To help commemorate Air America's rescue efforts during the Vietnam War, the symposium will include the following speakers and panel members:

Mr. Jim Glerum - Senior Operations Officer, CIA, Retired
Dr. Timothy Castle - Noted historian and author, CIA

Panel Discussion: Laos Rescues – Lima Site 85 and other Military Rescues

John Daniel - USAF Retired, Site 85 survivor, rescued by Air America
Loy "Rusty" Irons - Air America flight mechanic on Site 85 rescue helicopter
John "Woody" Spence - Paramilitary Officer, CIA Retired, Site 85 survivor, rescued by Air America
Admiral Donald Boecker USN Retired - A6 pilot, shot-down July 1965, rescued by Air America
Sam Jordan - Air America Pilot, Participated in rescue of Admiral Boecker

Panel Discussion: The Final Days: 1975 – Rescue Efforts during the fall of South Vietnam

Dr. John F. "Joe" Guilmartin - Professor, Ohio State University. Former USAF "Jolly Green" combat rescue pilot
Ed Adams - Air America Pilot. Conducted rescue operations in Laos and South Vietnam.
Marius Burke - Air America Pilot. Conducted rescue operations in Laos and South Vietnam.

Additional speakers planned include senior CIA officials speaking on the importance of openness and the release of declassified documents, senior military officers, pilots, and aviation historians.

Reception: The reception will include an opportunity to personally meet and talk to many Air America pilots and employees, those who worked with Air America, and those rescued by them, as well as the opportunity to view Air America exhibits from CIA and UT Dallas. This reception is being sponsored by the Association of Former Intelligence Officers.

Booklet and DVD: Each attendee will receive a commemorative booklet highlighting the symposium. The booklet will include articles on Air America, photos, and a selection of recently declassified documents that include first-hand accounts of rescues and evacuations, letters of thanks from President Nixon and others, The Airmen's Bond, and the article Why We Care by L. Michael Kandt, chaplain and general secretary of the Air America Association, Inc.

Each attendee will also receive a DVD containing electronic copies of the entire collection of newly declassified and heretofore unavailable documents. The DVD will also contain video interviews of Air America pilots, rare footage of Lima Site 85, and photos from the CIA and McDermott Library collections.

Declassified Research Documents: In conjunction with the symposium, The UT Dallas McDermott Library will receive copies of approximately 10,000 of the recently declassified CIA documents on Air America, which will be added to the University's History of Aviation Collection. These government papers augment existing Air America archives given to the University by the Air America Alumni Association. Now with the addition of the CIA materials, this collection is destined to become one of the finest sources in the nation to study this fascinating period of Cold War history.


RSVP NOW for this FREE conference,
RSVP directly to the University of Texas
at http://www.utdallas.edu/airamerica/


Hotel reservations are not available online
at the special conference rate.
By phone, only. Call to make your Hotel Reservations:
1-972-231-9600, or try 1-866-593-6300
Ask for the "CIA-UTD Air-America" rate of $85.00 valid to March 27. Register now.

Hyatt Regency – North Dallas [formerly known as the Richardson Hotel]
701 West Campbell Rd, Richardson, TX 75081

---

WIN CREDITS FOR THIS ISSUE: The WIN editors thank the following special contributors to this issue: kd, fwr, pjk and dh.

They have contributed one or more stories used in this issue.
---
Section I - INTELLIGENCE HIGHLIGHTS
Chinese Military Chiefs Accuse US Navy of Spying. Chinese naval officials say a U.S. naval ship that was involved in a standoff Sunday near China's southern coast was on a spying mission.

In an article carried Wednesday in the official China Daily newspaper, naval officials said it was clear the USNS Impeccable was not just a surveillance ship, but a spy ship.

Vice Admiral Jin Mao, the former vice-commander of China's navy told the newspaper that anyone with eyes could tell what the ship was up to.

Other naval officials noted that the Chinese navy was well within its rights to intercept the vessel. They also say the Impeccable's presence was a threat to Chinese vessels.

The U.S. government says Chinese vessels harassed the Impeccable Sunday while it was towing sonar equipment - that is designed to monitor submarines - in international waters.

The naval dispute comes as Chinese Foreign Minister Yang Jiechi is in Washington this week to meet with U.S. officials.

Yang is in Washington largely to lay the groundwork for a meeting between Chinese President Hu Jintao and President Barack Obama at next month's G20 summit.

State Department officials say the two sides are likely to discuss the incident when Yang meets with Secretary of State Hillary Clinton later Wednesday.

China rejects the United States claims that the Impeccable was in international waters. China says the U.S. ship was in China's so-called Exclusive Economic Zone without China's permission when the incident occurred.

On Tuesday, a top U.S. intelligence official said the naval dispute was the "most serious" between the United States and China since China detained a U.S. spy plane and its crew in 2001.

Director of National Intelligence Dennis Blair said China seems to be taking a "more military, aggressive" stance.

The USNS Impeccable was about 120 kilometers off of China's Hainan island when the U.S. military says it was forced to make an emergency stop on Sunday.

U.S. diplomats say American naval ships will continue to operate in international waters. But they stopped short of commenting on U.S. surveillance activities in the South China Sea. [VoaNews/11March2009]

Israeli Spy's Petition for Early Parole Denied. The Tel Aviv District Court on Wednesday denied a petition filed by jailed Israeli spy Nahum Manbar to seek early parole.

Manbar was convicted of a slew of security offenses in 1998, including selling potentially harmful information to an enemy state, namely Iran, aiding the enemy and hindering national security.

His subsequent trial, held entirely behind closed doors, found him guilty. He appealed his conviction to the Supreme Court, which ruled the conviction stands. He is currently serving a 16-year prison sentence.

This was his second petition for early parole, filed after he had already served two-thirds of his sentence. The Parole Board has ruled Manbar a danger to national security, stating he must complete his full sentence.

"I have paid my debt to society," he said in his petition. "I'm 62-years-old and I want to have a family. I have expressed my deep remorse for my actions. I do not challenge the courts (sentencing) decision and I take full responsibility for my actions."

The court explained its decision to deny the petition citing a psychological evaluation of Manbar, commissioned by the Israel Prison Service, which indicated that his personality did not demonstrate any significant changes. The IPS also stated that no significant changes have been noted in the circumstances of his confinement.

The court also considered a brief filed by former Shin Bet Chief Yaakov Peri, suggesting that Manbar in unlikely to pursue any espionage activities should his request for early parole be granted. Peri's position, noted the court, stood opposite to that submitted by the Shin Bet and the Mossad. [IsraeliNews/10March2009]

Brown Rejects Judge-Led Inquiry Into UK Spies. British Prime Minister Gordon Brown declined a request by opposition parties to authorize a judge-led inquiry into the conduct of U.K. intelligence agencies in supporting the U.S. government's pursuit of terror suspects since 2001.

Lawmakers in Britain, the U.S. and Europe have raised concerns over the extent to which the U.K. and other allies of Washington have been complicit in the extraordinary rendition, secret detention and alleged mistreatment of suspected terrorists.

David Cameron, leader of Britain's main opposition Conservative Party, and Alex Carlile, a House of Lords member who advises the government on anti-terrorism laws, have both called for a judge-led inquiry into Britain's actions.

But Brown said Britain's Intelligence and Security Committee - a panel of lawmakers which meets in private - has considered issues of rendition and the conduct of intelligence staff.

In a report written last month, the U.N. special expert on human rights, Martin Scheinin, named Britain among countries which had aided the U.S. in carrying out extraordinary renditions by offering intelligence about suspects or detaining individuals on behalf of American authorities.

Brown said police could investigate allegations that British intelligence agents colluded in the torture of terror suspects overseas. He told lawmakers in the House of Commons that the country's chief legal adviser will refer cases to police if officials need to account for their actions.

Ex-Guantanamo Bay detainee Binyam Mohamed alleges he was tortured while held in Pakistan and Morocco and claims British intelligence officers were aware of his treatment.

Brown said that Attorney General Patricia Scotland is reviewing Mohamed's allegations and will call on the police to prosecute intelligence officers found to have broken laws.

Mohamed, an Ethiopian who moved to Britain when he was a teenager, was arrested in Pakistan in 2002. He claims he was tortured both there and in Morocco - where he alleges he was sent to be detained by U.S. officials.

An officer from Britain's domestic spy agency, MI5, interviewed Mohamed in Pakistan, but the officer insists he was not aware that Mohamed had been mistreated.

Guantanamo Bay detainee Shaker Aamer, a Saudi-born former British resident, also claims Britain may have had a role in his mistreatment. He alleges that a British security officer was present when he was beaten while held by U.S. forces at Bagram air base in Afghanistan. [AP/10March2009]

Detainees Claim U.S. Used Eminem Raps as Torture. In an interview with the British newspaper The Mail on Sunday, Binyam Mohamed, who was recently released from the United States detention camp in Guantánamo Bay, Cuba, discussed his treatment while in American custody and renewed his claim that he was tortured.

In the interview, Mr. Mohamed described in detail some of the treatment he says he endured while being held and interrogated in Pakistan, Morocco and Afghanistan before being sent to Guantánamo Bay.

According to Mr. Mohamed, the worst part of his seven years in captivity was not being slashed with a scalpel in Morocco, but the time he spent at "a secret C.I.A. prison in Afghanistan" in 2004, where, he said, he was kept in total darkness 24 hours a day, while being forced to listen to a single rap album played over and over again at high volume:

"There were loudspeakers in the cell, pumping out what felt like about 160 watts, a deafening volume, non-stop, 24 hours a day. They played the same CD for a month, 'The Eminem Show.' It's got about 20 songs on it, and when it was finished, it went back to the beginning and started again.

While that was happening, a lot of the time, for hour after hour, they had me shackled. Sometimes it was in a standing position, with my wrists chained to the top of the door frame. Sometimes they were chained in the middle, at waist level, and sometimes they were chained at the bottom, on the floor.

The longest was when they chained me for eight days on end, in a position that meant I couldn't stand straight nor sit. I couldn't sleep. I had no idea whether it was day or night."

Mr. Mohamed also told The Mail's interviewer, David Rose: "In Kabul I lost my head. It felt like it was never going to end and that I had ceased to exist." It was, he added, "a miracle my brain is still intact."

While there is no obvious answer to the question, why Eminem?, the blogger Daniel Radosh pointed out in another context that "The Eminem Show" does contain references to the terror attacks of Sept. 11, 2001. In the song "My Dad's Gone Crazy," for instance, Eminem raps about flying planes and attacking high towers, before claiming that there is "more pain inside of my brain/ than the eyes of a little girl inside of a plane/ aimed at the World Trade."

The use of loud music by the U.S. military has been reported before.

In 1989, when U.S. forces in Panama were trying to force Gen. Manuel Antonio Noriega to leave his sanctuary in the Vatican's diplomatic mission in Panama City and surrender, they blasted loud rock music from speakers outside the Nunciature. The New York Times's Robert Suro reported at the time that Vatican officials "said the apparent effort at psychological warfare was 'ludicrous' and 'childish.'"

In 2003, Adam Piore of Newsweek, while traveling with soldiers from the United States military's Psychological Operations Command (known as Psyops) in Iraq, witnessed American soldiers blasting Metallica's "Enter Sandman" into shipping containers where detainees were held. In the May 19, 2003 issue of Newsweek, Mr. Piore wrote that a member of the Psyops unit described the tactic as part of an effort to "break down" the detainees:

"The idea," explains Sgt. Mark Hadsell, "is to break down a subject's resistance through sleep deprivation and annoyance with music that is as culturally offensive and terrifying as possible." Hadsell's personal favorites include "Bodies" from the "XXX" soundtrack and Metallica's "Enter Sandman." "These people haven't heard heavy metal before," he explained. "They can't take it. If you play it for 24 hours, your brain and body functions start to slide, your train of thought slows down and your will is broken. That's when we come in and talk to them."

The kind of stress Mr. Mohamed says he endured in no laughing matter, and the military clearly takes the treatment seriously enough that it has been reportedly been used at Guantánamo Bay, as well as in Iraq and Afghanistan.

But since the idea that being forced to listen to a certain song or record can be described as "torture" often strikes people hearing about it as funny, reports of the tactic are often cast in a comic light.

Mr. Piore later told the British writer Jon Ronson that when he called his editor at Newsweek from Iraq to describe the use of loud music on detainees, "I was told to write it as a humorous thing." After Mr. Piore filed his report, Newsweek stressed the fact that one of the songs blared at detainees in Iraq was the theme from the children's television show "Barney" and added a comic kicker to his the story:

"The sledgehammer riffs of Metallica, that's understandable. But can children's songs really break a strong mind? (Two current favorites are the "Sesame Street" theme song and the crooning purple dinosaur Barney - for 24 hours straight.) In search of comment from Barney's people, Hit Entertainment, Newsweek endured five minutes of Barney while on hold. Yes, it broke us, too."

In Jon Ronson's book on the American military's development and use of psychological operations, "The Men Who Stare at Goats" (soon to be a major motion picture, starring George Clooney, Kevin Spacey and Ewan McGregor), he writes that while loud music was used on detainees in Guantánamo , other sorts of sounds were deployed as well, often in puzzling ways.

Jamal al-Harith, another British man who was released from Guantánamo , told Mr. Ronson that recordings of loud screeches and bangs, "jumbled noises," were played by his interrogators - and also that at one stage during his interrogation, he was asked to listen to songs played at normal volume for no apparent reason. According to Mr. Harith, an interrogator baffled him by playing CDs including one by a Fleetwood Mac cover band, another with a selection of Kris Kristofferson's greatest hits, and an album by Matchbox Twenty. As Mr. Ronson notes in his book, Matchbox Twenty was one of the bands Mr. Piore found listed on the PsyOps playlist in Iraq. [NewYorkTimes/9March2009]

Alleged Sleeper Agent Appears in US Criminal Court. Alleged al-Qaida sleeper agent Ali al-Marri appeared in a U.S. court Tuesday to face terror charges for the first time after being held for more than five years as an enemy combatant.

Al-Marri is charged with providing material support to terror and conspiracy and is expected to be sent to Illinois to enter a plea. On Tuesday, he answered affirmatively when a federal magistrate asked the 43-year-old Qatar native whether he understood the counts against him.

First, al-Marri is to appear again in Charleston federal court on March 18 for a detention hearing where a judge will decide whether he can be released on bail. Until his transfer, prosecutors and defense attorneys agreed to keep al-Marri in a civilian cell at the Navy brig where he's been held since 2003 so that he has more access to his lawyers.

Wearing a gray, hooded sweat shirt, gray sweat pants, a long black beard flecked with gray and a close-fitting cap, al-Marri entered the courtroom for the 10-minute hearing and shared a quiet laugh with his attorney. He smiled and glanced around the courtroom as lawyer Andy Savage appeared to point out the different courtroom officials.

Al-Marri answered "Yes, sir" when asked whether he understood the charges and whether Savage was his attorney.

Al-Marri was studying at Bradley University in Peoria, Ill., when he was arrested in late 2001 as part of the investigation of the Sept. 11 attacks. He was initially indicted on fraud charges, which were dropped in 2003 when President George W. Bush declared him an enemy combatant.

The government has said al-Marri met with Osama bin Laden and volunteered for a suicide mission or whatever help al-Qaida wanted. He arrived in the U.S. the day before terrorists struck the World Trade Center and the Pentagon.

Al-Qaida leaders wanted al-Marri, a computer specialist, to wreak havoc on the U.S. banking system and to serve as a liaison for other al-Qaida operatives, according to a court document filed by Jeffrey Rapp, a senior member of the Defense Intelligence Agency.

The U.S. Supreme Court forced President Barack Obama to act in al-Marri's case when it decided in December - after the election, but before the transfer of power - to hear his challenge to being held as an enemy combatant. Several justices had indicated as early as 2006, in the detention case of U.S. citizen and former Chicago gang member Jose Padilla, that they were troubled by the Bush policy of holding people without charges on U.S. soil.

The court last week granted the Obama administration's request to dismiss al-Marri's challenge, just like it declined to hear Padilla's case.

Since the terrorist attacks of Sept. 11, 2001, the government has held two U.S. citizens - Louisiana native Yaser Hamdi was the other - and one legal resident, al-Marri, as enemy combatants. Hamdi was released in 2004 after the government said he no longer posed a threat to the United States and no longer had any intelligence value. [Smith/AP/10March2009]

Italian Court Tosses Evidence at Spy Trial. The Constitutional Court ruled against allowing classified evidence in a case between Italy and the United States, in which 25 CIA agents, a U.S. Air Force colonel and several Italian intelligence officials are charged with seizing an Egyptian terrorism suspect in 2003.

While the ruling Wednesday didn't negate the indictments, it did rule inadmissible much of the evidence that provided the basis for the case, including material seized from the intelligence personnel.

The suspect, Osama Mustafa Hassan Nasr, was seized in Milan in what is known as extraordinary rendition, in which terrorism suspects are sent for interrogation to other countries, some of which use torture techniques, the Times said. Prosecutors allege the defendants kidnapped Nasr, took him to U.S. military bases in Italy and Germany, and eventually to Egypt. The U.S. defendants are being tried in absentia.

The court also tossed portions of an Italian police officer's testimony in which he said he participated in the capture of Nasr at the request of the CIA chief in Milan.

The court ruled as admissible evidence from wiretaps of intelligence operatives, which the Italian government sought to dismiss. [UPI/12March2009]
Pentagon Plans Blimp to Spy from New Heights. The Pentagon said Thursday that it intends to spend $400 million to develop a giant dirigible that will float 65,000 feet above the Earth for 10 years, providing unblinking and intricate radar surveillance of the vehicles, planes and even people below.

The 450-foot-long craft would give the U.S. military a better understanding of an adversary's movements, habits and tactics, officials said. And the ability to constantly monitor small movements in a wide area - the Afghanistan- Pakistan border, for example - would dramatically improve military intelligence.

The project reflects a shift in Pentagon planning and spending priorities under Defense Secretary Robert M. Gates, who has urged the military services to improve intelligence and surveillance operations while cutting high-tech weaponry costs.

If successful, the dirigible - the brainchild of the Air Force and the Pentagon's research arm - could pave the way for a fleet of spy airships, military officials said.

However, it marks the return to a form of flight that has stirred anxiety and doubt since the 1937 Hindenburg disaster. Thirty-six people were killed when that airship went up in flames in New Jersey.

The military has used less-sophisticated tethered blimps - called aerostats - to conduct surveillance around military bases in Iraq. But flying at 65,000 feet, the giant airship would be nearly impossible to see, beyond the range of any hand-held missile, and safe from most fighter planes.

And its range would be such that the spy craft could operate at the distant edges of any military theater, probably out of the range of surface-to-air missiles as well.

The Air Force's intelligence, surveillance and reconnaissance abilities have improved dramatically in the last five years with the expansion of the Predator and other drones. Although such craft can linger over an area for a long time, they do not watch constantly.

The giant airship's military value would come from its radar system. Giant antenna would allow the military to see farther and with more detail than it can now.

The dirigible will be filled with helium and powered by an innovative system that uses solar panels to recharge hydrogen fuel cells. Military officials said those underlying technologies - plus a very lightweight hull - were critical to making the project work.

The Air Force has signed an agreement with DARPA to develop a demonstration dirigible by 2014. The prototype will be a third as long as the planned surveillance craft - known as ISIS, for Integrated Sensor Is the Structure, because the radar system will be built into the structure of the ship.

While the military says the craft is closer to a blimp than a zeppelin - which has a rigid external structure - officials usually call the project an airship. Blimps get their shape from helium gas pressure.

The Pentagon has not yet awarded a contractor to build the prototype. Earlier work was done by Northrop Grumman in Redondo Beach - as well as Baltimore and other locations - and by Lockheed Martin in Palmdale, Calif.; Akron, Ohio; and Denver. [Barnes/LATimes/13March2009]
Former FBI Chief: NSA Can't Run Cybersecurity Alone. Echoing recent comments from government and industry representatives, a former FBI chief on Thursday said the intelligence community would be the wrong place to put complete responsibility for cybersecurity.

Louis Freeh, who served as FBI director from 1993 to 2001, told audiences at the FOSE 2009 conference here that when the director of the Homeland Security Department's National Cyber Security Center resigned last week, he tapped into a strong historical resistance in the United States to centralized power, particularly in intelligence and military units. In his resignation letter, Rod Beckström said he opposes what he perceives as attempts by the National Security Agency to control DHS cyber efforts.

Cybersecurity responsibility should be left up to a consortium of government and industry players, he said, and the private industry has had too much difficulty maintaining reliable cooperation with the intelligence community. He cited as an example the uncertainty over whether telecommunications firms were to receive immunity for agreeing to unlawfully open their networks to the NSA.

Beckström's complaint against the concentration of power in the hands of the NSA is valid, Freeh said, since no single entity could properly provide nationwide cybersecurity.

The nature of cybersecurity, he said, has already resulted in pockets of expertise in multiple government agencies including the FBI, the NSA, and the military, as well as in the private sector. "That's not only a good thing, it is inevitable and irreversible," Freeh said.

While that expertise may exist, the government's cybersecurity efforts could be much improved, he said. Freeh said that so far, not enough emphasis has been put on the need to ensure privacy in cybersecurity efforts.

Ultimately, Freeh said, cybersecurity leadership has to come directly from President Obama. [Barnes/CNET/12March2009]
FBI Worst FOIA Performance. The National Security Archive at George Washington University has awarded its 2009 Rosemary Award to the FBI for worst freedom of information performance. Previous winners have been the CIA and the Treasury. The NSA notes that 'The FBI's reports to Congress show that the Bureau is unable to find any records in response to two-thirds of its incoming FOIA requests on average over the past four years, when the other major government agencies averaged only a 13% "no records" response to public requests.' The FBI's explanation, according to the NSA, is that 'files are indexed only by reference terms that have to be manually applied by individual agents,' and even then, 'agents don't always index all relevant terms.' Furthermore, 'unless a requester specifically asks for a broader search, the FBI will only look in a central database of electronic file names at FBI headquarters in Washington.' Any search will therefore 'miss any internal or cross-references to people who are not the subject of an investigation, any records stored at other FBI offices around the country, and any records created before 1970.'" [Slashdot/9March2009]

Group Finds Intelligence Gap Persists. The U.S. government still can't link critical pieces of information that could warn of an impending terrorist plot, despite more than seven years of effort since the attacks of Sept. 11, 2001, a new report from a bipartisan national-security group warns.

Getting security officials to connect information about threats is the "single most important step" the Obama administration should take to improve national security, the Markle Foundation Task Force on National Security in the Information Age said in a report to be released Tuesday.

In an interview, outgoing Director of National Intelligence Mike McConnell said the group's advice is similar to what he told his successor, Dennis Blair. "It was my recommendation that he make [intelligence sharing] one of his top priorities," said Mr. McConnell, who praised the task force's efforts to focus attention on the issue.

The Markle task force, which has been studying information sharing since 2002, is a bipartisan group of about 40 current and former security and technology officials from the government and private sector, a number of whom are now working at senior levels in the Obama administration, including the attorney general. The Markle Foundation is a nonprofit public-policy group.

Officials at the office responsible for improving information sharing said the report doesn't give enough credit to efforts under way, particularly to improve the sharing of threat information with state and local officials. "It to some degree understates the progress that's been achieved," said John Cohen, a senior adviser in that office, which reports to the director of national intelligence. "What it correctly states is that we still have much to do."

Since the 2001 attacks, the government's urgency in fixing intelligence sharing has diminished, the task force says. Cultural, organizational and technical obstacles have slowed efforts to move information across agency boundaries. A recent inspector-general report assessing the intelligence agencies' information sharing found that the agencies have considerable work left to do.

The group recommends that Mr. Obama order a high-level review focused on how to integrate all threat information, not just terrorism tips. It also says the information-sharing office that reports to the president through the director of national intelligence should be moved into the White House to elevate its position within the government.

To change agency culture, the Obama administration should evaluate individuals and agencies in part based on their effectiveness at sharing information, the task force says.

On the technology side, all national-security agencies should launch programs to categorize data by the same standards. Under Mr. McConnell, the intelligence agencies launched an effort to do that with a program to create a Google-like search engine among intelligence agencies. The task force said that type of effort should be expanded.

Such programs must also include strong privacy protections, the group says, including automatic auditing of who accesses what information and what is done with that information. Many government agencies still need to establish privacy policies, the report added, and the accuracy of data in terrorist watchlists needs to be ensured.

Mr. McConnell said such efforts were similar to what he was working to do when he was the intelligence director. While "it's fair," he said, to want a faster rate of change, he said working on the problems inside the government was like "trying to move a glacier." [Gorman/WallStreetJournal/10March2009]
U.N. Expert Raps U.S., Allies for Anti-Terrorism Tactics, Plans Investigation Into Detentions. A U.N. expert is accusing the United States and some of its allies of breaching international law for the so-called extraordinary renditions and subsequent alleged torture of terrorism suspects during the Bush administration's global war on terrorism, and he is launching a probe into the detention of suspects.

Martin Scheinin, a U.N. special rapporteur and expert on international law, issued his annual report to the U.N. Human Rights Council on Tuesday. While it identifies a U.S. role in masterminding a "comprehensive system" of rendition and detention of suspects as well as creating "an international web" of intelligence sharing, his report notes that it was possible only through collaboration with many other countries.

Scheinin cites "consistent, credible reports" that countries involved in facilitating extraordinary renditions in various ways included Bosnia and Herzegovina, Britain, Canada, Croatia, Georgia, Indonesia, Kenya, Macedonia and Pakistan. Suspects then were transferred to "mostly unacknowledged" detention sites in Afghanistan, Egypt, Ethiopia, Jordan, Pakistan, Morocco, Saudi Arabia, Yemen, Syria, Thailand, Uzbekistan "or to one of the CIA covert detention centers, often referred to as 'black sites,' " according to the human rights report.

Rupert Colville, a spokesman for the U.N. Office of the High Commissioner for Human Rights, said it was "a fairly major black mark" for any country to be targeted in such a report.

Being on the list is particularly embarrassing for the British government, which already is stinging from charges of its collusion in the alleged torture of a former detainee at Guantanamo Bay. Officials from both key opposition parties in Britain are calling for an independent judicial inquiry on the matter after detailed accusations of collusion between MI5, a British intelligence agency, and the CIA were made in recent days by Binyam Mohamed, who was held at Guantanamo Bay for more than four years. He was flown back to Britain a few weeks ago after the Foreign Office pressed the Obama administration for his release.

A spokesman for the Foreign Office said Tuesday that "there's nothing new" in Scheinin's claims of British involvement in extraordinary rendition. "When we hear of credible allegations, we'll follow them up," he added. It's the office's policy not to allow spokesmen to be named in news reports.

In a speech to the Human Rights Council, which is meeting in Geneva, Scheinin said he planned to conduct a study on the secret detention program worldwide.

Scheinin also reportedly hopes to interview detainees at the U.S. military prison at Guantanamo Bay, Cuba, when he visits the United States, although it isn't clear that he'll be granted authorization to do so.

The U.N. report expresses concern about not only active but also passive involvement by state intelligence agencies in interrogations that might have involved torture. It also critiqued the broad powers given to such agencies to collect information on citizens and "compartmentalized oversight" of intelligence services.

In Britain, Foreign Secretary David Miliband and Home Secretary Jacqui Smith, whose department oversees the security services, have refused requests to appear before Parliament's joint committee on human rights to discuss Britain's involvement in rendition and detention of terrorism suspects, citing an ongoing investigation by the Attorney General's Office.

The Foreign Office spokesman said that the human rights committee didn't have the authority to require Miliband's attendance. Rather, he said, Parliament's intelligence and security committee is "the appropriate parliamentary body to be looking into these issues."

Opposition politicians and human rights groups accuse the government of stonewalling. [KansasCity/10March2009]
Judge to Decide if CIA Wrongly Classified Documents in Torture Tape Destruction. A federal court judge overseeing a lawsuit filed against the CIA by the American Civil Liberties Union agreed this week to review classified documents related to the destruction of 92 interrogation videotapes to determine if the agency improperly classified some of the materials.

In a letter filed March 9 by the ACLU in U.S. District Court in New York, staff attorney Amrit Singh said the CIA's recent document production detailing the number of videotaped interrogations that were destroyed may have been "improperly classified."

"Plaintiffs are skeptical that all of the information redacted from the CIA's latest submission can be properly withheld from the public," Sing wrote in a letter to Judge Alvin Hellerstein. "To the extent that the redacted information relates to illegal interrogation methods, the information is not properly classified.

"Significantly, President Obama's recent directive expressly prohibits the government from 'keep[ing] information confidential merely because public officials might be embarrassed by disclosure, because errors and failures might be reveled, or because of speculative abstract fears."

Singh was referring to an executive order Obama signed Jan. 21, one day after he was sworn in as president in which he instructed all federal agencies and departments to "adopt a presumption in favor" of Freedom of Information Act requests and promised to make the federal government more transparent.

"The Government should not keep information confidential merely because public officials might be embarrassed by disclosure, because errors and failures might be revealed, or because of speculative or abstract fears," Obama said. "In responding to requests under the FOIA, executive branch agencies (agencies) should act promptly and in a spirit of cooperation, recognizing that such agencies are servants of the public."

In December 2007, the ACLU filed a motion seeking to hold the CIA in contempt for destroying the tapes. The civil liberties organization had previously filed a Freedom of Information Act lawsuit that sought materials related to the treatment of detainees and the way in which they were interrogated.

Two weeks ago, the CIA filed court documents that for the first time provided details into the agency's systematic destruction of videotaped interrogations involving two alleged high-level al-Qaeda operatives: Abu Zubaydah and Al-Nashiri.

The destruction of the CIA tapes has been the subject of a yearlong criminal investigation by John Durham, the acting U.S. Attorney for the Eastern District of Virginia who was appointed special prosecutor last year by Attorney General Michael Mukasey.

Civil liberties advocates also have urged fuller investigations into whether President Bush and some of his senior aides committed war crimes and violated federal anti-torture statutes by ordering CIA interrogators to subject detainees to brutal tactics.

The CIA said in court documents filed March 2 that it destroyed 92 videotapes. A dozen of those tapes showed agents subjecting the detainees to the drowning sensation of waterboarding and other brutal interrogation methods, according to redacted documents filed in federal court.

Last week, the Justice Department filed a heavily redacted document on behalf of the CIA that said: "Interrogators administered [redacted] waterboard to Al-Nashiri."

The same page indicates that a dozen of 92 destroyed videotapes of the CIA's interrogations were of detainees undergoing brutal treatment. "There are 92 videotapes, 12 of which include EIT [enhanced interrogation techniques] applications," the page says.

Other censored CIA documents filed with the court included an inventory of the destroyed tapes.

In a letter to the U.S. District Court for the Southern District of New York, Acting U.S. Attorney Lev Dassin said a complete list of summaries; transcripts or memoranda related to the videotapes would be filed with the court by March 20. The CIA requested an extra two weeks, Dassin said, "Because it is still searching and identifying the records at issue."

However, "to date, the CIA is not aware of any transcripts of the destroyed videotapes," Dassin wrote.

Dassin said much of the information the ACLU is seeking remains classified and still cannot be released publicly. Dassin said an unredacted version of the inventory of videotapes the CIA destroyed could be viewed "in camera" by the judge presiding over the case.

In her March 9, letter to the Judge Hellerstein, Singh said the ACLU is "troubled by the redactions in the materials that have already been produced" and she requested the court "conduct an independent in camera review of the material and any other material that the CIA redacts in connection with the pending contempt motion with a view to determining whether such material should be publicly disclosed."

Hellerstein said March 9 that he would establish a procedure for an in camera review of CIA documents in order to ascertain whether documents have been properly classified or should be disclosed publicly. It's unknown when he is expected to begin his review or render a decision in the matter.

In an interview, Singh said the CIA has "engaged in a pattern and practice of excessive cover-up" by "needlessly withholding" and "over classifying" documents related to the organization's lawsuit against the agency.

Before leaving office, Vice President Dick Cheney admitted in several interviews that he "signed off" on waterboarding three terrorist detainees - Al-Nashiri, Abu Zubaydah and Khalid Sheikh Mohammed, the alleged mastermind of 9/11 - and approved the "enhanced interrogation" of 33 detainees. President Bush also indicated that he endorsed the use of harsh interrogations.

Last year, the Pentagon formally charged al-Nashiri, a Saudi, with "organizing and directing" the Cole bombing. However, the case is now under review because President Barack Obama has barred continuation of cases under the Military Commissions Act of 2006. [Leopold/PublicRecord/13March2009]

NSA Joining Social Network For Intelligence Analysts. The super-secret National Security Agency, traditionally reluctant to share its code-breaking secrets, is joining a new, highly classified social network that links its analysts for the first time with thousands of colleagues at other U.S. intelligence agencies.

Gone are what used to be those rock-solid paradigms of intelligence: providing information only to those who need to know and limiting access to locked, specialized "compartments."

Until now, a Pentagon analyst working on Afghanistan, for instance, might not know about highly sensitive NSA intercepts of opium smugglers discussing payoffs to Taliban insurgents.

For those struggling for answers within their own compartments and agencies, "it was tough noogies," said Maj. Gen. John DeFreitas, chief of analysis for the NSA. But now, in what amounts to a major culture shift among spies, "need to know" has become "need to show," DeFreitas said in an interview at NSA headquarters at Fort Meade.

Starting this month, NSA analysts will be able to post their photo, phone number and e-mail address on a secure, Facebook-like page accessible only to senior analysts at 16 other U.S. intelligence agencies. They will be able to search databases, post drafts of reports for comment or send around perplexing intercepts with a note that says, "Anybody have any idea what this means?"

They will be able to collaborate with analysts at the FBI, the State Department or the Defense Intelligence Agency working on similar problems, and they will be able to identify an expert with knowledge they lack. And, like any teenager, they can use the system to text-message suggestions, tips and professional gossip.

The system was launched quietly last fall by the Office of the Director of National Intelligence, the civilian secretariat that oversees all of the nation's spy agencies. But it has taken the National Security Agency until now to swallow hard and join in.
This highly secure network, called A-Space (the "A" is for analysts), was born from the recognition that the nation's intelligence agencies held pieces of puzzles that no one was able to assemble quickly, if at all.

The problem became painfully obvious after the terrorist attacks of Sept. 11, 2001, when investigators discovered, among other flubs, that an NSA intercept in 1999 had identified two of the prospective hijackers, Khalid al-Mihdhar and Nawaf al-Hazmi, but the information was never acted upon because it was not widely shared.

That a solution has taken until now is a testament to the spy agencies' suspicion of outsiders and the reluctance of the federal government to take up 21st-century technology.

A-Space connects about 7,000 of the roughly 10,000 U.S. intelligence analysts who have the requisite above-top-secret clearances.

Counterintelligence agents, whose job is plugging leaks, sniffing out "moles" and preventing breaches of security, were initially skeptical of if not horrified by the notion of A-Space.

Aside from top-secret intelligence, the network catalogs the government's top experts by subject, and by detailing the projects they're working on, demonstrates what they don't know. In the hands of foreign agents, such information would be a gold mine.

DeFreitas scoffed at such security concerns.

"We had similar arguments when the police started using radios," he said. "The fear was, criminals would listen in and stay ahead of the cops."

Some skeptics were soon won over by one feature of A-Space: It records everyone's movements through the network. Every user can see what everyone else is looking at and where they have been browsing. An Africa analyst who suddenly starts opening files on Cuba will attract notice.

Political appointees and policymakers are denied access to A-Space to encourage honest collaboration among career professionals and to speed analysis.

When the Mumbai terrorist attacks occurred in December, experts from across the intelligence community immediately convened in A-Space to share what they knew and what they were hearing about the incident in India.

In another instance, an analyst puzzling over images purporting to show a new Chinese submarine posted them in A-Space for comment. A reply came soon from another analyst who knew nothing about China or submarines but was an expert in Photoshop. It was a fake, he advised: The shadows were mismatched.

Despite such enthusiasm, A-Space is not an unqualified success. Only a few who have tried the system use it regularly.

"We see a lot of interest, but we have a lot of trouble getting people to come back a second time," Wertheimer said.

Neither have all of the firewalls between agencies been breached.

For Wertheimer, just getting the A-Space network up and running was difficult.

Government technocrats twice created experimental software that he threw out as "ugly" and "unfriendly."

Then came the culture problems unique to each spy agency, problems deeper than the fact that officials at DNI all wear suit coats in their offices while NSA employees tend toward sports shirts and no ties.

The NSA had legal problems to solve: Because the agency is not allowed to collect or store data on Americans, how can its analysts have access to FBI files, for example?

For now, DeFreitas suggested, some databases will simply be walled off.

"We have a huge responsibility to protect Americans' privacy," DeFreitas said. "At the end of the day, some stuff still will be compartmentalized." [Wood/BaltimoreSun/4March2009]
---
Section II - CONTEXT & PRECEDENCE
The CIA's Buddhist Affair. Around the world this week, as monks, exiles and supporters of the Dalai Lama marked the 50th anniversary of a failed Tibetan uprising, politicians and state-run media outlets in Beijing preached at length about the Communist Party's liberation of Tibetan slaves.

Meanwhile, in suburban Washington, John Kenneth Knaus, a retired CIA officer who led a covert command centre from New Delhi 50 years ago, worked on a new book about 100 years of American involvement in Tibet, including his own experiences feeding weapons and supplies to monks and resistance fighters.

On March 10, 1959, thousands of Tibetans surrounded the Dalai Lama's palace in Lhasa for fear that their spiritual leader might soon be abducted by the occupying force Mao Zedong had maintained in Tibet since 1950. Soon, protesters across the region were declaring Tibet's independence.

Seven days later the Dalai Lama was gone, spirited out of the country on horseback to India.

Some estimate more than 85,000 Tibetans died in the conflict that ensued as the Chinese army cracked down on the revolt.

Knaus had been working on the CIA's Tibetan file since the mid-1950s. Before taking up his post in New Delhi, he had helped train some 300 Tibetan resistance fighters in Colorado.

He says no American operatives were ever dropped into Tibet, though he says that in July 1958 and February 1959, the CIA did airdrop guns, hand grenades and rounds of munitions.

"The Tibetan revolt was instituted by the Tibetans and carried out by them," Knaus, 85, said in a phone interview this week. "It was not a CIA operation in essence."

In 1954, the Dalai Lama paid a diplomatic visit to Mao in Beijing. Soon after returning to Tibet he found many of his people, including monks, armed and open in revolt.

"You had monks carrying guns," says Knaus.

"The Chinese were trying to take their guns away from them. They (the Chinese) were really asking for it. The revolt was self-generated, completely."

In 1957, the Dalai Lama's older brother, Gyalo Thondup, recruited five men to be trained by the CIA on the Pacific island of Saipan. They were returned to Tibet to assess and organize the resistance. "At the time it was thought that this could make a difference," Knaus notes.

"The CIA had had a bitter experience by not being able to supply any real support to the Hungarian revolt a year earlier," when civilians in Budapest rose up against Communist rule and received encouragement and supplies from the CIA, only to be crushed by the Soviets when the Red Army rolled into the city. "So (the agency) didn't want to raise any false hopes and false expectations about what could be done in Tibet."

Knaus left the U.S. for New Delhi in 1960. Knaus estimates that in the years that under his watch he estimates, the CIA dropped 700,000 pounds of supplies to Tibetan rebels. But he says that by 1968, with the U.S. caught up in Vietnam and with the Chinese in control of the situation in Tibet, the resistance seemed "no longer technically or morally supportable," and the CIA withdrew its support.

In his 1999 book, Orphans of the Cold War: America and the Tibetan Struggle for Survival, Knaus laments the failure of the operation. But he says the essence of what the CIA-supported resistance fought for lives on in the peaceful protests sanctioned by the Dalai Lama and carried out by hundreds of thousands around the world today.

Knaus, who worked at the American Embassy in Ottawa for a time following his tenure in Asia, has met the Dalai Lama in the years since the CIA involvement in Tibet ceased. He says that although the Dalai Lama knew of the CIA's operations, he never gave them his blessing.

"The first time I met him in 1964, I didn't think he was terribly anxious to see me," recalls Knaus.

"Then I realized that I represented him with this moral dilemma. He knew that the CIA by then was and had been providing arms to his people. But he, as a Buddhist, it was a terrible, complete moral dilemma for him." [Popplewell/TheStar/14March2009]
In Afghanistan, Less Can Be More. As President Obama moves to ramp up the United States' presence in Afghanistan, he might benefit from the lessons learned by one of the C.I.A.'s legends of covert operations, Bill Lair. Mr. Lair ran the C.I.A.'s covert action in the 1960s in Laos, which at its height included 30,000 Hmong tribesmen battling Communist insurgents.

I met Bill Lair when he came to the C.I.A.'s training center in Virginia in 2000 to speak at the graduation ceremony for my class of trainees. His agency career had started in the 1950s in Thailand, where he trained an elite force called the Police Aerial Reinforcement Unit. By the early '60s, Mr. Lair was in neighboring Laos, trying to build an anti-Communist resistance. Corruption was endemic, poppy cultivation was widespread and the poorly educated Hmong tribesmen of northern Laos were barely out of the Stone Age. Yet Mr. Lair and his unit quickly taught the Hmong to resist the Communist tide using guerrilla tactics suited to their terrain and temperament.

By 1966, his C.I.A. bosses looked to tap into this momentum and started throwing more men and money at Mr. Lair - personnel and funds he felt only bloated the operation. He knew his initial successes with the Hmong came because his Thai troops were the perfect people to train the Hmong: they looked like the Hmong, spoke their language and understood their culture. Mr. Lair didn't want or need more white guys from headquarters who couldn't speak Laotian and lorded it over the locals. When he resisted, his superiors overruled him.

As the 1960s progressed, the fighting in Laos intensified. Unfortunately, as United States involvement escalated, the Hmong came to rely more and more on American air power to support their missions. Over time, this dependence on foreign aid eroded the will of the Hmong to fight their own battles. Along the way, tiny Laos became the most heavily bombed country in the world, and the overuse of American airpower led to untold civilian deaths and tremendous resentment of the United States.

Eventually it became clear that no amount of bombing would be sufficient to stem the Communist tide. America cut and ran from Laos, and the Communists swallowed up the little kingdom, just as they did neighboring Vietnam.

Flash forward 40 years. United States forces scramble to train Afghan Army and police units to take on the Taliban forces crossing the border from Pakistan. Many of these raw Afghan recruits come from poorly educated Pashtun tribes. Corruption is endemic. Drug trafficking is flourishing. Complaints that indiscriminate use of American airpower is killing civilians are routine.

As they say, déjà vu all over again.

The counterinsurgency lessons that Bill Lair tried to impart to us young spies are relevant today: Keep your footprint small. Don't use trainers who don't know the language or culture. Don't let the locals become dependant on American airpower. Train them in tactics suited to their circumstances. Don't ever let the locals think mighty America will fight their battles or solve all their problems for them; focus on getting them ready to fix their own problems. Keep the folks in Washington out of the way of the people doing the work in the field.

This is why President Obama's plans to send 30,000 more troops to Afghanistan should be seen as a mixed blessing. In fact, it may be equally significant that the Pentagon has announced it is sending 900 new special operations people to Afghanistan over the spring and summer, including Green Berets, Navy Seals and Marine special operations forces. Ideally, these troops will be well trained in Afghan languages and culture, and prepared to fight in the dry, mountainous terrain the Taliban occupy.

The goal, one hopes, is that these forces will work alongside and train the fledgling Afghan Army commando battalions. Since early 2007, some 3,600 Afghan Army troops have been put through Army Ranger-type training at a former Taliban base six miles south of Kabul. With American help, they have proved adept at such tasks as capturing Taliban leaders, rescuing hostages and destroying drug-smuggling rings.

This is not a war we can win ourselves; the Afghans are going to have to win it by fighting to retake their own country from both Taliban thugs and corrupt government officials. While additional American troops may be an unavoidable necessity to provide security in the short and medium term, we should never forget that doing too much for a weak ally can be just as bad as doing too little.

Arthur Keller is a former C.I.A. case officer in Pakistan. [Keller/NewYorkTimes/10March2009]
Spy Network Gave Washington Victory. George Washington defeated the British empire, not with his "ragtag Army," but with his extensive network of spies.

That's according to Eugene Poteat, a retired senior CIA executive who began to research the history of espionage decades ago.

"Washington had his spies everywhere," said Poteat, who helped establish the International Spy Museum in Washington. "He set up the most effective intelligence operation this country has ever seen."

Poteat lives in McLean, but was in Fredericksburg Saturday to address a group keenly interested in the exploits of the father of our country.

He spoke to the Col. Fielding Lewis Chapter of the Virginia Society of the Sons of the American Revolution, at the Fredericksburg Country Club.

Poteat told the 15 members that Washington was a "spymaster extraordinaire" whose first exposure to military intelligence - or lack thereof - went back to the French and Indian War.

More than 1,500 soldiers and officers in Washington's company were killed or wounded in an ambush because their opponents knew their every move.

"Washington learned a hard lesson that day," Poteat said. "Never again would he engage in battle without proper intelligence."

During the Revolutionary War, Washington's first foray into spying ended badly. A young teacher who stood over 6 feet tall, with flaming red hair, volunteered for spy duty, even though he hardly blended in a crowd.

"I've heard a lot of history discussed among this group today, so you know where this is going," Poteat said.

He added what many already knew: that Nathan Hale - whose only regret was that he had but one life to give for his country - was the volunteer who was caught and hanged by the British.

"But the story didn't quite end the way we think," Poteat said,

As upset as Washington was over Hale's death, he continued his quest to establish a spy network. He stressed the importance of secrecy and assigned three-digit numbers to agents, officers and conflicts.

From fellow members of the Masonic Lodge, he gathered information from every major city, where the British set up headquarters in the finest homes.

Patriots from all walks of life helped.

A Presbyterian preacher wrote and broke coded messages.

An Irish haberdasher and his banker brother, who dealt regularly with British officers in New York, told Washington about their comings and goings.

A Polish Jew who spoke several languages came to America to help the colonists, then got a job with the British, translating for German soldiers.

"Washington now had his fox in the German hen house," Poteat said. "He had this place wired."

A woman in Philadelphia owned the home where the British gathered to plan a surprise attack at Valley Forge, when Washington seemed most vulnerable.

She overheard every word. The next morning, she told her husband she needed more flour - even though she had a kitchen full already - and headed toward a mill near Valley Forge to warn the Continental Army.

"The British left Philadelphia, and along the way to Valley Forge, guess who was behind every other tree, sniping at soldiers? George Washington's men," Poteat said.

They did to the British just what the French and Indians had done to Washington in the earlier war. The British called off the surprise attack of Valley Forge.

One of Poteat's favorite stories involves a woman whose identity has never been revealed. Known as No. 355, she was a Quaker who helped uncover Benedict Arnold's treachery. She also identified the head of British intelligence, which eventually led to the officer's capture.

There's a monument at Arlington Cemetery that speaks to the contributions made by women. A passage mentions the efforts of No. 355, who was captured, then died aboard an enemy ship.

"If you ever get up that way, go by there and see the monument," Poteat said.

"And lay some flowers on it," added Steve Atkins from the audience. [Dyson/Fredricksburg.com/16March2009]
---
Does President Obama Need a Better CIA Spy Network? By Leslie H. Gelb, President Emeritus and Board Senior Fellow, Council on Foreign Relations. The U.S. devotes about $50 billion yearly to efforts to assess the capabilities and intentions of other nations. Most of it buys satellite imagery and technology to intercept and decode communications. A big chunk goes to the military for its operational needs, a smaller part to the CIA for analyses and on-the-ground espionage.

President Obama will be looking to find out the answers to big questions such as these: Where is Osama bin Laden? Are Iranian and North Korean leaders determined to pursue nuclear-weapons programs? Will Iraqi leaders be able to govern together in peace? Can the political future of Afghanistan's President Hamid Karzai be salvaged?

Over the years, U.S. intelligence has delivered good value on matters such as whether Russia would raise oil prices or on the size of China's military. But on many vital questions, the payoffs were dismal: whether the Bay of Pigs invasion of 1961 could rally Cubans against Castro and the danger of the Shah of Iran's being overthrown in 1979.

Every President has tried to correct deficiencies. They've hired and fired CIA chiefs. Or they've circumvented the system by getting information directly from their foreign counterparts. Since they've spent their lives sizing up people, many Presidents figure they can do that better than the CIA. They're almost always wrong. Bill Clinton thought he had such a fix on Yasir Arafat that he gambled U.S. prestige on the Palestinian's agreeing to a peace accord with Israel in 2000; Arafat refused to sign. George W. Bush met with Russia's Vladimir Putin in 2001 and said, "I looked the man in the eye. I found him to be very straightforward and trustworthy...I was able to get a sense of his soul." It seems Bush missed a thing or two in his peek into Putin's soul.

President Kennedy used another technique. In 1963, he sent two experts with very different backgrounds to Vietnam to tell him what was happening. Maj. Gen. Victor "Brute" Krulak and career diplomat Joseph Mendenhall came back with such wildly divergent accounts that Kennedy quipped, "You two did visit the same country, didn't you?" The dirty little secret is that it's difficult to deliver the information Presidents want. Why?

First, it is hard to predict political events. Why should intelligence agencies be able to forecast the future abroad when we can't do it here? In addition, great upheavals - like the collapse of the Soviet Union - generally don't announce themselves. They erupt from long-suppressed hatred that transcends the fear of police or military reprisals.

Second, adversaries will zealously guard their positions on critical issues. Experts probably will never stop debating whether North Korea is ready to cash in its nuclear weapons in exchange for bribes. What's going on in foreign leaders' heads is often revealed only after Presidents act and make proposals, which spark reactions and unearth underlying aims. Similarly, adversaries do well at concealing their most important secrets, especially those related to sensitive weapons. In the Cold War, we ringed the Soviet Union with listening posts and satellites and still couldn't track many of its programs. In 1998, we were clueless about India's plans to explode a nuclear device, despite heavy surveillance. Nor did Washington ever have a real fix on Saddam Hussein's weapons of mass destruction.

Finally, pressure on intelligence experts to conform their estimates to Presidential policies is inescapable, and it distorts evaluations. Once the President takes a clear stance, the intelligence community rarely contradicts him - except with anonymous leaks. Intelligence is a major battlefield on which policy battles are fought. Knowledge is power, and every player in Washington fights to define reality for the President. When hawks convinced U.S. leaders that Moscow had military superiority, they won the ability to spend more on defense and to resist negotiating. If hard-liners persuade Obama today that Iran's Mahmoud Ahmadinejad is hell-bent on destroying Israel and the U.S., they'll win the debate on taking action to overthrow him.

Every country - not just the U.S. - has problems obtaining good intelligence. Even with the best espionage and analysts, they can't escape the distortions of their culture and politics. Presidents can also take consolation in the fact that as important as good intelligence is to successful policy, there are more important factors. The Soviets had all the intelligence their hearts desired during the Cold War with double agents like Aldrich Ames and Robert Hanssen. These U.S. spies knew our secrets and helped keep Moscow in the power competition against America. We had no comparable agents. Still, the Soviets lost the Cold War hands down. They had better intelligence, but we had a much better country. [Gelb/Parade/8March2009]

Analysis: A Refreshing Approach to Intelligence? By John P. Dailey, Esq. The National Intelligence Council is the central staff for the Director of National Intelligence under the Intelligence Reform and Terrorism Prevention Act of 2004. It not only coordinates the information flows from the 16 separate operational agencies but also is charged specifically to "reach out to nongovernmental experts in academia and the private sector to broaden the Intelligence Community's perspective." As the government's think tank center for midterm and long-term strategic thinking, NIC's stated goal "is to provide policymakers with the best, unvarnished, and unbiased information - regardless of whether analytic judgments conform to US policy."

The Chairman of NIC and the rest of the staff are selected by the Director of National Intelligence and are not subject to confirmation by the Senate. The DNI, Admiral Dennis Blair, was appointed by President Obama, confirmed by the Senate and now reports directly to the President including providing a briefing every morning. Adm. Blair selected a former State Department diplomat, Chas Freeman, to become Chairman of NIC, setting off a classic "tempest in a teapot" Washington style. Senators and Congressmen, journalists and other former diplomats, and many other public interest groups all very vocally expressed opinions about Freeman's fitness for the job. Adm. Blair, called to testify before a Senate Committee, was severely criticized for the appointment but presented a strong defense of Ambassador Freeman's qualifications and unique skills. Several hours later, Mr. Freeman announced he was withdrawing from the post and blamed his critics for "selective misquotation, the willful distortion of the record...and an utter disregard for the truth."

What is this all about and does it matter for the future? Chas Freeman, fluent in several Chinese dialects, served as President Nixon's interpreter with Mao Zedong in 1972 and stayed on in various roles in Beijing, rising to Deputy Chief of Mission in the US Embassy there. Two years ago Freeman spoke about the need for better intelligence analysis. "To deal effectively with China, Americans need to understand it in terms of its own complexities and authentic aspirations. This is unlikely to be achieved by officers engaged in writing narrowly focused reports mandated by Congress. Predictions about China based on a priori reasoning, ideologically induced delusions, hearsay, conjecture, or mirror-imaging have been frequent and numerous. They have racked up a remarkable record of unreliability."

Sounds like a refreshing approach for a new Chairman of NIC and probably why his critics claimed he was too "pro China."

However, the heart of the attacks on Freeman related to his views on Israel. After serving as US Ambassador to Saudi Arabia during the first Gulf War, he became outspoken after leaving government service about the lack of balance in US policy regarding Israel and its relations with its Arab neighbors. Like Professors John Mearsheimer and Stephen Walt in their provocative book "The Israel Lobby and US Foreign Policy," Mr. Freeman has been toughly attacked for questioning America's link-step with Israeli policies. In his withdrawal statement he clearly directed blame: "the tactics of the Israel Lobby plumb the depths of dishonor and indecency."

Discussions regarding possible shifts on American-Israeli relations often very quickly dissolve into personal attacks on both sides. Charges of "anti-Semitism" or "pawn of powerful Jewish lobby" replace the debates about realism vs. idealism or stability vs. human rights that characterize policy discussions about other countries or parts of the world. It is a major example of the concept of "motivated constituencies," that is the powerful impact in open democracies of smaller groups of like minded people with strongly held views. These single-interest groups utilize modern technology to press their views and demands, often creating outsized attention among the "chattering classes" or insider political circles. Such motivated constituencies can create rapid public momentum for their ideas that generates pressure for political leadership to react immediately.

The strong debates about the Chas Freeman appointment as NIC Chairman have brought out a couple important fault lines in this new political environment. The changing nature of governments in the next few months across the Middle East from Israel itself to Palestinian Hamas vs. Fatah to Iran and Syria is creating great anxiety in many American policymakers and opinion molders. Likewise, the unfolding nature of the new US Obama administration has created multiple expectations and concerns among many foreign governments and observers. Understanding how policy will be made is currently as absorbing as the immediate short-term position changes.

James Fallows, respected China-based writer for "The Atlantic," writes about Chas Freeman as uniquely equipped for NIC Chairman given its special role in the Intelligence Community: "While he would have no line-operational responsibilities or powers, he would be able to raise provocative questions, to ask 'What if everybody's wrong?' to force attention to doubts, possibilities, and alternatives that normally get sanded out of the deliberative process through the magic known as 'groupthink'! "

Sounds like a refreshing approach for a new Chairman of NIC and probably why his critics claimed he was too "pro China."

John P. Dailey, Esq., a graduate of Northwestern University's prestigious law school and former chief of staff to an Illinois governor, is very active in the Chicago Global Affairs Council. [Dailey/CRIEnglish/16March2009]
---
Section III - BOOKS, OBITUARIES AND COMING EVENTS
---
Spies: The Rise and Fall of the KGB in America, by John Earl Haynes, Harvey Klehr, and Alexander Vassiliev. This stunning book, based on KGB archives that have never come to light before, provides the most complete account of Soviet espionage in America ever written. In 1993, former KGB officer Alexander Vassiliev was permitted unique access to Stalin-era records of Soviet intelligence operations against the United States. Years later, living in Britain, Vassiliev retrieved his extensive notebooks of transcribed documents from Moscow. With these notebooks John Earl Haynes and Harvey Klehr have meticulously constructed a new, sometimes shocking, historical account.

Along with general insights into espionage tactics and the motives of Americans who spied for Stalin, Spies resolves specific, long-seething controversies. The book confirms, among many other things, that Alger Hiss cooperated with Soviet intelligence over a long period of years, that journalist I. F. Stone worked on behalf of the KGB in the 1930s, and that Robert Oppenheimer was never recruited by Soviet intelligence. Spies also uncovers numerous American spies who were never even under suspicion and satisfyingly identifies the last unaccounted for American nuclear spies. Vassiliev tells the story of the notebooks and his own extraordinary life in a gripping introduction to the volume. [YaleUniversityPress/2009]
Infamous Murders and Mysteries: Cold Case Files and Who-Done-Its, By Robert J. Girod, Sr. From the author of Profiling the Criminal Mind, AFIO Member Robert J. Girod, Sr., comes these true stories of cold cases and true mysteries. A truly compelling collection of adventures from the files of a career police detective and university professor that takes the reader inside the mysteries and murders that intrigue the author and make the reader listen for "things that go bump in the night." From spies to ghosts to celebrities and the places we like to spend time reading spy and murder mystery adventures, this collection has something for every mind that seeks adventure. [iuniverse/December2008]

The Great Cold War: A Journey Through the Hall of Mirrors, by Gordon Barrass, Reviewed by Quentin Peel. Nearly 20 years after the Berlin Wall was breached, memories of the cold war may be starting to fade. The scars linger, however.

Mental attitudes persist on both sides, and stereotypes of behaviour wished upon one's erstwhile opponents.

It is scarcely surprising - the global confrontation between the west and the Soviet empire lasted almost 45 years, and affected all aspects of their international behaviour, moulded their security services, formed their military machines, wrote their rhetoric, and inspired the most extravagant and pointless arms race in the history of mankind.

"The Cold War is over," comes the refrain, from Moscow and Washington (usually aimed at the other). Yet Vladimir Putin, now Russia's prime minister, is a product of that era, even in its dying days. So were many members of President George W. Bush's administration. The Nato alliance remains at its heart a cold war creation.

Even if that "period of stagnation" is over, its lessons remain relevant. Putin's hunger for international "respect" follows a tradition from Nikita Khrushchev and Leonid Brezhnev. So an attempt to study the entire era, to ask why it lasted so long, is both timely and pertinent. This contribution to the genre by Gordon Barrass, former chief of intelligence assessments in the UK Cabinet Office, is depressing and enlightening in equal measure.

Barrass wants to prove that "good intelligence and sound assessments" are vital in any long-term confrontation. "Without good intelligence, policy is all too easily shaped by fear, ignorance or optimism," he says.

But he also shows how often intelligence can be abused, and common sense lost in the distorting mirrors of preconceptions. His subtitle, A Journey Through the Hall of Mirrors, captures the confusion and misunderstanding that bedevilled relations between the US and USSR. It would have made a more intriguing title than The Great Cold War.

Inevitably, any attempt to shoehorn 45 years of global history into 400-odd pages is selective. Some vital moments get only passing mention. Barrass focuses on the military/security confrontation, the arms race, moments of tension, such as the Cuban missile crisis, and relations between leaders.

They were certainly odd couples. Cautious and courteous Dwight Eisenhower and mercurial risk-taker Khrushchev could scarcely have been more different. Both got caught in seeking to outspend the other on atomic bombs, despite their better instincts. Eisenhower warned against the "disastrous rise of misplaced power" of the US military-industrial complex. Khrushchev was appalled when he learned about the destructive capacity of nuclear weapons. He considered military expenditure a waste of money. But, fearful of being perceived weak, he presided over a 50 per cent leap in military spending from 1960 to 1962.

"If Eisenhower had had reliable intelligence on Khrushchev's thinking, the arms race might have been curbed," Barrass concludes.

On the US side, the shock of the successful 1957 launch of the Sputnik satellite devastated national self-esteem, fuelling a determination to recover the US technological lead and keep it.

Yet Khrushchev was naturally a bully and bluffer. He exaggerated the progress of Soviet missile building, and the underlying strength of his economy. It was decades before US analysts realised that the Soviet economy was far weaker than official statistics suggested, and that the arms race was consuming a ruinous 30 per cent of it. It has still not recovered.

Even when they had good intelligence, both sides were tempted to ignore it. Barrass reckons the Soviets had better spies, but tended to ignore what was ideologically inconvenient. The US had the technological capacity from satellites and spy planes, but failed to spot the looming economic collapse.

The conclusions are the best part of the book. Barrass debunks the myth that the Soviet Union was destroyed by "western intrigue or domestic treachery." The system collapsed from a combination of prolonged external pressure and internal contradictions that forced the pace of reform.

He rejects the suggestion that Ronald Reagan, rather than Mikhail Gorbachev, was most responsible for ending the cold war. "Long-term hostility can only be overcome by the building up of trust - and that requires dialogue," he says.

Finally, he quotes Brent Scowcroft, national security adviser to Gerald Ford and HW Bush, as spelling out "one lesson (that) stands out above all others - neither side was infallible in the judgments they made about their adversary." You can say that again.

Quentin Peel is the FT's international affairs editor. [Peel/FinancialTimes/16March2009]

---
Alan Stripp, World War II Codebreaker. In Codebreaker in the Far East (1989), Stripp described his career as a cryptanalyst within an account of the contribution of British signals intelligence in the Allied victory in Burma in 1945. More tantalizingly, in 2001, he published The Code Snatch, a fictionalised account of the theft of a Japanese military codebook in late 1944. The novel was based on true events, though Stripp would never be drawn on the exact points where fact and fiction coincided.

Stripp's career in Signals Intelligence began in 1943 when, as a first-year Classics scholar at Trinity College, Cambridge, he received a note from his tutor saying that an Army officer was coming to interview people about "something to do with languages". To Stripp's surprise his interviewer seemed more interested in his proficiency in crosswords and his ability to read an orchestral score than "grit, gristle and leadership", so that at one point he wondered whether he was being conscripted for a military band. Things became only slightly clearer two months later when he was dispatched to Bedford with around 35 other recruits, mostly Oxbridge classicists, to take a crash course in written Japanese.

The course was devised and run by Oswald Tuck, a retired naval captain who had taught himself Japanese while serving on the China station before the First World War. When the Japanese invaded Burma in January 1942 the School of Oriental and African Studies, then the only British institution teaching the language, insisted that it would be impossible to master in less than two to three years. Tuck claimed he could teach it in six months. After only five months he was able, in the summer of 1942, to send some of his students to the Government Code and Cipher School at Bletchley Park.

Stripp arrived at Bletchley Park in the spring of 1944 and was set to work translating signals decoded via the Japanese Air Force code known as 6633, which had been broken before his arrival. Most came from Burma, and Stripp was "staggered" by the amount of useful information they contained. Even though the war was thousands of miles away, he became so involved that "it was almost a shock to leave the building at the end of a long shift and emerge into the humdrum Midland landscape with not an oriental face in sight".

Code 6633 would prove particularly important during the later stages of the campaign in Burma. In late 1944 codebreakers detected the pulling back of one of the Japanese air regiments, a crucial early hint that Japanese plans had changed and that they intended to fight from behind the Irrawaddy and not in front of it. This tidbit of information influenced General Slim into replacing plans for a decisive battle on the plain in front of the river with a plan to strike at the nerve center of Japanese operations at Meiktila to the south, a change of strategy that effectively won him the campaign.

In the summer of 1944 Stripp was posted to the Wireless Experimental Centre at Delhi. The tide had turned against the Japanese by this time, though signals intelligence continued to play a vital role. In his novel, Stripp told the story of how, when it was learned from an intercept that the Japanese planned to change code "2244" for a new one, the Allies conceived a plan to snatch the only two volumes of the new codebook in existence. While codebreakers were confident they would break the new code, the time needed would destroy the British Army's momentum and give Japanese forces time to recover.

The plan involved sending a bogus radio signal to a Japanese intelligence officer in Rangoon, pledging him to secrecy and ordering him to hand the two volumes over to a "Japanese general" who would shortly be arriving by plane at Mingaladon airbase. The plane, according to Stripp's story, was a captured Japanese aircraft and the "general" an Allied officer of Japanese parentage.

In his earlier book Stripp recorded that "in late 1944 there were hints of the impending introduction of a new codebook. Fortunately this did not happen." Later he admitted to his wife that the episode had involved him being flown behind Japanese lines in Burma. It is probable that the full story will never be told, for when hostilities came to an end, intelligence units in the Far East were ordered to burn their records. Stripp himself recalled "coolly" presiding as "whole truckloads of paper" were shoveled into "a poorly designed and hastily built incinerator, from the chimney of which, as we watched, Top Secret documents wafted, half burned, over the astonished western suburbs of New Delhi."

The son of a mathematics teacher and crossword compiler, Alan Stripp was born on October 17 1924.

After the war in Burma came to an end in 1945 he was posted to a listening post near Rawalpindi on the North West Frontier, where he took a crash course in Farsi to monitor radio traffic during a build-up of tension between Iran and the Soviet Union over competing claims in Azerbaijan. Later he was assigned to decode Afghan signals concerning guerrilla activity by the Faqir of Ipi.

On being demobbed in 1946 Stripp returned to Cambridge but changed his course from Classics to Japanese, with Classical Chinese and Far Eastern History. After graduation he worked for 10 years for the British Council in Portugal and Indonesia, before becoming an administrator for Cambridge University's Board of Extra Mural Studies, also lecturing on music.

With his wife Mary, whom he married in 1949, he helped to organise a music festival at Linton, the Cambridgeshire village where they lived, and founded the Phoenix String Orchestra which gave 130 concerts before it disbanded in 1980. In later life he was director of the Cambridge University Summer Schools on the British secret services.

In his preface to Codebreaker in the Far East Stripp explained that he had decided to publish to avoid being caught by sections of the impending Official Secrets Act. He went on to co-edit, with Sir Harry Hinsley, Codebreakers: The Inside Story of Bletchley Park (1993), a book which was only possible because he and others had been released from their oaths of official secrecy. [Telegraph/8March2009]

Peter W. Jasin. Peter W. Jasin, a member of AFIO since 1987, died on 1 March 2009 at his home in Tarpon Springs, FL, after a long battle with cancer. Mr. Jasin led an active life that included U.S. intelligence service, journalism, and business ownership. He joined AFIO in 1987 as member of the Miami Chapter. Subsequently he moved to Tarpon Springs and joined Florida's Suncoast Chapter in 1998. For 10 years thence AFIO enjoyed and benefited from his dedicated service; a full time member of the chapter executive committee, and Chapter Vice President 2000 – 2001. He touched many lives and influenced positively those who knew him. Mr. Jasin will be greatly missed. He touched many lives and influenced positively those who knew him. Mr. Jasin will be greatly missed by those in the Miami and Suncoast chapters and AFIO National. [StPetersburgTimes/3March2009]
Horace Z. Feldman, CIA Officer. Horace Z. Feldman, 85, a retired CIA station chief and intelligence officer, died February 23, 2009, at the National Lutheran Home in Rockville, Maryland. He had Alzheimer's disease.

Mr. Feldman, a Potomac, Maryland, resident, held several leadership positions in the Directorate of Operations throughout Asia, Europe and the Middle East. He was station chief in Tokyo, Japan, and later in Tehran, Iran.

His final assignment, in 1981, was as CIA representative and senior faculty member at the National War College.

After retiring, he was a consultant on national security issues for government agencies and private firms, including a 16-year membership of the Chief of Naval Operations Executive Panel.

Horace Zeigler Feldman was a native of York, Pennsylvania, and a 1943 magna cum laude graduate of Harvard University, where he also received a master's degree in Asian studies in 1948. In 1952, he received a doctorate in Asian studies at Columbia University with a specialty in Japanese literature.

During World War II, he served in the Army's military intelligence service and was a Japanese language specialist. He also was a commander of a combat intelligence detachment in the Pacific. His military decorations included the Bronze Star Medal.

In his later career, he received the CIA Distinguished Intelligence Medal and the Navy's Superior Public Service Award.

Survivors include his wife of 59 years, Joan Jacobs Feldman of Potomac; two sons, Stephen J. Feldman of Vienna and Andrew E. Feldman of Mount Kisco, New York; and five grandchildren. [WashingtonPost/10March2009]

---
EVENTS IN COMING TWO MONTHS....
Thursday, 19 March 2009, 11:30 a.m. - Colorado Springs, CO - The Rocky Mountain Chapter of AFIO will meet in the Air Force Academy Officers Club. Our speakers will be The Honorable Ronald G. Crowder of the 4th Judicial District Court and Timothy Schutz. They will speak on the Colorado Judicial System.
Please RSVP to Tom Van Wormer at 719-5708505 or robsmom@pcisys.net The buffet is $10.00
Thursday, 19 March 2009 - Phoenix, AZ - The AFIO Arizona Chapter event features CIA Officer Diana Worthern. In the 1980s, retired CIA officer Diana Worthern managed CIA's "Back Room" to protect agents from an undetected mole in US intelligence and was directly involved in the mole hunt. She joins Arizona chapter's VP John Zebatto, a former colleague, to discuss the complex story of how the KGB penetrated the inner circle of US intelligence for a decade beginning in 1985. To RSVP please contact Simone via email ~ simone@afioaz.org or Art ~ artjkerns@afioaz.org
19 March 2009 – San Francisco, CA – The AFIO Jim Quesada Chapter hosts Major Brian Shul, USAF, ret. The topic will be spy plane SR-71.
RSVP required. The meeting will be held at United Irish Cultural Center, 2700 45th Avenue, San Francisco (between Sloat and Wawona). 11:30 AM no host cocktails; noon - luncheon. $25 member rate with advance reservation and payment; $35 non-member. E-mail RSVP to Mariko Kawaguchi (please indicate trout or corn beef) no later than 5PM 3/10/09: mariko@cataphora.com or mail check made out to "AFIO" to: Mariko Kawaguchi, P.O. Box 117578 Burlingame, CA 94011. (650) 622-9840 X608
21 March 2009 - Kennebunk, ME - The Maine Chapter meeting features Dr. Terence Roehrig, Associate Professor of National Security Studies at the U.S. Naval War College in Newport, RI. Dr. Roehrig will speak on "North Korea and the Outlook for Peace on the Korean Peninsula". He will examine the US-ROK alliance and recent changes, military balance on the peninsula, North Korea's nuclear weapons program and economic situation, and Kim Jong-il's health and succession among other issues. Dr. Roehrig received a Ph.D. from the University of Wisconsin in international relations focusing on Korea and East Asia. He has traveled to Korea many times and recently visited India and China to do research. The meeting will be held at 2:00 p.m. at the Kennebunk Free Library, 112 Main Street, Kennebunk, and is open to the public. For information call 207-364-8964.
24-25 March 2009 - Laurel, MD - Johns Hopkins University 2009 Unrestricted Warfare Symposium - Interagency Action for Attacks Involving Terrorism - Resources - Economy - Cyberspace, a symposium by Johns Hopkins University.
URW Website Schedule Registration Featured Speakers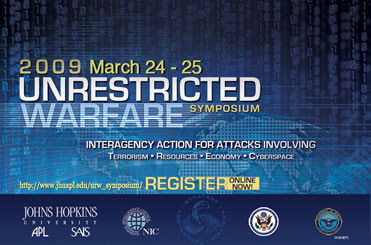 24-25 March 2009 - McLean, VA - NMIA hosts their 2009 National Intelligence Symposium at The MITRE Corporation Auditorium conducted at the SECRET/NOFORN security level.
The first session will include speakers from the DOD perspective and then each of the Service – level organizations who will address changes in budget, priorities, personnel, and mission. The second session focuses on Defense Intelligence Agency support to the warfighter.
Program details and online registration: http://www.nmia.org/upcomingevents.html
Questions: Contact the National Military Intelligence Association (NMIA) Voice: 540-338-1143 or Fax: 703-738-7487 Email: Admin@nmia.org
REGISTRATION FEE: $395. Telephone requests for refund will not be accepted.
Security Information: Visit Requests need to be submitted to MITRE for all Visitors attending a Classified Meeting. Requests should be submitted at least five days prior to the meeting date.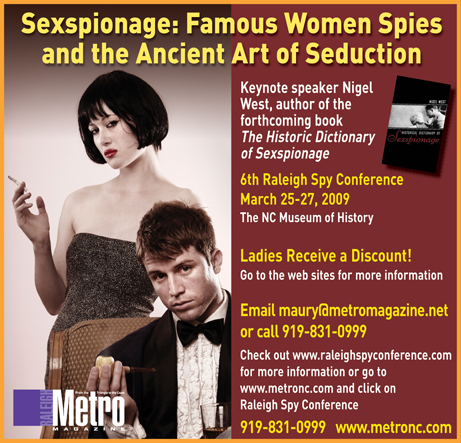 25 - 27 March 2009 - Raleigh, NC - "Lady Spies and the Ancient Art of Seduction" is theme of The 6th annual Raleigh Spy Conference The conference salutes lady spies - and their counterparts on the other side - with expert speakers delivering riveting tales of espionage.
Lady spies have played a crucial role in espionage for centuries, from ancient civilizations through the Biblical era, world wars, the Cold War and today's sophisticated environment of modern espionage. As the flood of newly declassified documents over the past 15 years attests, female operatives were responsible for many of the most daring intelligent operations of the modern era - while others played a notorious role working against the US.
Brian Kelley, popular former conference speaker and retired CIA operations officer, returns to Raleigh with a special presentation highlighted by videotaped, jailhouse interviews of convicted spies and their wives (the spouses of former FBI agents Earl Pitts and Richard Miller along with the former wife of CIA officer, Jim Nicholson); wives who were complicit in their husband's espionage (Barbara Walker, Anne Henderson Pollard and Rosario Ames) along with an interview of the former Soviet citizen who seduced FBI agent Richard Miller on behalf of the KGB.
Ron Olive, retired special agent from the Naval Criminal Investigative Service and author of the definitive book "Capturing Jonathan Pollard: How One of the Most Notorious Spies in American History was Brought to Justice," that uncovered the complicit role of Pollard's wife Anne. He will present a power point presentation on the role of the Pollards and the incredible damage they did to our national security.
I.C. Smith, former FBI Special Agent in charge, will return to Raleigh to present the inside story of Katrina Leung, known inside the FBI as "Parlor Maid," who managed to seduce her two FBI case agents and thus compromising them during the course of this twenty year operation. She was first used by the FBI as a double agent, then "doubled back" or "tripled" by Chinese intelligence against the FBI and later becoming the only known "quadruple" (re-doubled back against the Chinese by the FBI) agent yet exposed. The intelligence which the FBI derived from the Parlor Maid case went to four US presidents.
Terry Crowdy, British espionage writer and researcher will offer the role of female spies and tales of seduction from antiquity, the Christian era to modern lady spies at work today. Crowdy's book "The Enemy Within" is considered one of the top surveys of espionage.
Nigel West, the keynote speaker is an old friend of the Raleigh Spy Conference. The former Member of Parliament - and a leading expert on modern espionage - is the author of the forthcoming on this topic will be released at this special conference. West is a popular and engaging speaker sure to offer telling insights and entertaining stories on this intriguing subject.
Click here to view the Raleigh schedule of events.
Event Locations and Accommodations in Raleigh, North Carolina USA
Information about Raleigh, North Carolina USA can be found at www.visitRaleigh.com.
For map of downtown Raleigh area: click here
For an interactive map of Raleigh area: click here .
Conference Venue: The 6th Raleigh Spy Conference will be held at the NC Museum of History. 5 East Edenton Street (between Salisbury and Wilmington Streets) in downtown Raleigh, NC 27601 ph: 919-807-7900
Costs - Full registration for all sessions and one ticket to the Spy Gala: $250
Veterans, members of the military and the intelligence community: $175
Seniors over 62, teachers and students: $145.
Special discount for ladies! Only $125 for the entire conference package.
Registration: You can register online or call 919-831-0999.
Download Raleigh Spy Conference registration form, complete, and mail, fax or email while space remains: Registration Form Spy 09.pdf.
Thursday, 26 March 2009, 6:00 pm - 7:30 pm - Miami, FL - The Ted Shackley AFIO Miami Chapter invites all members to a social event at the REPUBLIC FEDERAL BANK, N.A., 1001 Brickell Bay Dr 19th Fl, Miami, FL. PARKING: Compliments of Republic Federal Bank, N.A.
EVENT: Appetizers will be served – beer, wine and soft drinks. This is a networking Social event for members and their invited guests.
COST: Complimentary, courtesy of AFIO and our sponsor, Republic Federal Bank, N.A.
HOSTS: The Board of Directors of the Miami Chapter.
Robert Heber, Tom Spencer, and Carlos Melendez.
26 March 2009, 12:30 pm - Beverly Hills, CA - The AFIO Los Angeles Chapter luncheon features Dr. Gregory Treverton speaking on "Domestic Intelligence." Treverton is current director of the RAND Corporation's Center for Global Risk and Security, who recently held the position of Vice Chair of the National Intelligence Council (NIC), overseeing the writing of America's National Intelligence Estimates (NIEs). Dr. Treverton's recent work examines terrorism, intelligence, and law enforcement, with a special interest in new forms of public-private partnership. The meeting will take place on the campus of Loyola Marymount University. Lunch will be provided for $15, for attendance reservations please email by no later than 3/20/09: AFIO_LA@yahoo.com check made out to "L.A. Area AFIO" mailed to Arthur Brooks 272 Lasky Drive, Beverly Hills, CA 90212
Wednesday, 1 April 2009, noon – 1 pm - Deceiving Hitler: The Masterman Memorandum: A Special Briefing at the International Spy Museum
As Britain entered its second winter of World War II, nightly German Blitzes rained fire on its cities and the threat of invasion had not yet passed. Yet wartime recruit and Oxford University Professor, J.C. Masterman, had the confidence and foresight to predict a time when the tables could be turned against the Nazis. Since the outbreak of war, the British Security Service MI5 had been collecting a group of double agents. The Germans appeared to trust these spies and pressed them for more information. This presented an enormous challenge for MI5—how to preserve the credibility of the double agents without giving away vital war secrets? In a secret memorandum of 1940, Masterman presented an amazing solution. Author of Deceiving Hitler, Terry Crowdy will reveal the content of the now declassified memorandum and explore to what extent the Allies were able to realize Masterman's plan to pull off an elaborate hoax on Hitler.
Free; No registration required! International Spy Museum, 800 F Street, NW, Washington, DC, Gallery Place/Chinatown Metrorail Station
Thursday, 2 April 2009, 8:00 p.m. - Coral Gables, FL - AFIO Miami Chapter will be having dinner and speaker: Neal Bascomb's, Hunting Eichmann, with his presentation at Books and Books in Coral Gables, 265 Aragon Avenue Coral Gables 305.442.4408 www.booksandbooks.com
The first complete narrative of the pursuit and capture of Adolf Eichmann, based on groundbreaking new information and interviews and featuring rare, never published Mossad surveillance photographs When the Allies stormed Berlin in the last days of the Third Reich, the operational manager of the mass murder of Europe's Jews shed his SS uniform and vanished.
Bringing Adolf Eichmann to justice would require a harrowing fifteen-year chase stretching from war-ravaged Europe to the shores of Argentina.
Alternating from a criminal on the run to his pursuers closing in on his trail, Neal Bascomb's, Hunting Eichmann (Houghton Mifflin Harcourt, $26.00) follows the Nazi as he escapes two American POW camps, hides in the mountains, slips out of Europe on the ratlines, and builds an anonymous life in Buenos Aires.Meanwhile, a persistent search for Eichmann gradually evolves into an international manhunt that includes a bulldog West German prosecutor, a blind Argentinean Jew and his beautiful daughter, and a budding, ragtag spy agency called the Mossad, whose operatives have their own scores to settle. Presented in a pulse-pounding, hour-by-hour account, the capture of Eichmann and the efforts by Israeli agents to secret him out of Argentina and fly him to Israel to stand trial bring the narrative to a stunning conclusion.
Hunting Eichmann is a fully documented, finely nuanced history that offers the intrigue of a detective story and the thrill of great spy fiction.
DINNER: A dutch treat dinner in the Gables at 6:00 pm is available for interested chapter members and visitors. All will then go to the Bascomb presentation--- coffee afterwards. If you wish to join us, please email TRSMiami@aol.com
Thursday, 2 April 2009, 6:00 p.m. - Las Vegas, NV - AFIO Las Vegas Chapter meets at Nellis Air Force Base Officers' Club. (Guest names must be submitted to me by 4:00 p.m., Wednesday, March 25th) Please join us at 5 p.m. in the "Check Six" bar area for Liaison, beverages and snacks/dinner
Our featured speaker for the evening will be: Rod Swanson, Supervisory Special Agent, Federal Bureau of Investigation, U.S. Department of Justice
Topic: "Las Vegas Joint Terrorism Task Force (JTTF) Overview"
Supervisory Special Agent Swanson will discuss the JTTF organization, legal guidelines, and interagency coordination.
If you plan to bring a guest(s), please RSVP to me with name(s) by 4:00 p.m., Wednesday, March 25th. Entrance to the Base for your guest(s) cannot be guaranteed if I don't have their names.
Dinner: The Officers' Club has an excellent, informal dinner venue along with a selection of snacks. You are welcome to arrive early and join us in the "Check Six" bar area. Water will be provided during the meeting, but you may also purchase beverages and food at the bar and bring them to the meeting. Once again, please feel free to bring your spouse and/or guest(s) to dinner as well as our meeting.
You may email or call me anytime at 702-295-0073 if you have any questions. We look forward to seeing you!
Christine J. Eppley, Chapter Corresponding Secretary
Sunday, 5 April 2009, 11:30 – 1:30 - Highland Heights, OH - AFIO Northern Ohio Chapter features Frank Figliuzzi, Special Agent in Charge, FBI Cleveland Field Office, on "The Cyber Threat" Location: Wellington's Restaurant, 777 Alpha Dr, Highland Heights at I -271 at Wilson Mills Rd. 440.461.9211 or 440.442.0055 Fax 440.442.8135
DRIVING DIRECTIONS: West on Wilson Mills to Alpha Drive (about ¼ mile); right onto alpha Drive (if you see Kohl's, you've made the correct turn); immediate right into parking lot at strip mall; Wellington's is in front of you. We're in the alcove in the restaurant. Cost: $20 per person; Mail check with written RSVP, or pay at the door
RSVP: By mail (with check), email, or phone: to Michael S. Goldstein, Esq., 31300 Solon Rd Ste 6, Solon, OH 44139 (440) 424-4071 mgoldstein@msglpa.com
Tuesday, 14 April 2009, 6:30 pm - Washington, DC - "America on a Need to Know Basis: Secrecy in a Free Society" at the International Spy Museum.
Some Americans wrestle with the concept of government secrecy, but the less vocal majority (and less litigious) quickly recognize that some loss of privacy outweighs living lives of fear of terror, rampant criminal acts, and constant public danger: safety afforded by good surveillance and secrecy. How much secrecy is too much and when does classification become control without bounds? Moderator Shelby Coffey III, senior fellow of the Freedom Forum and former editor and executive vice president of the Los Angeles Times, engages a panel of experts in an exploration of these crucial questions. Join Thomas S. Blanton, executive director of the National Security Archive; Peter Earnest, former chief of the CIA office responsible for FOIA, privacy, and litigation issues in the clandestine service; Ronald Goldfarb, author of In Confidence: When to Protect Secrecy and When to Require Disclosure: and Mike Levin, former chief of information policy at the National Security Agency; for a lively exchange of views on the inherent tension between the public's right to knowledge and the government's duty to safeguard vital national security information. Tickets: $15. www.spymuseum.org International Spy Museum, 800 F Street, NW, Washington, DC, Gallery Place/Chinatown Metrorail Station.
Saturday, 18 April 2009 - Richardson, Texas - CIA - University of Texas at Dallas hosts special conference on "Air America." Full details here.

20 - 24 April 2009 - Las Vegas, NV - The International Association of Law Enforcement Intelligence Analysts Annual Conference. The International Association of Law Enforcement Intelligence Analysts and the Law Enforcement Intelligence Unit, host their Annual Conference at the Flamingo Hotel in Las Vegas, NV. The theme will be "Criminal Intelligence: Improving the Odds". Internationally recognized speakers who are at the forefront of the war on crime and terrorism and those who are leaders in the intelligence community will be on hand to provide up-to-date information. Private security personnel are invited to attend non-law enforcement sensitive training at the nonmember rate. Speakers and workshops will involve training related to: criminal intelligence; international and domestic terrorism; legal issues in criminal intelligence; organized crime and gangs; and information sharing among law enforcement. See the LEIU website for updated confirmed speaker information. Seminar-related Activities: • Hosted Banquet – April 23, 2009; • Additional Activities TBA. For more information, please visit the LEIU website at http://leiu-homepage.org/events/index.php
23-26 April 2009 - Great Lakes, IL - The Midwest Chapter of AFIO will host its annual conference at the Great Lakes Naval Station. Registration is $10 per person. Hotel reservations ($65 per night) can be made through April 10th by calling the Navy Lodge at 1-847-689-1485. Mention that you are with the Midwest AFIO Chapter. For more information and to confirm your attendance, please contact Angelo Di Liberti ASAP at 847-931-4184.
24 - 26 April 2009 - Nashua, NH - The Naval Cryptologic Veterans Association New England Chapter (NCVA-NE) will hold its Spring Mini-Reunion at the Radisson Hotel Nashua.
The hotel is located at 11 Tara Boulevard, Nashua, New Hampshire 03062. For information, please call (518) 664-8032 or visit their website at http://ncva-ne.org. Local individuals who served with the U.S. Naval Security Group or with its counterpart in NETWARCOM are eligible and welcome to attend the mini-reunion. New members are welcome.
Point of Contact: Vic Knorowski, NCVA-NE Publicity Chair. 8 Eagle Lane, Mechanicville, New York 12118 (518) 664-8032
Saturday, 25 April 2009, 1100 - 1430 - North Andover, MA - AFIO New England Chapter meets to hear: Problems and Prospects on U.S. Intelligence. Guest speaker: Joseph Wippl, a retired CIA Senior Officer who served as Chief of the European Division in the National Clandestine Service and as Chief of Station in key posts throughout Europe. He is now teaching at Boston University. Mr. Wippl will address the Problems and Prospects for US Espionage.Where: In the Murry Lounge located in the Sakowich Campus Center on the campus of Merrimac College, 315 Turnpike St, North Andover, MA 01845. A map of the campus can be found here http://kahuna.merrimack.edu/map/map_new.html and on a separate page, directions here http://www.merrimack.edu/maps_directions/Pages/default.aspx or on the map page.
Local hotels can be found here http://www.merrimack.edu/about/visiting/Pages/Hotels.aspx
Schedule: Registration & gathering, 11:00 - 1200, Luncheon at 1200 followed by our speaker, with adjournment at 2:30PM.
Note, as this meeting is a one day event we have not made any hotel arrangements.
For additional information contact us at afionechapter@gmail.com
Advance reservations are $20.00, $25.00 at the door - per person.
Luncheon reservations must be made by 15 April 2009.
Mail your check and the reservation form to:
Mr. Arthur Hulnick 216 Summit Avenue # E102 Brookline, MA 02446 617-739-7074 or hlnk@aol.com
30 April 2009, 8 am–6:30 pm - Gettysburg, PA - Spy City Tours™ Special - Intelligence in the Civil War: Gettysburg as a Case Study [International Spy Museum Special Event]
Why was Lee surprised at Gettysburg? Why did Meade stand and fight on 3 July? How did Lee describe his defeat? Explore the dawn of modern American military intelligence with distinguished former CIA officers, Frans Bax and Barry Stevenson on this thought-provoking bus and walking tour of the Gettysburg battlefield. Developed for new and senior U.S. intelligence officers to illustrate the essentials of their craft through in-depth analysis of the three-day battle, participants will explore the use of intelligence for decision-making by Union General Meade and how a lack of timely, accurate intelligence undermined Confederate General Lee's capabilities. Key decisions and choices made by the military leaders on the battlefield will be explored in depth. The tour includes information on the development and use of intelligence in the American Civil War and will be of interest to students of the battle and lay people alike. Lunch at the historic Cashtown Inn is included.
Tickets: $180 To register: call 1-800-454-5768 and mention program #18181 or visit www.elderhostel.org/dayofdiscovery.
2 May 2009 - Washington, DC - The OSS Society William J. Donovan Award Dinner Honors General David H. Petraeus, USA, Commander, United States Central Command at the Mandarin Oriental Hotel, 1330 Maryland Ave SW, Washington, DC. Black Tie/Dress Mess. Cocktails, $150 pp. 6:30 p.m., Dinner 7:30 p.m. For further information or to register call 703-356-6667 or visit oss@osssociety.org
Wednesday, 27 May 2009, 6:30 pm - International Spy Museum presents Hot Topic: INTEL IN CYBERSPACE. WHAT: "Now, counterintelligence is a problem for everyone who has secrets to keep and … lives on a network…And that's all of us."— Joel Brenner, national counterintelligence executive for the Director of National Intelligence, 2008
In the past, spycraft depended on trained operatives, cutting-edge technologies, expensive systems, and highly specialized devices to conduct operations and collect intelligence. The "enemy" in today's society is able to carry out their intelligence gathering and attacks from any cyber-café in the world. The Internet contains a vast pool of information about every government agency, private company, major corporation – and many individuals. The average user with no advanced skills can purchase just about anything online, communicate in a dozen ways – from anywhere, and for the most part, remain anonymous. Terry Gudaitis, as cyber intelligence director at Cyveillance, a firm responsible for the protection of a majority of Fortune 500 companies and 30 million global consumers, knows firsthand the enormous threat of this explosive growth in internet accessibility. Drawing on her background as a former operations officer and behavioral profiler at the CIA's Counter Terrorist Center, Guidaitis will explore how the "enemy" is collecting information from the internet – and how they are using it to communicate, target people, case government facilities, and exploit assets. You may never log on as blithely again!
WHERE: International Spy Museum, 800 F St NW, Washington, DC, Gallery Place/Chinatown Metrorail Station
TICKETS: $12.50; Advance Registration required. Tickets are non-refundable and do not include admission to the International Spy Museum. To register: order online at www.spymuseum.org; or purchase tickets in person at the International Spy Museum.
Wednesday, 3 June 2009, 6:30 p.m. - Washington, DC - Pakistan Today: The ISI, India, and What The Future Holds.
"We know full well that terror is our enemy, not India."—Lt. Gen. Ahmed Shuja Pasha, Pakistan's intelligence chief, December 2008
With the November 2008 attacks in Mumbai, India, the ever-tense relationship between Pakistan and its eastern neighbor was again headline news. The Pakistani government officials condemned the attack, but the incident raised questions again about links between the Pakistani Directorate of Inter-Services Intelligence (ISI) and Islamic terror networks. How does the history of the ISI—and its partnership with the CIA during the 1980s—affect its actions and worldview? How do the United States and Pakistan look on their partnership in today's circumstances? These pressing questions will be considered by: Shuja Nawaz, director, South Asia Center at the Atlantic Council of the United States, author of Crossed Swords: Pakistan, Its Army, and the Wars Within; Bruce Riedel, senior fellow, foreign policy, Saban Center for Middle East Policy, Brookings Institution, former CIA officer and senior advisor to three U.S. presidents on Middle East and South Asian issues; and Ambassador Teresita Schaffer, the director of the South Asia Program, Center for Strategic and International Studies, who has written extensively and testified before Congress on Pakistani issues.
WHERE: International Spy Museum, 800 F St NW, Gallery Place/Chinatown Metrorail Station
TICKETS: $15; Advance Registration required. Tickets are non-refundable and do not include admission to the International Spy Museum. To register: order online at www.spymuseum.org; or purchase tickets in person at the International Spy Museum.
13 June 2009 - Boston, MA - AFIO Boston Pops Committee commemorates the 40th Anniversary of the Apollo 11 Moon Landing. Join AFIO Boston-based members at Symphony Hall for a special Boston Pops Concert celebrating our nation's triumphant achievement. Historic footage of the lunar landing provided by NASA will accompany a program of stirring patriotic music including Holst's The Planets. Honor one of America's proudest moments in space exploration with a spectacular Pops concert. The AFIO Pops Committee has relocated the event back to Boston for our seventh annual Pops social event. Conductor Keith Lockhart will lead the Pops at Symphony Hall, 301 Massachusetts Avenue Boston, MA 02115. Join other AFIO members and friends in the Hatch Room lounge located behind the orchestra level for a social hour before the performance begins. For tickets, call Symphony Hall Charge at 888-266-1200 or online at www.bso.org. Tickets sell from $18.00 to $85.00 and are now on sale. After purchasing your tickets, please contact Gary at wassinmaryland@aol.com so I can add your name to the list to look for at the 1 hour social prior to the concert. Ticket prices for attending this concert does not include a gift to AFIO however the Association of Former Intelligence Officers relies greatly upon the generosity of members, corporations, foundations, and the general public who understand and wish to encourage sound intelligence policy and education in the United States. These gifts allow AFIO and its chapters to carry out important activities in the areas of education, advocacy, seminars, publications, and conferences. Please help by making a financial donation to AFIO. Tax receipts will be issued for donations of $100 or more (does not include Pops ticket cost). All gifts to AFIO are tax deductible. AFIO is an IRS approved 501(c)(3) charity. We request this be done separately if you are able to contribute to AFIO. Gifts may be made here.
---
For Additional Events two+ months or greater....view our online Calendar of Events
-----------------------------------------------------------------------
Disclaimers and Removal Instructions
Weekly Intelligence Notes (WINs) are commentaries on Intelligence and related national security matters, based on open media sources, selected, interpreted, edited and produced for non-profit educational uses by members and WIN subscribers.
REMOVAL INSTRUCTIONS: We do not wish to add clutter to inboxes. To discontinue receiving the WINs:
a) IF YOU ARE A MEMBER -- click here: UNSUBSCRIBE and supply your full name and email address where you receive the WINs. Click SEND, you will be removed from list. If this link doesn't open a blank email, create one on your own and send to afio@afio.com with the words: REMOVE FROM WINs as the subject, and provide your full name and email address where you are currently receiving them.
b) IF YOU ARE NOT A MEMBER, and you received this message, someone forwarded this newsletter to you [contrary to AFIO policies]. Forward to afio@afio.com the entire WIN or message you received and we will remove the sender from our membership and distribution lists. The problem will be solved for both of us.
CONTENTS of this WIN [HTML version recipients - Click title to jump to story or section, Click Article Title to return to Contents. This feature does not work for Plaintext Edition or for some AOL recipients]. If you wish to change to HTML format, let us know at afio@afio.com. The HTML feature also does not work for those who access their e-mail using web mail...however NON-HTML recipients may view the latest edition each week in HTML at this link: https://www.afio.com/pages/currentwin.htm
-----------------------------------------------------------------------

WINs are protected by copyright laws and intellectual property laws, and may not be reproduced or re-sent without specific permission from the Producer. Opinions expressed in the WINs are solely those of the editor(s) or author(s) listed with each article. AFIO Members Support the AFIO Mission - sponsor new members! CHECK THE AFIO WEBSITE at www.afio.com for back issues of the WINs, information about AFIO, conference agenda and registrations materials, and membership applications and much more!

(c) 2009, AFIO, 6723 Whittier Ave Suite 200, McLean, VA 22101. Voice: (703) 790-0320; Fax: (703) 991-1278; Email: afio@afio.com
Click here to return to top.