AFIO Weekly Intelligence Notes #34-09 dated 15 September 2009
CONTENTS

Section I - INTELLIGENCE HIGHLIGHTS

Section II - CONTEXT & PRECEDENCE

Section IV - BOOKS/READING, OBITUARIES, ANNOUNCEMENTS AND COMING EVENTS

Current Calendar New and/or Next Two Months ONLY

AFIO National 2009 Fall Symposium
Co-Sponsored with the

and the


Register While Space Remains

or view http://tinyurl.com/afiopredator

Updated Agenda

or view http://tinyurl.com/predatoragenda

To download 1-page PDF registration form, complete, and mail or fax to us,
it is HERE


See where the modern wizardry of "surgical remote strikes" begin. The Predator, above, and other UAVs will be visited
at this rare and special symposium

AFIO 2009 Fall Symposium/Convention
Co-Sponsored by the
U.S. Department of Energy

Las Vegas, Nevada
Co-hosted with the AFIO Las Vegas Chapter

13 October to 16 October, 2009

Cold Warriors in the Desert:
From Atomic Blasts to Sonic Booms

Symposium features presentations on the testing of atomic weapons, airborne reconnaissance platforms, and more. Onsite visits to Nellis Air Force Base - Home of the Fighter Pilot, the U.S. Department of Energy's Nevada Test Site - the former on-continent nuclear weapons proving ground, and Creech Air Force Base - the home of the Predator unmanned aerial vehicles (currently deployed for combat missions in the Middle East, yet piloted from Creech).

Register Here While Space Remains

Agenda for scheduling of your travel and hotel accommodations

Harrah's Hotel Registration is available now at: Telephone reservations may be made at 800-901-5188. Refer to Group Code SHAIO9 to get the special AFIO rate.
Buses leave very early Wednesday morning so we recommend attendees begin their stay at the hotel starting
Tuesday evening, October 13.

To make hotel reservations online,
go to: http://tinyurl.com/hotel4afio
Special AFIO October Symposium Las Vegas rates are available up to Wednesday, September 30, 2009

---

Three-Day Training Course:
The Global Jihadist Threat Doctrine
- by the Ci Centre

22 - 24 September 2009 - Alexandria, VA - The CI Centre hosts three-day course: The Global Jihadist Threat Doctrine. The Global Jihadist Threat Doctrine, starts next week, Tuesday 22 September at the CI Centre's training facility in Alexandria, VA. If you are a current US Government employee, in the military or a state or local law enforcement officer, you won't want to miss this important training to better understand the Jihadist threat and how to deal with it.
The training features a unique opportunity to hear from truly first-class speakers who are the nation's leading experts on the Jihadist threat, including:

Dr. Walid Phares who is an author of several books about Jihadists and has been studying this threat since well before 9/11;
Dr. Tawfik Hamid who was recruited as a true-believing radical Islamist into an Egyptian terrorist organization with Dr. Ayman Al-Zawahiri;
Stephen Coughlin who is a lawyer and Army reservist and has extensively studied what Islamic Law says and its implications;
Clare Lopez who is a retired CIA operations officer and talks about the stealth jihad taking place in Europe and the United States; and
CI Centre President David Major who is a retired senior FBI executive and served on the National Security Council.

After attending this training, you will hold the keys to understanding the threats we face better than anyone around you and enable you to more effectively defend against the threat. You owe it to not only yourself and your job but also to our nation to be among those whose blinders are off and are able to deal with the facts as they are, however "inconvenient."
As the limited seats in this course are being filled, contact Adam Hahn right away at 703-642-7454 or 1-800-779-4007 or adam.hahn@cicentre.com to reserve your place. Or, fill out and fax in the Registration Form.
- - - - - - - - - - - - - - - - -
The Global Jihadist Threat Doctrine, September 22-24, 2009, CI Centre training facilityin Alexandria, VA
Open to current US Government employees, military, state/local law enforcement Cost is $975 per person

WIN CREDITS FOR THIS ISSUE: The WIN editors thank the following special contributors to this issue: jg, pjk, dh, ap, fd and fwr.

They have contributed one or more stories used in this issue.
---
Section I - INTELLIGENCE HIGHLIGHTS
NSA-Intercepted E-Mails Helped Convict Would-Be Bombers. The three men convicted in the United Kingdom last week of a plot to bomb several transcontinental flights were prosecuted in part using crucial e-mail correspondences intercepted by the U.S. National Security Agency.

The e-mails, several of which have been reprinted by the BBC and other publications, contained coded messages, according to prosecutors. They were intercepted by the NSA in 2006 but were not included in evidence introduced in a first trial against the three last year.

That trial resulted in the men being convicted of conspiracy to commit murder; but a jury was not convinced that they had planned to use soft drink bottles filled with liquid explosives to blow up seven trans-Atlantic planes - the charge for which they were convicted this week in a second trial.

The NSA reportedly had previously shown the e-mails to their British counterparts, but refused to let prosecutors use the evidence in the first trial, because the agency didn't want to tip off an alleged accomplice in Pakistan named Rashid Rauf that his e-mail was being monitored. U.S. intelligence agents said Rauf was al Qaeda's director of European operations at the time and that the bomb plot was being directed by Rauf and others in Pakistan.

The NSA later changed its mind and allowed the evidence to be introduced in the second trial, which was crucial to getting the jury conviction. NSA's change of mind may have occurred after Rauf, a Briton born of Pakistani parents, was reportedly killed last year by a U.S. drone missile that struck a house where he was staying in northern Pakistan.

Although British prosecutors were eager to use the e-mails in their second trial against the three plotters, British courts prohibit the use of evidence obtained through interception. So last January, a U.S. court issued warrants directly to Yahoo to hand over the same correspondence.

It's unclear if the NSA intercepted the messages as they passed through internet nodes based in the U.S. or intercepted them overseas. If the former, it's possible the interception was part of the Bush administration's warrantless surveillance program - a surveillance program aimed at intercepting foreign correspondence as it passed through domestic internet switches. Such interception was previously illegal unless conducted with a warrant from the Foreign Intelligence Surveillance Court. After news stories revealed that the NSA was conducting such surveillance without a warrant, however, Congress legalized such collection activities last year in its passage of the FISA Amendments Act. [Zetter/Wired/9September2009]
Key's Lips Sealed on Spies in Afghanistan. Prime Minister John Key is refusing to say if the New Zealand spies working in Afghanistan are operating under the command of an American agency such as the CIA.

Mr. Key said yesterday he would not give any information to the public about the intelligence operatives his Government and Helen Clark's have secretly sent to the war.

This included whether they were working with the CIA - which faces allegations of abusing prisoners with interrogation techniques.

The Herald revealed this week that New Zealand intelligence agents are being used to help fight the Taliban.

They are separate from the country's military contribution and are most likely from the Security Intelligence Service and/or the Government Security Communications Bureau (GCSB).

NZ operatives were first sent to Afghanistan when Labour was in power. It, too, is refusing to comment.

That is despite Labour leader Phil Goff, a former Foreign Affairs and Defense Minister, now criticizing National's decision to send the Special Air Service back in a combat role.

It is not known how many of the operatives are in Afghanistan or what role they have been playing in the war, although possibilities range from spying in the Afghan community to high-end communications interception.

Meanwhile, the Army is still deciding whether to send home three soldiers who posed beside a 2000-pound bomb and sent the photographs to an energy drink company here.

The soldiers photographed themselves writing the message, "Dear Taliban, enjoy this", on it. [Gower/NZHerald/9September2009]
Exquisite Spy Satellite. Director of National Intelligence Dennis Blair met with key senators to discuss funding plans for an expensive new satellite system that will provide high resolution spy photographs and images, according to administration and congressional officials.

No details were immediately available on the meeting between Mr. Blair and Sens. Daniel Inouye and Thad Cochran, chairman and ranking member respectively of the Senate Appropriations Committee. The two, according to Senate aides, were expected to question the Obama administration's decision to move ahead with production of a multi-billion dollar intelligence satellite dubbed the Next Generation Electro-Optical System.

The new system was announced in April and was not bid competitively, according to defense sources. Instead, they said, the contract was sole-sourced to Lockheed Martin, which has a long history of producing spy satellites.

The contract for the new intelligence satellites will cost taxpayers about $20 billion, making it one of the most expensive systems produced for both the Pentagon and U.S. intelligence community, according to the sources who spoke on condition of anonymity because of the sensitivity of the subject.

The new satellite was approved personally by President Obama last spring.

The official said the new satellite would be used for both wide area coverage as well as smaller "point collection" capabilities. U.S. spy satellites are the "workhorses" for both the military and intelligence agencies, the official said. Missions range from tracking terrorists and their training camps for the military to following missile deployments in China and other countries for intelligence agencies.

Spokesmen for the Director of National Intelligence (DNI) and the National Reconnaissance Office, which builds and operates classified satellites, referred questions to the DNI statement of April 7. The statement said the new satellite plan will "modernize the nation's aging satellite-imagery architecture by prudently evolving government-owned satellite designs and enhancing use of U.S. commercial providers."

The satellite program will start after Congress approves funds for it and initial deployment is scheduled for the next several years with full completion by 2029, the statement said.

Agencies involved in the plan include the National Reconnaissance Office, the Defense Department, U.S. intelligence agencies and the National Geospatial Intelligence Agency, the statement said.

The Senate Intelligence Committee report on the intelligence budget identified two key shortcomings of current U.S. imagery systems. The report issued July 22 stated that the National Geospatial Intelligence Agency, known as NGA, relies too much on still images from space and is "slow to embrace other facets of 'geospatial intelligence,' including the processing, storage, and dissemination of full motion video (FMV) and ground-based photography." Instead, most imagery today is obtained from electro-optical photographs and images produced from radar, which can see through clouds and some structures.

The new classified satellite is one element of a two-part plan for future space spying, which is used for targeting and intelligence gathering. The second part includes increasing the Pentagon's use of commercial satellite imagery. The NGA announced Aug. 10 that it has begun a procurement process that will lead to new orders for commercial imagery from the two main suppliers, GeoEye Inc. and DigitalGlobe Inc.

The new satellite plan grew out of an earlier program known as the Future Imagery Architecture. That program was canceled three years ago as a result of major acquisition problems. [Gertz/WashingtonTimes/10September2009]

New Counterspy Chief. The Obama administration is expected to name former FBI Deputy Director Robert "Bear" Bryant as the next National Counterintelligence Executive (NCIX), the top counterspy policy coordinating post, according to current and former intelligence officials.

Mr. Bryant was selected for the post after two other candidates were eliminated, including a former aide to Rep. Jane Harman, California Democrat.

The Obama administration's first choice for the post was Suzanne Spaulding, who also has held positions on the House Intelligence Committee and at the CIA. Two former intelligence officials who were involved in the NCIX selection process said Ms. Spaulding was dropped as a candidate because of opposition from her former boss, Mrs. Harman. Ms. Spaulding did not return a telephone call or an e-mail seeking comment.

A spokesman for Mrs. Harman denied the congresswoman intervened with the White House to block the appointment. "Congresswoman Harman has the highest respect for Suzanne Spaulding," the spokesman said. He declined to be named because he was not authorized to speak for attribution.

A second candidate was retired Army Maj. Gen. Robert A. Harding, a former director of operations at the Defense Intelligence Agency. [Gertz/WashingtonTimes/10September2009]
Bush-Era Official's Appointment to Declassification Panel Draws Fire. The newest member of a panel that advises the president on declassification policy is a former top intelligence official who oversaw some of the Bush administration's most controversial counterterrorism programs.

Michael V. Hayden, a retired four-star Air Force general, was appointed to the Public Interest Declassification Board by Senate Minority Leader Mitch McConnell (R-Ky.) during the August recess.

But Hayden's role overseeing the Bush administration's warrantless domestic surveillance program as director of the National Security Agency and his defense of several contentious CIA programs and actions, including the "rendering" of terrorism suspects to third countries for detention in secret prisons and the destruction of videotapes that recorded the interrogation of al-Qaeda suspects, have led to criticism of the appointment.

Hayden led the NSA from 1999 to 2005 and the CIA from 2006 to early 2009.

The nine-member declassification board was established by Congress a decade ago. Five members are appointed by the president and one each by the House speaker and minority leader, as well as the Senate majority and minority leaders. Currently, seven members have been appointed by Republicans and two by Democrats.

Though the board has no independent authority to classify, declassify or make policy, it is poised to play a greater role in the policy process. In a Sept. 2 letter to Martin Faga, the board's chairman, national security adviser James L. Jones said he would like to begin discussions with the board about "a more fundamental transformation of the security classification system," part of a policy reform effort by the Obama administration.

Hayden has "not been blind to classification abuse," said Steven Aftergood, director of the Federation of American Scientists' Project on Government Secrecy. But, he said, noting Hayden's tenures as NSA and CIA director, "he is not the ideal architect of the classification policies of the future."

Still, Dale W. Meyerrose, who was the information sharing executive for the office of the Director of National Intelligence in the Bush administration, said, "I have lots of personal experience with Michael Hayden in issues dealing with privacy and civil liberties, and I don't know of anybody with more integrity." [Nakashima/WashingtonPost/11September2009]

Fire in Russian Military Unit Destroys Top Secret Documents. Top secret documents were destroyed in a fire that broke out on Sunday in a military unit in western Russia's city of Tambov, killing five and injuring seven servicemen, a security agency source said.

The fire in the staff of the Russian Main Intelligence Directorate unit occurred in the morning and embraced an area of 400 square meters (4,300 sq. feet). Two officers and three soldiers were killed. Two servicemen are in intensive care.

A probe into the causes of the fire that was extinguished by 17 firefighting crews is underway. [RussiaNovosky/13September2009]

Taliban Target Afghanistan's Domestic Intelligence Agency. For the second time in 10 days the Taliban have targeted Afghanistan's domestic intelligence agency.

A spokesman for the Kandahar governor's office, Zulmai Ayobi, said three suicide bombers tried into get into the NDS office in Kandahar city on Sunday.

One detonated himself at the front gate while two others opened fire on the security guards and tried to force their way into .

One of the security guards died along with a seven-year-old girl.

Three other guards were wounded.

Earlier this month Abdullah Laghmani, the highly influential deputy head of Afghanistan's intelligence service, was killed by a suicide bomber at a mosque near Laghman east of the Afghan capital of Kabul. [CanadianPress/13August2009]

Ex Pakistani Intel Officer Says US Planning New Military Base in Pakistan. The US is seeking to establish new military bases in Pakistan to keep the country destabilized and control its nuclear weapons, says a former head of Pakistan's intelligence service.

Hamid Gul said that Washington planned to expand its embassy and increase its security guards in Pakistan.

He also noted that Americans seek to set up a large intelligence network inside Pakistan under the pretext of giving financial aid to the country.

"They [Americans] are going to set up a large intelligence network inside Pakistan. They say because we are spending money directly on projects, therefore we need the security guards and we are bringing in the contractors," said Gul.

US officials "want to go for Pakistan's nuclear assets. They are inching close to those nuclear assets day by day," he added.

When asked about Washington's long-term goal in Pakistan, the former Inter-Services Intelligence (ISI) said that the United States wants to keep the country destabilized.

Washington's decision to expand its embassy in Pakistan has also rung alarm bells in China with Chinese Ambassador to Pakistan, Luo Zhaohui, expressing concern over the planned measure.

"China has concerns over the expansion of the US Embassy in Islamabad and the United States should expand its Embassy by materializing rules and regulations of Pakistan," Zhaohui said at a news conference. [Presstv/14September2009]

Danish Intelligence Agency Warns Against Kidnap Threat. Intelligence agency PET, together with the Confederation of Danish Industry (DI), is warning companies and individuals to avoid using Danish symbols, flags and corporate logos when abroad in order to minimize the risk of kidnapping.

In a guide published Monday, PET suggested that Danes consider limiting the display of national symbols in the countries such as Afghanistan, Pakistan, parts of the Middle East and North and East Africa, and during politically charged events in other countries.

'Because al-Qaeda has a closer focus on Denmark, it is PET's assessment that there is a considerable risk that Islamic militants will try to carry out targeted kidnapping of Danes in some places abroad,' said PET chief Jakob Scharf.

Last week, on the anniversary of the 11 September 2001 terror attacks, Scharf said the number of specific threats against the country had become more serious.

The threats stem primarily from al-Qaeda, due to simmering anger over the publication of the Mohammed cartoons and Denmark's military engagement in Iraq and Afghanistan.

The travel instructions were compiled in response to those threats and are based on cases of kidnapping of foreigners in the countries in question. [CopenhagenPost/14September2009]

Intelligence Analyst Charged With Hacking Top Secret, Anti-Terror Program. An analyst at a Defense Department spy satellite agency faces federal hacking charges after allegedly poking around in a top-secret system used in a classified terrorism investigation involving the FBI and the U.S. Army.

Brian Keith Montgomery worked on a covert program for the National Geospatial-Intelligence Agency - the spy agency in charge of satellite and aerial image collection. On April 9, he was carrying out his duties when he saw a message that "provided significant detail about a classified operation" that was unrelated to his job, according to an affidavit filed by a Pentagon investigator.

The operation is not detailed in the affidavit, but there is a reference to the 902nd Military Intelligence Battalion, an Army counterintelligence unit based at Fort Meade in Maryland, with a presence at more than 50 other locations inside and outside the United States. The 902nd faced controversy in 2005, when NBC News published documents showing the unit had been spying on American anti-war protesters. Under the guise of fighting terrorism, the group had filed intelligence reports on legal demonstrations, including a weekly protest at an Atlanta recruiting station, and a protest at the University of California at Santa Cruz.

According to the government, Montgomery ignored a security warning in the message he saw, and twice logged in to a classified system used in the terrorism investigation: first on April 9, when he stayed on for two hours, and then on April 14. He'd gotten the password from another classified message to which he also had legitimate access.

Curiously, just by accessing the system, Montgomery endangered the terrorism investigation, and "caused harm to the U.S. Army and the FBI," according to the affidavit by Dexter Wells, an agent with the Defense Criminal Investigative Service.

Montgomery's alleged motives are unclear, but he told DCIS that he was very interested in the information in the program, Wells wrote. Montgomery also told investigators that he thought he was allowed to log in to the system, and hadn't noticed a warning saying that only officials participating in the operation were allowed to use the password.

"It was not until I was called on the carpet, that I went back and read the warning notice in the message traffic," Montgomery allegedly told DCIS.

The nature of the system at issue is not clear, but it was used from all around the United States as part of the terrorism investigation, and was being monitored by the FBI at the time of his alleged access. That's evidently what led to the probe of Montgomery, who worked at a National Geospatial-Intelligence Agency facility at Fort Belvoir in northern Virginia.

There are no allegations that Montgomery did anything with the information he obtained.

He's charged with a single count of gaining unauthorized access to a protected computer or exceeding authorized access, and obtaining classified information. [Wired/September2009]

Airline Bomb Plotters Jailed for Life. Three British terrorists who planned to blow up at least seven transatlantic flights from London, murdering more than 1,500 people, were jailed for life on Monday, 14 September.

Abdulla Ahmed Ali, Assad Sarwar and Tanvir Hussain were found guilty last week of conspiracy to murder by detonating liquid bombs on airliners flying from Britain to North America. Mr. Justice Henriques ordered Ali, the self-confessed leader of the plot, to serve at least 40 years in prison. Sarwar, 29, was given a minimum sentence of 36 years and Hussain, 28, a minimum of 32 years.

Henriques said the men were guilty of "the most grave and wicked conspiracy ever proven within this jurisdiction".

"The intention was to perpetrate a terrorist outrage that would stand alongside the events of September 11 2001 in history."

Henriques said there was "every likelihood that this plot would have succeeded but for the intervention of the police and the Security Service. Had this conspiracy not been interrupted, a massive loss of life would almost certainly have resulted - and if the detonation was over land, the number of victims would have been even greater still."

Ali had "an ambition to lead a terrorist outrage of boundless proportion", the judge said. Sarwar was described as a "vital and leading member" of the conspiracy and Hussain's role was said to be "substantial, albeit inferior to both Ali and Sarwar".

The plan involved putting liquid explosives into empty bottles of Lucozade and Oasis, colouring the liquid so it appeared to be the same as the original. The bombs would have bypassed airport security, and tests by government scientists showed they were capable of blowing a hole in the skin of an aircraft.

The investigation and trials are estimated to have cost £35m. Uncovering and ultimately destroying the cell, based in east London and High Wycombe in Buckinghamshire, was the biggest counter-terrorism operation in UK history, involving hundreds of police officers and MI5 agents. Henriques said the plot was driven by Islamic extremism and was an act of revenge against governments with troops in Iraq and Afghanistan, rather than an attempt to change foreign policy. "Ultimate control of this conspiracy lay in Pakistan," he said.

Before sentencing, the defence counsel for the guilty men had tried to play down the scale and viability of the plot and their respective clients' involvement. Nadine Radford QC, defending ringleader Ali, said he was "greatly affected" by the suffering of fellow Muslims overseas. She described him as a victim of "political turmoil - where they [the plotters] misjudged what they should do". Radford also said Ali's offence was not as serious as other failed terrorist plots, citing the July 21 bombers and the 2007 attack on Glasgow airport.

Malcolm Bishop QC, for Sarwar, argued that the plot was "not imminent" and "stood little chance of success", while Michel Massih QC, defending Hussain, claimed his client was "clearly subsidiary" to Ali and Sarwar.

Another man, Umar Islam, 31, was found guilty last week of an alternative charge of conspiracy to murder. The jury was unable to reach a verdict about his involvement in the airline plot. He was sentenced to life in prison today with a minimum term of 22 years.

The director of public prosecutions, Keir Starmer, is seeking a retrial of three other men on charges of conspiracy to murder. The jury cleared Ibrahim Savant, 28, Arafat Waheed Khan, 28, and Waheed Zaman, 25, of involvement in the airline plot but failed to reach verdicts on the conspiracy to murder charges.

All of the men who stood trial, bar Donald Stewart-Whyte, who was acquitted of all charges, were previously tried last year. The first jury convicted Ali, Sarwar and Hussain of conspiracy to murder but stopped short of concluding that they had targeted planes. After a lengthy retrial, a new jury convicted them after 54 hours of deliberations.

The plot was disrupted on 10 August 2006, leading to chaos at airports and restrictions on the amount of liquids travelers could carry aboard, which remain in force. [Siddique/Dodd/Guardian/14Sept2009]

CIA Invests in Low-Power Wi-Fi Intel Spinoff. Low-power Wi-Fi specialist and Intel spinoff company GainSpan has announced a strategic investment and technology development agreement with In-Q-Tel, the CIA's independent strategic investment firm.

According to GainSpan, its technology provides the lowest power consuming Wi-Fi single chip solution for wireless sensor networks and other embedded applications, allowing devices to run for up to 10 years on a single AA battery.

"GainSpan's innovative technology helps address critical technology needs of the US Intelligence Community," said Troy M. Pearsall, executive VP of architecture and engineering at In-Q-Tel, in a statement.

"The power requirements of Wi-Fi have traditionally limited its application in sensor networks, but GainSpan's low-power Wi-Fi devices enable new classes of solutions that will provide key technology capabilities to both the government and commercial markets."

In-Q-Tel has engaged with more than 140 companies and delivered more than 240 technology solutions to the intelligence community.

Vijay Parmar, president and CEO, GainSpan, said that the agreement with In-Q-Tel ensures that the US Intelligence Community has easy access to GainSpan technology.

"Also, as a member of In-Q-Tel's technology partner portfolio, In-Q-Tel provides us introduction to other portfolio companies where there are opportunities for knowledge-sharing and co-development," he added.

GainSpan did not disclose the investment amount. [Deffree/ElectronicsWeekly/11Sept2009]
---
Section II - CONTEXT & PRECEDENCE
Former CIA Agent's Eight Years Hunting Bin Laden in Pakistani Badlands. Art Keller, a blond, blue-eyed CIA agent, sits inside a decrepit building deep inside al-Qaeda territory, staring at his computer screen. He is forbidden by his Pakistani minders from venturing out into the badlands of Waziristan to help to find and kill the world's most wanted man.

He is sick and exhausted, and suffering from food poisoning. Back home in the US his father is dying of cancer. The plumbing is basic, the heat intense - the generator has failed again. He pores over cables looking for any scrap of information - an intercepted phone call, an aerial photograph - that might finally end the hunt for Osama bin Laden.

The fruitless search has essentially been outsourced by the US to a network of Pashtun spies run by the Pakistani intelligence services.

Mr. Keller was one of an estimated 50 to 100 CIA agents and special operations officers whose mission for the past eight years has been to find and kill bin Laden and other top al-Qaeda leaders in the hostile and forbidding Pakistani border region, where he is believed to be hiding.

Mr. Keller, 39, volunteered for the bin Laden team and was sent in 2006 to become acting chief of one of the CIA's bases in the heart of al-Qaeda and Taleban territory in Waziristan. It was an experience that leaves him wondering today if the al-Qaeda leader will ever be found.

Mr. Keller was not an obvious choice for the job - he spoke no Middle Eastern languages, and was not an expert on al-Qaeda or Pakistan. Yet in 2006, with many resources diverted to Iraq, the CIA was desperate for agents to join the hunt.

Today this is changing. The agency is bringing back CIA retirees - a group known as The Cadre - many of whom are veterans who worked with the Afghan Mujahidin during the Soviet occupation in the 1980s.

Mr. Keller's replacement when he left Shawshank - the nickname given to his base in Waziristan because it resembled the prison life depicted in The Shawshank Redemption - was one such man, a grey-haired, CIA veteran, 65, who speaks Pashtu.

"Some of these guys have been hunting bin Laden for years," Mr. Keller says. His replacement, whom Mr. Keller believes is still in Pakistan, has spent eight months a year since the September 11 attacks working out of these CIA safe houses looking for the top al-Qaeda leadership.

"One of the things the agency has done is to bring back these old hands," Mr. Keller says, men who despite their age "are willing to spend many months in conditions most people would say is akin to prison". Mr. Keller, who has retired from the CIA and is now a freelance writer in New Mexico, adds: "The divorce rate is very high - it's through the roof. Yet it's part of the allure that keeps on driving them back. A lot of the time you are just sitting there reading stuff but you are also in the right area, it's the big show - you are at retirement age but are you really going to sign up for the bowling league?"

The hunt for bin Laden is largely run by the ISI, the Pakistani intelligence service, an organization for whom many CIA officials harbour deep mistrust because of its historical ties to the Pashtuns of Waziristan.

Mr. Keller says the nerve centre of the hunt is in Islamabad but the ground operation is run from decrepit bases such as Shawshank. The hub of the operation was the communications room, from where he worked alongside officials from other branches of the US intelligence agencies.

Here they would pour over intelligence collected from electronic intercepts, aerial photographs taken by unmanned drones, and human intelligence collected by Pashtun spies. CIA agents were rarely allowed to leave the compound by the Pakistanis.

One reason was that blond-haired agents such as Mr. Keller would be targets for assassination. The other is that the Pakistanis like to have control of the hunt. Any spying was done by local Pashtuns, and under the watchful eye of the Pakistani authorities.

"Our role in the hunt was done entirely from in front of a computer inside the base," Mr. Keller says. When he wanted to follow up a lead, he would get in touch with a local Pashtun proxy to ask him to travel to a certain area to glean information.

It is dangerous work. In 2005 the CIA recruited a local mullah to go into Waziristan to report back on any Arabs in the area - a sign that bin Laden, a Saudi, could be near by. Days later the mullah was found on a roadside, beheaded, a message tucked into his shirt that this was the fate of spies.

When a senior al-Qaeda figure was identified and located - Mr. Keller said that it would take weeks, often months, to build a case for an airstrike by a US Predator drone - and even if the go-ahead was finally given by CIA headquarters in Langley, Virginia, the Pakistanis still had to approve. "Since 9/11, with 99 per cent of these strikes, the Pakistanis were consulted and they have to approve them," he said.

There has not been one credible lead on bin Laden in years. His nickname among some CIA hunters is Elvis because of all the bogus and fanciful sightings. The CIA has been successful in killing many of the senior al-Qaeda over the years but bin Laden and his deputy, Ayman al-Zawahiri, are different cases.

Mr. Keller believes bin Laden moves from village to village in Waziristan. He communicates perhaps just once a month, and by courier. He never uses a telephone. Mr. Keller believes that bin Laden arrives in each village with a small group of bodyguards, when he will sit and talk to the local tribal leader. A large bribe is paid.

Bin Laden is then the guest of the village, where under Pashtun custom, he must be protected. The main obstacle in finding him, Mr. Keller says, is that even if someone wanted to betray him - and collect the $25 million (£15 million) reward - there is no one to turn to. The local police know bin Laden is there. "If you report bin Laden's location there is a good chance you will get killed," Mr. Keller says.

"People in a position to give information can't get it to anyone." Morale is still good among the hunters, he says, because many top al-Qaeda officials have been killed. So will bin Laden be caught? Mr. Keller lets out a deep breath. "I don't know." [TimesOnline/9September2009]
Does Norway Engage in International Espionage? Two Norwegian citizens were sentenced to death by a Congolese court last week, after being convicted of both espionage and murdering their driver. (They claim the man was killed by bandits who attacked their vehicle.) The Norwegian government insists that it is completely uninvolved. Do small countries like Norway engage in international espionage?

Yes. Even the smallest countries run intelligence operations to protect their national interests and security. Norway's CIA-equivalent, called the Norwegian Intelligence Service, tends to focus on matters related to Russia. The two countries have been locked in a dispute over fishing rights and petroleum exploration in the Barents Sea for more than 40 years, and Norway closely monitors the area for any Russian activity that might undermine its territorial claims. The NIS is not known for operating in Africa.

The intelligence agencies of less populous nations often concentrate on one adversary or one particular region. As a result, when it comes to gathering intelligence in that area, a small country may be as good as or better than a more powerful nation with a well-funded crew of spies. The small country can then use this local expertise as trade bait to procure technology, money, or other intelligence (such as detailed satellite imagery) from its allies. The exchanges can be made on a casual basis, or they can be formalized in secret intelligence-sharing treaties.

Even though the population of Norway is slightly smaller than that of Colorado, the country is a crucial source of intelligence for the United States. Since the first years of the Cold War, we've relied on Norwegian operatives to monitor Russia's Northern Fleet, which is docked on the Kola Peninsula and includes many of its nuclear submarines. In order to move into the open ocean, the fleet passes between Norway's mainland and its Svalbard Island chain. (A Norwegian intelligence ship detected the explosion when the Russian Kursk submarine was sunk by one of its own torpedoes in 2000.) Russia has repeatedly complained that the NIS operates too close to the country's military exercises. Norway also provided manpower and a launching point for CIA-sponsored land-based operations in the Soviet Union.

There is only one well-known Norwegian covert action in Africa, and it did not directly involve the NIS. During the 1980s, the Norwegian government funneled about $350 million to activists in South Africa to fund the anti-apartheid movement. The government sent the money via the Church of Norway and into the hands of Bjarne Lindstrom. Lindstrom was officially a Norwegian diplomat, but much of his work focused on providing money, counsel, and organizing space to grass-roots anti-government groups. He also sheltered activists who were wanted by the South African police.

While Norwegian intelligence hasn't been known to work in Africa, Belgium and France have deep networks there. The former colonial powers enjoy generous mining rights in the resource-rich region. They maintain informants inside the governments, intercept electronic communications, and use satellite imagery to track the activities of groups that might threaten their economic interests. Congo, in particular, is no stranger to covert intervention by foreign powers. In 1961, Patrice Lumumba, the first democratically elected prime minister, was assassinated under circumstances that strongly suggest the involvement of the Belgian government. Only one year earlier, the CIA had planned to poison Lumumba using contaminated toothpaste, but the operation was called off by its local station chief. [Glass/Slate/9September2009]

Statement to Employees by Director of the Central Intelligence Agency Leon E. Panetta on September 11th. Tomorrow, our nation as a whole will remember those lost to us eight years ago. For the men and women of the CIA, September 11th is a constant, powerful incentive in the war against al-Qa'ida and its violent sympathizers. Our Agency is at the center of that fight. We have no higher priority or greater focus.

Alone, and with partners in this country and overseas, the CIA has inflicted major losses on a dangerous enemy. Places that al-Qa'ida once counted as safe havens have become less safe. People on whom al-Qa'ida once relied ­ planners, commanders, facilitators, and trainers ­ have been taken off the battlefield.

The information the CIA gathers and the actions it takes, crucial as they are, will not by themselves defeat terrorists determined to strike again. Al-Qa'ida's own vicious ideology, founded on the murder of innocent people, has proven to be a major weakness. But we cannot wait for popular disgust to isolate and overcome the extremists. We and our allies must continue to press the offensive, eroding their ability to plot and kill.

It is difficult, hazardous work. But your skill, dedication, and valor make good on our responsibility not only to the memory of those who perished on September 11th, but to their families and to all Americans. We will never forget their sacrifice and we will never rest until we have brought those responsible for this tragedy to justice.

The President has made clear that our mission is to disrupt, defeat, and destroy al-Qa'ida ­ and that's exactly what we intend to do. It is a privilege for me to work with men and women worthy of so vital a mission. Thank you for serving so well in this fight­and for helping the United States guarantee that no life lost in this attack or battle shall be lost in vain. That is our pledge and our prayer on this September 11th. Leon E. Panetta. [Panetta/CIA.Gov/10September2009]
---
Closing Arguments: History Shows Targeting the CIA is Perilous Move, by John Yoo. A young, fresh face campaigns for the presidency by attacking the CIA: "Our government should justify the character and moral principles of the American people, and our foreign policy should not short-circuit that for temporary advantage," he says. He promises to never "do anything as president that would be a contravention of the moral and ethical standards that I would exemplify in my own life as an individual."

He wins the election and begins to decimate the intelligence agencies. Barack Obama? No. Jimmy Carter.

The Carter administration's national-security record should not serve as a model for any president. But unless Obama changes course, he risks duplicating the intelligence disasters of the '70s, and endangering the nation.

Last month, the president and Attorney General Eric H. Holder Jr. launched a destructive investigation into the CIA's detention and interrogation of al-Qaeda leaders. Several of the detainees were directly involved with the planning and execution of the attacks on Sept. 11, 2001. They were captured at a time when our government feared a second wave of attacks.

Our nation's leaders made the difficult decision to use coercive interrogation methods to learn as quickly as possible what these hardened al-Qaeda operatives knew. As one of many government lawyers who worked on these counterterrorism programs, I can attest to the terrible pressure of time and events in the months after the Sept. 11 attacks.

Knowledgeable officials expected that al-Qaeda would try again - soon - and in a more devastating fashion. But as we pause to remember the Sept. 11 attacks eight years later, fair-minded people should take heart that there has been no follow-up attack in the United States. To the contrary, several plots have been foiled and the terrorists are on the run. This was not the result of luck - it is because of the hard work of members of the military and our intelligence agencies.

Their reward is an open-ended investigation, and in some instances the disturbing reopening of cases closed by career prosecutors. Others have written about the financial ruin in store for agents and analysts whose focus will shift from the enemy to their legal bills. What has gone less well understood is what the investigation will do to the CIA as an institution at a time when it serves as the nation's eyes and ears and, sometimes, the sword and shield, during war against a shadowy, covert enemy.

The Carter presidency serves as a warning. Attacking "Watergate, Vietnam, and the CIA," Carter came to office determined to clean house. He and his CIA director, Adm. Stansfield Turner, fell in love with technical means of intelligence-gathering, such as the real-time photos sent by reconnaissance satellites. They saw little need for information gathered by spies and informants. Turner promptly took a buzz saw to the division in charge of covert operations, eliminating 820 positions out of 4,730.

The message was clear, and as a result CIA agents became risk-averse. After all, if you might be fired or prosecuted for doing something, the safest thing to do is nothing. America's ability to gather human intelligence and conduct covert operations swiftly fell apart. The CIA failed to predict the fall of the shah. Iranian students - one of them now the president of Iran - took U.S. Embassy officials hostage. A covert operation to rescue them failed miserably, killing eight Americans.

The effects of this decimation of our intelligence capabilities continue. The intelligence agencies failed to stop the 9/11 attacks and do not appear to have penetrated al-Qaeda's leadership. As the Silberman-Robb Commission reported in 2005, the intelligence community's estimates on Iraqi weapons of mass destruction were almost totally mistaken. The cause was not political pressure, according to the commission, but the CIA's lack of spies in Iraq, its inability to analyze what little information it collected, and Saddam Hussein's intent to deceive his own generals and Iran as to his arsenal.

Even the most fervent antiwar activists should welcome an effective intelligence service. If the CIA had accurately judged Iraq's lack of WMD in 2003, the war might not have occurred. If the CIA had decapitated al-Qaeda's leadership in the 1990s (the plans were vetoed by President Bill Clinton), the 9/11 attacks may have been headed off and the invasion of Afghanistan rendered unnecessary.

All intelligence involves probabilities and educated guesses, but effective intelligence can actually provide the information needed to avoid costly wars.

Henry L. Stimson, secretary of state under President Herbert Hoover, once explained the shuttering of the United States' only code-breaking unit with these words: "Gentlemen do not read each other's mail." Unfortunately, we do not live in a world of gentlemen. Stimson realized this in his next cabinet post, as FDR's secretary of war on the day of Japan's surprise attack on Pearl Harbor.

Persecuting the CIA risks another surprise attack or major intelligence failure. [John Yoo (jyoo@law.berkeley.edu), a former Bush administration Justice Department official, teaches law at the University of California, Berkeley.] [Yoo/PhiladelphiaInquirer/13September2009]
---
Section IV - BOOKS, OBITUARIES, BOOKS AND COMING EVENTS
---
The Spies Who Love Us. Canada's spy-catchers suspect Soviet hockey legend Vladislav Tretiak was a "talent scout" who helped recruit sympathizers in Canada to work for the Russian foreign intelligence service, according a new book by a former Canadian spy.

It's one of several intrigues revealed in "Nest of Spies," which portrays Canada as the world's No. 1 destination for legions of foreign government agents. Ottawa is crawling with them.

Led by the Chinese but including intelligence officers from at least 20 nations including allies, the book says, the infiltrators are stealing an estimated $20 billion to $30 billion annually worth of cutting-edge research in products and technologies, other scientific, business and military know-how and political secrets.

Others, it says, are infiltrating ethnic communities, suppressing criticism of homeland governments, recruiting industrial spies, stoking political violence among the diaspora and operating front companies and political lobbies aimed at manipulating government policies.

Proportionately, it estimates more spies operate in Canada than in the U.S.

The book, to be released next week, is authored by former intelligence officer Michel Juneau-Katsuya and Montreal investigative journalist Fabrice de Pierrebourg. Juneau-Katsuya spent more than two decades with the RCMP Security Service and Canadian Security Intelligence Service. De Pierrebourg specializes in security and intelligence issues and authored the 2008 bestseller Montrealistan.

"Canadian businesspeople must realize that the world has changed, that people are extremely aggressive now and that Canadian companies are in the forefront of their targets because it's easy to spy here," Juneau-Katsuya said in an interview Friday. "They know they won't be punished if they're caught and that we have the advanced technology," they want.

Over 371 pages, the pair expose an astonishing parade of spy-vs.-spy and espionage stories, from Tretiak and other Russian post-Cold War escapades to allegations of India's suspected involvement in the 1985 Air India disaster.

They reveal the hidden hand of Chinese intelligence in getting the House of Commons in 2007 to shame China's old enemy Japan for its treatment of foreign women during the Second World War, allege political assassinations within Canada's ethnic diaspora and explain how reductions to CSIS's counter-intelligence budget mean some of the service's elite agents, assigned to monitor suspected foreigners, no longer work weekends in Canada's big cities.

But their chief message is denouncing "the silence and inaction" of a succession of federal governments more interested in trade and diplomatic relations than crime and punishment, demoralizing the relatively few CSIS and RCMP managers and counter- espionage agents who haven't been re-assigned to post-9/11 counter-terrorism duties.

"Far from receding, espionage is on the march in Canada ... increasing at a startling rate," they write. "The players in this latest version of the Great Game are largely familiar faces from the recent past. But, in the words of a serving senior CSIS officer, 'It's no longer a game of East against West, or the United States against the USSR. It's a game of all against all'." Over the past 15 years, there have been hundreds of prosecutions of foreign spies in the U.S., Britain and France, but not a single one in Canada. "Senior law enforcement officials have taken the hint and placed their priorities elsewhere. Where limited efforts are made, government policy and government actions have not been co-ordinated." In the end, Canadian businesses are largely left to fend for themselves and their market shares against sophisticated and well-funded thieves intent on stealing (or sabotaging) their work and bringing it to market faster and without the enormous research-and-development costs.

"We need to face the fact that we are a desirable target, and likely to become more so. The corporate community must acknowledge the scale of the problem and demand public assistance fighting it." The book says the Tretiak affair began in the mid-1990s, long after his heroic performance in the 1972 Summit Series and Paul Henderson's momentous winning goal.

"The great Tretiak was quite a celebrity in his day, and not only among hockey fans. CSIS was also an avid Tretiak-watcher. A number of good sources inside the organization have told us that Tretiak was 'ticketed' at the time. That means that he was believed to be a 'co- opted' individual, somebody who has been recruited as an informer and was being paid or recompensed in some way. There were hundreds of these back then, especially among Soviet citizens like himself who had received job offers from outside the homeland." But, the book continues, "there was also a hypothesis that he was more than a simple informer." In Friday's interview, Juneau- Katsuya said one of three CSIS sources believes Tretiak worked as a "talent-spotter" for the Russian foreign intelligence service, the SVR, successor to the KGB.

"The talent-spotter will identify and mention to their controller who's favourable to the Soviet Union, who could be recruited. Then (SVR) will prepare an operation and they will approach that person, who is totally oblivious," to the role of the talent-spotter.

"He is definitely a guy who was of great interest," to CSIS, he said. "He had access to a lot of people, could influence a lot of people between a Cognac and a cigar. That's the name of the game." Tretiak, now president of the Ice Hockey Federation of Russia and a member of the State Duma, declined requests to comment for the book.

The India hypothesis Sikh extremist Talwinder Singh Parmar, mastermind of the 1985 Air India bombing, may actually have been an agent provocateur dispatched by the Indian secret service to work undercover inside Canada's "Little Punjab" community, the book alleges.

"This hypothesis comes from one of our sources," write the authors. The source claims CSIS intercepted a conversation in which Davinder Singh Ahluwalia, then India's consul-general in Toronto, asked a contact in the Sikh community to arrange a meeting with the late Parmar.

"Ahluwalia's office was bugged, and the alleged conversation took place several months before the bombing. So, a highly-placed diplomat tried to arrange a meeting with a man considered to be Terrorist Number One. This same Ahluwalia had also been repeatedly approached by the Central Intelligence Agency ... because they wanted him to become their mole in Iran." Deadly chemical plot On Jan. 14, 1987, flames destroyed the Soviet consulate in Montreal. Canadian security agents - Juneau-Katsuya tailed the city's KGB agents for several years - launched "Operation F" (for fire), and pulled off an intelligence coup that has passed into the annals of western intelligence history.

The book presents a new version of what happened next: "CSIS agents audaciously disguised themselves as firefighters and emergency cleanup crews. A variant on the story suggests that a legitimate industrial cleanup company agreed to do the heavy lifting for a premium price and on the condition that no questions were asked." Most of the heavily loaded trucks were directed to a weather-tight hangar at Mirabel Airport, which had been rented by CSIS. Other cargo thought to be more valuable was taken directly to a CSIS laboratory in Ottawa.

"Over the course of the next year, a handful of specialists - chemists in particular - reassembled countless puzzle pieces." Other specialists built a life-sized reconstruction of the top-secret "isolation room" that had existed inside the consulate.

At the fire scene, sniffer dogs from French intelligence came across, "evidence of Soviet plans for the populations of Canada in the event of a final and total war between East and West. These involved chemical and bacteriological warfare on our territory." Special teams of assassins, CSIS learned, were stationed in the country to await potential instructions to sabotage energy and transportation networks, including Hydro-Quebec dams and power transmission lines.

"One proposed secret plan involved putting deadly chemicals in the city's drinking water system. This helped explain why the Montreal consulate was ... well supplied with protective clothing its employees would require if they were to carry out such an order and survive." Fishing for secrets - and sturgeon In the early 1990s, Sergei Tretyakov, code-named "Comrade Jean," arrived in Canada to head the KGB/SVR Ottawa operation. Over time, he became marginalized and angry with his master in Moscow and signaled to CSIS that he had no desire to return to Russia. (When the Russian spies weren't fishing for secrets, they often gathered on the Ottawa River beneath Parliament Hill to fish for sturgeon.) The answer from CSIS was "categorically nyet." "There were no resources to process another defector. There was nobody available to debrief him, nobody to parse his statements word by word, nobody to investigate and verify, and certainly nobody to organize the costly and obligatory jaunt that would show him off to the English, French and American espionage services." When another SVR operative from Ottawa was accepted for defection - his terms were a simple $1 million for a batch of documents - Tretyakov was transferred to the United Nations in New York and became part of the Soviet's massive espionage operation.

But by 1997, his disillusion returned and he defected to the open arms of the Americans, to whom he spilled his guts about the Soviet's North American spy network, allegedly including the identity of Robert Philip Hanssen, a Soviet mole working inside the FBI.

Nest of Spies delves most deeply into Chinese spying. As of 2007, Beijing intelligence agents occupied about half the time of CSIS's spy-catchers.

"Of all the countries that dance across the Canadian border to shoplift our technology, China is far and away the busiest and the most aggressive," writes Juneau-Katsuya, whose years with CSIS include heading its Asia-Pacific desk.

"They don't even much bother to disguise what they're doing. The Canadian government, including CSIS itself, is so befuddled that it hasn't begun to understand how serious the problem is.

"While we have the ability to take on CIS (the Chinese Intelligence Service), we lack the will. Instead, we are blinded by what we mistakenly see as the opportunities presented by trade with China. This leaves China's spies in full control of the situation. When everything is taken into consideration, we have to say that our leaders have done more damage by enabling CIS than CIS could ever have done on its own." The Chinese agents also cultivate legislators at every level, according to the book.

In November 2007, the Commons unanimously passed a motion calling on Japan to apologize to foreign women forced into military brothels during the Second World War.

The authors say an "official investigation," presumably by CSIS or the RCMP, revealed that a Chinese intelligence service - the United Front Work Department - orchestrated and financed the Chinese-Canadian group that lobbied parliamentarians for the motion.

"Japan is China's principal competitor on the Asian subcontinent, and so it was in China's interest to create a chill in Canada-Japan relations. The 'atrocities' were the handiest available tool. Canadian legislators ... none of them asked for CSIS's opinion on what was going on." So-called "foreign interference" has a much more sinister side.

Many countries "send agents to Canada to report on the behaviour of their emigrant community. Some instruct agents to occasionally silence dissident voices. There have been assassinations." Juneau-Katsuya elaborated in Friday's interview.

"There were very, very strong suspicions that in the Iranian community and the Sikh community and even in the Tamil community, (that) there have been assassinations that took place. (They) were investigated as crimes, but we know that they took place" for political reasons.

"I'm aware of three different cases, but I think there would have been more, over the last 20 years. It sends a strong message when you kill somebody and it has a very strong effect within the community." But "we're not geared in Canada to get a clear picture of what's going on. We need to have an official body, and I suggest a Senate committee, that has the power to call witnesses and start research to find out what is going on" with foreign intelligence operatives in Canada. [MacLeod/TheOttowaCitizen/12September2009]

IG Report on Interrogations. For those interested, the following is a link to a heavily redacted version of the Inspector General's Special Review of the CIA's Counterterrorism Detention and Interrogation Activities from September 2001 to October 2003. Readers may be particularly interested in pages 28-29, concerning notifications to Congress, and pages 90-95, concerning the value of information elicited during the interrogations.

http://luxmedia.vo.llnwd.net/o10/clients/aclu/IG_Report.pdf

---
Christopher Fitzgerald, 88, CIA Agent Led Effort to Recover Soviet Submarine. Christopher Fitzgerald, 88, a CIA officer who was the senior member of the team that built the controversial Glomar Explorer, which was intended to lift a Soviet nuclear submarine from the Pacific Ocean floor, died Aug. 30 of congestive heart failure at his home in Arlington.

Mr. Fitzgerald spent most of his 18-year career with the agency in signal intelligence, imagery intelligence and overseas operations. He also helped develop some versions of the Corona, the first U.S. imagery intelligence satellite, and he played a key role in the development and management of satellite listening stations to monitor Soviet missile capabilities from Iran and other parts of the world.

Early in his CIA career, Mr. Fitzgerald became the lead engineer in the construction of the Glomar Explorer, an enormous barge ostensibly built by reclusive billionaire Howard Hughes to mine manganese from the ocean floor. It was actually built under contract for the CIA to recover a 2,000-ton Soviet submarine that had sunk in 17,000 feet of water about 750 miles northwest of Hawaii in 1968.

The recovery effort, which began in 1974, did not go well. The submarine split while it was being raised, and the Glomar's crew expected a nuclear explosion when the falling sub and its weaponry hit the ocean floor. No explosion occurred.

Although critical portions of the submarine were lost, three nuclear missiles, two nuclear torpedoes, the ship's code machine and various code books were recovered, according to news stories, which revealed the operation.

More than a decade later, Mr. Fitzgerald escaped being held hostage in the U.S. Embassy in Tehran by a single day, said one of his daughters, Christine Fitzgerald of Takoma Park. He had been there on assignment, and after working to get as many intelligence officials as possible out of Iran, he left Nov. 3, 1979, the day before radical Islamic students seized the embassy.

Unbeknown to most of the world, six Americans evaded capture and escaped to the Swedish and Canadian embassies, where they were sheltered until safely evacuated months later. Mr. Fitzgerald was one of the few people who knew of their plight while it was still a secret, his daughter said.

He later reorganized and modernized the National Photographic Interpretation Center, now part of the National Geospatial-Intelligence Agency.

He retired from the CIA in 1984 and helped created FHS Corp., which did consulting on national security and intelligence for the government until closing about 1991.

Mr. Fitzgerald was born in Elmhurst, N.Y. He graduated from the U.S. Merchant Marine Academy in 1942 and served in the Navy in the Pacific theater during most of World War II. He participated in the battles of Coral Sea and Guadalcanal and later served in the Solomon and Mariana islands and on Okinawa.

After the war, he worked for several companies in Connecticut until moving to California, where he worked at the Grand Central Rocket Co. on the development of the solid rocket fuel used in the first U.S. satellite program.

When the Redlands-based firm was bought by Lockheed and became Lockheed Propulsion, Mr. Fitzgerald became its developer of manufacturing. He joined the CIA in 1966.

In Fairfax County, he chaired the building committee of St. Mary of Sorrows Catholic Church and was a member of the Knights of Columbus. He moved to Indian Harbor Beach, Fla., in 1987 and then returned to the Washington area in 2003.

Among his awards was the Career Intelligence Medal, which he received in 1983.

In addition to daughter Christine Fitzgerald, survivors include his wife of 66 years, Evelyn Brennan Fitzgerald of Arlington; four other children, Deborah McArdle of Gaithersburg, Evelyn Crowder of West Palm Beach, Fla., Kevin Fitzgerald of Arlington and John Fitzgerald of Great Falls; a brother; 13 grandchildren; and two great-grandchildren. [Sullivan/WashingtonPost/8September2009]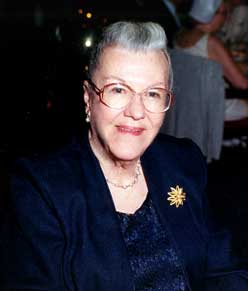 Mary Elizabeth McCausland, AFIO Life Member and Former National Board Member/Treasurer. Mary McCausland, born 8 October 1927, died on 10 September 2009 of cancer.

Mary was in U.S. Army Intelligence from 1952-1963, then was with the Defense Intelligence Agency from 1963-1987. She was a very active, dedicated Life Member of AFIO, served on the National AFIO Board from 1992 to 2005, and worked in the office three days a week for almost fifteen years. Mary assisted Gretchen Campbell, and after Gretchen's death, Roy Jonkers, Elizabeth Bancroft and countless others in getting out notices, arranging conferences, and handling all the bookkeeping and payroll for AFIO National up to 2005 when she suffered a stroke from which she only partially recovered - she never regained speech and lost her ability to play music [she was the church organist].

Mary was, as always, clear-headed and alert to the end, making decisions, while the family said good-byes to this wonderful, smart, selfless lady who gave so much to AFIO, to her country, church [she was chief organist], family, neighbors, and friends. At the funeral held today, her husband, Bill, pointed out that he had arranged for her to be buried with her AFIO life member pin proudly on her coat. She will be deeply missed by all of us at AFIO who had the honor of knowing and/or serving with her.

Mary is survived by her loving husband of 44 years, William McCausland. She is also survived by her daughter Martha Bartley (Thomas) of Olney Maryland and grandchildren Andrew W. and Jane K. Bartley also of Olney Maryland. Friends called upon her today [Tuesday, Sept 15] at the Everly Wheatley Funeral Home, 1500 W. Braddock Road, Alexandria, VA 22302. There will be a Mass of Christian Burial on Wednesday, September 16, 2009 at 12:00 PM at St. Andrew and St. Margaret of Scotland Church, 402 E. Monroe Avenue, Alexandria, VA 22301. Interment will follow at Mount Comfort Cemetery. [AFIO/13September2009]

---
Naked Intelligence Conference. We would like to extend a personal invitation to you for the 1st Naked Intelligence Conference, which will be held in Luxembourg from the 9th to the 12th November 2009. Early bird rates end on the 15th of October!

Naked Intelligence 2009 will address the craft of intelligence in the context of a transparent and information driven world and is aimed at decision makers in all fields of industry, academia and the intelligence community as well as government bodies and agencies. The conference will bring together 400 high-level practitioners and consumers of corporate, commercial and political intelligence. Following the conference there will be a series of specialised workshops examining different aspects of data-space technology and data mining the internet.

Our world-class speakers include not only collectors of commercial intelligence and counter-intelligence but also the executive consumers of intelligence. Amongst our confirmed speakers are Tyler Drumheller, Chief Operations Officer DMC Worldwide and former Director of the CIA's Europe Division, who will be sharing his views on Agile Intelligence Operations; Andrew Chester, a pioneer of OSINT in Canadian Naval Intelligence who is currently program manager for TradeBytes Data Corp, will discuss Predictive Intelligence in an Open Source World; Itzok Podbregar, former Director of the Slovenian Intelligence and Security service, who will examine the Intelligence lessons learnt from Kosovo and Stephen Arnold, technology and financial analyst who is also a renowned author, will examine the implications for government entities of real time information in the hands of civilians:. For the full current programme please refer to our website www.nakedintelligence.org.

Naked Intelligence 2009 will be a unique opportunity to meet and hear from people with a wealth of practical experience to share with you. In addition to the conference activities there will a full social programme which, combined with the presence of a world class resort spa and a casino at the location, promise to make this a truly memorable event. The conference fee even includes lunch, dinner and cocktail events.

We would be delighted if you could join us at Naked Intelligence 2009 but places are limited to 400 delegates so go to our website www.nakedintelligence.org and register today to take advantage of 30% early bird discounts - which end on the 15th of October.

We look forward to seeing you soon,

The Naked Intelligence Team
---
EVENTS IN COMING TWO MONTHS....
17 September 2009 – San Francisco, CA – The AFIO Jim Quesada Chapter hosts R. James Woolsey, former Director of Central Intelligence and member of AFIO's Honorary Board. R. James Woolsey speaks on: Spies, Energy and the New World of the 21st Century: The relatively comfortable world of having a stolid bureaucratic energy and a secure national infrastructure has been replaced by something far more difficult to deal with. As we make decisions about what direction our society should take regarding energy, keeping in mind that we need for it to be increasingly clean, secure, and affordable, what threats and problems should be at the center of our concerns, and what are some of the approaches that can help us deal with all three needs? United Irish Cultural Center 2700 45th Avenue, SF. 11:30 AM no host cocktails; noon - luncheon. $25 member rate with advance reservation and payment; $35 non-member rate. RSVP/pre-payment is required. E-m ail RSVP to Mariko Kawaguchi (please indicate meat or fish) afiosf@aol.com and mail check made out to "AFIO" to: Mariko Kawaguchi, P.O. Box 117578 Burlingame, CA 94011.
17 September 2009, 11:30 am - Colorado Springs, CO - AFIO Rocky Mountain Chapter hears Bryan Cunningham on "National At Risk." Talk to occur at the Air Force Academy, Falcon Club. Markle Foundation's Bryan Cunningham speaks on "Nation at Risk." Cunningham is with the Markle Foundation Task Force on National Security in the Information Age. RSVP to Tom Van Wormer at robsmom@pcisys.net
Thursday, 17 September 2009, 2 - 3:30 p.m. - Washington, DC - " Afghan Police Reform and the Future of Afghanistan" the subject of presentation at the Reserve Officers Assn. Event is cosponsored by Royal US Institute (London), the Reserve Officers Association in Washington, and the Foreign Policy Research Institute of Philadelphia. It features MICHAEL CLARKE of the RUSI and ANDREW GARFIELD, senior fellow, FPRI, and U.S. Director, RUSI.
The authors will present a new study on how best to reform the Afghan National Police and will present their findings in a report to be released at this briefing and on both organizations' websites.
Michael Clarke is the Director of the Royal United Services Institute for Defence and Security Studies. Andrew Garfield is a Senior Fellow at FPRI and US Director of the Royal United Services Institute for Defence and Security Studies.
Event is being held at One Constitution Ave., NE, Washington, DC. It is free and open to the public, but reservations required.
For additional information and to RSVP contact: Alan Luxenberg, Tel: (215) 732-3774 x105 or by Email: lux@fpri.org
Updates for this briefing will be posted at:http://www.fpri.org/research/nationalsecurity/afghanpolice
This event will be webcast To register for the free webcast visit:http://register.webcastgroup.com/l3/?wid=0650917094812
For a preliminary report by Andrew Legon on the project findings, visit:http://www.fpri.org/enotes/200906.legon.afghannationalpolice.html
Thursday, 17 September 2009 - Washington, DC - Counterintelligence Open Source Symposium on "Supply Chain Vulnerabilities - Understanding the Risk" by the ONCIX. The Office of the National Counterintelligence Executive (ONCIX) and the Open Source Center (OSC)/Open Source Academy (OSA) are sponsoring a one-day unclassified symposium to initiate dialogue on these and other extremely topical issues as we begin to address vulnerabilities in our acquisition community and the risks inherent to the supply chain in a global marketplace.
One of the great threats to the marketplace, and the acquisition community, is the threat to products in supply chain acquisitions. Supply chain attacks can occur at any stage of the technology lifecycle - from sourcing of raw material through delivery of end items to the final customer. The acquisition community needs to be proficient at recognizing and addressing these vulnerabilities. In order to accomplish this we must strive to put in place effective procurement related strategies, establish effective means for communicating supply chain threat information, and push to highlight "best business" practices that demonstrate effective supply chain risk management programs.
Event occurs at the Omni Shoreham Hotel in Washington, DC.
For registration and information on the program and speakers: https://www.scvs2009.net/
17 September 2009, 11:30 a.m. - Scottsdale, AZ - The AFIO Arizona Chapter hosts Professor Mark von Hagen on "Russia's History Wars: Foreign and Domestic Battles" Mark L. von Hagen, Professor of History and Director, School of Historical, Philosophical and Religious Studies, speaks on "Russia's History Wars: Foreign and Domestic Battles"
For the past two years, political elites in Russia have been reasserting Russia's claims to exclusive authority over key portions of modern history in line with the former Soviet state school of thinking. Ukraine, the Baltic states, and Georgia have been particular targets for their revising of the historical record in line with their still recent independence.
All these "debates" are overlaid with the politics of NATO expansion, the recent war with Georgia, the gas war with Ukraine. This summer the Russian war escalated to include the OSCE, when its Assembly passed a resolution honoring victims of Nazism and Stalinism.
Once again, please, take note:
WE WILL NEED FOR EVERY MEETING an RSVP no later than 72 hours ahead of time; in the past, not reserving or cancelling without prior notice (72 hours prior to the meeting) created much grief for those of us organizing the meeting and dealing with the personnel! At this new location, we can also be charged for the no-shows and please remember, we are a small organization with a humble coffer! We would therefore APPRECIATE that you all respond to this email to confirm your presence (or not).
Event is being held at: McCORMICK RANCH GOLF COURSE (7505 McCormick Parkway, Scottsdale AZ 85258 ~ Phone 480.948.0260)
Our meeting fees will be as follows: • $20.00 for AFIO members• $22.00 for guests
For reservations or questions, please email Simone sl@4smartphone.net or simone@afioaz.org or call and leave a message on 602.570.6016
19 September 2009 - Kennebunk, ME - The Maine Chapter of the AFIO hosts Speaker on U.S. Policy Towards China. The Chapter will host Harold Clukey, U.S. Air Force officer during the Korean War. Shot down while on a mission, Clukey was a prisoner of war of the Chinese Communists for 6 months before his release was arranged through the International Red Cross. Based on his experience Clukey will present a unique view of United States policy toward China from the Korean War to the present time. The meeting will be held at 2:00 p.m. at the Kennebunk Free Library, 112 Main Street, Kennebunk and is open to the public. For information call: 207-364-8964
22 - 24 September 2009 - Alexandria, VA - The CI Centre hosts three-day course: The Global Jihadist Threat Doctrine. The Global Jihadist Threat Doctrine, starts next week, Tuesday 22 September at the CI Centre's training facility in Alexandria, VA. If you are a current US Government employee, in the military or a state or local law enforcement officer, you won't want to miss this important training to better understand the Jihadist threat and how to deal with it.
The training features a unique opportunity to hear from truly first-class speakers who are the nation's leading experts on the Jihadist threat, including:
Dr. Walid Phares who is an author of several books about Jihadists and has been studying this threat since well before 9/11;
Dr. Tawfik Hamid who was recruited as a true-believing radical Islamist into an Egyptian terrorist organization with Dr. Ayman Al-Zawahiri;
Stephen Coughlin who is a lawyer and Army reservist and has extensively studied what Islamic Law says and its implications;
Clare Lopez who is a retired CIA operations officer and talks about the stealth jihad taking place in Europe and the United States; and
CI Centre President David Major who is a retired senior FBI executive and served on the National Security Council.
After attending this training, you will hold the keys to understanding the threats we face better than anyone around you and enable you to more effectively defend against the threat. You owe it to not only yourself and your job but also to our nation to be among those whose blinders are off and are able to deal with the facts as they are, however "inconvenient."
As the limited seats in this course are being filled, contact Adam Hahn right away at 703-642-7454 or 1-800-779-4007 or adam.hahn@cicentre.com to reserve your place. Or, fill out and fax in the Registration Form. - - - - - - - - - - - - - - - - - The Global Jihadist Threat Doctrine, September 22-24, 2009, CI Centre training facilityin Alexandria, VA
Open to current US Government employees, military, state/local law enforcement Cost is $975 per person
Tuesday, 22 September 2009; 6:30 pm – Washington, DC - Terror Media: Free Speech or Dangerous Weapon? at the Spy Museum
With the communications explosion, terrorist groups like Al Qaeda, Hezbollah, Hamas, the PKK, and others have used their own media outlets to glorify suicide bombings, incite violence, recruit terrorists, and fund-raise online. Should governments shut down these media outlets to protect their citizens from harm? Should terror media be shielded as "protected free speech"? To what extent does one keep defending free speech....up to the point it kills you or your loved ones? Or ignore it if it kills others who you care little about? Where does one draw the line, if any? And how can new media be used against violent extremists? The panel exploring these issues includes: Juan Zarate, former deputy national security advisor for combating terrorism and former assistant secretary of the Treasury for terrorist financing and financial crimes; Mark Dubowitz, executive director of the Foundation for Defense of Democracies, who has helped shut down Hezbollah and other terrorist owned-media around the world; Donna Lieberman, executive director of the New York Civil Liberties Union, who has spoken out in support of free speech regardless of viewpoint or consequences including deaths; and Todd Stein, legislative director for Senator Lieberman, and formerly a lawyer on the Senate Committee on Homeland Security and Governmental Affairs, who wrote the seminal document for the U.S. Congress exposing how terrorist organizations use online media to disseminate their message. Tickets: $15 per person. Where: International Spy Museum, 800 F St NW, Washington, DC, Gallery Place/Chinatown Metrorail Station To register: https://web.spymuseum.org/e-commerce/ItemList.aspx
Thursday, 24 September 2009; 12 noon – 1 pm – Washington, DC - Author talk by Jennet Conant on: The Irregulars: Roald Dahl and the British Spy Ring in Wartime Washington - at Spy Museum. In 1940, with the threat of German invasion, the British government mounted a massive, secret campaign of propaganda and political subversion to weaken isolationist sentiment in America and manipulate Washington into entering the war against Germany. For this purpose, Winston Churchill created the British Security Coordination (BSC) under William Stephenson, "Intrepid," whose agents called themselves the "Baker Street Irregulars." Jennet Conant, author of The Irregulars, will discuss the exploits of one of Stephenson's key agents: Roald Dahl. Beloved now for his books Charlie and the Chocolate Factory and James and the Giant Peach, in WWII Dahl used his dazzling imagination for espionage purposes. His dashing good looks and easy charm won him access to the ballrooms and bedrooms of America's rich and powerful, and to the most important prize of all—intelligence. Free! No registration required! Join the author for an informal chat and book signing. Where: International Spy Museum, 800 F St NW, Washington, DC, Gallery Place/Chinatown Metrorail Station
Wednesday, 30 September 2009; 6:30 pm – Washington, DC - Rediscovering U.S. Counterintelligence: The Inside View - at the Spy Museum. "Significant strategic victories often turn on intelligence coups, and with almost every intelligence success, counterintelligence rides shotgun."—Jennifer E. Sims, former deputy assistant secretary of state for intelligence coordination
Research, analysis, agile collection, and the timely use of guile and theft are the handmaidens of intelligence. The practice of defeating these tactics —counterintelligence—is an art unto itself. Burton Gerber, a veteran CIA case officer who served 39 years as an operations officer, was chief of station in three Communist countries, and now teaches at Georgetown University, and Jennifer E. Sims, professor in residence, director of intelligence studies, Georgetown University, and former deputy assistant secretary of state for intelligence coordination, have recently co-edited Vaults, Mirrors, & Masks: Rediscovering U.S. Counterintelligence. In this fresh look at counterintelligence, the co-editors will explain its importance and explore the causes of—and practical solutions for—U.S. counterintelligence weaknesses. Audience participation in this probing conversation—from the protection of civil liberties to challenges posted by technological change—will be strongly encouraged. Tickets: $15 per person Where: International Spy Museum, 800 F St NW, Washington, DC, Gallery Place/Chinatown Metrorail Station To register: https://web.spymuseum.org/e-commerce/ItemList.aspx
Wednesday, 7 October 2009 - Saturday, 10 October 2009 – Washington, DC - ThrillSpy International Film Festival. ThrillSpy International Film Festival, sponsored by the National Museum of Crime and Punishment and the International Spy Museum, provides a showcase and celebration of the exciting thriller and spy genre of films and novels, will hold its inaugural event in Washington this October. ThrillSpy brings together new independent filmmakers with fans and content distributors who appreciate their creativity. The festival is a four-day event which includes film screenings in Washington's Penn Quarter, educational lectures, socials, book signings, a tour of the International Spy Museum, and concludes with a ThrillSpy Awards Masquerade Gala. Films this year include special selections from the Cannes and Sundance film festivals. The opening night film is the D.C. premier of The Champagne Spy by Nadav Schirman, an international award-winning documentary about a true "Bond-like" Cold War spy. The festival will also showcase Maryland director Brian Davis' Academy Award–winning documentary If A Body Meet A Body, which highlights the lives of three employees at the world's busiest coroner's office. Street Boss will also make its U.S. debut at ThrillSpy. This crime thriller explores how the FBI brought down one of Detroit's most infamous mobsters.
For more information please contact info@thrillspy.com or visit www.thrillspy.org.
13-16 October 2009 - Las Vegas, NV - AFIO National Symposium - Co-Sponsored with the U.S. Department of Energy, Nellis AFB, Creech AFB.
Register Here while space remains
Agenda
AFIO 2009 Fall Symposium/Convention in Las Vegas, Nevada
13 October to 16 October, 2009
Co-Sponsored with the


and the


Co-hosted with the AFIO Las Vegas Chapter

Cold Warriors in the Desert: From Atomic Blasts to Sonic Booms
Symposium will feature presentations on the testing of atomic weapons, airborne reconnaissance platforms, and more. Onsite visits to Nellis Air Force Base - Home of the Fighter Pilot, the U.S. Department of Energy's Nevada Test Site - the former on-continent nuclear weapons proving ground, and Creech Air Force Base - the home of the Predator unmanned aerial vehicles (currently deployed for combat missions in the Middle East, yet piloted from Creech).
Secure Online Registration is here while space remains
To download 1-page PDF registration form, complete, and mail or fax to us,
it is HERE
Updated agenda for planning your hotel and travel arrangements
Please note: buses will be departing very early on Wednesday morning from hotel, so attendees are encouraged to reserve sleeping rooms at hotel starting Tuesday evening, 13 October.
Harrah's Hotel Registration is available now at: Telephone reservations may be made at 800-901-5188. Refer to Group Code SHAIO9 to get the special AFIO rate. To make hotel reservations online, go to: http://tinyurl.com/hotel4afio
Special AFIO October Symposium Las Vegas rates are available up to Wednesday, September 30, 2009
14 October 2009 - Laurel, Maryland - The National Cryptologic Museum Foundation Hosts General Membership Meeting on "Cyber Challenges Facing the U.S. in the 21st Century." The NCMF hosts their general membership meeting and have invited SecDef Robert Gates and CIA Dir Leon Panetta to be the speakers. The theme is "Cyber Challenges Facing the U.S. in the 21st Century." Sen. Barbara Mikulski will give a few words to the membership. A continental breakfast and buffet lunch will be provided. On October 15-16 NSA's Center for Cryptologic History sponsors their Symposium on Cryptologic History. The them: "Global Perspectives on Cryptologic History." For further program information and fees visit www.cryptfoundation.org
15 - 16 October 2009 - Laurel, Maryland - NSA's Center for Cryptologic History sponsors the Symposium on Cryptologic History on "Global Perspectives on Cryptologic History." This special symposium is held every two years. Historians from the Center, other parts of the Intelligence Community, and the Department of Defense will join distinguished scholars from American and foreign academic institutions, along with veterans of the profession and others interested in cryptology, for two days of reflection and debate on the cryptologic past. Under this year's theme, "Global Perspectives on Cryptologic History," participants will consider the impact of cryptology within the context of transnational history. The panels include a range of technological, operational, foreign relations, organizational, counterintelligence, policy, and even literary themes. Past symposia have featured scholarship setting out new ways of considering cryptologic history. The mix of practitioners and scholars on occasion can be volatile, but the result is a significantly enhanced appreciation for the context of past events. This year's symposium promises to tackle controversial subjects head-on. Breaks and luncheons, presenting rare opportunities for lively discussion and interaction with leading scholars and distinguished experts, will be included in the registration fees. The symposium will be held at the Johns Hopkins University Applied Physics Laboratory's Kossiakoff Center in Laurel, Maryland. Make plans to join us for either one or both days of this intellectually stimulating conference. For more information, contact Dr. Kent Sieg, Symposium coordinator, at 301-688-2336 or kgsieg@nsa.gov
Tuesday, 20 October 2009; 6:30 pm – Washington, DC - CIA Magic: The Official CIA Manual of Trickery and Deception at the Spy Museum. In the early days of the Cold War, the CIA initiated a top-secret program, code-named MKULTRA, to counter Soviet mind-control and interrogation techniques. Realizing that its officers and agents might need to clandestinely deploy newly developed pills, potions, and powders against the adversary, the CIA hired America's most famous magician, John Mulholland, to write two secret manuals on sleight-of-hand and covert communication techniques. Twenty years later, virtually all documents related to MKULTRA—including Mulholland's manuals—were thought destroyed. Only recently, a surviving copy of each manual, complete with photographs and illustrations, was discovered. In their new book, The Official CIA Manual of Trickery and Deception, H. Keith Melton, internationally renowned espionage historian, and Bob Wallace, former director of the CIA's Office of Technical Services (OTS), reveal for the first time Mulholland's complete illustrated instructions for CIA officers on the magician's approach to manipulation and communication. This eye-opening evening will explore the rich overlap between stage magic and espionage and reveal the "never before seen" secrets of how the magicians' art also enhanced the spy's craft.
Tickets: $20 per person Where: International Spy Museum, 800 F St NW, Washington, DC, Gallery Place/Chinatown Metrorail Station To register: https://web.spymuseum.org/e-commerce/ItemList.aspx
23-24 October 2009 - Bethel, CT - The Naval Cryptologic Veterans Association - New England Chapter (NCVA-NE) will hold a fall MINI-REUNION Event to occur at the Stony Hill Inn, US Rt 6, Bethel, Ct. For additional information, you may call (518) 664-8032 Questions: Victor Knorowski, 8 Eagle Lane, Mechanicville, NY 12118, E-mail: knork629@verizon.net
Wednesday, 28 October 2009, 11 a.m. - 1 p.m. - Newport News, VA - AFIO Norman Forde Hampton Roads Chapter hosts Cyber Security Workshop
Where: Christopher Newport University, Newport News. Co-hosted by AFIO Norman Forde Hampton Roads and with CNU's Center for American Studies (CAS).
The Workshop entails a mid-day session (11 a.m. - 1 p.m.) featuring a keynote speaker, followed by a panel of four cyber security experts from government and business sectors. A light reception will follow the panel discussion. For more info: mwsaunder@cox.net
28 October, 2009 - Rockland, Maine, 11:30am. - The CIA Retirees Assn (CIRA) New England chapter Fall meeting will be held at Samoset Resort (www.samoset.com). Guest speaker Will DeLong, security analyst for FEMA/MEMA, on current DHS security programs. For further info contact Richard Gay, CIRA/NE program chair: 207-374-2169
Thursday, 12 November 2009; 12 noon – 1 pm – Washington, DC - Defend the Realm: The Authorized History of MI5 at the Spy Museum. As MI5, Britain's legendary security service, marks its 100th anniversary, the agency has given an independent scholar unrestricted access to its records for the very first time. Join Cambridge University professor and International Spy Museum emeritus advisory board member Christopher Andrew, the author of Defend the Realm, as he reveals the precise role of MI5 in twentieth-century British history: from its foundation in 1909, through two world wars, and its present roles in counterespionage and counterterrorism. Andrew describes how MI5 has been managed, what its relationship has been with government, where it has triumphed, and where it has failed. Defend the Realm also reveals the identities of previously unknown enemies of the United Kingdom whose activities have been uncovered by MI5. It adds significantly to our knowledge of many celebrated events and notorious individuals, and definitively lays to rest a number of persistent myths. Free! No registration required! Join the author for an informal chat and book signing. Where: International Spy Museum, 800 F St NW, Washington, DC, Gallery Place/Chinatown Metrorail Station
---
For Additional Events two+ months or greater....view our online Calendar of Events
-----------------------------------------------------------------------
Disclaimers and Removal Instructions
Weekly Intelligence Notes (WINs) are commentaries on Intelligence and related national security matters, based on open media sources, selected, interpreted, edited and produced for non-profit educational uses by members and WIN subscribers.
REMOVAL INSTRUCTIONS: We do not wish to add clutter to inboxes. To discontinue receiving the WINs:
a) IF YOU ARE A MEMBER -- click here: UNSUBSCRIBE and supply your full name and email address where you receive the WINs. Click SEND, you will be removed from list. If this link doesn't open a blank email, create one on your own and send to afio@afio.com with the words: REMOVE FROM WINs as the subject, and provide your full name and email address where you are currently receiving them.
b) IF YOU ARE NOT A MEMBER, and you received this message, someone forwarded this newsletter to you [contrary to AFIO policies]. Forward to afio@afio.com the entire WIN or message you received and we will remove the sender from our membership and distribution lists. The problem will be solved for both of us.
CONTENTS of this WIN [HTML version recipients - Click title to jump to story or section, Click Article Title to return to Contents. This feature does not work for Plaintext Edition or for some AOL recipients]. If you wish to change to HTML format, let us know at afio@afio.com. The HTML feature also does not work for those who access their e-mail using web mail...however NON-HTML recipients may view the latest edition each week in HTML at this link: https://www.afio.com/pages/currentwin.htm
-----------------------------------------------------------------------

WINs are protected by copyright laws and intellectual property laws, and may not be reproduced or re-sent without specific permission from the Producer. Opinions expressed in the WINs are solely those of the editor(s) or author(s) listed with each article. AFIO Members Support the AFIO Mission - sponsor new members! CHECK THE AFIO WEBSITE at www.afio.com for back issues of the WINs, information about AFIO, conference agenda and registrations materials, and membership applications and much more!

(c) 2009, AFIO, 6723 Whittier Ave Suite 200, McLean, VA 22101. Voice: (703) 790-0320; Fax: (703) 991-1278; Email: afio@afio.com
Click here to return to top.