AFIO Weekly Intelligence Notes #29-10 dated 3 August 2010

REMOVAL INSTRUCTIONS: We do not wish to add clutter to inboxes. To discontinue receiving the WINs, click here:

CONTENTS

Section I - INTELLIGENCE HIGHLIGHTS

Section II - CONTEXT & PRECEDENCE

Section IV - BOOKS, ANNOUNCEMENTS, JOBS AND COMING EVENTS

Current Calendar New and/or Next Two Months ONLY

Events at the International Spy Museum in July & August with full details

Thursday, 5 August 2010, noon - Washington, DC - "Silent Sentry: The Untold Story of the National Security Agency" - at the International Spy Museum
Wednesday, 11 August 2010, 6:30 pm - Washington, DC - "Uneasy Alliance: The CIA and ISI in Pakistan" - at the International Spy Museum

---

Personal Note from Mike Goldstein - President, Northern Ohio Chapter

18 - 20 August 2010

AFIO National GREAT LAKES Intelligence Symposium 2010

Our Chapter is co-hosting with the AFIO national office this year's National Intelligence Symposium in Cleveland from Tuesday, August 18 through Friday, August 20: "Intelligence and National Security on the Great Lakes and Northern Border."

The Agenda for this three-day Symposium is available online at this link.

The Great Lakes are one of America's most treasured strategic assets, and yet burdened by a hydra-like bureaucracy of several contiguous state governing agencies, as well as many federal regulatory agencies with a presence in all of these states. Our northern lakes border is extremely vulnerable, and many people working against our interest are taking advantage of our vulnerabilities, as you will learn here.

I urge you to come to Cleveland later this month to learn about the nation's intelligence difficulties in this strategic region, and also to learn what our federal, state, regional, and local agencies are doing to obtain information and turn it into useful, actionable, intelligence, and then to act on that intelligence.

On Wednesday, learn from our US Attorney and his National Security Team of Assistant US Attorneys the difficulties of safeguarding classified evidence which must be used to try terrorist defendants in our federal civilian courts here. Learn how our Northeast Ohio Regional Fusion Center is getting up to speed to develop actionable intelligence products, and how the main Ohio Fusion Center in Columbus is working intelligence to protect the state as part of the Ohio Homeland Security department.

On Thursday learn from special agents of the FBI Field Office about their intelligence program and their counterintelligence and counterterrorism activities. The 9th Coast Guard District Intelligence Department team will inform you about the history of Coast Guard Intelligence, Threats to the Great Lakes Maritime Environment, and US and Canadian Partnerships in Intelligence, Information Sharing and Law Enforcement.

Friday will be a special day at the Ohio Aerospace Institute when we will learn how Ohio institutions are leading national programs in technical intelligence. Wright-Patterson Air Force Base will provide experts from the Air Force Institute of Technology to discuss the intelligence applications of their research in Measurements and Signature Intelligence (MASINT); cyberspace research; digital forensics and support to the law enforcement community; and operational analysis support to the intelligence community. The Chief Scientist of the National Air and Space Intelligence Center (NASIC) will discuss the Air Force's active ISR mission In addition to these professionally satisfying discussions we will have a Lake Erie and Cuyahoga River dinner cruise on the Nautica Queen, and our traditional Spies in Black Ties™ Banquet. Our Keynote Speaker at the Banquet will be Congressman Mike Rogers (Rep Michigan 8th) of the House Intelligence Committee.

Outside the program itself, Cleveland is a very active arts community. Our Playhouse Square (www.playhousesquare.org) is the largest theater district in the country west of New York City. Phantom of the Opera will be playing the Thursday evening of the Symposium, and into the weekend. The Cleveland Museum of Art is next to none. Come early or stay late. Please register! Come to Cleveland to participate in the Symposium, be with your colleagues, and enjoy our City.

Michael S. Goldstein, Esq. LCDR (Ret.), USNR President, Northern Ohio Chapter Association for Intelligence Officers

"Intelligence and National Security on the Great Lakes and Northern Border"

at the Crowne Plaza Hotel, Cleveland, OH

Co-Hosted with the AFIO Northern Ohio Chapter

Includes presentations by U.S. Coast Guard on Great Lakes/Northern Border security;
National Air/Space Intelligence Center; Air Force Technical Applications Center; Ohio Aerospace Institute, Dinner/Cruise on Nautica Queen on Lake Erie.

Spies-in-Black-Ties Reception and Banquet

Make your reservations here.

Agenda is here.

To reserve rooms at the Crowne Plaza Hotel in Cleveland, Ohio now at the $89/nite special event rate, use the following link: http://tinyurl.com/37frwnl

---

AFIO NATIONAL FALL LUNCHEON

FRIDAY, 24 September 2010

1 p.m. speaker: Deputy Director Michael J. Morell, CIA

and

11 a.m. speaker: Speaker, T.B.A.

Check in for badge pickup at 10:30 a.m.
Morning Speaker gives address at 11 a.m.
Michael J. Morell, Deputy Director, CIA - gives address at 1 p.m.
Lunch is served at noon
Event closes at 2 p.m.

R E G I S T R A T I O N

EVENT LOCATION: The Crowne Plaza
1960 Chain Bridge Road • McLean, Virginia 22102
Driving directions here or use this link: http://tinyurl.com/8228kw

Registration limited HERE.

---

WIN CREDITS FOR THIS ISSUE: The WIN editors thank the following special contributors to this issue: dh, pjk, fm, cjlc, th, and fwr.

They have contributed one or more stories used in this issue.

For Additional Events two+ months or more....
view our online Calendar of Events
Section I - INTELLIGENCE HIGHLIGHTS
Taliban Claims It Captured U.S. Sailor. U.S. and Afghan troops swept through a treacherous corner of eastern Afghanistan in search of a pair of missing Navy sailors as the Taliban said its fighters had killed one of the men in a shootout and its leaders would soon decide the fate of the other.

If at least one of the sailors is indeed being held by the Taliban, he would become only the second U.S. service member known to be a captive of the militants. While the capture would have little battlefield impact, it would offer the Taliban a powerful propaganda tool with which to rally its faithful and reinforce its claim to be wearing down North Atlantic Treaty Organization forces fighting here.

"We will do all we can, everything we can" to find the missing sailors, said U.S. Adm. Mike Mullen, chairman of the Joint Chiefs of Staff. "We have a large number of forces focused on the return of these two individuals."

Adm. Mullen was meeting with top U.S., NATO and Afghan officials in Kabul on Sunday as coalition forces widened their manhunt for the missing sailors, sending out helicopters and troops in vehicles and on foot.

Coalition forces set up a perimeter around the area in Logar province, south of Kabul, where the two are believed to have disappeared, officials said. At least two radio stations in Logar were broadcasting a U.S. offer of $20,000 - a life-changing sum for many in Afghanistan - for information leading to the return of the men.

The sailors' disappearance in an area only a few hours' drive from Kabul served as a stark reminder of just how powerful the Taliban remain in many parts of Afghanistan, despite the massive influx of U.S. troops in recent months.

The Taliban's spokesman, Zabiullah Mujahid, said the militants ambushed the sailors Friday after they drove their armored Toyota Land Cruiser into a militant-controlled area of Logar. One was killed in the gun battle, the other captured, he said in a telephone interview.

He said the Taliban had the body of the slain sailor, and "a meeting of top Taliban leaders will be called soon to discuss the fate of the captured soldier."

Since news of the men's disappearance first broke Saturday, there have been conflicting reports of what happened. Much remained unclear, even to top NATO military officers in Afghanistan, who refused to confirm Taliban accounts.

One senior NATO officer said officials didn't want to add to the "noise" of conflicting accounts until they had worked out the details. "All we know is that our guys are missing and we're doing everything we can to get them back," the official said.

In a reflection of that official uncertainty, NATO's Afghanistan task force has so far offered only limited public statements about the incident. A NATO statement released Saturday evening said the men had left their compound in Kabul the day before and had not been seen since. It did not identify the men or provide further details.

One of the main unanswered questions is just what two U.S. service members were doing on their own driving a lightly armored vehicle in a part of Afghanistan known for its illegal Taliban checkpoints and roadside ambushes.

The Taliban says Afghan insurgents have captured two U.S. soldiers south of Kabul.

Adm. Mullen called it an "unusual circumstance" for the sailors to be driving so far from their base in Kabul without security backup.

The senior NATO officer refused to say whether the men were traveling on official business.

A senior U.S. military official in Washington said the sailors weren't Special Operations Forces, such as Navy Seals, who often conduct missions in small groups, although rarely in groups as small as two people.

Afghan officials and witnesses say the two men were last seen Friday in a market in the district of Charkh, about 60 miles south of Kabul. They appeared to be lost, said the provincial government spokesman, Din Muhammad Darwish, citing witness accounts.

He said police tried to warn them to head back toward safer areas. Instead, they pressed on into a part of Logar known to be thick with Taliban fighters.

The Taliban, too, spotted the men at the market and set up an ambush further down the road, at the foothills of a nearby mountain range, Mr. Darwish said.

By Sunday, NATO and Afghan forces had set up checkpoints around Logar and were searching cars. Posters of the missing sailors could be seen at the checkpoints.

The posters featured photographs of the sailors and stated: "This American troop is missing. He was last seen in a white Land Cruiser vehicle. If you have any information about this solider, kindly contact the Logar Joint Coordination Center,'' run by coalition and Afghan forces, the Associated Press reported. A phone number is listed along with information about the $20,000 reward.

The photographs show one clean-shaven sailor wearing a soft cap and another with short-cropped hair, wearing a blue civilian shirt and a white undershirt, according to the AP.

The only other coalition service member known to be a captive of the Taliban is Spc. Bowe Bergdahl. He disappeared from his base in the eastern province of Paktika last June, and militants have since posted videos of the soldier on websites.

Rescuing Spc. Bergdahl became the top priority of the military last summer, and it enlisted both the CIA and Pakistan's intelligence service for help. The U.S. came close to finding him, officials said, but militants thwarted any rescue by constantly moving him.

The apparent capture of the sailors is an early warning of the tough period to come, as additional forces flow first into the area around the southern city of Kandahar, the Taliban's heartland, and then in to eastern Afghanistan in August and September.

Military officials warn that more fighting will come with the forces, and the casualties will rise. But Pentagon officials caution that rising casualties shouldn't be seen as a sign the U.S. is losing. American casualties rose in Iraq in 2007 as the troop surge there built momentum, then began to ebb as the additional forces brought security under control, the officials say.

While few officials think the Afghan surge will show results as quickly, they do say the situation is slowly improving.

"No one is declaring victory but there is progress," Adm. Mullen said. "I believe that goal is still achievable and certainly the proof of that will be what happens over these next many months in what is a very challenging period." [Rosenberg&Abi-Habib/WallStreetJournal/26July2010]
Former Indian Air Force Employee Sentenced in Espionage Case. A Delhi court has sentenced a former Indian Air Force employee to three-and-half-year prison term for passing on defense information to Pakistani intelligence officials.

Judge Shalinder Kaur also imposed a fine of Rs 500 on Sanjit Kumar Paul (62), holding him guilty under various provisions of the Official Secrets Act and the Indian Penal Code.

During the arguments on sentence, Paul sought a lenient view of the court stating that he had already suffered incarceration for four years.

The prosecution, on the other, submitted that the convict was found in possession of a number of documents besides the telephone directory having number of defense personnel.

Paul and Bijendra Singh Panwar were arrested by the Delhi Police on April 22, 2009.

They were accused of passing secret information, prejudicial to the safety and security of the country, to Pakistan intelligence officials through Nepal.

Paul was also found in possession of one fake identity card.

The prosecution, however, could not prove its charge that Paul and Panwar were also found to be in possession different wireless messages of Indian Navy and Air Force.

The prosecution examined 29 witnesses to prove its case against Paul.

The court had acquitted Panwar of all the charges for want of sufficient proof. [IndiaToday/26July2010]
S. Korea, Libya in Conflict Over Rare Espionage Case. A South Korean intelligence official was recently deported from Libya on charges of illicit espionage, leading to the arrests of other South Korean residents there and further deteriorating the countries' bilateral ties, a diplomatic Libyan source said Tuesday.

According to the source, an official of the Seoul-based National Intelligence Service (NIS) was expelled from Libya on June 18 for allegedly trying to collect information on the country's leader, Muammar al-Qaddafi, his family and key Libyan bureaucrats.

The official, whose identity was withheld, was working out of the South Korean Embassy in Libya.

"Libyan authorities shadowed him for three months before arresting him last month," the source said. "He was interrogated for six days before getting deported as a persona non grata."

The source explained the expelled official had never before been posted overseas and that he might have been too eager to please.

"In Libya, any information related to al-Qaddafi and his family is sensitive, and going after it is quite dangerous," the source said.

The NIS had no immediate comment.

A Libyan official told the London-based Arabic newspaper Asharq Al-Awsat that the authorities were trying to establish whether the South Korean was working for the South's intelligence agency or for a multinational one. The paper also reported that a Libyan employee at the South Korean Embassy had been arrested under suspicions of illegal spying but provided no further details.

When Seoul raised issue with the deportation, the source said Libya grew equally upset and on June 23 decided to close its economic cooperation bureau in Seoul, which had served as a de facto embassy. Consular operations, including visa issuance, remain suspended.

The diplomatic source said the Libyan authorities "went on a sort of a witch hunt" targeting suspicious South Koreans, and nabbed a missionary named Koo on June 15 and then a farmer named Jeon on July 17, on charges of violating the Muslim nation's religious law.

The foreign ministry here said Libya has denied South Korea consular access to the detainees.

Another diplomatic source said Lee Sang-deuk, a ruling party lawmaker and brother of President Lee Myung-bak, traveled to Libya earlier this month as a special envoy. His assignment, the official said, was "to try to clear any misunderstanding" stemming from the deportation and "to clarify the situation" to the Libyan government.

When Lee's visit failed to produce any breakthrough, NIS representatives went to Libya for discussions with their Libyan counterparts, the source added.

According to a senior ministry official, the first round of meetings ended last week and Seoul was still awaiting Libya's response.

"The government is trying to ensure that this incident doesn't have any adverse effect on our bilateral relations and that it's resolved as quickly and smoothly as possible," he said.

This year marks the 30th anniversary of the two countries' diplomatic ties. Libya is one of South Korea's largest construction markets, with more than US$3 billion in construction contracts last year. [Jee-ho/YonapNews/27July2010]

Pakistani Spy Agency Denounces US Intel Documents. Pakistan's most powerful spy agency lashed out against a trove of leaked U.S. intelligence reports that alleged close connections between it and Taliban militants fighting NATO troops in Afghanistan, calling the accusations malicious and unsubstantiated.

The reports, which were released by the online whistle-blower Wikileaks, raised new questions about whether the U.S. can succeed in convincing Pakistan to sever its historical links to the Taliban and deny them sanctuary along the Afghan border - actions that many analysts believe are critical for success in Afghanistan.

The U.S. has given Pakistan billions in military aid since 2001 to enlist its cooperation.

But the leaked reports, which cover a period from January 2004 to December 2009, suggest that current and former officials from Pakistan's Inter-Services Intelligence agency have met directly with the Taliban to coordinate attacks in Afghanistan.

A senior ISI official denied the allegations, saying they were from raw intelligence reports that had not been verified and were meant to impugn the reputation of the spy agency. He spoke on condition of anonymity in line with the agency's policy.

Maj. Gen. Athar Abbas, spokesman for Pakistan's army, was not reachable for comment Monday on the intelligence reports. The ISI is under the command of the army.

In one report from March 2008, the ISI is alleged to have ordered Siraj Haqqani, a prominent militant based in northwestern Pakistan, to kill workers from archenemy India who are building roads in Afghanistan. In another from March 2007, the ISI is alleged to have given Jalaluddin Haqqani, Siraj's father, 1,000 motorcycles to carry out suicide attacks in Afghanistan.

While these reports, and many of the other 91,000 released by Wikileaks, cannot be independently verified, the Haqqanis run a military network based in Pakistan's North Waziristan tribal area that is believed to have close ties with the ISI.

Other reports mention former ISI officials, including Hamid Gul, who headed the agency in the late 1980s when Pakistan and the U.S. were supporting Islamist militants in their fight against the Soviets in Afghanistan.

In one report, Gul, who has been an outspoken supporter of the Taliban, is alleged to have dispatched three men in December 2006 to carry out attacks in Afghanistan's capital.

"Reportedly Gul's final comment to the three individuals was to make the snow warm in Kabul, basically telling them to set Kabul aflame," said the report.

Gul, who appeared multiple times throughout the reports, denied allegations that he was working with the Taliban, saying "these leaked documents against me are fiction and nothing else."

Some of the reports, which were generated by junior intelligence officers, do seem a bit far-fetched. One dispatch from February 2007 claims militants teamed up with the ISI to kill Afghan and NATO forces with poisoned alcohol bought in Pakistan.

Wikileaks released the documents, which include classified cables and assessments between military officers and diplomats, on its website Sunday. The New York Times, London's Guardian newspaper and the German weekly Der Spiegel were given early access to the documents.

The Guardian expressed skepticism about the allegations in the documents, saying "they fail to provide a convincing smoking gun" for complicity between the ISI and the Taliban.

It said more than 180 intelligence files accuse the ISI of supplying, arming and training the insurgency since at least 2004. One of the reports even implicates the ISI in a plot to assassinate Afghan President Hamid Karzai, said the newspaper.

Husain Haqqani, Pakistan's ambassador to the U.S., said the documents "do not reflect the current on-ground realities."

The United States, Afghanistan and Pakistan are "jointly endeavoring to defeat al-Qaida and its Taliban allies militarily and politically," he said.

But the U.S. has had little success convincing Pakistan to target Afghan Taliban militants holed up in the country, especially members of the Haqqani network, which the U.S. military considers the most dangerous militant group in Afghanistan.

Pakistan helped the Taliban seize power in Afghanistan in the 1990s. Although the government renounced the group in 2001 under U.S. pressure, many analysts believe Pakistan refuses to sever links with the Taliban because it believes it could be a useful ally in Afghanistan after foreign forces withdraw.

White House national security adviser Gen. Jim Jones defended the partnership between the U.S. and Pakistan in a statement Sunday, saying "counterterrorism cooperation has led to significant blows against al-Qaida's leadership." Still, he called on Pakistan to continue its "strategic shift against insurgent groups." [Abbot/WashingtonPost/26July2010]

Intel Experts: Leaks Might Be Lethal. Lawmakers and former intelligence officials are concerned that WikiLeaks' online posting of nearly 80,000 classified field reports from combat zones in Afghanistan could have serious ramifications - not just for the war but for intelligence-gathering worldwide and for the intelligence-sharing reforms adopted after the Sept. 11, 2001, terrorist attacks.

"It's hard for me to express how bad this is, and it doesn't matter that no one has found a smoking gun in this immediately... We're going to get people killed because of this," said former CIA Director Michael Hayden. "The amount of damage will be incalculable in all the meanings of the word - beyond measure and hard to measure."

WikiLeaks' founder, Julian Assange, said on MSNBC on Tuesday that about 15,000 reports were withheld because they could have revealed the identities of Afghans who have aided U.S. forces and exposed them to "the risk of retributive action" from warlords or the Taliban.

But Rep. Jane Harman (D-Calif.), who is deeply involved in national security issues, said her staff visited the WikiLeaks site and saw plenty of information the Taliban can exploit.

"There are names of State Department officials, U.S. military officials, Afghans and the cities in which they live in the materials," said Harman, chairwoman of the House Homeland Security Subcommittee on Intelligence. By posting them online, she said, "we've just served up a target list and an enemies list to the Taliban... Real people die when sources and methods are revealed."

Former CIA officer Robert Baer said the disclosures will make Afghans less likely to aid U.S. forces.

"If I was an Afghan, would I risk getting my ears cut off or my head cut off? Would I work for the [U.S.] military?" he asked, adding that it was "total sloppiness" for the Pentagon to leave classified data ports unsecured. "This is exactly what you don't want to have happen."

President Barack Obama, speaking publicly on the matter for the first time, said that the disclosure could have serious ramifications but suggested the reports didn't reveal much or add substantially to the Afghanistan policy discussion.

"Indeed, they point to the same challenges that led me to conduct an extensive review of our policy last fall," the president said.

The Pentagon has identified a "person of interest" in the leaks: Pfc. Bradley Manning, an Army intelligence analyst already suspected of transferring a classified combat video and thousands of State Department cables to WikiLeaks.

Assange would not confirm that Manning was WikiLeaks' source, but he called the analyst a "political prisoner."

Hayden and other former officials said the scope of the security breach is likely to cause some in government to slow and perhaps even reverse efforts to make huge databases of sensitive information more widely available.

"Every time something hasn't gone quite right, for the last 10 years in particular, Congress has said, we've heard 'Failure to share, failure to share,'" Hayden said. "We've been beat up for nine years for this stuff not being in one big tidal pool... We were always fearful something like this was going to happen. Now the reaction is going to be, 'We need to be careful how broadly we distribute some of this information,' which is swimming upstream of where we've been going."

The leak could also threaten efforts to share government data through flexible, user-driven classified portals similar to Facebook and Wikipedia.

"If somebody is inclined to push back on integrating systems and going toward a classified Wikipedia and Facebook, they could use this as an 'I told you so,'" said John Radsan, a former CIA lawyer, now a professor at William Mitchell College of Law in Minnesota. "They could use this as a reason for more safeguards and more compartments." [Gersten/Politico/28July2010]

Turkey, Iran to Share Real-Time Intelligence on PKK. Turkey and Iran have decided to cooperate in fighting against terrorist activities in Iran and northern Iraq, including providing real-time intelligence. The decision was solidified over the weekend after a team of Turkish officials, led by Interior Ministry Undersecretary Osman G�neş, visited Tehran and discussed how they might take tangible and mutual steps to fight against terrorists. Now both countries plan to provide real-time intelligence as it concerns the activities and goals of terrorists along the Iran-Iraq border.

The anti-Iranian Kurdish terrorist group Party for a Free Life in Kurdistan (PJAK), whose guerrillas continue to fight against government forces in Iran's Kurdish-populated areas, is also believed to be providing financial assistance to the Kurdistan Workers' Party (PKK), widely regarded as a terrorist group.

The US branded PJAK a terrorist organization last February and prohibited American citizens from doing business with the group.

Several officials from the Police Department, the General Staff, the National Intelligence Organization (MİT), the Gendarmerie Command and the Turkish Foreign Ministry were also among the group of officials visiting Tehran. Turkish and Iranian officials reportedly focused on the PKK and PJAK's armed forces. They discussed the camp and its logistical resources and how to effectively mitigate them through joint cooperation.

According to intelligence reports, there are an estimated 600 PJAK member terrorists and nearly 4,000 PKK members in northern Iraq.

Turkey has been fighting the terrorist PKK since it was formed in 1984 with the goal of establishing an autonomous Kurdish state in the eastern and southeastern parts of Turkey. More than 40,000 soldiers and civilians have been killed in the clashes thus far. The PKK has been declared a terrorist organization by several members of the international community, including the US and the EU.

Amongst the many significant decisions made in cooperation with Iranian security forces, the secret security services of both Turkey and Iran have confirmed that they will provide real-time intelligence as part of a two-way process to fight terrorism.

By intercepting terrorists as they plan to smuggle goods from the Iranian border into northern Iraq and by averting terrorist attacks on military outposts along the Turkey-Iraq border, Iranian and Turkish police forces will work as partners. Both countries will also develop a process for extraditing terrorists. [Gunec/TodaysZaman/30July2010]
Taliban: We'll Behead WikiLeaks Informers. The Taliban has threatened to decapitate informants who have been revealed in uncensored intelligence documents published on the internet.

In their first response since WikiLeaks placed thousands of secret documents online detailing the names and locations of anti-Taliban informers, the Afghan militants said 'we know how to punish them,' a reference to beheading, the usual Taliban punishment reserved for 'traitors'.

The statement came as officials here said they feared for the lives of those who had helped the British military in Afghanistan.

Intelligence staff in London, Washington and Kabul are studying thousands of classified reports to pin�point those at risk.

British officials in Kabul yesterday described the publication as 'in the best case compromising informants and in the worst, putting their lives at risk.'

'We are still involved in assessment but it will certainly discourage individuals from being prepared to co-operate with us,' one added.

Afghan President Hamid Karzai yesterday entered the controversy over the disclosure of the names of Afghans who have co-operated with Nato forces branding it as 'extremely irresponsible and shocking.'

'Their lives will be in danger now,' he said. 'This is a very serious issue.'

Politicians, military figures and human rights groups have all criticized the influential internet site amid allegations that the information available could provide a Taliban hit-list.

Colonel Richard Kemp, former head of UK forces in Afghanistan, said: 'This is potentially damaging to operational security.

'Publishing this information online increases the enormous dangers our soldiers face.

'There are few things more valuable to the enemy than gaining insight into our plans.

'The Taliban will be poring over every one of the leaked documents with a fine toothcomb.'

Lawyers in the U.S. are said to be exploring whether WikiLeaks can be charged.

U.S. Defense Secretary Robert Gates said last night he has asked the FBI to investigate.

It has emerged that the main suspect for the leaks is U.S. Army intelligence officer Bradley Manning, who grew-up in Wales.

The 22-year-old was last week charged with leaking a film to the website - days later more than 90,000 secret documents relating to the war in Afghanistan. [Williams/DailyMail/30July2010]
DNI Nominee Vows Tighter Rein on Intel Programs. James R. Clapper Jr., President Obama's choice to head the intelligence community, pledged to tighten controls over budgets and programs for the far-flung 16 U.S. spy agencies that the director of national intelligence (DNI) is charged with overseeing.

In a hearing Tuesday before the Senate Select Committee on Intelligence, retired Air Force Lt. Gen. James R. Clapper Jr. said he would "push the envelope on programming and budgeting."

The retired three-star general argued when he recently held the post of undersecretary of defense for intelligence that military intelligence programs were not under the control of the office of the director of national intelligence, the post of intelligence czar created under a 2005 reorganization law.

In his testimony, Mr. Clapper defended his previous position on the matter, noting that he was doing his job as an undersecretary of defense. "If confirmed as DNI, I will be equally assiduous in making sure the DNI's authorities are advanced," he said.

The debate over DNI authorities has been contentious in recent years as the office is now preparing for its fourth director in five years. Two of the four previous Senate-confirmed directors said publicly that the law needs to be changed in order to clarify the powers of the DNI over intelligence budgets - estimated at about $40 billion annually - and programs.

Dennis C. Blair, the last confirmed DNI, clashed with the CIA over who had the authority to appoint CIA station chiefs for U.S. embassies, a job traditionally taken by the CIA chief of station. The CIA reportedly won the battle.

In the hearing, Mr. Clapper said, "I would not have agreed to take this position on if I were going to be a titular figurehead or a hood ornament. I believe that the position of director of national intelligence is necessary, and whether it's the construct we have now or the director of central intelligence in the old construct, there needs to be a clear, defined, identifiable leader of the intelligence community to exert direction and control over the entirety of that community, given its diversity and its heterogeneity, if you will, the 16 components that you mentioned."

Mr. Clapper faced his toughest questioning from the vice chairman of the intelligence committee, Sen. Christopher S. Bond, Missouri Republican. Mr. Bond asked Mr. Clapper what he would do as DNI if the undersecretary of defense for intelligence drafted a memo for the Armed Services Committee alerting its members to changes to the intelligence authorization that would curb the defense secretary's authorities.

Mr. Clapper had done just that earlier this year. In response to the question, he said, "I probably would have chastised him for not having provided a copy to the staff paper that was exchanged in response to requests from the House Armed Services Committee staff. And in retrospect, it would have been better had I seen to it that a copy of that went to the respective intelligence committees," Mr. Clapper said.

Mr. Clapper also promised to provide the committee with intelligence reports on the remaining inmates of the Guantanamo Bay, Cuba, prison. He also said he would conduct oversight of the predator drone programs currently run in Pakistan by the CIA and in other theaters by the U.S. military. [Lake/WashingtonTimes/20July2010]

White House Proposal Would Ease FBI Access to Records of Internet Activity. The Obama administration is seeking to make it easier for the FBI to compel companies to turn over records of an individual's Internet activity without a court order if agents deem the information relevant to a terrorism or intelligence investigation.

The administration wants to add just four words - "electronic communication transactional records" - to a list of items that the law says the FBI may demand without a judge's approval. Government lawyers say this category of information includes the addresses to which an Internet user sends e-mail; the times and dates e-mail was sent and received; and possibly a user's browser history. It does not include, the lawyers hasten to point out, the "content" of e-mail or other Internet communication.

But what officials portray as a technical clarification designed to remedy a legal ambiguity strikes industry lawyers and privacy advocates as an expansion of the power the government wields through so-called national security letters. These missives, which can be issued by an FBI field office on its own authority, require the recipient to provide the requested information and to keep the request secret. They are the mechanism the government would use to obtain the electronic records.

Stewart A. Baker, a former senior Bush administration Homeland Security official, said the proposed change would broaden the bureau's authority. "It'll be faster and easier to get the data," said Baker, who practices national security and surveillance law. "And for some Internet providers, it'll mean giving a lot more information to the FBI in response to an NSL."

Many Internet service providers have resisted the government's demands to turn over electronic records, arguing that surveillance law as written does not allow them to do so, industry lawyers say. One senior administration government official, who would discuss the proposed change only on condition of anonymity, countered that "most" Internet or e-mail providers do turn over such data.

To critics, the move is another example of an administration retreating from campaign pledges to enhance civil liberties in relation to national security. The proposal is "incredibly bold, given the amount of electronic data the government is already getting," said Michelle Richardson, American Civil Liberties Union legislative counsel.

The critics say its effect would be to greatly expand the amount and type of personal data the government can obtain without a court order. "You're bringing a big category of data - records reflecting who someone is communicating with in the digital world, Web browsing history and potentially location information - outside of judicial review," said Michael Sussmann, a Justice Department lawyer under President Bill Clinton who now represents Internet and other firms.

The use of the national security letters to obtain personal data on Americans has prompted concern. The Justice Department issued 192,500 national security letters from 2003 to 2006, according to a 2008 inspector general report, which did not indicate how many were demands for Internet records. A 2007 IG report found numerous possible violations of FBI regulations, including the issuance of NSLs without having an approved investigation to justify the request. In two cases, the report found, agents used NSLs to request content information "not permitted by the [surveillance] statute."

One issue with both the proposal and the current law is that the phrase "electronic communication transactional records" is not defined anywhere in statute. "Our biggest concern is that an expanded NSL power might be used to obtain Internet search queries and Web histories detailing every Web site visited and every file downloaded," said Kevin Bankston, a senior staff attorney with the Electronic Frontier Foundation, which has sued AT&T for assisting the Bush administration's warrantless surveillance program.

He said he does not object to the government obtaining access to electronic records, provided it has a judge's approval.

Senior administration officials said the proposal was prompted by a desire to overcome concerns and resistance from Internet and other companies that the existing statute did not allow them to provide such data without a court-approved order. "The statute as written causes confusion and the potential for unnecessary litigation," Justice Department spokesman Dean Boyd said. "This clarification will not allow the government to obtain or collect new categories of information, but it seeks to clarify what Congress intended when the statute was amended in 1993."

The administration has asked Congress to amend the statute, the Electronic Communications Privacy Act, in the fiscal year that begins in October.

Administration officials noted that the act specifies in one clause that Internet and other companies have a duty to provide electronic communication transactional records to the FBI in response to a national security letter.

But the next clause specifies only four categories of basic subscriber data that the FBI may seek: name, address, length of service and toll billing records. There is no reference to electronic communication transactional records.

The officials said the transactional information at issue, which does not include Internet search queries, is the functional equivalent of telephone toll billing records, which the FBI can obtain without court authorization. Learning the e-mail addresses to which an Internet user sends messages, they said, is no different than obtaining a list of numbers called by a telephone user.

Obtaining such records with an NSL, as opposed to a court order, "allows us to intercede in plots earlier than we would if our hands were tied and we were unable to get this data in a way that was quick and efficient," the senior administration official said.

But the value of such data is the reason a court should approve its disclosure, said Greg Nojeim, senior counsel at the Center for Democracy and Technology. "It's much more sensitive than the other information, like name, address and telephone number, that the FBI gets with national security letters," he said. "It shows associational information protected by the First Amendment and is much less public than things like where you live."

A Nov. 5, 2008, opinion from the Justice Department's Office of Legal Counsel, whose opinions are binding on the executive branch, made clear that the four categories of basic subscriber information the FBI may obtain with an NSL were "exhaustive."

This opinion, said Sussmann, the former Clinton administration lawyer, caused many companies to reevaluate the scope of what could be provided in response to an NSL. "The OLC opinion removed the ambiguity," he said. "Providers now are limited to the four corners of what the opinion says they can give out. Those who give more do so at their own risk."

Marc Zwillinger, an attorney for Internet companies, said some providers are not giving the FBI more than the four categories specified. He added that with the rise of social networking, the government's move could open a significant amount of Internet activity to government surveillance without judicial authorization. "A Facebook friend request - is that like a phone call or an e-mail? Is that something they would sweep in under an NSL? They certainly aren't getting that now." [Nakashima/WashingtonPost/28July2010]
U.S. Urges Cuba to Free "Unwell" Detained Contractor. The United States urged Cuba to free a U.S. contractor held in Havana for nearly eight months on suspicion of espionage and subversion, saying he was unwell and had still not been formally charged.

The arrest of Alan Gross, 60, at Havana's airport in December has added another bone of contention between the U.S. government and Cuba, obstructing moves to thaw half a century of confrontation and hostility.

Havana says Gross, who worked for a Washington-area company contracted under a U.S.-funded program to promote democracy in Cuba, committed "serious crimes" in aiding U.S. efforts to destabilize the Cuban government.

Cuban officials said Gross gave restricted satellite communications equipment to local dissidents. U.S. officials say he was providing Internet access to Jewish groups after entering Cuba on a tourist visa.

"We consider the arrest of Alan Gross ... to be an unacceptable act. He was not violating any laws and has not been charged as far as I know," U.S. Assistant Secretary of State for the Western Hemisphere, Arturo Valenzuela, told a news conference in Trinidad and Tobago, where he was visiting.

"He is not well, he has lost 80 pounds (36 kg), it's been more than six months (since his arrest) and we're encouraging the Cuban government to release him," he said.

Gross has been held at Villa Marista state security headquarters in Havana. Cuban officials say he has been assured defense counsel, has received consular assistance from U.S. diplomats and has been able to communicate with his family.

Cuban President Raul Castro's government has started releasing the first of 52 Cuban political prisoners to be freed under a recent deal struck with the Roman Catholic Church.

The United States, along with many other foreign governments, has cautiously welcomed this move, but has demanded the release of all political detainees.

President Barack Obama's administration has made clear that its modest efforts so far to improve U.S.-Cuban ties will be put on hold as long as Gross remains detained.

U.S. Secretary of State Hillary Clinton said this month that Washington was working "every single day through every channel" to obtain Gross' release and safe return home.

Some analysts have speculated that Cuba may want to use the detained U.S. contractor as a bargaining chip to try to secure release of five convicted Cuban intelligence agents serving long U.S. sentences for espionage.

The U.S. government linked the five to Havana's 1996 shoot-down of private planes piloted by Cuban exiles near Cuba. [Hutchinson/WHTC/30July2010]
Chile General Convicted in 1974 Murders Blames CIA. The former chief of Chile's feared secret police who was convicted in the 1974 assassination of Gen. Augusto Pinochet's biggest enemy in exile says the CIA committed the crime.

Chile's supreme court three weeks ago upheld Gen. Manuel Contreras' conviction in plotting the murder of Gen. Carlos Prats, who preceded Pinochet as head of Chile's army. Prats was a close ally of President Salvador Allende, the man Pinochet deposed in a 1973 coup.

Contreras, 81, called Prats his friend and told a hand-picked group of reporters Thursday that Chile's national intelligence agency, which he headed, had nothing to with the killing.

He is serving combined sentences of more than 100 years for murders and kidnappings that took place during the Pinochet years.

"The Prats homicide was the work of the CIA," Contreras said.

The CIA and Peter Kornbluh, director of the National Security Archives' Chile Documentation Project in Washington, both said Contreras is wrong.

"Contreras has always used this bogus explanation that it was the CIA, while the evidence is overwhelming that he, himself, presumably in collusion with Pinochet, was the intellectual author of this crime," said Kornbluh, author of "The Pinochet File: A Declassified Dossier on Atrocity and Accountability."

Contreras said the CIA ordered the bombing because they worried Prats was mounting a government in exile. Prats' wife, Sofia Cuthbert, was killed with him in the car bomb in Buenos Aires, where the two sought refuge after Pinochet seized power.

Richard Helms, then-chief of the CIA, told him that Argentine President Juan Peron had offered to lend Prats half of the Argentine army to help him invade and take over Chile, Contreras said.

"This and related events from nearly 40 years ago have been thoroughly reviewed, dissected, and investigated. It's simply wrong to suggest that the CIA killed Carlos Prats," CIA spokesman George Little said in a statement to The Associated Press.

Kornbluh also dismissed Contreras's claim that Peron offered to help Prats invade Chile, saying there was no documentation to support the statement.

"Manuel Contreras has not said a credible word vis-�-vis his history of international criminality and terrorism ever," Kornbluh said. "He was the intellectual author of some of the most heinous crimes inside Chile and abroad, and, as the pathological killer that he his, he refuses to own up to any of the crimes for which he has been convicted."

Contreras said he was proud of his work with the national intelligence agency, which has been characterized by the Chilean supreme court as an illicit terrorist association.

He has been in prison since 1995, when he was sentenced for the 1976 car bombing that killed Chile's former Foreign Minister Orlando Letelier and his assistant, Ronni Moffit, in Washington D.C.

Despite upholding Contreras' conviction in the Prats case, the Supreme Court reduced his sentence on July 8 from two consecutive life prison terms to 17 years. Michael Townley, the agent who placed the bomb that killed Prats and his wife, lives as a protected witness in the U.S. [Quilodran/AP/30July2010]
U.S. Worried More Secret Documents May Be Released. U.S. officials are worried about what other secret documents the whistle-blowing website WikiLeaks may possess and have tried to contact the group without success to avoid their release, the State Department said on Friday.

The shadowy group publicly released more than 90,000 U.S. Afghan war records spanning a six-year period on Sunday. The group also is thought to be in possession of tens of thousands of U.S. diplomatic cables passed to it by an Army intelligence analyst, media reports have said.

"Do we have concerns about what might be out there? Yes, we do," State Department spokesman P.J. Crowley told a briefing, adding that U.S. authorities have not specifically determined which documents may have been leaked to the organization.

He said the State Department could not confirm the longstanding reports that WikiLeaks is in possession of a large set of U.S. diplomatic cables.

But the fact that the documents released on Sunday contained a handful of State Department cables suggests that other secret diplomatic messages may have been included in data transmitted to WikiLeaks, Crowley said.

"When we provide our analysis of situations in key countries like Afghanistan and Pakistan, we distribute these across the other agencies including to military addresses," Crowley said. "So is the potential there that State Department documents have been compromised? Yes."

Both Crowley and White House spokesman Robert Gibbs urged WikiLeaks and its founder, Julian Assange, not to release further classified U.S. government documents.

Gibbs, noting WikiLeaks claims to have at least 15,000 more secret Afghan documents, told NBC's "Today" show there was little the government could do halt the release of the papers.

"We can do nothing but implore the person who has those classified top secret documents not to post any more," Gibbs said. "I think it's important that no more damage be done to our national security."

Crowley said the U.S. government had tried to make contact with WikiLeaks but had not been successful in establishing a line of communication.

"We have passed messages to them," he said. "I am not aware of any direct dialogue with WikiLeaks."

Both Crowley and Gibbs expressed concern that the document dump might expose U.S. intelligence gathering methods and place in jeopardy people who had assisted the United States.

"You have Taliban spokesmen in the region today saying they're combing through those documents to find people that are cooperating with American and international forces. They're looking through those for names. They said they know how to punish those people," Gibbs said.

"Intelligence services all over the world will be looking over them and seeing what they can glean in terms of how we gain information," Crowley said.

"Behind these documents is a very important intelligence system that is vital to our national security and we are concerned ... that if WikiLeaks continues on its current path this will do damage to our national security," he said.

Secretary of Defense Robert Gates and Admiral Mike Mullen, chairman of the Joint Chiefs of Staff, both said on Thursday the document leak had undermined trust in the United States.

Senator Carl Levin, the chairman of the Senate Armed Services Committee, sent a letter asking Gates asking for an assessment of how badly the military's sources and methods of gathering intelligence had been hurt.

"I am concerned about the nature and extent of the damage caused by the release of these documents," he wrote in the July 28 letter, which was released by his office on Friday.

The Army investigation into the release of the documents is focusing on Army specialist Bradley Manning, who was already charged earlier this month with leaking information previously published by WikiLeaks, U.S. defense officials say.

Manning, who was moved from a detention facility in Kuwait to one at Quantico Marine Base in Virginia on Thursday ahead of his trial, is charged with leaking a classified video showing a 2007 helicopter attack that killed a dozen people in Iraq, including two Reuters journalists.

Manning has not been named as a suspect in the latest leak and investigators are not ruling out the involvement of multiple individuals. [Alexander/Reuters/31July2010]
Secure Cryptography is Only as Safe as its Weakest Link. It sounds foolproof. One of the fundamental tenets of quantum mechanics is that measuring a physical system always disturbs it. If the system in question is a message in a series of digital bits encoded in the polarisation of light, this means that intercepting and reading the message can no longer be done surreptitiously. The receiver should be able to detect an eavesdropper and take appropriate countermeasures.

To the hacker mind, though, the word "foolproof" is but a challenge. And to prove the point, two groups of academic spies have now shown that whatever the theory says, practical attempts to hide messages this way can still be vulnerable.

To encrypt a message, the sender, known conventionally as Alice, scrambles it using a secret key before sending it to the receiver, Bob. Even if Eve, the eavesdropper, intercepts the message, she cannot make sense of it without the key. The problem, then, is how to pass that key from Alice to Bob without Eve getting hold of it as well.

Quantum key distribution does this by encoding the information in the polarization states of individual photons, the particles of light, which are sent from Alice to Bob over an optical fiber. If Eve taps into the line and intercepts the key, she disturbs the photons when she measures their polarization. By comparing a subset of the photons that Alice sends with what Bob measures, the pair can check for the presence of errors introduced by Eve. If errors are detected, Bob can throw away the key and ask for another.

In practice, quantum-key-distribution systems rely on sophisticated optical equipment to prepare, transmit and detect the individual polarized photons that make up the key. And when these real-world components meet the clever academic theorems that guarantee security, holes emerge.

In the first piece of research, a team from the Norwegian University of Science and Technology and the National University of Singapore, led by Vadim Makarov and Ilja Gerhardt, hacked into a system that connects several buildings on the National University of Singapore's campus. Their eavesdropping apparatus (which is small enough to fit in a suitcase) was designed to take advantage of a weakness in a particular sort of photon detector in Bob's receiving equipment. If hit with a bright enough flash of light, such detectors are blinded. And if, on top of the bright pulse, a smaller pulse of just the right type is sent, the detector can be forced to record a one or a zero.

In essence, Eve now has control of Bob's detector. After intercepting the key, she can make it record just the right pattern of bits without any of the telltale errors her eavesdropping was supposed to introduce. Using this technique, Dr. Makarov and his team were able to steal the entire key without leaving any trace of their activities.

The second hack was carried out by a team from the University of Toronto, led by Hoi-Kwong Lo. They stole information from a research version of a system made by ID Quantique, a Swiss firm that is trying to commercialize quantum cryptography, by taking advantage of synchronization signals that pass between Alice and Bob.

To start the key exchange, Bob sends Alice two strong laser pulses separated by a precise interval. She uses these pulses to determine how to polarize the photons she sends back. If Eve intercepts Bob's pulses and changes the separation between them, she can trick Alice into sending photons that have slightly different polarizations from those that were intended. When Eve intercepts these tweaked photons, she can gather information on them while keeping the error rate she introduces just below a tolerable level. Her slight tweaks have compensated for the disturbances she creates.

Neither of these techniques actually breaks the fundamental principles on which quantum cryptography is based. They simply exploit loopholes introduced when it is reduced to practice. As quantum hackers continue to put systems through their paces, such loopholes will be closed - as these now have been - and the systems become more secure. People like Gregoire Ribordy, the chief executive of ID Quantique, are therefore encouraging the hackers in their activities. Such hacking is, nevertheless, a useful reminder of an old adage: if something looks too good to be true, it probably is. [Economist/30July2010]
Castro Accuses US of Abusing Spies. Fidel Castro has criticized the US for its treatment of five Cuban spies who have spent more than a decade in jail.

The former Cuban leader told a group of young Communist Party members that one of the spies was kept in a cell so small that it amounted to torture.

"They are people who have suffered for 12 years. The sufferings of these people don't count, they're not worth anything?" Castro said of the imprisoned agents, known in Cuba as the "Five Heroes".

Castro, who for 49 years headed a government frequently accused of mistreating prisoners by human rights groups, said Cuba had never tortured captured spies.

He was referring to Gererdo Hernandez, one of five men captured by the US in 1998 and accused of being members of a Cuban espionage ring tasked with gathering intelligence on members of the Cuban exile community in Florida.

Prosecutors said the men had been involved in the shooting down by Cuban jets of two planes dropping pro-democracy leaflets on Cuba. They received sentences ranging from 15 years to life in prison.

Castro alleges that Hernandez has been placed in a tiny cell with another prisoner.

"There are two men in a space one metre in width," Castro said. "He's not only in a high-security prison, which is already a deep hole, he's in a hole inside the hole."

Castro said Hernandez was ill, too. "He's sick, he could have a bacteria," Castro said. "He's a person who needs medical assistance." Hernandez, the leader of the five agents, is serving two life sentences for his role in the plot.

The former Cuban president's comments came as the US demanded the release of one of its citizens that Cuba has imprisoned for spying.

Alan Gross was jailed in Havana last December on suspicion of espionage, but has not been officially charged. US officials say that his health is suffering and on Friday called for his detention to end.

Castro has made a series of public appearances in recent weeks, emerging from four years out of the limelight. He had stopped making public appearances after undergoing serious surgery, and handed control of the Caribbean island to his brother Raul.

Raul officially became president in 2008, when Castro tendered his formal resignation. [AlJazeera/30July2010]

---
Section II - CONTEXT & PRECEDENCE
How Does the CIA Know If Its Intel Is Any Good? On Sunday, the website Wikileaks published more than 91,000 military documents from the war in Afghanistan, among them reports alleging that Pakistan's top military intelligence service is aiding Taliban fighters. The Pakistani government has claimed that the documents are based on inaccurate field reports that neither it nor U.S. intelligence agencies are taking seriously. So how do intelligence analysts determine whether reports are credible or not?

With common sense, mostly. When they receive a piece of intelligence - whether it comes from a phone intercept or satellite imagery - analysts at the Central Intelligence Agency, Defense Intelligence Agency, and elsewhere subject it to more or less the same smell tests that police detectives and reporters use when trying to sort out a story: Is the information internally consistent? Is it consistent with what they're hearing from other sources?

In the case of human intelligence, the source is put to the same scrutiny: Who provided the intelligence? What's in it for them? What axe do they have to grind? (If they're a mentally unstable con man, that's a good thing to know.) And there's what you might call the Bruce Willis Rule: If something sounds too much like the plot of an action movie - say, Osama bin Laden buying missiles from North Korea - you probably want to get a second opinion.

Of course, the fact that vetting intelligence is largely intuitive doesn't mean that it's easy. What's simple in theory is immensely difficult in practice: Analysts are deluged with information, some of it good, much of it bad or simply irrelevant, and virtually all of it ambiguous. "It's like trying to put together a jigsaw puzzle," says former CIA officer and presidential adviser Bruce Riedel. "You maybe have 200 pieces of the puzzle. The first thing you don't know is, is this a 500-piece or 1,000-piece puzzle? And then with the 200 pieces you have, maybe half of them don't belong to this puzzle at all. They're in the wrong box. And then every hour or so, someone comes along and dumps 10 more pieces on your desk - and nine of them aren't even part of it."

There are rules of thumb, official and otherwise. For instance, analysts err on the side of caution with any piece of threat-related intelligence; even questionable chatter about a potential terrorist attack is sent up the agency ladder, with the appropriate caveats. And in general, analysts deal in probabilities more than they do flat-out assertions; there are few absolutes in spycraft.

Still, there are plenty of ways even an expert can go wrong. For instance, when a fresh bit of information contradicts what's known already, it can be hard to distinguish outliers from genuinely new information - analysts, like journalists, can be seduced by a novel storyline or trapped by a familiar one. Consider American intelligence agencies' assessment of Iran's nuclear program: In 2007, the intelligence community issued a National Intelligence Estimate alleging that Iran had given up its nuclear weapons program several years earlier, an assessment that in retrospect was probably overstated. Did the analysts give too much credence to new information they received simply because it was new? Conversely, U.S. intelligence agencies notoriously missed the coming collapse of the Soviet Union and Mikhail Gorbachev's emergence as a reformer in part because they were caught up in their own narrative of the Soviets' power and the venality of their leaders. It turned out that Gorbachev actually meant what he said.

There's also the hazard of information taken out of context. Nothing gets thrown away in intelligence-gathering - even data and reports that are considered false or irrelevant upon arrival are filed away in vast databases in case in hindsight they turn out not to be. But that long-shot information can easily be dusted off and used piecemeal - willfully or accidentally - to support wildly incorrect conclusions. In 2002, the Defense Department created the Office of Special Plans, which produced a report - based on raw data gathered by the DIA, but not the agency's own analysis of it - alleging that Saddam Hussein had close ties to al Qaeda and had developed weapons of mass destruction. This was news to the DIA's own analysts and those in other agencies, who had long since judged most of the intelligence that the office used in the report as spurious, and indeed no such ties or weapons were ever found.

A directive issued by the director of national intelligence in 2007 put in writing the best practices underlying good intelligence analysis, in order to avoid these types of failures in the future. Agencies are now required to ask common-sense questions about their data, and identify and assess the credibility of the people who gave it to them. In reality, however, intelligence veterans worry less about the kind of intelligence failures that led to Iraq than the kind the led to September 11; the problem is less bad analysis than it is good analysis that doesn't get the right attention. Intelligence agencies are vast bureaucracies, and plenty of information falls through the cracks within and between them. Umar Farouk Abdulmutallab, the would-be Christmas Day bomber, nearly managed to pull off his airliner attack because the State Department reportedly failed to act on its own intelligence suggesting that Abdulmutallab had visited terrorist training camps in Yemen, and failed to sound the alarm about what it knew. Making sense of information from the field wasn't the problem; getting it to the right people was. Thanks to Thomas Fingar of Stanford University, Pat Lang, Paul R. Pillar of the Georgetown Center for Peace and Security Studies, and Bruce Riedel of the Brookings Institution. [Homans/ForeignPolicy/26July2010]
Five of the Most Notable Defections. As it emerges that the Head of Chinese State News is thought to have defected while on a trip to the UK, here are some other defections that caused a stir.

1. Kim Philby. The most notorious member of the Cambridge Five spy ring, Kim Philby was a decorated agent who was only unmasked after causing the deaths or imprisonment of countless Western agents. He escaped the Soviet Union, joined the KGB, and died in 1988.

2. Martina Navratilova. In 1975, after losing in the US Open semifinals to Chris Evert, the 18-year-old Czech entered the immigration office in New York and said she wanted to defect.

3. Georgi Markov. In 1971, the Bulgarian playwright moved to London and began denouncing the Bulgarian government as a radio broadcaster. In 1978, he was killed after being stabbed in the leg with a poison-tipped umbrella.

4. Rudolf Nureyev. In 1961, the Russian ballet dancer defected while touring with the Kirov Ballet in Paris. In response, Nikita Kruschev signed an order for his death and Nureyev did not return to the Soviet Union until 1989.

5. Stalin's daughter. Svetlana Alliluyeva abandoned Russia in 1967 after seeking asylum at the US embassy in New Delhi. Her father, Joseph Stalin, died in 1953. [Telegraph/27July2010]
Archives Uncloak the Pond, Secret US Intelligence Group Predating the CIA. It was a night in early November during the infancy of the Cold War when the anti-communist dissidents were hustled through a garden and across a gully to a vehicle on a dark, deserted road in Budapest. They hid in four large crates for their perilous journey.

Four roadblocks stood between them and freedom.

What Zoltan Pfeiffer, a top political figure opposed to Soviet occupation, his wife and 5-year-old daughter did not know as they were whisked out of Hungary in 1947 was that their driver, James McCargar, was a covert agent for one of America's most secretive espionage agencies, known simply as the Pond.

Created during World War II as a purely U.S. operation free of the perceived taint of European allies, the Pond existed for 13 years and was shrouded in secrecy for more than 50 years. It used sources that ranged from Nazi officials to Stalinists and, at one point, a French serial killer.

It operated under the cover of multinational corporations, including American Express, Chase National Bank and Philips, the Dutch-based electronic giant. One of its top agents was a female American journalist.

Now the world can finally get a deeper look at the long-hidden roots of American espionage as tens of thousands of once-secret documents found in locked safes and filing cabinets in a barn near Culpeper, Va., in 2001 have finally become public after a long security review by the Central Intelligence Agency.

The papers, which the Pond's leader tried to keep secret long after the organization was dissolved, were placed in the National Archives in College Park, Md., in 2008 but only opened to the public in April. Those records plus documents obtained by The Associated Press in the past two years from the FBI, CIA and other agencies under the Freedom of Information Act portray a sophisticated organization obsessed with secrecy that operated a network of 40 chief agents and more than 600 sources in 32 countries. The AP has also interviewed former officials, family members, historians and archivists.

The Pond, designed to be relatively small and operate out of the limelight, appeared to score some definite successes, but rivals questioned its sources and ultimately, it became discredited because its pugnacious leader was too cozy with Sen. Joseph McCarthy and other radical anti-communists.

The documents also highlight issues still relevant today: the rivalry among U.S. intelligence agencies that have grown to number 16, the government's questionable use of off-the-books operations with budgets hidden from congressional oversight, and the reliance on contractors to undertake sensitive national security work.

Created by U.S. military intelligence as a counterweight to the Office of Strategic Services, the forerunner of the CIA, it functioned as a semiautonomous agency for the State Department after World War II and ended its days as a contractor for the CIA with links to J. Edgar Hoover's FBI.

The organization counted among its exploits an attempt to negotiate the surrender of Germany with Hermann Goering, one of Adolf Hitler's top military leaders, more than six months before the war ended; an effort to enlist mobster Charles "Lucky" Luciano in a plot to assassinate Italian dictator Benito Mussolini; identifying the location of the German heavy water plants doing atomic research in Norway; and providing advance information on Russia's first atomic bomb explosion.

There were other tangible successes, such as planting a high-level mole in the Soviet secret police and, in a major operation code-named "Empire State," the Pond paid a group of dissidents behind the Iron Curtain with CIA funds to obtain cryptographic systems to break coded messages from Moscow.

But it was Pfeiffer's successful escape that was among the most high-profile operations, garnering headlines, although the Pond's role was kept secret for years.

McCargar, a State Department official who secretly was the Pond's agent in Budapest, had been ordered to find a way to get Pfeiffer and his family out of the country. The Hungarian was the leader of a small but increasingly popular anti-communist party that had made gains in August elections, and he had begun to get death threats.

McCargar coordinated the escape with the help of fellow State Department employee Edmund Price, also identified in the papers as working for the Pond. But it was McCargar, armed with a pistol, who drove them from Budapest, past four road blocks. At one, a Russian guard asked to see what was in the four crates. McCargar bribed him with cigarettes.

They arrived in Vienna, a hotbed of international intrigue, where the U.S. shared control with their allies, the French and the British, as well as the Soviets. Against this politically fraught backdrop, Pfeiffer and his family were taken to an airfield and spirited away to Frankfurt and on to New York. They arrived in the U.S. on Nov. 12 as heroes of the anti-communist opposition.

One of the escapees, Pfeiffer's daughter, Madeline, told the AP she remembered sitting between her mother's legs in one crate and that she was given sleeping pills to keep her quiet.

"It is strange to realize that I have lived though this, and that my parents lived through this," said Madeline Pfeiffer, 67, now living in San Francisco. On the 50th anniversary of their flight from Hungary, she said she sent McCargar a bottle of cognac - what he and her parents drank after escaping. Two other dissidents were taken out with them.

The head of the Pond was Col. John V. Grombach, a radio producer, businessman and ex-Olympic boxer who kept a small black poodle under his desk. He attended West Point, but didn't graduate with his class because he had too many demerits, according to a U.S. Army document. His nickname was "Frenchy," because his father was a Frenchman, who worked in the French Consulate in New Orleans.

The War Department had tapped Grombach to create the secret intelligence branch in 1942 as a foundation for a permanent spy service. Grombach said the main objectives were security and secrecy, unlike the OSS, which he said had been infiltrated by allies and subversives. It was first known as the Special Service Branch, then as the Special Service Section and finally as the Coverage and Indoctrination Branch.

To the few even aware of its existence, the intelligence network was known by its arcane name, the Pond. Its leaders referred to the G-2 military intelligence agency as the "Lake," the CIA, which was formed later, was the "Bay," and the State Department was the "Zoo." Grombach's organization engaged in cryptography, political espionage and covert operations. It had clandestine officers in Budapest, London, Lisbon, Madrid, Stockholm, Bombay, Istanbul and elsewhere.

Grombach directed his far-flung operations from an office at the Steinway Hall building in New York, where he worked under the cover of a public relations consultant for Philips. His combative character had earned him a reputation as an opportunist who would "cut the throat of anyone standing in his way," according to a document in his Army intelligence dossier.

In defining the Pond's role, Grombach maintained that the covert network sought indirect intelligence from people holding regular jobs in both hostile countries and allied nations - not unlike the Russian spies uncovered in June in the U.S. while living in suburbia and working at newspapers or universities.

The Pond, he wrote in a declassified document put in the National Archives, had a mission "to collect important secret intelligence via many international companies, societies, religious organizations and business and professional men who were willing to cooperate with the U.S. but who would not work with the OSS because it was necessarily integrated with British and French Intelligence and infiltrated by Communists and Russians."

On April 15, 1953, Grombach wrote that the idea behind his network was to use "observers" who would build long-term relationships and produce far more valuable information than spies who bought secrets. "Information was to be rarely, if ever, bought, and there were to be no paid professional operators; as it later turned out some of the personnel not only paid their own expenses but actually advanced money for the organization's purposes."

The CIA, for its part, didn't think much of the Pond. It concluded that the organization was uncooperative, especially since the outfit refused to divulge its sources, complicating efforts to evaluate their reports. In an August 1952 letter giving notice that the CIA intended to terminate the contract, agency chief Gen. Walter Bedell Smith wrote that "our analysis of the reports provided by this organization has convinced us that its unevaluated product is not worth the cost." It took until 1955 to completely unwind the relationship.

Mark Stout, a former intelligence officer and historian for the International Spy Museum in Washington, analyzed the newly released papers and said it isn't clear how important the Pond was to U.S. intelligence-gathering as a whole. "But they were making some real contributions," he said.

Matthew Aid, an intelligence historian and author of "The Secret Sentry: The Untold History of the National Security Agency" who has reviewed some of the collection, said there was no evidence the Pond's reports made their way to decision-makers. "I'm still not convinced that Grombach's organization was a worthwhile endeavor in World War II and even less so when it went off the books," he said.

What it may have lacked in quality and influence, however, the Pond certainly made up with chutzpah.

One of the outfit's most unusual informers was a French serial killer named Marcel Petiot, Grombach wrote in a 1980 book.

The Secret Intelligence Branch, as he referred to the Pond, began receiving reports from Petiot during the war. He was a physician in Paris who regularly treated refugees, businessmen and Gestapo agents, but he also had a predilection for killing mostly wealthy Jews and burning their bodies in a basement furnace in his soundproofed house. He was convicted of 26 murders and guillotined in 1946.

Nevertheless, Grombach considered him a valuable informer because of his contacts.

One cable discovered among the newly released papers appears to confirm the Pond was tracking Petiot's whereabouts. In the undated memo, the writer says Petiot was drawn by a Gestapo agent "into a trap to be arrested by the Germans." Petiot was briefly arrested in 1943 by the Gestapo.

Such sources were often feeding their reports to top operatives - often businessmen or members of opposition groups. But there were also journalists in the spy ring.

Ruth Fischer, code-named "Alice Miller," was considered a key Pond agent for eight years, working under her cover as a correspondent, including for the North American Newspaper Alliance. She had been a leader of Germany's prewar Communist Party and was valuable to the Pond in the early years of the Cold War, pooling intelligence from Stalinists, Marxists and socialists in Europe, Africa and China, according to the newly released documents.

But it was the help from businesses in wartime that was essential to penetrating Axis territories.

The Philips companies, including their U.S. division, gave the Pond money, contacts, radio technology and supported Grombach's business cover in New York. Philips spokesman Arent Jan Hesselink said the company had business contacts with Grombach between 1937 and 1970. He added that they could not "rule out that there was contact between Philips and Grombach with the intention of furthering central U.S. intelligence during the war."

The Pond laid the groundwork and devised a detailed postwar plan to integrate its activities into the U.S. Rubber Co.'s business operations in 93 countries. It is unknown if the plan was ever carried out. The Pond also worked with the American Express Co., Remington Rand, Inc. and Chase National Bank, according to documents at the National Archives.

American Express spokeswoman Caitlin Lowie said a search of company archives revealed no evidence of a relationship with Grombach's organization. Representatives of the other companies or their successors did not respond to requests for comment.

The Pond directed its resources for domestic political ends, as well.

In the 1950s, Grombach began furnishing names to McCarthy on supposed security risks in the U.S. intelligence community. By then, the Pond was a CIA contractor, existing as a quasi-private company, and the agency's leadership was enraged by Grombach's actions. It wasn't long before the Pond's contract was terminated and the organization largely ceased to exist.

The CIA withheld thousands of pages from the National Archives collection of Grombach papers, including eight rolls of documents on microfilm; the National Security Agency kept back devices used to send coded messages. The CIA also declined a Freedom of Information Act request by the AP detailing its relationship to the Pond, which the AP has appealed.

Grombach wrote to the Hoover Institution Archives at Stanford University, dated June 10, 1977, indicating most of his classified papers would go to the American Security Council Foundation, an anti-communist group that works on national security policy. Grombach died in 1982.

Henry A. Fischer, the council's executive director, said safes at the 683-acre Longea Estate - site of the council's former Freedom Studies Center - were mistakenly removed by contractors hired to transfer the contents of its Boston, Va., library. He said he had been told by staff of the error when FBI agents were called to examine them. "I have no idea what they were going to do with them."

FBI historian John Fox said only one safe was removed from the property by the contractors and drilled open, its contents turned over to the CIA, which informed the bureau about the discovery in December 2001. Fox said the FBI recovered four other safes from the council and took them to Quantico to be opened. After an investigation, Fox said the remaining documents were transferred to the CIA. [Salazar&Herschaft/AP/29July2010]

Arab Intelligence Agencies Too Busy Protecting Regimes to be Effective. Even the wave of arrests in Lebanon over the last year of those accused of being "Mossad agents" does not change Wilhelm Dietl's opinion that "the Arab intelligence agencies, including that of Lebanon, are ineffective." Dietl, who now lives in a tranquil village near Munich, knows what he is talking about. For about 11 years he was an agent for the West German intelligence service BND in the Middle East, with his work as a journalist for the now defunct German weekly Quick, and then as a freelancer, providing his cover.

He visited Syria, Lebanon, Jordan, Egypt, Saudi Arabia and other places, met with terrorists, military commanders, intelligence services representatives and politicians. He transmitted to readers some of his impressions in the hundreds of articles he wrote as well as in a number of books. Other confidential information was written up in reports he penned for his intelligence superiors. Several years ago his name was exposed.

"Yes," he acknowledged in a June 2007 interview published in Haaretz Magazine. "I was a spy. I was what you in Israel call a collection officer, I was a handler. I collected information and ran agents. I bribed army officers. I traveled throughout the Middle East - Syria, Lebanon, Jordan, Egypt - and in doing so I risked my life for Germany."

Recently Dietl, who left the BND as is now involved in legal battles with them, published a book in Germany titled "Schattenarmeen: Die Geheimdienste der islamischen Welt" (Shadow Armies: the Secret Services of the Islamic World ) about the history of the spy agencies in Islamic countries, especially Arab ones. He also hopes to find an Israeli publisher who is interested in the book.

It is the most in-depth book on the subject since Yaacov Caroz's tome "The Arab Secret Services" published in Hebrew in 1976, over a decade after he resigned as deputy director of the Mossad.

"Most of the Arab intelligence services are completely different from what we in the West are familiar with when we think about intelligence services," he says now. "Most of the work of the BND, for example, is to collect information of strategic, political or military value, and to understand, evaluate and analyze trends; not killing people and not torturing them. The Arab agencies see their primary task as preserving the regime or the leader and therefore, they are cruel and without limits. They are above the law; they are the law itself. They see themselves as a divine entity. They torture suspects relentlessly, so it is not surprising that many suspects are willing to confess to every crime. This is therefore one of the reasons why I believe they were also able to expose the Israeli spy ring in Lebanon."

His evaluation stands in contrast to the suggestions made in the international media that they were exposed because of modern monitoring equipment provided by the U.S. to the Lebanese army.

"The exposure of those accused of being Mossad agents started first with an interrogation by Hezbollah's preventive security service, which investigated unusual behavior among several suspects, such as sudden spending sprees," he says. "Later on in the investigation they 'arrested,' i.e. abducted, the suspects, tortured them and extracted confessions from them."

Only then were they transferred to the military intelligence branch, which in Lebanon is also responsible for domestic security.

According to reports last week from Lebanon and France, the recent wave of arrests focused on senior employees of Alfa, a cellular phone company operating in Lebanon since 1996. One of the detainees, Tareq Raba'a, who worked in the company's technical department, was arrested after he raised suspicions by going on an extravagant spending spree in Paris.

In order to prevent Israeli intelligence from infiltrating its ranks, Hezbollah had set up a separate cellular phone network, despite the objections of former prime minister Fuad Siniora's administration, and thereby further entrenched its status as a state within a state.

The network was set up for Hezbollah with expertise and funding from Iran. It covers areas heavily populated by Hezbollah's base of Shiite Muslims.

"Indeed," Dietl says, "Israeli intelligence failed in Lebanon, but in the end it was more a matter of luck than professional work. This time the Lebanese intelligence was luckier than in the past. I have not read or heard Israel's reaction and perhaps that is a good thing. That is also why I don't know what Israel did with regard to what happened in Lebanon, and what lessons it learned, but based on what I know of the Israeli intelligence, I am convinced that investigations were conducted and conclusions were drawn from what happened. In the end, I believe, the Lebanese spy agency, like those of the other Arab countries will also not change in the future. It will continue to be ineffective."

Living a double life, especially in the Middle East, entails quite a few risks. Dietl was arrested in 1982 near the Syrian city of Hama, a short time after security forces there massacred Muslim Brotherhood members who rebelled against the regime. Dietl replayed for his interrogators an interview with the Syrian information minister he had conducted during his visit, and told them an interview with President Hafez Assad had been scheduled for him.

It was a lie but due to disrupted telephone service, they were unable to verify the information. The fear of the presidential palace and their identification of the voice of the information minister did the trick and the interrogators released him.

He feels this story reinforces his argument that members of the Arab intelligence services are more worried about making mistakes that may cost them their jobs if not their lives, than they are about doing their jobs in a professional manner.

"And this is just great luck for the Israeli intelligence services that they are their rivals," Dietl says. [Melman/Haaretz/29July2010]

A Showdown on "Extra-Judicial Killing" At Langley. One feather in the cap of John Bennett, the new chief of the CIA's clandestine service, is that he pushed back hard enough to get cussed out by CIA Director Leon Panetta - who told Bennett - "f*** you" in a meeting last fall that agency circles are still gossiping about.

The showdown in the director's office in Langley was described by several CIA sources, including one person who was present in the room when it happened. Among agency veterans, Panetta is getting good marks for turning to Bennett for the top spy job this month, even after getting mad enough to curse him out last year.

The details of the squabble are somewhat murky, but according to sources it involved a sensitive issue of cooperation with Pakistani intelligence.

Bennett was station chief in Islamabad at the time, and he was discussing with Panetta how to protect CIA officers from potential criminal liability if detainees in Pakistan who had been targeted using CIA intelligence ended up getting killed while in Pakistani custody. The shorthand for this issue was "extra-judicial killing."

Bennett is said to have insisted that unless his case officers had legal protection, they couldn't continue the joint operations. He warned Panetta that the Pakistanis might not be willing to provide the legal assurances about ending extra-judicial killings that the U.S. Justice Department was requesting.

"We may not be able to keep doing these operations," Bennett is said to have warned sharply, stressing that it would be wrong to continue if his officers faced legal risks.

Whereupon, Panetta is said to have responded: "F*** you, John," and urged again the need to get the Pakistanis on board with the necessary legal rules.

In the end, the Pakistanis are said to have cooperated with American requests, and the legal framework that Bennett wanted to protect his people is now said to be in place.

"Don't forget, it was Panetta who taught Rahm Emanuel how to swear," said one insider, noting that during the Clinton administration, the hard-nosed Panetta occupied the White House chief of staff slot that is now held by the hard-nosed Emanuel.

As a former Islamabad station chief, Bennett also has special expertise on one of this year's hottest issues - the reliability of Pakistani intelligence. Bennett is said to have had close working relations with the Pakistani Inter-Services Intelligence directorate and to have overseen a period of unusual cooperation between ISI and the CIA in targeting al-Qaeda and Taliban militants with Predator drone strikes. [Ignatius/WashingtonPost/30July2010]
---
Hit List Draws Fire in Wake of Leaked US Documents, by Lolita C. Baldor. When it comes to war, killing the enemy is an accepted fact. Even amid the sensation of the WikiLeaks.org revelations, that stark reality lies at the core of new charges that some American military commando operations may have amounted to war crimes.

Among the thousands of pages of classified U.S. documents released Sunday by the whistle-blower website are nearly 200 incidents that involve Task Force 373, an elite military special operations unit tasked with hunting down and killing enemy combatants in Afghanistan.

Denouncing suggestions that U.S. troops are engaged in war crimes in Afghanistan, military officials and even war crimes experts said that enemy hit lists, while ugly and uncomfortable, are an enduring and sometimes unavoidable staple of war.

Some, however, cautioned that without proper controls that mandate the protection of innocent civilians, such targeted hits could veer into criminal activities.

Buried in the more than 91,000 documents are descriptions of Task Force 373's missions, laying bare graphic violence as well as mistakes, questionable judgments and deadly consequences - sometimes under fire, other times not.

In June 2007, the unit went in search of Taliban commander Qari Ur-Rahman. According to the files, U.S. forces, under the cover of night, engaged in a firefight with suspected insurgents and called in an AC-130 gunship to take out the enemy.

Only later did they realize that seven of those killed and four of those wounded were Afghan National Police. The incident was labeled a misunderstanding, due in part to problems with the Afghan forces conducting night operations.

In another mission, members of Task Force 373 conducted a secret raid, hoping to snag al-Qaida commander Abu Laith al-Libi, who was believed to be running terrorist training camps in Pakistan's border region. Five rockets were launched into a group of buildings, and when forces moved into the destroyed area they found six dead insurgents and seven dead children. Al-Libi was not among the dead.

The summary of the incident says initial checks showed no indications that children would be there. And it quotes an Afghan governor later saying that while the residents there were in shock, they "understand it was caused ultimately by the presence of hoodlums - the people think it is good that bad men were killed."

WikiLeaks founder Julian Assange, who organized the release of the classified documents, said he believes these are among "thousands" of U.S. attacks in Afghanistan that could be investigated for evidence of war crimes, although he acknowledged such claims would have to be tested in court.

But even activists well versed in the realm of investigating war crimes would not go that far.

"I don't think this incident rises to the level of a war crime, but it disturbs me greatly that seven children were killed," said Tom Parker, policy director at Amnesty International USA.

The Afghanistan war, with its terrorist hit lists, counterinsurgency battles and high-tech battle gear, presents difficult questions. "It is really hard to know where assassination ends and war starts," said Parker.

Targeted military strikes, he said, are on the fringe of accepted military practice during an armed conflict.

"This is a relatively new form of warfare that we're seeing now," he said. "The technology takes you to a different place and raises questions that just weren't there 20 years ago. A lot of these questions don't have answers - they have a test of acceptability."

Parker voiced concerns that have hounded the military, the administration and members of Congress over the past two years as the war has escalated: How can the U.S. avoid civilian casualties that alienate the very population coalition forces are trying to win over in order to defeat the insurgency?

"This is a war. The enemy is shooting at us, and we're shooting at them," said Rep. Adam Smith, D-Wash. "Are we really suggesting that while the Taliban plant suicide bombs, we shouldn't try to kill anybody?"

Smith said U.S. troops are "aggressively targeting" the Taliban and al-Qaida but any "condemnation of our troops is completely wrong and brutally unfair." Congress and the military, he said, have already identified civilian casualties as a problem that must be corrected, and military leaders have adjusted their war tactics to try and minimize the killing of innocents.

Parker added that Americans may accept the idea of a military team going after an enemy general, but when it's reduced to a hit list of individuals' names, it becomes less palatable.

"Personalization makes people uncomfortable," said Parker.

Still, trying to kill or capture enemy leaders "is precisely what countries do when they are at war," argued Juan Zarate, former senior counterterrorism official in the Bush administration.

As the war in Afghanistan has dragged on, public support in the U.S. and abroad has begun to waver. And the counterinsurgency - which pits U.S. forces against bands of militants rather than another nation's army - blurs the classic battle lines.

There also may be public confusion about the U.S. government's secret hit lists targeting militants.

The military's target list is different from a separate list run by the CIA. The two lists may contain some of the same names - Osama bin Laden, for instance - but they differ because the military and CIA operate under different rules.

While the military can only operate in a war zone, the CIA is allowed to carry out covert actions in countries where the U.S. is not at war.

The CIA's target list came under scrutiny recently when it was revealed that it now includes radical Muslim cleric Anwar al-Awlaki, an American citizen believed to be hiding in Yemen. Al-Awlaki, who has emerged as a prominent al-Qaida recruiter, was added to the list after U.S. officials determined that he had shifted from encouraging attacks on the U.S. to planning and participating in them.

Also, the CIA uses unmanned aircraft to hunt down and kill terrorists in Pakistan's lawless border regions where the U.S. military does not operate.

The issue becomes murkier when elite military members participate in joint operations with CIA units. In those cases, the military members are assigned to the civilian paramilitary units and operate under the CIA rules, which allow them to take on missions outside of a war zone.

Last December, Gen. David Petraeus, now the top U.S. commander in Afghanistan, made it clear the military was going to increase its efforts to kill or capture enemy combatants considered irreconcilable.

Petraeus, who was then the head of U.S. Central Command, said more "national mission force elements" would be sent to Afghanistan this spring. He appeared to be referring to such elite clandestine units as the Delta Force.

"There's no question you've got to kill or capture those bad guys that are not reconcilable," he told Congress. [Baldor&Apuzzo&Bridis/AP/27July2010]
In the Spy World, Mistakes are News While Success is Hidden, by Daniel Flitton. It's important to keep sight of what intelligence can and can't achieve.

In two different ways this past week, the public has gained a rare glimpse into the shadowy world of official secrets. The first came thanks to an extensive investigation by The Washington Post into the ballooning size and cost of US intelligence services - more than 1200 government organizations, nearly 2000 private companies, some 850,000 people with top secret clearances.

The story showed that many analysts were doing much the same work, generating a stream of reports no one has time to read. It was fine investigative reporting, drawing together strands that were plain to see once the Post invested the time to look.

The second insight came via a leak - or more like a gusher, with some 92,000 classified reports uploaded to the WikiLeaks website, detailing the many failings of the Afghanistan war. The military reports over five years tell a story the public has come to intuitively understand but many politicians refuse to acknowledge - that of a floundering conflict in which supposed allies turn out to be enemies and Western forces too often kill those they profess to want to save.

The extensive leak offers a fine-grain view of the difficulties encountered on the ground; local police demanding bribes to drive on roads, an orphanage meant to house 100 standing empty with no sign of the money donated to help the children.

In one 2007 report, a CIA team shot a man in the ankle after he ran at the sight of their convoy and ignored warnings to stop. Village elders later told the team the man was deaf and mute.

Put together, the revelations from the past week should prompt some hard questions about Western intelligence operations. Has the post-September 11 obsession with security gone too far? Are the political masters even paying attention to their spies? Crucially, is the public getting value for money?

But in asking these questions, it's important not to lose sight of the purpose of intelligence agencies and what can be delivered.

If governments want someone to predict the future, they'd do better to hire an astrologer and read the stars. Intelligence agencies have unparalleled access to information - gathered both covertly and in plain sight - with the job of anticipating threats and trends. But there is no perfect system that will deliver all the answers or stop every attack.

By its nature, in secret intelligence failure is obvious while success remains hidden. Security agencies did not stop hijacked planes crashing into New York and Washington. Saddam Hussein did not have a stockpile of weapons of mass destruction.

By contrast, a plot in 2006 to bomb planes over the Atlantic, potentially killing hundreds, was prevented.

As the Post concedes, ''debate about the role of intelligence in protecting the country occurs only when something goes wrong and the government investigates, or when an unauthorised disclosure of classified information turns into news''. With hindsight, intelligence failures can appear obvious - the pieces of the puzzle weren't put together, analysts failed to join the dots.

Yet the truth is actually much scarier. Despite the billions of dollars spent, there is simply no way of knowing everything.

Intelligence agencies are often held to an impossible double standard. Complaints about the bloated national security apparatus that the Post story generated have been turned on their head after the WikiLeaks revelations. Intelligence painted a miserable picture of the conflict in Afghanistan, but political leaders told the public otherwise.

None of this should excuse intelligence agencies from scrutiny.

In Australia, the intelligence community has also grown significantly in the past decade and people should rightly question its worth. The domestic security agency, ASIO, has expanded most, to almost triple its workforce. Australia has more spies abroad, too, in conflict zones and tackling people smuggling, and barely a week goes by without ads in the newspaper for jobs such as analyzing satellite images or intercepted phone calls.

Australia shares much of this covert information with its key allies, the so-called ''five eyes'' community we belong to with the US, Britain, Canada and New Zealand. Managing the sheer volume of American reporting is the biggest challenge - as the Post story shows, the scale of the US intelligence gathering effort is immense. In attempting to digest every shared report, Australian spooks risk being diverted from areas more germane to our interests.

Yet, equally, the odd gem might appear that would otherwise be missed, so not acting on information is a cardinal sin.

This has created an industry within the intelligence community that insiders colorfully refer to as ''bum quilting''. Any threat - no matter how credible - is fed into the system. A snippet that mentions Australia is pored over and assessed, and more paper generated to prove the information was processed - in case there's an inquiry down the track.

A mix of Hollywood and conspiracy theory has fuelled a public image of the all-seeing spies. But stripped of secrets, the truth is far more mundane. [Daniel Flitton is diplomatic editor of The Age.] [Flitton/SMH/27July2010]

The Mole Who Gave Away Russia's Spies, By Yulia Latynina. During his visit to Ukraine, Prime Minister Vladimir Putin told journalists that he met with the 10 Russian "illegals" - who pleaded guilty in a U.S. court to being agents for the Russian government - at some point after they arrived in Moscow on July 9.

"They will find decent work - I'm sure," Putin said. "I don't doubt that they will have interesting, bright lives." Perhaps he was referring to Anna Chapman, who has already received an offer from Vivid Entertainment to play the leading role in a porn film.

"I can tell you that it was a hard fate for each of them," Putin said. "First, they had to master a foreign language as their own."

Here, Putin was clearly exaggerating their English-language skills. Nina Khrushcheva, professor of international affairs at The New School in New York, was the academic supervisor of Richard Murphy - one of the spies whose real name is Vladimir Guryev. She wrote in Foreign Policy magazine about how she did a double-take when she met this supposedly Irish-American student with a strong Russian accent. Plus, he had that insolent, downtrodden demeanor that screams, "I was raised in Russia!"

But the most important open question is who was the informer who helped U.S. authorities uncover the spy network? Since Putin met with all 10 of the agents, it is safe to assume that none of them was the informer.

The first person the media and analysts named as the most probable informer was Sergei Tretyakov, a Russian spy who defected to the United States in 2000. But Tretyakov's biographer, Pete Earley, insists that Tretyakov knew nothing about the 10 agents. Moreover, if Russian intelligence knew that Tretyakov was passing secret information on to the FBI about the 10 agents, surely the Foreign Intelligence Service would have evacuated the agents as soon as possible.

Meanwhile, there is one person left - spy No. 11, the most important figure in the network. I'm talking about Christopher Metsos. In contrast to the 10 clowns, Metsos was a top-level spy.

According to the official version, he apparently "fled" the United States to Cyprus, where he was arrested, released on parole and then disappeared. On the surface, this appears to be a blatant act of negligence by the FBI when it let Metsos leave the United States, particularly since he was supposedly under much heavier surveillance than the other 10 agents.

But maybe Metsos' flight was just a smokescreen to cover up his work as a double agent. Maybe Metsos was a mole who was feeding the Foreign Intelligence Service false information while working for the Americans during the 2000s.

Another circumstance supporting this version is that no one is blaming the FBI for letting the ringleader go free.

Another strange thing: Why has Russia not said a word about its brilliant victory - that it was able to evacuate its top spy from Cyprus in a secret operation? To be sure, the security service is probably prohibited from giving details, but if Russia did, in fact, save Metsos, we would have surely heard bits and pieces of this amazing operation through leaks or anonymous sources.

The whole world is looking for Metsos, but maybe he is comfortably living in the United States, where he has been debriefed by the FBI and CIA and has already received a new name and face. [Latynina/TheMoscowTimes/28July2010]

The CIA Solution for Afghanistan, by Jack Devine. The U.S. military will not achieve anything resembling victory in Afghanistan, no matter how noble the objective and heroic the effort.

It's time to face this reality. We should start by developing a new covert action plan to be implemented by the Central Intelligence Agency. The strategy should focus on forging the kinds of relationships necessary to keep Afghanistan from re-emerging as al Qaeda's staging ground once our forces depart, and also on continuing the hunt for Osama bin Laden.

If there is any lasting lesson from the recent demise of Gen. Stanley McChrystal, it's that the large and visible occupying army he commanded in Afghanistan is simply the wrong force to wage the battles being fought there. The British and the Russians know this too well.

Having run the CIA's Afghan Task Force - which covertly channeled U.S. support to the Afghans fighting to drive the Soviets out of their country - I recognize the playbook our policy makers are using today. It didn't work for the Soviets then, and it won't work for us now. However different our current objective, our efforts are alarmingly similar to those of the Russians. Instead of ignoring the lessons of that history, what we need to do is to be more like ourselves in the 1980s and in the months immediately following the attacks of 9/11.

In the '80s we essentially ended the Cold War with a well-funded and broadly supported covert action program. In 2001, under similar political circumstances, a small band of CIA operators restored old ties to Afghan tribal leaders, teamed up with U.S. Special Forces and, backed with U.S. air power, toppled the Taliban in a matter of weeks.

Our presence in Afghanistan is better left unseen. Most Afghans, even those willing to deal with us, would rather we get our military out of their country. A covert action program would address this concern. It would also cost less than a military effort in treasure and lives, and allow the U.S. to continue to protect its interests and the interests of the Afghans who desire nothing more than to see their country enter a period of calm.

A smart covert action program should rest on worst-case scenarios. Afghanistan will likely enter a period of heightened instability leading up to and following our planned 2012 departure, so we should figure out now which tribal leaders - and, under specially negotiated arrangements, which Taliban factions - we could establish productive relationships with. We must also consider the possibility that our departure could precipitate the eventual collapse of the Karzai government. Thus we should cultivate relationships with leaders inside and outside the current regime who are most likely to fill the power vacuum.

It's a good bet that the CIA already has substantial relationships with many of these personalities, particularly in areas where agency operators have long enjoyed relative freedom of movement. Afghanistan is a tribal society, not a nation state, and tribal interests are often easy to accommodate with cash and other assets that help tribal leaders maintain their power. Make no mistake: We're not talking about supporting advocates for Jeffersonian democracy here. But these partnerships have proven dependable and highly advantageous to U.S. policy makers in promoting regional stability in the past.

The cornerstone of a revitalized covert action plan in Afghanistan must be based on an updated Presidential Finding, which is required for any covert initiative. The president himself would have to authorize ample funding for the remains of the Karzai government, its opposition, tribal warlords and even some Taliban elements, as long as they're willing to help us achieve our objectives. The fact that many of them don't like each other will probably work to our benefit and against our enemies in al Qaeda.

My experience at the CIA helped me develop a few rules of engagement that I consider critical to successful covert action programs. First, they must have sufficient funding and bipartisan congressional approval. Second, a general consensus backing the effort must exist among the American public. Third, there must be robust support among key players and interest groups in the country where our covert action program functions. Perhaps most importantly, the rationale behind the program must be anchored in sound policy objectives.

It bears mentioning that covert action has been controversial, and has many opponents in and out of government. But such critiques often highlight flawed policy rather than failed execution. The CIA's work in Chile during the 1970s and in Central America during the 1980s are generally viewed as mistakes or failures. But in both cases the agency was operationally successful. The real issue was the flawed policy, which the CIA has no part in determining.

Congress, the executive and the public were justifiably disturbed by some of the means used to carry out covert action since 9/11, including waterboarding and other "enhanced interrogation techniques." Advocates for the expanded use of covert action must be clear in their refusal to countenance these practices, and in their commitment to strong oversight measures. More generally, an updated covert strategy should establish clearer rules of engagement. Predator drone attacks, which have been effective in killing al Qaeda leaders, should be relied upon. Covert activities should not be outsourced to private contractors, as has reportedly occurred in Afghanistan.

Preventing a return to a pre-9/11 version of Afghanistan is a realistic and achievable goal as long as our strategy is calibrated to the Afghan political, cultural and physical landscapes. A CIA-run covert action program is by nature custom-tailored to the reality on the ground. As such, it is a highly valuable tool that we should use to advance a modified objective in Afghanistan. [Mr. Devine is a former CIA deputy director of operations and chief of the CIA Afghan Task Force 1986-87. He is president of the Arkin Group, a private sector intelligence company based in New York.] [Devine/WallStreetJournal/29July2010]

Anger Over War Documents Leak, by JJ Green. Uniformly, every military, intelligence and U.S. government professional I've spoken to has expressed some degree of anger, disgust or bewilderment over the release of war documents. "The anger here is almost off the scale, that's how bad this is," says former CIA director Michael Hayden. He says Wikileaks, and the publications that released the information will have a hard time justifying the publication for one reason and one reason only - "Just the absolute, utter disregard for the very real impact this has."

What's really upset many of these folks is, as Hayden put it, "Pretending that they've really gone through this process and ohh! we would not publish anything whose disclosure really would cause harm."

He and others ask what measurement they used to arrive at that conclusion.

As a journalist, who covers and struggles regularly with officials from all three venues that rarely want to talk about national security matters, I see the reason for the release, because that's what the media does. We look for news.

But the problem I'm having is figuring out what the value they got out of releasing the information.

In addition to worry that sources may be killed, Hayden says U.S. enemies have a huge window look into.

A lot of people have asked how he, Bradley Manning, downloaded this material. Aren't there some safeguards against it?

What I've found out is DoD computers do not allow certain external memory devices to be connected, but some do allow CD devices to be utilized and that's allegedly how he did it - pretending to be downloading music.

It's going to be a while before we know how much damage this event is going to cause.

It's not just you and us in the media reading the information

"Intelligence services around the world are going through it," says Hayden. He says intelligence directors around the planet are all saying the same thing.

"Get all your best English speakers on this I want them to read every document. I want to learn about these guys. I want to learn about their strengths. I want to learn about their weaknesses."

Nation-states like China, Russia, Iran and North Korea are all swimming in info about the U.S. and unfortunately some others, "Specifically the (intelligence) services that support the Taliban and Al Qaida," says Hayden.

U.S. procedures, blind spots, and genius are what they're looking for. [Green/FederalNewsRadio/29July2010]

---
Section IV - BOOKS, ANNOUNCEMENTS, JOBS AND COMING EVENTS
---
KH601 'And Ye Shall Know the Truth and the Truth Shall Make You Free'; My Life in the Central Intelligence Agency, by Richard Irwin, reviewed by Alexandra Scheirer. In 1982, Parkland High School grad Richard Irwin was a young special agent in the Central Intelligence Agency in Boston, Mass. He was called into the office of the Special Agent in Charge and told there were rumors of five Libyan terrorists attempting to enter the United States from Canada to assassinate President Regan. Irwin was sent to Maine to help secure the Canadian border.

He had to battle a severe snowstorm to get there. The flight he was booked on was cancelled until Irwin explained he was on a crucial mission involving national security. After the passengers were off, the pilot flew Irwin to Presque Isle. Once there Irwin drove in white-out conditions 86 miles to reach the Canadian border. He never found the assassins.

The story is one of many Irwin, 55. tells in "KH601 'And Ye Shall Know the Truth and the Truth Shall Make You Free'; My Life in the Central Intelligence Agency," a new book which allows readers to get a glimpse behind the walls of the mysterious agency, where Irwin worked for 28 years under five presidents.

Irwin offers personal stories as well as historical insight. Sometimes the book reads like a confidential briefing. Sometimes it reads like an old friend reminiscing.

The book offers Irwin's perspective on events ranging from the fall of the U.S. Embassy in Tehran in 1979 to the terrorist attacks of Sept. 11 2001 - Irwin's 25th anniversary with the agency.

"KH601" is both the title of the book and Irwin's badge number. The subtitle "And Ye Shall Know the Truth and the Truth Shall Make You Free" refers to a biblical verse etched on the wall in the entry way to the CIA building in Washington, D.C., that left a lasting impression on Irwin.

Irwin, a native of Breinigsville, graduated from Parkland in 1973. He attended York College, where he studied Police Science. During his junior year, he applied to be a trooper with Pennsylvania State Police. He did not know at the time that his rejection would lead him down another remarkable path, a career that would take him to 87 countries and allow him to directly serve President George Bush as Director of Incident Management for the Homeland Security Council in 2003. This council is responsible for coordinating all National Security related efforts across agencies and departments.

Irwin retired the following year and says serving in the White House was one of the greatest honors of his life.

Life as a CIA agent was a difficult one. Irwin worked long hours, was often away from his wife and children and his life was often on the line. He says he wants readers to realize that while we go about our daily lives, there are many people working around the clock 365 days a year to maintain freedom and safety.

It took Irwin three years to write the book, which is published by Fortis. But that was just the start. It took another two years to get it approved by the CIA Publication Review Board, National Security Council, Homeland Security Council and the Department of Homeland Security.

Irwin now lives in Virginia and heads the department of homeland security for MELE, a private company. [Scheirer/McAll/1August2010]

---
Just released: CONVERGENCE: Special Operations Forces and Civilian Law Enforcement; A monograph by AFIO member Dr. John B. Alexander

Convergence of missions between special operations forces and civilian law enforcement agencies (especially SWAT)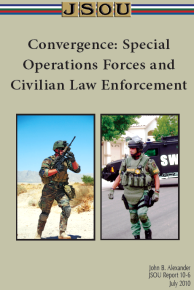 Click picture above to view 122-page monograph.

Cover shows the commonalities between the Special Forces soldier in training and the Las Vegas Special Weapons and Tactics (SWAT) officer engaged in executing a high-risk search warrant are remarkable. The equipment is nearly identical.

JSOU Report 10-6
The JSOU Press

Released on behalf of the Joint Special Operations University, 7701 Tampa Point Boulevard, MacDill AFB FL 33621
https://jsoupublic.socom.mil
---
Analytic Associate, PhaseOne Communications, Los Angeles, CA. Using a collaborative style, the Analytics Department researches and analyzes communications and audience insights for the public & private sector. This group of highly skilled, highly educated individuals is driven to excellence in the service of our clients. The Analytics Department is responsible for the ongoing quality and enhancement of PhaseOne's proprietary methodology. Learning & using PhaseOne's proprietary methodology, PhaseOne's Analytic Associates adhere to internal standard research processes. They must be able to draw conclusions from that research and present them in an organized, concise, clear way to their internal team. Key responsibilities: Participate in high profile analytical assignments from leading global organizations to maximize the potential of their communications. Drawing upon strong analytical and interpersonal skills, as well as PhaseOne's deeply researched and highly validated analytical system; contribute to the analysis of a wide variety of communications across all media. Conduct research studies to evaluate marketing techniques and provide other research support for Unit teams. Apply advanced analytical techniques used to build statistical models that help client gain the best ROI on marketing expenditures. Collect secondary research, analyze and prioritize information in context of assignment. Evaluate existing research, such as surveys, opinion polls, and/or questionnaires. Identify and monitor client's competitors and research market conditions or changes in the industry that may affect success. Write reports clearly and concisely, demonstrating the ability to integrate insights, organize materials and address objectives. Prepare content for client presentations. Execute project ensuring standards for quality, analyses, execution, report writing and presentation are met. Participate in training to further enhance your skills and knowledge specific to PhaseOne's processes. Qualifications: Bachelor's degree in Marketing, Psychology or Communications. Master's preferred. Course work in analytical research, statistical analysis, logic and/or communications. Minimum of 1 year professional experience in marketing research or related field. Strong qualitative analytical skills are required, with some quantitative skills. Proven ability to efficiently conduct thorough secondary research and analysis and distill large amounts of information into key findings. Knowledge of commonly-used concepts, practices, and procedures within the research field. Ability to spot key trends and patterns. Ability to work independently and go beyond the basic project description. Ability to ensure timely delivery of services to a consistently high standard, exceeding clients' expectations. Ability to work in a team environment with a willingness to work toward a consensus is needed. Collaborative, consensus-oriented work style. Computer proficiency in Word, Excel and PowerPoint. Strong desire to work in an intellectually challenging environment with openness to new perspectives, ideas and analytical methodologies. Ability to embrace innovative, science-based analytical methodologies. Must be detail oriented. US Government security clearance or ability to be cleared. Must be a US citizen. Please apply at http://www.phaseone.net/careers/.

VP, Director Washington Operations, PhaseOne Communications, email: jeffcastelli@phaseone.net, Office: 571-830-6816, Fax: 571-830-6819, Cell: 310 612 6413
---
EVENTS IN COMING TWO MONTHS....
MANY Spy Museum Events in August with full details are listed on the AFIO Website at www.afio.com. The titles for some of these are as follows:
Thursday, 5 August 2010, noon - Washington, DC - "Silent Sentry: The Untold Story of the National Security Agency" - at the International Spy Museum
Wednesday, 11 August 2010, 6:30 pm - Washington, DC - "Uneasy Alliance: The CIA and ISI in Pakistan" - at the International Spy Museum
Thursday, 12 August 2010, Noon - 2 pm - Washington, DC - Spy Psych David Charney, M.D. on "Why Do People Spy?" at the Returned Services League of Australia, Washington Chapter
(Arrive early as Dr. Charney's briefing will start at around 12:15).
Speaker - Dr. David L. Charney, MD.
o Expert on the Psychology of the Spy
o Psychiatric consultant to three spies after they were arrested:
o Earl Pitts, Robert Hanssen, Brian Regan
o Developer of the Concept: Life Stages of the Spy
o Founder and Medical Director of Roundhouse Square Psychiatric Center, in Alexandria, VA
o Associate Clinical Professor of Psychiatry, George Washington University Department of Psychiatry and Behavioral Sciences
* Further bio at http://cicentre.com/experts.html
Where - Amenities Room, Embassy of Australia, 1601 Massachusetts Ave NW, Washington, DC 20036. NOTE: Valid ID required.
Charge - $15.00, including buffet lunch and sodas. Alcoholic beverages- $2.00 each.
RSVP NLT noon on Wednesday August 11, 2010, to David Ward on 202-352-8550 or via e-mail at dmpward@wwdb.org
Attire : Business casual
Parking: There is no parking at the Embassy. There is paid public parking behind and under the Airline Pilots Association (17th and Mass) and at 1500 Mass Ave NW.
Saturday, 14 August 2010, 11 am - Orange Park, FL - AFIO Northern Florida Chapter hears expert on technology capabilities of FBI/DEA/ATF regarding air travel.
Social hour from 11:00 am, lunch at noon, and speaker and meeting to follow until 3:00 pm. This meeting's guest speaker will be Mr. Bob DeFrancesco, Security Chief at Jacksonville International Airport. In concert with Ken Nimmich, DeFrancesco will delve privately and confidentially into the technology requirements and capabilities of his systems. He will address successes and failures of both the technology and the dependency of interagency regimes, including the FBI, DEA, ATF, etc. Also in preparation for the meeting, there will be a review of the Nova video on NSA (www.youtube.com/ watch?v=ZWtEp3fLLvo) and 9/11 (www.youtube.com/ watch?v=8EiiZUUGQyI) ramp up from an interagency perspective. Chapter President Dane Baird applauds Bill Webb on this effort and hopes all members can watch the videos, twice if possible, prior to the meeting. Hopefully these are the right YouTube links to access these videos - let me know if not! For potential upcoming meetings, President Baird has uncovered some impressive resumes of generals and admirals living within reach of Ponte Vedra, including one who flew with the Nationalist Chinese Air Force. Think about it, and let us know if a special China program would be interesting – and we're sure that Bill could certainly enhance and enlighten such presentation(s).
RSVP right away for the 14 August 2010 meeting to Quiel at qbegonia@comcast.net or 904-545-9549. The cost will be $16 each, pay the Country Club at the event.
17 - 20 August 2010 - Cleveland, OH - AFIO National Symposium on the Great Lakes - "Intelligence and National Security on the Great Lakes"
AFIO National Symposium: Co-Hosted with the AFIO Northern Ohio Chapter at the Crowne Plaza Hotel, Cleveland, OH. Includes presentations by U.S. Coast Guard on Great Lakes security; Canadian counterparts to explain double-border issues; National Air/Space Intelligence Center; Air Force Technical Applications Center; Ohio Aerospace Institute. Cruise on Lake Erie .
Spies in Black Ties™ Dinner and Cruise on Lake Erie. Make your reservations here. Agenda here.
Thursday, 16 September 2010, 11:30 am - Colorado Springs, CO – The Rocky Mountain Chapter features speaker on terrorism.
The Rocky Mountain Chapter presents Sheriff Terry Maketa who will speak on legal issues involving El Paso County, crime statistics and give an update on terrorism. To be held at a new location the AFA... Eisenhower Golf Course Club House. Please RSVP to Tom VanWormer at robsmom@pcisys.net
Thursday-Friday 23-24 September 2010 - Harrisburg, PA - First Annual Intelligence Community Center for Academic Excellence (IC CAE) Symposium "Intelligence and Homeland Security: Policy and Strategy Implications" - The symposium is by Penn State Harrisburg.
SAVE THE DATE! Potential topics: • Careers in the intelligence community; • Cyber security and information; assurance; • Border security; • Critical infrastructure protection (CIP);
• Intelligence and information sharing – domestic and international; • Fusion centers; • Ethical issues in intelligence; • Operations security (OPSEC); • Terrorism; • Drug cartels; • Private sector and NGOs; • Public health; • Geospatial information; • Counter-proliferation.Registration information and call for presentations/papers to follow.
Event location: Harrisburg, Pennsylvania Hilton Hotel
Contact: Tom Arminio, tja12@psu.edu, tomarminio@gmail.com Mobile: 717-448-5377
or Kate Corbin Tompkins, katespa@psu.edu; Office: 717-948-6058; Mobile: 717-405-2022; Fax: 717-948-6484
24 September 2010 - Tysons Corner, VA - AFIO National Fall Luncheon features CIA Deputy Director, Michael J. Morell.
Noon speaker: Deputy Director Michael J. Morell, CIA and 11 a.m. speaker: Speaker, T.B.A. Check in for badge pickup at 10:30 a.m., Morning Speaker gives address at 11 a.m., Michael J. Morell, Deputy Director, CIA - gives address at noon, Lunch is served at 1 p.m., Event closes at 2 p.m. R E G I S T R A T I O N EVENT LOCATION: The Crowne Plaza, 1960 Chain Bridge Road • McLean, Virginia 22102. Driving directions here or use this link: http://tinyurl.com/8228kw Registration limited HERE
Saturday, 25 September 2010, 10:30 am - Coral Gables, FL - "Management of Kidnap and Extortion Incidents" the topic at the AFIO Miami Chapter event. This program is a seminar conducted by a former Intelligence Officer expert in the subject. More details to follow soon or email trsmiami@aol.com
29-30 September 2010 - Washington, DC - Conference on the American Experience in Southeast Asia, 1946-1975 by the U.S. Department of State.
The U.S. Department of State's Office of the Historian is pleased to invite AFIO members to a conference on the American Experience in Southeast Asia, 1946-1975, which will be held in the George C. Marshall Conference Center at the State Dept. The conference will feature a number of key Department of State personnel, both past and present. Those speaking will include:
* Former Secretary of State Henry A. Kissinger
* Former Deputy Secretary of State John D. Negroponte
* Special Representative for Afghanistan and Pakistan Richard A. Holbrooke
The conference will include a panel composed of key print and television media personnel from the Vietnam period discussing the impact of the press on public opinion and United States policy. A number of scholarly panels featuring thought-provoking works by leading scholars will also take place. Registration information will be available at the State Dept website, http://history.state.gov, after August 1.
Saturday, 2 October 2010, 6:30 pm - Washington, DC - William J. Donovan Award Dinner Honoring Ross Perot by The OSS Society
The OSS Society celebrates the historical accomplishments of the OSS during WWII through a William J. Donovan Award Dinner. This year the annual dinner honors Ross Perot. Event includes special performance by humorist Mark Russell. Black Tie/Dress Mess. Location: Mandarin Oriental Hotel, 1330 Maryland Ave SW, Washington, DC. By invitation. Tables of ten: $25,000; Table of ten: $15,000; Table of eight: $10,000; Table of Six: $5000; Seating of four: $3,000; One guest: $1,000. Some tickets available for $175 pp. Donations welcomed. Inquiries to The OSS Society at oss@osssociety.org
---
For Additional Events two+ months or greater....view our online Calendar of Events
-----------------------------------------------------------------------
Disclaimers and Removal Instructions
Weekly Intelligence Notes (WINs) are commentaries on Intelligence and related national security matters, based on open media sources, selected, interpreted, edited and produced for non-profit educational uses by members and WIN subscribers.
REMOVAL INSTRUCTIONS: We do not wish to add clutter to inboxes. To discontinue receiving the WINs:
a) IF YOU ARE A MEMBER -- click here: UNSUBSCRIBE and supply your full name and email address where you receive the WINs. Click SEND, you will be removed from list. If this link doesn't open a blank email, create one on your own and send to afio@afio.com with the words: REMOVE FROM WINs as the subject, and provide your full name and email address where you are currently receiving them.
b) IF YOU ARE NOT A MEMBER, and you received this message, someone forwarded this newsletter to you [contrary to AFIO policies]. Forward to afio@afio.com the entire WIN or message you received and we will remove the sender from our membership and distribution lists. The problem will be solved for both of us.
CONTENTS of this WIN [HTML version recipients - Click title to jump to story or section, Click Article Title to return to Contents. This feature does not work for Plaintext Edition or for some AOL recipients]. If you wish to change to HTML format, let us know at afio@afio.com. The HTML feature also does not work for those who access their e-mail using web mail...however NON-HTML recipients may view the latest edition each week in HTML at this link: https://www.afio.com/pages/currentwin.htm
-----------------------------------------------------------------------

WINs are protected by copyright laws and intellectual property laws, and may not be reproduced or re-sent without specific permission from the Producer. Opinions expressed in the WINs are solely those of the editor(s) or author(s) listed with each article. AFIO Members Support the AFIO Mission - sponsor new members! CHECK THE AFIO WEBSITE at www.afio.com for back issues of the WINs, information about AFIO, conference agenda and registrations materials, and membership applications and much more!

(c) 2010, AFIO, 6723 Whittier Ave Suite 200, McLean, VA 22101. Voice: (703) 790-0320; Fax: (703) 991-1278; Email: afio@afio.com
Click here to return to top.