AFIO Weekly Intelligence Notes #34-15 dated 1 September 2015

If you are having difficulties with the links or viewing this newsletter when it arrives by email, members may view the latest edition each week at this link: https://www.afio.com/pages/currentwin.htm You will need your LOGIN NAME and your PASSWORD.
[Editors' Note are now below the CONTENTS] REMOVAL INSTRUCTIONS: We do not wish to add clutter to inboxes. To discontinue receiving the WINs, click here.

---

CONTENTS

Section I - INTELLIGENCE HIGHLIGHTS

Section II - CONTEXT & PRECEDENCE

Section IV - Books and Upcoming Events

.For Additional AFIO and other Events two+ months or more... Calendar of Events

WIN CREDITS FOR THIS ISSUE: The WIN editors thank the following special contributors: pjk, th and fwr. They have contributed one or more stories used in this issue.

The WIN editors attempt to include a wide range of articles and commentary in the Weekly Notes to inform and educate our readers. However, the views expressed in the articles are purely those of the authors, and in no way reflect support or endorsement from the WIN editors or the AFIO officers and staff. We welcome comments from the WIN readers on any and all articles and commentary.

CAVEATS: IMPORTANT: AFIO does not "vet" or endorse research inquiries, career announcements, or job offers. Reasonable-sounding inquiries and career offerings are published as a service to our members, and for researchers, educators, and subscribers. You are urged to exercise your usual caution and good judgment when responding, and should verify the source independently before supplying any resume, career data, or personal information.]
If you are having difficulties with the links or viewing this newsletter when it arrives by email, members may view the latest edition each week at this link: https://www.afio.com/pages/currentwin.htm You will need your LOGIN NAME and your PASSWORD.

---

SPECIAL Announcements

New CIA Career Video Shorts are Here

---

3 October 2015, 11 a.m. to 1 p.m. - Washington, DC - Sign up for a 2-hour bus tour focusing on spies. Tour is led by seasoned intelligence experts from the CiCentre/FBI. You will be shown some of the darkest corners of the city where spies have run operations. Suitable for adults and mature teens. Your ticket includes a box lunch and a bottle of water. Click either image above for more information or to obtain tickets.

---

17th NCMF GENERAL MEMBERSHIP MEETING & SYMPOSIUM
21 OCTOBER 2015

Registration is now open for the 17th NCMF General Membership Meeting & Symposium on 21 October 2015 in Laurel, MD. The theme for this year's event is "The Changing Face of Terrorism," and the program will feature guest speakers, including keynote speaker Mr. Robert Grenier, author of 88 Days to Kandahar. The program will also include a tribute to NCMF friend and former Chairman of the BoD Lt Gen Lincoln D. Faurer. Registration includes breakfast and lunch. Registration fees are $30 for NCMF members and $50 for non-members (includes a one-year complimentary NCMF membership). Registration deadline is 16 October.Remember, this year the Annual Meeting coincides with the Cryptologic History Symposium (see description at this link). Register HERE for both and enjoy multiple days of cryptology!

22 and 23rd October follow featuring NSA's Center for Cryptologic History on "A Century of Cryptology."
More information on that special Symposium is here.
---
Some new Career Video Shorts from CIA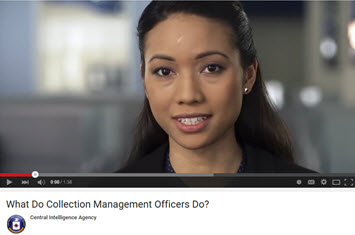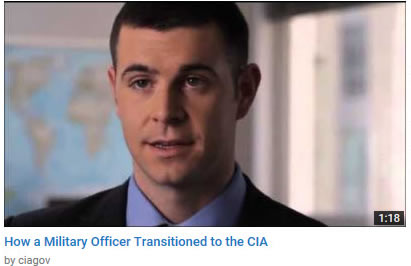 Section I - INTELLIGENCE HIGHLIGHTS
U.S. Intelligence Community Provides Innovation Exchange With Industry, Federal Civil Sector, Local Law Enforcement & First Responder Communities - Call for Presentations. Global Marketing Insights Inc. today issued an invitation for Industry, Federal Civil, First Responders and Local Law Enforcement communities to participate in a Community Innovation Exchange with the U.S. Intelligence Community. Hosted by the U.S. Multi-INT Tradecraft Community of Practice (MINT-T CoP), this no fee event includes classified and unclassified sessions 21-25 Sept. 2015 in Chantilly, VA.

Participation is open to U.S. citizens and Commonwealth allies, and the Call for Engagement (Presentation) responses for speakers and demonstrations must be submitted by Friday, Aug. 28. Registration for attendance must be completed with security clearance information by Sept. 4.

"This event is an opportunity for the federal civil, industry, first responders and law enforcement personnel to share tradecraft knowledge with Department of Defense and intelligence community practitioners," said Dr. Shawana Johnson, President of Global Marketing Insights. "The goal of this cross-discipline exchange is to solve complex intelligence issues and maximize resource allocation."

Following a similar session at the 2015 GEOINT Conference in June, MINT-T CoP requested Global Marketing Insights (GMI) - a geospatial business intelligence firm - organize the Exchange on behalf of the DoD and Intelligence Community. The event is open to all analysts, collection officers and technical subject matter experts within the Industry, Fed/Civil, Local Law Enforcement and First Responder communities. DoD and intelligence community counterparts and decision makers will be in attendance. [Read more: MarketWatch/26August2015]
CRS: Oversight of Intelligence Community Contractors Nearly Impossible Due to Classified Data. Oversight of intelligence community contracts is extremely difficult because the government doesn't have reliable contracting data and most of the intelligence information is classified, says an Aug. 18 Congressional Research Service report that was obtained by the Federation of American Scientists.

"Contractors have been and are an integral part of the intelligence community's total workforce," the report says. "Yet questions have been raised regarding how they are used, and the size and cost of the contractor component."

The report says the intelligence community has taken on several initiatives designed to track contractors.

The IC initiated its first inventory of core contract personnel in 2006. The reasons for undertaking this effort included both a congressional concern and a desire to get a handle on the role of contractors, and the extent of contracting in the intelligence community. [Read more: McDermott/FierceGovernment/26August2015]

Johannesburg: Hunt for 'Super-Spy' Machines. Intelligence operatives are scrambling to seize two "super-spy" surveillance machines that can access bank transactions and jam cellphone network signals.

The machines are believed to be in the hands of private citizens who obtained them illegally.

The search for the prohibited instruments, which are used only by security agencies, has lasted for several months, according to impeccable sources.

A source familiar with the investigation said the intelligence operatives have struggled to get information about the devices, known as "The Grabbers". [Read more: Maphumulo/IndependantOnline/27August2015]

Czech Intelligence Powers Widened. The powers of Czech intelligence services will be widened as they will be allowed to breach the tax secret and to ask for information from telecommunications operators under the legislation signed into law by President Milos Zeman, spokesman Jiří Ovčáček said today.

The limitations on the data protected by the bank secret will be cancelled, too.

The legislation will take effect 15 days after it appears in the Law Digest.

The tax secret will be broken by the intelligence service being able to demand information from the tax administration under the General Financial Directorate. [Read more: CzechNewsAgency/25August2015]
Israeli Intelligence Suffers Shortage of Information about Gaza. There is a shortage of intelligence about the Gaza Strip, the Israel Defence Forces have claimed. The shortage, Felesteen reported on Sunday, affects the IDF's ability to carry out Special Forces operations.

The newspaper quoted Israel's Walla website, which is close to the Israeli intelligence agencies, as saying that senior Israeli military sources believe that the disengagement with the Gaza Strip in August 2005 diminished their abilities to recruit spies in Gaza. Such difficulties were made obvious by the Gilad Shalit affair, said Walla. During the five years of his captivity, the IDF had no intelligence about his whereabouts, even though the Gaza Strip is a relatively small territory.

Online newspaper Today's Opinion claimed that the lack of information about Shalit proved the failure of Israeli intelligence. It added that a lack of information undermines Israel's ability to carry out operations in Syria and Lebanon.

Today's Opinion also said that Israeli naval commandos attempted to carry out a surprise attack against Hamas in the north of the Gaza Strip during last year's summer offensive. Their failure resulting from Hamas vigilance was considered to be a "resounding failure" by Israel. Indeed, former Chief of Staff Beni Gantz has hinted that carrying out special operations in the heart of Gaza is "impossible" due to Hamas preparations. [Read more: MiddleEastMonitor/31August2015]

Army Creating Cyber Units With Soldiers, Civilians. The Army is looking for soldiers and civilians to serve in new cyber units charged with protecting critical stateside infrastructure and creating "effects" on the battlefield in support of conventional forces. The challenge: Attracting the creative, energetic talent typically drawn to the freewheeling tech sector.

Army Cyber Command has about 20 teams in place, out of the 41 that it hopes to form by the end of next year, said Command Sgt. Maj. Rodney Harris, an adviser to Army Cyber Command and its commander, Lt. Gen. Edward C. Cardon.

Cyber protection teams harden key networks, mitigate risk and hunt for intruders. Other teams protect critical infrastructure, support commanders on the battlefield, analyze intelligence and develop software, Harris said.

Recruiters are hoping to tap into some of the energy that has helped Silicon Valley lead the world in information technology. However, it's unclear whether the Army can provide an environment compatible with the techies whose skills have made Google, Microsoft and Apple household names. A different sort of soldier will need to be recruited to fight in "a seriously nontraditional" space, said Arizona State University engineering professor Braden Allenby. [Read more: Robsen/Stars&Stripes/31August2015]
---
Section II - CONTEXT & PRECEDENCE
China Allegedly Hacked Top Former FBI Lawyer. Marion "Spike" Bowman, a top former FBI lawyer and U.S. counterintelligence official who heads an influential organization of retired American spies, says his home computer was penetrated by a hacker from China, beginning with an innocent-looking email last spring.

"It was an email supposedly from a woman in China, and I exchanged correspondence with her a couple of times," said Bowman, who was deputy general counsel to three FBI directors between 1995 and 2006. "She sent me a document that a friend of hers had supposedly written, in English, and wanted my opinion on it," he told Newsweek. She also sent him her picture.

"I never got around to replying, so I never heard from her again," says Bowman, who went on to become deputy director of the National Counterintelligence Executive, which is tasked with developing policies to thwart foreign spies and terrorists.

But then a week ago, he said, he got another message from China via his email account at George Washington University, where he has lectured on national security law since 2003. [Read more: Stein/Newsweek/31August2015]
Frederick Forsyth: My Life as Cold War Spy for MI6. Frederick Forsyth, the best-selling novelist lauded for his realistic spy thrillers, has revealed details of his life as an MI6 agent.

Forsyth, 76, worked as a spy for more than two decades after being recruited by the Secret Intelligence Service in 1968.

The writer had been working at the time as a freelance reporter, covering the war between Nigeria and the breakaway state of Biafra.

Forsyth conducted counter-intelligence in Communist East Germany and apartheid-era South Africa. [Read more: Raynor/TheTelegraph/31August2015]
Yan Baohang, Legendary Hero of the Second World War: How a Chinese Communist Party Intelligence Agent Thwarted a Planned German Attack on the Soviet Union. Yan Baohang, a Chinese Communist Party intelligence agent, was in the city of Chongqing in May 1941 when he found out that Germany was to attack the Soviet Union on 22 June. He sent the intelligence to Yan'an through classified channels on 6 June.

Mao Zedong ordered a message to be sent to the Communist International and the information finally reached the Soviet leader Stalin.

Thanks to the accuracy of the information, the Soviet Union made battle preparations and its Communist Party expressed gratitude to its Chinese counterpart on 30 June.

The Soviet Union thought highly of Yan's work. A Soviet official stationed in China once said to Yan that his intelligence work was of the highest level and that Stalin knew about him. [Read more: ChinaDaily/31August2015]

Leadership: Putin The Overhyped Spy Lover. President Vladimir Putin likes to maintain an image of a strong, intelligent and decisive leader. Part of this rests on his 17 years spent working as a KGB (the Soviet CIA). This is interpreted by many in the West as evidence that the Soviet era KGB has taken over the country, led by a brilliant KGB man (Putin). This is largely myth. Putin was in the KGB for 17 years, at the end of the Cold War. But a look at his record shows that he was not considered an ace operative. For example, when he was sent to East Germany, he was not assigned to Berlin, a hotbed of espionage throughout the Cold War, but to Dresden, where there was much less espionage activity. When he was sent back to Russia to work in counterintelligence (catching spies, a major chore for the KGB) he was not sent to Moscow, where most foreign spies operated, but to Leningrad (St Petersburg) where there was much less action. KGB agents who served with Putin, and are now in the West (where they can speak freely), agree that Putin was considered second rate and dangerous to work with. That's because while Putin was a clever fellow and energetic, he was also prone to high-risk solutions to problems. The KGB traditionally avoided risky plans and that was because successful espionage goes to those who are careful and patient. Aggressive risk-takers can destroy years of patient work and that is why the KGB sent Putin to places where his bad habits could not cause major damage. But now Putin is running Russia and he is still aggressive, a risk taker and that makes thoughtful Russians nervous.

Another myth is that Putin has brought a lot of KGB personnel into the government. While Putin is a veteran of the Soviet era KGB, most senior government officials are not. Of the top hundred officials in the Russian government, no more than fifteen percent had worked for the KGB and that percentage has been declining because your average KGB veteran sees Putin as dangerous in the long run. Nevertheless the KGB influence in the Russian government is real, although far less than dominating. Most KGB officials have found better paying jobs in the booming civilian sector. The KGB was always known as where the "best and brightest" of Soviet society went. These guys are smart enough to avoid getting tied down in a government job, no matter how high up in the food chain.

Putin has tried to make the most of his KGB background. [Read more: StrategyPage/1September2015]

Manage Like a Spymaster. Until recently, for most businesses security was a question of buying decent locks, doors and windows, installing CCTV, making sure that reception staff sign visitors in and out, and trying not to leave confidential papers in the photocopier. But attacks on their computer systems, be they by business rivals, political activists, criminals or foreign governments, are much harder to defend against - and can have far worse consequences than a physical break-in. A company can suffer a devastating blow to its reputation, its intellectual property, or its ability to serve customers - not to mention its bank balances. It may never learn who has attacked it or why, or how much information has been taken; so it may never be sure if it has done enough to plug the leak.

Cyber-security is now burning a hole in boardroom tables. Before the recent hacking of Ashley Madison, an online broker of adulterous trysts, the most notorious example in the past year was that of Sony Pictures Entertainment, in which a torrent of embarrassing e-mails, personal information about employees and copies of unreleased films was released on the internet by unknown infiltrators. But there is a steady stream of less prominent cases in which businesses suffer serious damage. Earlier this month the FBI said it had uncovered a scheme in which hackers had got into the computers of three firms that distribute corporate press releases, and made a fortune by trading on market-sensitive information before it had been officially released. Ubiquiti Networks, an American maker of wireless-networking equipment, admitted this month that it had been diddled out of $46.7m by fraudsters who falsified e-mails from an executive, instructing the finance department to wire money to the criminals' bank accounts. Customers of Carphone Warehouse, a British mobile-phone retailer, are venting their fury after large numbers of them had their financial details stolen from the company by hackers.

Many companies now hire "penetration testers" to see how strong their defences are, both online and in the real world. [Read more: TheEconomist/29August2015]

---
Spy Report Spinning Has a Long History. My first lesson in how intelligence can be rigged started with a newspaper photograph, 45 years ago. I was sitting in a sidewalk cafe in Da Nang, South Vietnam, which was still a charming former French colonial port city despite the war raging 10 miles away. A rookie spy handler in military intelligence, I would go downtown most mornings, gather up the local newspapers and look for useful bits of information over cups of strong chicory coffee. And so it was one day that I spotted a very familiar face in a photo of anti-government demonstrations in the city. After much squinting, I was sure it was my principal agent, the top guy in the spy ring I was running against communist forces.

It didn't take much investigating to conclude that my agent had divided loyalties. A few weeks later, I made a strong case to Saigon headquarters that the guy was untrustworthy and suggesting we get rid of him. The response: Nothing's wrong, keep up the good work. The message from higher-ups was as blunt as a rock slide: We had to keep showing, against all evidence to the contrary, that things were going swimmingly in our intel ops. Not only that, they told me they were upping the reliability rating of my very questionable agent.

Years later, I learned that a new boss had seen my reports and canned my spy. But I was long gone by then, and I had learned a lot more about how intelligence officials spun - and continue to spin - intelligence to back up wishful thinking about how well a war is going. And that's not counting fabricated reports to get us into a war to start with, from Spain in 1898 ("Remember the Maine") to Vietnam (the 1964 Tonkin Gulf non-incident) to the multiple deceptions on Iraq in 2003. [Read more: Stein/Newsweek/28August2015]
Russia's "Secret" Army in Ukraine. Today the office of Ukrainian President Petro Poroshenko released via Twitter important details about the organization and structure of Russia's occupying army in Southeastern Ukraine. The order of battle (ORBAT) information is clearly derived from a lot of intelligence, especially SIGINT (I say this as someone who used to do ORBAT intelligence for a living: this is well done).

Since most of my readers know neither Russian or Ukrainian, I'm passing on what Kyiv has released today in English. The translation isn't great but it works. I'm providing comments below since most normals are not well acquainted with the nuances of Russian military organization.

The organization of the 1st and 2nd Corps, no surprise, corresponds exactly to the standard tables of organization and equipment (TO&E) of Russian Ground Forces. There are several maneuver brigades ("motor rifle" is the Russian term for mechanized in NATO parlance) supported by independent regiments and battalions. As Kyiv has announced, the 35,000 troops belonging to "DNR" and "LNR" forces are bolstered by 9,000 reservists. While some forty percent of the troops are locals, the rest are Russians plus a few mercenaries and foreign volunteers.

The senior command staff are exclusively Russian officers assigned to the 1st and 2nd Corps - officially they are "not there" of course - while the operation is run, logistically and command-wise, from neighboring Russia. [Read more: XXCommittee/28August2015]
---
Section IV - Books and Upcoming Events
---
Ron Lawruk's New Book Describes Life on the Edge as CSE Intelligence Officer. Psst! The latest book by Canadian author Ron Lawruk of Carleton Place has been released.

Out of the Shadows: The Life of a CSE Canadian Intelligence Officer, published in July by FriesenPress, is Lawruk's candid autobiography.

"I never thought I would ever be able to write this book," Lawruk said. "But I did, and it only took five years."

He spent 32 years, from 1958-1990 years as an intelligence officer with the Communications Security Establishment (CSE) in Canada, which included a three-year period as a Canadian liaison officer at the National Security Agency (NSA) in Maryland. [Read more: Gesner/CarletonPlaceAlmonteCanadianGazette/27August2015]
The Arrogance of Guy Burgess Exposed in New Biography. Guy Burgess was in deep trouble. A secret Soviet spy acting undercover within the British Establishment, he'd been on holiday in Gibraltar and Tangier and had made a complete exhibition of himself.

Drunk to the point of total indiscretion, he had ranted loudly about the merits of Marxism in public bars while making lewd approaches to local Arab boys.

He'd also blurted out the names of a number of British intelligence officers. For a Foreign Office civil servant, his behaviour was not only unseemly but dangerous.

A complaint about him was made to London by MI6, and on his return he was hauled into the personnel department of the Foreign Office. [Read more: Lownie/DailyMail/31August2015]
---
AFIO EDUCATIONAL EVENTS IN COMING TWO MONTHS....
Wednesday, 9 September 2015, 11 a.m. - Albuquerque, NM - The AFIO New Mexico Chapter meets to hear Eric Burkhart
Mr. Eric Burkhart is a retired CIA Officer living in Texas, where there is - remarkably -no AFIO Chapter. Texas' void is our gain, as Mr. Burkhart has volunteered to travel here to speak to our group in September. Fortunately, Mr. Burkhart recently retired following a successful career as a CIA Case Officer. He spent most of his career in war zones, including Iraq, Kosovo, and various locations in Africa. He will discuss his book about his experiences and career. The book, just published, is Mukhabarat, Baby! Mortars, WMD, Mayhem and Other - Memoirs of a Wartime Spy - A CIA Spy Memoir available at here.
Location: "The Egg & I", 6909 Menaul Blvd (just East of Louisiana)
Registrations to Pete Bostwick (505) 898-2649 foreigndevil@yahoo.com or to Mike Ford (505) 294-6133 Secpro39@yahoo.com
Wednesday, 9 September 2015, 11:30 a.m. - Scottsdale AZ - The AFIO AZ Chapter hosts Patricio Reyes, M.D., on "Traumatic Brain Injury, PTSD, and Major Depression: The Medical Signatures of War on Terror."
Patricio F. Reyes, M.D., FAAN, currently serves as Chief for the Traumatic Brain Injury & Alzheimer's Disease & Cognitive Disorders Clinics with the Phoenix Veterans Administration Healthcare System.
He also serves as the Director for the Neurology Student and Resident Training Monthly TBI Case Conference at the Phoenix VA Medical Center
and is the Co-Founder-Chief Medical Officer, and Chairman for the Scientific Advisory Board Yuma Therapeutics Inc.
Your RSVP is needed no later than 72 hours ahead of time. The chapter is charged for no-shows and please remember, we are a small organization with a humble coffer!
Fee: $25.00
BADGES: please remember, many of you have been given your badge, if you do not have one please email me with the information you would like on your badge. The cost for a badge with a magnetic strip is $5.00 Full Name; Title (past career, organization, etc).
For reservations or questions, please email Simone@4SmartPhone.net or Simone@AFIOAZ.org or call and leave a message on 602.570.6016
11 September 2015, noon-1 p.m. - San Diego, CA - The AFIO SD Chapter hears Matt Miller on "Snapshot of Global Security as of 9/11/2015."
Please mark your calendars for a San Diego AFIO meeting on 9/11/15 from 1200-1300. The distinguished speaker will be Mr. Matt Miller, the Private Sector Coordinator at the Law Enforcement Coordination Center. Mr. Miller is an incredibly engaging and knowledgeable speaker with a vast knowledge and career in intel, military operations, and global affairs.
Mr. Miller will present a "Snapshot of Global Security as of 9/11/15," which will cover the threats from global terrorist organizations and state sponsored adversaries.
In addition to Mr. Miller, I am looking to schedule a brief updated on what the SDSU's VizLab has accomplished recently (in the homeland security arena), as well as bring in a speaker on social media exploitation to identify violent extremists (timely given recent identification of such extremists in California).
Lunch will be coordinated so that you can order ahead, and have the meal waiting for you.
I look forward to seeing you all on 9/11/15! RSVP to Alex Carrillo, AFIO San Diego
Saturday 12 September 2015 - Melbourne, FL - AFIO Florida Satellite Chapter hears a speaker from the American Security Council Foundation

Brigadier General Donald B. Smith, Chairman of the Board of the American Security Council Foundation will be on hand to address us on the history of the American Security Council and the ASCF with emphasis on the Step Up America Program, "The Call to Good Citizenship". The American Security Council Foundation (ASCF) was formed in 1958, and was originally known as the Institute for American Strategy. For almost 50 years the Foundation has focused on a wide range of educational programs which address critical challenges to U.S foreign policy, national security and the global economy.

Location: Indian River Colony Club, 1936 Freedom Drive, Melbourne, FL 32962, 12 noon.

Reservations Required: contact FSC Chapter President at afiofsc@afio.com.
Thursday, 17 September 2015, 1130 hours - Denver, CO - The AFIO Rocky Mountain Chapter presents "A Tour of the Disaster Management Institute and Center for Simulation."
The Rocky Mountain Chapter presents A Tour of the Disaster Management Institute and Center for Simulation located at the Community College of Aurora. The Center for Simulation is recognized as the first in the US to create simulation environments, which include but are not limited to, a home, bar and street for training first responders. The facility also houses the Disaster Management Institute, a fully-functional Emergency Operations Center that allows students and working professionals to experience and train in management of simulated disasters of all types and sizes.
Numerous Homeland Security compliant exercises have been held here. Hundreds of agencies at the local, state and federal levels as well as national guard assets find value in training at CCA's Center for Simulation and/or Disaster Management Institute. Preparedness exercises have spanned: terrorists, rogue bombers, WMDs, Hazmat and hostage crises, among others. The exercises scope is determined by objectives which dictates if the exercise will be microscopic and/or macroscopic, in scale and size. As the center's capabilities are easily diversified scenarios are planned ranging from Tabletops, drills or full scale exercises which sometimes take years to plan.
Please RSVP to Tom VanWormer at robsmom@pcisys.net
The cost of the meal is $12. If you have any questions please feel free to contact Tom.
Directions to the DMI facility from I-225: Take 225 to 6th Avenue and go West to Dayton. At Dayton go right or North one long city block to the first left. Turn left here into the park. Follow to the stop sign. Pull through the stop sign and park. Building is on the right. 9235 E 10th Dr, Denver, CO 80230.
Monday 28 September 2015, 6:30 - 8 p.m. - New York, NY - AFIO Metro NY Chapter hears former FBI Special Agent Edward M. Stroz on "Impact of Edward Snowden on US Security and Cyber Warfare."
Speaker Edward Stroz, former FBI, now with the NYC-based firm of Stroz Friedberg, a global leader in investigations, intelligence, and risk management. Topic and registration details to follow in coming weeks. He will speak on Edward Snowden - His impact on American security and cyber warfare. Mr. Stroz will speak about why information security is such a vexing goal and how insider threats are being addressed today.
Stronz was a Special Agent for the FBI before founding Stroz Friedberg in 2000. He is an expert on electronic evidence and investigations, internet extortions, denial of service attacks, computer hacking, insider abuse, theft of trade secrets, electronic discovery matters, and regularly provides expert testimony on these matters. Mr. Stroz pioneered the use of behavioral science in investigations to gain insights about intent and state-of-mind of computer users. He has supervised hundreds of forensic assignments in assisting corporate clients, trial counsel, individuals, and has conducted security assessments for major public and private entities. While at the Bureau, Stroz was responsible for the formation of the FBI's Computer Crime Squad in New York City, where he supervised investigations involving computer intrusions, denial of service attacks, illegal Internet wiretapping, fraud, and violations of intellectual property rights, including trade secrets.
Location: Society of Illustrators building, 128 E 63rd St, between Park Ave and Lexington Ave.
COST: $50/person Cash or check, payable at the door only. Dinner to follow talk & Q&A. Cash bar. RESERVATIONS: Strongly suggested, not required, Email Jerry Goodwin afiometro@gmail.com or phone 646-717-3776.
---
16-20 September 2015 - Washington, DC - Spies, Lies and Intelligence: The Shadowy World of International Espionage with Road Scholar
Program #16126RJ $1,099. 5 Days, 4 Nights.
Every person sitting on a bench could be waiting for the next drop-off. Behind every monument, a mole may harbor national secrets. On this fascinating adventure at the front line of the world's spy coterie in Washington, D.C., delve into the treachery of Aldrich Ames and Robert Hanssen — rogues who triggered devastating consequences to America. Learn the art of espionage, discuss the role of intelligence in an open society, and hear how the U.S. catches spies in the heart of the world capital of intrigue.
Highlights
• Retired intelligence experts take you into their seamy world, uncovering Washington, D.C.'s lesser-known spy history and discussing famous spy cases — from the cracked to the unsolved.
• Explore the International Spy Museum, and learn from the NSA's Cryptologic Museum how codes are broken — and try out a WW II German Enigma machine.
• Hear from a polygraph specialist, examine the role of defection in counterintelligence, and examine 21st century intelligence threats.
Activity Notes - Minimal walking, standing in museums for up to two hours. 4 nights of accommodations, 10 meals: 4 breakfasts, 3 lunches, 3 dinners 7 Expert-led lectures, 3 Field trips
Coordinated by Road Scholar. To register call 800-454-5768 or visit http://www.roadscholar.org/n/program/summary.aspx?id=1%2D44F1HN
23-24 September 2015 - Arlington, VA - Intelligence Budget Process
This course provides students with a detailed understanding of the intelligence budget process, examining how the budget is created in the Executive branch, primarily in negotiations between Defense and Intelligence, how the budget moves through Congress, and the actual expenditure of funds.This course is extremely helpful to those who are new to the budget process and to those who have programmatic responsibilities that are influenced by federal budget decisions.
INDIVIDUAL ENROLLMENT COURSE at The Intelligence & Security Academy®, a leading provider of innovative education and training in a broad range of national security issues and the more general area of analytic training, is pleased to announce the schedule for its 2015 OpenAcademy® individual enrollment course offerings. All courses will be held in Arlington, Virginia. AFIO members will receive a 10% discount on all OpenAcademy® courses! Register on-online and select "AFIO Registration" as an option for the discounted registration fee.
Courses are typically held in our classroom in Arlington, Virginia (just 2 blocks from the Ballston metro stop) unless otherwise noted. Individual enrollment courses are unclassified.
Visit this link to register or for more information on this and other courses.
Friday, 25 September 2015, 6:30pm - Washington, DC - Annie Jacobsen - The Pentagon's Brain. An Uncensored History of DARPA, America's Top-Secret Military Research Agency at the International Spy Museum
The Defense Advanced Research Projects Agency (DARPA) is the radical force behind the nation's most revolutionary, high-tech military initiatives over the past half century. To write the first definitive history of the world's most powerful and productive military science agency, bestselling author Annie Jacobsen tracked down DARPA scientists, past and present, including current neuroscientists building an artificial brain, cell biologists working on limb regeneration, and even the Nobel Laureate who invented the laser. From conflict-tested science experiments, like Agent Orange and electronic barriers on the battlefield during Vietnam, to War on Terror insect drones, smart rockets, camera-filled war zones and advanced computer programs, she tracks DARPA from its Cold War inception to present day research controversies. Jacobsen will share her journey to the heart of the military-industrial complex-a place where science fiction and military science meet-and will reveal a future that is fascinating and potentially frightening.
Tickets: FREE! No reservation required. Visit www.spymuseum.org
Tuesday, 29 September 2015, noon - Washington, DC - Jason Hanson - Spy Secrets That Can Save Your Life at the International Spy Museum
Jason Hanson is a former CIA officer, security specialist, and recent successful contestant of ABC's reality show Shark Tank. Jason teaches everyday citizens to defend themselves at his Spy Escape and Evasion school. He has been interviewed by major media outlets for his security expertise, including The Wall Street Journal, Fox News and The Huffington Post. He currently lives in Cedar City, Utah, with his family.
When Jason Hanson joined the CIA in 2003, he never imagined that the same tactics he used as a CIA officer for counter intelligence, surveillance, and protecting agency personnel would prove to be essential in everyday civilian life.
In addition to escaping handcuffs, picking locks, and spotting when someone is telling a lie, he can improvise a self-defense weapon, pack a perfect emergency kit, and even disappear off the grid if necessary. He has also honed his "positive awareness"--a heightened sense of his surroundings that allows him to spot suspicious and potentially dangerous behavior - on the street, in a taxi, at the airport, when dining out, or in any other situation.
In this engaging book, Hanson shares this know-how with readers, revealing how to: prevent home invasions, carjackings, muggings, and other violent crimes; run counter-surveillance and avoid becoming a soft target; recognize common scams at home and abroad; become a human lie detector in any setting; gain peace of mind by being prepared for anything instead of uninformed or afraid.
With the skill of a trained operative and the relatability of a suburban dad, Hanson brings his top-level training to everyday Americans in this must-have guide to staying safe in an increasingly dangerous world.
Tickets: FREE! No reservation required. Visit www.spymuseum.org
Tuesday, 29 September 2015, 7-10 pm - Washington, DC - Dinner with a Spy - An Evening with Jon Monett at the International Spy Museum
A passion for developing and using cutting edge technology has taken Jon Monett from Cold War warrior to successful entrepreneur to 21st century philanthropist. Monett served more than 26 years at the CIA in the Office of Technical Services (OTS), initially as a technical operations specialist and ultimately becoming responsible for managing the CIA's technical activity worldwide. OTS is where technological innovations are launched and operationally deployed - not just where gadgets are made, but where the stuff of science fiction becomes reality.
When he retired, Monett started the global security consulting and intelligence advisory services company Telemus Solutions. After selling Telemus he wanted to use his technological background to support wounded warriors; in 2008 he established Quality of Life Plus at Cal Poly in San Luis Obispo, California to foster and generate innovations to aid and improve the quality of life of those injured in the line of duty. At this gathering, International Spy Museum Executive Director Peter Earnest will lead a conversation with Monett about the technological advances in intelligence operations that he's been involved with, and cover everything from Monett's days participating in technical operations to his thoughts on cyber-terrorism and his current philanthropic application of fostering innovation. You will be one of only twelve guests at nopa Kitchen+Bar for this three-course dinner.
Tickets: $300* includes hors d'oeuvres and three-course dinner with wines. Reservations can be made atwww.spymuseum.org
Wednesday, 30 September (and Fri 16, Oct; Fri, 20 Nov; Fri, 11 Dec) 2015, 1-4 pm - Washington, DC - Meet An F-4 Pilot: Mark Hewitt - In-store Book Signing at the International Spy Museum
The International Spy Museum Store features event with F-4 pilot Mark A. Hewitt. He has always had a fascination with spyplanes and the intelligence community's development and use of aircraft. He flew F-4s in the Marine Corps and served as Director of Maintenance with the Border Patrol and the Air Force, as was an Associate Professor for Embry-Riddle Aeronautical University before leading aviation activities and aircraft operations for international corporations in the Washington D.C. area.
Shortly after takeoff, a jumbo jet explodes over the waters of Long Island. Witnesses claim the aircraft was shot down by a surface-to-air missile; the government insists a mechanical malfunction brought down the airplane. An old CIA file is uncovered which details the President was warned-to preclude commercial airliners from being shot out of the sky either pay a ransom or suffer the consequences.
Just as the Agency identifies the shadowy man responsible for the shoot down of the airliner, the Libyan dictator Gaddafi is overthrown, sparking a race between the CIA and terrorist networks to win the ultimate terrorist prize-hundreds of man-portable, shoulder-launched, anti-aircraft missiles. Duncan Hunter and his top secret airplane once again team up with an expert crew to find the anti-aircraft missiles ahead of the al-Qaeda and Muslim Brotherhood, and kill the man who shoots down airliners for profit. Tickets: FREE! No reservation required. Visit www.spymuseum.org
Wednesdays, 30 September, 7, 14, and 21 October, 2015, 10:15am - Washington, DC - Whistleblowers, Leakers or Traitors? You Decide... Spy Seminar Series the International Spy Museum at Smithsonian Associates
Ever since Edward Snowden leaked highly classified information to the media in June of 2013, Americans have been divided on whether he is a hero, a traitor, a conman, or a whistleblower. But this is not the first time in our history that an individual has ignited such controversy by revealing government secrets. In this series, intelligence experts and historians will explore the cases of five men who decided to take their data and run, and how the public and government reactions mirror or differ from today's response to Snowden.
September 30 -- Herbert O. Yardley: The Bestseller
In 1917, Herbert O. Yardley was put in charge of the nation's first codebreaking section of military intelligence, MI8. He was excellent at his job, and when his office was closed down in 1929, he set off a firestorm with his bestselling tell-all book about the secrets of cryptography, America's Black Chamber. Dr. William J. Lahneman, a former US Navy Surface Warfare Officer, professor of homeland security at Embry-Riddle University, and author of Keeping U.S. Intelligence Effective: The Need for a Revolution in Intelligence Affairs, will explore Yardley's fantastic life from allegations that he sold WWII code secrets to Japan to his prowess at poker.
October 7 -- Martin & Mitchell: The Defectors
The National Security Agency faced a terrible crisis in the summer of 1960 when two cryptologists disappeared on vacation, possibly behind the Iron Curtain. In a worst case scenario for the U.S. government, the pair appeared in Moscow on September 6, 1960 to announce their defection and denounce the United States. For the first time the mission and activities of the NSA—including unauthorized incursions into foreign airspace—were made public. Dr. David M. Barrett, professor of political science at Villanova University and author of, The CIA and Congress: The Untold Story from Truman to Kennedy, will uncover what led to their defection and the aftermath for both the NSA and the defectors.
October 14 -- Daniel Ellsberg: The Activist
When Secretary of Defense Robert McNamara assembled a team of analysts to investigate every aspect of the Vietnam War in 1967, he set in motion a momentous chain of events. One team member, Daniel Ellsberg, already concerned at the differences he could see between the Government's classified picture of events and what the it was telling the American people, felt aghast at the secrets the documents revealed about what US officials actually knew when key decisions were made. Ellsberg tried to take his startling observations to Congress and, when that failed, he leaked the study to the press. The leak provoked the Nixon administration to an aggressive response, which ultimately led to a powerful Supreme Court ruling. John Prados, a Senior Fellow of the National Security Archive and editor of Inside the Pentagon Papers, will illuminate the course and consequences of this famous leak and litigation, and their continuing relevance to the public's right to know.
October 21 -- Edward Snowden: The Contractor
Edward Snowden's activities beginning in June of 2013 are very well known-from the first leak of classified information to his stay in Russia. But his motivations, the system vulnerabilities that enabled him to access highly classified information, and his stated goals are continuing points of heated discussion. Hailed as a hero or decried as a traitor, his actions have reopened the issue of privacy for people and for nations. Dr. Mary Manjikian, Associate Dean of the Robertson School of Government, Regent University, and author of Threat Talk: The Comparative Politics of Internet Addiction will reveal how her research into organizations offers a new way of looking at Snowden and all those leakers/whistleblowers/heroes/ traitors who came before.
To register: (via phone) 202.633.3030; (online) www.SmithsonianAssociates.org. Internet Quick Tix code for the program: 1M2-802.
14 October 2015, 6 - 9 pm - Arlington, VA - Silver Anniversary Gala and Chancellor's Dinner by Institute of World Politics
Since its founding, IWP has grown into the nation's premier graduate school dedicated to developing leaders with a sound understanding of international realities and the ethical conduct of statecraft, based on knowledge and appreciation of the founding principles of the American political economy and the Western moral tradition.
Location: The Ritz-Carlton, Pentagon City, 1250 South Hayes St, Arlington, VA 22202
Sponsorship & Tickets: For information on sponsorship opportunities and ticket purchases, please contact Jennifer Giglio at 202.462.2101 ext. 312 or jgiglio@iwp.edu.
Accommodations: A limited room block held at The Ritz-Carlton, Pentagon City is available at the rate of $269 per night.
To make your reservation, please click here. Input the Arrival Date, Departure Date and Group Code: WPGWPGA.
To make your reservation, by phone, please call 1.800.241.3333. Reference the Group Name: The Institute of World Politics
Schedule of Events: 6:00 pm Cocktail Reception, 7:00 pm Dinner and Program
Keynote Speaker: Lt. Gen. Michael T. Flynn, USA (Ret.), 18th Director of the Defense Intelligence Agency
Entertainment: Keni Thomas, Award winning Nashville singer-song writer and a decorated combat veteran with the elite 75th Ranger Regiment special operations unit.
Attire: Black Tie or Military Dress Equivalent
Guests: An estimated 500 guests will gather to celebrate 25 years of The Institute of World Politics' accomplishments and inspire the next generation of leaders. The event will bring together national and international civic and business leaders, members of Congress, and IWP supporters to reflect on the work of the Institute.
Questions to Jennifer E. Giglio at JGiglio@iwp.edu.
22-23 October 2015 - Laurel, MD - "A Century of Cryptology" - NSA's Center for Cryptologic History hosts Biennial Symposium on Cryptologic History - Registration now open
The Center for Cryptologic History invites you to attend the Center's biennial Symposium on Cryptologic History which will take place October 22-23, 2015. The Symposium will be held at the Johns Hopkins Applied Physics Laboratory's Kossiakoff Center in Laurel, Maryland. Following the Symposium, on Saturday, October 24, participants will be given an opportunity to tour the National Cryptologic Museum and participate in a workshop on sources for research in cryptologic history. The Symposium is an occasion for historians to gather for reflection and debate on relevant and important topics from the cryptologic past. Regular participants include historians from the Center for Cryptologic History, the Intelligence Community, the defense establishment, the military services, distinguished scholars from American and foreign academic institutions, veterans of the cryptologic profession, graduate and undergraduate students, and the interested public. Past symposia have featured scholarship that set out new ways to consider our cryptologic heritage, and this one will be no exception. The conference will provide many opportunities to interact with leading historians and other distinguished experts. The mix of practitioners, scholars, and interested observers always guarantees a lively debate promoting an enhanced appreciation for past events.
Event Location: Johns Hopkins APL Kossiakoff Auditorium - 11100 Johns Hopkins Road, Laurel, MD 20723-6099 PDF of the Symposium Agenda is here. One of the speakers will be AFIO's president emeritus, Gene Poteat.

In addition to the two-day symposium, on Saturday, October 24, participants will have an opportunity to tour the National Cryptologic Museum and participate in a workshop in the NCM Library from 1000-1130 on sources for research in cryptologic history. Bring your research and questions. Sign up to attend this workshop at Registration on the 22nd or 23rd. Also on Saturday at the NCM from 1000-1130 - visit the NCM's Magic Room for "Museum History and Treasures" (no sign-up required).

As we mark the centenary years of World War I (1914–1918), when so many significant advancements occurred in the field of cryptology, we will also examine the impact cryptologists made throughout the twentieth century, especially during such periods as World War II, the Cold War, the Korean War, the War in Vietnam, and the post-Cold War era. The Symposium will also include panels that look at the foundations of cryptology before the "Great War." We welcome submissions from those who are new to the field and those who have presented at previous symposiums.

The Symposium is a prestigious program of the NSA's Center for Cryptologic History that showcases speakers who are recognized as cryptologic authorities from around the world. The theme and agenda topics for the Symposium always attract the interest of scholars, professionals, and the public. Since 2003, the Foundation (NCMF) has teamed with the CCH to help stage this exciting bi-annual event that attracts international attention from academia and the Intelligence Community.

Registration per person: $70/day. Full-time student rate: $35/day (please bring student ID to Symposium)

REGISTRATION MUST BE RECEIVED BY 19 OCTOBER. Unfortunately, we will not be able to make any refunds after 19 October.

Fee includes daily lunch, plus morning and afternoon refreshments. Shuttle bus service will be available from the lower level parking lot. For special accommodations or dietary needs, please contact history@nsa.gov.

Register on-line here or mail your registration form (download a PDF of the form) with payment to: National Cryptologic Museum Foundation (NCMF) POB 1682, Fort George G. Meade, MD 20755. Make checks payable to: NCMF.

For registration assistance call (301) 688-5436. For symposium information call (301) 688-2336.
---
Disclaimers and Removal Instructions
Weekly Intelligence Notes (WINs) are commentaries on Intelligence and related national security matters, based on open media sources, selected, interpreted, edited and produced for non-profit educational uses by members and WIN subscribers.
REMOVAL INSTRUCTIONS: We do not wish to add clutter to inboxes. To discontinue receiving the WINs:
a) IF YOU ARE A MEMBER -- click here: UNSUBSCRIBE and supply your full name and email address where you receive the WINs. Click SEND, you will be removed from list. If this link doesn't open a blank email, create one on your own and send to afio@afio.com with the words: REMOVE FROM WINs as the subject, and provide your full name and email address where you are currently receiving them.
b) IF YOU ARE NOT A MEMBER, and you received this message, someone forwarded this newsletter to you [contrary to AFIO policies]. Forward to afio@afio.com the entire WIN or message you received and we will remove the sender from our membership and distribution lists. The problem will be solved for both of us.
CONTENTS of this WIN [HTML version recipients - Click title to jump to story or section, Click Article Title to return to Contents. This feature does not work for Plaintext Edition or for some AOL recipients]. If you wish to change to HTML format, let us know at afio@afio.com. The HTML feature also does not work for those who access their e-mail using web mail...however NON-HTML recipients may view the latest edition each week in HTML at this link: https://www.afio.com/pages/currentwin.htm
---
WINs are protected by copyright laws and intellectual property laws, and may not be reproduced or re-sent without specific permission from the Producer. Opinions expressed in the WINs are solely those of the editor's) or author's) listed with each article. AFIO Members Support the AFIO Mission - sponsor new members! CHECK THE AFIO WEBSITE at www.afio.com for back issues of the WINs, information about AFIO, conference agenda and registrations materials, and membership applications and much more!
(c) 2000, 2012, 2013, 2014, 2015. Please note AFIO's new address: AFIO, 7700 Leesburg Pike Suite 324, Falls Church, Virginia 22043. Voice: (703) 790-0320; Fax: (703) 991-1278; Email: afio@afio.com
Click here to return to top.