AFIO Weekly Intelligence Notes #22-17 dated 30 May 2017

To view this edition of the Weekly Notes online, use the following link.

[Editors' Note are now below the CONTENTS] REMOVAL INSTRUCTIONS: We do not wish to add clutter to inboxes. To discontinue receiving the WINs, click here.


---

CONTENTS

Section I - INTELLIGENCE HIGHLIGHTS

Section II - CONTEXT & PRECEDENCE

Section IV - CALL FOR PAPERS/RESEARCH REQUEST, OBITUARIES

Call for Papers/Research Request

Call for Papers: The University of Texas at Austin Announces the 2017 "Bobby R. Inman Award" for Student Scholarship on Intelligence - $10K in prizes; deadline is 30 June 2017

For Additional AFIO and other Events two+ months or more... Calendar of Events

WIN CREDITS FOR THIS ISSUE: The WIN editors thank the following special contributors: pjk, mh, km, gh, mk, rd, fm, kc, jm, mr, jg, th and fwr. They have contributed one or more stories used in this issue.

The WIN editors attempt to include a wide range of articles and commentary in the Weekly Notes to inform and educate our readers. However, the views expressed in the articles are purely those of the authors, and in no way reflect support or endorsement from the WIN editors or the AFIO officers and staff. We welcome comments from the WIN readers on any and all articles and commentary.

CAVEATS: IMPORTANT: AFIO does not "vet" or endorse research inquiries, career announcements, or job offers. Reasonable-sounding inquiries and career offerings are published as a service to our members, and for researchers, educators, and subscribers. You are urged to exercise your usual caution and good judgment when responding, and should verify the source independently before supplying any resume, career data, or personal information.]
If you are having difficulties with the links or viewing this newsletter when it arrives by email, members may view the latest edition each week at this link. You will need your LOGIN NAME and your PASSWORD.

---

Recently released - AFIO's 2017 edition of...

Intelligence As a Career - with updated listings of colleges teaching intelligence courses, and Q&As on needed foreign languages, as well as the courses, grades, extracurricular activities, and behavioral characteristics and life experiences sought by modern US intelligence agencies.

AFIO's popular 56-page booklet reaches high school and college students considering careers in the US Intelligence Community. This is the fourth edition.
The publication is also popular with University Career Guidance Centers, professors and academic departments specializing in national security, and parents assisting children or grandchildren in choosing meaningful, public service careers.
This booklet is provided at no cost as a public service - online and in print - from the generosity of AFIO board, donors, and members. 20,000 printed copies of each edition are distributed. Many more are accessed online.
We thank all members and donors for their support which has made this possible.

2017 edition of Careers Booklet in PDF Format available here.

Also now online as a public service from the generosity of our members and donors is the entire 788-page AFIO's Guide to the Study of Intelligence, Peter Oleson, Editor, with a foreword by Dr. Robert M. Gates.
It can be accessed here.
If you wish, instead, to own a printed, bound copy, those are available here (AFIO) and here (Amazon).

---

---

U.S. Government Leakers: Why They Do It
Hear author/research Max Holland discuss LEAK: Why Mark Felt Became Deep Throat [just released in paper] from the days Career FBI Official Mark Felt, for his own nefarious purposes, served as Watergate-era leaker 'Deep Throat' and brought down the Richard Nixon presidency, and the role leaks play today in the media and USG.
Audio released 28 May 2017. Runs 27 minutes.

Harry Shearer Show with Max Holland on LEAKS

---

Catch up on all the International Spy Museum SPYCASTS
All Podcasts from January 2017 to the present

THE BLACK HAND: AN INTERVIEW WITH STEPHAN TALTY
Tuesday, May 23, 2017

---

Books of the Week

Warnings: Finding Cassandras to Stop Catastrophes
by Richard A. Clarke and R.P. Eddy
(Ecco/HarperCollins, July 2017)

Order here.
Two former White House national security veterans reveal insider views of previous disasters, chilling insights on today's threats to mankind, and a prescription to protect us going forward.

"Fascinating. Richard Clarke and R. P. Eddy try to construct a science that separates the true prophets from the fantasists. It's a fascinating account, and oh, if we'd only paid attention!"
(Lawrence Wright, Pulitzer Prize-winning author of The Looming Tower and The Terror Years)

"Dick Clarke and R.P. Eddy know what they are talking about-this is not a book about miracles, it is a book about how to recognize warnings in a very dangerous world."
(Leon Panetta, former Secretary of Defense)

"Now, more than ever, you should read this book and learn from two of the very best. A gripping read and a brilliant view of an uncertain future. Clarke and Eddy deliver veteran insights all leaders need to hear."
(General Michael Hayden (Ret.), former CIA director)

The book may be ordered here.

---

Fractured Lands: How the Arab World Came Apart
by Scott Anderson
(Anchor, May 2017)

Order here.

A piercing account of how the contemporary Arab world came to be riven by catastrophe since the 2003 US invasion of Iraq. Brings the stunning realities of an unprecedented geopolitical tragedy into crystalline focus.
In 2011, a series of anti-government uprisings shook the Middle East and North Africa in what would become known as the Arab Spring. Few could predict that these convulsions, initially hailed by naive souls in the West as a 'triumph of democracy,' would give way to brutal civil war, the terrors of the Islamic State, and a global refugee crisis. But, as Scott Anderson shows, the seeds of catastrophe had been sown long before. Anderson examines the myriad complex causes of the region's profound unraveling, tracing the ideological conflicts of the present to their origins in the US invasion of Iraq in 2003 and beyond. From this investigation emerges a rare view into a land in upheaval through the eyes of six individuals -- the matriarch of a dissident Egyptian family; a Libyan Air Force cadet with divided loyalties; a Kurdish physician from a prominent warrior clan; a Syrian university student caught in civil war; an Iraqi activist for women's rights; and an Iraqi day laborer-turned-ISIS fighter.

The book may be ordered here.

---

HOLD THE DATE: AFIO's 2017 National Intelligence Symposium

"Succeeding in the Open ' The Future of GEOINT "

will be at the National Geospatial-Intelligence Agency
and at the Doubletree-Hilton,
Thursday & Friday, 28 to 29 September 2017.
Hotel: DoubleTree-Hilton, Tysons Corner, VA


Tentative Agenda: ' Opening Remarks by AFIO President; ' NGA Overview and Q&A; ' Video Presentation; ' NGA Leadership Remarks (D/NGA or DD) - Includes GEOINT Strategy and Functional Management; ' Lunch (with museum tours, NGA store, and group photo). Presentations/Panels on: ' KH 8 Declassification; ' Pathfinder (unclassified research to solve intel problems); ' Commercial GEOINT Activity; and ' the Small Satellite Revolution.

Arrive Wednesday evening, 27 September to overnight at the hotel to be ready early Thursday, 28 September, for coach service to NGA for all day conference including visit to their new museum. Welcome by NGA Director Robert Cardillo. Friday activities TBA. Friday evening is our "Spies in Black Ties" banquet.
Hotel: DoubleTree-Hilton, Tysons Corner, VA [formerly the Crowne Plaza], at 1960 Chain Bridge Rd, McLean, VA 22102. Details, event registration and hotel room registration links to be sent to all current members in coming weeks. Early phone-only room registrations can be made at 1-877-865-1877 at $119/nite.
---
Section I - INTELLIGENCE HIGHLIGHTS

MI5 In Race to Hire Spooks In Record Numbers to Fight Back Against 23,000 Jihadists on the Loose. MI5 is frantically recruiting spooks in record numbers to cope with 23,000 jihadists on the loose in Britain.

But it takes more than a year to train new spies before they are ready to combat what one Whitehall source called the "unprecedented scale of threat" we now face.

Jeremy Corbyn told the Sunday Mirror the astonishing number of extremists shows that "no one should be in any doubt about the scale of the challenge we face keeping people safe."

The Labour leader added: "The Government can't keep cutting resources. Labour pledges more police in our communities to build the links and trust that form an essential part of the wider fight against terrorism." [Read More: Nelson/mirror/28May2017]

CIA Director: 'We Are Back in the Business of Stealing Secrets'. CIA Director Mike Pompeo made a blunt declaration Tuesday: "We are back in the business of stealing secrets."

The remark from Pompeo, made to a small group of reporters on Tuesday, was a tacit jab at his predecessor. Former agency director John Brennan turned heads in March of last year when he told National Public Radio that the US doesn't "steal secrets."

"We uncover. We discover. We reveal. We obtain. We elicit. We solicit -- all of that," Brennan said at the time.

Pompeo's apparent swipe at Brennan came on the same day that his predecessor testified to a Senate committee about Russia's interference in the 2016 campaign. Brennan told senators he came to fear Russian agents tried to compromise President Donald Trump's campaign. [Read More: Johnson/politico/23May2017]

Convicted Spy Pollard Loses Bid to Relax US Parole Conditions. A federal appeals court on Wednesday rejected a bid by Jonathan Pollard, a former US Navy intelligence officer convicted of spying for Israel, to relax his parole conditions.

The 2nd US Circuit Court of Appeals in Manhattan said the US Parole Commission acted within its discretion in requiring Pollard to wear an electronic tracking device, obey a 7 p.m. to 7 a.m. curfew, and allow his computers to be monitored.

Pollard, 62, was paroled in November 2015 after serving 30 years of a life sentence for espionage.

He had said the parole conditions were too severe because he was neither a flight risk, nor a threat to disseminate or even remember classified information he learned decades ago. Pollard also said the conditions have prevented him from getting a job. [Read More: Stempel/reuters/24May2017]

Feds Bust Chinese Corporate Spy Ring. Federal officials busted seven people involved in corporate espionage for a Chinese company, the Justice Department announced Wednesday.

The seven people identified are accused of conspiring to steal trade secrets pertaining to a product called "syntactic foam," which can be used for an array of purposes ranging from stealth technology to oil exploration. Federal officials arrested six people based in the United States, including four US citizens and one Chinese national with lawful permanent resident status, and charged another person who works for a Chinese manufacturing firm.

"The Chinese manufacturer intended to sell syntactic foam to both military and civilian, state-owned enterprises in China - part of a push toward meeting China's national goals of developing its marine engineering industry," the Justice Department said.

The Chinese government is making an aggressive push to expand its capabilities as a naval power. The US-China Economic and Security Review Commission reported in 2016 that China could have 351 vessels in its navy by 2020, well beyond the 275 deployable ships in the United States Navy. China has also asserted sovereignty rights in the South China Sea, which have significant underwater energy resources, in addition to being some of the most critical shipping lanes in the world. [Read More: Gehrke/washingtonexaminer/24May2017]

US Contractor Pleads Guilty to Selling Satellite Secrets to Fake Russian Spy. The US Department of Justice said a California defense contractor pleaded guilty to federal charges for attempting to sell satellite secrets to a Russian spy,who was really an undercover FBI agent.

The Justice Department said Gregory Allen Justice, 49, of Culver City, Calif., pleaded guilty to one count of attempting to commit economic espionage and one count of attempting to violate the Arms Export Control Act.

Justice worked as an engineer on military and commercial satellite programs for a defense contractor that had US security clearance. Justice stole proprietary trade secrets from his employer and provided them to the person he thought to be a Russian spy, the Justice Department said.

Though the case sounds like Cold War fiction, Justice himself likened his situation to a contemporary tale -- specifically, The Americans, a television show on FX about married Russian spies who pose as US citizens in efforts to steal national intelligence secrets from Americans. [Read More: Pestano/upi/24May2017]

CIA Honors Eight Fallen Officers in Annual Memorial Ceremony. The CIA added eight stars to its Memorial Wall in a ceremony Monday, honoring eight people who died in the line of duty over the last year.

"There are now 125 stars on our Memorial Wall, each representing a life that is dear to us, and will be for all time," CIA Director Mike Pompeo said. "We remain forever devoted to them, as they were to us. And we will strive to make them proud of them, as we are of them."

Three stars were added in tribute to David W. Bevan, Darrell A. Eubanks and John S. Lewis, who arrived at the CIA by way of the Smokejumpers.

Smokejumpers are firefighters who parachute into remote areas to fight wildfires. The three men died when their plane crashed in 1961 during a mission in Laos. [Read More: Quinn/washingtonexaminer/24May2017]

DIA Director Testifies on Top Five Global Military Threats. North Korea, Russia, China, Iran and extremist organizations are the top five military threats facing the nation, the director of the Defense Intelligence Agency said here this morning.

Marine Corps Lt. Gen. Vincent R. Stewart testified before the Senate Armed Services Committee to discuss worldwide threats. Also testifying today was Daniel R. Coats, director of National Intelligence.

Expanding on the nature of the threats, Stewart said they include a nuclear-capable and increasingly provocative North Korea, a resurgent Russia, a modernizing China, an ambitious regional power in Iran and violent extremist organizations.

The last category encompasses ongoing operations in Afghanistan, Iraq, Syria and elsewhere, the general noted. [Read More: thesop/24May2017]

NSA Recognizes Two More Universities for Cyber Programs. The National Security Agency (NSA) has designated Virginia Tech and the University of Nebraska at Omaha as its newest Centers for Academic Excellence in Cyber Operations.

They join 16 other designated centers - all four-year and graduate-level universities - that offer cyber operations programs with strong foundations in computer science, computer engineering or electrical engineering.

To be selected, universities must meet specific criteria established by the NSA, including offering robust curricula that cover topics like operations systems, software reverse engineering, mobile technologies and cyber ethics and law. The program also evaluates colleges on their interdisciplinary work and hands-on research requirements.

Virginia Tech offers a bachelor of science in computer engineering with a minor in cybersecurity and a focus in cyber operations, qualifying the university for the NSA's achievement. UNO offers both a bachelor of science and a master of science in cybersecurity. [Read More: Tate/edscoop/26May2017]



---
Section II - CONTEXT & PRECEDENCE



Were Dalio, Munger and Soros CIA Trained? I was recently reading about Hertz, the rental car company in which the stock price had been decimated, falling 92% from its highs in 2014. I came across a note titled "How Hertz became the perfect contrarian short in 2014". The article interviewed Tom Fogarty, an analyst, who had identified Hertz as a short. This was a very contrarian idea at the time given the rental car market was consolidating [from nine to three major competitors], a smart activist investor [Carl Icahn] had just bought a stake and the company was spinning-off a division. At the time of Mr Fogarty's report, of the Wall Street analysts that covered the stock, 8 had buys, 2 had holds and only 1 recommended selling. The average price target was around $118 and it was trading around $109. Today it trades at around $10.

Mr Fogarty noted "This Hertz call isn't a situation I'd encountered before so I'd guess it's a pretty unusual situation. I had a mentor who used to say "there's no silver bullet in investing, you just have to think it through. Every time." That was sort of preaching to the choir. Given the choice, I prefer to start from first principles and routinely check to make sure conventional wisdom has empirical support."

Mr Fogerty cited The Psychology of Intelligence Analysis from the CIA's website by Richards J. Heuer [CIA Book] as guiding his investment principles. Always interested in finding an edge I printed out a copy. I think Mr Fogarty has stumbled across one of the most useful guides an investment analyst could find on improving one's investment decisions. While the book deals with CIA intelligence analysis, most of the principle are applied by the Investment Masters. Like intelligence analysts, investment analysts are dealing with incomplete and ambiguous information, often trying to connect the dots in a fluid environment where time is of the essence. The same human biases that impairs CIA agents' decision making process can impair an investment analyst.

The book could have as easily been written by Munger, Soros, Dalio and Steinhardt. Daniel Kahneman, whose book Thinking Fast and Slow is commonly referenced by the Investment Masters, is quoted throughout the book. There are also many commonalties with the work of Nassim Nicholas Taleb [The Black Swan/ Fooled by Randomness ] and Philip Tetlock [Superforecasting ]. [Read More: valuewalk/28May2017]

Book Extract: Spy - Uncovering Craig Williamson. After receiving amnesty from the TRC, Craig Williamson disappeared from the public eye and became media-shy. He developed an interest in the tobacco industry and there were persistent rumours that he was involved in the illegal diamond trade in Angola. When the spying couple came back to South Africa in 1980, Williamson's wife Ingrid specialised as a psychiatrist and built up a thriving practice in Johannesburg. Their daughters went to a well-resourced private school and became competitive horse show jumpers, while their son followed in his father's footsteps and attended St John's College, where a school mate remembers Williamson Junior getting drunk in Grade 11 and going on about how his father had fought the communists.

Williamson himself became the stuff of urban legend in Johannesburg. I'd heard from two people that Bernie Fanaroff, a former labour activist and later the South Africa director of the Square Kilometre Array, had ordered Williamson out of his house one day. The story went that Fanaroff 's wife knew Ingrid professionally and invited her and her husband for dinner. When the couple arrived, Fanaroff opened the door, took one look at Williamson and then closed the door, forcing Williamson to retreat with his tail between his legs. It's a great story, but Fanaroff says that although his wife knows Ingrid, Williamson has never been to their house, and neither of them has met Williamson himself.

It's apocryphal, just like the story of Williamson being Charles Nupen's best man at his wedding.

"Fink Haysom - not Williamson - was the best man at my wedding," insists Nupen. It turns out that the "best man" rumour originated at Williamson's amnesty bid before the Truth Commission. When George Bizos was cross-examining Williamson at the TRC, he put it to him that 'as a master of deceit, you even accepted an invitation from Charles Nupen to be his best man'. And although it wasn't true, Williamson agreed. [Read More: Ancer/dailymaverick/23May2017]

Fight Club: Russian Spies Seek EU Recruits. Russian intelligence services are using martial arts clubs to recruit potential troublemakers in Germany and other EU countries, security experts have warned.

The number of clubs is higher than previously reported and the "sleeper cells" could stage violent provocations ahead of the upcoming German elections, they said.

The warnings come amid concerns by enemies of the Russian state who live in the EU that they could be harmed for their work.

The martial arts clubs, which teach an offensive style called "systema", all have "direct or indirect" links to the GRU military intelligence or FSB domestic intelligence services in Russia, according to Dmitrij Chmelnizki, a scholar of Russian espionage who lives in Berlin. [Read More: Rettman/euobserver/23May2017]

JFK's Russian Conspiracy. On a day in early December, one of Moscow's agents in the United States, working undercover as a journalist for Izvestia, reported a private meeting with the president-elect's "closest adviser." The adviser, who met privately with the Russian spy, was frank and hopeful about a significant improvement in relations from the previous administration. He "stressed that was not merely expressing his personal opinion but the position of the future president." The two men met alone and there was no American record made of the encounter.

This is not a report about Lt. Gen. Michael Flynn, whose activities during the transition are now being investigated. Nor it is about Jared Kushner, who, the Washington Post reported on Friday, approached Russian Ambassador Sergey Kislyak last December to propose a secret communications channel. The meeting described above took place in 1960, and the "close adviser" was the incoming president's brother, Robert F. Kennedy. It is not unusual for the Russians to want to establish contacts with an incoming presidential administration, especially when there is tension between the two countries. It is also not unusual for an American administration to use back channels to probe the intentions of adversarial powers. But December 1960 was not December 2016. The RFK meeting likely came at the request of the Russians, not the Americans. It was not held in secret - it was noted on RFK's telephone log. And Robert Kennedy, despite general encouraging words, made no promises, suggested no follow-up, and was in no way working against the outgoing Eisenhower administration. The Russians were smart in focusing attention on the president-elect's brother. He would eventually be involved in historic back channel activity, but well after the inauguration. And all these years later, such communications have been revealed as a canny and patriotic initiative by the Kennedy administration.

This Monday John F. Kennedy would have turned 100, and it has taken nearly this long to develop a full picture of his presidency: The more we learn about it, the more impressive he becomes. Much of the biographical work until recently has been filling in the gaps created by censors - mainly close allies and family members - who did not want the public image of the fallen leader to be tarnished by his addiction to sex and his physical frailties. But what should most dramatically change how we view his presidency is the flood of new information (and some of it not new but underappreciated from Russian records) about how he did his job. JFK had a taping system installed in the White House a decade before Nixon, and these recordings have only been fully opened since late 2012. Unlike the technophobic Nixon, whose taping system would turn on at the literal drop of a hat, Kennedy's was controlled by a button usually pressed by him alone. The Kennedy tapes, and the increasing release of that era's national security documents, are revising the picture of a very creative moment in US foreign policy.

JFK's Russian conspiracy did not begin during his campaign. In the summer of 1960, the Soviet Foreign Ministry and the KGB relied mainly on publicly available information to imagine what Kennedy would be like as president if he won. They had no informants near the young leader's circle, the "New Frontiersmen." Soviet diplomats were more dismissive than the KGB of Kennedy, thinking him "unlikely to possess the qualities of an outstanding person." Both institutions worried he was overly influenced by his father, Joseph, the conservative multimillionaire and former head of the Securities and Exchange Commission. Soviet intelligence initially suspected Kennedy might be more welcomingly inventive in US-Soviet relations. But neither side apparently got any help in testing their theories from the Kennedys or their advisers until November. [Read More: Naftali/slate/27May2017]

These Maine Men Answered the Call When the US Entered the Great War. On April 6, 1917, the United States entered the Great War. Six days later, a telegram from the War Department arrived at Camp Keyes in Augusta: The 2nd Maine Regiment was ordered into active service.

"I am, in consequence," the letter from Secretary of War Newton Baker read, "instructed by the President to call into the service of the United States forthwith, through you, the following units of the National Guard of the State of Maine." President Woodrow Wilson and Congress had exercised their right to mobilize the National Guard in a state of war for the first time since the signing of the National Defense Act of 1916.

The 15 companies of the 2nd Maine began recruiting to wartime strength in towns across the state. On July 5, the companies began to assemble at Camp Keyes in Augusta.

Who were the men who made up this 2,002-man organization? More than 50 percent were traditional National Guardsmen who had been with the regiment since they were mobilized to the US-Mexican border in 1916 and before. Men signed on eagerly to serve with "the Old Second." [Read More: Bratten/bangordailynews/28May2017]

The Spy Who Hoodwinked the Nazis With Sorcery. Shafts of lights pierced the woodland clearing like spears, the dappled sunlight creating a spotlight on those cloaked individuals gathered in a tight circle.

They chanted, they swayed, they cast spells; they performed pagan rituals to the ancient gods they seeked to summon.

The secluded site had become a temple to the occult. And the black arts were being performed at a time when pure evil stained Europe.

The ceremony, in Ashdown Forest, Sussex, was organised during the darkest days of World War Two. [Read More: Lockley/birminghammail/28May2017]

Boris Nemtsov's Legacy Haunts Putin's Russia. Amidst the hundreds of Russia-related headlines saturating the current US media landscape, it was almost inevitable that a small but significant one of them would go almost unnoticed. On May 13, the US Senate came one step closer to renaming the Washington, DC, street on which the Russian embassy is located after one of the Kremlin's most vocal critics: the late Boris Nemtsov.

Nemtsov, who once served as Boris Yeltsin's deputy prime minister and was one of the most important liberal political figures in 1990s Russia, ended his life a steadfast opponent of Vladimir Putin and his authoritarian regime. On February 27, 2015, he was shot to death by a car full of assassins while walking home across a Moscow bridge mere yards away from the Kremlin.

Nemtsov's life and work is the subject of a new documentary written and directed by Vladimir Kara-Murza, himself a well-known Kremlin critic and former adviser to Nemtsov who worked closely with him in various human-rights- and democracy-promotion efforts. With a running time of just over an hour, the film does an excellent job of deftly laying out Nemtsov's many achievements, both as one of the principal figures of the Yeltsin era, and later as a key figure in the liberal opposition to the Putin government.

During the perestroika period of the 1980s, a young Nemtsov was pursuing a career as a talented radiophysicist in his home city of Nizhny Novgorod (then called Gorky) with no plans to enter politics. The construction of an experimental nuclear plant just outside Gorky would change that. The recent Chernobyl disaster underscored the danger of the project, and Nemtsov joined the movement against putting the power station into operation. As part of his efforts, he would even meet with and interview Nobel Peace Prize'winning nuclear physicist and Soviet dissident Andrei Sakharov, who himself opposed the plant's becoming operational. From there began a political career that would embody the best of the often-troubled Yeltsin era. [Read more: Brown/NationalReview/24May2017]


---
Technologies Developed for Warfare, Spy Agencies Going on Market. Is this ever going to end? The daily barrage of hacking news assaulting us in headlines is making us numb, if not scared to death. However, there is a little-known secret that gets lost in all of this cyber-disaster noise. The US government does, in fact, have a three- to four-year offensive technological lead over foreign adversaries - although that small secret will do little to comfort citizens when their credit cards, infrastructure, banks, political parties, and media firms are being constantly hacked.

"If America, or US Cyber Command, wanted to wage cyber war," Frank Kaplan, Pulitzer Prize-winning author of Dark Territory: The Secret History of Cyber War, writes, "it would do so from inside a glass house."

Yes, Americans live in a cyber glass house. As one of the world's most advanced technological countries, the US has dumped hundreds of billions of dollars over the years into advancing its cyber capabilities to be ahead of its adversaries. On the other hand, its society is also the most vulnerable because Americans' lives depend upon the very technology the commercial innovation engine has created.

Herein lies the problem. The hundreds of billions of dollars poured into intelligence agencies and research laboratories has given the US the technological edge in conventional and cyber warfare. However, the commercial sector is bearing the brunt of the cyber-carnage due to the nature of fast innovation and the fact that private industry does not directly benefit from the immense cyber warfare capabilities the US possesses - a glass house indeed. [Read More: Janke/thecipherbrief/26May2017]

Opinion: 'Yes, the Russians Are Excellent Spies'. These days the papers and TV are full of stories about how skilled the Russians are at compromising Americans to get their help in carrying out various espionage objectives. Former CIA Director John Brennan described how they do it in recent testimony before Congress. Had Congress asked my opinion, I could have delivered the same message based on personal experience.

In 1967 I had the job of executive assistant to Vice President Hubert Humphrey of Minnesota. My job was to work with the vice president on a host of domestically-focused assignments. Consequently, I knew many of the federal officers who were in charge of these programs, people like Sargent Shriver who headed the War on Poverty.

Often I would be invited to lunches, receptions, and outside meetings sponsored by various non-governmental organizations. Thus it was that one day in 1967 I was attending a luncheon event sponsored by outside groups interested in expanded oceanographic research and exploration. I was enjoying a cold drink before lunch when I was approached by a pleasant looking young man, well-dressed, blond, and bright-blue eyed. He introduced himself as, let us say, Dimitri.

Dimitri explained that he was the newly-appointed science attach' in the Soviet embassy and had just arrived in the United States from Russia. He spoke excellent English almost without a trace of what is normally considered a "Russian accent." [Read More: Stewart/knoxnews/24May2017]

Republicans and Democrats Are Both Wrong About Leaks From Intelligence Agencies. It's a Washington tradition as hoary as the White House Easter Egg Roll: Power changes hands, and partisans suddenly swap positions on an array of issues. Erstwhile champions of a strong executive begin worrying about tyrannical overreach (and vice versa). Laments about obstructionism and gridlock fade into paeans to our ingenious system of checks and balances. And, perhaps most remarkably in the Trump era, the right discovers the deep perfidy of the "deep state" while progressives pin their hopes on the American intelligence community.

Yes, this is a bit of a caricature. Establishment Washington's coziness with the spookshow has long been a bipartisan affair (see: Feinstein, Dianne). So has civil libertarian opposition; the hippies at the American Civil Liberties Union were singing "Kumbaya" with the bow-tie brigade at the American Conservative Union to oppose the Patriot Act way back in aught-one. All the same, it's a weird state of affairs.

Among the myriad sideshow oddities of the Trump era: Republicans in Congress, as if suddenly awakening to the massive surveillance apparatus they spent the past 15 years constructing, belatedly echo civil liberties concerns they once reflexively ridiculed; they even threaten to curtail some Bush-era surveillance authorities. Meanwhile, many on the left grow positively giddy over leaked transcripts of Americans' National Security Agency-intercepted conversations, provided said Americans work for the Republican White House.

The facile, cynical read on this would be that the only bedrock principle in politics is tribal advantage - which is probably half the story. But seen through a more charitable lens, this recent inversion both obeys a shared underlying logic and reflects a common underlying confusion. [Read More: Sanchez/washingtonpost/26May2017]

Stop the Leaking! Just Stop! H. L. Mencken famously once said: "Every normal man must be tempted, at times, to spit on his hands, hoist the black flag, and begin slitting throats." The Manchester bombing should be enough in itself, but then we find out that the bomber had been ejected from his mosque and reported to the police well before the bombing.

What's more, we find out he'd been on the watch list for years: Salmon Ramadan Abedi, the man believed to be responsible for Monday's Manchester Arena bombing, was reportedly known to authorities, according to CBS News.

And then it turns out that he had just returned from three weeks in Libya, where his father is a leader of a group of Da'esh losers.

Now how do we -- or should we -- know all these things? Through intelligence operations: the reports to the police should have been passed along to MI5; the watch list should have been available to MI5 and the police; MI6, we presume, should have been aware of his father's connections to Islamist terrorist losers; and, we presume, he didn't go to Libya and back without going through passport control. [Read More: Martin/pjmedia/25May2017]

There's A Reason Why so Many Terrorists Like Salman Abedi Have Had Dealings With British Intelligence Before. The full extent of the security services' knowledge of Manchester bomber Salman Abedi may never be known. But it seems clear that MI5 and counterterrorism police were first made aware of his extremist thinking five years ago when classmates warned of his support for suicide attacks.

Politicians have rightly begun to ask why a known Islamist extremist, if not a terror suspect, wasn't stopped before he carried his bomb into the Manchester Arena on Monday night.

When MI5 comes to review its intelligence on Abedi, their officers will have to recognise they have been here before.

Before all the major terror attacks committed in the UK since, and including, the 7/7 London bombings, the security services had knowledge of, or even dealings with, at least one of the suspects. [Read More: Verkaik/independent/25May2017]

---
Section IV - Call for Papers/Research Requests, Obituaries
Call for Papers: The University of Texas at Austin Announces the 2017 "Bobby R. Inman Award" for Student Scholarship on Intelligence - $10K in prizes; deadline is 30 June 2017
The Intelligence Studies Project of the University of Texas at Austin announces the third annual competition recognizing outstanding student research and writing on topics related to intelligence and national security. The winner of the "Inman Award" will receive a cash prize of $5000, with two semifinalists each receiving a cash prize of $2500. This competition is open to unpublished work by undergraduate and graduate students enrolled in degree programs at accredited U.S. higher education institutions during the 2016-17 academic year. The deadline for submitting papers is June 30, 2017. The Intelligence Studies Project was established at the University of Texas at Austin in 2013 as a joint venture of the Robert Strauss Center for International Security and Law and the Clements Center for National Security with the LBJ School of Public Affairs. The Project's mission is to improve understanding of intelligence activities and institutions through research, courses, and public events bringing intelligence practitioners together with scholars, students, and the public. The Bobby R. Inman award recognizes more than six decades of distinguished public service by Bobby R. Inman, Admiral, U.S. Navy (Ret.). Admiral Inman served in multiple leadership positions in the U.S. military, intelligence community, private industry, and at The University of Texas. His previous intelligence posts include Director of Naval Intelligence, Vice-Director of the Defense Intelligence Agency, Director of the National Security Agency, and Deputy Director of Central Intelligence. He continues to serve as a teacher, advisor, and mentor to students, faculty members, and current government officials while occupying the Lyndon B. Johnson Centennial Chair in National Policy at the LBJ School of Public Affairs. His areas of teaching and research are focused on political, economic, and military activities, policy processes and institutions, international affairs and diplomacy, and intelligence and national security.
Eligibility: All undergraduate and graduate students enrolled at an accredited U.S. higher education institution during the 2016-17 academic year are eligible to participate. A student may submit only one paper that has not been published previously. Submission Requirements: Papers should be submitted electronically to Ashley Thibodeau at ashley.thibodeau@austin.utexas.edu and include a short biographic profile of the author with current contact information, the date when the paper was completed, and a description of any course requirement that was satisfied by the paper. All papers should be appropriately attributed using footnotes or endnotes.
Awards and Recognition: The Inman Award and a $5000 prize will be presented to the author of the winning paper. Two papers will be recognized as Inman Award semifinalists and $2500 will be awarded to the author of each. Cash prizes will be conveyed directly to sole authors or divided equally among co-authors. At least one cash prize will be awarded to an undergraduate author. Recipients of cash prizes are solely responsible for any tax liability that may accompany receipt of such funds. The Inman Award winner and semifinalists will be notified on or before 1 August 2017.
Additional information about the Inman Award competition and the Intelligence Studies Project is available here or contact Ashley Thibodeau at ashley.thibodeau@austin.utexas.edu with any questions regarding the Inman Award competition.
Glenn Francis Stahly, 89, an exceptional NSA cryptomathematician, died 24 April 2017 in Lancaster, OH. Glenn was a US Army veteran and a graduate of Ohio State University and Bluffton University. For 40 years he served as an NSA mathematician receiving the Outstanding Civilian Service Award. Glenn was one of a select group of ten or twelve mathematicians the Agency hired in the 1950s and they became an invaluable core of senior cryptomathematicians whose contributions were immense, so much so that it led to NSA hiring significant numbers of mathematicians annually from the 1960s to the present. Stahly was highly admired personally and professionally and especially by his peers. He became a senior manager in the technical ranks and further enhanced his value by serving as a mentor to the younger, recently hired mathematicians.
Glenn was commited to his faith and devoted to Groveport Zion Lutheran Church. He was also a member of The Phoenix Society. He is survived by his wife of 67 years, Alice Marvene (Groff) Stahly; a son and a daughter and other family.
George S. Powell, 88, a former SIS CIA officer, from York, ME, died 29 March 2017 of Alzheimer's disease. Powell served in the Army from 1946-48 and continued his education ending with a degree from Burdett College, Northeastern University, and the University of Maryland. He then served for 30 years with CIA, earning a Medal of Merit awarded by CIA Director William Casey. While living in York, Maine, he served on the Board of Selectmen, and later served as President of the Board of Sun City West Foundation in Arizona. He is survived by three daughters, two sons, and other family. Family welcomes contact from those who knew George, by emailing son Michael Powell at comfortably.numb@cox.net or calling him at 480-336-8324.

---
AFIO EDUCATIONAL EVENTS IN COMING TWO MONTHS....
21 June 2017 (Wednesday), 11:30am - San Francisco, CA - The AFIO San Francisco Chapter hosts CMDR Waldron.
TOPIC: Cmdr. Matthew J. Waldron, a dual career path afloat operations and intelligence officer, will discuss how the Coast Guard Intelligence program coordinates with the national law enforcement and intelligence communities to support and drive Coast Guard operations in the counter drug and homeland security missions.
WHERE: Basque Cultural Center, 599 Railroad Ave, South San Francisco, CA 94080. 11:30AM no host cocktail; meeting and luncheon at noon.
RSVP: At this link. Reservation and pre-payment is required before 13 June 2017. The venue cannot accommodate walk-ins. Contact: Mariko Kawaguchi, Board Secretary at afiosf@aol.com or Mariko Kawaguchi, c/o AFIO, PO Box 117578, Burlingame, CA 94011.
Thursday, 22 June 2017 6:30 PM - West Bloomfield Hills, MI - AFIO "Johnny Micheal Spann Memorial Chapter" Michigan hosts author, former senior CIA Officer Frederick Harrison.
Fred Harrison is the author of seven novels dealing with contemporary Intelligence challenges. He is also Director of NortonNet, a large professional networking organization focusing on the Defense and Intelligence communities. Until retiring from Government service, Harrison was a member of CIA's Senior Intelligence Service, assigned as Acting Director of the Intelligence Systems Secretariat (ISS), co-sponsored by the Director of Central Intelligence (DCI) and the Deputy Secretary of Defense. The ISS mission was to expand intelligence systems interoperability across the US Government. He was a senior member of the IC Management Staff, and is a recipient of the CIA Career Medal. He resides in the Washington, D.C. metro area. RSVP afio.secretary@afiomichigan.org
Wednesday, 13 September 2017 - New York, NY - The NY Metro Chapter Meeting features Carol Rollie Flynn, former CIA Officer, with tentative topic "Intelligence and National Security."

A 30-year veteran of CIA, Carol Rollie Flynn held senior executive positions including Director of the CIA's Leadership Academy, Associate Deputy Director of the National Counterterrorism Center (NCTC), Director of the Office of Foreign Intelligence Relationships, Executive Director of the CIA Counterterrorism Center (CTC), and Chief of Station in major posts in Southeast Asia and Latin America. She has extensive experience in overseas intelligence operations, security, and counterintelligence as well as expertise in designing and delivering advanced education and training to adult learners. Ms. Flynn is also an adjunct Professor at Georgetown University's McCourt School of Public Policy and Edmund A. Walsh School of Foreign Service/Security Studies Program and a visiting faculty member at Wellesley College's Madeleine Albright Institute and the Fordham University Graduate School of Business. She serves as Adjunct Staff at Rand Corporation and is a senior affiliate at the Center for Strategic and International Studies (CSIS). A member of the Council on Foreign Relations and the International Coach Federation, Ms. Flynn has a Bachelor of Arts degree from Wellesley College, a Masters of Science in Cyber Security from University of Maryland, University College, and has completed executive leadership programs at Duke University and the Kellogg School of Management at Northwestern University. She is an Associate Certified Coach through the International Coach Federation.
Location: Society of Illustrators, 128 E 63rd St, New York, NY 10065. RSVP Chapter President Jerry Goodwin at afiometro@gmail.com or call 646-717-3776.
HOLD THE DATE - 28 - 29 September 2017 - Tysons Corner, VA - AFIO's 2017 National Intelligence Symposium
Tentative Agenda: ' Opening Remarks by AFIO President; ' NGA Overview and Q&A; ' Video Presentation; ' NGA Leadership Remarks (D/NGA or DD) - Includes GEOINT Strategy and Functional Management; ' Lunch (with museum tours, NGA store, and group photo). Presentations/Panels on: ' KH 8 Declassification; ' Pathfinder (unclassified research to solve intel problems); ' Commercial GEOINT Activity; and ' the Small Satellite Revolution.
Arrive Wednesday evening, 27 September to overnight at the hotel to be ready early Thursday, 28 September, for coach service to NGA for all day conference including visit to their new museum. Welcome by NGA Director Robert Cardillo. Friday activities TBA. Friday evening is our "Spies in Black Ties" banquet.
Hotel: DoubleTree-Hilton, Tysons Corner, VA [formerly the Crowne Plaza], at 1960 Chain Bridge Rd, McLean, VA 22102. Details, event registration and hotel room registration links to be sent to all current members in coming weeks. Early phone-only room registrations can be made at 1-877-865-1877 at $119/nite.
---
4 - 7 June 2017 - San Antonio, TX - USGIF GEOINT 2017 Symposium theme is: "Advancing Capabilities to Meet Emerging Threats"
The always impressive US Geospatial-Intelligence Foundation (USGIF) is offering more than 25 training and professional development sessions at their GEOINT 2017 Symposium on "Advancing Capabilities to Meet Emerging Threats" being held in beautiful San Antonio, TX. Monday, June 5 through Wednesday, June 7 are a variety of training sessions running two hours each. Attendees receive 0.2 Continuing Education Units per qualified session. Expand your knowledge on a familiar topic or learn a new one in one of the hottest, most promising and useful fields in the Intelligence Community. Sessions include: Hacking for Defense: Solving National Security Problems; 3D Terrain Modeling; Analytics for Small Sat Systems; Recent Advances in Deep Learning Cognitive Social Media Analytics Framework; Open Geospatial Machine Learning; Cyber Attack and Defense Wargame with IT, Industrial, and GEOINT Context; And much more.
Location: Henry B. Gonzalez Convention Center, San Antonio, TX.
RSVP ASAP: Agenda and other information here.
Wednesday, 14 June 2017, noon - Washington, DC - Allies vs. Axis: Roosevelt, Churchill, Hitler, and Atomic Espionage with Ray Batvinis - at the International Spy Museum
Join former FBI special agent Raymond J. Batvinis, author of Hoover's Secret War Against Axis Spies, as he tells a remarkable story of counterintelligence, German atomic espionage efforts, FBI-British wartime relations, and radio deception conducted during the most critical part of the Second World War. Hoover's Secret War Against Axis Spies will be available for sale and signing at the event. Event is free. Visit www.spymuseum.org.
Wednesday, 14 June 2017, 7:30 to 8:45 pm - McLean, VA - iWar: War and Peace in the Information Age by Bill Gertz at the Westminster Institute
Covert information warfare is being waged against the United States by world powers and rogue states-such as Russia, China, Iran, and North Korea-and even terrorist groups like ISIS. This conflict has been designed to defeat and ultimately destroy America.This new type of warfare is part of the Information Age that has come to dominate contemporary life. In his new book iWar, Bill Gertz describes how technology has completely revolutionized modern warfare, how the Obama administration failed to meet this challenge, and what we can and must do to catch up and triumph in this struggle. (iWar will be available for purchase and signing.)
Bill Gertz is an award-winning national security journalist and author of seven books, including Breakdown: How America's Intelligence Failures Led to September 11 and The China Threat: How the People's Republic Targets America. He is currently senior editor of The Washington Free Beacon, an online news outlet, and national security columnist for The Washington Times. Gertz has an international reputation. Vyachaslav Trubnikov, head of the Russian Foreign Intelligence Service, once called him a "tool of the CIA" after he wrote an article exposing Russian intelligence operations in the Balkans. A senior CIA official once threatened to have a cruise missile fired at his desk at The Washington Times after he wrote a column critical of the CIA's analysis of China. China's communist government also has criticized him for his news reports exposing China's weapons and missile sales to rogues states.
Where: Westminster Institute, 6729 Curran St, McLean, VA 22101. Register here.
Friday, 16 June 2017, 5:30 to 7:30pm - Washington, DC - Spy Fiction Writer's Workshop with Melissa Mahle - at the International Spy Museum
The shadow world of spying has captured the imagination of authors for centuries. Join this unique writing workshop for young spies led by Melissa Mahle, former CIA intelligence officer and author of Anatolia Steppe: Lost in Petra and Camp Secret. Learn from her hands-on work in disguise, surveillance, and spy gadgetry and be the one to develop a plot and storyline that grips readers' attention and quickens their pulses. Ages: 9-14. Tickets for the general public: $30, tickets for Spy Museum Inner Circle Members: $25. Dinner included. Visit www.spymuseum.org.
20 June 2017, 10 am to 1 pm - Annapolis Junction, MD - NCMF 2017 Summer Cryptologic Program features David Priess on The President's Daily Brief. Special NSA/NCMF WWI Panel Discussions on "Decoding The Great War" and Presentations of the new WWI Exhibit takes place.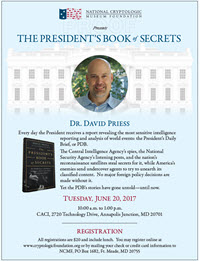 Program features Dr. David Priess, former CIA Intelligence Officer and author of the bestseller The President's Book of Secrets. This National Cryptologic Museum Foundation event can be signed up for here
Where: CACI, Inc. located at 2720 Technology Drive, Annapolis Junction, MD 20701, Tel 301-575-3200. Directions and Map here. Click "directions" to get driving guidance.
RSVP NOW: register online here or mail registration fee of $20 to NCMF, PO Box 1682, Fort George G. Meade, MD 20755-9998. Please register prior to 23 March to ensure space available. Click image at left for larger version of announcement.
Also on 20 June, following the Priess presentation above, NSA's Center for Cryptologic History joins the Museum to host a WWI Panel Discussion: Decoding The Great War and Presentation of the new World War One Exhibit at the National Cryptologic Museum.
Presentations and speakers are:
Presentation 1: 1305 - World War I as an Intelligence Revolution, Michael Warner, Command Historian, US Cyber Command.
Presentation 2: 1325 - An Ear to the Air and an Ear to the Ground: Radio Intelligence in the American Expeditionary Forces, 1917-1918, Betsy Rohaly Smoot, Historian, Center for Cryptologic History, NSA.
Presentation 3: 1345 - Native American Code Talkers: the Secret Weapon of World War I, Dr. Steve Huffman, Retired Research Analyst, NSA. Q&A: 1345 - 1400 1405 - 1430: Presentation of World War 1 Display - Betsy Rohaly Smoot. For details on each of the presentations and speakers, or to register for one or both of these NSA/NCMF Events, use this link.
20 June 2017, 1130 am - 2 pm - McLean, VA - the Defense Intelligence Forum (DIF/DIAA) hosts John L. Moore on "The Middle East."
Mr. John L. Moore will speak on "The Middle East." From 1968 thru 2000, John Moore was an analyst, senior analyst, manager and senior executive on the Middle East for DIA. From 1984 thru 1992, he was the chief of the Middle East and Africa Division and from 1992 thru December 2000 when he retired, John served as the Defense Intelligence Officer for the Middle East, South Asia and Terrorism. Mr. Moore worked as a Middle East consultant from 2000 thru 2002 where he appeared as the first non-lawyer to brief the international Court of Justice (World Court). From 2003 thru 2012, John was a consultant on the Middle East for DIA; the last five years he served as the Senior Mentor in the Middle East office. John was twice awarded the National Distinguished Service Medal (1991 and 2000) and was twice awarded the DIA Exceptional Civilian Service Medal (1984 and 1997). John was a 1965 graduate of LaSalle University and a 1978 graduate of the US Army Was College. Attribution for this presentation will be provided at the beginning of the presentation to ensure a complete understanding of how the presented information should be handled.
To attend: Make reservations by 20 June 2017 by email to diforum@diaalumni.org. Include names, telephone numbers, and email addresses. For each attendee, choose among chicken parmesan, trout lemone, lasagna, grilled sausage with sweet peppers, fettuccini with portabella, manicotti with spinach and ricotta, or cannelloni alla Bolognese for your luncheon selection. Please provide your luncheon selection with your reservation to reduce the wait time for your food. Pay at the door with a check for $ 30 per person, payable to DIAA, Inc. Check is preferred, but will accept cash; however, credit card payments are discouraged.
Location: Pulcinella Restaurant, 6852 Old Dominion Drive, McLean, VA.
Tuesday, 20 June 2017, 6:30pm - Washington, DC - Espionage Act of 1917 at 100 - at the International Spy Museum
Come hear a panel of distinguished experts including Johns Hopkins University senior lecturer, Dr. Mark Stout, and national security lawyer, Mark S. Zaid, discuss the past, present and future use of the Espionage Act, including such topics as whether journalists should have reason to fear being prosecuted for disclosing classified information, and what protections whistleblowers might or should have in the 21st century. Tickets for the general public: $12, tickets for Spy Museum Inner Circle Members: $10. Visit www.spymuseum.org.
Saturday, 24 June 2017, 5 - 8 pm - Dumfries, VA - OSS 75th Anniversary Celebration Dinner and Presentation
Prince William Forest Park which served as Area A and Area C training facility for the wartime Office of Strategic Services is c0-hosting with The OSS Society, a 75th anniversary celebration featuring historian/author Patrick O'Donnell reflecting on the historical legacy of the OSS.
Dinner will be served at 5 p.m. followed by O'Donnell's presentation at 7 p.m. Eastern National Bookstore, a cooperating partner with the National Park Service, is providing dinner for free to all OSS veterans and their spouses. For nonveteran attendees, dinner will be $12 per person paid at time of dinner. The meal will be catered by Mission BBQ.
Location: OSS Theater at Prince William Forest Park, 16675 Pleasant Road, Dumfries, VA 22025
RSVP: by 14 June 2017 to Chris Alford at chris_alford@nps.gov or 703-221-7183
Monday, 26 June 2017, noon-1:30pm - Washington, DC - A Conversation on North Korea with Michael Morell and Ambassador DeTrani - at the International Spy Museum
Attend a luncheon and receive an insider's perspective on North Korea with former CIA Deputy Director Michael Morell and Ambassador Joseph DeTrani. Few places on earth remain as mysterious and forbidding as North Korea. With the escalation of events in the North Korean relations, hear from two experts who have played integral roles in our nation's security and can provide current insight on the secretive nation. RSVP by June 19. Tickets: $129+. Visit www.spymuseum.org.
27-28 June 2017 - Los Angeles, CA - USC Center for Risk and Economic Analysis of Terrorism Event (CREATE-TSA) Symposium on "Innovations in Transportation Security."
The USC Center for Risk and Economic Analysis of Terrorism Events (CREATE) and the Transportation Security Administration (TSA) will come together for a two-day symposium to examine Innovations in Transportation Security. The agenda for the CREATE-TSA Symposium at the University of Southern California (USC) is available here. The invite-only event will discuss numerous relevant topics including Public Response to Crisis, Deterrence: Demotivating Terrorism, Cyber Security Threats to Transportation and Recent Airport Attacks: Lessons Learned. There will also be several keynote speakers and a panel discussion with former TSA Administrators Admiral James Loy, John W. Magaw, Peter Neffenger and John S. Pistole. Space is limited, if you have not yet registered we encourage you to do so before before the May 30, 2017 deadline.
REGISTRATION: The registration fee for the event is $300 ($150 for government employees), and includes breakfast and lunch on both days and a reception on the evening of June 27th. To register please follow this link. Code: usccreate (lowercase). The deadline to register is May 30, 2017.
HOTEL: We currently have a limited number of hotel rooms available at a discounted rate of $169 at the nearby Radisson Hotel. Reservations can be made either online here or by calling 800.333.3333. Use reservation code 17TSA7. Please note the code is only valid for June 26-28, 2017. The last date to make a reservation at the discounted rate is 25 May 2017. If you would like to stay at the hotel earlier or after these dates, please make reservations through the hotel directly at 213.748.4141.
18 October 2017, 9 am - 3 pm - Laurel, MD - NCMF General Meeting & Symposium: "How Cyber has Changed the World Around Us."
SAVE THE DATE. Information coming in July. Details will be at www.cryptologicfoundation.org.
Event location: The Kossiakoff Center, Johns Hopkins University/Applied Physics Laboratory.
19 - 20 October 2017 - Laurel, MD - 16th NSA/CSS Center for Cryptologic History Symposium: "Milestones, Memories, and Momentum."
SAVE THE DATE. Information forthcoming. This symposium will be followed on 21 October 2017 with tours and workshops at the National Cryptologic Museum.
Location: Kossiakoff Conference Center, Johns Hopkins Applied Physics Laboratory, Laurel, Maryland.
For more about the program, visit www.nsa.gov
PAPERS for this event: The theme for the 2017 Symposium will be "Milestones, Memories, and Momentum." There are many milestones to mark in 2017: the 160th anniversary of the first attempt to span the Atlantic with a telegraph cable, 100 years since both the entry of the United States into World War I and the Russian October Revolution, and 75 years after the World War II battles of Coral Sea and Midway. The Symposium will take place just a few months before the 50th anniversary of the Tet Offensive in Vietnam, and during the 25th year after the fall of the Soviet Union and the end of the Cold War. Papers looking at these milestone events in cryptology and considering how we remember their significance are particularly encouraged, as are those examining how cryptologic advances from these times provided momentum to create the systems of today and the future. Your proposal package should include an abstract of no more than ONE page, a complete CV, a short biographical sketch (not to exceed 150 words) to be used in the program, the amount of time you require for your paper, and full contact details. Panel proposals should include the above for each presenter and a short explanation of the panel's theme. Please submit your proposal by noon on Monday, February 6, 2017, to Program Chair Betsy Rohaly Smoot at history@nsa.gov or to her care at The Center for Cryptologic History, Suite 6886, 9800 Savage Road, Fort George G. Meade, MD 20755. Please note that correspondence that does not include the suite number may not be delivered in a timely manner. Proposals received after noon on February 6 will be considered on a space-available basis. The program committee will notify you about the final status of your proposal by June 9, 2017, but may engage you in discussions before that date. See details here.
---
Weekly Intelligence Notes (WINs) are commentaries on Intelligence and related national security matters, based on open media sources, selected, interpreted, edited and produced for non-profit educational uses by members and WIN subscribers.
REMOVAL INSTRUCTIONS: We do not wish to add clutter to inboxes. To discontinue receiving the WINs:
a) IF YOU ARE A MEMBER - click here: UNSUBSCRIBE and supply your full name and email address where you receive the WINs. Click SEND, you will be removed from list. If this link doesn't open a blank email, create one on your own and send to afio@afio.com with the words: REMOVE FROM WINs as the subject, and provide your full name and email address where you are currently receiving them.
b) IF YOU ARE NOT A MEMBER, and you received this message, someone forwarded this newsletter to you [contrary to AFIO policies]. Forward to afio@afio.com the entire WIN or message you received and we will remove the sender from our membership and distribution lists. The problem will be solved for both of us.
CONTENTS of this WIN [HTML version recipients - Click title to jump to story or section, Click Article Title to return to Contents. This feature does not work for Plaintext Edition or for some AOL recipients]. If you wish to change to HTML format, let us know at afio@afio.com. The HTML feature also does not work for those who access their e-mail using web mail...however NON-HTML recipients may view the latest edition each week in HTML at this link: https://www.afio.com/pages/currentwin.htm
---
WINs are protected by copyright laws and intellectual property laws, and may not be reproduced or re-sent without specific permission from the Producer. Opinions expressed in the WINs are solely those of the editor's) or author's) listed with each article. AFIO Members Support the AFIO Mission - sponsor new members! CHECK THE AFIO WEBSITE at www.afio.com for back issues of the WINs, information about AFIO, conference agenda and registrations materials, and membership applications and much more!
(c) 2000, 2012, 2013, 2014, 2015, 2016, 2017. Please note AFIO's new address: AFIO, 7700 Leesburg Pike Suite 324, Falls Church, Virginia 22043. Voice: (703) 790-0320; Fax: (703) 991-1278; Email: afio@afio.com
Click here to return to top.