AFIO Weekly Intelligence Notes #23-17 dated 6 June 2017

To view this edition of the Weekly Notes online, use the following link.

[Editors' Note are now below the CONTENTS] REMOVAL INSTRUCTIONS: We do not wish to add clutter to inboxes. To discontinue receiving the WINs, click here.


---

CONTENTS

Section I - INTELLIGENCE HIGHLIGHTS

Section II - CONTEXT & PRECEDENCE

Section IV - CAREERS, RESEARCH REQUESTS, OBITUARIES

For Additional AFIO and other Events two+ months or more... Calendar of Events

WIN CREDITS FOR THIS ISSUE: The WIN editors thank the following special contributors: pjk, mh, km, gh, mk, rd, fm, kc, jm, mr, jg, th and fwr. They have contributed one or more stories used in this issue.

The WIN editors attempt to include a wide range of articles and commentary in the Weekly Notes to inform and educate our readers. However, the views expressed in the articles are purely those of the authors, and in no way reflect support or endorsement from the WIN editors or the AFIO officers and staff. We welcome comments from the WIN readers on any and all articles and commentary.

CAVEATS: IMPORTANT: AFIO does not "vet" or endorse research inquiries, career announcements, or job offers. Reasonable-sounding inquiries and career offerings are published as a service to our members, and for researchers, educators, and subscribers. You are urged to exercise your usual caution and good judgment when responding, and should verify the source independently before supplying any resume, career data, or personal information.]
If you are having difficulties with the links or viewing this newsletter when it arrives by email, members may view the latest edition each week at this link. You will need your LOGIN NAME and your PASSWORD.

---

---

There will be no Weekly Intelligence Notes for the next two weeks as we close for summer vacation.
We will resume Tuesday, 27 June 2017.

---

Early registration has opened...
AFIO's 2017 National Intelligence Symposium

"Succeeding in the Open – The Future of GEOINT"
at the National Geospatial-Intelligence Agency

and

"Active Measures - A Global Threat"
at the Doubletree-Hilton

Thursday & Friday, 28 to 29 September 2017

Hotel: DoubleTree-Hilton, Tysons Corner, VA

Tentative Agenda: • Opening Remarks by AFIO President; • NGA Overview and Q&A; • Video Presentation; • NGA Leadership Remarks (D/NGA or DD) - Includes GEOINT Strategy and Functional Management; • Lunch (with museum tours, NGA store, and group photo). Presentations/Panels on: • KH 8 Declassification; • Pathfinder (unclassified research to solve intel problems); • Commercial GEOINT Activity; and • the Small Satellite Revolution.

Arrive Wednesday evening, 27 September to overnight at the hotel to be ready early Thursday, 28 September, for coach service to NGA for all day conference including visit to their new museum. Welcome by NGA Director Robert Cardillo. Friday activities TBA. Tentative agenda is here and will be updated frequently. Friday evening is our "Spies in Black Ties" banquet.
Hotel: DoubleTree-Hilton, Tysons Corner, VA [formerly the Crowne Plaza], at 1960 Chain Bridge Rd, McLean, VA 22102. Details, event registration and hotel room registration links to be sent to all current members in coming weeks. Early phone-only room registrations can be made at 1-800-HILTONS at $119/nite.

Registration for SYMPOSIUM 2017 has just opened. Register securely ONLINE now to ensure a place.
Or use this Registration Packet. Contains the formal invitation, tentative agenda, and off-line registration form to complete and return by fax or US Mail.

---

Excessive caution is being urged in reactions and responses to upsurge in ISIS terrorism. The calls for caution bring to mind...

"An appeaser is one who feeds a crocodile hoping it will eat him last."

- Sir Winston Churchill

---

Books of the Week

An Unlikely Audience: Al Jazeera's Struggle in America
by William Youmans
(Oxford U Pr, June 2017)

Order here.


The rise and fall and plateau of a controversial, polarizing media outlet's attempt to penetrate the American market.

In 2006, the Al Jazeera Media Network sought to penetrate the US, the world's most influential national market for English language news. These unyielding ambitions surprised those who knew the network as the Arab media service which President Bush had lambasted as "hateful propaganda" in his 2004 State of the Union address. The world watched skeptically as Al Jazeera labored to establish a presence during their decade-long struggle. The April 2016 closure of its $2 billion Al Jazeera America channel was just one of a series of setbacks.
Youmans investigates the inner workings of the complex news organization fighting to overcome deep obstacles, foster strategic alliances, and build its identity in a country notoriously disinterested in international news and distrustful of news from an Arab, anti-American perspective.

The book may be ordered here.

---

The Crisis of Multiculturalism in Europe: A History
by Rita Chin
(Princeton U Pr, August 2017)

Order here.

A study of policies toward immigrant communities in Great Britain, France, and, to a lesser extent, Germany, from immediately after WWII to the present. She traces varied uses of the word multiculturalism, never settling on a single definition, and contrasts policies that respected and fostered cultural pluralism in Britain with France's insistence on minorities adopting and adapting to French national identity. Initially, immigrants in both countries came largely from former colonies that had recently gained or were fighting for independence. In Germany, immigrants were at first thought of as temporary "guest workers," but often set down roots after being joined by their families. Chin explains how the key consideration for policy makers shifted from their countries' economic conditions to fear of radical Islam. This trend started with the 1989 fatwa against Salman Rushdie and took full effect after 9/11 and the July 2005 London attacks. Chin concludes noting flaws both in versions of "multiculturalism" that foster a view of ethnic communities as homogenous and in the exclusion of immigrant minorities from national narratives.

The book may be ordered here.

---

Recently released - AFIO's 2017 edition of...

Intelligence As a Career - with updated listings of colleges teaching intelligence courses, and Q&As on needed foreign languages, as well as the courses, grades, extracurricular activities, and behavioral characteristics and life experiences sought by modern US intelligence agencies.

AFIO's popular 56-page booklet reaches high school and college students considering careers in the US Intelligence Community. This is the fourth edition.
The publication is also popular with University Career Guidance Centers, professors and academic departments specializing in national security, and parents assisting children or grandchildren in choosing meaningful, public service careers.
This booklet is provided at no cost as a public service - online and in print - from the generosity of AFIO board, donors, and members. 20,000 printed copies of each edition are distributed. Many more are accessed online.
We thank all members and donors for their support which has made this possible.

2017 edition of Careers Booklet in PDF Format available here.

Also now online as a public service from the generosity of our members and donors is the entire 788-page AFIO's Guide to the Study of Intelligence, Peter Oleson, Editor, with a foreword by Dr. Robert M. Gates.
It can be accessed here.
If you wish, instead, to own a printed, bound copy, those are available here (AFIO) and here (Amazon).
---
Section I - INTELLIGENCE HIGHLIGHTS

Report: U-2 Spy Planes Deployed to Okinawa. A group of U-2 spy planes from US Forces Korea are being temporarily deployed to Okinawa, Japan, according to a Japanese news service.

Jiji Press reported Friday the US reconnaissance aircraft, four in total, are to be deployed in southern Japan for about a month, at Kadena Air Base.

Three of the planes arrived in Japan from Osan Air Base in South Korea on Wednesday, and the fourth aircraft followed Thursday.

The planes were accompanied by about 180 US troops, Japanese and US officials said, according to Jiji. [Read More: Shim/upi/2June2017]

CIA Veteran Reportedly Named NSC Western Hemisphere Director. CIA career veteran Juan Cruz has reportedly been named as the National Security Council's director for Western Hemisphere affairs, and will begin his duties on Monday.

However, reports Univision, the White House has neither confirmed or denied the appointment, instead stating "there has been no official announcement of a new Director of Western Hemispheric Affairs."

Former Obama Administration officials supported his selection as well, reports Univision, and said he is highly qualified to serve as a principal adviser for President Donald Trump on Center and South America.

"[He] strikes me as a good choice, knows the region, has a lot of good contacts, pragmatic," Mark Feierstein, Cruz' predecessor at the job, told Univision. [Read More: Fitzgerald/newsmax/3June2017]

Kim's Spy Chief to Have His Assets Frozen and Be Banned From Travelling Abroad Under New US Sanctions Against North Korea. North Korea's mysterious intelligence chief Cho Il-U will be blacklisted from travelling overseas, in a new bid to punish the rogue state for its repeated missile tests.

Cho is believed to head up the Reconnaissance General Bureau, North Korea's main military and foreign intelligence agency.

The shadowy organization is believed to be responsible for conducting clandestine operations abroad, including kidnappings and political assassinations.

They were linked were the murder of Kim Jong Nam, the estranged brother of Kim Jong Un who was killed in Kuala Lumpur with VX Nerve Agent. [Read More: Barnes/dailymail/2June2017]

Navy Element Command at Defense Intelligence Agency Changes Hands. Capt. Joshua C. Himes relieved Capt. Robert W. Witzleb as commanding officer of the Defense Intelligence Agency's Navy Element May 26, in a ceremony at DIA's headquarters on Joint Base Anacostia-Bolling.

In addition to leading thousands of Navy officers and sailors as DIA's Navy Element commander, Witzleb directed the Joint Military Intelligence Training Center and the Academy for Defense Intelligence during his tour.

"Captain Witzleb genuinely cares for the people and the mission," said DIA Director Lt. Gen. Vincent Stewart, who served as presiding officer for the ceremony. "That's what makes him a premier captain in the Navy." Stewart went on to thank Witzleb's family for being team players and supporting him throughout his time as commanding officer.

During Witzleb's tenure he helped sailors achieve warfare qualifications through an expanded Enlisted Information Warfare Qualification Program and aggressively led the re-structure and execution of the Navy element's annual personnel performance reporting process. The restructuring ensured Navy personnel were properly recognized for their contributions, remained competitive with their fleet-wide peers and dramatically improved the agency's talent recruiting and management. [Read More: navy/2June2017]

Agencies Can Meet Challenges of Cyber Executive Order, MGT Act. Government officials predict that though getting all Federal agencies to comply with the recent Cybersecurity Executive Order and the Modernizing Government Technology (MGT) bill will be difficult, the outcomes will be very beneficial for government.

"It's a good thing, it's going to be a challenge. It's going to be a hard, hard challenge to get 17 agencies to agree on a single way to do something," said Jeff Maille, deputy director of the Insider Threat Office at the National Geospatial Intelligence Agency, in a panel at the IBM Government Analytics Forum on June 1.

Maille and other panelists applauded recent Federal IT efforts for their potential to address important cybersecurity problems in the government.

Matt Olsen, president of business development at IronNet Cybersecurity, and former director of the National Counterterrorism Center, said that he thinks the executive order will help improve cyber information sharing between the public and private sectors, which has traditionally been less effective than terrorism information sharing. [Read More: Bur/meritalk/1June2017]

Annual GEOINT Meeting Begins Amidst Explosion of Capabilities. Leaders from across the government, military, academic and commercial sectors will meet for the GEOINT Symposium June 4-7, at a time when geospatial capabilities are expanding and evolving as never before.

The annual conference, hosted by the US Geospatial Intelligence Foundation, is expecting 4,000 attendees - including dozens of companies, many of whom are start-ups looking to get in on the booming business sector.

According to USGIF, a study by Forbes business magazine found that between 2011 and 2015, commercial job demand for people with 'big data' skills grew by nearly 4,000 percent.

The world is dealing with an "explosion of geospatial intelligence across multiple mission sets," said Chris Powell, co-chair of the USGIF Emerging Technologies Subcommittee. [Read More: Swarts/spacenews/4June2017]

Afghan Intelligence Arrests 'Would-Be Suicide Bomber' As Kabul Protest Continues. Afghanistan's intelligence agency says it has arrested a would-be suicide bomber who planned to detonate his explosives at the funeral of an antigovernment protester in Kabul.

At least seven people were killed on June 3 when three suicide bombers blew themselves up at the funeral of Salem Izadyar, the son of a senator and one of the five victims of the deadly clashes between police and protesters a day earlier.

Deadly antigovernment protests erupted after the May 31 morning rush-hour bombing in Kabul that killed at least 90 people and wounded more than 460, most of them civilians.

Police have locked down much of Kabul city, with armed checkpoints and armored vehicles patrolling the streets, although several dozen protesters on June 4 continued a peaceful sit-in near the blast site. [Read More: rferl/4June2017]

New Korean Spy Agency Chief Orders Abolition of Domestic Intelligence Operations. New National Intelligence Service director Suh Hoon on Thursday ordered the abolition of domestic intelligence operations, setting in motion a campaign to reform the spy agency long suspected of meddling in politics to support ruling elites.

Suh issued the order shortly after President Moon Jae-in conferred an appointment certificate on him and called for "thoroughly" banning the NIS from engaging in politics.

Under the order, the NIS immediately stopped the operations of all NIS operatives tasked with gathering information related to government ministries and agencies, media and other organizations, the NIS said in a press release.

It is in line with Moon's election pledge to insulate the NIS from politics and make it focus on its overseas operations. [Read More: koreaherald/1June2017]



---
Section II - CONTEXT & PRECEDENCE



Reports of Missing Uranium Dogged NUMEC Owner Zalman Shapiro for Life. It reads like a Tom Clancy novel: secret reports among top government advisers, an undercover spy trip to a remote desert half way around the world, and loose talk at a Washington, DC, embassy party.

But it all, some believe, led back to a relatively small uranium processing facility on the banks of the Kiski River in Apollo.

And, still, more than 50 years later, the whole matter remains largely secret, classified by both the American and Israeli governments.

What's known is that American intelligence officials, beginning in the 1960s and continuing to this day, suspect Israel stole highly enriched uranium from the United States to start its clandestine nuclear weapons program - a program whose very existence Israel denies. [Read More: Thomas/triblive/4June2017]

A Piece of American Spy History Can Be Yours With This $1.75M Home. American history buffs looking for a country home are in luck: The former estate of a Revolutionary War spy is on the market for $1.75 million. The four-bedroom, six-bathroom farmhouse in Brewster, New York, was built circa 1789 for Enoch Crosby, a former cobbler. And although it retains its original look, it's been renovated for the current century.

During the Revolutionary War, Crosby posed as a British spy to infiltrate the Loyalists, according to an article in Hudson Valley Magazine, James Fenimore Cooper, meanwhile, is suspected to have based his 1821 novel The Spy on the exploits of Crosby, although it was never confirmed by the writer.

After the war, Crosby and his brother purchased the Hudson Valley estate, which was then 276 acres, the article said, and Enoch Crosby lived there until his death in 1835. The street it is on takes his name.

The estate, which was listed for sale at the beginning of May, sits on four acres, according to listing agent Diana Murphy of HomeSmart Homes & Estates. It's also available for long-term rental at $8,500 a month. [Read More: Hendrickson/mansionglobal/2June2017]

The Wartime Spies Who Used Knitting As an Espionage Tool. During World War I, a grandmother in Belgium knitted at her window, watching the passing trains. As one train chugged by, she made a bumpy stitch in the fabric with her two needles. Another passed, and she dropped a stitch from the fabric, making an intentional hole. Later, she would risk her life by handing the fabric to a soldier - a fellow spy in the Belgian resistance, working to defeat the occupying German force.

Whether women knitted codes into fabric or used stereotypes of knitting women as a cover, there's a history between knitting and espionage. "Spies have been known to work code messages into knitting, embroidery, hooked rugs, etc," according to the 1942 book A Guide to Codes and Signals. During wartime, where there were knitters, there were often spies; a pair of eyes, watching between the click of two needles.

When knitters used knitting to encode messages, the message was a form of steganography, a way to hide a message physically (which includes, for example, hiding morse code somewhere on a postcard, or digitally disguising one image within another). If the message must be low-tech, knitting is great for this; every knitted garment is made of different combinations of just two stitches: a knit stitch, which is smooth and looks like a "v", and a purl stitch, which looks like a horizontal line or a little bump. By making a specific combination of knits and purls in a predetermined pattern, spies could pass on a custom piece of fabric and read the secret message, buried in the innocent warmth of a scarf or hat.

Phyllis Latour Doyle, secret agent for Britain during World War II, spent the war years sneaking information to the British using knitting as a cover. She parachuted into occupied Normandy in 1944 and rode stashed bicycles to troops, chatting with German soldiers under the pretense of being helpful - then, she would return to her knitting kit, in which she hid a silk yarn ready to be filled with secret knotted messages, which she would translate using Morse Code equipment. "I always carried knitting because my codes were on a piece of silk - I had about 2000 I could use. When I used a code I would just pinprick it to indicate it had gone. I wrapped the piece of silk around a knitting needle and put it in a flat shoe lace which I used to tie my hair up," she told New Zealand Army News in 2009. [Read More: Zarrelli/atlasobscura/1June2017]

Russia Escalates Spy Games After Years of US Neglect. In the throes of the 2016 campaign, the FBI found itself with an escalating problem: Russian diplomats, whose travel was supposed to be tracked by the State Department, were going missing.

The diplomats, widely assumed to be intelligence operatives, would eventually turn up in odd places, often in middle-of-nowhere USA. One was found on a beach, nowhere near where he was supposed to be. In one particularly bizarre case, relayed by a US intelligence official, another turned up wandering around in the middle of the desert. Interestingly, both seemed to be lingering where underground fiber-optic cables tend to run.

According to another US intelligence official, "They find these guys driving around in circles in Kansas. It's a pretty aggressive effort."

It's a trend that has led intelligence officials to conclude that the Kremlin is waging a quiet effort to map the United States' telecommunications infrastructure, perhaps preparing for an opportunity to disrupt it. [Read More: Watkins/politico/1June2017]

Life of Spanish Spy Ali Bey Who Posed As Arab Prince Set for Cinema. Adventurer, Orientalist, spy: the story of Spanish explorer Ali Bey Al-Abbassi is to be told on the silver screen for the first time, two centuries after his death.

Born in Catalonia in 1767, Domingo Badia y Leblich posed as an exiled Arab prince and became one of the first Europeans to set foot in Makkah.

Yet despite mixing with the Spanish royal family, Napoleon's top officials and some of the most notable European intellectuals of his age, he has been all but forgotten since he died in 1818.

"It's surprising that no film has yet been made on Ali Bey," Moroccan filmmaker Souheil Ben Barka said during a break on set. The Spaniard "was a seducer. No one could resist him," he said. [Read More: AFP/arabnews/30May2017]

OSS 75th Anniversary. The Office of Strategic Services (OSS) is the precursor of today's CIA. Created on June 13, 1942, just after America's entry into WWII, President Franklin D. Roosevelt appointed William "Wild Bill" Donovan, a highly decorated WWI officer, as Director of the OSS. Donovan organized the OSS to reflect his vision of a national intelligence center, uniquely combining research and analysis, covert operations, counterintelligence, espionage, and technical development.

Today's CIA derives a significant institutional and spiritual legacy from the OSS. In some cases, this legacy descended directly: key personnel, files, funds, procedures, and contacts. In other cases, the legacy is less tangible but no less real: the professionalization of intelligence, the organizational esprit de corps, the essential role of national intelligence in policy-making and war fighting. The CIA owes a debt of gratitude to the OSS and to Donovan, the charismatic leader and moving force behind it.

This month, as we celebrate OSS's 75th anniversary, we will showcase some of the fine women and men who made up America's first intelligence agency. Some stories will be quite familiar to many of you, while others highlight officers whose stories were lost to history only to be rediscovered after digging through the yellowed files of dusty archives. And some characters are famous personalities in their own right, but whose affiliation with OSS may surprise you.

Throughout the month of June, we will highlight a different OSS officer every day. Find links to their stories below. Visit often, as new links will appear daily. [Read More: cia/1June2017]



---
Peace Vigils Not Working after Manchester Terrorism. New Tactic - Blame Trump.
Run, Hide ... Blame Trump. After yet another terror attack, liberals remain angrier about the president's efforts to curtail immigration than about the jihadis in their midst.

The candlelight vigils didn't work. After the Manchester Arena suicide bombing in England last month, liberal pundits suggested "mass vigils" and "community solidarity" as a counterterrorism response. The most important imperative, according to the media intelligentsia, was to signal that the West's commitment to "diversity" and "inclusion" was intact.

Unfortunately, the three Islamic terrorists who used a van and knives to kill another seven civilians and critically injure dozens more in London on Saturday night were unmoved by the "diversity" message. Witnesses described the killers frantically stabbing anyone they could reach, while shouting "This is for Allah"; one witness said that a girl was stabbed up to 15 times.

The "candlelight vigil" counsel has been more muted after this latest attack, though the New York Times has predictably advised the candidates in Britain's upcoming elections not to succumb to "draconian measures" or to do "just what the terrorists want" by undermining democratic values.

The usual "blame the West" strategy did make an appearance, with some politicians and commentators trying to change the subject from Islamic terrorism to alleged right-wing violence in the U.S.
Congressman Adam Smith, from Washington state, reached back to the Oklahoma City bombing to claim that there was a "common thread" of "racism and fear of people who don't look like you" in the "violence on the other side." That right-wing violence would only be exacerbated if President Donald Trump's ideas for fighting terrorism were realized, Smith suggested Sunday on Fox News. Likewise, a spokeswoman from the progressive think tank Demos said that the Trump administration "was tolerating right-wing hate and violence." [Read more: Mac Donald/CityJournal/05June2017 - with thanks to BReeves].

In the Digital Age, Terrorists Have Far More Places to Hide. We learn this morning that MI5 has launched an internal inquiry into how they didn't catch Salman Abedi, the Manchester bomber. He was reported to them five times, apparently, even by his imam - the spooks looked into him, but after a while discontinued their investigation. Perhaps we will learn that there has been an egregious intelligence failure but I doubt it. I suspect that in time, we'll learn every detail about the case of Salman Abedi and it will likely expose the grim realities of counter-terrorism. And also that, as I argued in my most recent Daily Telegraph column, we're about as safe as we're ever likely to get.

Yes, you can say that the signs were all there: the trips to Libya, links to jihadis, the glorifying of suicide attacks and strange behaviour: one of his neighbours said he was flying what looked like the Islamic State flag at his house. The implication is that one phone call to MI5 should have been enough: the spooks should have tapped his phone, hoovered up the evidence then banged him up. But the spying game is very different now, and catching a determined jihadi is one of the toughest tasks that the world of espionage has faced.

Here's an example. Seven years ago, a 25-year-old university dropout - an obvious loser - was caught in Kenya trying to join the terrorists of al-Shabaab. When he got back, MI5 was understandably all over him. For a while, they put a 24/7 watch on him. After two years of obsessive monitoring, they had found absolutely nothing to suggest terrorist intent - he seemed to be a drug dealer, doing his business from phone boxes, but nothing worse. So after shedloads of money and resources, they gave up. A month later, he brought a meat cleaver and killed Drummer Lee Rigby on the streets of Woolwich.

So to say that Michael Adebolajo was 'known' to the security services is a gross understatement: as Jonathan Evans, MI5's then director-general put it, they had thrown the 'kitchen sink' at monitoring him. But they found nothing and, looking back, there was nothing to find: one day he decided to execute a soldier near where he lived. [Read More: Nelson/spectator/30May2017]

Time for the Intelligence Community to Crack Down on Illegal Leaking. "Loose lips sink ships" is as true today as when the phrase was popularized as a slogan by the US Office of War Information during WWII. We are now witnessing a stark reminder of the impact of intelligence leaks on America's efforts to restore its role as a world leader in combating international terrorism.

As Great Britain faces the aftermath of the most significant Islamic terrorist attack since 2005, global security is being put at greater risk due to the unauthorized release of investigative information on the US side of the Atlantic. This leak is, of course, deplorable.

The war on international terrorism rests in large measure on trust between and among intelligence and security partners on a global level. Few American partners are more trustworthy than our British colleagues. The cornerstone and bedrock of that trust rests on the ability to protect sensitive sources of information and the means by which it was collected. In the case of law-enforcement dependencies, the leaking of sensitive information can ultimately result in the unintended but no less significant undermining of a prosecution.

Facing a British threat to curtail sensitive information sharing with American counterparts, a tentative truce has been reached to restore intelligence sharing with the US. It's a tenuous agreement. How devastating to be having this discussion in May 2017 with one of our closest counterterrorism partners - nearly 16 years after 9/11. As we have seen before, there always exists the possibility of finding international ties between a terrorist event and the terrorist(s) - in this case, a 23-year-old named Salman Abedi and an improvised bomb placed just outside the Manchester Arena. [Read More: Shedd/thehill/3June2017]

Who Is Publishing NSA and CIA Secrets, and Why? There's something going on inside the intelligence communities in at least two countries, and we have no idea what it is.

Consider these three data points. One: someone, probably a country's intelligence organization, is dumping massive amounts of cyberattack tools belonging to the NSA onto the Internet. Two: someone else, or maybe the same someone, is doing the same thing to the CIA.

Three: in March, NSA Deputy Director Richard Ledgett described how the NSA penetrated the computer networks of a Russian intelligence agency and was able to monitor them as they attacked the US State Department in 2014. Even more explicitly, a US ally - my guess is the UK - was not only hacking the Russian intelligence agency's computers, but also the surveillance cameras inside their building. "They [the US ally] monitored the [Russian] hackers as they maneuvered inside the US systems and as they walked in and out of the workspace, and were able to see faces, the officials said."

Countries don't often reveal intelligence capabilities: "sources and methods." Because it gives their adversaries important information about what to fix, it's a deliberate decision done with good reason. And it's not just the target country who learns from a reveal. When the US announces that it can see through the cameras inside the buildings of Russia's cyber warriors, other countries immediately check the security of their own cameras. [Read More: Schneler/lawfareblog/27April2017]



---
Section IV - Careers, Research Requests, Obituaries
Online Full-Time Faculty - Strategic Intelligence (Doctoral Faculty) at American Military University/American Public University APU.
Requisition Number: 17-0081; Department: Academics, Post Date: 5/25/2017; Date Closing: Open Until Filled
Synopsis of Role: Doctoral faculty members are scholar practitioners and play key roles in teaching, research, and service. They are united by the common goal of inspiring academic excellence in students with a broad range of interests and experiences. They are key to creating a rewarding online and face-to-face learning experience for students by engaging them, challenging them, and supporting them. They provide the resources for a quality learning experience for students by ensuring coherence in the discipline, rigor in the content, and relevance and currency to the practice. Full-time faculty members contribute to a range of activities that support student learning outcomes, program quality, and discipline integrity, all of which focus on student learning and retention. They work with other departments including instructional technology, library and course materials, and marketing.
Academic Responsibilities and Essential Functions:
•Teaching excellence
•Deliver online and face-to-face lessons to graduate and/or undergraduate students.
•Provide guidance for doctoral student's dissertations by acting as an advisor, dissertation chair, or committee member and as such, provide intensive mentoring and feedback throughout the dissertation process.
•Initiate, facilitate, and moderate online classes.
•Be a faculty leader in your classes by fully embracing the Community of Inquiry Framework of Teaching Presence, Cognitive Presence, and Social Presence.
•Comply with APUS guidelines and expectations for quality faculty engagement online and face-to-face.
•Participate in professional development to enhance teaching skills.
•Work with Director of Doctoral Programs and collaborate with faculty to ensure discipline, program and course continuity, currency, and relevance.
•Update course content and materials and/or delivery methods, based on information such as emerging practice changes in the discipline, instructional effectiveness data, current or future performance requirements, feasibility, and costs.
•Attend school and discipline meetings (monthly or quarterly) on curriculum, content, development of discipline and practice, and APUS expectations.
•Research and Scholarship
•Contribute to advancing the discipline as a scholar and leader.
•Keep abreast of developments in one's own field by reading current literature, engaging with colleagues, and participating in professional organizations and conferences.
•Demonstrate scholarly activity through presentations, publications, and leadership within the disciplinary community.
•Mentor students in research projects, including doctoral dissertations.
•Service
•Contribute to university and school committees for strategic initiatives.
•Contribute service to the discipline, e.g., through roles in professional associations or as journal reviewers.
•Contribute to community outreach and service, especially through our veteran-focused programs.
Required Education and Experience:
•Terminal degree in national security, international relations, homeland security, political science, cyber/security Studies, emergency management, criminal justice with security emphasis, public admin/policy, psychology, or a closely related field from a regionally accredited institution is required.
•Three or more years of experience in a strategic intelligence field is preferred.
•Three or more years of college-level teaching experience is required.
•Online teaching experience is preferred.
•Active research agenda with demonstrated ability to publish and present research is required.
•Proficient in Microsoft Office Suite programs is required.
Preferred Areas of Expertise and Experience: •Strategic Intelligence; •National Security; •Cyber Security; •Threat Analysis; •Terrorism; •Law Enforcement; •Psychology.
Work Environment and Physical Demands: •Remote/Online; •Requires attendance at meetings in Charles Town, WV, VA, or DC; •Sitting, extensive use of keyboard.
Provide material on Hexagon KH-9 for new blog.
A blog about the Hexagon KH-9 spy satellite seeks your input. The website was created by Phil Pressel, author of the 2013 book "Meeting the Challenge: The Hexagon KH-9 Reconnaissance Satellite" (Amer Inst of Aeronautics, 2013). He covers the importance of the program in keeping the peace during the cold war and seeks more imagery photos that Hexagon took of Soviet assets. Inputs to the blog are welcomed and should be sent to phil.pressel@gmail.com.
Neal T. Robinson, Brig Gen, USAF(Ret), 65, former senior USAF, DIA, and NSA officer, died 27 May 2017 of cancer. Robinson was born in Bermuda, settled in Kansas, and was appointed to the USAF Academy in 1970, graduating in 1974 and retiring in June 2005 after 31 years of service. Following graduation, he became an intelligence officer serving in South Korea, Iran, Panama, Italy and Germany. During the 04 November 1979 overthrow of the Shah and ensuing US hostage crisis, Robinson and a few others were singled out for release after only 16 days because of the Iranian student's solidarity with other "oppressed minorities" [thirteen women and African-Americans were released on 19 and 20 November]. The remaining 52 hostages were held until January 1981, 444 days of captivity. He did multiple tours in the Pentagon, Texas, and Maryland. Robinson was head of intelligence for European Command during the Kosovo War. He is remembered by his many DIA colleagues from when he was an analyst with the Middle East/North Africa Division, Current Intelligence Directorate (J2), Defense Intelligence Agency, Washington, D.C. from June 1983 - June 1986. Following his Air Force career he served with Oracle Corporation. Robinson had a strong background in cryptology and was an early and key player in getting the new National Cryptologic Museum off the ground. He was a member of AFIO.
Upon his military retirement, he lived in the countryside outside Berryville, Virginia, where he had dogs, cats, deer, geese, bluebirds, opossums and a ground hog.
Gen. Robinson is survived by his wife Patricia (Pat) Robinson (nee Mosley), his sisters, and other family. A public memorial service will be held noon Saturday, 17 June 2017, at Christ Church, Millwood, Virginia, and burial will be at Arlington Cemetery at a future date.
Gary Bryan Bisson, 80, lawyer and federal contractor, died 25 May 2017 of pancreatic cancer. Bisson graduated from the University of New Hampshire and George Washington University Law School, with degrees in law (JD) and government contracting (LLM). For 50 years he worked as a lawyer for the Federal Government and with organizations serving U.S. interests here and abroad: the Library of Congress during law school; the Smithsonian Institution; CIA's proprietary corporation, Air America; USAID/Washington and overseas in Kenya, Swaziland, and Indonesia. One of the first two Assistant General Counsels for the Smithsonian, he wrote the legislation creating the Hirshhorn, the Air and Space Museum, and the Portrait Gallery. With Air America in Taipei and Bangkok 1968-1974, Gary negotiated and administered military and civilian contracts throughout Southeast Asia and was instrumental in closing down the entire Asian operation prior to the fall of Saigon. His records and files are in the University of Texas's Eugene McDermott Library History of Aviation Collection in Dallas. Gary completed his Federal service with 20 years in the USAID General Counsel's office, specializing in contracts and grants, cooperative agreements, and claims resolution. Memorable assignments included drafting the Kissinger-directed Executive Order for, and serving as attorney with, the Sinai peacekeeping mission Procurement Task Force (which ultimately led to the creation of the MFO, an independent international peacekeeping organization), negotiating a U.S.-South Pacific Tuna Treaty, and drafting/negotiating economic agreements for the first U.S. assistance programs in Cambodia, Mongolia, Mozambique and Fiji. By the end of his career, his passports reflected residence or work in 37 different countries. He retired in 1994 as a Department of State Senior Foreign Service officer with the rank of Counselor. He was in private practice in Arlington until 2006, advising clients in development law and Federal contracting. He was a member of professional societies, including AFIO.
For the past 10 years, he had served as Corporate Secretary and on the Board of an international health care non-profit based in Augusta, ME.
He is survived by his wife, Ellen (Knowles), and two sons.
Alistair Horne, 91, a British historian whose prizewinning works included a gripping account of the battle of Verdun and a keen analysis of the French-Algerian war that President George W. Bush read closely for insights into the American war in Iraq, died on Thursday at his home in Turville, Buckinghamshire, England. He was 91.
The death was confirmed by Dr. Sigurd Berven, a son-in-law.
Mr. Horne, a onetime foreign correspondent for The Daily Telegraph and a spy for MI6, Britain's foreign intelligence service, was known for his ability to translate complex source material into vivid narratives, filled with sharp-edged portraits and memorable anecdotes. He was best known for a trilogy that recounted the decades-long conflict between France and Germany, beginning with the Franco-Prussian War in 1870-71.
The first, The Price of Glory: Verdun 1916, published in 1962, won the Hawthornden Prize a year later. It was followed by The Fall of Paris: The Siege and the Commune, 1870-71 (1965) and To Lose a Battle: France 1940 (1969), on the collapse of the French Army at the beginning of World War II. [Read More: Grimes/nytimes/30May2017]
---
AFIO EDUCATIONAL EVENTS IN COMING TWO MONTHS....
21 June 2017 (Wednesday), 11:30am - San Francisco, CA - The AFIO San Francisco Chapter hosts CMDR Waldron.
TOPIC: Cmdr. Matthew J. Waldron, a dual career path afloat operations and intelligence officer, will discuss how the Coast Guard Intelligence program coordinates with the national law enforcement and intelligence communities to support and drive Coast Guard operations in the counter drug and homeland security missions.
WHERE: Basque Cultural Center, 599 Railroad Ave, South San Francisco, CA 94080. 11:30AM no host cocktail; meeting and luncheon at noon.
RSVP: At this link. Reservation and pre-payment is required before 13 June 2017. The venue cannot accommodate walk-ins. Contact: Mariko Kawaguchi, Board Secretary at afiosf@aol.com or Mariko Kawaguchi, c/o AFIO, PO Box 117578, Burlingame, CA 94011.
Thursday, 22 June 2017 6:30 PM - West Bloomfield Hills, MI - AFIO "Johnny Micheal Spann Memorial Chapter" Michigan hosts author, former senior CIA Officer Frederick Harrison.
Fred Harrison is the author of seven novels dealing with contemporary Intelligence challenges. He is also Director of NortonNet, a large professional networking organization focusing on the Defense and Intelligence communities. Until retiring from Government service, Harrison was a member of CIA's Senior Intelligence Service, assigned as Acting Director of the Intelligence Systems Secretariat (ISS), co-sponsored by the Director of Central Intelligence (DCI) and the Deputy Secretary of Defense. The ISS mission was to expand intelligence systems interoperability across the US Government. He was a senior member of the IC Management Staff, and is a recipient of the CIA Career Medal. He resides in the Washington, DC metro area. RSVP afio.secretary@afiomichigan.org
Wednesday, 13 September 2017 - New York, NY - The NY Metro Chapter Meeting features Carol Rollie Flynn, former CIA Officer, with tentative topic "Intelligence and National Security."

Note new date. A 30-year veteran of CIA, Carol Rollie Flynn held senior executive positions including Director of the CIA's Leadership Academy, Associate Deputy Director of the National Counterterrorism Center (NCTC), Director of the Office of Foreign Intelligence Relationships, Executive Director of the CIA Counterterrorism Center (CTC), and Chief of Station in major posts in Southeast Asia and Latin America. She has extensive experience in overseas intelligence operations, security, and counterintelligence as well as expertise in designing and delivering advanced education and training to adult learners. Ms. Flynn is also an adjunct Professor at Georgetown University's McCourt School of Public Policy and Edmund A. Walsh School of Foreign Service/Security Studies Program and a visiting faculty member at Wellesley College's Madeleine Albright Institute and the Fordham University Graduate School of Business. She serves as Adjunct Staff at Rand Corporation and is a senior affiliate at the Center for Strategic and International Studies (CSIS). A member of the Council on Foreign Relations and the International Coach Federation, Ms. Flynn has a Bachelor of Arts degree from Wellesley College, a Masters of Science in Cyber Security from University of Maryland, University College, and has completed executive leadership programs at Duke University and the Kellogg School of Management at Northwestern University. She is an Associate Certified Coach through the International Coach Federation.
Location: Society of Illustrators, 128 E 63rd St, New York, NY 10065. RSVP Chapter President Jerry Goodwin at afiometro@gmail.com or call 646-717-3776.
Registration has opened. 28 - 29 September 2017 - Tysons Corner, VA - AFIO's 2017 National Intelligence Symposium
"Succeeding in the Open – The Future of GEOINT" at the National Geospatial-Intelligence Agency and "Active Measures - A Global Threat" at the Doubletree-Hilton are the themes for the AFIO-NGA 2017 National Intelligence Symposium being held at NGA and DoubleTree-Hilton, Tysons Corner, VA
Tentative Agenda: • Opening Remarks by AFIO President; • NGA Overview and Q&A; • Video Presentation; • NGA Leadership Remarks (D/NGA or DD) - Includes GEOINT Strategy and Functional Management; • Lunch (with museum tours, NGA store, and group photo). Presentations/Panels on: • KH 8 Declassification; • Pathfinder (unclassified research to solve intel problems); • Commercial GEOINT Activity; and • the Small Satellite Revolution.

Arrive Wednesday evening, 27 September to overnight at the hotel to be ready early Thursday, 28 September, for coach service to NGA for all day conference including visit to their new museum. Welcome by NGA Director Robert Cardillo. Friday activities TBA. Tentative agenda is here and will be updated frequently. Friday evening is our "Spies in Black Ties" banquet.
Hotel: DoubleTree-Hilton, Tysons Corner, VA [formerly the Crowne Plaza], at 1960 Chain Bridge Rd, McLean, VA 22102. Details, event registration and hotel room registration links to be sent to all current members in coming weeks. Early phone-only room registrations can be made at 1-800-HILTONS at $119/nite.

Registration for SYMPOSIUM 2017 has just opened. Register securely ONLINE now to ensure a place.
Or use this Registration Packet. Contains the formal invitation, tentative agenda, and off-line registration form to complete and return by fax or US Mail.
---
Wednesday, 14 June 2017, noon - Washington, DC - Allies vs. Axis: Roosevelt, Churchill, Hitler, and Atomic Espionage with Ray Batvinis - at the International Spy Museum
Join former FBI special agent Raymond J. Batvinis, author of Hoover's Secret War Against Axis Spies, as he tells a remarkable story of counterintelligence, German atomic espionage efforts, FBI-British wartime relations, and radio deception conducted during the most critical part of the Second World War. Hoover's Secret War Against Axis Spies will be available for sale and signing at the event. Event is free. Visit www.spymuseum.org.
Wednesday, 14 June 2017, 7:30 to 8:45 pm - McLean, VA - iWar: War and Peace in the Information Age by Bill Gertz at the Westminster Institute
Covert information warfare is being waged against the United States by world powers and rogue states-such as Russia, China, Iran, and North Korea-and even terrorist groups like ISIS. This conflict has been designed to defeat and ultimately destroy America.This new type of warfare is part of the Information Age that has come to dominate contemporary life. In his new book iWar, Bill Gertz describes how technology has completely revolutionized modern warfare, how the Obama administration failed to meet this challenge, and what we can and must do to catch up and triumph in this struggle. (iWar will be available for purchase and signing.)
Bill Gertz is an award-winning national security journalist and author of seven books, including Breakdown: How America's Intelligence Failures Led to September 11 and The China Threat: How the People's Republic Targets America. He is currently senior editor of The Washington Free Beacon, an online news outlet, and national security columnist for The Washington Times. Gertz has an international reputation. Vyachaslav Trubnikov, head of the Russian Foreign Intelligence Service, once called him a "tool of the CIA" after he wrote an article exposing Russian intelligence operations in the Balkans. A senior CIA official once threatened to have a cruise missile fired at his desk at The Washington Times after he wrote a column critical of the CIA's analysis of China. China's communist government also has criticized him for his news reports exposing China's weapons and missile sales to rogues states.
Where: Westminster Institute, 6729 Curran St, McLean, VA 22101. Register here.
Friday, 16 June 2017, 5:30 to 7:30pm - Washington, DC - Spy Fiction Writer's Workshop with Melissa Mahle - at the International Spy Museum
The shadow world of spying has captured the imagination of authors for centuries. Join this unique writing workshop for young spies led by Melissa Mahle, former CIA intelligence officer and author of Anatolia Steppe: Lost in Petra and Camp Secret. Learn from her hands-on work in disguise, surveillance, and spy gadgetry and be the one to develop a plot and storyline that grips readers' attention and quickens their pulses. Ages: 9-14. Tickets for the general public: $30, tickets for Spy Museum Inner Circle Members: $25. Dinner included. Visit www.spymuseum.org.
20 June 2017, 10 am to 1 pm - Annapolis Junction, MD - NCMF 2017 Summer Cryptologic Program features David Priess on The President's Daily Brief. Special NSA/NCMF WWI Panel Discussions on "Decoding The Great War" and Presentations of the new WWI Exhibit takes place.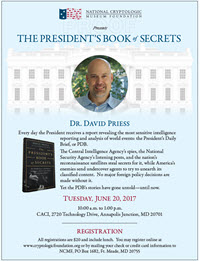 Program features Dr. David Priess, former CIA Intelligence Officer and author of the bestseller The President's Book of Secrets. This National Cryptologic Museum Foundation event can be signed up for here
Where: CACI, Inc. located at 2720 Technology Drive, Annapolis Junction, MD 20701, Tel 301-575-3200. Directions and Map here. Click "directions" to get driving guidance.
RSVP NOW: register online here or mail registration fee of only $20 to NCMF, PO Box 1682, Fort George G. Meade, MD 20755-9998. Please register prior to 23 March to ensure space available. Click image at left for larger version of announcement.
Also on 20 June, following the Priess presentation above, NSA's Center for Cryptologic History joins the Museum to host a WWI Panel Discussion: Decoding The Great War and Presentation of the new World War One Exhibit at the National Cryptologic Museum.
Presentations and speakers are:
Presentation 1: 1305 - World War I as an Intelligence Revolution, Michael Warner, Command Historian, US Cyber Command.
Presentation 2: 1325 - An Ear to the Air and an Ear to the Ground: Radio Intelligence in the American Expeditionary Forces, 1917-1918, Betsy Rohaly Smoot, Historian, Center for Cryptologic History, NSA.
Presentation 3: 1345 - Native American Code Talkers: the Secret Weapon of World War I, Dr. Steve Huffman, Retired Research Analyst, NSA. Q&A: 1345 - 1400 1405 - 1430: Presentation of World War 1 Display - Betsy Rohaly Smoot. For details on each of the presentations and speakers, or to register for one or both of these NSA/NCMF Events, use this link.
20 June 2017, 1130 am - 2 pm - McLean, VA - the Defense Intelligence Forum (DIF/DIAA) hosts John L. Moore on "The Middle East."
Mr. John L. Moore will speak on "The Middle East." From 1968 thru 2000, John Moore was an analyst, senior analyst, manager and senior executive on the Middle East for DIA. From 1984 thru 1992, he was the chief of the Middle East and Africa Division and from 1992 thru December 2000 when he retired, John served as the Defense Intelligence Officer for the Middle East, South Asia and Terrorism. Mr. Moore worked as a Middle East consultant from 2000 thru 2002 where he appeared as the first non-lawyer to brief the international Court of Justice (World Court). From 2003 thru 2012, John was a consultant on the Middle East for DIA; the last five years he served as the Senior Mentor in the Middle East office. John was twice awarded the National Distinguished Service Medal (1991 and 2000) and was twice awarded the DIA Exceptional Civilian Service Medal (1984 and 1997). John was a 1965 graduate of LaSalle University and a 1978 graduate of the US Army Was College. Attribution for this presentation will be provided at the beginning of the presentation to ensure a complete understanding of how the presented information should be handled.
To attend: Make reservations by 20 June 2017 by email to diforum@diaalumni.org. Include names, telephone numbers, and email addresses. For each attendee, choose among chicken parmesan, trout lemone, lasagna, grilled sausage with sweet peppers, fettuccini with portabella, manicotti with spinach and ricotta, or cannelloni alla Bolognese for your luncheon selection. Please provide your luncheon selection with your reservation to reduce the wait time for your food. Pay at the door with a check for $ 30 per person, payable to DIAA, Inc. Check is preferred, but will accept cash; however, credit card payments are discouraged.
Location: Pulcinella Restaurant, 6852 Old Dominion Drive, McLean, VA.
Tuesday, 20 June 2017, 6:30pm - Washington, DC - Espionage Act of 1917 at 100 - at the International Spy Museum
Come hear a panel of distinguished experts including Johns Hopkins University senior lecturer, Dr. Mark Stout, and national security lawyer, Mark S. Zaid, discuss the past, present and future use of the Espionage Act, including such topics as whether journalists should have reason to fear being prosecuted for disclosing classified information, and what protections whistleblowers might or should have in the 21st century. Tickets for the general public: $12, tickets for Spy Museum Inner Circle Members: $10. Visit www.spymuseum.org.
Saturday, 24 June 2017, 5 - 8 pm - Dumfries, VA - OSS 75th Anniversary Celebration Dinner and Presentation
Prince William Forest Park which served as Area A and Area C training facility for the wartime Office of Strategic Services is c0-hosting with The OSS Society, a 75th anniversary celebration featuring historian/author Patrick O'Donnell reflecting on the historical legacy of the OSS.
Dinner will be served at 5 p.m. followed by O'Donnell's presentation at 7 p.m. Eastern National Bookstore, a cooperating partner with the National Park Service, is providing dinner for free to all OSS veterans and their spouses. For nonveteran attendees, dinner will be $12 per person paid at time of dinner. The meal will be catered by Mission BBQ.
Location: OSS Theater at Prince William Forest Park, 16675 Pleasant Road, Dumfries, VA 22025
RSVP: by 14 June 2017 to Chris Alford at chris_alford@nps.gov or 703-221-7183
Monday, 26 June 2017, noon-1:30pm - Washington, DC - A Conversation on North Korea with Michael Morell and Ambassador DeTrani - at the International Spy Museum
Attend a luncheon and receive an insider's perspective on North Korea with former CIA Deputy Director Michael Morell and Ambassador Joseph DeTrani. Few places on earth remain as mysterious and forbidding as North Korea. With the escalation of events in the North Korean relations, hear from two experts who have played integral roles in our nation's security and can provide current insight on the secretive nation. RSVP by June 19. Tickets: $129+. Visit www.spymuseum.org.
27-28 June 2017 - Los Angeles, CA - USC Center for Risk and Economic Analysis of Terrorism Event (CREATE-TSA) Symposium on "Innovations in Transportation Security."
The USC Center for Risk and Economic Analysis of Terrorism Events (CREATE) and the Transportation Security Administration (TSA) will come together for a two-day symposium to examine Innovations in Transportation Security. The agenda for the CREATE-TSA Symposium at the University of Southern California (USC) is available here. The invite-only event will discuss numerous relevant topics including Public Response to Crisis, Deterrence: Demotivating Terrorism, Cyber Security Threats to Transportation and Recent Airport Attacks: Lessons Learned. There will also be several keynote speakers and a panel discussion with former TSA Administrators Admiral James Loy, John W. Magaw, Peter Neffenger and John S. Pistole. Space is limited, if you have not yet registered we encourage you to do so before before the May 30, 2017 deadline.
REGISTRATION: The registration fee for the event is $300 ($150 for government employees), and includes breakfast and lunch on both days and a reception on the evening of June 27th. To register please follow this link. Code: usccreate (lowercase). The deadline to register is May 30, 2017.
HOTEL: We currently have a limited number of hotel rooms available at a discounted rate of $169 at the nearby Radisson Hotel. Reservations can be made either online here or by calling 800.333.3333. Use reservation code 17TSA7. Please note the code is only valid for June 26-28, 2017. The last date to make a reservation at the discounted rate is 25 May 2017. If you would like to stay at the hotel earlier or after these dates, please make reservations through the hotel directly at 213.748.4141.
24 August 2017, 8 am - 2 pm - Alexandria, VA - Analytic Objectivity Symposium by OSD/DI
The Office of the Under Secretary of Defense for Intelligence is hosting an Analytic Objectivity Symposium with panelists representing business, judiciary, intelligence, medicine, finance & academic research. Featured speakers include: Judge James A Wynn Jr., U.S. Court of Appeals for Fourth Circuit, Ret Capt, USN; Dr. Mark Lowenthal, Former Assistant Director of Central Intelligence for Analysis & Production; Bob Woodward, Senior Editor, Washington Post, Author; and Jeffrey Ballou, President, National Press Club. Location: The Mark Center, 4800 Mark Center Dr., Alexandria, VA 22311. Information and Registration: contact Kevin Riehle, Defense Analysis & Partnership Engagement Directorate, OUSD(I), at 703-571-2404 or at kevin.p.riehle.civ@mail.mil
25 September 2017 - Bethesda, MD - HOLD THE DATE for the PenFed Foundation Military Heroes Golf Classic.
Join the PenFed Foundation for the 14th Annual Military Heroes Golf Classic on 25 September 2017, at the world-renowned Congressional Country Club, host to five major championships, three U.S. Opens and a PGA Championship, in Bethesda, MD. As you enjoy a round of golf, know that your support will help the Foundation meet the unmet needs of our Military, Veterans, and their families. Their grants help ensure that those who have bravely served our country will not struggle to pay necessary bills, purchase a home, or get the treatment and support they need. Their 2017 Sponsorship Opportunities are now available. Download the sponsorship packet here. If you are interested in securing a sponsorship or participating in the tournament,* please call 703-838-1302 or visit PenFedFoundation.org.
18 October 2017, 9 am - 3 pm - Laurel, MD - NCMF General Meeting & Symposium: "How Cyber has Changed the World Around Us."
SAVE THE DATE. Information coming in July. Details will be at www.cryptologicfoundation.org.
Event location: The Kossiakoff Center, Johns Hopkins University/Applied Physics Laboratory.
19 - 20 October 2017 - Laurel, MD - 16th NSA/CSS Center for Cryptologic History Symposium: "Milestones, Memories, and Momentum."
SAVE THE DATE. Information forthcoming. This symposium will be followed on 21 October 2017 with tours and workshops at the National Cryptologic Museum.
Location: Kossiakoff Conference Center, Johns Hopkins Applied Physics Laboratory, Laurel, Maryland.
For more about the program, visit www.nsa.gov
The theme for the 2017 Symposium will be "Milestones, Memories, and Momentum." There are many milestones to mark in 2017: the 160th anniversary of the first attempt to span the Atlantic with a telegraph cable, 100 years since both the entry of the United States into World War I and the Russian October Revolution, and 75 years after the World War II battles of Coral Sea and Midway. The Symposium will take place just a few months before the 50th anniversary of the Tet Offensive in Vietnam, and during the 25th year after the fall of the Soviet Union and the end of the Cold War.
Costs: Registration costs for 2017 have not yet been set, but for planning purposes the costs for 2015 were as follows: $70/day ($140 for 2 days, no cost for the museum visit); $35/day ($70 for 2 days) for full-time students with ID. The fee includes lunch and snacks. In the past we have been able to waive the fees for non-government speakers on the day they present their paper. We hope to have final registration costs available at the time you are notified about the status of your proposal. See details here. Questions to Program Chair Betsy Rohaly Smoot at history@nsa.gov or to her care at The Center for Cryptologic History, Suite 6886, 9800 Savage Road, Fort George G. Meade, MD 20755.
21 October 2017 - Washington, DC - The OSS Society Holds the Donovan Awards Dinner honoring Dr. Michael G. Vickers
Invitations will be mailed shortly to The OSS Society's 2017 William J. Donovan Awards Dinner honoring Dr. Michael G. Vickers. The event, by invitation only, takes place at The Ritz Carlton Hotel, Washington, DC.
---
Weekly Intelligence Notes (WINs) are commentaries on Intelligence and related national security matters, based on open media sources, selected, interpreted, edited and produced for non-profit educational uses by members and WIN subscribers.
REMOVAL INSTRUCTIONS: We do not wish to add clutter to inboxes. To discontinue receiving the WINs:
a) IF YOU ARE A MEMBER - click here: UNSUBSCRIBE and supply your full name and email address where you receive the WINs. Click SEND, you will be removed from list. If this link doesn't open a blank email, create one on your own and send to afio@afio.com with the words: REMOVE FROM WINs as the subject, and provide your full name and email address where you are currently receiving them.
b) IF YOU ARE NOT A MEMBER, and you received this message, someone forwarded this newsletter to you [contrary to AFIO policies]. Forward to afio@afio.com the entire WIN or message you received and we will remove the sender from our membership and distribution lists. The problem will be solved for both of us.
CONTENTS of this WIN [HTML version recipients - Click title to jump to story or section, Click Article Title to return to Contents. This feature does not work for Plaintext Edition or for some AOL recipients]. If you wish to change to HTML format, let us know at afio@afio.com. The HTML feature also does not work for those who access their e-mail using web mail...however NON-HTML recipients may view the latest edition each week in HTML at this link: https://www.afio.com/pages/currentwin.htm
---
WINs are protected by copyright laws and intellectual property laws, and may not be reproduced or re-sent without specific permission from the Producer. Opinions expressed in the WINs are solely those of the editor's) or author's) listed with each article. AFIO Members Support the AFIO Mission - sponsor new members! CHECK THE AFIO WEBSITE at www.afio.com for back issues of the WINs, information about AFIO, conference agenda and registrations materials, and membership applications and much more!
(c) 2000, 2012, 2013, 2014, 2015, 2016, 2017. Please note AFIO's new address: AFIO, 7700 Leesburg Pike Suite 324, Falls Church, Virginia 22043. Voice: (703) 790-0320; Fax: (703) 991-1278; Email: afio@afio.com
Click here to return to top.