AFIO Weekly Intelligence Notes #46-13 dated 10 December 2013

[Editors' Note: The WIN editors attempt to include a wide range of articles and commentary in the Weekly Notes to inform and educate our readers. However, the views expressed in the articles are purely those of the authors, and in no way reflect support or endorsement from the WIN editors or the AFIO officers and staff. We welcome comments from the WIN readers on any and all articles and commentary.]
If you are having difficulties with the links or viewing this newsletter when it arrives by email, members may view the latest edition each week at this link: https://www.afio.com/pages/currentwin.htm You will need your LOGIN NAME and your PASSWORD.

REMOVAL INSTRUCTIONS: We do not wish to add clutter to inboxes. To discontinue receiving the WINs, click here.

CONTENTS

Section I - INTELLIGENCE HIGHLIGHTS

Section II - CONTEXT & PRECEDENCE

Section IV - Books and Television, Obituaries, Research Requests and Coming Events

Coming Educational Events

Current Calendar for Next Two Months ONLY

1 - 3 May 2014 - Tysons Corner, VA - AFIO-NGA 2014 3-day Intelligence Symposium. Preliminary details here. Hotel registrations currently available.

For Additional Events two+ months or more.... view our online Calendar of Events

---

Mission: Holiday Shopping - and Two Places For The Stealthiest Gifts

Option 1: The Spy Museum Spy Store

'Tis the season for gifting, and The Spy Store has something for every Agent on your list! The Spy Store will be hosting an evening, in-the-store-only exclusive shopping opportunity - Thursday, December 12th from 6-8 PM. AFIO members are invited to enjoy a discount of 35% on all purchases, as well as light refreshments for keeping sharp while meeting your contact.



Happy Holidays, hope to SPY again with you soon!

---

Option 2: CIA's EAA Online Gift Shop

All AFIO members, when they join, have the option to also join the EAA to shop at CIA's in-house employee gift shop. If you have not yet done so and are not a current member of EAA, it might be too late for the process in the few weeks left. For those who joined EAA, here are just a few of their hundreds of discreetly logo'd holiday items...

---

AFIO Chairman Spike Bowman appeared in two recent conferences available here on video.
The Nature of Domestic Terrorist Threats
held Nov 25, 2013 by the Potomac Institute for Policy Studies.
International Organized Crime and National Security held Nov 1, 2013
sponsored by the American Bar Association.
---
Section I - INTELLIGENCE HIGHLIGHTS
Chinese Firm Deemed Espionage Threat Paid U.S. Intelligence Adviser. A longtime adviser to the U.S. Director of National Intelligence has resigned after the government learned he has worked since 2010 as a paid consultant for Huawei Technologies Ltd., the Chinese technology company the U.S. has condemned as an espionage threat, The Associated Press has learned.

Theodore H. Moran, a respected expert on China's international investment and professor at Georgetown University, had served since 2007 as adviser to the intelligence director's advisory panel on foreign investment in the United States. Moran also was an adviser to the National Intelligence Council, a group of 18 senior analysts and policy experts who provide U.S. spy agencies with judgments on important international issues.

Moran, who had a security clearance granting him access to sensitive materials, was forced to withdraw from those roles after Republican Rep. Frank Wolf complained in September to the intelligence director, James Clapper, that Moran's work on an international advisory council for Huawei "compromises his ability to advise your office."

"It is inconceivable how someone serving on Huawei's board would also be allowed to advise the intelligence community on foreign investments in the U.S.," Wolf wrote. [Read more: AP/6December2013]

Swiss Journalists Follow Spy Chief. Journalists from a Swiss magazine turned the tables on the head of the country's intelligence services by following his movements and compiling a dossier of personal information in protest over the spying agency's activities.

Reporters from Wochenzeitung discovered the address of Markus Seiler, head of the Swiss Federal Intelligence Agency, staked out his home and even found his tax returns and salary information.

Published in a special edition of the magazine and embellished with the prose of a spy novel, none of the information was controversial or damaging but it was collated to highlight the allegedly "inept" control of the agency.

"Twenty years ago we had a huge surveillance problem when it turned out that a quarter of the population was being watched, and now we have realised the old ways are returning," Stefan Howald, a senior journalist from Wochenzeitung told The Telegraph. "The political control of the service is inept.

"So we thought it would be interesting to spy on the spy chief," he continued. [Read more: Day/TheTelegraph/6December2013]
Leader of Danish Intelligence Agency Quits. Jakob Scharf, the head of the Danish domestic intelligence agency PET, will step down in the New Year.

In a press release this afternoon, Scharf said the secretive organisation had faced difficult internal challenges that were his responsibility to resolve.

"Some of the media focus has attempted to create doubt and mistrust in relation to me and my management of PET," he said. "This not only limits my ability to lead, but also has a negative impact on PET and the common goal of developing the organisation."

Ekstra Bladet tabloid recently revealed how Scharf asked his staff to illegally look into the calendar of MP Pia Kjærsgaard (DF), and that PET staff had resigned due to a lack of faith in his leadership abilities.

"Out of consideration for PET, I have decided that the only right move would be to step aside and let a new leader of PET make the necessary changes," Scharf said, adding that over the next few weeks he would discuss his future work with the Justice Ministry. [Read more: CopenhagenPost/3December2013]

Newest CIA Museum Artifact Honors Fallen Agency Officer. Last month, the CIA commemorated the 12th anniversary of Agency officer Johnny Micheal (Mike) Spann's death by unveiling a "Camp Mike Spann" sign, the newest artifact in the CIA Museum. Spann deployed to Afghanistan with the first group of Americans in response to the Sept. 11, 2001 terrorist attacks and was the first American killed in combat in Operation Enduring Freedom. He is represented by the 79th star on the CIA Memorial Wall.

The sign was presented to the CIA Museum by an Agency officer and his colleague. After seeing the CIA Museum's exhibit on CIA's role in Afghanistan, the officer wanted to preserve the sign so that it wasn't lost in the drawdown of U.S. Forces in Afghanistan. As the sign was dedicated, the Agency officer noted, "We are just a couple of regular guys trying to save a piece of wood with an American hero's name on it."

"Many of our CIA heroes must remain anonymous outside the Agency family, but Mike Spann quickly became a symbol of the nation's resolve in the wake of the 9/11 attacks," CIA Director John Brennan observed in a message to the workforce on Nov. 25, 2013. [Read more: CIA/5December2013]
Nonprofit Status May Accompany Spy Museum Project at Carnegie Library. An act of beneficence by the founder of the International Spy Museum could convert the now-profitable museum to a nonprofit and give it to the District, while also transforming the nearby historic Carnegie Library into the vibrant visitor destination that city officials have been trying to create in Mount Vernon Square for years.

"I'm 84," Milton Maltz, CEO of the company that owns the Spy Museum, told the National Capital Planning Commission last month. "I had to do something. My kids are absolutely not interested, and I didn't want to sell it to Disney."

So, Maltz said, he decided to seek 501(c)3 status for the museum and "give it to the community. That's the story," the self-effacing executive told the planning commission. Maltz and Events DC, which runs sports and entertainment venues for the city, are seeking support for their ambitious proposal to expand the iconic building, formerly the city's central library. The project would create a new home for the Spy Museum, as well as a D.C. Visitors' Center, cafe and retail space, and renovated quarters for the Historical Society of Washington, D.C., which has been struggling since 1999 to attract visitors.

The surprising joint proposal has been making the rounds of various review agencies for about a month and a half now, and it appears to be picking up support. [Read more: Weiner/GeorgetownCurrent/4December2013]


French Surveillance Bill to Expand Intelligence-Gathering Powers; Critics Say it Goes Too Far. The French government, which was among the most vocal critics of U.S. spying practices, is now coming under fire for trying to expand its own digital surveillance capabilities.

A law making its way through parliament would give French intelligence services access to telephone and Internet usage data that would let them locate and follow a target of a terrorism investigation in real time. The law also expands the number of agents allowed to access this information to include those from the finance and budget ministries.

In addition, the law would give agents access not just to metadata about users from website hosts but allow them to seize content stored on websites and in clouds. In at least some cases, agents could request information not just to combat terrorism but also to fight industrial espionage.

Critics say the law expands the government's power without also expanding the checks on that power. They claim it could dissuade digital businesses from setting up in France.

Both houses have already passed the bill but in different versions. The Senate was examining it again Tuesday in an attempt to reconcile the differences. [Read more: DiLorenzo/AP/10December2013]

Navy to Review Port Contracts in Light of Bribery Scandal. Secretary of the Navy Ray Mabus has ordered a review of how husbanding and port service contracts are handled after the recent corruption and bribery scandal ensnared a handful of high-ranking officers.

In a Dec. 5 memo, Mabus instructed Assistant Secretary of the Navy for Research, Development and Acquisition Sean Stackley to review "all acquisition strategies" worldwide and determine whether proper procedures are being followed. He also told the Navy auditor general to audit the contracts to improve internal controls.

Husbanding and port service contracts assist Navy ships and sailors when they pull into a foreign port and include everything from goods and services such as fuel or docking, to water and sanitation. Mabus' memo is in addition to guidance laid out in September after investigations by the Naval Criminal Investigative Service and audits by the Naval Audit Service raised concerns.

"This review will ensure we have the proper procedures and policies in place to ensure we live up to our responsibility to the American taxpayer," Mabus said in a Navy statement released Monday. "This is a responsibility I take seriously, and we will take the necessary steps to ensure we do not violate their trust." [Read more: Cavagnaro/StarsandStripes/10Dcember2013]
Congressional Gold Medals Sponsored for Several WWII Groups. Congress has sought to pay tribute to World War II groups before it's too late, awarding congressional gold medals to the dwindling members of such groups as the First Special Service Force, a U.S.-Canadian commando unit depicted in the movie The Devil's Brigade, and the first black Marines, known as the Montford Point Marines, and to former members of the Office of Strategic Services. Now, a perhaps lesser known World War II-era group has been proposed to receive the congressional gold medal: the Monuments Men, charged with tracking down and sending Nazi art loot back to the countries from which it was taken. Rep. Kay Granger (R-Texas) has introduced legislation to award Congress' highest civilian honor to the group, originally about 350 men -- and women. Only five survive. Calling their work "one of the greatest untold stories from World War II," Granger said, "I don't believe it can be overstated how significant the contributions of the Monuments Men are to the preservation of many of the world's most remarkable pieces of art." [Read more: Simon/LATimes/09December2013]. To urge your member of Congress to support The OSS Congressional Gold Medal Act do so for the two separate bills here: House bill and Senate bill. To support The Monuments Men Recognition Act do so for the House bill here.
Director Brennan Speaks at OSS Society Donovan Awards Dinner. This fall, CIA Director John O. Brennan joined Office of Strategic Services (OSS) alumni, government representatives, military officers, and OSS Society members for the presentation of the William J. Donovan Award. The Donovan Award - named for the founder of OSS, the CIA's predecessor organization - is given to a person who forwards the interests of freedom and exemplifies the spirit and tradition of General "Wild Bill" Donovan. This year's recipient of the Donovan Award was Admiral William H. McRaven, USN.

Admiral McRaven is the ninth commander of the United States Special Operations Command and served from 2008-2011 as the 11th commander of Joint Special Operations Command. He has led at every level within the special operations community and helped establish the curriculum for special operations at the Naval Postgraduate School.

During his remarks, Director Brennan spoke about the continued relevance of the OSS. "After the OSS was dissolved in 1945, intelligence and special operations diverged," he said. "But recent history has reversed that divergence as this nation's response to the attacks of 9/11 brought the two main branches back together again. Intelligence officers and special operators were once again working hand-in-hand to take the fight to our adversaries."

In introducing Admiral McRaven, Director Brennan remarked, "It is hard to think of a more worthy heir to the legacy of the OSS. There can be no question that our country is safer today because of the service of Admiral McRaven." [Read more: CIA.gov/221November2013]
---
Section II - CONTEXT & PRECEDENCE
One of CIA's Anti-Terrorism Efforts Called 'Colossal Flop'. Several years ago, a senior officer in the CIA clandestine service attended a closed-door conference for overseas operatives. Speakers included case officers who were working in the manner Hollywood usually portrays spies - out on their own.

Most CIA officers abroad pose as U.S. diplomats. But those given what's called non-official cover are known as NOCs, pronounced "knocks," and they typically pose as business executives. At the forum, the NOCs spoke of their cover jobs, their false identities and measures taken to protect them. Few said much about gathering intelligence.

A colleague passed a caustic note to the senior officer. "Lots of business," it read. "Little espionage."

Twelve years after the CIA began a major push to get its operatives out of embassy cubicles and into foreign universities, businesses and other local perches to collect intelligence on terrorists and rogue nations, the effort has been a disappointment, current and former U.S. officials say. Along with other parts of the CIA, the budget of the so-called Global Deployment Initiative, which covers the NOC program, is now being cut.

"It was a colossal flop," a former senior CIA official said in sentiments echoed by a dozen former colleagues, most of whom spoke on condition of anonymity to discuss a classified program. [Read more: Dilanian/LATimes/8December2013]

Former CIA Officer From Massachusetts Wins Agency's Top Heroism Award for Long Captivity in China. A CIA officer who was captured during the Korean War and held for 20 years by the Chinese gave plenty of names and physical descriptions when they asked him to name his colleagues - but the names and descriptions all belonged to the Boston University football team, the CIA said.

Richard Fecteau, who was from Massachusetts, last month was given the Distinguished Intelligence Cross, the agency's highest honor for valor, the CIA announced in a statement. John Downey, who was captured with Fecteau, also received the honor. [Read more: Finucane/BostonGlobe/5December2013]

For Your Spies Only: Beethoven and Numbers on Korean Shortwave. As a scratchy rendition of Beethoven's Piano Sonata No 8 fades into a sea of shortwave radio static, a robotic female voice starts speaking in Korean.

"Number 1913, number 1913, incoming message," the voice says, before reading out seemingly random sets of numbers.

"68360, 75336, 80861, 94409, 03815," it continues in an eerily authoritative tone.

The broadcast, a method of sending one-way secret messages to spies, dates back to the French Resistance in World War Two and is still in use on the Korean peninsula, where human intelligence remains the most important way of gathering information.

Blanket electronic surveillance and satellite imagery offer only limited penetration in isolated North Korea, where the use of mobile phones and the Internet is far below global standards. But reliance on antiquated methods and human sources has meant that the National Intelligence Service (NIS), South Korea's spy agency, has a patchy record on finding out what is going on in nuclear-armed and unpredictable North Korea, with which it is still technically at war.

The agency may have scored a coup last week, however, by informing the world that Jang Song Thaek, the powerful uncle of North Korean leader Kim Jong Un, had been removed from his positions. [Read more: Pearson&Park/Reuters/8December2013]
Unmasked: Area 51's Biggest, Stealthiest Spy Drone Yet. The drone that spied on bin Laden and on Iran's nukes was just the start. Meet its bigger, higher-flying, stealthier cousin, the Northrop Grumman RQ-180. It's probably been flying for a few years now, but you weren't supposed to know that; the existence of this secret project, based out of Area 51, was revealed Friday by Aviation Week.

The existence of the RQ-180 has been long rumored. Cryptic public statements by U.S. Air Force officials indicated a secret high-altitude reconnaissance drone, and Northrop officials frequently reference the broad strokes of the program. For that matter, it is likely not the only classified unmanned aerial vehicle, or UAV. Other companies, including Lockheed and Boeing, also have a stable of smaller secretaircraft.

The RQ-180 is likely flying from the secret Air Force test facility at Groom Lake, Nevada, widely known as Area 51. Its exact specifications, including such crucial details as the number of engines, is unknown, but Aviation Week suggests a wingspan of over 130 feet, based on hangar construction at Northrop's Palmdale, California facility. The number of aircraft built is also unknown; however, a flight test program, relatively quick entry into service and open budget documents suggest a small fleet are flying routinely.

One such aircraft is Lockheed's RQ-170, first shown to the world in grainy pictures from Kandahar air base, Afghanistan, but only officially acknowledged after one crashed almost-intact in Iran. The RQ-170 was (and maybe still is) tasked by the CIA to spy on Iran's contentious nuclear program. [Read more: Rosenberg/ForeignPolicy/6December2013]

Museum Details Secret Role of Japanese Americans in WWII Effort. A museum at the Presidio has just opened to tell the story of a top-secret U.S. Army program to train Japanese Americans as interpreters and intelligence personnel in the war against Japan.

The Military Intelligence Service School started only five weeks before the Japanese attack on Pearl Harbor on Dec. 7, 1941, and the new museum is on the school's site. The program was kept quiet for more than a quarter of a century after World War II ended in 1945.

"It is an American story," said Rosalyn Tonai, executive director of the National Japanese American Historical Society.

Their story was not only secret, it was also poignant, because while the Presidio Japanese school was still in session, the families of all persons of Japanese descent were being locked up in internment camps.

Fifty-eight of the 60 students in the first class of the linguist school were Nisei, or second-generation Japanese Americans, and while they were doing secret work for their country as soldiers in the U.S. Army, their families were behind barbed wire.

The work was secret because the Japanese military often sent uncoded messages, never dreaming that Americans could read their complex language. [Read more: Nolte/SFGate/6December2013]
The 'Spy Camera' That Takes 3D Photos in Almost Complete Darkness by Measuring Photon Particles in the Air. Spies operating under the cover of darkness might find that their job is about to get easier as U.S. scientists have developed a camera that can take photographs of objects and people that are only very dimly lit.

The camera works by reconstructing 3D images from photons reflected from barely visible objects.

The technology could be used in next generation spy cameras or to treat eyes that are easily damaged by bright light.

Researchers from MIT have managed to create sharp images of dimly lit objects using photons, which are elementary particles that are not composed of smaller particles.

Using mathematics, they stitched together information gleaned from the tiny particles of light, which were recorded by a solid-state detector in the camera. [Read more: Griffiths/DailyMail/29November2013]
---
A Shot From the Dark. By far the world's fastest torpedo, Russia's rocket-powered VA-111 Shkval (Squall) can slice through the sea for more than 11km at a speed above 370 kilometres per hour. It packs a 210kg warhead and cannot be dodged or stopped by the West's big warships. Christopher Harmer, a commander in the US Navy until 2011, says vessels must therefore remain beyond the Shkval's "pretty nasty range", or strike the enemy above or below water quickly enough to prevent a launch.

No wonder, he says, that the West tries to keep tabs on each model which leaves its manufacturer, Dastan Engineering, a Russian-owned enterprise in Kyrgyzstan. That is hard: unlike big strategic missiles, the Shkval, 8.2 metres (27 feet) long, fits in an ordinary lorry. The resources used to monitor these facilities cannot be revealed, says a former Western naval chief. But, he adds, given the Shkval's power, "Why wouldn't you choose everything you had?"

The tracking of Shkval exports is but one part of a broad and increasing effort by the West to track a class of "showstopper" weapons that are both rare and easy to hide. Russia and other countries have stepped up the lucrative export of advanced weapons, especially missiles, designed with an eye to constraining rival Western forces, says Tor Bukkvoll, head of the Russia programme at Norway's Defence Research Establishment, a defence-ministry body. Such "area denial" munitions allow an attack to be launched without the giveaway of first having to amass troops or hardware.

These weapons can be user-friendly enough even for non-state groups. On July 14th 2006 Hizbullah militants in Lebanon hit an Israeli corvette more than 15km offshore with an Iranian-made C-802 anti-ship missile, killing four sailors and severely damaging the warship. If Israel had known that Hizbullah possessed this weapon, the corvette's automated countermeasure systems would not have been switched to standby and the attack would have failed, says Alex Tal, a former head of Israel's navy.

The subsonic C-802 is not even particularly formidable. [Read more: TheEconomist/30November2013]
---
Section IV - Books and Television, Obituaries, Research Requests and Coming Events
---
Spy Camp: Photos From East Germany's Secret Intelligence Files. Like most government agencies, the NSA lacks a sense of humor; instead, it has paranoia, which can be unintentionally comic. Case in point: The agency's recent cease-and-desist letter to Dan McCall, an online vendor whose parody t-shirts raised NSA hackles. The agency, along with the Department of Homeland Security, cites copyright infringement - it's illegal to appropriate the NSA logo for commercial use (especially after it's been "mutilated"). Depending on your mood, the crackdown on satire is either disproportionate enough to be amusing, or totalitarian enough to be, well, totalitarianism.

Simon Menner's new photobook, Top Secret: Images from the Stasi Archive, reminds us that the difference between terror and kitsch is mostly one of proximity. Per the book's subtitle, the images were culled from the vast archives of East Germany's secret police, the Stasi, which spied on, bugged, interrogated, intimidated, murdered, and otherwise bullied its citizenry for 40 years. According to Simon Wiesenthal, the Holocaust survivor turned Nazi-hunter, the Stasi was "much, much worse than the Gestapo, if you consider only the oppression of its own people."

Indeed, the numbers are staggering: When the Berlin Wall fell in 1989, Stasi records show that it had 91,000 employees on the payroll, along with around 173,000 unofficial collaborators. Given East Germany's population of 17 million, this amounts to one informer per 6.5 citizens - or, as author John O. Koehler more viscerally puts it, "It would not have been unreasonable to assume that at least one Stasi informer was present in any party of 10 or 12 dinner guests." In Koehler's book Stasi: The Untold Story of the East German Secret Police, former Stasi Colonel Rainer Wiegand estimated that the total number of informers was as high as two million.

Think about what that means. [Read more: Lybarger/MotherJones/7December2013]
Book Review: Blinking Red, by Michael Allen. A central assumption behind the Obama administration's approach to the Iranian nuclear program is that the U.S. would be able to detect the mullahs crossing the nuclear threshold. Yet the U.S. was caught off guard by the Soviet bomb in 1949, by China's bomb in 1964, by Iraq's weaponization progress in 1991 and by Syria's plutonium-production facility in 2007. This history should temper confidence in Washington's ability to divine the most closely held secrets of its adversaries. So should America's most significant early-21st-century intelligence failures: our inability to "connect the dots" before al Qaeda's 9/11 attack and our belief in 2003 that Saddam Hussein still had stockpiles of chemical and biological weapons.

In the wake of those failures, the U.S. government attempted a reform of the intelligence community, and it is this that Michael Allen - a Bush administration and Capitol Hill veteran who participated in the effort as a White House liaison to Congress - chronicles in Blinking Red. Mr. Allen focuses on the second half of 2004, as Congress and the Bush administration wrestled over the recommendations of the bipartisan 9/11 Commission. The recommendations appeared on the eve of the Democratic and Republican national conventions - timed to produce "a bidding war between the presidential candidates," as Mr. Allen notes. ( John Kerry promised an "emergency security summit" if he won the election and the recommendations hadn't become law.)

The commission's priority was to promote communication and collaboration among the U.S. intelligence community's 15 separate agencies - from the CIA and the FBI to the eight separate intelligence shops within the Defense Department. There was notoriously little cooperation among the agencies, and some commissioners considered unifying them under a new Department of Intelligence. Ultimately they dropped the idea, not wanting to reprise the chaotic creation of the Department of Homeland Security in 2003, which had involved merging 22 federal agencies overseen by some 100 different congressional committees.

Instead, the commission recommended creating a new Director of National Intelligence to coordinate the various agencies and serve as "principal intelligence advisor to the president." [Read more: Feith/WallStreetJournal/9December2013]

The Assets: Series Premiere Thursday January 2 10|9c. The Assets is an eight-part miniseries based on the real life events of CIA counter-intelligence officer Sandy Grimes (Jodie Whittaker). 1985 serves as the backdrop to the final showdown of the Cold War when Sandy and her partner Jeanne Vertefeuille (Harriet Walter) vowed to find the mole that would turn out to be the most notorious traitor in US History, Aldrich Ames (Paul Rhys). Sandy is in a race against time to save the Soviet intelligence officers from being caught and killed. Living her own double life at home, this beautiful wife and mother vowed to stop at nothing until she uncovered the truth. The Assets will look inside the true, personal stories of the conclusion of the Cold War as told by the keepers of the nation's secrets: the CIA.

The Assets stars Paul Rhys (Borgia) as Aldrich Ames, Jodie Whittaker (Venus) as Sandy Grimes, Harriet Walter (Babel) as Jeanne Vertefeuille, Stuart Milligan (Jonathan Creek) as Paul Redmond, Julian Ovenden (Downton Abbey) as Gary Grimes, Christina Cole (Casino Royale) as Louisa, and Ralph Brown (Withnail and I) as Lawrence Winston.

The Assets is based on the book Circle of Treason: A CIA Account of Traitor Aldrich Ames and the Men He Betrayed by Sandy Grimes and Jeanne Vertefeuille. Morgan Hertzan, Rudy Bednar and Andrew Chapman executive produce the series. The Assets is produced by Lincoln Square Productions. [Read more: Brown/ABC/4December2013]
Book Dedicated to Vartanyan Family of Intelligence Agents Published. The next volume of the Russian-language book series "Outstanding Lives" titled "Vartanyan" is dedicated to the prominent Armenian intelligence agents Gevork amd Gohar Vartanians. As reports "Armenpress" citing Russian-Armenian periodical Yerkramas, the presentation of the book authored by the deputy editor-in-chief of Rossiyskaya Gazeta Nikolai Dolgopolov was held in the building of the Foreign Intelligence Service of the Russian Federation.

Rossiyskaya Gazeta deputy editor-in-chief Nikolai Dolgopolov presented the new book about the Soviet spy team of Gevork and Goar Vartanyan advancing the 70th anniversary of the Tehran Conference. Dolgopolov previous books, which came out in the "Outstanding Lives" series of the Molodaya Gvardiya publishing house, have become bestsellers. They were devoted to Colonel Abel (Fischer) and Kim Philby.

Gevork Vartanian was born to Armenian parents in Nor Nakhichevan, USSR. His father was a Soviet intelligence agent as well who was sent to Persia in 1930, where he worked for 23 years under a cover of a wealthy merchant. Gevork Vartanian was not even 16 when he went into intelligence. In 1955, he graduated from the Institute of Foreign Languages, Yerevan. He is primarily responsible for thwarting Operation Long Jump, concocted by Adolf Hitler, headed by Ernst Kaltenbrunner, and led by Otto Skorzeny, which was an attempt to assassinate Stalin, Churchill, and Roosevelt at the Tehran conference in 1943.

In 1942, Adolf Hitler decided to set the operation in motion. After careful planning and deliberation under the personal supervision of Security Police Chief Ernst Kaltenbrunner, Hitler sent his special commando agent, Otto Skorzeny, along with six other men to rendezvous at Tehran and spearhead the operation. The plan entailed the capture and/or assassination of Josef Stalin, Winston Churchill, and Franklin Roosevelt.

The first tip-off about the planned attempt came from Soviet intelligence agent Nikolai Kuznetsov, under the alias of WehrmachtOberleutnant Paul Siebert, from Nazi-occupied Ukraine. [Read more: ArmenianPress/10December2013]

Book Review: American Spies. As a bibliophile who devours several lineal feet of books on espionage and intelligence each month, both for review and for pleasure, I find it delightful to encounter a volume written by a professional who has walked the ground about which he writes. Michael J. Sulick spent 28 years with the CIA, including stints as chief of counterintelligence and then head of covert operations of the clandestine service.

His book deals with Americans who spied for our adversaries since the end of the Cold War. Albeit scholarly, it brims with details of spying that make for enjoyable reading. In a series of case studies, he focuses on the fundamental elements of espionage: the motivations that drove Americans to spying; their access and the secret they betrayed; the tradecraft of the foreign services that controlled them; the punishment meted out when they were caught; and the damage inflicted on our national security.

Mr. Sulick drives home, again and again, an important point: The demise of the old Soviet Union did not mark the end of spying against the United States (even by the old USSR, for that matter: one of Vladimir Putin's first statements upon becoming president of Russia was that "the potential of the special services will not just be maintained, but increased.") Thus, we suffered the treason of superspies Aldrich Ames of the CIA and Robert Hanssen of the FBI. The Russians were not alone, though. In 2007, John Brenner, then the head of the National Counterintelligence Executive estimated that about 140 foreign intelligence services sought to penetrate the United States or U.S. organizations abroad. By 2010, Mr. Brenner wrote, "Chinese espionage had eclipsed Russian spying in the United States."

Fortunately, a congressional mandate in 1995 forced the CIA and the FBI to end their longtime hostility and work together on counterespionage. As Mr. Sulick illustrates, their cooperation was essential to unraveling many major cases. [Read more: Goulden/WashingtonTimes/26November2013]
---
Gardner R. [Gus] Hathaway. Gardner R. Hathaway, a former CIA chief of counterintelligence whose nearly four-decade career with the agency took him to Cold War focal points ranging from Berlin to Moscow and placed him at the center of many espionage episodes, died Nov. 20 at the Vitas hospice in Vienna, Va. He was 88.

The cause was complications from cancer, said his wife, Karin Hathaway.

"Gus" Hathaway was an undercover officer known for his mastery of espionage tradecraft and his aggressive efforts to best the Soviet KGB.

Hathaway convinced superiors at agency headquarters in Langley to approve an operation in 1978 involving a Russian engineer named Adolf Tolkachev. The episode provided the CIA with a huge amount of sensitive intelligence on the Soviet military for a nearly a decade.

One celebrated incident in Hathaway's career took place soon after he arrived in Moscow as the CIA station chief in 1977. When a fire broke out on the U.S. embassy's eighth floor, Hathaway barred arriving firefighters from entering the CIA station located on the floor below the blaze. He suspected some of the firemen were KGB agents, and refused to evacuate until the fire was contained.

Hathaway was awarded the prestigious Intelligence Star for his actions, with a citation noting that he had protected sensitive areas from penetration "at great personal risk."

Gardner Rugg Hathaway was born in Norfolk on March 13, 1925. He was 2 when his father died, and he grew up in Danville, Va., with his mother and stepfather.

He served in the Army in Europe during World War II and was wounded in the leg by mortar shrapnel. After his discharge, he enrolled at the University of Virginia and joined the CIA a year after graduation in 1950.

He worked in Frankfurt, Germany, and then Berlin as a case officer. He later served in South America before arriving in Moscow as chief of station in 1977.

At the time, the CIA was reticent about running operations in the Soviet capital. Two CIA operations in Moscow recently had been discovered by the KGB, and the new CIA director, Adm. Stansfield Turner, ordered the station not to undertake any operations.

Tolkachev, a military electronics expert, had approached the Americans several times, leaving notes trying to establish contact.

Senior CIA officials were wary, fearing it was a KGB-run provocation that could flush out American agents and sabotage hopes for improving bilateral relations between the United States and the Soviet Union.

Hathaway, who was approached by Tolkachev on a Moscow street, argued it was worth the risk.

He won approval, and the result was one of the most productive operations the CIA ever had. The stream of information continued until 1985, when rogue officer Edward Lee Howard informed the Soviets about the breach. Tolkachev was arrested and executed the following year.

Hathaway was determined to protect such agents, believing none should ever be caught because of mistakes by American handlers.

"Gus never had an operation rolled up (compromised) because of bad tradecraft," said Barry Royden, a former senior counterintelligence officer. [WashingtonPost/29November2013]

Harritte T. Thompson. Harritte T. Thompson began her CIA career in 1952, serving in CIA clandestine operations for 38 years, died December 1, 2013 in Greer, S.C. Throughout 38 years of service to the Agency and the Directorate of Operations she was known for exceptional leadership, integrity, and exemplary achievement as an innovator and manager in the field of operations and resource management. Initially she served in management positions; in the Directorate of Operations East Asia Division. There she was the principle innovator of an East Asia Operation Evaluation and resource management system responsive to the congressional requirements. In 1977 she joined the Directorate senior evaluation and resource management staff to assist in the implementation of the system worldwide. She became Directorate Comptroller, Chief of the Staff in 1985 until her retirement in 1989. She represented Directorate equities and resource interests with senior Agency officials, Congress, the Office of Budget and Management and the Intelligence Community. She had the reputation of being tough but fair and her leadership style was one of respect, consideration and kindness. She was referred to, at times, as the Iron Lady. She traveled to more than 36 countries meeting with agency and agency counterparts to enhance Agency activities. She was a valued advisor to generations of senior operations officers, a trusted partner to Oversight Committees and a seasoned teacher to foreign liaison officers. At her retirement in 1989, she was one of only two women in the Directorate of Operations to receive the Distinguished Intelligence Medal and attain super grade status. She spent an additional year as a consultant to the Office of the Director. In September 2001, a Chair was dedicated to her for Operations Evaluation and Resource Management in a ceremony shared with the Dedication of a Chair to Allen Dulles for Intelligence. At that time she was the only woman to receive this honor. She joined only four others so honored, all DCJS, including former Directors George H. W. Bush and Richard Helms. A native of S.C., she and her late husband, G. Gates Thompson, settled in Greer, S.C. in 1991. There she was active in community service programs and the Camellia Garden Club, serving as its President from 2001-2003. She was a life member of the Order of the Eastern Star. Mrs. Thompson was the daughter of the late Mr. and Mrs. C.F. Thomas. She is survived by one sister, Charlene Shealy of Greer; Martha Pettit and Julia Dobson predeceased her. After a Memorial service at 2 p.m. Saturday at the Memorial United Methodist Church, with visitation following the service at the church, she will be interred with her husband, a WWII US Marine Veteran, in Arlington National Cemetery. Online condolences may be at www.thewoodmortuary.com. [WashingtonPost/5December2013]

William Stevenson, 89, Dies; Author With Ties to Spies. William Stevenson, a journalist and author who drew on his close ties with intelligence sources to write two best-selling books in the 1970s, "A Man Called Intrepid" and "90 Minutes at Entebbe," which he dashed off in a room at the Algonquin Hotel in New York, died on Nov. 26 in Toronto. He was 89.

His death was confirmed by his son, Andrew.

Mr. Stevenson, who was born in London and whose father worked at Bletchley Park, the British headquarters for code breakers during World War II, spent much of his career straddling the worlds of espionage and journalism. Some saw a conflict. He called both pursuits "spycraft."

"A Man Called Intrepid," published in 1976, was an admiring portrait of Sir William Stephenson, the masterly Canadian-born intelligence operative who had deep connections to Winston Churchill and Franklin D. Roosevelt during World War II and continued providing information to both Britain and the United States for many years afterward. The author and his subject had similar names and similar interests, and the book grew out of the unusual relationship they developed.

Mr. Stevenson, a pilot who flew for the British during World War II, fashioned himself into a foreign correspondent for The Toronto Star after the war. But he never really stopped serving the British government. While in Canada, he met Mr. Stephenson the spy, who at times suggested world hot spots where Mr. Stevenson the writer might cover a story and also forward him intelligence via telegrams.

"He would then through his own transmission systems send them on to London with his own observations," the writer recalled this year in a Canadian radio interview. [Read more: Yardley/NYTimes/1December2013]

General Paul Aussaresses: French Intelligence Officer Who Went from National Hero to Villain. General Paul Aussaresses was an intelligence chief whose revelations of torture and murder in Algeria shocked his country.

Aussaresses, who has died aged 95, scandalised France and disgraced himself when, in 2000, he revealed that he had participated in summary executions and acts of torture during the Algerian War of Independence.

The revelations, made when Aussaresses was 82, could hardly be called confessions, because they were not accompanied by any sign of remorse. On the contrary, Aussaresses noted that if confronted by the same situation again "it would piss me off, but I would do the same".

For France, however, the news was deeply shocking, throwing into sharp relief long-buried concerns about its forces' behaviour in its former colony, as well its treatment of Algerian allies afterwards. Aussaresses assured his countrymen that the future President François Mitterrand, then justice minister, had been kept scrupulously informed of every detail of what was happening in Algiers. "He knew," Aussaresses noted. "Everyone knew."

Jacques Chirac, president at the time of the publication of Aussaresses's book, Services Spéciaux: Algérie 1955-57 (2001), declared himself "horrified" by its tales of murder, beatings, electrocution and waterboarding, and called for the "full truth" to come out. But the truth was worse than most people imagined.

Aussaresses described hanging Larbi Ben M'Hidi, a leader of the Algerian militant FLN, then making it look like suicide. [Read more: Independent/7December2013]
---
Research and Support Requests
[IMPORTANT: AFIO does not "vet" or endorse these research inquiries or job offers. Reasonable-sounding inquiries and career offerings are published as a service to our members, and for researchers, educators, and subscribers. You are urged to exercise your usual caution and good judgment when responding or supplying any information.]
Paying Off Cold War Betrayal. The CIA/NARA release of documents under the Nazi War Crimes Disclosure Act included a strange tale of the Agency paying two Albanian ethnic brothers $40,000 in Autumn, 1996, presumably for their father's work 40 years earlier. A question accompanies the story: was the payment a matter of the CIA upholding its honor, buying off the brothers for some reason, or maybe a change in institutional values?

It seems fit to ask AFIO members and affiliates for their thoughts on this topic. Did the Code of Conduct taught to U.S. military personnel captured in the 1950s - name, rank and serial number only - apply to non-U.S. agents sent covertly behind the Iron Curtain, where some were captured, eventually tried and even executed as spies. The $40,000 payment was apparently for work done by a man who betrayed the CIA officers who ran him, and worse, five of his colleagues, all of whom were shot or hung while his death sentence was commuted; he was freed 25 years later, allowed to rejoin his family in Yugoslavia

While the CIA allowed disclosure of many details of this case scattered among files declassified under the NWCDA, the Agency keeps the lid on some pertinent details, such as when the agent died and whether payments such as the $40,000 were regular Agency policy either in the 1950s or the 1990s. A month after $25,000 of the $40,000 was paid to one of the sons, an unnamed CIA officer sent a list of 128 Albanian names to Headquarters, warning that some or all of them might seek compensation for participation in 1950s covert projects known as BGFIEND or CHARITY. There are rumors that some of those agents or their families were paid off - including one of the men hung because of the betrayal cited above. Ironically, the list of names included that of the traitor for whom the $40,000 was paid and stated his operation's cryptonym and that he had been executed.

The Agency is known to employ native Afghanis and other nationalities in Afghanistan as it did non-Americans in Iraq. A betrayal generally similar to the one outlined herein cost the lives of seven CIA officers at a Khost Province operating base in 2009. It is plain that being a traitor continually threatens CIA personnel or those they may hire on as allies.

This requester is a retired journalist who has been researching the BGFIEND/CHAIRITY projects since the 1980s. While it released many fascinating records under the NWCDA, CIA archival custodians continue to keep a lid on information that has long outworn its usefulness, probably even concerns about 1950s sources and methods, given the nature of disclosures chosen in these and other cases.

Comments would be very welcome, especially regarding the three suggested rationales (or others that may come to mind) for paying off the sons of the traitor who cost five colleagues their lives, while saving his own. Is there sympathy for such men (or women) in the aftermath? Would it be that the sins of the father are not visited on the sons?

Thanks much for your help and guidance. Tom McNiff, email: woodeewood@yahoo.com
Financial Backers Sought for Back to the Shadows - a documentary about heroic CIA officer
Back to the Shadows: A CIA officer's Story is the story of Richard (Dick) Holm, one of the CIA's most well-respected and highly-decorated officers. Dick Holm built a career on knowing his country's enemies. He didn't simply know who they were; he grew to know them intimately. He dined with them and met their families. As an officer in the CIA's National Clandestine Service, that was his job. His career began with a plane crash in the Congo that left severely burned, immobilized, vulnerable, and blind. Despite his injuries, Dick went on to achieve legendary status within the Agency. He served under 13 directors on 5 continents over the course of 35 years. Forming the agency's Counter Terrorism Center and providing crucial operations management in the capture and arrest of Carlos the Jackal are just a few of his accomplishments. Dick believes that preserving classified information is paramount to a successful operation but asks the question - should secrets remain undisclosed to the public? How does transparency affect our National Security in the 21st Century? In 2014, Dick will go back to the Congolese jungle to thank the villagers who saved his life. Along the way, he'll tell us about his life, family and career inside the CIA.
Director: Jill Bozhkov, Billy D. Marchese Producer: Lydia Ash, Jill Bozhkov, Billy D. Marchese, Lisa Tauscher
But the documentary will not be completed until crowdsourcing/financial backers step forward to see that this patriotic story of heroism gets told. To make a tax-deductible charitable donation of support, or for additional information, follow this link.
---
EDUCATIONAL EVENTS IN COMING TWO MONTHS....
MANY more International Spy Museum Events in 2014 with full details are listed on the AFIO Website at www.afio.com.
Tuesday, 14 January 2014, 9 am - noon - Washington, DC - The National Archives National Declassification Center (NDC), in partnership with the Central Intelligence Agency's (CIA) Historical Review Program, will host a free symposium to tell the story of the people of Berlin and their struggle for freedom. "A City Divided: Life and Death in the Shadow of the Wall"
The event, from 9 a.m. to noon, takes place in the William G. McGowan Theater of the National Archives Building in Washington, DC. The symposium is open to the public (reserve a seat by emailing: NDC@nara.gov) and the press.
The symposium will highlight newly published and released declassified documents that reveal East and West Berliners' struggle for life and death in the shadow of the wall. The documents detail many aspects of their lives, focusing on the resolve of the human spirit for freedom and equality.
With his iconic speech on June 26, 1963, President John F. Kennedy united the citizens of Berlin with the United States by stating that he too was a Berliner. Twenty-four years later, President Ronald Reagan declared in Berlin that "I do not come here to lament. For I find in Berlin a message of hope, even in the shadow of this wall, a message of triumph."
On January 14, we will release 11,000 pages of newly declassified documents on various topics and activities on Berlin from 1962 to 1986 - the years between these two famous speeches by American Presidents. Symposium attendees will receive a free publication and DVD compilation of approximately 1,324 documents, and an additional 1,140 documents will be posted online at http://www.archives.gov/research/foreign-policy/cold-war/ The DVD of the documents which accompanied the program booklet can be viewed here.
Speakers:
National Declassification Center - Sheryl Shenberger
Archivist of the United States - David S. Ferriero
Director, Information Management Services, CIA - Joseph Lambert
National Declassification Center - Neil Carmichael
Historian at the George Washington University and the Woodrow Wilson Center - Dr. Hope Harrison
Woodrow Wilson International Center for Scholars - Dr. Christian F. Ostermann
Central Intelligence Agency - Dr. Donald P. Steury
The National Archives Building is located on the National Mall at Constitution Ave. and 7th Street, NW, and is fully accessible. Metro: Yellow and Green lines, Archives/Navy Memorial/Penn Quarter station. Attendees should use the Special Events entrance on 7th and Constitution Ave, NW.

For more information: Directions; Visitor's Map; William G. McGowan Theater; Lawrence F. O'Brien Gallery. More about the conference is here.

Please email all inquiries to ndc@nara.gov

15 January 2014, 3 - 5pm - Washington, DC - CIA and The CWIHP at The Wilson Center present "Assessing Warsaw Pact Military Forces: The Role of CIA Clandestine Reporting"

This event has been rescheduled for January 15, 2014. "CIA Analysis of Warsaw Pact Military Forces: The Importance of Clandestine Reporting" examines the role of intelligence derived from clandestine human sources in the Central Intelligence Agency's analyses of Warsaw Pact military capabilities for war in Europe from 1955 to 1985. The intelligence was provided to US policymakers and military planners and used to assess the political and military balance in Central Europe between the Warsaw Pact and NATO during the Cold War. The speakers, who were analysts of Soviet military affairs during much of the period, were selected by the CIA to mine its archives for relevant material, previously highly classified, and to provide the documents in coherent form for their study and for public release. The release features a large collection of internal Warsaw Pact classified documents obtained clandestinely during the period and translated and disseminated to senior policymakers by CIA.

Joan Bird will provide a brief overview of the released CIA documents, while John Bird will engage in an in-depth review of the substance of CIA analyses of Warsaw Pact Forces.

Mark Kramer, director of the Cold War Studies Program at Harvard University, and Barry Watts, Adjunct Professor, Center for Security Studies, Georgetown University, and a Senior Fellow at the Center for Strategic and Budgetary Assessments, will join the panel as commentators. A. Ross Johnson, Senior Scholar at the Wilson Center, will chair the event.

This meeting is a sequel to an April 5, 2011, Wilson Center event, "Warsaw Pact: Wartime Statutes—Instruments of Soviet Control," which focused on the mechanisms of Soviet control over its Warsaw Pact allies, based on an earlier CIA release of Warsaw Pact documents also obtained clandestinely.

A. Ross Johnson is senior scholar at the Wilson Center and visiting fellow at the Hoover Institution. He was director of Radio Free Europe from 1988 to 1991 and a senior executive of RFE/RL until 2002. From 1969 to 1988 he was a senior staff member of the RAND Corporation. His publications on the Warsaw Pact include East European Military Establishments: The Warsaw Pact Northern Tier, Crane Russak & Co., 1982 (co-authored); East European Military Reliability; An Émigré-Based Assessment, The RAND Corporation, R-3480, October 1986 (co-authored); and East European Armed Forces and Soviet Military Planning; Factors of Change, RAND Corporation, N-2856-AF, 1989. He is a graduate of Stanford University, the Fletcher School of Law and Diplomacy, and Columbia University.

Joan Bird, one of the co-authors of this study, had a 29 year career at CIA as a senior analyst of Soviet issues, including Soviet space activities, Soviet policies on potential space weapons, and arms control of space and defense issues. She spent three years as the senior intelligence representative on the Defense and Space negotiating team and a year supporting the US delegation to the UN Conference on Disarmament on arms control for space. In addition she was assigned to the Center for Naval Warfare Studies at the Naval War College developing ways to incorporate intelligence, space, communications and information operations in their studies and war games. Since retirement she has worked for the US Army and Navy in developing the information and space issues as examined in their war games. She is a co-author of several historical studies for the Historical Collections Division of CIA

John Bird, one of the co-authors of this study, had a 32 year career as an analyst of Soviet Military issues at CIA. Among his many assignments within the CIA, he served as Deputy National Intelligence Officer for General Purpose Forces, Director of the Strategic Warning Staff and later as the National Intelligence Officer for Warning. He was chief of the Intelligence Community's monitoring authority for all US arms control treaties and agreements. He was also assigned to other US Government departments as his expertise was requested. Since retiring from government service he nevertheless continued as an adviser and consultant to the Naval War college, the US Army's Training and Doctrine Command and other US military organizations. His latest efforts have been devoted to the release of significant CIA Cold War documents and the co-authoring of several historical studies for the Historical Collections Division of CIA.

Mark Kramer is director of the Cold War Studies Program at Harvard University and a senior fellow of Harvard's Davis Center for Russian and Eurasian Studies. He is the editor of Journal of Cold war Studies. He has taught at Harvard, Yale, and Brown Universities and was formerly an Academy Scholar in Harvard's Academy of International and Area Studies and a Rhodes Scholar at Oxford University

Barry Watts is Adjunct Professor, Center for Security Studies, Georgetown University, and a Senior Fellow at the Center for Strategic and Budgetary Assessments where he focuses on net assessment, airpower and the emergence of guided munitions, Air Force transformation, and the military use of space. From May 2001 – June 2002, he was the Director of Program Analysis and Evaluation in the Office of the Secretary of Defense. Mr. Watts has also held the position of Director of Northrop Grumman Analysis Center at Northrop Grumman.

Location: 5th Floor, Woodrow Wilson Center. No fee to attend. RSVP here. Further information.

01 February 2014 - Orange Park, FL - The AFIO North Florida Chapter hosts meeting featuring AFIO National President, Gene Poteat

We have moved the date of our February 2014 meeting from the 8th to the 1st to accomodate a very special guest speaker and his tight travel schedule in Florida. AFIO President S. Eugene Poteat, LLD, will do us the honor of a visit on that occasion, so we hope you will be able to attend. Gene is a retired CIA Senior Scientific Intelligence Officer. He was educated as an Electrical Engineer and physicist, and holds masters degrees in National Security and Intelligence Studies from the Institute of World Politics graduate school in Washington, where he now lectures on technology, intelligence and national security. He began his career with the Bell Telephone Laboratories in New Jersey and Cape Canaveral, Florida. His early CIA career included work on the U-2 and SR- 71 class of airplanes and various space systems. His CIA assignments included the Directorate of Science and Technology, the National Reconnaissance Office,Technical Director of the Navy's Special Programs Office and Executive Director of the Intelligence Research and Development Council. He served abroad in London, Scandinavia, and the Middle East. He frequently writes and speaks on intelligence and national security topics.
Event location: The Country Club of Orange Park. Please RSVP to qbegonia@comcast.net Cost will be $16 each, pay the Country Club at the luncheon.

11 February 2014 - MacDill AFB, FL - The AFIO Suncoast chapter welcomes AFIO President Gene Poteat

AFIO National President Gene Poteat is honoring us with a return visit and presentation, subject to be announced. We may also have a special surprise guest. Stay tuned!
Questions or reservations to Michael F. Shapiro at mfshapiro@att.net

12 March 2014 - Laurel, MD - The National Cryptologic Museum Foundation hosts the Spring Program featuring Jim Ohlsen of NSA's Office of Counterintelligence

The guest speaker is Jim Ohlson. Jim is a retired FBI Special Agent with over 28 years of service to the FBI, primarily in the counterintelligence and counterterrorism programs. Early in his career he studied Arabic at the Defense Language Institute and then put the language to use in the Bureau's New York Field Office. He spent over 14 years in the New York Office working counterterrorism, counterintelligence and directing FBI support to the National Foreign Intelligence programs for the U.S. Intelligence Community. Following that assignment Jim was awarded the DCI's National Intelligence Distinguished Service Medal. Jim retired from FBI Headquarters as the Security Program Manager. In 13 years since leaving the FBI, he has worked with the Center for Public Justice, the Office of the National Counterintelligence Executive [NCIX]; and, since 2004, with NSA's Office of Counterintelligence. Prior to his years in the FBI, Jim served in the U.S. Army, to include a tour in Vietnam with the 101st Airborne Division.
Registrations information to be provided here when available. Visit the NCMF website to explore upcoming programs. When fee announced, make check payable to NCMF and send to PO Box 1682, Fort George G Meade, MD 20755-3682. Questions? Contact Mary J. Faletto, Senior Administrator, National Cryptologic Museum Foundation, Office: 301-688-5436 Cell: 443-250-8621. E-mail: cryptmf@aol.com

For Additional Events two+ months or greater....view our online Calendar of Events
---
Documentaries and Interviews by AFIO Officers
Nature of Domestic Terrorist Threats
Nov 25, 2013
Potomac Institute for Policy Studies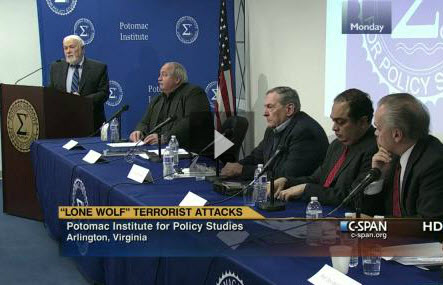 AFIO's chairman, Spike Bowman, was one of the panelists talking about the growing threat of "lone wolf" domestic terrorist attacks. "Lone wolf" is a term associated with notable attacks such as the shooting at the Fort Hood, Texas, Army base, the bombing at the Oklahoma City federal building, and the 2013 shootings at the Washington, D.C., Navy Yard and at LAX airport.
1 hour, 45 minutes.

------------

International Organized Crime and National Security
Nov 1, 2013
American Bar Association
AFIO's chairman, Spike Bowman, was one of the panelists talking about organized crime as a national security threat, including the effects of organized crime on the security of New York City, and what should be done about it. This event took place at the America Bar Association's annual national security conference.
1 hours, 51 minutes.
---
Disclaimers and Removal Instructions
Weekly Intelligence Notes (WINs) are commentaries on Intelligence and related national security matters, based on open media sources, selected, interpreted, edited and produced for non-profit educational uses by members and WIN subscribers.
REMOVAL INSTRUCTIONS: We do not wish to add clutter to inboxes. To discontinue receiving the WINs:
a) IF YOU ARE A MEMBER -- click here: UNSUBSCRIBE and supply your full name and email address where you receive the WINs. Click SEND, you will be removed from list. If this link doesn't open a blank email, create one on your own and send to afio@afio.com with the words: REMOVE FROM WINs as the subject, and provide your full name and email address where you are currently receiving them.
b) IF YOU ARE NOT A MEMBER, and you received this message, someone forwarded this newsletter to you [contrary to AFIO policies]. Forward to afio@afio.com the entire WIN or message you received and we will remove the sender from our membership and distribution lists. The problem will be solved for both of us.
CONTENTS of this WIN [HTML version recipients - Click title to jump to story or section, Click Article Title to return to Contents. This feature does not work for Plaintext Edition or for some AOL recipients]. If you wish to change to HTML format, let us know at afio@afio.com. The HTML feature also does not work for those who access their e-mail using web mail...however NON-HTML recipients may view the latest edition each week in HTML at this link: https://www.afio.com/pages/currentwin.htm
---
WINs are protected by copyright laws and intellectual property laws, and may not be reproduced or re-sent without specific permission from the Producer. Opinions expressed in the WINs are solely those of the editor's) or author's) listed with each article. AFIO Members Support the AFIO Mission - sponsor new members! CHECK THE AFIO WEBSITE at www.afio.com for back issues of the WINs, information about AFIO, conference agenda and registrations materials, and membership applications and much more!
(c) 2000, 2012, 2013, Please note AFIO's new address: AFIO, 7700 Leesburg Pike Suite 324, Falls Church, Virginia 22043. Voice: (703) 790-0320; Fax: (703) 991-1278; Email: afio@afio.com
Click here to return to top.