---
CONTENTS
Section I - INTELLIGENCE HIGHLIGHTS
Section II - CONTEXT & PRECEDENCE
Other Upcoming Events from Advertisers, Corporate Sponsors, and Others
For Additional AFIO and other Events two+ months or more... Calendar of Events
WIN CREDITS FOR THIS ISSUE: The WIN editors thank the following special contributors: pjk, mh, km, gh, mk, rd, fm, kc, jm, mr, jg, th and fwr. They have contributed one or more stories used in this issue.
The WIN editors attempt to include a wide range of articles and commentary in the Weekly Notes to inform and educate our readers. However, the views expressed in the articles are purely those of the authors, and in no way reflect support or endorsement from the WIN editors or the AFIO officers and staff. We welcome comments from the WIN readers on any and all articles and commentary.
CAVEATS: IMPORTANT: AFIO does not "vet" or endorse research inquiries, career announcements, or job offers. Reasonable-sounding inquiries and career offerings are published as a service to our members, and for researchers, educators, and subscribers. You are urged to exercise your usual caution and good judgment when responding, and should verify the source independently before supplying any resume, career data, or personal information.]
If you are having difficulties with the links or viewing this newsletter when it arrives by email, members may view the latest edition each week at this link. You will need your LOGIN NAME and your PASSWORD.
---
Books of the Week
Rise and Kill First: The Secret History of Israel's Targeted Assassinations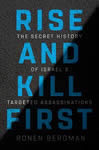 by Ronen Bergman
(Random House, Jan 2018)
"Hands down the best book I've read on intelligence, Israel, and, for that matter, the Middle East. I lived many of the events Ronen Bergman recounts from the inside, but only now do I have a full picture of what really went on. Impeccably sourced and astoundingly well reported, this page-turning book is indispensable for understanding Israel's fight for survival, with a revelation on every page." -- Robert Baer, former CIA, author See No Evil: The True Story of a Ground Soldier in the CIA's War on Terrorism
"Absolutely revelatory, Bergman's history of Israel's targeted killings leaves few secrets in the closet. Reading this book is like devouring a John le Carré spy thriller with endnotes, but Bergman also grapples with the hard questions and ultimately writes a tragic story of endless tactical victories leading to a strategic dead end. Anyone who cares about the fate of Israel and Palestine must devour this formidable history." -- Kai Bird, author The Good Spy: The Life and Death of Robert Ames
"The most impressive book I have seen on the subject and the first one written using real research rather than a fictional narrative. At its center is the inevitable clash between the right of a democracy to defend itself -- the measures we've been obliged to take in order to protect citizens of the State of Israel -- and other values and rights. Bergman's ability to reach sources inside Western intelligence communities is amazing (and, I must say, also a little disturbing). With so many different participants in the events recounted here, there's always the danger of having a Rashomon effect -- each individual having his own distinct point of view -- but Bergman has done some impressive reporting and cross-checking to re-create these secret historical events in the best possible way." -- Tamir Pardo, chief of the Mossad, 2011–2016
Book may be ordered here.
---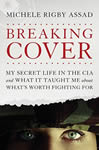 Breaking Cover: My Secret Life in the CIA and What It Taught Me about What's Worth Fighting For
by Michele Rigby Assad
(Tyndale Momentum, Feb 2018)
The CIA is looking for walking contradictions. Recruiters seek people who can keep a secret, yet pull classified information out of others; who love their country, but are willing to leave it behind to head into dangerous places; who live double lives, but can be trusted with some of the nation's most highly sensitive tasks. Michele Rigby Assad was one of those. As a CIA officer, Michele soon found that working undercover was all-encompassing. The threats were real. The mission, perilous. Trained as a counterterrorism expert, Michele spent over a decade in the agency -- a woman leading some of the most highly skilled operatives, serving in treacherous areas of the Middle East. Deep inside, Michele wondered: Could she really do this job? Or had she misunderstood what she thought was God's calling on her life? Did she have what it would take to survive? The answer came when she faced a life-or-death choice.

Book may be ordered here.
---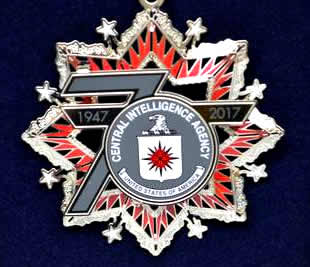 CIA Employee Activity Association (Gift Shop)
A source for special, unusual gifts which make lasting memories
Are you getting ready for Christmas or other end of year holidays? Beat the crowds and turn up with some fascinating gifts your recipients will proudly display and keep. Where? Right here on the EAA store website. Many new items have been added. To find those new items -- the 70th Anniversary Snowflake ornament you see above, for example -- click here on "What's New" or on the tool bar when viewing the webpage.
We're sure your family and friends will be happy with the unique gifts you can get nowhere else. If you don't find exactly what you're looking for, more items are being stocked in coming weeks.

Don't delay. If you see something you like, buy now because many of these are available only in small quantities and often when an item sells out, it's gone forever. If it is something you or they would really like, buy two.
All current AFIO members have the opportunity to join the CIA Employee Activity Association. If you have not already done so, login and read the requirements and modest one-time fee.
---
First notice...first luncheon of 2018 ...for your calendar

Friday, 9 February 2018
Tysons, VA

Toni Hiley, CIA Museum Director
Center for the Study of Intelligence

and

Steve Coll, author/journalist
on his reviewer-praised forthcoming book debuting at event
DIRECTORATE S: The C.I.A. and America's Secret Wars in Afghanistan and Pakistan, 2001-2016
---
Last minute shopping?
Holiday Gifts for intelligence officers, colleagues, and others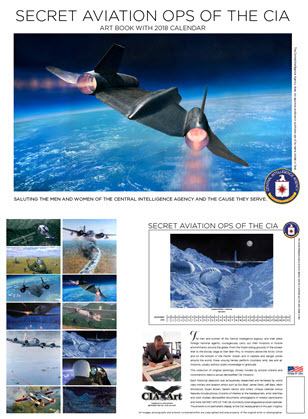 New 2018 CIA-Art Wall Calendars and Day Planners
are now available through the International Spy Museum Bookshop.
To quickly order or learn more about the 2018 CIA wall calendars or day planners use this link.
The mastermind behind the calendar and day planner project is a private citizen who runs CIA-ART.com. He worked with the curator of the CIA Museum, as he conceived and developed a collection of fine art depicting declassified missions. He arranged for independent, private artists and funded the project through private individuals and corporations willing to commission the artwor which tells the history of daring CIA missions. The final works of art were donated to CIA Headquarters where they are on permanent display.
Based on those works of art, Mr. Kirzinger created these large, nicely-printed CIA-themed wall calendars and day planners providing the background of the operations, and also filled with other images and explanations of historic documents and the outcomes of the operations.
Inspiration to have on your wall or desk top. And ideal gifts to send colleagues, friends, and others.
To order or learn more about the 2018 CIA wall calendars and day planners use this link.
To learn more about the creation of the calendars and day planners visit...www.cia-art.com
---
AFIO's 788-page Guide to the Study of Intelligence. Peter C. Oleson, Editor, also makes a good gift.
View authors and table of contents here.

Perfect for professors, students, those considering careers in intelligence, and current/former officers seeking to see what changes are taking place across a wide spectrum of intelligence disciplines.
AFIO's Guide to the Study of Intelligence helps instructors teach about the large variety of subjects that make up the field of intelligence. This includes secondary school teachers of American History, Civics, or current events and undergraduate and graduate professors of History, Political Science, International Relations, Security Studies, and related topics, especially those with no or limited professional experience in the field. Even those who are former practitioners are likely to have only a limited knowledge of the very broad field of intelligence, as most spend their careers in one or two agencies at most and may have focused only on collection or analysis of intelligence or support to those activities.
For a printed, bound copy, it is $95 which includes Fedex shipping to a CONUS (US-based) address.
To order for shipment to a US-based CONUS address, use this online form,

To order multiple copies or for purchases going to AK, HI, other US territories, or other countries call our office at 703-790-0320 or send email to afio@afio.com to hear of shipment fees.
Order the Guide from the AFIO's store at this link.
The Guide is also available directly from Amazon at this link.
---
AFIO's Updated 2017 Intelligence Community Mousepads have arrived.
Made in USA. Click image for larger view.
These 2017 mousepads have full color seals of all 18 members of the US Intelligence Community on this 8" round, slick surface, nonskid, rubber-backed mouse pad with a darker navy background, brighter, updated seals. Also used, by some, as swanky coasters. Price still only $20.00 for 2 pads [includes shipping to US address. Foreign shipments - we will contact you with quote.] Order NEW MOUSEPADS here.
Also available in the AFIO store are: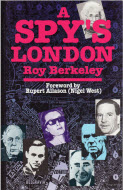 A SPY'S LONDON by Roy Berkeley. Foreword by Rupert Allason (author Nigel West)
and

CIA INSIDER'S DICTIONARY of US and Foreign Intelligence, Counterintelligence & Tradecraft.