Welcome to the AFIO Online Store
Here are some items that might be of interest. Please take pride in your AFIO membership and Support AFIO.
---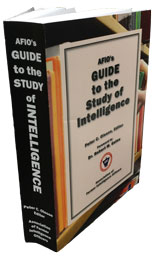 NEW: AFIO's Guide to the Study of Intelligence - 788 pages, softcover; Peter Oleson, Editor
View authors and table of contents here.
Our 788-page Guide to the Study of Intelligence. Perfect for professors, students, those considering careers in intelligence, and current/former officers seeking to see what changes are taking place across a wide spectrum of intelligence disciplines.
Price: $95 per copy, includes Fedex shipping to a CONUS (U.S.-based) address. AK, HI, and other US or foreign addresses should contact afio@afio.com to inquire about shipping options.

AFIO's Guide to the Study of Intelligence helps instructors teach about the large variety of subjects that make up the field of intelligence. This includes secondary school teachers of American History, Civics, or current events and undergraduate and graduate professors of History, Political Science, International Relations, Security Studies, and related topics, especially those with no or limited professional experience in the field. Even those who are former practitioners are likely to have only a limited knowledge of the very broad field of intelligence, as most spend their careers in one or two agencies at most and may have focused only on collection or analysis of intelligence or support to those activities.

In order to ensure that the Guide is useful and not overwhelming, each article is brief. This means that the topics addressed in the Guide are not comprehensive. However, some addressing complex subjects, such as reconnaissance from space, intelligence in WWII, and the history of espionage cases, are longer.

The Guide is organized into seven parts. Part I includes four introductory articles. Part II is on the history of intelligence from antiquity to the post- Cold War world. Part III examines the intelligence disciplines, applications, and support to various missions. Part IV relates to teaching about espionage, counterintelligence, and covert action. Part V addresses some of the major issues related to intelligence policy and oversight. While most of the Guide is US-centric, Part VI focuses on intelligence organizations in other countries. Part VII includes three articles on how to stay informed and the literature of intelligence.

To order for shipment to a U.S.-based CONUS address, use this online form, To order multiple copies or for purchases going to AK, HI, other US territories, or other countries call our office at 703-790-0320 or send email to afio@afio.com providing your name, mailing address, quantity, cc number and expire date, and amount authorized to charge, and your phone should we have questions. Foreign shipments fees will be calculated and estimates sent, awaiting your approval. [includes shipping to U.S. based address, only. For foreign shipments, we will contact you with a quote.] May also be directly ordered from Amazon. Search for book on their website by title or editor.
---

AFIO's Updated Intelligence Community Mousepads have arrived. Click image for larger view.
These 2017 mousepads have full color seals of all 18 members of the U.S. Intelligence Community on this 8" round, slick surface, nonskid, rubber-backed mouse pad with a darker navy background, brighter, updated seals. Also used, by some, as swanky coasters. Price still only $20.00 for 2 pads [includes shipping to U.S. address. Foreign shipments - we will contact you with quote.]
Great gift for colleagues and self. MADE IN USA. Order NEW MOUSEPADS here.
---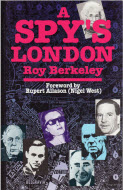 A SPY'S LONDON

by Roy Berkeley. Foreword by Rupert Allason (author Nigel West)

Price: $35.00 [includes shipping to U.S. based address, only. For foreign shipments, we will contact you with a quote.]

Softcover - 363 pages, extensive maps and photographs. Published by Leo Cooper, London, 1994.
Click on book image to see large version of cover.

"Cloak and dagger buffs now have their own guide...a fine new perspective on a favorite city." - www.finetravel.com

"confirms London as the spookiest city in the world." - Building Design, London

"a riveting tour de force" - Arnaud de Borchgrave, author

"fascinating, well-organized, perceptive, informed ... if you're going to London, take this book with you; if not, read it for fun." Robert Scott Milne, Travelwriter Marketletter

"...provides a concise review of the pertinent literature. That, plus use of personal interviews, increases the value of the very good summaries of the often controversial operations. ... there is much here to provide stimulating hours of walking through a wonderful city. ...a splendid contribution." - Hayden Peake, World Intelligence Review

"to visit any of the 136 sites in this book, no prior arrangements are necessary. A number of the buildings can be entered, but don't be surprised if the current proprietors or occupants know less than you do. The book takes the curious to some surprising places." - Travel Books Worldwide.

A lively and fact-filled walking guide of 136 sites in Central London relating to spies, spycatchers, and subversives from more than a century of London's secret history. Read this and you will never see the streets of London in quite the same way. Scrupulously researched and engagingly written, Berkeley has created a true gift for armchair travelers as well as any sensibly shod tourist to London. "A remarkable book."

Readers are whisked behind the facades of ordinary buildings to see the history of intelligence as a record of achievements and failures of real people. Included are knowledgeable comments of many other observers, as well as the latest revelations from Russia's Foreign Intelligence Service and the latest views on the role of Britain's secret services after the Cold War.

Berkeley arranges the book into 21 walks, beginning in Westminster and proceeding south to Pimlico and Vauxhall, west to Knightsbridge and Holland Park, north to Maida Vale and Regent's Park, east to the Strand and the City. Among the sites: the modest hotel suite where an eager Red Army colonel poured out his secrets to a team of British and American intelligence officers; the royal residence where one of the most slippery Soviet moles was at home for years and where his traitorous activities were know for years; the London home where an MP who was involved in a plot to appease Hitler was arrested on his front steps in 1940. These are many of the famous episodes in Britain's colorful espionage history which changed the course of the world. There are 136 photographs and 21 maps to make the trip by foot or eyes. A splendid gift. [review from Surveillant, a publication of the National Intelligence Book Center].
---

CIA INSIDER'S DICTIONARY of U.S. and Foreign Intelligence, Counterintelligence & Tradecraft.
Price: $75.00 [includes shipping to U.S. based address, only. For foreign shipments, we will contact you with a quote.]
Hardcover - 744 pages. Please note: Book was last updated 1996 shortly before the author died.
by Leo D. Carl. In high-tech reference-grade hardcover. 744 pages, Bibliography, Appendices, released in 1996. More encyclopedia than pure dictionary, Carl provides wide assortment of definitions, comparisons, cross-references, and fascinating current and little known explanations of investigative, security, espionage, and tradecraft jargon and terminology. Definitions and derivations come from impressive expertise of the author who is a retired intelligence professional, linguist, fine lexicographer, and tireless wordsmith. Before now, sales of this work were limited primarily to State and Federal Intelligence and Law Enforcement Agencies, who still order this work by the case. Before supplies vanish into solely institutional hands, the author (an AFIO member) made copies available to AFIO members, researchers and academicians at a discounted price.
---
AFIO Decal
Has AFIO name/logo as "Association of Former Intelligence Officers."
Uses static cling [no adhesive] so it can be easily removed, repositioned for window cleaning. Please note: it faces outwards to be viewed through glass, or can be applied to a very slick, flat, nonporous surface. The decal does not have adhesive on either side but uses static cling so works well on slick, flat surfaces like glass or metal - facing from underside (if glass) or on top for opaque objects. Size: 3.25" x 3.25" circle
$5.00 each, including shipping & handling.
Exercise caution in deciding if, or where, to use. Can draw unwanted attention. Suggest using as a private keepsake rather than as a decal on an automobile. If used on an automobile or other publicly-viewed vehicle, members do so at their own risk. Will not impress local law enforcement handling traffic infractions and bringing attention to it during such instances would be a violation of AFIO's Code of Ethics.
NOTE: Of this amount, 65% ($3.25) is a tax deductible donation to AFIO.
---
AFIO Lapel Pins - has AFIO name.
Discreet, small, in full color - size of a dime, traditional lapel pin, gold color, with full color seal etched, subtle and dressy.
$10.00 each, including shipping & handling. For security, please refrain from wearing on international trips or on airplane travel.
NOTE: Of this amount, 65% ($6.50) is a tax deductible donation to AFIO.
---
Intelligencer Back Issues - AFIO's print-only academic/membership journal, released 3x/year, features articles, professional reminiscences, book, movie, television reviews and announcements of forthcoming works, and analyses of important intelligence topics. It runs 128-pages per issue, and as a print-only publication, is unavailable online or in digital form.
Price: $15.00 per issue [includes shipping to US-based address, only. For foreign shipments, we will contact you with a quote.] To see which issues are still available, view the backorder sheet here. To view the tables of contents of issues, explore them here.
To place a back issue order, click the "order now" link at right.
To join AFIO and receive all future publications (back issues not included), or subscribe to publications without meeting membership requirements [Intelligencer journal and Weekly Intelligence Notes], start HERE.
Become a Member
Join AFIO or renew your existing membership and enjoy all member benefits
*Online Application*
Current Members:
*Online Renewal*
or
"Change of Address
or New Email Info"
---