AFIO Central Office
7700 Leesburg Pike
Suite 324
Falls Church, VA
22043
Voice: 703 790 0320
Fax: 703 991 1278
Email: afio@afio.com

© 2016 AFIO

Copyright and Privacy Notice


The Association of Former Intelligence Officers (AFIO) presents this website to serve our members and visitors as a portal to our activities and to provide word of upcoming educational events by other select intelligence groups.
Upcoming AFIO and Intelligence Community Events
Many informative, fascinating programs are occuring in the Washington Metro Area and across the country. Find out which ones to add to your calendar to stay connected and to stay current.

Corporate
Learn how your company can make a difference with AFIO corporate memberships and marketing opportunities. Reach more than 4,800 intelligence professionals.

National Members
Join or renew your existing membership and enjoy member benefits, such as special publications, invitations to events, unique banking & investment services, scholarships, and career assistance.

Publications
Sign up and receive the popular Weekly Intelligence Notes [WINs] and the printed industry journal: Intelligencer - Journal of U.S. Intelligence Studies, 3 issues per year for the intelligence community by intelligence professionals. AFIO also produces Intelligence As A Career - a printed and online guide to organizing your life and education to qualify for work in the intelligence community, and a Guide to the Study of Intelligence intended to assist college instructors and secondary school teachers of history, civics, and current events.

About Us
Learn about us - our many events, publications, programs, and legislative alerts. Support AFIO with purchases and donations or meet our members at events throughout the US. Make your views known.

Chapters
Local chapters have appeal to many members, so after you have joined AFIO National, consider adding a local chapter membership to your mix.

Upcoming AFIO and related Organization Educational Events ... Full listings found here

Wednesday, 7 September 2016, 6 pm - Las Vegas, NV - AFIO Las Vegas Chapter hears Dr. Wilfred Krom on "Present Day South Africa, Through the Eyes of an Expatriate."

Wilfred Krom, M.D., FRCS, MCh (Orth) FAAOS, is the featured speaker at this fall kick-off event by the AFIO Las Vegas, NV Chapter. His topic will be "Present Day South Africa, Through the Eyes of an Expatriate."
Krom was born and educated in South Africa. After graduating from medical school in 1959, while pursuing a career in Orthopedic Surgery, he resided in Johannesburg, Capetown, London, Liverpool, Los Angeles, and New York City. He practiced pediatric orthopedics in New York City for three years before finally settling in Los Angeles, where he remained in practice for more than 33 years. Dr. Krom retired from the medical field in 2006. He is a Board certified Orthopedic Surgeon, a Fellow of the American Academy of Orthopedic Surgeons, a Fellow of The Royal College of Surgeons of England, and holds a Master's Degree in Orthopedic Surgery from the University of Liverpool. He has been affiliated with the teaching staffs at Columbia-Presbyterian Medical in New York City, as well as USC and UCLA. Dr. Krom permanently left South Africa in 1967, and became a proud American citizen in 1978. He still has several relatives that reside in South Africa with whom he maintains frequent correspondence. Dr. Krom has an avocation as a jazz chromatic harmonica player with his own band, which he pursues with vigor. Dr. Krom will be discussing the status of present day South Africa, including the resources, economy, short and long-term outlook, and its place on the continent.

Location: Conference Center at Texas Station Casino, 2101 Texas Star Ln, North Las Vegas, NV (corner of Rancho Blvd. and West Lake Mead Blvd.) North Las Vegas, NV 89032
RSVP: Christy Zalesny at christyzalesny@yahoo.com or call 702-271-5667.

---

10 September 2016, 11:30am - Melbourne, FL - The AFIO Florida Satellite Chapter hosts Lou Pernice on "The History of Homeland Security"

Guest Speaker at this kick-off event for the fall season is Louis Pernice, speaking on "The History of Homeland Security: The American Experience from our Independence to 911." It will be presented from abroad perspective covering both constitutional, budgetary and social issues. Lou will also be covering the topic starting from the early colonial days of defending our borders through the Civil War, both World Wars, the Cold War, evolution of transnational terrorist threat and up to the 9/11 attacks.
Lou'sprofessional background includes: Career law enforcement professional with a leadership record spanning over 40 years of demonstrated success in five federal/state law enforcement/support agencies including: United States Treasury Department - Internal Revenue Service; U.S. Department of Agriculture - Office of Inspector General; U.S. Department of Justice - Office of the Inspector General; U.S. Immigration and Naturalization Service - Office of Professional Responsibility; and the Brevard Police Testing and Selection Center. Lou holds a Masters Degree in Public Administration from John Jay College of Criminal Justice in New York and hold a BachelorsDegree in Psychology from Brooklyn College in New York.
Event will be held at Indian River Colony Club, 1936 Freedom Drive, Melbourne, FL 32940.
For more information or to register, do so at this chapter website link.

---

Thursday, 15 September 2016, 11:30am - Colorado Springs area, CO - AFIO Rocky Mountain Chapter hosts Elizabeth Boardman discussing "Cybersecurity 101: Types of Cybersecurity, Recent Threats, Personal Cybersecurity Safety, Tools Going Forward."

Elizabeth Boardman discusses "Cybersecurity 101: Types of Cybersecurity, Recent Threats, Personal Cybersecurity Safety, Tools Going Forward" at this Rocky Mountain Chapter first meeting of the fall season.
After going through Naval ROTC in the first class of women at Ohio State University, Elizabeth Boardman served for 8 years in the Navy and 21 years in the Naval Reserve, with postings in Groton, Norfolk, South Korea, Munich, and many others in 8 states, including a tour on the national staff for the Commander, Naval Reserve Intelligence in Dallas. She also worked for Boeing in Alaska and Lockheed Martin in Maryland. Her last position was in Colorado Springs.

She has two Bachelor degrees and a Master's Degree in Computer Security and in Information Assurance.

Please RSVP to Tom VanWormer at robsmom@pcisys.net for more details. The cost of the meal is $15.

All presentations to the RMC, AFIO are on the basis of non-attribution so the speakers can feel free to provide information with the assurance it will not be published.

---

AFIO's Intelligence Community Mousepad


Full color seals of all 18 members of the U.S. Intelligence Community on this 8" round, slick surface, nonskid, rubber-backed mouse pad. Price: $20.00 for 2 pads [includes shipping to U.S. based address, only. For foreign shipments, we will contact you with a quote.] Great gift for colleagues and self. Click image above for larger image.

Thursday, 8 September 2016, 11:30 am - 1:30 pm - Scottsdale, AZ - AFIO AZ hosts SSA George K. Steuer, FBI Phoenix, on "Threat Mitigation."

SSA George K. Steuer, FBI Phoenix, Squad NS-9, will talk about the Threat Mitigation Squad which fully integrates their investigation and operations planning. Steuer is a retired senior IC executive.
The National Security Threat Mitigation Squad is comprised of 10 SAs, Task Force Officers, and intelligence personnel dedicated to thoroughly vetting and mitigating tips and leads of National Security concern. The squad is an integral component of the Arizona Intelligence Fusion Center and works in tandem with Terrorism Liaison Officers throughout the State.
Prior to assuming his current leadership role, George was the SSA over PX's combined Human Trafficking-Violent Crimes Against Children Task Force which served as a model for other FBI divisions to emulate. Additionally, the proactive and innovative techniques utilized by the Task Force to identify and arrest traffickers, and rescue victims leading up to the 2015 Super Bowl was awarded the 2015 International Association of Chiefs of Police Civil Rights Award.
Steuer previously served as an Assistant Legal Attaché in Kabul, Afghanistan where he had management responsibilities over the FBI's Afghan capacity building and international liaison missions. George previously deployed to Iraq in 2005 and Afghanistan in 2007 working insurgent and terror organization threats.
Prior to joining the FBI in November of 1998, George worked for United States Senator Daniel K. Inouye for eight years.
Location: Best Western Thunderbird Suites, 7515 E Butherus Dr, Scottsdale, AZ 85260.
Price: $18 pp.
RSVP simone@afioaz.org or simone@4smartphone.net or call and leave a message on 602.570.6016.

---

15 September 2016, 12:30 - 2 pm - Los Angeles, CA - AFIO - L.A hosts Maj. Gen. Mark MacCarley, U.S. Army, (Ret) on "Integrating the Active Army, Guard, and Army Reserve for Enhanced National Security Readiness."

Maj. Gen.(Ret) MacCarley will be discussing "Integrating the Active Army, Guard, and Army Reserve into one Army to optimize readiness and enhance National Security."
Brief Bio: Among Maj. Gen. MacCarley's many accomplishments in the United States Army he has served in the following key positions:
Deputy Chief of Staff, United States Army Training and Doctrine Command; Deputy Commanding General - Support,1st Army and Commander, 1st Army Reserve Support Command; Deputy Commanding General, 1st Theater Sustainment Command, headquartered at Camp Arifjan, Kuwait; Deputy Commanding General, 8thTheater Sustainment Command, Fort Shafter, Hawaii; Deputy Defense Coordinating Officer and Regional Emergency Preparedness Liaison Officer, US Fifth Army; and Chief of Staff, 377th Theater Sustainment Command, Camp Arifjan, Kuwait.

Location: L.A.P.D.-ARTC, 5651 W Manchester Ave, Los Angeles, CA 90045
Please RSVP: afio_la@yahoo.com to attend. Refreshments will be served.

---

5 December 2016, 6 pm - New York, NY - The AFIO Metro New York Chapter hosts former Senior CIA Officer David P. Hunt

Details to follow in coming weeks.
"Intelligence in Flux: From the Cold War to the Present," might be the topic of Mr. Hunt's presentation. Hunt became a CIA officer because of his father, who used to be in Navy and later joined the CIA in 1947. Hunt studied French, and became interested in intelligence operations, which finally led him to work for CIA for more than 30 years. Mr. Hunt will offer anecdotes about cases he has gone through during his tours in Italy, Vietnam, Somalia, Norway, France, and in New York City. He also will share some of his personal experiences regarding how to acquire confidential information. His experiences encompassed a knowledge of Soviet operations, African affairs, and counterintelligence. He advocates the importance of studying human intelligence. Mr. Hunt holds the Donovan Award for Excellence, as well as the Distinguished Intelligence Medal, CIA's highest award.
LOCATION: Society of Illustrators building 128 East 63rd Street Between Park and Lexington Avenues in Manhattan
TIME: Registration Starts 5:30 PM. Meeting Starts 6 PM.
COST: $50/person Cash or check only.
REGISTER: Strongly suggested, not required. Phone Jerry Goodwin 646-717-3776 or Email: afiometro@gmail.com.

---

Teaching -- or Seeking to learn more -- about the world of Intelligence?

AFIO's Guide to the Study of Intelligence
Are You Using It?
The Guide consists of more than 66 articles on all aspects of intelligence. It is intended to help instructors become familiar with intelligence-related subjects. Guide articles, written by both academic experts and seasoned practitioners, are introductions to the subject with recommended readings for further study.
Guide articles appear in AFIO's journal Intelligencer and as PDFs on our website here.
They are free for academic use.

For a complete list of what articles are available at this time, view this pdf.

OTHER IMPORTANT UPCOMING EDUCATIONAL EVENTS....

Friday, 9 September 2016, 6:30pm - Washington, DC - Surveillance 201 with Eric O'Neill - at the International Spy Museum

What if you were assigned to watch the most damaging spy in US history? As a young operative in the FBI, Eric O'Neill was put into position as Robert Hanssen's assistant with the secret task of spying on his boss, who was under suspicion of working for Russia. O'Neill's background with the FBI was in surveillance, so he was up to the challenge. O'Neill has run some previous recruits through a surveillance basics course, and now he's ready to take those with the expertise to the next level. This advanced small group surveillance exercise is best suited to those who already know how to track the "Rabbit" without being "made." O'Neill will rate your clandestine prowess while you spy on secret meetings and operational acts and see if you can uncover the spy skullduggery that's afoot while you are on foot. There is no guarantee that your "Rabbit" won't escape! Space is limited to only 10 participants - advance registration required! Tickets: $94. Visit www.spymuseum.org

---

Monday, 19 September 2016, 6:30pm - Washington, DC - Storm Over Leyte with John Prados - at the International Spy Museum

As the Allies prepared for the invasion of the Philippine island of Leyte, every available warship, submarine, and airplane was placed on alert while Japanese admiral Kurita Takeo stalked Admiral William F. Halsey's unwitting American armada. It was the beginning of the epic Battle of Leyte Gulf - the greatest naval battle in history. Join acclaimed historian John Prados, author of the new book Storm Over Leyte, for an unprecedented look at both sides of this titanic naval clash. Drawing upon a wealth of untapped sources - US and Japanese military records, diaries, declassified intelligence reports, and postwar interrogation transcripts - Prados offers up a masterful narrative of naval conflict on a gigantic scale. With access to the naval intelligence reports that influenced key strategic decisions on both sides, find out why Prados believes that despite the Americans' overwhelming superiority in firepower and supplies, the Japanese found a new weapon and achieved part of their goal. The event is co-sponsored by the Naval Intelligence Professionals (NIP). Tickets: $10. Visit www.spymuseum.org

Friday September 9, 2016 - noon to 2 pm - The Loudoun Crime Commission Luncheon features Frank J. Gaffney, Jr., on "Why There Can Be No Substitute for Victory Over Jihad."

Mr Gaffney's presentation is titled 'Why There Can Be No Substitute for Victory Over Jihad.' The global jihad movement is the premier threat to Western Civilization of the 21st century. Jihadists use both violent and pre-violent techniques (including subversion, influence operations, infiltration, propaganda, law fare, migration, material support for terrorism, etc.) against all pillars of American civilization (in particular, our political system, military/intelligence/law enforcement communities, media, clergy, economy, education system, courts, etc.). The jihad must be effectively and decisively countered, rolled back, dismantled and ultimately defeated through the sustained use of a comprehensive, fact-based approach involving all instruments of national power at the federal, state and local levels, and wherever possible, the help of like-minded allies.
Gaffney is founder/ and president of the Center for Security Policy (CSP) in Washington, DC. The Center is a resource for timely analyses of foreign and defense policy matters. Prior to founding CSP, Gaffney served as the Deputy Assistant Secretary of Defense for Nuclear Forces and Arms Control Policy in the Reagan administration. Additionally, Mr. Gaffney was a Professional Staff Member on the Senate Armed Services Committee, chaired by Senator John Tower (R-Texas).
This event falls 2 days before 13th Anniversary of 9/11 terrorist attacks on US.
Location: the Belmont Country Club. Cost $25 pp. cash or check.
RSVP by 6 September to RSVP@loudouncrimecommission.org.

---

28 - 29 October 2016 - The Hague, Netherlands - "Witness to Change: Intelligence Analysis in a Changing Environment" is topic of the NISA 25th Anniversary Conference

The Netherlands Intelligence Studies Association (NISA) celebrates its 25th anniversary with a two-days conference. Main theme is the strongly changed environment of the intelligence analyst during these past 25 years.
In other words: the 25th anniversary as a symbol for the revolutionary changes in the intelligence world with which analysts have to deal; both external developments (the onset of a multipolar world, asymmetric conflicts, the information revolution), and internal changes (in collecting, processing, dissemination, legitimization and supervision).
These developments forced intelligence analysts and organisations to adapt work processes and methods and techniques. Intelligence analysts still mostly operate in secret, but the demands of intelligence consumers and the public have changed over the last 25 years. Social and technological developments have changed the playing field and the rules of the game for the intelligence analyst, leading to an enormous growth in (publicly) available information and means of communication, and demands for more transparency and accountability. Aim of the conference is to touch on the consequences of this changed environment, and to look ahead.

The Conference will be held at the Nationaal Archief (the National Archive), Prins Willem Alexanderhof 20, The Hague, the Netherlands.
The conference program may be viewed here as a PDF.

Conference Fee: Standard Fee: Eur175; Student Fee: Eur80 (proof of status required). Fee covers registration, lunch and drinks.
To join the Conference Dinner on Friday 28 October 2016, an extra fee of Eur30 is applicable.

To Register: For registration: fill this form. After registration you will receive further information as regards payment of the conference fee and the programme. There is a limited number of seats. Registration for the conference will close on 15 October 2016.
For further information please send an e-mail to 25yearsnisa@gmail.com
NOW AVAILABLE
Getting a Security Clearance: Questions and Answers about what they are, how they are conducted,
how you can qualify, how long they take, and what can put them in jeopardy.

Two valuable booklets are now available
The Security Clearance Process: Answers to Frequently Asked Questions - by the Congressional Research Service, Sept 2013
[PDF]
Security Clearances - FAQs - ClearanceJobs.com / DICE
[PDF]
---
Intelligence as a Career -with listings of colleges teaching intelligence courses.

AFIO's booklet for high school and college students considering careers
in the U.S. Intelligence Community.
Careers Booklet in PDF Format available here.
Cannot open some or all of these PDFs? It can mean your PDF viewer is out-of-date.
Use this link to update your viewer to the latest version.
---
Intelligence Community - Seven Years in a Row - Named 2015
One of the Best Places to Work in the Federal Government
For the seventh consecutive year, the Intelligence Community (IC) was honored as #2 in the top-ten Best Places to Work in the Federal Government, according to an independent analysis of federal workers' job satisfaction and commitment.
The rankings were compiled by the Partnership for Public Service (PPS) and American University's Institute for the Study of Public Policy Implementation (ISPPI) and announced recently in Washington, D.C. PPS is a nonprofit, nonpartisan organization that aims to attract people to federal careers and improve how the government runs. The institute conducts research and helps federal leaders solve difficult public-policy issues.
The IC ranked fourth overall among large agencies, which includes over 30 organizations, each of which employs more than two thousand people. Rankings are based on data from the 2015 Federal Employee Viewpoint Survey, which the U.S. Office of Personnel Management administers. The first Federal Government survey was in 2003, but the IC has only participated since 2009. Max Stier, president and CEO of the Partnership for Public Service, noted that the IC does not have to participate but does so voluntarily, "which is a credit to them."
To maintain the security of information about its work force, the IC relies on its own survey instrument to assess each year how its workers feel about issues such as job satisfaction, professional development, and the effectiveness of senior leaders. The IC includes several questions from the federal survey in the IC's annual Employee Climate Survey. That way, the Community's information can be compared with that from other organizations.
Other top-five large organization Best Places to Work are: The National Aeronautics and Space Administration and the U.S. Departments of Commerce, State and Justice.
Visit bestplacestowork.org to see which agencies top the rankings and to access trend analysis, demographic data and all 10 workplace categories, as well as generate custom reports and conduct side-by-side comparisons for up to three agencies.
---
Join or subscribe to our publications and enjoy all our unusual member benefits
JOIN:
As a Member or Subscriber - Use this Online Form
Student Rates: Students, 28 years old or younger, attending a U.S. nonprofit accredited college, may join 1x at special rate. Email us at afio@afio.com with your info for application and rates.
RENEW:
Renew or Reinstate Your Membership or Subscription here
UPDATE MEMBER INFO:
New Email or Mailing Address? Provide it here.
---
---
Review our Member
CODE of ETHICS

---
BOARD OF DIRECTORS' Photos and Public Biographies
---
---
---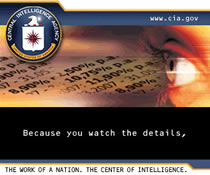 ---
We Thank These Corporate, Academic, and Charitable Foundation Members
Join as a corporate
or foundation member
---
Movies of Interest to members can be found here.
---

Send your articles and reviews to afio@afio.com for the journal INTELLIGENCER

---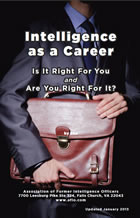 Intelligence
as a Career

Is It Right For You
AND
Are You Right For It?
Click HERE, or the cover photo above, for the updated version Booklet.
---
Donations Needed -
Help AFIO continue our Special Events, Publications, and Speakers Program.
---

---