AFIO Central Office
7700 Leesburg Pike
Suite 324
Falls Church, VA
22043
Voice: 703 790 0320
Fax: 703 991 1278
Email: afio@afio.com

© 2017 AFIO

Copyright and Privacy Notice


The Association of Former Intelligence Officers (AFIO) presents this website to serve our members and visitors as a portal to our activities and to provide word of upcoming educational events by other select intelligence groups.
Upcoming AFIO and Intelligence Community Events
Many informative, fascinating programs are occuring in the Washington Metro Area and across the country. Find out which ones to add to your calendar to stay connected and to stay current.

Corporate
Learn how your company can make a difference with AFIO corporate memberships and marketing opportunities. Reach more than 4,800 intelligence professionals.

National Members
Join or renew your existing membership and enjoy member benefits, such as special publications, invitations to events, unique banking & investment services, scholarships, and career assistance.

Publications
Sign up and receive the popular Weekly Intelligence Notes [WINs] and the print-only academic journal: Intelligencer - Journal of U.S. Intelligence Studies for the intelligence community by intelligence professionals. AFIO also produces Intelligence As A Career - a printed and online guide to organizing your life and education to qualify for work in the intelligence community, and a Guide to the Study of Intelligence to assist college instructors, secondary school teachers of history, civics, and current events, and students, on the best readings on a wide variety of current intelligence topics.

About Us
Learn about us - our many events, publications, programs, and legislative alerts. Support AFIO with purchases and donations or meet our members at events throughout the US. Make your views known.

Chapters
Local chapters have appeal to many members, so after you have joined AFIO National, consider adding a local chapter membership to your mix.

Upcoming AFIO and related Organization Educational Events ... Full listings found here

---

Ideal Christmas or other holiday gift.
AFIO's 788-page comprehensive Guide to the Study of Intelligence. Peter C. Oleson, Editor. Foreword by Dr. Robert M. Gates, former Director, Central Intelligence.
View authors and table of contents here.

Perfect for professors, students, those considering careers in intelligence, and current/former officers seeking to see what changes are taking place across a wide spectrum of intelligence disciplines.

AFIO's Guide to the Study of Intelligence helps instructors teach about the large variety of subjects that make up the field of intelligence. This includes secondary school teachers of American History, Civics, or current events and undergraduate and graduate professors of History, Political Science, International Relations, Security Studies, and related topics, especially those with no or limited professional experience in the field. Even those who are former practitioners are likely to have only a limited knowledge of the very broad field of intelligence, as most spend their careers in one or two agencies at most and may have focused only on collection or analysis of intelligence or support to those activities.

$95, includes Fedex shipping to a CONUS (U.S.-based) address. AK, HI, and other US or foreign addresses should contact afio@afio.com to inquire about shipping options.

To order use this online form. The Guide is available for purchase directly from Amazon at this link.

NOW ONLINE: As an educational service to professors and students, AFIO provides the full 788-page Guide online here for free. This was made possible through the generosity of our foundation, corporate, and institutional members, coupled with the donations we received from our many individual members. Teaching–or Seeking to learn more–about the world of Intelligence?

But even with the book online, at a hefty 788-pages, a printed copy of the book allows a reader to get away from electronic devices to read the sections and articles of the book when the mood strikes without a nearby plug or glowing screen. Allows annotations, underlines, and highlighting to enhance learning and retain material. Making it an ideal gift for self, colleagues, family or friends. Order here. The Guide is available for purchase directly from Amazon at this link.

Monday, 4 December 2017 - New York, NY - The AFIO New York Metro Chapter hosts Eva Dillon, author of "Spies in the Family: An American Spymaster, His Russian Crown Jewel, and the Friendship That Helped End the Cold War."

SPEAKER: Eva Dillon - Author "Spies in the Family" About her father, an American Spymaster and his "Russian Crown Jewel" that helped win the Cold War.
TOPIC: A beautifully written, profoundly moving account of one of the most important US Intelligence sources ever run inside the Soviet Union. The book is filled with espionage tradecraft and family drama. It is essential reading for anyone fascinated by how spying really works. Books available for sale at the meeting.
LOCATION: Society of Illustrators building 128 East 63rd Street Between Park Avenue and Lexington Avenue
TIME: Registration starts 5:15 PM Meeting starts 6:00 PM COST: $50/person. Payment at the door only. Cash or check. Full dinner, cash bar.
REGISTRATION: Strongly recommended, not required. Email: afiometro@gmail.com Phone: 646-717-3776.

---

AFIO's NEW Intelligence Community Mousepad for 2017

New mousepads arrived. Full color seals of all 18 members of the U.S. Intelligence Community on this 8" round, slick surface, nonskid, rubber-backed mouse pad. Price still only $20.00 for 2 pads [includes shipping to U.S. based address, only. For foreign shipments, we will contact you with a quote.] Great gift for colleagues and self. Click image above for larger image. Now with dark navy background, brighter, updated seals of member agencies. And now MADE IN USA. Order NEW MOUSEPADS here.

---

AFIO's Guide to the Study of Intelligence
Are You Using It?
The Guide consists of more than 66 articles on all aspects of intelligence. It is intended to help instructors become familiar with intelligence-related subjects. Guide articles, written by both academic experts and seasoned practitioners, are introductions to the subject with recommended readings for further study.
Guide articles appear in AFIO's journal Intelligencer and as PDFs on our website here.
They are free for academic use.

For a complete list of what articles are available at this time, view this pdf.

Other Upcoming Educational Events....includes selection of events from advertisers, corporate sponsors, and others

Tuesday, 28 November 2017, 6:30pm - Washington, DC - The Foundation of the CIA: Harry Truman, the Missouri Gang, and the origins of the Cold War - at the International Spy Museum

The US was late to the practice of intelligence, but during WWII the country created a new model of combining intelligence collection and analytic functions into a single organization-the Office of Strategic Services. How did this outfit transform into today's CIA? Thanks to President Harry Truman and a small group of advisors. Join Dr. Richard E. Schroeder, retired CIA officer and author of The Foundation of the CIA, as he reveals how President Truman and his "Missouri Gang," which included Sidney Souers and Roscoe Hillenkoetter, developed this new, centralized agency directly subordinate to and responsible to the President, despite entrenched institutional resistance. Schroeder will reveal how this group provided the leadership the US needed to take on the responsibilities of a global superpower during the very first years of the Cold War. The book will be available for sale and signing at the event.
Tickets for the general public: $10 per person. Visit www.spymuseum.org.

---

Wednesday, 29 November 2017, 6 - 10pm - Washington, DC - The Honorable William H. Webster Distinguished Service Award Dinner by the International Spy Museum

On November 29, 2017, the first annual "The Honorable William H. Webster Distinguished Service Award Dinner" takes place at The Ritz-Carlton in Washington, DC. This International Spy Museum event honors an individual who has served the nation in the field of National Security with integrity and distinction. The Museum's award is named for Judge William H. Webster, former director of the CIA and FBI (the only individual to hold both offices), a man whose reputation for probity and forthrightness is the standard by which all others are measured. Before serving the intelligence community, Judge Webster was a distinguished jurist of the US District Court for the Eastern District of Missouri and of the US Court of Appeals for the Eighth Circuit.
Since retirement from public office, Webster has practiced law at the Washington DC office of Milbank, Tweed, Hadley & McCloy where he specializes in arbitration, mediation, and internal investigation. He is currently the Chairman of the Homeland Security Advisory Council and a founding member of the International Spy Museum Advisory Board of Directors. Judge Webster has a long record of distinguished service to our country; the International Spy Museum is pleased to name this award in his honor.
LOCATION: The Ritz-Carlton, 1150 22nd Street, NW Washington, DC 20037
ATTIRE: Cocktail
EVENT SCHEDULE: VIP Reception 6 - 7 PM; Cocktail Reception 6:30 - 7:30 PM; Dinner/Awards 7:30 - 9 PM; After-Glow 9 - 10 PM
Sponsorship benefits and opportunities or to attend this event, email: Rebecca Diamond (Vice President of Development & Membership) at: rdiamond@spymuseum.org, or call: 202.654.0954, or use this online link.

---

5 December 2017 - Columbia, MD - Dr Robert W. Love, Historian at US Naval Academy, discusses the rationale and wisdom of the Attack on Pearl Harbor at the NCMF 2017 Pearl Harbor Program

Join the National Cryptologic Foundation on 5 December for their 17th Annual Pearl Harbor Memorial Program which focuses on the rationale for the attack, which even its architect, Admiral Yamamoto, characterized in so many words as a "death warrant." The event features special guest speaker Dr. Robert W. Love, a professor and historian at the US Naval Academy. He will explain the motives and goals of the planners and whether it was "a bold stroke or senseless strategy."
When: 10-11:30 am, followed by lunch.
Cost: $25 for NCMF members, $50 for guests (complimentary one-year NCMF membership included with guest purchase).
Where: CACI Inc., Maryland Conference Center, 2720 Technology Drive, Annapolis Junction, MD 20755
RSVP or More Info: Register online here or mail a check to NCMF, PO Box 1682, Ft. Meade, MD 20755. For further details, call NCMF office at 301-688-5436.

---

Sunday, 17 December 2017, 1-4pm - Washington, DC - Curtis Harris: High Hand - at the International Spy Museum

Espionage, political machinations, oil, secretly funded high-tech weapons of intelligence, ghosts of the Cold War, murder, and poker. Who could want more in a summer read? James Rosen, Curtis Harris & James Ellenberger are the co-authors of High Hand and wrote under the single pseudonym Curtis J. James. Join the co-authors Curtis Harris for an in–store Spy Museum Store signing and join in the discussion on how spies, journalists, union leaders, and politicians and politicians intertwine to the extraordinary ways that advanced technology could be used in the pursuit of surveillance and interrogation. This is a high octane spy thriller! Event is free.
Visit www.spymuseum.org.

30 November 2017, 6 pm - Washington, DC - Dr Harlan Ullman discusses Anatomy of Failure: Why America Loses Every War It Starts at City Tavern Club.

The City Tavern Club invites AFIO members and guests to attend a program they are hosting upon the release of Dr. Harlan Ullman's latest book, Anatomy of Failure: Why America Loses Every War It Starts. Anatomy of Failure has been called a "must read" by former Secretaries of State General Colin Powell and Senator John Kerry and termed a combination of a Tom Clancy thriller with the gravitas of Karl Von Clausewitz by House of Cards creator Lord Michael Dobbs (see publisher blurb). To attend, contact Zana Metelski at zmetelski@icloud.com or the Club Manager, Heather Herfel, 202 337-8770.
Event location: The City Tavern Club, 3206 M ST NW, Washington, DC 20007; 202 337-8770.

Tuesday, 5 December 2017, 1-4pm - Washington, DC - Meet An F-4 Pilot: Mark Hewitt - at the International Spy Museum

Come to the Spy Museum and meet an F-4 pilot. Mark A. Hewitt has always had a fascination with spyplanes and the intelligence community's development and use of aircraft. He flew F-4s in the Marine Corps and served as Director of Maintenance with the Border Patrol and the Air Force, and was an Associate Professor for Embry-Riddle Aeronautical University. He is the author of Special Access, Shoot Down, No Need to Know, and his latest, Blown Cover. His novels have been approved by the CIA Publication Review Board.
Event is free.
Visit www.spymuseum.org.

Friday, 8 December 2017, 1-4pm - Washington, DC - James Rosen: High Hand - at the International Spy Museum

Espionage, political machinations, oil, secretly funded high-tech weapons of intelligence, ghosts of the Cold War, murder, and poker. James Rosen, Curtis Harris & James Ellenberger are the co-authors of High Hand and wrote under the single pseudonym Curtis J. James. Join the author James Rosen for an in-store Spy Museum Store signing of this spy thriller and join in the discussion on how spies, journalists, union leaders, and politicians intertwine as well as the extraordinary ways that advanced technology could be used in the pursuit of surveillance and interrogation. Event is free.
Visit www.spymuseum.org.

---

Tuesday, 12 December 2017, 7 pm - McLean, VA - Professor Hassan Abbas discusses "The Taliban Revival: Violence and Extremism on the Afghan-Pakistan Frontier" at the Westminster Institute

Hassan Abbas, Professor of International Security Studies and Chair of the Department of Regional and Analytical Studies at National Defense University's College of International Security Affairs (CISA), discusses The Taliban Revival: Violence and Extremism on the Afghan-Pakistan Frontier. Aside from his expertise on Pakistan and Afghanistan, he also travels frequently to Iraq for research work on Hashd al-Shaabi (also known as Popular Mobilization Forces/Shia Militias). Along with addressing the main topic of the Taliban revival, he will compare and contrast Taliban and Hashd.
When: Reception at 7pm; presentation 7:30 to 8:45pm.
Where: Westminster Institute, 6729 Curran St, McLean, VA 22101
Register here.

---

5-7 December 2017 - Chantilly, VA - Science, Intelligence and Operations - The Innovation Imperative at this ATIA TS//SI/TK US Only Conference

The ATIA (Advanced Technical Intelligence Association) believes that the US is at a national, "Sputnik Moment." There is a compelling need to expand the breadth of outreach within government and, externally, with the private sector. The overall goal needs to be accelerating the pace of government science.
The agenda at this classified event provides a structure by which (a) key government management speakers can describe their vision and initiatives; (b) will use case studies to provide an opportunity for deep dives into the problems and technologies needed; and, (c) will include collaboration panels to explore inter-agency opportunities to leverage new and existing technologies across mission needs.
More info on conference is here.
Cost: $1075 discounted to $925 to Nov 19.
Where: Engility Heritage Conference Center, Chantilly, VA 20151
Register here.
NOW AVAILABLE
Getting a Security Clearance: Questions and Answers about what they are, how they are conducted,
how you can qualify, how long they take, and what can put them in jeopardy.

Two valuable booklets are now available
The Security Clearance Process: Answers to Frequently Asked Questions - by the Congressional Research Service, Sept 2013
[PDF]
Security Clearances - FAQs - ClearanceJobs.com / DICE
[PDF]
---
Just released - 2017 edition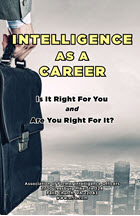 Intelligence as a Career - with updated listings of colleges teaching intelligence courses, and Q&As on needed foreign languages, as well as the courses, grades, extracurricular activities, and behavioral characteristics and life experiences sought by modern U.S. intelligence agencies.

AFIO's popular 56-page booklet reaches high school and college students considering careers in the U.S. Intelligence Community.
This is the fourth edition.
The publication is also popular with University Career Guidance Centers, professors and academic departments specializing in national security, and parents assisting children or grandchildren in choosing meaningful, public service careers.
This booklet is provided at no cost as a public service - online and in print - from the generosity of AFIO board, donors, and members. 20,000 printed copies of each edition are distributed. Many more PDF copies are accessed online.
We thank all members for their support which makes this educational effort possible.
2017 Careers Booklet (fourth edition) in PDF Format available here.
---
Intelligence Community - Eight Years in a Row - Named 2016
One of the Best Places to Work in the Federal Government
For the eighth consecutive year, the Intelligence Community (IC) was honored as #3 in the top-ten Best Places to Work in the Federal Government, according to an independent analysis of federal workers' job satisfaction and commitment. See more about the ranking here.
The rankings were compiled by the Partnership for Public Service (PPS) and American University's Institute for the Study of Public Policy Implementation (ISPPI) and announced recently in Washington, D.C. PPS is a nonprofit, nonpartisan organization that aims to attract people to federal careers and improve how the government runs. The institute conducts research and helps federal leaders solve difficult public-policy issues.
The IC ranked fourth overall among large agencies, which includes over 30 organizations, each of which employs more than two thousand people. Rankings are based on data from the 2016 Federal Employee Viewpoint Survey, which the U.S. Office of Personnel Management administers. The first Federal Government survey was in 2003, but the IC has only participated since 2009. Max Stier, president and CEO of the Partnership for Public Service, noted that the IC does not have to participate but does so voluntarily, "which is a credit to them."
To maintain the security of information about its work force, the IC relies on its own survey instrument to assess each year how its workers feel about issues such as job satisfaction, professional development, and the effectiveness of senior leaders. The IC includes several questions from the federal survey in the IC's annual Employee Climate Survey. That way, the Community's information can be compared with that from other organizations.
Other top-five large organization Best Places to Work are: The National Aeronautics and Space Administration and the U.S. Departments of Commerce, State and Justice.
Visit bestplacestowork.org to see which agencies top the rankings and to access trend analysis, demographic data and all 10 workplace categories, as well as generate custom reports and conduct side-by-side comparisons for up to three agencies.
---
---
Join as a corporate, academic,
or foundation member
---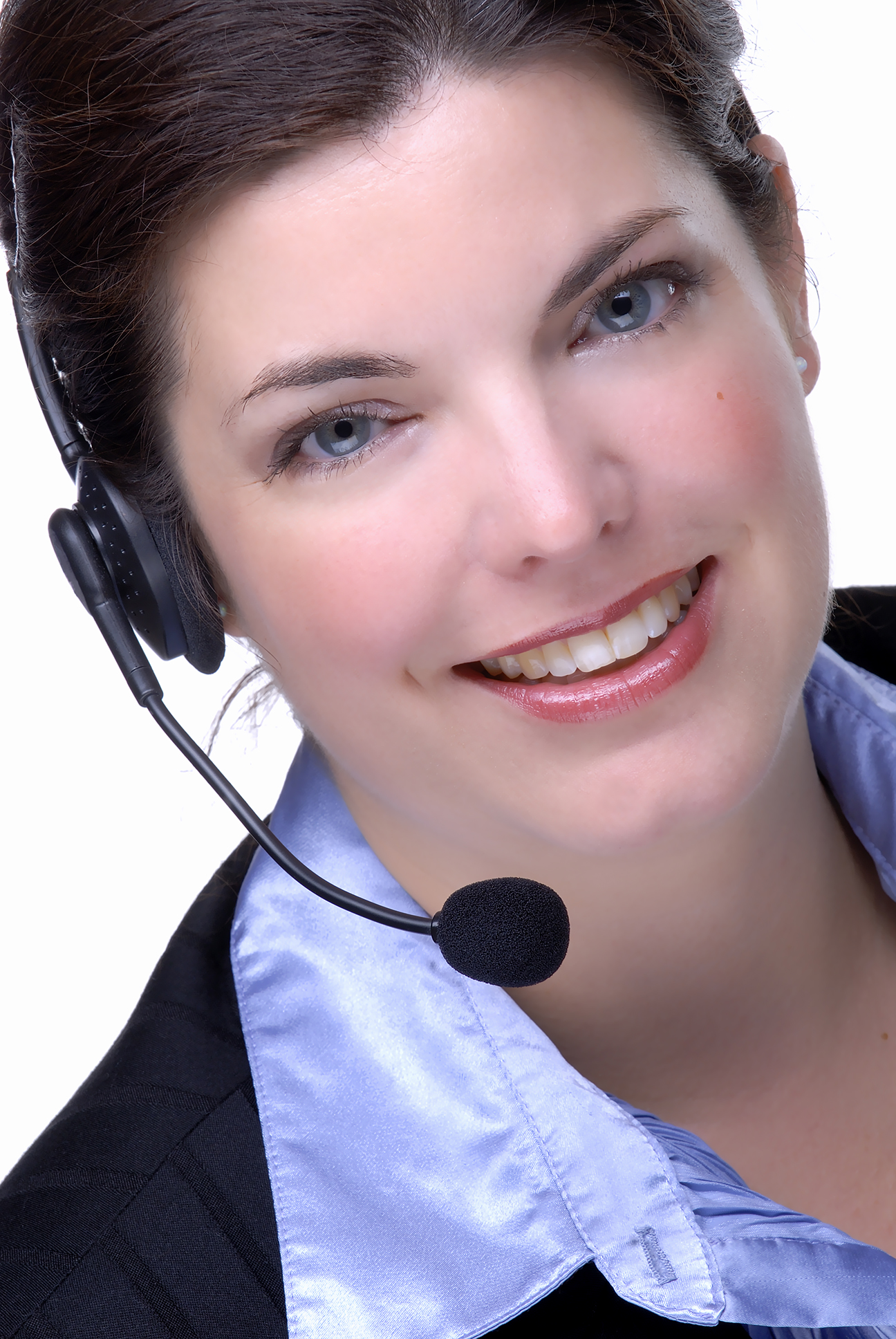 Become an Individual Member
or Subscriber
use this Online Form

Join or subscribe to our publications and enjoy all our unusual member benefits
---
---
Student Rates: U.S.-based Students, 28 years old or younger, attending a U.S. nonprofit accredited college, may join 1x at special rate. Email us at afio@afio.com with your info for application and rates. Rate not available to current or former members. Use this form to apply for student membership.
---
CURRENT or LAPSED MEMBERS - RENEW HERE:
Renew or Reinstate Your Membership or Subscription here
UPDATE MEMBER INFO:
New Email or Mailing Address? Provide here.
Review our Member
CODE of ETHICS
---
BOARD OF DIRECTORS' Photos and Public Biographies
---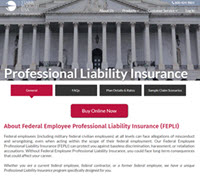 ---
---
---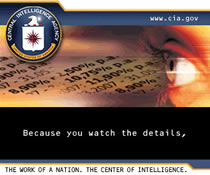 ---
Movies of Interest to members can be found here.
---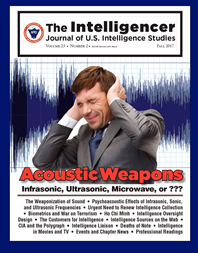 Send your articles and reviews to afio@afio.com for the journal INTELLIGENCER

---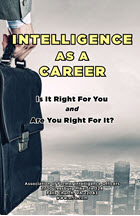 Intelligence
as a Career
UPDATED 2017

Is It Right For You
AND
Are You Right For It?
Click HERE, or the cover photo above, for the updated version Booklet.
---
Donations Needed -
Help AFIO continue our Special Events, Publications, and Speakers Program.
---

---