The Association of Former Intelligence Officers (AFIO) presents this website to serve our members and visitors as a portal to our activities and to provide word of upcoming educational events by other select intelligence groups.
Upcoming AFIO and Intelligence Community Events
Many informative, fascinating programs are occuring in the Washington Metro Area and across the country. Find out which ones to add to your calendar to stay connected and to stay current.

Corporate
Learn how your company can make a difference with AFIO corporate memberships and marketing opportunities. Reach more than 4,800 intelligence professionals.

National Members
Join or renew your existing membership and enjoy member benefits, such as special publications, invitations to events, unique banking & investment services, scholarships, and career assistance.

Publications
Sign up and receive the popular Weekly Intelligence Notes [WINs] and the printed industry journal: Intelligencer - Journal of U.S. Intelligence Studies, 3 issues per year for the intelligence community by intelligence professionals. AFIO also produces Intelligence As A Career - a printed and online guide to organizing your life and education to qualify for work in the intelligence community, and a Guide to the Study of Intelligence intended to assist college instructors and secondary school teachers of history, civics, and current events.

About Us
Learn about us - our many events, publications, programs, and legislative alerts. Support AFIO with purchases and donations or meet our members at events throughout the US. Make your views known.

Chapters
Local chapters have appeal to many members, so after you have joined AFIO National, consider adding a local chapter membership to your mix.

Upcoming AFIO and related Organization Educational Events ... Full listings found here

Tuesday, 9 August 2016, noon - 2 pm - MacDill AFB, FL - The Florida Suncoast AFIO Chapter hosts Capt Michael Silah, Commander NOAA, on "Hurricane Hunters."

The Florida Suncoast Chapter luncheon features a very topical program by CAPT Michael J. Silah, commander of the NOAA "Hurricane Hunters."
The program is scheduled to start at noon and will include a remembrance of the recently departed Dr. Ken Campbell, a longtime and treasured Chapter member.

Event location: MacDill AFB Surf's Edge Club, 7315 Bayshore Blvd, MacDill AFB, FL 33621. Admission only allowed to those who have pre-registered with the chapter for this event.

If you will be attending, respond to chapter secretary Michael Shapiro no later than noon on Tuesday, 2 August, with your name and the names of any guests. Please do not respond for others, aside from designating any of your own guests, as this will also delay your reservation.

The Surf's Edge Club has tightened its reservation policy, so please do not respond late.

If you (or any of your guests) have not previously attended one of our meetings and need base access, Mr. Shapiro will provide instructions. Important---if you make a reservation, and by 2 August have failed to get a cancellation confirmation and then don't show up, you will be responsible for the cost of the luncheon since the chapter will have to pay for your meal whether you are present or not.

After you RSVP, you will received an acknowledgement from the chapter confirming your registration. Should you not receive a reply within a day or two of registering, get back in touch with Mr. Shapiro at sectysuncoastafio@att.net to verify that your registration was received and to get a confirmation email.

The chapter is looking forward to seeing you at the meeting.
Questions to: Michael Shapiro, Secretary, Florida Suncoast Chapter of AFIO, (813) 832-1164 or sectysuncoastafio@att.net

---

10 September 2016, 11:30am - Melbourne, FL - The AFIO Florida Satellite Chapter hosts Lou Pernice on "The History of Homeland Security"

Guest Speaker at this kick-off event for the fall season is Louis Pernice, speaking on "The History of Homeland Security: The American Experience from our Independence to 911." It will be presented from abroad perspective covering both constitutional, budgetary and social issues. Lou will also be covering the topic starting from the early colonial days of defending our borders through the Civil War, both World Wars, the Cold War, evolution of transnational terrorist threat and up to the 9/11 attacks.
Lou'sprofessional background includes: Career law enforcement professional with a leadership record spanning over 40 years of demonstrated success in five federal/state law enforcement/support agencies including: United States Treasury Department – Internal Revenue Service; U.S. Department of Agriculture – Office of Inspector General; U.S. Department of Justice - Office of the Inspector General; U.S. Immigration and Naturalization Service - Office of Professional Responsibility; and the Brevard Police Testing and Selection Center. Lou holds a Masters Degree in Public Administration from John Jay College of Criminal Justice in New York and hold a BachelorsDegree in Psychology from Brooklyn College in New York.
Event will be held at Indian River Colony Club, 1936 Freedom Drive, Melbourne, FL 32940.
For more information or to register, do so at this chapter website link.

Saturday, 13 August 2016, 11 am - 3 pm - Orange Park, FL - The North Florida Chapter hosts FBI Agent Dan Moxley, speaking on criminal operations, counterterrorism, counter-intelligence, cyber operations, and assessing the offensive and defensive capabilities of the U.S. government's adversaries from a technical perspective.

Several new and interesting subjects will be covered at our August 13th meeting, ranging from criminal operations, counterterrorism, counter-intelligence, cyber operations, to assessing the offensive and defensive capabilities of the U.S. government's adversaries from a technical perspective. Our speaker, FBI Agent Daniel Moxley, was graduated from Florida State University in May 2009, and has been an FBI Intelligence Analyst for nearly seven years, supporting the FBI intelligence program at both the headquarters and field level. He has participated in numerous high visibility and priority FBI cases, such as the Edward Snowden Compromise, Mexican Drug Cartels, the Boston Marathon Bombing and, most recently, the intelligence community's first successful extradition of a terrorist subject providing support to an extremist group via computer operations.

Please RSVP to Quiel at QBegonia@comcast.net or call him at 904-545-9549. Remember that guests and potential members are cordially invited. Luncheon cost is the usual $24 per person, pay the wait staff at the club. Looking forward to seeing everyone.

---

Teaching -- or Seeking to learn more -- about the world of Intelligence?

AFIO's Guide to the Study of Intelligence
Are You Using It?
The Guide consists of more than 66 articles on all aspects of intelligence. It is intended to help instructors become familiar with intelligence-related subjects. Guide articles, written by both academic experts and seasoned practitioners, are introductions to the subject with recommended readings for further study.
Guide articles appear in AFIO's journal Intelligencer and as PDFs on our website here.
They are free for academic use.

For a complete list of what articles are available at this time, view this pdf.

---

AFIO's Intelligence Community Mousepad


Full color seals of all 18 members of the U.S. Intelligence Community on this 8" round, slick surface, nonskid, rubber-backed mouse pad. Price: $20.00 for 2 pads [includes shipping to U.S. based address, only. For foreign shipments, we will contact you with a quote.] Great gift for colleagues and self. Click image above for larger image.

OTHER IMPORTANT UPCOMING EDUCATIONAL EVENTS....

Wednesday, 24 August 2016, noon- 2 pm - Washington, DC - Debriefing the President - at the International Spy Museum

In December 2003, after one of the largest, most aggressive manhunts in history, US military forces captured Iraqi president Saddam Hussein near his hometown. Beset by body-double rumors and false alarms, the Bush administration needed positive identification of the prisoner before announcing the capture. John Nixon was a senior CIA leadership analyst who had spent years studying the Iraqi dictator. Called upon to make the official ID, Nixon looked for telltale scars and tattoos and asked Hussein questions only he could answer—the man was indeed Saddam Hussein. Join Nixon as he exposes the preconceived ideas that led Washington policymakers astray and presents a new perspective on America's most enigmatic enemy in Debriefing the President. Tickets: FREE. Visit www.spymuseum.org

Wednesday, 24 August 2016, 6:30 pm- 8:30 pm - Washington, DC - Spies on Screen: The Tall Blond Man with One Black Shoe - at the International Spy Museum

When this lighthearted tale of espionage, surveillance, and mistaken identity premiered in 1972 it became an international sensation. Pierre Richard is Francois the tall blond man, an unsuspecting violinist who becomes a pawn in a goofy, but deadly, game of spy versus spy within France's Counter-Espionage department. The screwball comedy features a fabulous femme fatale, much slapstick, and lots and lots of collateral damage. Enjoy popcorn and sparkling French soda along with the evening's screening. In French with English subtitles; screening at the Spy Museum. Cosponsored by the Alliance Française de Washington and Film Movement. Tickets: $10. Visit www.spymuseum.org
NOW AVAILABLE
Getting a Security Clearance: Questions and Answers about what they are, how they are conducted,
how you can qualify, how long they take, and what can put them in jeopardy.

Two valuable booklets are now available
The Security Clearance Process: Answers to Frequently Asked Questions - by the Congressional Research Service, Sept 2013
[PDF]
Security Clearances - FAQs - ClearanceJobs.com / DICE
[PDF]
---
Intelligence as a Career -with listings of colleges teaching intelligence courses.

AFIO's booklet for high school and college students considering careers
in the U.S. Intelligence Community.
Careers Booklet in PDF Format available here.
Cannot open some or all of these PDFs? It can mean your PDF viewer is out-of-date.
Use this link to update your viewer to the latest version.
---
Intelligence Community - Seven Years in a Row - Named 2015
One of the Best Places to Work in the Federal Government
For the seventh consecutive year, the Intelligence Community (IC) was honored as #2 in the top-ten Best Places to Work in the Federal Government, according to an independent analysis of federal workers' job satisfaction and commitment.
The rankings were compiled by the Partnership for Public Service (PPS) and American University's Institute for the Study of Public Policy Implementation (ISPPI) and announced recently in Washington, D.C. PPS is a nonprofit, nonpartisan organization that aims to attract people to federal careers and improve how the government runs. The institute conducts research and helps federal leaders solve difficult public-policy issues.
The IC ranked fourth overall among large agencies, which includes over 30 organizations, each of which employs more than two thousand people. Rankings are based on data from the 2015 Federal Employee Viewpoint Survey, which the U.S. Office of Personnel Management administers. The first Federal Government survey was in 2003, but the IC has only participated since 2009. Max Stier, president and CEO of the Partnership for Public Service, noted that the IC does not have to participate but does so voluntarily, "which is a credit to them."
To maintain the security of information about its work force, the IC relies on its own survey instrument to assess each year how its workers feel about issues such as job satisfaction, professional development, and the effectiveness of senior leaders. The IC includes several questions from the federal survey in the IC's annual Employee Climate Survey. That way, the Community's information can be compared with that from other organizations.
Other top-five large organization Best Places to Work are: The National Aeronautics and Space Administration and the U.S. Departments of Commerce, State and Justice.
Visit bestplacestowork.org to see which agencies top the rankings and to access trend analysis, demographic data and all 10 workplace categories, as well as generate custom reports and conduct side-by-side comparisons for up to three agencies.
---
Join or subscribe to our publications and enjoy all our unusual member benefits
JOIN:
As a Member or Subscriber - Use this Online Form
Student Rates: Students, 28 years old or younger, attending a U.S. nonprofit accredited college, may join 1x at special rate. Email us at afio@afio.com with your info for application and rates.
RENEW:
Renew or Reinstate Your Membership or Subscription here
UPDATE MEMBER INFO:
New Email or Mailing Address? Provide it here.
---
---
Review our Member
CODE of ETHICS

---
BOARD OF DIRECTORS' Photos and Public Biographies
---
---
---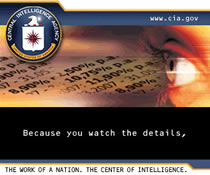 ---
We Thank These Corporate, Academic, and Charitable Foundation Members
Join as a corporate
or foundation member
---
Movies of Interest to members can be found here.
---

Send your articles and reviews to afio@afio.com for the journal INTELLIGENCER

---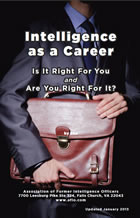 Intelligence
as a Career

Is It Right For You
AND
Are You Right For It?
Click HERE, or the cover photo above, for the updated version Booklet.
---
Donations Needed -
Help AFIO continue our Special Events, Publications, and Speakers Program.
---

---