AFIO Central Office
7700 Leesburg Pike
Suite 324
Falls Church, VA
22043
Voice: 703 790 0320
Fax: 703 991 1278
Email: afio@afio.com

© 2016 AFIO

Copyright and Privacy Notice


The Association of Former Intelligence Officers (AFIO) presents this website to serve our members and visitors as a portal to our activities and to provide word of upcoming educational events by other select intelligence groups.
Upcoming AFIO and Intelligence Community Events
Many informative, fascinating programs are occuring in the Washington Metro Area and across the country. Find out which ones to add to your calendar to stay connected and to stay current.

Corporate
Learn how your company can make a difference with AFIO corporate memberships and marketing opportunities. Reach more than 4,800 intelligence professionals.

National Members
Join or renew your existing membership and enjoy member benefits, such as special publications, invitations to events, unique banking & investment services, scholarships, and career assistance.

Publications
Sign up and receive the popular Weekly Intelligence Notes [WINs] and the printed industry journal: Intelligencer - Journal of U.S. Intelligence Studies, 3 issues per year for the intelligence community by intelligence professionals. AFIO also produces Intelligence As A Career - a printed and online guide to organizing your life and education to qualify for work in the intelligence community, and a Guide to the Study of Intelligence to assist college instructors, secondary school teachers of history, civics, and current events, and students, on the best readings on a wide variety of current intelligence topics.

About Us
Learn about us - our many events, publications, programs, and legislative alerts. Support AFIO with purchases and donations or meet our members at events throughout the US. Make your views known.

Chapters
Local chapters have appeal to many members, so after you have joined AFIO National, consider adding a local chapter membership to your mix.

Upcoming AFIO and related Organization Educational Events ... Full listings found here

Sunday, 29 January 2017, 11:30am - 1:30pm - Lyndhurst, OH - AFIO Great Lakes Chapter hosts Derek Siegle, HIDTA, on "The Responsibilities of the High Intensity Drug Trafficking Area Program."

Derek M. Siegle is the Executive Director of HIDTA (High Intensity Drug Trafficking Area) Program which is a Federal Agency that coordinates and assists in law enforcement drug investigations. It is staffed by law enforcement officers detached from the FBI and other law enforcement agencies. His talk will cover the responsibilities of HIDTA.
Derek was the ASAC (Assistant Special Agent in Charge) of the FBI's Cleveland Division prior to assuming his present position.
Location: Private Room, Bar Louie, in Legacy Village, 24337 Cedar Rd, Lyndhurst, OH 44124. Food may be ordered off menu so arrive hungry as the room is provided with understanding it is a restaurant.
RSVP to John Heinsons at hp34063@yahoo.com.

---

Friday 10 February 2017, 12:30 - 2pm - Los Angeles, CA - The AFIO Los Angeles Chapter hears from John Hallstead and conducts elections and other business

Presentation: John Hallstead will give a brief intelligence topic overview, following the election & business portion of the meeting.
Lunch will be served
Location: L.A.P.D - ARTC 5651 W Manchester Ave, Los Angeles, CA 90045
RSVP: AFIO_LA@yahoo.com


---

Saturday, 11 February 2017 - 11:30 - Patrick AFB, FL - The Florida Satellite Chapter hosts Dr. Clifford Bragdon on "Transportation Security for Global Survival."

Dr. Clifford Bragdon, AICP, FASA, founder and president of the Global Center for Preparedness and Resilience, has over 40 years of academic experience, research and consulting in the fields of urban planning, sustainability and transportation, homeland security and simulation. He will address us on the topic of Transportation Security for Global Survival.
TIMING: 11:30 AM - 12:15 PM: Social Hour, greet old, new members and guests (limited cash bar - honor system); 12:15 PM: Sit-Down lunch.
FEE: Member and spouse: $25; Non-Members/Guest:$28; Student and active duty military: $22
TO ATTEND: Prepaid reservations are required which must be received by Friday, 3 February. Register at www.afiofsc.com or send check and meal choice [salmon, chicken, or beef] to: Chapter President John Noble, Melbourne Police Department, 701 South Babcock St, Melbourne, FL 32935. Questions? John can also be reached at afiofsc@gmail.com, and at 321-693-2427
LOCATION: Please note new meeting venue. The Tides, 1001 N. Hwy A1A, Bldg #967, Patrick AFB, FL 32925.

---


Recently published. AFIO's 800-page comprehensive Guide to the Study of Intelligence. Peter C. Oleson, Editor. Foreword by Dr. Robert M. Gates, former Director, Central Intelligence.
View authors and table of contents here.

Perfect for professors, students, those considering careers in intelligence, and current/former officers seeking to see what changes are taking place across a wide spectrum of intelligence disciplines.

AFIO's Guide to the Study of Intelligence helps instructors teach about the large variety of subjects that make up the field of intelligence. This includes secondary school teachers of American History, Civics, or current events and undergraduate and graduate professors of History, Political Science, International Relations, Security Studies, and related topics, especially those with no or limited professional experience in the field. Even those who are former practitioners are likely to have only a limited knowledge of the very broad field of intelligence, as most spend their careers in one or two agencies at most and may have focused only on collection or analysis of intelligence or support to those activities.

$95, includes Fedex shipping to a CONUS (U.S.-based) address. AK, HI, and other US or foreign addresses should contact afio@afio.com to inquire about shipping options.

To order for shipment to a U.S.-based CONUS address, use this online form,
To order multiple copies or for purchases going to AK, HI, other US territories, or other countries call our office at 703-790-0320 or send email to afio@afio.com
providing your name, mailing address, quantity, cc number and expire date, and amount authorized to charge, and your phone should we have questions. Foreign shipments fees will be calculated and estimates sent, awaiting your approval.

The Guide is also available directly from Amazon at this link.

Saturday, 11 February 2017, 11am - 3pm - Orange Park, FL - The North Florida Chapter hears from William F. Crowe, Citizens Property Insurance Corporation IT Security Risk Manager, speaking on "Cyber Wars, Theft, Methodology and History."

William F. Crowe, who will speak on "Cyber Wars, Theft, Methodology and History." He is the Citizens Property Insurance Corporation IT Security Risk Manager with over 20 years' experience in Information Technology security, risk, audit and governance which includes my military experience and careers at Citi and Chase.
Please RSVP right away to qbegonia@comcast.net or call 904-545-9549 for this meeting. Cost: $24 per person, pay the Club at the luncheon.
Location: Country Club of Orange Park. Please RSVP on/before the 1st of February so we can lock down attendance to keep the club happy. Remember, as always, kin or friends, especially potential members, are always welcome.

---

Tuesday, 14 February 2017, noon - MacDill AFB, FL - The Florida Suncoast AFIO Chapter hears from RADM Gerald Talbot, USN(R) on "The Importance of Intelligence in the Interagency Decision Making Process."

We have a very informative and insightful program in store as we welcome RADM Gerald Talbot, USN (ret), speaking on the importance of intelligence in the interagency decision making process. Mr. Talbot was detailed in June 2011 as the Executive Director National Security Professional Development Integration Office responsible for implementation of a national strategy for the development of National Security Professionals. Prior to that, Talbot served as the Associate Administrator for Management and Administration at the National Nuclear Security Administration, responsible for the management and operations of the Administration's planning, programming, budgeting and evaluation function; human capital management; acquisition management; and, administrative operations.

Location: MacDill AFB Surf's Edge Club, 7315 Bayshore Blvd, MacDill AFB, FL 33621. Lunch is $20, payable at the door by cash or check.
RSVP: the Chapter Secretary at michaels@suncoastafio.org for more information or to make a reservation. Responses are due by noon on Tuesday, 7 February.

---

Friday 24 February 2017 - Tysons Corner, VA - AFIO National Kick-off Luncheon for 2017 - Enhanced Interrogation: Inside the Minds and Motives of the Islamic Terrorists Trying To Destroy America, and Spy Sites of Washington, DC.

AFIO National's first luncheon of 2017 features Dr. James E. Mitchell discussing Enhanced Interrogation: Inside the Minds and Motives of the Islamic Terrorists Trying To Destroy America. Mitchell was a civilian contractor who spent years training U.S. military members to resist interrogation should they be captured. Aware of the urgent need to prevent impending catastrophic terrorist attacks, he worked with the CIA to implement "enhanced interrogation techniques"–which included waterboarding. Despite the media hysteria that followed, he tells us why EIT remains valuable. Mitchell's co-author, Bill Harlow, will be present but not a presenter.

"Emotions are high and accusations are being thrown about, but facts matter. Before anyone rushes to judgment, they should read this book and take in what happened through the eyes of a key player in the CIA's interrogation program."–General Michael Hayden, USAF, Ret., Former CIA Director

"The authentic account of head-to-head hardball with fanatical Islamic killers by a professional who not only won big for America, but did it while fending off powerful critics. The lessons learned needed to be told–and well-told they are. The war on us by radical Islamists is far from over–read and learn!"
–Hon. Porter J. Goss, Former Chairman of House Intelligence Committee and CIA Director

In the afternoon, we hear from Robert Wallace and H. Keith Melton, authors of what will be the just-released Spy Sites of Washington, DC: A Guide to the Capital Region's Secret History. A mesmerizing tour of traitors and tradecraft revealing the wheres and whys of Washington's second-oldest profession. Robert Wallace is the former director of CIA's Office of Technical Service. He and Melton have co-authored four books. Keith Melton is an intelligence historian and owns one of the largest collections of spy paraphernalia in the world.

Location: Crowne Plaza Hotel Mezzanine, 1960 Chain Bridge Rd, Tysons Corner, VA 22102. Hotel: 703 893-2100. Driving directions here or use this link: http://tinyurl.com/boey9vf For security reason, reservations on day of event are not allowed.

REGISTER NOW.

---

AFIO's NEW Intelligence Community Mousepad for 2017

New mousepads arrived. Full color seals of all 18 members of the U.S. Intelligence Community on this 8" round, slick surface, nonskid, rubber-backed mouse pad. Price still only $20.00 for 2 pads [includes shipping to U.S. based address, only. For foreign shipments, we will contact you with a quote.] Great gift for colleagues and self. Click image above for larger image. Now with dark navy background, brighter, updated seals of member agencies. And now MADE IN USA. Order NEW MOUSEPADS here.


---

Teaching–or Seeking to learn more–about the world of Intelligence?

AFIO's Guide to the Study of Intelligence
Are You Using It?
The Guide consists of more than 66 articles on all aspects of intelligence. It is intended to help instructors become familiar with intelligence-related subjects. Guide articles, written by both academic experts and seasoned practitioners, are introductions to the subject with recommended readings for further study.
Guide articles appear in AFIO's journal Intelligencer and as PDFs on our website here.
They are free for academic use.

For a complete list of what articles are available at this time, view this pdf.

Other Upcoming Educational Events....

Wednesday, 25 January 2017, 7 - 9 pm - Washington, DC - Introduction To Intelligence Analysis 101 - Spy School Workshop at the International Spy Museum

How good are you in a crisis? To survive in the world of an intelligence analyst, you must be able to quickly gather the facts, determine what is relevant, find patterns, make critical connections, and you must not forget to check your ego and biases at the door. That's what you'll need to do in this hands-on workshop led by Randy Pherson, the CIA's former National Intelligence Officer (NIO) for Latin America, recipient of the CIA's Career Intelligence Medal and founder of the Forum Foundation for Analytic Excellence. As you grapple with a real intelligence case about a U.S. nuclear scientist who may have transferred secrets to the Chinese to assist in the development of their nuclear program, you'll go through the same process as an intelligence analyst, evaluating incoming information and questioning your own preconceptions and assumptions under a looming deadline. Learn how analysts employ Structured Analytic Techniques to avoid cognitive pitfalls and spur creative thinking. And ultimately find out whether your analysis would have helped to defuse a crisis or fuel a foreign policy disaster. Tickets for the general public: $40. Register at www.spymuseum.org

---

24 February 2017, 5:30 to 7 p.m. - Washington, DC - The Changing Role of Intelligence in a Changing World - Gene Poteat presentation at The Institute of World Politics

American intelligence services, constrained by law and with oversight from the executive and both branches of Congress, are thus liable for their actions, but are not immune from politics. Rather than going along with our changing culture and politics, the problems facing our intelligence are avoided by strict vigilance and adherence to the highest professional judgements and ethics - without political considerations. This event is the fourth Brian Kelley Memorial Lecture and is sponsored by the IWP Alumni Association. About the speaker S. Eugene (Gene) Poteat is a retired senior CIA Scientific Intelligence Officer, and has served as President of the Association of Former Intelligence Officers (AFIO). He was educated as an electrical engineer and physicist. He holds a Masters in Statecraft and National Security Affairs from IWP. His career in intelligence included work with U-2 and SR-71 class of aircraft and various space and naval reconnaissance systems. He also managed the CIA's worldwide network of monitoring sites. He holds patents on covert communications techniques. His CIA assignments included the Directorate of Science and Technology, the National Reconnaissance Office, Technical Director of the Navy's Special Programs Office and Executive Director of the Intelligence Research and Development Council. He served abroad in London, Scandinavia, the Middle East and Asia. He received the CIA's Medal of Merit and the National Reconnaissance Office's Meritorious Civilian Award for his technological innovations.
Location: The Institute of World Politics 1521 16th St NW, Washington, DC 20036
REGISTER HERE.

22-25 February 2017 - Baltimore, MD - The International Studies Association (ISA) 58th Annual Convention: "Understanding Change in World Politics."

The International Studies Association (ISA) 58th Annual Convention: "Understanding Change in World Politics"is a major annual academic conference which has a section of special interest to professors and students studying intelligence: the Intelligence Studies Section (ISS) which hosts many panels and presentations at the conference. Headquarters Hotel: Hilton Baltimore, Baltimore, MD.
A tentative list of the ISS panels at this ISA may be viewed here.

ISA has a new online program (requires login) that lets ISA members or event registrants to search by person, title, sponsor, and keywords. You can use this to build a personalized schedule that you can download as a PDF to have handy when you're at the convention.
For much more information visit this link.

---

Wednesday, 29 March 2017, 10am - 1pm - Annapolis Junction, MD - Stephen Budiansky discusses A New Perspective on NSA's Covert Activities at this NCMF spring program

Join National Cryptologic Museum Foundation friends and colleagues welcoming Stephen Budiansky, acclaimed author, journalist, and historian of cryptology, as speaker at this NCMF Spring Cryptologic Program, discussing "A New Perspective on NSA's Covert Activities." A book signing of Mr. Budiansky's history-as-thriller titled Code Warriors: NSA's Codebreakers and the Secret Intelligence War Against the Soviet Union follows his presentation and lunch follows that at noon.
This history of the NSA, filled with the intricacies of cryptology, reads like a novel. Budiansky presents a story of suspense as he focuses on the men and women who struggled to break enemy codes, from NSA's wartime efforts to crack Nazi and Japanese codes through the Cold War. Speaking of that Cold War, the struggles grow murky expanding to suspected spies abroad and U.S. citizens (Budiansky includes thoughts on Edward Snowden). Budiansky makes cryptology remarkably accessible for general readers. Appendixes include "Russian Teleprinter Ciphers" and "The Index of Coincidence."
Mr. Budiansky is the author of numerous books of military and intelligence history, science and biography including Battle of Wits: The Complete Story of Codebreaking in World War II and Blackett's War. He is the former foreign editor and deputy editor of U.S. News & World Report, and former Washington editor of the scientific journal Nature, and a regular contributor to the Wall Street Journal's book review pages. You will not want to miss this program that draws on an array of recently declassified documents to explore the NSA's long SIGINT struggle against the Soviets and to trace the historical forces behind the intelligence controversies making headlines today.
Where: CACI, Inc. located at 2720 Technology Drive, Annapolis Junction, MD 20701, Tel 301-575-3200. Directions and Map are here.
RSVP: mail your registration fee of $20 (members) or $50 (guests, includes one-year membership) to NCMF, PO Box 1682, Fort George G. Meade, MD 20755-9998 or register online here prior to 23 March. [please note: the online registration link only becomes available starting January 27].

---

30 March - 1 April 2017 - Washington, DC - Joint Conference on "Creating and Challenging the Transatlantic Intelligence Community"

The Woodrow Wilson Center, the German Historical Institute, and the Intenational Intelligence History Association are delighted to invite you to the jointly organized conference on "Creating and Challenging the Transatlantic Intelligence Community".

Please register for the conference by email to the IIHA Executive Director at exec_director@intelligence-history.org before 23 March 2017.
The conference fee is 150 EUR / 165 US-Dollar, 110 EUR / 120 US-Dollar for IIHA members and 75 EUR / 80 US-Dollar for students.
This includes dinners on Thursday and Friday as well as coffee breaks during the conference and a snack lunch on Saturday.
NOW AVAILABLE
Getting a Security Clearance: Questions and Answers about what they are, how they are conducted,
how you can qualify, how long they take, and what can put them in jeopardy.

Two valuable booklets are now available
The Security Clearance Process: Answers to Frequently Asked Questions - by the Congressional Research Service, Sept 2013
[PDF]
Security Clearances - FAQs - ClearanceJobs.com / DICE
[PDF]
---
Intelligence as a Career - with listings of colleges teaching intelligence courses.

AFIO's booklet for high school and college students considering careers
in the U.S. Intelligence Community.
Careers Booklet in PDF Format available here.
Cannot open some or all of these PDFs? It can mean your PDF viewer is out-of-date.
Use this link to update your viewer to the latest version.
---
Intelligence Community - Eight Years in a Row - Named 2016
One of the Best Places to Work in the Federal Government
For the eighth consecutive year, the Intelligence Community (IC) was honored as #3 in the top-ten Best Places to Work in the Federal Government, according to an independent analysis of federal workers' job satisfaction and commitment. See more about the ranking here.
The rankings were compiled by the Partnership for Public Service (PPS) and American University's Institute for the Study of Public Policy Implementation (ISPPI) and announced recently in Washington, D.C. PPS is a nonprofit, nonpartisan organization that aims to attract people to federal careers and improve how the government runs. The institute conducts research and helps federal leaders solve difficult public-policy issues.
The IC ranked fourth overall among large agencies, which includes over 30 organizations, each of which employs more than two thousand people. Rankings are based on data from the 2016 Federal Employee Viewpoint Survey, which the U.S. Office of Personnel Management administers. The first Federal Government survey was in 2003, but the IC has only participated since 2009. Max Stier, president and CEO of the Partnership for Public Service, noted that the IC does not have to participate but does so voluntarily, "which is a credit to them."
To maintain the security of information about its work force, the IC relies on its own survey instrument to assess each year how its workers feel about issues such as job satisfaction, professional development, and the effectiveness of senior leaders. The IC includes several questions from the federal survey in the IC's annual Employee Climate Survey. That way, the Community's information can be compared with that from other organizations.
Other top-five large organization Best Places to Work are: The National Aeronautics and Space Administration and the U.S. Departments of Commerce, State and Justice.
Visit bestplacestowork.org to see which agencies top the rankings and to access trend analysis, demographic data and all 10 workplace categories, as well as generate custom reports and conduct side-by-side comparisons for up to three agencies.
---
Join or subscribe to our publications and enjoy all our unusual member benefits
---
---
JOIN:
As a Member or Subscriber - use this Online Form
Student Rates: U.S.-based Students, 28 years old or younger, attending a U.S. nonprofit accredited college, may join 1x at special rate. Email us at afio@afio.com with your info for application and rates. Rate not available to current or former members.
RENEW:
Renew or Reinstate Your Membership or Subscription here
UPDATE MEMBER INFO:
New Email or Mailing Address? Provide here.
---
Join as a corporate
or foundation membe
---
Review our Member
CODE of ETHICS
---
BOARD OF DIRECTORS' Photos and Public Biographies
---
---
---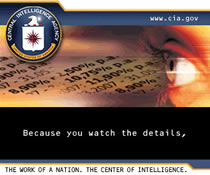 ---
Movies of Interest to members can be found here.
---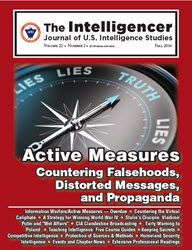 Send your articles and reviews to afio@afio.com for the journal INTELLIGENCER

---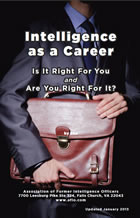 Intelligence
as a Career

Is It Right For You
AND
Are You Right For It?
Click HERE, or the cover photo above, for the updated version Booklet.
---
Donations Needed -
Help AFIO continue our Special Events, Publications, and Speakers Program.
---

---