AFIO Central Office
7700 Leesburg Pike
Suite 324
Falls Church, VA
22043
Voice: 703 790 0320
Fax: 703 991 1278
Email: afio@afio.com

© 2016 AFIO

Copyright and Privacy Notice


The Association of Former Intelligence Officers (AFIO) presents this website to serve our members and visitors as a portal to our activities and to provide word of upcoming educational events by other select intelligence groups.
AFIO National Spring Luncheon
Friday, 12 May 2017
11 a.m. to 2 p.m.
Register here.

New York Times Washington Correspondent David Sanger on
"Terrorism, Secret Wars, Nuclear Proliferation, and the Use of American Power"
and
Author Eva Dillon on
"Living Life Undercover in a CIA Family"
AFIO National Spring Luncheon features David E. Sanger, Chief Washington Correspondent for the New York Times, speaking on
"Terrorism, Secret Wars, Nuclear Proliferation, and the Use of American Power." His address starts at 1 p.m.
The 11 a.m. speaker is Eva Dillon, author and magazine publisher, on
Spies in the Family: An American Spymaster, His Russian Crown Jewel, and the Friendship That Helped End the Cold War, a book she has just published.
Event location is the Crowne Plaza (soon to be renamed DoubleTree-Hilton), Tysons Corner, VA,
at 1960 Chain Bridge Rd, McLean, VA 22102.

Registration is here. Do so quickly to assure seating.
Upcoming AFIO and Intelligence Community Events
Many informative, fascinating programs are occuring in the Washington Metro Area and across the country. Find out which ones to add to your calendar to stay connected and to stay current.

Corporate
Learn how your company can make a difference with AFIO corporate memberships and marketing opportunities. Reach more than 4,800 intelligence professionals.

National Members
Join or renew your existing membership and enjoy member benefits, such as special publications, invitations to events, unique banking & investment services, scholarships, and career assistance.

Publications
Sign up and receive the popular Weekly Intelligence Notes [WINs] and the printed industry journal: Intelligencer - Journal of U.S. Intelligence Studies, 3 issues per year for the intelligence community by intelligence professionals. AFIO also produces Intelligence As A Career - a printed and online guide to organizing your life and education to qualify for work in the intelligence community, and a Guide to the Study of Intelligence to assist college instructors, secondary school teachers of history, civics, and current events, and students, on the best readings on a wide variety of current intelligence topics.

About Us
Learn about us - our many events, publications, programs, and legislative alerts. Support AFIO with purchases and donations or meet our members at events throughout the US. Make your views known.

Chapters
Local chapters have appeal to many members, so after you have joined AFIO National, consider adding a local chapter membership to your mix.

Upcoming AFIO and related Organization Educational Events ... Full listings found here

Thursday, 30 March 2017, 12:30 - 2pm - Los Angeles, CA - AFIO LA Chapter hosts Phil Pressel on "The Hexagon KH-9 Spy Satellite Program."

AFIO LA hosts guest speaker Phil Pressel will be speaking on the subject of the Hexagon KH-9 spy satellite program. Phil worked for 30 years for the Perkin-Elmer Corporation in Connecticut and was responsible for the design of the Hexagon's stereo cameras. It was the last film based spy satellite. The Hexagon satellite was acknowledged to have been an invaluable asset providing intelligence information for security agencies and the military. It was responsible for President Nixon signing the SALT treaty and allowed President Reagan to say, "trust but verify" what the Russians were doing. The program was declassified by the NRO in 2011.
Location: LAPD-ARTC 5651 W Manchester Ave, L.A. CA 90045 ROOM 1G
To RSVP, email Vince at AFIO_LA@yahoo.com.

---

Wednesday, 5 April 2017, 7 pm - Atlanta, GA - AFIO-Atlanta Chapter and the Harvard Club Host Dinner & Drinks with a Spy: Jack Barsky, Former KGB.

The AFIO-Atlanta Chapter is co-sponsoring with the Harvard Club of Atlanta a "Dinner & Drinks with a Spy": the spy in question is Jack Barsky, former KGB.
Jack Barsky - who could have stepped right out of the FX Network series The Americans on Russian illegals, which he was - has published a book released today: Deep Undercover: My Secret Life and Tangled Allegiances as a KGB Spy in America. Barsky will provide a presentation, entertain questions, and have dinner with us.
A fine review of Barsky's book should whet your appetite to attend. It is by AFIO member/GA Tech Professor Kristie Macrakis and at this link.
Location: Manuel's Tavern, 602 N Highland Ave NE, Atlanta, GA 30307; (404) 525-3447 (tavern).
Fee: Entrance free, buy your own dinner/drinks.
RSVP macrakis@gatech.edu to assure space.

---

Tuesday, 11 April 2017, noon - MacDill AFB - The Florida Suncoast AFIO Chapter hosts Dr. Mudhafar Amin on "Iraqi and Regional Affairs from view of a former member of Iraq's Foreign Service."

Dr. Mudhafar A. Amin will be offering insights on Iraqi and regional affairs from his perspective as a history and political science scholar and former senior member of Iraq's Foreign Service. We will also be honoring several WWII veterans living in Tampa Bay as well as holding elections for Chapter officers.
Location: MacDill AFB Surf's Edge Club, 7315 Bayshore Boulevard, MacDill AFB, FL 33621.
Fee: $20, payable at the door by cash or check, for lunch.
RSVP or more info: Chapter Secretary michaels@suncoastafio.org for more information or to make a reservation. Deadline: Tuesday, 4 April 2017.

---

Thursday, 20 April 2017, 6:30 PM - Michigan - The AFIO Michigan Chapter hosts SSA David A. Fluitt, FBI, discussing counterintelligence and counterproliferation issues.

The AFIO "Johnny Micheal Spann" Memorial Chapter hosts David A. Fluitt Counterintelligence Supervisory Special Agent (SSA) with the Detroit FBI and also serves as the counterintelligence and counterproliferation Program Coordinator within the state of Michigan. Speaker: David Fluitt, Counterintelligence Supervisory Special Agent (SSA) with the Detroit FBI Location: Contact us for information on meeting location Send inquiries to afio.secretary@afiomichigan.org or visit their website at www.afiomichigan.org.

---


Recently published. AFIO's 800-page comprehensive Guide to the Study of Intelligence. Peter C. Oleson, Editor. Foreword by Dr. Robert M. Gates, former Director, Central Intelligence.
View authors and table of contents here.

Perfect for professors, students, those considering careers in intelligence, and current/former officers seeking to see what changes are taking place across a wide spectrum of intelligence disciplines.

AFIO's Guide to the Study of Intelligence helps instructors teach about the large variety of subjects that make up the field of intelligence. This includes secondary school teachers of American History, Civics, or current events and undergraduate and graduate professors of History, Political Science, International Relations, Security Studies, and related topics, especially those with no or limited professional experience in the field. Even those who are former practitioners are likely to have only a limited knowledge of the very broad field of intelligence, as most spend their careers in one or two agencies at most and may have focused only on collection or analysis of intelligence or support to those activities.

$95, includes Fedex shipping to a CONUS (U.S.-based) address. AK, HI, and other US or foreign addresses should contact afio@afio.com to inquire about shipping options.

To order for shipment to a U.S.-based CONUS address, use this online form,
To order multiple copies or for purchases going to AK, HI, other US territories, or other countries call our office at 703-790-0320 or send email to afio@afio.com
providing your name, mailing address, quantity, cc number and expire date, and amount authorized to charge, and your phone should we have questions. Foreign shipments fees will be calculated and estimates sent, awaiting your approval.

The Guide is also available directly from Amazon at this link.

5 April 2017 (Wednesday), 11:30 am - San Francisco, CA - The AFIO San Francisco Chapter hosts Brigadier General Roderick Macdonald on "The Falklands Conflict 35 Years On."

Brig Gen Roderick Macdonald discusses the "The Falklands Conflict 35 years On." at this April meeting of the AFIO "Andre LeGallo" San Francisco Chapter. The Falklands War from 2April to 14 June 1982 was the largest air sea battle since World War II. British forces launched the longest amphibious operation in history, sailing 8,000 miles to retake the Falkland Islands in the South Atlantic, invaded and occupied illegally by over 10,000 Argentine soldiers and Marines. Retired British Army Brigadier General Roderick Macdonald will give a personal overview of the campaign.
WHERE: Basque Cultural Center, 599 Railroad Ave, South San Francisco, CA 94080. 11:30AM no host cocktail; meeting and luncheon at noon.
RSVP: Eventbrite registration link is here. Reservation and pre-payment is required before 26 March 2017. The venue cannot accommodate walk-ins. Contact Mariko Kawaguchi, Board Secretary at afiosf@aol.com or Mariko Kawaguchi, c/o AFIO, PO Box 117578, Burlingame, CA 94011 with your questions.

---

Monday, 1 May 2017, 6 pm - New York, NY - The NY Metro Chapter Meeting features Dr. Robert Jervis on "Can We Do Intelligence Analysis Better? A View From a Complex Systems and 'Black Swan' Expert."

Robert Jervis, PhD is Stevenson Professor of International Affairs at Columbia University, and was the recipient of the 1990 University of Louisville Grawemeyer Award for "Ideas Improving World Order." He is an expert on the complexities of systems, politics, intelligence, and human nature and competing values. The ideal speaker for the chapter (and the country) at this time. So you will not want to miss this presentation.
Jervis held appointments at the University of California at Los Angeles and Harvard University. In 2000-2001, he served as President of the American Political Science Association. Professor Jervis is co-editor of the "Cornell Studies in Security Affairs," a series published by Cornell University Press, and a member of numerous editorial review boards for scholarly journals. His publications include Perception and Misperception in International Politics, The Meaning of the Nuclear Revolution, System Effects: Complexity in Political and Social Life, American Foreign Policy in a New Era, and Why Intelligence Fails: Lessons from the Fall of the Shah and Iraqi WMD, and several edited volumes and numerous articles in scholarly journals.
Location: Society of Illustrators, 128 E 63rd St, New York, NY 10065.
RSVP Chapter President Jerry Goodwin at afiometro@gmail.com.

---

Friday, 12 May 2017 - Tysons Corner, VA - AFIO National Spring Luncheon features NYTimes Washington Correspondent David Sanger on "Terrorism, Secret Wars, Nuclear Proliferation, and the Use of American Power," and Author Eva Dillon on "Living Life Undercover in a CIA Family"

AFIO National Spring Luncheon features David E. Sanger, Chief Washington Correspondent for the New York Times, speaking on "Terrorism, Secret Wars, Nuclear Proliferation, and the Use of American Power." His address starts at 1 p.m. The 11 a.m. speaker is Eva Dillon, author and magazine publisher, on Spies in the Family: An American Spymaster, His Russian Crown Jewel, and the Friendship That Helped End the Cold War, a book she has just published.
Event location the Crowne Plaza (soon to be renamed DoubleTree-Hilton), Tysons Corner, VA, at 1960 Chain Bridge Rd, McLean, VA 22102.
Registration is here. Do so now to assure seating.

---

13 May 2017, 11:30 am - Patrick AFB, FL - AFIO Satellite Florida Chapter meets. Speaker TBA

The Florida Satellite Chapter of AFIO meets for a social hour at 11:30 to 12:15 - and then enjoys lunch at 12:15 pm onwards. A speaker TBA. Greet old, new members and guests (limited cash bar - honor system). Where: The Tides, 1001 N. Hwy A1A, BLDG #967, Patrick AFB, FL 32925 For more information visit their website here. RSVP here.

---

AFIO's NEW Intelligence Community Mousepad for 2017

New mousepads arrived. Full color seals of all 18 members of the U.S. Intelligence Community on this 8" round, slick surface, nonskid, rubber-backed mouse pad. Price still only $20.00 for 2 pads [includes shipping to U.S. based address, only. For foreign shipments, we will contact you with a quote.] Great gift for colleagues and self. Click image above for larger image. Now with dark navy background, brighter, updated seals of member agencies. And now MADE IN USA. Order NEW MOUSEPADS here.


---

HOLD THE DATE

28 - 29 September 2017 - Tysons Corner, VA - AFIO's 2017 National Intelligence Symposium

Arrive Wednesday evening, 27 September to overnight at the hotel to be ready early Thursday, 28 September, for coach service to NGA for all day conference including visit to their new museum. Welcome by NGA Director Robert Cardillo. Friday activities TBA. Friday evening is our "Spies in Black Ties" banquet.
Hotel: DoubleTree-Hilton, Tysons Corner, VA [formerly the Crowne Plaza], at 1960 Chain Bridge Rd, McLean, VA 22102. Details, event registration and hotel room registration links to be sent to all current members in coming weeks. Early phone-only room registrations can be made at 1-877-865-1877 at $119/nite.

---

Teaching–or Seeking to learn more–about the world of Intelligence?

AFIO's Guide to the Study of Intelligence
Are You Using It?
The Guide consists of more than 66 articles on all aspects of intelligence. It is intended to help instructors become familiar with intelligence-related subjects. Guide articles, written by both academic experts and seasoned practitioners, are introductions to the subject with recommended readings for further study.
Guide articles appear in AFIO's journal Intelligencer and as PDFs on our website here.
They are free for academic use.

For a complete list of what articles are available at this time, view this pdf.

Other Upcoming Educational Events....

Thursday, March 30, 1-4pm - Washington, DC - Beware of the Predator: In-Store Book Signing with Warren D. Holston and Dave White - at the International Spy Museum.

Meet at the Spy Museum bookstore and meet author/career CIA Technical Operations officer, Warren D. Holston, and Intel analyst/contributing author, Dave White. Holston worked throughout the IC, DOD, and defense industry for more than 30 years and was awarded the CIA's Intelligence Commendation Medal and the Distinguished Career Intelligence Medal. White worked for the USG in a broad range of roles and missions within the Intelligence and Defense Communities for almost 30 years, including serving as a Deputy Senior Operations Officer and Identity Intelligence Analyst at the NCTC and as a biometrics technology consultant in the IC. Their latest book, Beware The Predator, is an easy-to-read guide for anyone who wants to raise their security awareness and defensive posture. This book will help you understand how to protect yourself, your family and business from criminal predators, corporate intrusion, and State sponsored spying. Whether you are a corporate or government executive, a high-net-worth individual, or someone simply concerned about identity theft and personal safety, you should be aware of the vulnerabilities to your personal data and predatory attacks against your assets and relationships. Event is free. Visit www.spymuseum.org.

---

4 - 7 June 2017 - San Antonio, TX - USGIF GEOINT 2017 Symposium theme is: "Advancing Capabilities to Meet Emerging Threats"

The always impressive US Geospatial-Intelligence Foundation (USGIF) is offering more than 25 training and professional development sessions at their GEOINT 2017 Symposium which features the theme of "Advancing Capabilities to Meet Emerging Threats." Symposium is being held in beautiful San Antonio, TX. Monday, June 5 through Wednesday, June 7 are a variety of training sessions running two hours each. Attendees receive 0.2 Continuing Education Units per qualified session. Expand your knowledge on a familiar topic or learn a new one in one of the hottest, most promising and useful fields in the Intelligence Community. Sessions include: Hacking for Defense: Solving National Security Problems; 3D Terrain Modeling; Analytics for Small Sat Systems; Recent Advances in Deep Learning Cognitive Social Media Analytics Framework; Open Geospatial Machine Learning; Cyber Attack and Defense Wargame with IT, Industrial, and GEOINT Context; And much more.
Location: Henry B. Gonzalez Convention Center, San Antonio, TX.
RSVP ASAP: Agenda and other information here.

30 March - 1 April 2017 - Washington, DC - Joint Conference on "Creating and Challenging the Transatlantic Intelligence Community"

The Woodrow Wilson Center, the German Historical Institute, and the Intenational Intelligence History Association are delighted to invite you to the jointly organized conference on "Creating and Challenging the Transatlantic Intelligence Community".

Please register for the conference by email to the IIHA Executive Director at exec_director@intelligence-history.org before 23 March 2017.
The conference fee is 150 EUR / 165 US-Dollar, 110 EUR / 120 US-Dollar for IIHA members and 75 EUR / 80 US-Dollar for students.
This includes dinners on Thursday and Friday as well as coffee breaks during the conference and a snack lunch on Saturday.

---

Thursday, 15 May 2017 10 am - 11:30 am - Fort Meade, MD - National Cryptologic Museum's Schorreck Lecture: "Codebreaking and the Battle of Midway" with Author/Historian Elliot Carlson

2017 Henry F. Schorreck Lecture Speaker Series features Elliot Carlson, author of the celebrated biography of CMDR Joseph Rochefort (cryptologic hero of the Battle of Midway) featured in Carlson's Joe Rochefort's War: The Odyssey of the Codebreaker Who Outwitted Yamamoto at Midway. Carlson's talk will be "Codebreaking and the Battle of Midway: When Cryptanalysis Came of Age." More about Carlson's book here.

On 3-7 June 1942, the US defeated Japan in the Battle of Midway, one of the most decisive battles in world history. The battle regained the initiative in the Pacific for the US after its setback at Pearl Harbor on 7 December 1941 while placing Japan on the strategic defensive from which it never fully recovered. On the 75th Anniversary of this US naval victory, Carlson discusses the pivotal role that intelligence played in it. In particular, the breaking of JN-25, the Japanese Imperial Fleet's operational code, by codebreakers at Station Hypo in Hawaii led by CMDR Joseph Rochefort USN.
Carlson holds degrees from Stanford University (MA) and the University of Oregon (BS); he lives with his wife in Silver Spring, MD.

RSVP: Advaned registration required since this popular NCM Schorreck Lecture Series always has a full house. So, to not lose a spot, email history@nsa.gov and/or gjnedve@nsa.gov and provide the number of seats you will need. They will confirm your reservations and answer any questions.
Event location: National Cryptologic Museum: 9900 Colony Seven Rd, Fort Meade, MD. Directions here.
NOW AVAILABLE
Getting a Security Clearance: Questions and Answers about what they are, how they are conducted,
how you can qualify, how long they take, and what can put them in jeopardy.

Two valuable booklets are now available
The Security Clearance Process: Answers to Frequently Asked Questions - by the Congressional Research Service, Sept 2013
[PDF]
Security Clearances - FAQs - ClearanceJobs.com / DICE
[PDF]
---
Just released - 2017 edition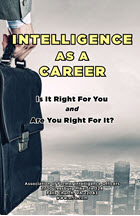 Intelligence as a Career - with updated listings of colleges teaching intelligence courses, and Q&As on needed foreign languages, as well as the courses, grades, extracurricular activities, and behavioral characteristics and life experiences sought by modern U.S. intelligence agencies.

AFIO's popular 56-page booklet reaches high school and college students considering careers in the U.S. Intelligence Community.
This is the fourth edition.
The publication is also popular with University Career Guidance Centers, professors and academic departments specializing in national security, and parents assisting children or grandchildren in choosing meaningful, public service careers.
This booklet is provided at no cost as a public service - online and in print - from the generosity of AFIO board, donors, and members. 20,000 printed copies of each edition are distributed. Many more PDF copies are accessed online.
We thank all members for their support which makes this educational effort possible.
2017 Careers Booklet (fourth edition) in PDF Format available here.
---
Intelligence Community - Eight Years in a Row - Named 2016
One of the Best Places to Work in the Federal Government
For the eighth consecutive year, the Intelligence Community (IC) was honored as #3 in the top-ten Best Places to Work in the Federal Government, according to an independent analysis of federal workers' job satisfaction and commitment. See more about the ranking here.
The rankings were compiled by the Partnership for Public Service (PPS) and American University's Institute for the Study of Public Policy Implementation (ISPPI) and announced recently in Washington, D.C. PPS is a nonprofit, nonpartisan organization that aims to attract people to federal careers and improve how the government runs. The institute conducts research and helps federal leaders solve difficult public-policy issues.
The IC ranked fourth overall among large agencies, which includes over 30 organizations, each of which employs more than two thousand people. Rankings are based on data from the 2016 Federal Employee Viewpoint Survey, which the U.S. Office of Personnel Management administers. The first Federal Government survey was in 2003, but the IC has only participated since 2009. Max Stier, president and CEO of the Partnership for Public Service, noted that the IC does not have to participate but does so voluntarily, "which is a credit to them."
To maintain the security of information about its work force, the IC relies on its own survey instrument to assess each year how its workers feel about issues such as job satisfaction, professional development, and the effectiveness of senior leaders. The IC includes several questions from the federal survey in the IC's annual Employee Climate Survey. That way, the Community's information can be compared with that from other organizations.
Other top-five large organization Best Places to Work are: The National Aeronautics and Space Administration and the U.S. Departments of Commerce, State and Justice.
Visit bestplacestowork.org to see which agencies top the rankings and to access trend analysis, demographic data and all 10 workplace categories, as well as generate custom reports and conduct side-by-side comparisons for up to three agencies.
---
Join or subscribe to our publications and enjoy all our unusual member benefits
---
---
JOIN:
As a Member or Subscriber - use this Online Form
Student Rates: U.S.-based Students, 28 years old or younger, attending a U.S. nonprofit accredited college, may join 1x at special rate. Email us at afio@afio.com with your info for application and rates. Rate not available to current or former members.
RENEW:
Renew or Reinstate Your Membership or Subscription here
UPDATE MEMBER INFO:
New Email or Mailing Address? Provide here.
---
Join as a corporate
or foundation membe
---
Review our Member
CODE of ETHICS
---
BOARD OF DIRECTORS' Photos and Public Biographies
---
---
---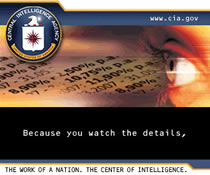 ---
Movies of Interest to members can be found here.
---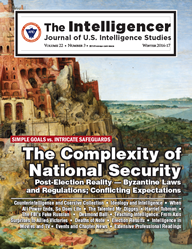 Send your articles and reviews to afio@afio.com for the journal INTELLIGENCER

---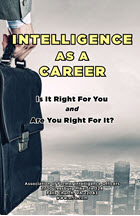 Intelligence
as a Career
UPDATED 2017

Is It Right For You
AND
Are You Right For It?
Click HERE, or the cover photo above, for the updated version Booklet.
---
Donations Needed -
Help AFIO continue our Special Events, Publications, and Speakers Program.
---

---