The Association of Former Intelligence Officers (AFIO) presents this website to serve our members and visitors as a portal to the activities of AFIO and to provide word of upcoming educational events by other select intelligence groups.
---
AFIO's Spring Luncheon

Friday, 8 May 2015

Traitors, Leakers, and Insider Spies

John "Chris" Inglis
NSA's former Deputy Director and highest ranking civilian officer
speaking on
"Hackers, Financial Safety, Bulk Data Collection, ISIS Recruitments, Snowden and more"

and

Investigative Reporter Bryan Denson on
The Spy's Son: The True Story of the Highest-Ranking CIA Officer
Ever Convicted of Espionage and the Son He Trained to Spy for Russia

Tysons Corner, VA
Register HERE to assure seating

1 p.m. speaker: Chris Inglis

, the former Deputy Director, NSA (2014). His remarks will be OFF THE RECORD.

11 a.m. speaker: The Oregonian Investigative reporter and Pulitzer Prize finalist Bryan Denson speaks on his research on "The Spy's Son: The True Story of the Highest-Ranking CIA Officer Ever Convicted of Espionage and the Son He Trained to Spy for Russia" the riveting story of the Nicholsons—father and son co-conspirators who deceived their country by selling national secrets to Russia.

Timing: Check-in for badge pickup at 10:30 a.m.; Bryan Denson begins his presentation at 11 a.m.; Lunch served at noon; Chris Inglis presents at 1 p.m. Event closes at 2 p.m.
Morning presentation is on the record;
Inglis' remarks are Off The Record.
The latest intelligence books, and many others, on display and for sale throughout event.
EVENT LOCATION: The Crowne Plaza, 1960 Chain Bridge Rd, Tysons Corner, VA, across from Tysons II Mall.
Driving directions here or use this link: http://tinyurl.com/boey9vf
Register HERE

Upcoming AFIO and Intelligence Community Events
Many informative, fascinating programs are occuring in the Washington Metro Area and across the country. Find out which ones to add to your calendar to stay connected and to stay current.

Corporate
Learn how your company can make a difference with AFIO corporate memberships and marketing opportunities. Reach more than 4,800 intelligence professionals.

National Members
Join AFIO or renew your existing membership and enjoy member benefits, such as special invitations to events, unique banking & investment services, scholarships and career assistance.

Publications
Sign up and receive the popular Weekly Intelligence Notes [WINs] and the printed industry journal: Intelligencer - Journal of U.S. Intelligence Studies, 3 issues per year for the intelligence community by intelligence professionals. AFIO also produces Intelligence As A Career - a frequently updated printed and online guide to organizing your life and education to qualify for work in the intelligence community, and a Guide to the Study of Intelligence intended to assist college instructors and secondary school teachers of history, civics, and current events.

About Us
Learn about AFIO - our many events, publications, programs, and legislative alerts. Support AFIO with purchases and donations or meet our members at events throughout the US. Make your views known.

Chapters
Local AFIO Chapters are the heart of AFIO activities for many members, so join AFIO National and then consider adding a local chapter membership to your mix.

Upcoming AFIO and related Organization Educational Events ... Full listings found here

Wednesday, 1 April 2015, 6 pm - Las Vegas, NV - The Las Vegas Chapter hosts Col. Kent Chaplin on "Jihadist Threat to the Homeland."

The next AFIO Roger E. McCarthy Las Vegas Chapter Meeting will be held in the Conference Center at Texas Station Casino, 2101 Texas Star Ln, North Las Vegas, NV (corner of Rancho Blvd. and W Lake Mead Blvd) N Las Vegas, NV 89032
Please join us at 5 p.m. in the Texas Star Oyster Bar for liaison and beverages.
Our featured speaker will be: Kent Chaplin on "Jihadist Threat to the Homeland: Foreign & Domestic."
Colonel Chaplin is a retired USAF intelligence officer with over 35 years of experience in the intelligence field. He is currently employed by the Department of Homeland Security, Transportation Security Administration as the Field Intelligence Officer for Southern Nevada. His military postings include: acting US Air Forces Southern, Director of Intelligence (A2) & 12th Air Force Senior Intelligence Officer; USAF Military Intelligence Program Portfolio Manager for the Office of the Undersecretary of Defense for Intelligence; Commander, 380th Air Expeditionary Operational Support Squadron, United Arab Emirates during operations IRAQI FREEDOM & ENDURING FREEDOM; Middle East/Africa, Area Specialist/Regional Analyst with the Defense Intelligence Agency; Senor US European Command Representative to Bosnia & Herzegovina.
Email me Christy Zalesny at christyzalesny@yahoo.com or call 702-271-5667 if you have questions. We look forward to seeing you!

---

Tuesday, 21 April 2015 - MacDill AFB, Florida - Col. Stephen Nitzschke, Director of USSOCOM Innovation Lab, speaks on "Innovation and the Intelligence Community." Note: There might be a change in speaker.

Colonel Stephen Nitzschke, Director of the USSOCOM Innovation Lab, will be speaking on innovation and the intelligence community. Colonel Nitzschke will discuss what the SOCOM Innovation lab is doing and its implications for the SOF intel Community, including some insight into innovation efforts in DIA. Colonel Stephen Nitzschke was commissioned a 2nd Lieutenant in the United States Marine Corps in June 1985 after receiving a Bachelor of Science degree from the University of Washington, Seattle, in Aeronautical and Astronautical Engineering. Following the Basic School he reported to Pensacola Florida for training as a Naval Aviator. He was designated a Naval Aviator in the Fall of 1988.
From 1988 until 1994, he flew the EA-6B Prowler during deployments to the Western Pacific and the Middle East. He was among the first wave of aircraft to attack Iraq during OPERATION DESERT STORM on Jan 17th 1991. Following the Gulf War he reported to NAS Whidbey Island where he served as an instructor pilot for three years before a tour with the 2nd Air and Naval Gunfire Liaison Company in Camp Lejeune, NC. He earned his parachute wings in August 1994 and served as the Company's 2nd Brigade Platoon Commander between 1994 and 1996.

LOCATION: MacDill AFB Surf's Edge Club, 7315 Bayshore Blvd, MacDill AFB, FL 33621. Please RSVP to the Chapter Secretary for yourself and include the names and email addresses of any guests. Email or call Michael Shapiro at sectysuncoastafio@att.net. You will receive a confirmation via email. If you do not, contact the Chapter Secretary to confirm your registration. Check-in at noon; opening ceremonies, lunch and business meeting at 1230 hours, followed by our speaker.
FEE: You must present your $20 check payable to "Suncoast Chapter, AFIO" (or cash) at check-in to cover the luncheon. If you make a reservation, don't cancel and get a cancellation confirmation by the response deadline and then don't show up, you will be responsible for the cost of the luncheon.

---

Friday, 24 April 2015, 6-10pm - Scottsdale, AZ - The AFIO Chapter of Arizona hosts 3rd Annual James Bond 007 Scholarship Fundraiser Event

MISSION: To provide scholarship support to students pursuing university programs in the Security, Defense & Intelligence fields. Ticket Price $85.00 per person BLACK TIE OPTIONAL. Location: The Orange Tree Golf Resort, 10601 N 56th St, Scottsdale, AZ 85254
RSVP: 0072015@afioaz.org Online Ticket Purchase: http://www.afioaz.org (Visa, Discover, MC, PayPal) By Mail: 8707 E. San Martin Drive, Scottsdale, AZ 85258

---

Friday, 08 May 2015 - Tysons Corner, VA - AFIO's Spring 2015 luncheon features the NSA's former Deputy Director, Chris Inglis, and Journalist Bryan Denson on Father and Son Traitors who stole secrets for Russia.

Chris Inglis, former National Security Agency Deputy Director will discuss "Hackers, Financial Safety, Bulk Data Collection, ISIS Recruitments, Snowden and more." Investigative reporter and Pulitzer Prize finalist Bryan Denson speaks on his research on "The Spy's Son: The True Story of the Highest-Ranking CIA Officer Ever Convicted of Espionage and the Son He Trained to Spy for Russia" the riveting story of the Nicholsons—father and son co-conspirators who deceived their country by selling national secrets to Russia.
Timing: Check-in for badge pickup at 10:30 a.m.; Bryan Denson begins presentation at 11 a.m.; Lunch served at noon; Chris Inglis begins presentation at 1:05 pm. Event closes at 2 p.m.
Morning presentation by Bryan Denson is on the record; Chris Inglis' remarks are Off The Record.
The latest intelligence books, and many others, on display and for sale throughout event.

EVENT LOCATION: The Crowne Plaza, 1960 Chain Bridge Rd, Tysons Corner, VA Driving directions here or use this link: http://tinyurl.com/boey9vf
Registrations accepted HERE while space remains.

---

21 May 2015, 11:30am - San Francisco, CA - The AFIO Andre LeGallo Chapter hosts Capt. Lee Rosenberg, USN, ret. and Managing Director of Navigating Preparedness Associates.

Topic will be "Security Management: Confronting the Insider Threat." Timing of program: 11:30AM no host cocktails; meeting starts at noon.
Location: United Irish Cultural Center, 2700 45th Ave, SF (between Sloat/Wawona).
E-mail RSVP to Mariko Kawaguchi at afiosf@aol.com and you will be sent an Eventbrite link to register. Alternately, mail a check made out to "AFIO" to: Mariko Kawaguchi, PO Box 117578, Burlingame, CA 94011. Members and students: $25; non-members $35. $35 at the door. RSVP is required.

---

Thursday, May 28, 2015, 5:30 - 8:30pm - Atlanta, GA - The AFIO Atlanta Chapter-in-Formation and Harvard Club of George host reception for Prof Kristie Macrakis on Prisoners, Lovers, and Spies. There is no charge.

Professor Kristie Macrakis, an AFIO member and Harvard alum who teaches history at Georgia Tech, specializes in the history of espionage. She'll discuss her 2014 book Prisoners, Lovers, and Spies: The Story of Invisible Ink from Herodotus to al-Qaeda. In it, she presents a fascinating cat-and-mouse game between spies who conceal their reports in plain sight and counterintelligence agents trying to intercept and detect them—and all the clever methods employed. As a friend of AFIO, this event is free for you and your guests.
5:30 - 6:30 p.m.: Cocktail Reception
6:30 - 7:30 p.m.: Presentation by Prof. Kristie Macrakis, followed by Q&A
7:30 - 8:30 p.m.: Cocktail Reception
Location: Womble Carlyle, Skyline Room (25th Floor), Atlantic Station, BB&T Building, 271 17th St NW Ste 2500, Atlanta, GA 30363-1017
RSVP or questions to Brian Hooper, bhooper@wcsr.com or 404.879.2440. If you can't attend but are interested in participating in the new chapter, please let him know.

Wednesday, 08 April 2015, 11:30am - 2 pm - Scottsdale, AZ - FBI Special Agent William Lace addresses AFIO Arizona on "Economic Espionage and CI Threats and Issues."

William Lace has been a special agent with the FBI for 16 years. He has served as the FBI Phoenix Division's Counterintelligence Strategic Partnership coordinator for the past 5 years. As the coordinator, Lace oversees the FBI's Business Alliance and Academic Alliance programs within the State of Arizona, working with business and academia on national security issues such as the protection of classified information and intellectual property, the prevention and mitigation of cyber intrusions, and the protection of information for overseas travelers.Lace has been assigned to counterintelligence squads for the entirety of his FBI career and worked at the FBI Washington, DC field office before transferring to Phoenix in 2005. In 2003, he received the Director's Award for Outstanding Counterintelligence Investigation for his work on the Brian Patrick Regan espionage investigation. Prior to joining the FBI, Mr. Lace worked for 7 years as a civil engineer in private consulting practices.
LOCATION: McCormick Ranch Golf Course, 7505 McCormick Parkway, Scottsdale AZ 85258 ~ Phone 480.948.0260
RSVP no later than 72-hours before Apr 8, to Simone at simone@afioaz.org or call and leave a message on 602.570.6016. Fee to attend is: $25.

---

15 April 2015, 1 pm - Washington, DC - John Sano, former DD/NCS, CIA speaks on "A New Era of HUMINT: How the Intelligence Workforce Continues to Evolve" at the Institute of World Politics

John R. Sano, Former Deputy Director, National Clandestine Service, CIA, and currently the Vice President of AFIO, is also a Professor of Intelligence at the Institute of World Politics. His keynote address at the Fifth Annual Reagan Intelligence Lecture will be "A New Era of HUMINT: How the Intelligence Workforce Continues to Evolve."
Sano will discuss how changing demographics have affected the intelligence community, and in particular the human intelligence workforce. He will review generational and technological changes, as well as changes in motivations within this workforce.
John Sano spent 28 years in CIA and was appointed the National Clandestine Service's (formerly the Directorate of Operations) Deputy Director in November 2005 by then DCI Porter Goss. Mr. Sano came to this position after having previously served as Chief of the East Asia Division in the Directorate of Operations from January through November 2005.
As Deputy Director, Mr. Sano chaired the NCS' Senior Leadership Team and oversaw the day-to-day management of the country's Clandestine Service. In addition, Mr. Sano was an active member of the CIA's Executive Management Team and regularly briefed senior Administration as well as Congressional Committee members on matters of national security and worldwide covert operations. Through his extensive interaction with other senior Intelligence Community members to include the National Security Council and Congress, Mr. Sano played an integral role in the establishment and direction of the newly formed NCS.
Previous positions within the CIA included serving as a Chief of Station in two foreign and one domestic location, as well as nearly 15 years of overseas experience in Asia, Eastern Europe and the Middle East. Among other senior assignments, Mr. Sano was the CIA's chief of North Korean operations in the early 90's and directed the CIA's efforts during the Balkan conflict in the mid-90's.
At IWP, he teaches a course on Covert Action and National Security.

Please contact sdwyer@iwp.edu with any questions about this event.
Please note that this event is strictly off the record.
Event location: The Institute of World Politics, 1521 16th St NW, Washington, D.C. 20036.
Register here.

---

Wednesday, 29 April 2015, 5:30-9pm - New York, NY - AFIO New York Metro Chapter Meeting Features Joseph Wippl, former CIA Clandestine Services Officer, on Aldrich "Rick" Ames, worst CIA traitor ever: his personality, his motivation for espionage and the impact on all Soviet agents of the CIA.

Joseph Wippl is a former CIA officer who spent 30 years as an operations officer in the National Clandestine Service (NCS). Wippl served overseas in Bonn, West Germany; Guatemala City; Luxembourg; Madrid, Spain; Mexico City; Vienna, Austria; and Berlin, Germany. On assignments in CIA headquarters, he served as the Deputy Chief of Human Resources, as the Senior NCS representative to the Aldrich Ames Damage Assessment Team, as Chief of Europe Division and as the CIA's Director of Congressional Affairs. Wippl has coordinated extensively with other members of the US IC. He currently teaches at Boston University. Prior to that he occupied the Richard Helms Chair for Intelligence Collection in the NCS training program. Wippl has taught at BU since 2006 where he serves as Director of Graduate Studies, Professor of the Practice of International Relations; BU Pardee School of Global Studies at Boston University.

Location: Society of Illustrators building, 128 East 63rd St, between Park Ave and Lexington Ave.
COST: $50/person Cash or check, payable at the door only. Dinner to follow talk & Q&A. Cash bar. RESERVATIONS: Strongly suggested, not required, Email Jerry Goodwin afiometro@gmail.com or phone 646-717-3776.

---

Saturday, 2 May 2015 - Orange Park, FL - AFIO North Florida Chapter hosts meeting

Location: Country Club of Orange Park. Questions and reservations: Quiel Begonia at qbegonia@comcast.net call 352-332-6150. Cost will be $16 each, pay the Country Club at the luncheon.

---

Saturday, 09 May 2015, 11:30am-2:00pm - Melbourne, FL - Pearl Harbor Scholar Thomas Kimmel addresses AFIO Florida Satellite Chapter on "The Story Within the Pearl Harbor Story."

Thomas Kimmel is a graduate of the US Naval Academy, former Special Agent of the FBI and grandson of Admiral Husband E. Kimmel, Commander of the Pacific Fleet on 7 December 1941. Admiral Kimmel was, says Kimmel, shamelessly scapegoated, reduced in rank, and disgraced after the Japanese attack. Kimmel comes from a family of distinguished scholars and government servants dedicated to protecting America, so Tom found it particularly troubling that his grandfather was accused from the well of the House of Resentatives for having failed to prevent both WWII and the Cold War. Tom has devoted years of his life to the study of the topic, and uses these speaking opportunities to respond to the allegations. Tom Kimmel served on three warships during the Vietnam War and attended John Marshall Law School before beginning his FBI career in 1973. He served the FBI and the nation with distinction for 25 years, investigating organized crime in Cleveland, serving on the House Appropriations Committee Surveys and Investigations Staff at CIA Headquarters, and ending his FBI career as Assistant Special Agent in Charge of the Philadelphia Division, heading the Foreign Counterintelligence and Terrorism Programs during the first attack on the World Trade Center in 1993.
Since retiring, Tom has served, as well as in other capacities, as a consultant to the Bureau on major spy scandals at both the FBI and the CIA. Location: Indian River Colony Club, At Ease Club, 1936 Freedom Dr, Melbourne, FL 32940.
For reservations and information, contact John Noble, (321) 693 2427, jnoble@melbourneflorida.org or at johnnoble427@gmail.com

OTHER IMPORTANT UPCOMING EDUCATIONAL EVENTS....

10 - 11 April 2015 - New Haven, CT - Yale Veterans Summit

Bridging the Divide: The Way Forward in US Civil-Military Relations Join us for the two-day inaugural Yale Veterans Summit to be held on campus April 10th & 11th. This event will bring together a formidable cross section of military, government, civic, and academic leaders to discuss the most pressing needs and challenges facing service members and veterans today, and the way forward for civil-military relations in the United States. More information is here.

---

Friday, 10 April 2015, 4:30-6:30 PM - Washington, DC - British Patriot or Soviet Spy? Clarifying a Major Cold War Mystery

AFIO members are cordially invited to a presentation analyzing whether former MI5 Director General, Roger Hollis, was or was not a Soviet agent.
Will include argument maps by Paul Monk, Ph.D. Former Senior Intelligence Officer, Australian Defence Intelligence Organization; Argument mapping/Bayesian expert; Co-founder of Austhink, a critical-thinking skills consulting firm.
Reception to follow
Panelists are:
Raymond J. Batvinis, Ph.D., Retired FBI Supervisory Agent; IWP Professor of counterintelligence history; author of The Origins of FBI Counterintelligence.
David L. Charney, M.D., Consulting psychiatrist to the U. S. intelligence community; expert on the psychology of the "insider spy"; Medical Director, Roundhouse Square Counseling Center.
Harvey Klehr, Ph.D., Intelligence historian, Emory University; Co-author of Spies: The Rise and Fall of the KGB in America.
Charles R. Twardy, Ph.D., George Mason University; Expert in Argument Mapping and other critical thinking methodologies.
Moderator is...
John L. Wilhelm, Former U.S. Navy Intelligence Officer; TIME magazine correspondent; Independent PBS Writer/Producer/Director; author of a forthcoming history of Russian Military Intelligence (the GRU).
More information about this conference can be found here.
To register online, do so here.
Event location: The Institute of World Politics, 1521 16th St NW, Washington, D.C. 20036. Parking map.
Please contact sdwyer@iwp.edu with any questions

---

Thursday, 23 April 2015, 1-4pm - Lexington, VA - NSA's Declassification and Release of William Friedman's Official Papers

Please join us for a series of presentations on William F. Friedman, George C. Marshall Foundation's Friedman Collection and the Declassification and Release of William Friedman's Official Papers. With representatives from the National Security Agency and the National Archives and Records Administration
This program is a part of the George C. Marshall Legacy Series sequence on Codebreaking. Marshall Library in the George C. Marshall Foundation VMI Parade, Lexington, Virginia Reservations required by calling Leigh McFaddin at 540-463-7103, ext. 138 or by email to mcfaddinlh@marshallfoundation.org
Read the full invitation for more information.

---

26 April to 3 May 2015 - Berlin and Vienna - ESPIONAGE IN EUROPE: Now and Then - a New York Times Journey with AFIO Member/former CIA Officer, Jon Wiant.

Reserve now to travel on this exciting eight day intelligence excursion. "Espionage in Europe: Now and Then" is a journey focused on history & context. From the Cold War to present day government phone-hacking. Berlin and Vienna are two of Europe's capital cities that have seen more than their fair share of activity. Explore how, why and who was involved, the back stories and realization that it will never go away.
Join us on a unique tour to Berlin and Vienna, to learn about both underground goings on and those taking place in plain site, how World War II shaped Cold War intelligence operations and why our espionage bases in Berlin and Vienna became the dangerous front lines of our conflict with the Soviet Union. The Times-selected expert accompanying this trip is Prof. Jon A Wiant, retired Deputy Assistant Secretary of State, former White House director of intelligence policy and former member of the CIA. To hear more about this tour, listen to Jon Wiant speak, during a recent webinar.
Cost: $7,450 pp, +$1,000 single supplement. Deposit $500. Itinerary: 8 days, 7 nights. Activity Level: More active trips involving hiking over moderately strenuous and varied terrain, usually — but not always — with vehicle support and at elevations most often below 10,000 feet, or trips with significant hiking days, wilderness camping, or other mandatory activity. On some trips, you can elect to skip a day's hike, depending on logistics. Questions? Call 855-698-7979.

---

Tuesday, 21 April 2015, 6:30pm - Washington DC - The Rosenbergs: Another Debate at the International Spy Museum

More than sixty years after their execution in June 1953 for conspiring to steal atomic secrets for the Soviet Union, in a few hardbitten, blind-to-facts circles, the debate still rages about the Rosenbergs. Especially among their family members and friends. Mike Meeropol, the son of Julius and Ethel, has spent his life whitewashing the perfidy of his parents' secret lives, their trials, their well-deserved convictions for espionage, and ultimately their executions. Sam Roberts, journalist for The New York Times, is the author of The Brother, a book written with exclusive access to David Greenglass, Ethel's brother, whose testimony almost single-handedly convicted the couple in the era before classified VENONA decrypts were released to show they were guilty as charged. In this debate, these Rosenberg scholars—with different perspectives on a case long-settled by intelligence scholars—will take on the divisive issues and key questions that remain to the few holdouts despite the declassification of intelligence files from the United States and the Soviet Union that prove they were guilty and deserving of the punishment they received.
As a voice of reason, Dr. Vince Houghton, historian and curator of the International Spy Museum and an expert on nuclear intelligence, will moderate this debate on the Rosenberg case.
Tickets: $15, Members of the Inner Circle: $12. Visit www.spymuseum.org

---

Thursday, 09 April 2015, 7 - 10pm - Washington DC - An Evening with a Futurist: Dinner with Marc Goodman at the International Spy Museum

Futurist Marc Goodman was voted by the TED Talks community as the speaker "most likely to freak you out." A global thinker, writer, and consultant focused on the profound change technology is having on terrorism, crime, and security, he was the FBI's Futurist in Residence and has worked for INTERPOL, the United Nations, NATO, and the LAPD—and tonight he'll be your companion at dinner. As the founder of the Future Crimes Institute, Marc Goodman shares his thoughts on how disruptive technologies—such as artificial intelligence, the social data revolution, synthetic biology, virtual worlds, robotics, ubiquitous computing, and location-based services—form the basis for his new book Future Crimes. At this gathering, International Spy Museum historian Dr. Vince Houghton will lead a conversation with Goodman about the future of cyber intrigue. They will cover everything from cyberterrorism to the Dark Web to how individuals, businesses, and governments can protect themselves from cyber crimes too terrifying to imagine. You will be one of only seven guests at Poste Moderne Brasserie for this three-course dinner. You will receive a copy of Future Crimes when you reserve your space.
To Register: contact Laura Hicken lhicken@spymuseum.org or 202.654.0932. Tickets: $300. Visit www.spymuseum.org

---

Monday, 13 April 2015, 6:30pm - Washington DC - Sensors Everywhere: Satellites and Mobile Technology for Documenting Human Rights Abuses - at the International Spy Museum

Human rights investigators increasingly use advanced technologies such as imagery satellites in their work documenting abuses around the globe. Traditionally these tools have been reserved for national intelligence services, but now they are standard tools for research by private organizations as well.
These readily available "eyes in the sky" give safe access to dangerous conflict zones such as Syria, or closed-off areas such as political prison camps in North Korea. Next generation micro-satellites even have the potential to provide full-motion video documentation. While satellite imagery has been likened to looking through a soda straw, the spread of cell phones and digital social networks provides visual documentation in real-time on a massive scale. However, this comes with its own challenges, as videos or pictures shared via YouTube or Facebook can be faked or shared within the wrong context.
Join us for a thought-provoking evening with Christoph Koettl of Amnesty International on the opportunities and pitfalls of advanced technologies in the hands of private researchers and investigators.
Dr. Mark Stout, the program director of the MA in Global Security Studies and the Certificate in National Security Studies at Johns Hopkins University, will host.
Tickets: $10. Visit www.spymuseum.org

---

Friday, 17 April 2015, 1-4pm - Washington DC - Meet a Spy: Robert Wallace at the International Spy Museum

Briefing at the International Spy Museum Store and "Meet a Spy" – uncover the world of espionage and intelligence with people who practiced professionally. Meet the former director of the CIA's Office of Technical Service (OTS) and spy gadget master, Robert Wallace. Tickets: Free! No reservations required. Visit www.spymuseum.org

---

19 - 22 April 2015 - Napa, CA - IAPSC Annual Conference on "Old Growth vs New Growth - The Future of Consulting."

The International Association of Professional Security Consultants (IAPSC) host their annual conference at the Meritage Resort & Spa in Napa, California.
From the age of our client to the use of social media for marketing, so many aspects of the security industry are changing and they're changing the way in which consultants run their business. In order to keep up with the changing demand, demographics, and business dynamics, it's important for security professionals to take a good look at the future of consulting. The 2015 conference program content is focused on helping the security professional understand how they used to or are currently doing business compared to how, as consultants, they may want to think about doing business in the future, how the "new" generation of decision maker will make decisions vs. how past consumers have conducted business, and what new trends, market niches, and areas of concern may come out of recent and future security risks.

From cultural and campus security to security risks stemming from threats of infectious disease outbreaks and terrorism to building your business from your current customer base, the 2015 conference will provide a broad range of sessions to lift your business to the next level. Here are some more themes at this event: Protecting Our National Treasures...Requiring Top Notch Protection, and Then Some!; Technical Security Panel - CCTV and Video Management; Terrorism and National Security - How It Affects US Business; Security Risks Involved with Ebola and Other Infectious Disease; Technical Security Panel - Access Control; Panel Discussion: Gaining Support from Management and Corporate Security; Technical Security Panel - Smart Buildings; One-On-One Website Consultations with Dave Stevens; Security Consulting Challenges for Two-Year Institutions: Providing a Framework for Effective Security Assessment Engagements; Effective Place Management; Gone Phishing: How to Protect Yourself and Your Clients from Cyber Security Attacks; Using Social Media to Increase Brand Awareness & Customer Retention; Technical Security Panel - Outdoor Analytics & Detection; and Security Opportunities in Drone Security.
Explore and attend this conference. Quick Links:
Conference Program
Download Conference Brochure
Lodging
General Information

---

12 - 15 July 2015 - Ireland - Mercyhurst University's Global Intelligence Forum 2015 on "Intelligence-Informed Decision-Making to Build a More Secure Future"

The Theme: Intelligence-Informed Decision-Making to Build a More Secure Future
The Global Intelligence Forum continues down the path of intelligence innovation and discovery first begun in July 2010 with our exploration of the nature of analysis and its application in various intelligence professions. In 2011 and 2013, the discussion centered on the interaction between the intelligence analyst/practitioner and the decision-maker. In July 2015, we continue to build bridges between decision-makers, practitioners and scholars in the fields of cyber security, geospatial intelligence, and data analytics. Best practice panels and speakers will also explore anticipatory analytics, and the wicked problem approach to intelligence challenges. Additionally, the Forum will provide a breakout session for Higher Education leaders to discuss the application of intelligence practices to higher education decision-making. We will bring best practices in 21st century intelligence and data management to the examination of what leaders in the public and private sectors require to make more effective decisions.
Speakers:
Commissioner Nóirín O'Sullivan, Commissioner of the Garda, Ireland's National Police Service
Lewis C. Merletti, Former Director, U.S. Secret Service (Keynote Speaker)
The Honorable Howard Schmidt, Partner at Ridge - Schmidt Cyber (Keynote Speaker)
Ian McCulloh, Sr., Scientist in the Asymmetric Operations Dept of the John Hopkins University Applied Physics Lab
Abe Usher, Chief Technology Officer, HumanGeo Group
More about these and other speakers is available here.
To register, do so here.
Mailing address: Tom Ridge School of Intelligence Studies and Information Science, Mercyhurst University, 501 East 38th St, Erie, PA 16546-0002

---

---
NOW AVAILABLE
Getting a Security Clearance: Questions and Answers about what they are, how they are conducted,
how you can qualify, how long they take, and what can put them in jeopardy.

Two valuable booklets are now available
The Security Clearance Process: Answers to Frequently Asked Questions - by the Congressional Research Service, Sept 2013
[PDF]
Security Clearances - FAQs - ClearanceJobs.com / DICE
[PDF]
---
Intelligence as a Career -with listings of colleges teaching intelligence courses.

AFIO's booklet for high school and college students considering careers
in the U.S. Intelligence Community.
Careers Booklet in PDF Format updated January 2013 available here.
Cannot open some or all of these PDFs? It can mean your PDF viewer is out-of-date.
Use this link to update your viewer to the latest version.
---
Intelligence Community - Six Years in a Row - Named 2014
One of the Best Places to Work in the Federal Government
For the sixth consecutive year, the Intelligence Community (IC) was honored as #4 in the top-ten Best Places to Work in the Federal Government, according to an independent analysis of federal workers' job satisfaction and commitment.
The rankings were compiled by the Partnership for Public Service (PPS) and American University's Institute for the Study of Public Policy Implementation (ISPPI) and announced recently in Washington, D.C. PPS is a nonprofit, nonpartisan organization that aims to attract people to federal careers and improve how the government runs. The institute conducts research and helps federal leaders solve difficult public-policy issues.
The IC ranked fourth overall among large agencies, which includes over 30 organizations, each of which employs more than two thousand people. Rankings are based on data from the 2014 Federal Employee Viewpoint Survey, which the U.S. Office of Personnel Management administers. The first Federal Government survey was in 2003, but the IC has only participated since 2009. Max Stier, president and CEO of the Partnership for Public Service, noted that the IC does not have to participate but does so voluntarily, "which is a credit to them."
To maintain the security of information about its work force, the IC relies on its own survey instrument to assess each year how its workers feel about issues such as job satisfaction, professional development, and the effectiveness of senior leaders. The IC includes several questions from the federal survey in the IC's annual Employee Climate Survey. That way, the Community's information can be compared with that from other organizations.
Other top-five large organization Best Places to Work are: The National Aeronautics and Space Administration and the U.S. Departments of Commerce, State and Justice.
Visit bestplacestowork.org to see which agencies top the rankings and to access trend analysis, demographic data and all 10 workplace categories, as well as generate custom reports and conduct side-by-side comparisons for up to three agencies.
---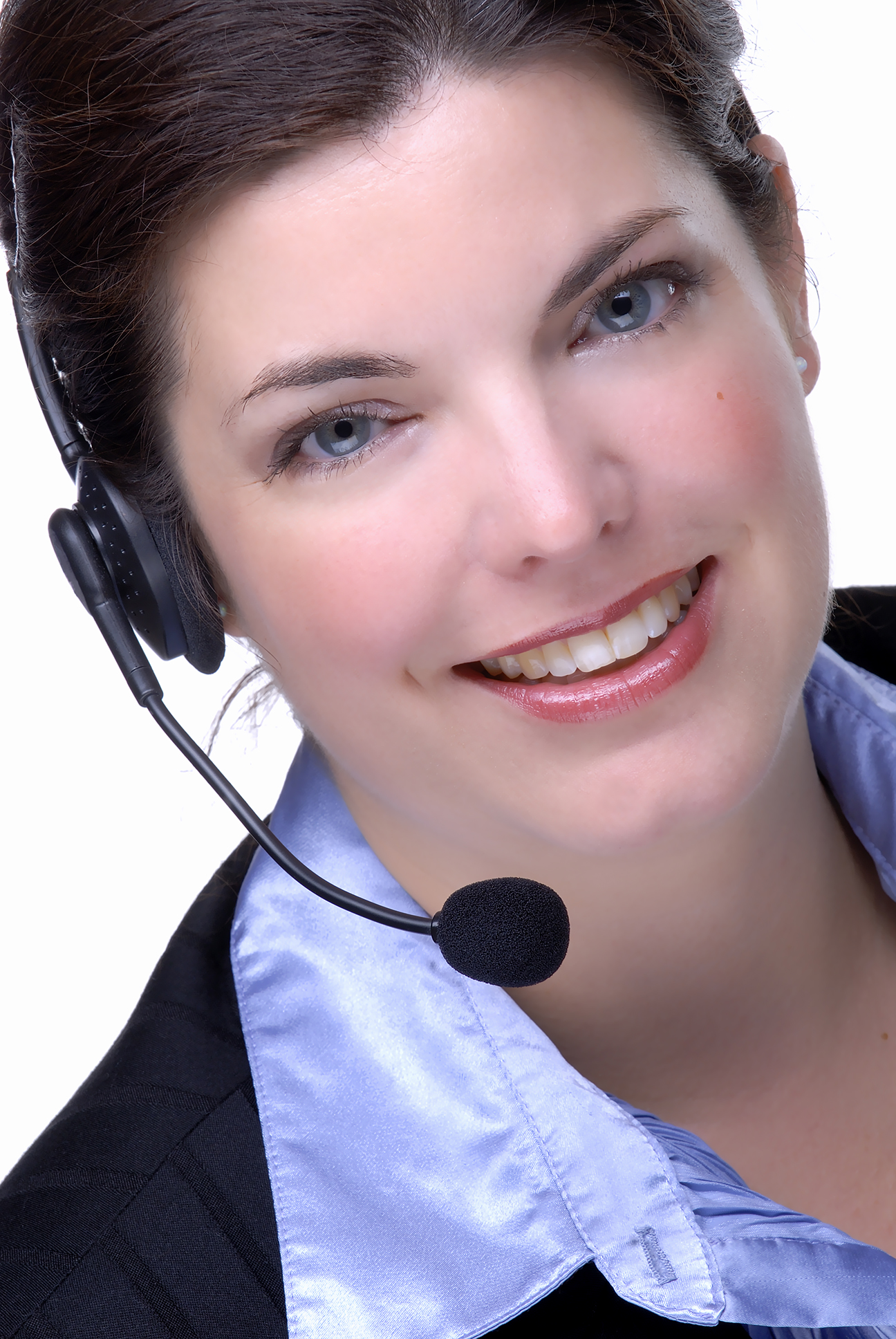 Become a Member
or a Subscriber

Join AFIO or subscribe to our publications and enjoy all our unusual member benefits
JOIN:
As a Member or Subscriber - Use this Online Form
As an Agency, University, Foundation, or Corporate Member -
Use this Online Form
or this pdf document you can print to send in by mail
RENEW:
Renew or Reinstate Your Membership or Subscription here
UPDATE:
Your Email or Mailing Address here.
---
---
AFIO BOARD OF DIRECTORS' Photos and Public Biographies
---

We Thank These Corporate and Foundation Members
Join as a corporate
or foundation member
---
---
---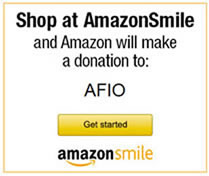 ---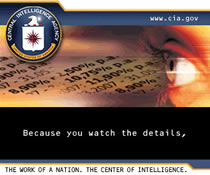 ---
Movies of Interest to AFIO members can be found here.
---

Send your articles and reviews to afio@afio.com for the journal INTELLIGENCER...
This issue mailed to all current members and subscribers on February 9, 2015.

---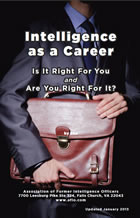 NOW AVAILABLE

Updated for 2013
Intelligence
as a Career

Is It Right For You
AND
Are You Right For It?
Click HERE, or the cover photo above, for the updated version of Careers In Intelligence Booklet.
Released 10 January 2013
---
Donations Needed -
Help AFIO continue our Special Events, Publications, and Speakers Program.
If you are interested in considering a bequest or deferred, income yielding gift such as a charitable annuity (with a lifetime of income to self and/or spouse), please explore our Bequest Booklet below:
Bequest and Deferred Gifts To AFIO
Consider an immediate donation here, of any amount to underwrite the many free talks AFIO Members provide groups across the country.
---

---