---
Section I - INTELLIGENCE HIGHLIGHTS
U.N. Security Council Meeting Focuses on Threat to Nuclear Plant - NYTimes, 23 Aug 2022
In brief: Fighting around the Russia-occupied Zaporizhzhia nuclear facility poses one of the gravest risks as the war nears the six-month mark.
• The U.N. issues dire warnings over a nuclear plant in Ukraine at a Security Council meeting.
• All that stands between the world and nuclear disaster are dedicated Ukrainian operators working at gunpoint.
• Zelensky expresses defiance as the U.S. warns of Russian attacks ahead of Ukraine's Independence Day.
• At a televised memorial for Daria Dugina, many call for vengeance.
• The U.N. warns Russia that show trials of P.O.W.s would constitute a war crime.
• Daria Dugina built ties with the French far right.
• For Chernobyl survivors, the threat of a new Ukraine nuclear disaster stirs dread.
Article here

U.S. Believes Russia Is Planning Strikes on Ukraine Infrastructure Soon-Official - Reuters, 22 Aug 2022
The United States has intelligence that Russia is planning to launch fresh attacks against Ukraine's civilian infrastructure and government facilities soon, a U.S. official said on Monday.
"We have information that Russia is stepping up efforts to launch strikes against Ukraine's civilian infrastructure and government facilities in the coming days. Given Russia's track record in Ukraine, we are concerned about the continued threat that Russian strikes pose to civilians and civilian infrastructure," the official said.
Article here

Russia's Spies Misread Ukraine and Misled Kremlin as War Loomed - WPost, 19 Aug 2022
In the final days before the invasion of Ukraine, Russia's security service began sending cryptic instructions to informants in Kyiv. Pack up and get out of the capital, the Kremlin collaborators were told, but leave behind the keys to your homes.
The directions came from senior officers in a unit of Russia's Federal Security Service (FSB) with a prosaic name — the Department of Operational Information — but an ominous assignment: ensure the decapitation of the Ukrainian government and oversee the installation of a pro-Russian regime.
Article here

The Ukraine War Started 6 Months Ago. We Have 6 Takeaways - Bloomberg, 21 Aug 2022
The Toll on Innocents Is Grievous; 2. Millions of Refugees Are Scattered Across Europe; 3. Global Support for Ukraine Is Fading; 4. Putin Is Winning the Energy Battle; 5. Switzerland Is Still Neutral, and That's Good; and 6. The Next Six Months Will Differ Greatly From the First Six.
Full article here

Study Assesses Hamas' Double-Agent Operations against Israeli Intelligence - IntelNews, 22 Aug 2022
A new study sheds light on the little-studied topic of counterintelligence operations launched against Israel by the Islamic Resistance Movement, better known as Hamas. Hamas is a Palestinian Sunni Islamist and nationalist organization with a 35-year history, which has controlled the Gaza Strip since 2007. As is typically the case with Middle Eastern non-state actors, Hamas is a complex umbrella organization that combines social-service and administrative functions with armed elements. The latter include internal policing components and a full-time military wing, as well as reserve armed forces.
Although much research has focused on Hamas' military and non-military components, the organization's intelligence functions remain under-studied.
Article here

Former Security Chief Claims Twitter Buried 'Egregious Deficiencies' - WPost, 23 Aug 2022
In an explosive whistleblower complaint obtained by The Washington Post, former Twitter security chief Peiter 'Mudge' Zatko alleges the company misled regulators about lax security and spam. Twitter executives deceived federal regulators and the company's own board of directors about "extreme, egregious deficiencies" in its defenses against hackers, as well as its meager efforts to fight spam, according to an explosive whistleblower complaint from its former security chief.
The complaint from former head of security Peiter Zatko, a widely admired hacker known as "Mudge," depicts Twitter as a chaotic and rudderless company beset by infighting, unable to properly protect its 238 million daily users including government agencies, heads of state and other influential public figures.
Article here

Russian Claims On Killing Of Dugin's Daughter Prompt Skepticism, Speculation About Kremlin Infighting - RFE, 23 Aug 2022
Russia's speed at "solving" the car-bomb assassination of the daughter of prominent Russian far-right ideologue Aleksandr Dugin, who has played a prominent role in justifying and drumming up support for President Vladimir Putin's geopolitical ambitions, has attracted considerable skepticism.
Just two days after the killing, Russia's Federal Security Service (FSB) claimed that an agent of Ukraine's secret service had planted a bomb under the car of Darya Dugina, Dugin's 29-year-old daughter, at a festival outside Moscow on August 20, killing her as she drove home. Dugina herself was a rising star in Russia's far-right community and a familiar face on right-wing media and at far-right events.
The FSB, however, does not have a reputation for solving political killings quickly or telling the truth.
Article here

Six Months, Twenty-Three Lessons: What the World Has Learned from Russia's War in Ukraine – New Atlanticist, 23 Aug 2022
Our experts break down how this conflict has transformed not only military operations and strategy, but also diplomacy, intelligence, national security, energy security, economic statecraft, and much more.
When it was first launched in the wee hours of February 24, the Kremlin's full-scale invasion of Ukraine was supposed to last just a few days and end with the quick capture of Kyiv.
Fast-forward six months: Those plans collapsed in spectacular fashion as Ukraine beat back Russian troops through a combination of sheer determination and plentiful Western arms. But despite Ukraine's success, the conflict is far from over. On the contrary, it appears to be settling into a long, attritional battle that will test Ukrainian and Western resolve. ...
Analysis here

---
Section II - IC PODCASTS, COMMENTARY, BLOG UPDATES
Former Senior CIA Analysts on China: Chris Johnson and John Culver — interviews by Former Acting D/CIA Mike Morell


Intelligence Matters: A CBS News original national security podcast is hosted by former CIA acting director and CBS News national security contributor Michael Morell. The most recent podcasts/interview is:
Aug 17 | Former Senior CIA Analysts on China: Chris Johnson and John Culver
In this episode of Intelligence Matters, host Michael Morell speaks with Former Senior CIA analysts Chris Johnson, President and CEO of China Strategies Group, and John Culver, former national intelligence officer for East Asia, about Chinese and Taiwan relations after Speaker Pelosi's trip to Taipei. Culver describes China's military response as both "unprecedented" and showing "constraints", never escalating to a point where Taiwan had to make a use of force decision. Culver discusses how a real Chinese invasion of Taiwan would involve a national mobilization of not only the People's Liberation Army but of the entire Chinese economy and society. Chris Johnson details the Chinese mindset to Speaker Pelosi's visit and the concerns China has over bills in Congress it believes would erode the one-China policy.

Other recent "Intelligence Matters" podcasts to stream or download:
Aug 10 | The Potential of Future Conflict with China: Professor Hal Brands
Aug 03 | Battlefield Lessons for Ukraine, Taiwan: Former Diplomat Eric Edelman
July 27 | Best Of: Stanford Professor and Author Amy Zegart
July 20 | Psychiatrist Kenneth Dekleva on Profiling World Leaders
July 13 | Making Fun of Spies: Former CIA Officer and Satirist Alex Finley
July 06 | German Marshall Fund President Heather Conley on Russia's "Strategic Conservatism"
More about Intelligence Matters by Michael Morell here. Podcasts also available here.
---
The Reality of Cyber Conflict: How Cyberattacks and Espionage Work in the Real World... - Stewart Baker, Colleagues, Guests at Steptoe Cyberblog
Cyberblog by Steptoe & Johnson LLP — By Stewart Baker [Chairman, AFIO]
Episode 419: Cyber Persistence released 15 Aug 2022
Just when you thought you had a month free of the Cyberlaw Podcast, it turns out that we are persisting, at least a little. This month we offer a bonus episode, in which Dave Aitel and I (Stewart Baker) interview Michael Fischerkeller, one of three authors of "Cyber Persistence Theory: Redefining National Security in Cyberspace."
The book is a detailed analysis of how cyberattacks and espionage work in the real world – and a sharp critique of military strategists who have substituted their models and theories for the reality of cyber conflict. We go deep on the authors' view that conflict in the cyber realm is all about persistent contact and faits accomplis rather than compulsion and escalation risk. Dave pulls these threads with enthusiasm.
I recommend the book and interview in part because of how closely the current thinking at United States Cyber Command is mirrored in both. ... Hear the discussion here: Article and podcast
Some Prior Conversations:
Episode 419: Cyber Persistence
Episode 418: Dusty Old Industrial Policy Gets Dusted Off*
Episode 417: "Cybersecurity's First Crash Report"
Episode 416: "The First Thing We Do, Let's Hack All the Lawyers"
Episode 415: "And the Prize for Most Lawyer-Whipped Cyberforce on the Planet Goes to …"
Episode 414: A Small Door and Too Many Fat Men: Congress's Tech Agenda
Episode 413: Is This Podcast Sentient?
Episode 412: Privacy and the Press: Interviewing Amy Gajda
---
Ukraine War Has Turkey Navigating and Shaping a New Geopolitical Order - Latest Insights from Jack Devine of Arkin Group
The Arkin Group's August 18 "In Other News" letter to private clients by former CIA Deputy Director, Operations... Officer Jack Devine features...
As the war in Ukraine continues, Turkey is both navigating, and shaping, a new geopolitical order. Earlier today, UN Secretary General Guterres and Turkish President Erdogan met in western Ukraine with President Zelenskyy to discuss the ongoing economic and security impact of the war. It will be Erdogan's first visit to Ukraine since February, and he'll be looking for ways to increase and secure Ukrainian grain exports from Black Sea ports after initial agreements were signed in Istanbul in late July. Erdogan, who previously met with Putin in southern Russia on the same issues, is in a unique position to serve as a regional broker. Notably, about one year ago we saw how Turkey was also vying to play mediator in Kabul, and although Qatar was ultimately better positioned for the role, Turkey has since maintained global relevance as the only NATO member with a diplomatic presence in Afghanistan. ... Devine analysis and insights continue here.
Follow link here to read analyses and predictions given to their private clients on the topics from last week. There sometimes is a delay of seven days before the above topics will appear at this link.
---
The Strange D.C. Death of Latvian-American Putin Critic — more from JJ Green/WTOP's "Inside the SCIF"

Inside the SCIF by JJ Green, WTOP - Issue #174, 18 Aug has details on...Breaking news on the Strange death in D.C. of Latvian-American Dan Rapoport, a critic of Putin; Murdered? Pushed? Comments by Robert Baer, former CIA Ops Officer; UN Alarm on Ukraine Nuclear Power Plant; Ukrainian southern counteroffensive; Call for Brazil's Bolsonaro to be charged for spreading misinfo; Judge rejects plea deal of Maryland couple accused of espionage; Somali-U.S. Forces engage insurgents to support Somalia; Update on Paul Whelan; more.

Target USA Podcast 345 is on: Va. Congresswoman Abigail Spanberger
Virginia Congresswoman Abigail Spanberger, a former CIA operative, now a member of Congress, joins JJ Green to discuss migration, Al-Qaida, Ukraine, and much more.
In The Hunt podcast: US Africa Command conducts airstrike against al-Shabaab in Somalia
J.J. Green speaks with Dr. Hans-Jakob Schindler, senior director of the Counter Extremism Project, about the strike which, he explains, was necessary to keep al-Shabaab under control.
---
Parsing the Dugin Car Bomb; Trump, National Security, and Me... a few "SpyTalk" items by Jeff Stein and Colleagues on Substack...

Aug 23: "Condor's Call on the Russian Bombing" - James Grady
A lethal car bombing exposes Russian realities.
Aug 18: "Trump, National Security, and Me" - Frank Snepp
Holding the Ex-President Accountable for Abuse of U.S. Secrets
Aug 10: "Down But Not Out" by Jefferson Morley about Jeff Stein
SpyTalk editor endures a serious operation but is now healing nicely.
Photographic evidence provided.

July 24: "Behind Zelenskyy's Security Shakeup" - Olga Lautman
A deep and continuing rot of treason imperils Ukraine's battle against the Russians
July 18: "How to Describe Russia's Ukraine Terror" - David Charney M.D.
Call it 'ISIS-on-Steroids,' says Intel Insider and Psychiatrist David Charney
July 16: "Ben Macintyre is Back with a Monumental War Tale" - Peter Eisner
The star of his story is Colditz Castle, the Nazis' 500-year-old fortress prison

Subscribe to SpyTalk to support this writer
---
Section III - BROUGHT TO OUR ATTENTION BY MEMBERS
Dysfunctional Information Restrictions - Bowman, Released to public 18 Aug 2022
I just read Mr. Brown's article on the Screwball way we treat secrets. I also just read Rand Paul's opinion that we should repeal the espionage act (really, there are several of them). The readership of WINs might like to see a relevant article AFIO published in 2007 - "Dysfunctional Information Restrictions." Obviously 15 years old but informative in light of current events.
From the Fall-Winter 2007 edition of Intelligencer and now available online: "Dysfunctional Information Restrictions" by M.E. Spike Bowman, Capt USN-Ret, former NSA and FBI; former Chairman, AFIO
Article here

Donald Trump and the Espionage Act - Lawfare, 18 Aug 2022
It isn't often that the 1917 Espionage Act is front page news, but the century-old law is having a moment in the spotlight. On Aug. 12, the Justice Department unsealed the search warrant executed at the FBI's recent search of Mar-a-Lago—the resort, occasional wedding venue, and primary home to former President Donald Trump. The warrant authorizes the seizure of materials "constituting evidence, contraband, fruits of crime, or other items illegally possessed in violation of 18 U.S.C. 793, 2071, or 1519."
18 U.S.C. § 793 is the Espionage Act. What aspects of the act are relevant to the search? And what can they reveal about the nature and scope of the Justice Department's investigation?
Article here

Talking Points — Russia's Shift to Cyber Warfare in Ukraine - National Security Institute, 17 Aug 2022
Following its invasion of Ukraine in early 2022, Russia has launched repeated ground and cyber-attacks against Ukrainian targets, marking the conflict as the world's first full-scale cyberwar. As the United States and our allies respond by providing aid to Ukraine and imposing sanctions on Russia, the lack of internationally recognized cyber norms could result in Russian retaliation against the Western world.
Analysis here

ALSO See: "Talking Points — Russia's Deployment of Hypersonic Missiles to its Baltic Region" - NSI, 19 Aug 2022

In a Nutshell: No Need to Wonder Why Putin Attacked Ukraine: Here Are His Dumb Reasons – ClearanceJobs, 23 Aug 2022
Many have asked over the past six months, "Why has President Vladimir Putin invaded Ukraine?" However, in the summer of 2021, Putin outlined his reasons in an article on the Kremlin's website titled, "On the Historical Unity of Russians and Ukrainians." Reminiscent of Hitler's Mein Kampf, Putin's 15-page propaganda-filled article defines his concerns over Russian-Ukrainian relations.
He opens by stating that he firmly believes "Russians and Ukrainians were one people – a single whole."
Article here

OSINT: Ukrainian Drone Took Inland Approach To Attack Russian Navy Headquarters At Sevastopol - CovertShores, 21 Aug 2022
Sevastopol harbour, the main naval base for Russia's Black Sea fleet (BSF) has, until now, been largely unaffected by the sharp end of the Ukraine War. There had been an air defense launch early in the war and a drone attack on the navy headquarters in July. But these felt like isolated incidents. Russian tourists still flocked to its beaches and residents casually strolled along the quayside.
The past week or so has seen Ukraine bring the war to Crimea. A series of dramatic attacks has sent the tourists into a panic. Sevastopol's nights look and sounds like Baghdad in 1991.
And on August 20 another drone attack hit the navy headquarters in broad daylight. It was witnessed by the residents. Interestingly, the drone approached from inland. I.e. not from the direction of Ukrainian controlled territory.
Images, Videos, Analysis continues here

Houseboats on the Nile Once Gave Refuge to German Spies - NewLines, 23 Aug 2022
Wartime German spies lived in houseboats when they weren't trying to cross the desert or sending messages to radio operators who weren't listening. Could the boats have been preserved for posterity? The houseboats must go, the Egyptian government ordered. In July, it set about removing the last of the elegant floating homes moored along the Nile shore in Cairo's Kit Kat district — named for a vanished night club once popular among Egyptian intellectuals and British officers. The boats got in the way of development, authorities say. But demolishing them erases a remnant of the city's history. They'd been home to the celebs of another era, a scene of movies and novels.
At the least, the government should have picked one houseboat to preserve as a museum to a legendary spy affair. The curators would have painted the woodwork pale green and installed in the living room chintz furniture and a cabinet with a gramophone turntable, a wireless transmitter hidden beneath it.
Article here

We Will Get Hit - It's Just A Matter Of When - The New Capital of World Terror... - AND Magazine, 23 Aug 2022
The Taliban recently issued a warning to the United Nations Security Council (UNSC). Abdul Qahar Balkhi, the Taliban Foreign Ministry spokesman advised that if the UN did not ease up on pressure on the group it would face "stern consequences." Per the Taliban, all sanctions against the group must be lifted or there will be a "response which is not in the interest of anyone."
Article here

ALSO See: The Chinese Plan For Taiwan – The Time For "Reunification" Has Come - AND Magazine, 18 Aug 2022

Chris Wray Was Hired to Be Boring. Now, He's Guiding the FBI through Threats and MAGA Hate. - Politico, 23 Aug 2022
The Mar-a-Lago search has, once more, put the director under the microscope, the exact place he'd rather not be. Chris Wray reached the halfway mark of his ten-year term as FBI director right as the bureau he leads was about to face a political firestorm.
He had been sworn in as head of the nation's preeminent law enforcement agency on Aug. 2, 2017, which was, itself, a tumultuous time. Then-President Donald Trump had turned on his attorney general, Jeff Sessions, for recusing himself from the probe of Russian interference in the 2016 election, and fired James Comey from his post atop the FBI.
Article here

A [MAGA] Look at the FBI's Last Six Years - The Federalist, 19 Aug 2022
Think The FBI Deserves The Benefit Of The Doubt? This Laundry List Of Corruption Should Make You Think Again.
Can the FBI be trusted? A Federalist analysis of agency lies over the last decade is an unequivocal no.
Topics covered....FISA Warrants: In the summer of 2016, FBI bureaucrats launched a deep-state operation, known as Crossfire Hurricane... Misleading Congress: Following the collapse of the grand Russia-collusion hoax, lawmakers on Capitol Hill began demanding answers about FBI misconduct. Former FBI Director James Comey lied to Congress, claiming the bureau was just investigating four individuals... Misleading DOJ Leaders: Not only was Congress led astray as FBI officials conducted a rogue operation to defend the incumbent regime, but so was senior leadership in President Trump's DO... Misleading Trump: Comey thought the Crossfire Hurricane investigation was important enough to brief outgoing President Barack Obama on the probe but kept Trump in the dark. In fact, Comey later confirmed that he told Trump three times the president was not being investigated... Michael Flynn: In June 2020, a federal judge ordered that all charges be dropped against Flynn... Andrew McCabe: Former FBI Deputy Director Andrew McCabe was fired from his top role at the bureau for lying to the agency inspector general four times... Clinton Emails: The FBI repeatedly told journalists there was no evidence that a foreign power had reviewed Clinton's emails... Weiner Laptop: In 2018, Comey told lawmakers over the course of the investigation into Clinton's emails that agency officials thoroughly reviewed the laptop belonging to Clinton aide Huma Abedin and her now-ex husband Anthony Weiner. But untrue. Only 3,077 of the 694,000 emails were directly reviewed for classified or incriminating information.... Roger Stone: In 2019, former Trump associate Roger Stone was raided by the FBI after being indicted by Mueller... Jan. 6 Capitol Riot: The Jan. 6 saga has become the sequel in Democrats' efforts to indict Trump... Kamala Harris on Jan. 6: The presence of VP Mike Pence and then-Sen. Kamala Harris at the U.S. Capitol has been the basis for nearly 800 people being charged with at least one count of violating 18 U.S. Code, section 1752...But the Justice Department recently was forced to admit that Harris was not in the building... March 4, 2021: The FBI released a joint memo with the Department of Homeland Security warning that "domestic extremists" were preparing to launch an insurrection...nothing was done.... Hunter Biden Suppression: In July, Grassley's office published a blockbuster whistleblower report wherein senior agency officials alleged that the bureau is actively trying to sabotage Trump and provide cover for President Joe Biden's son, Hunter....
Gretchen Whitmer Plot; ... Ralph Northam Plot; ... Sen. Ted Stevens' Conviction: Former Sen. Ted Stevens, R-Alaska, became the victim of FBI corruption in 2008 when forced to defend himself on charges of false statements to federal officials... Rep. Jeff Fortenberry's Conviction; ... Pulse Nightclub Shooting; ... Texas Synagogue Attack; ... Congressional Baseball Shooter; ... Inflating Extremism Cases; ... Ignoring Larry Nassar Abuse; ... Kyle Rittenhouse; ... Demonizing James Rosen; ... Deadly Wrongful Conviction; ... Martha Stewart; ... Mar-a-Lago Raid; ...
Full article here


---
REPORTS, VIDEOS, OTHER PODCASTS
REPORT: "A 'Strategic Failure': Assessing the Administration's Afghanistan Withdrawal" - House Foreign Affairs Committee, 17 Aug 2022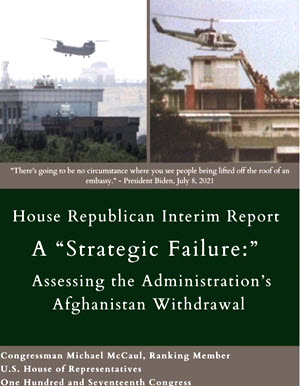 House Foreign Affairs Committee Lead Republican Michael McCaul has published his interim report entitled, "A 'Strategic Failure': Assessing the Administration's Afghanistan Withdrawal." The 115-page report examines the Biden administration's decisions and actions in detail, from the announcement of the president's decision to withdraw to the months following that decision, the resulting Taliban seizure of power, the chaotic and deadly evacuation, and the long-term impact the withdrawal has had on the United States' standing in the world and our allies in the aftermath.
Two-page Breakdown of the top takeaways from the report here
Full report here
ALSO See: "McCaul Publishes Interim Report on Afghanistan Withdrawal and Evacuation" - House Foreign Affairs Committee, 27 Aug 2022

REPORT: The Protection of Classified Information: The Legal Framework - CRS, 12 Aug 2022
This report provides an overview of the relationship between executive and legislative authority over national security information. It summarizes the current laws that form the legal framework protecting classified information, including current executive orders and some agency regulations pertaining to the handling of unauthorized disclosures of classified information by government officers and employees. The report also summarizes criminal laws that pertain specifically to the unauthorized disclosure of classified information, as well as civil and administrative penalties. Finally, the report discusses insider risk management measures.
25-page CRS Report here

VIDEO: Director of NGA at Geography 2050: DC - The Discussion Continues - NGA, 22 Aug 2022

NGA co-hosted the second "Geography 2050: DC-The Discussion Continues" symposium with the American Geographical Society July 27 in Springfield, Virginia.
The event served as a learning opportunity for geography professionals and interested attendees to learn more about current trends in geography and NGA's influence in the geography space.
NGA Director Vice Adm. Frank Whitworth kicked off the event with opening remarks.
16-minute video here

VIDEO: Spy Chat with Chris Costa | Guest: Gina Bennett - International Spy Museum, 18 Aug 2022

Spy Museum Executive Director Chris Costa interviews Gina Bennett, a former CIA analyst and advisor.
Bennett is a former counterterrorism specialist who authored some of the earliest warnings of today's terrorism trends, including a 1993 report that served as the first warning of the growing danger of the movement Osama bin Laden was fomenting. She is an Adjunct Associate Professor at Georgetown University's Center for Security Studies and featured in documentaries and other media profiling her role in counterterrorism and as a pioneer for women in National Security and Intelligence careers.
1-hour video here

VIDEO: The Military Dimensions of the Fourth Taiwan Strait Crisis - CSIS, 22 Aug 2022

Following U.S. Speaker of the House Nancy Pelosi's visit to Taiwan, China has initiated unprecedented military exercises surrounding Taiwan, leading some experts to call this the beginning of the Fourth Taiwan Strait Crisis. As we watch the military activities unfold, how is the PLA using force against Taiwan, and what are the larger strategic implications?
CSIS China Power Project held a discussion of the military dimensions of the Fourth Taiwan Strait Crisis. The conversation features Dr. M. Taylor Fravel, Professor of Political Science and Director of the Security Studies Program at MIT; Ms. Cristina Garafola, Policy Researcher at the RAND Corporation; Ms. Kathrin Hille, Greater China Correspondent at Financial Times; Mr. Roderick Lee, Director of Research at the China Aerospace Studies Institute (CASI) at Air University; and Dr. Christopher Twomey, Associate Professor in the Department of National Security Affairs at the Naval Postgraduate School. The discussion was moderated by Dr. Bonny Lin, Director of the China Power Project and Senior Fellow for Asian Security at CSIS.
90-minute Video Here

VIDEO: 2009 Suicide Attack at FOB Chapman in Khost, Afghanistan - CIA Deadliest Incident and Subsequent Reactions - Team House, 17 Aug 2022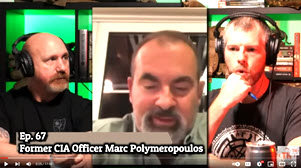 Senior CIA Officer Marc Polymeropoulos tells us where he was during the 2009 suicide attack at FOB Chapman in Khost, Afghanistan and the subsequent operations to take out some of the perpetrators.
17-minute video here
Full 2020 version here

VIDEO: Aleksandr Dugin: The Far-Right Theorist behind Putin's Plan - 60 Minutes, 12 Apr 2022

In 2017, 60 Minutes spoke with the Russian political philosopher Aleksandr Dugin, who for decades has called for the annexation of Ukraine. Darya Dugina, aged 29, died on Saturday, 20 Aug 2022, when a vehicle she was driving exploded near Russia's capital Moscow. Her prominent father said to be close to Mr Putin, may have been the intended target of the attack. Theories about the reasons, the perpetrators, have been clouded by a blizzard of claims and counterclaims by Russia and Ukraine. This 2017 interview sheds light on the thinking driving Dugin to insist Putin is justified consider Ukraine part of Russia.
5-minute 60 Minutes "Overtime" Video here

PODCAST: CASSIA Spy Ring, Pt. 1/2: The Priest and the CEO - Spyscape Museum, 23 Aug 2022

In the face of an historical evil, would you have the courage to resist? It's a question that weighed heavily on the members of the CASSIA spy ring - a civilian resistance operation based out of a church in occupied Vienna. Vanessa Kirby joins ex-CIA officer Christopher Turner and Austrian intelligence expert Siegfried Bier to uncover a story of extreme courage in the face of insurmountable odds.
In Part 1, we meet clergyman Heinrich Maier and rubber tycoon Franz Messner - unlikely friends who became the core of a new movement. Together, they recruited like-minded individuals to strike back at the Nazi regime.
31-minute Video here

ALSO See: "The CASSIA Spy Ring in World War II Austria: A History of the OSS's Maier-Messner Group" - by Christopher Turner, November 2017, paperback available on Amazon

PODCAST: "The Beverly Hills Spy" – with The Hollywood Reporter's Seth Abramovitch - SpyCast, 23 Aug 2022

Seth Abramovitch joins Dr. Andrew Hammond, Spy Museum Curator/Historian, to discuss the British war-hero who spied on behalf of the Japanese during Hollywood's Golden Age. This is a story-and-a-half, by jingo!
Topics covered: How a British war-hero became a spy for the other side; Japanese espionage in Tinseltown; How the story involves Boris Karloff, Charlie Chaplin and Yoko Ono's father; and The spy ring's activities before and after Pearl Harbor.
54 minute podcast here

ALSO See: "The Information Battlespace" – Foreign Denial and Deception with Bill Parquette - SpyCast, 16 Aug 2022

---
Section IV - Books, Research Requests, Jobs, Obituaries
Books — Newly Released, Overlooked, Forthcoming
A Question of Standing: The History of the CIA, 1947-2022
by Rhodri Jeffreys-Jones
(Oxford Univ Press, Aug 2022)
"An insightful and disturbing history of an American institution." -- Kirkus Reviews
"Who better to write about the CIA than a Welsh-born Scottish academic who began his career steeped in standard anti-Americanism of the European left? In a clutch of books over nearly a half century, Jeffreys-Jones has answered "no one." Here, his perspective is standing: how does the CIA stand with, above all, the President but also Congress, the American public and even, on occasion, people abroad. That perspective - plus his own standing as a foreigner both detached from and deeply immersed in things American - suggests he will provide fresh insights on episodes from the Bay of Pigs to the creation of the DNI, to the dissing of intelligence by Trump. This book is a pleasure." -- Greg Treverton, former chair of the US National Intelligence Council under President Obama

Deals with recognizable events that have shaped the history of the first 75 years of the CIA. Unsparing in its accounts of dirty tricks and their consequences, it values the agency's intelligence and analysis work to offer balanced judgements that avoid both celebration and condemnation of the CIA.
The mission of the CIA, derived from U-1 in World War I more than from World War II's OSS, has always been intelligence. Seventy-five years ago, in the year of its creation, the National Security Act gave the agency, uniquely in world history up to that point, a democratic mandate to pursue that mission of intelligence. It gave the CIA a special standing in the conduct of US foreign relations. That standing diminished when successive American presidents ordered the CIA to exceed its original mission. When they tasked the agency secretly to overthrow democratic governments, the United States lost its international standing, and its command of a majority in the United Nations General Assembly. Such dubious operations, even the government's embrace of assassination and torture, did not diminish the standing of the CIA in US public opinion. However, domestic interventions did. CIA spying on domestic protesters led to tighter congressional oversight from the 1970s on.
Book available here
---
Nomad Century: How Climate Migration Will Reshape Our World
by Gaia Vince
(Flatiron Books, Aug 2022)
"We are facing a species emergency. We can survive, but to do so will require a planned and deliberate migration of a kind humanity has never before undertaken. This is the biggest human crisis you've never heard of."
Drought-hit regions bleeding those who for whom a rural life has become untenable. Coastlines diminishing year on year. Wildfires and hurricanes leaving widening swaths of destruction. The culprit, most of us accept, is climate change, but not enough of us are confronting one of its biggest, and most present, consequences: a total reshaping of the earth's human geography. As Gaia Vince points out early in Nomad Century, global migration has doubled in the past decade, on track to see literal billions displaced in the coming decades. A National Security crisis. What exactly is happening, Vince asks? And how will this new great migration reshape us all?
In this clarion call, Vince draws on a career of environmental reporting and over two years of travel to the front lines of climate migration across the globe, to tell us how the changes already in play will transform our food, our cities, our politics, security, survival, and more.

Book may be ordered here
---
Lethal Tides: Mary Sears and the Marine Scientists Who Helped Win World War II
by Catherine Musemeche
(William Morrow, Aug 2022)
"...The incredible work of the scientists and researchers who made such a remarkable contribution to America's war effort in the Pacific theater during WWII." —Admiral William H. McRaven (U.S. Navy, Ret.),

Lethal Tides weaves together science, biography, and military history in a compelling story of an unsung woman who had a dramatic effect on the U.S. Navy's success against Japan in WWII, creating an intelligence-gathering juggernaut based on the new science of oceanography. When World War II began, the U.S. Navy was unprepared to enact its island-hopping strategy to reach Japan. Anticipating tides, planning for coral reefs, and preparing for enemy fire was new ground for them, and with lives at stake it was ground that had to be covered quickly. Sears, a marine biologist, was the untapped talent they turned to, and she along with a team of quirky marine scientists were instrumental in turning the tide of the war in the United States' favor. The Sears team analyzed ocean currents, made wave and tide predictions, identified zones of bioluminescence, mapped deep-water levels where submarines could hide and gathered information about the topography and surf conditions surrounding the Pacific islands and Japan. Sears was frequently called upon to make middle-of-the-night calculations for last-minute top-secret landing destinations and boldly predicted optimal landing times and locations for amphibious invasions. In supplying these crucial details, Sears and her team played a major role in averting catastrophes that plagued earlier amphibious landings, like the disastrous Tarawa, and cleared a path to Okinawa, the last major battle of World War II.
Book may be ordered here

---
Researching Death of Richard Oakes, Native American Activist; Led Protests 1969-70 on Alcatraz Island; Killed in 1972
I'm a reporter at the San Francisco Chronicle researching a story about the life and death of Richard Oakes, the 20th century Native American activist. He led a famous "Red Power" protest in 1969 and 1970, occupying Alcatraz Island along with hundreds of other indigenous people. Later, in 1972, he was shot and killed by a YMCA camp manager in Sonoma County, California. The shooter claimed self-defense and was acquitted by a jury. FBI files show that the Bureau monitored the occupation of Alcatraz and later investigated whether Oakes' killing was racially motivated. I'm hoping to speak with anyone who was involved with these investigations or familiar with these events from the federal law-enforcement side. I can be reached at jason.fagone@sfchronicle.com.
CFP: IAFIE Citadel Conference - "Intelligence Education in a Contested World" - 20-22 October 2022
Call for Proposals — for conference to be held at The Citadel — The Military College of South Carolina which will host the annual IAFIE (International Association for Intelligence Education) conference in Charleston, SC from 20-22 October 2022.
The conference promotes intelligence education and provides an exceptional opportunity for networking among scholars and practitioners from academia, the private sector, and all levels of government. IAFIE also encourages the direct participation of both graduate and undergraduate students.
At this time, IAFIE seeks papers on ways to advance intelligence education in the areas of national security, law enforcement, and the business sector. Panel and paper proposals that speak to the broad conference theme of "Intelligence Education in a Contested World" will be most welcome!
We are interested, but not exclusively, in complete panel proposals, individual paper proposals, and graduate/undergraduate student research as they might relate to current IAFIE Study Groups:
• The Death of Democracy; • Combating the Popularity of False Narratives; • Defining the Proper Role of Structured Analytic Techniques; • What Analysts Need to Know about Probability and Statistics; • Defining Core Competencies for Intelligence Analysts; • Challenges of Competitive and Business Intelligence; • Cyber Challenges: Defining the Domain of Cyberspace.
Please submit your 250-word panel and/or paper proposals (abstract) to Dr. Larry Valero, IAFIE Events Chair at citadelconference@iafie.org by 15 September 2022.
Notification of acceptance of proposals will be provided on a rolling basis.
Full panel proposals should also include the following information: • Panel title; • Abstract; • All presenter names (limited to four), affiliations, and presentation titles; • Panel discussant name and affiliation and; • Panel chair name and affiliation.
Event location: The Citadel, The Military College of South Carolina, Charleston, SC.
For more information on presenting, attending, or sponsoring the conference, please visit the IAFIE conference website or ask questions do so here
CFP on "Domestic Intelligence Organizations in Non-Democratic Regimes" for the International Journal of Intelligence and CounterIntelligence
The resurgence of authoritarianism in the 21st century coincides with transformations in intelligence that offer states greater surveillance capabilities than any other era of human history. This special issue will explore intelligence in non-democratic regimes to elicit insights on how these non-democratic intelligence cultures and practices might harness intelligence in the future compared to how they have in the past. The editors are particularly interested in case studies that focus less on theory and more on history and new evidence, although papers that offer original theoretical concepts are welcome.
Contributions may include, but are not limited to, the following questions and issues:
· The role of new technology in domestic intelligence or surveillance by non-democratic states (including the newly-developed digital authoritarianism practices)
· How ideology shaped domestic intelligence organizations, functions, or operations in non-democratic states
· Single or comparative case studies
· The influence of society, culture, and history on intelligence in non-democratic regimes and vice versa
· The role of individuals as driving forces in non-democratic intelligence structure, organization, and behavior
· The effect of intelligence on minority or underrepresented groups and voices
· The pressure or influence of outside states, including allies, adversaries, or patrons, on intelligence by non-democratic regimes
· Innovations in non-democratic intelligence practices
· Areas of continuity or discontinuity in the transition from a non-democratic to a democratic state
Abstracts are due by 15 August 2022; Manuscripts are due 15 December 2022.
Manuscripts should be between 4,000-8,000 words (including the abstract, an author bio, references, figures, and tables.) All manuscripts should be formatted following the style of the International Journal of Intelligence and CounterIntelligence.
Submissions or questions: Florina Cristiana Matei, cmatei@nps.edu, or Jeff Rogg, jrogg@citadel.edu
Full Time Teaching Opportunity: Director of Intelligence Studies at the Catholic University of America
The Catholic University of America (CUA) in Washington, D.C. is seeking a new Director of Intelligence Studies to begin in August 2023. The current director, former CIA officer and staff historian (and current AFIO board member) Nicholas Dujmovic, founded the program after his retirement in 2016. The undergraduate Certificate in Intelligence Studies has grown to be the largest certificate or minor program on campus. The program continues to expand the number and variety of intelligence courses offered.
Dr. Dujmovic is reaching out to the AFIO community to encourage potential candidates with the following attributes:
Significant service (at least 15 years) as a professional intelligence officer involved in analysis, operations, technical collection, or possibly support. A recent retiree closing a successful career would be ideal.
An advanced degree (Ph.D. preferred) from an accredited university in political science, history, area studies, a comparable field or a relevant STEM field.
Teaching experience at the university level, either undergraduate or graduate.
Evidence of past scholarship and a willingness to engage in further research and publication, consistent with CUA's commitment to excellence as a "research university."
An enthusiasm for teaching and advising mostly undergraduate students.
The vacancy notice is active and can be found here.
AFIO members wishing to learn more are encouraged to contact Dr. Dujmovic at dujmovic@cua.edu.
Assistant Program Director/ Lecturer or Sr. Lecturer, Security and Intelligence in Washington, DC - Johns Hopkins University
The Johns Hopkins University invites applications for the position of Assistant Program Director in the area of Security and Intelligence. This position will support the MA in Global Security Studies (primary), MS in Intelligence Analysis, and MS in Geospatial Intelligence programs in the Center for Advanced Governmental Studies, within the Krieger School of Arts & Sciences' Advanced Academic Programs Division. Reporting to the Director of the Center for Advanced Governmental Studies and Associate Dean for Graduate & Professional Programs, the Assistant Program Director will contribute to the excellence of the programs and will demonstrate and support ongoing innovation in the curriculums.
The Assistant Program Director will have the following academic and administrative responsibilities: Academic Responsibilities Teach 6 graduate courses per year, including preparation and time spent in the classroom (both on-site in the Washington, DC Center and online), using best practices for teaching, engaging, and mentoring students from diverse backgrounds in the learning process, and responding to student questions Advise students, including both program and research advising Provide input on the curriculums and new course development to ensure the delivery and growth of quality programs Other academic duties normally performed by full-time or regular part-time faculty, such as participating on committees, attending academic events, or contributing to other academic service Administrative Responsibilities Assist with the management of degree concentrations or areas of focus Participate in the adjunct faculty hiring and development processes Assist the Program Directors with administrative tasks, such as planning events and reviewing admission materials Other administrative duties as assigned.
Minimum Qualifications: PhD in political science, international affairs, security studies, intelligence, or other field relevant to the interdisciplinary nature of global security studies; other terminal degrees in these or related fields may be considered 1-3 years of higher education teaching experience online and/or at the graduate level The ability to teach a variety of courses in the global security fields, including research-focused courses Strong organizational skills Excellent oral and written communication skills.
Requirements, Qualifications Sought, and Application Instructions here.

---
Robert Day, a Linguist and NSA Cryptologist
Robert Monroe Day, 92, a Linguist and NSA Cryptologist, died 26 June 2022 in Epping, NH.
He was born in Gloucester, MA. After high school, he joined the Army where he served as a Slavic language interpreter. Upon his honorable discharge, he entered the Defense Intelligence School, studying Advanced Intelligence and worked for the NSA. From there, he was admitted to the Naval War College to further his linguistic studies, becoming a cryptologist. He continued to work for various government agencies until his retirement in 1995 after 44 years of service. He was a member of the Phoenix Society.
His first wife of 62 years, Janet Bowes, died in 2013. He is survived by his second wife, Deborah Grinnell, by his sister, and other family. Condolences may be sent to: Deborah Grinnell at 183 Pleasant Street, Epping, NH 03042-2111.

Carol Stent, CIA Operations Officer
Carol Meskin Stent, 83, a CIA Operations Officer, died 15 August 2022 in Fairfax, VA. She was an Oakton, VA resident.
Carol was born in Brooklyn, NY, graduated from Mount Holyoke in 1961 with a Political Science degree, and completed a Masters in Library Science in New York City.
She was later recruited by the CIA and began a long and successful career including assignments in both Europe and Asia. She was devoted to her job and the people that she mentored. Carol was a consummate professional and everyone learned a great deal from her. She had an amazing memory for details and could express herself eloquently.
She treasured her family and her dogs. She is survived by a sister, four children, and other family.
Services to be held at Quantico National Cemetery, on Thursday, 25 August 2022 at 10 a.m. The assembly of guests in their vehicle will be at 9:30 a.m. The address of the cemetery is 18424 Joplin Road (Route 619), Quantico, VA 22172, (Phone: 703-221-2183).
Dave Thomas, Senior CIA Intelligence Officer
Harold David Thomas, 72, a Senior CIA Intelligence Officer, died 14 August 2022 in Ashburn, VA of Alzheimer's Disease.
Born at Bethesda Naval Hospital in Maryland. Dave lived the life of a Marine's family, stationed in California and Hawaii, before settling in Sterling, VA.
Dave was a dedicated civil servant - working his way up in the Central Intelligence Agency, starting in the mail room as a courier in 1969, later as a computer analyst and advancing to Senior Intelligence Officer. He received many awards and recognitions including the Distinguished Intelligence Career Award upon his retirement in 2006.
Not one to sit idle, Dave furthered his leadership and mentorship skills in his role as President of Advanced Systems Engineering Corporation until 2011 when he really retired. Dave was well respected and revered in his career for how deeply he cared for his coworkers and employees and valued them as people above all else. This empathetic approach to management earned him life-long friendships and a reputation as an admired mentor and manager.
Dave traveled the world having visited 49 of the 50 states and many countries. He loved the open ocean, whether it was at the helm of a sailboat on the Chesapeake Bay in his younger days, or on a cruise ship with Shirley and friends in the Caribbean, Hawaii, or Alaska. Dave enjoyed golf, get togethers, smoking cigars, and scotch.
He is survived by his wife of 40 years, Shirley Spitler Thomas; four children, and other family.
A memorial service will be held on Saturday, 8 October 2022, at 1pm at Galilee United Methodist Church in Sterling, VA.
---
AFIO EDUCATIONAL EVENTS IN COMING TWO MONTHS....
Virtual =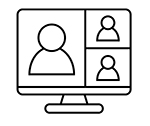 ; In-Person =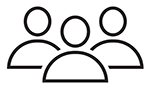 Thursday, 1 September 2022, 7pm CDT - Virtual - The San Antonio TX AFIO Chapter program – Two topics: "The Alligator" a six-foot long anti-tank rifle, and Melvin Gamble, former CIA, discussing The Havana Syndrome and other topics
Remember when theaters showed cartoons or newsreels before the movie at the theater? We are going back to the good old days with a newsreel ("The Alligator") from Ukraine in this special all-video meeting. There is nothing funny about "The Alligator." It is a six-foot long anti-tank rifle whose projectile can pierce one inch steel plate at several thousand yards.
No use hiding behind the cinder block wall. The rifle is taking some of the workload and expense off the Javelin anti-tank missile for non-armored targets. (Cost is in the vicinity of $200,000 a Javelin missile). A three minute video on the rifle and the "snubnose" version will precede our main feature.
The main feature of this 1 Sept meeting will be Melvin Gamble, a 40-year career CIA Senior Intelligence Officer, discussing the Havana Syndrome as well as the need and benefits of diversity in the intelligence community, and in the CIA in particular. And other aspects of his remarkable career. This program will be hosted by James Hughes, AFIO President, former CIA Operations Officer. The interview runs 23 minutes. It comes from the popular AFIO NOW video interview series.
Questions? Need links to virtually attend? Contact John Franklin, President, AFIO San Antonio Chapter, at satxafio@gmail.com
Thursday, 6 October 2022, 7pm CDT - Virtual - The San Antonio TX AFIO Chapter hears from Ric Prado, Senior CIA Operations Officer, author of "Black Ops"
This will be a very special San Antonio AFIO Chapter event. A live discussion with Ric Prado, author of "Black Ops, The Life of a CIA Shadow Warrior." Hosted by David Endris, SATX AFIO Chapter secretary.
Enrique "Ric" Prado is a paramilitary, counter-terrorism, and special/clandestine operations specialist, with a focus on international training operations and programs. Mr. Prado is a twenty-four-year veteran of the Central Intelligence Agency where he served as an Operations Officer in six overseas posts. He was Deputy Chief of Station and "Plank Owner" of the original Bin Ladin Task Force/Issues Station under Senior Analyst, Michael Scheuer, as well as Chief of Station in a hostile Muslim country. He also served as Chief of Operations in the CIA's Counterterrorist Center (CTC) during the September 11th attacks, where Mr. Prado helped coordinate CIA/CTC's special operations (SPECOPS) activities with the National Security Council and FBI, as well as with elite U.S. military representatives from Delta Force and SEAL-Team Six, then detailed to CTC/CIA. He retired as Senior Intel Service-2 (SIS-2, Major General equivalent at CIA). Advanced copies of the book can be ordered at https://www.ricprado.com/
Details about the October meeting will be sent out several days in advance to allow it to be forwarded or shared with other members in other chapters.
Questions? Need the links to virtually attend? Contact John Franklin, President, AFIO San Antonio Chapter, at satxafio@gmail.com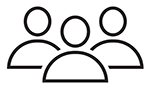 6 October 2022 (Thursday), 11:30am - 2pm PDT - San Francisco, CA - The AFIO Andre LeGallo Chapter hosts Lt. Col. Roger S. Dong discussing developments in the U.S., Taiwan and China relations.
Speaker: Roger Dong, Lt. Colonel (ret.), United States Air Force Date: Thursday, October 6, 2022
Roger S. Dong is a retired Air Force Lt. Colonel who served in counter-intelligence and human intelligence collection for 28 years throughout Asia. After retirement, he returned as a GS-14 serving as our Defense Attaché in Taiwan from 1995-1999. His interest in modern China continued after his retirement and he has lectured on the Belt and Road Initiative and President Xi Jinping and China and Africa in the past. He is one of the most highly decorated HUMINT officers in the nation recognized by the Secretary of Defense, Director of DIA and Director of CIA for his significant intelligence reporting.
Location: Basque Cultural Center, 599 Railroad Ave, South San Francisco, CA 94080.
11:30am no host cocktail; meeting and luncheon at noon.
RSVP and pre-registration is required. Eventbrite registration link here.
Reservation and pre-payment is required before September 30, 2022. The venue cannot accommodate walk-ins.
Please contact Mariko Kawaguchi, Board Secretary at afiosf@aol.com or Mariko Kawaguchi, c/o AFIO, P.O. Box 117578, Burlingame, CA 94011 for questions.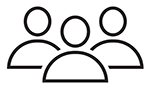 Friday, 4 November 2022, 10:30am - 2pm EDT - Tysons Corner, VA - AFIO National In-Person Winter Luncheon
Hold the date. AFIO will be hosting an in-person speaker luncheon at the DoubleTree Hotel, Tysons Corner.
Full details and registration to follow in coming weeks.
Questions? Email events@afio.com
---
Other Upcoming Events from Advertisers, Corporate Sponsors, and Others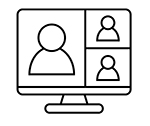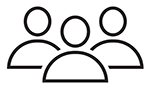 25 October 2022 - Annapolis, MD - Hybrid: In-Person and Virtual - "The Russia China Partnership" - US Naval Institute and US Naval Academy Conference
Join us in person or virtually for this timely and important discussion of great power competition and the influences and factors that are shaping the Russian and Chinese worldview.
Panels of scholars and experts will discuss: • The global impact of Russia's invasion of Ukraine; • Efforts by the People's Republic of China and Russia to work together to displace the United States economically and militarily, as well as undercut its leadership role in world institutions; • Russia and the PRC's attempts to become the world's superpowers; and • A look at Russia and the PRC's past and current use of military power and economic warfare to achieve their goals.
Panel #1 – Russia and China's Gambit to Reset the World Order -- Moderator: Kori Schake, Ph.D., Senior Fellow and Director of Foreign and Defense Policy Studies, AEI (Confirmed); o Elbridge Colby, Cofounder and Principal, The Marathon Initiative (Confirmed); o ADM Harry B. Harris Jr., USN (Ret.), Former Commander, U.S. Pacific Command; Former Ambassador to the Republic of South Korea (2018 – 21) (Confirmed); o Michael Kofman, Director, Russia Studies Program, CNA Corporation (Confirmed); o Sarah C. M. Paine, Ph.D., William S. Sims University Professor, U.S. Naval War College (Confirmed).
Panel #2 – What's Next for the Russia-China Relationship: Implications for the United States and the World -- Moderator: Rozlyn Engel, Ph.D., Distinguished Visiting Professor, Economics Department, U.S. Naval Academy (Confirmed); o Graham T. Allison, Ph.D., Douglas Dillon Professor of Government, Harvard University (Invited); o Lyle Goldstein, Ph.D., Visiting Professor of International and Public Affairs, Watson Institute for International and Public Affairs, Brown University (Confirmed); o The Honorable Jon M. Huntsman Jr., Vice Chair, Policy, Ford Motor Company; Former Ambassador to Russia (2017-19); Former Ambassador to China (2009-11) (Invited); o Angela E. Stent, Ph.D., Senior Advisor, Center for Eurasian, Russian, and East European Studies, Georgetown School of Foreign Service; Senior Non-Resident Fellow at Brookings Institution (Confirmed); o The Honorable Randall G. Schriver, Chairman of the Board, Project 2049 Institute; Partner, Pacific Solutions LLC; Former Assistant Secretary of Defense for Indo-Pacific Security Affairs (2018 - 19) (Confirmed).
More information about our speakers can be found here.
Sign up today, space is limited!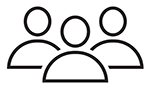 Thursday, 27 October 2022, 4:30 - 6:30 pm EDT - Hanover, MD - Cocktails and Codebreakers Event
Please join the National Cryptologic Foundation (NCF) and the Intelligence and National Security Alliance (INSA) for Cocktails and Codebreakers, a celebration of women in codebreaking.
Pay tribute to the rich history of trailblazing women in cryptology, to include recognizing the United States Postal Service's launch of a Women Cryptologists of WWII stamp.
Fireside Chat: Ms. Jen Easterly, Director, Cybersecurity and Infrastructure Security Agency (CISA) with Mr. Greg Myre, NPR National Security Correspondent, as moderator.
Special Guest Speaker: Mr. Bill Nye will speak about his mother who was a WWII cryptologist with the WAVES.
Where: The Hotel at Arundel Preserve: 7795 Arundel Mills Blvd, Hanover, MD 21076. Google map link for driving directions and location.
More info here
Register here
Questions to R. Diamond at rdiamond@cryptologicfoundation.org
19 - 28 March 2023 - Washington DC to Europe and back - Gary Powers' 10-Day Cold War Espionage Tour
Join author and historian Gary Powers Jr. on this unforgettable 10-day tour of Cold War and Espionage related sites throughout Germany and the Czech Republic
Day 1: Departure from the USA; Day 2: Arrival Berlin; Day 3: Berlin - Potsdam - Berlin; Day 4: Berlin; Day 5: Berlin – Leipzig – Dresden; Day 6: Dresden – Prague – Pilsen; Day 7: Pilsen – Míšov – Pilsen; Day 8: Pilsen – Rozvadov – Nuremberg – Stuttgart; Day 9: Stuttgart – Sinsheim – Speyer – Frankfurt; Day 10: Departure for the USA.
Included Visits: Berlin Wall Memorial • Checkpoint Charlie Museum • German Spy Museum • Military History Museum Gatow • Glienicke Bridge • Hohenschönhausen Memorial • Berlin Stasi Museum • Allied Museum on Clay Allee • Museum in Der Runde Ecke • Leipzig Forum of Contemporary History Museum • Dresden's Military History Museum • Bautzner Strasse Dresden Memorial • KGB Museum • Prague Museum of Communism • Vitkov Hill Nuclear Bunker • Pilsner Urquell Brewery • Atom Museum • Iron Curtain Museum • Nuremberg Trials Memorial • Stuttgart Cold War Bunker • Sinsheim Technik Museum • Speyer Museum of Technology.
Tour Name: Gary Powers' Cold War Espionage Tour - view tour; Group Name: Garypowers.Com Tours; Departure City: Washington, DC; Tour Departure Date: March 19, 2023; Tour Return Date: March 28, 2023.
Tour Price: $3,950.00 (deduct $950 for land only tour) per person, assumes 2-person registration.
For full description of the activities and accommodations on each of those dates and locations, explore full information about the tour here or Call 1.800.323.4466.
To enroll now for this 2023 once in a lifetime tour, do so here.
ALSO See: "Enemy Territory: The Story of American CIA U-2 Pilot Francis Gary Powers" - A Graphic Novel by Francis Gary Powers Jr. and Walter Pfenninger.
---
ITEMS FOR SALE AT AFIO FOR MEMBERS...including NEW ALL-BLACK SHORT-SLEEVED POLO SHIRT
Now available: Black short-sleeved polo shirts with Embroidered AFIO logo
Show your support for AFIO with our new Black Short-sleeve Polo Shirts. Shirts are shrink and wrinkle resistant of fine cotton with a soft, "well-worn, comfy" yet substantial feel. They feature a detailed embroidered AFIO seal. Get a shirt for yourself and consider as gifts for colleagues, family, and friends. Only $50 each including shipping.
Sizes for (M) men, only; Small, Medium, Large, XL, XXL, and XXXL. $50 per shirt.
You may pay by check or credit card. Complete your order online here or mail an order along with payment to: AFIO, 7600 Leesburg Pike, Ste 470 East, Falls Church, VA 22043-2004. Phone orders at 703-790-0320. Questions? Contact Annette at: annettej@afio.com.
PopSocket for cellphones or tablets
Show your support to AFIO while enjoying the convenience offered by our AFIO Logo PopSocket. The PopSocket is most commonly used as a stand and as a grip for your mobile phone or tablet; handy for taking selfies, watching videos, and for texting. The PopSocket looks like a small button or sticker which, when closed, sticks flat to your mobile device. However, its accordion-like design enables it to pop open for use. The benefits of using a PopSocket make it a must-have accessory for your mobile phone or tablet. It also aids in keeping your phone from slipping off your hand during use, falling, or breaking.
Price: $15. Order this and other store items online here.
---
Caps - Dark Navy with Navy AFIO Logo
An authentic silhouette with the comfort of an unstructured, adjustable fit. Fabric: 100% cotton. Unstructured. Fabric strap closure with adjustable D-clip. Price: $30. Order this and other store items online here.
---
Duffel Bags - Royal Blue and Black with Full Color AFIO Logo This duffel has it all when it comes to value, style and organization.
600 denier polyester canvas with polyester double contrast; D-shaped zippered entry for easy access. Front pocket with hook and loop closure. End mesh pocket Easy-access end pockets. Four durable, protective feet and built-in bottom board for added strength. Web handles with padded grip. Detachable, adjustable shoulder strap.
Dimensions: 11"h x 19.75"w x 9.75"d; Approx. 2,118 cubic inches
Price: $50. Order this and other store items online here.
---
AFIO Mug with color glazed logo. Made in America. Sturdy enough to sit on desk to hold pens, cards, paperclips, and candy.
This handsome large, heavy USA-made ceramic mug is dishwasher-safe with a glazed seal. $35 per mug includes shipping. Order this and other store items online here.
---
Guide to the Study of Intelligence and When Intelligence Made a Difference
"AFIO's Guide to the Study of Intelligence" has sold out in hard-copy.
However, it is available in digital form in its entirety on the AFIO website here.

Also available on the website here are the individual articles of AFIO's history project "When Intelligence Made a Difference" that have been published to date in The Intelligencer journal. More articles will be forthcoming in future editions.
---
Disclaimers and Removal Instructions
Weekly Intelligence Notes (WINs) are commentaries on Intelligence and related national security matters, based on open media sources, selected, interpreted, edited and produced for non-profit educational uses by members and WIN subscribers.
REMOVAL INSTRUCTIONS: We do not wish to add clutter to inboxes. To discontinue receiving the WINs:
a) IF YOU ARE A MEMBER - click here: UNSUBSCRIBE and supply your full name and email address where you receive the WINs. Click SEND, you will be removed from list. If this link doesn't open a blank email, create one on your own and send to afio@afio.com with the words: REMOVE FROM WINs as the subject, and provide your full name and email address where you are currently receiving them.
b) IF YOU ARE NOT A MEMBER, and you received this message, someone forwarded this newsletter to you [contrary to AFIO policies]. Forward to afio@afio.com the entire WIN or message you received and we will remove the sender from our membership and distribution lists. The problem will be solved for both of us.
CONTENTS of this WIN [HTML version recipients - Click title to jump to story or section, Click Article Title to return to Contents. This feature does not work for Plaintext Edition or for some AOL recipients]. If you wish to change to HTML format, let us know at afio@afio.com. The HTML feature also does not work for those who access their e-mail using web mail...however NON-HTML recipients may view the latest edition each week in HTML at this link: https://www.afio.com/pages/currentwin.htm
---
WINs are protected by copyright laws and intellectual property laws, and may not be reproduced or re-sent without specific permission from the Producer. Opinions expressed in the WINs are solely those of the editor's or author's listed with each article. Notices in the WINs about non-AFIO events do not constitute endorsement or recommendation by AFIO. AFIO Members Support the AFIO Mission - sponsor new members! CHECK THE AFIO WEBSITE at www.afio.com for back issues of the WINs, information about AFIO, conference agenda and registrations materials, and membership applications and much more!
(c) 1998 thru 2022. NOTE NEW ADDRESS: AFIO, 7600 Leesburg Pike, Suite 470 East, Falls Church, VA 22043-2004. Voice: (703) 790-0320; Fax: (703) 991-1278; Email: afio@afio.com
---
About AFIO | Membership Renewal | Change of Address | Upcoming Events | Chapter Locations | Corporate/Institutional Memberships | Careers in Intelligence Booklet | Guide to the Study of Intelligence | Intelligencer Journal | Weekly Intelligence Notes | To Make A Donation | AFIO Store | Member-Only Section | Code of Ethics | Home Page
Click here to return to top.
---