---
National Security Strategy (October 2022) - The White House, 12 Oct 22
We are now in the early years of a decisive decade for America and the world. The terms of geopolitical competition between the major powers will be set. The window of opportunity to deal with shared threats, like climate change, will narrow drastically. The actions we take now will shape whether this period is known as an age of conflict and discord or the beginning of a more stable and prosperous future. We face two strategic challenges. The first is that the post-Cold War era is definitively over and a competition is underway between the major powers to shape what comes next. No nation is better positioned to succeed in this competition than the United States, as long as we work in common cause with those who share our vision of a world that is free, open, secure, and prosperous. This means that the foundational principles of self-determination, territorial integrity, and political independence must be respected, international institutions must be strengthened, countries must be free to determine their own foreign policy choices, information must be allowed to flow freely, universal human rights must be upheld, and the global economy must operate on a level playing field and provide opportunity for all. The second is that while this competition is underway, people all over the world are struggling to cope with the effects of shared challenges that cross borders—whether it is climate change, food insecurity, communicable diseases, terrorism, energy shortages, or inflation. (Full document here.)
Also see:

China accuses US of 'Cold War thinking' in security strategy - Associated Press, 13 Oct 22

The US National Security Strategy promotes the Abraham Accords - Middle East Monitor, 13 Oct 22

Biden's national security strategy focuses on climate change - Axios, 13 Oct 22
Trauma in the U.S. Intelligence Community: Risks and Responses - Rand Corporation, October 2022
Exposure to trauma and the multiple ways that such exposure manifests are a concern within the U.S. Intelligence Community (IC). Moreover, the IC has only a limited understanding of the symptoms of various types of trauma and the strict parameters that should surround discussions about trauma and mental health within the IC. The need for the IC to support its employees who are exposed to trauma within their workplace — whether deployed or at headquarters — is not simply an ethical obligation to provide for employees' well-being: Failure to meet this need could negatively affect the quality of work and the retention of qualified personnel within the IC. The IC would benefit from a concerted effort to consider these issues by learning more about the community's needs, identifying best practices, and initiating programs to meet the workforce's needs. (Full report here.)
Details of Expelled Russian Spies in The Hague Revealed - EU Observer, 14 Oct 22
Dutch and Belgian journalists, working with the Dossier Center, an NGO in London, have revealed the identities of 18 more Russian diplomats expelled from the EU in April on grounds of espionage. The group of 18 came from Russia's embassy in The Hague as well as its mission at the Organization for the Prohibition of Chemical Weapons (OPCW) in the Dutch capital. (Full article here.)
See also: Russian spies still operating out of Brussels embassy - Brussels Times, 16 Oct 22
Ex-analyst With Kansas City's FBI Pleads Guilty to Keeping National Defense Docs at Her Home - Kansas City ABC News affiliate, 14 Oct 22
A former FBI analyst pleaded guilty in federal court Thursday to two counts of unlawfully retaining documents related to the national defense in her Kansas City home, according to the U.S. Attorney's Office for the Western District of Missouri. Investigators said Kendra Kingsbury, 50, was an intelligence analyst for the FBI for more than 12 years, assigned to different FBI squads, each of which had a particular focus, such as illegal drug trafficking, violent crime, violent gangs, and counterintelligence. Court documents said Kingsbury held a Top Secret/SCI security clearance and had access to national defense and classified information. By pleading guilty, the U.S. attorney's office said Kingsbury admitted that during her work for the FBI, she repeatedly removed from the FBI and kept an abundance of sensitive government materials, including classified documents related to the national defense, at her home. (Full article here.)
IRGC Claims to Arrest Mossad Spy in Central Iran - Jerusalem Post, 11 Oct 22
The IRGC's intelligence service arrested a person spying for Israel in the city of Kerman in central Iran, the head of the local judiciary announced on Tuesday, according to the IRGC-affiliated Tasnim News Agency. The official, Ebrahim Hamidi, claimed that the suspect was planning to carry out "anti-security measures" in the area. "The accused has made several trips to different countries with the aim of transferring information and training for anti-security and subversive measures through communication with intelligence officers, and his last trip was to a neighboring country," added the judiciary official. (Full article here.)
The Globetrotting Con Man and Suspected Spy Who Met With President Trump - ProPublica, 11 Oct 22
In July 2018, President Donald Trump met at his New Jersey golf club with a Chinese businessman who should have never gotten anywhere near the most powerful man in the world. Tao Liu had recently rented a luxurious apartment in Trump Tower in New York and boasted of joining the exclusive Trump National Golf Club in Bedminster, New Jersey. But Liu was also a fugitive from Chinese justice. Media reports published overseas three years before the meeting had described him as the mastermind of a conspiracy that defrauded thousands of investors. He had ties to Chinese and Latin American organized crime. Perhaps most worrisome, the FBI was monitoring him because of suspicions that he was working with Chinese spies on a covert operation to buy access to U.S. political figures. (Full article here.)
Also see: How a Tycoon Linked to Chinese Intelligence Became a Darling of Trump Republicans - New Yorker, 17 Oct 22
U.S. Influence Operations: The Military's Resurrected Digital Campaign for Hearts and Minds - LawFare, 11 Oct 22
In October 2008, the U.S. Special Operations Command published a request for proposal (RFP) seeking "rapid, on-order global dissemination of web-based influence products and tools in support of strategic and long-term U.S. Government goals and objectives." The RFP listing, for something nondescript called a "Trans Regional Web Initiative" (TRWI), appeared at a time when the global war on terror—and the growing online presence of terrorists—was a particularly critical mission. The TRWI required a lead that could handle everything from the development of website architecture and content management systems, to the development of content "tailored to foreign audiences" in the battle for hearts and minds. At the time, the announcement was viewed with some skepticism. Wired, for example, warned that U.S. efforts had largely been unsuccessful at "creating cultural and/or news content that appeals to foreign audiences" and speculated whether anyone would read the websites. But in September 2009, the contract, worth $10 million for the first year with four annual renewal options that would later exceed $20 million, was awarded to one of the largest government and military contractors, General Dynamics Information Technology (GDIT). (Full article here.)
Russian Military 'Exhausted,' Putin's Judgment 'Flawed,' U.K. Spy Chief Says - Washington Post, 11 Oct 22
A British spy chief warned in a rare public speech Tuesday that Russian forces in Ukraine are overstretched and "exhausted" — and that President Vladimir Putin is committing "strategic errors in judgment." The assessment from Jeremy Fleming, head of the secretive GCHQ, Britain's intelligence, cyber and security agency, comes after Putin drafted reservists to bolster his war effort and claimed a "massive strike" across Ukraine this week. The missile attacks hit energy facilities and civilian infrastructure across the country, including in the heart of Kyiv, in retaliation for a weekend explosion on Russia's strategic Crimean Bridge. "Russia's forces are exhausted. The use of prisoners to reinforce, and now the mobilization of tens of thousands of inexperienced conscripts, speaks of a desperate situation," Fleming said in an address to the Royal United Services Institute think tank in London. (Full article here.)
Also see:

UK spy chief: Britain must invest more to counter China's tech dominance - Politico, 10 Oct 22

'Very Dangerous': Top Spy Chief Addresses Russian Nuclear Threats, China Domination In Rare Speech - Benzinga, 11 Oct 22
Follow the First Rule of Strategy: Eject China From the Thrift Savings Plan - Center for Security Policy, 13 Oct 22
Millions of U.S. government employees, service members, veterans, and retired federal workers through their retirement savings are funding China. U.S. dollars are invested through the Thrift Savings Plan (TSP), the world's largest defined contribution fund with over $730 billion, into Chinese Communist Party-controlled companies. As a result, U.S. government employees are funding the expanding power of their enemy. In June, TSP introduced a new mutual fund window that will permit many participants to invest up to 25 percent of their account in 5,000 different mutual funds. Many of these funds are heavily invested in Chinese Community Party-controlled entities, and also hold shares in entities that are currently or potentially may be subject to U.S. sanctions. (Full article here.)
Nuclear Sleuths: Citizen Spies Use Open-Source Intel to Find Secrets - SpyScape, 13 Oct 22
Intelligence isn't just for spies. Commercial satellites, AI, and open-source intel are allowing citizen detectives to investigate nuclear secrets. "The world of open-source nuclear sleuthing is wide open to anyone with an Internet connection," Amy Zegart writes in Spies, Lies, and Algorithms. "It draws people with a grab bag of backgrounds, capabilities, motives and incentives - from hobbyists to physicists, truth seekers to conspiracy peddlers, profiteers, volunteers and everyone in between." There's no standardized quality control processes, ethical guidelines, or formal training programs, however, and even when the sleuthing is conducted by professionals problems can still arise.. (Full article here.)
What's in Biden's Executive Order on Signals Intelligence? - LawFare, 14 Oct 22
On Oct. 7, President Biden signed the Executive Order on Enhancing Safeguards for United States Signals Intelligence Activities. This order is a concrete step taken by the president to fulfill a commitment made in March during an announcement that the U.S. and the European Commission had agreed to the Trans-Atlantic Data Privacy Framework. The framework was negotiated after the Court of Justice of the European Union struck down the 2015 Privacy Shield agreement for failing to adequately protect individual privacy rights, and it aims to establish a higher privacy protection standard and provide a more durable basis for future trans-Atlantic data flows. (Full article here.)
For the full Executive Order, click here.
South African Court Bans Publication of Leaked Intelligence Report on U.S. Collection Efforts - Committee to Protect Journalists, 13 Oct 22
A South African court judgment banning the publication of an intelligence report about alleged U.S. efforts to gather intelligence about South Africa's ruling African National Congress party must be made public and should be overturned on appeal, the Committee to Protect Journalists said Thursday. On October 5, Gauteng High Court judge Daisy Sekao Molefe issued a final order banning the Daily News newspaper and Independent Online (IOL) news website from publishing a leaked November 5, 2020 intelligence report marked "secret" by South Africa's State Security Agency and ordered that all copies of the document in Daily News reporter Thabo Makwakwa's possession be returned to the agency, according to a statement by IOL and a tweet by Anton Harber, the executive director of local rights organization the Campaign for Free Expression. (Full article here.)
Former Intelligence Officers Fear Russia May Target Defectors In U.S. - Newsy, 12 Oct
Three former senior U.S. intelligence officers tell Newsy that before Putin's full-scale invasion in Ukraine, Moscow sent surveillance teams to hunt down Russian defectors on U.S. soil. One of those former officers says defectors are nervous. The Russian government even mailed a letter to a defector, notifying the person that they had been sentenced to death in absentia. (Full article here.)
'Malign Influence': China's Cultural Institutes Under Growing Scrutiny - Barron's citing AFP, 13 Oct 22
Accused of peddling propaganda and even spying, Chinese cultural institutes are facing increasing resistance around the world, forcing some to close down and Beijing to make changes to their management. China has set up hundreds of Confucius Institutes -- named after the ancient Chinese philosopher -- in more than 150 countries in less than two decades, according to the body that oversees them. President Xi Jinping has called them "a symbol of China's unremitting efforts for world peace and international cooperation", and his administration has marked their "optimization" and further promotion as an important plank of its education policy. Presented as China's answer to organizations such as Germany's Goethe-Institut or the British Council, they offer language lessons and cultural exchange programs. Unlike most of their Western counterparts, they often sit within universities. But as relations with China have deteriorated and Xi has taken a more aggressive foreign policy approach, an increasing number of critics in the West say the institutes have become a threat. (Full article here.)
Mexican Scientist Was Spy for Russia in Miami - McClatchy DC, 12 Oct 22
Cabrera-Fuentes' cellphone showed that there had been interaction between him and a Russian handler. The handler promised to help Cabrera-Fuentes get his wife and their daughters out of Russia, according to the affidavit. Cabrera-Fuentes appears to have agreed to the deal, and went to Miami to gather information on the Russian target. Traveling with him was his Mexican wife, Evelyn Dehesa Martínez, who in the indictment is Female 1. The charging documents said the Russian handler knew Cabrera-Fuentes had earlier sought Miami property and had him, through an associate, rent a condo in the complex where the target lived. The scientist came into the United States on a business visa and received $20,000 for rent and a down payment. The couple carried out surveillance on the target who had passed information to the U.S. government. Photos of the informant's license plates were found on Dehesa's phone, according to the indictment against Cabrera-Fuentes. (Full article here.)
China could make submarines more stealthy and powerful with classified system that reduces noise 90% - Interesting Engineering citing SCMP, 14 Oct 22
A Chinese research team claims to have created a new pump-jet propulsion system that can increase submarine thrust while minimizing obtrusive vibrations by more than 90-percent. The team created a sealant that prevents water from entering a duct without hindering the rotation of the rotor. However, the precise nature of the system remains classified, South China Morning Post (SCMP) reported on Friday. The new design could increase the thrust of a pump-jet at slower speeds while significantly reducing the noisy vibration "at most characteristic frequencies," said Hua Hongxing, the research lead, and professor of the State Key Laboratory of Mechanical System and Vibration at Shanghai Jiao Tong University, who conducted simulation experiments at a ground testing facility. (Full article here.)
Also see:

Could this breakthrough by Chinese scientists put hypersonic weapons on PLA aircraft carriers? - South China Morning Post, 11 Oct 22

'China bombards US warships with drones: One LANDED on deck of destroyer near Hong Kong - Daily Mail, 14 Oct 22

'Watched The Whole Time': China's Surveillance State Grows Under Xi - Barron's citing Agence France Presse, 13 Oct 22
How Intelligence Diplomacy Strengthened Israel-Egypt Ties - The National Interest, 14 Oct 22
When a government sends the head of an intelligence agency to handle what appears to be a diplomatic-political issue, it is sending a figure that is often free of political baggage. At the end of August, reports emerged in Hebrew media that Ronen Bar, the director of Israel's Shin Bet domestic intelligence agency had traveled to Egypt for a meeting with his counterpart, Abbas Kamel, the head of the Egyptian General Intelligence Directorate. The purpose of the meeting was reportedly to overcome a crisis in bilateral relations following the end of the three-day Israel Defense Forces (IDF) Operation Breaking Dawn against Palestinian Islamic Jihad (PIJ) in Gaza. (Full article here.)
Norway police say 6 Russians suspected of surveillance arrested last week - Reuters, 17 Oct 22
Norwegian police revealed on Monday that they had arrested four Russians on suspicion of illegally photographing classified facilities last week, days before they caught two other Russians allegedly in possession of drones. Norway has ramped up security in recent weeks following a number of drone sightings close to its oil and gas infrastructure and in response to the Sept. 26 leaks on the Nord Stream gas pipelines off the costs of Sweden and Denmark. (Full article here.)
Also see: Norway Detains Second Drone-Carrying Russian - Moscow Times, 16 Oct 22
Also see: Four suspected Russian spies detained in Norway - Washington Examiner, 17 Oct 22
Also see: Norwegian police investigate drone sighting - Reuters, 14 Oct 22
China spying on Germany, say intelligence chiefs - Deutsche Welle, 18 Oct 22
The head the BND foreign intelligence service warned parliamentarians in Berlin about "naivety" toward China in an annual public hearing of Germany's three main spy agencies Monday. Bruno Kahl questioned the wisdom of ever-deepening ties with Beijing, saying there was "certainly room for improvement" when dealing with China. Federal Intelligence Service President Kahl made the statement in testimony delivered alongside Military Counterintelligence (MAD) President Martina Rosenberg and Thomas Haldenwang, president of the Federal Office for the Protection of the Constitution (BfV) domestic intelligence agency, in an annual public hearing before the Bundestag. All three spy chiefs warned specifically about the threat posed by China in a hearing that included discussion about the current situation with Russia.. (Full article here.)
---
The Ethics and Impact of Drone Strikes: Georgetown Law Professor Mitt Regan - interview by Former Acting D/CIA Mike Morell


Intelligence Matters: A CBS News national security podcast hosted by former CIA Acting Director and CBS News national security contributor Michael Morell.
11 Oct | The Ethics and Impact of Drone Strikes: Georgetown Law Professor Mitt Regan
In this episode of Intelligence Matters, host Michael Morell speaks with Georgetown Law Professor Mitt Regan about his new book Drone Strike: Analyzing the Impacts of Targeted Killing. They discuss the effect of drone strikes on al-Qaeda's continuation and growth, the lack of a systematic civilian casualty mitigation efforts, and the ethics of drone strikes outside of a war zone.
Past episodes:

04 Oct | Putin's Threat of Nuclear War: Former CIA Moscow Chief of Station Rolf Mowatt-Larssen
27 Sep | 75th Anniversary of the CIA with Deputy Director of the CIA David Cohen
20 Sep | The Status of a U.S.-Iran Deal: Middle East Expert Karim Sadjadpour

More about Intelligence Matters by Michael Morell here. Podcasts also available here.
---
The Recruiter: What Does it Take to Join CIA
The Langley Files This official CIA podcast aims to educate and connect with the general public, sharing insight into the Agency's core mission, capabilities, and agility as an intelligence leader...and to share some interesting stories along the way. Each episode is approximately 15-30 minutes in length and hosts lead conversations with a range of special guests.
13 Oct | The Recruiter: What Does it Take to Join CIA On this episode, Dee and Walter sit down with an Agency recruitment leader to learn what characteristics CIA is looking for when selecting candidates, how CIA differs from the private sector, and the number of occupations that the Agency has to offer—which may surprise you.
Past episodes:

29 Sep | CIA: 75 Years and Still Counting
22 Sep | CIA Director Bill Burns Brings the Agency Out From the Shadows
---
"Sure, I Can Hack Your Organization, Part II" - Eric Escobar
Spycast is the official podcast of the International Spy Museum and hosts interviews with intelligence experts on matters of HUMINT, SIGINT, IMINT, OSINT, and GEOINT. Spycast is hosted by historian Andrew Hammond, PhD.
11 Oct | "Sure, I Can Hack Your Organization, Part II" Eric Escobar, holder of the coveted DEFCON Black Badge, continues discussing compromising networks and information security.
Past episodes:

05 Oct | "Sure, I Can Hack Your Organization"
27 Sep | The Past 75" Years with Historian of the CIA Rhodri Jeffreys-Jones
20 Sep | The 75th Anniversary of the CIA with Former Director Robert Gates
---
Arkin Group Chinese National Congress and Crimean Bridge Attack
In Other News The proprietary analytic newsletter crafted for Arkin's private clients by former CIA Acting Deputy Director for Operations Jack Devine.
14 Oct | On the cusp of the Chinese National Congress, analysis from a global contributor offers readers insight on how Xi might be weighing his next steps
President Xi's next term is almost certain, but his legacy is on the line with Taiwan. At the 20th National Congress of the Chinese Communist Party on October 16, President Xi is likely to secure a third presidential term after abolishing the two-term limit back in 2018. Indeed, over the previous decade, Xi has steadily dissolved the collective leadership principles that were in place to protect the country against the whims of a single leader. Instead, he's centralized the reins of power, holding the positions of President, General Secretary of the Communist Party and Chairman of the Central Military Committee at the same time. But while centralizing power might serve to make the government more effective, it also makes the leader more vulnerable, and this paradox will impact Xi's actions vis-à-vis Taiwan. (Full version available to AFIO members within weeks of publication here.)
13 Oct | Crimean bridge attack comes at a time of escalated pressures on Putin, global players actively navigate their response.
The Kerch Bridge, that was attacked in an early morning explosion last Saturday, connects illegally annexed Crimea to Russia and holds symbolic and strategic value for Moscow. In 2018, Putin personally inaugurated the bridge, comprised of both rail and road structures, to increase Russia's ability to supply the peninsula and demonstrate that Crimea is firmly in Russia's grasp. After the Saturday bridge attack, which appears to have been designed to maximize infrastructure damage and limit civilian deaths, Putin seemingly unleashed his fury with a series of airstrikes on Ukrainian civilian and critical infrastructure targets. It's also possible that these strikes had been planned even before the bridge attack to help satisfy the escalatory demands of the Russian far-right. The attacks targeted locations across the whole of Ukraine and were likely led by a man with noted disregard for human life, General Sergei Surovikin. (Full version available to AFIO members within weeks of publication here.)
07 Oct | What the European Union Can Learn From the Global Response to the Russia-Ukraine War
28 Sep | Putin Doubles Down Despite Ukrainian Wins
---
Analysis of Global Security Events with WTOP National Security Correspondent JJ Green

Inside the SCIF - 13 Oct - Russia's "kamikaze drones," Why latest Russian moves feel different, Budworm Hackers, National Security Strategy, and more.
Target USA Podcast - 12 Oct - Ukraine's "Wake Up Call" and Daria Dugina Assassination. - Yuriy Sak, Advisor to Ukraine's Minister of Defense, says he was awakened by a missile that flew over his apartment during Monday's massive missile barrage unleashed by Russia, and Robert Baer says new revelations about the assassination of a prominent Russian woman have "terrified" Vladimir Putin.

The Hunt Broadcast - 05 Oct - Iran's cross-border attacks inside northern Iraq - Dr. Hans Jakob Schindler, senior director of the Counter Extremism Project, explains what's at stake.




*** NOTE: Products regularly featured in this section that do not update content by the WIN's ***
weekly publication deadline will not be included for that week, but will reappear when they post fresh content.



---
Online Event: Special Forces Berlin - Clandestine Cold War Operations - The Cold War Museum, 30 Oct 22
During the Cold War, a unique US Army Special Forces Detachment was stationed in West Berlin. Initially known as Detachment "A"- Berlin, it existed for one reason: to cause havoc behind the enemy's lines should there be Soviet/Warsaw Pact attack on NATO in Europe. Like all Special Forces units, Det-A traced its origins to the Office of Strategic Services, but its methods of operation were unlike any other. Former Special Forces Berlin member and CIA field officer James Stejskal will draw from his book Special Forces Berlin as he tells us about the unit's origins and the reasons for its existence through recently declassified files and first-person histories of those who served there. Ukraine's swift counter-offensive owes much to U.S. weapons, planning, and intelligence help. But the U.S. Army is benefiting as well: by learning how to move intelligence much faster from satellites to ground units. Part of the answer is planning: making sure satellites are available to gather data when and where commanders need it. That means "trying to locate where the targets are now in the targeting board, you know, making sure that the effect that the commander wants on the battlefield is there and it's right there in the stack," said Lt. Gen. Daniel Karbler, the commanding general of U.S. Army Space and Missile Defense Command. (More information and registration here.)
Video: Newly-renovated CIA Museum gives inside look at top-secret gadgets, artwork and more - CNN, 16 Oct 22 (4 min, 47 sec)
Fox News national security correspondent Jennifer Griffin takes viewers inside Virginia's newly-renovated CIA Museum with a guided tour from deputy director Janelle Neises. (Watch video here.)
Op Ed: Ten Commandments of DC by former CIA Officer Ronald Marks - The Hill, 16 Oct 22
After four decades in D.C., I often find myself in the position of advising young people. Sometimes they wish to come here. Sometimes they want to be a spy. Sometimes they want to work on the Hill. As a D.C. tribal elder, I view this inquiry as a privilege and a joy. It actually makes me think — sometimes — that I know what I'm talking about. And, to be fair, I have covered a lot of ground in my time here: I went from being a CIA spy, to being a Hill staffer, to an executive Beltway bandit, and now a semi-retired college professor. (Read entire editorial here.)
Article: The Ukraine War Is Teaching the US How to Move Intelligence Faster - Defense One, 12 Oct 22
Ukraine's swift counter-offensive owes much to U.S. weapons, planning, and intelligence help. But the U.S. Army is benefiting as well: by learning how to move intelligence much faster from satellites to ground units. Part of the answer is planning: making sure satellites are available to gather data when and where commanders need it. That means "trying to locate where the targets are now in the targeting board, you know, making sure that the effect that the commander wants on the battlefield is there and it's right there in the stack," said Lt. Gen. Daniel Karbler, the commanding general of U.S. Army Space and Missile Defense Command. (Full report here.)
Article: Cold War Bugging of Soviet Facilities - Schneier on Security, 12 Oct 22
Found documents in Poland detail US spying operations against the former Soviet Union. The file details a number of bugs found at Soviet diplomatic facilities in Washington, D.C., New York, and San Francisco, as well as in a Russian government-owned vacation compound, apartments used by Russia personnel, and even Russian diplomats' cars. And the bugs were everywhere: encased in plaster in an apartment closet; behind electrical and television outlets; bored into concrete bricks and threaded into window frames; inside wooden beams and baseboards and stashed within a building's foundation itself; surreptitiously attached to security cameras; wired into ceiling panels and walls; and secretly implanted into the backseat of cars and in their window panels, instrument panels, and dashboards. It's an impressive—and impressively thorough—effort by U.S. counterspies. (Full report here.)
Announcement: NRO Announces Commercial Radio Frequency Study Contract Awards - NRO, 28 Sep 22
The National Reconnaissance Office (NRO) today announced the award of six study contracts for commercial radio frequency (RF) remote sensing. Companies receiving awards under NRO's Strategic Commercial Enhancement's (SCE) Broad Agency Announcement (BAA) Framework include Aurora Insight, HawkEye 360, Kleos Space, PredaSAR, Spire Global, and Umbra Lab. (Full announcement here.)
Article: Ex-NSA worker accused of trying to sell secrets to Russia ordered held - Federal Times, 12 Oct 22
A former National Security Agency employee from Colorado accused of trying to sell classified information to Russia will remain behind bars while he is prosecuted, a magistrate judge ruled. Jareh Sebastian Dalke faces a possible life sentence for allegedly giving the information to an undercover FBI agent whom prosecutors say he believed was a person working for the Russian Federation. He pleaded not guilty through his lawyer during a hearing in Denver federal court before a hearing to determine if he should be released from jail. (Full article here.)
Online Event: The Ongoing Challenge of Psychological Operations (PSYOPS) - Johns Hopkins, 12-1:00 PM ET, 19 Oct 22
Join host Michael J. Ard for a conversation with Lawrence Dietz on, "The Ongoing Challenge of Psychological Operations (PSYOPS)." Lawrence Dietz, retired as a Colonel from the United States Army Reserves after a distinguished career in Psychological Operations and Military Intelligence. He currently serves as General Counsel and Managing Director of Information Security for Tal Global Corporation, an elite security consulting and risk consulting firm. He is Adjunct Faculty for Monterey College of Law and American Military University. He is the author of the authoritative Blog on Psychological Operations (PSYOP), http://psyopregiment.blogspot.com and a member of the Bar of the US Supreme Court, California and the District of Columbia. His degrees include JD, Suffolk University; MSS, US Army War College; LLM in European Law, University of Leicester (UK), MBA, Babson College; and BS, Northeastern University. (Registration and more information here.)
Video: What Was the U.S. Secret War in Laos - Dr. Paul T. Carter, Mar 2022 (78 minutes)
This video, with vintage and very rare photos and old film, is divided into three sessions. Session one Backdrop and Introduction: The U.S. Enters Laos is a compelling story of how U.S. policy-makers in the 1950s focused on Laos and Southeast Asia as a spearhead against communist spread, started deploying American personnel and assets to Laos to combat the emerging threat, and the conflict's relationship to the neighboring Vietnam War. In action-driven session two, Laos Secret War Operations, Dr. Carter describes how the U.S. became entangled in escalating combat operations, and details the five methods (Air War, Paramilitary Training of Locals, U.S. Aid Provision, Technical and Pilot Training, and Special Operations Raids) the U.S. used to fight the war. In the final video session, The War Aftermath and Attempt for Answers, Dr. Carter poignantly seeks to make some sense of the tragic war, its effects, and the repatriation of Hmong to America. (Watch video here.)
Advanced Book Purchase Notice: Privacy Pirates by NSA Veteran and AFIO Member - Academia Press, Q1 2023
Thirty-year National Security Agency veteran Dr. Leslie Gruis's second book on privacy releases in the first quarter of 2023. The Privacy Pirates is a revealing indictment of the privacy practices of commercial operators in social media and elsewhere, and of the cavalier attitude they take toward the personal information of millions of Americans. This is a popularly-aimed sequel to her existing and more academic book, Privacy - Past, Present and Future, which won a national book award in May 2020 (sample here). Dr Gruis's distinguished career at NSA and CIA began as a Ph.D mathematician out of NorthWestern. She specialized in policy issues surrounding privacy, and on finding the balance between these and the obligation to protect the American public through classified intelligence activities. Her first book explores the origins of the right to privacy in American culture; this sequel is a shorter, popular treatment aimed at mobilizing the American public to stand up for their privacy rights. "Somebody has to speak out", says Gruis, who rose to represent NSA on the National Intelligence Council (NIC) at the end of her career. "People wouldn't worry so much about what the government was doing with their data if they knew the outrageous liberties being taken by commercial operators like Google and Facebook." The Privacy Pirates will be available on Amazon, and AFIO members can purchase in advance. Privacy - Past, Present and Future is available on Amazon now. Visit www.lesliegruis.com for more information and purchase details.
---
VIDEO: Military Service Intelligence Priorities - INSA, 12 Oct 22 (74 mins)
The Military Services' intelligence leaders discuss the rapid rise of China and what a shift to great power competition means to them. They also describe the services' ability to engage in joint operations and their close relationships as a stark advantage over most militaries worldwide. Another topic is the increasing importance of data and the potential of artificial intelligence and machine learning for intelligence and warfighting. Lastly, the services' intelligence chiefs discuss the Russian invasion of Ukraine and what lessons the US could glean from it. (Watch video here.)
LUNCHEON: A Conversation With Former NSA Director Admiral Michael Rogers - Belmont University, Tennessee (8 Nov 22)
What has the United States learned about cyber security threats and how is it prepared to respond? How do we ensure the nation's competitive ability in the 21st century? These are among the topics the former Director of the National Security Agency and Commander of U.S. Cyber Command, will address at a November 8, 2022 luncheon at Belmont University. Admiral Michael Rogers, a retired Navy four-star, served over three decades as a Cryptologic Warfare Officer, leading to appointment as America's top cryptology and cyber DoD official. Rogers led that effort for four years directing the Defense Department's cyber security mission. The Tennessee World Affairs Council and Belmont University's Center for Global Citizenship invite you to join Admiral Rogers at a luncheon at 11:30 a.m. CT on November 8th. This is your opportunity for first-hand insights and perspectives on the cyber threats facing the U.S. government, businesses and individuals from the expanding universe of virtual threats. The luncheon will be followed by a panel discussion with Admiral Rogers moderated by Congressman Jim Cooper featuring government, industry and academia experts. (More information and registration here.)
CONFERENCE: ISS World North America - Washington, DC (15-17 Nov 22)
ISS World North America is the world's largest gathering of North American Law Enforcement, Homeland Security, Defense, Public Safety and other members of the Government Intelligence Community as well as Telecom Operators responsible for cyber threat intelligence gathering, DarkNet monitoring, lawful interception, and cybercrime investigations. ISS World Programs present the methodologies and tools for Law Enforcement, Public Safety and Government Intelligence Communities in the fight against drug trafficking, cyber money laundering, human trafficking, terrorism, and other criminal activities conducted over today's Telecommunications networks, the Internet, and Social Networks. (More information and registration here.)
Live Event: INSA Leadership Dinner with NRO Director Christopher Scolese - Reston, VA (19 Nov 22)
Government, industry, and academic leaders will gather to hear The Hon. Christopher Scolese, Director, National Reconnaissance Office (NRO) at INSA's first Leadership Dinner of the 2023 fiscal year. Dr. Scolese will discuss NRO's acquisition needs, current challenges and opportunities, and strategic outlook for the year ahead. Following his prepared remarks, Dr. Scolese will join INSA Chair Tish Long for a moderated Question and Answer (Registration and more details here.)
CONFERENCE: 2022 Department of Defense Intelligence Information System (DoDIIS) Worldwide Conference - San Antonio, TX (12-15 Dec 22)
The Defense Intelligence Agency (DIA) is excited to welcome participants to the 2022 Department of Defense Intelligence Information System (DoDIIS) Worldwide Conference in San Antonio, Texas! From 12 – 15 Dec 22, senior decision makers, technical experts, and innovators from across the Department of Defense, Intelligence Community, industry, academia, and FVEY partners will come together to collaborate and share unique insights. The theme of this year's conference – Transcending Strategic Competitors through Innovation, Adaptation, and Collaboration – underscores the urgent race to collectively develop and unleash emerging technologies to maintain strategic and tactical advantage. Mission success in an era of strategic competition demands a willingness to embrace disruption and elevating partnerships to serve as overwhelming force multipliers. (Information and registration here.)
Dynamic Infographic and Report: China - Decoding the 20th Party Congress - Asia Society (11 Oct 22)
The 20th Party Congress of the Chinese Communist Party (CCP) will determine China's leadership for the next five years, and be a defining moment for politics, policy, and the world. This website decodes the black box of Chinese politics, the Party Congress, and the domestic and foreign policy impacts through a groundbreaking visualization mapping Chinese institutions, key individuals, hidden personal connections, and informal networks of power that drive personnel and policy decisions under the surface. Access visual tool and full report here.)
Walking Tours - Washington, DC - Sundays (Dates/Times Vary)
Former intelligence officers guide visitors on two morning and afternoon espionage-themed walking tours: "Spies of Embassy Row" and "Spies of Georgetown." For more information and booking, click here or contact rosanna@spyher.co
True Espionage in Film - Jack Strong - Director Wladyslaw Pasikowski (U.S. Release July 2015)
The most spectacular Polish spy of the Cold War era, Colonel Ryszard Kuklinski, informs Americans about the Communist Bloc's top secrets in the face of the upcoming martial law. This gripping spy thriller tells the true story of a man who dares to challenge the Soviet empire. While planning the maneuvers of the Warsaw Pact forces, Polish army colonel Ryszard Kuklinski has access to top secrets. He gets to know that the American nuclear counterattack against Soviet forces is planned to be executed on Polish territory. Thanks to his determination, he starts a long, lonely and psychologically exhausting cooperation with CIA. From that very moment the life of his family and his own is in constant danger as one careless move may lead to tragedy.

More information about this true-to-life espionage film here.

LA Times review of the film here
Intelligence in History - A Collection of Recent Articles
Spies, social climbers and suspicious stories from the files of MI5 - British National Archives, 11 Oct 22
Spycatcher: Bringing Down Atomic Spy Klaus Fuchs - SpyScape, 13 Oct 22
Opening the Stasi files: Would you read the secrets your government kept on you? - Big Think, 13 Oct 22
Notorious British Spy's Lavish Moscow Lifestyle Revealed - Bloomberg, 10 Oct 22
The Chinese spying game has a long history - Engelsberg Ideas, 06 Oct 22
MI5 had chance to unmask Kim Philby a decade earlier, archives reveal - The Telegraph, 11 Oct 22
Cuban Missile Crisis: The Untold Story of Russian Spy Oleg Penkovsky - SpyScape, 13 Oct 22
On this Day — Mata Hari Was Executed, but Was She Really Guilty? - Intel Today, 15 Oct 22
Post Office worker cracked Nazi spy ring with a kettle - The Times, U.K. 16 Oct 22
MI5 files show the objects with hidden compartments at home of couple in Portland spy ring - Daily Mail, 17 Oct 22
---
The Greatest Spy: The True Story of the Secret Agent that Inspired James Bond 007
by John Hart
(Cune Press, 8 Nov 22)
Audacious, brilliant, chameleon. All these words could be used to describe the man that became Britain's greatest spy, a man known by several names and who came from many places, depending on who was asking and when. Was he from Poland? Or was he the son of an Irish clergyman? Many believe he was born in Odessa, Ukraine, a place hot in today's headlines. He certainly had the ability to be convincing to anyone he met, including the head of Britain's intelligence services. Sidney Reilly, one of many names he was known by, was the most successful spy in history. His adventures first came to light during the Russian Revolution in 1917 when he was tasked by Britain's Secret Service with overthrowing the Bolsheviks after they had formed a new government. He had already succeeded in stealing the plans of the Kaiser's new and modern fleet of battleships from Krupp, to help Britain and her allies win World War I, and was awarded the Military Cross in 1919.
Order book here.
---
Sisters in Resistance: How a German Spy, a Banker's Wife, and Mussolini's Daughter Outwitted the Nazis
by Tilar J. Mazzeo
(Grand Central Publishing, 21 Jun 22)
In 1944, news of secret diaries kept by Italy's Foreign Minister, Galeazzo Ciano, had permeated public consciousness. What wasn't reported, however, was how three women—a Fascist's daughter, a German spy, and an American banker's wife—risked their lives to ensure the diaries would reach the Allies, who would later use them as evidence against the Nazis at Nuremberg. In 1944, Benito Mussolini's daughter, Edda, gave Hitler and her father an ultimatum: release her husband, Galeazzo Ciano, from prison, or risk her leaking her husband's journals to the press. To avoid the peril of exposing Nazi lies, Hitler and Mussolini hunted for the diaries for months, determined to destroy them. Hilde Beetz, a German spy, was deployed to seduce Ciano to learn the diaries' location and take them from Edda. As the seducer became the seduced, Hilde converted as a double agent, joining forces with Edda to save Ciano from execution.
Order book here.
---
Espionage and Counterintelligence in Occupied Persia (Iran): The Success of the Allied Secret Services, 1941-45
by Adrian O'Sullivan
(Palgrave Macillan Publishing, 6 Oct 15)
The sequel to Nazi Secret Warfare, which portrayed the catastrophic failure of Germany's clandestine services in Persia (Iran) during the Second World War. By contrast but based on equally solid archival evidence, this companion volume tells the other side of the same fascinating story, introducing us to spies, spycatchers, and spymasters.
Order book here.
---
---
Call For Articles: AFIO Journal, The Intelligencer
For the past four years, AFIO has included in The Intelligencer a series of articles on "when intelligence made a difference." Written by scholars, intelligence practitioners, students, and others, they cover events from ancient times to the modern world and in many countries. AFIO is soliciting articles for future issues. Most articles run between 2,000 and 3,000 words, although some are longer or shorter. If you have an idea for an article that fits the theme, email senior editor Peter Oleson at peter.oleson@afio.com.
Call For Assistance: Researcher Seeks Copy of 1941 FBI Booklet
An AFIO member who is conducting research on the beginnings of industrial security programs before WWII is in search of a copy of a 55-page FBI booklet, dated December 1941, titled "Suggestions for Protection of Industrial Facilities." Digital copies or photocopies are acceptable. Please contact winseditor@afio.com with any information.
Call For Papers: Urban Security 2023 in Journal of Strategic Security Special Issue
The special issue will look at a range of urban security issues including urban warfare, urban insurgency, urban crime and insecurity, operating in dense urban terrain (DUT), mega cities, and subterranean spaces (SubT), and in the Urban-Littoral interface, as well as the protection of the populace. Papers addressing the full range of violent actions from high intensity crime to civil strife and other situations of violence, non-international armed conflict (NIAC), and large scale combat operations (LSCO) during international armed conflict (IAC) are encouraged. All papers submitted to the special issues issue will be subject to double-blind peer review. Below is a list of urban security issues the special issue editors would like to see submissions on:

· Conflict in Megacities (10 million or more)
· Police-Military Intelligence interface in urban conflict
· Insurrection
· Urban-littoral nexus
· Information warfare in support of urban conflict
· Urban insurgency
· Urban Terrorism
· Criminal governance in cities (Slums/Favelas)
· Criminal Armed Groups (CAGs) in cities
· Social Media and Urban Conflict
· Climate Conflict in Cities (Urban-Climate Conflict Nexus)
· Urban counterterrorism
· Urban counterinsurgency (COIN)
· Urban Riots and Public Order
· Intelligence for Urban Operations (e.g., GeoINT)
· Urban policing
· Urban critical infrastructure protection including urban cyber security
· Humanitarian operations and protection of civilians in urban conflict
· Medical and humanitarian response to urban crises and disasters

Abstracts due 1 February 2023; draft submissions due 1 June 2023. (See full submission details here.)
---
Retired Federal Government Employees Wanted - National Security Agency - Fort Meade, Maryland
The National Security Agency (NSA) may occasionally need skilled civilian retirees to augment the existing work force on high priority projects or programs. In order to fill these temporary positions quickly, we need to know who may be interested and available to return to work with us on a short notice basis as well as their skills. Retirees provide expertise and corporate knowledge to temporarily support mission requirements, manpower shortfalls, and/or mentor the next generation of Agency employees. Salary Range: $86,335 - $170,800.
Additional Information and Application here.

Assistant/Associate Professor of Intelligence Studies (Global Security and Intelligence Studies) - Embry-Riddel Aeronautical University - Prescott, Arizona
Embry-Riddle Aeronautical University's Prescott, Arizona campus is accepting applications for a tenure-track assistant or associate-level professor of intelligence studies to teach intelligence courses to students in the Global Security and Intelligence program. The successful candidate will teach students about the intelligence community, strategic intelligence, the intelligence cycle and intelligence analysis, writing, and briefing. Prior experience working in the intelligence community is strongly preferred. We are interested in candidates with teaching acumen in intelligence analysis and writing using structured analytical techniques.
Additional Information and Application here.

Teaching Associate - Intelligence and National Security Studies - Coastal Carolina University, South Carolina
The Department of Intelligence and Security Studies ( ISS ) at Coastal Carolina University is accepting applications for a pool of Teaching Associates (part-time adjunct faculty) to teach introductory and undergraduate elective course offerings for the program beginning in August 2022. While the ad is open to any specialization within the field of study, courses in the areas of homeland security, law enforcement intelligence, counter-narcotics, and cybersecurity are of particular interest. Course offerings can be in a face-to-face or synchronous online modality. To be considered, candidates must have a masters or doctoral degree in a relevant subject area. Prior professional experience in the profession, as well as prior teaching experience are preferred.
Additional Information and Application here.

Assistant Professor of Intelligence and National Security Studies - University of Texas, El Paso
The Department of Criminal Justice is seeking to fill one full-time tenure-track position beginning Fall 2023 at the Assistant Professor level. Responsibilities include conducting and publishing scholarly research, seeking extramural funding, teaching face-to-face and online courses, and service to the department, university, and profession. Applicants must have a Ph.D. in a closely related field in Intelligence and/or Security Studies from an accredited university (e.g., criminal justice, political science, public policy, security studies). ABD applicants will be considered if doctorate will be in hand by Fall 2023. Active research agenda and published scholarly journal articles are required to apply. Applicants with only a J.D., Psy.D., or Ed.D. will not be considered. All research/teaching areas of intelligence/national security studies will be considered, but preference will be given to candidates who have demonstrated teaching and/or research areas in at least one of these areas: Homeland Security, Intelligence Analysis, or Terrorism/Counter-Terrorism.

Additional information and application here.
Adjunct Professor - The Institute of World Politics, Washington, D.C.
The Institute of World Politics (IWP) in Washington, D.C. seeks an adjunct professor to teach its graduate course on the Russian intelligence and security services. The course is an elective in the Strategic Intelligence Studies (SIS) Master's degree and Counterintelligence Certificate programs. The four-credit course consists of 14 weekly, three-hour instructional meetings, plus a final examination, and a research paper. A course syllabus and lecture materials are available for use. Candidates should possess professional experience (at least 15 years) as a professional intelligence officer involved in operations, or analysis with knowledge of the Soviet and Russian intelligence and security services, and preferably teaching experience at the university level, either undergraduate or graduate.
Resumes may be sent to Prof. David Thomas at DThomas@iwp.edu, cc to John Sano at JSano@iwp.edu.
Director of Intelligence Studies - Catholic University of America, Washington, D.C.
The Catholic University of America (CUA) in Washington, D.C. seeks a new Director of Intelligence Studies to begin in August 2023. The current director, former CIA officer and staff historian (and current AFIO board member) Nicholas Dujmovic, founded the program after his retirement in 2016. The undergraduate Certificate in Intelligence Studies has grown to be the largest certificate or minor program on campus. The program continues to expand the number and variety of intelligence courses offered.
Dr. Dujmovic is reaching out to the AFIO community to encourage potential candidates with the following attributes:
Significant service (at least 15 years) as a professional intelligence officer involved in analysis, operations, technical collection, or possibly support. A recent retiree closing a successful career would be ideal.
An advanced degree (Ph.D. preferred) from an accredited university in political science, history, area studies, a comparable field or a relevant STEM field.
Teaching experience at the university level, either undergraduate or graduate.
Evidence of past scholarship and a willingness to engage in further research and publication, consistent with CUA's commitment to excellence as a "research university."
An enthusiasm for teaching and advising mostly undergraduate students.
Vacancy notice here.

AFIO members wishing to learn more are encouraged to contact Dr. Dujmovic at dujmovic@cua.edu
Assistant Program Director/Lecturer in Security and Intelligence - Johns Hopkins University, Washington, DC
The Johns Hopkins University invites applications for the position of Assistant Program Director in the area of Security and Intelligence. This position will support the MA in Global Security Studies (primary), MS in Intelligence Analysis, and MS in Geospatial Intelligence programs in the Center for Advanced Governmental Studies, within the Krieger School of Arts & Sciences' Advanced Academic Programs Division. Reporting to the Director of the Center for Advanced Governmental Studies and Associate Dean for Graduate & Professional Programs, the Assistant Program Director will contribute to the excellence of the programs and will demonstrate and support ongoing innovation in the curriculums.
The Assistant Program Director will have the following academic and administrative responsibilities: Teach 6 graduate courses per year, advise students, provide input on the curriculums and new course development, other academic duties normally performed by faculty, assist with the management of degree concentrations or areas of focus, participate in the adjunct faculty hiring and development processes, assist the Program Directors with administrative tasks, other administrative duties as assigned.
Minimum Qualifications: PhD in political science, international affairs, security studies, intelligence, or other field relevant to the interdisciplinary nature of global security studies; other terminal degrees in these or related fields may be considered, 1-3 years of higher education teaching experience online and/or at the graduate level, the ability to teach a variety of courses in the global security fields, including research-focused courses, strong organizational skills, excellent oral and written communication skills.

Additional information and application instructions here.
---
Rear Admiral Don Harvey — Former Naval Intelligence Director, AFIO Board Chairman

Rear Admiral Donald Phillips Harvey USN (ret), age 98, passed peacefully on 25 September 2022. He attended the University of Nebraska and the Navy's V-12 program at Doane College before accepting an appointment to the US Naval Academy in the Class of 1948, majoring in Marine Engineering, and receiving his commission in June 1947. He served three years onboard USS Hawkins, a destroyer, before continuing his career in naval intelligence. In 1955, Don was assigned to Seventh Fleet staff after which he became a briefer with the Office of Naval Intelligence. He then attended the Fletcher School of Law and Diplomacy from which he received two masters degrees. The rest of his career was varied and challenging, with positions on staffs in the Middle East, France, Japan, and Washington, DC. He was on the staff of the Commander Pacific Fleet in Hawaii when he was promoted to the rank of Rear Admiral and returned to Washington DC, where he worked briefly for the CIA and was the Chief of Staff for the Defense Intelligence Agency before reaching his final position as the Director of Naval Intelligence in 1976. Don retired from the Navy in 1978, after which he worked at TRW as Director of Program Requirements, leaving in 1989. Don was a member of the Naval Intelligence Professionals and was President and Chairman of the Board of the Association of Former Intelligence Officers. He was also the dean of the special duty intelligence officers' community. In Sarasota, he was a member of the Navy League, the US Naval Academy Alumni Club, the Military Officer's Association, and the Tiger Bay Club. A Celebration of Life will be held on October 25 at St. Boniface Episcopal Church on Siesta Key at 3:00 PM.
James Chism — NSA Researcher

James B. Chism, age 86, of Laurel, Maryland, passed on 1 October 2022. He served in the US Army and became a paratrooper. Upon Honorable Discharge, he began work at the Atomic Energy Commission, followed by employment at the Applied Physics Lab in Laurel, MD. Later, Jim was employed at the National Security Agency, working in Research and Development, before joining Ford Aerospace (later becoming Loral, then Lockheed Martin). He later used his work experience to do consulting in the Washington, DC area. Jim received his Master's Degree from Johns Hopkins University, Baltimore, and also taught engineering management classes in their Evening College Master's program. He had previously been a member of the Phoenix Society.
Kent Holmes — CIA Senior Intelligence Service Officer

Kent Holmes, age 89, of Baker, West Virginia passed peacefully at home on 11 October 2022. He developed his passion for world history and international politics at Willamette University, and this drove his decision to apply to the U.S. Navy's Officer Candidate School after graduation. He served in Honolulu and Manila before attending the Naval Postgraduate School, where he studied intelligence. He was then a First Lieutenant on the USS Oglethorpe, which would take part in the naval blockade during the Cuban Missile Crisis in 1962. In 1964 Kent began his career with the CIA, and served in Jakarta, Laos, Manila, Sydney, and Stuttgart. In July 1987 he was promoted to the ranks of the Senior Intelligence Service. After retiring, he volunteered extensively with the Coast Guard Auxiliary and the American Red Cross. He published one book, Wendell Fertig and His Guerrilla Forces in the Philippines: Fighting the Japanese Occupation, 1942-1945. Visitation 15 October 6-8 p.m. at McKee Funeral Home, internment at Arlington National Cemetery at a later date.
Frank Bostock — Federal Government Careerist

Francis (Frank) Hayward Bostock, Jr., age 74, passed on 10 October 2022. He graduated from Kingsborough Community College, Brooklyn University and the State University of New York in Binghamton, New York with a degree in Anthropology. His thirty year's of federal service took him across many countries on the African continent and to the island of Mauritius. Services at 11 a.m. on 17 Oct 22 at Money and King Funeral Home in Vienna, Virginia.
Dr. Florian Mikulski — CIA Digital Satellite System Founder

Dr. Florian A. Mikulski, age 86, of Chatham Township, NJ passed on 11 October 2022. He received his BS degree from Canisius College in Buffalo, and a MS and Ph. D. in Organic Chemistry from Princeton University. He served in the Army Chemical Corps from 1962-1964 as an officer, ultimately leaving as a Captain. After serving as a chemist for several years at Allied Chemical (NJ), he joined the CIA where he worked in the Clandestine Service, and later in the Directorate of Science and Technology, where he was one of the founders of the digital satellite system. A Mass of Christian Burial will be held at 12pm on October 21, 2022 at Corpus Christi Church, 234 Southern Blvd., Chatham Township, NJ.
---
20 October 2022 (Thursday), 12:45 ET - Online and In-Person - Florida Suncoast AFIO Chapter Luncheon features LTG Thomas Spoehr (USA Ret) on "the current military recruiting crisis and the impact of wokeness."
LTG Thomas Spoehr (USA Ret) will address the current military recruiting crisis, plus the effects of military wokeness. General Spoehr is director of Heritage's Center for National Defense, where he supervises research on matters involving U.S. national defense. He will participate remotely.

Cost: $20.

Location: Jimmie B. Keel Regional Library, 2902 W. Bearss Avenue, Tampa, FL 33618-1828. Approximately 3.8 miles east of the Veterans Expressway or 2.1 miles west of I-275. If you need directions, please let us know.

Registration: Required for online and in-person participation. Deadline is 12:00 pm on 14 October (Friday). To register, click here.

Please contact the Chapter Secretary with any questions.
03 Nov 22 (Thursday) - Virtual - The San Antonio AFIO Chapter on the Chinese Military and the CCP
The program will be on the Chinese military, which is an arm of the Chinese Communist Party. The Chinese military executes the policies and interests of the Communist Chinese Party. China has successfully begun an expansion of their military and has great potential to become militarily more powerful than the United States.
Questions or more information from John Franklin, Chapter President, 210-863-0430; satxafio@gmail.com
04 Nov 22 (Friday), 10:30am - 2pm EDT - Tysons Corner, VA - "Spy Hunt: A Conversation with Paul Redmond and Colleagues" and "Reynolds on 'Need to Know'" - at this AFIO National In-Person Fall Luncheon
A Special AFIO National In-Person Fall Event on Friday, 04 Nov 22 - Tysons-McLean, VA - 11 a.m. to 2 p.m. Spy Hunt: A Conversation with Paul Redmond and Colleagues

Panelists/Co-Presenters: Paul Redmond, Lucinda (Cindy) Webb, Michael Sulick, and other senior intelligence and counterintelligence experts TBA

All named panelists confirmed. MORNING PANEL runs 11 a.m. - Noon. Paul Redmond served 34 years in CIA's Clandestine Service; Lucinda (Cindy) Webb is a former CIA SIS Officer with 32 years of service which included five years as CIA's Chief of Counterintelligence and Associate Deputy Director for Operations - Counterintelligence; and Dr. Michael J. Sulick is a retired intelligence operations officer who worked for the CIA for 28-years. He served as Chief of CIA counterintelligence from 2002 to 2004 and as Director of the National Clandestine Service. More speaker details on registration site.

NOTE: The morning speakers and panel presentations are OFF THE RECORD.

No recordings, tweets, blogposts, articles, or interviews based on these presentations or the Q&A that follows are permitted.
Afternoon speaker: Nicholas Reynolds - CIA Historian/Author - discussing his just released Need to Know: World War II and the Rise of American Intelligence.

Timing: Check-in and badge pickup for Registered Attendees begins at 10:30 a.m. NO registrations or walk-ins at hotel.

Co-presentations by Paul Redmond, Cindy Webb, Michael Sulick, and others begin at 11:00 a.m.; Lunch is served from noon-1:00 p.m.; Nicholas Reynolds is scheduled for 1:00 p.m.; event ends at 2:00 p.m.
Space is limited. Preregistration closes at 5:00 p.m. on 31 Oct 22.

Cancellation:  AFIO must commit to the hotel facilities and, therefore, regrets it must charge a cancellation fee.  100% refund until 27 October.  No refunds or cancellations after midnight 27 October. You will receive a donation receipt for fees forfeited.  A donor statement will be sent showing that you made a "gift to AFIO" in such instances.  Gifts to AFIO are tax-deductible.

All attendees must be members of AFIO or accompanied by a member of AFIO. If you would like to learn more about becoming a member, please visit our website, www.afio.com.  If you have any questions regarding membership, please contact our office at 703-790-0320 or email us at afio@afio.com.

Register here while space remains.

Luncheon prices are $55 for Members; $70 for nonmember guests and all Subscribers.
Location: DoubleTree by Hilton Hotel, McLean-Tysons, VA Address 1960 Chain Bridge Rd McLean, VA 22102. Though we do not provide special overnight room rates, if you wish to make room reservations at the hotel, do so here.

Questions regarding the event? Email events@afio.com
05 Nov 22 (Saturday), Noon EDT - AFIO North Florida Chapter Luncheon features Bill Dayhoff, Former FBI
The North Florida Chapter AFIO will be hosting our next meeting on Saturday November 5th. Our guest speaker will be Mr. Bill Dayhoff, retired FBI, discussing the past and present roles of the FBI. We will be meeting at the Bonefish Grill Mandarin, 10950 San Jose Blvd, Jacksonville, FL 32223, beginning at Noon.

Schedule: 11:30-12:05 Social Time; 12:05-12:10 Call to Order, Pledge Of Allegiance, Invocation; 12:10-12:20 Intro of guests & new members; 12:20-1:00 Luncheon; 1:00-1:15 Post-lunch break; 1:15-2:00* Speaker - Bill Dayhoff; 2-3* Lightning Round

Any questions, please contact Ken Meyer, Secretary, kmeyer12@bellsouth.net
09 Nov 22 (Wednesday) (tentatively), 9 at 6:30pm EST - Zoom - Neil Couch, State Department, speaks about Russia and China's Nuclear Nonproliferation Efforts at this AFIO Atlanta Event
Mr. Neil Couch, U.S. Department of State (current) will speak about contemporary diplomatic and military issues surrounding Russia and China's nuclear nonproliferation efforts.

Mr. Couch currently serves as the Director of the Office of Verification, Planning, and Outreach (VPO). The Office of VPO serves as the verification and strategic planning unit of the The Bureau of Arms Control, Verification and Compliance (AVC). VPO identifies solutions to the arms control challenges of today and tomorrow, and leads external engagement with the non-governmental community, Congress, members of the media, and the general public. VPO also manages the Secretary of State's International Security Advisory Board (ISAB) and the Key Verification Assets Fund. Deputy Director, Office of Strategic Stability and Deterrence. Prior to this appointment, he served as the Deputy Director for the Office of Strategic Stability and Deterrence, as well as the U.S. Chairman of the Conforming Group on the New START Treaty delegation. In this role, Mr. Couch manages the interagency treaty implementation process for U.S. Government decisions and correspondence relating to the New START Treaty and the Intermediate-Range Nuclear Forces (INF) Treaty. He also served as the U.S. Head of Delegation to the International Partnership for Nuclear Disarmament Verification.

Social: TBD.
Questions, Suggestions? Contact Grant at grant@afioatlanta.com or Brian Hooper at brian@afioatlanta.com
12 Nov 22 (Saturday), 11:30 am EDT - Indialantic FL - AFIO Florida Satellite Chapter Luncheon features Capt Jason Schneider discussing "The Role of NOTU in Supporting Navy Fleet Ballistic Missile Development."
At this in-person luncheon event, the AFIO Florida Satellite Chapter hosts Captain Jason J. Schneider, commanding officer of the Naval Ordnance Test Unit (NOTU) at Cape Canaveral, Florida, who will discuss the role of NOTU in supporting Navy Fleet Ballistic Missile Development.
Location: The Doubletree Hotel, 1665 N. Route A1A, Indiatlantic/Melbourne, FL 32903. Location here.

A sit down lunch will be followed by Captain Schneider's presentation. Cost is $35.00 per person.
Inquiries or reservations to Larry Sanford, President, AFIO FSC, at afiofloridasatellitechapter@gmail.com.
17 Nov 22 (Thursday), 11:30 am RMT - Colorado Springs, CO - AFIO Rocky Mountain Chapter features Schuyler Foerster on "The War in Ukraine: Update, Prospects, and Issues Ahead."
Schuyler Foerster will summarize where we are in the war as of mid-November, examine the prospects for either side's victory, defeat, stalemate, escalation, or negotiation, and highlight the issues ahead for all of us in the West. Mr. Foerster is emeritus professor of political science at the U.S. Air Force Academy, where he served as the Brent Scowcroft Professor for National Security Studies from 2010-2016. He also teaches as a visiting professor at Colorado College and at Masaryk University, Czech Republic. During his 26-year military career, he served in several assignments as a senior advisor in security and arms control policy. A graduate of the U.S. Air Force Academy, he holds a doctorate from Oxford University in politics and strategic studies and was a national security fellow at Harvard University's Kennedy School of Government. For more information, please contact steve13507@gmail.com
Saturday, 19 November 2022, 2 pm ET - Kennebunk, ME - AFIO Maine hosts Amb. Robert Cekuta discussing The Caucasus and Central Asia: Russia's Southern Front
Russia's invasion of Ukraine unmasked the Kremlin's ambitions towards all the states that were once part of the Soviet Union or Russian Empire. The countries of the Caucasus and Central Asia, many of which are rich in oil, gas, uranium, and other resources, are working to maintain the independence they won just over 30 years ago. But Russia's ambitions are not the only threat; there are also Chinese and Iranian ambitions, Turkey's evolving role, and the threats of terrorism, religious extremism, and drug trafficking. While almost half a world away, the U.S. has its own geostrategic interests in the region as well and many of these countries look for a more active U.S. engagement. Ambassador (ret.) Robert Cekuta will look at this evolving situation in a strategic part of the world and what the United States is, and should be doing to advance our interests there.
The meeting is open to the public and will begin at 2:00 p.m. at the Program Center of the Brick Store Museum, 4 Dane Street, Kennebunk, Maine 04043. A Question and Answer period will follow the presentation. No reservations are required
01 Dec 22 - Virtual - The San Antonio AFIO Chapter program features Video on China's Oil and Gas Silk Road Initiative
The program will be a very current educational video on China's Oil and Gas "problem." The program covers China's motives for the Silk Road initiative, expansion into the South China Sea and development of overseas installations.

Questions or more information from John Franklin, Chapter President, 210-863-0430; satxafio@gmail.com.
See the AFIO Calendar of Events for scheduling further in the future.
---
23 Oct 22 (Sunday), 5-8pm – Washington, DC – NEW! Access to SPY: Opening Our Doors to Autistic Adults – In Person International Spy Museum Program
The International Spy Museum is pleased to offer its first sensory friendly program designed exclusively for adults (18 years and up) and their friends and family. On this special night, the Museum will host a private social hour for adults with sensory differences and their friends and/or family followed by exclusive access to the exhibits. Guests are welcome to come for all or some of the event. During social hour (5-6pm), guests will enjoy light food and refreshments and the opportunity to meet a former spy. At 6pm, the event will move to the exhibits, where guests can explore the Museum with less noise, fewer people, and a designated quiet room. Guests will also have the opportunity to participate in a scavenger hunt to win various prizes! While this Access to SPY program is geared towards autistic adults, we welcome all adults with sensory processing differences and their friends/family to attend this event (ages 18+). Program is free of charge but requires advanced registration. Event information at www.spymuseum.org.
23-26 Oct 22 - Live and Online - Melbourne, Australia - Intelligence International 2022 Conference - Collaboration in a Complex World
The Australian Institute of Professional Intelligence Officers (AIPIO) is aligning with like-minded partners*, particularly throughout the 5eyes community, to bring together the first International Intelligence Conference of its type. The International Conference on Intelligence 2022 will be held for intelligence leaders, managers, professionals and academe, and it will include keynote presentations and combine plenary, breakout, and interactive panel sessions for all delegates. There will also be an active social program for delegates attending in person. There is a plan to run conference elements – sessions, networking, and exhibition – as hybrid events, integrating interactive technologies to link in-person meetings with online live streaming components. Delegates, speakers and exhibitors can either attend, meet and present in person in Melbourne, or from their own home or office location to comply with isolation orders or border closures and to fit around altered business operations. More details and registration here.)
25 Oct 22 (Tuesday) - Annapolis, MD - Hybrid: In-Person and Virtual - "The Russia China Partnership" - US Naval Institute and US Naval Academy Conference
Join us in person or virtually for this timely and important discussion of great power competition and the influences and factors that are shaping the Russian and Chinese worldview.

Panels of scholars and experts will discuss: • The global impact of Russia's invasion of Ukraine; • Efforts by the People's Republic of China and Russia to work together to displace the United States economically and militarily, as well as undercut its leadership role in world institutions; • Russia and the PRC's attempts to become the world's superpowers; and • A look at Russia and the PRC's past and current use of military power and economic warfare to achieve their goals.

Panel #1 – Russia and China's Gambit to Reset the World Order – Moderator: Kori Schake, Ph.D., Senior Fellow and Director of Foreign and Defense Policy Studies, AEI (Confirmed); o Elbridge Colby, Cofounder and Principal, The Marathon Initiative (Confirmed); o ADM Harry B. Harris Jr., USN (Ret.), Former Commander, U.S. Pacific Command; Former Ambassador to the Republic of South Korea (2018 – 21) (Confirmed); o Michael Kofman, Director, Russia Studies Program, CNA Corporation (Confirmed); o Sarah C. M. Paine, Ph.D., William S. Sims University Professor, U.S. Naval War College (Confirmed).

Panel #2 – What's Next for the Russia-China Relationship: Implications for the United States and the World – Moderator: Rozlyn Engel, Ph.D., Distinguished Visiting Professor, Economics Department, U.S. Naval Academy (Confirmed); o Graham T. Allison, Ph.D., Douglas Dillon Professor of Government, Harvard University (Invited); o Lyle Goldstein, Ph.D., Visiting Professor of International and Public Affairs, Watson Institute for International and Public Affairs, Brown University (Confirmed); o The Honorable Jon M. Huntsman Jr., Vice Chair, Policy, Ford Motor Company; Former Ambassador to Russia (2017-19); Former Ambassador to China (2009-11) (Invited); o Angela E. Stent, Ph.D., Senior Advisor, Center for Eurasian, Russian, and East European Studies, Georgetown School of Foreign Service; Senior Non-Resident Fellow at Brookings Institution (Confirmed); o The Honorable Randall G. Schriver, Chairman of the Board, Project 2049 Institute; Partner, Pacific Solutions LLC; Former Assistant Secretary of Defense for Indo-Pacific Security Affairs (2018 - 19) (Confirmed).

More information about our speakers can be found here.
Sign up today, space is limited!
27 Oct 22 (Thursday), 10-11 ET - Online Event - National Cyber Director Chris Inglis and Deputy Assistant to the President and Deputy National Security Advisor for Cyber and Emerging Technology.
Please join CSIS for a conversation with Chris Inglis, National Cyber Director, and Anne Neuberger, Deputy Assistant to the President and Deputy National Security Advisor for Cyber and Emerging Technology. The discussion will focus on the Biden-Harris Administration's work to strengthen U.S. cybersecurity. (Registration and more information here.)
27 Oct 22 (Thursday), Noon-1pm – Washington, DC – Virtual Spy Chat with Chris Costa with Carol Rollie Flynn – Virtual International Spy Museum Program
Join us for an online discussion of the latest intelligence, national security, and terrorism issues in the news. Spy Museum Executive Director Chris Costa, a former intelligence officer of 34 years, will be joined by Carol Rollie Flynn, president of the Foreign Policy Research Institute. A 30-year veteran of the Central Intelligence Agency (CIA), Flynn held senior executive positions there including Director of CIA's Leadership Academy, Director of the Office of Foreign Intelligence Relationships, Associate Deputy Director of the National Counterterrorism Center, Executive Director of the CIA Counterterrorism Center, and Chief of Station in major posts in Southeast Asia and Latin America. She has extensive experience in overseas intelligence operations, security, and counterintelligence. Flynn is also an adjunct Professor at Georgetown University's School of Foreign Service/Security Studies Program where she has co-directed the National Security Critical Issue Task Force (NSCITF). She has also taught at the Fordham University Graduate School of Business and previously served as adjunct staff at Rand Corporation. She serves on the Advisory Board of the International Spy Museum and is a member of the Council on Foreign Relations. Event information at www.spymuseum.org.
27 Oct 22 (Thursday), 4:30 - 6:30 pm EDT - Hanover, MD - Cocktails and Codebreakers Event
Please join the National Cryptologic Foundation (NCF) and the Intelligence and National Security Alliance (INSA) for Cocktails and Codebreakers, a celebration of women in codebreaking.

Pay tribute to the rich history of trailblazing women in cryptology, to include recognizing the United States Postal Service's launch of a Women Cryptologists of WWII stamp.

Fireside Chat: Ms. Jen Easterly, Director, Cybersecurity and Infrastructure Security Agency (CISA) with Mr. Greg Myre, NPR National Security Correspondent, as moderator.

Special Guest Speaker: Mr. Bill Nye will speak about his mother who was a WWII cryptologist with the WAVES.
Where: The Hotel at Arundel Preserve: 7795 Arundel Mills Blvd, Hanover, MD 21076. Google map link for driving directions and location.

More info here
Register here

Questions to R. Diamond at rdiamond@cryptologicfoundation.org
19 - 28 Mar 23 - Washington DC to Europe and back - Gary Powers' 10-Day Cold War Espionage Tour
Join author and historian Gary Powers Jr. on this unforgettable 10-day tour of Cold War and Espionage related sites throughout Germany and the Czech Republic

Day 1: Departure from the USA; Day 2: Arrival Berlin; Day 3: Berlin - Potsdam - Berlin; Day 4: Berlin; Day 5: Berlin – Leipzig – Dresden; Day 6: Dresden – Prague – Pilsen; Day 7: Pilsen – Míšov – Pilsen; Day 8: Pilsen – Rozvadov – Nuremberg – Stuttgart; Day 9: Stuttgart – Sinsheim – Speyer – Frankfurt; Day 10: Departure for the USA.

Included Visits: Berlin Wall Memorial • Checkpoint Charlie Museum • German Spy Museum • Military History Museum Gatow • Glienicke Bridge • Hohenschönhausen Memorial • Berlin Stasi Museum • Allied Museum on Clay Allee • Museum in Der Runde Ecke • Leipzig Forum of Contemporary History Museum • Dresden's Military History Museum • Bautzner Strasse Dresden Memorial • KGB Museum • Prague Museum of Communism • Vitkov Hill Nuclear Bunker • Pilsner Urquell Brewery • Atom Museum • Iron Curtain Museum • Nuremberg Trials Memorial • Stuttgart Cold War Bunker • Sinsheim Technik Museum • Speyer Museum of Technology.

Tour Name: Gary Powers' Cold War Espionage Tour - view tour; Group Name: Garypowers.Com Tours; Departure City: Washington, DC; Tour Departure Date: March 19, 2023; Tour Return Date: 28 Mar 23.

Tour Price: $3,950.00 (deduct $950 for land only tour) per person, assumes 2-person registration.

For full description of the activities and accommodations on each of those dates and locations, explore full information about the tour here or Call 1.800.323.4466.

To enroll now for this 2023 once in a lifetime tour, do so here.

ALSO See: "Enemy Territory: The Story of American CIA U-2 Pilot Francis Gary Powers" - A Graphic Novel by Francis Gary Powers Jr. and Walter Pfenninger.
---
---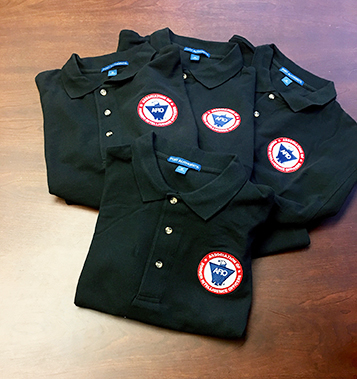 Now available: Black short-sleeved polo shirts with Embroidered AFIO logo
Show your support for AFIO with our new Black Short-sleeve Polo Shirts. Shirts are shrink and wrinkle resistant of fine cotton with a soft, "well-worn, comfy" yet substantial feel. They feature a detailed embroidered AFIO seal. Get a shirt for yourself and consider as gifts for colleagues, family, and friends. Only $50 each including shipping.
Sizes for (M) men, only; Small, Medium, Large, XL, XXL, and XXXL. $50 per shirt.
You may pay by check or credit card. Complete your order online here or mail an order along with payment to: AFIO, 7600 Leesburg Pike, Ste 470 East, Falls Church, VA 22043-2004. Phone orders at 703-790-0320. Questions? Contact Annette at: annettej@afio.com.
---

PopSocket for cellphones or tablets
Show your support to AFIO while enjoying the convenience offered by our AFIO Logo PopSocket. The PopSocket is most commonly used as a stand and as a grip for your mobile phone or tablet; handy for taking selfies, watching videos, and for texting. The PopSocket looks like a small button or sticker which, when closed, sticks flat to your mobile device. However, its accordion-like design enables it to pop open for use. The benefits of using a PopSocket make it a must-have accessory for your mobile phone or tablet. It also aids in keeping your phone from slipping off your hand during use, falling, or breaking.
Price: $15. Order this and other store items online here.
---


Caps - Dark Navy with Navy AFIO Logo
An authentic silhouette with the comfort of an unstructured, adjustable fit. Fabric: 100% cotton. Unstructured. Fabric strap closure with adjustable D-clip. Price: $30. Order this and other store items online here.
---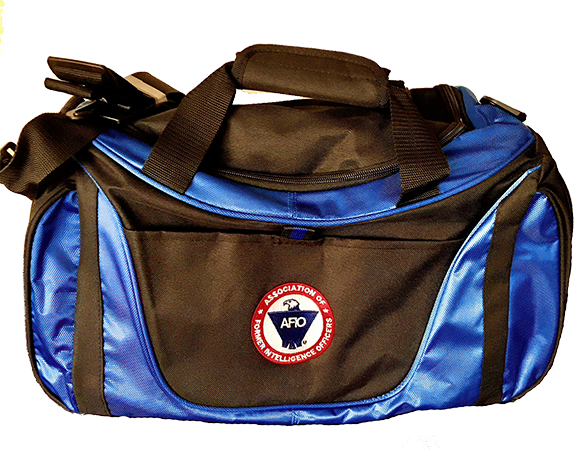 Duffel Bags - Royal Blue and Black with Full Color AFIO Logo This duffel has it all when it comes to value, style and organization.
600 denier polyester canvas with polyester double contrast; D-shaped zippered entry for easy access. Front pocket with hook and loop closure. End mesh pocket Easy-access end pockets. Four durable, protective feet and built-in bottom board for added strength. Web handles with padded grip. Detachable, adjustable shoulder strap.
Dimensions: 11"h x 19.75"w x 9.75"d; Approx. 2,118 cubic inches
Price: $50. Order this and other store items online here.
---
AFIO Mug with color glazed seal.

Made in the U.S.A., dishwasher-safe.
$35 includes shipping.

Sip your morning joe in style or use it to stash pens, cards, paperclips, or candy.
Order this and other store items online here.
---
Guide to the Study of Intelligence...and...When Intelligence Made a Difference
"AFIO's Guide to the Study of Intelligence" has sold out in hard-copy.
It is available in digital form in its entirety on the AFIO website here.

Also available on the website here are the individual articles of AFIO's
history project "When Intelligence Made a Difference" that have been
published to date in The Intelligencer journal. More articles will be appear in future editions.
---
Address Technical Issues Or Unsubscribe
Some features of the email version of the WIN do not work for readers who have chosen the Plaintext Edition, some users of AOL, and readers who access their email using web mail. You may request to change from Plaintext to HTML format here afio@afio.com. For the best reading experience, the latest web edition can be found here: https://www.afio.com/pages/currentwin.htm
To unsubscribe from the WIN email list, please click the "UNSUBSCRIBE" link at the bottom of the email. If you did not subscribe to the WIN and are not a member, you received this product from a third party in violation of AFIO policy. Please forward to afio@afio.com the entire message that you received and we will remove the sender from our membership and distribution lists.
---
Disclaimer and Legal Protection
Weekly Intelligence Notes (WINs) are a carefully selected collection of timely open source reports and announcements on intelligence and related national security matters that is produced for non-profit educational use by AFIO members and WIN subscribers. WINs are protected by copyright and intellectual property laws. They may not be reproduced or re-sent without specific permission from the Producer. Opinions expressed in the WINs are solely those of the author listed with each article. Notices in the WINs about non-AFIO events do not constitute endorsement or recommendation by AFIO.

(c) 1998 thru 2022


---

AFIO Members Support the AFIO Mission - sponsor new members! CHECK THE AFIO WEBSITE at www.afio.com for back issues of the WINs, information about AFIO, conference agenda and registrations materials, and membership applications and much more! .

AFIO | 7600 Leesburg Pike, Suite 470 East, Falls Church, VA 22043-2004 | (703) 790-0320 (phone) | (703) 991-1278 (fax) | afio@afio.com
---
About AFIO | Membership Renewal | Change of Address | Upcoming Events | Chapter Locations | Corporate/Institutional Memberships | Careers in Intelligence Booklet | Guide to the Study of Intelligence | Intelligencer Journal | Weekly Intelligence Notes | Make A Donation | AFIO Store | Member-Only Section | Code of Ethics | Home Page
RETURN TO TOP
---