---
Belarusian citizen to stand trial in Latvia on suspicion of espionage - EuroWeekly 24 Oct 22
On February 15, a Belarusian citizen was detained by the State Security Service of Latvia (SSB), amid claims that they had intelligence on suspicion of his being involved in espionage. The special services found out that he was secretly photographing and filming objects of the Latvian defence system on behalf of the Belarusian military intelligence. This included the critical infrastructure of electricity supply, as well as important objects of civil infrastructure. In total, the alleged spy managed to obtain information on at least 17 objects of state importance. According to the assessment of the Security Service, the information can be important for both the Belarusian and the Russian military. For example, the data can be used in the event of a possible military conflict with NATO, including Latvia, to plan sabotage or attacks on military facilities and critical infrastructure of the country. The investigators also found out that the detainee was recruited and trained on the territory of Belarus. He was taken into custody and charged with espionage. His trial will begin on October 28, as reported by nashaniva.com. (Full article here.)
"Human Life Has No Value There": Baltic Counterintelligence Officers Speak Candidly About Russian Cruelty - Eesti Ekspress, 23 Oct 22
The photo on Aleksander Toots's slightly tattered old work ID is faded and worn. He looks much younger than he does now: short-haired and sharp-featured. Next summer will be his 30th at the Estonian Internal Security Service (abbreviated KAPO in Estonian). How he plans to mark the occasion, I do not know. He spends most of his free time out in nature and working with his hands, though he won't say where. "Let's not try to profile me," he responds with a cool smirk when I ask what his favorite book is. "Let's not make things easier for the adversary." Toots has been dealing with Russia for 15 of the last 30 years. He's endeavored to predict its next steps, offered a surprise or two of his own, and uncovered Russian spies, several of whom were colleagues. He doesn't reply at first when I ask what he felt the first time he interrogated Aleksei Dressen, a former superior and later subordinate. They greeted each other in the mornings, waved goodbye when they left for the day, and perhaps kicked the wheels of their vehicles while chatting in the parking lot. All until it was revealed that Dressen was a traitor working for Russia. "Details,"" Toots says tersely when I ask what gave Dressen away. But when they were ultimately sitting across from each other and his recent colleague, maybe even somewhat of a friend, was in handcuffs, Toots says he felt no great emotion. (Full article here.)
Foreign intelligence services roaming Belgrade - Serbian Monitor, 20 Oct 22
Professor Radomir Mališinović, the former dean of the Faculty of Security, and Ljuban Karan, a retired lieutenant colonel of the counterintelligence service, pointed out that the secret services' operations in Belgrade are a clear sign that they want to create a split in Serbia. "We must not allow the secret services to wage war on our territory. Serbia now has so many security choices that our secret services have too much work to do. It is no coincidence that Gašić (director of the Serbian intelligence agency) mentioned hybrid war, but the problem is that only specially trained services can oppose it. We are talking about a large spectrum that includes terrorism and subversion of the state in various ways. The goal of hybrid warfare is to create divisions in society. It is a military strategy to artificially create internal discontent," says Ljuban Karan, retired lieutenant colonel of the counterintelligence service. Professor Mališinović points out that the secret services serve to help appoint those politicians to power who are loyal to the interests of the country that want to see certain changes done in Serbia. "Intelligence services have also become a factor of knowledge and without them, it is not possible to create policies. Certain secret services have managed to overthrow a hundred governments. The threat of extinction to our people is nothing new. Now the diplomats have crossed all lines whereby they have resorted to threatening us and ordering us around. This is unprecedented in the history of the world, except when direct war is hinted at in a country. No country except the USA is sovereign, not even Russia, which is now fighting for its sovereignty," says Professor Mališinović. (Full article here.)
Russia's dirty bomb threat presents new test for US spy agencies - Washington Examiner, 24 Oct 22
Western intelligence agencies could struggle to detect Russia's potential preparations for a nuclear "dirty bomb attack" in Ukraine, President Joe Biden's team has acknowledged. "We'll watch this as best we can," White House National Security Council spokesman John Kirby told reporters. "If an actor wanted to do a dirty bomb attack, you know, a lot of our ability to detect [it] would be determined by a range of factors. ... There's an awful lot that goes into how you can best monitor something like that." Russian military officials stoked global anxiety about a potential nuclear attack in Ukraine by accusing Ukrainian officials of plotting to orchestrate a dirty bomb incident. The "absurd" allegation, as a Western official characterize it, ignited a round of speculation about Moscow's plans. The threat presents a new test for the U.S. and British intelligence agencies that predicted the Russian invasion in February and now are being relied upon to sound the alarm if Russian President Vladimir Putin decides to use nuclear weapons. (Full article here.)
German cyber chief suspended following allegation he associated with Russian intelligence - The Record, 18 Oct 22
The head of Germany's federal cybersecurity office has been suspended, a spokesperson confirmed on Tuesday, following accusations that he had associated with a business connected to the Russian intelligence services. Arne Schönbohm, who has been president of the Federal Office for Information Security (BSI) since 2016, has been under scrutiny since the allegations were raised in a late night satirical television show called ZDF Magazine Royale. The head of Germany's Interior Ministry, Nancy Faeser, has prohibited him from "conducting official business as President of the BSI with immediate effect" a spokesperson told The Record. ZDF's comic segment stated that Schönbohm gave a speech in September at an event hosted by a trade association he formerly managed called Cyber Security Council Germany. The association includes among its members a company called Protelion, a subsidiary of a Russian company founded by an individual who formerly worked for the KGB and has been honored by president Vladimir Putin. (Full article here.)
U.S. charges 13 in cases that involve alleged plots to advance Chinese interests - NPR, 24 Oct 22
The Justice Department has announced charges against 13 people, including suspected Chinese intelligence officers, in three separate cases that involve various alleged plots to advance Chinese interests in the United States. The prosecutions are the latest example of the Justice Department's efforts to combat what U.S. officials say is a relentless effort by Beijing to steal American secrets and technology, and to covertly push China's interests in the United States. "As these cases demonstrate, the government of China sought to interfere with the rights and freedoms of individuals in the United States and to undermine our judicial system that protects those rights," Attorney General Merrick Garland said at a news conference. "They did not succeed." Two of the cases were filed in federal court in the Eastern District of New York. In one, two suspected Chinese spies are charged with trying to obstruct a federal investigation into a China-based global telecommunications company. (Full article here.)
Norway intel agency takes over probe into drone sightings - Associated Press, 19 Oct 22
Norway's domestic security agency on Wednesday took over investigations of drone sightings near key infrastructure sites hours after the airport in the country's second-largest city briefly closed due to area residents spotting at least one drone nearby. Bergen Airport, which is near Norway's main naval base, shut down at around 6:30 a.m. when the area's air space was closed and reopened 2½ hours later. Bergen police spokesman Ørjan Djuvik said several drone sightings were reported near the airport. "There can also be observations that could be other phenomenon, for instance weather," Djuvik said. "We are sure that there is at least one." North of Bergen, a drone was reported near the small, domestic Foerde airport, which also closed temporarily, Norwegian news agency NTB said. Numerous drone sightings have been reported near offshore oil and gas platforms and other Norwegian infrastructure in recent months, Hedvig Moe, deputy chief of the Norwegian Police Security Service, said. (Full report here.)
The U.S. Army Is Testing A Data Platform Just For Intel Officers - Defense One, 19 Oct 22
The U.S. Army is testing a data analytics platform that will make intel officers smarter. And if all goes well, it could be available to intel officers across the service. "We are testing an Army Intelligence Data Platform. So essentially a system that will ingest all of the Army's intel data—data from the intel community, commercial data, whatever data sources our intel professionals may need or want," Mark Kitz, the program executive officer for Intelligence, Electronic Warfare, and Sensors, told Defense One. That system, formerly called the Distributed Common Ground System-Army Capability Drop 2, is completely cloud based and just completed testing with military intelligence battalions in Fort Gordon, Ga. Other intel professionals also have access to the platform, including some in the Army's Intelligence and Security Command, Shaw Air Force Base, and U.S. Central Command. (Full report here.)
Journalist in Sweden spied on by Turkish intelligence, private photos leaked to gov't media - Nordic Monitor, 17 Oct 22
The authoritarian regime of Islamist President Recep Tayyip Erdoğan ran surveillance on a critical journalist who lives in Sweden, published secretly taken photos of him and revealed his home address as part of an ongoing campaign of harassment and intimidation. The surveillance photos and private information about Turkish journalist Abdullah Bozkurt, who lives in Stockholm, was leaked to the Sabah newspaper, a government mouthpiece owned and operated by President Erdoğan's family. The article, full of defamation, smears, lies and slander, described the daily routine of the journalist, who was apparently tracked by agents of Turkish intelligence agency MIT and photographed while waiting for a bus. He was then followed home. (Full report here.)
Intelligence agencies must transform acquisition - Federal News Network, 18 October 2022
The Intelligence Community spends about 70% of its budget — roughly $59 billion in fiscal year 2022 — on contracts with private companies that provide everything from satellites to janitorial services. But IC acquisition is slow, process-oriented and understaffed, all of which delays the procurement of critical services, hinders the adoption of advanced technologies, and increases costs for both companies and American taxpayers. To take advantage of private sector innovation, IC policymakers must change acquisition processes to focus on outcomes rather than inputs, enable more unclassified and remote work, make it easier for contractors to clear staff and access secure workspaces, and enhance the acquisition workforce. Ultimately, as the Defense Department wrote to Congress about its own procurement ecosystem in 2017, the IC must adapt its regimented contracting processes to enable critical thinking, effective risk management and flexible decision-making. (Full report here.)
Bulgarian Cyberattack: Sabotage as Cover for Spying? - Deutsche Welle, 19 Oct 22
It started on Saturday, October 15, 2022: First the homepage of Bulgaria's President Rumen Radev was unavailable. Then the websites of numerous Bulgarian ministries crashed. Bulgarian administrations later announced that one single attack had been responsible for the breakdowns, adding that the issues had been resolved just hours later. The next day, Russian hacker group Killnet claimed responsibility for the attack with an announcement on its Telegram page — emblazoned with a rather personal message directed at Bulgarian Chief Prosecutor Ivan Geshev: "GO F*CK YOURSELF." Just last week, the Russian government and intelligence services sought to draw a link between the October 8 explosion that destroyed the Kerch Strait Bridge — which connects Russia and Crimea — to EU and NATO member state Bulgaria. The move was quickly shown to be a blatant propaganda exercise. Now, with Saturday's cyberattack, it appears that Moscow is escalating yet again. (Full article here.)
NSA cyber chief says Ukraine war is compelling more intelligence sharing with industry - CyberScoop, 19 Oct 22
Rapidly and proactively sharing intelligence on cyberthreats with industry and critical infrastructure providers "can really make a big and decisive difference," Rob Joyce, director of the NSA Cybersecurity Directorate, said Wednesday. It's one of the key lessons his agency "took away personally" from the ongoing war in Ukraine, Joyce said at the Trellix Cybersecurity Summit in Washington. "Over time, I've changed my view about what it is to protect sources and methods," Joyce said, noting that in his 30-plus years at NSA "it's in our DNA" to protect sources and methods to ensure the ability to "know secrets into the future." But "what we know is often not sensitive, it is how we know it," Joyce said. "We can make available the insights about what we know without putting at risk how we know it. That's really an inflection point that lets us get to more prolific, more extensive and more closely sharing for operational outcomes." (Full article here.)
See also: Lessons From Ukraine - NSA Cyber Chief Lauds Industry Intel - MeriTalk, 19 Oct 22
BIS intelligence head: the mass expulsion of Russian diplomats has boosted security - Radio Prague International, 18 Oct 22
The country's counterintelligence service BIS traditionally performs quietly and efficiently behind the scenes. But on Monday it was at the center of media attention due to a rare visit by the prime minister, the first in 24 years. It is not often that the head of the country's counterintelligence service BIS appears at a press briefing, much less takes questions from the media, so the press hall at the service's headquarters in Prague was packed with journalists on Monday. In an opening statement Prime Minister Fiala thanked the service for its good work. "The work of the intelligence services has acquired new significance at this exceptionally difficult time for the world, when Russia is not only waging a war against Ukraine, but a war against Europe and all democratic countries." (Full article here.)
See also: Czech counterintelligence reports on Russian agent with close links to some politicians and journalists - Radio Prague International, 17 Oct 22
Malaysia probes possible Mossad involvement in Palestinian's abduction - Benar News, 19 Oct 22
Malaysian authorities are investigating whether Israel's spy agency was involved in the kidnapping of a Palestinian in Kuala Lumpur in late September, a senior police official said Wednesday. Eleven Malaysians were charged in court last week over the abduction after police raided a chalet and rescued the computer programmer, whose captors allegedly beat and interrogated him for 24 hours. On Wednesday, police questioned the editor of the New Straits Times newspaper, which had exclusively reported the alleged connection to Mossad a day earlier, leading officials in Gaza to publicly thank Malaysian authorities. "We are investigating the Mossad element in the kidnapping case. We have yet to confirm the agency's involvement," Kuala Lumpur Police Chief Azmi Abu Kassim told reporters. (Full article here.)
Also see: Terror expert tells why Malaysia preferred by foreign secret services - Malaysia Now, 20 Oct 22
Also see: PM assures national security intact - The Malaysian Insight, 20 Oct 22
Wife of CIA officer admits killing 19-year-old outside Royal Air Force Base - Popular Military, 20 Oct 22
A US citizen who initially claimed diplomatic immunity on Thursday admitted responsibility in court for the 2019 death of a British teenager due to careless driving. Anne Sacoolas, 45, pleaded guilty to causing the death of Harry Dunn, 19, who was driving a motorcycle near a US military base when the accident happened in August 2019. Sacoolas had diplomatic immunity asserted on her behalf by the US government following the crash in Northamptonshire and was able to leave Britain 19 days after the incident. "Previously it had been reported that the husband of Sacoolas was a CIA intelligence officer working at the RAF Croughton base in Northamptonshire," The Guardian reports. "It had been suggested that his wife had an intelligence background but was a dependent and not working at the time at the base." (Full article here.)
Wife of Russian agent involved in Skripal poisonings tried to slip into France - The Telegraph, 21 Oct 22
Moscow has ramped up its European espionage offensive as its army flounders in Ukraine and is turning to women and younger agents. The wife of an agent of the elite Russian military intelligence unit behind the nerve agent attack on Sergei Skripal tried to slip into France this summer, it emerged on Friday. The news comes amid reports that Moscow has ramped up an espionage offensive in Europe as its army flounders in Ukraine and is potentially turning to women and younger agents to avoid detection. French consular services have seen an uptick in visa requests from Russia wishing to temporarily leave the country, either to escape sanctions, partial draft or simply to travel. Among these, they reportedly received a visa request this summer from a woman called Yulia Shivmanovitch. But after careful consideration, the application was rejected due to an "unexplained" refusal from French secret services, according to Le Monde. (Full article here.)
Labour MP's wife worked for Chinese backed group with 'spy' links - The Sun, 14 Oct 22
Yu Yannan, 40 the spouse of Sir Mark Hendrick was handed "unfettered access" to Parliament despite being the Deputy Director of an arms length group of the communist regime - which could be banned. Our bombshell revelations come as PM Liz Truss set to declare China a "threat" to Britain for the first time. A review of diplomatic relations with Beijing will upgrade the country from a "systemic competitor" with the PM believing China is "the most serious long-term threat to our values and way of life". The Sun on Sunday can reveal Ms Yu has been married to Sir Mark, 63 for over a decade and spent over nine years working at the London South Bank University Confucius Institute - funded by the Beijing government. (Full article here.)
American leaders don't care that TikTok is Chinese spyware - Washington Examiner, 21 Oct 22
In an absolutely shocking turn of events, it turns out that you should not trust Chinese spyware run by a Chinese company that is closely allied with the Chinese Communist Party, no matter how many fun dance videos it lets you make. According to materials viewed by Forbes, TikTok's parent company planned to track the locations of specific American citizens using the popular app. ByteDance's Internal Audit and Risk Control department planned, in at least two instances, to collect the location data of American citizens who had no ties to the company. According to Forbes, the location gathering had nothing to do with targeted ads and everything to do with spying on individual U.S. citizens. (Full article here.)
See also:

TikTok's Chinese masters wanted app to spy on specific Americans - American Military News, 21 Oct 22
TikTok Parent ByteDance Planned To Use TikTok To Monitor The Physical Location Of Specific American Citizens - Forbes, 20 Oct 22
Report criticizes CIA's initial handling of Havana syndrome cases - Seattle Times, 14 Oct 22
The CIA sent an inspector general report that was critical of how the agency handled early reports of injuries that came to be known as Havana syndrome to Congress this week, according to current and former officials. The report, people briefed on the findings said, criticized how the CIA's top physicians in the Office of Medical Services dealt with the unexplained incidents during the Trump administration, when some CIA officials were doubtful about Havana syndrome-related illnesses. As a result, many people with symptoms found it difficult to get prompt medical care. Diplomats and CIA officers began reporting ailments arising from strange incidents beginning in 2016 in Havana. Since then, government employees and family members in China, Austria, Serbia and other locations around the world have also reported symptoms. The report comes as the agency has begun making payments to some victims of what the government calls anomalous health incidents. Those victims have been frustrated with intelligence conclusions that the injuries were not the result of a worldwide campaign by a hostile country, such as Russia. (Full article here.)
See also: CIA inspector general dings agency care of early Havana Syndrome victims - CNN, 14 Oct 22
Indian Spy Agency Bought Hardware Matching Equipment Used for Pegasus - OCCRP, 20 Oct 22
Indian officials have dismissed reports that it purchased the Pegasus spyware in 2017 as "sensationalism." Trade data shows a hardware shipment to its main domestic intelligence agency was made matching specifications in a Pegasus brochure. India's Intelligence Bureau, the country's main domestic intelligence agency, bought hardware from the Israeli spyware firm NSO Group that matches the description of equipment used elsewhere to deploy the company's flagship Pegasus software, import documents show. The finding bolsters the claim, reported by the New York Times early this year, that the Indian government purchased Pegasus spyware in 2017 as part of a major arms deal with Israel. (Full article here.)
Behavioral Science Branch Helps with Effort to Destigmatize Mental Health Issues Across National Security - Clearance Jobs, 11 Oct 22
Over the past year the Defense Counterintelligence Agency (DCSA) and National Counterintelligence and Security Center (NCSC) have made major pushes to address issues around mental health treatment and the security clearance process. One effort made to improve the process within DCSA is the formation of a new Behavioral Science Branch consisting of eight adjudicators specifically trained in how to evaluate psychological issues as a part of the security clearance process. Mental health is an adjudicative guideline, but security clearance experts are quick to point out the importance of reading the SF-86 carefully. Many clearance holders and applicants needlessly worry about things that aren't even a part of the process, and that don't need to be reported at all. A previous version of the SF-86 did create ambiguity, requiring all counseling to be issued. Today, however, the form is very clearance that only specific diagnosis or incidents (such as a mental health hospitalization), need to be listed or self reported. And even for those issues, nothing related to mental health is an automatic disqualifier in the security clearance process. (Full article here.)
See also: PEth Alcohol Consumption Tests and Security Clearances - Clearance Jobs, 09 Oct 22
Former RAF pilots who went to China to train its air force stole secrets for Britain - The Express, 23 Oct
Retired RAF pilots who went to China to train its air force included personnel tasked with gleaning its military secrets, Whitehall sources revealed last night. Around 30 pilots are believed to have accepted lucrative contracts to help train China's People's Liberation Army Air Force (PLAAF). Recent news of the contracts, which have been ongoing since 2019, caused a public outcry over concerns that China was securing information about Nato fast jets and tactics which may help its forces to counter their effectiveness in times of conflict. Despite mounting concerns in Whitehall, the Government was powerless to end the training scheme because no laws had been broken. But British security agencies did not just sit idly by, sources claim. In an astounding double-bluff, they approached a small group of these Western pilots who had already signed up for £240,000 contracts and asked them to "wear two hats", sources claim. (Full article here.)
See also:

Ex-RAF top gun has made a killing training China's fighter pilots and recruiting British airmen - Daily Mail, 21 Oct 22
UK Issues Threat Alert That China is Actively Recruiting Western Military Pilots - Clearance Jobs, 18 Oct 22
Australia Probes Claims China Recruited Ex-Air Force Pilots - The Defense Post, 19 Oct 22
Is China recruiting Canadian fighter jet pilots? Defence department probing reports - Global News, 21 Oct 22
Hundreds of retired U.S. military personnel have taken foreign jobs, report says - NPR, 20 Oct 22
---
U.S. Political Violence on the Rise: Professor Bob Pape - interview by Former Acting D/CIA Mike Morell


Intelligence Matters: A CBS News national security podcast hosted by former CIA Acting Director and CBS News national security contributor Michael Morell.
18 Oct | U.S. Political Violence on the Rise: Professor Bob Pape
In this episode of Intelligence Matters, Michael Morell speaks with University of Chicago political science professor and director of the Chicago Project on Security and Threats Robert "Bob" Pape about his ongoing research on political violence in America and its implications as the midterms approach. His new research finds that 5% of American adults, or around 13 million people, agree that the use of force is justified to restore Donald Trump to the presidency. Pape discusses the ways in which political violence has turned mainstream and is being exacerbated by political leaders.
Past episodes:

11 Oct | The Ethics and Impact of Drone Strikes: Georgetown Law Professor Mitt Regan
04 Oct | Putin's Threat of Nuclear War: Former CIA Moscow Chief of Station Rolf Mowatt-Larssen
27 Sep | 75th Anniversary of the CIA with Deputy Director of the CIA David Cohen


More about Intelligence Matters by Michael Morell here.
---
"On the Streets, Location Unknown" - CIA Operator Karen Schaefer (Part I)
Spycast is the official podcast of the International Spy Museum and hosts interviews with intelligence experts on matters of HUMINT, SIGINT, IMINT, OSINT, and GEOINT. Spycast is hosted by historian Andrew Hammond, PhD.
18 Oct | "On the Streets, Location Unknown" - CIA Operator Karen Schaefer (Part I) Andrew Hammond shares an encore episode From the Vault. From counternarcotics to counterterrorism, from Latin America to the Middle East, and from the back streets of a warzone to the center of events in Washington DC – Karen Schaefer has had, how should we say, an "eventful" career as an intelligence officer. Charming, smart, thoughtful, and you haven't even met Karen yet…but seriously, it was a pleasure to talk to this week's guest who had all of those qualities, and more; so enjoyable it will be released as a double-header. This week, Part I focuses on her time as an operator; while Part II focuses on her time as a "serial collaborator" who worked with Special Operations, the FBI, and the NSC. Stay tuned…
Past episodes:

11 Oct | "Sure, I Can Hack Your Organization, Part II"
05 Oct | "Sure, I Can Hack Your Organization"
27 Sep | The Past 75" Years with Historian of the CIA Rhodri Jeffreys-Jones


---
Iranian weapons in Russia reveal Putin's needs and limitations, geopolitical realignments abound
In Other News The proprietary analytic newsletter crafted for The Arkin Group's private clients by former CIA Acting Deputy Director for Operations Jack Devine.
21 Oct | Iranian weapons in Russia reveal Putin's needs and limitations, geopolitical realignments abound
This week, Tehran's relationship with Moscow made headlines after Ukraine accused Russia of using Iranian-made drones to attack Kyiv and stated that Ukrainian air defenses have shot down over 200 Iranian-made drones in the past few weeks. US Intelligence officials also reported that Iranian military personnel were in Crimea in the capacity of drone trainers and tech support workers after the Russian military suffered "operator and system failures early on" in its attempts to effectively use the weapons. (Full version available to AFIO members within weeks of publication here.)
14 Oct | On the cusp of the Chinese National Congress, analysis from a global contributor offers readers insight on how Xi might be weighing his next steps

13 Oct | Crimean bridge attack comes at a time of escalated pressures on Putin, global players actively navigate their response.

07 Oct | What the European Union Can Learn From the Global Response to the Russia-Ukraine War
---
Daily Analysis of Security Issues and Geopolitical Trends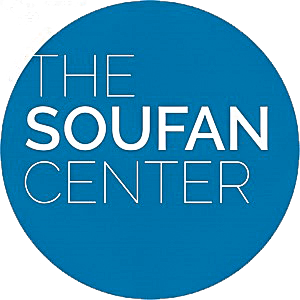 Intel Brief The Soufan Center's flagship, daily analytical product focused on complex security issues and geopolitical trends that may shape regional or international affairs. The Soufan Center was founded by former FBI Special Agent and Soufan Group CEO Ali Soufan.
24 Oct | Iran Expands Military Support To Russian War Effort
As of mid-October, Iran appears to be significantly increasing its material support for Russia's war effort in Ukraine. In recent months, Iran has been sending Moscow a steady supply of Shahed and Mohajer armed unmanned aerial systems (UAS, drones), which the Russian military has used to target civilian infrastructure throughout Ukraine. The uptick in strikes on Ukrainian cities far from the frontlines has been interpreted as a Russian reaction to a series of battlefield setbacks and the embarrassing explosions which damaged the Kerch Bridge, a key logistical corridor linking Russia to Crimea. It is also reflective of the newly appointed Russian military commander, General Sergey Surovikin's, preference for using attacks on civilians and civilian infrastructure to demoralize the enemy – a tactic he used extensively as a commander in Syria. Some attacks have targeted residential neighborhoods, while others have struck electrical substations and fuel storage facilities, both of which are vital to providing heat and electricity now and particularly for the coming winter. However, there is no evidence, to date, that the drone barrages have reduced Ukrainian public support for the effort to recapture territory seized by Russia. Nor have the attacks materially benefitted Moscow's disorganized and faltering war effort. Tehran has denied selling the weapons to Russia, but U.S. and European officials have categorically dismissed the Iranian denials. In mid-October, U.S. officials confirmed press reports that Iran's Islamic Revolutionary Guard Corps (IRGC) had sent trainers to Crimea to help Russian forces operate and maintain the Iranian systems. The hands-on assistance represents a significant deepening of Iranian involvement in Moscow's war effort. That Russia turned to Iran to supply the systems corroborates the view of many experts that Moscow has underinvested in armed drone technology. (Full brief here.)
21 Oct | Violence in Rohingya Refugee Camps Underscores Risks and Challenges

20 Oct | The Evolution of the Online Violent Extremist Landscape

19 Oct | U.S. Brokers Major Israel-Lebanon Sea Border Agreement
18 Sep | Middle East Leaders Engage with Putin
---
Analysis of Global Security Events with WTOP National Security Correspondent JJ Green

Inside the SCIF - 13 Oct - Russia's "kamikaze drones," Why latest Russian moves feel different, Budworm Hackers, National Security Strategy, and more.
Target USA Podcast - 19 Oct - Iran Unrest: Uprising Evolving Into Revolution - Alireza Jafarzadeh, the Deputy Director of the Washington office of the National Council of Resistance of Iran

The Hunt Broadcast - 05 Oct - Iran's cross-border attacks inside northern Iraq - Dr. Hans Jakob Schindler, senior director of the Counter Extremism Project, explains what's at stake.




---
Clean Out the FBI and Secret Service and China's Audacious Spies - Jeff Stein and Colleagues in SpyTalk (Substack)

20 Oct: Clean Out the FBI and Secret Service - Jeff Stein


18 Oct: A Bold New Look at China's Audacious Spies - Matt Brazil


07 Oct: CIA Assassin in Castro Plots Dies Safely in Bed - Jefferson Morely


04 Oct: Musk's Starlinks Poised to Boost Iran Protests - Jonathan Broder


03 Oct: The Curious Fate of Citizen Snowden's Archive - Jefferson Morely



To support SpyTalk, subscribe here.


---
*** NOTE: Products regularly featured in this section will only appear when they post fresh content. ***
---
Article: Addressing Putin's Nuclear Threat - Thinking Like the Cold War KGB Officer That He Was - Former CIA Officer Douglas London in Just Security, 18 Oct 22
The powerful explosion that crippled Vladimir Putin's showcase bridge over the Kerch Strait linking Russia and Crimea increased pressure on the cornered Kremlin potentate to do something shocking, as he loses control on the battlefield and inside his royal court. But will he stop at the intensified missile bombardments that are hitting apartments and playgrounds in Kyiv and other civilian infrastructure across Ukraine? Assessing whether Putin will resort to nuclear, chemical, or biological weapons – a question that took on new resonance as his regime has faltered even before the Kerch bridge attack — is no easy task. Policymakers would do well to remember three fundamentals that guide Putin's decision-making: 1) he is the product of the 1970's and 1980's KGB and stood witness in then-East Germany in 1991, when the world as he knew it ceased to exist; 2) ego, survival, greed, and ambition direct his moral compass; and 3) he has come to believe his own propaganda. (Full report here.)
See also: Analysis: What is Russia's policy on tactical nuclear weapons? - Reuters, 17 Oct 22
Online Event: Complexity and the Challenge for Intelligence Analysis - Johns Hopkins, 12-1 pm, 09 Nov 22
Join host Michael Ard for a curated discussion with Josh Kerbel on "complexity" and the challenge for intelligence analysis. Josh Kerbel is a member of the research faculty at the National Intelligence University where he explores the increasingly complex security environment and the associated intelligence challenges. Prior to joining NIU, he held senior analytical positions at DIA, ODNI (including the NIC), the Navy staff, CIA, and ONI. His writings on the intersections of government (especially intelligence) and complexity have been published in Foreign Policy, The Washington Post, Studies in Intelligence, Slate, The National Interest, The Hill, War on the Rocks, Defense One, Parameters, and other outlets. Mr. Kerbel has degrees from The George Washington University and the London School of Economics as well as professional certifications from the Naval War College and the Naval Postgraduate School. More recently he was a post-graduate fellow at the Massachusetts Institute of Technology. (More information and registration here.)
Online Event: Nuclear Politics on the Korean Peninsula - Johns Hopkins, 5-6 pm, 16 Nov 22
Join host Michael Ard for a curated discussion with Youngho Kim of Sungshin University and Yong-Sup Han of Korea National Defense University as they discuss Nuclear Politics on the Korean Peninsula. Dr. Youngho Kim is a Professor of Political Science and Foreign Affairs at Sungshin University. He served as Human Rights Ambassador of the Republic of Korea (2012-2013). He also served as the Secretary to the President for Unification during the Lee Myoung-bak administration (2011-2012). He was a Visiting Professor at Keio University (2015-2016). He received his BA from Seoul National University and a PhD from the University of Virginia. Dr. Yong-Sup Han is a Professor Emeritus of Korea National Defense University. He is a member of APLN (Asia-Pacific Leadership Network) for Nuclear Nonproliferation and Disarmament. Dr. Han launched the Korea Nuclear Policy Society and served as its first President (2012-15) and he had been Vice President of KNDU (2010-12), and President of Korea Peace Research Association (2007-10). He also directed the Research Institute for National Security Affairs of Korea National Defense University (2005-08).Before joining in the faculty of Korea National Defense University, Dr. Han served as a special assistant to the Korean Minister of National Defense, participating in the inter-Korean denuclearization negotiations while doing policy recommendations to the Korean government on policies of arms control and denuclearization and the Korea-US alliance. Dr. Han received his BA and MA in Political Science from Seoul National University, a Masters in Public Policy from the Kennedy School of Government, Harvard University, and a PhD in Security Policy from the RAND Graduate School, RAND Corporation of the United States. (More information and registration here.)
Article: Australia and Japan to share intelligence on China in security deal, ambassador says - The Guardian, 19 Oct 22
Japan and Australia will share intelligence assessments about China's military buildup and intentions under a security deal to be signed by the two prime ministers this weekend. Japan's ambassador, Shingo Yamagami, also hinted that Australia was likely to be invited to the G7 summit in Hiroshima next year, saying its participation would be a "natural" step at a time of worsening tensions in the region. The Australian prime minister, Anthony Albanese, and his counterpart, Fumio Kishida, are set to sign a new security declaration when they meet in Perth on Saturday, updating a previous deal from 15 years ago. (Read entire article here.)
See also: Japan, Australia sign 'landmark' security pact - Deutsche Well, 22 Oct 22
The Intelligence Community Doesn't Warn About All Attacks Against the US Homeland. Why Not? - Defense One, 20 Oct 22
Russia and China attack the U.S. commercial technology and scientific research sectors through persistent cyber intrusions and the theft of protected scientific information and intellectual property. Both countries peddle disinformation—knowingly false information and propaganda—on U.S. social-media platforms, sometimes with the witting or unwitting assistance of social media influencers, to shape Americans' views. Yet members of the commercial sector and the American public do not receive intelligence that could warn potential victims about the methods and goals of foreign governments. The "attack surface" for foreign threats against the U.S. increasingly includes entities— business, organizations, people—that are not part of the U.S. government or military. But too many of these potential victims are unaware of threats against them, are not warned with intelligence reporting about such threats, and lack information about options to protect themselves. (Read entire article here.)
Forgotten U-2 pilots helped end the Cuban Missile Crisis 60 years ago - Stars and Stripes, 23 Oct 22
Gerald McIlmoyle had an incredible view of the world and no time to enjoy it. Some 13 miles below him, the green island of Cuba stood out against the blue waters of the Caribbean Sea, but he was focused on his perilous mission. It was Oct. 25, 1962, and the U.S. Air Force captain was piloting a U-2 spy plane on the edge of Earth's atmosphere, taking high-resolution images of nuclear missile sites on the island nation about 100 miles from Florida. The world teetered toward total destruction as tensions escalated between the United States and Soviet Union during the Cuban missile crisis 60 years ago this week. As McIlmoyle snapped photos, a flash of light caught his eye. The Soviet and Cuban militaries had launched a pair of surface-to-air missiles. Thankfully, a course correction he'd made moments earlier caused the missiles to miss his plane. (Read entire article here.)
---
Video: The Intersection: Espionage threats, tech, and algorithms (29 mins) - In-Q-Tel, 18 Oct 22
The history of the intelligence community is long and complex. As the world becomes increasingly digital, open communication is more important than ever. Today, intelligence agencies rely heavily on algorithms to analyze data and predict future events. But this approach has its drawbacks. For example, algorithms can be biased and easily manipulated by those in power. This history lesson is just the beginning of a much larger conversation about the future of American intelligence. In this IQT video episode we discuss this important topic with Dr. Amy Zegart, the Morris Arnold and Nona Jean Cox Senior Fellow at the Hoover Institution, senior fellow at the Freeman Spogli Institute for International Studies, professor of Political Science by courtesy at Stanford University, and a contributing writer at The Atlantic. She joins Steve Bowsher to discuss how technology is changing the nature of intelligence and explores the issues of traitors, congressional oversight, and covert action. Listen in to hear about the challenges and opportunities facing the intelligence community as it adapts to a world where emerging technologies are rapidly changing. (Watch here.)
Video: 39 of the Best - Women in SIGINT trained and armed for undercover war in France - National Museum of Computing, 18 Oct 22 (60 mins)
Signals intelligence (SIGINT) played a pivotal role in WWII but while the technological achievements are well documented the agents whose missions - and lives - depended on it get overlooked. Britain's Special Operations Executive was one of the War's best-known clandestine forces and France its largest operation. Historian Dr Kate Vigurs in her new book - Mission France: The True Story of the Women of SOE - collects the interconnected stories of 39 of these secret agents for the first time: women selected from all walks of life who risked betrayal and death for freedom. (Watch here.)
Report: Al-Shabaab, the Branch of al-Qaeda in Somalia and the Horn of Africa - The Meir Amit Intelligence and Terrorism Information Center, 24 Oct 22
The al-Qaeda leadership devoted the seventh issue of its magazine One Nation (al-Ummah al-Wahida), issued in August 2022, to Somalia. It predicted the al-Shabaab, its branch in Somalia, would soon be victorious, overthrow the government, take control of Mogadishu and expel the foreign forces. Al-Shabaab was established in 2006 as a local militia and joined al-Qaeda in 2012. It has been waging a military campaign against the Somali government and the forces that support it, and the organization's leaders have declared their objective is to overthrow the Somali government and take control of the country. In the meantime, al-Shabaab has gained in strength outside Somalia as well, and in recent months its operatives infiltrated Ethiopia and have also renewed activity in northeastern Kenya. Somali President Hassan Sheikh Mohamud formulated a three-pronged strategy to weaken al-Shabaab and repel its forces from Mogadishu and the surrounding regions: a military effort, an economic effort to cut off the organization's funding and an ideological-media effort to fight the organization's extremism. The ideological-media effort is headed by Mukhtar Robow, former deputy head of al-Shabaab, who defected in 2017. In ITIC assessment, in the wake of its going increase in strength, al-Shabaab can be expected to continue its efforts to overthrow the Somali government, cause conflict and discord and damage support for the government. It will attempt to increase its activities in northeastern Kenya and continue its efforts to prevent the establishment of an Ethiopian security zone inside Somalia along the border between the two countries. (Full report here.)
Audio: CIA - The History - American History Hit, 19 Oct 22 (43 mins)
When the Central Intelligence Agency was created by President Truman in 1947, it was the latest incarnation of an American intelligence-gathering service. Rhodri Jeffreys-Jones tells Don about the evolution that led to the creation of the CIA and the often controversial covert operations it has undertaken in the name of US national security. (Listen here.)
Infographic and Report: All of the World's Spaceports on One Map - Visual Capitalist (18 Oct 22)
From Sputnik 1 to today's massive satellite constellations, every object in space was launched from just a handful of locations. This is a comprehensive look at the world's spaceports (both orbital and sub-orbital) as well as ballistic missile test sites. Access visual tool and full report here.)
Video: How the NSA Is Guiding Software Supply Chain Security (4 mins) - Acceleration Economy (17 Oct 22)
In episode 31 of the Cybersecurity Minute, Chris Hughes explains the recent release from the National Security Agency (NSA) of software supply chain security guidance for developers. Chris says this comes in response to many large supply chain organizations falling victim to software compromises. Watch video here.)
Report: Deception Detection - Rand Corporation (19 Oct 22)
A group of RAND Corporation researchers found that machine-learning (ML) models can identify signs of deception during national security background check interviews. The most accurate approach for detecting deception is an ML model that counts the number of times that interviewees use common words. See full report here.)
See also: Looking for Lies An Exploratory Analysis for Automated Detection of Deception - Rand Corporation, 19 Oct 22
Report: Around the Halls - Assessing the 2022 National Security Strategy - Brookings Institute (14 Oct 22)
On October 12, 2022, U.S. President Joe Biden's administration released the 2022 National Security Strategy (NSS). Brookings experts reflect on the document and what it reveals about the United States' security trajectory. See full report here.)
True Intelligence Operations in Film - Operation Mincemeat - Director John Madden (U.S. Release 11 May 2022)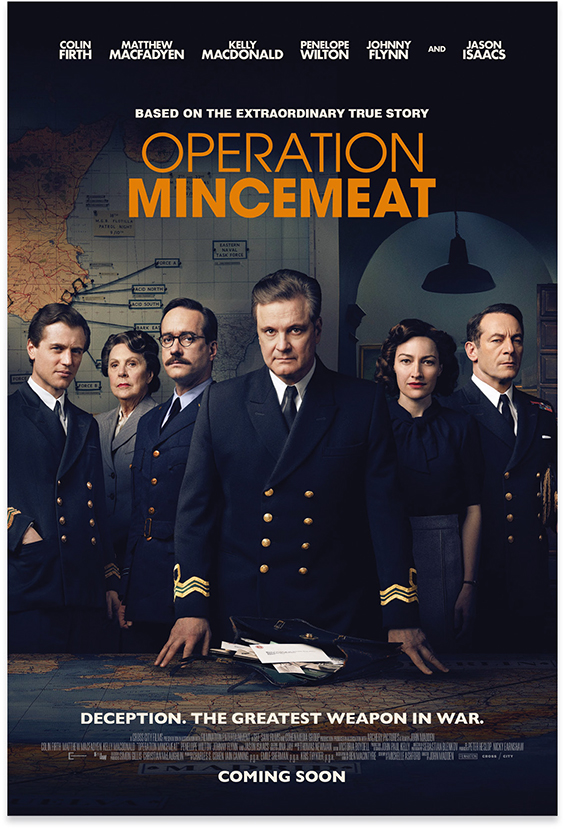 It's 1943. The Allies are determined to break Hitler's grip on occupied Europe, and plan to launch an all-out assault on Sicily, but they face an impossible challenge - how to protect the invasion force from potential annihilation. It falls to two remarkable intelligence officers, Ewen Montagu (Colin Firth) and Charles Cholmondeley (Matthew Macfadyen) to dream up the most inspired and improbable disinformation strategy of the war - centered on the most unlikely of secret agents: a dead man. Operation Mincemeat is the extraordinary and true story of an idea that hoped to turn the tide for the Allies - taking impossibly high risks, defying logic, and testing the nerves of its creators to breaking point. Fun fact: James Bond creator Ian Fleming, a military intelligence officer at the time, played a role in the actual operation.

More about this true-to-life film here.

Roger Ebert Review of the film here.
Intelligence in History - A Collection of Recent Articles
Intelligence in Pop Culture - Award-winning Game - Codenames - by author Vlaada Chvátil (2005)
In this international-award winning deductive word and card game, two rival spymasters know the secret identities of 25 agents. Their teammates know the agents only by their CODENAMES. The teams compete to see who can make contact with all of their agents first. Spymasters give one-word clues that can point to multiple words on the board. Their teammates try to guess words of the right color while avoiding those that belong to the opposing team. And everyone wants to avoid the assassin. Win or lose, it's fun to figure out the clues. For reviews and more information, click here.)
Walking Tours - Washington, DC - Sundays (Dates/Times Vary)
Former intelligence officers guide visitors on two morning and afternoon espionage-themed walking tours: "Spies of Embassy Row" and "Spies of Georgetown." For more information and booking, click here or contact rosanna@spyher.co
---
From Warsaw with Love: Polish Spies, the CIA, and the Forging of an Unlikely Alliance
by John Pomfret
(Henry Holt and Co., 26 Oct 22)
Spanning decades and continents, from the battlefields of the Balkans to secret nuclear research labs in Iran and embassy grounds in North Korea, this saga begins in 1990. As the United States cobbles together a coalition to undo Saddam Hussein's invasion of Kuwait, six US officers are trapped in Iraq with intelligence that could ruin Operation Desert Storm if it is obtained by the brutal Iraqi dictator. Desperate, the CIA asks Poland, a longtime Cold War foe famed for its excellent spies, for help. Just months after the Polish people voted in their first democratic election since the 1930s, the young Solidarity government in Warsaw sends a veteran ex-Communist spy who'd battled the West for decades to rescue the six Americans. John Pomfret's gripping account of the 1990 cliffhanger in Iraq is just the beginning of the tale about intelligence cooperation between Poland and the United States, cooperation that one CIA director would later describe as "one of the two foremost intelligence relationships that the United States has ever had." Pomfret uncovers new details about the CIA's black site program that held suspected terrorists in Poland after 9/11 as well as the role of Polish spies in the hunt for Osama bin Laden. In the tradition of the most memorable works on espionage, Pomfret's book tells a distressing and disquieting tale of moral ambiguity in which right and wrong, black and white, are not conveniently distinguishable. As the United States teeters on the edge of a new cold war with Russia and China, Pomfret explores how these little-known events serve as a reminder of the importance of alliances in a dangerous world.
Order book here.
---
Stars and Spies: The Astonishing History of Espionage and Show Business
by Christopher Andrew and Julius Green
(Vintage Digital, 14 Oct 21)
Written by two experts in their fields, Stars and Spies is the first history of the extraordinary connections between the intelligence services and show business. We travel back to the golden age of theatre and intelligence in the reign of Elizabeth I. We meet the writers, actors and entertainers drawn into espionage in the Restoration, the Ancien Régime and Civil War America. And we witness the entry of spying into mainstream popular culture throughout the twentieth century and beyond - from the adventures of James Bond to the thrillers of John le Carré and long-running TV series such as The Americans.
Order book here.
---
A Spy in Plain Sight: The Inside Story of the FBI and Robert Hanssen―America's Most Damaging Russian Spy
by Lis Wiehl
(Pegasus Books, 03 May 22)
As a federal prosecutor and the daughter of an FBI agent, Wiehl has an inside perspective. She brings her experience and the ingrained lessons of her upraising to bear on her remarkable exploration of the case, interviewing numerous FBI and CIA agents both past and present as well as the individuals closest to Hanssen. She speaks with his brother-in-law, his oldest and best friend, and even his psychiatrist. In all her conversations, Wiehl is trying to figure out how he did it—and at what cost. But she also pursues questions urgently relevant to our national security today. Could there be another spy in the system? Could the presence of a spy be an even greater threat now than ever before, with the greater prominence cyber security has taken in recent years? Wiehl explores the mechanisms and politics of our national security apparatus and how they make us vulnerable to precisely this kind of threat. Wiehl grew up among the same people with whom Hanssen ingratiated himself, and she has spent her career trying to find the truth within fractious legal and political conflicts. A Spy in Plain Sight reflects on the deeply sown divisions and paranoias of our present day and provides an unparalleled view into the functioning of the FBI, and will stand alongside pillars of the genre like Killers of the Flower Moon, The Spy and the Traitor, and No Place to Hide.
Order book here.
---
Call For Articles: AFIO Journal, The Intelligencer
For the past four years, AFIO has included in The Intelligencer a series of articles on "when intelligence made a difference." Written by scholars, intelligence practitioners, students, and others, they cover events from ancient times to the modern world and in many countries. AFIO is soliciting articles for future issues. Most articles run between 2,000 and 3,000 words, although some are longer or shorter. If you have an idea for an article that fits the theme, email senior editor Peter Oleson at peter.oleson@afio.com.
Call For Assistance: Researcher Seeks Copy of 1941 FBI Booklet
An AFIO member who is conducting research on the beginnings of industrial security programs before WWII is in search of a copy of a 55-page FBI booklet, dated December 1941, titled "Suggestions for Protection of Industrial Facilities." Digital copies or photocopies are acceptable. Please contact winseditor@afio.com with any information.
Call For Papers: Urban Security 2023 in Journal of Strategic Security Special Issue
The special issue will look at a range of urban security issues including urban warfare, urban insurgency, urban crime and insecurity, operating in dense urban terrain (DUT), mega cities, and subterranean spaces (SubT), and in the Urban-Littoral interface, as well as the protection of the populace. Papers addressing the full range of violent actions from high intensity crime to civil strife and other situations of violence, non-international armed conflict (NIAC), and large scale combat operations (LSCO) during international armed conflict (IAC) are encouraged. All papers submitted to the special issues issue will be subject to double-blind peer review. Below is a list of urban security issues the special issue editors would like to see submissions on:

· Conflict in Megacities (10 million or more)
· Police-Military Intelligence interface in urban conflict
· Insurrection
· Urban-littoral nexus
· Information warfare in support of urban conflict
· Urban insurgency
· Urban Terrorism
· Criminal governance in cities (Slums/Favelas)
· Criminal Armed Groups (CAGs) in cities
· Social Media and Urban Conflict
· Climate Conflict in Cities (Urban-Climate Conflict Nexus)
· Urban counterterrorism
· Urban counterinsurgency (COIN)
· Urban Riots and Public Order
· Intelligence for Urban Operations (e.g., GeoINT)
· Urban policing
· Urban critical infrastructure protection including urban cyber security
· Humanitarian operations and protection of civilians in urban conflict
· Medical and humanitarian response to urban crises and disasters

Abstracts due 1 February 2023; draft submissions due 1 June 2023. (See full submission details here.)
---
Retired Federal Government Employees Wanted - National Security Agency - Fort Meade, Maryland
The National Security Agency (NSA) may occasionally need skilled civilian retirees to augment the existing work force on high priority projects or programs. In order to fill these temporary positions quickly, we need to know who may be interested and available to return to work with us on a short notice basis as well as their skills. Retirees provide expertise and corporate knowledge to temporarily support mission requirements, manpower shortfalls, and/or mentor the next generation of Agency employees. Salary Range: $86,335 - $170,800.
Additional Information and Application here.

Assistant/Associate Professor of Intelligence Studies (Global Security and Intelligence Studies) - Embry-Riddel Aeronautical University - Prescott, Arizona
Embry-Riddle Aeronautical University's Prescott, Arizona campus is accepting applications for a tenure-track assistant or associate-level professor of intelligence studies to teach intelligence courses to students in the Global Security and Intelligence program. The successful candidate will teach students about the intelligence community, strategic intelligence, the intelligence cycle and intelligence analysis, writing, and briefing. Prior experience working in the intelligence community is strongly preferred. We are interested in candidates with teaching acumen in intelligence analysis and writing using structured analytical techniques.
Additional Information and Application here.

Teaching Associate - Intelligence and National Security Studies - Coastal Carolina University, South Carolina
The Department of Intelligence and Security Studies ( ISS ) at Coastal Carolina University is accepting applications for a pool of Teaching Associates (part-time adjunct faculty) to teach introductory and undergraduate elective course offerings for the program beginning in August 2022. While the ad is open to any specialization within the field of study, courses in the areas of homeland security, law enforcement intelligence, counter-narcotics, and cybersecurity are of particular interest. Course offerings can be in a face-to-face or synchronous online modality. To be considered, candidates must have a masters or doctoral degree in a relevant subject area. Prior professional experience in the profession, as well as prior teaching experience are preferred.
Additional Information and Application here.

Assistant Professor of Intelligence and National Security Studies - University of Texas, El Paso
The Department of Criminal Justice is seeking to fill one full-time tenure-track position beginning Fall 2023 at the Assistant Professor level. Responsibilities include conducting and publishing scholarly research, seeking extramural funding, teaching face-to-face and online courses, and service to the department, university, and profession. Applicants must have a Ph.D. in a closely related field in Intelligence and/or Security Studies from an accredited university (e.g., criminal justice, political science, public policy, security studies). ABD applicants will be considered if doctorate will be in hand by Fall 2023. Active research agenda and published scholarly journal articles are required to apply. Applicants with only a J.D., Psy.D., or Ed.D. will not be considered. All research/teaching areas of intelligence/national security studies will be considered, but preference will be given to candidates who have demonstrated teaching and/or research areas in at least one of these areas: Homeland Security, Intelligence Analysis, or Terrorism/Counter-Terrorism.

Additional information and application here.
Adjunct Professor - The Institute of World Politics, Washington, D.C.
The Institute of World Politics (IWP) in Washington, D.C. seeks an adjunct professor to teach its graduate course on the Russian intelligence and security services. The course is an elective in the Strategic Intelligence Studies (SIS) Master's degree and Counterintelligence Certificate programs. The four-credit course consists of 14 weekly, three-hour instructional meetings, plus a final examination, and a research paper. A course syllabus and lecture materials are available for use. Candidates should possess professional experience (at least 15 years) as a professional intelligence officer involved in operations, or analysis with knowledge of the Soviet and Russian intelligence and security services, and preferably teaching experience at the university level, either undergraduate or graduate.
Resumes may be sent to Prof. David Thomas at DThomas@iwp.edu, cc to John Sano at JSano@iwp.edu.
Assistant Program Director/Lecturer in Security and Intelligence - Johns Hopkins University, Washington, DC
The Johns Hopkins University invites applications for the position of Assistant Program Director in the area of Security and Intelligence. This position will support the MA in Global Security Studies (primary), MS in Intelligence Analysis, and MS in Geospatial Intelligence programs in the Center for Advanced Governmental Studies, within the Krieger School of Arts & Sciences' Advanced Academic Programs Division. Reporting to the Director of the Center for Advanced Governmental Studies and Associate Dean for Graduate & Professional Programs, the Assistant Program Director will contribute to the excellence of the programs and will demonstrate and support ongoing innovation in the curriculums.
The Assistant Program Director will have the following academic and administrative responsibilities: Teach 6 graduate courses per year, advise students, provide input on the curriculums and new course development, other academic duties normally performed by faculty, assist with the management of degree concentrations or areas of focus, participate in the adjunct faculty hiring and development processes, assist the Program Directors with administrative tasks, other administrative duties as assigned.
Minimum Qualifications: PhD in political science, international affairs, security studies, intelligence, or other field relevant to the interdisciplinary nature of global security studies; other terminal degrees in these or related fields may be considered, 1-3 years of higher education teaching experience online and/or at the graduate level, the ability to teach a variety of courses in the global security fields, including research-focused courses, strong organizational skills, excellent oral and written communication skills.

Additional information and application instructions here.
---
Dale Johnson — CIA Officer

Dale Edward Johnson, age 89, passed peacefully at his home in Bloomfield Village, Michigan on 12 October 2022. Dale graduated from North River High school in Brooklyn, Washington, University of Washington Engineering School, Juris Doctorate from George Washington Law School, MIT Sloan School, and numerous leadership and management programs at Harvard University. He served in the United State Navy, the Central Intelligence Agency (10 years covert and later overt), as a Senior Level Executive with General Motors for 19 years, DJ Associates, Inc, and Zamplas Johnson, P.C. Dale had a wide circle of friends from all walks of life, including numerous foreign dignitaries across the globe from his days serving his country in the CIA and corporate life. A memorial service will be held Thursday, November 3, 11am at Kirk in the Hills Presbyterian Church, 1340 W. Long Lake Road, Bloomfield Hills.
Paul Pantano — Designer of CIA Headquarters

Paul Pantano Sr., 92, passed away on 16 October 2022, in Naples, FL. After graduating from the University of Connecticut with a B.S. in civil engineering, Paul started his career in New York City. He was involved in designing several well-known buildings, including the UN Library and CIA Headquarters. Paul's family will receive friends on Saturday, October 29, 2022 from 9:45AM to 10:45AM at Carmon Funeral Home, 807 Bloomfield Ave., Windsor, CT 06095. A Mass of Christian Burial will follow at 11:00AM at St. Damien of Molokai Parish-St. Gabriel Church, 379 Broad St., Windsor. Burial will follow at Mt. Saint Benedict Cemetery, 1 Cottage Grove Road, Bloomfield, CT 06002.
Eileen Reser — CIA HR Manager and Careerist

Eileen Veronica O'Brien Reser, 80, passed on 7 October 2022. In 1985, Eileen relocated to northern Virginia and began a distinguished career as a human resources manager with the Central Intelligence Agency. She attended Trinity College in Washington D.C. and proudly graduated in 1992 with her bachelor's degree. Eileen enjoyed a long and fulfilling career, proudly serving her country with the CIA, and retired in 2007. A mass of Christian burial was held Monday October 17, 2022, at 1:00 pm at St. John the Apostle Catholic Church, 101 Oakcrest Manor Drive NE, Leesburg.
Dr. William Marquitz — CIA and DARPA Satellite Designer

Dr. William Thomas Marquitz, 81, of Edenton, NC passed 10 October 2022 in ECU Health Chowan Hospital. Receiving his Bachelor's Degree from the University of Dayton and his Masters and PhD. in Electrical Engineering and Computer Science from Michigan State University, Dr. Marquitz then began a distinguished career spanning over 30 years with the Central Intelligence Agency, the Department of Defense, and the Defense Advanced Research Projects Agency, and was instrumental in the development of "protective" and Lite Weight satellite systems. A Funeral Mass will be held Saturday, October 29, 2022 at 10 a.m. in St. Anne Catholic Church. A private burial will be held in the church memorial garden.
Kathleen Gleason — NSA Careerist

Kathleen Ann Gleason, 76, of Salisbury, MD, passed away on 11 October 11, 2022. Kathleen retired from the National Security Agency in 2008. Arrangements by Holloway Funeral Home, PA, 501 Snow Hill Road, Salisbury, MD 21804.
Wendy Goldberg — CIA Careerist, Editor

Wendy Goldberg, 80, of Potomac, Maryland died at home on Wednesday, 12 October 2022 from multiple health complications surrounded by her loving family. She graduated from Haverford High School at the age of 16 and went to Penn State University where she majored in teaching and foreign languages. She earned her Master's Degree in Language and Linguistics from Georgetown University. During the mid-1980s, she accepted a position as an Editor at the Central Intelligence Agency where she remained and made an important contribution to US security for over 30 years. The major challenge was that if one is editing the work of very bright people who have more than a vested interest in what they say, and they are informing senior US government officials, including the President, an Editor has to be not just accurate but able to do the job without offending the author. This Wendy was able to do very well indeed. A funeral service for Wendy was held at Temple Beth Ami, 14330 Travilah Road, Rockville, Maryland on Sunday, 16 October 2022 at 2 p.m. in the afternoon. Interment followed at the Garden of Remembrance Memorial Park 14321 Comus Road, Clarksburg, MD.
---
03 Nov 22 (Thursday) - Virtual - The San Antonio AFIO Chapter on the Chinese Military and the CCP
The program will be on the Chinese military, which is an arm of the Chinese Communist Party. The Chinese military executes the policies and interests of the Communist Chinese Party. China has successfully begun an expansion of their military and has great potential to become militarily more powerful than the United States.
Questions or more information from John Franklin, Chapter President, 210-863-0430; satxafio@gmail.com
04 Nov 22 (Friday), 10:30am - 2pm EDT - Tysons Corner, VA - "Spy Hunt: A Conversation with Paul Redmond and Colleagues" and "Reynolds on 'Need to Know'" - at this AFIO National In-Person Fall Luncheon
A Special AFIO National In-Person Fall Event on Friday, 04 Nov 22 - Tysons-McLean, VA - 11 a.m. to 2 p.m. Spy Hunt: A Conversation with Paul Redmond and Colleagues

Panelists/Co-Presenters: Paul Redmond, Lucinda (Cindy) Webb, Michael Sulick, and other senior intelligence and counterintelligence experts TBA

All named panelists confirmed. MORNING PANEL runs 11 a.m. - Noon. Paul Redmond served 34 years in CIA's Clandestine Service; Lucinda (Cindy) Webb is a former CIA SIS Officer with 32 years of service which included five years as CIA's Chief of Counterintelligence and Associate Deputy Director for Operations - Counterintelligence; and Dr. Michael J. Sulick is a retired intelligence operations officer who worked for the CIA for 28-years. He served as Chief of CIA counterintelligence from 2002 to 2004 and as Director of the National Clandestine Service. More speaker details on registration site.

NOTE: The morning speakers and panel presentations are OFF THE RECORD.

No recordings, tweets, blogposts, articles, or interviews based on these presentations or the Q&A that follows are permitted.
Afternoon speaker: Nicholas Reynolds - CIA Historian/Author - discussing his just released Need to Know: World War II and the Rise of American Intelligence.

Timing: Check-in and badge pickup for Registered Attendees begins at 10:30 a.m. NO registrations or walk-ins at hotel.

Co-presentations by Paul Redmond, Cindy Webb, Michael Sulick, and others begin at 11:00 a.m.; Lunch is served from noon-1:00 p.m.; Nicholas Reynolds is scheduled for 1:00 p.m.; event ends at 2:00 p.m.
Space is limited. Preregistration closes at 5:00 p.m. on 31 Oct 22.

Cancellation:  AFIO must commit to the hotel facilities and, therefore, regrets it must charge a cancellation fee.  100% refund until 27 October.  No refunds or cancellations after midnight 27 October. You will receive a donation receipt for fees forfeited.  A donor statement will be sent showing that you made a "gift to AFIO" in such instances.  Gifts to AFIO are tax-deductible.

All attendees must be members of AFIO or accompanied by a member of AFIO. If you would like to learn more about becoming a member, please visit our website, www.afio.com.  If you have any questions regarding membership, please contact our office at 703-790-0320 or email us at afio@afio.com.

Register here while space remains.

Luncheon prices are $55 for Members; $70 for nonmember guests and all Subscribers.
Location: DoubleTree by Hilton Hotel, McLean-Tysons, VA Address 1960 Chain Bridge Rd McLean, VA 22102. Though we do not provide special overnight room rates, if you wish to make room reservations at the hotel, do so here.

Questions regarding the event? Email events@afio.com
05 Nov 22 (Saturday), Noon EDT - AFIO North Florida Chapter Luncheon features Bill Dayhoff, Former FBI
The North Florida Chapter AFIO will be hosting our next meeting on Saturday November 5th. Our guest speaker will be Mr. Bill Dayhoff, retired FBI, discussing the past and present roles of the FBI. We will be meeting at the Bonefish Grill Mandarin, 10950 San Jose Blvd, Jacksonville, FL 32223, beginning at Noon.

Schedule: 11:30-12:05 Social Time; 12:05-12:10 Call to Order, Pledge Of Allegiance, Invocation; 12:10-12:20 Intro of guests & new members; 12:20-1:00 Luncheon; 1:00-1:15 Post-lunch break; 1:15-2:00* Speaker - Bill Dayhoff; 2-3* Lightning Round

Any questions, please contact Ken Meyer, Secretary, kmeyer12@bellsouth.net
09 Nov 22 (Wednesday) (tentatively), 9 at 6:30pm EST - Zoom - Neil Couch, State Department, speaks about Russia and China's Nuclear Nonproliferation Efforts at this AFIO Atlanta Event
Mr. Neil Couch, U.S. Department of State (current) will speak about contemporary diplomatic and military issues surrounding Russia and China's nuclear nonproliferation efforts.

Mr. Couch currently serves as the Director of the Office of Verification, Planning, and Outreach (VPO). The Office of VPO serves as the verification and strategic planning unit of the The Bureau of Arms Control, Verification and Compliance (AVC). VPO identifies solutions to the arms control challenges of today and tomorrow, and leads external engagement with the non-governmental community, Congress, members of the media, and the general public. VPO also manages the Secretary of State's International Security Advisory Board (ISAB) and the Key Verification Assets Fund. Deputy Director, Office of Strategic Stability and Deterrence. Prior to this appointment, he served as the Deputy Director for the Office of Strategic Stability and Deterrence, as well as the U.S. Chairman of the Conforming Group on the New START Treaty delegation. In this role, Mr. Couch manages the interagency treaty implementation process for U.S. Government decisions and correspondence relating to the New START Treaty and the Intermediate-Range Nuclear Forces (INF) Treaty. He also served as the U.S. Head of Delegation to the International Partnership for Nuclear Disarmament Verification.

Social: TBD.
Questions, Suggestions? Contact Grant at grant@afioatlanta.com or Brian Hooper at brian@afioatlanta.com
12 Nov 22 (Saturday), 11:30 am EDT - Indialantic FL - AFIO Florida Satellite Chapter Luncheon features Capt Jason Schneider discussing "The Role of NOTU in Supporting Navy Fleet Ballistic Missile Development."
At this in-person luncheon event, the AFIO Florida Satellite Chapter hosts Captain Jason J. Schneider, commanding officer of the Naval Ordnance Test Unit (NOTU) at Cape Canaveral, Florida, who will discuss the role of NOTU in supporting Navy Fleet Ballistic Missile Development.
Location: The Doubletree Hotel, 1665 N. Route A1A, Indiatlantic/Melbourne, FL 32903. Location here.

A sit down lunch will be followed by Captain Schneider's presentation. Cost is $35.00 per person.
Inquiries or reservations to Larry Sanford, President, AFIO FSC, at afiofloridasatellitechapter@gmail.com.
17 Nov 22 (Thursday), 11:30 am RMT - Colorado Springs, CO - AFIO Rocky Mountain Chapter features Schuyler Foerster on "The War in Ukraine: Update, Prospects, and Issues Ahead."
Schuyler Foerster will summarize where we are in the war as of mid-November, examine the prospects for either side's victory, defeat, stalemate, escalation, or negotiation, and highlight the issues ahead for all of us in the West. Mr. Foerster is emeritus professor of political science at the U.S. Air Force Academy, where he served as the Brent Scowcroft Professor for National Security Studies from 2010-2016. He also teaches as a visiting professor at Colorado College and at Masaryk University, Czech Republic. During his 26-year military career, he served in several assignments as a senior advisor in security and arms control policy. A graduate of the U.S. Air Force Academy, he holds a doctorate from Oxford University in politics and strategic studies and was a national security fellow at Harvard University's Kennedy School of Government. For more information, please contact steve13507@gmail.com
Saturday, 19 November 2022, 2 pm ET - Kennebunk, ME - AFIO Maine hosts Amb. Robert Cekuta discussing The Caucasus and Central Asia: Russia's Southern Front
Russia's invasion of Ukraine unmasked the Kremlin's ambitions towards all the states that were once part of the Soviet Union or Russian Empire. The countries of the Caucasus and Central Asia, many of which are rich in oil, gas, uranium, and other resources, are working to maintain the independence they won just over 30 years ago. But Russia's ambitions are not the only threat; there are also Chinese and Iranian ambitions, Turkey's evolving role, and the threats of terrorism, religious extremism, and drug trafficking. While almost half a world away, the U.S. has its own geostrategic interests in the region as well and many of these countries look for a more active U.S. engagement. Ambassador (ret.) Robert Cekuta will look at this evolving situation in a strategic part of the world and what the United States is, and should be doing to advance our interests there.
The meeting is open to the public and will begin at 2:00 p.m. at the Program Center of the Brick Store Museum, 4 Dane Street, Kennebunk, Maine 04043. A Question and Answer period will follow the presentation. No reservations are required
01 Dec 22 - Virtual - The San Antonio AFIO Chapter program features Video on China's Oil and Gas Silk Road Initiative
The program will be a very current educational video on China's Oil and Gas "problem." The program covers China's motives for the Silk Road initiative, expansion into the South China Sea and development of overseas installations.

Questions or more information from John Franklin, Chapter President, 210-863-0430; satxafio@gmail.com.
Thursday, 8 December 2022, noon - San Francisco, CA - The AFIO Andre LeGallo San Francisco Chapter hosts Gurvais C. Grigg, former FBI Agent and current Chief Technology Officer, Chainanalysis. Time: Noon (Pacific Time) Topic: The use of crypto currencies by state and non-state actors.
Speaker Bio: Mr. Gurvais C. Grigg is a bilingual technology executive and recognized thought leader with over 28 year of public and private sector experience leading complex organizations, investigations and technical programs. Mr. Grigg retired from the FBI after 23 years of service and joined Chainanalysis as the Global Public Sector CTO. He is responsible for connecting global governments with the cryptocurrency industry and providing them with the best data and tools to manage risk, address threats, and conduct effective investigations.

Registration: This meeting will be held via zoom. Registrants will receive a zoom link. Reservation and pre-payment is required before November 30, 2022. Please contact Mariko Kawaguchi, Board Secretary at afiosf@aol.com or Mariko Kawaguchi, c/o AFIO, P.O. Box 117578, Burlingame, CA 94011 for questions. Students: please e-mail your school ID to get sponsored. Register here.

See the AFIO Calendar of Events for scheduling further in the future.
---
27 Oct 22 (Thursday), 10-11 ET - Online Event - National Cyber Director Chris Inglis and Deputy Assistant to the President and Deputy National Security Advisor for Cyber and Emerging Technology.
Please join CSIS for a conversation with Chris Inglis, National Cyber Director, and Anne Neuberger, Deputy Assistant to the President and Deputy National Security Advisor for Cyber and Emerging Technology. The discussion will focus on the Biden-Harris Administration's work to strengthen U.S. cybersecurity. (Registration and more information here.)
27 Oct 22 (Thursday), Noon-1pm – Washington, DC – Virtual Spy Chat with Chris Costa with Carol Rollie Flynn – Virtual International Spy Museum Program
Join us for an online discussion of the latest intelligence, national security, and terrorism issues in the news. Spy Museum Executive Director Chris Costa, a former intelligence officer of 34 years, will be joined by Carol Rollie Flynn, president of the Foreign Policy Research Institute. A 30-year veteran of the Central Intelligence Agency (CIA), Flynn held senior executive positions there including Director of CIA's Leadership Academy, Director of the Office of Foreign Intelligence Relationships, Associate Deputy Director of the National Counterterrorism Center, Executive Director of the CIA Counterterrorism Center, and Chief of Station in major posts in Southeast Asia and Latin America. She has extensive experience in overseas intelligence operations, security, and counterintelligence. Flynn is also an adjunct Professor at Georgetown University's School of Foreign Service/Security Studies Program where she has co-directed the National Security Critical Issue Task Force (NSCITF). She has also taught at the Fordham University Graduate School of Business and previously served as adjunct staff at Rand Corporation. She serves on the Advisory Board of the International Spy Museum and is a member of the Council on Foreign Relations. Event information at www.spymuseum.org.
27 Oct 22 (Thursday), 4:30 - 6:30 pm EDT - Hanover, MD - Cocktails and Codebreakers Event
Please join the National Cryptologic Foundation (NCF) and the Intelligence and National Security Alliance (INSA) for Cocktails and Codebreakers, a celebration of women in codebreaking.

Pay tribute to the rich history of trailblazing women in cryptology, to include recognizing the United States Postal Service's launch of a Women Cryptologists of WWII stamp.

Fireside Chat: Ms. Jen Easterly, Director, Cybersecurity and Infrastructure Security Agency (CISA) with Mr. Greg Myre, NPR National Security Correspondent, as moderator.

Special Guest Speaker: Mr. Bill Nye will speak about his mother who was a WWII cryptologist with the WAVES.
Where: The Hotel at Arundel Preserve: 7795 Arundel Mills Blvd, Hanover, MD 21076. Google map link for driving directions and location.

More info here
Register here

Questions to R. Diamond at rdiamond@cryptologicfoundation.org
30 Oct 22 - Online Event - Special Forces Berlin: Clandestine Cold War Operations - The Cold War Museum
During the Cold War, a unique US Army Special Forces Detachment was stationed in West Berlin. Initially known as Detachment "A"- Berlin, it existed for one reason: to cause havoc behind the enemy's lines should there be Soviet/Warsaw Pact attack on NATO in Europe. Like all Special Forces units, Det-A traced its origins to the Office of Strategic Services, but its methods of operation were unlike any other. Former Special Forces Berlin member and CIA field officer James Stejskal will draw from his book Special Forces Berlin as he tells us about the unit's origins and the reasons for its existence through recently declassified files and first-person histories of those who served there. Ukraine's swift counter-offensive owes much to U.S. weapons, planning, and intelligence help. But the U.S. Army is benefiting as well: by learning how to move intelligence much faster from satellites to ground units. Part of the answer is planning: making sure satellites are available to gather data when and where commanders need it. That means "trying to locate where the targets are now in the targeting board, you know, making sure that the effect that the commander wants on the battlefield is there and it's right there in the stack," said Lt. Gen. Daniel Karbler, the commanding general of U.S. Army Space and Missile Defense Command. (More information and registration here.)
01 Nov 22, 10-1130 am (ET) - Live and Online Event - CISA Strategic Plan for 2023-2025: The Future of U.S. Cyber and Infrastructure Security -
In September 2022, CISA unveiled its first Strategic Plan, guiding the agency's efforts for 2023 – 2025. This plan builds on the Strategic Intent released in August 2019, outlining the roadmap for CISA to achieve its mission as the Nation's cyber defense agency and critical infrastructure security coordinator. It directs four goals defining success for CISA – cyber defense, risk reduction and resilience, operational collaboration, and agency unification. This event will discuss the future of CISA as a leader for cyber and infrastructure security amidst more complex digital and physical threats and provide insights from the agency, the private sector, and the policy arena on the four goals and what they mean to the cybersecurity community. (More information and registration here.)
Saturday, 5 November 2022, 10-4pm - Washington, DC - 16th Annual Parade of Trabants - In Person International Spy Museum Program
Join in the ONLY Trabant Rally in the United States! Celebrate the anniversary of the fall of the Berlin Wall at this festive gathering of the quintessential Cold War car—the Trabant. Despite their questionable performance and smoky two-stroke engines, these little cars are now affectionately regarded as a symbol of East Germany and the fall of Communism. Trabants are a rarity here, but on November 5 some of the finest examples in the US will chug their way to the International Spy Museum. Drop in to view the famous "cardboard" cars and other vintage Cold War autos, vans, scooters, and cycles all very far from their original homes, and you can vote on your favorite. The vintage vehicles will be parked around the Museum on L'Enfant Plaza, SW. While the cars are on display, their owners will be on hand to answer queries about how they keep their cars pop popping along. Try your hand at graffiti Berlin-style or see if you can fit into the tiny spaces like those escaping from East Berlin did, all while the Alte Kameraden German Band provides festive music. Support for this program has been provided by a generous grant from the Pritzker Military Foundation, on behalf of the Pritzker Military Museum & Library. (More info and registration at www.spymuseum.org.)
Sunday, 6 November 2022, 9am-4pm - Washington, DC - Girl Scout Day - In Person International Spy Museum Program
Do you have what it takes to be a spy? Find out at Girl Scout Day at the International Spy Museum! Test your troop's tradecraft abilities as you complete a TOP SECRET scavenger hunt throughout the Museum's galleries. Upon completion of your mission, each Girl Scout will receive a special SPY fun patch to commemorate their accomplishment! (More information and registration at www.spymuseum.org.)
08 Nov 22 - Luncheon - Belmont University, Tennessee - A Conversation With Former NSA Director Admiral Michael Rogers
What has the United States learned about cyber security threats and how is it prepared to respond? How do we ensure the nation's competitive ability in the 21st century? These are among the topics the former Director of the National Security Agency and Commander of U.S. Cyber Command, will address at a November 8, 2022 luncheon at Belmont University. Admiral Michael Rogers, a retired Navy four-star, served over three decades as a Cryptologic Warfare Officer, leading to appointment as America's top cryptology and cyber DoD official. Rogers led that effort for four years directing the Defense Department's cyber security mission. The Tennessee World Affairs Council and Belmont University's Center for Global Citizenship invite you to join Admiral Rogers at a luncheon at 11:30 a.m. CT on November 8th. This is your opportunity for first-hand insights and perspectives on the cyber threats facing the U.S. government, businesses and individuals from the expanding universe of virtual threats. The luncheon will be followed by a panel discussion with Admiral Rogers moderated by Congressman Jim Cooper featuring government, industry and academia experts. (More information and registration here.)
Wednesday, 9 November 2022, noon - Washington, DC - Trafficking Data with Aynne Kokas - Virtual International Spy Museum Program
Join Spy Museum Historian and Curator Dr. Andrew Hammond in conversation with Dr. Aynne Kokas, author of Trafficking Data: How China is Winning the Battle for Digital Sovereignty. For over 20 years, Kokas, the C.K. Yen Chair at the University of Virginia's Miller Center, has researched trade between the US and Chinese markets. She has looked at how technology firms in these two countries have exploited government policy (and the lack thereof) to gather information on citizens, putting US national security in jeopardy. Kokas argues that US government leadership failures, Silicon Valley's disruption fetish, and Wall Street's addiction to growth have fueled China's technological goldrush. She believes in turn, that American complacency yields an unprecedented opportunity for Chinese firms to gather data in the United States and quietly send it back to the Chinese government who capitalize on this data for political gain. Program is free of charge but requires advanced registration. (More information and registration at www.spymuseum.org.)
Thursday, 10 November 2022, noon-1pm - Washington, DC - Virtual Spy Chat with Chris Costa with LTG (R) Michael K. Nagata - Virtual International Spy Museum Program
Join us for an online discussion of the latest intelligence, national security, and terrorism issues in the news. Spy Museum Executive Director Chris Costa, a former intelligence officer of 34 years, will be joined by LTG (R) Michael K. Nagata, former Director of Strategic Operational Planning for the National Counterterrorism Center. Nagata is a Senior Vice President and Strategic Advisor for CACI International, which he joined after retiring from the US Army in 2019. He served 38 years of Active Duty, with 34 years in US Special Operations. Early in his military career in 1990, he was selected for a Special Mission Unit, and deployed extensively over several assignments there on contingency and combat operations. From 1999 to 2000, he commanded the Army's Special Forces Qualification Course. In 2000, he returned to a Special Mission Unit as a Squadron Commander and was involved in the initial combat deployments after the 9/11 attacks. After graduating from the National War College in 2003, he served in the Office of the Undersecretary of Defense for Intelligence. From 2005 to 2008, as a Special Mission Unit commander, he led multiple Joint Special Operations Forces task forces across more than a dozen countries in Africa, the Middle East, and Southeast Asia. He then served within the US Intelligence Community in Washington, DC as a Military Deputy for Counterterrorism until 2009. Nagata then deployed again until late 2011 to Pakistan as the Deputy Chief, Office of the Defense Representative at the US Embassy. Upon returning to the US, he served on the Joint Staff as the Deputy Director for Special Operations and Counterterrorism until 2013. From 2013 to 2015 he commanded US Special Operations Command-Central, was responsible for Special Operations across the Central Command, and was heavily involved in the first two years of combat against the Islamic State. (More information and registration at www.spymuseum.org.)
15-17 Nov 22 - Washington, D.C. - Conference: ISS World North America
ISS World North America is the world's largest gathering of North American Law Enforcement, Homeland Security, Defense, Public Safety and other members of the Government Intelligence Community as well as Telecom Operators responsible for cyber threat intelligence gathering, DarkNet monitoring, lawful interception, and cybercrime investigations. ISS World Programs present the methodologies and tools for Law Enforcement, Public Safety and Government Intelligence Communities in the fight against drug trafficking, cyber money laundering, human trafficking, terrorism, and other criminal activities conducted over today's Telecommunications networks, the Internet, and Social Networks. (More information and registration here.)
Thursday, 17 November 2022, noon - Washington, DC - Superspy Science with Kathryn Harkup - Virtual International Spy Museum Program
The world of 007 is known for its guns, gadgets, and grandiose schemes to take over the world, but would any of these weapons, tech, or plots make it in the real world? With her new book, Superspy Science: Science, Death and Tech in the World of James Bond, international bestselling author, Dr. Kathryn Harkup has set out to explore how science and technology intersect with the world of Bond. From Dr. No to Skyfall, Harkup takes on the really difficult questions such as: Will being covered in gold paint really kill you? Can you run across crocodiles? Can you sled in a cello case? And how do suicide pills work and can you survive taking one? Join us for a conversation with Harkup about some of our favorite Bond weapons, technologies, and tactics and just how rooted in reality they are. More info at www.spymuseum.org.
19 Nov 22 - Dinner - Reston, VA - INSA Leadership Dinner with NRO Director Christopher Scolese
Government, industry, and academic leaders will gather to hear The Hon. Christopher Scolese, Director, National Reconnaissance Office (NRO) at INSA's first Leadership Dinner of the 2023 fiscal year. Dr. Scolese will discuss NRO's acquisition needs, current challenges and opportunities, and strategic outlook for the year ahead. Following his prepared remarks, Dr. Scolese will join INSA Chair Tish Long for a moderated Question and Answer (Registration and more details here.)
Tuesday, 22 November 2022, 2-3pm - Washington, DC - SPY with Me | Memory Loss Program - Virtual International Spy Museum Program
SPY with Me is an interactive virtual program for individuals living with dementia and their care partners. Join SPY as we use music and artifacts to explore some of our favorite spy stories. Programs last one hour and are held virtually through Zoom once a month. To register, please email Shana Oltmans at soltmans@spymuseum.org. Free but space is limited. More info at www.spymuseum.org.
29 Nov 22, 0830-1740 (CST) - In-Person event - Huntsville, AL - Geospatial Advantage Conference - NGA
The National Geospatial-Intelligence Agency (NGA) and GEOHuntsville are co-sponsoring the first-ever Geospatial Advantage Conference. With the theme "Why Where Matters," this conference is an opportunity for government agencies non-profit organizations, academia and industry to engage in discussions on partnerships, innovative technologies, and the growing geospatial ecosystem in Huntsville. NGA's Deputy Director Tonya Wilkerson will provide the opening keynote at the conference. Huntsville Mayor Tommy Battle will deliver closing remarks. The event will be hosted by Intelligence National Security Alliance (INSA) President, Suzanne Heckenberg. Discussions will revolve around: Leveraging commercial data and imagery; The future of artificial intelligence; Geospatial learning inside and outside the classroom; Fostering a geospatial ecosystem. Students, academics, government and industry are all invited to join the conversation during this one-day, in-person event at the Jackson Center with a networking social and student career fair immediately to follow. (Registration and more details here.)
12-15 Dec 22 - Conference - San Antonio, TX. - 2022 Department of Defense Intelligence Information System (DoDIIS) Worldwide Conference

The Defense Intelligence Agency (DIA) is excited to welcome participants to the 2022 Department of Defense Intelligence Information System (DoDIIS) Worldwide Conference in San Antonio, Texas! From 12 – 15 Dec 22, senior decision makers, technical experts, and innovators from across the Department of Defense, Intelligence Community, industry, academia, and FVEY partners will come together to collaborate and share unique insights. The theme of this year's conference – Transcending Strategic Competitors through Innovation, Adaptation, and Collaboration – underscores the urgent race to collectively develop and unleash emerging technologies to maintain strategic and tactical advantage. Mission success in an era of strategic competition demands a willingness to embrace disruption and elevating partnerships to serve as overwhelming force multipliers. (Information and registration here.)
19 - 28 Mar 23 - Washington DC to Europe and back - Gary Powers' 10-Day Cold War Espionage Tour
Join author and historian Gary Powers Jr. on this unforgettable 10-day tour of Cold War and Espionage related sites throughout Germany and the Czech Republic

Day 1: Departure from the USA; Day 2: Arrival Berlin; Day 3: Berlin - Potsdam - Berlin; Day 4: Berlin; Day 5: Berlin – Leipzig – Dresden; Day 6: Dresden – Prague – Pilsen; Day 7: Pilsen – Míšov – Pilsen; Day 8: Pilsen – Rozvadov – Nuremberg – Stuttgart; Day 9: Stuttgart – Sinsheim – Speyer – Frankfurt; Day 10: Departure for the USA.

Included Visits: Berlin Wall Memorial • Checkpoint Charlie Museum • German Spy Museum • Military History Museum Gatow • Glienicke Bridge • Hohenschönhausen Memorial • Berlin Stasi Museum • Allied Museum on Clay Allee • Museum in Der Runde Ecke • Leipzig Forum of Contemporary History Museum • Dresden's Military History Museum • Bautzner Strasse Dresden Memorial • KGB Museum • Prague Museum of Communism • Vitkov Hill Nuclear Bunker • Pilsner Urquell Brewery • Atom Museum • Iron Curtain Museum • Nuremberg Trials Memorial • Stuttgart Cold War Bunker • Sinsheim Technik Museum • Speyer Museum of Technology.

Tour Name: Gary Powers' Cold War Espionage Tour - view tour; Group Name: Garypowers.Com Tours; Departure City: Washington, DC; Tour Departure Date: March 19, 2023; Tour Return Date: 28 Mar 23.

Tour Price: $3,950.00 (deduct $950 for land only tour) per person, assumes 2-person registration.

For full description of the activities and accommodations on each of those dates and locations, explore full information about the tour here or Call 1.800.323.4466.

To enroll now for this 2023 once in a lifetime tour, do so here.

ALSO See: "Enemy Territory: The Story of American CIA U-2 Pilot Francis Gary Powers" - A Graphic Novel by Francis Gary Powers Jr. and Walter Pfenninger.
---
---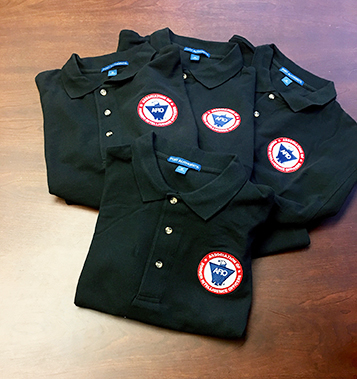 Now available: Black short-sleeved polo shirts with Embroidered AFIO logo
Show your support for AFIO with our new Black Short-sleeve Polo Shirts. Shirts are shrink and wrinkle resistant of fine cotton with a soft, "well-worn, comfy" yet substantial feel. They feature a detailed embroidered AFIO seal. Get a shirt for yourself and consider as gifts for colleagues, family, and friends. Only $50 each including shipping.
Sizes for (M) men, only; Small, Medium, Large, XL, XXL, and XXXL. $50 per shirt.
You may pay by check or credit card. Complete your order online here or mail an order along with payment to: AFIO, 7600 Leesburg Pike, Ste 470 East, Falls Church, VA 22043-2004. Phone orders at 703-790-0320. Questions? Contact Annette at: annettej@afio.com.
---

PopSocket for cellphones or tablets
Show your support to AFIO while enjoying the convenience offered by our AFIO Logo PopSocket. The PopSocket is most commonly used as a stand and as a grip for your mobile phone or tablet; handy for taking selfies, watching videos, and for texting. The PopSocket looks like a small button or sticker which, when closed, sticks flat to your mobile device. However, its accordion-like design enables it to pop open for use. The benefits of using a PopSocket make it a must-have accessory for your mobile phone or tablet. It also aids in keeping your phone from slipping off your hand during use, falling, or breaking.
Price: $15. Order this and other store items online here.
---


Caps - Dark Navy with Navy AFIO Logo
An authentic silhouette with the comfort of an unstructured, adjustable fit. Fabric: 100% cotton. Unstructured. Fabric strap closure with adjustable D-clip. Price: $30. Order this and other store items online here.
---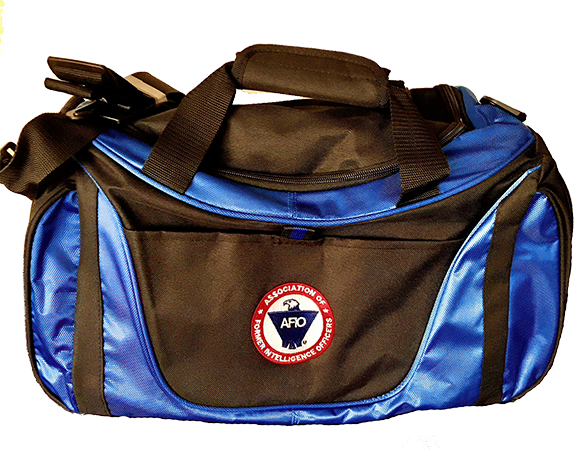 Duffel Bags - Royal Blue and Black with Full Color AFIO Logo This duffel has it all when it comes to value, style and organization.
600 denier polyester canvas with polyester double contrast; D-shaped zippered entry for easy access. Front pocket with hook and loop closure. End mesh pocket Easy-access end pockets. Four durable, protective feet and built-in bottom board for added strength. Web handles with padded grip. Detachable, adjustable shoulder strap.
Dimensions: 11"h x 19.75"w x 9.75"d; Approx. 2,118 cubic inches
Price: $50. Order this and other store items online here.
---
AFIO Mug with color glazed seal.

Made in the U.S.A., dishwasher-safe.
$35 includes shipping.

Sip your morning joe in style or use it to stash pens, cards, paperclips, or candy.
Order this and other store items online here.
---
Guide to the Study of Intelligence...and...When Intelligence Made a Difference
"AFIO's Guide to the Study of Intelligence" has sold out in hard-copy.
It is available in digital form in its entirety on the AFIO website here.

Also available on the website here are the individual articles of AFIO's
history project "When Intelligence Made a Difference" that have been
published to date in The Intelligencer journal. More articles will be appear in future editions.
---
Address Technical Issues Or Unsubscribe
Some features of the email version of the WIN do not work for readers who have chosen the Plaintext Edition, some users of AOL, and readers who access their email using web mail. You may request to change from Plaintext to HTML format here afio@afio.com. For the best reading experience, the latest web edition can be found here: https://www.afio.com/pages/currentwin.htm
To unsubscribe from the WIN email list, please click the "UNSUBSCRIBE" link at the bottom of the email. If you did not subscribe to the WIN and are not a member, you received this product from a third party in violation of AFIO policy. Please forward to afio@afio.com the entire message that you received and we will remove the sender from our membership and distribution lists.
---
Disclaimer and Legal Protection
Weekly Intelligence Notes (WINs) are a carefully selected collection of timely open source reports and announcements on intelligence and related national security matters that is produced for non-profit educational use by AFIO members and WIN subscribers. WINs are protected by copyright and intellectual property laws. They may not be reproduced or re-sent without specific permission from the Producer. Opinions expressed in the WINs are solely those of the author listed with each article. Notices in the WINs about non-AFIO events do not constitute endorsement or recommendation by AFIO.

(c) 1998 thru 2022


---

AFIO Members Support the AFIO Mission - sponsor new members! CHECK THE AFIO WEBSITE at www.afio.com for back issues of the WINs, information about AFIO, conference agenda and registrations materials, and membership applications and much more! .

AFIO | 7600 Leesburg Pike, Suite 470 East, Falls Church, VA 22043-2004 | (703) 790-0320 (phone) | (703) 991-1278 (fax) | afio@afio.com
---
About AFIO | Membership Renewal | Change of Address | Upcoming Events | Chapter Locations | Corporate/Institutional Memberships | Careers in Intelligence Booklet | Guide to the Study of Intelligence | Intelligencer Journal | Weekly Intelligence Notes | Make A Donation | AFIO Store | Member-Only Section | Code of Ethics | Home Page
RETURN TO TOP
---