---
Pentagon, intelligence community eye cloud collaboration - C4ISRnet, 27 Dec 22
The Pentagon's recently inked Joint Warfighting Cloud Capability contract sets the stage for greater collaboration between the U.S. Department of Defense and intelligence agencies, according to officials from both communities. The department awarded the JWCC deal in early December to four companies: Microsoft, Oracle, Amazon and Google. Under the arrangement, the companies will compete for task orders worth up to $9 billion through June 2028. The vendors, each only promised $100,000, will provide cloud computing, storage and other services to users around the globe and across all classification levels. (Full article here.)
China to update espionage law with eye on Taiwan - Nikkei Asia, 27 Dec 22
China's parliament began deliberating an amendment to the country's counterespionage law on Tuesday as President Xi Jinping seeks tighter control over any opposition to unification with Taiwan. The debate is scheduled to last until Friday. The National People's Congress could pass the amendment, which has yet to be released publicly, as early as the first half of 2023. The law took effect in November 2011. It defines espionage as participation in a foreign intelligence organization, activities that endanger China's security prompted by a foreign organization, and activities that incite and entice Chinese state employees. Despite criticism that the law is worded vaguely, the Xi administration has used it to clamp down against alleged espionage. A number of foreign nationals, including at least 16 Japanese, have been detained since 2015. (Full article here.)
Top 5 Espionage Cases of 2022 - Clearance Jobs, 28 Dec 22
The year has largely been a year of counterintelligence and counterespionage successes by the United States and European nations in thwarting and neutralizing nation-state espionage and influence operations. That's not to say there hasn't also been the oddest inexplicable headscratcher case, as one of those did make the top five. Throughout the year the need for more robust attention to insider risk management was continually evident as data hoarding, stealing and unauthorized sharing continued to percolate up to the surface, as regularly as Yellowstone's "Old Faithful." In years past, we've picked specific cases to include in the top five espionage cases of the year. This year, we included specific cases, as well as specific countries' activities. No surprise, you'll encounter Russian and Chinese espionage activities resident in the top five espionage cases of 2022. (Full article here.)
GCHQ chief: western spy agencies must 'pre-bunk' disinformation - The Guardian, 29 Dec 22
Western spy agencies should use intelligence to "pre-bunk" narratives pushed by Russia and other authoritarian states, the head of GCHQ has said while guest editing BBC Radio 4's Today programme. Jeremy Fleming, who leads the largest of Britain's three main intelligence agencies, said on Thursday the war in Ukraine had prompted a significant opening up, in a Christmas broadcast co-produced by a serving spy chief for the first time. But Fleming – who was interviewing one of his US counterparts, Avril Haines, the director of national intelligence – acknowledged the new public outreach effort had had more impact in western countries than elsewhere around the world. (Full article here.)
Australian Secret Intelligence Service appoints first female director general - Women's Agenda, 19 Dec 22
Australia's foreign spy agency, the Australian Secret Intelligence Service (ASIS) has appointed its first ever female director-general, Kerri Hartland. The former senior public servant will finish her current role overseeing the reform of workplace culture in federal parliament to commence her new position with ASIS next February. She is part of a growing number of women are being appointed into leadership roles at intelligence agencies, including Rachel Noble, who became Director-General of the Australian Signals Directorate in 2020, Avril Haines, who became the first female Director of U.S National Intelligence in 2021, and Elisabetta Belloni, as Italy's first female Head of Secret Services. "I am incredibly honoured to be appointed as the 13th Director-General of the Australian Secret Intelligence Service," Hartland said in a statement. (Full article here.)
What Kim Jong Un Could Really Do With His New 'Flying Spy' - Daily Beast, 20 Dec 22
North Korea says it will soon have its own spies in the skies capable of seeing what its enemies are doing, just as the U.S. has been spying on the North for decades. Pyongyang's Korean Central News Agency made that claim this week, reporting that the North has tested its first spy satellite and will have one of them up for real by April. The KCNA report was the latest word on North Korean progress in developing missiles and nuclear warheads as "defense" against its enemies, the U.S., Japan and South Korea. (Full article here.)
German allegedly spying for Moscow used NSA material - Stars and Stripes, 24 Dec 22
Germany's BND foreign intelligence service is concerned that a senior analyst and alleged Russian spy detained this week may have passed information shared by the U.S.- National Security Agency and Britain's GCHQ to the Kremlin, Focus magazine reported, citing unidentified security sources in Berlin. Authorities took the BND employee, a German citizen identified as Carsten L., into custody after he allegedly "passed on classified information that was gathered on the job to a Russian intelligence service," the federal prosecutor said in a statement Thursday. Bruno Kahl, the BND president, said "extensive internal investigations" were underway and accused Russia of being "unscrupulous." (Full article here.)
Secret new US hypersonic spy jet unveiled; named 'Mayhem' - American Military News, 19 Dec 22
The Pentagon has awarded a contract worth as much as $334 million to develop a new multi-purpose hypersonic air vehicle under a secretive program known as "Mayhem." The experimental Mayhem program is thought to be creating some kind of hypersonic aircraft capable of strikes as well as spying, also known as intelligence, surveillance and reconnaissance (ISR), The War Zone reported. The first details on Mayhem emerged in 2020, according to The War Zone. Now, Virginia defense contractor Leidos has been awarded an "indefinite-delivery/indefinite-quantity contract" for research and development of Mayhem, expected to be completed by Oct. 15, 2028. In its announcement, the Pentagon describes the goal as "a larger class air-breathing hypersonic system capable of executing multiple missions with a standardized payload interface, providing a significant technological advancement and future capability." (Full article here.)
The Moroccan spy at the heart of the Qatar investigation - Politico, 24 Dec 22
A Moroccan secret service agent, identified as Mohamed Belahrech, has emerged as one of the key operators in the Qatar corruption scandal that has shaken the foundations of the European Parliament. His codename is M118, and he's been running circles around European spy agencies for years. Belahrech seems at the center of an intricate web that extends from Qatar and Morocco to Italy, Poland and Belgium. He is suspected of having been engaged in intense lobbying efforts and alleged corruption targeting European MEPs in recent years. And it turns out he's been known to European intelligence services for some time. Rabat is increasingly in the spotlight, as focus widens beyond the role of Qatar in the corruption allegations of European MEPs, which saw Belgian police seizing equipment and more than €1.5 million in cash in raids across at least 20 homes and offices. (Full article here.)
India's long overdue intelligence reforms - Sunday Guardian, 01 Jan 23
India needs to overhaul its intelligence machinery and approach to address the China challenge as China's intelligence operations are long protracted narrative wars and go far beyond tactical espionage. In India's history over the last 75 years, several incidents such as Pakistan's invasion of Kashmir in 1947, the rise of Khalistan militancy in Punjab in the 1970s, the spread of Jamaat-i-Islami in Kashmir in the 1980s, the rise of militancy in Kashmir in 1990, the exodus of Kashmiri pundits, Kargil war, IC-814 hijack, 26/11 attacks, Depsang and Doklam incursions and most recently the Pulwama suicide attack and Galwan clashes make us doubt our intelligence capabilities and, question our strategic establishment's understanding of national security threats and challenges. However, when the Modi government brought Doval, a former spy chief, as NSA and successfully executed Uri surgical strike, Balakot, Article 370 abrogation, and Jamaat and PFI ban, it became clear that the present regime has the will and intent to revolutionize our intelligence world. (Full article here.)
NGA's nearly $2 billion new western headquarters reflects the growing role of data in warfare - Local Today, 20 Dec 22
The soon-to-be western home of the National Geospatial-Intelligence Agency towers over north St. Louis. The building's mix of glass, brick, and concrete contrasts sharply with the predominantly brick homes in the surrounding blocks. The Pentagon is spending nearly $2 billion on the project for this lesser known member of the intelligence community, which is primarily concerned with mapping and satellite imagery. NGA was the agency that identified Osama bin Laden's estate in 2011. More recently, the agency helped locate evidence of Russian war crimes in Ukraine. (Full article here.)
In major step, Space Force takes over all military satellite communications - Stars and Stripes, 28 Dec 22
The Space Force has taken over all of the Department of Defense's military satellite communication functions, a major step in building the new service. The Navy and the Army have transferred major satellite communication operations to the Space Force in an effort to consolidate training, operations, acquisition and other activities, according to a news release. The transfer marks the first time all military satellite communication functions have been consolidated under a single military service. The Army's transfers were expected to include $78 million in operations, maintenance and 500 positions, the release said. As part of the consolidation, the Army transferred the Wideband Global SATCOM and Defense Satellite Communications System to the Space Force in August. The Wideband Global SATCOM system is considered the "backbone of the U.S. military's global satellite communications," according to the Space Force. (Full article here.)
World's Oldest True Cipher Device, the "Jefferson Cipher," on Display at the National Cryptologic Museum - NSA, 19 Dec 22
Thomas Jefferson, third president of the United States, had a deep interest in cryptology. He exchanged encrypted letters with friends, and he proposed a mathematics-based cryptologic system for U.S. government use (although it was never adopted). Jefferson corresponded frequently with Robert Patterson, a professor of mathematics at the University of Pennsylvania and fellow member of the American Philosophical Society. In December 1801, Patterson sent Jefferson a letter explaining a new cipher of his own design, one that he considered "flawless." Patterson included a sample message.(Full article here.)
IARPA wants AI to 'identify crucial overlooked info, automatically generate comments' for intel reporting - The Sociable, 15 Dec 22
IARPA is putting together its REASON program that aims to help analysts identify crucial overlooked pieces of information while automatically generating comments to aid their intelligence reporting. Through its upcoming Rapid Explanation, Analysis and Sourcing ONline (REASON) program, the US Intelligence Advanced Research Projects Activity (IARPA) is looking to develop an AI system that can "help intelligence analysts solve national security puzzles by identifying crucial overlooked pieces of information and showing ways they fit together." "REASON will assist and enhance analysts' work by pointing them to key pieces of evidence beyond what they have already considered and by helping them determine which alternative explanations have the strongest support." (Full article here.)
---
The Latest National Security Topic Interview by Former Acting D/CIA Mike Morell


Intelligence Matters: A CBS News national security podcast hosted by former CIA Acting Director and CBS News national security contributor Michael Morell.

27 Dec | BEST OF: Hal Brands on Potential of Future Conflict with China

In this Best of episode of Intelligence Matters, host Michael Morell spoke with Hal Brands, Henry A. Kissinger Distinguished Professor of Global Affairs at the Johns Hopkins University School of Advanced International Studies and author of the new book, Danger Zone: The Coming Conflict with China, about China's economic, political and demographic trajectory and the percolating risk of conflict with Beijing in the coming years. Brands explains why he believes China, rather than being on the rise, is peaking as a global power and as a result may engage in more destabilizing behavior. Brands and Morell explore how certain external tailwinds - which once propelled China's rise - have become headwinds, and may be driving President Xi Jinping's tightening grip on political power. They also discuss the effect of Speaker Pelosi's visit to Taipei, different scenarios and timelines for a possible Chinese invasion of Taiwan, as well as how the conflict in Ukraine may - or may not - affect Xi's calculus. This episode was originally released in August 2022.

Past episodes:

20 Dec Nov | BEST OF: Former Deputy Assistant Secretary of Defense for Strategy and Force Development Elbridge Colby
13 Nov | Former CIA Chief Operating Officer on his Career at the CIA
06 Dec | Accidental Czar: The Life and Lies of Vladimir Putin with Former White House Russia Expert Andrew Weiss


More about Intelligence Matters by Michael Morell here.

Working at CIA: In Conversation with CIA Director of Operations and Director of Analysis

---
The Latest from International Spy Museum Historian Andrew Hammond, PhD.
Spycast is the official podcast of the International Spy Museum and hosts interviews with intelligence experts on matters of HUMINT, SIGINT, IMINT, OSINT, and GEOINT. Spycast is hosted by historian Andrew Hammond, PhD.
27 Dec | "The Third Option" - US Covert Action with Loch Johnson (Part 2 of 2) Loch Johnson joins Andrew to discuss covert action aka "The Third Option." He is the author of over 30 books on intelligence.
Past episodes:

20 Dec | "The Third Option" - US Covert Action with Loch Johnson (Part 1 of 2)
13 Dec | "Spying and Startups" with former Assistant Director of the CIA John Mullen
06 Dec | "Honey Trapped" with Henry Schlesinger


---
The Latest Insights from Former CIA Acting Deputy Director for Operations Jack Devine.
In Other News The proprietary analytic newsletter crafted for The Arkin Group's private clients by former CIA Acting Deputy Director for Operations Jack Devine.
22 Dec | China COVID and Ukraine The dark days of the Winter Solstice is a cogent reminder that the world is in a great state of flux and there remains obscurity on how major crises will resolve in the coming months. The official Covid news out of China belies anecdotal reports that ICUs are filling up and worst-case scenarios for deaths are entirely plausible. China's obfuscation of these latest developments are not just worrisome because we lack a clear understanding of the current state of the pandemic but also because information on new variants will be slow to emerge as well. Forecasting on the downstream effects is difficult too as it will be harder to assess the impact this will have on supply chains as diverse as iPhones to critical medications and thus the wider impact on the fragile global economy. But we can anticipate that Western countries will look to further distance themselves from China in the coming months. (Full version available to AFIO members in the coming days here.)
08 Dec | Turkey: Ally or Spoiler
02 Dec | Russia is trying to wear us down, but it's wearing itself down in the process.
---
Daily Analysis of Security Issues and Geopolitical Trends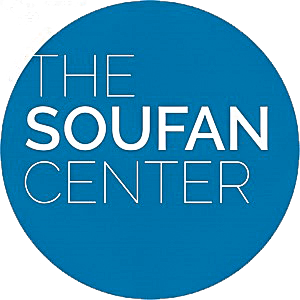 Intel Brief The Soufan Center's flagship, daily analytical product focused on complex security issues and geopolitical trends that may shape regional or international affairs. The Soufan Center was founded by former FBI Special Agent and Soufan Group CEO Ali Soufan.
03 Jan | Disinformation Trends on the Horizon in 2023

In 2022, disinformation—the deliberate dissemination of false or misleading information—poses an ongoing security risk to governments, societies, the private sector, and non-governmental organizations (NGOs). While a myriad of state and non-state actors utilize disinformation for various goals, the state actors most capable of leveraging disinformation campaigns as a foreign policy tool are Russia, China, and Iran. Just as state-backed/aligned disinformation campaigns in 2020 were dominated by COVID-19 pandemic-related topics, the 2022 "disinformation year" can largely be defined by Russia's illegal war in Ukraine. Inevitably, disinformation will continue to evolve in 2023 and beyond, with several trends worth highlighting, including: Sino-Russian alignment, more state actors seeking to acquire sophisticated disinformation capabilities, and the harnessing of emerging technologies for information manipulation purposes. (Full brief here.)
23 Dec | Year in Review 2022

After more than two decades of focusing on violent non-state actors, 2022 may well be remembered as the year when the pendulum swung back in the other direction. Russia's invasion of Ukraine in February was the defining moment of the year and could prove to be even more historic, depending on how the situation develops in 2023. Despite predictions of irrelevance, NATO is more relevant than ever and countries like Germany have altered their military posture to become more amenable to supplying Ukraine with high-quality weapons systems. (Full brief here.)
22 Dec | Police Killings in Jordan Reflective of Broader Political Tensions
21 Nov | Russia's Influence on its Southern Flank Eroding Sharply
20 Dec | Wagner Group Continues Expanding Through West Africa
19 Dec | Iran Escalates Crackdown in Latest Attempt to Quell Uprising
---
Analysis of Global Security Events with WTOP National Security Correspondent JJ Green

Inside the SCIF - 08 Dec - Brittney Griner Release, Russian Spouses Arrested for Espionage, and more.
Target USA Podcast - 30 Dec - Ukraine: Battle For The Soul of Europe - A chronicle of the war from the beginning to the present day. Interviews with victims, reporters, officials, and elected representatives.

The Hunt Broadcast - 07 Dec - Dozens arrested in suspected plot to overthrow German government




---
The Latest Insights from Jeff Stein and Colleagues in SpyTalk (Substack)

27 Dec | Some of Our Favorite Things for 2022 - Jeff Stein
Journalism has always been a team sport. And from the get-go in August 2020 we've been blessed with regular contributions from a top tier of reporting veterans and intelligence experts—people like (in alphabetical order)... (Full article here.)

22 Dec | SpyTalk Stocking Stuffer - Jeff Stein
Hey there. It's gonna be cold, wet and snowy this weekend. Why rush out for last-minute gifts? Let your fingers do the walking. Stay home and give the gift that keeps on giving, day after day, week after week, month after month—some of the best writing and reporting from the intersection of U.S. intelligence, military affairs and foreign policy. With a gift of SpyTalk you're gonna make somebody smile! (Full article here.)

22 Dec | Christmas Bombings - Jeff Stein
On the night of December 18, 1972, President Richard Nixon sent 129 B-52 bombers roaring over North Vietnam. The idea was to break Hanoi's will and force it to sign a peace treaty that would return our POWs and allow the U.S. to get out of the war. (Full article here.)

20 Dec | What Prompted Japan to Adopt Its 'Earth-Shattering' Military Buildup Plan? - Ayako Doi

19 Dec | How China's Cell Phone Spies Track Covid Protesters - Matt Brazil

18 Dec | Christmas Came Early This Year - Jeff Stein


To support SpyTalk, subscribe here.


---
---
A Wireless Intelligence Community 'On The Horizon,' Official Says - Defense One, 16 Dec 22
Some wireless devices—phones, tablets, or maybe even smart watches—could soon be welcome inside secure facilities, according to an intel official. "I think it's inevitable, in terms of the incorporation of wireless, into our community, into our facilities," Douglas Cossa, the chief information officer for the Defense Intelligence Agency said Thursday. "I mean, when you look at it, look at all the technology you're driving in with through the gate, even what's on your car, your key fob, it's just inevitable that we're going to have to face that." And because companies aren't going to develop technology just for the intelligence community, "we're going to have to adjust our posture and our policies to incorporate that in, and that includes wireless," Cossa said during a panel at the Department of Defense Intelligence Information System, or DoDIIS, Worldwide Conference in San Antonio, Texas. (Full article here.)
Greater vigilance needed to catch those who enable espionage - China Daily, 29 Dec 22
Those found to be providing cybersecurity loopholes or other information involving critical information infrastructure to espionage organizations will be identified as spies, according to a draft amendment. "This has been added to the draft to clarify the definition of espionage because lawmakers and individuals working for central and local authorities pointed out that theft or attacks over a network have become a new norm of espionage," said Wang Ning, an official from the Constitution and Law Committee at the National People's Congress, China's top legislature. He explained the contents while introducing the draft revision to the Counter-Espionage Law on Tuesday, as it was submitted to the ongoing session of the NPC Standing Committee for a second review. In general, a draft becomes law after it is read by the top legislative body three times. (Full article here.)
EarSpy: Spying on Phone Calls via Ear Speaker Vibrations Captured by Accelerometer - Security Week, 28 Dec 22
As smartphone manufacturers are improving the ear speakers in their devices, it can become easier for malicious actors to leverage a particular side-channel for eavesdropping on a targeted user's conversations, according to a team of researchers from several universities in the United States. The attack method, named EarSpy, is described in a paper published just before Christmas by researchers from Texas A and M University, Temple University, New Jersey Institute of Technology, Rutgers University, and the University of Dayton. EarSpy relies on the phone's ear speaker — the speaker at the top of the device that is used when the phone is held to the ear — and the device's built-in accelerometer for capturing the tiny vibrations generated by the speaker. (Full article here.)
The grand strategy behind Japan's defense buildup - Washington Post, 23 Dec 22
There are two ways to think about Japan's announcement this month that it will surge defense spending by more than 50 percent in the next five years and acquire advanced missiles that can strike the Eurasian mainland. The first is that it's a victory for the U.S.-led world order, because China's military advantage in the Western Pacific will narrow. The darker version is that it's a recognition of the failure of the U.S.-led order, which aimed to suppress military competition in East Asia after World War II. (Full article here.)
Tearline research highlights displaced Ukrainians - NGA, 22 Dec 22
The National Geospatial-Intelligence Agency and The Global Disinformation Lab at the University of Texas in Austin have collaborated through NGA's open-source Tearline program to study displaced persons activity from a GEOINT perspective in Ukraine. This research, begun in May, and continued in November, followed displaced persons activity in Ukraine through open source reporting and commercial imagery. The research found that Russian media inflated the daily number of Ukrainian refugees entering Russia, by as much as thousands per day, and that Russia reallocated filtration site resources based on anticipated flows of displaced persons. According to the U.S. State Department, Russian officials and proxy authorities in Russia-controlled areas of Ukraine are undertaking a monumental effort to "filter" the population as a means of suppressing Ukrainian resistance and enforcing loyalty among the remaining population. (Full article here.)
Russian sausage tycoon who criticised Ukraine invasion falls to death from hotel window - The Telegraph, 27 Dec 22
A Russian sausage magnate and politician who briefly criticised Russia's invasion of Ukraine has died after falling from the third-floor window of a luxury hotel in India. Pavel Antov was a member of Vladimir Putin's United Russia party and a multi-millionaire, having founded one of Russia's largest sausage makers. He was reportedly on a trip to celebrate his upcoming 66th birthday when he was found lying in a pool of blood outside the Hotel Sai International in Rayagada, a district in the southern state of Odisha. An unnamed police official told India's NDTV news outlet they suspected he took his own life after becoming depressed about the death of his friend who was found dead in the same hotel. (Full article here.)
Joe Biden Inches Toward War with Iran, Makes Israel Full Military Partner - News Week, 21 Dec 22
Preparing for any potential war against Iran, the Biden administration has formally elevated Israel in military planning. Israel's changed status comes as the U.S. military refocuses from the 'war on terror' to potential combat with the big four—China, Russia, North Korea, and Iran. As Israel has become a full-fledged military partner, the U.S. intelligence community is also putting more emphasis on its Hebrew language program to spy on its number-one Mideast ally. For the Pentagon, Israel is the most prized military and intelligence partner in the Middle East, with its vast combat experience and advanced technologies. With the end of combat in Afghanistan and Iraq, and with the brokering of the Abraham Accords by the Trump administration, Washington sees an opportunity to incorporate Israel into a new regional alliance. The Accords established diplomatic relations between Israel and several of its Arab neighbors. (Full article here.)
'I did not let Kim Philby go. He gave me the slip': what an MI6 spy told me over lunch - The Guardian, 31 Dec 22
The English of a certain generation seem to be divided between those who are fascinated by the Cambridge spies and those who are not. For the former, the fascination and in my case memories have been rekindled by the recent release of the television series A Spy Among Friends, starring Guy Pearce as the treacherous Kim Philby and Damian Lewis as Nicholas Elliott, his close friend for many years at the Secret Intelligence Service (SIS), also known as MI6. The bond between Philby and Elliott was tested when the latter discovered that he had unwittingly been one of Philby's prime sources for top-secret intelligence as part of the notorious Cambridge spy ring who passed information to the Soviet Union during the second world war and, later, the cold war. This was all the more galling for Elliott, who had helped to clear Philby's name when he had come under suspicion some years before his ultimate confession in Beirut in 1963. My preoccupation with the Cambridge spies comes not least because three of them – Anthony Blunt, Guy Burgess and Philby – were all at Trinity College, where I was an undergraduate some years later. (Full article here.)
Resource: How to Be Cyber Safe + Savvy - A Data Care Booklet for Adults - National Cryptologic Foundation, December 2022
The National Cryptologic Foundation (NCF) has released a useful booklet on "How to be Cyber Safe + Savvy." It provides many suggestions aimed at adults on how to protect their information against increasing cybercrime. It can be accessed here.
Resource: Outsmart Cyberthreats Collection - for Teachers and Students - National Cryptologic Foundation, December 2022
The National Cryptologic Foundation (NCF) has released a set of tools for teachers and students on understanding and avoiding cyber threats. They can be accessed here.
---
Video: The Man Who Left Nazis Without Oil - A Strategic Intelligence Operation (3 mins) - Strategy School, 25 Dec 22
Eric Erickson (Codename :"Red") was a Swedish businessman selling oil to the Nazi Germany. He worked for OSS (Office of Strategic Services) as a spy during WW2. His strategic mission played a very important role in the bombing of German oil plants during WW2. This video tells his story. (Watch here.)
Audio: Use of OSINT to support Special Operational Forces (42 mins) - Janes World of Intelligence, 15 Dec 22
In this episode we speak to Gwyn Armfield, Brigadier General, USAF (retired) to discuss how OSINT supports Special Operational Forces in their operations. (Listen here.)
Report: Improving the Intelligence Community's Leveraging of the Full Science and Technology Ecosystem - National Academies, December 2022
The agencies within the U.S. Intelligence Community (IC) depend on advanced technology to achieve their goals. While AI, cloud computing, advanced sensors, and big data analytics will fundamentally change both the global threat landscape and IC tradecraft, advances from biology, chemistry, materials, quantum science, network science, social/behavioral/economic sciences, and other fields also have that potential. Maintaining awareness of advances in science and technology is more essential than ever, to avoid surprise, to inflict surprise on adversaries, and to leverage those advances for the benefit of the nation and the IC. This report explores ways in which the IC might leverage the future research and development ecosystem. (Full report here.)
Report: Audit of the Federal Bureau of Investigation's National Security Undercover Operations - Department of Justice, December 2022
The FBI uses Undercover Operations (UCOs) to detect prevent, and prosecute threats and acts in priority areas of investigation including counterterrorism,counterintelligence and cyber. The undercover technique can be an effective and important investigative tool . However, we found several areas in which the management of the FBI's undercover program in national security-related operations can be improved. Specifically, we found that the FBI has not implemented recommendations from two 2012 FBI internal reviews, which we found has hindered the FBl's UCO Program. This includes the National Covert Operations Section (NCOS) remaining organizationally within the FBl's Criminal Investigative Division despite an internal review recommending that this be a temporary placement. We also found that many of the Undercover Coordinators in the FBI's 56 field offices did not match the qualifications recommended by the other internal review. In addition, we determined that training provided to Certified Undercover Employees (UCE} is inadequate; approval for certain sensitive UCOs takes too long; short-term undercover activities not part of a full authorized operation are not tracked; and UCEs are being underutilized. Further,we found that the Safeguard program, which is responsible for determining an employee's ability to serve in an undercover capacity, is overworked, under-resourced, and unable to assess UCEs in a timely manner. (Full report here.)
Report: Unheard Voice - Evaluating five years of pro-Western covert influence operations - Stanford Internet Observatory, 24 Aug 22
In July and August 2022, Twitter and Meta removed two overlapping sets of accounts for violating their platforms' terms of service. Twitter said the accounts fell foul of its policies on "platform manipulation and spam," while Meta said the assets on its platforms engaged in "coordinated inauthentic behavior." After taking down the assets, both platforms provided portions of the activity to Graphika and the Stanford Internet Observatory (SIO) for further analysis. Our joint investigation found an interconnected web of accounts on Twitter, Facebook, Instagram, and five other social media platforms that used deceptive tactics to promote pro-Western narratives in the Middle East and Central Asia. The platforms' datasets appear to cover a series of covert campaigns over a period of almost five years rather than one homogeneous operation. (Full report here.)
Report: The PLA's Strategic Support Force and AI Innovation - Brookings, 23 Dec 2022
In recent years, as progress in artificial intelligence (AI) has accelerated, nearly every major power has pledged to develop advanced AI capabilities and effectively integrate AI into their armed forces. Yet none have pursued those efforts as purposefully as China. Not only has Beijing issued an ambitious plan to make China the world's leading AI power by 2030, but the Chinese Communist Party (CCP) has unveiled an aggressive innovation-driven strategy for the Chinese military, the People's Liberation Army (PLA). Likewise, Xi Jinping, the General Secretary of the CCP, has consistently emphasized China's commitment to AI development and "intelligent warfare"– most recently in his landmark report this fall to the 20th Party Congress. If China's strategic ambitions for AI are clear, how it intends to integrate AI into the PLA remains opaque. The CCP's goals for militarized AI are still shrouded in mystery, even as the PLA clearly views AI as a technology that will be vital for driving next-generation warfare. (Full report here.)
Academic Opportunity: The International Security and Intelligence Programme - 9 July to 5 August 2023 - Magdalene College, Cambridge
Chaired by Sir Richard Dearlove the former Chief of the British Secret Intelligence Service, the Cambridge Security Initiative (CSi) launched the ISI Programme in 2016. The purpose of this unique programme is to provide an opportunity for participants to meet and work with leading academics and practitioners from the intelligence and security communities in the historic setting of one of the world's foremost universities. The Programme is run in partnership with the Department of War Studies at Kings College, London. (More information and registration here.)
Infographic and Report: The State of Global Democracy in 2022 - Visual Capitalist, 13 May 22
The Democracy Index provides a snapshot of the state of democracy around the world since 2006. This year's report reveals that democracy is failing worldwide due to the negative impact of covid-19 pandemic on democracy and freedom. (Access visual tool and full report here.)
Intelligence in History - A Collection of Recent Content
True Intelligence Matters in Film - Farewell - Director Christian Carion (2009)
In 1985, Sergei Gregoriev, a Soviet colonel, wants to force his nation to reform, so he leaks secret information to the West. He picks an unlikely contact, a Pierre Froment, French nebbish in the diplomatic corps. Gregoriev keeps a lot of balls in the air - a marriage, a teen son he's trying to bond with, a mistress who's a colleague at work; his tradecraft is equally reckless. Meanwhile, Froment keeps his spy work secret from his German wife, and Mitterrand uses Gregoriev's information to make France indispensable to Reagan and his government. When Gregoriev leaks a list of key Soviet moles and spies, Gorbachev is left without secret intelligence. Based on true events.

More about this based-on-true-events production here.
Intelligence in Pop Culture - Song - Night Train to Munich - Al Stewart, Between the Wars album (1995)
"Meet me at the station underneath the clock; Carry an umbrella, no need to talk; The man in the Homburg, hiding in the fog; Will be watching..." Classic Cold War espionage acts in folk-song form. (Listen here.)
Walking Tours - Washington, DC - Sundays (Dates/Times Vary)
Former intelligence officers guide visitors on two morning and afternoon espionage-themed walking tours: "Spies of Embassy Row" and "Spies of Georgetown." For more information and booking, click here or contact rosanna@spyher.co
---
The Real Special Relationship:The True Story of How the British and US Secret Services Work Together
by Michael Smith
(Simon and Schuster, 04 Aug 22)
In The Real Special Relationship, Michael Smith reveals how it all began, when a top-secret visit by four American codebreakers to Bletchley Park in February 1941 - ten months before the US entered the Second World War - marked the start of a close collaboration between the two nations that endures to this day. Once the war was over, and the Cold War began, both sides recognised that the way they had worked together to decode German and Japanese ciphers could now be used to counter the Soviet threat. Despite occasional political conflict and public disputes between the two nations, such as during the Suez crisis, behind the scenes intelligence sharing continued uninterrupted, right up to the recent Russian invasion of Ukraine.
Order book here.
---
Spyfail: Foreign Spies, Moles, Saboteurs, and the Collapse of America's Counterintelligence
by James Bamford
(Twelve Press, 17 Jan 23)
SPYFAIL is about the highly dangerous and growing capability of foreign countries to conduct large-scale espionage within the United States and how the FBI and other agencies have failed to prevent it. These covert operations involve a variety of foreign countries—North Korea, Russia, Israel, China, and others—and include cyberattacks, espionage, psychological warfare, the infiltration of presidential campaigns, the smuggling of nuclear weapons components, and other incredibly nefarious actions. With his trademark deep investigative style, James Bamford digs as deep as one can go into these clandestine invasions and attacks, uncovering who's involved, how these spygames were carried out, and why none of this was stopped. Full of revelations, SPYFAIL includes access to previously secret and withheld documents, such as never-before-seen parts of the Mueller Report, and interviews with confidential sources. Throughout this stunning, eye-opening account, SPYFAIL demonstrates again and again how large a role politics, special interests, and corruption play in allowing these shocking foreign intrusions to continue—leaving America and its secrets vulnerable and undefended.
Order book here.
---
Hacker, Influencer, Faker, Spy: Intelligence Agencies in the Digital Age
by Robert Dover
(Hurst, 15 Jan 23)
Intelligence agencies are reflections of the societies they serve. No surprise, then, that modern spies and the agencies they work for are fixated on the internet and electronic communications. These same officials also struggle with notions of privacy, appropriateness, national boundaries and the problem of disinformation. They are citizens of both somewhere and nowhere, serving a national public yet confronting spies who operate across borders. These adversaries are utilizing new technologies that offer a transnational anonymity. Meanwhile, ordinary people are keen to be protected from threats, but equally keen - basing their understanding of intelligence on news and popular culture - to avoid over-reach by authorities believed to have near-God-like powers. This is the new operating environment for spies: a heady mix of rapid technological development, identity politics, plausible deniability, uncertainty and distrust of authority. Hacker, Influencer, Faker, Spy explores both the challenges spies face from these digital horizons, and the challenges citizens face in understanding what spies do and how it impacts on them. Rob Dover makes a radical case for overhauling intelligence to capitalize on open-source information: shrinking the secret state, whilst still supporting the functioning of modern governments in the post-COVID age.
Order book here.
---
Search for information: Searching for information on a CIA "intelligence operation" carried out during the Clinton administration in 1997 or 1999 aimed at Iran and/or its MOIS in response to Iran's involvement in the 1996 Khobar Towers bombings. Clinton's counterterrorism chief Richard Clarke made a brief reference to this operation on p. 129 of his book Against All Enemies; George Tenet made a possible reference to this operation on p. 124 of his book At the Center of the Storm; and Bruce Riedel posted a reference to it in his article "The Iran Primer: The Clinton Administration," at https://iranprimer.usip.org/resource/clinton-administration. He called it "Operation Sapphire" - not to be confused with Operation Sapphire aimed at Kazakhstan. Also, searching for information on a bomb found on a bridge in Manila, Philppines around November 23, 1996 when President Clinton was in the city. Contact: dpluchinsky@rocketmail.com.
Search for information: Dr John Gentry of Georgetown University seeks information on what ways, to what extent, at what agencies, and with what implications/consequences are DEI (diversity, equity, inclusion) policies damaging the IC and DOD. Request examples and assessments that link senior-level policies, and middle managers' interpretations of them, to specific organizational and personal actions and then to actual consequences in sufficient volume and detail to be able to make a coherent argument. Anonymity assured. Contact: jag411@georgetown.edu.
Search for information An AFIO member who is researching "a State Department officer who seems to have functioned as a pre-CIA intelligence officer without having joined the OSS" would welcome leads on persons or books specializing "in 'pre-CIA' 'CIA history'." Anyone with pertinent information can contact info@whittakerchambers.org.
Call For Papers: The Struggle in the Israeli Security Zone in South Lebanon, 1985-2000, Israel Affairs
In June 1985, the Israel Defense Forces (IDF) de jure completed its withdrawal from Lebanon to the Israeli borders. De facto, Israel left in its hands a strip of land, about 15 kilometers from its border, in which its ally, the South Lebanon Army (SLA), operated. This strip of land came to be known as the Israeli Security Zone. The idea was that the SLA would be almost independent, while the IDF would intervene only when necessary in the battle against Palestinian and Shiite groups and supervise the SLA. Soon, however, the IDF became more involved, building military posts within the Security Zone, reinforcing itself, and encountering new challenges. In May 2000, Israel pulled its forces back to its borders and the SLA collapsed, along with the Security Zone. The 15 years of fighting in the Security Zone were rarely mentioned within Israeli society, let alone in the academic sphere. Only in recent years has the Israeli public become aware of this period after many soldiers who served in the Security Zone began sharing their memories through books and social media. The campaign to raise awareness of the period successfully ended when in March 2021, Israel officially recognized this period as one of warfare. This special issue aims to interdisciplinarily bridge the gap in the academic discourse regarding the war in the Security Zone. The editors are interested in articles dealing with various topics concerning the 1985-2000 war in the Security Zone. 30 March 2023 deadline. For more information, including submission instructions and suggested topics, click here.
Search for French Intelligence Officer: Gary Schaut of Sudbury, Canada is in search of a French intelligence agent who was still active around 1997 in France, and who had provided information in that year to a French journalist named "William Reymond." Anyone with pertinent information can contact Schaut at gbschaut@sympatico.ca.
Search for Colleagues: Dennis Pluchinsky seeks contact with Tom Lane and Nancy Kenealy, "who worked with Cindy, Gina, and Jeff" in the mid-1990s on al-Qaeda. Pluchinsky is in contact with all three of these other colleagues and would like to establish contact with Lane and Kenealy regarding his work on a four-volume book series on anti-American terrorism overseas ("see Amazon for more details" about the books). Please contact Pluchinsky at dpluchinsky@rocketmail.com.
Call For Information: Harvard student seeks primary source documents, historical records, or points of contact regarding Freedom Company, aka Eastern Construction Company, of the Philippines
Ryan Santos, a senior at Harvard, is writing his history thesis titled "The outsourcing of freedom": Filipino operatives in the origins of the American war in Indochina, 1954-1967. The focus of the research project is on the Freedom Company of the Philippines (later became the Eastern Construction Company in 1958), a dynamic private enterprise funded by the US to send Filipino paramilitary specialists - who were successful in suppressing their own local communist insurgency in the Huks - to assist in counterinsurgency and nation-building operations in Vietnam, Laos, and Indonesia. Ryan hopes to use his research on the Freedom Company of the Philippines and the Eastern Construction Company to underscore the diversity of geopolitical agents involved in American foreign policy during the Cold War, the development of US-Philippine relations, and the origins of American involvement in Indochina. If this project is of any interest or if there are any primary source documents, historical records, or points of contact that would be helpful, please contact him at ryansantos@college.harvard.edu.
Call For Articles: Threats and Opportunities in 2050, Divergent Options
Divergent Options is a non-politically aligned non-revenue generating national security website that, in 1,000 words or less, provides unbiased, dispassionate, candid articles that assess a national security situation, present multiple options to address the situation, and articulate the risk and gain of each option. Please note that while we assess a national security situation and may provide options, we never recommend a specific option. Divergent Options is calling for national security papers assessing situations or discussing options related to Threats and Opportunities in 2050. Submission deadline is 18 December 2022. For more information, including submission instructions and suggested topics, click here.
Call For Articles: AFIO Journal, The Intelligencer
For the past four years, AFIO has included in The Intelligencer a series of articles on "when intelligence made a difference." Written by scholars, intelligence practitioners, students, and others, they cover events from ancient times to the modern world and in many countries. AFIO is soliciting articles for future issues. Most articles run between 2,000 and 3,000 words, although some are longer or shorter. If you have an idea for an article that fits the theme, email senior editor Peter Oleson at peter.oleson@afio.com.
Call For Assistance: Researcher Seeks Copy of 1941 FBI Booklet
An AFIO member who is conducting research on the beginnings of industrial security programs before WWII is in search of a copy of a 55-page FBI booklet, dated December 1941, titled "Suggestions for Protection of Industrial Facilities." Digital copies or photocopies are acceptable. Please contact winseditor@afio.com with any information.
Call For Papers: Urban Security 2023 in Journal of Strategic Security Special Issue
The special issue will look at a range of urban security issues including urban warfare, urban insurgency, urban crime and insecurity, operating in dense urban terrain (DUT), mega cities, and subterranean spaces (SubT), and in the Urban-Littoral interface, as well as the protection of the populace. Papers addressing the full range of violent actions from high intensity crime to civil strife and other situations of violence, non-international armed conflict (NIAC), and large scale combat operations (LSCO) during international armed conflict (IAC) are encouraged. All papers submitted to the special issues issue will be subject to double-blind peer review. Below is a list of urban security issues the special issue editors would like to see submissions on:

· Conflict in Megacities (10 million or more)
· Police-Military Intelligence interface in urban conflict
· Insurrection
· Urban-littoral nexus
· Information warfare in support of urban conflict
· Urban insurgency
· Urban Terrorism
· Criminal governance in cities (Slums/Favelas)
· Criminal Armed Groups (CAGs) in cities
· Social Media and Urban Conflict
· Climate Conflict in Cities (Urban-Climate Conflict Nexus)
· Urban counterterrorism
· Urban counterinsurgency (COIN)
· Urban Riots and Public Order
· Intelligence for Urban Operations (e.g., GeoINT)
· Urban policing
· Urban critical infrastructure protection including urban cyber security
· Humanitarian operations and protection of civilians in urban conflict
· Medical and humanitarian response to urban crises and disasters

Abstracts due 1 February 2023; draft submissions due 1 June 2023. (See full submission details here.)
---
Faculty Opening - Teaching Intelligence Analysis - James Madison University - Harrisonburg, Virginia
The Faculty of the Intelligence Analysis (IA) Program at James Madison University (JMU) are searching for a dynamic new colleague to join us in the ongoing co-creation of an exceptional educational experience to prepare the next generation of analysts. Our program is in its 16th year, and our graduates regularly secure positions as analysts in the public and private sectors, including the Intelligence Community, military and law enforcement organizations, defense contractors, and major consulting firms. Our vision is a versatile, multidisciplinary undergraduate education that simultaneously emphasizes methodology, technology, and communication, with a specialization in intelligence analysis. We especially seek a new colleague who can strengthen our longstanding distinctive focus on developing good reasoning and/or our more recent focus on research design and analytic production.

We would welcome a potential new colleague from any academic discipline (to include the humanities, social sciences, and natural sciences) and/or any professional background (to include former intelligence, military, homeland security, law enforcement, and other security and analytic professionals) that enables them to speak with credibility about the process of doing analysis. The desire to engage both traditional academics and professional analysts is extremely important to us. We also value both teaching excellence as well as one-on-one professional mentoring. We especially seek candidates who are able to "bridge the gap" and to engage students whose struggles are different from their own, and who can help them flourish in their future personal and professional lives. The position requires either a Ph.D. in a relevant academic field by hiring date (for a tenure-track appointment) or a minimum of a Bachelor's Degree (Master's Preferred) with substantial, demonstrated experience as an analyst (for appointment on a Renewable Term Contract). Our normal teaching load is three courses per semester.

Application materials should include 1) a detailed cover letter that tells the story of how the candidate's expertise and experience fit our aspirations, values, and teaching needs, 2) curriculum vitae/resume, 3) a "statement of inclusive excellence" that highlights (amongst other things) how the applicant has successfully helped colleagues from different backgrounds and perspectives to flourish in their work, and 4) contact information for at least three references.

The search will remain open until the position is filled. Salary commensurate with experience. Questions can be directed to the Chair of the search committee, Dr. Noel Hendrickson, at hendrinx@jmu.edu. Employment is contingent upon the successful completion of a criminal background check.
Additional details and further online application instructions can be found here.

Intelligence Practice Lead - SOS International, Washington, D.C.
The Intelligence Practice Lead, Americas, alongside the Consulting and Solutions Practice Director, Americas, is responsible for developing the Intelligence business within the regional security consulting team. The Intelligence Practice Lead will oversee the development, positioning, sales and the effective coordination and delivery of all intelligence consulting and solutions, including Intelligence Managed Services, in the US and Canada region. In this role the individual will oversee the provision of support to International SOS's US and Canada regional distribution channels to drive customer satisfaction and profitable growth across relevant business lines, in the technical domain of Intelligence. The individual will help to translate International SOS's Security value proposition into clear priorities and actions, in support of the business lines' commercial road maps. In addition, the role will be responsible for: driving day-to-day delivery of Intelligence consulting deliverables (including capability assessment, planning, training etc); establishing a cadre of analyst external consultants; educating key internal stakeholders and clients; leading/contributing to the expansion of intelligence methodologies and deliverables; along with their cadre of external consultants.
Additional information and application here.

Supervisory Criminal Investigator (Special Agent-In-Charge) - U.S. Army CID, Nationwide
Serves as the Criminal Investigation Division (CID) Field Office Special Agent-In-Charge (SAC) and is the principle law enforcement expert and advisor responsible for all investigations and operations conducted by CID offices within their area of responsibility (AOR). Directly supervises multiple Supervisory Criminal Investigators, full-performance level GS-13 and GS-14 criminal investigators, and support personnel in co-located and satellite offices.
Additional information and application here.

Retired Federal Government Employees Wanted - National Security Agency - Fort Meade, Maryland
The National Security Agency (NSA) may occasionally need skilled civilian retirees to augment the existing work force on high priority projects or programs. In order to fill these temporary positions quickly, we need to know who may be interested and available to return to work with us on a short notice basis as well as their skills. Retirees provide expertise and corporate knowledge to temporarily support mission requirements, manpower shortfalls, and/or mentor the next generation of Agency employees. Salary Range: $86,335 - $170,800.
Additional information and application here.

Assistant/Associate Professor of Intelligence Studies (Global Security and Intelligence Studies) - Embry-Riddel Aeronautical University - Prescott, Arizona
Embry-Riddle Aeronautical University's Prescott, Arizona campus is accepting applications for a tenure-track assistant or associate-level professor of intelligence studies to teach intelligence courses to students in the Global Security and Intelligence program. The successful candidate will teach students about the intelligence community, strategic intelligence, the intelligence cycle and intelligence analysis, writing, and briefing. Prior experience working in the intelligence community is strongly preferred. We are interested in candidates with teaching acumen in intelligence analysis and writing using structured analytical techniques.
Additional information and application here.

Teaching Associate - Intelligence and National Security Studies - Coastal Carolina University, South Carolina
The Department of Intelligence and Security Studies ( ISS ) at Coastal Carolina University is accepting applications for a pool of Teaching Associates (part-time adjunct faculty) to teach introductory and undergraduate elective course offerings for the program beginning in August 2022. While the ad is open to any specialization within the field of study, courses in the areas of homeland security, law enforcement intelligence, counter-narcotics, and cybersecurity are of particular interest. Course offerings can be in a face-to-face or synchronous online modality. To be considered, candidates must have a masters or doctoral degree in a relevant subject area. Prior professional experience in the profession, as well as prior teaching experience are preferred.
Additional information and application here.

Assistant Professor of Intelligence and National Security Studies - University of Texas, El Paso
The Department of Criminal Justice is seeking to fill one full-time tenure-track position beginning Fall 2023 at the Assistant Professor level. Responsibilities include conducting and publishing scholarly research, seeking extramural funding, teaching face-to-face and online courses, and service to the department, university, and profession. Applicants must have a Ph.D. in a closely related field in Intelligence and/or Security Studies from an accredited university (e.g., criminal justice, political science, public policy, security studies). ABD applicants will be considered if doctorate will be in hand by Fall 2023. Active research agenda and published scholarly journal articles are required to apply. Applicants with only a J.D., Psy.D., or Ed.D. will not be considered. All research/teaching areas of intelligence/national security studies will be considered, but preference will be given to candidates who have demonstrated teaching and/or research areas in at least one of these areas: Homeland Security, Intelligence Analysis, or Terrorism/Counter-Terrorism.

Additional information and application here.
---
Ken Millian — Career Intelligence Officer

Kenneth Young Millian, age 94, died July 19, 2022 in Miami, Florida. Born in Washington, DC, he graduated from Roosevelt High School in 1945, then entered the U.S. Merchant Maritime Service, sailing around the world to bring supplies, equipment and medical personnel home from World War II. After receiving a B.A. from the University of Maryland in 1951, followed by a Master's degree from American University, Mr. Millian began a 25 year career of distinguished service to the intelligence community, serving six U.S. Presidents. While doing the nation's work, Mr. Millian also attended the National War College and earned a Master's degree in International Affairs from The George Washington University.
Fred Bulinski — Career NSA Officer

Fred Bulinski, 75, of Dover, Delaware passed on December 21, 2022. Fred spent four years in the U.S. Army Security Agency (ASA) and 35 years working with the NSA. Mass of Christian Burial will be offered 11:00 AM Wednesday, January 4, 2023 at St. Polycarp Church, 55 Ransom Lane, Smyrna, DE 19977. Friends may call 9AM until 10AM Wednesday, January 4, 2023 at The Funeral Home of Michael J. Ambruso, 1175 S. State St. Dover, DE 19901.
Brian Snow — Career NSA Officer and Cyber Security Hall of Fame Inductee

Brian D. Snow, age 79 passed away on Sunday, December 4, 2022. He was born in Houston, Texas, received an MA in mathematics from the University of Colorado, and taught at Ohio University, where he helped develop its computer science department. He then moved to Maryland, beginning a 35-year career at NSA. In 2019 he received the great honor of being inducted into the National Cyber Security Hall of Fame.
---
21 Jan 23 - In-person - Kenebunkport, ME - Daveed Gartenstein-Ross discusses "Enemies, Near and Far, Foreign and Domestic: How the U.S. is Confronting the Challenges of International and Domestic Terrorism" Over the past decade, the terrorist threat has definitively evolved. National security professionals voice increasing concerns about polarization and domestic violent extremist movements, while evidence ranging from Afghanistan to Africa suggests that the threat of jihadism that occupied the U.S. for more than two decades is anything but dead. Daveed Gartenstein-Ross, an internationally recognized expert on jihadist terrorism, was also the author of the U.S. Department of Homeland Security's 2019 Strategic Framework for Countering Terrorism and Targeted Violence, an acclaimed document that reoriented the Department's focus to recognition of the rising domestic terrorist threat. He will provide a comprehensive account of current terrorist threats and what we should do to address them. The meeting is open to the public and will begin at 2:00 p.m. at the Program Center of the Brick Store Museum, 4 Dane Street, Kennebunk, Maine 04043. A Question and Answer period will follow the presentation. No reservations are required.

03 Feb 23 - In-person - Tysons Corner, VA - AFIO Winter Luncheon 2023! Guest speakers Talent Acquisition Officer with CIA, Mike Bruni, discussing CIA Careers and Recruitment. And author, former MP, and AFIO Honorary Board member Nigel West, discussing his newest book "Hitler's Trojan Horse." Mandatory advanced registration closes at 1700 hours (ET) on 27 January 2023.

Click here for registration and more information on lunch and speaker times, cost, cancellation policy, location address, and more.
08 Feb 23 (Wednesday), 1800 (PT) - Simi Valley, CA - AFIO Los Angeles Chapter hosts event in conjunction with Reagan Library presentation by former CIA Director Mike Pompeo. In conjunction with the Reagan Presidential Library and Center for Public Affairs, the LA Chapter will be conducting their annual chapter general business meeting. Former CIA Director Mike Pompeo will be the guest speaker with a presentation set to start at 6 PM. Following the presentation we will meet for dinner at the Wood Ranch restaurant and conduct our annual general business meeting along with the election for our chapter officers. This is a two step reservation process. Please follow the directions below. We look forward to your attendance and participation. Happy New Year!
Mike Pompeo is an American politician, diplomat, and businessman who served under President Donald Trump as director of the Central Intelligence Agency from 2017 to 2018 and as the 70th United States Secretary of State from 2018 to 2021. He is the first person to have held both of those positions.
TO ATTEND Sec. Mike Pompeo 6 PM PST Presentation - Step 1: Reserve for Sec. Pompeo's presentation: Onstage at the Reagan Library with Secretary of State Mike Pompeo - An in-person event
TO ATTEND POST-EVENT DINNER: Step 2: Dinner Reservation Wood Ranch restaurant 7:30 PM: email AFIO_LA@Yahoo.com.
If you would like to only attend the dinner portion you may do so. Cost is $30 per person meal & beverage included. Questions to Vince Autiero, Chapter President, at AFIO_LA@yahoo.com.

18 Feb 23 (Saturday), 1400 (ET) - Kennebunk, ME - AFIO Maine hosts former CIA Analyst John Gentry on discussing The New Politicization of the US Intelligence Community. Political activism, radically new for the American Intelligence Community (IC), has surprised observers of U.S. intelligence. But, the still incomplete story has significant political and bureaucratic ramifications for the roles and usefulness of US intelligence. This activism amounts to a new form of the "politicization" of intelligence by some officers to influence policy decisions and this article offers a theory of the origins of the cultural changes within parts of the IC that have created this politicization.
The meeting is open to the public and will begin at 2:00 p.m. at the Program Center of the Brick Store Museum, 4 Dane Street, Kennebunk, Maine 04043. A Question and Answer period will follow the presentation. No reservations are required.

See the AFIO Calendar of Events for scheduling further in the future.
---
11 Jan 23, 0900-0945 (ET) - Virtual - Coffee and Conversation with ONI Director Rear Adm. Michael Studeman, USN - INSA
In this 45-minute moderated conversation, Rear Adm. Studeman will discuss ONI's assessments of foreign naval capabilities and its application of naval intelligence to global geopolitical challenges, including Russian shipping in the Black Sea, power projection in the Arctic, and China's projection of seapower in the South China Sea and beyond. He will also delve into the Navy's use of technical tools to better understand the maritime domain, such as AI to model and analyze critical data, the application of machine learning to enhance maritime surveillance, the use of geospatial intelligence to track shipping of concern, and the use of technical intelligence to assess foreign navies' sensors, weapons, platforms, and combat systems. (Information and registration here.)
15 Jan 23, 1400-1530 (ET) - Virtual - The Background of the Fall of the Berlin Wall (June 1987 - 9 November 1989) Bill Halpin, Former Senior DoD Intelligence Officer - Cold War Museum
When the Soviet Union suddenly collapsed, almost all the experts were surprised. In retrospect, much of the deterioration in the USSR and other Warsaw Pact countries was underway years before. One of the most important symbolic elements in that collapse was the fall of the Berlin Wall. Hear a former senior DoD intelligence officer who was posted in West Berlin explain the background of that event, including what he saw and heard on the ground. (Information and registration here.)
24 Jan 23, 0900-0945 (ET) - Virtual - Coffee and Conversation with CIA Dep. Dir. for Analysis Linda Weissgold - INSA
In this 45-minute moderated discussion, Linda Weissgold will discuss one of CIA's core missions – delivering timely, objective, all-source intelligence analysis to the President and policymakers across government. She will focus on the changing role of analysts in the Intelligence Community, the interaction of intelligence analysis and policymaking, the importance of analytic objectivity, the rigorous application of analytic tradecraft with emerging technologies, and how CIA is working to better inform the public of its core missions and capabilities. (Information and registration here.)
19 - 28 Mar 23 - Washington DC to Europe and back - Gary Powers' 10-Day Cold War Espionage Tour
Join author and historian Gary Powers Jr. on this unforgettable 10-day tour of Cold War and Espionage related sites throughout Germany and the Czech Republic

Day 1: Departure from the USA; Day 2: Arrival Berlin; Day 3: Berlin - Potsdam - Berlin; Day 4: Berlin; Day 5: Berlin – Leipzig – Dresden; Day 6: Dresden – Prague – Pilsen; Day 7: Pilsen – Míšov – Pilsen; Day 8: Pilsen – Rozvadov – Nuremberg – Stuttgart; Day 9: Stuttgart – Sinsheim – Speyer – Frankfurt; Day 10: Departure for the USA.

Included Visits: Berlin Wall Memorial • Checkpoint Charlie Museum • German Spy Museum • Military History Museum Gatow • Glienicke Bridge • Hohenschönhausen Memorial • Berlin Stasi Museum • Allied Museum on Clay Allee • Museum in Der Runde Ecke • Leipzig Forum of Contemporary History Museum • Dresden's Military History Museum • Bautzner Strasse Dresden Memorial • KGB Museum • Prague Museum of Communism • Vitkov Hill Nuclear Bunker • Pilsner Urquell Brewery • Atom Museum • Iron Curtain Museum • Nuremberg Trials Memorial • Stuttgart Cold War Bunker • Sinsheim Technik Museum • Speyer Museum of Technology.

Tour Name: Gary Powers' Cold War Espionage Tour - view tour; Group Name: Garypowers.Com Tours; Departure City: Washington, DC; Tour Departure Date: March 19, 2023; Tour Return Date: 28 Mar 23.

Tour Price: $3,950.00 (deduct $950 for land only tour) per person, assumes 2-person registration.

For full description of the activities and accommodations on each of those dates and locations, explore full information about the tour here or Call 1.800.323.4466.

To enroll now for this 2023 once in a lifetime tour, do so here.

ALSO See: "Enemy Territory: The Story of American CIA U-2 Pilot Francis Gary Powers" - A Graphic Novel by Francis Gary Powers Jr. and Walter Pfenninger.
---
---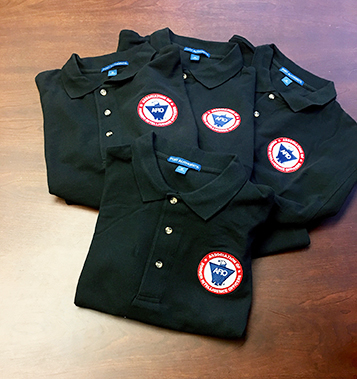 Now available: Black short-sleeved polo shirts with Embroidered AFIO logo
Show your support for AFIO with our new Black Short-sleeve Polo Shirts. Shirts are shrink and wrinkle resistant of fine cotton with a soft, "well-worn, comfy" yet substantial feel. They feature a detailed embroidered AFIO seal. Get a shirt for yourself and consider as gifts for colleagues, family, and friends. Only $50 each including shipping.
Sizes for (M) men, only; Small, Medium, Large, XL, XXL, and XXXL. $50 per shirt.
You may pay by check or credit card. Complete your order online here or mail an order along with payment to: AFIO, 7600 Leesburg Pike, Ste 470 East, Falls Church, VA 22043-2004. Phone orders at 703-790-0320. Questions? Contact Annette at: annettej@afio.com.
---

PopSocket for cellphones or tablets
Show your support to AFIO while enjoying the convenience offered by our AFIO Logo PopSocket. The PopSocket is most commonly used as a stand and as a grip for your mobile phone or tablet; handy for taking selfies, watching videos, and for texting. The PopSocket looks like a small button or sticker which, when closed, sticks flat to your mobile device. However, its accordion-like design enables it to pop open for use. The benefits of using a PopSocket make it a must-have accessory for your mobile phone or tablet. It also aids in keeping your phone from slipping off your hand during use, falling, or breaking.
Price: $15. Order this and other store items online here.
---


Caps - Dark Navy with Navy AFIO Logo
An authentic silhouette with the comfort of an unstructured, adjustable fit. Fabric: 100% cotton. Unstructured. Fabric strap closure with adjustable D-clip. Price: $30. Order this and other store items online here.
---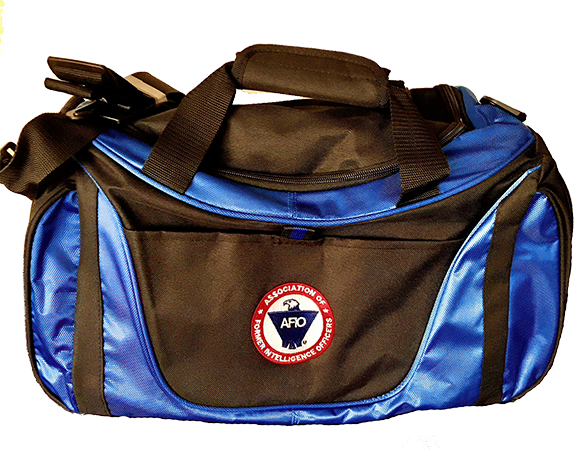 Duffel Bags - Royal Blue and Black with Full Color AFIO Logo This duffel has it all when it comes to value, style and organization.
600 denier polyester canvas with polyester double contrast; D-shaped zippered entry for easy access. Front pocket with hook and loop closure. End mesh pocket Easy-access end pockets. Four durable, protective feet and built-in bottom board for added strength. Web handles with padded grip. Detachable, adjustable shoulder strap.
Dimensions: 11"h x 19.75"w x 9.75"d; Approx. 2,118 cubic inches
Price: $50. Order this and other store items online here.
---
AFIO Mug with color glazed seal.

Made in the U.S.A., dishwasher-safe.
$35 includes shipping.

Sip your morning joe in style or use it to stash pens, cards, paperclips, or candy.
Order this and other store items online here.

---
---
Guide to the Study of Intelligence...and...When Intelligence Made a Difference
"AFIO's Guide to the Study of Intelligence" has sold out in hard-copy.
It is available in digital form in its entirety on the AFIO website here.

Also available on the website here are the individual articles of AFIO's
history project "When Intelligence Made a Difference" that have been
published to date in The Intelligencer journal. More articles will be appear in future editions.
---
Address Technical Issues Or Unsubscribe
Some features of the email version of the WIN do not work for readers who have chosen the Plaintext Edition, some users of AOL, and readers who access their email using web mail. You may request to change from Plaintext to HTML format here afio@afio.com. For the best reading experience, the latest web edition can be found here: https://www.afio.com/pages/currentwin.htm
To unsubscribe from the WIN email list, please click the "UNSUBSCRIBE" link at the bottom of the email. If you did not subscribe to the WIN and are not a member, you received this product from a third party in violation of AFIO policy. Please forward to afio@afio.com the entire message that you received and we will remove the sender from our membership and distribution lists.
---
Disclaimer and Legal Protection
Weekly Intelligence Notes (WINs) are a carefully selected collection of timely open source reports and announcements and other media focused on intelligence and related national security matters that is produced for non-profit educational use by AFIO members and WIN subscribers. WINs are protected by copyright and intellectual property laws. They may not be reproduced or re-sent without specific permission from the Producer. Opinions expressed in the materials contained in the WINs are solely those of the content creators listed with each item. Notices in the WINs about non-AFIO events do not constitute endorsement or recommendation by AFIO.

(c) 1998 thru 2022


---

AFIO Members Support the AFIO Mission - sponsor new members! CHECK THE AFIO WEBSITE at www.afio.com for back issues of the WINs, information about AFIO, conference agenda and registrations materials, and membership applications and much more! .

AFIO | 7600 Leesburg Pike, Suite 470 East, Falls Church, VA 22043-2004 | (703) 790-0320 (phone) | (703) 991-1278 (fax) | afio@afio.com
---
About AFIO | Membership Renewal | Change of Address | Upcoming Events | Chapter Locations | Corporate/Institutional Memberships | Careers in Intelligence Booklet | Guide to the Study of Intelligence | Intelligencer Journal | Weekly Intelligence Notes | Make A Donation | AFIO Store | Member-Only Section | Code of Ethics | Home Page
RETURN TO TOP
---