---
NSA Hiring Record Number of People with Disabilities - Clearance Jobs, 24 Mar 23
The National Security Agency (NSA) had a banner year in 2022, with their efforts to build a sustain a diverse workforce. Meeting the Agency's missions in foreign signals intelligence and cybersecurity, all while building a workforce that better represents the U.S. population is a major undertaking. But the NSA reports that 15.6% of their new hires this past year self-identified as a person with a disability. "We are proud of our strong hiring program, but that is only the first step in an employee's journey," said Teisha Anthony, Chief of Talent Management. "We need to be equally committed to inclusion and accessibility to fully support the people we bring on board." (Full article here.)
Intelligence sharing with Venezuela leaves Colombia vulnerable to spying, ex president says - Union Bulletin, 24 Mar 23
Former Colombian President Ivan Duque warned on Friday that his successor's decision to share intelligence information with Venezuela leaves his country vulnerable to espionage from Nicolas Maduro's socialist regime, and could damage the longstanding cooperation between U.S. and Colombian agencies. Speaking at a forum on Venezuela held in Washington by the Wilson Center, Duque said Venezuela continues to pose the greatest single security threat to the region and warned against diplomatic efforts to "whitewash" the Caracas regime despite its long record of human-rights violations and its support of terrorist and criminal groups. Without naming his successor, current Colombian President Gustavo Petro, Duque said the decision to share intelligence information with the neighboring country will boost the espionage capacity inside his country of hated Venezuelan agencies, such as the Bolivian National Intelligence Service, SEBIN, and the General Directorate of Military Counterintelligence. (Full article here.)
U.S. RC-135 Surveillance Jet Has Flown Unprecedented Mission Over Finland - The Drive, 23 Mar 23
A U.S. Air Force RC-135V/W Rivet Joint has conducted a sortie inside Finnish airspace for the first time, at least in recent memory, flying opposite the border with Russia. These flights look set to become routine as Finland continues to move through the process of joining NATO, something the country's leadership decided to pursue following the Russian military's all-out invasion of Ukraine last year. Today's sortie highlights how the Finnish ascension to the alliance will allow for expanding already robust efforts to surveil Russia from the air. Online flight tracking websites caught the RC-135W Rivet Joint aircraft, which has the serial number 62-4131 and was using the callsign Jake 11 at the time, departing RAF Mildenhall in the United Kingdom earlier today. The aircraft then flew east over the English Channel, the Netherlands, Germany, and Poland, before turning north. (Full article here.)
Graduates from Chinese 'defence universities' working in British arms firms may be spies for Beijing - Daily Mail, 24 Mar 23
Dozens of graduates from China's 'defence universities' – which are suspected of harvesting foreign research for its military – work for leading British companies. The US bans visas for most graduates of the institutions nicknamed the 'Seven Sons of National Defence' amid allegations that they play a key role in training staff for China's forces and espionage. But the Mail has discovered that more than 30 graduates from these universities are currently or have recently worked for, or in collaboration with, a range of key UK companies, including within the defence and security industry and national infrastructure. One conducted research for the Typhoon jet while others worked on projects for BAE Systems Military Air and Information, an audit of LinkedIn profiles found. Another collaborated with BAE Systems on investigating electromagnetic interference in military aircraft and vehicles. (Full article here.)
Warsaw's secret war against Moscow's spies: Poland's intelligence services have gone into overdrive to combat Putin's covert assault - The First News, 21 Mar 23
The arrest this week of a spy network in Poland is just the latest in the country's secret war against Russian intelligence since Putin's troops attacked Ukraine. ABW Sitting on the border of war-torn Ukraine, in the shadowy world of espionage Poland is fighting a secret war against Russian aggression. Openly supplying President Zelensky's soldiers with weapons and firepower, in the cloak and dagger world, Warsaw is covertly battling Moscow's increasingly aggressive subterfuge. The arrest last week of a spy network in Poland is just the latest in the country's secret war against Russian intelligence since Putin's troops invaded Ukraine. The nine people were seized after agents from Poland's Internal Security Agency, the ABW, found hidden cameras recording important railway routes for transferring weapons and ammunition to Ukraine. Captured while secretly monitoring the shipments, according to Polish authorities, the spies were preparing to 'paralyse the deliveries', destabilise Polish-Ukrainian relations, incite hostility towards Nato countries in Poland, and attack the policies of the Polish government towards Ukraine. (Full article here.)
South Korea to inspect all Port Cranes bought from China due to Espionage - Energy Focus Report, 22 Mar 23
The South Korean government is planning to inspect every port crane supplied by China. This is because the U.S. government recently pointed out that cranes built by Shanghai Zhenhua Port Machinery Company (ZPMC) may be used for espionage purposes. At present, a total of 478 Chinese port cranes are in operation in South Korea along with 389 domestically produced ones. According to the U.S. government, Chinese cranes at U.S. ports are capable of accessing military secrets such as military supply transport information with their software and sensors. The U.S. government said it is closely monitoring state-run ZPMC in particular, the global market share of which is 70 percent. Approximately 80 percent of U.S. port cranes are ZPMC cranes. The company said in 2017 that it could monitor each of its cranes from its Shanghai headquarters. (Full article here.)
Chinese espionage is Norway's main concern - Scandasia, 22 Mar 23
China's "state-sponsored" hackers, who were conducting contract work in service of government espionage, have become the main concern for Norway. This is according to an article on Portal Plus. The hackers employ social engineering techniques, including the use of dating sites, employment sites and massaging platforms to gain victims' trust. The Norwegian Intelligence Service (PST) and the National Security Agency (NSM) have highlighted that China has been targeting individuals through social media, in this year's threat assessments. Security intelligence has expressed concerns saying that Beijing can influence the global technical landscape in the coming years. At the same time, the Norwegian government has banned ministers and officials from using Tik Tok on work phones and tablets. According to the governments statement Tuesday, March 21, the decision is based on the fear of espionage. This aligns with the recommendations in several other Western countries. Earlier this year, Norway's wealth fund excluded Chinese tech company Hikvision from investments due to human rights violations. (Full article here.)
U.S. Intel Helped India Route China in 2022 Border Clash: Sources - U.S. News and World Report, 20 Mar 23
India was able to repel a Chinese military incursion in contested border territory in the high Himalayas late last year due to unprecedented intelligence-sharing with the U.S. military, U.S. News has learned, an act that caught China's People's Liberation Army forces off-guard, enraged Beijing and appears to have forced the Chinese Communist Party to reconsider its approach to land grabs along its borders. The U.S. government for the first time provided real-time details to its Indian counterparts of the Chinese positions and force strength in advance of a PLA incursion, says a source familiar with a previously unreported U.S. intelligence review of the encounter into the Arunachal Pradesh region. The information included actionable satellite imagery and was more detailed and delivered more quickly than anything the U.S. had previously shared with the Indian military. (Full article here.)
Stealthy hacks show advancements in China's cyberespionage operations, researchers say - Cyberscoop, 15 Mar 23
A string of recently discovered digital intrusions appears to indicate that hackers linked to China are increasingly savvy when it comes to evading detection once they infiltrate a victim's network. That conclusion comes from researchers at Sentinel Labs and the German IT services company QGroup GmbH who studied several cyber intrusions into unnamed Middle Eastern telecoms. Those attacks indicated that a years-long Chinese-aligned cyberespionage operation has been actively updating its abilities using a series of modifications to a widely used credential theft software package, researchers said in a joint analysis published Thursday. The "finding highlights the increased operational tempo of Chinese cyberespionage actors and their consistent investment in advancing their malware arsenal to evade detection," the researchers said. (Full article here.)
Defense ministry sets out to normalize military intelligence-sharing deal with Japan - Yonhap News Agency, 17 Mar 23
The defense ministry initiated the process to normalize a military intelligence-sharing deal with Japan on Friday, following a summit agreement between the leaders of both countries the previous day. The defense ministry said it sent a letter to the foreign ministry requesting measures to normalize the General Security of Military Information Agreement (GSOMIA). The foreign ministry is soon expected to send an official letter to its Japanese counterpart in response, officials said. On Thursday, President Yoon Suk Yeol said he agreed to "completely normalize" the military pact during his summit with Japanese Prime Minister Fumio Kishida in Tokyo as part of efforts to better respond to North Korea's nuclear and missile threats. Signed in 2016, GSOMIA was seen as a rare symbol of security cooperation between Seoul and Tokyo. (Full article here.)
Counterespionage Corner - Recent Arrests, Convictions, Expulsions, and more...
---
The Latest National Security Topic Interview by Former Acting D/CIA Mike Morell


Intelligence Matters: A CBS News national security podcast hosted by former CIA Acting Director and CBS News national security contributor Michael Morell.
21 Mar | Former Middle East Envoy Dennis Ross on Regional Instability
In this episode of Intelligence Matters, host Michael Morell speaks with former senior U.S. ambassador and Middle East envoy Dennis Ross about growing instability in the Middle East, including tensions between Israel and Palestine, controversial judicial reforms in Israel, and consistent advancements in Iran's nuclear program. Ross, now counselor and a distinguished fellow at the Washington Institute for Near East Policy, offers suggestions for a clearer and more muscular U.S. policy vis a vis Iran and weighs the implications of a possible unilateral military strike on its nuclear facilities by Israel.
Past episodes:

14 Feb | The U.S. Invasion of Iraq: A Look at Intelligence, 20 Years Later
07 Mar | Kristin Wood on the Intelligence Value of Open Source Data
28 Feb| Assessing Top Global Security Threats with Expert Frederick Kagan

More about Intelligence Matters by Michael Morell here.
---
The Latest from International Spy Museum Historian Andrew Hammond, PhD.
Spycast is the official podcast of the International Spy Museum and hosts interviews with intelligence experts on matters of HUMINT, SIGINT, IMINT, OSINT, and GEOINT. Spycast is hosted by historian Andrew Hammond, PhD.
21 Mar | "Israeli Military Intelligence" - IDF Brig. General (Res.) Yossi Kuperwasser Yossi Kuperwasser joins Andrew to discuss the Israeli intelligence community. Yossi is the former head of the Research Division of IDF Military Intelligence.
Past episodes:
14 Mar | "Hitler's Trojan Horse" - Nazi Intelligence with Nigel West
07 Mar | "Espionage and the Metaverse" - with Kathy Hackl
28 Feb | "Ukraine and Intelligence: One Year On" with Shane Harris


---
The Latest Insights from Former CIA Acting Deputy Director for Operations Jack Devine.
In Other News The proprietary analytic newsletter crafted for The Arkin Group's private clients by former CIA Acting Deputy Director for Operations Jack Devine.
23 Mar | Little of real substance emerged from the meeting from Xi and Putin other than platitudes about their enduring special relationship. Riding high from the Chinese brokered peace deal between Saudi Arabia and Iran, Xi was able to have yet another photo op brandishing his proposed peace deal between Russian and Ukraine. While the Saudi-Iranian deal is full of promise but short on details, this deal is a non-starter and Xi shows little interest in pushing Putin to get to a real place for meaningful negotiations with Kyiv. (Full version available to AFIO members in the coming days here.)
17 Mar | Emboldened by an unprecedented third term, Chinese President Xi's ambitions are inciting many firsts.
09 Mar | Recent events demonstrate that post-Soviet states are wary of fully aligning with Putin.
03 Mar | The German-French relationship is still the beating heart of the European Union and it needs to stay healthy.
---
Daily Analysis of Security Issues and Geopolitical Trends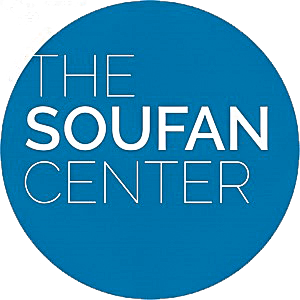 Intel Brief The Soufan Center's flagship, daily analytical product focused on complex security issues and geopolitical trends that may shape regional or international affairs. The Soufan Center was founded by former FBI Special Agent and Soufan Group CEO Ali Soufan.
28 Mar | TikTok's Testimony Troubles

Shou Zi Chew, the CEO of TikTok, a social media platform for short-form video content, was grilled in a rare bipartisan showing of the lower house of the U.S. Congress last Thursday. During a contentious, five-hour meeting of the House Committee on Energy and Commerce, Chew was interrogated over issues ranging from possible Chinese government influence, surveillance, and censorship of the social media platform; industry-wide concerns like misinformation, child safety, and mental health; and even the app's role in facilitating illegal drug sales. U.S. lawmakers also went after Chew personally: U.S. Representative Diana Harshbarger of Tennessee called him "an agent of the CCP [Chinese Communist Party]" during the hearing, while U.S. Senator Tom Cotton of Arkansas took to Twitter later in the evening to call for the executive, a Singaporean national, to be deported from the United States. (Full brief here.)
27 Mar | Implications of Escalating U.S. Clashes with Iran-Backed Forces in Syria
24 Mar | Oman Central to Regional Conflict Resolution in the Middle East
23 Mar | Release of Hostages in West Africa Highlights Important Role of Partnerships
22 Mar | Middle East Countries Accommodate Syria's Assad Twelve Years After the Uprising
---
Analysis of Global Security Events with WTOP National Security Correspondent JJ Green

Inside the SCIF - 23 Mar - FBI Seeks Russian Spies, Exploding USB Drives, Illegal Chinese Police Stations in Canada, and more...
Target USA Podcast - 23 Mar - A Conversation with David Sundberg, Assitant Director in Charge of the FBI's Washington Field Office

The Hunt Broadcast - 15 Mar - 'Rare' mass shooting in Germany prompts concerns about mental illness, terrorism, and guns




---
The Latest Insights from Jeff Stein and Colleagues in SpyTalk (Substack)

Danger Zone: Spy Agencies and Journalists

23 Mar | Danger Zone: Spy Agencies and Journalists - Jonathan Broder
Back in 1978, I was sitting at the bar of the Commodore Hotel in Beirut, the storied safe haven for journalists and diplomats during the Lebanese civil war, when a low-level Palestinian official named Anis sidled up to me and asked if I was "from Israel." At the time, I was the Middle East correspondent for the Chicago Tribune, based in Jerusalem. "I'm not 'from' Israel," I told Anis. "I'm an American reporter based there, but I cover the entire Middle East." Anis lifted his chin and clucked his tongue in the Levantine gesture of disbelief. (Full article here.)

23 Mar | China Raids Beijing Office of US Investigations Firm - Jeff Stein
The Beijing office of a prominent American corporate investigations firm has been raided by Chinese authorities. Mintz Group, a global firm led by fraud and corruption specialists who came from journalism, law firms, computers and banking, has confirmed that its office was raided on the afternoon of March 20. A source told Reuters, which first reported on the action, that its Beijing office was "raided by authorities and five Chinese staff were detained." (Full article here.)

22 Mar | Exclusive: FBI Agents Accuse CIA of 9/11 Coverup - Seth Hettena
LIKE MANY GREAT SPY STORIES, this one begins with a brief, mundane scene whose significance only becomes apparent later on. Around lunchtime on February 1, 2000, a man dropped a piece of paper near a table in a Middle Eastern restaurant outside Los Angeles and paused long enough to strike up a conversation with two Arabic-speaking men dining nearby. It would take FBI agents nearly 20 years to understand the full meaning of that small event. (Full article here.)

18 Mar | Israeli-Saudi Intelligence Ties Stirred, Not Shaken by Iran Rapprochement - Jonathan Broder

17 Mar | Battle for the Skies Over Ukraine - Jeff Stein

15 Mar | Picture This: A Compelling New Photo History of a "Secret War" - Colin R. Thompson

14 Mar | Bridge over Troubled Gulf Waters - Douglas London


To support SpyTalk, subscribe here.


---
---
Article: The 'ordinary' family at No 35: suspected Russian spies await trial in Slovenia - The Guardian, 24 Mar 23
Maria Mayer and Ludwig Gisch settled in Slovenia's capital, Ljubljana, in 2017, with their two young children. People who met the couple tended to like them; the new arrivals from Latin America were friendly but never overbearing, inquisitive but never pushy. Mayer opened an online art gallery, while Gisch ran an IT startup. They told friends that a nagging fear of street crime at home in Argentina had prompted their move to Europe. Peaceful, mountainous Slovenia offered a refreshing change of pace. In interviews with about a dozen people who knew one or both of the couple, two words kept cropping up: "ordinary" and "nice". Neighbours insisted the people living at No 35 were a run-of-the-mill family, and said the children could often be heard playing in the garden, shrieking in Spanish. (Read full report here.)
Free eBook: From the Ground Up - American Cryptology During World War I by E.R. Smoot - NSA, 22 Mar 23
The First World War ranks among the most significant events in history, with effects that we continue to feel more than a century later. It shattered several empires, caused the decline of others, and provided the necessary chaos in which two of the most blood- thirsty regimes, Nazi Germany and the Soviet Union, could arise and grow. It set in motion the events lead- ing to another world war that would be an even great- er disaster. All of these effects, moreover, either were caused or exacerbated by improvements in firepower, transportation, production, and, most of all, commu- nication. It is true that World War I saw the indus- trialization of war on a global scale, but that develop- ment could only come about because combatants and their leaders could now communicate in real time and at virtually any distance. Such increased capacity for command and control became a defining feature of all warring states and their contending forces, mean- ing that the methods for securing, and penetrating, national and military communications took on stra- tegic significance. (Read book here.)
Backgrounder: Inside the CIA's bureau for hiding defectors - The Economist, 24 Mar 23
On a September morning in 2019, a horde of journalists stampeded into a tranquil suburb in Virginia and parked their TV trucks on the edge of a vast green lawn. Only days earlier, the six-bedroom home had been occupied by Oleg Smolenkov, a former Russian diplomat, and his family. Now it was empty. The CIA had smuggled the family out of Russia two years earlier, a reward for the years Smolenkov spent spying for the agency as an aide to Vladimir Putin's foreign-policy adviser. Much of the evidence about Putin's secret campaign to sway the 2016 presidential election in Donald Trump's favour is thought to have come from Smolenkov, although the American government has not acknowledged this. Five months after Trump took office, the baby-faced Smolenkov flew with his wife and three children to Porto Montenegro, a resort on the Adriatic Sea favoured by wealthy Russians. The Russian government had banned employees from traveling to Montenegro owing to friction between the two countries, but the Smolenkovs weren't planning to stay long. The CIA quickly spirited them away to America. (Full report here.)
---
Video: Joseph Simon, U.S. Army counterintelligence — Our Veterans, Their Stories (57 min) - Cattaraugus County Museum, 21 Mar 23
Joseph Simon from Olean, N.Y., entered the military in 1988 to become a medic. In 1992, he transferred and began his service career as a counterintelligence agent for the U.S. Army. In this video interview, he addresses military counterintelligence, working at Fort Meade, watching adversaries, Islam, 9-11, and changes after 9-11. (Watch here.)
Analysis: Avoiding the Secrecy Trap in Open Source Intelligence - Cipher Brief, 21 Mar 23
Open-Source Intelligence (OSINT) operating concepts in the Intelligence Community (IC) are outdated. While the IC has long cited open source in classified products, treating unclassified information as just another "INT" feeding classified systems is an inadequate model with the future datasphere approaching hundreds of zettabytes and where the most valuable data and analytic technology is coming from outside classified facilities. The IC's meager and decades-long OSINT reforms and under-performance are symptoms of a culture designed to protect secrets. While secrets and protecting them will always be a part of a healthy intelligence apparatus, the policy, resourcing, and information technology (IT) priorities of classified operations are incompatible with a world flooded with open and commercial data and cannot scale OSINT toward a cohesive national-level mission. (Full report here.)
Analysis: Lesson Learned - Russia Patiently Daisy Chained Their Way in to Penetrate Germany's Security Service – And It Worked - Clearance Jobs, 23 Mar 2023
We've shared the story of Carsten L, who was with the BND (Germany's external security service) and how he was arrested and charged with espionage/treason for being a recruit of a Russian intelligence organization. The BND officer stands accused of providing information concerning Ukraine and the German, NATO, optic vis-à-vis Ukraine and Russia. What we did not know, until now, courtesy of investigative reporting of Der Spiegel and others, was the modus operandi used by Russia. The first item of import is that we learned that the FSB (Russian security service) was the sponsor of the operation which ultimately recruited and handled Carsten L. This makes sense given that the FSB was also the entity charged with preparing Ukraine for transition to Russian occupation and had been given millions of rubles to prepare the political landscape to welcome Russia with open arms. We know how that went. What we didn't know is that in 2021, the start of the recruitment of this source within the BND was playing out in Germany and in Russia. His ultimate recruitment and delivery of classified materials is believed to have occurred in September 2022. (Full report here.)
Backgrounder: Mossad Espionage in Damascus - In The Lion's Den - Grey Dynamics, 22 Mar 2023
Eliahu ben Shaoul Cohen, better known as Eli Cohen, was an Israeli spy that conducted espionage for Mossad in Damascus, Syria between 1961 and 1965. His infiltration among the Syrian politico-military elite is undoubtedly among the most successful Mossad espionage operations known publicly. Indeed, in less than five years, Kamel Amin Tabeeth, Cohen's undercover identity, passed from Buenos Aires to Damascus, quickly climbing the social hierarchy, obtaining trust and befriending prominent figures of the Syrian establishment. These links permitted him to access valuable intelligence from one of Israel's most dangerous enemies. Nevertheless, the same overconfidence that allowed several outstanding results, combined with Mossad growing pressures and Syrian suspicions, led to this capture in January 1965. Despite the mediation attempts by his family and the Israeli authorities, they publicly hung Eli Cohen in Damascus on 18 May 1965. While Cohen undoubtedly furnished valuable intelligence to Israel, the relevance of his contributions has been partially romanticised. Around this legendary character of Israeli security forces, the debate remains heated. Whereas some sustain the primary role of Cohen's intelligence in 1967 Israel's landslide victory in the six-day war, others consider him a "very poor spy". (Full report here.)
OpEd: The Intelligence Community is Broken - Understanding Intelligence and World Events, 22 Mar 2023
If you missed it Senator Angus King (I-Maine), a member of the Senate Intelligence Committee, last week vigorously questioned the representatives from the Intelligence Community (IC) about their assessment that the Russians would take Kiev in three days and that the people of Ukraine would not put up much of a fight. His questions were spot on, and he had every right to be concerned about the quality of the current intelligence he and other members of Congress are receiving. CIA and DIA got it completely wrong. Only INR at the Department of State, the smallest all source intelligence agency, raised a note of caution citing recent polling data that indicated that the people of Ukraine were prepared to put up stiff resistance to a Russian invasion. May I suggest he or a member of is staff follow up with a request for the IC to share with him the latest "research" study on the strengths and weaknesses of the Russian Military. My guess is there is not one. We stopped doing detailed studies years ago. It was a principal reason that CIA and DIA were so wrong on weapons of mass destruction in Iraq in 2002, and their more recent embarrassing assessments on Russia and the Ukraine. (Full report here.)
Infographic and Report: Mapped - The World's Legal Government Systems - Visual Capitalist, 21 Mar 22
With over 200 countries existing across the world with unique cultures and traditions, one might assume that there are hundreds of types of government systems. But both historically and in modern times, that's not the case. Even while political regimes across these countries have changed over time, they've largely followed a few different types of governance. Today, every country can ultimately be classified into just nine broad forms of government systems. This map by Truman Du uses information from Wikipedia to map the government systems that rule the world today. (Access visual tool and full report here.)
Intelligence in Pop Culture - Video Game - Secret Agent: Cold War Espionage releases to Xbox 19 April - Game News 24, 19 Mar 23
The Australian indie developer Kung Fu Takeaway Studios has announced Secret Agent: Cold War Espionage, a retro Cold War games adapted to the spy genre by hilariously clever ol'as hed. Come to the Xbox One on April 19, 2023. In Secret Agent: Cold War Espionage, you're able to join a bumbling secret agent whose role is to make up your sinister plots. But don't worry that this isn't your standard serious spy game, it's boring and funny, but it's full of humor and ironic moments that will make you laugh. You will sneak and fight through cities in a sepia world with a pistol and a binocular, but be careful not to damage the collateral. To complete your mission, you must escape prisons, to bomb time and win the pity of the sacramental mastermind Zawaro, by stealing a short video from the train de fer. (Read full article and see trailer here.)
Intelligence in History - A Collection of Recent Content
True Intelligence Matters in Film - A Different Loyalty - Marek Kanievska (2004)
A Different Loyalty is a 2004 drama film inspired by the story of British traitor Kim Philby's love affair and marriage to Eleanor Brewer in Beirut and his eventual defection to the Soviet Union. The story takes place in the 1960s and stars Sharon Stone and Rupert Everett. In the film, the characters have fictitious names. The film was entered into the 26th Moscow International Film Festival. Though not credited, the story is based on Eleanor Brewer Philby's 1967 book Kim Philby: The Spy I Loved, published in 1967. The screenplay was written by Jim Piddock. It was a Canada/UK/United States co-production. A Different Loyalty was not released theatrically in the United States.

More information about this based-on-true-events production here.
Walking Tours - Washington, DC - Sundays (Dates/Times Vary)
Former intelligence officers guide visitors on two morning and afternoon espionage-themed walking tours: "Spies of Embassy Row" and "Spies of Georgetown." For more information and booking, click here or contact rosanna@spyher.co
---
Foolproof: Why Misinformation Infects Our Minds and How to Build Immunity
by Sander van der Linden
(W.W. Norton Company, 21 Mar 23)
Informed by decades of research and on-the-ground experience advising governments and tech companies, Foolproof is the definitive guide to navigating the misinformation age. From fake news to conspiracy theories, from inflammatory memes to misleading headlines, misinformation has swiftly become the defining problem of our era. The crisis threatens the integrity of our democracies, our ability to cultivate trusting relationships, even our physical and psychological well-being―yet most attempts to combat it have proven insufficient. In Foolproof, one of the world's leading experts on misinformation lays out a crucial new paradigm for understanding and defending ourselves against the worldwide infodemic. With remarkable clarity, Sander van der Linden explains why our brains are so vulnerable to misinformation, how it spreads across social networks, and what we can do to protect ourselves and others. Like a virus, misinformation infects our minds, exploiting shortcuts in how we see and process information to alter our beliefs, modify our memories, and replicate at astonishing rates. Once the virus takes hold, it's very hard to cure. Strategies like fact-checking and debunking can leave a falsehood still festering or, at worst, even strengthen its hold. But we aren't helpless. As van der Linden shows based on award-winning original research, we can cultivate immunity through the innovative science of "prebunking": inoculating people against false information by preemptively exposing them to a weakened dose, thus empowering them to identify and fend off its manipulative tactics. Deconstructing the characteristic techniques of conspiracies and misinformation, van der Linden gives readers practical tools to defend themselves and others against nefarious persuasion―whether at scale or around their own dinner table.
Order book here.
---
Intelligence Sharing Between Asymmetrical Allies: The US, Uganda, Sudan, and South Sudan Against the LRA
by Malual Ayom Dor
(Africa World Books Pty Ltd, 01 Oct 21)
Intelligence Sharing Amongst the Unequals is only one of a few books focusing on security and defence studies. It is unique because it is the first ever book which documents and examines intelligence sharing among the US, Uganda, Sudan, and South Sudan against the LRA, and it is written by an insider who served in a senior position in the SPLA at the time. This book will be useful in the fields of intelligence, defence, security, and strategic studies and is fit for use in universities and in military and security academies. It underlines the importance and contribution of intelligence sharing against LRA, a merciless Ugandan rebel movement which has caused havoc in Uganda, South Sudan, DR Congo, and CAR since it started its war against the government of President Museveni in 1986. Intelligence Sharing Amongst the Unequals argues that since the US, Uganda, Sudan, and South Sudan began sharing intelligence, the LRA capacity has been drastically reduced, making it a much more of a theoretical organisation. When the US announced that its special forces would cease operations against the LRA on 26 April 2017, the UPDF also announced that it would withdraw. Subsequently, South Sudan announced that it would not continue with LRA operations without the support of US and Ugandan forces. This clearly indicates that once the stronger partner leaves, a significant gap is created. Finally, the book argues that unless an intelligence sharing agreement is resumed against the LRA, the chance of the LRA resurfacing can never be ruled out.
Order book here.
---
Intelligence for Homeland Security: An Introduction
by Jeffrey Douglas Dailey and James Robert Phelps
(Lynne Rienner Publishers, Inc., 14 Jul 21)
"A refreshing, easy to read primer on the landscape of the US federal agencies charged with leading the defense of the homeland." ― Diane M. Janosek, National Intelligence University Since the September 11 terrorist attacks―considered one of the worst intelligence failures in US history―the many agencies that constitute the homeland security enterprise have aggressively developed their intelligence capabilities and activities. Jeffrey Dailey and James Phelps provide a comprehensive introduction to the nature of intelligence, its structures, roles, and missions, in the context of homeland security.
Order book here.
---
Academic Opportunity: National Intelligence Summer Academy (NISA) for High School Students - 17-21 July 2023 - University of North Georgia, Cumming Campus
Are you considering a career in the U.S. Intelligence Community? Did you know that the U.S. Intelligence Community is made up of 18 separate agencies? Sign up for an intense and exciting five days of learning from highly qualified Master's and Ph.D. University of North Georgia instructors and practitioners. Application deadline 15 Apr 23. (More information and registration here.)
Call for Sources: Intelligence Officers Who Lived in Spain in the 1970s
Spanish journalist Francisco Jiménez is preparing a documentary about the intelligence services in Spain in the 70s. He is looking for intelligence officers who worked in Spain in those years. If you are willing to assist Franciso, he can be reached at fjimenez@globomedia.es.
Call for Sources: Intelligence activities in Grenada and the southern Caribbean between 1979, Operation Urgent Fury, Leonard Barrett
The Washington Post is developing a multipart audio documentary series (i.e. podcast) chronicling the Grenadian revolution and the US intervention in 1983. They've interviewed nearly 100 people so far, ranging from the heads of state, former Grenadian officials, current and former US officials, veterans, and intelligence officers. They're looking for people who served at the time and may be knowledgeable about intelligence activities in Grenada and the southern Caribbean between 1979 and Operation Urgent Fury. They would also be interested in speaking with anyone who knew Leonard Barrett during the same period. If anyone is interested in participating, please reach out to Washington Post reporter Ted Muldoon via email at ted.muldoon@washpost.com or on Signal at 651-497-5449.
Academic Opportunity: Critical Thinking for Intelligence Analysis Course - 21 Apr 23, 0800-1700 (ET) - Virtual
This course will help Intelligence Analysts improve their critical thinking skills. It begins by reviewing the basic characteristics of quality intelligence analysis (and the challenges to producing it) and the methodology for building an analytic argument. The course continues with a discussion of the mental traits and habits that inhibit critical thinking and objectivity. Finally, the course discusses several types of structured techniques designed to inject critical thinking and analytic rigor into intelligence production. $600 fee. (More information and registration here.)
Academic Opportunity: The International Security and Intelligence Programme - 9 July to 5 August 2023 - Magdalene College, Cambridge
Chaired by Sir Richard Dearlove the former Chief of the British Secret Intelligence Service, the Cambridge Security Initiative (CSi) launched the ISI Programme in 2016. The purpose of this unique programme is to provide an opportunity for participants to meet and work with leading academics and practitioners from the intelligence and security communities in the historic setting of one of the world's foremost universities. The Programme is run in partnership with the Department of War Studies at Kings College, London. (More information and registration here.)
Call for papers: Intelligence and Post-War Reconstruction - International Journal of Intelligence and Counterintelligence
History shows that without planning for post-war reconstruction, apparent victory in war can lead to long-term defeat. On the other hand, wise post-war planning can lead to friendly, peaceful, and profitable relations between victor and vanquished. For political, socio-economic and security-related planning, intelligence plays a crucial role in estimating capabilities, securing infrastructure, locating persons of interest, and rebuilding. In honor of the 75th anniversary of the European Recovery Program (Marshall Plan) after the Second World War, the editors are particularly interested in papers dealing with intelligence concerning post-war reconstruction initiatives and planning connected to historical and recent conflicts. Both case studies and theoretical and methodological approaches are welcome. The studies may include, but do not have to be focused on, the following questions and issues:
The role of diplomatic and military intelligence during the conflict as preparation for post-war reconstruction, from the conceptual to the practical.
What intelligence needs to be collected to secure and boost reconstruction?
What contacts, networks, and infrastructure are necessary for intelligence to be effective?
Who has been or should be approached and/or recruited for reconstruction efforts based on intelligence?
When has intelligent post-war planning (or its opposite) been historically evident?
How should intelligence interact with formerly warring parties and international organizations to empower practical reconstruction efforts?
What intelligence collection challenges have services encountered in working for post-war peace?
How did intelligence factor in the European Recovery Program?
What was George C. Marshall's position on the role of intelligence in general or concrete examples related to "his" plan?
01 Nov 23 deadline. More information and submission instructions here.
Call For Papers: The Struggle in the Israeli Security Zone in South Lebanon, 1985-2000, Israel Affairs
In June 1985, the Israel Defense Forces (IDF) de jure completed its withdrawal from Lebanon to the Israeli borders. De facto, Israel left in its hands a strip of land, about 15 kilometers from its border, in which its ally, the South Lebanon Army (SLA), operated. This strip of land came to be known as the Israeli Security Zone. The idea was that the SLA would be almost independent, while the IDF would intervene only when necessary in the battle against Palestinian and Shiite groups and supervise the SLA. Soon, however, the IDF became more involved, building military posts within the Security Zone, reinforcing itself, and encountering new challenges. In May 2000, Israel pulled its forces back to its borders and the SLA collapsed, along with the Security Zone. The 15 years of fighting in the Security Zone were rarely mentioned within Israeli society, let alone in the academic sphere. Only in recent years has the Israeli public become aware of this period after many soldiers who served in the Security Zone began sharing their memories through books and social media. The campaign to raise awareness of the period successfully ended when in March 2021, Israel officially recognized this period as one of warfare. This special issue aims to interdisciplinarily bridge the gap in the academic discourse regarding the war in the Security Zone. The editors are interested in articles dealing with various topics concerning the 1985-2000 war in the Security Zone. 30 March 2023 deadline. For more information, including submission instructions and suggested topics, click here.
Call For Articles: AFIO Journal, The Intelligencer
For the past four years, AFIO has included in The Intelligencer a series of articles on "when intelligence made a difference." Written by scholars, intelligence practitioners, students, and others, they cover events from ancient times to the modern world and in many countries. AFIO is soliciting articles for future issues. Most articles run between 2,000 and 3,000 words, although some are longer or shorter. If you have an idea for an article that fits the theme, email senior editor Peter Oleson at peter.oleson@afio.com.
---
Faculty Opening - Adjunct Faculty, Intelligence Analysis - Krieger School of Arts and Sciences, Advanced Academic Programs, Johns Hopkins University, Online
The Advanced Academic Programs (AAP) division seeks non-tenure track adjunct faculty to teach several courses within the MS in Intelligence Analysis program. The course(s) will be taught fully online beginning in Summer 2023 and beyond. Candidates with online course development and teaching experience and those with experience teaching and engaging students from diverse backgrounds are of particular interest. Full details and online application instructions can be found here.
Retired Federal Government Employees Wanted - National Security Agency - Fort Meade, Maryland
The National Security Agency (NSA) may occasionally need skilled civilian retirees to augment the existing work force on high priority projects or programs. In order to fill these temporary positions quickly, we need to know who may be interested and available to return to work with us on a short notice basis as well as their skills. Retirees provide expertise and corporate knowledge to temporarily support mission requirements, manpower shortfalls, and/or mentor the next generation of Agency employees. Salary Range: $86,335 - $170,800.
Additional information and application here.

Assistant/Associate Professor of Intelligence Studies (Global Security and Intelligence Studies) - Embry-Riddle Aeronautical University - Prescott, Arizona
Embry-Riddle Aeronautical University's Prescott, Arizona campus is accepting applications for a tenure-track assistant or associate-level professor of intelligence studies to teach intelligence courses to students in the Global Security and Intelligence program. The successful candidate will teach students about the intelligence community, strategic intelligence, the intelligence cycle and intelligence analysis, writing, and briefing. Prior experience working in the intelligence community is strongly preferred. We are interested in candidates with teaching acumen in intelligence analysis and writing using structured analytical techniques.
Additional information and application here.

Teaching Associate - Intelligence and National Security Studies - Coastal Carolina University, South Carolina
The Department of Intelligence and Security Studies ( ISS ) at Coastal Carolina University is accepting applications for a pool of Teaching Associates (part-time adjunct faculty) to teach introductory and undergraduate elective course offerings for the program beginning in August 2022. While the ad is open to any specialization within the field of study, courses in the areas of homeland security, law enforcement intelligence, counter-narcotics, and cybersecurity are of particular interest. Course offerings can be in a face-to-face or synchronous online modality. To be considered, candidates must have a masters or doctoral degree in a relevant subject area. Prior professional experience in the profession, as well as prior teaching experience are preferred.
Additional information and application here.

---
Barry Craun — Career CIA Support Officer

Barry Lee Craun, 84, passed from this life on March 17, 2023 after suffering a massive heart attack. Barry was born in King, NC and, six months later, he and his parents moved to Riverdale, MD. While in his senior year of high school he volunteered for the Navy and went into service upon graduation. He spent the next two years on the repair ship Amphion as storekeeper. His enlistment included duty in the eastern US--1 shakedown cruise from Norfolk, VA to Newport News and then to RI and Erie, PA. Probably the most interesting time was when the ship spent the summer in Cannes, France--because a star Admiral was on board. That was a highlight for him. Another highlight he loved to recall was playing trumpet in the Washington Redskins band immediately after his military deployment. After his discharge from the Navy, through a chance meeting with a CIA recruiter, he was hired by the Agency in February '59 as a budget and finance officer where he spent most of his career. He was also a support officer for East Africa in his later employment. During his tenure with the Agency he spent two years in Tehran, Iran under the Shah's rule, four years in London, 1 1/2 years in Vietnam, and two years in Bangkok; also multiple trips to East African countries on a temporary basis. Barry always said that besides the travel, one of the highlights of his career was being a part of the team that accomplished the launching of the ground station for satellite intel collection run by GE and the NRO. While working for CIA, he furthered his education by attending Benjamin Franklin University where he earned a Bachelor of Commercial Science degree. He retired in 1990.
James Kandlbinder — Career NSA Officer

James A. Kandlbinder, 89, passed away on March 19, 2023 at Sinai Hospital in Baltimore, Maryland. A graduate of Altoona Area High School, James spent his youth in Altoona, Pennsylvania and attended college at Penn State in Altoona, Pennsylvania. He later earned a Bachelor of Science Degree from Towson State University. He enlisted in the United States Navy in the early 1950s during the Korean War and was then recruited by the United States Army as a coding specialist. At the end of his military service, he was hired by the newly formed National Security Agency, where he spent the entirety of his professional career. He retired from the Chief of Staff position at the National Security Laboratory for Physical Sciences.
Raymund Nolan — Career NSA Officer

Raymund V. Nolan (Age 89) passed on March 20, 2023 while residing at Heritage Hall in Leesburg, Virginia. Raymund was born in Houston, Texas. Raymund graduated from Lamar High School in Houston. He next attended the University of Houston studying electrical engineering with an ROTC scholarship. After college graduation, he served in the U.S. Army in the Signal Corps. Upon completion of his service, he moved to the Washington, DC area and began to work at the National Security Agency where he was to spend nearly his entire career. Raymund retired from the government in 1995 with over 40 years of federal service.
Mikki Carpenter — NSA Officer

Rose Merlaine (Mikki) Carpenter died on March 25, one month after reaching her 100th birthday! She was predeceased by her husband U.S. Navy Chief William W. Carpenter, who worked at the Agency for more than 30 years. Mikki was a Navy WAVE during World War II and worked at the Agency for ten years. She retired in 1978 and was a member of the Phoenix Society. She is survived by 5 children, 12 grandchildren, and 30 adorable great-grandchildren.
---
13 Apr 23 (Thursday), 1130 (PST) - In Person - San Francisco - The AFIO Andre LeGallo Chapter hosts Richard E. Hanson on CIA Operations in Viet Nam. No-host cocktail. Location: Basque Cultural Center, 599 Railroad Avenue, South San Francisco, CA. Please contact Mariko Kawaguchi, Board Secretary at afiosf@aol.com for questions. Students: please e-mail your school ID to get sponsored. Register here.
21 Apr 23 (Friday), 1030 (ET) - In-Person Tysons, VA - Registration has opened for AFIO National Spring Luncheon. Presentations by LTG Michael Groen (USMC, Ret), former Commander of the Joint Artificial Intelligence Center, discussing AI. His presentation begins at 11:00 a.m. And journalist Jim Popkin discussing Cuban Spy Ana Montes featured in his book, "Code Name Blue Wren: The True Story of America's Most Dangerous Female Spy―and the Sister She Betrayed." His talk starts at 1:00 p.m. Lunch served noon-1:00 p.m. Event ends 2:00 p.m. Registration closes 5:00 p.m. Friday, 14 April.
Register here
NO registrations or walk-ins at hotel. Check-in and badge pickup for Registered Attendees starts at 10:30 a.m. Luncheon prices are $55 for Members; $70 for nonmember guests and all Subscribers. Though we do not provide special overnight room rates, if you wish to make room reservations at the hotel, do so here. Cancellation Schedule: AFIO must guarantee XX meals to the hotel; therefore, regrets it must charge a cancellation fee. 100% refund until close of registration. No refunds or cancellations after close of registration. You will receive a donation receipt for fees forfeited. A donor statement will be sent showing that you made a "gift to AFIO" in such instances. Gifts to AFIO are tax-deductible. All attendees must be members of AFIO or accompanied by a member of AFIO. To learn more about becoming a member, visit: www.afio.com.  If you have any questions regarding membership, contact our office at 703-790-0320 or email us at afio@afio.com. Questions regarding event? Email events@afio.com
Some reactions to Popkin's "Code Name Blue Wren"
"Code Name Blue Wren might be the most mesmerizing spy story I've ever read. It shows how a brilliant manipulator secretly working for the Cubans finagled her way deep into the US military—and the anguish of the friends and family she so easily conned. Jim Popkin captures the brutal realities of modern espionage. I couldn't stop reading this." —Mark Leibovich, author of This Town and Thank You for Your Servitude

"For espionage devotees, Jim Popkin's Code Name Blue Wren is a critical read. In great detail, Popkin explores the case of Ana Montes, who became a mole in the Defense Intelligence Agency for Cuban intelligence. A mole who was almost never caught thanks to years of incompetence by the FBI's counterspies. But thanks to the dogged persistence of a dedicated NSA analyst, who bypassed the FBI at great risk to her career, Montes was arrested shortly after the 9/11 attacks. Left in her wake was the likely death of an American Green Beret killed in action in El Salvador and the pro-American troops fighting alongside him." —James Bamford, bestselling author of The Puzzle Palace and Spyfail: Foreign Spies, Moles, Saboteurs, and the Collapse of America's Counterintelligence

"Jim Popkin uncovers riveting details about one of the most damaging spy cases in US history, revealing new insights into the highly sensitive secrets that Ana Montes gave to her Cuban handlers. Through remarkably extensive interviews with her relatives and coworkers, he exposes not only what she did but why. This is the definitive history of how one of America's most highly regarded intelligence analysts betrayed her country, and how she almost got away with it." —Pete Williams, former NBC News justice correspondent

"This spy tale reads like a new season of Homeland – except this Ice Queen's traitorous double-life was entirely real. Jim Popkin takes us deep into a long-ignored story of an intel officer who went rogue, spilling US secrets to Cuba, endangering US operatives, and tricking presidents and her own sister at the FBI in the process." —Carol Leonnig, Pulitzer Prize-winning reporter at the Washington Post and author of Zero Fail: The Rise and Fall of the Secret Service 

"An entertaining story of cunning espionage."—Kirkus Reviews
See the AFIO Calendar of Events for scheduling further in the future.
---
Tuesday, 28 Mar 23, 1400-1500 (ET) – Washington, DC – SPY with Me: Memory Loss Program – Virtual International Spy Museum Program
SPY with Me is an interactive virtual program for individuals living with dementia and their care partners. Join SPY as we use music and artifacts to explore some of our favorite spy stories. Programs last one hour and are held virtually through Zoom. Every month the same program is offered on two different dates. To register, please email Shana Oltmans at soltmans@spymuseum.org. Free but space is limited. Register below. Explore or Register here: www.spymuseum.org.
Wednesday, 29 Mar 23, 0900-1700 (ET) – Boston, MA – How Wars End: A Conference Presented by the Pardee Center for the Study of the Longer-Range Future – Boston University - In Person
The event will feature five expert panels:How wars end from a historical perspective (Moderator: Prof. Erik Goldstein), How intelligence supports diplomats in ending wars (Moderator: Prof. Joseph Wippl), How the Afghanistan War ended (Moderator: Prof. John Woodward), How the Iraq War ended (Moderator: Prof. Shamiran Mako), How current crises will end (Moderator: Ambassador Mark Storella). The full list of panelists will be announced in the coming weeks. This conference is convened by Prof. John Woodward, Prof. Cathal J. Nolan, and Prof. Erik Goldstein in their capacity as Pardee Center Faculty Research Fellows. This event is free and open to the public. Register here.
Thursday, 30 Mar 23, 1400-1500 (ET) – Washington, DC – SPY with Me: Memory Loss Program – Virtual International Spy Museum Program
SPY with Me is an interactive virtual program for individuals living with dementia and their care partners. Join SPY as we use music and artifacts to explore some of our favorite spy stories. Programs last one hour and are held virtually through Zoom. Every month the same program is offered on two different dates. To register, please email Shana Oltmans at soltmans@spymuseum.org. Free but space is limited. Register below.  Explore or Register here: www.spymuseum.org
Wednesday, 05 Apr 23, 1200-1300 (ET) – Virtual – ChatGPT and Intelligence Analysis - Johns Hopkins University
Join host Michael Ard for a discussion with intelligence analysis and AI specialist David Kamien on "ChatGPT and Intelligence Analysis." David Kamien is the CEO and Founder of Mind-Alliance Systems, which builds custom intelligence and knowledge management solutions for global law firms, corporations, and governments. Before founding Mind-Alliance Systems, David organized a conference on homeland security for the Israel Economic Mission to New York, consulted with Raytheon, Northrop Grumman, and Motorola, and worked at Marsh and McLennan. David also served as editor of The McGraw-Hill Homeland Security Handbook: Strategic Guidance for a Coordinated Approach to Effective Security and Emergency Management. At Mind-Alliance Systems, invented a collaborative intelligence analysis system and a patented method and system for modeling, analyzing, planning, and improving anticipated information flows across agencies, departments, companies, etc., and across different disciplines. David has led engagements for The Center for Strategic and International Studies, The World Bank, The European Central Bank, The Rockefeller Foundation, The North Atlantic Treaty Organization (NATO), New York State Office of Emergency Management, DHS S and T (via SPAWAR), Raytheon, Everbridge, Fragomen, Ogletree Deakins, and Eversheds Sutherland. David has published articles about security and knowledge management and has presented at conferences organized by the Office of the Director of National Intelligence (ODNI), the International Association for Intelligence Education (IAFIE - European Chapter), and the North Atlantic Treaty Organization (NATO). David received a B.A. in East Asian and General Studies from the Hebrew University of Jerusalem, and a law degree from the Academic College of Law in Ramat Gan. More information and registration here
13-14 Jul 23 – 2023 Intelligence and National Security Summit - AFCEA/INSA - In Person - National Harbor, MD
"The Nation's Premier Intel and National Security Event" - Save the date for the 10th Annual AFCEA/INSA Intelligence and National Security Summit! The powerful, two-day program, at the Gaylord National Resort, will feature five blockbuster plenaries, six engaging breakout sessions, and a jam-packed exhibit hall full of the latest IC technology innovations. Top leaders will discuss State of the Community, Military Intelligence Priorities, Strategic Intelligence, and Cybersecurity Challenges. Breakout sessions with senior leaders, technology experts, and thought leaders will examine some of the most pressing issues facing the community. Plus, powerful networking opportunities designed to foster partnerships and relationship building. Stay tuned! Registration to open in early March. Check for updates here.
---
---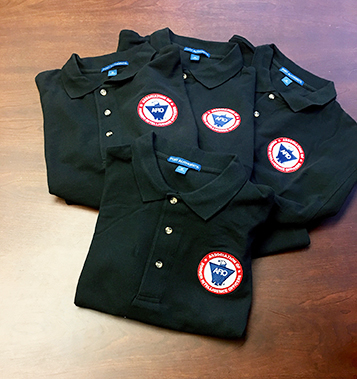 Now available: Black short-sleeved polo shirts with Embroidered AFIO logo
Show your support for AFIO with our new Black Short-sleeve Polo Shirts. Shirts are shrink and wrinkle resistant of fine cotton with a soft, "well-worn, comfy" yet substantial feel. They feature a detailed embroidered AFIO seal. Get a shirt for yourself and consider as gifts for colleagues, family, and friends. Only $50 each including shipping.
Sizes for (M) men, only; Small, Medium, Large, XL, XXL, and XXXL. $50 per shirt.
You may pay by check or credit card. Complete your order online here or mail an order along with payment to: AFIO, 7600 Leesburg Pike, Ste 470 East, Falls Church, VA 22043-2004. Phone orders at 703-790-0320. Questions? Contact Annette at: annettej@afio.com.
---

PopSocket for cellphones or tablets
Show your support to AFIO while enjoying the convenience offered by our AFIO Logo PopSocket. The PopSocket is most commonly used as a stand and as a grip for your mobile phone or tablet; handy for taking selfies, watching videos, and for texting. The PopSocket looks like a small button or sticker which, when closed, sticks flat to your mobile device. However, its accordion-like design enables it to pop open for use. The benefits of using a PopSocket make it a must-have accessory for your mobile phone or tablet. It also aids in keeping your phone from slipping off your hand during use, falling, or breaking.
Price: $15. Order this and other store items online here.
---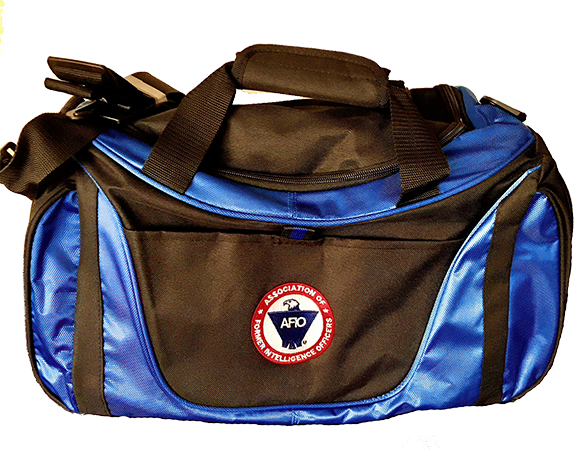 Duffel Bags - Royal Blue and Black with Full Color AFIO Logo This duffel has it all when it comes to value, style and organization.
600 denier polyester canvas with polyester double contrast; D-shaped zippered entry for easy access. Front pocket with hook and loop closure. End mesh pocket Easy-access end pockets. Four durable, protective feet and built-in bottom board for added strength. Web handles with padded grip. Detachable, adjustable shoulder strap.
Dimensions: 11"h x 19.75"w x 9.75"d; Approx. 2,118 cubic inches
Price: $50. Order this and other store items online here.
---
AFIO Mug with color glazed seal.

Made in the U.S.A., dishwasher-safe.
$35 includes shipping.

Sip your morning joe in style or use it to stash pens, cards, paperclips, or candy.
Order this and other store items online here.
---


Caps - Dark Navy with Navy AFIO Logo
An authentic silhouette with the comfort of an unstructured, adjustable fit. Fabric: 100% cotton. Unstructured. Fabric strap closure with adjustable D-clip. Price: $30. Order this and other store items online here.
---
JUST PUBLISHED FOR 2023
Be informed on career opportunities in the U.S. Intelligence Community
Intelligence as a Career - with updated listings of colleges teaching intelligence courses, and Q&As on needed foreign languages, as well as the courses, grades, extracurricular activities, and behavioral characteristics and life experiences sought by modern U.S. intelligence agencies.

AFIO's popular 47-page booklet reaches thousands of high school, college students, university guidance offices, and distributed in classes teaching intelligence, to help those considering careers in the U.S. Intelligence Community.

This is the all new fifth edition.
The publication is also popular with University Career Guidance Centers, professors and academic departments specializing in national security, and parents assisting children or grandchildren in choosing meaningful, public service careers.
This booklet is provided online as a public service from the generosity of AFIO board, volunteer editors/writers, donors, and members.
We thank all for their support which makes this educational effort possible.
Careers Booklet (new 2023 Fifth Edition) can be read or downloaded here

---
Guide to the Study of Intelligence...and...When Intelligence Made a Difference
"AFIO's Guide to the Study of Intelligence" has sold out in hard-copy.
It is available in digital form in its entirety on the AFIO website here.

Also available on the website here are the individual articles of AFIO's history project "When Intelligence Made a Difference" that have been published to date in The Intelligencer journal. More articles will be appear in future editions.
---
Address Technical Issues Or Unsubscribe
Some features of the email version of the WIN do not work for readers who have chosen the Plaintext Edition, some users of AOL, and readers who access their email using web mail. You may request to change from Plaintext to HTML format here afio@afio.com. For the best reading experience, the latest web edition can be found here: https://www.afio.com/pages/currentwin.htm
To unsubscribe from the WIN email list, please click the "UNSUBSCRIBE" link at the bottom of the email. If you did not subscribe to the WIN and are not a member, you received this product from a third party in violation of AFIO policy. Please forward to afio@afio.com the entire message that you received and we will remove the sender from our membership and distribution lists.
---
Disclaimer and Legal Protection
Weekly Intelligence Notes (WINs) are a carefully selected collection of timely open source reports and announcements and other media focused on intelligence and related national security matters that is produced for non-profit educational use by AFIO members and WIN subscribers. WINs are protected by copyright and intellectual property laws. They may not be reproduced or re-sent without specific permission from the Producer. Opinions expressed in the materials contained in the WINs are solely those of the content creators listed with each item. Notices in the WINs about non-AFIO events do not constitute endorsement or recommendation by AFIO.

(c) 1998 thru 2023


---

AFIO Members Support the AFIO Mission - sponsor new members! CHECK THE AFIO WEBSITE at www.afio.com for back issues of the WINs, information about AFIO, conference agenda and registrations materials, and membership applications and much more! .

AFIO | 7600 Leesburg Pike, Suite 470 East, Falls Church, VA 22043-2004 | (703) 790-0320 (phone) | (703) 991-1278 (fax) | afio@afio.com
---
About AFIO | Membership Renewal | Change of Address | Upcoming Events | Chapter Locations | Corporate/Institutional Memberships | Careers in Intelligence Booklet | Guide to the Study of Intelligence | Intelligencer Journal | Weekly Intelligence Notes | Make A Donation | AFIO Store | Member-Only Section | Code of Ethics | Home Page
RETURN TO TOP
---