---
Iranian Army warns off US spy aircraft near Sea of Oman - Global Security, 02 Apr 23
The naval units of the Islamic Republic of Iran's Army has identified and warned off a US spy aircraft after it entered the country's borders near the Sea of Oman. The Navy's Public Relations Office was cited by Tasnim news agency as saying on Sunday that a US Navy EP-3E aircraft entered the borders in the vicinity of the Sea of Oman, but "with the full vigilance of the Navy's forces and by sending warnings to the plane, it was prevented from entering the country's sky without authorization." The news agency said, "After receiving the warning message, the aircraft left the country's air border and returned to international air routes." The EP-3E aircraft, with four turboprop engines, is made by the US military aircraft manufacturer Lockheed Martin. (Full article here.)
Executive Order on Prohibition on Use by the United States Government of Commercial Spyware that Poses Risks to National Security - White House, 27 Mar 23
By the authority vested in me as President by the Constitution and the laws of the United States of America, it is hereby ordered as follows: Section 1. Policy. Technology is central to the future of our national security, economy, and democracy. The United States has fundamental national security and foreign policy interests in (1) ensuring that technology is developed, deployed, and governed in accordance with universal human rights; the rule of law; and appropriate legal authorization, safeguards, and oversight, such that it supports, and does not undermine, democracy, civil rights and civil liberties, and public safety; and (2) mitigating, to the greatest extent possible, the risk emerging technologies may pose to United States Government institutions, personnel, information, and information systems. (Full article here.)
Is Myanmar building a spy base on Great Coco Island? - Chatham House, 31 Mar 23
Myanmar's Coco Islands in the Bay of Bengal have long been the subject of geopolitical intrigue and controversy among analysts, journalists, and policymakers across South Asia. The most common allegation is that since the early 1990s, Myanmar has allowed a Chinese signals intelligence facility on the archipelago. Little evidence exists for such a facility, bar a heavily weathered radar station, but recent satellite photographs have raised concerns, especially for India, of increased activity on the islands. The islands are experiencing a steady makeover, with tell-tale signs of military modernization and facilities to support aircraft. Instead of the phantom Chinese intelligence post still prevalent in the popular imagination, the latest images reveal that Myanmar may soon be intending to conduct maritime surveillance operations from Great Coco Island, the largest in an isolated archipelago that lies just 55 kilometres north of India's strategic Andaman and Nicobar Islands. (Full article here.)
MI6 boss pledges to put woman on shortlist for successor as 'C' to run Secret Intelligence Service - Daily Mail, 01 Apr 23
The UK's top spy has vowed to end all-male shortlists ahead of the appointment of his successor as chief of the Secret Intelligence Service. Richard Moore, the head of MI6, who is also known by the codeword 'C', has signaled the time has come to follow in the footsteps of sister agency MI5 – which has already had two women at its helm. In a tweet, Moore, who has been in the post since 2020 and is expected to be there for a further two years at least, said: 'I will help forge women's equality by working to ensure I'm the last C selected from an all-male shortlist.' About 3,600 personnel are employed by MI6 in its London headquarters at Vauxhall Cross on the south bank of the River Thames and in covert locations around the world. (Full article here.)
Russian human intelligence squeezed in Finland - Finish Security and Intelligence Service, 30 Mar 23
Expulsions of Russian intelligence officers and visa refusals on the advice of Supo have weakened Russian human intelligence in Finland. Human intelligence under diplomatic cover has traditionally been the main instrument of Russian intelligence operations abroad. Russia, China and certain other countries use intelligence operations to acquire information for their own ends and against the interests of Finland. The Finnish Security and Intelligence Service (Supo) significantly compromised Russian intelligence operations in Finland in 2022. "The Russian intelligence station shrank to about half of its former size last year. The main reason for this decline was the expulsion of intelligence officers and visa refusals on the advice of Supo," explained Supo Chief Antti Pelttari at the official release of the new Supo yearbook on 30 March. The falling number of intelligence officers and restrictions on travel across the Russian border have significantly undermined operating conditions for Russian human intelligence in Finland. Operations under diplomatic cover have been the main instrument of Russian intelligence abroad. (Full article here.)
HADES modernizes aerial military intelligence - U.S. Army, 30 Mar 23
During the Civil War, the Army used aerial technology, such as balloons, kites and pigeons, to gather intelligence and to survey the battlefield giving ground commanders the ability to make informed decisions on how to maneuver into advantageous positions. Today, the Army's aerial-intelligence, surveillance and reconnaissance, or A-ISR, community still has the same mission of providing timely, relevant, and accurate intelligence to tactical, operational, and strategic commanders, but it uses airplanes instead of balloons and birds. Yet, the current fleet of over 60 ISR aircraft are remnants of the Cold War. Originally built for Cold War and Counter-terrorism threats, current and future multidomain operations, as well as geographical and geopolitical changes create challenges with the old fleet. Threats to assured communications are increasing, resulting in a need to design a concept and build material solutions for likely scenarios that do not rely on access to allied military installations to continue the mission. (Full article here.)
Exclusive: Declassified report suggests "Havana syndrome" could result from energy weapon - Salon, 29 Mar 23
A newly obtained declassified report prepared for the director of national intelligence by a panel of experts appears to show conclusively that "Havana syndrome" — a cluster of unexplained symptoms experienced by diplomats and government personnel abroad — is not a naturally occurring health problem. It does not reach any conclusions about who or what may be responsible, but suggests that an unknown device or weapon using "pulsed electromagnetic energy" remains a plausible explanation. The document was declassified after the James Madison Project, a nonprofit dedicated to reducing government secrecy, sued to obtain further information on "Anomalous Health Incidents" or AHIs, the official term used to designate the syndrome. "The U.S. government is covering up evidence as to what AHIs are," said James Madison Project attorney Mark Zaid, who also represents a number of Havana syndrome patients. "This report differs from the summary released earlier this month and previous statements from the intelligence community. It is becoming apparent that these events were perpetrated either by foreign actors, or it is an experiment gone horribly wrong." (Full article here.)
An accused Russian spy boasted that infiltrating the US was easy. He's now in prison after getting caught with files that blew his cover. - Business Insider, 25 Mar 23
Court documents containing secret messages purporting to be between a Russian spy and his handler give a wild look into a decades-long cover story that later dramatically fell apart. The messages were contained in charging documents made public by the Department of Justice, which is bringing an espionage case against Sergey Cherkasov. The DOJ alleges that Cherkasov spent years building a false identity as a Brazilian called Viktor Muller Ferreira, which he used to sneak into the US. One message in the complaint shows Cherkasov jubilant after getting accepted into a prestigious US university, where he hoped an international-relations course would get him access to privileged information on US foreign policy. "Today we fucking drink!!!" he wrote, later adding "We fucking did it!!!" A screengrab of a message sent by Sergey Cherkasov, whom the US accuses of being a Russian spy. (Full article here.)
Inside The Shadowy World Of Iranian Cyber Espionage Group APT33 - Forbes, 28 Mar 23
Several of the most threatening cybercrime groups today carry the inside industry name of "APT." APT stands for Advanced Persistent Threat, and an advanced persistent threat (APT) is a clandestine type of cyberattack or group that uses APT techniques in which the attacker gains and maintains unauthorized access to a targeted network and remains undetected for a significant period of time. During the time between infection and remediation, the hacker will often monitor, intercept, and relay information and sensitive data. APTs often use social engineering tactics or exploit software vulnerabilities in organizations with high value information. Despite having similar names, each "APT" group is distinct with separate history, tactics, and targeting. In our hacker series, we already covered APT 28 (Fancy Bear) and APT 10 (Stone Panda). Today, we focus on APT33. Who is APT33? APT33, also known as Elfin, is a cyber espionage group operating since at least 2013. APT33 is believed to operate out of the geographic boundaries of the Islamic Republic of Iran and has been linked to attacks on targets in the Middle East, Europe, and the United States. The group's focus is on gathering intelligence on organizations in the aerospace, energy, and petrochemical sectors, as well as on government agencies and academic institutions. (Full article here.)
'Stone Ghost' secret intel network may expand to more nations: DIA - Defense News, 29 Mar 23
The U.S. Defense Intelligence Agency plans to upgrade its international intelligence-sharing system to allow more seamless collaboration with a broader coalition of allies. DIA uses the top-secret system to communicate with and share intelligence among the U.S. and its Five Eyes partners — the U.K., Australia, New Zealand and Canada. Chief Information Officer Doug Cossa told reporters the agency will begin designing an upgrade to Stone Ghost in fiscal 2024 to allow information to be shared with more countries as needed. "The idea is to add and remove coalitions based on the intelligence problem set that we're uniquely focused on collectively," Cossa said during a March 23 briefing at DIA headquarters in Washington. "That's really where the focus of those modernization efforts will go: [H]ow do you add and remove partners on the fly?" The agency has the ability to share information with other countries, but doing so requires a separate system. As the Defense Department's lead organization for open-source intelligence, DIA processes an increasing amount of data, Cossa said, and being able to maintain that information seamlessly and quickly within a single network is important. (Full article here.)
ASIO to take over issuing high-level security clearances due to 'unprecedented' espionage threat - The Guardian, 29 Mar 23
The spy agency Asio will take over issuing the highest level security clearances in Australia in response to what the government calls "the unprecedented threat from espionage and foreign interference". The government revealed the plans in a bill introduced to parliament on Wednesday, saying the new process would "reduce the risk of compromise of trusted insiders". While the Aukus nuclear-powered submarine plans were not specifically mentioned, the government's notes to parliament said that the measures would help "ensure the ongoing confidence of our most trusted allies". The legislation will make the Australian Security Intelligence Organisation (Asio) responsible for issuing, maintaining and revoking Australia's highest level of security clearance, known as "positive vetting". This will replace the function currently performed by a range of agencies, including the Australian Government Security Vetting Agency, the Australian Secret Intelligence Service, the Australian federal police and the Office of National Intelligence (ONI). (Full article here.)
Israel's government might be flailing, but the Mossad is flourishing - Washington Examiner, 29 Mar 23
Prime Minister Benjamin Netanyahu's government might be in chaos, but Israel's foreign intelligence service is flourishing. The Mossad's latest publicly known victory came on Tuesday when Israeli and Greek officials announced the disruption of a planned terrorist attack on Israeli tourists in Greece. The Associated Press reports that a Jewish restaurant in central Athens was one target. Two Iranian-born Pakistani nationals have been arrested and are being linked to a broader Iranian cell that has previously planned attacks in Turkey. In a statement, the Mossad observed that "After the start of the investigation of the suspects in Greece, the Mossad rendered intelligence assistance in unraveling the infrastructure, its work methods and the link to Iran ... [the men are] part of an extensive Iranian network run from Iran and spanning many countries." This finding of Iranian culpability is very likely accurate, although the degree of direct operational control between Iran and the suspects is unclear. Regardless, since the U.S. killing of Iranian Islamic Revolutionary Guard Corps Gen. Qassem Soleimani in 2021, Iran has escalated its already significant attack posture against Israeli, U.S., and Iranian dissident targets. This has included assassination plots against dissident reporters in London, a Russian mafia-contracted assassination plot against a dissident journalist in New York City, and active plots to kill former and active senior U.S. government officials (the Washington Examiner was the first to report on a plot by the IRGC to assassinate former national security adviser John Bolton). Iran has also pursued numerous lines of effort in order to kill Israelis around the world. (Full article here.)
Counterespionage Corner - Recent Arrests, Convictions, Expulsions, and more...
---
The Latest National Security Topic Interview by Former Acting D/CIA Mike Morell


Intelligence Matters: A CBS News national security podcast hosted by former CIA Acting Director and CBS News national security contributor Michael Morell.
28 Mar | CIA Clinical Psychologist Ursula Wilder on Profiling World Leaders
In this episode of Intelligence Matters, host Michael Morell speaks with Ursula Wilder, a clinical psychologist at the Central Intelligence Agency, about why intelligence agencies conduct psychological profiles of world leaders, and how past policymakers have used what they have learned to make strategic decisions. Wilder, who also worked in CIA's counterterrorism center and Medical and Psychological Assessments unit, explains the "dark tetrad" of personality -- narcissism, paranoia, Machiavellianism and sadism -- and how those traits can influence how leaders make decisions and engage in negotiations. She and Morell also discuss how policymakers respond to psychological profiles compiled by government agencies.
Past episodes:

21 Mar| Former Middle East Envoy Dennis Ross on Regional Instability
14 Feb | The U.S. Invasion of Iraq: A Look at Intelligence, 20 Years Later
07 Mar | Kristin Wood on the Intelligence Value of Open Source Data

More about Intelligence Matters by Michael Morell here.
---
The Latest from International Spy Museum Historian Andrew Hammond, PhD.
Spycast is the official podcast of the International Spy Museum and hosts interviews with intelligence experts on matters of HUMINT, SIGINT, IMINT, OSINT, and GEOINT. Spycast is hosted by historian Andrew Hammond, PhD.
28 Mar | "Secrets Revealed" - Curator Alexis and Andrew on SPY's Pop-Up Exhibit
Past episodes:
21 Mar | "Israeli Military Intelligence" - IDF Brig. General (Res.) Yossi Kuperwasser
14 Mar | "Hitler's Trojan Horse" - Nazi Intelligence with Nigel West
07 Mar | "Espionage and the Metaverse" - with Kathy Hackl


---
The Latest Insights from Former CIA Acting Deputy Director for Operations Jack Devine.
In Other News The proprietary analytic newsletter crafted for The Arkin Group's private clients by former CIA Acting Deputy Director for Operations Jack Devine.
30 Mar | Russia's economy is finally feeling the effects of sanctions. A recent report (by the Wall Street journalist who was recently arrested in Russia on charges of espionage) states that energy revenue dropped by almost 46% in the first two months of this year compared to the same period in 2022. Europe's price cap on Russian gas and ban on seaborne Russian crude oil have caused energy receipts to plummet and while Russia has found a buyer for its energy in China, it is at such a discounted price one might argue with friends like these, who needs enemies. Concurrently, Russia is spending a great deal money on its war, including on Iranian drones and other weapons, prompting many to sound alarm bells anew about the economic viability of the Russian state at war, which may be why there is renewed nuclear sabre rattling in Belarus. (Full version available to AFIO members in the coming days here.)
23 Mar | Little of real substance emerged from the meeting from Xi and Putin
17 Mar | Emboldened by an unprecedented third term, Chinese President Xi's ambitions are inciting many firsts.
09 Mar | Recent events demonstrate that post-Soviet states are wary of fully aligning with Putin.
---
Daily Analysis of Security Issues and Geopolitical Trends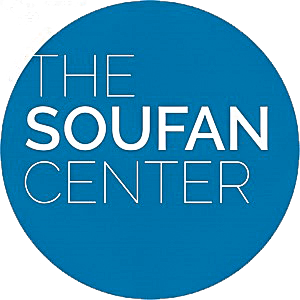 Intel Brief The Soufan Center's flagship, daily analytical product focused on complex security issues and geopolitical trends that may shape regional or international affairs. The Soufan Center was founded by former FBI Special Agent and Soufan Group CEO Ali Soufan.
04 Mar | Jihadist Groups Threaten to Destabilize the Sahel and Coastal West Africa

As terrorist groups continue destabilizing the Sahel region in sub-Saharan Africa, violence has spilled over into coastal West African states which were previously beyond the reach of regional jihadist groups. Al-Qaeda-linked Jama'at Nusrat al-Islam wal Muslimin (JNIM) now controls 40 percent of Burkina Faso's territory, according to U.S. government estimates, and the group is increasingly spreading outward, taking over larger swaths of territory throughout the region. The Islamic State Greater Sahara (ISGS) is also active in the Sahel, challenging fragile governments and taking advantage of porous borders, high levels of corruption, and weak rule of law. In 2017, Benin, Cote d'Ivoire, Togo, Ghana, and Burkina Faso formalized their cooperation to combat the spread of Islamist groups under the Accra Initiative. The African Union (AU) and the Economic Community of West African States (ECOWAS) have also advocated for closer coordination between the affected states to combat the influence of the militant groups. The growing threat has also received attention from international partners in the region. To bolster good governance, the United States, through the U.S. State Department, has moved to implement the Global Fragility Act, which provides resources to help "stabilize conflict-affected areas and prevent violence globally," with a specific focus on Guinea, Cote d'Ivoire, Ghana, Togo, and Benin. Despite these efforts, the same challenges facing the Sahel – political volatility, intercommunal and tribal disputes exacerbated by the climate crisis, and the growth of criminal networks, are now plaguing coastal West Africa. (Full brief here.)
03 Apr | Manhunt for Sikh Leader Revives Concerns about a New Khalistan Movement
31 Mar | The Terrorism Landscape Continues to Evolve
30 Mar | Key Implications of the U.S. Global Human Rights Report
29 Mar | Islamic State Khorasan Remains a Stubborn Threat in Afghanistan
---
Analysis of Global Security Events with WTOP National Security Correspondent JJ Green

Inside the SCIF - 30 Mar - Trump Indicted, WSJ Reporter Arrested in Russia, Russian Spy Cherkasov, The Vulkan Files, and more...
Target USA Podcast - 29 Mar - Two Top European Officials, Two Big Ukraine Storylines

The Hunt Broadcast - 29 Mar - ISIS fighters bribe their way out of prison




---
The Latest Insights from Jeff Stein and Colleagues in SpyTalk (Substack)

31 Mar | A Short History of Spy Swaps - Jeff Stein
With any luck, Evan Gershkovich will spend only a few weeks in Lefortovo Prison, the 142-year-old hulk on Moscow's east side where many a Russian who's run afoul of state security has perished from a bullet to the head. It's also been the home of Westerners accused of spying. Gershkovich, a reporter for the Wall Street Journal, is just the latest, but in a sign of the times, he's the first American journalist to be arrested on espionage charges since 1986, in the depths of the Cold War. (Full article here.)

23 Mar | Danger Zone: Spy Agencies and Journalists - Jeff Stein

23 Mar | China Raids Beijing Office of US Investigations Firm - Jeff Stein

22 Mar | Exclusive: FBI Agents Accuse CIA of 9/11 Coverup - Seth Hettena


To support SpyTalk, subscribe here.


---
---
Article: Secret trove offers rare look into Russian cyberwar ambitions - Washington Post, 30 Mar 23
Russian intelligence agencies worked with a Moscow-based defense contractor to strengthen their ability to launch cyberattacks, sow disinformation and surveil sections of the internet, according to thousands of pages of confidential corporate documents. The documents detail a suite of computer programs and databases that would allow Russia's intelligence agencies and hacking groups to better find vulnerabilities, coordinate attacks and control online activity. The documents suggest the firm was supporting operations including both social media disinformation and training to remotely disrupt real-world targets, such as sea, air and rail control systems. An anonymous person provided the documents from the contractor, NTC Vulkan, to a German reporter after expressing outrage about Russia's attack on Ukraine. The leak, an unusual occurrence for Russia's secretive military industrial complex, demonstrates another unintended consequence of President Vladimir Putin's decision to take his country to war. (Read full report here.) (NOTE: This material may be behind a pay wall or require a one time free subscription.)
Article: A Front Company and a Fake Identity: How the U.S. Came to Use Spyware It Was Trying to Kill - New York Times, 02 Apr 23
The secret contract was finalized on Nov. 8, 2021, a deal between a company that has acted as a front for the United States government and the American affiliate of a notorious Israeli hacking firm. Under the arrangement, the Israeli firm, NSO Group, gave the U.S. government access to one of its most powerful weapons — a geolocation tool that can covertly track mobile phones around the world without the phone user's knowledge or consent. If the veiled nature of the deal was unusual — it was signed for the front company by a businessman using a fake name — the timing was extraordinary. Only five days earlier, the Biden administration had announced it was taking action against NSO, whose hacking tools for years had been abused by governments around the world to spy on political dissidents, human rights activists and journalists. The White House placed NSO on a Commerce Department blacklist, declaring the company a national security threat and sending the message that American companies should stop doing business with it. (Read full report here.) (NOTE: This material may be behind a pay wall or require a one time free subscription.)
---
Analysis: China Has Been Waging a Decades-Long, All-Out Spy War - Foreign Policy, 28 Mar 23
One week ago, TikTok CEO Shou Zi Chew was questioned by members of the U.S. Congress, before the world's media, about whether the Chinese government uses the wildly popular video-sharing app to spy on Americans. His testimony came several weeks after the appearance of a Chinese spy balloon floating across the United States. What are we to make of these two stories, which are at their core both about Chinese espionage? One week ago, TikTok CEO Shou Zi Chew was questioned by members of the U.S. Congress, before the world's media, about whether the Chinese government uses the wildly popular video-sharing app to spy on Americans. His testimony came several weeks after the appearance of a Chinese spy balloon floating across the United States. What are we to make of these two stories, which are at their core both about Chinese espionage? To borrow a phrase from Mission: Impossible: Relax, it's much worse than you think. We are now witnessing some of the effects of a decision made years ago by China to use every means and medium of intelligence-gathering at its disposal against the West. Its strategy can be summarized in three words: collect, collect, collect. Most Westerners do not yet appreciate just how sweeping China's intelligence onslaught directed at their countries is; for decades, their own governments likewise didn't understand because their attention was largely directed elsewhere. (Full report here.)
Video Interview: Bellingcat's Eliot Higgins | The People's Intelligence Service (Part 1) (24 mins) - How To Academy Mindset, 26 Mar 23
How did a collective of self-taught internet sleuths end up solving some of the biggest crimes of our time – from the downing of Malaysia Flight 17 over Ukraine to the sourcing of weapons in Syria? "Taking on the Kremlin from his couch . . . Eliot Higgins and Bellingcat are fighting Vladimir Putin and his ilk, using little more than computers and smartphones." (Foreign Policy) Bellingcat, the home-grown investigative unit, is redefining the way we think about news, politics and the digital future. In this livestream event, their founder – a high school dropout on a kitchen laptop – tells the story of how they created a whole new category of information gathering, galvanising citizen journalists across the globe to expose war crimes and pick apart disinformation, using just their computers. From the downing of Malaysia Flight 17 over the Ukraine to the sourcing of weapons in the Syrian Civil War and the identification of the Salisbury poisoners, Eliot Higgins will dig deep into some of Bellingcat's most successful investigations. He will explore the most cutting-edge tools for analysing data, from virtual-reality software that can build photorealistic 3D models of a crime scene, to apps that can identify exactly what time of day a photograph was taken. (Watch here.)
Backgrounder: Operation Rubicon - How the CIA and BND Spied on the World - Grey Dynamics, 27 Mar 23
Operation Rubicon was a joint covert operation carried out by the United States Central Intelligence Agency (CIA) and the West German Federal Intelligence Service (BND) during the Cold War. The operation involved the acquisition and operation of a Swiss company called Crypto AG, which was a leading manufacturer of encryption machines used by governments, militaries, and intelligence agencies around the world. Under Operation Rubicon, the CIA and BND secretly purchased Crypto AG and then modified the encryption machines to allow the intelligence agencies to eavesdrop on the communications of foreign governments and intelligence services that used the machines. The operation reportedly began in the 1950s and continued until the early 2000s. The operation was considered one of the most successful and longest-running espionage operations of the Cold War, allowing the CIA and BND to intercept and decipher sensitive communications from numerous countries, including Iran, Argentina, and Libya. However, the operation was eventually exposed in 2020 through investigative reporting by several news organizations, leading to widespread criticism of the intelligence agencies involved and calls for greater transparency and accountability in intelligence operations. (Full report here.)
OpEd: Has the U.S. Lost Track of the Spies in Our Midst? - New Republic, 27 Mar 2023
Richard Helms, who ran the Central Intelligence Agency under Presidents Johnson and Nixon, and remained the gray eminence of American spies until his death in 2002, offered a pithy piece of advice to his successors: "Never go home at night without wondering where the mole is." This warning is the heart of counterintelligence, broadly defined as protecting the nation's secrets and intelligence officers from betrayal, exposing enemy spies and double agents, and guarding against subterfuges aimed at deceiving and damaging the United States. "The business," wrote Helms's biographer, Thomas Powers, "is a Dantean hell with ninety-nine circles," and it demands rare qualities, among them "a prodigious memory, patience, great psychological sensitivity, and the capacity to live with uncertainty forever." Counterintelligence cases can go on for many years, haunted by unresolved suspicions and false leads. The work is not for the faint of heart. (Full report here.)
Analysis: Global Watch | How Chinese spy agencies deceived the world through 'Grains of Sand' theory - First Post, 22 Mar 2023
The classic Chinese text Art of War is most widely quoted when it comes to understanding the mindset of the Chinese establishment, especially in the context of its military operations and espionage activities. However, it isn't sufficient to explain the present-day strategies, approach and mindset of the Chinese Communist Party (CCP) when it comes to building and deploying a massive and formidable spy network. We need to have a look at multiple aspects to develop an understanding about the approach adopted by the Chinese intelligence agencies. According to Art of War, five kinds of spies should be deployed: local spies, inside agents, double agents, expendable spies, and 'live' agents. "The end and aim of spying in all its five varieties is knowledge of the enemy; and this knowledge can only be derived, in the first instance, from the converted spy. Hence it is essential that the converted spy be treated with the utmost liberality," says Sun Tzu in Art of War. (Full report here.)
Research: Neurodiversity and National Security - Rand, 27 Mar 2023
National security organizations need highly skilled and intellectually creative individuals who are eager to apply their talents to address the nation's most pressing challenges. In public and private discussions, officials and experts addressed the need for neurodiversity in the national security community. They described missions that are too important and too difficult to be left to those who use their brains only in typical ways. Neurodivergent is an umbrella term that covers a variety of cognitive diagnoses, including (but not exclusive to) autism spectrum disorder, attention deficit disorder (ADD) and attention-deficit/hyperactivity disorder (ADHD), dyslexia, dyscalculia, and Tourette's syndrome. Neurodivergent individuals are already part of the national security workforce. The purpose of this report is to understand the benefits that people with neurodivergence bring to national security; the challenges in recruiting, working with, and managing a neurodiverse workforce; and the barriers in national security workplaces that prevent agencies from realizing the full benefits of neurodiversity. To carry out this research, the authors conducted a review of primary, secondary, and commercial literature; they conducted semistructured interviews and held discussions with government officials, researchers and advocates for the interests of neurodivergent populations, and representatives from large organizations that have neurodiversity employment programs; and they synthesized findings from across these tasks to describe the complex landscape for neurodiversity in large organizations in general and in national security specifically. (Full report here.)
Audio: The DIA's Global Intelligence Picture (58 mins) - Cipher Brief's State Secrets Podcast, 29 Mar 2023
In this week's State Secrets, host Suzanne Kelly talks with Dr. Trent Maul. Dr. Maul was appointed to Director of Analysis for the Defense Intelligence Agency in May 2021. Dr. Maul discusses the Defense Intelligence Agency's global outlook on the Russia-Ukraine war and the possibility of Russia trying to expand its influence in the region to other neighboring countries. (Full report here.)
Audio: Ashley Deeks on International Regulation of National Security AI (36 mins) - The Lawfare Podcast, 28 Mar 2023
States are increasingly turning to artificial intelligence systems to enhance their national security decision-making. The real risks that states will deploy unlawful or unreliable national security AI make international regulations seem appealing, but what's the right model for them? Ashley Deeks is the Class of 1948 Professor of Scholarly Research in Law at the University of Virginia Law School. She's just published a paper for Lawfare's ongoing Digital Social Contract research paper series, in which she argues that, instead of looking to nuclear arms control as the model for national security AI regulation, states should look to how cyber operations are regulated. Lawfare Senior Editor Alan Rozenshtein spoke with Ashley about her research and what a successful regulatory regime for national security AI would look like. (Full report here.)
Analysis: The Iraq War's Intelligence Failures Are Still Misunderstood - War on the Rocks, 28 Mar 2023
The United States Invaded Iraq 20 years ago under false pretenses. Historians and social scientists have spent two decades investigating what went wrong. George W. Bush and other senior officials in his administration claimed former Iraqi president Saddam Hussein had weapons of mass destruction. They also claimed that the Iraqi government had ties to nefarious groups such as al-Qaeda. Together, these two things posed an unacceptable threat to American security. Yet, once the American-led coalition toppled the Iraqi regime in 2003, it quickly became evident that there were no weapons of mass destruction or active ties to Osama bin Laden. The narrative around the war is also controversial. Did the Bush administration actually believe that Saddam Hussein was a threat that had to be eliminated with military force, or did prominent U.S. officials simply cite the intelligence as a public justification for a war because they were eager to use the anger from 9/11 to remake the Middle East? (Full report here.)
Infographic and Report: Visualized - The Head of State of Each Country, by Age and Generation - Visual Capitalist, 24 Mar 22
How many world leaders are in each generation? This visualization by Edit Gyenge visualizes the ages of every nation's head of state as of March 22, 2023, comparing them with the median population of the respective country. It uses data from the CIA World Factbook and Wikipedia. Editor's note: This visualization looks specifically at heads of state. It should be mentioned that depending on the system of government in a country, heads of state shown here may or may not have actual political power. In some countries, the head of state may be a ceremonial position that does not impact day-to-day governance. (Access visual tool and full report here.)
Intelligence in Pop Culture - Tetris - How the KGB Spy Agency Muscled In on the Cold War Video Game - Spyscape, 28 Mar 23
Тетрис was created by Soviet software engineer Alexey Pajitnov in 1984 while he was working at the Dorodnitsyn Computing Centre under what is now the Russian Academy of Sciences. "I've loved puzzles ever since I was a child, especially pentominoes," he told Rolling Stone back in 2014. He wanted to use pentominoes as the basis for a computer game but the playfield filled up in 20 seconds so he made each full line disappear. This was the killer application. Tetris works because of the so-called 'Zeigarnik effect', which suggests that people more easily recall uncompleted tasks than those that they have finished. The PC version of the game was smuggled out of the USSR into Hungary and western companies began producing unauthorized versions. Dutch video game designer Henk Rogers (Taron Egerton's character) fell in love with Tetris at the Consumer Electronics Show in Las Vegas and set out to acquire the rights to legally sell it for use on hand-held Game Boys leading to a bizarre, last-minute dash to Russia. He had the wrong type of visa - which could have landed him in prison - but Rogers took a leap of faith. (Read full article here.)
Intelligence in History - A Collection of Recent Content
True Intelligence Matters in Film - A Compassionate Spy - Steve James (2022)
Brilliant physicist Ted Hall is recruited to join the Manhattan Project while still a teenager and goes to Los Alamos with no clue what he'll be working on. When he learns the true nature of the weapon being designed, he fears the post-war risk of a nuclear holocaust and begins to pass significant information to the Soviet Union.

More information about this based-on-true-events production here.
Walking Tours - Washington, DC - Sundays (Dates/Times Vary)
Former intelligence officers guide visitors on two morning and afternoon espionage-themed walking tours: "Spies of Embassy Row" and "Spies of Georgetown." For more information and booking, click here or contact rosanna@spyher.co
---
There Will Be Fire: Margaret Thatcher, the IRA, and Two Minutes That Changed History
by Rory Carroll
(G.P. Putnam's Sons, 04 Apr 23)
A bomb planted by the Irish Republican Army exploded at 2:54 a.m. on October 12, 1984. It was the last day of the Conservative Party Conference at the Grand Hotel in the coastal town of Brighton, England. Rooms were obliterated, dozens of people wounded, five killed. Prime Minister Margaret Thatcher was in her suite when the explosion occurred; had she been just a few feet in another direction, flying tiles and masonry would have sliced her to ribbons. As it was, she survived—and history changed. There Will Be Fire is the gripping story of how the IRA came astonishingly close to killing Thatcher, in the most spectacular attack ever linked to the Northern Ireland Troubles. Journalist Rory Carroll reveals the long road to Brighton, the hide-and-seek between the IRA and British security services, the planting of the bomb itself, and the painstaking search for clues and suspects afterward. In There Will Be Fire, Carroll draws on his own interviews and original reporting, reveals new information, and weaves together previously unconnected threads. There Will Be Fire is journalistic nonfiction that reads like a thriller, propelled by a countdown to detonation.
Order book here.
---
Introduction to Intelligence: Institutions, Operations, and Analysis
by Jonathan M. Acuff, et al.
(CQ Press, 17 Feb 21)
Introduction to Intelligence: Institutions, Operations, and Analysis offers you a strategic, international, and comparative approach to covering intelligence organizations and domestic security issues. Written by multiple authors, each chapter draws on the author′s professional and scholarly expertise in the subject matter. As a core text for an introductory survey course in intelligence, this text provides you with a comprehensive introduction to intelligence, including institutions and processes, collection, communications, and common analytic methods.
Order book here.
---
My Friends, The Enemy: Life in Military Intelligence During the Falklands War
by Nick van der Bijl
(Amberley Publishing, Inc., 15 Apr 23)
My Friends, The Enemy recounts the Falklands War from the viewpoint of the only Intelligence Corps serving with Intelligence Section, HQ 3 Commando Brigade. It is a personal account supported by intelligence comment assembled since 1982. Although Nick van der Bijl was a Staff Sergeant, his role, as part of the Intelligence Corps, meant that he was expected to provide expert intelligence to Brigade Headquarters about the Argentines. The fact that initially he knew nothing about them meant that he was very heavily involved in collecting and collating that intelligence from a variety of sources, including information from UK and after landing documents, prisoners of war and local people. The intelligence proved to be very accurate throughout the campaign. Controversially, the intelligence provided to 2nd Parachute Battalion at Goose Green was largely rejected in favor of less accurate information supplied by the SAS. Van der Bijl was one of the first into Port Stanley after the Argentine surrender and was part of an intelligence operation to search enemy HQs for documents, select several hundred Argentine officers for further interrogation before repatriation and interview several civilians as part of a counter-intelligence operation. My Friends, The Enemy is the first time that intelligence operations has been told by a prime witness to events from the start of the campaign to the finish.
Order book here.
---
Call for Information: 430th CIC in Salzburg in 1946
I am currently writing about 430th CIC in Salzburg in 1946. I have a (large) CIC file and am now trying to track down further details about two officers mentioned in this: (1) Bill Taylor. The sources do not make clear whether the officer was Major Bill G. Taylor, GSC, Head of the Counter-Intelligence Bureau of G-2 (Intelligence Section), US Forces Austria, or "Mil.Reg." Captain Taylor of Salzburg. Any information on either/both of these officers would be most welcome. (2) Pace B Rose. Rose was a CIC Special Agent in Austria, later a CIA officer who continued to be attached to the Agency after retirement. He died on 3 January 2009. I would like to contact family and friends of Pace Rose. According to the internet, Rose had children, Donna R. Hilverts and Gary W. Rose, and five grandchildren and three greatgrandchildren. Please contact S.Cody@westminster.ac.uk with any information.
Academic Opportunity: National Intelligence Summer Academy (NISA) for High School Students - 17-21 July 2023 - University of North Georgia, Cumming Campus
Are you considering a career in the U.S. Intelligence Community? Did you know that the U.S. Intelligence Community is made up of 18 separate agencies? Sign up for an intense and exciting five days of learning from highly qualified Master's and Ph.D. University of North Georgia instructors and practitioners. Application deadline 15 Apr 23. (More information and registration here.)
Call for Sources: Intelligence Officers Who Lived in Spain in the 1970s
Spanish journalist Francisco Jiménez is preparing a documentary about the intelligence services in Spain in the 70s. He is looking for intelligence officers who worked in Spain in those years. If you are willing to assist Franciso, he can be reached at fjimenez@globomedia.es.
Call for Sources: Intelligence activities in Grenada and the southern Caribbean between 1979, Operation Urgent Fury, Leonard Barrett
The Washington Post is developing a multipart audio documentary series (i.e. podcast) chronicling the Grenadian revolution and the US intervention in 1983. They've interviewed nearly 100 people so far, ranging from the heads of state, former Grenadian officials, current and former US officials, veterans, and intelligence officers. They're looking for people who served at the time and may be knowledgeable about intelligence activities in Grenada and the southern Caribbean between 1979 and Operation Urgent Fury. They would also be interested in speaking with anyone who knew Leonard Barrett during the same period. If anyone is interested in participating, please reach out to Washington Post reporter Ted Muldoon via email at ted.muldoon@washpost.com or on Signal at 651-497-5449.
Academic Opportunity: Critical Thinking for Intelligence Analysis Course - 21 Apr 23, 0800-1700 (ET) - Virtual
This course will help Intelligence Analysts improve their critical thinking skills. It begins by reviewing the basic characteristics of quality intelligence analysis (and the challenges to producing it) and the methodology for building an analytic argument. The course continues with a discussion of the mental traits and habits that inhibit critical thinking and objectivity. Finally, the course discusses several types of structured techniques designed to inject critical thinking and analytic rigor into intelligence production. $600 fee. (More information and registration here.)
Academic Opportunity: The International Security and Intelligence Programme - 9 July to 5 August 2023 - Magdalene College, Cambridge
Chaired by Sir Richard Dearlove the former Chief of the British Secret Intelligence Service, the Cambridge Security Initiative (CSi) launched the ISI Programme in 2016. The purpose of this unique programme is to provide an opportunity for participants to meet and work with leading academics and practitioners from the intelligence and security communities in the historic setting of one of the world's foremost universities. The Programme is run in partnership with the Department of War Studies at Kings College, London. (More information and registration here.)
Call for papers: Intelligence and Post-War Reconstruction - International Journal of Intelligence and Counterintelligence
History shows that without planning for post-war reconstruction, apparent victory in war can lead to long-term defeat. On the other hand, wise post-war planning can lead to friendly, peaceful, and profitable relations between victor and vanquished. For political, socio-economic and security-related planning, intelligence plays a crucial role in estimating capabilities, securing infrastructure, locating persons of interest, and rebuilding. In honor of the 75th anniversary of the European Recovery Program (Marshall Plan) after the Second World War, the editors are particularly interested in papers dealing with intelligence concerning post-war reconstruction initiatives and planning connected to historical and recent conflicts. Both case studies and theoretical and methodological approaches are welcome. The studies may include, but do not have to be focused on, the following questions and issues:
The role of diplomatic and military intelligence during the conflict as preparation for post-war reconstruction, from the conceptual to the practical.
What intelligence needs to be collected to secure and boost reconstruction?
What contacts, networks, and infrastructure are necessary for intelligence to be effective?
Who has been or should be approached and/or recruited for reconstruction efforts based on intelligence?
When has intelligent post-war planning (or its opposite) been historically evident?
How should intelligence interact with formerly warring parties and international organizations to empower practical reconstruction efforts?
What intelligence collection challenges have services encountered in working for post-war peace?
How did intelligence factor in the European Recovery Program?
What was George C. Marshall's position on the role of intelligence in general or concrete examples related to "his" plan?
01 Nov 23 deadline. More information and submission instructions here.
Call For Articles: AFIO Journal, The Intelligencer
For the past four years, AFIO has included in The Intelligencer a series of articles on "when intelligence made a difference." Written by scholars, intelligence practitioners, students, and others, they cover events from ancient times to the modern world and in many countries. AFIO is soliciting articles for future issues. Most articles run between 2,000 and 3,000 words, although some are longer or shorter. If you have an idea for an article that fits the theme, email senior editor Peter Oleson at peter.oleson@afio.com.
---
Retired Federal Government Employees Wanted - National Security Agency - Fort Meade, Maryland
The National Security Agency (NSA) may occasionally need skilled civilian retirees to augment the existing work force on high priority projects or programs. In order to fill these temporary positions quickly, we need to know who may be interested and available to return to work with us on a short notice basis as well as their skills. Retirees provide expertise and corporate knowledge to temporarily support mission requirements, manpower shortfalls, and/or mentor the next generation of Agency employees. Salary Range: $86,335 - $170,800.
Additional information and application here.

Assistant/Associate Professor of Intelligence Studies (Global Security and Intelligence Studies) - Embry-Riddle Aeronautical University - Prescott, Arizona
Embry-Riddle Aeronautical University's Prescott, Arizona campus is accepting applications for a tenure-track assistant or associate-level professor of intelligence studies to teach intelligence courses to students in the Global Security and Intelligence program. The successful candidate will teach students about the intelligence community, strategic intelligence, the intelligence cycle and intelligence analysis, writing, and briefing. Prior experience working in the intelligence community is strongly preferred. We are interested in candidates with teaching acumen in intelligence analysis and writing using structured analytical techniques.
Additional information and application here.

Teaching Associate - Intelligence and National Security Studies - Coastal Carolina University, South Carolina
The Department of Intelligence and Security Studies ( ISS ) at Coastal Carolina University is accepting applications for a pool of Teaching Associates (part-time adjunct faculty) to teach introductory and undergraduate elective course offerings for the program beginning in August 2022. While the ad is open to any specialization within the field of study, courses in the areas of homeland security, law enforcement intelligence, counter-narcotics, and cybersecurity are of particular interest. Course offerings can be in a face-to-face or synchronous online modality. To be considered, candidates must have a masters or doctoral degree in a relevant subject area. Prior professional experience in the profession, as well as prior teaching experience are preferred.
Additional information and application here.

---
Ira Richolson — Career DEA and DIA Officer

Ira Leonard Richolson, 80, passed peacefully on Saturday, 12 January 2023 at Renaissance of Annandale. Born in Albany, New York, Ira grew up in Astoria Queens, NY. Ira graduated from City College of New York and later earned Master's Degrees from George Washington University and American University with specialties in the field of forensics and law enforcement. Ira is a US Army Veteran serving both in Vietnam and Washington, DC. After discharge, he resided in the Washington, DC metropolitan area where, from 1968 to 2003, he was employed by the Drug Enforcement Agency, followed by tenure with the Defense Intelligence Agency in the position of Analyst.
"Gigi" Berbrich — Career CIA and DIA Officer

Virginia "Gigi" Gail Lindon Berbrich, 79, of Alexandria, VA, passed away on Tuesday, March 21, 2023. Gigi was a graduate of the University of North Carolina at Chapel Hill (1965) where she obtained degrees in Foreign Language and Psychology. She was a loyal and enthusiastic member of the Kappa Kappa Gamma sorority during her tenure at UNC. Gigi received her Masters' Degree from The George Washington University (1976) in Public Administration. Her career began in 1966 at the Central Intelligence Agency which led her to the Defense Intelligence Agency. She retired in 1996. Gigi was a devoted patriot of our country and loved working in the intelligence community.
Howard Rudnick — DIA's Highest Ranking Civilian

Howard Rudnick passed away at the age of 99 on November 8, 2022 at his home in Jupiter, Florida. Howard grew up in Brooklyn, New York. A year after Pearl Harbor, Howard became an officer in the Army Air Corps. During World War II, he flew many bombing missions over Occupied Europe, including the raid on the oil refineries in Ploesti, Romania in 1943. Wounded in action, Howard received the Purple Heart and the Distinguished Flying Cross for conspicuous gallantry. After the war, Howard served overseas in the clandestine services, remaining on active duty with the Office of Special Investigations for the Air Force until his retirement at the rank of Major in 1963. Howard then completed his bachelor's degree in political science at the University of Maryland and joined the Defense Intelligence Agency where he spent the next 20 years of his career, retiring as the Agency's highest-ranking civilian.
Sue Clapper — NSA Officer and Spouse of Former DNI James Clapper

Susan "Sue" Terry Clapper passed on Thursday, March 23, 2023, was born in Long Branch, New Jersey. An Army brat, she grew up in the environs of Ft. Monmouth, where her dad was commissioned into the Signal Corps. She lived overseas in post-war Japan, and then moved with her family to Vint Hill Farms Station, VA in the late '40's. It was here that she first met her future husband and future Director of National Intelligence, Jim, whose Army family was also stationed there. After her dad retired from the Army, he worked for the National Security Agency as a senior civilian, and the family settled in Laurel, MD. Sue attended and graduated from Pallotti Catholic High School in 1962, attended the University of Maryland, and then worked for the NSA. Sue and Jim reunited in Laurel and were married at the Ft. Meade Post Chapel on April 24, 1965. Jim and Sue served for over 32 years in the Air Force, retiring in September of 1995. They managed 23 moves during Jim's career. Sue always kept the home fires burning, particularly during all Jim's many absences from home, and was a major contributor to the successes he enjoyed during his career. She was a dedicated volunteer wherever she was stationed, often spending her time working in schools or striving to improve family life for military families. Sue was the epitome of service to country, her community and Jim, which continued during his subsequent 16 years as a civilian in the government.
LTC James Chambers — "Voice of Military Intelligence"

LTC James Chambers, better known as the "Voice of Military Intelligence" died at the age 86 on March 11, 2023 in Oro Valley Arizona. Jim entered the Army as a Private in April 1955, spending nearly four years as an enlisted soldier. In 1958 he attended the Infantry Officer Candidate School (OCS) at Fort Benning, Georgia. After becoming an Officer he attended the Advanced Officer Course and Special Forces Officer Course and was assigned to Fort Bragg, North Carolina, to command the 403d ASA Special Operations Detachment (SOD), 7th Special Forces Group (SFG). He then deployed to the Dominican Republic in support of combat operations in 1965. Upon returning to the 7th SFG, he served as the Executive Officer, Detachment B5, and then in succession as the S3, S2, and S1 of a C Team. Assigned to the 5th SFG in the Republic of Vietnam (RVN) in 1966, he served as the Assistant GroupS2, followed by assignment as the S2 of Project Delta. Following his first tour in Vietnam, he served asa Communications Intelligence Staff Officer at the Defense Intelligence Agency (DIA). In 1968, here turned to Vietnam with the 4th Infantry Division, initially as Assistant G3 and Assistant G2, followed by assignment as the Commander, 4th MI Detachment. In 1969, he returned to Fort Bragg where he commanded the 82nd MI Detachment, 82nd Airborne Division, until his selection for the Command and General Staff College. In 1971, he moved to the US Army Intelligence Center and School at Fort Huachuca. Upon retiring from the US Army in 1975, Jim served as an Army Civilian. Ultimately, no single person did more than Jim Chambers to implement and promote the establishment of the Military Intelligence Corps under the Army's Regimental System. One of his longest lasting contributions to the MI Corps was the establishment of the MI Corps Hall of Fame (HoF) program. His many past actions brought the HoF from a humble beginning to the inspirational program that is now the standard. Jim was inducted into the Military Hall of Fame in 2006. Jim served as the Master of Ceremonies for Fort Huachuca and Sierra Vista, orchestrating every detail of every ceremony to ensure accuracy. Jim served at the Deputy Garrison Command of Fort Huachuca from 1998 until his retirement in 2008 with over 53 years of combined dedicated service to the U.S. Army and his country of which he was so proud.
Patty Brandmaier — Decorated CIA Executive

Patricia Ann "Patty" Brandmaier passed away on March 24, 2023 from Stage IV Pancreatic Cancer. Patty spent 32 years at the Central Intelligence Agency, serving both domestically and abroad. Her CIA trajectory led her from an entry-level analyst to, at the time of her retirement, serving as a member of the CIA's executive leadership team for the past seven years. As a senior executive leader, she stewarded the CIA's relationships with the Department of Defense and the U.S. Congress. She also led key mission initiatives, including successfully reengineering the CIA's nation-wide recruitment program and an organization-wide culture reset at the request of the Director, Central Intelligence Agency. She was the recipient of the Intelligence Commendation Medal; three Director's Awards, the exclusive recognition of the Director of CIA; and the Distinguished Career Intelligence Medal in recognition of her strategic leadership impact.
---
13 Apr 23 (Thursday), 1130 (PST) - In Person - San Francisco - The AFIO Andre LeGallo Chapter hosts Richard E. Hanson on CIA Operations in Viet Nam. No-host cocktail. Location: Basque Cultural Center, 599 Railroad Avenue, South San Francisco, CA. Please contact Mariko Kawaguchi, Board Secretary at afiosf@aol.com for questions. Students: please e-mail your school ID to get sponsored. Register here.
21 Apr 23 (Friday), 1030 (ET) - In-Person Tysons, VA - Registration has opened for AFIO National Spring Luncheon. Presentations by LTG Michael Groen (USMC, Ret), former Commander of the Joint Artificial Intelligence Center, discussing AI. His presentation begins at 11:00 a.m. And journalist Jim Popkin discussing Cuban Spy Ana Montes featured in his book, "Code Name Blue Wren: The True Story of America's Most Dangerous Female Spy―and the Sister She Betrayed." His talk starts at 1:00 p.m. Lunch served noon-1:00 p.m. Event ends 2:00 p.m. Registration closes 5:00 p.m. Friday, 14 April.
Register here
NO registrations or walk-ins at hotel. Check-in and badge pickup for Registered Attendees starts at 10:30 a.m. Luncheon prices are $55 for Members; $70 for nonmember guests and all Subscribers. Though we do not provide special overnight room rates, if you wish to make room reservations at the hotel, do so here. Cancellation Schedule: AFIO must guarantee XX meals to the hotel; therefore, regrets it must charge a cancellation fee. 100% refund until close of registration. No refunds or cancellations after close of registration. You will receive a donation receipt for fees forfeited. A donor statement will be sent showing that you made a "gift to AFIO" in such instances. Gifts to AFIO are tax-deductible. All attendees must be members of AFIO or accompanied by a member of AFIO. To learn more about becoming a member, visit: www.afio.com.  If you have any questions regarding membership, contact our office at 703-790-0320 or email us at afio@afio.com. Questions regarding event? Email events@afio.com
Some reactions to Popkin's "Code Name Blue Wren"
"Code Name Blue Wren might be the most mesmerizing spy story I've ever read. It shows how a brilliant manipulator secretly working for the Cubans finagled her way deep into the US military—and the anguish of the friends and family she so easily conned. Jim Popkin captures the brutal realities of modern espionage. I couldn't stop reading this." —Mark Leibovich, author of This Town and Thank You for Your Servitude

"For espionage devotees, Jim Popkin's Code Name Blue Wren is a critical read. In great detail, Popkin explores the case of Ana Montes, who became a mole in the Defense Intelligence Agency for Cuban intelligence. A mole who was almost never caught thanks to years of incompetence by the FBI's counterspies. But thanks to the dogged persistence of a dedicated NSA analyst, who bypassed the FBI at great risk to her career, Montes was arrested shortly after the 9/11 attacks. Left in her wake was the likely death of an American Green Beret killed in action in El Salvador and the pro-American troops fighting alongside him." —James Bamford, bestselling author of The Puzzle Palace and Spyfail: Foreign Spies, Moles, Saboteurs, and the Collapse of America's Counterintelligence

"Jim Popkin uncovers riveting details about one of the most damaging spy cases in US history, revealing new insights into the highly sensitive secrets that Ana Montes gave to her Cuban handlers. Through remarkably extensive interviews with her relatives and coworkers, he exposes not only what she did but why. This is the definitive history of how one of America's most highly regarded intelligence analysts betrayed her country, and how she almost got away with it." —Pete Williams, former NBC News justice correspondent

"This spy tale reads like a new season of Homeland – except this Ice Queen's traitorous double-life was entirely real. Jim Popkin takes us deep into a long-ignored story of an intel officer who went rogue, spilling US secrets to Cuba, endangering US operatives, and tricking presidents and her own sister at the FBI in the process." —Carol Leonnig, Pulitzer Prize-winning reporter at the Washington Post and author of Zero Fail: The Rise and Fall of the Secret Service 

"An entertaining story of cunning espionage."—Kirkus Reviews
26 Apr 23 (Wednesday), 1800 (ET) - Virtual via ZOOM - AFIO Atlanta Chapter Webinar features Sound Off CEO and former CIA Officer Will Negley on Mental Health Resources for Military Veterans. Please join the Atlanta Chapter to hear from former CIA Officer William Negley, founder/CEO of Sound Off, a non-profit mental health support network for U.S. military veterans. Sound Off is the first mental health resource for veterans and service members that allows anonymity and repeat contact with clinicians or peers, from a smartphone. 47% of post-9/11 veterans who likely suffer from depression or PTSD do not seek assistance, mostly for fear of stigmatization or compromising their careers. Negley will discuss his nonprofit's mission and his time serving the IC where he served for seven years in the DO in CT and foreign intelligence collection in Afghanistan and South Asia. Will also served as a U.S. Senate aide covering national security issues.
TIME: Webinar begins promptly at 6:00pm EST, and concludes at 7:00pm.
RSVP to membership@afioatlanta.com. Direct all questions to Chapter President Brian Hooper at that email. Please review the disclaimer and media release here, which you must read before entering the event/Zoom call.
Zoom Link Dial-in Options: +1 301 715 8592 US (Washington DC); +1 346 248 7799 US (Houston); +1 408 638 0968 US (San Jose) One Tap Mobile: +13052241968,,95112541535#,,,,*721240# US
9 May 23 (Tuesday), 1730 (EST) - In Person - New York City - The Reactivated AFIO NY Metro Chapter Speaker/Topic: Mitzi Perdue. "Behind the Scenes in Ukraine." Mitzi Perdue, renown author, anti trafficking and human rights activist, has visited Ukraine twice, most recently as guest of the Kyiv Region Police Chief. She has seen first hand evidence of Russian atrocities, booby traps and maiming trickery. Join us for a first hand look at what Ukraine's officials and people are up against and the imagination and perseverance they are bringing to the task. Registration at 5:30; Meeting begins at 6. Cost: $45. Cash or check payable at the door to David Hunt. Open bar, hors d'oeuvres. Location: Racquet and Tennis Club (R&T), 370 Park Ave, NYC 10022 - located between E 52nd - 53rd Streets. Map for directions. To attend, register: PLEASE ADVISE by 1 May if you are attending. Preferably to: afionyc@gmail.com, or call chapter President David Hunt at 301-520-1417.
10 May 23 (Wednesday), 1830 ET - In Person - Dunwoody, GA - AFIO Atlanta Chapter hosts Pop-by Chapter Social at the Iron Hill Brewery. Please join chapter members and bring non-members for this Pop-Up Social.
For a change in location, we will be going to the Iron Hill Brewery located in Perimeter / Dunwoody at 1224 Hammond Dr, Dunwoody, GA 30346
Feel free to suggest new venues or parts of town for the next social to us at membership@afioatlanta.
Non-members welcome!
Dress Code - Business casual or casual are fine.
RSVP via email to membership@afioatlanta.com by May 8 at 4:00pm.
See the AFIO Calendar of Events for scheduling further in the future.
---
Wednesday, 05 Apr 23, 1200-1500 (ET) – Washington, DC – The Dirty Tricks Department with John Lisle – Virtual International Spy Museum Program
Glowing foxes. Guns disguised as pens. Exploding fishing boats. All these ingenious ideas were courtesy of the Dirty Tricks Department in World War II. But who was behind this particular branch of wartime business? And where has government backing of covert ingenuity taken us? Join International Spy Museum Historian and Curator Dr. Andrew Hammond in conversation with historian Dr. John Lisle, author of The Dirty Tricks Department: Stanley Lovell, the OSS, and the Masterminds of World War II Secret Warfare. They'll explore the creation of the OSS Research and Development Branch—aka the Dirty Tricks Department—and the brilliant eccentric scientists who ran it. Stanley Lovell was the head of the secret group who developed cunning and creative gadgets, ploys, and props for the CIA's precursor. Their mission was to help bring down the enemy by any means necessary, and the R and D branch stepped up with disguises and manipulated documents for spies in the field, research into biological and chemical weapons, and experiments with truth drugs. Lisle has delved into the moral implications of the division's work as well, and he'll share the reverberations he perceives today from the darker aspects of secret government experimentation that began during World War II. Program is free of charge but requires advanced registration. Explore or Register here: www.spymuseum.org.
Wednesday, 05 Apr 23, 1200-1300 (ET) – Virtual – ChatGPT and Intelligence Analysis - Johns Hopkins University
Join host Michael Ard for a discussion with intelligence analysis and AI specialist David Kamien on "ChatGPT and Intelligence Analysis." David Kamien is the CEO and Founder of Mind-Alliance Systems, which builds custom intelligence and knowledge management solutions for global law firms, corporations, and governments. Before founding Mind-Alliance Systems, David organized a conference on homeland security for the Israel Economic Mission to New York, consulted with Raytheon, Northrop Grumman, and Motorola, and worked at Marsh and McLennan. David also served as editor of The McGraw-Hill Homeland Security Handbook: Strategic Guidance for a Coordinated Approach to Effective Security and Emergency Management. At Mind-Alliance Systems, invented a collaborative intelligence analysis system and a patented method and system for modeling, analyzing, planning, and improving anticipated information flows across agencies, departments, companies, etc., and across different disciplines. David has led engagements for The Center for Strategic and International Studies, The World Bank, The European Central Bank, The Rockefeller Foundation, The North Atlantic Treaty Organization (NATO), New York State Office of Emergency Management, DHS S and T (via SPAWAR), Raytheon, Everbridge, Fragomen, Ogletree Deakins, and Eversheds Sutherland. David has published articles about security and knowledge management and has presented at conferences organized by the Office of the Director of National Intelligence (ODNI), the International Association for Intelligence Education (IAFIE - European Chapter), and the North Atlantic Treaty Organization (NATO). David received a B.A. in East Asian and General Studies from the Hebrew University of Jerusalem, and a law degree from the Academic College of Law in Ramat Gan. More information and registration here
Saturday, 08 Apr 23, 1400-1600 (ET) – Washington, DC – In-Store Book Signing Event: Code Name Blue Wren - International Spy Museum Program
Join us in the Spy Museum Store for a special book signing event for Code Name Blue Wren: The True Story of America's Most Dangerous Female Spy―and the Sister She Betrayed with author Jim Popkin. The incredible true story of Ana Montes, the most damaging female spy in US history, drawing upon never-before-seen material and to be published upon her release from prison, for readers of Agent Sonya and A Woman of No Importance. Jim Popkin is a journalist and writer whose work has appeared in Washington Post Magazine, WIRED, Newsweek, Slate, The Guardian, Washingtonian and on National Public Radio, and he was a senior investigative producer at NBC News as well as an on-air correspondent, and his stories have appeared on NBC's Today, NBC Nightly News, MSNBC and CNBC. Explore or Register here: www.spymuseum.org.
Thursday, 13 April 2023, 1200-1300 (ET) – Washington, DC – Virtual Spy Chat with Chris Costa ft. Special Guest: LTG (R) John F. Mulholland, Jr. - International Spy Museum Program
Join us for an online discussion of the latest intelligence, national security, and terrorism issues in the news. Spy Museum Executive Director Chris Costa, a former intelligence officer of 34 years, will be joined by LTG (R) John F. Mulholland, Jr., former Associate Director of Military Affairs for the Central Intelligence Agency (CIA). As CIA's Associate Director of Military Affairs, Mulholland served as the senior military advisor to the Director of Central Intelligence. The career Special Forces officer joined the First Special Forces Regiment in 1983 and led Army and joint special operations units from the time he was a captain until attaining the rank of lieutenant general. He served as Deputy Commanding General, Joint Special Operations Command; as the Commanding General, Army Special Operations Command; and as the fifteenth Deputy Commander, US Special Operations Command. Mulholland led two notable joint special operations "Task Force Dagger" campaigns. He was commander of Joint Special Operations Task Force-North during the opening days of Operation Enduring Freedom immediately following 9/11 and commander of Combined Joint Special Operations Task Force-West during Operation Iraqi Freedom in 2003. Mulholland's overseas assignments included two tours in the former Panama Canal Zone, command of the 1st Battalion, 1st Special Forces Group (ABN), Okinawa, Japan, and as the Chief, Office of Military Cooperation, Kuwait. Among many honors, he has been awarded the Army Distinguished Service Medal, Defense Superior Service Medal, and the Bronze Star Medal. Program is free of charge but requires advanced registration. Explore or Register here: www.spymuseum.org.
Wednesday, 19 April 2023, 1830 (ET) – Washington, DC – Advance Screening: Citadel Episodes 1 and 2 – In Person - International Spy Museum Program
Tonight for your eyes only, an advance screening of Citadel, the upcoming Amazon Prime Video spy-thriller series which premieres on April 28. Citadel will be available in more than 240 countries and territories worldwide but only at SPY on April 19. Program is free of charge but requires advanced registration. First let's get you up to speed: Eight years ago, Citadel fell. The independent global spy agency—tasked to uphold the safety and security of all people—was destroyed by operatives of Manticore, a powerful syndicate manipulating the world from the shadows. With Citadel's fall, elite agents Mason Kane (Richard Madden) and Nadia Sinh (Priyanka Chopra Jonas) had their memories wiped as they narrowly escaped with their lives. They've remained hidden ever since, building new lives under new identities, unaware of their pasts. Until one night, when Mason is tracked down by his former Citadel colleague, Bernard Orlick (Stanley Tucci), who desperately needs his help to prevent Manticore from establishing a new world order. Mason seeks out his former partner, Nadia, and the two spies embark on a mission that takes them around the world in an effort to stop Manticore, all while contending with a relationship built on secrets, lies, and a dangerous-yet-undying love. Join us for the screening and a reception to follow. Program is free of charge but requires advanced registration. Explore or Register here: www.spymuseum.org.
Thursday, 20 April 2023, 1830 (ET) – Washington, DC – Codename HEXAGON: Inside the Secret Satellite Program with Phil Pressel – In Person - International Spy Museum Program
Imagine a vehicle orbiting the earth taking photographs. Now imagine two film reels, each holding 30 miles of film. Now imagine the exposed film being dropped in a container from 100 miles above the earth. Imagine a skilled pilot catching the container in mid-air with a net pulling it into a plane and returning it to earth for skilled analysis. Now imagine this happening over and over again. That's the core of the HEXAGON satellite program. Join us today in person, to hear about the US's last film-based intelligence spy satellite program directly from Phil Pressel. Pressel was the project engineer in charge of the design of the formerly top-secret Hexagon KH-9 spy satellite's stereo cameras. The Hexagon satellite was an invaluable asset providing photographic intelligence information during the Cold War. Pressel's presentation will show photographs that the system took of some Russian military assets and of some cities. Hexagon was responsible for President Nixon signing the SALT treaty and allowing President Reagan to say, "trust but verify." It was also one of America's best and most successful spy satellites. Pressel's book Meeting the Challenge, the Hexagon KH-9 Reconnaissance Satellite was published by the American Institute of Aeronautics and Astronautics (AIAA) in 2013. The program was declassified in 2011 by the RO/CIA in 2011, which is why Pressel can talk about it. After his talk, guests will have a chance to see the Museum's own HEXAGON Take-Up Reel. Program is free of charge and does not require advanced registration. Explore or Register here: www.spymuseum.org.
Tuesday, 25 Apr 23, 1400-1500 (ET) – Washington, DC – SPY with Me: Memory Loss Program – Virtual International Spy Museum Program
SPY with Me is an interactive virtual program for individuals living with dementia and their care partners. Join SPY as we use music and artifacts to explore some of our favorite spy stories. Programs last one hour and are held virtually through Zoom. Every month the same program is offered on two different dates. To register, please email Shana Oltmans at soltmans@spymuseum.org. Free but space is limited. Explore or Register here: www.spymuseum.org.
Wednesday, 26 April 2023, 1900 (ET) – Washington, DC – Tokyo Rose: Zero Hour with Andre Frattino, Kate Kasenow, and Janice Chiang – Virtual - International Spy Museum Program
Tokyo Rose, the seductress of the airwaves, charming and demoralizing the Allies with every broadcast. Her sultry tones were the ultimate WWII propaganda weapon, but who was she really? Iva Toguri was visiting Japan from her home in the United States when Pearl Harbor was attacked in 1941. Trapped in Japan, she was pressed to renounce her American Citizenship, but she refused. As war raged across the Pacific, Toguri took a job with Radio Tokyo — where she was forced to host "Zero Hour," a propaganda show aimed at demoralizing American troops. Tokyo Rose - Zero Hour: A Japanese American Woman's Persecution and Ultimate Redemption after World War II is a riveting graphic novel that tells the true story of this much maligned woman. Join us for a conversation with the author Andre Frattino, the illustrator Kate Kasenow, and the letterer Janice Chiang. They will discuss the care they took with telling this story in a meaningful and respectful way, and how important it was to have Chiang involved whose career has spanned 40 years including work with comic book greats like Stan Lee. From the intricacies of propaganda created by coercion to how Toguri became a scapegoat, this is your chance to discover this haunting story in a whole new way. Support for this program has been provided by a generous grant from the Pritzker Military Foundation, on behalf of the Pritzker Military Museum and Library. Program is free of charge but requires advanced registration. Explore or Register here: www.spymuseum.org.
Thursday, 27 Apr 23, 1400-1500 (ET) – Washington, DC – SPY with Me: Memory Loss Program – Virtual International Spy Museum Program
SPY with Me is an interactive virtual program for individuals living with dementia and their care partners. Join SPY as we use music and artifacts to explore some of our favorite spy stories. Programs last one hour and are held virtually through Zoom. Every month the same program is offered on two different dates. To register, please email Shana Oltmans at soltmans@spymuseum.org. Free but space is limited. Explore or Register here: www.spymuseum.org.
13-14 Jul 23 – 2023 Intelligence and National Security Summit - AFCEA/INSA - In Person - National Harbor, MD
"The Nation's Premier Intel and National Security Event" - Save the date for the 10th Annual AFCEA/INSA Intelligence and National Security Summit! The powerful, two-day program, at the Gaylord National Resort, will feature five blockbuster plenaries, six engaging breakout sessions, and a jam-packed exhibit hall full of the latest IC technology innovations. Top leaders will discuss State of the Community, Military Intelligence Priorities, Strategic Intelligence, and Cybersecurity Challenges. Breakout sessions with senior leaders, technology experts, and thought leaders will examine some of the most pressing issues facing the community. Plus, powerful networking opportunities designed to foster partnerships and relationship building. Stay tuned! Registration to open in early March. Check for updates here.
---
---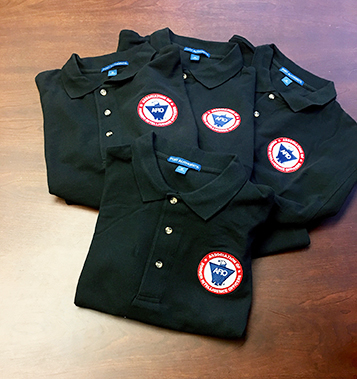 Now available: Black short-sleeved polo shirts with Embroidered AFIO logo
Show your support for AFIO with our new Black Short-sleeve Polo Shirts. Shirts are shrink and wrinkle resistant of fine cotton with a soft, "well-worn, comfy" yet substantial feel. They feature a detailed embroidered AFIO seal. Get a shirt for yourself and consider as gifts for colleagues, family, and friends. Only $50 each including shipping.
Sizes for (M) men, only; Small, Medium, Large, XL, XXL, and XXXL. $50 per shirt.
You may pay by check or credit card. Complete your order online here or mail an order along with payment to: AFIO, 7600 Leesburg Pike, Ste 470 East, Falls Church, VA 22043-2004. Phone orders at 703-790-0320. Questions? Contact Annette at: annettej@afio.com.
---

PopSocket for cellphones or tablets
Show your support to AFIO while enjoying the convenience offered by our AFIO Logo PopSocket. The PopSocket is most commonly used as a stand and as a grip for your mobile phone or tablet; handy for taking selfies, watching videos, and for texting. The PopSocket looks like a small button or sticker which, when closed, sticks flat to your mobile device. However, its accordion-like design enables it to pop open for use. The benefits of using a PopSocket make it a must-have accessory for your mobile phone or tablet. It also aids in keeping your phone from slipping off your hand during use, falling, or breaking.
Price: $15. Order this and other store items online here.
---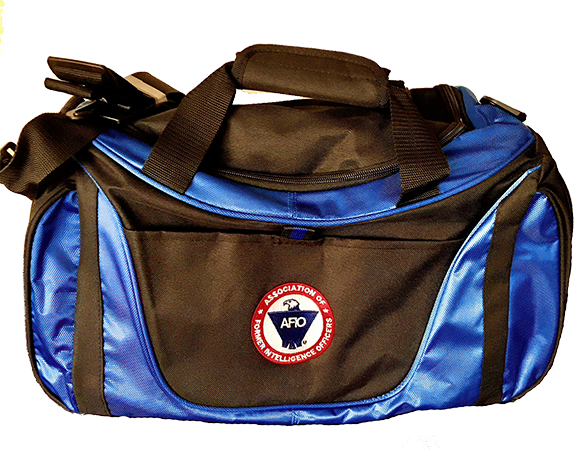 Duffel Bags - Royal Blue and Black with Full Color AFIO Logo This duffel has it all when it comes to value, style and organization.
600 denier polyester canvas with polyester double contrast; D-shaped zippered entry for easy access. Front pocket with hook and loop closure. End mesh pocket Easy-access end pockets. Four durable, protective feet and built-in bottom board for added strength. Web handles with padded grip. Detachable, adjustable shoulder strap.
Dimensions: 11"h x 19.75"w x 9.75"d; Approx. 2,118 cubic inches
Price: $50. Order this and other store items online here.
---
AFIO Mug with color glazed seal.

Made in the U.S.A., dishwasher-safe.
$35 includes shipping.

Sip your morning joe in style or use it to stash pens, cards, paperclips, or candy.
Order this and other store items online here.
---


Caps - Dark Navy with Navy AFIO Logo
An authentic silhouette with the comfort of an unstructured, adjustable fit. Fabric: 100% cotton. Unstructured. Fabric strap closure with adjustable D-clip. Price: $30. Order this and other store items online here.
---
JUST PUBLISHED FOR 2023
Be informed on career opportunities in the U.S. Intelligence Community
Intelligence as a Career - with updated listings of colleges teaching intelligence courses, and Q&As on needed foreign languages, as well as the courses, grades, extracurricular activities, and behavioral characteristics and life experiences sought by modern U.S. intelligence agencies.

AFIO's popular 47-page booklet reaches thousands of high school, college students, university guidance offices, and distributed in classes teaching intelligence, to help those considering careers in the U.S. Intelligence Community.

This is the all new fifth edition.
The publication is also popular with University Career Guidance Centers, professors and academic departments specializing in national security, and parents assisting children or grandchildren in choosing meaningful, public service careers.
This booklet is provided online as a public service from the generosity of AFIO board, volunteer editors/writers, donors, and members.
We thank all for their support which makes this educational effort possible.
Careers Booklet (new 2023 Fifth Edition) can be read or downloaded here

---
Guide to the Study of Intelligence...and...When Intelligence Made a Difference
"AFIO's Guide to the Study of Intelligence" has sold out in hard-copy.
It is available in digital form in its entirety on the AFIO website here.

Also available on the website here are the individual articles of AFIO's history project "When Intelligence Made a Difference" that have been published to date in The Intelligencer journal. More articles will be appear in future editions.
---
Address Technical Issues Or Unsubscribe
Some features of the email version of the WIN do not work for readers who have chosen the Plaintext Edition, some users of AOL, and readers who access their email using web mail. You may request to change from Plaintext to HTML format here afio@afio.com. For the best reading experience, the latest web edition can be found here: https://www.afio.com/pages/currentwin.htm
To unsubscribe from the WIN email list, please click the "UNSUBSCRIBE" link at the bottom of the email. If you did not subscribe to the WIN and are not a member, you received this product from a third party in violation of AFIO policy. Please forward to afio@afio.com the entire message that you received and we will remove the sender from our membership and distribution lists.
---
Disclaimer and Legal Protection
Weekly Intelligence Notes (WINs) are a carefully selected collection of timely open source reports and announcements and other media focused on intelligence and related national security matters that is produced for non-profit educational use by AFIO members and WIN subscribers. WINs are protected by copyright and intellectual property laws. They may not be reproduced or re-sent without specific permission from the Producer. Opinions expressed in the materials contained in the WINs are solely those of the content creators listed with each item. Notices in the WINs about non-AFIO events do not constitute endorsement or recommendation by AFIO.

(c) 1998 thru 2023


---

AFIO Members Support the AFIO Mission - sponsor new members! CHECK THE AFIO WEBSITE at www.afio.com for back issues of the WINs, information about AFIO, conference agenda and registrations materials, and membership applications and much more! .

AFIO | 7600 Leesburg Pike, Suite 470 East, Falls Church, VA 22043-2004 | (703) 790-0320 (phone) | (703) 991-1278 (fax) | afio@afio.com
---
About AFIO | Membership Renewal | Change of Address | Upcoming Events | Chapter Locations | Corporate/Institutional Memberships | Careers in Intelligence Booklet | Guide to the Study of Intelligence | Intelligencer Journal | Weekly Intelligence Notes | Make A Donation | AFIO Store | Member-Only Section | Code of Ethics | Home Page
RETURN TO TOP
---