---
Estonian Spy Agency Warns of Russian Efforts to Recruit Refugees - Bloomberg, 12 Apr 23
Russian security services have stepped up attempts to recruit Ukrainian refugees traveling to Estonia, the Baltic nation's counterintelligence agency said in an annual report. The EU country bordering Russia provided refugee status to 45,000 Ukrainians fleeing Russia's invasion. It's one of the biggest influxes seen by any country on a per-capita basis, with many of the displaced Ukrainians arriving in Estonia after passing through shared neighbor Russia. Already in a vulnerable position from the war, the refugees are regularly interrogated by Russian spy agencies such as the Federal Security Service, known as the FSB, in filtration camps and border points, and "activities will likely intensify in the future," according to the report released by Estonia's Internal Security Service on Wednesday. (Full article here.)
Swiss secret service bosses forced to re-apply for jobs - Swiss Info, 17 Apr 23
Director Christian Dussey will stay in his post and will be supported by a deputy director and five division heads once the reorganisation is complete. Speaking to the Swiss media last month, Dussey said that cyberattacks and disinformation have become major battlefields for the intelligence community. This phenomenon has only increased since Russia invaded Ukraine a year ago, Dussey said. FIS has also highlighted an increase in Russian spying activity in Switzerland, particularly Geneva which hosts numerous international bodies. The FIS reshuffle was first reported by the CH Media group and was confirmed to Swiss public broadcaster SRF. (Full article here.)
Dutch Intel Agency Paints Grim Picture of Multiple Threats - US News and World Report, 17 Apr 23
The Dutch national intelligence agency has painted a grim picture of a growing number of internal and external threats to the rule of law in the Netherlands compounded by Russia's war in Ukraine, international cyber attacks and espionage Erik Akerboom, director-general of the Dutch General Intelligence and Security Service, AIVD, painted a grim picture during a press conference in Zoetermeer, Netherlands, Thursday, April 13, 2023, of a growing number of internal and external threats to the rule of law in the Netherlands compounded by Russia's war in Ukraine and international cyber attacks and espionage. In its annual report, the General Intelligence and Security Service AIVD called China "the biggest threat to the Netherlands' economic security." (Full article here.)
US arrests two for setting up Chinese 'secret police station' in New York - Reuters, 17 Apr 23
U.S. law enforcement officials on Monday arrested two New York residents for allegedly operating a Chinese "secret police station" in Manhattan's Chinatown, part of a crackdown on Beijing's alleged targeting of U.S.-based dissidents. Lu Jianwang, 61, and Chen Jinping, 59, face charges of conspiring to act as agents of China's government without informing U.S. authorities and obstruction of justice. They were released on bond following an initial appearance in Brooklyn federal court. A 2022 investigation published by Spain-based advocacy group Safeguard Defenders reported that China had set up overseas "service stations," including in New York, that illegally worked with Chinese police to pressure fugitives to return to China. The Chinese government has said there are centers outside China run by local volunteers, not Chinese police officers, that aim to help Chinese citizens renew documents and offer other services. (Full article here.)
China condemned over use of spies to monitor Uyghurs for Ramadan fasting - United Press International, 13 Apr 23
The Council on American-Islamic Relations condemned the Chinese government on Thursday after reports surfaced that it has been spying on Muslim Uyghurs to keep them from fasting during Ramadan. Radio Free Asia had reported that Chinese officials sent spies into the Xinjiang province to monitor their activities during the holy month. Authorities reportedly determined that 54 Uyghurs had violated the law by fasting. "The Chinese government's reported use of spies to disrupt the religious observance of Muslim Uyghurs during Ramadan is a violation of their most basic human dignity and of international laws on religious freedom," CAIR Deputy Executive Director Edward Ahmed Mitchell said in a statement. "The Chinese Communist Party must end its war on Islam in Xinjiang." The Uyghur people are an ethnic minority in China made up mostly of Muslims native to the region who speak their own language, which is similar to Turkish. (Full article here.)
Leaked Documents Show Turkish Intelligence Ramp Up Spying in Greece - Greek Reporter, 15 Apr 23
Turkey's intelligence agency, Milli İstihbarat Teşkilatı (MIT), have expanded covert activities in Greece according to the Nordic Research Monitoring Network (Nordic Monitor). This is despite a tentative period of rapprochement between Athens and Ankara following the devastating earthquakes in Turkey that brought the two countries together. Nordic Monitor says that it has obtained secret documents detailing MIT's intelligence gathering activities in Greece. The documents purport to show efforts by MIT to locate members of the Gülen movement who fled to Greece. The documents also allegedly contained the findings of Turkish intelligence operatives working to assess Greece's security vulnerabilities and the status of key Greek strategic assets. (Full article here.)
Russia-Linked Hackers Launches Espionage Attacks on Foreign Diplomatic Entities - The Hacker News, 14 Apr 23
The Russia-linked APT29 (aka Cozy Bear) threat actor has been attributed to an ongoing cyber espionage campaign targeting foreign ministries and diplomatic entities located in NATO member states, the European Union, and Africa. According to Poland's Military Counterintelligence Service and the CERT Polska team, the observed activity shares tactical overlaps with a cluster tracked by Microsoft as Nobelium, which is known for its high-profile attack on SolarWinds in 2020. Nobelium's operations have been attributed to Russia's Foreign Intelligence Service (SVR), an organization that's tasked with protecting "individuals, society, and the state from foreign threats." That said, the campaign represents an evolution of the Kremlin-backed hacking group's tactics, indicating persistent attempts at improving its cyber weaponry to infiltrate victim systems for intelligence gathering.(Full article here.)
Britain names MI5 deputy as first female cyber spy boss - Reuters, 11 Apr 23
Britain named Anne Keast-Butler as the first female director of its intelligence communications agency GCHQ on Tuesday, tasked with protecting the country from terrorists, cyber-criminals and malign foreign powers. She will take over the role in May, succeeding Jeremy Fleming who is stepping down after a six-year tenure. Foreign Secretary James Cleverly, who made the appointment, said Keast-Butler had an impressive track record  at the heart of Britain's national security network. "Anne will  use her vast experience to help keep the British public safe," he said. She is currently deputy director general at Britain's domestic intelligence agency, known as MI5. (Full article here.)
Cyber Espionage: Israeli Mercenary Spies Attack iPhones With Malicious Calendar Invites - Tech Smart, 12 Apr 23
The world of cyber espionage has experienced an increase in the sophistication and complexity of its tools. A clear example of this is the recent discovery of a group of Israeli mercenary spies that have attacked iPhones through malicious invitations to calendar events. The QuaDream company, responsible for creating these tools, has been identified as responsible for these attacks, according to reports from Microsoft and Citizen Lab. QuaDream is an Israeli company specializing in the creation of cyber-espionage tools, in particular in the development of "zero-click" exploits for iPhones, which do not require the user to click on malicious links. Despite its low visibility, the company has sold its products to countries such as Saudi Arabia, Ghana, the United Arab Emirates, Uzbekistan and Singapore. (Full article here.)
Intel Threat To Norway 'Reduced' After Diplomats Expelled - Barrons, 14 Apr 23
Norway's intelligence service said on Friday the expulsion of 15 Russian embassy employees suspected of being "intelligence officers", had "significantly reduced" the risk of Russian espionage but not removed it. The Nordic country announced on Thursday that it had declared 15 Russian diplomats -- about a third of staff at the embassy in Oslo -- "personae non gratae" because they had been "engaging in activities that are not compatible with their diplomatic status". The decision further strained relations between Oslo and Moscow, which have deteriorated in the wake of Russia's invasion of Ukraine. "The risk of espionage from Russia has not disappeared but it has been significantly reduced," Inger Haugland, head of counter-intelligence at the Norwegian Police Security Service (PST), told a press briefing on Friday. The people expelled, she explained, were "specialists in different fields". (Full article here.)
Discord Leaks Reveal Chinese Spy Balloons Are Named For Mob Bosses - Forbes, 14 Apr 23
Whitey Bulger, Donald Killeen and Tony "Big Tuna" Accardo were all big names in organized crime during the 20th century. But they're also the names given to Chinese spy balloons by U.S. intelligence, according to documents leaked on Discord over the past few months. The Washington Post has a fascinating new report about various Chinese spy balloons that U.S. authorities were tracking before the balloon that captured national attention back in February. The revelations are part of the documents allegedly leaked by a 21-year-old IT worker with the U.S. military on the messaging platform Discord. And while the presence of previously undisclosed spy balloons is certainly interesting in and of itself, the unique nature of the Discord leaks means we're getting a peek behind the secretive curtain at U.S. intelligence agencies which includes details that would normally only be revealed decades later, if they were revealed at all. One Chinese spy balloon, dubbed the Bulger-21, was named for Whitey Bulger, the organized crime boss who evaded authorities for decades before being caught in 2011. Bulger died in prison in 2018. The Bulger-21 circled the globe from December 2021 until May 2022 and carried "sophisticated surveillance equipment," according to the Washington Post. (Full article here.)
Three Pervasive Tax Myths That Get Clearance Holders in Trouble - Clearance Jobs, 15 Apr 23
A lot of bad information about taxes circulates on the internet and through word-of-mouth. I'd personally never take tax advice from anyone but a Certified Public Accountant (CPA) or an attorney, but a lot of people seem to feel differently. Here are a few of the most pervasive tax myths I've seen get clearance holders into trouble over the years. Myth 1: You Have Three Years to File Your Returns if You Don't Owe Money. This myth has been around for years and seems to stem from unartful language on the IRS website describing the length of time required to claim a refund due. To be clear, tax returns are due by the filing date (usually, April 15th) immediately following the tax year at issue, regardless of whether the taxpayer owes money or is owed a refund. This deadline can be extended by filing for an extension, but the taxpayer must affirmatively take that step. If owed a refund, the taxpayer must file within three years of the due date to claim it. This does not mean the filing deadline is extended three years if owed a refund; it simply means that the taxpayer is no longer eligible to claim that refund if filing more than three years late. (Full article here.)
The intelligence community is doing damage control after the Pentagon leaks - National Public Radio, 15 Apr 23
President Biden says he's directed the military and intelligence communities to take steps to further secure sensitive information. That's after a massive leak of sensitive documents came to light. On Friday, a 21-year-old member of the Air National Guard named Jack Teixeira appeared before a federal judge in Boston. He's facing charges that he leaked highly classified information that include details about Russian moves in Ukraine and the strength of the Ukrainian army. Joining us now to talk about all of this is NPR's Pentagon correspondent Tom Bowman. (Full article here.)
Canadian MP felt 'shadow of doubt' after spy agency warned him about diplomat - Canadian Broadcast Corporation, 14 Apr 23
A veteran Canadian MP met three times with the ambassador of a country in the crosshairs of the Canadian Security Intelligence Service, leading CSIS to warn the parliamentarian away from further interactions, CBC News has learned. "You just cast a shadow of doubt over everyone," the MP said, speaking confidentially because he was not authorized to comment publicly on the matter. "Once you have that doubt placed on you, I don't know how you recover." CBC News is not identifying the country in question in order to protect the MP's identity. CBC reached out to more than 30 MPs across party lines who identify as members of ethnic or religious minorities to ask if they thought they had ever been inappropriately surveilled by Canada's intelligence agencies. The MP who spoke to CBC News said the ambassador reached out to him for a meeting and he felt he needed to oblige out of politeness — although he was well aware of Canada's issues with the government the diplomat represented. "I may have met with him three times," the MP said. (Full article here.)
Counterespionage Corner - Recent Arrests, Convictions, Expulsions, and more...
---
The Latest National Security Topic Interview by Former Acting D/CIA Mike Morell


Intelligence Matters: A CBS News national security podcast hosted by former CIA Acting Director and CBS News national security contributor Michael Morell.
28 Mar | CIA Clinical Psychologist Ursula Wilder on Profiling World Leaders
In this episode of Intelligence Matters, host Michael Morell speaks with Ursula Wilder, a clinical psychologist at the Central Intelligence Agency, about why intelligence agencies conduct psychological profiles of world leaders, and how past policymakers have used what they have learned to make strategic decisions. Wilder, who also worked in CIA's counterterrorism center and Medical and Psychological Assessments unit, explains the "dark tetrad" of personality -- narcissism, paranoia, Machiavellianism and sadism -- and how those traits can influence how leaders make decisions and engage in negotiations. She and Morell also discuss how policymakers respond to psychological profiles compiled by government agencies.
Past episodes:

21 Mar| Former Middle East Envoy Dennis Ross on Regional Instability
14 Feb | The U.S. Invasion of Iraq: A Look at Intelligence, 20 Years Later
07 Mar | Kristin Wood on the Intelligence Value of Open Source Data

More about Intelligence Matters by Michael Morell here.
---
The Latest from International Spy Museum Historian Andrew Hammond, PhD.
Spycast is the official podcast of the International Spy Museum and hosts interviews with intelligence experts on matters of HUMINT, SIGINT, IMINT, OSINT, and GEOINT. Spycast is hosted by historian Andrew Hammond, PhD.
11 Apr | "Havana Syndrome" - A Panel featuring Nicki Woolf, Marc Polymeropoulos, Mark Zaid. This week's episode is the result of a collaboration with The Sound, a recent limited series podcast exploring the so-called Havana Syndrome. The guests are host and investigative journalist Nicky Woolf (Twitter), former senior CIA operations officer and sufferer Marc Polymeropoulos (Twitter), and attorney and advocate Mark Zaid.
Past episodes:
04 Apr | "Indian Intelligence and Cyber" - A Conversation with Sameer Patil, ORF Mumbai
28 Mar | "Secrets Revealed" - Curator Alexis and Andrew on SPY's Pop-Up Exhibit
21 Mar | "Israeli Military Intelligence" - IDF Brig. General (Res.) Yossi Kuperwasser


---
The Latest Insights from Former CIA Acting Deputy Director for Operations Jack Devine.
In Other News The proprietary analytic newsletter crafted for The Arkin Group's private clients by former CIA Acting Deputy Director for Operations Jack Devine.
11 Apr | President Biden's upcoming visit to Northern Ireland on the 25th anniversary of the Good Friday Agreement indicates a potential shift in UK politics. In the aftermath of the Brexit referendum, economic decisions have been tightly interwoven with political ideology in the United Kingdom. But since UK Prime Minister Rishi Sunak took the helm last October, his economic policies appear to be primarily driven by pragmatism. Still, it's uncertain if Sunak is truly adapting his ideology or instead believes that without immediate measures to promote a stronger UK economy, ideology won't matter because his party will lose the next election. (Full version available to AFIO members in the coming days here.)
07 Apr | Russia might be inching forward on the battlefield, but it's a painstaking process met with heavy headwinds on multiple fronts.
30 Mar | Russia's economy is finally feeling the effects of sanctions.
23 Mar | Little of real substance emerged from the meeting from Xi and Putin
---
Daily Analysis of Security Issues and Geopolitical Trends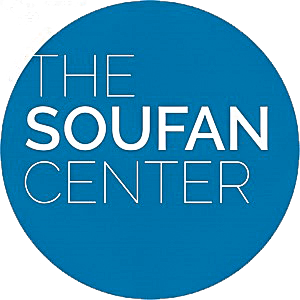 Intel Brief The Soufan Center's flagship, daily analytical product focused on complex security issues and geopolitical trends that may shape regional or international affairs. The Soufan Center was founded by former FBI Special Agent and Soufan Group CEO Ali Soufan.
18 Apr | All is Not Quiet on the Western Front: Macron's China Trip Exposes Rifts

French President Emmanuel Macron's recent visit to China was met with criticism in many corners of the West, with politicians and commentators panning his obsequiousness with Chinese leader Xi Jinping. It was clear that Macron, lavished with attention and adoring crowds during his three-day official state visit, enjoyed being the center of attention. But he returned to several pointed rebukes for his embrace of Xi and his comments about Taiwan, the international system, and the U.S.-European relationship. Macron stressed the importance that Europe avoid becoming "vassals" of the United States and even suggested that Taiwan was not a European problem, sending a dangerous message. "The worse thing would be to think that we Europeans must become followers on this topic and take our cue from the U.S. agenda and a Chinese overreaction," said Macron. These comments undoubtedly pleased Xi, who is positioning China as a counterweight to the United States and increasingly attempting to promote China's vision of the world, one which Macron seemed to agree with, or at least accept during the state visit. Macron is embattled on the homefront, unpopular with the French public as he pushes through pension reforms. But abroad, he's not done much better, delivering ill-timed and out-of-touch remarks that bordered on naivete. (Full brief here.)
17 Apr | Regional Implications of Violent Conflict Between Sudan's Top Military Leaders
14 Apr | Evan Gershkovich and the Rise of Hostage Diplomacy
13 Apr | Syria Emerging as Major Narco-State
12 Apr | China Cultivating Image as a Peace Promoter
---
Analysis of Global Security Events with WTOP National Security Correspondent JJ Green

Inside the SCIF - 13 Apr - Pentagon Leaks, Kremlin Affairs, Paul Whelan, Evan Gershkovich, and more...
Target USA Podcast - 12 Apr - The Pentagon Document Leak

The Hunt Broadcast - 12 Apr - Terror groups' humanitarian theft and boasting draw scrutiny




---
The Latest Insights from Jeff Stein and Colleagues in SpyTalk (Substack)

The Air Force Loves War Gamers Like Teixeira

15 Apr | The Air Force Loves War Gamers Like Teixeira - Jeff Stein
With the federal government spending at least $1 billion annually on defense and civilian agency programs to neutralize 'insider threats,' it's no wonder that people are asking how it was possible that secret documents posted by Jack Teixeira, a low level 21-year-old Massachusetts Air National Guard airman, were able to circulate through the backwaters of the Internet for months before authorities even became aware of their existence. (Full article here.)

14 Apr | That Monster Leak - Jeff Stein

13 Apr | Join me on Notes for that fast moving leaks story - Jeff Stein

09 Apr | On That DoD Intelligence Leak Shocker - Jeff Stein


To support SpyTalk, subscribe here.


---
---
Article: Real-Life Spies Pick Their Top 100 Spy Books From Box 88 to The Quiet American - Spyscape, 10 Apr 23
Imagine having access to the personal bookshelves of top intelligence operatives, including CIA, FBI, Mossad, and KGB-trained agents. Well, we did just that and asked them to share their all-time favorite spy books. Get ready to discover the ultimate reading list for anyone who loves the world of espionage and covert operations. Here are the Top 100 Spy Books both fiction and non-fiction selected by spies, our True Spies team and our SPYSCAPE bookshop - you won't find another list like this anywhere in the world. (Read full report here.)
OpEd: Help Ukraine Defeat Russia, Then Make Friends by Jack Devine - Wall Street Journal, 11 Apr 23
A short-term focus on the battlefield shouldn't stop us from seeing the unique opportunity Ukraine provides to reset the balance of power in favor of supporters of democracy and freedom worldwide and to sideline the emergent autocratic alliances between Russia, China, Iran and North Korea. The way to do it is to defeat Vladimir Putin and then make friends with Russia. The West neglected relations with Russia at and after the end of the Cold War. Even from a position of strength, as I witnessed firsthand, our successful effort to drive the Soviets out of Afghanistan was seen as a full-stop victory with the exodus from Kabul in 1989. When the Berlin Wall fell later that year, then Rep. Charlie Wilson saw the opportunity to build a lasting peace with Russia as part of Europe where it rightfully belongs. But most U.S. officials concluded it was time to pick up our marbles and go home. Because of our limited embrace, Russia eventually slipped into the autocratic hands of Mr. Putin. (Read full report here.) (NOTE: This material may be behind a pay wall or require a one time free subscription.)
OpEd: Russian spies rebound in Europe - Politico, 04 Apr 23
Russia is trying to rebound from last year's coordinated mass expulsion of Russian intelligence officers operating under diplomatic guise in Europe. And there's now growing evidence that Russia's foreign intelligence service (SVR) and its military intelligence agency (GRU) are aggressively trying to rebuild their human espionage networks — particularly with an eye toward military aid going to Ukraine. In what Ken McCallum, the head of Britain's security service MI5, dubbed the "most significant strategic blow" against Moscow in recent intelligence history, more than 400 so-called undeclared intelligence officers have been drummed out of Europe since the invasion of Ukraine, including from France, Belgium and Germany, dramatically reducing the Kremlin's reach and ability to spy in Europe. And on Thursday, Finland's Security and Intelligence Service (SUPO) said the expulsions of Russian intelligence officers, and visa refusals for their replacements, have substantially weakened Moscow's intelligence operations in the Nordic region. (Read full report here.)
Article: Hey Siri, use this ultrasound attack to disarm a smart-home system - The Register, 04 Apr 23
Academics in the US have developed an attack dubbed NUIT, for Near-Ultrasound Inaudible Trojan, that exploits vulnerabilities in smart device microphones and voice assistants to silently and remotely access smart phones and home devices. The research team — Guenevere Chen, an associate professor at the University of Texas at San Antonio, her doctoral student Qi Xia, and Shouhuai Xu, a professor at the University of Colorado Colorado Springs — found Apple's Siri, Google's Assistant, Microsoft's Cortana, and Amazon's Alexa are all vulnerable to NUIT attacks, albeit to different degrees. In other words, millions of devices, from phones and laptops to speakers, lights, garage door openers and front door locks, could be remotely hijacked, using carefully crafted near-ultrasonic sounds, and forced to make unwanted phone calls and money transfers, disable alarm systems, or unlock doors. (Read full report here.)
Video: CIA Museum Tour (42 mins) - American History TV via C-Span, 25 Mar 23
American History TV toured the CIA Museum at the agency's Langley, Virginia, headquarters. Director and curator Robert Byer highlighted covert action tools of the trade in the CIA's collection, dating from the Cold War to 21st century terrorism. The museum was created primarily for CIA employees - as a resource for their ongoing work - and is not open to the general public. (Watch here.)
OpEd: Taiwan - No Way Out - National Review, 15 Apr 23
In recent weeks, there has been a flurry of support for Taiwan from the U.S. House of Representatives, typified by the visit of the Foreign Affairs Committee chairman, Representative Michael McCaul. If China invaded Taiwan, he said, sending U.S. forces into the fight "would be discussed by Congress and with the American people." McCaul was hewing to the congressional Taiwan Policy Act of 2022, which designates Taiwan a "Major Non-NATO Ally" but leaves ambiguous whether the U.S. would fight alongside it or instead treat it as it does Ukraine, sending arms but not entering the fight. Chairman Xi Jinping has instructed his country's military to "be ready by 2027" to invade Taiwan. Obviously, his preference is to achieve Taiwan's capitulation through political maneuvers and threats. But his pledge to employ force during this decade must be taken as firm. A day after McCaul made his unremarkable remarks, China dispatched 80 military aircraft and ships into Taiwan's littoral space and threatened to board and "inspect" commercial vessels. The Chinese general in command said this was intended as a "serious warning against the joint provocations of 'Taiwan independence' separatists and external forces." The White House issued an infelicitous response, saying there was no reason for China to "overreact." (Read full report here.)
Article: 'He's a war criminal': Elite Putin security officer defects - Associated Press, 04 Apr 23
On Oct. 14, a Russian engineer named Gleb Karakulov boarded a flight from Kazakhstan to Turkey with his wife and daughter. He switched off his phone to shut out the crescendo of urgent, enraged messages, said goodbye to his life in Russia and tried to calm his fast-beating heart. But this was no ordinary Russian defector. Karakulov was an officer in President Vladimir Putin's secretive elite personal security service — one of the few Russians to flee and go public who have rank, as well as knowledge of intimate details of Putin's life and potentially classified information. Karakulov, who was responsible for secure communications, said moral opposition to Russia's invasion of Ukraine and his fear of dying there drove him to speak out, despite the risks to himself and his family. He said he hoped to inspire other Russians to speak out also. "Our president has become a war criminal," he said. "It is time to end this war and stop being silent." (Read full report here.)
Article with Video: Air National Guardsman Arrested as F.B.I. Searches His Home - New York Times, 13 Apr 23
Federal investigators on Thursday arrested a 21-year-old air national guardsman who they believe is linked to a trove of leaked classified U.S. intelligence documents, which have upended relations with American allies and exposed weaknesses in the Ukrainian military. The man, whom The New York Times was first to identify as Jack Teixeira, is a member of the intelligence wing of the Massachusetts Air National Guard and is tied to an online group where the leaked documents first appeared. Discord, the 8-year-old social media and messaging platform popular among young people and video game players, has increasingly become a mainstream part of the internet. It was introduced in 2015 as a chat application that people could use to communicate with one another while playing games. The platform was a niche product until the pandemic, when young people were searching for ways to chat with their friends and joining online communities. By late 2021, it had more than 150 million active users each month. (Read full report here.) (NOTE: This material may be behind a pay wall or require a one time free subscription.)
---
Analysis: How Gamers Eclipsed Spies as an Intelligence Threat - Foreign Policy, 15 Apr 23
The recent leaks of classified U.S. military documents on the Russian-Ukrainian war count among the worst Western intelligence failures in recent history. Veteran intelligence officials, however, are shocked for a different reason: The particular way the top-secret documents spread—and the apparent motivation for the leaker. The information was not disclosed to a foreign intelligence agency or sympathetic media outlet but posted to an online gaming chat server dedicated to memes, video games, and internet camaraderie. The leak had nothing to do with traditional espionage or hacktivism but appears to have been motivated by clout-chasing on an obscure internet forum. (Full report here.)
Analysis: United Front Work and Beyond - How the Chinese Communist Party Penetrates the United States and Western Societies - Jamestown Foundation, 12 Apr 23
Growing concerns exist in the US and other Western countries that there are systematic efforts by the Chinese Communist Party (CCP) to undermine their societies. This concern has arisen from the developing observation and analysis of more offensive-based CCP activities outside of the People's Republic of China (PRC). These offensive activities have become far more apparent during the tenure of CCP Secretary Xi Jinping (from 2012), and seem to be part of efforts to move from a defensive to an offensive posture in a variety of areas. This can be characterized as a "Strategy of Sowing Discord," a Chinese proverb that refers to efforts to make internal disputes amongst the enemy so deep that they become distracted from the conflict. By taking offensive influencing measures against US and other Western societies, the CCP aims to distract foreign attention from repression within China's borders and also to pressure the increasingly broad diaspora of dissidents from the Mainland, Hong Kong, Tibet, Xinjiang, as well as Taiwanese separatists. In addition, this offensive posture is part of efforts to promote a more positive perspective of the PRC around the world, which may resonate with potential partner countries in the "Global South," used here to refer generally to low or middle income states across Africa, Asia, and Latin America. (Full report here.)
Report: Could Dementia in the National Security Workforce Create a Security Threat? - RAND Corporation, 01 Apr 23
Individuals who hold or held a security clearance and handled classified material could become a security threat if they develop dementia and unwittingly share government secrets. The exploratory research discussed in this Perspective highlights the factors involved in dementia becoming a risk to global and national security, proposes a framework to assess the risk, and guides further study of this potential threat. The authors also explore how the national security and intelligence communities are especially at risk because they employ large numbers of military veterans, who, as a population, may have a higher risk of developing dementia because of high rates of traumatic brain injury. (Watch here.)
OpEd: What AI Can – and Can't – Do for US Intelligence - Cipher Brief, 04 Apr 23
Last month marked the 20th anniversary of the Iraq War, begun after the September 11th 2001 al-Qaida attacks on New York and Washington DC. The George W. Bush Administration judged that Iraqi President Saddam Hussein's weapons of mass destruction (WMD) program and his enduring support for terrorist causes posed an unacceptable risk of translating into a WMD-enabled al-Qaida. The war was justified in part, on Intelligence Community (IC) assessments that Iraq had and was hiding, its WMD and uncertainty about the nature of ties to -al-Qaida. No WMD was discovered, and subsequent Congressional reviews of pre-war judgments revealed that the intelligence reporting was much weaker and the sourcing more questionable than intelligence officers realized or communicated at the time. The intelligence failure forced the IC to restructure how intelligence is collected and analyzed and how analysis is characterized, work that continues to be refined to this day. With that as backdrop, we wondered: how would pre-war Iraq analysis be different if we had the analytic tools then, that we have today? (Full report here.)
OpEd: The NSA's Brain Drain Has a Silver Lining - Defense One, 12 Apr 2023
For more than 60 years, the National Security Agency was the employer of choice for the country's top cyber and tech talent. Even the Edward Snowden scandal in 2013 did little to mar the agency's ability to hire and keep talent. In 2015, then-Director Mike Rogers could rightly boast about his agency's under-2 percent voluntary attrition rate, better than its government and industry peers. But by 2016, reports of a brain drain were emerging from the halls of Fort Meade. Competition with Big Tech for talent had intensified. Internal discontent over organizational tumult, bureaucratic inertia, and lagging innovation pushed the attrition rate past 6 percent. One cybersecurity executive was reportedly "stunned by the caliber of would-be recruits" leaving government service. Two years later, attrition had risen to 8 percent—even 9 percent for technical personnel—in what was described as an attritional "epidemic." This year, the agency more comfortable operating in the shadows launched "one of its largest hiring surges in 30 years" to confront its talent shortage. The public campaign even includes job postings on LinkedIn (where most employees don't have accounts). NSA also awarded defense giant CACI International $2.4 billion to augment the ranks of NSA's analysts. (Full report here.)
Analysis: Security in the Sahel, a common goal for Moroccan and US intelligence services - Atalayar, 10 Apr 2023
As a result of talks between the intelligence agencies of the Kingdom of Morocco and the United States in June last year, the leaderships of both organisations have met again, this time in Morocco, to continue with the plans set out. Among the main joint goals are to curb the activity of terrorist organisations in the Sahel region and to seek a balance of forces and relations between the countries in the area for greater prosperity. In addition, the cooperatives evaluated the results of the proposals that were first raised at the meetings held last summer, which were attended by the US Director of National Intelligence, Avril Haines, along with Christopher Wray, Director of the US Federal Bureau of Investigation (FBI), according to an official statement from the Moroccan Directorate General of Territorial Surveillance (DGST). This time, the Director of the American Intelligence Agency (CIA), William Burns, met with the Director of Territorial Surveillance, Abdellatif Hammouchi, in his office in Rabat. The meeting between the two leaders of the Alawi and American national security was attended by partners from both sides, notably Puneet Talwar, the US ambassador to Morocco. (Full report here.)
Research Paper: A Broken National Security Council Process and America's Inability to Prioritize Security Interests - Foreign Policy Research Institute, 11 Apr 2023
Recent US security policy failures in Afghanistan and Iraq reflect a flawed National Security Council (NSC) process and capacity to identify and prioritize security interests and goals. Failure to recognize and adjust NSC analytical procedures is particularly problematic given growing security challenges, disturbing trends in America, and the fragile state of our Republic. President Joe Biden's long-awaited national security strategy fails to correct this and is predictably flawed in the same fundamental ways as past NSC efforts. The document voices broad, aspirational goals describing what the administration wants to achieve, but is very ambiguous on the fundamental purpose of a strategy, describing how their goals will be achieved. Specifically, the document's lofty yet ambiguous language articulates more policy than strategy, reemphasizing a fundamental NSC misunderstanding of strategy. This disconnect has direct implications to successful implementation. Ambiguous goals mean defining intent and formulation of supporting objectives are left to departmental and interagency interpretation. This invariably assures poor implementation towards disparate ends, and recently in abject failure. (Full report here.)
OpEd: Separating OSINT from the Secret World Strengthens Both - Cipher Brief, 03 Apr 2023
The explosive growth in publicly available information (PAI) spawned by the revolution in information technology has led a growing number of authoritative thinkers to say the time has come to establish a new agency dedicated solely to the burgeoning craft of open source intelligence (OSINT). With the world increasingly awash in mystery-illuminating PIA, they argue that the Intelligence Community's imperative for secrecy, born of necessities of the Cold War, is no longer dominant, and entangling OSINT within government organizations with deep-seated cultures of secrecy prevents it from realizing its full potential and compromises its key advantages of speed and convenience of use. These arguments are serious and compelling. In today's world, separating OSINT from secret intelligence makes good sense, and doing so would reinvigorate both. (Full report here.)
Academic Paper: Rethinking intelligence practices and processes - three sociological concepts for the study of intelligence - Journal of Intelligence and National Security, Public Release April 2023 (originally published 14 Sep 22)
Recently, a small but growing number of intelligence scholars has called for more methodological variety in the study of intelligence. In this article, we connect with the emerging discussion about the utility of sociological approaches and discuss three influential sociological concepts, namely 'epistemic communities', 'transnational fields' and 'knowledge circulation' for understanding international intelligence relations. We apply each concept to an empirical example from our research on German-Arab intelligence relations during the Cold War. The paper concludes that the concepts highlight the everyday life and social embeddedness of shared and transnational intelligence practices and processes. (Full report here.)
Infographic and Report: Mapped - Ukrainian Refugee Destinations by the Numbers - Visual Capitalist, 06 Apr 22
It's been more than a year since Russia invaded Ukraine and forced refugees to seek destinations for new (or temporary) homes. As this ongoing conflict has dragged on, it has resulted in one of the worst humanitarian crises in Europe in recent times. Millions of people have fled their homes and sought temporary or permanent asylum in countries across Europe, and the world. This map by Pranav Gavali uses UNHCR data as of March 11, 2023 to highlight the countries that became Ukrainian refugee destinations. (Access visual tool and full report here.)
Intelligence in Pop Culture - Crossword Puzzles - Spycraft Crossword Challenge: What Tools Do You Have in Your Spy Arsenal? - Spyscape, April 2023
A good spy needs sharp observation skills, the ability to read body language, and the adaptability to don a disguise. But there's only so much that training can prepare you to do. Tradecraft - the nuts and bolts of spying - must be learned on the job. Could you make it in the field? Our clever crossword cruciverbalists have created five spycraft-themed puzzles to test your mettle. (Access puzzles here.)
Intelligence in History - A Collection of Recent Content
True Intelligence Matters in Film - The Catcher was a Spy - Ben Lewin (2018)
This stranger-than-fiction espionage thriller from director Ben Lewin (The Sessions) brings to life the incredible true story of Moe Berg (Rudd), the professional baseball player who became a World War II spy. A Jewish, Princeton-educated, multilingual catcher for the Boston Red Sox, the enigmatic Berg was enlisted by the US government to go behind enemy lines and assassinate the Nazi's chief nuclear scientist before the Germans could develop an atomic bomb.

More information about this based-on-true-events production here.
Walking Tours - Washington, DC - Sundays (Dates/Times Vary)
Former intelligence officers guide visitors on two morning and afternoon espionage-themed walking tours: "Spies of Embassy Row" and "Spies of Georgetown." For more information and booking, click here or contact rosanna@spyher.co
---
Spying Through a Glass Darkly: The Ethics of Espionage and Counter-Intelligence
by Cecile Fabre
(Oxford University Press, 25 Apr 23)
Espionage and counter-intelligence activities, both real and imagined, weave a complex and alluring story. Yet there is hardly any serious philosophical work on the subject. Cécile Fabre presents a systematic account of the ethics of espionage and counterintelligence. She argues that such operations, in the context of war and foreign policy, are morally justified as a means, but only as a means, to protect oneself and third parties from ongoing violations of fundamental rights. In doing so, she addresses a range of ethical questions: are intelligence officers morally permitted to bribe, deceive, blackmail, and manipulate as a way to uncover state secrets? Is cyberespionage morally permissible? Are governments morally permitted to resort to the mass surveillance of their and foreign populations as a means to unearth possible threats against national security? Can treason ever be morally permissible? Can it ever be legitimate to resort to economic espionage in the name of national security? The book offers answers to those questions through a blend of philosophical arguments and historical examples.
Order book here.
---
The First Enigma Code-Breaker: The Untold Story of Marian Rejewski Who Passed the Baton to Alan Turing
by Robert Gawlowski
(Naval Institute Press, 15 Apr 23)
The history of Enigma is of interest to many researchers and authors on an international scale. The capture and unraveling of the most hidden secret of the army of the Third Reich that was decisive for the fate of one of the greatest armed conflicts in the history of the world appeals to everyone from the avid historian to Hollywood. So far, other authors' attention has focused on the technical and cryptological issues of Enigma functioning, the fate of the Bletchley Park facility, or Alan Turing's story. Most of the attention was devoted to the events during the Second World War and it is the time frame of this conflict that usually begins and ends the story of Enigma. The First Enigma Codebreaker raises an issue that has never been discussed in greater detail in both international and Polish literature, the story of Marian Rejewski. This biography answers the questions: in what conditions was the ""Enigma conqueror"" brought up, in what circumstances did he manage to decode the machine, what happened to him during the Second World War and why he never ended up in Bletchley Park, what price he had to pay for his discovery in the communist Poland and what he did to make the world know the true history of Enigma. This is the story of a man who made a revolution in cryptology, about the rivalry between man and machine, about powerful history affecting individual lives, and about the life of Marian Rejewski whose story is still waiting to be presented to the public.
Order book here.
---
Agents of Subversion: The Fate of John T. Downey and the CIA's Covert War in China
by John Delury
(Cornell University Press, 15 Oct 23)
In the winter of 1952, at the height of the Korean War, the CIA flew a covert mission into China to pick up an agent. Trained on a remote Pacific island, the agent belonged to an obscure anti-communist group known as the Third Force based out of Hong Kong. The exfiltration would fail disastrously, and one of the Americans on the mission, a recent Yale graduate named John T. Downey, ended up a prisoner of Mao Zedong's government for the next twenty years. Unraveling the truth behind decades of Cold War intrigue, John Delury documents the damage that this hidden foreign policy did to American political life. The US government kept the public in the dark about decades of covert activity directed against China, while Downey languished in a Beijing prison and his mother lobbied desperately for his release. Mining little-known Chinese sources, Delury sheds new light on Mao's campaigns to eliminate counterrevolutionaries and how the chairman of the Chinese Communist Party used captive spies in diplomacy with the West. Agents of Subversion is an innovative work of transnational history, and it demonstrates both how the Chinese Communist regime used the fear of special agents to tighten its grip on society and why intellectuals in Cold War America presciently worried that subversion abroad could lead to repression at home.
Order book here.
---
Call for Information: 430th CIC in Salzburg in 1946
I am currently writing about 430th CIC in Salzburg in 1946. I have a (large) CIC file and am now trying to track down further details about two officers mentioned in this: (1) Bill Taylor. The sources do not make clear whether the officer was Major Bill G. Taylor, GSC, Head of the Counter-Intelligence Bureau of G-2 (Intelligence Section), US Forces Austria, or "Mil.Reg." Captain Taylor of Salzburg. Any information on either/both of these officers would be most welcome. (2) Pace B Rose. Rose was a CIC Special Agent in Austria, later a CIA officer who continued to be attached to the Agency after retirement. He died on 3 January 2009. I would like to contact family and friends of Pace Rose. According to the internet, Rose had children, Donna R. Hilverts and Gary W. Rose, and five grandchildren and three great grandchildren. Please contact S.Cody@westminster.ac.uk with any information.
Academic Opportunity: National Intelligence Summer Academy (NISA) for High School Students - 17-21 July 2023 - University of North Georgia, Cumming Campus
Are you considering a career in the U.S. Intelligence Community? Did you know that the U.S. Intelligence Community is made up of 18 separate agencies? Sign up for an intense and exciting five days of learning from highly qualified Master's and Ph.D. University of North Georgia instructors and practitioners. Application deadline 15 Apr 23. (More information and registration here.)
Call for Sources: Intelligence Officers Who Lived in Spain in the 1970s
Spanish journalist Francisco Jiménez is preparing a documentary about the intelligence services in Spain in the 70s. He is looking for intelligence officers who worked in Spain in those years. If you are willing to assist Franciso, he can be reached at fjimenez@globomedia.es.
Call for Sources: Intelligence activities in Grenada and the southern Caribbean between 1979, Operation Urgent Fury, Leonard Barrett
The Washington Post is developing a multipart audio documentary series (i.e. podcast) chronicling the Grenadian revolution and the US intervention in 1983. They've interviewed nearly 100 people so far, ranging from the heads of state, former Grenadian officials, current and former US officials, veterans, and intelligence officers. They're looking for people who served at the time and may be knowledgeable about intelligence activities in Grenada and the southern Caribbean between 1979 and Operation Urgent Fury. They would also be interested in speaking with anyone who knew Leonard Barrett during the same period. If anyone is interested in participating, please reach out to Washington Post reporter Ted Muldoon via email at ted.muldoon@washpost.com or on Signal at 651-497-5449.
Academic Opportunity: Critical Thinking for Intelligence Analysis Course - 21 Apr 23, 0800-1700 (ET) - Virtual
This course will help Intelligence Analysts improve their critical thinking skills. It begins by reviewing the basic characteristics of quality intelligence analysis (and the challenges to producing it) and the methodology for building an analytic argument. The course continues with a discussion of the mental traits and habits that inhibit critical thinking and objectivity. Finally, the course discusses several types of structured techniques designed to inject critical thinking and analytic rigor into intelligence production. $600 fee. (More information and registration here.)
Academic Opportunity: The International Security and Intelligence Programme - 9 July to 5 August 2023 - Magdalene College, Cambridge
Chaired by Sir Richard Dearlove the former Chief of the British Secret Intelligence Service, the Cambridge Security Initiative (CSi) launched the ISI Programme in 2016. The purpose of this unique programme is to provide an opportunity for participants to meet and work with leading academics and practitioners from the intelligence and security communities in the historic setting of one of the world's foremost universities. The Programme is run in partnership with the Department of War Studies at Kings College, London. (More information and registration here.)
Call for papers: Intelligence and Post-War Reconstruction - International Journal of Intelligence and Counterintelligence
History shows that without planning for post-war reconstruction, apparent victory in war can lead to long-term defeat. On the other hand, wise post-war planning can lead to friendly, peaceful, and profitable relations between victor and vanquished. For political, socio-economic and security-related planning, intelligence plays a crucial role in estimating capabilities, securing infrastructure, locating persons of interest, and rebuilding. In honor of the 75th anniversary of the European Recovery Program (Marshall Plan) after the Second World War, the editors are particularly interested in papers dealing with intelligence concerning post-war reconstruction initiatives and planning connected to historical and recent conflicts. Both case studies and theoretical and methodological approaches are welcome. The studies may include, but do not have to be focused on, the following questions and issues:
The role of diplomatic and military intelligence during the conflict as preparation for post-war reconstruction, from the conceptual to the practical.
What intelligence needs to be collected to secure and boost reconstruction?
What contacts, networks, and infrastructure are necessary for intelligence to be effective?
Who has been or should be approached and/or recruited for reconstruction efforts based on intelligence?
When has intelligent post-war planning (or its opposite) been historically evident?
How should intelligence interact with formerly warring parties and international organizations to empower practical reconstruction efforts?
What intelligence collection challenges have services encountered in working for post-war peace?
How did intelligence factor in the European Recovery Program?
What was George C. Marshall's position on the role of intelligence in general or concrete examples related to "his" plan?
01 Nov 23 deadline. More information and submission instructions here.
Call For Articles: AFIO Journal, The Intelligencer
For the past four years, AFIO has included in The Intelligencer a series of articles on "when intelligence made a difference." Written by scholars, intelligence practitioners, students, and others, they cover events from ancient times to the modern world and in many countries. AFIO is soliciting articles for future issues. Most articles run between 2,000 and 3,000 words, although some are longer or shorter. If you have an idea for an article that fits the theme, email senior editor Peter Oleson at peter.oleson@afio.com.
---
Retired Federal Government Employees Wanted - National Security Agency - Fort Meade, Maryland
The National Security Agency (NSA) may occasionally need skilled civilian retirees to augment the existing work force on high priority projects or programs. In order to fill these temporary positions quickly, we need to know who may be interested and available to return to work with us on a short notice basis as well as their skills. Retirees provide expertise and corporate knowledge to temporarily support mission requirements, manpower shortfalls, and/or mentor the next generation of Agency employees. Salary Range: $86,335 - $170,800.
Additional information and application here.

Assistant/Associate Professor of Intelligence Studies (Global Security and Intelligence Studies) - Embry-Riddle Aeronautical University - Prescott, Arizona
Embry-Riddle Aeronautical University's Prescott, Arizona campus is accepting applications for a tenure-track assistant or associate-level professor of intelligence studies to teach intelligence courses to students in the Global Security and Intelligence program. The successful candidate will teach students about the intelligence community, strategic intelligence, the intelligence cycle and intelligence analysis, writing, and briefing. Prior experience working in the intelligence community is strongly preferred. We are interested in candidates with teaching acumen in intelligence analysis and writing using structured analytical techniques.
Additional information and application here.

Teaching Associate - Intelligence and National Security Studies - Coastal Carolina University, South Carolina
The Department of Intelligence and Security Studies ( ISS ) at Coastal Carolina University is accepting applications for a pool of Teaching Associates (part-time adjunct faculty) to teach introductory and undergraduate elective course offerings for the program beginning in August 2022. While the ad is open to any specialization within the field of study, courses in the areas of homeland security, law enforcement intelligence, counter-narcotics, and cybersecurity are of particular interest. Course offerings can be in a face-to-face or synchronous online modality. To be considered, candidates must have a masters or doctoral degree in a relevant subject area. Prior professional experience in the profession, as well as prior teaching experience are preferred.
Additional information and application here.

---
Frank Murray — CIA Oxcart Program A-12 Pilot

Frank Murray, 93, last of six pilots to fly the A-12 for the Central Intelligence Agency's (CIA) legendary Oxcart program, passed away in Gardner, Nevada on 26 March 2023. Frank grew up in San Diego, California, and graduated from St. Augustine High School in 1948. He was taught to fly by his older brother at the age of 15 and enlisted in the US Air Force in August 1948. He was selected for and attended Airplane and Engine Mechanics School at Keesler AFB, Mississippi, where he graduated and stayed on as an instructor. Frank rose through the ranks over the course of four years until he made Sergeant. He was then accepted into the AF Aviation Cadet Flying Training Program. Murray was commissioned a second lieutenant and soon transferred to Laughlin AFB, then to Luke AFB, for Gunnery School in the T-33 and F-84B. His first operational fighter assignment was to Chaumont, France, where he flew the F-84G and F-86F. Murray was then reassigned to Bergstrom AFB, Texas, where he again flew the F-84F and received his first experience with supersonic speeds in the F-101A/C. From there, Murray was assigned to Otis AFB, Massachusetts, to fly the F-94C and F-101B. His final assignment prior to becoming an A-12 pilot was a three-year tour as an A-12 safety chase pilot in direct support of Project Oxcart in the 1129th Special Activities Squadron at Area 51, Nevada. Murray's transition to the CIA, the A-12, and Project Oxcart came just as he was promoted to the rank of major. He chose to resign his commission to take the job. Lt Col Murray flew four operational missions, most notably the second North Korea mission on Feb. 19, 1968. The Oxcart program was officially shut down in June of 1968 and Murray returned to regular Air Force life. Murray received the CIA's Intelligence Star for Valor and was inducted into Nevada's Aviation Hall of Fame in 2012.
Sam Crutchfield — Former Army Intelligence Officer and AFIO member

AFIO member Sam Shaw Crutchfield, Jr., 89, passed away peacefully of natural causes at his home in Alexandria, Virginia, on April 5, 2023. Born in Nashville, Tennessee, he joined the United States Army in 1953 after graduating from Isaac Litton High School in Nashville. His primary duty station was Ft. Myer, Virginia, where he served honorably in Army Intelligence. His tour with the Army coincided with his first residence in the Washington, DC metropolitan area where he spent the next 70 years of his life living in Washington, as well as Arlington, Fairfax, and Alexandria, Virginia. After completing his military service, Sam attended George Washington University for undergraduate work as well as George Washington School of Law where he obtained his Juris Doctor and went on to have an illustrious career as an attorney. Sam also served as the Co-captain of the Reagan Transition Team for the United States Postal Service.
Frank Anderson — Former Senior CIA Operations Officer's Interment Announced

Frank Anderson, a former American spymaster who supervised clandestine CIA operations in the Middle East, including a smuggling initiative that supplied Afghan rebels with billions of dollars in weapons during their 1980s war against the Soviet Union, died 27 Jan 2020 at a hospice center in Sarasota, Fla. He was 77. The cause was a stroke. Mr. Anderson spent the bulk of his 26-year intelligence career as a CIA officer in the Middle East, where he and his colleagues served as the tip of the spear of American foreign policy, orchestrating covert actions intended to obtain intelligence and give the country an edge during the Cold War. A station chief for three tours of duty, he presided over the development of new gadgets as head of the CIA's technical services wing and directed the Near East and South Asia division in the directorate of operations, the agency's clandestine a Mujahideen fighters in Afghanistan in 1984. Mr. Anderson later supervised the CIA effort to supply the fighters in their war against the Soviet Union, which occupied Afghanistan for nearly a decade. In recent years he emerged as a fierce critic of the CIA's use of "enhanced interrogation techniques" on terrorism suspects. Memorial service at Arlington National Cemetery on May 5th. Schedule: Arrive: 2:15 Old Post Chapel via Ft. Myer Gate; Service: 3:00; Interment Ceremony: 3:30; Reception: Patton Hall, Fife and Drum Room, 4:30-6:30
Mike Poell — Former SIS GEOINT Officer and NGA Hall of Fame Inductee

Mike Poell, 91, of Sterling, VA, born in Hanover, Kansas passed away on March 31, 2023. Mr. Poell attended Oregon State and Portland University. Upon graduation, Mr. Poell received his commission as a 2nd Lieutenant in the United States Air Force which was the beginning of his illustrious career. Mr. Poell had a very distinguished twenty year career, earning the rank of Lt. Col. in the Air Force followed by 23 years of exceptional service as a Senior Intelligence Officer within the Intelligence Community (IC) of the federal government. Mr. Poell's contributions were in the field of Imagery Analysis, now referred as Geoint Intelligence (GEOINT) that crossed over all boundaries of the IC: Central Intelligence Agency, National Photographic Interpretation Center, Defense Intelligence Agency, National Reconnaissance Office and lastly the National Geospatial Intelligence Agency (NGA) whereby, today his contributions to GEOINT remains and will be his legacy. Mr. Poell's contributions are many. His most prestigious recognition was being inducted into the NGA Hall of Fame, September 13, 2018 where he joins past inductees. Mr. Poell leaves a legacy of successes all across the IC surrounded by his passion for mission and its people.
Billy Waugh — Special Forces Covert Operator and CIA Paramilitary Officer

"Godfather of the Green Berets" Billy Waugh, 93, born in Bastrop, Texas, passed on 4 April 2023. Waugh honed his skills in unconventional warfare during the Vietnam War, helped the CIA hunt down the terrorists Carlos the Jackal and Osama bin Laden, and, in his 70s, fought in Afghanistan. Mr. Waugh, a Silver Star recipient and a well-known, colorful and blunt-spoken figure in the intelligence community, was a Special Forces veteran by the time he first arrived in Laos in 1961, in the early days of the Vietnam War, as part of a United States military advisory mission called White Star. Over parts of a decade in Southeast Asia, he helped train counterinsurgency forces in South Vietnam and Laos. He participated in parachute drops to the Ho Chi Minh Trail, which required jumping from aircraft at altitudes of 20,000 feet or more, he said, free-falling in the nighttime to the lowest possible height before popping the chute, to avoid enemy detection. And he served with the innocuously named Studies and Observations Group of the Military Assistance Command, Vietnam, a clandestine unit that ran reconnaissance and rescue missions in South and North Vietnam, Laos and Cambodia. In June 1965, Mr. Waugh, then a master sergeant, was nearly killed when his team was overwhelmed by North Vietnamese forces in Binh Dinh Province, along the South Vietnam coast. He was shot in the knee, foot, ankle and forehead and left for dead in a rice paddy, where he was later rescued. He enlisted in the Army in 1948 but did not taste combat until he joined the fighting in the Korean War three years later. After his Korean service, he was transferred to Germany, stationed in the Bavarian town of Bad Tolz, where he lobbied successfully to join the elite Special Forces. He retired from the Army in 1972, with the rank of sergeant major, and worked for two years for the United States Postal Service, sorting mail, which bored him. Then a call came in 1977 to return to action in a murky assignment — training Col. Muammar el-Qaddafi's Libyan commandos in infantry tactics — and he jumped at the chance. It wasn't a C.I.A. job, but one organized by a former agency officer, Edwin Wilson, who would later serve nearly 22 years in prison for selling explosives to Libya before his sentence was overturned. After the Libyan mission, Mr. Waugh became an independent contractor for the C.I.A. In Sudan in 1991 and '92, he watched and photographed bin Laden, who, long before he masterminded the 9/11 attacks, was already on the agency's radar as the founder of Al Qaeda. Mr. Waugh sometimes jogged past bin Laden's compound. At the age of 71, Waugh served on Team Romeo, a combined Special Forces and C.I.A. unit whose mission was to root out Taliban soldiers and Al Qaeda terrorists
Robert Wilson — Career NSA Officer and Phoenix Society Member

Robert Lee Wilson, 78, a resident of Edgewater for over 20 years and previously of Severna Park, MD, passed away on August 2, 2021 at the South River Health and Rehabilitation Center from complications of pneumonia and ongoing health and back-related maladies that ultimately took his life. Born in Big Stone Gap, VA, Robert had a Bachelor's degree from the University of Maryland, and a Master's of Science of Strategic Intelligence degree from the Defense Intelligence College. One of his most profound moments in life was his time spent on the USS Liberty especially June 8th 1967. Robert served his country in the U.S. Air Force. Prior to retiring in the early 2000s, he was a long-tenured employee of the National Security Agency. He was a former Phoenix Society member.
---
21 Apr 23 (Friday), 1030 (ET) - In-Person Tysons, VA - Registration has CLOSED for AFIO National Spring Luncheon. Presentations by LTG Michael Groen (USMC, Ret), former Commander of the Joint Artificial Intelligence Center, discussing AI. His presentation begins at 11:00 a.m. And journalist Jim Popkin discussing Cuban Spy Ana Montes featured in his book, "Code Name Blue Wren: The True Story of America's Most Dangerous Female Spy―and the Sister She Betrayed." His talk starts at 1:00 p.m. Lunch served noon-1:00 p.m. Event ends 2:00 p.m. Registration closes 5:00 p.m. Friday, 14 April.
Registration has closed
NO registrations or walk-ins at hotel. Check-in and badge pickup for Registered Attendees starts at 10:30 a.m. Luncheon prices are $55 for Members; $70 for nonmember guests and all Subscribers. Though we do not provide special overnight room rates, if you wish to make room reservations at the hotel, do so here. Cancellation Schedule: AFIO must guarantee XX meals to the hotel; therefore, regrets it must charge a cancellation fee. 100% refund until close of registration. No refunds or cancellations after close of registration. You will receive a donation receipt for fees forfeited. A donor statement will be sent showing that you made a "gift to AFIO" in such instances. Gifts to AFIO are tax-deductible. All attendees must be members of AFIO or accompanied by a member of AFIO. To learn more about becoming a member, visit: www.afio.com.  If you have any questions regarding membership, contact our office at 703-790-0320 or email us at afio@afio.com. Questions regarding event? Email events@afio.com
Some reactions to Popkin's "Code Name Blue Wren"
"Code Name Blue Wren might be the most mesmerizing spy story I've ever read. It shows how a brilliant manipulator secretly working for the Cubans finagled her way deep into the US military—and the anguish of the friends and family she so easily conned. Jim Popkin captures the brutal realities of modern espionage. I couldn't stop reading this." —Mark Leibovich, author of This Town and Thank You for Your Servitude

"For espionage devotees, Jim Popkin's Code Name Blue Wren is a critical read. In great detail, Popkin explores the case of Ana Montes, who became a mole in the Defense Intelligence Agency for Cuban intelligence. A mole who was almost never caught thanks to years of incompetence by the FBI's counterspies. But thanks to the dogged persistence of a dedicated NSA analyst, who bypassed the FBI at great risk to her career, Montes was arrested shortly after the 9/11 attacks. Left in her wake was the likely death of an American Green Beret killed in action in El Salvador and the pro-American troops fighting alongside him." —James Bamford, bestselling author of The Puzzle Palace and Spyfail: Foreign Spies, Moles, Saboteurs, and the Collapse of America's Counterintelligence

"Jim Popkin uncovers riveting details about one of the most damaging spy cases in US history, revealing new insights into the highly sensitive secrets that Ana Montes gave to her Cuban handlers. Through remarkably extensive interviews with her relatives and coworkers, he exposes not only what she did but why. This is the definitive history of how one of America's most highly regarded intelligence analysts betrayed her country, and how she almost got away with it." —Pete Williams, former NBC News justice correspondent

"This spy tale reads like a new season of Homeland – except this Ice Queen's traitorous double-life was entirely real. Jim Popkin takes us deep into a long-ignored story of an intel officer who went rogue, spilling US secrets to Cuba, endangering US operatives, and tricking presidents and her own sister at the FBI in the process." —Carol Leonnig, Pulitzer Prize-winning reporter at the Washington Post and author of Zero Fail: The Rise and Fall of the Secret Service 

"An entertaining story of cunning espionage."—Kirkus Reviews
26 Apr 23 (Wednesday), 1800 (ET) - Virtual via ZOOM - AFIO Atlanta Chapter Webinar features Sound Off CEO and former CIA Officer Will Negley on Mental Health Resources for Military Veterans. Please join the Atlanta Chapter to hear from former CIA Officer William Negley, founder/CEO of Sound Off, a non-profit mental health support network for U.S. military veterans. Sound Off is the first mental health resource for veterans and service members that allows anonymity and repeat contact with clinicians or peers, from a smartphone. 47% of post-9/11 veterans who likely suffer from depression or PTSD do not seek assistance, mostly for fear of stigmatization or compromising their careers. Negley will discuss his nonprofit's mission and his time serving the IC where he served for seven years in the DO in CT and foreign intelligence collection in Afghanistan and South Asia. Will also served as a U.S. Senate aide covering national security issues.
TIME: Webinar begins promptly at 6:00pm EST, and concludes at 7:00pm.
RSVP to membership@afioatlanta.com. Direct all questions to Chapter President Brian Hooper at that email. Please review the disclaimer and media release here, which you must read before entering the event/Zoom call.
Zoom Link Dial-in Options: +1 301 715 8592 US (Washington DC); +1 346 248 7799 US (Houston); +1 408 638 0968 US (San Jose) One Tap Mobile: +13052241968,,95112541535#,,,,*721240# US
9 May 23 (Tuesday), 1730 (EST) - In Person - New York City - The Reactivated AFIO NY Metro Chapter Speaker/Topic: Mitzi Perdue. "Behind the Scenes in Ukraine." Mitzi Perdue, renown author, anti trafficking and human rights activist, has visited Ukraine twice, most recently as guest of the Kyiv Region Police Chief. She has seen first hand evidence of Russian atrocities, booby traps and maiming trickery. Join us for a first hand look at what Ukraine's officials and people are up against and the imagination and perseverance they are bringing to the task. Registration at 5:30; Meeting begins at 6. Cost: $45. Cash or check payable at the door to David Hunt. Open bar, hors d'oeuvres. Location: Racquet and Tennis Club (R&T), 370 Park Ave, NYC 10022 - located between E 52nd - 53rd Streets. Map for directions. To attend, register: PLEASE ADVISE by 1 May if you are attending. Preferably to: afionyc@gmail.com, or call chapter President David Hunt at 301-520-1417.
10 May 23 (Wednesday), 1830 ET - In Person - Dunwoody, GA - AFIO Atlanta Chapter hosts Pop-by Chapter Social at the Iron Hill Brewery. Please join chapter members and bring non-members for this Pop-Up Social.
For a change in location, we will be going to the Iron Hill Brewery located in Perimeter / Dunwoody at 1224 Hammond Dr, Dunwoody, GA 30346
Feel free to suggest new venues or parts of town for the next social to us at membership@afioatlanta.
Non-members welcome!
Dress Code - Business casual or casual are fine.
RSVP via email to membership@afioatlanta.com by May 8 at 4:00pm.
13 May 23 (Saturday), 1130 ET - In Person - Melbourne (Indialantic), FL - AFIO Florida Satellite Chapter hosts Scott Tilley PhD discussing "ChatGPT and Disinformation." The Florida Satellite Chapter hosts Dr. Scott Tilley. His presentation is "ChatGPT and Disinformation." The event starts at 11:30 AM at the DoubleTree Suites by Hilton Hotel Melbourne Beach Oceanfront, 1665 N. State Route A1A, Melbourne (Indialantic), FL. The sit-down lunch cost is $35.00 per person.
For more information or to register, contact Chapter President Larry Sanford here.
See the AFIO Calendar of Events for scheduling further in the future.
---
Wednesday, 19 April 2023, 1830 (ET) – Washington, DC – Advance Screening: Citadel Episodes 1 and 2 – In Person - International Spy Museum Program
Tonight for your eyes only, an advance screening of Citadel, the upcoming Amazon Prime Video spy-thriller series which premieres on April 28. Citadel will be available in more than 240 countries and territories worldwide but only at SPY on April 19. Program is free of charge but requires advanced registration. First let's get you up to speed: Eight years ago, Citadel fell. The independent global spy agency—tasked to uphold the safety and security of all people—was destroyed by operatives of Manticore, a powerful syndicate manipulating the world from the shadows. With Citadel's fall, elite agents Mason Kane (Richard Madden) and Nadia Sinh (Priyanka Chopra Jonas) had their memories wiped as they narrowly escaped with their lives. They've remained hidden ever since, building new lives under new identities, unaware of their pasts. Until one night, when Mason is tracked down by his former Citadel colleague, Bernard Orlick (Stanley Tucci), who desperately needs his help to prevent Manticore from establishing a new world order. Mason seeks out his former partner, Nadia, and the two spies embark on a mission that takes them around the world in an effort to stop Manticore, all while contending with a relationship built on secrets, lies, and a dangerous-yet-undying love. Join us for the screening and a reception to follow. Program is free of charge but requires advanced registration. Explore or Register here: www.spymuseum.org.
Thursday, 20 April 2023, 1830 (ET) – Washington, DC – Codename HEXAGON: Inside the Secret Satellite Program with Phil Pressel – In Person - International Spy Museum Program
Imagine a vehicle orbiting the earth taking photographs. Now imagine two film reels, each holding 30 miles of film. Now imagine the exposed film being dropped in a container from 100 miles above the earth. Imagine a skilled pilot catching the container in mid-air with a net pulling it into a plane and returning it to earth for skilled analysis. Now imagine this happening over and over again. That's the core of the HEXAGON satellite program. Join us today in person, to hear about the US's last film-based intelligence spy satellite program directly from Phil Pressel. Pressel was the project engineer in charge of the design of the formerly top-secret Hexagon KH-9 spy satellite's stereo cameras. The Hexagon satellite was an invaluable asset providing photographic intelligence information during the Cold War. Pressel's presentation will show photographs that the system took of some Russian military assets and of some cities. Hexagon was responsible for President Nixon signing the SALT treaty and allowing President Reagan to say, "trust but verify." It was also one of America's best and most successful spy satellites. Pressel's book Meeting the Challenge, the Hexagon KH-9 Reconnaissance Satellite was published by the American Institute of Aeronautics and Astronautics (AIAA) in 2013. The program was declassified in 2011 by the RO/CIA in 2011, which is why Pressel can talk about it. After his talk, guests will have a chance to see the Museum's own HEXAGON Take-Up Reel. Program is free of charge and does not require advanced registration. Explore or Register here: www.spymuseum.org.
Tuesday, 25 Apr 23, 1400-1500 (ET) – Washington, DC – SPY with Me: Memory Loss Program – Virtual International Spy Museum Program
SPY with Me is an interactive virtual program for individuals living with dementia and their care partners. Join SPY as we use music and artifacts to explore some of our favorite spy stories. Programs last one hour and are held virtually through Zoom. Every month the same program is offered on two different dates. To register, please email Shana Oltmans at soltmans@spymuseum.org. Free but space is limited. Explore or Register here: www.spymuseum.org.
Wednesday, 26 April 2023, 1900 (ET) – Washington, DC – Tokyo Rose: Zero Hour with Andre Frattino, Kate Kasenow, and Janice Chiang – Virtual - International Spy Museum Program
Tokyo Rose, the seductress of the airwaves, charming and demoralizing the Allies with every broadcast. Her sultry tones were the ultimate WWII propaganda weapon, but who was she really? Iva Toguri was visiting Japan from her home in the United States when Pearl Harbor was attacked in 1941. Trapped in Japan, she was pressed to renounce her American Citizenship, but she refused. As war raged across the Pacific, Toguri took a job with Radio Tokyo — where she was forced to host "Zero Hour," a propaganda show aimed at demoralizing American troops. Tokyo Rose - Zero Hour: A Japanese American Woman's Persecution and Ultimate Redemption after World War II is a riveting graphic novel that tells the true story of this much maligned woman. Join us for a conversation with the author Andre Frattino, the illustrator Kate Kasenow, and the letterer Janice Chiang. They will discuss the care they took with telling this story in a meaningful and respectful way, and how important it was to have Chiang involved whose career has spanned 40 years including work with comic book greats like Stan Lee. From the intricacies of propaganda created by coercion to how Toguri became a scapegoat, this is your chance to discover this haunting story in a whole new way. Support for this program has been provided by a generous grant from the Pritzker Military Foundation, on behalf of the Pritzker Military Museum and Library. Program is free of charge but requires advanced registration. Explore or Register here: www.spymuseum.org.
Thursday, 27 Apr 23, 1400-1500 (ET) – Washington, DC – SPY with Me: Memory Loss Program – Virtual International Spy Museum Program
SPY with Me is an interactive virtual program for individuals living with dementia and their care partners. Join SPY as we use music and artifacts to explore some of our favorite spy stories. Programs last one hour and are held virtually through Zoom. Every month the same program is offered on two different dates. To register, please email Shana Oltmans at soltmans@spymuseum.org. Free but space is limited. Explore or Register here: www.spymuseum.org.
10 May 23, 1200-1300 (ET) - Harnessing Alternative Analysis to Hunt Strategic Surprises - Johns Hopkins University - Virtual
Join host Michael Ard for a curated conversation with former CIA intelligence analyst Jay Okey for a discussion on "Harnessing Alternative Analysis to Hunt Strategic Surprises." Okey served as an intelligence analyst with the CIA and the National Intelligence Council for 35 years, helping senior US decision makers grapple with national security challenges across a wide variety of issues and regions on a run of history from the Cold War to COVID. Among various roles, he has worked high-priority country accounts, helped produce the US Intelligence Community's 20 year strategic assessment known as "Global Trends," led analysis for an innovative open source analytic startup, and served as the chief of CIA's alternative analytic unit challenging key assumptions to hunt for strategic surprises. Now retired from the US government, he offers his own services through Three Think Consulting to help organizations identify practical ways to bolster their own risk assessment frameworks through the use of indicators, alternative analysis, scenarios, simulation exercises, and more engaging analytic storytelling. Free registration here.
13-14 Jul 23 – 2023 Intelligence and National Security Summit - AFCEA/INSA - In Person - National Harbor, MD
"The Nation's Premier Intel and National Security Event" - Save the date for the 10th Annual AFCEA/INSA Intelligence and National Security Summit! The powerful, two-day program, at the Gaylord National Resort, will feature five blockbuster plenaries, six engaging breakout sessions, and a jam-packed exhibit hall full of the latest IC technology innovations. Top leaders will discuss State of the Community, Military Intelligence Priorities, Strategic Intelligence, and Cybersecurity Challenges. Breakout sessions with senior leaders, technology experts, and thought leaders will examine some of the most pressing issues facing the community. Plus, powerful networking opportunities designed to foster partnerships and relationship building. Stay tuned! Registration to open in early March. Check for updates here.
---
---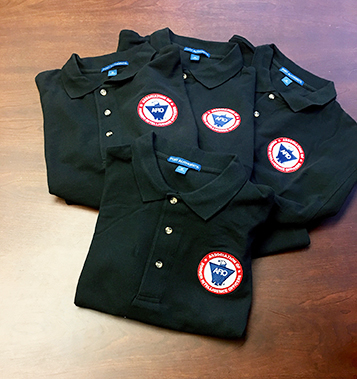 Now available: Black short-sleeved polo shirts with Embroidered AFIO logo
Show your support for AFIO with our new Black Short-sleeve Polo Shirts. Shirts are shrink and wrinkle resistant of fine cotton with a soft, "well-worn, comfy" yet substantial feel. They feature a detailed embroidered AFIO seal. Get a shirt for yourself and consider as gifts for colleagues, family, and friends. Only $50 each including shipping.
Sizes for (M) men, only; Small, Medium, Large, XL, XXL, and XXXL. $50 per shirt.
You may pay by check or credit card. Complete your order online here or mail an order along with payment to: AFIO, 7600 Leesburg Pike, Ste 470 East, Falls Church, VA 22043-2004. Phone orders at 703-790-0320. Questions? Contact Annette at: annettej@afio.com.
---

PopSocket for cellphones or tablets
Show your support to AFIO while enjoying the convenience offered by our AFIO Logo PopSocket. The PopSocket is most commonly used as a stand and as a grip for your mobile phone or tablet; handy for taking selfies, watching videos, and for texting. The PopSocket looks like a small button or sticker which, when closed, sticks flat to your mobile device. However, its accordion-like design enables it to pop open for use. The benefits of using a PopSocket make it a must-have accessory for your mobile phone or tablet. It also aids in keeping your phone from slipping off your hand during use, falling, or breaking.
Price: $15. Order this and other store items online here.
---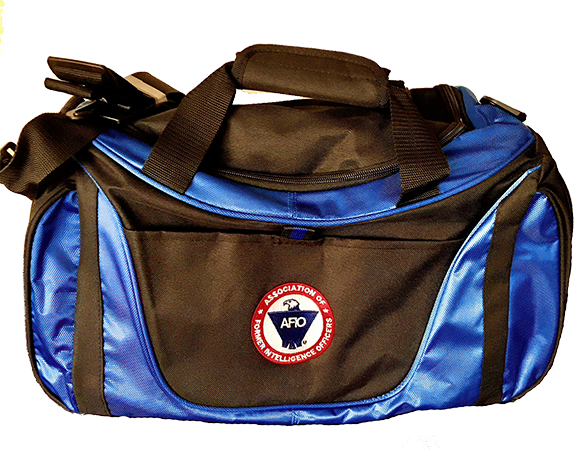 Duffel Bags - Royal Blue and Black with Full Color AFIO Logo This duffel has it all when it comes to value, style and organization.
600 denier polyester canvas with polyester double contrast; D-shaped zippered entry for easy access. Front pocket with hook and loop closure. End mesh pocket Easy-access end pockets. Four durable, protective feet and built-in bottom board for added strength. Web handles with padded grip. Detachable, adjustable shoulder strap.
Dimensions: 11"h x 19.75"w x 9.75"d; Approx. 2,118 cubic inches
Price: $50. Order this and other store items online here.
---
AFIO Mug with color glazed seal.

Made in the U.S.A., dishwasher-safe.
$35 includes shipping.

Sip your morning joe in style or use it to stash pens, cards, paperclips, or candy.
Order this and other store items online here.
---


Caps - Dark Navy with Navy AFIO Logo
An authentic silhouette with the comfort of an unstructured, adjustable fit. Fabric: 100% cotton. Unstructured. Fabric strap closure with adjustable D-clip. Price: $30. Order this and other store items online here.
---
JUST PUBLISHED FOR 2023
Be informed on career opportunities in the U.S. Intelligence Community
Intelligence as a Career - with updated listings of colleges teaching intelligence courses, and Q&As on needed foreign languages, as well as the courses, grades, extracurricular activities, and behavioral characteristics and life experiences sought by modern U.S. intelligence agencies.

AFIO's popular 47-page booklet reaches thousands of high school, college students, university guidance offices, and distributed in classes teaching intelligence, to help those considering careers in the U.S. Intelligence Community.

This is the all new fifth edition.
The publication is also popular with University Career Guidance Centers, professors and academic departments specializing in national security, and parents assisting children or grandchildren in choosing meaningful, public service careers.
This booklet is provided online as a public service from the generosity of AFIO board, volunteer editors/writers, donors, and members.
We thank all for their support which makes this educational effort possible.
Careers Booklet (new 2023 Fifth Edition) can be read or downloaded here

---
Guide to the Study of Intelligence...and...When Intelligence Made a Difference
"AFIO's Guide to the Study of Intelligence" has sold out in hard-copy.
It is available in digital form in its entirety on the AFIO website here.

Also available on the website here are the individual articles of AFIO's history project "When Intelligence Made a Difference" that have been published to date in The Intelligencer journal. More articles will be appear in future editions.
---
Address Technical Issues Or Unsubscribe
Some features of the email version of the WIN do not work for readers who have chosen the Plaintext Edition, some users of AOL, and readers who access their email using web mail. You may request to change from Plaintext to HTML format here afio@afio.com. For the best reading experience, the latest web edition can be found here: https://www.afio.com/pages/currentwin.htm
To unsubscribe from the WIN email list, please click the "UNSUBSCRIBE" link at the bottom of the email. If you did not subscribe to the WIN and are not a member, you received this product from a third party in violation of AFIO policy. Please forward to afio@afio.com the entire message that you received and we will remove the sender from our membership and distribution lists.
---
Disclaimer and Legal Protection
Weekly Intelligence Notes (WINs) are a carefully selected collection of timely open source reports and announcements and other media focused on intelligence and related national security matters that is produced for non-profit educational use by AFIO members and WIN subscribers. WINs are protected by copyright and intellectual property laws. They may not be reproduced or re-sent without specific permission from the Producer. Opinions expressed in the materials contained in the WINs are solely those of the content creators listed with each item. Notices in the WINs about non-AFIO events do not constitute endorsement or recommendation by AFIO.

(c) 1998 thru 2023


---

AFIO Members Support the AFIO Mission - sponsor new members! CHECK THE AFIO WEBSITE at www.afio.com for back issues of the WINs, information about AFIO, conference agenda and registrations materials, and membership applications and much more! .

AFIO | 7600 Leesburg Pike, Suite 470 East, Falls Church, VA 22043-2004 | (703) 790-0320 (phone) | (703) 991-1278 (fax) | afio@afio.com
---
About AFIO | Membership Renewal | Change of Address | Upcoming Events | Chapter Locations | Corporate/Institutional Memberships | Careers in Intelligence Booklet | Guide to the Study of Intelligence | Intelligencer Journal | Weekly Intelligence Notes | Make A Donation | AFIO Store | Member-Only Section | Code of Ethics | Home Page
RETURN TO TOP
---