---
U.S. and U.K. Warn of Russian Hackers Exploiting Cisco Router Flaws for Espionage - The Hacker News, 19 Apr 23
U.K. and U.S. cybersecurity and intelligence agencies have warned of Russian nation-state actors exploiting now-patched flaws in networking equipment from Cisco to conduct reconnaissance and deploy malware against select targets. The intrusions, per the authorities, took place in 2021 and targeted a small number of entities in Europe, U.S. government institutions, and about 250 Ukrainian victims. The activity has been attributed to a threat actor tracked as APT28, which is also known as Fancy Bear, Forest Blizzard (formerly Strontium), FROZENLAKE, and Sofacy, and is affiliated with the Russian General Staff Main Intelligence Directorate (GRU). "APT28 has been known to access vulnerable routers by using default and weak SNMP community strings, and by exploiting CVE-2017-6742," the National Cyber Security Centre (NCSC) said. (Full article here.)
Traumatised British spy sent to jihadist camp killed his own child - The Times, 22 Apr 23
British spy sent by MI6 to a jihadist camp despite warnings about his extreme vulnerability went on to kill his own child. The man, then in his twenties, was vetted for his suitability for overseas work by the Secret Intelligence Service. It produced a report that said his emotional instability was the "highest it is possible to score". The leaked document said he had more in common with a psychotic person than an average member of the population on some traits and was at risk of severe shock and trauma. Intelligence also knew he posed a potential danger to those around him. The man reported being sexually abused as a child, had a criminal record and had suffered a mental breakdown as a young adult. He had previously worked for MI6's sister agency, MI5, during which time his wife was sent to a hostel for domestic abuse victims. (Full article here.)
Surveillance fears as China resumes construction on fifth Antarctic base - The Guardian, 18 Apr 23
China is increasing its Antarctic footprint according to new satellite imagery collected by a Washington-based think tank that shows construction has resumed for the first time since 2018 on the country's fifth station in the southern polar region. Beijing has sought to develop new shipping routes in the Arctic and expand its research in Antarctica, but western governments worry its increasing presence in the polar regions could provide the People's Liberation Army (PLA) with better surveillance capabilities. The new station, on Inexpressible Island near the Ross Sea, is expected to include an observatory with a satellite ground station, and should help China "fill in a major gap" in its ability to access the continent, the Center for Strategic and International Studies (CSIS) said in a report. CSIS used satellite images taken in January to identify new support facilities, temporary buildings, a helicopter pad and foundations for a larger main building at the 5,000 sq meter (53,820 sq ft) station. It estimated that construction could be done by 2024. (Full article here.)
Foreign spies are aggressively seeking 'disloyal' insiders with access to Australia's secrets, ASIO warns - The Guardian, 19 Apr 23
Foreign spies are "aggressively seeking secrets across all parts of Australian society", including trying to recruit "disloyal" government insiders to access classified information, ASIO has warned. The intelligence agency said "hostile foreign powers and their proxies" were seeking to test the Australian government's security clearance system. In a submission to a parliamentary inquiry, ASIO argued in favour of legal changes to enable the agency to become centrally responsible for issuing the highest level of security clearances in Australia. ASIO used the submission to give an updated assessment of the threat environment, saying foreign spies were "targeting our security clearance holders, those with access to Australia's most privileged information, capabilities and secrets". It said these attempts posed a threat to Australian government personnel across parliament, commonwealth employees, the Australian public service, Defence and even the judiciary. ASIO said hostile foreign powers and their proxies "will continually seek to test the clearance system, seeking to put in place disloyal persons with access to classified and privileged information". (Full article here.)
Ghost ships and espionage: Russia's huge surveillance efforts laid bare in new Nordic documentary - Euronews, 19 Apr 23
Russia is running a fleet of 'ghost ships' in the Baltic Sea with their transmitters turned off -- as they map offshore wind farms, gas pipelines, power, and internet cables in the waters around the Nordic nations for possible sabotage attacks. Those are just some of the explosive claims made in a new documentary series called "The Shadow War," produced by public broadcasters from Sweden, Denmark, Finland and Norway, which looks at Russia's intelligence operations across the region. "In the event of a conflict with the West, they are ready and know where to intervene if they want to paralyze Danish society", Anders Henriksen from the Danish Police Intelligence Service (PET) was quoted as saying. In one instance, the documentary-makers tracked a Russian research vessel called Admiral Vladimirsky in the Kattegat Strait. The ship's AIS transmitter, a system used to identify ships and their location, had been switched off, but journalists used encrypted radio traffic to follow it. (Full article here.)
Israeli spyware industry is shrinking amidst global backlash - Calcalistech, 20 Apr 23
The situation at QuaDream has not been good for several months. The Israeli developer of spy software was among the significant players in the field in Israel and in general, when according to sources it did business mainly with Arab and African countries. Its spyware had similar penetration and information extraction capabilities to NSO's Pegasus, but unlike it, it managed to stay relatively under the radar, operating without the international exposure and frequent criticism of its activities that have accompanied NSO in recent years. Everything changed after NSO and Candiru were blacklisted by the U.S. Department of Commerce in November 2021. The inclusion of two Israeli spy developers on the list, which prohibits American companies from doing business with them without special permission, was effectively a harsh indictment against the two companies, and indirectly against all of the Israeli offensive cyber industry. The Defense Export Controls Agency (DECA) in the Ministry of Defense panicked, and if previously marketing and export licenses were handed out generously, often due to Israel's political interests, this generosity has now turned into real stinginess. (Full article here.)
Poland uncovers covert Russian cyber intelligence program - New Voice of Ukraine, 14 Apr 23
Polish Military Counterintelligence Service and CERT cybersecurity task force have established that a group of hackers was stealing information from diplomatic missions in the EU, NATO member states, and African countries, posing as representatives of embassies of various European countries. They would send emails with attachments that would include phishing links, tricking users into installing malicious software on their devices. According to the report, the campaign corresponds to the known modus operandi of Nobelium hacker group (as designated by Microsoft), also known as APT29 (as designated by Mandiant cybersecurity firm). The group was behind the high-profile SolarWinds security breach in 2020. At the same time, this most recent operation used a new type of software. The Polish government said it decided to go public with the discovery, hoping to derail the ongoing hacking campaign. (Full article here.)
China to amend anti-espionage law to cover cyberattacks by foreign spies and 'surrogates' - South China Morning Post, 21 Apr 23
China will amend its anti-espionage law, listing cyberattacks by a "spying entity or its surrogate" as an act of espionage for the first time. A spokesman from China's top legislature said on Friday that the change was one of the items on the agenda of a legislative meeting next week focused on revising the country's anti-espionage law, with new provisions related to cyberespionage. Earlier this month, Beijing announced a slew of espionage cases by surrogates recruited by foreign spy agencies and warned Chinese citizens to stay alert to such activities. This is the third draft of the revision since August. The anti-espionage law, which took effect in 2014, is regarded as Beijing's most potent tool to crack down on external interference as China locks horns with the United States and its allies on almost every front. Beijing and Washington are increasingly aware of infiltration and spying amid the heightened geopolitical tensions. Less than a month ago, Beijing confirmed the detention of a Japanese national suspected of espionage. (Full article here.)
DHS Announces First-Ever AI Task Force - NextGov, 21 Apr 23
On Friday, Department of Homeland Security Secretary Alejandro Mayorkas announced the formation of a new resource group focused solely on combating negative repercussions of the widespread advent of artificial intelligence technologies. The AI Task Force, unveiled during Mayorkas's remarks before a Council on Foreign Relations event, will analyze adverse impacts surrounding generative AI systems such as ChatGPT as well as potential uses for the emerging technology. "The profound evolution in the homeland security threat environment, changing at a pace faster than ever before, has required our Department of Homeland Security to evolve along with it," Mayorkas said. Some of the focal points of the AI Task Force highlighted by DHS include integrating AI in supply chain and border trade management, countering the flow of fentanyl into the U.S., and applying AI to digital forensic tools to counter child exploitation and abuse. Within 60 days of its establishment, the Task Force will submit a road map of milestones it looks to achieve. (Full article here.)
Kim says North Korea's 1st spy satellite is ready for launch - Associated Press, 19 Apr 23
North Korean leader Kim Jong Un said his country has completed the development of its first military spy satellite and ordered officials to go ahead with its launch at an undisclosed date, state media reported Wednesday. Establishing a space-based surveillance system is one of Kim's key objectives to advance his military capability to pressure the United States to abandon what he called its hostile policies, such as its military drills with ally South Korea and international economic sanctions on North Korea. Previous missile and rocket tests have demonstrated North Korea can send satellites into space, but many experts question whether it has cameras sophisticated enough to use for spying from a satellite because only low-resolution images were released after past launches. During his visit to the country's aerospace agency Tuesday, Kim said that having an operational military reconnaissance satellite is crucial for North Korea to effectively use its war deterrence. Kim cited what he described as serious security threats posed by "the most hostile rhetoric and explicit action" by the United States and South Korea this year, according to the official Korean Central News Agency. (Full article here.)
Counterespionage Corner - Recent Arrests, Convictions, Expulsions, and more...
---
The Latest National Security Topic Interview by Former Acting D/CIA Mike Morell


Intelligence Matters: A CBS News national security podcast hosted by former CIA Acting Director and CBS News national security contributor Michael Morell.
28 Mar | CIA Clinical Psychologist Ursula Wilder on Profiling World Leaders
In this episode of Intelligence Matters, host Michael Morell speaks with Ursula Wilder, a clinical psychologist at the Central Intelligence Agency, about why intelligence agencies conduct psychological profiles of world leaders, and how past policymakers have used what they have learned to make strategic decisions. Wilder, who also worked in CIA's counterterrorism center and Medical and Psychological Assessments unit, explains the "dark tetrad" of personality -- narcissism, paranoia, Machiavellianism and sadism -- and how those traits can influence how leaders make decisions and engage in negotiations. She and Morell also discuss how policymakers respond to psychological profiles compiled by government agencies.
Past episodes:

21 Mar| Former Middle East Envoy Dennis Ross on Regional Instability
14 Feb | The U.S. Invasion of Iraq: A Look at Intelligence, 20 Years Later
07 Mar | Kristin Wood on the Intelligence Value of Open Source Data

More about Intelligence Matters by Michael Morell here.
---
The Latest from International Spy Museum Historian Andrew Hammond, PhD.
Spycast is the official podcast of the International Spy Museum and hosts interviews with intelligence experts on matters of HUMINT, SIGINT, IMINT, OSINT, and GEOINT. Spycast is hosted by historian Andrew Hammond, PhD.
18 Apr | "Irregular Warfare and Intelligence" - With IWC President Dennis Walters. Dr. Dennis Walters joins Andrew to discuss the Irregular Warfare Center and its ties to intelligence. Dennis is the current Acting Director of the IWC.
Past episodes:
11 Apr | "Havana Syndrome" - A Panel featuring Nicki Woolf, Marc Polymeropoulos, Mark Zaid.
04 Apr | "Indian Intelligence and Cyber" - A Conversation with Sameer Patil, ORF Mumbai
28 Mar | "Secrets Revealed" - Curator Alexis and Andrew on SPY's Pop-Up Exhibit


---
The Latest Insights from Former CIA Acting Deputy Director for Operations Jack Devine.
In Other News The proprietary analytic newsletter crafted for The Arkin Group's private clients by former CIA Acting Deputy Director for Operations Jack Devine.
20 Apr | Brazilian President Lula's recent visit to China brings the BRICS back into the spotlight, but the seeds for multipolarity were planted years ago. This week, Brazilian President Lula da Silva's trip to Beijing reinvigorated the discussion of multipolarity and distributed alternatives to Washington's economic dominance. Despite broader rhetoric on reducing the role of Western-dominated financial institutions, what Lula really wants from China is investment to help rejuvenate Brazil's industrial sector. When Lula speaks of multipolarity, as he has done for decades, he means that his country wants options. And China offers finances without many of the regulatory restrictions imposed by the European Union or Washington. (Full version available to AFIO members in the coming days here.)
11 Apr | President Biden's upcoming visit to Northern Ireland on the 25th anniversary of the Good Friday Agreement indicates a potential shift in UK politics.
07 Apr | Russia might be inching forward on the battlefield, but it's a painstaking process met with heavy headwinds on multiple fronts.
30 Mar | Russia's economy is finally feeling the effects of sanctions.
---
Daily Analysis of Security Issues and Geopolitical Trends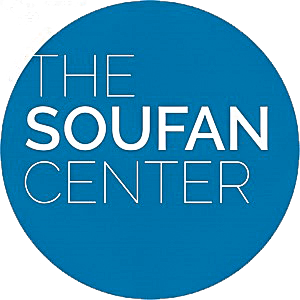 Intel Brief The Soufan Center's flagship, daily analytical product focused on complex security issues and geopolitical trends that may shape regional or international affairs. The Soufan Center was founded by former FBI Special Agent and Soufan Group CEO Ali Soufan.
25 Apr | India Draws Scrutiny as Its Global Profile Rises

India's global profile is ascending as its economy has become the world's fifth largest, surpassing that of its former colonial ruler, the United Kingdom, and the UN estimates that its population size will surpass its neighbor and main strategic threat, China,this week. During its 2023-24 fiscal year, India is expected to register the fastest gross domestic product (GDP) growth of any major economy, estimated to reach 6.3%, according to the World Bank. Amid these achievements, U.S. officials have attempted to move India away from its long history of non-alignment by including it in a series of multilateral groupings like the Quadrilateral Strategic Dialogue ("Quad"), intended to contain China's growing strategic reach, and the "I2U2" forum, which focuses on economic integration and shepherding investments towards areas like technology, healthcare, and, and by integrating India into key partnerships in the Middle East. At the same time, China and Russia have sought to compete with the United States for India's allegiance by bringing New Delhi into the Shanghai Cooperation Organization (SCO), which remains dominated by Moscow and Beijing in partnership with several Central Asian states and which has expanded to include others, including India's historic rival, Pakistan, and Iran. (Full brief here.)
24 Apr | Turmoil in Tunisia: Main Opposition Leader Arrested as Crackdown on Dissent Escalates
21 Apr | Sudan Conflict Quickly Ensnares Regional Powers Risking Spillover Violence
20 Apr | Myanmar's "Forgotten War"
19 Apr | Leaked Documents Reflect and Amplify Mideast Policy Challenges
---
Analysis of Global Security Events with WTOP National Security Correspondent JJ Green

Inside the SCIF - 20 Apr - Pentagon Leaks, Illegal Chinese Police Stations, Putin Critic, Paul Whelan, and more...
Target USA Podcast - 19 Apr - China's U.S. Balloon Foray: Did the shootdown happen too late?

The Hunt Broadcast - 20 Apr - ISIS poses a global threat again




---
The Latest Insights from Jeff Stein and Colleagues in SpyTalk (Substack)

22 Apr | A Life Lost in the Maw of Counterterrorism - Henry Allen
Billy Reilly was a truck driver's kid from a town north of Detroit, a way-smart loner and computer nerd who lived at home until he was 28. No girlfriends, no close friends, no steady job. He got mixed up with the Federal Bureau of Investigation as a freelance counter-terrorism informant. Then he went to Russia and he disappeared. (Full article here.)

20 Apr | Behind the Bust of China's Brash New York Spy Base - Jeff Stein
On Monday, April 17, the feds announced the arrest of two men on charges that they helped set up a secret police outpost in New York City on behalf of the Chinese government. More than three dozen officers with China's national police force were also charged with using social media to harass pro-democracy, anticommunist Chinese inside the United States. (Full article here.)

15 Apr | The Air Force Loves War Gamers Like Teixeira - Jeff Stein

14 Apr | That Monster Leak - Jeff Stein

13 Apr | Join me on Notes for that fast moving leaks story - Jeff Stein


To support SpyTalk, subscribe here.



---
OpEd: Opinion | How to Prevent the Next Intelligence Leak - New York Times, 24 Apr 23
America's secrets aren't sufficiently protected. The recent posting of apparently classified government documents to internet chat rooms allegedly by the Air National Guardsman Jack Teixeira reminds us that intelligence reporting is subject to a dilemma: Either we clamp down to prevent leaks, or we share information broadly within government to prevent harm to our nation and our troops. There is a way out of this predicament, but it entails fundamental and expensive changes. The first step in this effort will require us to admit that we aren't investing the right way in preventing leaks. This isn't any one administration's failure. When Congress allocates funds to spy agencies, they are more likely to spend them on new spying techniques that might produce richer intelligence, rather than on protective measures that lower the risk of compromise. Even so, we do spend billions on protection, but it's heavily geared toward stopping potentially devastating intrusions by another country, such as China or Russia, and less aimed at insiders. That's the right choice: Imagine the consequences if the 2019 SolarWinds intrusion into federal civilian departments had instead occurred in the Pentagon's classified networks. While there have been embarrassing compromises of parts of the military's network, we appear to have been successful at keeping foreign adversaries out of our top-secret defense and intelligence systems, at least. (Read full report here.) (Note: This article may sit behind a paywall or require a free, one-time registration.)
Article: Myanmar's Dictators Have Always Relied on a Brutal Secret Police Force - The Irrawaddy, 17 Apr 23
Every dictatorship believes it needs a secret police force in order to survive in power, and the more brutal, the more effective. Nazi Germany had its Gestapo, or Geheime Staatspolizei: "The Secret State Police." The Shah of Iran depended on Savak, the country's domestic security and intelligence service, and Romania's dictator Nicolae Ceausescu had his dreaded Securitate, "Department of State Security." And Myanmar's generals have their military intelligence service, which over the years has changed its name but always remained a main pillar of state power. But because of its secretive nature, Myanmar's military intelligence has also on at least two occasions morphed into a state within the state, which became a threat to the established order and, therefore, was purged with some of its leaders receiving lengthy prison sentences. The question of maintaining that blind loyalty is the reason why Myanmar's current dictator, Senior General Min Aung Hlaing, is keeping his top intelligence operatives closer to him than his predecessors did. Lieutenant General Ye Win Oo, head of what since 2020 has been called the Office of Chief of Military Security Affairs (OCMSA), accompanies Min Aung Hlaing at all meetings with the junta-appointed cabinet, to meetings with foreign diplomats, and during trips abroad. (Read full report here.)
Article: Fear, burnout and insubordination: Insiders spill details about life at the highest levels of FBI - Politico, 20 Apr 23
A gender discrimination trial in Washington, D.C., shined a harsh spotlight on one of the most important legal offices in the U.S. government, portraying it as a hotbed of dysfunction, turf wars, mismanagement and paranoia. The lawsuit, which came to a head earlier this month in federal court in the nation's capital, centered on claims of gender discrimination in the FBI's general counsel's office, where some of the most powerful attorneys in the country are charged with helping safeguard Americans from terrorism, cyber threats, organized crime and corruption. A federal jury ultimately sided with the FBI, but not before a parade of witnesses testified to startling revelations about the bureau, exposing dysfunction and management woes that at times have been exploited by the bureau's detractors — most notably amid Donald Trump's crusade against investigations into his activities. (Read full report here.)
Announcement: AFIO Member Brian Smith helps launch new security service for general aviation aircraft - Institute of World Politics, 28 Apr 23
Brian J. Smith has helped his firm, Global Security Resolutions (GSR), launch a new security service for corporate and private aviation aircraft entering or leaving Ronald Reagan National Airport (DCA). This new Armed Security Officer (ASO) program is run through the Department of Homeland Security Transportation Security Administration (TSA) Federal Air Marshals Service. GSR now has four additional credentialed personnel in this program who are experienced in law enforcement, federal dignitary protection, and international travel. GSR has been authorized to provide this armed security on all Washington, D.C. private or charter flights that land or depart from DCA. Brian is a cofounder and partner of GSR, where he brings extensive experience from a 26-year career in federal law enforcement. He and two colleagues founded GSR after Brian graduated from IWP with an Executive M.A. in National Security Affairs. (Read full report here.)
---
Intelligence on the High Seas: Using Intelligence to Counter Illegal, Unreported, and Unregulated Fishing by the editor of AFIO's The Intelligencer, Peter Oleson - Studies in Intelligence, March 2023
Illegal, unreported, and unregulated (IUU) fishing is a worldwide problem. According to a US Coast Guard (USCG) report on the subject in 2020, "IUU fishing has replaced piracy as the leading global maritime security threat. If IUU fishing continues unchecked, we can expect deterioration of fragile coastal States and increased tension among foreign-fishing nations, threatening geopolitical stability around the world." There are many aspects to the problem. Illegal fishing is conducted in waters under the jurisdiction of a state but without the permission of that state. Unreported fishing involves catch that has not been reported, as required. Unregulated fishing occurs where there are no management measures and is conducted in a manner inconsistent with treaty responsibilities. (Full report here.)
Existential espionage: How intelligence gathering can protect humanity - The Bulletin, 21 Apr 23
Every four years, the National Intelligence Council's Global Trends report generally catalogs the global issues that the United States and its incoming presidential administration ought to be most concerned about. It's not pleasant bedtime reading. But the most recent report, which projects out to 2040, went beyond the typical assessments around internal instability, interstate tensions, and international competition. In a section on technology, the report contained a short but remarkable description of "existential risks" or "threats that could damage life on a global scale" and lead to human extinction and civilizational collapse. The report specifically cites runaway artificial intelligence, engineered pandemics, nanotechnology weapons, and nuclear war. Other threats include extreme climate change, geoengineering, ecological collapse, supervolcanoes, and near-Earth objects. By bringing attention to this issue, the US intelligence community is doing what it's designed to do—provide strategic insight to their leadership on trends, events, and risks in the global landscape. However, intelligence communities have until now paid almost no attention to existential risks. Their primary focus, justifiably, remains on conventional national security issues such as defense, counterterrorism, and counterespionage. But the COVID-19 pandemic revealed that other, potentially calamitous, threats are just as important—and the intelligence community should play heed. (Full report here.)
Agents, influence and interference: The new age of espionage is here - The Age, 21 Apr 23
To pedestrians passing by, the building in New York City's Chinatown district looked like nothing more than an unremarkable glass office complex. But, according to the FBI, it housed a secret police station run on behalf of the Chinese government that was masquerading as a cultural non-profit organisation. On Tuesday federal prosecutors accused two New York residents, "Harry" Lu Jianwang and Chen Jinping, of working together to establish the first clandestine police station in America on behalf of China's Ministry of Public Security. Lu and Chen have both been charged with acting as agents of the Chinese government and obstructing justice by destroying evidence of their communications with a security official in Beijing. (Watch here.)
Understanding Project 415 (ECHELON): How Governments Use Mass Surveillance for Intelligence Gathering - Grey Dynamics, 10 Apr 23
Project 415, also referred to as ECHELON, was a worldwide surveillance initiative that purportedly operated during the Cold War period by the United States, the United Kingdom, Canada, Australia, and New Zealand. The program was allegedly intended to intercept and monitor electronic communications, such as phone calls, emails, and other forms of digital communication. Its existence first surfaced in the 1990s and prompted a storm of controversy and criticism from some privacy advocates, who voiced apprehension about the prospect of government overreach and infringement of personal privacy rights. The fact that national intelligence agencies operate extensive surveillance systems is an accepted fact of life for most people. Increasingly, true privacy seems like a thing of the past. However, this hasn't always been the case. Throughout the Cold War, a massive yet secret war was taking place. Instead of using planes, tanks, and rifles, nations used the information to fight this war. One of the most important and influential components of this was Signals Intelligence (SIGINT). SIGINT, according to the National Security Agency (NSA), refers to "electronic signals and systems used by foreign targets, such as communications systems, radars, and weapons systems" (source). Because of its highly technical nature, SIGINT generation for great powers is the purview of specialised intelligence agencies. These include the American NSA and the British General Communications Headquarters (GCHQ). Throughout the latter half of the Cold War, the anglosphere, united by similar goals, created an extensive surveillance system. Finally, in 2013, the Edward Snowden leaks confirmed its existence (source). This article examines the Project 415 surveillance system during the Cold War. In doing so, it will detail its origin, components, and the decades-long quest to uncover it. (Full report here.)
Who's Tackling Classified AI? - Lawfare, 17 Apr 2023
On April 8, the Washington Post reported that members of Congress have "vowed to tackle AI." The article describes the anxiety that is growing among lawmakers as they try to get a handle on what recent advances in artificial intelligence portend. "Something is coming. We aren't ready," Sen. Chris Murphy (D-Conn.) tweeted. It will be good news if members of Congress are able to get smarter about what AI tools are, what they can and can't do, and what good and bad uses of AI will realistically look like. But the work shouldn't stop with unclassified AI systems alone. Classified AI tools that U.S. national security agencies build and use should also be consistent with the basic values we expect of the U.S. government: legality, competence, effectiveness, and accountability. Innovations in the unclassified setting can provide ideas on how to do so. (Full report here.)
Espionage: The "Espiomats" Investigation Examines The Multiple Branches Of Russian Embassies In Europe - Globe World News, 18 Apr 2023
Russian embassies in Europe are equipped with at least 182 satellite dishes, links in a gigantic network of espionage and intelligence gathering, also including a panoply of antennas capable of picking up signals relating to the national security of the countries concerned: this is what nine media outlets from northern and eastern Europe say, which have joined forces to carry out "Espiomats", a vast investigation, the main results of which were published on Tuesday 18 April. Collecting a series of satellite images, photos and information provided by drones, the authors scrutinized Russian diplomatic buildings in thirty-nine states, members and non-members of the European Union. It is in Uccle, south of Brussels, that the greatest number of branches have been identified: the Russian Embassy, a gigantic area of 46,000 m² surrounded by 900 meters of fences, has seventeen. The embassies of Sofia, Prague, Belgrade, Madrid, Lisbon and Nicosia each have about ten. Surprisingly, in Berlin and Paris, journalists only identified eight and three communication and recording systems respectively. No doubt because, as in Warsaw, where no antenna was spotted, they were placed elsewhere: the Polish online media Frontstory discovered that the antennas were installed above a residence housing Russian diplomats and employees . (Full report here.)
Infographic and Report: The Yuxi Circle - The World's Most Densely Populated Area - Visual Capitalist, 08 Apr 22
If you wanted to capture over 55% of the global population inside a circle with a 4,000km radius, which city would you place at its epicenter? In 2013, a post appeared on Reddit marking a circular area of the globe with "more people living inside this circle than outside of it." The circle had a radius of 4,000 km (just under 2,500 miles) and was named the Valeriepieris circle after author Ken Myers' username. Acknowledging that the Valeriepieris circle is not actually a circle (it was drawn on a two-dimensional map rather than a globe) and is based on data that has become outdated, mapmaker Alasdair Rae went digging and discovered what he calls The Yuxi Circle, the world's most densely populated area. (Access visual tool and full report here.)
Intelligence in Pop Culture - Comics - The US hunt for truth serum during WWII shaped our superheroes - Polygon, 17 Apr 23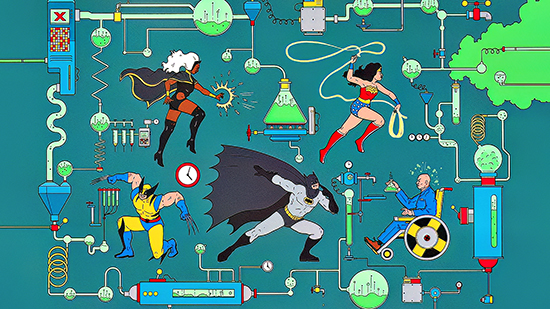 In 1941, Wonder Woman burst onto the comic book scene — and into America's burgeoning war efforts. As the superpowered Amazon joined WWII in the pages of DC Comics, the United States was testing the waters with its new international spy agency, the Office of Strategic Services. While the OSS would be disbanded mere months after World War II ended, the organization's impact on Wonder Woman and the comics she called home is still felt today. And the connection runs deep: A mere year after she debuted, the OSS began an earnest search for "truth serum," a questionable scientific pursuit that became a classic and recurring comic book device. (Full article here.)
Intelligence in History - A Collection of Recent Content
True Intelligence Matters in Film - Triple Agent - Éric Rohmer (2004)
Triple Agent is a 2004 spy thriller film written and directed by Éric Rohmer and starring Katerina Didaskalou and Serge Renko. The film is based on the true story of White Russian general (and secret Soviet agent) Nikolai Skoblin and his involvement in the disappearance and murder of fellow White Russian general Evgenii Miller.

More information about this based-on-true-events production here.
Walking Tours - Washington, DC - Sundays (Dates/Times Vary)
Former intelligence officers guide visitors on two morning and afternoon espionage-themed walking tours: "Spies of Embassy Row" and "Spies of Georgetown." For more information and booking, click here or contact rosanna@spyher.co
---
Age of Danger: Keeping America Safe in an Era of New Superpowers, New Weapons, and New Threats
by Andrew Hoehn
(Hatchette Books, 09 May 23)
Again and again, American taxpayers are asked to open their wallets and pay for a national security machine that costs $1 trillion operate. Yet time and time again, the US government gets it wrong on critical issues. So what can be done? Enter bestselling author Thom Shanker and defense expert Andrew Hoehn. With decades of national security expertise between them and access to virtually every expert, they look at what's going wrong in national security and how to make it go right. Age of Danger looks at the major challenges facing America—from superpowers like Russia and China to emerging threats like pandemics, cybersecurity, climate change, and drones—and reimagines the national security apparatus into something that can truly keep Americans safe. Weaving together expert analysis with exclusive interviews from a new generation of national security leaders, Shanker and Hoehn argue that the United States must create an industrial-grade, life-saving machine out of a system that, for too long, was focused only on deterring adversaries and carrying out global military operations. It is a timely and crucial call to action—a call that if heeded, could save Americans lives, money, and our very future on the global stage.
Order book here.
---
Double Agent Balloon: Dickie Metcalfe's Espionage Career for MI5 and the Nazis
by David Tremain
(Pen and Sword Military, 04 May 23)
Dickie Metcalfe was not your typical secret agent, but he was larger than life in more ways than one. Unlike many other agents who were part of the Double Cross System during the Second World War, he did not defect; nor was he blackmailed into becoming a spy. Instead, using his father's connection with Sir Vernon Kell, the first Director of MI5, Metcalfe volunteered his services. Recently cashiered from his infantry regiment, he had an ulterior motive – by supplying MI5 with tidbits of information about weapons and arms deals in his newfound profession as an arms dealer, he hoped they would be able to help him get his commission reinstated. Metcalfe became BALLOON, a sub-agent of double agent TRICYCLE's Yugoslav spy ring. Concurrent with his spying activities, he collaborated with the co-inventor of the Bren gun to develop a new submachine gun for British forces. After the war, he was also a celebrated motor racing driver and continued to compete until shortly before his death. His success as a double-cross agent in the eyes of both his masters – British and German – is examined in this book, using official documents as a primary source.
Order book here.
---
Nazi Spies and Collaborators in Britain, 1939–1945
by Neil R Storey
(Pen and Sword Military, 04 May 23)
The true extent of Nazi secret agent activity in Britain during the Second World War has received little attention. In large part this is due to the highly classified nature of the subject. This fascinating book uses recently released documents to explore how German agents penetrated our borders and explains methods of agent recruitment. Some spies were arrested and handed over the MI5 for interrogation. Several were turned and became 'double-cross' agents, while others were tried and executed or incarcerated in Camp 020 and other facilities. There were also those who came and left undetected and were only revealed after Nazi records were seized. The story, however, does not end there. While British authorities urged the public to beware of spies and posters warned 'careless talk costs lives,' the actual existence of Nazi collaborators in Britain was played down. Author Neil R Storey's discovery of MI5's and Regional Security Panels' 'Black Lists' of those considered to be 'likely to assist the enemy' in the event of invasion reveals the climate of fear along with the identities and case studies of suspected Nazi collaborators in key invasion areas. This book is a gripping exposé of the very real threat posed by Nazi undercover operatives and collaborators in Britain during the Second World War.
Order book here.
---
Survey for Members: Skill Sets Needed for Intelligence Analysis Degree Holders to See Success After Graduation
Northeastern University Security and Intelligence Studies professor researching the skill sets required for Intelligence Analysis degree holders to see success after graduation welcomes the participation of AFIO members in a 5-minute survey in support of the research. Access survey here.
Call for Information: 430th CIC in Salzburg in 1946
I am currently writing about 430th CIC in Salzburg in 1946. I have a (large) CIC file and am now trying to track down further details about two officers mentioned in this: (1) Bill Taylor. The sources do not make clear whether the officer was Major Bill G. Taylor, GSC, Head of the Counter-Intelligence Bureau of G-2 (Intelligence Section), US Forces Austria, or "Mil.Reg." Captain Taylor of Salzburg. Any information on either/both of these officers would be most welcome. (2) Pace B Rose. Rose was a CIC Special Agent in Austria, later a CIA officer who continued to be attached to the Agency after retirement. He died on 3 January 2009. I would like to contact family and friends of Pace Rose. According to the internet, Rose had children, Donna R. Hilverts and Gary W. Rose, and five grandchildren and three great grandchildren. Please contact S.Cody@westminster.ac.uk with any information.
Academic Opportunity: National Intelligence Summer Academy (NISA) for High School Students - 17-21 July 2023 - University of North Georgia, Cumming Campus
Are you considering a career in the U.S. Intelligence Community? Did you know that the U.S. Intelligence Community is made up of 18 separate agencies? Sign up for an intense and exciting five days of learning from highly qualified Master's and Ph.D. University of North Georgia instructors and practitioners. Application deadline 15 Apr 23. (More information and registration here.)
Call for Sources: Intelligence Officers Who Lived in Spain in the 1970s
Spanish journalist Francisco Jiménez is preparing a documentary about the intelligence services in Spain in the 70s. He is looking for intelligence officers who worked in Spain in those years. If you are willing to assist Francisco, he can be reached at fjimenez@globomedia.es.
Call for Sources: Intelligence activities in Grenada and the southern Caribbean between 1979, Operation Urgent Fury, Leonard Barrett
The Washington Post is developing a multipart audio documentary series (i.e. podcast) chronicling the Grenadian revolution and the US intervention in 1983. They've interviewed nearly 100 people so far, ranging from the heads of state, former Grenadian officials, current and former US officials, veterans, and intelligence officers. They're looking for people who served at the time and may be knowledgeable about intelligence activities in Grenada and the southern Caribbean between 1979 and Operation Urgent Fury. They would also be interested in speaking with anyone who knew Leonard Barrett during the same period. If anyone is interested in participating, please reach out to Washington Post reporter Ted Muldoon via email at ted.muldoon@washpost.com or on Signal at 651-497-5449.
Academic Opportunity: The International Security and Intelligence Programme - 9 July to 5 August 2023 - Magdalene College, Cambridge
Chaired by Sir Richard Dearlove the former Chief of the British Secret Intelligence Service, the Cambridge Security Initiative (CSi) launched the ISI Programme in 2016. The purpose of this unique programme is to provide an opportunity for participants to meet and work with leading academics and practitioners from the intelligence and security communities in the historic setting of one of the world's foremost universities. The Programme is run in partnership with the Department of War Studies at Kings College, London. (More information and registration here.)
Call for papers: Intelligence and Post-War Reconstruction - International Journal of Intelligence and Counterintelligence
History shows that without planning for post-war reconstruction, apparent victory in war can lead to long-term defeat. On the other hand, wise post-war planning can lead to friendly, peaceful, and profitable relations between victor and vanquished. For political, socio-economic and security-related planning, intelligence plays a crucial role in estimating capabilities, securing infrastructure, locating persons of interest, and rebuilding. In honor of the 75th anniversary of the European Recovery Program (Marshall Plan) after the Second World War, the editors are particularly interested in papers dealing with intelligence concerning post-war reconstruction initiatives and planning connected to historical and recent conflicts. Both case studies and theoretical and methodological approaches are welcome. The studies may include, but do not have to be focused on, the following questions and issues:
The role of diplomatic and military intelligence during the conflict as preparation for post-war reconstruction, from the conceptual to the practical.
What intelligence needs to be collected to secure and boost reconstruction?
What contacts, networks, and infrastructure are necessary for intelligence to be effective?
Who has been or should be approached and/or recruited for reconstruction efforts based on intelligence?
When has intelligent post-war planning (or its opposite) been historically evident?
How should intelligence interact with formerly warring parties and international organizations to empower practical reconstruction efforts?
What intelligence collection challenges have services encountered in working for post-war peace?
How did intelligence factor in the European Recovery Program?
What was George C. Marshall's position on the role of intelligence in general or concrete examples related to "his" plan?
01 Nov 23 deadline. More information and submission instructions here.
Call For Articles: AFIO Journal, The Intelligencer
For the past four years, AFIO has included in The Intelligencer a series of articles on "when intelligence made a difference." Written by scholars, intelligence practitioners, students, and others, they cover events from ancient times to the modern world and in many countries. AFIO is soliciting articles for future issues. Most articles run between 2,000 and 3,000 words, although some are longer or shorter. If you have an idea for an article that fits the theme, email senior editor Peter Oleson at peter.oleson@afio.com.
---
Retired Federal Government Employees Wanted - National Security Agency - Fort Meade, Maryland
The National Security Agency (NSA) may occasionally need skilled civilian retirees to augment the existing work force on high priority projects or programs. In order to fill these temporary positions quickly, we need to know who may be interested and available to return to work with us on a short notice basis as well as their skills. Retirees provide expertise and corporate knowledge to temporarily support mission requirements, manpower shortfalls, and/or mentor the next generation of Agency employees. Salary Range: $86,335 - $170,800.
Additional information and application here.

Assistant/Associate Professor of Intelligence Studies (Global Security and Intelligence Studies) - Embry-Riddle Aeronautical University - Prescott, Arizona
Embry-Riddle Aeronautical University's Prescott, Arizona campus is accepting applications for a tenure-track assistant or associate-level professor of intelligence studies to teach intelligence courses to students in the Global Security and Intelligence program. The successful candidate will teach students about the intelligence community, strategic intelligence, the intelligence cycle and intelligence analysis, writing, and briefing. Prior experience working in the intelligence community is strongly preferred. We are interested in candidates with teaching acumen in intelligence analysis and writing using structured analytical techniques.
Additional information and application here.

Teaching Associate - Intelligence and National Security Studies - Coastal Carolina University, South Carolina
The Department of Intelligence and Security Studies ( ISS ) at Coastal Carolina University is accepting applications for a pool of Teaching Associates (part-time adjunct faculty) to teach introductory and undergraduate elective course offerings for the program beginning in August 2022. While the ad is open to any specialization within the field of study, courses in the areas of homeland security, law enforcement intelligence, counter-narcotics, and cybersecurity are of particular interest. Course offerings can be in a face-to-face or synchronous online modality. To be considered, candidates must have a masters or doctoral degree in a relevant subject area. Prior professional experience in the profession, as well as prior teaching experience are preferred.
Additional information and application here.

---
Alexander Feliu — Career CIA Officer

Alexander Feliu, 73 years old, born in Manhattan, New York, passed away on April 01, 2023. Alexander graduated as an Electrical Engineer from University of Puerto Rico, Recinto de Mayaguez. He had retired from the Central Intelligent Agency (CIA) after 32 years of successful service. A Christian service will be held on Saturday, April 22 from 3:00 pm to 7:00 pm at Funeraria Borinquen 2360 Michigan Avenue, Kissimmee, Florida, 34744
Norman Taylor — Decorated Career Military Intelligence Officer

Norman Bain Taylor, 73. former Marine Corps Intelligence and Infantry Officer, died 19 March 2023 in Powder Springs, GA of heart failure. Norm was born at Offutt AFB NE and grew up as an Air Force brat. He graduated from Texas A and M University (College Station TX) and was commissioned a 2nd Lt USMC in 1973. His first assignment as an Infantry officer (0203) was Platoon Commander/Executive Officer/S-2 Intelligence Officer with 2nd Bn 9th Marine Rgt (3rd Marine Div) in Okinawa Japan. He then served three years as the Marine Guard Officer, Marine Barracks, providing physical/rapid response security for the Naval Submarine Base, Groton CT. During this period Norm compieted the US Army's Basic Officer Intelligence Course at Ft Huachuca AZ; receiving a secondary MOS of 0202 (Intelligence Officer) in the Marine Corps. Norm was then assigned to 2nd Marine Division at Camp Lejeune NC as Platoon Commander of the 2nd Sensor Control and Management Platoon (SCAMP) under the Div G-2 Staff; followed by serving as an Infantry Company and later a Weapons Company commander with 2nd Bn, 6th Marine Rgt. In 1980, he obtained a primary Intelligence Officer designation (0202) and served as the Tactical Intelligence Officer in the 2nd Div G-2 Operations section. Norm then completed the DIA's 6-month Post-Graduate Intelligence Program in Washington DC; followed by two years as the Ground/Geopolitical Analyst (a Marine Corps position) with the 7th Fleet N-2 (Intelligence) Staff located on the USS Blue Ridge (LCC-19) homeported at Yckosuka, Japan. From 1983 to 1986, Norm served as the Intelligence Collections Officer and then the Combat Intelligence Officer with the 7th Marine Amphibious Brigade (1st Marine Expeditionary Force) at Twentynine Palms CA. Norm and family then spent four years in the Washington DC area, where he was the Marine Special Assistant to the Director of Naval Intelligence (DNI) in the Pentagon; and then the first Marine Intelligence Liaison Officer/Head of Contingency Support with Task Force 168 (Naval HUMINT Ops), Naval Intelligence Command. He was transferred to Norfolk VA to be the Deputy Assistant Chief of Staff for Intelligence (G-2) Staff, Marine Forces Atlantic HQ from 1990 to 1994. During Operation Desert Storm (Jan-Mar 1991), Norm served as the Deputy Assistant Chief of Staff for Intelligence (G-2) with the 3rd Marine Air Wing HQ in Saudi Arabia. As a Lt Colonel, his last duty assignment was an unaccompanied one-year tour in Okinawa (Japan) as the Senior Staff Planner/Joint Liaison Officer, Intelligence (G-2) Staff at 3rd Marine Expeditionary Force HQ. Following military retirement in mid-1995, Norm was employed as a Corporate Security Representative and then a Corporate Security Manager with Delta Air Lines at the corporate HQ in Atlanta GA until the end of 2004. He then relocated to San Antonio TX to assist in forming a new Corporate Security department at the United Services Automobile Association (USAA) headquarters as the Executive Director for Security Compliance and Policy, followed by Executive Director for Personnel Security until his retirement in 2011. Norm continued working part time as contract background investigator with several investigative companies under federal contracts to conduct employment related security/suitability background investigations until 2015. During his 22 plus years of military service, Norm received three Meritorious Service Medals, three Navy-Marine Corps Commendation Medals, one Navy-Marine Corps Achievement Medal, and the Navy Scuba Diver insignia.
David Gries — Career CIA Officer, NIC Vice President, Studies in Intelligence Editor

David Dudley Gries died April 4 at age 90 after a short illness. A graduate of Yale, he served 35 years at the CIA, including in Singapore, Tokyo, Hong Kong and Beijing, where he was the station chief. In Washington, he later was National Intelligence Officer for China, Congressional Liaison between the Agency and Congress, and vice president of the National Intelligence Council. He also served as editor of the Agency's publications "Studies in Intelligence" and as head of its historical collection. After retirement, he founded the Asian Strategies Group, a consultancy for businesses involved with China, and later began "China Vitae," an online biographical source showing the networking among Chinese leaders in government, the party, military, business and other fields--some of which began in childhood.
Bill Sullivan — Career CIA Security Officer

William Robert "Bill" Sullivan, age 87, of Bristow, Virginia passed on March 20, 2023. Retired from the Office of Security, Central Intelligence Agency in 1992 after 26 years of Agency service. Moreover, having served in the Navy (active and the reserve) as a Lieutenant Commander until 1978. Services will be held at Holy Trinity Catholic Church in Gainesville, VA at 10:30 a.m. on May 1, 2023. Interment with military honors will be held at 12:30 p.m. at Quantico National Cemetery, Triangle, VA.
---
26 Apr 23 (Wednesday), 1800 (ET) - Virtual via ZOOM - AFIO Atlanta Chapter Webinar features Sound Off CEO and former CIA Officer Will Negley on Mental Health Resources for Military Veterans. Please join the Atlanta Chapter to hear from former CIA Officer William Negley, founder/CEO of Sound Off, a non-profit mental health support network for U.S. military veterans. Sound Off is the first mental health resource for veterans and service members that allows anonymity and repeat contact with clinicians or peers, from a smartphone. 47% of post-9/11 veterans who likely suffer from depression or PTSD do not seek assistance, mostly for fear of stigmatization or compromising their careers. Negley will discuss his nonprofit's mission and his time serving the IC where he served for seven years in the DO in CT and foreign intelligence collection in Afghanistan and South Asia. Will also served as a U.S. Senate aide covering national security issues.
TIME: Webinar begins promptly at 6:00pm EST, and concludes at 7:00pm.
RSVP to membership@afioatlanta.com. Direct all questions to Chapter President Brian Hooper at that email. Please review the disclaimer and media release here, which you must read before entering the event/Zoom call.
Zoom Link Dial-in Options: +1 301 715 8592 US (Washington DC); +1 346 248 7799 US (Houston); +1 408 638 0968 US (San Jose) One Tap Mobile: +13052241968,,95112541535#,,,,*721240# US
4 May 23 (Thursday), 1900 (CT) - Virtual via ZOOM - AFIO San Antonio Chapter (SATX) virtual webinar on series of thought provoking short programs and the opportunity to share your insights.
General Philip Breedlove, USAF Retired,  former SHAPE/NATO Commander, discusses Russia, Ukraine, NATO countries, and what is going well and not so well.
Break the Fake, Polish television program to counter fake information distributed by bad actors for malicious purposes. 
Private Military Forces, an overview of the top TEN private military companies.  Blackwater and The Wagner Group, are not the only private militaries. There are lots of them. The second largest employer in the world is a private military company!  Learn more about hiring your own military force.  Use the link below to join us at 7pm Central Time on 4 May 2023 Join Zoom Meeting
To receive the meeting ID and Passcode, email Chapter President John Franklin at satxafio@gmail.com or call him 210 863-0430
9 May 23 (Tuesday), 1730 (EST) - In Person - New York City - The Reactivated AFIO NY Metro Chapter Speaker/Topic: Mitzi Perdue. "Behind the Scenes in Ukraine." Mitzi Perdue, renown author, anti trafficking and human rights activist, has visited Ukraine twice, most recently as guest of the Kyiv Region Police Chief. She has seen first hand evidence of Russian atrocities, booby traps and maiming trickery. Join us for a first hand look at what Ukraine's officials and people are up against and the imagination and perseverance they are bringing to the task. Registration at 5:30; Meeting begins at 6. Cost: $45. Cash or check payable at the door to David Hunt. Open bar, hors d'oeuvres. Location: Racquet and Tennis Club (R&T), 370 Park Ave, NYC 10022 - located between E 52nd - 53rd Streets. Map for directions. To attend, register: PLEASE ADVISE by 1 May if you are attending. Preferably to: afionyc@gmail.com, or call chapter President David Hunt at 301-520-1417.
10 May 23 (Wednesday), 1830 ET - In Person - Dunwoody, GA - AFIO Atlanta Chapter hosts Pop-by Chapter Social at the Iron Hill Brewery. Please join chapter members and bring non-members for this Pop-Up Social.
For a change in location, we will be going to the Iron Hill Brewery located in Perimeter / Dunwoody at 1224 Hammond Dr, Dunwoody, GA 30346
Feel free to suggest new venues or parts of town for the next social to us at membership@afioatlanta.
Non-members welcome!
Dress Code - Business casual or casual are fine.
RSVP via email to membership@afioatlanta.com by May 8 at 4:00pm.
13 May 23 (Saturday), 1130 ET - In Person - Melbourne (Indialantic), FL - AFIO Florida Satellite Chapter hosts Scott Tilley PhD discussing "ChatGPT and Disinformation." The Florida Satellite Chapter hosts Dr. Scott Tilley. His presentation is "ChatGPT and Disinformation." The event starts at 11:30 AM at the DoubleTree Suites by Hilton Hotel Melbourne Beach Oceanfront, 1665 N. State Route A1A, Melbourne (Indialantic), FL. The sit-down lunch cost is $35.00 per person.
For more information or to register, contact Chapter President Larry Sanford here.
18 May 23 (Thursday), 1130 MT - In Person - Colorado Springs, CO - AFIO Colorado Springs Chapter hosts Paul Bolt, PhD discussing "Chinese-Russian Relations: Mutual and Conflicting Interests." The presentation will address the complexity of the Sino-Russian relationship, focusing on historical foundations, energy, security, and the war in Ukraine. While outwardly relations between China and Russia look good, there are tensions beneath the surface. Dr. Paul Bolt is Professor of Political Science at the United States Air Force Academy, where he has taught since 1997. Prior to coming to USAFA, Dr. Bolt taught English at Zhejiang University and Baicheng Normal College in the People's Republic of China. He also taught at the University of Illinois at Urbana-Champaign as a visiting assistant professor. In 2009-2010 he served as a Fulbright scholar at Nanyang Technological University in Singapore. Dr. Bolt's most recent book is a co-edited volume on Chinese nuclear weapons and doctrine entitled China's Strategic Arsenal: Worldview, Doctrine, and Systems, published by Georgetown University Press in 2021. He is co-author, with Sharyl Cross, of China, Russia, and Twenty-First Century Global Geopolitics (Oxford, 2018), and author of China and Southeast Asia's Ethnic Chinese: State and Diaspora in Contemporary Asia (Praeger Publishers, 2000). He has also published on Asia and security issues in a variety of journals and book chapters. For more information or to register, email Steve Pease here.
See the AFIO Calendar of Events for scheduling further in the future.
---
Tuesday, 25 Apr 23, 1400-1500 (ET) – Washington, DC – SPY with Me: Memory Loss Program – Virtual International Spy Museum Program
SPY with Me is an interactive virtual program for individuals living with dementia and their care partners. Join SPY as we use music and artifacts to explore some of our favorite spy stories. Programs last one hour and are held virtually through Zoom. Every month the same program is offered on two different dates. To register, please email Shana Oltmans at soltmans@spymuseum.org. Free but space is limited. Explore or Register here: www.spymuseum.org.
Wednesday, 26 April 2023, 1900 (ET) – Washington, DC – Tokyo Rose: Zero Hour with Andre Frattino, Kate Kasenow, and Janice Chiang – Virtual - International Spy Museum Program
Tokyo Rose, the seductress of the airwaves, charming and demoralizing the Allies with every broadcast. Her sultry tones were the ultimate WWII propaganda weapon, but who was she really? Iva Toguri was visiting Japan from her home in the United States when Pearl Harbor was attacked in 1941. Trapped in Japan, she was pressed to renounce her American Citizenship, but she refused. As war raged across the Pacific, Toguri took a job with Radio Tokyo — where she was forced to host "Zero Hour," a propaganda show aimed at demoralizing American troops. Tokyo Rose - Zero Hour: A Japanese American Woman's Persecution and Ultimate Redemption after World War II is a riveting graphic novel that tells the true story of this much maligned woman. Join us for a conversation with the author Andre Frattino, the illustrator Kate Kasenow, and the letterer Janice Chiang. They will discuss the care they took with telling this story in a meaningful and respectful way, and how important it was to have Chiang involved whose career has spanned 40 years including work with comic book greats like Stan Lee. From the intricacies of propaganda created by coercion to how Toguri became a scapegoat, this is your chance to discover this haunting story in a whole new way. Support for this program has been provided by a generous grant from the Pritzker Military Foundation, on behalf of the Pritzker Military Museum and Library. Program is free of charge but requires advanced registration. Explore or Register here: www.spymuseum.org.
Thursday, 27 Apr 23, 1400-1500 (ET) – Washington, DC – SPY with Me: Memory Loss Program – Virtual International Spy Museum Program
SPY with Me is an interactive virtual program for individuals living with dementia and their care partners. Join SPY as we use music and artifacts to explore some of our favorite spy stories. Programs last one hour and are held virtually through Zoom. Every month the same program is offered on two different dates. To register, please email Shana Oltmans at soltmans@spymuseum.org. Free but space is limited. Explore or Register here: www.spymuseum.org.
10 May 23, 1200-1300 (ET) - Harnessing Alternative Analysis to Hunt Strategic Surprises - Johns Hopkins University - Virtual
Join host Michael Ard for a curated conversation with former CIA intelligence analyst Jay Okey for a discussion on "Harnessing Alternative Analysis to Hunt Strategic Surprises." Okey served as an intelligence analyst with the CIA and the National Intelligence Council for 35 years, helping senior US decision makers grapple with national security challenges across a wide variety of issues and regions on a run of history from the Cold War to COVID. Among various roles, he has worked high-priority country accounts, helped produce the US Intelligence Community's 20 year strategic assessment known as "Global Trends," led analysis for an innovative open source analytic startup, and served as the chief of CIA's alternative analytic unit challenging key assumptions to hunt for strategic surprises. Now retired from the US government, he offers his own services through Three Think Consulting to help organizations identify practical ways to bolster their own risk assessment frameworks through the use of indicators, alternative analysis, scenarios, simulation exercises, and more engaging analytic storytelling. Free registration here.
11 May 23, 1730-2130 (ET) - Leadership Dinner with DIA Director LTG Scott D. Berrier – INSA - Ritz-Carlton Pentagon City, Arlington, VA
Join 400+ intelligence and national security colleagues for this event. Following his prepared remarks, LTG Berrier will sit down for a moderated Q&A with The Hon. Sue Gordon. Topics to be discussed include: DIA's strategic priorities, including the shift to strategic competition with China and Russia, use of emerging technology to advance and enhance key capabilities, DIA's new AI Strategy, role as Open Source lead for DoD, partnerships with industry. Q&A will follow. More details and registration here.
16 May 23, 0900-0945 (ET) - Conversation with CIA Chief Information Security Officer Rich Baich – INSA - Virtual
INSA President Suzanne Wilson Heckenberg will sit down with Mr. Baich to discuss new regulations and cybersecurity guidance, how CIA is partnering with industry to secure its networks, future of cybersecurity in the quantum age, and more. Q&A will follow. Free registration here.
13-14 Jul 23 – 2023 Intelligence and National Security Summit - AFCEA/INSA - In Person - National Harbor, MD
"The Nation's Premier Intel and National Security Event" - Save the date for the 10th Annual AFCEA/INSA Intelligence and National Security Summit! The powerful, two-day program, at the Gaylord National Resort, will feature five blockbuster plenaries, six engaging breakout sessions, and a jam-packed exhibit hall full of the latest IC technology innovations. Top leaders will discuss State of the Community, Military Intelligence Priorities, Strategic Intelligence, and Cybersecurity Challenges. Breakout sessions with senior leaders, technology experts, and thought leaders will examine some of the most pressing issues facing the community. Plus, powerful networking opportunities designed to foster partnerships and relationship building. Stay tuned! Registration to open in early March. Check for updates here.
---
---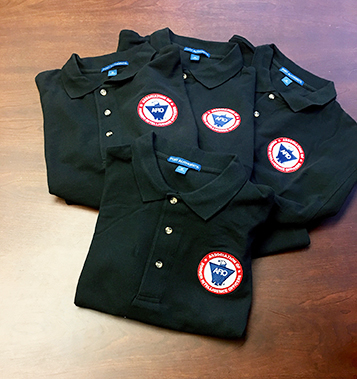 Now available: Black short-sleeved polo shirts with Embroidered AFIO logo
Show your support for AFIO with our new Black Short-sleeve Polo Shirts. Shirts are shrink and wrinkle resistant of fine cotton with a soft, "well-worn, comfy" yet substantial feel. They feature a detailed embroidered AFIO seal. Get a shirt for yourself and consider as gifts for colleagues, family, and friends. Only $50 each including shipping.
Sizes for (M) men, only; Small, Medium, Large, XL, XXL, and XXXL. $50 per shirt.
You may pay by check or credit card. Complete your order online here or mail an order along with payment to: AFIO, 7600 Leesburg Pike, Ste 470 East, Falls Church, VA 22043-2004. Phone orders at 703-790-0320. Questions? Contact Annette at: annettej@afio.com.
---

PopSocket for cellphones or tablets
Show your support to AFIO while enjoying the convenience offered by our AFIO Logo PopSocket. The PopSocket is most commonly used as a stand and as a grip for your mobile phone or tablet; handy for taking selfies, watching videos, and for texting. The PopSocket looks like a small button or sticker which, when closed, sticks flat to your mobile device. However, its accordion-like design enables it to pop open for use. The benefits of using a PopSocket make it a must-have accessory for your mobile phone or tablet. It also aids in keeping your phone from slipping off your hand during use, falling, or breaking.
Price: $15. Order this and other store items online here.
---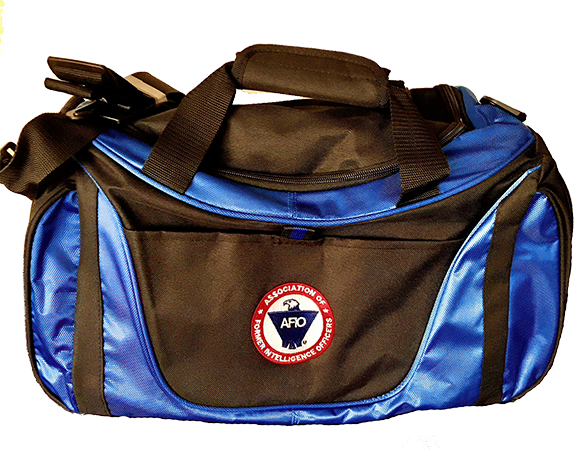 Duffel Bags - Royal Blue and Black with Full Color AFIO Logo This duffel has it all when it comes to value, style and organization.
600 denier polyester canvas with polyester double contrast; D-shaped zippered entry for easy access. Front pocket with hook and loop closure. End mesh pocket Easy-access end pockets. Four durable, protective feet and built-in bottom board for added strength. Web handles with padded grip. Detachable, adjustable shoulder strap.
Dimensions: 11"h x 19.75"w x 9.75"d; Approx. 2,118 cubic inches
Price: $50. Order this and other store items online here.
---
AFIO Mug with color glazed seal.

Made in the U.S.A., dishwasher-safe.
$35 includes shipping.

Sip your morning joe in style or use it to stash pens, cards, paperclips, or candy.
Order this and other store items online here.
---


Caps - Dark Navy with Navy AFIO Logo
An authentic silhouette with the comfort of an unstructured, adjustable fit. Fabric: 100% cotton. Unstructured. Fabric strap closure with adjustable D-clip. Price: $30. Order this and other store items online here.
---
PUBLISHED IN 2023
Be informed on career opportunities in the U.S. Intelligence Community
Intelligence as a Career - with updated listings of colleges teaching intelligence courses, and Q&As on needed foreign languages, as well as the courses, grades, extracurricular activities, and behavioral characteristics and life experiences sought by modern U.S. intelligence agencies.

AFIO's popular 47-page booklet reaches thousands of high school, college students, university guidance offices, and distributed in classes teaching intelligence, to help those considering careers in the U.S. Intelligence Community.

This is the all new fifth edition.
The publication is also popular with University Career Guidance Centers, professors and academic departments specializing in national security, and parents assisting children or grandchildren in choosing meaningful, public service careers.
This booklet is provided online as a public service from the generosity of AFIO board, volunteer editors/writers, donors, and members.
We thank all for their support which makes this educational effort possible.
Careers Booklet (new 2023 Fifth Edition) can be read or downloaded here

---
Guide to the Study of Intelligence...and...When Intelligence Made a Difference
"AFIO's Guide to the Study of Intelligence" has sold out in hard-copy.
It is available in digital form in its entirety on the AFIO website here.

Also available on the website here are the individual articles of AFIO's history project "When Intelligence Made a Difference" that have been published to date in The Intelligencer journal. More articles will be appear in future editions.
---
Address Technical Issues Or Unsubscribe
Some features of the email version of the WIN do not work for readers who have chosen the Plaintext Edition, some users of AOL, and readers who access their email using web mail. You may request to change from Plaintext to HTML format here afio@afio.com. For the best reading experience, the latest web edition can be found here: https://www.afio.com/pages/currentwin.htm
To unsubscribe from the WIN email list, please click the "UNSUBSCRIBE" link at the bottom of the email. If you did not subscribe to the WIN and are not a member, you received this product from a third party in violation of AFIO policy. Please forward to afio@afio.com the entire message that you received and we will remove the sender from our membership and distribution lists.
---
Disclaimer and Legal Protection
Weekly Intelligence Notes (WINs) are a carefully selected collection of timely open source reports and announcements and other media focused on intelligence and related national security matters that is produced for non-profit educational use by AFIO members and WIN subscribers. WINs are protected by copyright and intellectual property laws. They may not be reproduced or re-sent without specific permission from the Producer. Opinions expressed in the materials contained in the WINs are solely those of the content creators listed with each item. Notices in the WINs about non-AFIO events do not constitute endorsement or recommendation by AFIO.

(c) 1998 thru 2023


---

AFIO Members Support the AFIO Mission - sponsor new members! CHECK THE AFIO WEBSITE at www.afio.com for back issues of the WINs, information about AFIO, conference agenda and registrations materials, and membership applications and much more! .

AFIO | 7600 Leesburg Pike, Suite 470 East, Falls Church, VA 22043-2004 | (703) 790-0320 (phone) | (703) 991-1278 (fax) | afio@afio.com
---
About AFIO | Membership Renewal | Change of Address | Upcoming Events | Chapter Locations | Corporate/Institutional Memberships | Careers in Intelligence Booklet | Guide to the Study of Intelligence | Intelligencer Journal | Weekly Intelligence Notes | Make A Donation | AFIO Store | Member-Only Section | Code of Ethics | Home Page
RETURN TO TOP
---