---
'Empire of hackers': China accuses CIA of orchestrating cyberattacks using advanced tech - Interesting Engineering, 06 May 23
The study alleged that the CIA has almost complete global control over the Internet and the Internet of Things (IoT). "They have now covered almost all internet and IoT (Internet of Things) assets globally, allowing control over foreign networks and theft of important, sensitive data at any time," claimed the report. "Targets of these attacks include critical information infrastructure, aerospace, research institutions, oil and petrochemical industries, large internet companies, and government agencies in various countries. These attacks can be traced back to 2011 and have continued until now." (Full article here.)
Repent Your Abuses of Eavesdropping Law, Lawmakers Tell Intel Agencies - Government Executive, 02 May 23
The FBI and intelligence community will have to assuage lawmakers' privacy and civil-liberties concerns if they want to hang on to a controversial law that allows the warrantless collection of data on foreigners, House lawmakers said recently. Section 702 of the Foreign Intelligence Surveillance Act, or FISA, provides blanket approval for such digital surveillance. But the law, which is set to expire this year, has been criticized by privacy advocates because Americans' data has been swept up in these collections. The FBI has come under scrutiny for misusing 702 data and violating policies that protect Americans' privacy. On Thursday, Rep. Mike Garcia, R-California, warned FBI Director Christopher Wray that the House wouldn't reauthorize Section 702 without sufficient "repent and remedy" from the government. (Full article here.)
Meta Uncovers Massive Social Media Cyber Espionage Operations Across South Asia - OODA Loop, 04 May 23
Three different malign actors utilized hundreds of fictitious Facebook and Instagram accounts to target individuals in South Asia. Meta noted each APT relied on social manipulation to trick users into clicking on malicious links or sharing personal information. Relying on social engineering indicated the actors did not invest in malware capability. The fake accounts pretended to be lustful women, recruiters, journalists, or military personnel to convince users to do their bidding. One Pakistan-based APT Meta linked to the campaign utilized 120 accounts on Facebook and Instagram to infect Indian military and Pakistan Air Force personnel with GravityRAT. Another APT called Bahamut targeted government and military personnel in Pakistan and India with Android malware disguised as VPN apps. An Indian-based threat actor called Patchwork was also caught uploading malicious apps to the Play Store to harvest data from users across South Asia. Meta also discovered six adversarial networks in various countries which conducted coordinated behavior on Facebook and other social platforms. Two of these networks originated in China and operated accounts that targeted users in Taiwan and the Uyghur community. Meta stated in took down the operations before they built a following, and discovered an association between one network and the Chinese IT firm Xi'an Tianwendian Network Technology. (Full article here.)
King Charles: Royal Patron of Intelligence Agencies Has a Long History With Spies - SpyScape, 05 May 23
King Charles has long been fascinated with secret operations and spying. He served in the Royal Air Force and Navy for five years and as Colonel-in-Chief of the Parachute Regiment. So when news photographers staked out the Royals on holiday at Balmoral Castle in Scotland in 1982, the paparazzi were hoping for a few lively, candid shots and a front page exclusive. Instead, while photographers hid in the long grass, Charles stretched out on a riverbank at Balmoral Castle reading physicist Reginald Victor Jones' memoir, Most Secret War, about WWII and the origins of electronic espionage. The King has always been reflective, so it seemed natural in 2011 when the Monarch was appointed 'Royal Patron of Intelligence Agencies' on the recommendation of Britain's MI5, MI6, and GCHQ spy agencies. But what exactly does that mean? (Full article here.)
NGA Recognized as Federal Leader in Technology Transfer - NGA, 05 May 23
The Federal Laboratory Consortium for Technology Transfer has recognized NGA as one of two federal agencies, along with the Department of Energy, for creating significant benefit for state and local economies where they operate. The award was presented March 29 during FLC's national meeting in Cleveland, Ohio. The "FLC Star of 2023" award for state and local economic benefit recognizes the agency's Accelerator program, executed through a partnership with the Missouri Technology Corp. The Accelerator program worked over the past three years to advance cutting-edge innovations in the geospatial market. The unique 13-week program was the first of its kind in the intelligence community. Through it, NGA technology-transfer experts and mentors engaged directly with nearly 25 commercial start-ups to accelerate the development-to-operations timeline by educating the companies on working with the federal government. (Full article here.)
US Geospatial Intelligence Foundation Forms Team for Space Situational Awareness Campaign - Executive Biz, 03 May 23
The U.S. Geospatial Intelligence Foundation has created the Space Situational Awareness working group to develop community consensus regarding how sensor technologies help establish space domain understanding, SatNews reported Tuesday. Denny Brisley, president and chief operating officer of NorthStar Earth and Space, and Robert Zitz, president of Robert Zitz and Associates, will act as co-chairs of the working group. The team will talk to public, private and academic stakeholders to form a "common understanding" amid the adoption of enhanced, multi-modal, ground and space-based sensors in the information technology architectures of government agencies. "By establishing this group focused on how the community is postured to monitor the space environment, we hope to inform our members and national security stakeholders about the steps and investments needed to ensure the United States and our allies have continued access to space," said USGIF CEO Ronda Schren. (Full article here.)
US Spies Should Tap Private AI Models, NSA's Research Chief Says - Bloomberg, 05 May 23
A top US spy official said intelligence agencies should use commercially available AI to keep up with foreign adversaries that will do the same — while being sure to address the risks to privacy and broader concerns about misuse of the fast-developing technology. "The intelligence community needs to find a way to take benefit of these large models without violating privacy," Gilbert Herrera, director of research at the National Security Agency, said in an interview. "If we want to realize the full power of artificial intelligence for other applications, then we're probably going to have to rely on a partnership with industry." (Full article here.)
Intelligence agencies have used AI since the cold war—but now face new security challenges - Tech Explorer, 04 May 23
Recent publicity around the artificial intelligence chatbot ChatGPT has led to a great deal of public concern about its growth and potential. Italy recently banned the latest version, citing concerns about privacy because of its ability to use information without permission. But intelligence agencies, including the CIA, in charge of foreign intelligence for the US, and its sister organization the National Security Agency (NSA), have been using earlier forms of AI since the start of the cold war. Machine translation of foreign language documents laid the foundation for modern-day natural language processing (NLP) techniques. NLP helps machines understand human language, enabling them to carry out simple tasks, such as spell checks. Towards the end of the cold war, AI-driven systems were made to reproduce the decision-making of human experts for image analysis to help identify possible targets for terrorists, by analyzing information over time and using this to make predictions. (Full article here.)
Spy hunt or witch hunt? Ukrainians fear the two are merging - Politico, 04 May 23
From the glass cage in a Kyiv courtroom, Roman Dudin professed his innocence loudly. And he fumed at the unusual decision to prevent a handful of journalists from asking him questions during a break in the hearing. The former Kharkiv security chief is facing charges of treason and deserting his post, allegations he and his supporters deny vehemently. "Why can't I talk with the press?" he bellowed. As he shook his close-cropped head in frustration, his lawyers, a handful of local reporters and supporters chorused his question. At a previous hearing Dudin had been allowed during a break to answer questions from journalists, in keeping with general Ukrainian courtroom practice, but according to his lawyers and local reporters, the presence of POLITICO appeared to unnerve authorities. Suspiciously, too, the judge returned and to the courtroom's surprise announced an unexpected adjournment, offering no reason. A commotion ensued as she left and further recriminations followed when court guards again blocked journalists from talking with Dudin. (Full article here.)
Encryption: The Necessary Tool For U.S. National Security And The Intelligence Community - Forbes, 07 May 23
A key need for the intelligence community to prioritize the advancement and adoption of encryption technologies to bolster national security arises from the escalating use of digital repression strategies by authoritarian regimes. China, for example, leads the world in applying surveillance and censorship to monitor its population, repress dissent, and strengthen its surveillance and security apparatus. The rise of digital authoritarianism and the increasing sophistication of surveillance technologies pose substantial threats to democratic values and individual privacy. In addition to combating digital repression, addressing rapid technological advancements is another vital aspect of national security interests. Adversarial foreign intelligence services are embracing cutting-edge technologies such as generative artificial intelligence, cyber tools, unmanned systems, and advanced technical surveillance equipment, thereby enhancing their capabilities and challenging U.S. defenses. Alarmingly, the thriving commercial spyware industry, currently valued at approximately $12 billion, is experiencing rapid expansion, with authoritarian governments increasingly weaponizing spyware. (Full article here.)
Counterespionage Corner - Recent Arrests, Convictions, Expulsions, and more...
---
The Latest from International Spy Museum Historian Andrew Hammond, PhD.
Spycast is the official podcast of the International Spy Museum and hosts interviews with intelligence experts on matters of HUMINT, SIGINT, IMINT, OSINT, and GEOINT. Spycast is hosted by historian Andrew Hammond, PhD.
02 May | "Ukraine and the Alliance with NATO's Assistant Secretary General for Intelligence and Security" David Cattler joins Andrew to discuss NATO's intelligence response to the ongoing war in Ukraine. David currently serves as NATO's Assistant Secretary General for Intelligence and Security.
Past episodes:
25 Apr | "Espionage and the Two Queens" - With Kent Tiernan
18 Apr | "Irregular Warfare and Intelligence" - With IWC President Dennis Walters.
11 Apr | "Havana Syndrome" - A Panel featuring Nicki Woolf, Marc Polymeropoulos, Mark Zaid.



---
The Latest Insights from Former CIA Acting Deputy Director for Operations Jack Devine.
In Other News The proprietary analytic newsletter crafted for The Arkin Group's private clients by former CIA Acting Deputy Director for Operations Jack Devine.
05 May | If EU member states maintain a more unified stance on China, it will bolster the EU's standing on other issues. Despite the European Union's adherence to the One China policy, in the current complex global geopolitical environment, EU member states have been struggling to send a coherent message on China. This makes the EU weaker as a collective body since Beijing can leverage the differences among members to advance its economic and political goals. It also weakens the EU's relationship with Washington and sends mixed signals on how the allies would respond to any forthcoming Chinese military, economic, or political actions. (Full version available to AFIO members in the coming days here.)
28 Apr | Russia continues its physical and ideological attacks, but Ukraine and allies are holding their ground.
20 Apr | Brazilian President Lula's recent visit to China brings the BRICS back into the spotlight, but the seeds for multipolarity were planted years ago.
11 Apr | President Biden's upcoming visit to Northern Ireland on the 25th anniversary of the Good Friday Agreement indicates a potential shift in UK politics.
---
Daily Analysis of Security Issues and Geopolitical Trends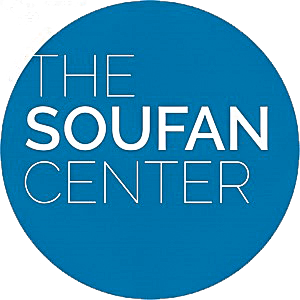 Intel Brief The Soufan Center's flagship, daily analytical product focused on complex security issues and geopolitical trends that may shape regional or international affairs. The Soufan Center was founded by former FBI Special Agent and Soufan Group CEO Ali Soufan.
09 May | Iranian Tanker Seizures Dampen Hopes for Regional De-escalation In a one-week (late April – early May), the IRGC Navy forcibly diverted two

In a one-week (late April – early May), the IRGC Navy forcibly diverted two oil tankers transiting the Strait of Hormuzand Gulf of Oman, carrying oil to global customers. The tanker captured on May 3, the tankers, the Panama-flagged Niovi, was taking oil from the close U.S. ally, Kuwait, to the United States. On April 28, the IRGC seized the Advantage Sweet, flagged in the Marshall Islands, carrying oil for the U.S. energy major, Chevron. Iranian officials stated that the Advantage was diverted for investigation following an alleged maritime accident. However, maritime sources assessed the Advantage capture as retaliation for an April 22 U.S. diversion of an Iranian tanker off the coast of southern Africa, pursuant to a reported U.S. court order enforcing U.S. oil sanctions on Iran. In the past, including during several incidents in 2019, the IRGC has sought to justify its diversion of or armed attacks on oil tankers in the Gulf by claiming, without providing evidence, that the ships were involved in commercial disputes or had violated Iranian maritime environmental or other laws. A wide range of reports indicate that the crews of Iran-diverted commercial ships are not generally mistreated. Still, in seizing oil shipments bound for or owned by the United States, the Iranian actions in April and May seemed to represent a direct challenge to U.S. policy. (Full brief here.)
08 May | Syria Returns to the Arab Fold
05 May | Brazil's Lula Strengthens Relations with China and Forays into Geopolitics
04 May | Warring Sides Continue to Trade Blows in Sudan Despite Latest Ceasefire
03 May | Texas Mass Shooter Captured as Governor's Comments Feed into National Immigration Debate
---
Analysis of Global Security Events with WTOP National Security Correspondent JJ Green

Inside the SCIF - 04 May - Russia Blames US for Drone Attack, What Keeps China's Leaders up at Night?, Paul Whelan Update, Sudan and more...
Target USA Podcast - 03 May - Kremlin Attacked By Drones: Putin Assassination Attempt?

The Hunt Broadcast - 03 May - Turkey says it's killed the leader of ISIS. But where's the evidence?




---
The Latest Insights from Jeff Stein and Colleagues in SpyTalk (Substack)

06 May | Biden Maintains Veil Over Israeli Nuclear Bomb Program - Jefferson Morley
On April 27 the National Archives released the long-redacted September 1975 congressional testimony of CIA spy chief James Angleton, in which he discussed topics ranging from the agency's sensitive relations with foreign intelligence services to its tangential connection to the so-called "White House plumbers," authors of the Watergate break-in. However, government censors continued to withhold significant portions of Angleton's prior testimony in June 1975, which concerned a topic still evidently radioactive in Washington nearly a half-century later: Israel's nuclear weapons program. (Full article here.)

04 May | A Real Iran Crisis Story Behind 'The Diplomat' - Jeff Stein
The Diplomat, the military crisis-cum-rom/com series now winning popular, if not critical, plaudits on Netflix, is bolted to a plot line featuring a U.S. ambassador to London's desperate attempt to head off a war with Iran following a mysterious attack on a British aircraft carrier in the Persian Gulf. Played by Keri Russell, straight from her triumphal role as an undercover Soviet spy in The Americans, Ambassador Kate Wyler is a Middle East expert who smells political machinations behind the urges of the British P.M. and the American president to attack Iran. (Full article here.)

27 Apr | Jack Teixeira and Me - Jeff Stein

22 Apr | A Life Lost in the Maw of Counterterrorism - Jeff Stein


To support SpyTalk, subscribe here.



---
Article: Preventing Intelligence Leaks: Let's Start Over - Just Security, 03 May 23
As a former CIA career officer, I wince learning about leaks of classified documents that produce sustained headlines. I know the damage such a debacle can wreak on intelligence gathering and cooperation with U.S. allies. The hard-won intelligence that Jack Teixeira, the recently alleged Air National Guard leaker delivered via the internet to nations hostile to the United States, likely cost U.S. taxpayers billions of dollars to produce, and some of those sources and methods may never produce again. It is doubly painful to know that such illegal leaks can mostly be prevented. But that would require repudiating a business-as-usual approach, and a much more concerted way to thwart untrustworthy employees whose responsibilities exceed their judgment. Ten years ago, I coauthored a think-tank study for the Department of Defense, recommending comprehensive measures to deter and prevent classified leaks. While we cannot know for certain how much these reforms might have helped, my understanding is that despite being officially endorsed, their full implementation, as some cynics had forewarned, has fallen short. (Read full report here.)
Article: Risk of war with China over Taiwan is real, intel leaders warn - Washington Times, 04 May
Threats from China and the potential of a war over Taiwan pose real dangers for the U.S., two top intelligence officials said during an annual briefing to Congress on Thursday. Director of National Intelligence Avril Haines told the Senate Armed Services Committee she worried a miscalculation or escalation of a minor confrontation could trigger a war — based on Chinese leaders' pessimism about the future of relations with the U.S. and Beijing's policy of cutting off communications in a crisis. Army Lt. Gen. Scott Berrier, director of the Defense Intelligence Agency, told lawmakers that at least four dates beginning in 2025 have been put forth for when Chinese President Xi Jinping may order military action against Taiwan. Beijing considers the island part of its sovereign territory and has vowed to reclaim it. (Read full report here.)
Article: Nord Stream: Report puts Russian navy ships near pipeline blast site - BBC, 04 May
Russian ships able to perform underwater operations were present near to where explosions later took place on the Nord Stream pipelines, according to an investigative documentary. The vessels were reportedly located using intercepted Russian navy communications. Underwater explosions last September knocked the two Nord Stream pipelines - built to carry gas from Russia to Europe - out of action. The cause of the blasts is unclear. Formal investigations are still taking place in countries close to the blast site. So far, they have said only that they believe the explosions were the result of sabotage rather than any kind of accident. But one possible lead pointing towards Russian involvement has emerged from details of suspicious Russian ship movements in the run-up to the Nord Stream blasts, reported by four Nordic public broadcasters and an accompanying English-language podcast Cold Front. (Read full report here.)
Article: NSA sees 'significant' Russian intel gathering on European, U.S. supply chain entities - Cyberscoop, 26 Apr 23
Russian hackers are focused on using ransomware to attack supply chains both within Ukraine and in European countries being used to provide weapons and humanitarian aid in support of the Ukrainian war effort, a top National Security Agency official said Wednesday. And as the war drags on, Russian hackers could be looking to attack logistics targets more broadly, including in the United States, said Rob Joyce, the NSA's director of cybersecurity. The NSA is seeing "a significant amount of intelligence gathering into the Western countries, to include the U.S., in that logistics supply chain," Joyce said during a briefing at the RSA Conference. There are no indications yet that any U.S. companies have been attacked with ransomware in connection with logistics related to Ukraine, he added, noting that how the United States would respond to such a scenario would be "a policymaker question." If Russia broadened its attacks beyond Ukraine and its near abroad, that would represent "a significant escalation in tactics and capabilities,"Joyce said. (Read full report here.)
Article: Report reveals 65% of cyberattacks targeted at U.S. - Security Magazine, 26 Apr 23
A new report reveals an increase in cyberattacks directed at financial institutions, food retailers and healthcare providers, with 60% of all attacks targeting these three key industries. The latest quarterly Global Threat Intelligence Report, released this week by BlackBerry Limited, shows the BlackBerry Threat Research and Intelligence team stopped more than 1.5 million cyberattacks in the 89 days between Dec. 1, 2022 and Feb. 28, 2023. These threats included roughly 1.5 unique malware samples per minute, an increase from the previous reporting period's average of one unique sample per minute. (Read full report here.)
Article: China has 50 hackers for every FBI cyber agent, says Bureau boss - The Register, 01 May 23
China has 50 hackers for every one of the FBI's cyber-centric agents, the Bureau's director told a congressional committee last week. Speaking at the House Appropriations Committee's subcommittee on Commerce, Justice, Science, and Related Agencies, director Christopher Wray tried to justify the Bureau's budget request by outlining the threats it is trying to counter. "A key part of the Chinese government's multi-pronged strategy to lie, to cheat, and to steal their way to surpassing us as the global superpower is cyber," Wray claimed. "The scale of the Chinese cyber threat is unparalleled. They've got a bigger hacking program than every other major nation combined and have stolen more of our personal and corporate data than all other nations big or small combined." "To give you a sense of what we're up against: If each one of the FBI's cyber agents and intel analysts focused exclusively on the China threat – on nothing but China – Chinese hackers would still outnumber FBI cyber personnel by at least 50 to 1." (Full video here.)
Article: Surprise, kill, vanish: 'Jedburghs' led way for US cyber, special ops - C4ISRnet, 15 Aug 22
On military bases during World War II, the loudspeaker system often blared a curious message: Wanted: Volunteers for immediate overseas assignment. Knowledge of French or another European language preferred; Willingness and ability to qualify as a parachutist necessary; Likelihood of a dangerous mission guaranteed. Without any further instructions, the messages attracted a mix of individuals some of the the most creative and dangerous missions of WWII. Known as the Jedburghs, the small special purpose teams were a WWII phenomenon born out of the British Army and Sir Winston Churchill's affinity for "ungentlemanly warfare." The multi-national teams were trained in irregular warfare, maintained extensive foreign language skills, and excelled at subterfuge, sabotage and surveillance. Jedburghs were sent deep into Nazi-held territory to disrupt the German war effort by waging unconventional warfare. As a concept, they provide an example of how an unconventional take on cross-functional partnerships can affect a war zone and operate effectively in politically sensitive environments. here.)
---
Spy Games: Why Private Companies Now Dominate Domestic Espionage - Gate Stone Institute, 05 May 23
"The best way to predict the future is to create it." That rhetorical gem, credited to various scientists and political leaders, shows up on mouse pads and posters and wherever else suitable inspiration is found wanting. It is also a remarkably accurate mission statement for two professions: financial investors and spies. In both occupations, a person is rewarded for either (1) collecting and processing enough available information to predict future events or (2) creating a set of preconditions that will make future events all but certain. Any financial analyst who foresaw the likelihood of a global pandemic before the outbreak of COVID-19 could have made a fortune investing in the right pharmaceutical companies. Likewise, regardless of Pfizer's motivations for doing so, its funding of numerous nonprofit organizations that actively pushed for COVID-19 vaccine mandates also benefited its bottom line. You could say that both market mavens and intelligence operatives invest heavily in creating a desired reality that will yield dividends. By successfully creating the future, prophets can turn profits. (Full report here.)
Assessment of the espionage threat to Denmark, the Faroe Islands and Greenland - Danish Intelligence Services, May 2023
The purpose of this publication is to raise public awareness of the threats from foreign states and their intelligence activities to Denmark, the Faroe Islands and Greenland. It is necessary to enhance public awareness because PET has established that a number of foreign states continuously perform intelligence activities against Denmark and Danish interests abroad. Public information about the threat picture is an important element of PET's counterintelligence efforts and Denmark's overall bulwark against the intelligence activities of foreign states. This bulwark contributes to ensuring that a small open democratic society like ours may play an active role in a world characterized by ever increasing competition among great powers, and at the same time it protects national freedom of action and sovereignty. Only by creating an efficient safeguard against the intelligence activities of foreign states can our decision makers take important positions on foreign, security and defence policy without other states knowing of them in advance. The bulwark is also to help prevent foreign states from stealing ideas and knowledge developed in Denmark which is the foundation of the wealth of our society in future. Further, countermeasures against the intelligence activities of foreign states help ensure that individuals with links abroad, not least refugees and dissidents, are able to enjoy their rights of freedom without any fear of reprisals from their native countries and foreign intelligence services. (Full report here.)
Intelligence Warning and Revolution: Lessons from the Arab Spring - Journal of Security, Intelligence, and Resilience Education, May 2023
Intelligence services have a notoriously poor track record in anticipating revolutions. The popular uprising in the Middle East in 2011, generally known as the "Arab Spring," is no exception. In the ten years since the uprising swept across the Arab world, the driving forces behind and the consequences of the Arab Spring have been thoroughly studied. However, why intelligence agencies failed to anticipate the outbreak of the unrest is less discussed. This article examines the Norwegian Intelligence Service's monitoring of political stability and change in advance of the Arab Spring to avoid similar intelligence failures in the future. (Full report here.)
Lessons From A White House Intelligence Briefer - War on the Rocks, 05 May 2023
On this episode of Horns of a Dilemma, former Deputy Director of National Intelligence for Mission Integration Beth Sanner delivers a candid and enriching lecture about being an intelligence professional at the highest level in the White House. Among many duties, this job involved serving as U.S. President Donald Trump's intelligence briefer. Ms. Sanner starts off her talk by describing the history of the president's daily intelligence briefing, then dives into how the briefings are crafted. She discusses what it means to be an intelligence officer and the importance of these briefs to the entire national security community. Then, she describes the day-to-day of delivering intelligence to President Trump, what worked best, and the lessons she learned in the process. This episode is a must-listen for anyone considering a career in the intelligence and national security community. (Full report here.)
Revealing secrets strengthens our intelligence services - Australia National University Reporter, 03 May 2023
In the intelligence business, the secret of success lies in keeping one's successes secret. After all, were a target or adversary to become aware of one's ability to eavesdrop, they would be expected to alter their practices, making it that much harder to replicate the success that led to the boasting in the first place. Notwithstanding this truism, there is a place for a judicious but honest account of the place of intelligence in our lives and in our society. This is one of the key themes of my new book, co-authored with Clare Birgin, Revealing secrets, which explores the history of signals intelligence, or Sigint, in Australia as well as its future. In our book, we argue that this increased transparency is increasingly vital in the 21st century – especially as the ability of states to monitor each other as well as their citizens becomes increasingly powerful. (Full report here.)
Infographic and Report: Mapping the World's Overseas Territories and Dependencies - Visual Capitalist, 29 Apr 22
An overseas territory or dependency is a region with ties abroad to a sovereign nation—not a completely independent state, but also not a constituent part or administrative subdivision of the parent country. Their histories vary, but most are tied to either "modern" colonialism from the 1400s onwards, or wars from the 19th and 20th centuries. Many of these regions still depend on their parent country to some capacity for economic, military, and diplomatic affairs. This graphic by Pranav Gavali maps the overseas territories of various countries, using a variety of sources including WorldAtlas, Statista, and official country releases. (Access visual tool and full report here.)
Intelligence in History - A Collection of Recent Content
True Intelligence Matters in Film - Five Fingers - Joseph L. Mankiewicz (1952)
The film is based on the true story of Albanian-born Elyesa Bazna, a spy with the code name of Cicero who worked for the Nazis in 1943–44 while he was employed as valet to the British ambassador to Turkey, Sir Hughe Montgomery Knatchbull-Hugessen. Bazna would photograph top-secret documents and deliver the pictures to Franz von Papen, the German ambassador in Turkey and a former German chancellor, using Moyzisch as the intermediary.

More information about this based-on-true-events production here.
Walking Tours - Washington, DC - Sundays (Dates/Times Vary)
Former intelligence officers guide visitors on two morning and afternoon espionage-themed walking tours: "Spies of Embassy Row" and "Spies of Georgetown." For more information and booking, click here or contact rosanna@spyher.co
---
The Lion And The Fox: Two Rival Spies and the Secret Plot to Build a Confederate Navy
by Alexander Rose
(Mariner Books, 06 Dec 22)
In 1861, soon after the outbreak of the Civil War, two secret agents—one a Confederate, the other his Union rival—were dispatched to neutral Britain, each entrusted with a vital mission. The South's James Bulloch, charming and devious, was to acquire a cutting-edge clandestine fleet intended to break President Lincoln's blockade of Confederate ports, sink Northern merchant vessels, and drown the U.S. Navy's mightiest ships at sea. The profits from gunrunning and smuggling cotton—Dixie's notorious "white gold"—would finance the scheme. Opposing him was Thomas Dudley, a resolute Quaker lawyer and abolitionist. He was determined to stop Bulloch by any means necessary in a spy-versus-spy game of move and countermove, gambit and sacrifice, intrigue and betrayal. If Dudley failed, Britain would ally with the South and imperil a Northern victory. The battleground was the Dickensian port of Liverpool, whose dockyards built more ships each year than the rest of the world combined, whose warehouses stored more cotton than anywhere else on earth, and whose merchant princes, said one observer, were "addicted to Southern proclivities, foreign slave trade, and domestic bribery." From master of historical espionage Alexander Rose, The Lion and the Fox is the astonishing, untold tale of two implacable foes and their twilight struggle for the highest stakes.
Order book here.
---
Agent Molière: The Life of John Cairncross, the Fifth Man of the Cambridge Spy Circle
by Geoff Andrews
(J.B. Tauris, 06 Feb 20)
The Cambridge Spies continue to fascinate - but one of them, John Cairncross, has always been more of an enigma than the others. He worked alone and was driven by his hostility to Fascism rather than to the promotion of Communism. During his war-time work at Bletchley Park, he passed documents to the Soviets which went on to influence the Battle of Kursk. Now, Geoff Andrews has access to the Cairncross papers and secrets, and has spoken to friends, relatives and former colleagues. A complex individual emerges – a scholar as well as a spy – whose motivations have often been misunderstood. After his resignation from the Civil Service, Cairncross moved to Italy and here he rebuilt his life as a foreign correspondent, editor and university professor. This gave him new circles and friendships – which included the writer Graham Greene – while he always lived with the fear that his earlier espionage would come to light. The full account of Cairncross's spying, his confession and his dramatic public exposure as the 'fifth man' will be told here for the first time, while also unveiling the story of his post-espionage life.
Order book here.
---
Jihadi Intelligence and Counterintelligence: Ideological Foundations and Operational Methods (Perspectives on Development in the Middle East and North Africa (MENA) Region)
by Ferdinand J. Haberl
(Springer, 23 Mar 23)
This book analyzes the ideological roots, structures and operational methods of Jihadi intelligence and counterintelligence activities. Based on a substantive collection of data on terrorist attacks, communication channels, recruitment methods, manuals and statements released by various Jihadi groups, it examines and compares the nature, ideology and realities of Jihadi intelligence operations. The author, an expert on Jihadist ideology and paramilitary intelligence, compares the modus operandi of terrorist groups such as al-Qaeda and the IS with those of governmental intelligence agencies, and subsequently analyzes the role of historical and religious narratives that help Jihadist groups justify their actions and military management. Further topics covered include encryption, counterfeiting, covert operations and Jihadi intelligence activities in the digital realm. The insights shared here will allow readers to gain a comprehensive understanding of Jihadist groups and their intelligence operations, while helping practitioners and policymakers develop better counterterrorism activities and counternarratives.
Order book here.
---
Survey for Members: Skill Sets Needed for Intelligence Analysis Degree Holders to See Success After Graduation
Northeastern University Security and Intelligence Studies professor researching the skill sets required for Intelligence Analysis degree holders to see success after graduation welcomes the participation of AFIO members in a 5-minute survey in support of the research. Access survey here.
Call for Information: 430th CIC in Salzburg in 1946
I am currently writing about 430th CIC in Salzburg in 1946. I have a (large) CIC file and am now trying to track down further details about two officers mentioned in this: (1) Bill Taylor. The sources do not make clear whether the officer was Major Bill G. Taylor, GSC, Head of the Counter-Intelligence Bureau of G-2 (Intelligence Section), US Forces Austria, or "Mil.Reg." Captain Taylor of Salzburg. Any information on either/both of these officers would be most welcome. (2) Pace B Rose. Rose was a CIC Special Agent in Austria, later a CIA officer who continued to be attached to the Agency after retirement. He died on 3 January 2009. I would like to contact family and friends of Pace Rose. According to the internet, Rose had children, Donna R. Hilverts and Gary W. Rose, and five grandchildren and three great grandchildren. Please contact S.Cody@westminster.ac.uk with any information.
Call for Sources: Intelligence Officers Who Lived in Spain in the 1970s
Spanish journalist Francisco Jiménez is preparing a documentary about the intelligence services in Spain in the 70s. He is looking for intelligence officers who worked in Spain in those years. If you are willing to assist Francisco, he can be reached at fjimenez@globomedia.es.
Call for Sources: Intelligence activities in Grenada and the southern Caribbean between 1979, Operation Urgent Fury, Leonard Barrett
The Washington Post is developing a multipart audio documentary series (i.e. podcast) chronicling the Grenadian revolution and the US intervention in 1983. They've interviewed nearly 100 people so far, ranging from the heads of state, former Grenadian officials, current and former US officials, veterans, and intelligence officers. They're looking for people who served at the time and may be knowledgeable about intelligence activities in Grenada and the southern Caribbean between 1979 and Operation Urgent Fury. They would also be interested in speaking with anyone who knew Leonard Barrett during the same period. If anyone is interested in participating, please reach out to Washington Post reporter Ted Muldoon via email at ted.muldoon@washpost.com or on Signal at 651-497-5449.
Call for papers: Intelligence and Post-War Reconstruction - International Journal of Intelligence and Counterintelligence
History shows that without planning for post-war reconstruction, apparent victory in war can lead to long-term defeat. On the other hand, wise post-war planning can lead to friendly, peaceful, and profitable relations between victor and vanquished. For political, socio-economic and security-related planning, intelligence plays a crucial role in estimating capabilities, securing infrastructure, locating persons of interest, and rebuilding. In honor of the 75th anniversary of the European Recovery Program (Marshall Plan) after the Second World War, the editors are particularly interested in papers dealing with intelligence concerning post-war reconstruction initiatives and planning connected to historical and recent conflicts. Both case studies and theoretical and methodological approaches are welcome. The studies may include, but do not have to be focused on, the following questions and issues:
The role of diplomatic and military intelligence during the conflict as preparation for post-war reconstruction, from the conceptual to the practical.
What intelligence needs to be collected to secure and boost reconstruction?
What contacts, networks, and infrastructure are necessary for intelligence to be effective?
Who has been or should be approached and/or recruited for reconstruction efforts based on intelligence?
When has intelligent post-war planning (or its opposite) been historically evident?
How should intelligence interact with formerly warring parties and international organizations to empower practical reconstruction efforts?
What intelligence collection challenges have services encountered in working for post-war peace?
How did intelligence factor in the European Recovery Program?
What was George C. Marshall's position on the role of intelligence in general or concrete examples related to "his" plan?
01 Nov 23 deadline. More information and submission instructions here.
Call For Articles: AFIO Journal, The Intelligencer
For the past four years, AFIO has included in The Intelligencer a series of articles on "when intelligence made a difference." Written by scholars, intelligence practitioners, students, and others, they cover events from ancient times to the modern world and in many countries. AFIO is soliciting articles for future issues. Most articles run between 2,000 and 3,000 words, although some are longer or shorter. If you have an idea for an article that fits the theme, email senior editor Peter Oleson at peter.oleson@afio.com.
---
Retired Federal Government Employees Wanted - National Security Agency - Fort Meade, Maryland
The National Security Agency (NSA) may occasionally need skilled civilian retirees to augment the existing work force on high priority projects or programs. In order to fill these temporary positions quickly, we need to know who may be interested and available to return to work with us on a short notice basis as well as their skills. Retirees provide expertise and corporate knowledge to temporarily support mission requirements, manpower shortfalls, and/or mentor the next generation of Agency employees. Salary Range: $86,335 - $170,800.
Additional information and application here.

Assistant/Associate Professor of Intelligence Studies (Global Security and Intelligence Studies) - Embry-Riddle Aeronautical University - Prescott, Arizona
Embry-Riddle Aeronautical University's Prescott, Arizona campus is accepting applications for a tenure-track assistant or associate-level professor of intelligence studies to teach intelligence courses to students in the Global Security and Intelligence program. The successful candidate will teach students about the intelligence community, strategic intelligence, the intelligence cycle and intelligence analysis, writing, and briefing. Prior experience working in the intelligence community is strongly preferred. We are interested in candidates with teaching acumen in intelligence analysis and writing using structured analytical techniques.
Additional information and application here.

Teaching Associate - Intelligence and National Security Studies - Coastal Carolina University, South Carolina
The Department of Intelligence and Security Studies ( ISS ) at Coastal Carolina University is accepting applications for a pool of Teaching Associates (part-time adjunct faculty) to teach introductory and undergraduate elective course offerings for the program beginning in August 2022. While the ad is open to any specialization within the field of study, courses in the areas of homeland security, law enforcement intelligence, counter-narcotics, and cybersecurity are of particular interest. Course offerings can be in a face-to-face or synchronous online modality. To be considered, candidates must have a masters or doctoral degree in a relevant subject area. Prior professional experience in the profession, as well as prior teaching experience are preferred.
Additional information and application here.

---
Jeff Phipps — Career NSA Officer

Jeffrey Ellis Phipps, 70, passed peacefully in his sleep on Wednesday, April 24, 2023 at his home in Williamsburg, Virginia. Born in Washington, DC, Jeff spent his life in support of his country; first growing up as an Army brat and later at the National Security Agency. Over the course of his career, Jeff participated in many projects such as software programming for NASA, working on the predecessor of GPS and designing and building facilities supporting national defense. He was an expert in information technology and data security, but his biggest gift was his ability to pull people together. His personality attracted folks to him like a moth to a flame and he established life-long friendships. He was extremely effective at solving large problems and had a knack for visualizing the end solution and getting people on board. Jeff was well-liked and effective in whatever he attempted. He especially enjoyed mentoring younger employees and providing them guidance not only at work but in life.
Reyes Ponce — Career CIA Officer

Reyes Ramon Ponce, 80, of Alexandria, passed away on April 23, 2023, after a long battle with Parkinson's Disease. Reyes was born in Riverside, California and graduated from McCarthy High School (Ft. Pierce, FL) in 1959. He went on to receive his BA in History from George Mason University in 1987. Reyes served in the United States Air Force from 1959-1963 where he was involved in imagery analysis during the Cuban Missile Crisis. His military service led him to work for the Central Intelligence Agency, where he completed 37 years of service in 2000. During his time at CIA he worked at NPIC, the NRO, and in the Office of the Inspector General. He concluded his career in the intelligence community with BAE Systems as an engineer.
Vince Stewart — Former DIA Director

Vincent R. Stewart, a Jamaican immigrant who rose to become a Marine Corps lieutenant general and served under presidents Barack Obama and Donald Trump as the Defense Intelligence Agency's first Black director and first Marine Corps officer director, died April 28 at his home in Aldie, Va. He was 64. As head of the Defense Intelligence Agency from January 2015 to October 2017, he advised the president, lawmakers and the chairman of the Joint Chiefs of Staff on global threats and national security issues, including the strength of Taliban fighters in Afghanistan, the impact of Russian troops on the Syrian civil war, and the progress of North Korea's nuclear weapon and advanced missile programs. Gen. Stewart also served as director of Marine Corps intelligence as a one-star general, and was the commander of Marine Corps Forces Cyberspace Command before being named to lead the DIA. He retired in 2019 and started his own consulting firm. In retirement, Stewart spoke out against FPOTUS Trump's inciting of rioters during the Jan. 6, 2021, attack on the U.S. Capitol and gainst racial injustice. He attended the U.S. Naval War College, where he received a master's degree in national security and strategic studies in 1995, and the Industrial College of the Armed Forces at the National Defense University, where he completed a master's in national resource strategy in 2002. His decorations include the Defense Distinguished Service Medal, Navy Distinguished Service Medal, Defense Superior Service Medal, two decorations of the Legion of Merit, and the Bronze Star.
---
9 May 23 (Tuesday), 1730 (EST) - In Person - New York City - The Reactivated AFIO NY Metro Chapter Speaker/Topic: Mitzi Perdue. "Behind the Scenes in Ukraine." Mitzi Perdue, renown author, anti trafficking and human rights activist, has visited Ukraine twice, most recently as guest of the Kyiv Region Police Chief. She has seen first hand evidence of Russian atrocities, booby traps and maiming trickery. Join us for a first hand look at what Ukraine's officials and people are up against and the imagination and perseverance they are bringing to the task. Registration at 5:30; Meeting begins at 6. Cost: $45. Cash or check payable at the door to David Hunt. Open bar, hors d'oeuvres. Location: Racquet and Tennis Club (R&T), 370 Park Ave, NYC 10022 - located between E 52nd - 53rd Streets. Map for directions. To attend, register: PLEASE ADVISE by 1 May if you are attending. Preferably to: afionyc@gmail.com, or call chapter President David Hunt at 301-520-1417.
10 May 23 (Wednesday), 1830 ET - In Person - Dunwoody, GA - AFIO Atlanta Chapter hosts Pop-by Chapter Social at the Iron Hill Brewery. Please join chapter members and bring non-members for this Pop-Up Social.
For a change in location, we will be going to the Iron Hill Brewery located in Perimeter / Dunwoody at 1224 Hammond Dr, Dunwoody, GA 30346
Feel free to suggest new venues or parts of town for the next social to us at membership@afioatlanta.
Non-members welcome!
Dress Code - Business casual or casual are fine.
RSVP via email to membership@afioatlanta.com by May 8 at 4:00pm.
13 May 23 (Saturday), 1130 ET - In Person - Melbourne (Indialantic), FL - AFIO Florida Satellite Chapter hosts Scott Tilley PhD discussing "ChatGPT and Disinformation." The Florida Satellite Chapter hosts Dr. Scott Tilley. His presentation is "ChatGPT and Disinformation." The event starts at 11:30 AM at the DoubleTree Suites by Hilton Hotel Melbourne Beach Oceanfront, 1665 N. State Route A1A, Melbourne (Indialantic), FL. The sit-down lunch cost is $35.00 per person.
For more information or to register, contact Chapter President Larry Sanford here.
18 May 23 (Thursday), 1130 MT - In Person - Colorado Springs, CO - AFIO Colorado Springs Chapter hosts Paul Bolt, PhD discussing "Chinese-Russian Relations: Mutual and Conflicting Interests." The presentation will address the complexity of the Sino-Russian relationship, focusing on historical foundations, energy, security, and the war in Ukraine. While outwardly relations between China and Russia look good, there are tensions beneath the surface. Dr. Paul Bolt is Professor of Political Science at the United States Air Force Academy, where he has taught since 1997. Prior to coming to USAFA, Dr. Bolt taught English at Zhejiang University and Baicheng Normal College in the People's Republic of China. He also taught at the University of Illinois at Urbana-Champaign as a visiting assistant professor. In 2009-2010 he served as a Fulbright scholar at Nanyang Technological University in Singapore. Dr. Bolt's most recent book is a co-edited volume on Chinese nuclear weapons and doctrine entitled China's Strategic Arsenal: Worldview, Doctrine, and Systems, published by Georgetown University Press in 2021. He is co-author, with Sharyl Cross, of China, Russia, and Twenty-First Century Global Geopolitics (Oxford, 2018), and author of China and Southeast Asia's Ethnic Chinese: State and Diaspora in Contemporary Asia (Praeger Publishers, 2000). He has also published on Asia and security issues in a variety of journals and book chapters. For more information or to register, email Steve Pease here.
20 May 23 (Saturday), 1400 (ET) - In Person - David Hunt, Veteran CIA Operations Officer, discussing "USA/China/Taiwan" - AFIO Maine Chapter. CIA operations veteran David P. Hunt will discuss "USA/China/Taiwan: The Deeper/Regrettable Reality" at this public AFIO meeting. David Hunt served 32 years in the CIA, including tours in Italy, Vietnam, Somalia, Norway, France, and New York City. He served twice as Deputy Chief of Station (Norway and France) and twice as Chief of Station (Somalia and New York City). A Colby College graduate, he is an expert in Soviet operations, European affairs, and counterintelligence. Hunt holds the Donovan Award for Excellence, as well as the CIA's Distinguished Intelligence Medal, its highest award. Mr. Hunt will focus on recent administrations in Washington that have neglected China's stealthy approach to the US, stealing our tech, neutralizing legitimate concerns about Chinese (CCP) objectives by wooing if not compromising senior political leaders in the US, Confucius Centers and other similar institutes, sister cities programs, Chinese grants to the universities; lobbyists; all have softened attitudes towards China. Taiwan's military assistance has been slow walked. In the meantime, in China, slave labor, extreme violation of human rights, organ removals from prisoners, continues unabated, etc. Also to be discussed is John Lenczowski's article in the fall 2022 issue of the Intelligencer, "Conquest without War". Jackie Hunt, David Hunt's wife, native-born and raised in Taiwan, will present Taiwan's attitudes towards China, the importance of Taiwan Semiconductor Manufacturing Company, and other relatively unknown factors in this volatile mix. Location: The Economos Lecture Hall, Kennebunk High School, 89 Fletcher St, Kennebunk, ME This is the latest in a series of discussions relating to the importance of intelligence in current public affairs. The AFIO meeting is open to the public, and begins at 2 p.m. in the Economos Lecture Hall at Kennebunk High School, 89 Fletcher Street. A question-and-answer period will follow the presentation. No registration required. Questions? Contact Chapter President Michael Severance at 207/967-4298.
19 Jun 23 (Monday), 1800 (PDT) - Virtual - Peter Warmka, on "Confessions of a CIA Spy - The Art of Human Hacking, the topic and title of his recent book. Hosted by the Columbia River Chapter of AFIO. Warmka is a former Senior Intelligence Officer with the CIA having over 20 years of experience in breaching the security of target organizations overseas. He is an Adjunct Professor at Webster University's Masters in Cybersecurity Program and Founder of Orlando based firm Counterintelligence Institute, LLC. All AFIO members are welcome to tune in. For additional information and for the links and password to join the Zoom Meeting, email Chapter President Carl Wege here or call on 912-222-8640.
See the AFIO Calendar of Events for scheduling further in the future.
---
10 May 23, 1200 (ET) – Washington, DC – The Kneeling Man with author Leta McCollough Seletzky – Virtual International Spy Museum Program
In the famous photograph of the assassination of Dr. Martin Luther King Jr. on the balcony of Memphis's Lorraine Motel, one man kneeled down beside King, trying to staunch the blood from his fatal head wound with a borrowed towel. This kneeling man was a member of the Invaders, an activist group that was in talks with King in the days leading up to the murder. But he also had another identity: an undercover Memphis police officer reporting on the activities of this group, which was thought to be possibly dangerous and potentially violent. Leta McCollough Seletzky is the kneeling man's daughter. Her book, The Kneeling Man: My Father's Life as a Black Spy Who Witnessed the Assassination of Martin Luther King Jr., powerfully shares her quest to learn the truth about her father, Marrell McCollough. Join SPY's Amanda Ohlke for a conversation with her and how she grappled with her father's secret history — how he, a Black man, came to be working secretly with the white power structure as a spy — which she felt was in direct opposition to her understanding of what it meant to be Black in America, and of everything she eventually devoted her life and career to. Seletzsky will discuss how she set out to learn what she could about his life, his actions and motivations, and how this has affected her. From his time as a policeman to his career at the CIA, her father's story is a unique and heart wrenching story of an undercover life. Visit www.spymuseum.org.
10 May 23, 1200-1300 (ET) - Harnessing Alternative Analysis to Hunt Strategic Surprises - Johns Hopkins University - Virtual
Join host Michael Ard for a curated conversation with former CIA intelligence analyst Jay Okey for a discussion on "Harnessing Alternative Analysis to Hunt Strategic Surprises." Okey served as an intelligence analyst with the CIA and the National Intelligence Council for 35 years, helping senior US decision makers grapple with national security challenges across a wide variety of issues and regions on a run of history from the Cold War to COVID. Among various roles, he has worked high-priority country accounts, helped produce the US Intelligence Community's 20 year strategic assessment known as "Global Trends," led analysis for an innovative open source analytic startup, and served as the chief of CIA's alternative analytic unit challenging key assumptions to hunt for strategic surprises. Now retired from the US government, he offers his own services through Three Think Consulting to help organizations identify practical ways to bolster their own risk assessment frameworks through the use of indicators, alternative analysis, scenarios, simulation exercises, and more engaging analytic storytelling. Free registration here.
11 May 23, 1730-2130 (ET) - Leadership Dinner with DIA Director LTG Scott D. Berrier – INSA - Ritz-Carlton Pentagon City, Arlington, VA
Join 400+ intelligence and national security colleagues for this event. Following his prepared remarks, LTG Berrier will sit down for a moderated Q&A with The Hon. Sue Gordon. Topics to be discussed include: DIA's strategic priorities, including the shift to strategic competition with China and Russia, use of emerging technology to advance and enhance key capabilities, DIA's new AI Strategy, role as Open Source lead for DoD, partnerships with industry. Q&A will follow. More details and registration here.
16 May 23, 0900-0945 (ET) - Conversation with CIA Chief Information Security Officer Rich Baich – INSA - Virtual
INSA President Suzanne Wilson Heckenberg will sit down with Mr. Baich to discuss new regulations and cybersecurity guidance, how CIA is partnering with industry to secure its networks, future of cybersecurity in the quantum age, and more. Q&A will follow. Free registration here.
06 Jun 23, 1700-1900 (ET) - The OSS Society Commemorates the 79th Anniversary of D-Day – OSS Society - In Person - Washington, DC
Join The OSS Society for a screening of its award-winning short documentary, "Operation Overlord: OSS and the Battle for France." This film tells the story of Allied special forces whose daring exploits for D-Day changed the course of World War II. This event is by invitation only and is non-transferable. More information here.
14 Jun 23, 1200-1300 (ET) - The Making of Global Trends 2030 – Johns Hopkins University - Virtual
Join host Michael Ard for a discussion with strategic foresight and global trend expert Mathew Burrows. Mathew Burrows is the Program Lead of the Stimson Center's Strategic Foresight Hub and a Distinguished Fellow with the Reimagining US Grand Strategy program. Prior to joining Stimson, he served as the director of Foresight at the Atlantic Council's Scowcroft Strategy Initiative and as the co-director of the New American Engagement Initiative. Burrows is one of the leading experts on strategic foresight and global trend analysis. In 2013 he retired from a 28-year-long career in the State Department and the Central Intelligence Agency (CIA), the last 10 years of which he spent at the National Intelligence Council (NIC), the premier analytic unit in the US Intelligence Community. In 2007, Burrows was appointed Counselor, the number three position in the NIC, and was the principal drafter for the NIC publication Global Trends 2030: Alternative Worlds, which received widespread recognition and praise in the international media. In 2005, he was asked to set up and direct the NIC's new Long Range Analysis Unit, which is now known as the Strategic Futures Group. Other positions included assignments as deputy national security advisor to Treasury Secretary Paul O'Neill (2001-02), special assistant to the UN Ambassador Richard Holbrooke (1999-2001), and first holder of the intelligence community fellowship at the Council on Foreign Relations in New York (1998-1999). Burrows received a BA in American and European history from Wesleyan University and a PhD in European history from the University of Cambridge. Free registration here.
13-14 Jul 23 – 2023 Intelligence and National Security Summit - AFCEA/INSA - In Person - National Harbor, MD
"The Nation's Premier Intel and National Security Event" - Save the date for the 10th Annual AFCEA/INSA Intelligence and National Security Summit! The powerful, two-day program, at the Gaylord National Resort, will feature five blockbuster plenaries, six engaging breakout sessions, and a jam-packed exhibit hall full of the latest IC technology innovations. Top leaders will discuss State of the Community, Military Intelligence Priorities, Strategic Intelligence, and Cybersecurity Challenges. Breakout sessions with senior leaders, technology experts, and thought leaders will examine some of the most pressing issues facing the community. Plus, powerful networking opportunities designed to foster partnerships and relationship building. Early registration closes 19 May. Check for for full agenda and updates here.
---
---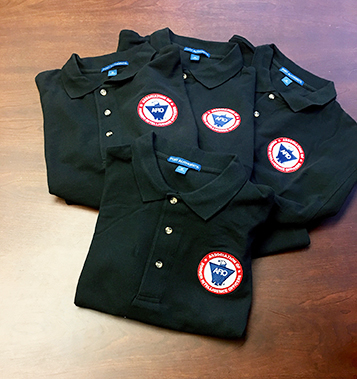 Now available: Black short-sleeved polo shirts with Embroidered AFIO logo
Show your support for AFIO with our new Black Short-sleeve Polo Shirts. Shirts are shrink and wrinkle resistant of fine cotton with a soft, "well-worn, comfy" yet substantial feel. They feature a detailed embroidered AFIO seal. Get a shirt for yourself and consider as gifts for colleagues, family, and friends. Only $50 each including shipping.
Sizes for (M) men, only; Small, Medium, Large, XL, XXL, and XXXL. $50 per shirt.
You may pay by check or credit card. Complete your order online here or mail an order along with payment to: AFIO, 7600 Leesburg Pike, Ste 470 East, Falls Church, VA 22043-2004. Phone orders at 703-790-0320. Questions? Contact Annette at: annettej@afio.com.
---

PopSocket for cellphones or tablets
Show your support to AFIO while enjoying the convenience offered by our AFIO Logo PopSocket. The PopSocket is most commonly used as a stand and as a grip for your mobile phone or tablet; handy for taking selfies, watching videos, and for texting. The PopSocket looks like a small button or sticker which, when closed, sticks flat to your mobile device. However, its accordion-like design enables it to pop open for use. The benefits of using a PopSocket make it a must-have accessory for your mobile phone or tablet. It also aids in keeping your phone from slipping off your hand during use, falling, or breaking.
Price: $15. Order this and other store items online here.
---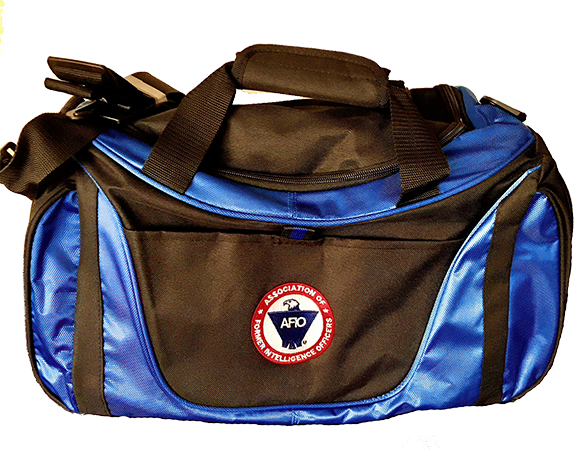 Duffel Bags - Royal Blue and Black with Full Color AFIO Logo This duffel has it all when it comes to value, style and organization.
600 denier polyester canvas with polyester double contrast; D-shaped zippered entry for easy access. Front pocket with hook and loop closure. End mesh pocket Easy-access end pockets. Four durable, protective feet and built-in bottom board for added strength. Web handles with padded grip. Detachable, adjustable shoulder strap.
Dimensions: 11"h x 19.75"w x 9.75"d; Approx. 2,118 cubic inches
Price: $50. Order this and other store items online here.
---
AFIO Mug with color glazed seal.

Made in the U.S.A., dishwasher-safe.
$35 includes shipping.

Sip your morning joe in style or use it to stash pens, cards, paperclips, or candy.
Order this and other store items online here.
---


Caps - Dark Navy with Navy AFIO Logo
An authentic silhouette with the comfort of an unstructured, adjustable fit. Fabric: 100% cotton. Unstructured. Fabric strap closure with adjustable D-clip. Price: $30. Order this and other store items online here.
---
PUBLISHED IN 2023
Be informed on career opportunities in the U.S. Intelligence Community
Intelligence as a Career - with updated listings of colleges teaching intelligence courses, and Q&As on needed foreign languages, as well as the courses, grades, extracurricular activities, and behavioral characteristics and life experiences sought by modern U.S. intelligence agencies.

AFIO's popular 47-page booklet reaches thousands of high school, college students, university guidance offices, and distributed in classes teaching intelligence, to help those considering careers in the U.S. Intelligence Community.

This is the all new fifth edition.
The publication is also popular with University Career Guidance Centers, professors and academic departments specializing in national security, and parents assisting children or grandchildren in choosing meaningful, public service careers.
This booklet is provided online as a public service from the generosity of AFIO board, volunteer editors/writers, donors, and members.
We thank all for their support which makes this educational effort possible.
Careers Booklet (new 2023 Fifth Edition) can be read or downloaded here

---
Guide to the Study of Intelligence...and...When Intelligence Made a Difference
"AFIO's Guide to the Study of Intelligence" has sold out in hard-copy.
It is available in digital form in its entirety on the AFIO website here.

Also available on the website here are the individual articles of AFIO's history project "When Intelligence Made a Difference" that have been published to date in The Intelligencer journal. More articles will be appear in future editions.
---
Address Technical Issues Or Unsubscribe
Some features of the email version of the WIN do not work for readers who have chosen the Plaintext Edition, some users of AOL, and readers who access their email using web mail. You may request to change from Plaintext to HTML format here afio@afio.com. For the best reading experience, the latest web edition can be found here: https://www.afio.com/pages/currentwin.htm
To unsubscribe from the WIN email list, please click the "UNSUBSCRIBE" link at the bottom of the email. If you did not subscribe to the WIN and are not a member, you received this product from a third party in violation of AFIO policy. Please forward to afio@afio.com the entire message that you received and we will remove the sender from our membership and distribution lists.
---
Disclaimer and Legal Protection
Weekly Intelligence Notes (WINs) are a carefully selected collection of timely open source reports and announcements and other media focused on intelligence and related national security matters that is produced for non-profit educational use by AFIO members and WIN subscribers. WINs are protected by copyright and intellectual property laws. They may not be reproduced or re-sent without specific permission from the Producer. Opinions expressed in the materials contained in the WINs are solely those of the content creators listed with each item. Notices in the WINs about non-AFIO events do not constitute endorsement or recommendation by AFIO.

(c) 1998 thru 2023


---

AFIO Members Support the AFIO Mission - sponsor new members! CHECK THE AFIO WEBSITE at www.afio.com for back issues of the WINs, information about AFIO, conference agenda and registrations materials, and membership applications and much more! .

AFIO | 7600 Leesburg Pike, Suite 470 East, Falls Church, VA 22043-2004 | (703) 790-0320 (phone) | (703) 991-1278 (fax) | afio@afio.com
---
About AFIO | Membership Renewal | Change of Address | Upcoming Events | Chapter Locations | Corporate/Institutional Memberships | Careers in Intelligence Booklet | Guide to the Study of Intelligence | Intelligencer Journal | Weekly Intelligence Notes | Make A Donation | AFIO Store | Member-Only Section | Code of Ethics | Home Page
RETURN TO TOP
---