---
Russia's iPhone ban has been extended to iPads and Macs over surveillance concerns - iMore, 17 Jul 23
Following a move earlier this year that saw iPhones banned for use by Russian officials, the country's security service has now warned that people shouldn't use iPads or Macs, either. Russia's Federal Security Service (FSB) has extended the ban to government workers who would otherwise use Apple devices during their days, but they've now been told to make alternative arrangements and use other devices. The move comes amid concerns within the Kremlin that Apple's devices could give U.S.-based intelligence agencies a back door into data owned by Russians, effectively opening a path to wide surveillance the likes of which wouldn't ordinarily be possible. Apple has already denied any kind of back door has been made available to any government, including its own. (View report here.)
UK engineers successfully complete stratospheric flight of high altitude surveillance aircraft - SWNS, 14 Jul 23
British engineers have successfully completed a stratospheric flight trial of BAE Systems' High Altitude Pseudo Satellite (HAPS) Uncrewed Aerial System (UAS) - PHASA-35, it has been announced today (14 July). Over a 24-hour period, PHASA-35, which has a 35-metre wingspan, soared to more than 66,000 feet, reaching the stratosphere, before landing successfully. BAE say the aircraft has the potential to provide a persistent and stable platform for various uses including "ultra-long endurance intelligence, surveillance and reconnaissance, as well as security". The trial, completed last month in New Mexico in the USA, allowed engineers to assess the performance of the experimental solar-electric drone within the outer-reaches of the planet's atmosphere. The flight marks a significant milestone in PHASA-35's development [which began in 2018]. Designed by BAE Systems' subsidiary Prismatic Ltd to operate above the weather and conventional air traffic, it has the potential to provide a persistent and stable platform for various uses including ultra-long endurance intelligence, surveillance and reconnaissance, as well as security. (View report here.)
Chatbot Honeypot: How AI Companions Could Weaken National Security - Scientific American, 17 Jul 23
This past spring, news broke that Massachusetts Air National guardsman Jack Teixeira brazenly leaked classified documents on the chat application Discord. His actions forced the U.S. intelligence community to grapple with how to control access to classified information, and how agencies must consider an individual's digital behavior in evaluating suitability for security clearances. The counterintelligence disaster also raises alarms because it occurred as part of a chat among friends—and such discussions are beginning to include participants driven by artificial intelligence. Thanks to improved large language models like GPT-4, highly personalized digital companions can now engage in realistic-sounding conversations with humans. The new generation of AI-enhanced chatbots allows for greater depth, breadth and specificity of conversation than the bots of days past. And they're easily accessible thanks to dozens of relational AI applications, including Replika, Chai and Soulmate, which let hundreds of thousands of regular people role-play friendship as well as romance with digital companions. (View report here.)
Russian surveillance aircraft conducts intelligence mission over US base in Syria - Jerusalem Post, 16 Jul 23
According to a senior defense official, last week on Friday morning, a Russian surveillance aircraft conducted an extensive intelligence gathering mission by flying over a United States base in Syria, according to CNN. The aircraft in question was identified as an Antonov AN-30, which repeatedly flew back and forth over the At-Tanf garrison and its surrounding area. While the US and Russia often engage in intelligence collection on each other, this particular event was noteworthy due to its direct occurrence above a US base. According to the defense official, the US was unable to intercept the manned surveillance aircraft due to the positioning of US assets at the time. The US follows daily flight patterns based on the availability of fighters and tankers for refueling, as well as the ongoing activities in Syria and Iraq. (View report here.)
In national security, autism is in the closet. Here's why. - Military Times, 17 Jul 23
At conference of intelligence community professionals, I briefly stood up to describe a study my team was embarking on — the first ever conducted in the United States about neurodiversity and national security. Anyone who wanted to discuss it, I said, could find me later by the coffee table. Two women introduced themselves as autistic senior intelligence officers. One was a leader at her agency; the other a highly seasoned intelligence officer. Both said their wish is for their autistic colleagues to be able to serve out of the closet, "like the LGBTQ community can." My team set out to examine whether neurodiversity — the diversity of all cognitive functions — would offer benefits to U.S. national security, as it has for Israel, the UK, and Australia. But we found that archaic U.S. military and federal policies, combined with decades-old understandings about autism spectrum disorder, create an environment where people hide their autism and other cognitive diagnoses. (View report here.)
How China Exports Secrecy - Foreign Affairs, 11 Jul 23
China thrives on secrecy. Beijing's approach to governance, which relies on surveillance and control rather than openness and deliberation, requires secrecy. And to sustain it, the Chinese government suppresses independent journalism, censors digital information, and closely guards the kind of information that democracies freely disclose. This commitment to secrecy and censorship is a long-standing feature of the Chinese Communist Party's rule. But under President Xi Jinping, whose ideas about governance may shape the world for years to come, the CCP has grown even more furtive. In recent months, the Chinese government has obscured the deaths of as many as one million people after it abruptly abandoned its harsh "zero COVID" policy. It has manipulated and withheld data about the pandemic. And it has broadened its draconian counterespionage laws to assert even greater control over China's information environment. (View report here.)
The Media's Scandalous Infatuation with the Intelligence Community - National Review, 09 Jul 23
The current relationship between the intelligence community and major media is not just uncomfortably chummy, it's dangerous. We're in a bad place when the "watchmen" of our republic are apparently at the beck and call of professional liars, dismissing the worst abuses by intelligence officials and platforming them with plum newsroom "analyst" gigs. Under John Brennan's leadership, the CIA spied on the United States Senate. Brennan's flunkies created a fake online profile to access the network used by the Senate Intelligence Committee, whose Democratic members were at the time investigating the CIA's torture program. Once inside, CIA agents read emails written by Senate investigators. The spies then made criminal referrals based on bogus information. During this entire ordeal, Brennan lied repeatedly, both publicly and behind closed doors, about the spying. (Full article here.)
City of Spies: DC Is the World Capital of Espionage - Washingtonian, 13 Jul 23
Is Washington the world capital of espionage? Officially speaking, that's top-secret—after all, our resident spies, foreign and domestic, aren't about to raise their hands. Still, you can make a strong case that when it comes to the shadowy world of intelligence, our city stands alone. The area is home to an alphabet soup of federal intelligence agencies: the CIA and DIA, NSA and NRO, INR and FBI. (In case you were wondering: The NRO does spy satellites, and the INR analyzes intel for the State Department.) Our government is a prime espionage target for international foes and friends alike, often working out of their embassies. The city's very namesake, George Washington, wasn't only the nation's first President—he was its first spymaster, skillfully managing covert operations to outfox the British and win the Revolutionary War. In an era of unprecedented electronic surveillance, spying largely remains a people profession: that is, convincing others to share their secrets. As such, is it any wonder the International Spy Museum—which, naturally, is located here—estimates that there are more than 10,000 spies in Washington, working and living among us? (Full article here.)
Chinese spies are targeting the UK 'aggressively', warns watchdog - Daily Mail, 13 Jul 23
Chinese spies are targeting the UK 'prolifically and aggressively' with Beijing managing to penetrate 'every sector of the economy', a watchdog warned today. The alarming picture was revealed in a long-awaited report by Parliament's intelligence watchdog. It raises concerns about Chinese influence in UK universities and the country's intention to become a 'permanent and significant player' in the civil nuclear energy industry. The Intelligence and Security Committee (ISC) is also critical of the UK Government's response, questioning the trade-off between economic interest and security concerns. The report, published this morning, said the UK is of 'significant interest to China when it comes to espionage and interference', placing the country 'just below China's top priority targets'. (Full article here.)
Indian Spy Agency RAW Is The New Mossad; Ex-Officials Talk About Crack Team's Ops In Terrorizing Terrorists - Eurasian Times, 11 Jul 23
There are reasons for RAW to be termed 'dreaded' after a series of suspicious deaths and killings of terrorists, separatists, and enemies who had long been involved in anti-India activities or responsible for unrest in India in some way or other. "See the list and count the numbers of such killings (or attempts), right from Pakistan to the UK, Canada, and even the US," the ex-spy told EurAsian Times on the condition of anonymity. Hardeep Singh Nijjar, Canada-based chief of the banned Khalistan Tiger Force (KTF), was shot dead outside a gurdwara in British Columbia (Canada) on June 19. Canadian law enforcement authorities are yet to arrest the perpetrators. Canada has been in the news since recently for organizing Khalistan-related anti-India rallies. KTF has long been a votary of Khalistan, a separate nation on the basis of religion (Sikhism) to be carved out from India's Punjab state (province). Punjab had suffered home-grown insurgency and Pakistan-sponsored terrorism for almost two decades, from the early 80s until the 90s. Another Khalistan supporter and Chief of the banned Khalistan Liberation Force, Avtar Singh Khanda, died due to suspected poisoning in a hospital in UK's Birmingham on June 16. (Full article here.)
Suspected Russian Intelligence Operative Extradited from Estonia to Face Charges Related to Providing American-Made Electronics and Ammunition to Russian Military - U.S. Department of Justice, 14 Jul 23
A Russian citizen with alleged ties to Russia's Federal Security Service (FSB) will be arraigned today on an indictment charging him with conspiracy and other charges related to a global procurement and money laundering network on behalf of the Russian government. According to court documents, Vadim Konoshchenok, 48, of Tallinn, Estonia, was arrested in Estonia on a provisional arrest warrant issued from the Eastern District of New York and extradited from Estonia to the United States on July 13. "This defendant, who is suspected of having ties to the FSB, smuggled hundreds of thousands of illicit munitions in support of Moscow's war machine, using front companies to conceal his criminal enterprise," said Assistant Attorney General Matthew G. Olsen of the Justice Department's National Security Division. "The Department of Justice remains steadfast in its mission to counter Russian aggression and we will give no quarter to those who violate U.S. sanctions to further fuel its war effort." (Full article here.)
Ukraine's spymaster comes out of the shadows - Reuters, 14 Jul 23
He wears a pistol to interviews with foreign journalists and discusses wartime intelligence. Weapons and military gear are strewn on the floor of his Kyiv office. He says he has "sources" close to Russian President Vladimir Putin. For an intelligence chief running Ukraine's spy operations during war with Russia, Kyrylo Budanov, 37, has built up an unusually public profile that he has used to get his message out and to menace Russia from afar. These days, a spy boss cannot stay in the shadows, he says. "It's not possible without this, not anymore," the head of Ukraine's Main Intelligence Directorate (GUR) told Reuters in an interview at his heavily defended headquarters in the capital. "And all the next wars are going to look like this. In any country in the world. We can say that we're setting a trend here." (Full article here.)
U.S. Intelligence Leaders Emphasize Long-Term Support for Ukraine - Signal, 13 Jul 23
Almost a year and a half into Russia's unlawful invasion of Ukraine, intelligence community leaders are seeing some weaknesses in Russia and are bolstered by the continued large-scale support to Ukraine from democratic nations. While it may not be a stalemate, Ukraine is holding fast against its much larger invader. Leaders from six U.S. intelligence community organizations offered their perspective on the war and other military and security topics today at the Intelligence and National Security Summit, hosted by AFCEA International and INSA, July 13-14 at the Gaylord National Resort, Maryland, The panel was moderated by Olivia Gazis, intelligence and national security reporter, CBS News. "You could use the word grinding to describe the counteroffensive," said John Kirchhofer, chief of staff, Defense Intelligence Agency (DIA). "We do see incremental gains by Ukraine. Over the summer, we haven't seen anything to really help them break through. We tend to focus on some of the munitions that we've provided to Ukraine and how some of those 'holy grails' may play out, like HIMARs [the M142 High Mobility Artillery Rocket System]." (Full article here.)
House intel committee pushing new legislation to help CIA sexual assault victims - Politico, 13 Jul 23
The effort comes after several female CIA employees told the committee that the agency was making it difficult for them to pursue claims of sexual assault. After CIA employees told Congress that their cases of sexual assault at the agency were mishandled, the House intelligence committee is pushing new legislation that would make it easier for victims of sexual harassment and assault at Langley to seek assistance. The committee, driven by Chair Mike Turner (R-Ohio) and ranking member Jim Himes (D-Conn.), is including the provision, details of which were obtained by POLITICO, in the Intelligence Authorization Act that was marked up this morning in a closed-door session. The provision creates an Office of the Victim and Whistleblower Counsel at the CIA to serve as a single point of contact for alleged victims and to provide them with legal assistance and advocate on their behalf as they try to get justice. It also requires the CIA to implement new reporting mechanisms for cases of sexual assault and harassment that both protect the identity of people coming forward alleging such behavior and doing a better job of ensuring perpetrators are held accountable. (Full article here.)
US Sanctions Serbia's Intelligence Chief Over Alleged Corruption - Balkan Insight, 11 Jul 23
The US Treasury Department on Tuesday imposed sanctions on Aleksandar Vulin, the hardline head of Serbia's Security Information Agency, BIA, accusing him of involvement in various corrupt activities. The Treasury Department's Office of Foreign Assets Control claimed that pro-Russian politician Vulin has been implicated in transnational organised crime, illegal narcotics operations and misuse of public office. "Vulin has maintained a mutually beneficial relationship with the US-designated Serbian arms dealer Slobodan Tesic, helping ensure that Tesic's illegal arms shipments can move freely across Serbia's borders," it alleged in a statement. "Vulin's acts have advanced corruption within Serbia's governing institutions," the statement claimed, accusing him of leveraging his authority for personal gain and involvement in a drug-trafficking ring. (Full article here.)
NSA working on new AI 'roadmap' as intel agencies grapple with recent advances - Federal News Network, 14 Jul 23
The intelligence community is grappling, like many industries and society at large, with rapid advances in large language models and generative artificial intelligence over the past nine months. And despite intelligence agencies' propensity for analyzing trends and forecasting future events, officials at the Intelligence and National Security Summit in Fort Washington, Maryland, this week largely agreed that the AI developments over the past nine months have been surprising. George Barnes, deputy director of the National Security Agency, called it a "big acceleration" in AI since last November, when OpenAI publicly launched ChatGPT. "What we all have to do is figure out how to harness it for good, and protect it from bad," Barnes said during a July 13 panel discussion with fellow leaders of the "big six" intelligence agencies. (Full article here.)
Why US intelligence wants a new way to make virtual, 3D models - Popular Science, 14 Jul 23
On July 12, the Intelligence Advanced Research Projects Activity (IARPA) announced that it wants a new way to make photorealistic virtual models. The organization's mission is researching and developing new tools for intelligence agencies, like the CIA and the FBI, as well as others through the US government and the Department of Defense. Intelligence is the profession of finding useful, actionable information, and the new project on virtual renderings is a way to ensure that when people on the ground are sent to a building they've never visited before, they can find all the right side doors in. Spy thrillers make it seem like government agencies have access to perfect information about the world, from the panopticon of 1998's Enemy of the State through the superhumanly perceptive agencies of the 2000's Bourne trilogy to the all-knowing and all-powerful AI "Entity" of 2023's Mission: Impossible. Intelligence agencies guard knowledge of what they can and cannot do so as to not dispel that notion. This request, for a tool to create useful, 3D virtual models, suggests that movie scenes where an agent enhances a camera view until it's a perfect life-size picture remain the stuff of fiction. (Full article here.)
Counterespionage Corner - Recent Arrests, Convictions, Expulsions, and more...
Cyberespionage Collection - Newly Identified Actors and Operations, Countermeasures, Policy, other...
---
The Latest from International Spy Museum Historian Andrew Hammond, PhD.
Spycast is the official podcast of the International Spy Museum and hosts interviews with intelligence experts on matters of HUMINT, SIGINT, IMINT, OSINT, and GEOINT. Spycast is hosted by historian Andrew Hammond, PhD.
11 Jul | "The Kneeling Man" - with Letta McCollough Seletsky Leta McCollough Seletsky joins Andrew to share the story of her father, the famous "Kneeling Man" – The man knelt next to Dr. Martin Luther King Jr. at his assassination at the Lorraine Motel in 1968. Leta is a litigator turned essayist and memoirist. 
Past episodes:
04 Jul | From the Vault: "Baseball and Espionage" – with World Series Champion Ryan Zimmeram and Marc Polymeropolous (Part 1 of 2)
27 Jun | "Venice's Secret Service" - with Loanna Lordanou
20 Jun | "The North Korean Defector" – with former DPRK Agent Kim Hyn Woo

---
The Latest Insights from Former CIA Acting Deputy Director for Operations Jack Devine.
In Other News The proprietary analytic newsletter crafted for The Arkin Group's private clients by former CIA Acting Deputy Director for Operations Jack Devine.
12 Jul | U.S. and China with little room to maneuver. The cross-currents in the U.S. China relationship were highlighted this past week when, in advance of Treasury Secretary Yellen's trip to Beijing, China's Commerce Ministry announced restrictions on sales of gallium and germanium products starting 1 August in the most recent salvo of its ongoing battle with Washington over access to advanced semiconductors. On the one hand, Washington has sent two cabinet level officials to Beijing in the past month and U.S. climate envoy John Kerry is expected to make his third visit to China next week, at a time when China's Covid reopening boost is fading and it is loath to see further U.S. restrictions on cutting edge technology. Both sides appear committed to taking down the temperature of this great power relationship where the two economies remain inexorably interconnected and underpin the global economic order. There is the possibility for continued high-level diplomatic dialogue with potential meetings between Presidents Joe Biden and Xi Jinping on the margins of the September G20 Summit in New Delhi or the November APEC Leaders Meeting in San Francisco. (Full version available to AFIO members in the coming days here.)
06 Jul | Ukraine has rightfully been at the forefront of the European Union's foreign policy and security discussions over the past 18 months, but the larger battle also necessitates curbing threats like North Korea.
29 Jun | Putin would never have been this vulnerable if he'd just stayed out of Ukraine
23 Jun | This week's events offer an important distillation of the geopolitical complexities that Washington is trying to navigate in an increasingly multipolar world.
---
Daily Analysis of Security Issues and Geopolitical Trends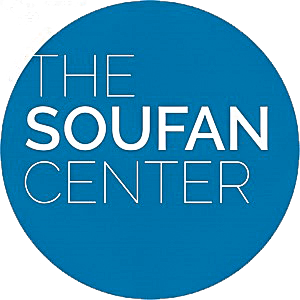 Intel Brief The Soufan Center's flagship, daily analytical product focused on complex security issues and geopolitical trends that may shape regional or international affairs. The Soufan Center was founded by former FBI Special Agent and Soufan Group CEO Ali Soufan.
18 Jul | Iran Looks to East Africa for More Friends

In mid-July, Iran's President Ibrahim Raisi visited three countries in East Africa: Kenya, Uganda, and Zimbabwe. Iranian media touted the trip as launching a "new beginning" in relations with Africa; it was the first by an Iranian president since the 2013 visit by then-President Mahmoud Ahmadinejad. The visit should be viewed in the context of Iran's growing diplomatic isolation and escalating economic pressure at the hands of the United States and its allies in Europe, particularly over its material support for Russia's war against Ukraine. In late June, Iran suffered a major setback when the European Union (EU) announced it would retain its sanctions on Iran's ballistic missile programs, which had been set to expire in October 2023 in accordance with UN Security Council Resolution 2231, which accompanied the 2015 multilateral Iran nuclear deal. The EU decision was based on: Russia's use of Iranian drones against Ukraine; the possibility that Iran might transfer ballistic missiles to Russia; and Iran's nuclear escalations, which would have violated the terms of the 2015 Iran nuclear agreement had it not been scrapped by the United States in 2018, including enriching uranium to levels approaching the 90% purity required to qualify as "weapons grade." (Full brief here.)
17 Jul | Tensions Along Lebanese Border a Microcosm of Regional Flashpoints
14 Jun | On Shaky Ground: Washington Talks Marred by Renewed Violence in Nagorno-Karabakh
13 Jun | Was the NATO Summit in Vilnius a Success, or Did it Fall Short of Expectations?
12 Jun | Assessing the Continued Fallout from the Wagner Mutiny
---
Analysis of Global Security Events with WTOP National Security Correspondent JJ Green

Inside the SCIF - 13 July - Cocaine at 1600, BND Tapped Wagner, FSB Unit Targets Americans, Whelan Saga, and more...
Target USA Podcast - 12 Jul - Putin and Progozhin's Secret Meeting

The Hunt Broadcast - 12 Jul - Extremists in the US military. Which came first?




---
The Latest Insights from Jeff Stein and Colleagues in SpyTalk (Substack)

14 Jul | Did a Female Chinese Super Spy Wreck CIA Ops? - Matt Brazil
The newest work of The Washington Post's prize winning columnist David Ignatius is a spy thriller—oddly serialized in the paper's opinion pages—about the espionage battles between the CIA and China's Ministry of State Security, or MSS. The Tao of Deception, as it's called, features a savvy, U.S.-educated young woman by the name of Ma Wei, who, over the course of the novella, rises from junior recruit to the head of the agency's North America section—and destroys the CIA's spy network in China. (Full article here.)

12 Jul | The Talented Mr. Luft - Jonathan Broder
I first met Gal Luft back in December 2011, after he testified before a hearing of the House Foreign Affairs Committee. As lawmakers sought to understand changing energy markets and their impact on U.S. national security, I had listened to the slender, dark-haired Luft warn them of OPEC's control of global oil prices and the need for renewable fuels to break the cartel's energy monopoly. Recognizing a good potential source, I walked up to Luft after the hearing and gave him my card. (Full article here.)


To support SpyTalk, subscribe here.



---
New Resource: The Island Intelligencer - Former Senior CIA Operations Officer J.P. Atwell addresses all things intelligence on Substack, 18 Jul 23
The Island Intelligencer is a monthly newspaper column turned Substack forum that focuses on matters of intelligence. Penned by a former senior CIA operations officer and published in the Hawaii Tribune Herald, pieces focus on topics ranging from ethics in espionage to the operation of spy ships and balloons to leaks and policy matters. The collection, and future installments, are now available in one convenient location, along with a living list of intelligence studies resources, links to other intelligence-focused Substack forums, a chat forum for informed discussion on intelligence issues, and the ability to comment on the articles. (Access the forum here.)
Article: U.S. intelligence chiefs plan for a future where every spy uses AI - Washington Times, 14 Jul 23
U.S. spy agencies are preparing for a future where all of its analysts and spies use artificial intelligence to augment their work rather than rely on traditional tradecraft. The spy agencies' leadership plans to be "AI-first" and wants everyone from senior leaders on down to leverage artificial intelligence, according to the Office of the Director of National Intelligence's Rachel Grunspan. In remarks Friday at the Intelligence and National Security Summit in Maryland, Ms. Grunspan said she foresees a world where spy agencies use AI for hybrid war games, simulations, and strategic "red-teaming" that tests the government's defenses. (Read full report here.)
Article: EXCLUSIVE: Chinese Intel-Linked 'Service Centers' In US Cities Used Cultural Events To Push Communist Party Propaganda - The Daily Caller, 12 Jul 23
Overseas "service centers" set up in seven U.S. cities by a Chinese Communist Party (CCP) intelligence arm have hosted cultural events featuring pro-CCP propaganda and performers tied to China's government and military, according to Chinese government records and state-run media reports reviewed by the Daily Caller News Foundation. The CCP's United Front Work Department (UFWD) runs "Overseas Chinese Service Center" (OCSC) branches that operate out of U.S.-based nonprofits in seven U.S. cities, a recent DCNF investigation found. OCSCs were ostensibly set up to assist with official government duties, like reviewing passport applications, but they also host cultural events that often feature pro-CCP songs and performers tied to China's military and propaganda departments, according to Chinese government records and state-run media reports. (Read full report here.)
Article: North Korea's Threat to Target US Aircraft Is No Idle Menace - The Messenger, 13 Jul 23
Pyongyang's repeated threats to shoot down U.S. reconnaissance aircraft may be more than idle words. North Korea alleges that an American intelligence plane breached the "inviolable airspace" of the Kim regime on Monday. The defense ministry menacingly offered that "there is no guarantee" that North Korea won't shoot down future reconnaissance aircraft. A "shocking" incident is possible, according to Kim Yo Jong, sister of North Korean leader Kim Jong Un. Pyongyang is conflating the international legal distinction between a nation's 12-nautical-mile sovereign territory and airspace and its 200-nautical-mile exclusive economic zone (EEZ). Even so, there is precedent for attacking U.S. intelligence platforms operating in international airspace and waters. U.S. and allied pilots and ship captains should brace for the possibility of hostile action. (Read full report here.)
Article: UK approach to China spy threat inadequate, ISC report warns - BBC, 13 Jun 23
Failure to develop an effective strategy for dealing with national security threats from China has allowed their intelligence to aggressively target the UK, a report has said. The report by Parliament's Intelligence and Security Committee said China has penetrated "every sector" of the UK's economy. It accuses the government of failing to recognise the issues involved. The prime minister said he was "keenly aware" there was more to do. Rishi Sunak said the government had taken measures to prevent interference by reducing Britain's reliance on Chinese technology, but he wanted to have "open" and "constructive" relations with China. According to the report, which is highly critical of the UK government, "China's size, ambition and capability have enabled it to successfully penetrate every sector of the UK's economy". (Read full report here.)
Article: Head of US-based thinktank charged with acting as China agent - The Guardian, 10 Jul 23
The head of a US thinktank has been charged with acting as an unregistered agent of China, as well as seeking to broker the sale of weapons and Iranian oil, federal prosecutors in Manhattan said. Gal Luft, a citizen of the United States and Israel, is accused of recruiting and paying a former high-ranking US government official on behalf of principals based in China in 2016, without registering as a foreign agent as required by law. Prosecutors did not identify the former official, but said he was working as an adviser to then president-elect Donald Trump at the time. Luft is accused of pushing the adviser to support policies favorable to China, including by drafting comments in the adviser's name that were published in a Chinese newspaper. (Read full report here.)
Article: Chinese Hackers Spied on the State and Commerce Departments - National Review, 12 Jul 23
The State and Commerce Departments were among the government agencies targeted by Chinese hackers last month in the weeks preceding Antony Blinken's trip to Beijing. The hacks were probably affiliated with China's military and spy services, the New York Times reported, and they began after months of increasing tensions between Washington and Beijing. Republicans have called on the administration to halt its pursuit of a thaw, given the spy-balloon incident, China's ongoing cooperation with Cuba, and the country's treatment of the Uyghurs and Taiwan. The State Department learned that a number of employees had their accounts compromised on June 16. Blinken's trip nonetheless went ahead later that day and for the next several days. Other administration officials either have made or will make visits to China, including Treasury secretary Janet Yellen and climate envoy John Kerry. (Read full report here.)
Article: Russian spies in Ukraine suspected of duping FBI to censor Americans on social media - Washington Times, 12 Jul 23
The FBI was enlisted by the Security Service of Ukraine soon after the Russian invasion to demand social media platforms take down posts and block accounts such as those belonging to American journalists, according to House Judiciary Committee investigators. It is now suspected that Russian agents had infiltrated the Ukrainian intelligence agency, known by the acronym SBU, potentially manipulating the FBI's attempts to censor the journalists and at least one State Department official. The FBI also vouched for removing social media posts that were pro-Ukraine or critical of Russian President Vladimir Putin, according to the report. (Read full report here.)
Article: In Case of Biden's Man in Iran, an Omertà-Like Code of Silence - New York Sun, 13 Jul 23
The Biden administration is imposing an omertà-like code of silence over the FBI investigation into whether President Biden's top Iran negotiator, Robert Malley, allegedly mishandled classified information, even as members of Congress demand answers. In a letter sent to the state department's deputy inspector general, Diana Shaw, a group of 18 Republican senators, led by Bill Hagerty of Tennessee, ask questions such as when the FBI investigation into Mr. Malley was launched, whether the envoy has had access to classified information since his suspension, and whether he hobnobbed with members of state's Iran team. Mr. Hagerty is calling "for an independent investigation into whether State Dept officials complied with all appropriate laws & regulations w respect to the suspension of @USEnvoyIran's access to classified info," he tweeted. "The American people deserve answers." Meanwhile, the state department keeps stonewalling. "We will be responding to committee today," a spokesman, Matthew Miller, told reporters on Tuesday when asked about that day's deadline as set by the House of Representatives for "full accounting" on Mr. Malley's investigation. (Read full report here.) (NOTE: This material may require a one time free subscription or sit behind a paywall.)
Article: 'A spy paradise': Austria confirmed as a location for global espionage - The Local, 11 Jul 23
No, this is not a plot for a Bond film – Austria really has been confirmed as a "spy paradise" by the Federal Office for the Protection of the Constitution and Counterterrorism. The main reasons for this are Austria's neutrality, the low threat of legal punishment and the weakness of the domestic counterintelligence services, the office said. Additional factors are the presence of many international organisations and the economic strength of the country. The main states involved in espionage on Austrian soil are believed to be Russia, China, Iran and Turkey, reports Die Presse. The release of the report follows the unmasking of a Russian agent in Vienna in December 2022 who had reportedly been spying for the Russian intelligence services for several years. (Read full report here.)
---
Intelligence & National Security Summit Editorial Coverage - INSA, 13-14 Jul 23
Editorial coverage of individual sessions at the 13-14 July 2023 Intelligence and National Security Summit at National Harbor, MD. Topics include Intelligence and AI, Xi Jinping's Thinking, Senate Intelligence Committee Discussion of Spying Today, Putin-Prigozhin-Zelensky, Downgrading Intelligence, OSINT, Longterm Support for Ukraine, and more. (Collection of reports here.)
Insiders' Views of Espionage Act Trials - The Just Security Podcast, 17 Jul 23
Since former President Donald Trump was indicted for retaining sensitive government documents at Mar-a-Lago, the Espionage Act has become a household term. But only a small number of lawyers have seen an Espionage Act trial from the inside. Just Security has assembled an all-star roundtable of experienced federal prosecutors and defense attorneys who have handled high-profile Espionage Act cases. Joining the show to share their insights, experience, and views on Trump's Espionage Act charges are David Aaron, Andrew Weissmann, and Jim Wyda. David and Jim have previously faced off from opposite sides of an Espionage Act prosecution, but they've come together for this special discussion. Before he joined private practice, David was a prosecutor at the Justice Department's National Security Division. Andrew has served in many senior Justice Department roles, including on the leadership team for Special Counsel Robert Mueller and as the General Counsel of the FBI. Jim is the Federal Public Defender for the District of Maryland. (Listen here.)
Stop Courting OSINT: Why It's Time for the Intel Community to Make a Commitment - Clearance News Jobs, 14 Jul 23
Open source intelligence (OSINT) is hardly a new term. In the past several years the relevance has certainly gained steam across the Intelligence Community (IC). But even as OSINT has become incorporated, it still lacks status as an institution within the IC. But a growing number of government leaders and industry partners are hoping to change that. In a panel discussion moderated by Beth Sanner, Senior Fellow Belfer Center for Science and International Affairs, Harvard University at the Intelligence & National Security Summit hosted by the Intelligence and National Security Alliance (INSA) and AFCEA, panelists from industry and the private sector discussed why it's time to take our investment in OSINT to the next level. "It's data that provides the content and delivers the key content," said Brad Ahlskog, Chief, Open Source Intelligence Integration Center Defense Intelligence Agency." And most of the world's data isn't in the IC – it's in the world." (Full report here.)
Modern Espionage: Information Warfare in the Digital Age - SOFREP, 13 Jul 23
As we traverse further into the 21st century, espionage and intelligence-gathering continue to undergo a dramatic transformation as technology advances exponentially. The rapid progression of technology, from the expansion of cyberinfrastructure to the proliferation of artificial intelligence, has not only granted new opportunities for intelligence gathering but also unmasked previously unknown vulnerabilities. Thus, presenting unique challenges that both private entities and government organizations need to address. Let's take a quick dive into how technology is reshaping the future of espionage, analyzing the challenges it presents and providing insights into effective countermeasures to mitigate these modern threats. (Full report here.)
Deep Fakes and National Security - OODA Loop, 11 Jul 23
Deception for geopolitical gain has been around since the Trojan horse. Deepfakes, however, are a particular form of disinformation that has emerged recently due to advances in technology that generate believable audio, video, and text intended to deceive. Generative AI tools like Midjourney and OpenAI's ChatGPT are being used by hundreds of millions each month to generate new content (ChatGPT is the fastest-growing consumer application in history), but they are also the tools used to create deepfakes. Henry Adjer, an independent AI expert told WIRED, 'To create a really high-quality deepfake still requires a fair degree of expertise, as well as post-production expertise to touch up the output the AI generates. Video is really the next frontier in generative AI.'" (1) (Full report here.)
The US Isn't Preparing Students for 21st Century National Security Needs - Washington Examiner, 11 Jul 23
While educators largely agree about the benefits of foreign language education, neither high schools nor universities are focusing on language literacy for the 21st century. Many high schools teach Spanish or French. Perhaps larger, better-funded districts might also offer German or Chinese. The College Board offers Advanced Placement exams in seven languages, five of which are European. Fewer than 3,000 students take the Japanese exam, and only 15,000 take Chinese. In comparison, 20,000 take the art history AP exam, while 150,000 test in Spanish, and double that take psychology. Most high schools and universities, however, are ignoring the language skills that will prepare the current generation for the future. A half-century ago, Japan seemed like the country of the future. Japan's economic boom was the subject of both admiration and paranoia in the United States. The 1986 Michael Keaton film Gung Ho represented perhaps the peak of this Japan hysteria. As Japan's demographic decline pushed that country into recession, China seemed the new Asian bet. American business flocked to China, and Americans began studying Chinese in droves in the belief that proficiency in Chinese would be an asset in the job market. The Chinese Communist Party encouraged such a belief. Its leaders not only wanted a growing coterie of Chinese speakers, but they also wanted America's elite China hands to sympathize with the CCP. That was their goal in subsidizing Confucius Institutes and underwriting university China programming. (Full report here.)
An Enduring Debate: US Intelligence: Profession, Community, or Enterprise? - Studies in Intelligence, June 2023
The debate continues, in fits and starts, over whether and to what extent work in intelligence constitutes work within a profession. The exchange of views has been spirited at times, even occasionally acrimonious. It has a long history. In the discussion that follows, the aim is to sort out some of the pros and cons of the argument and to suggest a compromise solution that is, by many, already partially embraced. (Full report here.)
Mapped: World's Top 40 Largest Military Budgets - Visual Capitalist, 12 Jul 23
In the final year of World War II, the U.S. spent about 38% of its GDP on its military. When adjusted for inflation, the military budget over those four years of war came to a staggering $4.1 trillion in 2020 dollars. Almost 80 years later, modern day military spending isn't much of a far cry from World War II budgets. The top spenders have continued to increase their military capabilities, while war in Ukraine has caused countries in the region to re-evaluate their budgets as well. In 2022, global military budgets hit an all-time high of $2.2 trillion, according to data released by Stockholm International Peace Research Institute (SIPRI), the eighth consecutive year of increase. This post looks at the top 40 largest military budgets in the world. (Access visual tool and full report here.)
Intelligence in History - A Collection of Recent Content
True Intelligence Matters in Film - Red Joan - Trevor Nunn (2018)
A based-on-a-true-story spy thriller, the film is derived from a novel of the same name written by Jennie Rooney, which was itself inspired by the life of Melita Norwood. Norwood worked at the British Non-Ferrous Metals Research Association as a secretary and supplied the Soviet Union with nuclear secrets. The information that Norwood betrayed to the Soviets hastened the pace at which they developed nuclear bomb technology.

More information about this based-on-true-events production here.
Walking Tours - Washington, DC - Sundays (Dates/Times Vary)
Former intelligence officers guide visitors on two morning and afternoon espionage-themed walking tours: "Spies of Embassy Row" and "Spies of Georgetown." For more information and booking, click here or contact rosanna@spyher.co
---
Neutering the CIA: Why US Intelligence Versus Trump Has Long-Term Consequences
by John A. Gentry
(Armin Lear, 26 Jul 23)
Neutering the CIA is an insider look at how political bias at the Central Intelligence Agency (CIA) has undermined its effectiveness both domestically and internationally. The central case study is the impact of the bias on the interaction between the CIA and the Trump Administration, although the origins of the problem link to Robert Gates becoming head of CIA's analysis directorate in 1982, and then later, director of the CIA. Beginning in 2016, former and currently serving US intelligence officers, mainly from the Central Intelligence Agency (CIA), conducted a major political campaign featuring public commentary and leaks designed to thwart the presidential candidacy, and then the presidency, of Donald Trump. This "politicization" of intelligence, which traditionally is defined as the injection of personal or organizational perspectives into intelligence products to serve personal, ideological, or organizational interests of intelligence officers, reflected a remarkable change from the once-strong CIA ethos of apolitical public service. This book describes the startling political activism of intelligence officers in recent years, identifies its causes, and evaluates its many negative consequences. Most importantly, the activists damaged the credibility of US intelligence in the eyes of Trump Administration officials and undoubtedly many future senior national leaders, thereby eroding the trust in intelligence that decision-makers must have if they are to use intelligence effectively. Although the overt activism subsided in 2021, the Biden administration has not addressed its causes. The evident success of activists in helping to defeat Trump in 2020 surely has emboldened some intelligence officers, who remain poised to attack presidential candidates whose political views they dislike. This book also identifies actions needed to address this significant threat to American democracy.
Order book here.
---
Guarding the Caesars: Roman Internal Security under the Flavian Dynasty
by Rose Mary Sheldon
(Rowman and Littlefield Publishers, 15 Jul 23)
Guarding the Caesars is the story of the survival of the Flavian emperors in Rome. The dynasty produced three of the most famous and productive rulers in the Roman Empire. Vespasian built the Colosseum. Titus won the Great Jewish War of 66–70, and his men were responsible for the destruction of the Temple in Jerusalem. Domitian, perhaps Rome's greatest builder, is responsible for many of the buildings we connect with Rome today. He was without a doubt among the most controversial of all Roman rulers and the subject of much debate still today. The Flavian dynasty begins with the death of the four successors to the Julio-Claudians and ends with the dramatic assassination of Domitian in his own palace. In between, there are numerous attempts to kill the sitting emperor. Seventy-five percent of all Roman emperors died of assassination—the highest rate of any monarchy in the world. This is the story of how the emperors' security services tried to keep three of them alive.
Order book here.
---
Cyber-espionage in international law: Silence speaks
by Thibault Moulin
(Manchester University Press, 01 May 23)
While espionage between states is a practice dating back centuries, the emergence of the internet revolutionised the types and scale of intelligence activities, creating drastic new challenges for the traditional legal frameworks governing them. This book argues that cyber-espionage has come to have an uneasy status in law: it is not prohibited, because spying does not result in an internationally wrongful act, but neither is it authorised or permitted, because states are free to resist foreign cyber-espionage activities. Rather than seeking further regulation, however, governments have remained purposefully silent, leaving them free to pursue cyber-espionage themselves at the same time as they adopt measures to prevent falling victim to it. Drawing on detailed analysis of state practice and examples from sovereignty, diplomacy, human rights and economic law, this book offers a comprehensive overview of the current legal status of cyber-espionage, as well as future directions for research and policy. It is an essential resource for scholars and practitioners in international law, as well as anyone interested in the future of cyber-security.
Order book here.
---
---
Call for Information: Arnold M. Silvier
Relative of Silvier, aka "Richie Boy," seeks information on the person (or works of) Silver, who was in the US Army during WWII and, later, CIA (1949 - 1978), with postings in Austria, Luxembourg, Germany, Turkey and Washington DC. Please contact nboicecounseling@gmail.com
Survey for Members: Skill Sets Needed for Intelligence Analysis Degree Holders to See Success After Graduation
Northeastern University Security and Intelligence Studies professor researching the skill sets required for Intelligence Analysis degree holders to see success after graduation welcomes the participation of AFIO members in a 5-minute survey in support of the research. Access survey here.
Call for Information: 430th CIC in Salzburg in 1946
I am currently writing about 430th CIC in Salzburg in 1946. I have a (large) CIC file and am now trying to track down further details about two officers mentioned in this: (1) Bill Taylor. The sources do not make clear whether the officer was Major Bill G. Taylor, GSC, Head of the Counter-Intelligence Bureau of G-2 (Intelligence Section), US Forces Austria, or "Mil.Reg." Captain Taylor of Salzburg. Any information on either/both of these officers would be most welcome. (2) Pace B Rose. Rose was a CIC Special Agent in Austria, later a CIA officer who continued to be attached to the Agency after retirement. He died on 3 January 2009. I would like to contact family and friends of Pace Rose. According to the internet, Rose had children, Donna R. Hilverts and Gary W. Rose, and five grandchildren and three great grandchildren. Please contact S.Cody@westminster.ac.uk with any information.
Call for Sources: Intelligence Officers Who Lived in Spain in the 1970s
Spanish journalist Francisco Jiménez is preparing a documentary about the intelligence services in Spain in the 70s. He is looking for intelligence officers who worked in Spain in those years. If you are willing to assist Francisco, he can be reached at fjimenez@globomedia.es.
Call for Sources: Intelligence activities in Grenada and the southern Caribbean between 1979, Operation Urgent Fury, Leonard Barrett
The Washington Post is developing a multi-part audio documentary series (i.e. podcast) chronicling the Grenadian revolution and the US intervention in 1983. They've interviewed nearly 100 people so far, ranging from the heads of state, former Grenadian officials, current and former US officials, veterans, and intelligence officers. They're looking for people who served at the time and may be knowledgeable about intelligence activities in Grenada and the southern Caribbean between 1979 and Operation Urgent Fury. They would also be interested in speaking with anyone who knew Leonard Barrett during the same period. If anyone is interested in participating, please reach out to Washington Post reporter Ted Muldoon via email at ted.muldoon@washpost.com or on Signal at 651-497-5449.
Call for papers: Energy Concerns in National Security and Business Intelligence: Identifying Threats and Developing Solutions - International Journal of Intelligence and Counterintelligence
The link between energy and national security is well established and is a continuing multifaceted problem. Every facet of the intelligence process (e.g., collection, analysis, and production) has played a significant role for governments and private industry in anticipating threats to this vital sector. For example, current intelligence assessments focusing on Europe's major energy concerns are stemming from supply-chain disruptions caused by a pandemic, Russia's war in Ukraine, climate change, and the phasing out of coal and phasing in of renewable sources. This conference provides an opportunity to discuss the contribution of business intelligence in understanding the threat to role of energy and national security interests. It brings together prominent academic voices, experienced practitioners, and policymakers, offering an opportunity to "bridge the gap" between these sectors. We are looking for conference participants to identify critical issues and challenges, competing perspectives, new and existing trends, creative solutions for new technologies, and the emergence of new market conditions.
Proposals, abstracts, or papers should be submitted by September 1.
More information, topic suggestions, and submission instructions here.
Call for papers: Intelligence and Post-War Reconstruction - International Journal of Intelligence and Counterintelligence
History shows that without planning for post-war reconstruction, apparent victory in war can lead to long-term defeat. On the other hand, wise post-war planning can lead to friendly, peaceful, and profitable relations between victor and vanquished. For political, socio-economic and security-related planning, intelligence plays a crucial role in estimating capabilities, securing infrastructure, locating persons of interest, and rebuilding. In honor of the 75th anniversary of the European Recovery Program (Marshall Plan) after the Second World War, the editors are particularly interested in papers dealing with intelligence concerning post-war reconstruction initiatives and planning connected to historical and recent conflicts. Both case studies and theoretical and methodological approaches are welcome. The studies may include, but do not have to be focused on, the following questions and issues:
The role of diplomatic and military intelligence during the conflict as preparation for post-war reconstruction, from the conceptual to the practical.
What intelligence needs to be collected to secure and boost reconstruction?
What contacts, networks, and infrastructure are necessary for intelligence to be effective?
Who has been or should be approached and/or recruited for reconstruction efforts based on intelligence?
When has intelligent post-war planning (or its opposite) been historically evident?
How should intelligence interact with formerly warring parties and international organizations to empower practical reconstruction efforts?
What intelligence collection challenges have services encountered in working for post-war peace?
How did intelligence factor in the European Recovery Program?
What was George C. Marshall's position on the role of intelligence in general or concrete examples related to "his" plan?
01 Nov 23 deadline. More information and submission instructions here.
Call For Articles: AFIO Journal, The Intelligencer
For the past four years, AFIO has included in The Intelligencer a series of articles on "when intelligence made a difference." Written by scholars, intelligence practitioners, students, and others, they cover events from ancient times to the modern world and in many countries. AFIO is soliciting articles for future issues. Most articles run between 2,000 and 3,000 words, although some are longer or shorter. If you have an idea for an article that fits the theme, email senior editor Peter Oleson at peter.oleson@afio.com.
---
Retired Federal Government Employees Wanted - National Security Agency - Fort Meade, Maryland
The National Security Agency (NSA) may occasionally need skilled civilian retirees to augment the existing work force on high priority projects or programs. In order to fill these temporary positions quickly, we need to know who may be interested and available to return to work with us on a short notice basis as well as their skills. Retirees provide expertise and corporate knowledge to temporarily support mission requirements, manpower shortfalls, and/or mentor the next generation of Agency employees. Salary Range: $86,335 - $170,800.
Additional information and application here.

Assistant/Associate Professor of Intelligence Studies (Global Security and Intelligence Studies) - Embry-Riddle Aeronautical University - Prescott, Arizona
Embry-Riddle Aeronautical University's Prescott, Arizona campus is accepting applications for a tenure-track assistant or associate-level professor of intelligence studies to teach intelligence courses to students in the Global Security and Intelligence program. The successful candidate will teach students about the intelligence community, strategic intelligence, the intelligence cycle and intelligence analysis, writing, and briefing. Prior experience working in the intelligence community is strongly preferred. We are interested in candidates with teaching acumen in intelligence analysis and writing using structured analytical techniques.
Additional information and application here.

Teaching Associate - Intelligence and National Security Studies - Coastal Carolina University, South Carolina
The Department of Intelligence and Security Studies ( ISS ) at Coastal Carolina University is accepting applications for a pool of Teaching Associates (part-time adjunct faculty) to teach introductory and undergraduate elective course offerings for the program beginning in August 2022. While the ad is open to any specialization within the field of study, courses in the areas of homeland security, law enforcement intelligence, counter-narcotics, and cybersecurity are of particular interest. Course offerings can be in a face-to-face or synchronous online modality. To be considered, candidates must have a masters or doctoral degree in a relevant subject area. Prior professional experience in the profession, as well as prior teaching experience are preferred.
Additional information and application here.

---
Mike Smith — Career Federal Officer

J. Michael Smith (Mike), 80, passed away peacefully June 3, 2023. He was born in Lufkin, Texas, raised in Amarillo, Texas, and attended highschool in Billings, Montana, where he graduated from Billings Senior High in 1961. He was an avid sportsman taking part in most sports offered. As a boy scout, he prevailed in becoming an Eagle Scout. A football scholarship took him to Morningside College in Sioux City, Iowa, then to Montana State University in Bozeman, Montana, where he graduated with a BA and a MA in S. American history. Mike worked for the U.S. Government for nearly 30 years. He LOVED his job, including studying and speaking Spanish, French, Kiswahili, & Indonesian. His travels took his family to E. Africa, where he taught history classes and received his Ph.D in British Colony History at Makerere University, and S.E. Asian countries as well as S. America. Mike's work contributed to the safety of our great nation.
Brian Emery — Decorated Career NSA Officer

Brian A. Emery, 82, of Dagsboro, Delaware passed away surrounded by his family on June 20, 2023. Brian was born in Buffalo, NY. His family moved to Delmar, New York when he was a small child. He graduated from Bethlehem Central High School in Delmar in 1959. Shortly after graduating from high school, he joined the U.S. Air Force where he underwent technical training in Texas before embarking on a three-year tour of duty in England with the USAF Security Service. Before being discharged from the Air Force in 1964 he was assigned to the National Security Agency where he was subsequently hired as an intelligence analyst. He attended the University of Maryland - University College, during his early years of employment at NSA. In 1996 Brian retired from NSA as a manager having spent a total of 37 years in government service. He enjoyed a multi-faceted cryptologic career at NSA with assignments in analytic, staff, liaison and management positions including three years as NSA Representative to two major U.S. military commands in the Far East. During his career he was awarded NSA's second highest honor, the Meritorious Civilian Service Award, for "Distinguished service while managing NSA's response to a high interest problem." Brian was a member of the Phoenix Society from his retirement until the time of his passing. Following retirement from NSA in 1996, Brian worked for Allied Signal Corporation as a Research Consultant and Liaison Officer.
Jan O'Brien — CIA Career Intelligence Medal Recipient

Janice O'Brien MacDonald, 75, of Gainesville, VA, passed on June 29, 2023. Janice attended Immaculate Conception Academy in Washington, DC. She served 35 years at the Central Intelligence Agency and received the Career Intelligence Medal.
David Laux — Career China Hand in CIA and other Agencies

David Nicholas Laux, Jr. died on July 2, 2023, surrounded by family at his home in Sarasota, Florida, where he retired in 2015. Born in Garden City, New York, David grew up in Dalton, Massachusetts, a small town in the Berkshires. Armed with a keen intellect and boundless energy, David lived his life in service to his country. In a 40-year career with multiple federal agencies, David "fought the good fight" of his era, against the threat of communism, while promoting and maintaining national security interests and open markets in the shifting landscape of East Asia. David started his career as an operative with the Central Intelligence Agency (C.I.A.), later holding positions at the Departments of Defense, State, Commerce, Treasury, and the White House. An expert in US-Sino relations, David was known for his skillful behind-the-scenes negotiations that enhanced U.S. relations with both the People's Republic of China (PRC) and the Republic of China (Taiwan). His Chinese name was Lo Ta-wei. David spent nearly a decade of his career overseas, four years in Japan in the early 1950s, three years in Cambodia, and three years in France. After 1966, he was permanently based in Washington, D.C., where he continued his C.I.A. career, and then served first as special assistant to the secretary of Commerce and subsequently as director of the Office of China and Hong Kong Affairs. David was the commercial counselor of the American Embassy in Beijing, where he led the establishment of the U.S. Foreign Commercial Service in China from September 1981 to March 1982. From 1982 to 1986, he served as director of Asian affairs on the National Security Council in the Reagan White House, where he was responsible for China policy, as well as for Australia, New Zealand, and the Pacific Island nations. Notable among his many trips to the PRC were his visit with U.S. Secretary of Commerce Malcolm Baldridge in 1983, President Reagan's landmark state visit in 1984, and then-Vice President George H.W. Bush in 1985. In January 1987, David was appointed chairman of the board and managing director of the American Institute in Taiwan (A.I.T.), which served as the U.S. de-facto embassy for U.S.-Taiwan relations. He held this position until 1990. After retiring from government service in 1990, he served as president of the U.S.-R.O.C. (Taiwan) Business Council for ten years, and as president of the U.S. Taiwan Business Forum, an educational foundation, for four years. David also was on the board of the Taiwan Greater China Fund, serving as its chairman from 2004 to 2006. David's accomplishments stretched beyond his government service. He was a three-letter high school athlete, graduating a year early from Dalton High School so that he could join the U.S. Army during WWII. With the war's end, and after one year with the Army, David enrolled at Amherst College where he was a member of the Beta Theta Pi fraternity, the ski and debate teams. He graduated from Amherst in 1950, and then joined the Marine Corps, where he spent just under a year before he was recruited by the C.I.A. During his career with the C.I.A., David pursued graduate studies at U.C. Berkeley, Georgetown, and American University. He was a graduate of Harvard Business School's Advanced Management Program.
---
EVENT POSTPONTED - 27 Jul 23 (Thursday), 1130 (Pacific) - In Person - Col. Robert W. Parr, USAF (ret) on "12 Days with a Soviet Pilot Defector" - Basque Cultural Center, San Francisco - The AFIO Andre LeGallo Chapter. No host cocktail at 1130 hours (Pacific). Meeting starts at 1200 hours. Basque Cultural Center, 599 Railroad Avenue, South San Francisco, CA. RSVP and pre-payment required. Event has been postponed to autumn.
See the AFIO Calendar of Events for scheduling further in the future.
---
19 Jul 23, 1200-1300 (ET) - Pre-9/11 Intelligence Analysis on Terrorism: Communication and Warning – Johns Hopkins University - Virtual
Join host Michael Ard for a curated discussion with Barbara Sude, JHU faculty member and former Senior Analyst with the Central Intelligence Agency, for a discussion on Pre-9/11 Intelligence Analysis on Terrorism: Communication and Warning. An adjunct lecturer in intelligence studies at Johns Hopkins University, Dr. Sude served more than 30 years with the Central Intelligence Agency, where she specialized in analysis of terrorism, political Islam, Sub-Saharan Africa, and the Middle East. Dr. Sude was part of the small cadre of pre-9/11 analysts on al-Qa`ida and followed the group as a senior analyst at both CIA's Counterterrorism Center and the National Counterterrorism Center. As a former senior political scientist at the RAND Corporation, Dr. Sude focused on counterterrorism, asymmetric warfare, and refugees. Dr. Sude has given several public presentations and media interviews on counterterrorism issues and is the author of the chapter "Prevention of Radicalization to Terrorism in Refugee Camps and Asylum Centers," in The Handbook of Terrorism Prevention and Preparedness, International Centre for Counter-Terrorism – The Hague, 2020-2021. Dr. Sude is also the lead author of "Lessening the Risk of Refugee Radicalization: Lessons for the Middle East from Past Crises" (RAND 2015) and co-author of "Knowing the Enemy: Understanding the Islamic State and Principles for Defeating It" (RAND 2017) and "An Economic Analysis of the Financial Records of al-Qa'ida in Iraq" (RAND 2010). Dr. Sude received her BS in Arabic from Georgetown University and her PhD in Near Eastern Studies from Princeton University.

Program is free of charge but requires advanced registration here.
20 Jul 23, 1830 (ET) - Chameleon with former Navy SEAL Remi Adeleke – International Spy Museum - Virtual
Our recommended SPY beach read this summer comes from former Navy SEAL Remi Adeleke. Hot on the heels of his featured roles in the hit film Plane and FOX's Special Forces: World's Toughest Test, this is his first book in a new thriller series, featuring Nigerian-born and New York-raised Kali Kent and the top-secret Black Box program. Like Kali Kent, Adeleke was born in western Africa. Following his father's death, he relocated permanently to the Bronx with his mother and brother. After years of making regrettable decisions, Adeleke joined the Navy in 2002 and later became a Navy SEAL. He separated from the Navy in 2016, and now he delivers his first action-packed thriller inspired by his own time in the military. Chameleon opens when a mysterious former South African commando, Lucas Van Groot, begins taking wealthy hostages all over the world, it appears at first to be a typical ransom gambit. However, it soon becomes clear that his "Hostage Inc." venture is manipulating worldwide stock markets and threatening global economic collapse. Enter Black Box, the CIA's elite, secret special operations branch—so surreptitious that not even the Director of CIA is fully privy to the unit's activities. International Spy Museum Director of Adult Education Amanda Ohlke and Adeleke will discuss how the author drew on his real-life experiences to create Kent and the Black Box. Listen in on the conversation with your favorite beachy cocktail. Your host will be enjoying something with an umbrella.

Program is free of charge but requires advanced registration. Visit www.spymuseum.org.
20-22 Jul 2023 - NASIH Annual Conference 2023 – NASIH - In Person - University of Calgary, Canada
North American Society for Intelligence History's annual event. Registration is open. Full details on this two-day program, with extensive speaker line up and panels, here. Registration here.
24-28 Jul 2023 - 0900-1500 (ET) - Spy Camp 2023 - In Person - International Spy Museum, Washington DC
Somewhere deep inside the Museum an elite group of recruits is lurking in the shadows preparing to take on top secret missions. No one really knows who they are, or for that matter, what they're really up to. Now it's your turn to join their ranks. Each day at Spy Camp is filled with top secret briefings and activities that will put spy skills and street smarts to the test. Aspiring KidSpy® recruits will hone their tradecraft, learn from real spies, and hit the streets of DC to run training missions. Develop a disguise for cover, make and break codes, discover escape and evasion techniques, create, and use spy gadgets, uncover the science behind spying—all of this and more awaits young recruits. Price per child (ages 9-12): $595 for regular; $515 for members. Visit www.spymuseum.org.
25 Jul 2023 - 1400-1500 (ET) - SPY with Me: Memory Loss Program - Virtual - International Spy Museum, Washington DC
International Spy Museum eventsSPY with Me is an interactive virtual program for individuals living with dementia and their care partners. Join SPY as we use music and artifacts to explore some of our favorite spy stories. Programs last one hour and are held virtually through Zoom. Every month the same program is offered on two different dates. To register, please email Shana Oltmans at soltmans@spymuseum.org Free but space is limited. Visit www.spymuseum.org.
26 Jul 23, 1200-1300 (ET) - Open Source Intelligence (OSINT) - Maturing the Discipline – Johns Hopkins University - Virtual
oin host Michael Ard for a curated conversation with Barbara Alexander, president, OSINT Foundation as they discuss the current and future role of OSINT in the Intelligence Community. Mrs. Alexander is the president of the OSINT Foundation, a professional association for Open Source Intelligence practitioners. A career intelligence officer in the federal government and retired member of the Senior Executive Service (SES), Alexander has a broad background in analysis, collection, strategic planning, information technology, and Intelligence Community issues. Alexander began her career as a European military-political analyst at the Defense Intelligence Agency, and later spent a decade working in the areas of strategic planning and budgeting for the global defense intelligence analysis community. She served in interagency assignments at the predecessor to the Office of the Director of National Intelligence and at the National Geospatial-Intelligence Agency, and held senior managerial positions at DIA, including the deputy for counterproliferation, staff director for Russia, Eurasia, and Africa, and chief of the Relationship and Performance Management Group in the office of the chief information officer, supporting the mission needs of over 20,000 DoD Intelligence Information Service customers worldwide. Alexander joined the Department of Homeland Security (DHS) Office of Intelligence and Analysis(I&A) in 2008 as the Director of I&A's Collection and Requirements Division, where she oversaw the Department's OSINT exploitation activities. She also ensured the IC's technical capabilities and human assets provided the information DHS and its components needed to prepare, prevent, respond, and recover from any hazard or threat to the security of the Nation. In 2010, she became the director of I&A's Cyber, Infrastructure, and Science Division, and directed intelligence analysis on threats to the Nation's cyber networks; threats from adversary use of chemical, biological, radiological, and nuclear materials; and threats to the17 critical infrastructure sectors. Upon her retirement from federal service, she has worked in industry as an expert in Intelligence and Homeland Security, most recently for General Dynamics Information Technology. Alexander holds a Bachelor of Arts degree in Political Science from Wheaton College (IL); a Master of Arts degree in International Relations from the Paul H. Nitze School of Advanced International Studies, the Johns Hopkins University; and a Master of Science degree in National Security Strategy from the National War College. She is a project management professional (PMP®), a certified Intelligence Community Officer, a FEMA certified Level I Professional Continuity Practitioner, and completed the Chief Information Officer Certification program at the National Defense University's Information Resources Management College.

Program is free of charge but requires advanced registration here.
31 Jul - 04 Aug 2023 - 0900-1500 (ET) - Spy Camp 2023 - In Person - International Spy Museum, Washington DC
Somewhere deep inside the Museum an elite group of recruits is lurking in the shadows preparing to take on top secret missions. No one really knows who they are, or for that matter, what they're really up to. Now it's your turn to join their ranks. Each day at Spy Camp is filled with top secret briefings and activities that will put spy skills and street smarts to the test. Aspiring KidSpy® recruits will hone their tradecraft, learn from real spies, and hit the streets of DC to run training missions. Develop a disguise for cover, make and break codes, discover escape and evasion techniques, create, and use spy gadgets, uncover the science behind spying—all of this and more awaits young recruits. Price per child (ages 9-12): $595 for regular; $515 for members. Visit www.spymuseum.org.
03 Aug 23, 1730-2130 (ET) - Leadership Dinner with DDNI Stacey Dixon – INSA - In Person - Tysons Corner, VA
Join intelligence and national security colleagues at the Hilton McLean Tysons Corner for INSA's Leadership Dinner honoring Dr. Stacey Dixon, Principal Deputy Director of National Intelligence, ODNI. Following her opening remarks, Dr. Dixon will join INSA Chairwoman Letitia A. Long for a moderated Q&A. Topics for discussion include: AI and emerging tech, IC data strategy, Future of Open Source, Collaboration with industry partners...and more! Plus, there will be audience Q&A. More information and registration here.
---
---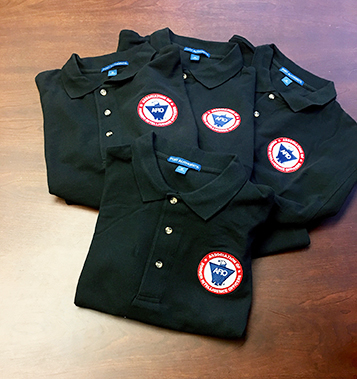 Now available: Black short-sleeved polo shirts with Embroidered AFIO logo
Show your support for AFIO with our new Black Short-sleeve Polo Shirts. Shirts are shrink and wrinkle resistant of fine cotton with a soft, "well-worn, comfy" yet substantial feel. They feature a detailed embroidered AFIO seal. Get a shirt for yourself and consider as gifts for colleagues, family, and friends. Only $50 each including shipping.
Sizes for (M) men, only; Small, Medium, Large, XL, XXL, and XXXL. $50 per shirt.
You may pay by check or credit card. Complete your order online here or mail an order along with payment to: AFIO, 7600 Leesburg Pike, Ste 470 East, Falls Church, VA 22043-2004. Phone orders at 703-790-0320. Questions? Contact Annette at: annettej@afio.com.
---

PopSocket for cellphones or tablets
Show your support to AFIO while enjoying the convenience offered by our AFIO Logo PopSocket. The PopSocket is most commonly used as a stand and as a grip for your mobile phone or tablet; handy for taking selfies, watching videos, and for texting. The PopSocket looks like a small button or sticker which, when closed, sticks flat to your mobile device. However, its accordion-like design enables it to pop open for use. The benefits of using a PopSocket make it a must-have accessory for your mobile phone or tablet. It also aids in keeping your phone from slipping off your hand during use, falling, or breaking.
Price: $15. Order this and other store items online here.
---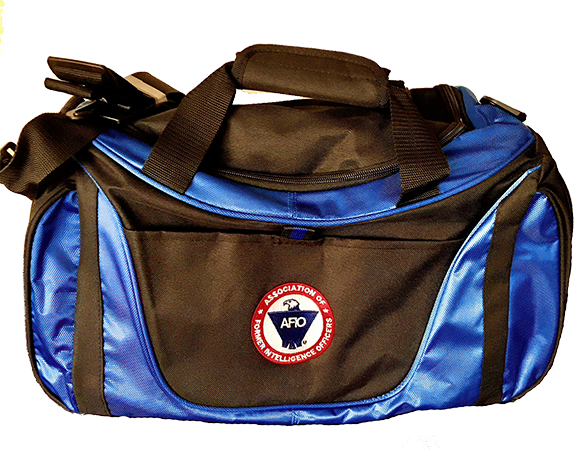 Duffel Bags - Royal Blue and Black with Full Color AFIO Logo This duffel has it all when it comes to value, style and organization.
600 denier polyester canvas with polyester double contrast; D-shaped zippered entry for easy access. Front pocket with hook and loop closure. End mesh pocket Easy-access end pockets. Four durable, protective feet and built-in bottom board for added strength. Web handles with padded grip. Detachable, adjustable shoulder strap.
Dimensions: 11"h x 19.75"w x 9.75"d; Approx. 2,118 cubic inches
Price: $50. Order this and other store items online here.
---
AFIO Mug with color glazed seal.

Made in the U.S.A., dishwasher-safe.
$35 includes shipping.

Sip your morning joe in style or use it to stash pens, cards, paperclips, or candy.
Order this and other store items online here.
---


Caps - Dark Navy with Navy AFIO Logo
An authentic silhouette with the comfort of an unstructured, adjustable fit. Fabric: 100% cotton. Unstructured. Fabric strap closure with adjustable D-clip. Price: $30. Order this and other store items online here.
---
PUBLISHED IN 2023
Be informed on career opportunities in the U.S. Intelligence Community
Intelligence as a Career - with updated listings of colleges teaching intelligence courses, and Q&As on needed foreign languages, as well as the courses, grades, extracurricular activities, and behavioral characteristics and life experiences sought by modern U.S. intelligence agencies.

AFIO's popular 47-page booklet reaches thousands of high school, college students, university guidance offices, and distributed in classes teaching intelligence, to help those considering careers in the U.S. Intelligence Community.

This is the all new fifth edition.
The publication is also popular with University Career Guidance Centers, professors and academic departments specializing in national security, and parents assisting children or grandchildren in choosing meaningful, public service careers.
This booklet is provided online as a public service from the generosity of AFIO board, volunteer editors/writers, donors, and members.
We thank all for their support which makes this educational effort possible.
Careers Booklet (new 2023 Fifth Edition) can be read or downloaded here

---
Guide to the Study of Intelligence...and...When Intelligence Made a Difference
"AFIO's Guide to the Study of Intelligence" has sold out in hard-copy.
It is available in digital form in its entirety on the AFIO website here.

Also available on the website here are the individual articles of AFIO's history project "When Intelligence Made a Difference" that have been published to date in The Intelligencer journal. More articles will be appear in future editions.
---
Address Technical Issues Or Unsubscribe
Some features of the email version of the WIN do not work for readers who have chosen the Plaintext Edition, some AOL users, and readers who access their email using web mail. You may request to change from Plaintext to HTML format here afio@afio.com. For the best reading experience, the latest web edition can be found here: https://www.afio.com/pages/currentwin.htm
To unsubscribe from the WIN email list, please click the "UNSUBSCRIBE" link at the bottom of the email. If you did not subscribe to the WIN and are not a member, you received this product from a third party in violation of AFIO policy. Please forward to afio@afio.com the entire message that you received and we will remove the sender from our membership and distribution lists.
---
Disclaimer and Legal Protection
Weekly Intelligence Notes (WINs) are a carefully selected collection of timely open source reports and announcements and other media focused on intelligence and related national security matters that is produced for non-profit educational use by AFIO members and WIN subscribers. WINs are protected by copyright and intellectual property laws. They may not be reproduced or re-sent without specific permission from the Producer. Opinions expressed in the materials contained in the WINs are solely those of the content creators listed with each item. Notices in the WINs about non-AFIO events do not constitute endorsement or recommendation by AFIO.

(c) 1998 thru 2023


---

AFIO Members Support the AFIO Mission - sponsor new members! CHECK THE AFIO WEBSITE at www.afio.com for back issues of the WINs, information about AFIO, conference agenda and registrations materials, and membership applications and much more! .

AFIO | 7600 Leesburg Pike, Suite 470 East, Falls Church, VA 22043-2004 | (703) 790-0320 (phone) | (703) 991-1278 (fax) | afio@afio.com
---
About AFIO | Membership Renewal | Change of Address | Upcoming Events | Chapter Locations | Corporate/Institutional Memberships | Careers in Intelligence Booklet | Guide to the Study of Intelligence | Intelligencer Journal | Weekly Intelligence Notes | Make A Donation | AFIO Store | Member-Only Section | Code of Ethics | Home Page
RETURN TO TOP
---