---
Turkey's aggressive spying campaign in foreign countries persists without signs of abating - Nordic Montiro, 20 Jul 23
In a clear indication of Turkey's expanded spying activities abroad and its strengthened efforts to gather information on opposition groups, a confidential document issued by the government in early June has revealed that hundreds of dissidents have become targets of Turkey's notorious intelligence agency, MIT. The document, marked secret and obtained by Nordic Monitor, was issued by the Security General Directorate (Emniyet) on June 6, 2023 and exposes a worldwide espionage network, apparently run by MIT, with the purpose of targeting a group that is critical of the government of President Recep Tayyip Erdogan. Furthermore, the document highlights the fact that Turkey is not deterred by the warnings and concerns communicated by other countries, which asked the Erdogan government to cease and desist from carrying out covert operations on their territories. (View report here.)
Chinese Spy Ship Off Coast of Australia as Talisman Sabre Exercise Begins - USNI News, 21 Jul 23
A Chinese surveillance ship is now off the east coast of Australia and expected to move further south to monitor the U.S.–Australian-led multinational exercise Talisman Sabre 2023, an Australian senior military officer announced Friday. Chinese ships have sailed off the coast of Australia before, and the vessel's movement is not considered concerning, Lt. Gen Greg Bilton, chief of Joint Operations, Australian Defence Force (ADF), said during the opening ceremony of Talisman Sabre. "No, look, they've come before and look, I'll tell you now, there's one off the east coast of Australia at the moment," Bilton said. "We reached out on Thursday and hailed that vessel in the Coral Sea. It'll move down, I expect, and join the exercise – or be in the location of the exercise again. They've done this for a number of years, we're well prepared for it." (View report here.)
Ireland Takes Action: Establishing Industrial Security Clearance System to Counter Espionage Threats - Clearance Jobs, 23 Jul 23
ClearanceJobs reported last month on the Japanese government's recent move to establish an industrial security clearance system in line with the United States and other G-7 allies. As it turns out, our partners in Toyko aren't the only ones behind the curve on protecting their defense industrial base from spying. Prompted in large part by increasing espionage threats from China and Russia, Ireland is also moving to establish a vetting system for industry and shore-up how it protects sensitive information. The Irish Times highlighted in March how "[t]here is currently no system for non-government officials to get official security clearance in Ireland." Nor, for that matter does the country possess a "statutory security clearance system" to formally classify sensitive information based on the level of damage that would result to Irish national security from disclosure. (View report here.)
Amendment To Assess Chinese Spy Balloon - Northern Plains Independent, 20 Jul 23
U.S. Sen. Jon Tester, who is leading the Senate's bipartisan investigation into the Chinese spy balloon that was first spotted over Montana in February, has announced he will offer a bipartisan amendment to the National Defense Authorization Act, the annual must-pass defense bill, to assess commercially available technology that can and is being used in foreign espionage programs. "This brazen incursion of the Chinese Spy Balloon into U.S. airspace was unacceptable, and we can't let it happen again," said Tester. "I was disturbed to learn the Chinese Communist Party took advantage of American technology during the incursion, and we need a full accounting of any and all commercially available technology that is being turned on Americans in foreign espionage programs. Montanans want answers and the assurance this won't happen again, and this provision is a step in the right direction." Tester's bipartisan amendment also mandates a report to Congress on the threat assessment and directs the Departments of Commerce, State, and Treasury to use that report when modifying export controls to ensure American-made technology cannot make its way to the hands of the Chinese government. (Full article here.)
A British spy chief who goes by the code name 'C' says MI6 channels 'more resources to China than any other mission' - Business Insider, 20 Jul 23
MI6, Britain's intelligence agency, is channeling more resources to China than anywhere else in the world, its chief says. "We now devote more resources to China than any other mission. That reflects China's importance in the world and the crucial need to understand both the intent and capability of the Chinese government," MI6 chief Richard Moore told Politico's Anne McElvoy in an interview in Prague on Wednesday. Moore, officially codenamed "C," made these remarks to Politico after delivering his second public speech as MI6 chief at the British embassy in Prague. Moore also shared his take on the Russia-Ukraine war during his address, and openly appealed to Russians who are "silently appalled" by the war to spy for the West. This is not the first time Moore has sounded the alarm on China's rise as an intelligence threat. During his first public speech as MI6 chief, Moore said the "rise of China is the single greatest priority for MI6." (Full article here.)
UN 'Alarmed' by Russia's Uptick in Spying, Treason Arrests - Moscow Times, 18 Jul 23
The United Nations has expressed alarm over the growing number of treason and espionage arrests made in Russia since Moscow invaded Ukraine last year. Sixteen people were convicted in Russia for treason and espionage in 2022, according to UN experts on human rights and freedom of expression. At least 43 others faced similar charges so far in 2023, they added. The UN's special rapporteurs Mariana Katzarova and Irene Khan voiced their concerns in the wake of Wall Street Journal reporter Evan Gershkovich's espionage arrest in Russia earlier this year. Moscow accused Gershkovich of gathering "state secrets" on orders from the United States during a reporting trip to the Russian city of Yekaterinburg, where he was detained on March 29. "Gershkovich's arrest highlights the recent uptick in the use of the espionage and treason provisions of the Russian Federation Criminal Code to more frequently arrest individuals in Russia and we are alarmed by this growing trend," UN experts said Monday. (Full article here.)
ODNI Releases the Intelligence Community Data Strategy for 2023–2025 - ODNI, 18 Jul 23
The Office of the Director of National Intelligence (ODNI) today released the Intelligence Community (IC) Data Strategy for 2023–2025. The strategy provides focus areas and actions for all 18 IC elements to accelerate their adoption of common services and efforts to make data more interoperable, discoverable, and artificial intelligence-ready for both people and machines. Since publishing the first data strategy in 2017, the IC has made progress and continues to improve data discoverability, sharing, and usability across the IC and with our national security partners. To keep pace with the increasingly complex and interconnected global security environment, the IC Chief Data Officer (CDO) and IC element CDOs developed the IC Data Strategy to best position the IC now and in the future. "The IC Data Strategy directs our collective energy towards making data securely accessible and interoperable across boundaries and domains," said IC CDO Lori Wade. "Our focus areas will expand our ability to securely discover, access, and leverage the IC's data at the speed of mission." (Full article here.)
Upbeat spy boss leads with his chin in central Europe's city of espionage - The Standard, 19 Jul 23
If Prague's cobblestones could talk, they would have stories to tell from a pivotal place in the history of the Cold War — not least as an entrepot of East-West espionage. Demonstrators, security forces and secret police thundered across Wenceslas Square in the heady tumult of 1989. Notebook in hand, I watched a regime imposed by a foreign power and sustained by fear totter and fall. The dissidents were suddenly in control of their country's destiny. Returning this week to host an interview with the head of MI6, Sir Richard Moore, has felt poignant. The liberation of central Europe now faces a shattered reflection in the war in Ukraine. And Prague, which Soviet tanks rolled into to quell the uprising of 1968, is a reminder that it can take a long time for bad stories to end well. So you could say that Sir Richard, as head of a secret intelligence service which provides vital support to Kyiv, was leading with his chin in laying out an upbeat take on why the recent turmoil in Russia bodes ill for the stability of the regime. (Full article here.)
Exposed: Russian spies in Poland tasked with derailing trains with aid to Ukraine - media - Ukrinform, 21 Jul 23
One of the tasks of the Russian espionage ring, which was exposed in Poland this year, was acts of sabotage on the railways, including planting bombs to derail trains carrying military and humanitarian aid for Ukraine. This was reported by Gazeta Polska, which covered the case probed by the Internal Security Agency and the Polish Prosecutor's Office targeting the Russian spy network, Ukrinform reports. "From March to July, a total of 15 people were detained and charged with espionage for the Russian GRU military intelligence. They face up to 10 years in prison," the report says. The newspaper notes the fact that this is the largest Russian spy ring ever exposed in Poland. It consisted of citizens of Russia, Belarus, and Ukraine. As noted, the investigation is being run by the National Prosecutor's Office in Lublin. In total, 66 volumes have already been collected in the case. Those detained have testified that among other things, they had been planning to blow up trains carrying weapons and humanitarian aid for Ukraine. (Full article here.)
MI5 boss Ken McCallum warns British students they are 'magnetic targets for espionage and manipulation' by hostile foreign states - Daily Mail, 21 Jul 23
The boss of MI5 has warned British students they are 'magnetic targets for espionage and manipulation' by hostile foreign states. Ken McCallum urged students to be vigilant to avoid sharing secrets to China, Russia and Iran - as hostile actors are stealing British research with 'dispiriting regularity'. 'Hostile actors working for other states make it their business to take your hard work and use it for their gain,' the MI5 director general said. He added: 'We see this happening with dispiriting regularity. Precisely because our great universities are so great and rightly prize openness, they are magnetic targets for espionage and manipulation.' Mr McCallum also compared the global scientific race to the Cold War and called on students studying courses which involve technology such as AI to be cautious. (Full article here.)
Exclusive: Taiwan probes alleged leak of classified reports, diplomatic cables - Reuters, 21 Jul 23
Taiwan is investigating a possible leak of official documents including diplomatic cables and classified reports on the island's sensitive bid to join a global trade pact, according to two officials familiar with the probe. One official said initial findings showed some parts of the documents, posted on online message board 8kun and reviewed by Reuters, are real while bits were forged, without giving details. A second official said parts of the documents appeared to be "authentic" and they could not immediately determine the origin of the documents shared on the internet. The officials asked not to be identified due to the sensitivity of the matter. Taiwan's National Security Bureau (NSB) confirmed the investigation into "suspected government documents" recently posted online. "It has been noted that suspected government documents have recently circulated on the internet, and relevant units are investigating and dealing with the source of such information," NSB said in response to a request from Reuters for comment. The NSB said it was also investigating whether China, which claims Taiwan as its own, was involved in the incident. (Full article here.)
Foreign spies using sensitive court proceedings to collect information, Australia's intelligence community says - The Guardian, 18 Jul 23
Australia's intelligence community believes foreign spies are using sensitive court proceedings as an "intelligence collection tool" while defending the need for tough secrecy laws. Australia's national security law watchdog, the Independent National Security Legislation Monitor, on Wednesday began public hearings examining the use of laws designed to protect sensitive information during court proceedings. The National Security Information Act (NSI Act) is designed to guard confidential material that may harm Australia's national security but the laws have prompted controversy in recent high-profile prosecutions involving Bernard Collaery, Witness K and Witness J, where they have significantly hampered open justice. Andrew Shearer, the director general of national intelligence, said on Wednesday that court proceedings were seen as a vulnerability by foreign intelligence agencies for the exposure of sensitive information. (Full article here.)
Intelligence community and Defense Department to share classified cloud services - Federal News Network, 20 Jul 23
For the first time, classified cloud capacity will be shared between the Defense Department and the intelligence community. The two organizations recently signed a memorandum of agreement that will let them intermingle title 10 and title 50 funding in a top-secret cloud environment. The service, part of DoD's new Joint Warfighting Cloud Capability (JWCC), will be available in the continental U.S. (CONUS) first, with plans to eventually make it available outside the continental U.S. (OCONUS). "That's going to be huge moving forward, as an enablement for [Combined Joint All-Domain Command and Control] CJADC2 to five eyes and the [defense industrial base] — just in general, classified cloud CONUS and OCONUS. I would say the partnerships, both for the five eyes and third-party capabilities, that's going to be a huge one," Ryan McArthur, Defense Information Systems Agency's program manager for Joint Warfighting Cloud Capability (JWCC) said at a National Defense Industrial Association JADC2 conference Tuesday. (Full article here.)
A.I. Won't Replace Humans at the NSA, Nominee Tells Senate - USNI News, 20 Jul 23
Artificial intelligence is and will remain an enabler not a replacement for humans in the work of Cyber Command and the National Security Agency, the nominee to head both told the Senate Armed Services Committee Thursday. "A human will be interfacing with that machine and that data," Air Force Lt. Gen. Timothy Haugh told the panel. Both Cyber Command and the NSA have approached using artificial intelligence and machine learning "in a very methodical way" including identifying where the data came from and subjecting it to an analyst's review. "We're building a roadmap" on how to use A.I. on a greater scale, he said. Haugh, currently serving as CYBERCOM's deputy commander, said the United States leads China and Russia in using artificial intelligence. He said several times the command operates within congressional, and Pentagon-set standards and regulations on AI while the competitors have no such protections. (Full article here.)
Vienna is crawling with Russian spies inviting sources to skiing holidays - Business Insider, 17 Jul 23
Nearly a year and a half into Russia's war in Ukraine, Austria has expelled remarkably few Russian spies in comparison to its neighbors, as a coalition of MPs are urging their government to clamp down on espionage. Austria's government has instead suspended two parliamentary votes on the matter, providing a ripe environment for continental and international spying, per The Financial Times. Vienna's longtime legal approach has been to ignore the espionage if it doesn't concern its own national affairs. And with the International Atomic Energy Agency and various international bodies based in the city, the lackadaisical attitude has posed a host of security problems. Austria has expelled only four Russian spies posing as diplomats, while neighbors equipped with more robust laws have expelled over 400 spies since the start of Russia's war, the Times reported. There are 180 accredited Russian diplomats in Vienna, and a third of them are assumed to be spies, per the report. For example, in July 2022, The Washington Post reported that Egisto Ott, a former official in Austria's security services who managed undercover agents, was arrested on suspicion of selling state secrets to Russia. (Full article here.)
Counterespionage Corner - Recent Arrests, Convictions, Expulsions, and more...
Cyberespionage Collection - Newly Identified Actors and Operations, Countermeasures, Policy, other...
---
The Latest from International Spy Museum Historian Andrew Hammond, PhD.
Spycast is the official podcast of the International Spy Museum and hosts interviews with intelligence experts on matters of HUMINT, SIGINT, IMINT, OSINT, and GEOINT. Spycast is hosted by historian Andrew Hammond, PhD.
18 Jul | "Leader, Lecturer, Analyzer, Nerd" – with Jorhena Thomas Jorhena Thomas joins Andrew to discuss her career as an analyst and passion for intelligence education. Jorhena spent 8 years in the FBI as an Intelligence Analyst.  
Past episodes:
11 Jul | "The Kneeling Man" - with Letta McCollough Seletsky
04 Jul | From the Vault: "Baseball and Espionage" – with World Series Champion Ryan Zimmeram and Marc Polymeropolous (Part 1 of 2)
27 Jun | "Venice's Secret Service" - with Loanna Lordanou

---
The Latest Insights from Former CIA Acting Deputy Director for Operations Jack Devine.
In Other News The proprietary analytic newsletter crafted for The Arkin Group's private clients by former CIA Acting Deputy Director for Operations Jack Devine.
21 Jul | After a short-lived mutiny, Putin is determined to maintain control, but his methods could turn his allies against him. In the aftermath of last month's Wagner Group mutiny led by Yevgeny Prigozhin, Vladimir Putin has been making every effort to demonstrate strength and unity among the Russian elite. But as noted by the leader of the British foreign intelligence service MI6 this week, while Putin may have cut a deal with Prigozhin to save face, the episode exposed deeper fractures within the Kremlin that will be harder to glaze over. To compensate, Putin is increasing his attacks on Ukraine and distancing himself further from international standards of conduct. And what's he doing now is likely to resonate far beyond borders. (Full version available to AFIO members in the coming days here.)
12 Jul | U.S. and China with little room to maneuver.
06 Jul | Ukraine has rightfully been at the forefront of the European Union's foreign policy and security discussions over the past 18 months, but the larger battle also necessitates curbing threats like North Korea.
29 Jun | Putin would never have been this vulnerable if he'd just stayed out of Ukraine
---
Daily Analysis of Security Issues and Geopolitical Trends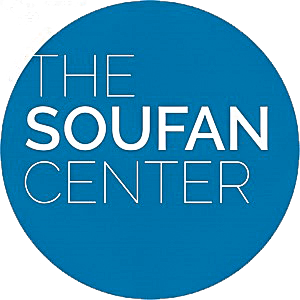 Intel Brief The Soufan Center's flagship, daily analytical product focused on complex security issues and geopolitical trends that may shape regional or international affairs. The Soufan Center was founded by former FBI Special Agent and Soufan Group CEO Ali Soufan.
25 Jul | Controversial Israeli Law Curbs Judiciary Power Amid Growing Domestic Unrest

Just yesterday, the Knesset, Israel's Parliament, approved a highly controversial new law aimed at curbing the power of its judiciary. The law is the first part of Israeli Prime Minister Binyamin Netanyahu's proposed judicial overhaul, which resumed discussions after a four-month hiatus due to ongoing protests. The new law prohibits Israel's Supreme Court from using the legal standard of "reasonableness" to override the policies or laws of the national government. It also overturns the doctrine that grants Israel's Supreme Court the authority to oversee cabinet and ministerial appointments. The second part of the proposed judicial overhaul would grant the Knesset final authority in appointing judges and the power to overturn Supreme Court rulings with a simple majority vote. Supporters of the ruling coalition argue that this law will enhance democracy by granting elected officials more influence over the country's laws than unelected judges. On the other hand, the opposition strongly contends that these laws pose a grave threat to Israel's democracy and represent the consolidation of power by Netanyahu and his allies. Last weekend, Western leaders, including U.S. President Joseph Biden, urged Netanyahu and his coalition to slow down these divisive processes instead of rushing to ram through the proposed changes. Despite these pleas, the government proceeded with the passage of the law. In response, reportedly thousands of protesters blockaded streets and, in return, were met by police using water cannons to disperse demonstrating crowds. (Full brief here.)
24 Jul | Stalled Humanitarian Aid in Ethiopia and Haiti Put Millions at Risk of Starvation
21 Jun | The Impact of the Ukraine War on Türkiye's Relations with Russia
20 Jun | Are We Entering an Era of Climate-Related Conflict?
19 Jun | Failure to Renew Cross-Border Aid Mechanism in Syria Leaves Millions Vulnerable
---
Analysis of Global Security Events with WTOP National Security Correspondent JJ Green

Inside the SCIF - 13 July - Cocaine at 1600, BND Tapped Wagner, FSB Unit Targets Americans, Whelan Saga, and more...
Target USA Podcast - 19 Jul - The NATO Summit: Why Zelenskyy got angry

The Hunt Broadcast - 12 Jul - Extremists in the US military. Which came first?




---
The Latest Insights from Jeff Stein and Colleagues in SpyTalk (Substack)

21 Jul | "Golda" Illuminates Israeli Intelligence Failures in 1973 War? - Jonathan Broder
On October 6, 1973, an Israeli friend of mine named Amnon Dankner was performing his annual month-long stint of military reserve duty on the Golan Heights when Syrian tanks and artillery launched a massive surprise attack on his unit. At the same time, Egyptian forces were invading across the Suez canal. The attacks were the opening shots in what became known as the Yom Kippur war. Until then, the 26-year-old Dankner had regarded his reserve duty as a welcome vacation, a chance to escape family obligations and reconnect with buddies from his unit. Like most Israelis, he was confident that his country's humiliating defeat of Arab armies in the 1967 Six-Day War had made another Arab attack highly unlikely. So the last thing he expected that day was a ferocious Syrian artillery barrage and the sight of hundreds of Syrian tanks racing toward his position on the boulder-strewn, volcanic plateau. (Full article here.)

20 Jul | Spy Rumors Swirl in Chinese Foreign Minister's Absence - Matt Brazil
As has been reported in many outlets, it remains unclear why Chinese foreign minister Qin Gang has not appeared in public since June 25. Officially, he is ill. Unofficially, his purported connection to, including a possible love child with, the famous Phoenix Television host Fu Xiaotian makes the story enticing and has fueled much speculation, including the rumor that Fu was compromised by a foreign intelligence service. That he's been laid low by Illness is plausible but authorities have declined to elaborate. If Qin, 57, had a serious case of COVID it would be embarrassing for the regime, of course, considering that new figures show that the number of deaths in the latest wave of the disease is much higher than claimed by Beijing. (Full article here.)

18 Jul | France's Macron Derails NATO-Pacific Alliance Plan—For Now - Ayako Doi
There were so many contentious issues at last week's NATO summit in Vilnius, along with a large cast of colorful characters—Zelensky, Biden, Erdogan, to name a few—to play out the drama that most reporters didn't even notice the presence of the leaders of four non-NATO countries—Japan, South Korea, Australia and New Zealand—walking around the hallways. If they did notice, apparently few stopped to wonder what those leaders from far-flung Pacific nations were doing at a meeting of the Atlantic alliance. (Full article here.)


To support SpyTalk, subscribe here.



---
Article: FBI Improperly Searched U.S. Senator's Name in Foreign-Spying Database - Wall Street Journal, 21 Jul 23
The Federal Bureau of Investigation wrongfully searched a foreign-intelligence database for information about a U.S. senator and two state officials last year, a federal surveillance court said, a disclosure that could fuel a bipartisan effort in Congress to overhaul the spying program. In June 2022, an FBI analyst conducted four overly broad searches of the U.S. senator's last name in a database of calls, texts, emails and other electronic information collected by the National Security Agency, the U.S. Foreign Intelligence Surveillance Court said. The analyst also searched the data using the last name of a state senator. While the searches were factually justified, they lacked appropriate limits, such as a date range, on the breadth of data that was searched. The names of the senators haven't been made public.(Read full report here.) (NOTE: This material may require a one time free subscription or sit behind a paywall.)
Article: U.S. Bans Students From China's Military-Linked Universities. Its Ally Japan Welcomes Them. - Wall Street Journal, 21 Jul 23
The U.S. has blocked students from China's military-linked universities but its ally Japan is giving them a green light, a divergence that some believe could open the door to academic espionage. Japan isn't bashful about its willingness to welcome Chinese students. Officials in government and academia say they are glad to have students who are seeking an alternative to the U.S. after Washington tightened curbs, citing the importance of free intellectual and scientific exchanges. "From the perspective of Chinese students, America has passed them over, rejected them," said Hiroaki Aihara, executive vice president of the University of Tokyo. "By contrast, they're welcome in Japan. Others say Japan is ignoring security risks. Japan is a "paradise for the Chinese spies," said Kunihiko Miyake, a former Japanese diplomat who is a research director at the Canon Institute for Global Studies. Academics are "not sufficiently concerned about the possible infiltration of their cultural or educational exchange," he said. (Read full report here.) (NOTE: This material may require a one time free subscription or sit behind a paywall.)
Article: CIA rebuilding Spy networks in China a Decade After Losing Agents, CIA Director Reveals - The Washington Times, 20 Jul 23
The Central Intelligence Agency is working to rebuild spy networks in China after a devastating counterintelligence loss of its recruited-agent networks there more than a decade ago, CIA Director William Burns disclosed Thursday. Mr. Burns, speaking at a security conference in Colorado, was asked about the loss of the recruited Chinese and other agents that U.S. officials say began in 2010 and was caused by a combination of betrayal by a CIA officer and a breakdown in a clandestine communication system. "We've made progress and we're working very hard to make sure we have a very strong human intelligence capability to complement what we can acquire through other methods," Mr. Burns said. It was the first time the CIA, the lead U.S. intelligence service for conducting human spying, has acknowledged publicly what officials have called an intelligence disaster at a time when there was renewed U.S. government focus on China. (Read full report here.) (NOTE: This material may require a one time free subscription or sit behind a paywall.)
Article: The New Spy Wars: How China and Russia Use Intelligence Agencies to Undermine America - Foreign Affairs, 19 Jul 23
The Cold War never ended. !at, at least, is Russian President Vladimir Putin's view. !e clearest indication that the Kremlin continued its titanic struggle against the West even after the Soviet Union collapsed can be seen in the activities of Russia's security and intelligence services. In their operations and in the vast power they wield in Russian society, they have picked up where Soviet intelligence left o". Since 1991, these agencies have been driven by a revanchist strategy to make Russia great again and to overturn the post–Cold War U.S.-led international order. Putin's war in Ukraine is the bloody conclusion of that strategy. China is also seeking to reverse the outcome of the Cold War. With the "no limits" alliance proclaimed on the eve of Russia's invasion of Ukraine, Putin and China's leader, Xi Jinping, are attempting to upend the international system—and they are leaning heavily on their intelligence organs to do so. Spy agencies can do what other branches of government cannot: execute non-avowed foreign policy. Both Russian and Chinese intelligence have done so in the furtherance of their revisionist goals, taking advantage of the United States while it was distracted by the "war on terror" to damage U.S. national security, undermine Western democracies, and steal as many scientific and technical secrets as possible. (Read full report here.) (NOTE: This material may require a one time free subscription or sit behind a paywall.)
Article: British spies are using AI to disrupt Russia's shipments of critical weapons, but the technology will never replace real agents, UK spy chief says - Business Insider, 19 Jul 23
British spies are using AI to disrupt the supply of weapons to Russia, the UK MI6 chief said. Moore said the UK and its allies are racing to "master the ethical and safe use of AI." But he also acknowledged the experimental technology won't ever replace human agents. Get the inside scoop on today's biggest stories in business, from Wall Street to Silicon Valley — delivered daily. British spies are using artificial intelligence to derail critical weapons supply chains to Russia, MI6's chief said, but there are hesitations about the dangers of AI and global intelligence. In a speech at the British Embassy in Prague on Wednesday, Richard Moore, the chief of the UK's MI6 spy agency who rarely makes public remarks, praised current efforts to hinder Russia's war efforts in Ukraine. (Read full report here.)
Video: Interview with Richard Moore, Head of MI6 (45 mins) - Politico, 19 Jul 23
Politico's Anne McElvoy spoke with the chief of the U.K.'s Secret Intelligence Service, Sir Richard Moore on the threats facing foreign intelligence, the current state of play in Ukraine and the impact of AI on global security. (Watch here.)
Article: Hong Kong's security appointee signals resolve for tight control - Reuters, 18 Jul 23
China's appointment of a top intelligence official to run Hong Kong's national security regime underscores its determination to tighten its grip on the financial hub, according to diplomats and analysts. Dong Jingwei, 59, is the highest-level Chinese security official to be appointed to a senior role in the former British colony since Beijing imposed a national security law on its most international city in 2020. (Read full report here.)
Book Review: Kemp on Sims: 'Decision Advantage: Intelligence in International Politics from the Spanish Armada to Cyberwar' - H-War, July 23
Jennifer E. Sims's Decision Advantage is an examination of how intelligence has influenced select decision-makers, through three broad periods in history, culminating in a proposed theory of intelligence in international politics. Intelligence, or, as Sims defines it, "the collection, analysis, and dissemination of information for decision-makers engaged in competitive enterprise," is a topic that remains consistently relevant to contemporary operations (p. 13). Arguably, the ability to provide understanding in an increasingly contested, congested, and multidimensional battle space is a critical enabler for success or even decisive in itself. However, despite accepting intelligence's importance, academics traditionally struggle to chart its effectiveness. Reasons are numerous, but classification issues and limited information concerning decision-makers' specific use of intelligence often result in a less than satisfactory analysis of its application. Sims's analysis and discussion are, therefore, sorely needed. Sims's central argument is that "intelligence shapes outcomes in international politics" and that "intelligence is a form of power not unlike the military kind" (p. 2). She states that the manufactured intelligence process ultimately provides leadership with a "decision-advantage" essential for success or victory (p. 8). In support of her argument, Sims examines five historical events: the Spanish Armada, the American Civil War, the hunt for John Wilkes Booth, and the events leading to both world wars. In each, she traces the influence of intelligence on leadership decisions while also capturing "the terrain of uncertainty" that identifies threats to understanding (p. 14). (Read full report here.)
Video: An "Oh So Social" Conversation: "By All Means Available" with Gen. Jim Mattis & Dr. Mike Vickers (84 mins) - OSS Society, 16 Jun 23
If you missed our amazing "Oh So Social" conversation between Gen. Jim Mattis and Dr. Mike Vickers about Dr. Vickers's new book, "By All Means Available: Memoirs of a Life in Intelligence, Special Operations, and Strategy," you can watch it online now. (Watch here.)
Article: Biden Elevates C.I.A. Director to Become a Member of the Cabinet - New York Times, 21 Jul 23
President Biden on Friday elevated William J. Burns, the director of the Central Intelligence Agency, to become a member of his cabinet, citing the agency's work in providing "good intelligence, delivered with honesty and integrity" on China, the Russia-Ukraine conflict, and emerging technologies. "Bill has always given me clear, straightforward analysis that prioritizes the safety and security of the American people, reflecting the integral role the C.I.A. plays in our national security decision-making at this critical time," Mr. Biden said in a statement. Mr. Burns, a veteran diplomat with a career stretching back more than three decades, has been a key player in the administration's efforts to thwart Russia's invasion of Ukraine. He traveled to Moscow before the invasion and has been to Kyiv several times since the war started to confer with the country's leaders. (Read full report here.) (NOTE: This material may require a one time free subscription or sit behind a paywall.)
Article: Beijing vows to thwart renewed U.S. spying after CIA Director Burns' remarks - Washington Times, 24 Jul 23
China will prevent the CIA from conducting intelligence operations in the country after CIA Director William Burns said last week the agency has made progress in rebuilding lost agent networks, a Foreign Ministry spokeswoman said on Monday. Mao Ning, the spokeswoman, said China's government has seen reports of comments by Mr. Burns at the Aspen Security Forum last week. Mr. Burns told the gathering that the agency has made progress in rebuilding spy networks after losing most of its recruited agents in China beginning in 2010. The CIA chief, a career diplomat, said, "We're working very hard to make sure we have a very strong human intelligence capability to complement what we can acquire through other methods." (Read full report here.)
---
Love, Lies, and Espionage: Pakistani Spies Target Indian Scientists and Soldiers - The 420, 21 Jul 23
Thousands of Pakistani spies have been using honey-trapping techniques to gather confidential information from Indian scientists and soldiers. Pakistan's Inter-Service Intelligence (ISI) strategically deploys women to entice Indian defence personnel into compromising intimate situations, paving the way for blackmail and intelligence extraction. Honey Trapping: In an informal context, a "honey trap" refers to a scheme where a victim is enticed into a compromising intimate situation, creating an opportunity for blackmail. In a recent honey-trapping case that shocked India, DRDO Scientist Pradeep Kurulkar got Honey Trapped by a Pakistani Spy and revealed secrets of Indian defence to the ISI indirectly. (Full report here.)
How AI-Enabled Threat Intelligence Is Becoming Our Future - OODA Loop, 21 Jul 23
Let me begin with a disclaimer: I'm an artificial intelligence (AI) optimist! Experts are buzzing with predictions that AI will be the driving force behind the entire threat intelligence industry in the next five years. It's like having a cyber-savvy superhero working tirelessly in the background to keep us safe. As a CEO in the industry, I see tremendous applications of AI in cybersecurity soon, particularly in threat intelligence. With a new era of autonomous threat detection and response coming, I expect that AI will play a pivotal role in collecting, processing and synthesizing threats, transforming the way organizations combat cyber risks. In the next half-decade, the threat intelligence industry is positioned to turn into a high-speed, machine-driven operation. Autonomous systems are already capable of gathering and processing massive quantities of data from a multitude of sources—from network traffic and log files to dark web forums. They can churn through this data at speeds and scales that humans could never match, identifying patterns, correlations and anomalies that hint at potential threats. (Full report here.)
Critical Intelligence Studies: a new framework for analysis - Intelligence and National Security, 21 Feb 23 (unlocked to the public July 2023)
As the purpose of the study of intelligence is, in part, to aid the practice of intelligence, scholarship must reflect that practice. This article sets out a theoretical framework for Critical Intelligence Studies that will increase the real-world applicability of the study of intelligence as currently represented by Intelligence Studies. Critical Security Studies' recognition of the broadening and widening of the concept of security, and the ensuing recognition that intelligence work is not only done by state intelligence agencies or for the security of states, provides an opportunity to push forward the study of intelligence into a position where a well-developed, and theoretically sound, Critical Intelligence Studies can be meaningfully said to exist. (Full report here.)
The politics of intelligence failures: power, rationality, and the intelligence process - Intelligence and National Security, 04 Dec 22 (unlocked to the public July 2023)
This article develops a new approach to analysing intelligence failures. Rather than looking for their causes, intelligence failures are here analysed as part of a politics seeking to reify the value of rationality and the taming of power. To analyse this politics, the article draws on Bent Flyvbjerg's notion of an asymmetrical relation of power/rationality, according to which power has a productive role that is inseparable from claims to rationality. The asymmetrical relation of power/rationality is used in order to challenge the instrumentalist language that pervades much of the literature on intelligence failures and what can be learned from them. (Full report here.)
Sudan - a case study in OSINT for crisis support (48 mins) - Janes The World of Intelligence Podcast, 20 Jul 23
Randy Nixon, Director, Open Source Enterprise, CIA and long time user of Janes joins Harry Kemsley and Sean Corbett to discuss the power and utility of open source intelligence in the intelligence community, why the people in these organisations are so important and how this community can optimise OSINT in their organisations. (Listen here.)
Reflexive Control as a Risk Factor for Using OSINT: Insights from the Russia–Ukraine Conflict - International Journal of Intelligence and Counterintelligence, 17 Jul 2023
Special governmental services, security services of leading companies, and private researchers rely on open-source intelligence (OSINT). With the development of the Internet and social networks, open-data intelligence is increasingly turning from a subtle art into a "mechanical" process—the more data, the better. OSINT professionals' competence enables verification of information and minimizes the chances of deception unless the intention of the investigation and the data's locale are previously known to their adversary. In this very case, the hunter can get into a trap dexterously rigged by an adversary. This article discusses the risks of disinformation through open sources in the context of the Soviet concept of "reflexive control"; that is, imposing unfavorable decisions on the enemy through the introduction of incorrect premises, exemplified by the experience of the Russian–Ukrainian conflict since 2014. The article evaluates the influence exerted on the governmental and military decisions by disinformation through open sources, examining several reported cases. Systematization of data on previous attempts at reflexive control, such as Russian information operations, can increase the accuracy of assessing the depth of an enemies' reflexion, which helps to reveal their operational plans and predict further actions because disinformation often precedes other forms of aggression. (Full report here.)
"HKLeaks" – The Use of Covert and Overt Online Harassment Tactics to Repress 2019 Hong Kong Protests - University of Toronto, 13 Jul 2023
In August 2019, at the height of the Anti-Extradition Bill protests that rocked Hong Kong, a series of websites branded "HKLEAKS" began surfacing on the web. Claiming to be run by anonymous citizens, they systematically exposed ("doxxed") the personal identifiable information of protesters, journalists, and other individuals perceived as affiliated with the protest movement. A number of analyses [1, 2, 3, and more] over the subsequent months and years, as well as individual observers, surfaced several peculiar features of this operation, from the dodgy Russian-based hosting of its web domains, to the synergy with Chinese state media, to the suspicious sourcing of the data used for the doxxing. (Full report here.)
Misperceptions Online About the Security Clearance Process - RAND, 20 Jul 2023
The purpose of this report is to describe and analyze information and potential misinformation available online about the security clearance process that could lead to misperceptions about the process. The security clearance process may seem confusing and opaque to the public, leading some people to seek clarity from others about their own experiences. Seeking out this kind of information from acquaintances, friends, and family is nothing new, but access to the internet allows people to search for additional sources that might offer answers to their questions, as well as inquire of a larger number of people on public forums about this process. Reviewing the questions and content on such forums provides insight into what people are asking — and what answers they are getting — and reveals areas in which there are potential misperceptions about the process. This research was sponsored by the Security, Suitability, and Credentialing Performance Accountability Council Program Management Office and conducted within the Personnel, Readiness, and Health Program of the RAND National Security Research Division (NSRD). This report is part of the RAND Corporation Research report series. RAND reports present research findings and objective analysis that address the challenges facing the public and private sectors. All RAND reports undergo rigorous peer review to ensure high standards for research quality and objectivity. (Full report here.)
Animated: Change in Russian Billionaires' Wealth Since 2022 - Visual Capitalist, 30 Jun 23
When Russia invaded Ukraine in February 2022, many countries retaliated with sanctions targeting Russian billionaires—the oligarchs—and politicians directly. And as the war has progressed, those sanctions have intensified, with even the relatives and shell companies of these billionaires being targeted over time. The reason? These oligarchs are interconnected to Russia's government, lending vocal and fiscal support in exchange for sweetheart deals or beneficial government oversight. This animation from James Eagle shows how the estimated net wealth of the 22 wealthiest Russian billionaires on the Bloomberg Billionaires Index in April 2023 has changed since January 2022, prior to the start of the conflict. (Access visual tool and full report here.)
Intelligence in History - A Collection of Recent Content
True Intelligence Matters in Film - A Call to Spy - Lydia Dean Pilcher (2019)
A Call to Spy (also known as Liberté: A Call to Spy) is a 2019 American spy drama film written and produced by Sarah Megan Thomas and directed by Lydia Dean Pilcher. The title is a stylistic variant of "a call to arms." The film is a fictionalized historical drama inspired by the lives of three real women who worked as British spies during World War II--including OSS's famous Virginia Hall. In many important respects the plot deviates from actual events and from their real-life missions. It stars Sarah Megan Thomas, Radhika Apte and Stana Katic. A Call to Spy had its world premiere on June 21, 2019, at the Edinburgh International Film Festival, and was released in the United States on October 2, 2020, in theaters and on video on demand. The film received mostly positive reviews. Film critic aggregator Rotten Tomatoes said it "overcomes a surprising lack of tension with an overall engaging tribute to an oft-overlooked group of World War II heroes." Plot summary: In the beginning of WWII, with Britain becoming desperate, Churchill orders his new spy agency—the Special Operations Executive (SOE)—to recruit and train women as spies. Their daunting mission: conduct sabotage and build a resistance. SOE's "spymistress," Vera Atkins (Stana Katic), recruits two unusual candidates: Virginia Hall (Sarah Megan Thomas), an ambitious American with a wooden leg, and Noor Inayat Khan (Radhika Apte), an Indian Muslim pacifist. Together, these women help to undermine the Nazi regime in France, leaving an unmistakable legacy in their wake.

More information about this based-on-true-events production here.
Walking Tours - Washington, DC - Sundays (Dates/Times Vary)
Former intelligence officers guide visitors on two morning and afternoon espionage-themed walking tours: "Spies of Embassy Row" and "Spies of Georgetown." For more information and booking, click here or contact rosanna@spyher.co
---
Chile, the CIA and the Cold War: A Transatlantic Perspective (Intelligence, Surveillance and Secret Warfare)
by James Lockhart
(Edinburgh University Press, 16 Feb 21)
James Lockhart blends Chilean, inter-American and transatlantic national, regional and world-historical trends into a century-long Cold War narrative. He argues that Chileans made their own history as highly engaged internationalists while reassessing American and other foreign-directed intelligence, surveillance and secret warfare operations in Chile and southern South America. The book transcends a well-known, USSR-centered historiography while offering a more equitable and global interpretation of Chile's Cold War experience than previously possible. This advances research that has progressively expanded the framework of Chile's Cold War experience since the arrest of General Augusto Pinochet in the UK for human rights violations more than 20 years ago.
Order book here.
---
A Private Spy: The Letters of John le Carré
by John le Carré (Author), Tim Cornwell (Editor)
(Viking, 06 Dec 22)
The never-before-seen correspondence of John le Carré, one of the most important novelists of our generation, are collected in this beautiful volume. During his lifetime, le Carré wrote numerous letters to writers, spies, politicians, artists, actors and public figures. This collection is a treasure trove, revealing the late author's humour, generosity, and wit--a side of him many readers have not previously seen.
Order book here.
---
See It/Shoot It: The Secret History of the CIA's Lethal Drone Program
by Christopher J. Fuller
(Yale University Press, 25 Apr 17)
This eye-opening study uncovers the history of the most important instrument of U.S. counterterrorism today: the armed drone. It reveals that, contrary to popular belief, the CIA's covert drone program is not a product of 9/11. Rather, it is the result of U.S. counterterrorism practices extending back to an influential group of policy makers in the Reagan administration. Tracing the evolution of counterterrorism policy and drone technology from the fallout of Iran-Contra and the CIA's "Eagle Program" prototype in the mid-1980s to the emergence of al-Qaeda, Fuller shows how George W. Bush and Obama built upon or discarded strategies from the Reagan and Clinton eras as they responded to changes in the partisan environment, the perceived level of threat, and technological advances. Examining a range of counterterrorism strategies, he reveals why the CIA's drones became the United States' preferred tool for pursuing the decades-old goal of preemptively targeting anti-American terrorists around the world.
Order book here.
---
---
Call for Information: Rueben Efron (1911-1993), former CIA translator, HTLINGUAL.
Please contact Mark S. Zaid, Esq. at mark@markzaid.com or (202) 330-5610.
Call for Information: Arnold M. Silvier
Relative of Silvier, aka "Richie Boy," seeks information on the person (or works of) Silver, who was in the US Army during WWII and, later, CIA (1949 - 1978), with postings in Austria, Luxembourg, Germany, Turkey and Washington DC. Please contact nboicecounseling@gmail.com
Survey for Members: Skill Sets Needed for Intelligence Analysis Degree Holders to See Success After Graduation
Northeastern University Security and Intelligence Studies professor researching the skill sets required for Intelligence Analysis degree holders to see success after graduation welcomes the participation of AFIO members in a 5-minute survey in support of the research. Access survey here.
Call for Information: 430th CIC in Salzburg in 1946
I am currently writing about 430th CIC in Salzburg in 1946. I have a (large) CIC file and am now trying to track down further details about two officers mentioned in this: (1) Bill Taylor. The sources do not make clear whether the officer was Major Bill G. Taylor, GSC, Head of the Counter-Intelligence Bureau of G-2 (Intelligence Section), US Forces Austria, or "Mil.Reg." Captain Taylor of Salzburg. Any information on either/both of these officers would be most welcome. (2) Pace B Rose. Rose was a CIC Special Agent in Austria, later a CIA officer who continued to be attached to the Agency after retirement. He died on 3 January 2009. I would like to contact family and friends of Pace Rose. According to the internet, Rose had children, Donna R. Hilverts and Gary W. Rose, and five grandchildren and three great grandchildren. Please contact S.Cody@westminster.ac.uk with any information.
Call for Sources: Intelligence Officers Who Lived in Spain in the 1970s
Spanish journalist Francisco Jiménez is preparing a documentary about the intelligence services in Spain in the 70s. He is looking for intelligence officers who worked in Spain in those years. If you are willing to assist Francisco, he can be reached at fjimenez@globomedia.es.
Call for Sources: Intelligence activities in Grenada and the southern Caribbean between 1979, Operation Urgent Fury, Leonard Barrett
The Washington Post is developing a multi-part audio documentary series (i.e. podcast) chronicling the Grenadian revolution and the US intervention in 1983. They've interviewed nearly 100 people so far, ranging from the heads of state, former Grenadian officials, current and former US officials, veterans, and intelligence officers. They're looking for people who served at the time and may be knowledgeable about intelligence activities in Grenada and the southern Caribbean between 1979 and Operation Urgent Fury. They would also be interested in speaking with anyone who knew Leonard Barrett during the same period. If anyone is interested in participating, please reach out to Washington Post reporter Ted Muldoon via email at ted.muldoon@washpost.com or on Signal at 651-497-5449.
Call for papers: Energy Concerns in National Security and Business Intelligence: Identifying Threats and Developing Solutions - International Journal of Intelligence and Counterintelligence
The link between energy and national security is well established and is a continuing multifaceted problem. Every facet of the intelligence process (e.g., collection, analysis, and production) has played a significant role for governments and private industry in anticipating threats to this vital sector. For example, current intelligence assessments focusing on Europe's major energy concerns are stemming from supply-chain disruptions caused by a pandemic, Russia's war in Ukraine, climate change, and the phasing out of coal and phasing in of renewable sources. This conference provides an opportunity to discuss the contribution of business intelligence in understanding the threat to role of energy and national security interests. It brings together prominent academic voices, experienced practitioners, and policymakers, offering an opportunity to "bridge the gap" between these sectors. We are looking for conference participants to identify critical issues and challenges, competing perspectives, new and existing trends, creative solutions for new technologies, and the emergence of new market conditions.
Proposals, abstracts, or papers should be submitted by September 1.
More information, topic suggestions, and submission instructions here.
Call for papers: Intelligence and Post-War Reconstruction - International Journal of Intelligence and Counterintelligence
History shows that without planning for post-war reconstruction, apparent victory in war can lead to long-term defeat. On the other hand, wise post-war planning can lead to friendly, peaceful, and profitable relations between victor and vanquished. For political, socio-economic and security-related planning, intelligence plays a crucial role in estimating capabilities, securing infrastructure, locating persons of interest, and rebuilding. In honor of the 75th anniversary of the European Recovery Program (Marshall Plan) after the Second World War, the editors are particularly interested in papers dealing with intelligence concerning post-war reconstruction initiatives and planning connected to historical and recent conflicts. Both case studies and theoretical and methodological approaches are welcome. The studies may include, but do not have to be focused on, the following questions and issues:
The role of diplomatic and military intelligence during the conflict as preparation for post-war reconstruction, from the conceptual to the practical.
What intelligence needs to be collected to secure and boost reconstruction?
What contacts, networks, and infrastructure are necessary for intelligence to be effective?
Who has been or should be approached and/or recruited for reconstruction efforts based on intelligence?
When has intelligent post-war planning (or its opposite) been historically evident?
How should intelligence interact with formerly warring parties and international organizations to empower practical reconstruction efforts?
What intelligence collection challenges have services encountered in working for post-war peace?
How did intelligence factor in the European Recovery Program?
What was George C. Marshall's position on the role of intelligence in general or concrete examples related to "his" plan?
01 Nov 23 deadline. More information and submission instructions here.
Call For Articles: AFIO Journal, The Intelligencer
For the past four years, AFIO has included in The Intelligencer a series of articles on "when intelligence made a difference." Written by scholars, intelligence practitioners, students, and others, they cover events from ancient times to the modern world and in many countries. AFIO is soliciting articles for future issues. Most articles run between 2,000 and 3,000 words, although some are longer or shorter. If you have an idea for an article that fits the theme, email senior editor Peter Oleson at peter.oleson@afio.com.
---
Retired Federal Government Employees Wanted - National Security Agency - Fort Meade, Maryland
The National Security Agency (NSA) may occasionally need skilled civilian retirees to augment the existing work force on high priority projects or programs. In order to fill these temporary positions quickly, we need to know who may be interested and available to return to work with us on a short notice basis as well as their skills. Retirees provide expertise and corporate knowledge to temporarily support mission requirements, manpower shortfalls, and/or mentor the next generation of Agency employees. Salary Range: $86,335 - $170,800.
Additional information and application here.

Assistant/Associate Professor of Intelligence Studies (Global Security and Intelligence Studies) - Embry-Riddle Aeronautical University - Prescott, Arizona
Embry-Riddle Aeronautical University's Prescott, Arizona campus is accepting applications for a tenure-track assistant or associate-level professor of intelligence studies to teach intelligence courses to students in the Global Security and Intelligence program. The successful candidate will teach students about the intelligence community, strategic intelligence, the intelligence cycle and intelligence analysis, writing, and briefing. Prior experience working in the intelligence community is strongly preferred. We are interested in candidates with teaching acumen in intelligence analysis and writing using structured analytical techniques.
Additional information and application here.

Teaching Associate - Intelligence and National Security Studies - Coastal Carolina University, South Carolina
The Department of Intelligence and Security Studies ( ISS ) at Coastal Carolina University is accepting applications for a pool of Teaching Associates (part-time adjunct faculty) to teach introductory and undergraduate elective course offerings for the program beginning in August 2022. While the ad is open to any specialization within the field of study, courses in the areas of homeland security, law enforcement intelligence, counter-narcotics, and cybersecurity are of particular interest. Course offerings can be in a face-to-face or synchronous online modality. To be considered, candidates must have a masters or doctoral degree in a relevant subject area. Prior professional experience in the profession, as well as prior teaching experience are preferred.
Additional information and application here.

---
David Garst — JMIC Leader and CIA Analyst

Dr. Ronald David Garst passed away on June 15, 2023, following a stroke complicated by Parkinson's disease. He was 81 years old and was residing in Durango, Colorado, following many years of service with the federal government and earlier as a professor at several universities. Born in Detroit, Michigan, nine days before the Japanese attack on Pearl Harbor, Ron earned BA and MA degrees from Arizona State University and a PhD in Geography from Michigan State University, which included doctoral research in Kenya under a Fulbright fellowship. He taught at Pittsburg State University in Kansas, Michigan State University, and University of Maryland College Park prior to his long federal tenure, which began as an Intelligence Research Analyst at CIA. In 1984 he moved to the then-Defense Intelligence College (now NIU) in Washington, DC, and over the following two-plus decades served as a department chair, Associate Dean, and finally Provost beginning in 1993, the same year the school's name was changed to the Joint Military Intelligence College (JMIC).
George Harris — Decorated Former INR Director

George Sellers Harris, age 92, died peacefully in his home on July 1, 2023 after a long struggle with Parkinson's disease. George was born in Quincy, Massachusetts. He attended Milton Academy and Harvard University and served in Turkey as a diplomat and academic. He received his PhD in History of the Middle East from Harvard in 1957 and served in the U.S. Embassy in Ankara until 1962. George spent the bulk of his career in the Office of Analysis for Near East and South Asia, INR, Department of State until he retired as its Director in 1995. He was the recipient of the Presidential Rank of Meritorious Executive in 1982 and 1988, and the Presidential Rank of Distinguished Executive in 1992. George was also a Professorial Lecturer at the School for Advanced International Studies at John Hopkins University and at George Washington University and a Research Fellow at Bilkent University in Ankara and at American University in Washington, DC. He wrote several books about Turkey and the Turkish-American relationship, including The Origins of Communism in Turkey (1967), Troubled Alliance: Turkish-American Problems in Historical Perspective 1945-1971 (1972), Turkey: Coping with Crisis (1985), The Communists and the Kadro Movement: Shaping Ideology in Atatürk's Turkey (2002), and Atatürk's Diplomats (2010).
Jack Hennessey — Decorated Former Senior CIA Operations Officer and Airforce Intel Officer

John (Jack) Francis Hennessey, 90, passed on 2 July 2023. Born in Oswego, New York, Jack served as class president and graduated as valedictorian of the class of 1951 from Oswego High School. He attended Syracuse University on scholarship and joined Delta Tau Delta Fraternity. Jack graduated from Syracuse University with a Bachelor of Arts degree in Russian Language/Russian Studies. Jack served in the Syracuse University Air Force ROTC program and was commissioned an officer in the United States Air Force 6 June 1955. Jack attended flight school and became a Navigator/Bombardier on the B-47 aircraft. In 1959, Jack became an intelligence officer and transferred to the US Air Force Reserve. He served honorably for 30 years, commanding intelligence detachments at Homestead and Scott Air Force bases. His decorations included the Meritorious Service Medal with oak leaf cluster, and the Air Force Reserve Medal with oak leaf cluster. Jack retired from the reserve in 1985. In 1959, Jack began his civilian career with the Central Intelligence Agency. He served as an analyst and was selected to attend Harvard University in 1963. Jack graduated from Harvard with a Masters Degree in Public Administration 17 June 1965. He returned to the CIA in the Operations Division, ultimately serving as Chief of Station in several locations. Jack was awarded the Career Intelligence Medal and retired from the CIA as a GS-15 in 1992. Following retirement, Jack continued to work on contract with the Agency until 2012.
Clarence Bauer — Last Surviving Member of FBI's Special Intelligence Service

Clarence Bauer, the last surviving member of America's secret World War II spy organization, the Special Intelligence Service (SIS), passed away on 20 July 2023. He was 102 years old. Established in 1940 as a branch of the Federal Bureau of Investigation (FBI), the SIS served as the United States' foreign clandestine intelligence group in the Western Hemisphere before the CIA assumed the role. The service's 350 agents conducted espionage, counterintelligence, and anti-sabotage operations in South America and the Caribbean. By the time the SIS disbanded in 1946, its agents had identified 888 Axis espionage agents, 30 saboteurs, and dismantled 24 clandestine radio stations in addition to having disrupted Nazi war material smuggling operations. After the SIS was disbanded, its region of operation was incorporated into the responsibilities of the newly formed Central Intelligence Agency. Concurrently, the FBI would expand its own primarily domestic counterintelligence role to hunt spies and combat espionage. Recruited into the SIS in early 1942, Bauer was initially assigned to the RCA Building in New York, where the SIS operated the 'Importers and Exporters Service Company,' a cover business to hide the organization's overseas activities. By the end of the year, Bauer was summoned to Bogota, Columbia, where he conducted clandestine work to locate Nazi spy radio transmitters. His team's biggest win was the apprehension of a German agent, which led to the identification of German agents working within in the United States. Bauer remained in South America until 1946. He left the FBI in 1954.
Bill Pitt — Decorated CIA Ops Officer

William "Bill" Page Pitt, 95, who fought on the front lines of the cold war in the 1950s, died on July 12th at his home in Leawood Kansas. Bill was born in Huntington, West Virginia. He graduated from Huntington East High School and was drafted into military service at the tail end of World War II in 1945. He served two years in the Navy as a signalman on the USS Amphion. Upon discharge, Bill returned to Huntington and attended Marshall University majoring in accounting, however, his career as a businessman would wait. With the advent of the Central Intelligence Agency in 1947 as the nation's civilian foreign intelligence service, the CIA began recruiting on college campuses for personnel. During Bill's senior year at Marshall, his name was made aware to CIA recruiters as a student who met a criteria list circulated to professors and administrators at Marshall. Pitt joined the CIA upon graduation which led to assignments and missions across Asia from 1951-1959. His assignments included stations in Japan and Singapore. In 1958, Pitt was part of a paramilitary operation in Indonesia, led by legendary CIA officer Anthony "Tony Poe" Poshepny, which tried unsuccessfully to arrange a military uprising against Sukarno, the president of Indonesia, after his declaration of martial law in 1957. On March 20, 1959, Pitt was awarded the Intelligence Medal of Merit by CIA Director Allen Dulles for his actions in Indonesia. After marrying in 1959, Bill resigned from the CIA to start a family, agreeing to return in the event of national emergency. This was tested three years later during the Cuban missile crisis in October 1962, when Pitt was called into CIA headquarters for a briefing and contingency planning in the event the United States entered war with the Soviet Union.
---
EVENT POSTPONED - 27 Jul 23 (Thursday), 1130 (Pacific) - In Person - Col. Robert W. Parr, USAF (ret) on "12 Days with a Soviet Pilot Defector" - Basque Cultural Center, San Francisco - The AFIO Andre LeGallo Chapter. No host cocktail at 1130 hours (Pacific). Meeting starts at 1200 hours. Basque Cultural Center, 599 Railroad Avenue, South San Francisco, CA. RSVP and pre-payment required. Event has been postponed to autumn.
See the AFIO Calendar of Events for scheduling further in the future.
---




24-28 Jul 2023 - 0900-1500 (ET) - Spy Camp 2023 - In Person - International Spy Museum, Washington DC

Somewhere deep inside the Museum an elite group of recruits is lurking in the shadows preparing to take on top secret missions. No one really knows who they are, or for that matter, what they're really up to. Now it's your turn to join their ranks. Each day at Spy Camp is filled with top secret briefings and activities that will put spy skills and street smarts to the test. Aspiring KidSpy® recruits will hone their tradecraft, learn from real spies, and hit the streets of DC to run training missions. Develop a disguise for cover, make and break codes, discover escape and evasion techniques, create, and use spy gadgets, uncover the science behind spying—all of this and more awaits young recruits. Price per child (ages 9-12): $595 for regular; $515 for members. Visit www.spymuseum.org.

25 Jul 2023 - 1400-1500 (ET) - SPY with Me: Memory Loss Program - Virtual - International Spy Museum, Washington DC

International Spy Museum events Spy with Me is an interactive virtual program for individuals living with dementia and their care partners. Join SPY as we use music and artifacts to explore some of our favorite spy stories. Programs last one hour and are held virtually through Zoom. Every month the same program is offered on two different dates. To register, please email Shana Oltmans at soltmans@spymuseum.org Free but space is limited. Visit www.spymuseum.org.

26 Jul 23, 1200-1300 (ET) - Open Source Intelligence (OSINT) - Maturing the Discipline – Johns Hopkins University - Virtual

Join host Michael Ard for a curated conversation with Barbara Alexander, president, OSINT Foundation as they discuss the current and future role of OSINT in the Intelligence Community. Mrs. Alexander is the president of the OSINT Foundation, a professional association for Open Source Intelligence practitioners. A career intelligence officer in the federal government and retired member of the Senior Executive Service (SES), Alexander has a broad background in analysis, collection, strategic planning, information technology, and Intelligence Community issues. Alexander began her career as a European military-political analyst at the Defense Intelligence Agency, and later spent a decade working in the areas of strategic planning and budgeting for the global defense intelligence analysis community. She served in interagency assignments at the predecessor to the Office of the Director of National Intelligence and at the National Geospatial-Intelligence Agency, and held senior managerial positions at DIA, including the deputy for counterproliferation, staff director for Russia, Eurasia, and Africa, and chief of the Relationship and Performance Management Group in the office of the chief information officer, supporting the mission needs of over 20,000 DoD Intelligence Information Service customers worldwide. Alexander joined the Department of Homeland Security (DHS) Office of Intelligence and Analysis(I&A) in 2008 as the Director of I&A's Collection and Requirements Division, where she oversaw the Department's OSINT exploitation activities. She also ensured the IC's technical capabilities and human assets provided the information DHS and its components needed to prepare, prevent, respond, and recover from any hazard or threat to the security of the Nation. In 2010, she became the director of I&A's Cyber, Infrastructure, and Science Division, and directed intelligence analysis on threats to the Nation's cyber networks; threats from adversary use of chemical, biological, radiological, and nuclear materials; and threats to the17 critical infrastructure sectors. Upon her retirement from federal service, she has worked in industry as an expert in Intelligence and Homeland Security, most recently for General Dynamics Information Technology. Alexander holds a Bachelor of Arts degree in Political Science from Wheaton College (IL); a Master of Arts degree in International Relations from the Paul H. Nitze School of Advanced International Studies, the Johns Hopkins University; and a Master of Science degree in National Security Strategy from the National War College. She is a project management professional (PMP®), a certified Intelligence Community Officer, a FEMA certified Level I Professional Continuity Practitioner, and completed the Chief Information Officer Certification program at the National Defense University's Information Resources Management College.

Program is free of charge but requires advanced registration here.

27 Jul 23, 1200 (ET) - Spy Chat with Chris Costa ft. Special Guest Ambassador Roger D. Carstens - Virtual - International Spy Museum, Washington DC

Join us for an online discussion of the latest intelligence, national security, and terrorism issues in the news. Spy Museum Executive Director Chris Costa, a former intelligence officer of 34 years, will be joined by Ambassador Roger D. Carstens, who serves as the Special Presidential Envoy for Hostage Affairs at the US Department of State. Carstens is the former Deputy Assistant Secretary in the Bureau of Democracy, Human Rights, and Labor at the US Department of State, where he oversaw the Bureau's work in Near Eastern Affairs, Western Hemisphere Affairs, and the Office of Security and Human Rights. Previously, he served in Amman, Jordan, as the Country Director for a US-based INGO that provided humanitarian assistance and stability support to Syrian refugees and internally displaced persons. Prior positions include Senior Civilian Advisor on the Commander's Advisory and Assistance Team (CAAT) in Afghanistan; Senior Fellow at the Center for a New American Security; and Special Assistant for Legislative Affairs in the Office of the Secretary of Defense. Carstens is a retired Army Lieutenant Colonel who served in Special Forces and the 1st Ranger Battalion. Program is free of charge but requires advanced registration. Visit www.spymuseum.org.

27 Jul 23 - 1400-1500 (ET) - SPY with Me: Memory Loss Program - Virtual - International Spy Museum, Washington DC

International Spy Museum eventsSPY with Me is an interactive virtual program for individuals living with dementia and their care partners. Join SPY as we use music and artifacts to explore some of our favorite spy stories. Programs last one hour and are held virtually through Zoom. Every month the same program is offered on two different dates. To register, please email Shana Oltmans at soltmans@spymuseum.org Free but space is limited. Visit www.spymuseum.org.

Thursday, July 27, 2:00-3:00pm – Washington, DC – SPY with Me: Memory Loss Program – Virtual International Spy Museum Program International Spy Museum eventsSPY with Me is an interactive virtual program for individuals living with dementia and their care partners. Join SPY as we use music and artifacts to explore some of our favorite spy stories. Programs last one hour and are held virtually through Zoom. Every month the same program is offered on two different dates. To register, please email Shana Oltmans at soltmans@spymuseum.org. Free but space is limited. Visit www.spymuseum.org.

31 Jul - 04 Aug 2023 - 0900-1500 (ET) - Spy Camp 2023 - In Person - International Spy Museum, Washington DC

Somewhere deep inside the Museum an elite group of recruits is lurking in the shadows preparing to take on top secret missions. No one really knows who they are, or for that matter, what they're really up to. Now it's your turn to join their ranks. Each day at Spy Camp is filled with top secret briefings and activities that will put spy skills and street smarts to the test. Aspiring KidSpy® recruits will hone their tradecraft, learn from real spies, and hit the streets of DC to run training missions. Develop a disguise for cover, make and break codes, discover escape and evasion techniques, create, and use spy gadgets, uncover the science behind spying—all of this and more awaits young recruits. Price per child (ages 9-12): $595 for regular; $515 for members. Visit www.spymuseum.org.

03 Aug 23, 1730-2130 (ET) - Leadership Dinner with DDNI Stacey Dixon – INSA - In Person - Tysons Corner, VA

Join intelligence and national security colleagues at the Hilton McLean Tysons Corner for INSA's Leadership Dinner honoring Dr. Stacey Dixon, Principal Deputy Director of National Intelligence, ODNI. Following her opening remarks, Dr. Dixon will join INSA Chairwoman Letitia A. Long for a moderated Q&A. Topics for discussion include: AI and emerging tech, IC data strategy, Future of Open Source, Collaboration with industry partners...and more! Plus, there will be audience Q&A. More information and registration here.



---
---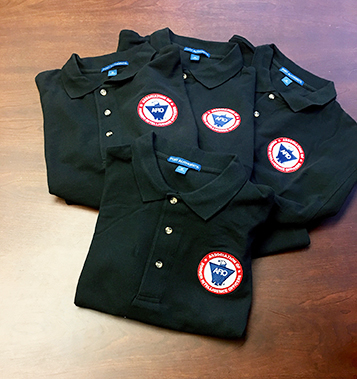 Now available: Black short-sleeved polo shirts with Embroidered AFIO logo
Show your support for AFIO with our new Black Short-sleeve Polo Shirts. Shirts are shrink and wrinkle resistant of fine cotton with a soft, "well-worn, comfy" yet substantial feel. They feature a detailed embroidered AFIO seal. Get a shirt for yourself and consider as gifts for colleagues, family, and friends. Only $50 each including shipping.
Sizes for (M) men, only; Small, Medium, Large, XL, XXL, and XXXL. $50 per shirt.
You may pay by check or credit card. Complete your order online here or mail an order along with payment to: AFIO, 7600 Leesburg Pike, Ste 470 East, Falls Church, VA 22043-2004. Phone orders at 703-790-0320. Questions? Contact Annette at: annettej@afio.com.
---

PopSocket for cellphones or tablets
Show your support to AFIO while enjoying the convenience offered by our AFIO Logo PopSocket. The PopSocket is most commonly used as a stand and as a grip for your mobile phone or tablet; handy for taking selfies, watching videos, and for texting. The PopSocket looks like a small button or sticker which, when closed, sticks flat to your mobile device. However, its accordion-like design enables it to pop open for use. The benefits of using a PopSocket make it a must-have accessory for your mobile phone or tablet. It also aids in keeping your phone from slipping off your hand during use, falling, or breaking.
Price: $15. Order this and other store items online here.
---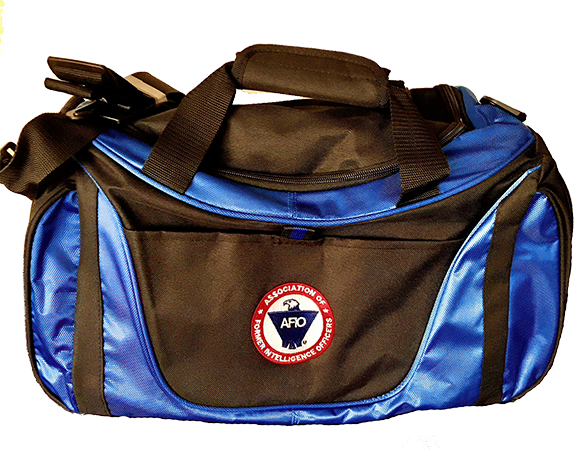 Duffel Bags - Royal Blue and Black with Full Color AFIO Logo This duffel has it all when it comes to value, style and organization.
600 denier polyester canvas with polyester double contrast; D-shaped zippered entry for easy access. Front pocket with hook and loop closure. End mesh pocket Easy-access end pockets. Four durable, protective feet and built-in bottom board for added strength. Web handles with padded grip. Detachable, adjustable shoulder strap.
Dimensions: 11"h x 19.75"w x 9.75"d; Approx. 2,118 cubic inches
Price: $50. Order this and other store items online here.
---
AFIO Mug with color glazed seal.

Made in the U.S.A., dishwasher-safe.
$35 includes shipping.

Sip your morning joe in style or use it to stash pens, cards, paperclips, or candy.
Order this and other store items online here.
---


Caps - Dark Navy with Navy AFIO Logo
An authentic silhouette with the comfort of an unstructured, adjustable fit. Fabric: 100% cotton. Unstructured. Fabric strap closure with adjustable D-clip. Price: $30. Order this and other store items online here.
---
PUBLISHED IN 2023
Be informed on career opportunities in the U.S. Intelligence Community
Intelligence as a Career - with updated listings of colleges teaching intelligence courses, and Q&As on needed foreign languages, as well as the courses, grades, extracurricular activities, and behavioral characteristics and life experiences sought by modern U.S. intelligence agencies.

AFIO's popular 47-page booklet reaches thousands of high school, college students, university guidance offices, and distributed in classes teaching intelligence, to help those considering careers in the U.S. Intelligence Community.

This is the all new fifth edition.
The publication is also popular with University Career Guidance Centers, professors and academic departments specializing in national security, and parents assisting children or grandchildren in choosing meaningful, public service careers.
This booklet is provided online as a public service from the generosity of AFIO board, volunteer editors/writers, donors, and members.
We thank all for their support which makes this educational effort possible.
Careers Booklet (new 2023 Fifth Edition) can be read or downloaded here

---
Guide to the Study of Intelligence...and...When Intelligence Made a Difference
"AFIO's Guide to the Study of Intelligence" has sold out in hard-copy.
It is available in digital form in its entirety on the AFIO website here.

Also available on the website here are the individual articles of AFIO's history project "When Intelligence Made a Difference" that have been published to date in The Intelligencer journal. More articles will be appear in future editions.
---
Address Technical Issues Or Unsubscribe
Some features of the email version of the WIN do not work for readers who have chosen the Plaintext Edition, some AOL users, and readers who access their email using web mail. You may request to change from Plaintext to HTML format here afio@afio.com. For the best reading experience, the latest web edition can be found here: https://www.afio.com/pages/currentwin.htm
To unsubscribe from the WIN email list, please click the "UNSUBSCRIBE" link at the bottom of the email. If you did not subscribe to the WIN and are not a member, you received this product from a third party in violation of AFIO policy. Please forward to afio@afio.com the entire message that you received and we will remove the sender from our membership and distribution lists.
---
Disclaimer and Legal Protection
Weekly Intelligence Notes (WINs) are a carefully selected collection of timely open source reports and announcements and other media focused on intelligence and related national security matters that is produced for non-profit educational use by AFIO members and WIN subscribers. WINs are protected by copyright and intellectual property laws. They may not be reproduced or re-sent without specific permission from the Producer. Opinions expressed in the materials contained in the WINs are solely those of the content creators listed with each item. Notices in the WINs about non-AFIO events do not constitute endorsement or recommendation by AFIO.

(c) 1998 thru 2023


---

AFIO Members Support the AFIO Mission - sponsor new members! CHECK THE AFIO WEBSITE at www.afio.com for back issues of the WINs, information about AFIO, conference agenda and registrations materials, and membership applications and much more! .

AFIO | 7600 Leesburg Pike, Suite 470 East, Falls Church, VA 22043-2004 | (703) 790-0320 (phone) | (703) 991-1278 (fax) | afio@afio.com
---
About AFIO | Membership Renewal | Change of Address | Upcoming Events | Chapter Locations | Corporate/Institutional Memberships | Careers in Intelligence Booklet | Guide to the Study of Intelligence | Intelligencer Journal | Weekly Intelligence Notes | Make A Donation | AFIO Store | Member-Only Section | Code of Ethics | Home Page
RETURN TO TOP
---