---
Somalia's spy agency intercepts explosives - Garowe Online, 10 Aug 23
Somalia's spy agency has intercepted explosives destined for Al-Shabaab strongholds even as the country gears for the second phase of operations against the militants, who have been controller parts of central and southern regions for the last two decades. The National Intelligence Security Agency [NISA] confirmed in a tweet that a vehicle carrying explosive devices was intercepted along Elasha- Biyaha Road within Mogadishu, the capital, leading to a shootout with the driver. The driver was subdued and died on the spot, the agency said. While committing itself to secure the country from the hands of the militants, the spy agency insisted that the crackdown against the militants would be intensified across the country, noting that locals should also actively participate for the sake of sharing intelligence. "Our special forces in Elasha- Biyaha intercepted a vehicle carrying explosive devices and killed the driver after he attempted to escape. NISA is committed to preventing and thwarting all plans that terrorists intend to harm the people," the agency said. NISA works closely with security forces in pursuing criminals including Al-Shabaab militants, who have been fighting to topple the fragile UN-backed federal government of Somalia but have struggled due to resistance. multi-agency teams safeguarding civilians in Somalia. (View report here.)
Pentagon Wants A Way To Capture High-Flying Spy Balloons - The Drive, 08 Aug 23
Future high-flying Chinese surveillance balloons that enter U.S. airspace could be captured in flight and brought to Earth, for a detailed analysis of their payload and capabilities. That, at least, is the aspiration outlined by the Pentagon's research and development agency, although at this stage it remains unclear how that might be achieved. The development comes in the wake of multiple shoot-downs of flying objects over U.S. and Canadian airspace this year. According to an article yesterday by Aviation Week's Steve Trimble, the plan is taking shape under the appropriately named CAPTURE project, standing for Capturing Aerial Payloads to Unleash Reliable Exploitation. This is being run by the Defense Advanced Research Projects Agency (DARPA), responsible for the development of emerging technologies for use by the U.S. military. (View report here.)
Report Explores Mental Health Stigma and Security Clearances in Intelligence Community - Clearance Jobs, 14 Aug 23
Leidos has shared their study shedding light on the persistent mental health stigma within the Intelligence Community (IC) and its impact on the security clearance investigation process. The research, released today, highlights that despite progress in recognizing mental health in application reviews, misunderstandings, misinformation, and stigmatization endure. "The security clearance process is essential to protecting our national security, but it should not discourage current and prospective cleared employees from taking care of their mental fitness," said Roy Stevens, Leidos Intelligence Group president. "As society takes a more sophisticated view on the importance of mental health, persistent stigmas remain. We hope this report sparks a new discussion focused on solutions, support and maintaining the talent pipeline for careers in intelligence." (View report here.)
New Zealand to create intel agency recommended over two years ago - Defense News, 10 Aug 23
New Zealand plans to create another intelligence agency to help the government more rapidly react to and better coordinate its response to security threats. The Royal Commission, charged with looking into the March 2019 Christchurch mosque attacks, recommended the formation of a new agency in its report presented to Parliament in December 2020. "We recommend that the Government: Establish a new national intelligence and security agency that is well-resourced and legislatively mandated to be responsible for strategic intelligence and security leadership functions," the commission wrote. In June 2022, New Zealand Defence Minister Andrew Little said it was too early to do so. But earlier this month, while introducing the government's defense and security policy, he announced the nation's first national security system. "It commits us to acting early, working together and having an integrated approach," Little said Aug. 4. "When [in 2017] we came to government, the priorities for the national security system were highly classified," he noted. "If the public didn't even know what the priorities were, then how could they ... contribute to improving the security of the country?" (View report here.)
German Russia spy accessed highly sensitive data — reports - Deutsche Welle, 11 Aug 23
A German man arrested earlier this week for allegedly spying for Moscow had access to highly sensitive information, German media reported on Friday. The man, named by prosecutors as Thomas H., worked at a procurement unit of the military, the German Spiegel Online magazine website and Zeit newspaper said. The department has several tasks, including the procurement of highly modern systems for electronic warfare. The man, who was identified as Thomas H, had visited the embassy and consulate "on his own initiative" multiple times since May and offered his cooperation, prosecutors said in a statement. He is suspected of providing information on his work for a division of the German military, the Bundeswehr, to the diplomatic missions with the intention of having it passed on to a Russian secret service. The man worked for the Bundeswehr's procurement agency, the Equipment, Information Technology and In-Service Support department. The agency is based in Koblenz, where the man was arrested. (View report here.)
New Zealand says it is aware of China-linked intelligence activity in country - Reuters, 11 Aug 23
New Zealand said on Friday it is aware of intelligence activity linked to China in and against the island nation and the Pacific region. "This is a complex intelligence concern for New Zealand," the New Zealand Security Intelligence Service (NZSIS) said in its annual report. The Chinese embassy in Wellington said it was "strongly dissatisfied with and firmly opposed" to the China-related content in the report, claiming the Chinese government was conducting "normal" exchanges with overseas Chinese citizens in accordance with international law. China hopes relevant countries can create an open, inclusive and non-discriminatory environment for Chinese citizens overseas and local Chinese, the embassy said in a statement. The accusations leveled against China are the latest in a string of recent comments from the New Zealand government outlining concerns about China's assertive behavior and its destabilizing impact. (Full article here.)
To Battle New Threats, Spy Agencies to Share More Intelligence With Private Sector - Wall Street Journal, 10 Aug 23
U.S. spy agencies will share more intelligence with U.S. companies, nongovernmental organizations and academia under a new strategy released this week that acknowledges concerns over new threats, such as another pandemic and increasing cyberattacks. The National Intelligence Strategy, which sets broad goals for the sprawling U.S. intelligence community, says that spy agencies must reach beyond the traditional walls of secrecy and partner with outside groups to detect and deter supply-chain disruptions, infectious diseases and other growing transnational threats. The intelligence community "must rethink its approach to exchanging information and insights," the strategy says. The U.S. government in recent years has begun sharing vast amounts of cyber-threat intelligence with U.S. companies, utilities and others who are often the main targets of foreign hackers, as well as information on foreign-influence operations with social-media companies. (Full article here.) (NOTE: This material may require a one time free subscription or sit behind a paywall.)
It's MI 9-to-5! British spooks want to hire mums and dads - with flexible and part-time working on offer for operations at home and abroad - Daily Mail, 12 Aug 23
Britain's intelligence chiefs have begun a push to have more mums and dads as part-time spies. MI5, MI6 and GCHQ are offering parents the chance to work on a part-time basis, undertaking spying operations here and abroad. All three intelligence and security services accept that offering spooks a better work-life balance is crucial to their recruitment plans. Men and women can work part-time or choose their own hours while spying on terrorists or foreign agents, while some may even be allowed to job-share. Others are allowed to do 'compressed hours', where they can squeeze a five-day working week into four days and have longer three-day weekends. (Full article here.)
Detention and Espionage: Parallel wars wage on in Khartoum's Shadows - Sudan Tribune, 13 Jul 23
The Sudanese army and the paramilitary Rapid Support Forces (RSF) are engaged in a parallel conflict within the Sudanese capital, where their intelligence services apprehend individuals suspected of spying for the opposing side. On Saturday, the Missing Initiative, a group actively involved in cases of missing and forcibly disappeared persons, announced that the RSF had executed Sudanese practitioner Mohamed Hamid Ali Ahmed after his apprehension from the Jabra suburb around two weeks ago. He was accused of collaborating with the army. The initiative reported that Hamid had been transferred to a camp in the Sports City area in southern Khartoum, where he was subsequently killed. In July, a civilian suffering from psychological disorders was killed after undergoing severe torture in an RSF facility in the east of the capital, Khartoum, just days after his arrest. The Sudanese Military Intelligence, on the other hand, conducts widespread arrests of individuals referred to as the "shadow of the Janjaweed." These people are accused of direct involvement with the RSF by providing information regarding the army's movements, the city's districts and streets, or by identifying military installations and positions. (Full article here.)
National Geospatial-Intelligence Agency Releases New Global Population Data - Homeland Security Today, 10 Aug 23
The National Geospatial-Intelligence Agency, in partnership with Oak Ridge National Laboratory, has released the latest version of global population distribution data, LandScan Global 2022. The LandScan Global dataset has approximately 1-kilometer resolution, representing a 24-hour ambient population. The public availability of LandScan Global aids institutions in performing activities requiring accurate population information, such as planning for and responding to emergencies, assessing human health and security risks and conducting site suitability studies. "NGA understands the criticality of timely and accurate global population data for a wide range of missions, and that's why we continue to make this data available to the public without restriction," said Debbie Fugate, Ph.D., NGA senior GEOINT authority for cartography and human geography. (Full article here.)
China's Ministry of State Security stipulates strict restrictions and supervisions on the state organs' counter-espionage work - Global Times, 07 Aug 23
China's revised Counter-Espionage Law has clearly stipulated the strict restrictions and supervisions on the state organs' counter-espionage work in terms of four aspects, China's Ministry of State Security (MSS) said on its recently debuted WeChat account on Monday. According to the MSS, the Counter-Espionage Law clearly defines the approval authority for law enforcement powers. According to the different nature and types of law enforcement powers, they will be designated to be exercised by corresponding levels of national security agencies, with strict approval processes, to strengthen pre-regulation and oversight from the very beginning. The Counter-Espionage Law also clearly stipulates that law enforcement procedures must adhere to specific requirements. In counter-espionage work, personnel from national security agencies must work with a minimum of two individuals present when employing measures such as accessing, retrieving, summoning, inspecting, querying, sealing, seizing or freezing. They should also present their official work permit and identification, and provide appropriate legal documents as it's required by regulations. Important evidence-gathering activities such as inspections, sealing, and seizures should be recorded with audio and video throughout the process, in a bid to enhance in-process supervision through procedural means. (Full article here.)
Intelligence community courting doubters to support renewed spy powers for Biden administration - Washington Times, 11 Aug 23
The intelligence community is deploying a full-court press across Washington to woo skeptics to support renewing surveillance powers that are set to expire later this year, with new overtures to civil liberties advocates and policymakers. The Office of the Director of National Intelligence is organizing a September meeting for public interest groups to huddle with senior intelligence officials to discuss the spying powers, according to an invitation viewed by The Washington Times. The spying powers contained in Section 702 of the Foreign Intelligence Surveillance Act will disappear at the end of 2023 unless Congress acts. Intelligence officials view the snooping authorities as critical to their work, but critics question whether sufficient limits on spying exist, given the millions of warrantless searches of Americans' data conducted by federal officials. "The ODNI Civil Liberties office is looking to host engagements between Intelligence Community Officials and various public interest groups who focus on civil liberties issues regarding intelligence activities," said an invitation from an intelligence officer viewed by The Times. "The topic at hand is FISA Section 702, but there will be other topics in engagements going forward." (Full article here.)
AI-Powered Espionage – A Bond Movie or Actual Reality? - Techopedia, 11 Aug 23
One thing that really drives me crazy is when reality starts looking like a sci-fi movie from the 80s or 90s. We can argue the present has always been influenced by the wonkiest predictions about the future since at least the time of Jules Verne. However, it's indisputable that the recent technological revolutions – the Internet and artificial intelligence (AI) above all else – are making our world increasingly look like what we called "cyberpunk" in the 80s. In what some could see as an unexpected twist, but I'd prefer to call a "prediction from the past," the world's secret services have started actively employing artificial intelligence to wage their (now virtual) espionage wars. And so here we are, living in a world that makes John Badham's WarGames movie look less like fiction and more like a documentary (albeit with color screens). (Full article here.)
The National Reconnaissance Office, U.S. Space Command, and National Geospatial-Intelligence Agency to Coordinate in Raising Satellite Operators' Asset Threat Awareness - TS2, 11 Aug 23
The National Reconnaissance Office (NRO), U.S. Space Command (SPACECOM), and National Geospatial-Intelligence Agency (NGA) have agreed to collaborate in raising satellite operators' awareness of threats to their assets. The collaboration is part of the Commercial Space Protection Tri-Seal Strategic Framework. Under this framework, data-sharing initiatives will be implemented to help imagery providers make informed decisions regarding collection operations in support of U.S. government and non-governmental customers. The partnership will involve SPACECOM relaying classified and unclassified threat information to the NRO, and the NGA will also receive information about activities that pose a serious risk to space assets. The NRO hopes that contractors working within the agency will notify the government of any electronic jamming or cybersecurity incidents that may impact systems supporting the intelligence community's mission. SPACECOM's role will be to investigate threat reports from the industry and provide anomaly response recommendations. (Full article here.)
Counterespionage Corner - Recent Arrests, Convictions, Expulsions, and more...
Cyberespionage Collection - Newly Identified Actors and Operations, Countermeasures, Policy, other...
---
The Latest from International Spy Museum Historian Andrew Hammond, PhD.
Spycast is the official podcast of the International Spy Museum and hosts interviews with intelligence experts on matters of HUMINT, SIGINT, IMINT, OSINT, and GEOINT. Spycast is hosted by historian Andrew Hammond, PhD.
08 Aug | "China's Corporate Spy War" – with CNBC's Eamon Javers Eamon Javers joins Andrew to discuss China's Corporate Spy War. Eamon is the Senior Washington correspondent at CNBC. 
Past episodes:
01 Aug | "The Eighteen Year Old Spy on the Manhattan Project: Ted Hall" – with Director Steve James
25 Jul | "Intelligence, Special Operations, and Strategy" – with Michael Vickers
18 Jul | "Leader, Lecturer, Analyzer, Nerd" – with Jorhena Thomas

---
The Latest Insights from Former CIA Acting Deputy Director for Operations Jack Devine.
In Other News The proprietary analytic newsletter crafted for The Arkin Group's private clients by former CIA Acting Deputy Director for Operations Jack Devine.
10 Aug | In Niger, a coup underpinned by anti-French sentiment makes space for Russia, but Putin isn't the partner the junta is hoping for. On July 26, the democratically elected leader of Niger, President Mohamed Bazoum, was overthrown by a military junta- the latest in a wave of coups in West Africa over the past few years. Bazoum is known as an ally of the West and a dependable partner in the fight against Islamic extremism. The United States has over 1,000 military personnel in Niger to help counter ISIS and Al Qaeda threats and encourage democratic rule and regional stability, and France also moved over 1,000 personnel to Niger in the aftermath of coups in Mali and Burkina Faso. (Full version available to AFIO members in the coming days here.)
04 Aug | Putin often behaves in an unpredictable way, but it's a sign of weakness and reveals his lack of strategic thinking.
27 Jul | The recent NATO summit succeeded in solidifying the alliance's goals - now it's time for implementation.
21 Jul | After a short-lived mutiny, Putin is determined to maintain control, but his methods could turn his allies against him.
---
Daily Analysis of Security Issues and Geopolitical Trends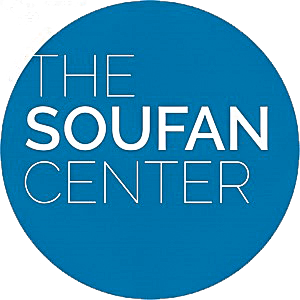 Intel Brief The Soufan Center's flagship, daily analytical product focused on complex security issues and geopolitical trends that may shape regional or international affairs. The Soufan Center was founded by former FBI Special Agent and Soufan Group CEO Ali Soufan.
15 Aug | Intel Brief is on break until 28 August. You can continue reading it here after that date.


---
Analysis of Global Security Events with WTOP National Security Correspondent JJ Green

Inside the SCIF - 11 August - Zalensky fires all military recruiters, Russian spies posed as Microsoft tech support, and more...
Target USA Podcast - 09 Aug - Remember the 9/11 attacks? Similar plotting recently exposed

The Hunt Broadcast - 09 Aug - Was the coup in Niger manufactured by Russian operatives?




---
The Latest Insights from Jeff Stein and Colleagues in SpyTalk

13 Aug | FBI's Intimidating Visit on Discord Leak Story - Jeff Stein
Paul Cobaugh, a 66-year-old former U.S. Army information warfare expert, has spent much of his retirement years writing books about political warfare and posting articles by others that he likes on LinkedIn. This week the FBI took notice of one of those articles Cobaugh posted back in April. Agents from the bureau's office in San Antonio, where Cobaugh lives, visited the veteran at his home on Wednesday and asked him to delete an article he had posted last April about the so-called Discord leaks, the massive trove of highly classified documents that a low level Air Force National Guard enlisted man has been charged with stealing and posting on social media. (Full article here.)

11 Aug | A CIA Family Drama - Jeff Stein
In his 2016 memoir, Conversations with a Masked Man, My Father, the CIA, and Me, the playwright, actor and writer John Hadden published long, verbatim transcripts of his hours-long, often unsettling, conversations with his father, who joined the CIA at the dawn of the Cold War and, among other fraught missions, later played a key role in uncovering how Israel secretly obtained U.S. uranium for its clandestine nuclear bomb program. The dialogues are full of startling statements, such as, "We had an ambassador in Israel, when we came there, who was an Israeli, as far as that was concerned — working for them." (Full article here.)


To support SpyTalk, subscribe here.



---
Article: Pentagon confident on sharing intelligence with Japan despite China hacking report - Reuters, 08 Aug 23
The Pentagon said on Tuesday it was confident about sharing intelligence with Japan, despite a U.S. news report saying Chinese military hackers gained access to Japan's most sensitive defense networks. On Monday, the Washington Post cited unnamed current and former U.S. and Japanese officials as saying that Chinese military hackers gained access to Japan's classified defense networks in 2020, accessing information about the U.S. ally's military capabilities, plans and assessments of shortcomings. Japan's Chief Cabinet Secretary Hirokazu Matsuno told a regular press briefing on Tuesday Japan could not confirm whether any security information had been leaked. The Post quoted one former U.S. military official as saying the breach was "bad - shockingly bad" and that the head of the U.S. National Security Agency flew to Tokyo to brief the Japanese defense minister, who asked the U.S. officials to alert the prime minister. (Read full report here.)
Article: To Battle New Threats, Spy Agencies to Share More Intelligence With Private Sector - WSJ - Wall Street Journal, 10 Aug 23
U.S. spy agencies will share more intelligence with U.S. companies, nongovernmental organizations and academia under a new strategy released this week that acknowledges concerns over new threats, such as another pandemic and increasing cyberattacks. The National Intelligence Strategy, which sets broad goals for the sprawling U.S. intelligence community, says that spy agencies must reach beyond the traditional walls of secrecy and partner with outside groups to detect and deter supply-chain disruptions, infectious diseases and other growing transnational threats. The intelligence community "must rethink its approach to exchanging information and insights," the strategy says. The U.S. government in recent years has begun sharing vast amounts of cyber-threat intelligence with U.S. companies, utilities and others who are often the main targets of foreign hackers, as well as information on foreign-influence operations with social-media companies. (Read full report here.) (NOTE: This material may require a one time free subscription or sit behind a paywall.)
Article: NSA chief says China biggest challenge facing U.S. on intel and cyber fronts - Washington Times, 10 Aug 23
The U.S. intelligence community's top cyberwarrior says China's drive to outstrip American dominance across cybersecurity, global espionage and other international defense realms is the most comprehensive and serious challenge facing the United States and will be for decades. "It is the generational challenge that we will address, our children will address, our grandchildren are going to address," Gen. Paul M. Nakasone, the outgoing head of U.S. Cyber Command and the National Security Agency, told an audience in rare public remarks Thursday. "We see it across the major lines of national power — the diplomatic, information, military [and] economic," said Gen. Nakasone, who warned that China is engaged in a long-term cyberwarfare campaign targeting critical U.S. infrastructure that delivers fuel, electricity and water supplies. (Read full report here.)
Article: The critical work of CIA Director William Burns - Washington Times, 10 Aug 23
In the spring of 2010, then-CIA Director Leon Panetta met in Moscow with his counterpart, former Russian Prime Minister Mikhail Fradkov, who at the time was serving as director of Russia's Foreign Intelligence Service, or SVR. A few months later, after the FBI arrested 10 Russian deep undercover intelligence operatives, the two men negotiated in just a few days the largest spy swap since the end of the Cold War. Current CIA Director William Burns, then serving as undersecretary for political affairs at the State Department, was on the hook to deal with the spy swap's policy fallout. Having previously served as ambassador to Russia, Mr. Burns smoothly guided interagency coordination and witnessed firsthand how Mr. Panetta expertly leveraged his past interaction with Mr. Fradkov.(Read full report here.)
Article: Computer security experts offer advice to freeze out risk of thermal attacks - Tech Explore, 10 Aug 23
A team of computer security experts have developed a set of recommendations to help defend against "thermal attacks" which can steal personal information. Thermal attacks use heat-sensitive cameras to read the traces of fingerprints left on surfaces like smartphone screens, computer keyboards and PIN pads. Hackers can use the relative intensity of heat traces across recently-touched surfaces to reconstruct users' passwords. Last year, Dr. Mohamed Khamis and colleagues from the University of Glasgow set out to demonstrate how easily thermal images could be used to crack passwords. The team developed ThermoSecure, a system which used AI to scan heat-trace images and correctly guess passwords in seconds, alerting many to the threat of thermal attacks. Now, Dr. Khamis and colleagues have put together the first comprehensive review of existing computer security strategies, and surveyed users on their preferences on how thermal attacks can be prevented at public payment devices like ATMs or transport ticket dispensers.(Read full report here.)
Article: Germany's most spectacular espionage cases - Deutsche Welle, 10 Aug 23
The Russian war against Ukraine "also means a turning point for internal security," German Interior Minister Nancy Faeser said in June 2023, warning of a new wave of disinformation campaigns, cyberattacks, and espionage by foreign intelligence services. At the beginning of August, there was another case in point: Thomas H.* was arrested Wednesday (August 9) in the western city of Koblenz, when the federal prosecutor's office accused the Bundeswehr officer of having betrayed information about military details to Russian intelligence. The Berlin daily Tagesspiegel reported that Thomas H. had already come to the attention of his colleagues because of his sympathy for the far-right populist Alternative for Germany (AfD). Some parts of the party is considered far-right extremist and very critical of the NATO alliance's attempts to help Ukraine against Russian aggression. (Read full report here.)
Article: RedHotel Checks in as Dominant China-Backed Cyberspy Group - Dark Reading, 09 Aug 23
An advanced persistent threat (APT) is pulling ahead in a crowded field of China state-sponsored actors as a dominant cyber espionage threat. The RedHotel group has so far gone after governments across 17 countries on three continents, conducting both intelligence-gathering and economic espionage using a significant infrastructure and toolset to back it all up. RedHotel (akaTAG-22 or Earth Lusca) has been operating since 2019, but has really ramped up its activity in the last two years, standing out "due to its persistence, operational intensity, and global reach," researchers from Recorded Future's Insikt Group revealed in a report published this week. The group has already conducted attacks in 17 countries across Asia, Europe, and North America. Its formidable back-end support structure is comprised of two distinct infrastructure clusters — one largely dedicated to reconnaissance and initial access operations, and a second to maintaining long-term access with targeted networks. (Read full report here.)
Video: "That Others May Live" (87 mins) - National Museum of the U.S. Airforce, 02 Jun 23
"That Others May Live," the newest permanent exhibit in the Southeast Asia War Gallery at the National Museum of the U.S. Airforce, tells the story of Search and Rescue operations during the wars in Southeast Asia. (Watch video here.)
Article: - Lessons for today's Cold War 2.0 with Russia, China - Harvard Gazette, 08 Aug 23
The decades-long battle between Western intelligence services and the Soviet Union offers important lessons for the ongoing national security threat posed by Russia under President Vladimir Putin, a former KGB officer, and for the rapidly emerging threats from 21st-century China, according to a new book. "Spies: The Epic Intelligence War Between East and West," written by Calder Walton, assistant director of the Intelligence Project and the Applied History Project at Harvard Kennedy School, examines the Soviet intelligence program that was for decades more aggressive and often, more sophisticated than the West's. As the just-released film "Oppenheimer" reminds us, even the top-secret U.S. effort to build the atomic bomb during World War II was compromised from the start by Soviet spies, who eventually delivered those plans to Josef Stalin. (Read full report here.)
Video: Hearing to consider Lieutenant General Timothy D. Haugh as general and Director, National Security Agency/Chief, Central Security Service Commander, United States Cyber Command (121 mins) - U.S. Senate Committee on Armed Services, 20 Jul 23
On 20 July 2023, the U.S. Senate Committee on Armed Services held a two hours hearing to consider Lieutenant General Timothy D. Haugh as general and Director, National Security Agency/Chief, Central Security Service Commander, United States Cyber Command. (Watch here.)
Article: Fast Living and Foreign Dealings: An F.B.I. Spy Hunter's Rise and Fall - New York Times, 14 Aug 23
By the time he reached middle age, Charlie McGonigal was living a comfortable suburban life. He had married and raised two children in a tidy Maryland neighborhood near the Capital Beltway. He coached his co-workers on an office softball team and went to church on Sundays. In his den, he hung posters celebrating sports teams from his native Ohio; in his home office, a sign above a doorway announced in flowing script his devotion to his job. "I want to thank the Good Lord," it read, "for making me a F.B.I. Agent." But Charles Franklin McGonigal was no ordinary agent. As the chief of counterintelligence for the Federal Bureau of Investigation in New York, he was tasked with rooting out foreign efforts to steal vital national security and economic secrets in one of the world's most fertile cities for spying. Apart from his outward image as a wholesome and responsible G-man, however, there was another, less visible side to Mr. McGonigal, federal prosecutors and his former colleagues say. He held off-the-books meetings with foreign politicians and businessmen and accepted illicit payments while doing favors for associates, according to federal indictments filed against him in two states earlier this year. (Read full report here.) (NOTE: This material may require a one time free subscription or sit behind a paywall.)
Article: The Untold History of Today's Russian-Speaking Hackers - Slashdot, 13 Aug 23
...Roman Stepanenko Vega, a Russian-speaking Ukrainian national who was one of the founders and administrators of CarderPlanet, explained to me how "two days before the conference's opening, we received a visit from an FSB [Federal Security Service] officer in Moscow. He explained that Moscow had no objections to us cloning credit cards or defrauding banks in Europe and the United States but anywhere within the CIS was off limits." In addition, the FSB officer let CarderPlanet know that if the Russian state ever required assistance from criminal gangs, it would be expected to co-operate... (Read full report here.)
---
Navigating the Complexity of Classified Projects: The Vital Role of Counterintelligence Working Groups - Clearance Jobs, 09 Aug 23
Many responsible for security or counterintelligence in support of classified defense programs grapple with a common mystery: while involved in specialized, closely guarded efforts, they lack a holistic view of the secret program's purpose. This lack of understanding poses challenges, as security and counterintelligence methods vary significantly even within the realm of classified projects. Consequently, the assumption that standardized security practices apply universally to multi-million dollar classified defense contracts is fundamentally flawed. (Full report here.)
China's intelligence modernization has outpaced military increases - Intel News, 09 Aug 23
The modernization of China's intelligence community is without parallel in recent history and has even outpaced the funding increases given to the Chinese military, a British government report has concluded. According to the same report, the Chinese government spends more on what it perceives as domestic threats than on external targets involving Western countries and their allies. The redacted version of the report was issued last month by the British Parliament's Intelligence and Security Committee, which monitors the activities of the British intelligence community. It concentrates on China's domestic and global ambitions and discusses the role of the Chinese intelligence services in these pursuits. A theme that permeates the 222-page report is that China's domestic and international ambitions are interconnected, as Beijing does not distinguish between its key national interests in the domestic and foreign domains. Moreover, the report notes that the Chinese intelligence community plays a central role in both facets. (48 mins) (Full report here.)
The Yom Kippur intelligence failure after fifty years: what lessons can be learned? - Intelligence and National Security, 07 Aug 23
Extensive research has been published about the failure of Israeli intelligence in the Yom Kippur War in 1973, mainly in the context of flawed analysis and strategic surprise. Fifty years after the war, the current article uses an intelligence studies lens to describe major lessons which can be learned from this failure of early warning. Such lessons include the required focus of strategic intelligence on identifying change rather than continuity, the need for explicit analytical methodology beyond inductive reasoning, the importance of integrating assessment of adversary intentions and capabilities, the risk of over-reliance on raw information, and the need for a culture encouraging contrarian thinking. (Full report here.)
Nepal: Intelligence and Intelligence Community - Former Nepal Armed Police Force Assistant Inspector General Rabi Thapa writes in the Telegraph Nepal, 09 Aug 23
In general, "intelligence" is a profession like any other government employee. However, intelligence personnel and the intelligence community feel powerful and hence assume special status in many societies. However, if the people of a nation can develop the right understanding of intelligence and the intelligence community, they will largely benefit communities and the nation at large… The twenty-first-century has changed tremendously in intelligence and security (I&S) efforts. However, Nepal lag behind in strengthening and empowering the intelligence community in the given regional and global context. It is high time for the Government of Nepal to seriously engage by prioritizing resources to increase efficient and professional services competitively. The present article examines the current status and function of the intelligence community in Nepal. (Full report here.)
Academic Espionage: Safeguarding the Halls of Knowledge from Insider Risks - Security Boulevard, 07 Aug 23
Universities, revered as hubs of knowledge and innovation, play a pivotal role in facilitating groundbreaking innovation across diverse disciplines. However, behind the tranquil facade of academia lies a clandestine domain of secrecy. Presently, Western universities grapple with an escalating challenge— academic espionage. These esteemed institutions have become alluring targets for foreign actors seeking to engage in illicit activities, with students unwittingly categorized as "magnetic targets" in this web of intrigue. The reputation of Western universities rests on their distinguished culture of openness and collaboration, but it also entails a significant trade-off. On the one hand, this culture of collaboration plays a pivotal role in driving forward the frontiers of knowledge. However, on the other hand, the very same environment that fosters progress becomes an alluring opportunity for foreign actors to exert influence and garner technological advances at a fraction of the time and cost. (Full report here.)
Private Intelligence Organizations & Democracy - News Break, 07 Aug 23
The 2023 National Intelligence Strategy (NIS) provides the Intelligence Community (IC) with strategic direction from the Director of National Intelligence (DNI) for the next four years. The NIS is a foundational document for the IC and reflects the input of leaders from each of the 18 intelligence elements, as it guides the operations, investments, and priorities of the collective. It supports the national security priorities outlined in the National Security Strategy and the National Defense Strategy as well as other national strategies. (Full report here.)
2023 National Intelligence Strategy - ODNI, 09 Aug 23
The landscape of intelligence operations has witnessed a significant shift in recent years, with private intelligence organizations playing an increasingly prominent role. Companies such as Brillstein Security Group, Booze Allen Hamilton, CACI International, Vanguard Intelligence & Security Group and SAIC, and others have emerged as formidable players, accounting for a substantial portion of intelligence gathering both overseas and within the United States. This article delves into the urgent need for bringing these private intelligence entities under governmental oversight. It addresses the lack of reporting requirements to Congress, the potential collaboration with government agencies, and the implications of extensive spying on American citizens, shedding light on the importance of safeguarding national security while upholding individual civil liberties. (Full report here.)
Presenting intelligence: from Iraq WMD to the new era of 'strategic downgrades' - Australian Strategic Policy Institute, 13 Aug 23
Recent research from ASPI finds that Philip Flood's 2004 inquiry into Australian intelligence agencies proved an inflection point in the national intelligence community's development. In addition, the Flood report grappled with a matter at the heart of the intelligence failure on Iraqi weapons of mass destruction, and one of significant contemporary relevance: public presentation of intelligence for policy purposes. Flood laid out cons, including risks to intelligence sources and methods, sensitivities of intelligence-sharing arrangements and partnerships, and the possibility that public exposure could distort the intelligence-assessment process by making analysts more risk-averse. He might have added a few other negatives to the list: (Full report here.)
Conflict and Cyber-espionage: Ridding the World of Cyber War? - Intelligence and Security Studies, Charles Sturt University, Australia, 10 Aug 23
This paper examines Thomas Rid's argument that physical violence is a necessary condition of war and that attacks from cyberweapons cannot meet this condition because they are not physically violent and, in many cases, will not even result in permanent damage. In particular, my research interest lies in understanding the ethical principles that justify the use of armed force. In the first section, I outline Rid's argument that most discussions of "cyberwar" are exaggerated because there is no known act of "cyber" war, when war is properly defined. Then, in the second section, I argue that the "warfighting distinction" is not as useful for dealing with modern conflict as Rid assumes it is. Finally, in the third section, I argue that there remains no shortage of serious concerns when it comes to the use of cyberweapons. Espionage is not war: I start by outlining Thomas Rid's recent argument that most discussions of "cyberwar" are exaggerated because there is no known act of "cyber" war, when war is properly defined. An important part of his argument is that the most widespread use of state-sponsored cyber capabilities is for the purpose of espionage, which, he argues is neither crime nor war. I agree with Rid that the novelty of cyber conflict makes it unclear what actions constitute an act of war and that there is an important distinction between acts of war and espionage. (Full report here.)
Ranked: The World's Most Competitive Countries (2019-2023) - Visual Capitalist, 30 Jun 23
Just as a well-made ship needs fair weather for a smooth voyage, businesses need a supportive ecosystem to start and stay successful. Rankings for the most competitive countries attempt to quantify this support directly, seeing which economies have the best frameworks for business to thrive. Examining how the rankings change over time can also tell us a lot about how countries are progressing relative to others. In the above graphic, Julie Peasley uses the World Competitiveness Ranking report by the International Institute for Management Development (IMD) to chart the top 20 most competitive countries between 2019 and 2023. (Access visual tool and full report here.)
Intelligence in History - A Collection of Recent Content
True Intelligence Matters in Film - Fair Game - Doug Liman (2010)
Fair Game is a 2010 biographical political drama film directed by Doug Liman and starring Naomi Watts and Sean Penn. It is based on former CIA ops officer Valerie Plame's 2007 memoir Fair Game and her husband Ambassador Joseph C. Wilson's 2004 memoir The Politics of Truth.

More information about this based-on-true-events production here.
Walking Tours - Washington, DC - Sundays (Dates/Times Vary)
Former intelligence officers guide visitors on two morning and afternoon espionage-themed walking tours: "Spies of Embassy Row" and "Spies of Georgetown." For more information and booking, click here or contact rosanna@spyher.co
---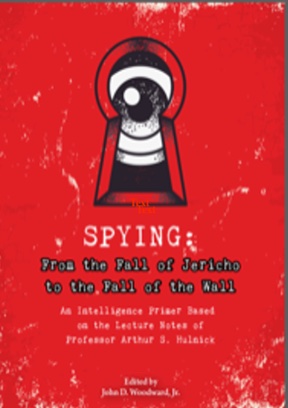 Spying: From the Fall of Jericho to the Fall of the Wall
by John D. Woodward, Jr.
(Waynesburg University Press, 21 Aug 23)
Spying: From the Fall of Jericho to the Fall of the Wall is a comprehensive study of the history of intelligence activities from ancient times to the dissolution of the Soviet Union in 1991. The American experience with espionage from the beginning of the Revolutionary War to the end of the Cold War receives special attention. Spying draws heavily on the unique experiences and pioneering scholarship of the late Boston University Professor Arthur Hulnick, who also served as an intelligence officer in the U.S. Air Force and the Central Intelligence Agency. Art's colleague, Professor John D. Woodward, Jr., also a career CIA officer, has leveraged his own extensive intelligence background in masterfully editing this work based on Art's lectures. To order a copy of the book, email the author at spyingbook@icloud.com.
More information here.
---
Nothing Is Beyond Our Reach: America's Techno-Spy Empire
by Kristie Macrakis
(Georgetown University Press, 03 Apr 23)
Ever since the earliest days of the Cold War, American intelligence agencies have launched spies in the sky, implanted spies in the ether, burrowed spies underground, sunk spies in the ocean, and even tried to control spies' minds by chemical means. But these weren't human spies. Instead, the United States expanded its reach around the globe through techno-spies. Nothing Is Beyond Our Reach investigates how America's technophiles inadvertently created a global espionage empire: one based on technology, not land. Author Kristie Macrakis shows how in the process of staking out the globe through technology, US intelligence created the ability to collect a massive amount of data. But did it help? Featuring the sites visited during her research and stories of the people who created the techno-spy empire, Macrakis guides the reader from its conception in the 1950s to its global reach in the Cold War and Global War on Terror. In an age of ubiquitous technology, Nothing Is Beyond Our Reach exposes the perils of relying too much on technology while demonstrating how the US carried on the tradition of British imperial espionage. Readers interested in the history of espionage and technology as well as those who work in the intelligence field will find the revelations and insights in Nothing Is Beyond Our Reach fascinating and compelling.
Order book here.
---
Striking Back: Overt and Covert Options to Combat Russian Disinformation
by Thomas Kent
(Jamestown Foundation, 29 Sep 20)
Energizing the debate on how best to expose and deal with Russian propaganda and disinformation, Thomas Kent goes beyond suggesting simple defensive measures. Kent not only calls for more government and private aid to expose Russian operations, but also describes how new, aggressive messaging campaigns against Russian disinformation could be run, the ethical questions involved, and the pros and cons of the West engaging in covert strategies.
Order book here.
---
---
A British history journalist, Andrew Southam, is writing a book about events in Cyprus 1974, which saw an attempted coup against president Archbishop Makarios, two interventions by Turkey, the fall of the Greek Junta, the cutting of aid to Turkey and the assassination of Ambassador Ron Davies; and contributed to the murder a year later of Athens CIA station chief Dick Welch besides other British, Greek and American officials over the subsequent 27 years. This work is an accurate narrative of events (initially called 'Cyprus'74, no control, no conspiracy'), rebutting with evidence various conspiracy allegations of US and/or British collusion with either Greece or Turkey. He would warmly welcome speaking to any intelligence officers who played a role in these events. He can be contacted at andrew2southam@yahoo.co.uk.
Call for Information: Rueben Efron (1911-1993), former CIA translator, HTLINGUAL.
Please contact Mark S. Zaid, Esq. at mark@markzaid.com or (202) 330-5610.
Call for Information: Arnold M. Silvier
Relative of Silvier, aka "Richie Boy," seeks information on the person (or works of) Silver, who was in the US Army during WWII and, later, CIA (1949 - 1978), with postings in Austria, Luxembourg, Germany, Turkey and Washington DC. Please contact nboicecounseling@gmail.com
Survey for Members: Skill Sets Needed for Intelligence Analysis Degree Holders to See Success After Graduation
Northeastern University Security and Intelligence Studies professor researching the skill sets required for Intelligence Analysis degree holders to see success after graduation welcomes the participation of AFIO members in a 5-minute survey in support of the research. Access survey here.
Call for Information: 430th CIC in Salzburg in 1946
I am currently writing about 430th CIC in Salzburg in 1946. I have a (large) CIC file and am now trying to track down further details about two officers mentioned in this: (1) Bill Taylor. The sources do not make clear whether the officer was Major Bill G. Taylor, GSC, Head of the Counter-Intelligence Bureau of G-2 (Intelligence Section), US Forces Austria, or "Mil.Reg." Captain Taylor of Salzburg. Any information on either/both of these officers would be most welcome. (2) Pace B Rose. Rose was a CIC Special Agent in Austria, later a CIA officer who continued to be attached to the Agency after retirement. He died on 3 January 2009. I would like to contact family and friends of Pace Rose. According to the internet, Rose had children, Donna R. Hilverts and Gary W. Rose, and five grandchildren and three great grandchildren. Please contact S.Cody@westminster.ac.uk with any information.
Call for Sources: Intelligence Officers Who Lived in Spain in the 1970s
Spanish journalist Francisco Jiménez is preparing a documentary about the intelligence services in Spain in the 70s. He is looking for intelligence officers who worked in Spain in those years. If you are willing to assist Francisco, he can be reached at fjimenez@globomedia.es.
Call for Sources: Intelligence activities in Grenada and the southern Caribbean between 1979, Operation Urgent Fury, Leonard Barrett
The Washington Post is developing a multi-part audio documentary series (i.e. podcast) chronicling the Grenadian revolution and the US intervention in 1983. They've interviewed nearly 100 people so far, ranging from the heads of state, former Grenadian officials, current and former US officials, veterans, and intelligence officers. They're looking for people who served at the time and may be knowledgeable about intelligence activities in Grenada and the southern Caribbean between 1979 and Operation Urgent Fury. They would also be interested in speaking with anyone who knew Leonard Barrett during the same period. If anyone is interested in participating, please reach out to Washington Post reporter Ted Muldoon via email at ted.muldoon@washpost.com or on Signal at 651-497-5449.
Call for papers: Energy Concerns in National Security and Business Intelligence: Identifying Threats and Developing Solutions - International Journal of Intelligence and Counterintelligence
The link between energy and national security is well established and is a continuing multifaceted problem. Every facet of the intelligence process (e.g., collection, analysis, and production) has played a significant role for governments and private industry in anticipating threats to this vital sector. For example, current intelligence assessments focusing on Europe's major energy concerns are stemming from supply-chain disruptions caused by a pandemic, Russia's war in Ukraine, climate change, and the phasing out of coal and phasing in of renewable sources. This conference provides an opportunity to discuss the contribution of business intelligence in understanding the threat to role of energy and national security interests. It brings together prominent academic voices, experienced practitioners, and policymakers, offering an opportunity to "bridge the gap" between these sectors. We are looking for conference participants to identify critical issues and challenges, competing perspectives, new and existing trends, creative solutions for new technologies, and the emergence of new market conditions.
Proposals, abstracts, or papers should be submitted by September 1.
More information, topic suggestions, and submission instructions here.
Call for papers: Intelligence and Post-War Reconstruction - International Journal of Intelligence and Counterintelligence
History shows that without planning for post-war reconstruction, apparent victory in war can lead to long-term defeat. On the other hand, wise post-war planning can lead to friendly, peaceful, and profitable relations between victor and vanquished. For political, socio-economic and security-related planning, intelligence plays a crucial role in estimating capabilities, securing infrastructure, locating persons of interest, and rebuilding. In honor of the 75th anniversary of the European Recovery Program (Marshall Plan) after the Second World War, the editors are particularly interested in papers dealing with intelligence concerning post-war reconstruction initiatives and planning connected to historical and recent conflicts. Both case studies and theoretical and methodological approaches are welcome. The studies may include, but do not have to be focused on, the following questions and issues:
The role of diplomatic and military intelligence during the conflict as preparation for post-war reconstruction, from the conceptual to the practical.
What intelligence needs to be collected to secure and boost reconstruction?
What contacts, networks, and infrastructure are necessary for intelligence to be effective?
Who has been or should be approached and/or recruited for reconstruction efforts based on intelligence?
When has intelligent post-war planning (or its opposite) been historically evident?
How should intelligence interact with formerly warring parties and international organizations to empower practical reconstruction efforts?
What intelligence collection challenges have services encountered in working for post-war peace?
How did intelligence factor in the European Recovery Program?
What was George C. Marshall's position on the role of intelligence in general or concrete examples related to "his" plan?
01 Nov 23 deadline. More information and submission instructions here.
Call For Articles: AFIO Journal, The Intelligencer
For the past four years, AFIO has included in The Intelligencer a series of articles on "when intelligence made a difference." Written by scholars, intelligence practitioners, students, and others, they cover events from ancient times to the modern world and in many countries. AFIO is soliciting articles for future issues. Most articles run between 2,000 and 3,000 words, although some are longer or shorter. If you have an idea for an article that fits the theme, email senior editor Peter Oleson at peter.oleson@afio.com.
---
Retired Federal Government Employees Wanted - National Security Agency - Fort Meade, Maryland
The National Security Agency (NSA) may occasionally need skilled civilian retirees to augment the existing work force on high priority projects or programs. In order to fill these temporary positions quickly, we need to know who may be interested and available to return to work with us on a short notice basis as well as their skills. Retirees provide expertise and corporate knowledge to temporarily support mission requirements, manpower shortfalls, and/or mentor the next generation of Agency employees. Salary Range: $86,335 - $170,800.
Additional information and application here.

Assistant/Associate Professor of Intelligence Studies (Global Security and Intelligence Studies) - Embry-Riddle Aeronautical University - Prescott, Arizona
Embry-Riddle Aeronautical University's Prescott, Arizona campus is accepting applications for a tenure-track assistant or associate-level professor of intelligence studies to teach intelligence courses to students in the Global Security and Intelligence program. The successful candidate will teach students about the intelligence community, strategic intelligence, the intelligence cycle and intelligence analysis, writing, and briefing. Prior experience working in the intelligence community is strongly preferred. We are interested in candidates with teaching acumen in intelligence analysis and writing using structured analytical techniques.
Additional information and application here.

---
Elizabeth Foster — Career CIA Officer

Elizabeth Anne Foster, 85, born in Scarsdale New York, died peacefully in her home in Alexandria, VA on July 15, 2023. Betty graduated from Wheaton College in Norton, MA in 1960 with a BA in History. In 1961, she joined the Central Intelligence Agency, where she served her country faithfully until her retirement on January 1, 1989. After retiring, she served as a Contract Instructor at the Agency for an additional seven years. She was proud of her accomplishments and service to her country. A Celebration of Life will be held at the First Christian Church of Alexandria, 2723 King Street, Alexandria, VA 22302, at 2 p.m. on Saturday, August 26. In lieu of flowers, please consider giving a donation the Alzheimer's Association in her memory.
Judith Bishop — Decorated CIA Officer

Judith Jatinen Bishop, 83, passed away on August 9, 2023 in Williamsburg, Virginia after a difficult battle with Lewy Body Dementia. Judy was born in Boston, Massachusetts and grew up in Wayne, New Jersey. She graduated from Wayne Valley High School and then went on to Catholic University where she earned a degree in English and played college basketball. Judy worked at the Central Intelligence Agency where she met her husband, John. After getting married they traveled the world with their children. She continued to work for the Agency at times throughout her life including while they were stationed in East Germany. It was as a result of her work there that she received the Intelligence Commendation Medal from the Agency.
Dennis Nagy — Former Acting DIA Director

Dennis M. Nagy passed away peacefully on Saturday, Aug. 5, 2023, age 80, from Progressive Supranuclear Palsy (PSP), a neurological disorder. Dennis was born in Indiana, Pa. and spent the majority of his childhood years in Pennsylvania, graduating in 1961 as salutatorian of his high school class in Clearfield. Only a few short weeks later Dennis left to attend the United States Air Force Academy in Colorado Springs, Colo. as a member of the class of '65. Continuing his academic success, Dennis finished in the top 10% of his class at the USAFA and was selected to attend Georgetown University to work on a Master's degree. Dennis attended flight school in Del Rio, Texas and went on be stationed at Beale Air Force Base in California, where Dennis flew tanker aircraft. Leaving the United States Air Force in 1969, Dennis started a new career as an intelligence analyst at the Defense Intelligence Agency in Washington, D.C. He rose rapidly at DIA. In 1981 Dennis personally directed the development of the first issue of Soviet Military Power which was updated and published annually for almost a decade. In later years Dennis would say this was this was his proudest accomplishment as an analyst. By 1982, Dennis was selected as a member of the Senior Executive Service, the youngest to hold that rank at the time he was selected. Along with that came more leadership responsibilities: Dennis served as the Director of Estimates and the Director for Research along with associated positions in the fiscal aspects of intelligence. In 1989, Dennis was selected as Executive Director for DIA elevating him to DIA's command element and making him the ranking civilian at DIA. Only a few short years later he was selected as the Deputy Director for DIA. Dennis was appointed the Acting Director of DIA from September through November of 1991, the first civilian ever placed in that position. As Acting Director, he provided continuity during a critical time when decrements against Agency resources caused reconsideration of many managerial issues and review of threat priorities throughout the Defense Intelligence Community. Dennis retired from government as an SES-6, the civilian equivalent of a three-star general. He continued to work within the intelligence community until retiring permanently and moving to South Carolina. In early 2020, he was tentatively diagnosed with PSP and returned to Northern Virginia to be closer to his children.
---
7 Sep 2023 (Thursday), 1900 CT - "Spies, Moles, and the Failure of Counterintelligence Programs." - Virtual - AFIO San Antonio Chapter
The Hollywood producer Arnon Milchan has been involved in over 130 full-length motion pictures but was also a spy...not for the United States. "Spies, Moles, and the Failure of Counterintelligence Programs." This will be an excellent look at the things you didn't know were going on. Because of the sensitivity of some of the topics, the program underwent a security review before release. A link to the Zoom program will be sent several days in advance to all chapter members and registrants. Please mark your calendars. Questions or Registration to Chapter President John Franklin, satxafio@gmail.com or call 210-863-0430.
"BONUS" INFORMATION: Cluster bombs are nasty weapons that can keep killing or wounding for years. Just ask any one-legged Laotian farmer 50 years after a war in which he had not even been born. The weapons have gotten even more sophisticated since the war in Southeast Asia. In the Gulf War statistics indicate several thousand civilians have been killed and 25 US troops who came into fatal contact with the weapons by accident. 80 US civilians were killed by "dud" cluster bombs. They are antipersonnel and area denial weapons. Although Geneva Conventions have tried to restrict the use of cluster munitions the effort has obviously not been successful. The link below is to a short video explaining the basic operation of a Russian cluster weapon. Cluster bombs take many forms in addition to being dropped as bombs, cluster weapons can be used in artillery shells and rockets. See video here.
9 Sep 2023 (Saturday), 1130 EDT - Indialantic, FL - AFIO Florida Satellite Chapter hosts Capt Paris Michaels PhD on "Türkiye in NATO?" The event will commence at 11:30 AM at the Doubletree Hotel, 1665 N. Stateroute A1A, Indialantic, FL 32903
Captain Michaels' presentation will follow a sit-down lunch. The cost is $35.00 per person.
Registrations or Qs to Larry Sanford, Chapter President, or call 978-502-3328.
14 Sep 2023 (Thursday), 1130-1400 PT - In Person - Col. Robert W. Parr, USAF (ret) on "12 Days with a Soviet Pilot Defector" - Basque Cultural Center, San Francisco - The AFIO Andre LeGallo Chapter. No host cocktail at 1130 hours (Pacific). Meeting starts at 1200 hours. Basque Cultural Center, 599 Railroad Avenue, South San Francisco, CA. RSVP and pre-payment required.
Register NOW: Eventbrite Registration link
RSVP and pre-payment is required. RSVP or Qs to Mariko.
See the AFIO Calendar of Events for scheduling further in the future.
---
16 Aug 2023, 1200-1300 (ET) - Spying And Covert Action Made Simple - with Jack Devine, former Acting Director of CIA's operations outside of the United States – Johns Hopkins University - Virtual
Join Michael Ard for a curated conversation with Jack Devine, former Acting Director of CIA's operations outside of the United States on "Spying and Covert Action Made Simple." Jack Devine is a founding partner and President of The Arkin Group LLC, which specializes in international crisis management, strategic intelligence, investigative research and business problem solving. He is a 32-year veteran of the Central Intelligence Agency ("CIA"). Mr. Devine served as both Acting Director and Associate Director of CIA's operations outside the United States from 1993-1995, where he had supervisory authority over thousands of CIA employees involved in sensitive missions throughout the world. In addition, he served as Chief of the Latin American Division from 1992-1993 and was the principal manager of the CIA's sensitive projects in Latin America. Between 1990 and 1992, Mr. Devine headed the CIA's Counternarcotics Center, which was responsible for coordinating and building close cooperation between all major U.S. and foreign law enforcement agencies in tracking worldwide narcotics and crime organizations. From 1985-1987, Mr. Devine headed the CIA's Afghan Task Force, which successfully countered Soviet aggression in the region. In 1987, he was awarded the CIA's Meritorious Officer Award for this accomplishment. Mr. Devine's international experience with the U.S. government included postings to Latin America and Europe. During his more than 30 years with the CIA, Mr. Devine was involved in organizing, planning and executing countless sensitive projects in virtually all areas of intelligence, including analysis, operations, technology and management. He is the recipient of the Agency's Distinguished Intelligence Medal and several meritorious awards. He is a recognized expert in Intelligence matters and has written Op-Ed articles for The Washington Post, The Wall Street Journal, The Financial Times, Foreign Affairs Magazine, The World Policy Journal, Politico and The Atlantic Monthly. He has also made guest appearances on National Press Club, CNN, CBS, NBC, MSNBC, Fox News, CSPAN, Bloomberg News as well as the History and Discovery channels, PBS, NPR and ABC Radio.

Program is free of charge but requires advanced registration here.
29 Aug 2023 (Tuesday), 1400-1500 (ET) – Washington, DC – SPY with Me: Memory Loss Program – Virtual International Spy Museum Program
SPY with Me is an interactive virtual program for individuals living with dementia and their care partners. Join SPY as we use music and artifacts to explore some of our favorite spy stories. Programs last one hour and are held virtually through Zoom. Every month the same program is offered on two different dates. To register, please email Shana Oltmans at soltmans@spymuseum.org. Free but space is limited. Visit www.spymuseum.org.
31 Aug 2023 (Thursday), 1400-1500 (ET) – Washington, DC – SPY with Me: Memory Loss Program – Virtual International Spy Museum Program
SPY with Me is an interactive virtual program for individuals living with dementia and their care partners. Join SPY as we use music and artifacts to explore some of our favorite spy stories. Programs last one hour and are held virtually through Zoom. Every month the same program is offered on two different dates. To register, please email Shana Oltmans at soltmans@spymuseum.org. Free but space is limited. Visit www.spymuseum.org.
11 Oct 2023 (Wednesday), 1700-1900 (ET) - The 2nd Annual Cocktails & Codebreakers event - co-hosted by the National Cryptologic Foundation (NCF) and the Intelligence and National Security Foundation (INSF)
Attend to celebrate Men & Women in Cryptology at this 2nd Annual event. The program includes keynote speaker The Honorable Ronald S. Moultrie, Under Secretary of Defense for Intelligence & Security (USDI&S).
TBA Government speakers and guests have been invited to join this one of a kind event.

Ticket Registration: Individual Tickets = Early Bird & Members Rate of $150 - until September 4, 2023
Full Price Tickets = $189 per person (after September 4th)
Event location: The Hotel at Arundel Preserve: 7795 Arundel Mills Blvd, Hanover, MD 21076

Register now, or for more information, do so here.

---
---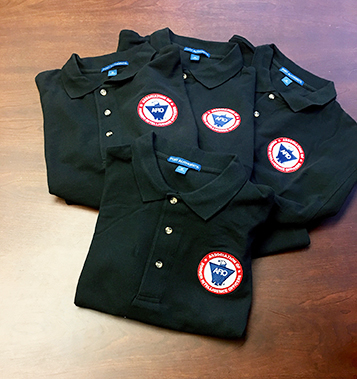 Now available: Black short-sleeved polo shirts with Embroidered AFIO logo
Show your support for AFIO with our new Black Short-sleeve Polo Shirts. Shirts are shrink and wrinkle resistant of fine cotton with a soft, "well-worn, comfy" yet substantial feel. They feature a detailed embroidered AFIO seal. Get a shirt for yourself and consider as gifts for colleagues, family, and friends. Only $50 each including shipping.
Sizes for (M) men, only; Small, Medium, Large, XL, XXL, and XXXL. $50 per shirt.
You may pay by check or credit card. Complete your order online here or mail an order along with payment to: AFIO, 7600 Leesburg Pike, Ste 470 East, Falls Church, VA 22043-2004. Phone orders at 703-790-0320. Questions? Contact Annette at: annettej@afio.com.
---

PopSocket for cellphones or tablets
Show your support to AFIO while enjoying the convenience offered by our AFIO Logo PopSocket. The PopSocket is most commonly used as a stand and as a grip for your mobile phone or tablet; handy for taking selfies, watching videos, and for texting. The PopSocket looks like a small button or sticker which, when closed, sticks flat to your mobile device. However, its accordion-like design enables it to pop open for use. The benefits of using a PopSocket make it a must-have accessory for your mobile phone or tablet. It also aids in keeping your phone from slipping off your hand during use, falling, or breaking.
Price: $15. Order this and other store items online here.
---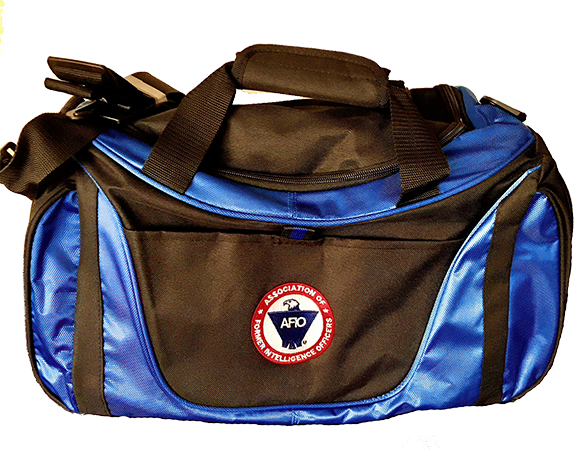 Duffel Bags - Royal Blue and Black with Full Color AFIO Logo This duffel has it all when it comes to value, style and organization.
600 denier polyester canvas with polyester double contrast; D-shaped zippered entry for easy access. Front pocket with hook and loop closure. End mesh pocket Easy-access end pockets. Four durable, protective feet and built-in bottom board for added strength. Web handles with padded grip. Detachable, adjustable shoulder strap.
Dimensions: 11"h x 19.75"w x 9.75"d; Approx. 2,118 cubic inches
Price: $50. Order this and other store items online here.
---
AFIO Mug with color glazed seal.

Made in the U.S.A., dishwasher-safe.
$35 includes shipping.

Sip your morning joe in style or use it to stash pens, cards, paperclips, or candy.
Order this and other store items online here.
---


Caps - Dark Navy with Navy AFIO Logo
An authentic silhouette with the comfort of an unstructured, adjustable fit. Fabric: 100% cotton. Unstructured. Fabric strap closure with adjustable D-clip. Price: $30. Order this and other store items online here.
---
PUBLISHED IN 2023
Be informed on career opportunities in the U.S. Intelligence Community
Intelligence as a Career - with updated listings of colleges teaching intelligence courses, and Q&As on needed foreign languages, as well as the courses, grades, extracurricular activities, and behavioral characteristics and life experiences sought by modern U.S. intelligence agencies.

AFIO's popular 47-page booklet reaches thousands of high school, college students, university guidance offices, and distributed in classes teaching intelligence, to help those considering careers in the U.S. Intelligence Community.

This is the all new fifth edition.
The publication is also popular with University Career Guidance Centers, professors and academic departments specializing in national security, and parents assisting children or grandchildren in choosing meaningful, public service careers.
This booklet is provided online as a public service from the generosity of AFIO board, volunteer editors/writers, donors, and members.
We thank all for their support which makes this educational effort possible.
Careers Booklet (new 2023 Fifth Edition) can be read or downloaded here

---
Guide to the Study of Intelligence...and...When Intelligence Made a Difference
"AFIO's Guide to the Study of Intelligence" has sold out in hard-copy.
It is available in digital form in its entirety on the AFIO website here.

Also available on the website here are the individual articles of AFIO's history project "When Intelligence Made a Difference" that have been published to date in The Intelligencer journal. More articles will be appear in future editions.
---
Address Technical Issues Or Unsubscribe
Some features of the email version of the WIN do not work for readers who have chosen the Plaintext Edition, some AOL users, and readers who access their email using web mail. You may request to change from Plaintext to HTML format here afio@afio.com. For the best reading experience, the latest web edition can be found here: https://www.afio.com/pages/currentwin.htm
To unsubscribe from the WIN email list, please click the "UNSUBSCRIBE" link at the bottom of the email. If you did not subscribe to the WIN and are not a member, you received this product from a third party in violation of AFIO policy. Please forward to afio@afio.com the entire message that you received and we will remove the sender from our membership and distribution lists.
---
Disclaimer and Legal Protection
Weekly Intelligence Notes (WINs) are a carefully selected collection of timely open source reports and announcements and other media focused on intelligence and related national security matters that is produced for non-profit educational use by AFIO members and WIN subscribers. WINs are protected by copyright and intellectual property laws. They may not be reproduced or re-sent without specific permission from the Producer. Opinions expressed in the materials contained in the WINs are solely those of the content creators listed with each item. Notices in the WINs about non-AFIO events do not constitute endorsement or recommendation by AFIO.

(c) 1998 thru 2023


---

AFIO Members Support the AFIO Mission - sponsor new members! CHECK THE AFIO WEBSITE at www.afio.com for back issues of the WINs, information about AFIO, conference agenda and registrations materials, and membership applications and much more! .

AFIO | 7600 Leesburg Pike, Suite 470 East, Falls Church, VA 22043-2004 | (703) 790-0320 (phone) | (703) 991-1278 (fax) | afio@afio.com
---
About AFIO | Membership Renewal | Change of Address | Upcoming Events | Chapter Locations | Corporate/Institutional Memberships | Careers in Intelligence Booklet | Guide to the Study of Intelligence | Intelligencer Journal | Weekly Intelligence Notes | Make A Donation | AFIO Store | Member-Only Section | Code of Ethics | Home Page
RETURN TO TOP
---