---
Russian SVR Director's Speech at the XI Moscow Conference on International Security - Press Bureau of the Foreign Intelligence Service of Russia, 15 Aug 23 (via Google Translate)
I am glad to welcome such an authoritative and representative community! There is such a common expression that in the world one cannot be absolutely sure of anything. The level of unpredictability and nihilism at the present stage is indeed growing, especially considering how aggressively the collective West is destroying the fundamental norms of human morality and international law, religious truths. However, I am absolutely sure that the current crisis period will be replaced by the triumph of a new, more just and truly democratic world order. The best proof of this is today's forum, which brought together representatives of truly sovereign countries who are ready to resolutely defend their national interests and identity in the face of a global totalitarian-liberal dictatorship. My conviction in the triumph of multipolarity is based not only on the dedication of Russia and its like-minded people, but also on the data on the deep crisis of the unipolar world order led by the United States. Perhaps Washington's main problem is its rapidly growing isolation from reality. The American elite has long lived in the rainbow world they knew, where the United States still reigns supreme on the planet and has the exclusive right to oversee and punish. And the reality is that they have long turned into an exaggerated hegemony ("hollow hegemony"), which stubbornly tries to force others to do what they themselves do not believe in and which they do not correspond to at all. Hypocrisy and cynicism are incompatible with moral leadership, and even more so with messianism. (View report here.)
German intelligence service targets former boss - Deutsche Welle, 16 Aug 23
A former president of Germany's Federal Office for the Protection of the Constitution (BfV), Hans-Georg Maassen, is under investigation by his former agency, the German newspaper Bild reported on Wednesday. Maassen, who was removed from his post after appearing to downplay far-right violence against migrants, is a member of former Chancellor Angela Merkel's center-right Christian Democrats (CDU). As part of the investigation, Bild said the BfV asked the Federal Criminal Police Office (BKA) for information about Maassen. The former BfV head reportedly said he was "outraged" and would "request information about what data my former employees store about me." Bild reported that a spokeswoman for the Federal Ministry of the Interior, which is responsible for both the BfV and the BKA, did not deny that there had been a query about Maassen. "We do not comment on individual matters, if only for reasons of privacy protection," she told the newspaper. Maassen said if he was under BfV investigation it would amount to political persecution. (Full article here.)
US Army set to test combined cyber, jamming, signal intelligence tool - Defense News, 15 Aug 23
One of the U.S. Army's electronic-warfare weapons will get a demonstration later this year. The service in September plans to study its Terrestrial Layer System-Brigade Combat Team in a test of its combined cyber, jamming and signals intelligence capabilities, according to Brig. Gen. Ed Barker, the program executive officer for intelligence, electronic warfare and sensors. "They're on this Stryker and they're going through as many functions, from EW and SIGINT, as they can, based on the limitations of the range and the threat emitters," Barker said in an Aug. 15 interview on the sidelines of the AFCEA TechNet Augusta conference in Georgia. "They're basically characterizing the system, how it performs against those threat emitters, and an ability to conduct mission threads." Feedback from soldiers and the ability to quickly adapt is key to successful technology development, Barker added. TLS-BCT is meant to provide smaller Army formations a means to understand their surroundings and disrupt networks and advanced electronics wielded by China, Russia and others. Control of the electromagnetic spectrum is critical in warfare, as it is used for weapons guidance, friendly communications, deception and enemy suppression. (Full article here.)
Swiss parliamentarian calls for 'zero-trust approach' amid Huawei espionage claims - Swiss Info, 19 Aug 23
This past June, Bloomberg news agency reported that the Danish telecom group (TDC) in Copenhagen, Denmark was the target of espionage by Huawei, for an upper-hand in a bid against Swedish telecommunications company, Ericsson for a 5G network contract worth CHF175 million ($198 million). The spying accusation came despite Huawei having committed to a "no-spy" deal with the Danish government. Huawei had proposed a similar "no-spy" deal with Switzerland in 2019, however, no concrete agreement was reached. Huawei confirmed this information. Swisscom and Sunrise, the two major telecommunications operators in Switzerland, both use Huawei equipment in their networks. Sunrise has built its 5G network together with Huawei. (Full article here.)
NGA supporting Hawaii wildfire recovery - Intelligence Community News, 17 Aug 23
The National Geospatial-Intelligence Agency (NGA) is providing geospatial intelligence support to combined search and rescue efforts in the aftermath of the Hawaii wildfires as part of a Federal Emergency Management Administration Incident Support Team in Maui, NGA announced August 16. As part of the Incident Support Team, NGA deployed a team of two geospatial analysts with mobile satellite communications to Maui and established reach-back support from NGA Washington, NGA St. Louis and NGA USINDOPACOM. NGA and FEMA are jointly developing geospatial products to identify search areas that FEMA and local responders can use to drive rescue operations. NGA is also providing FEMA and local responders commercial remote sensing data to assist with recovery efforts, including commercial synthetic aperture radar, panchromatic and multispectral imagery, used by first responders to more effectively understand the impact on the ground. NGA is closely monitoring the situation and will deploy additional personnel and equipment if requested by FEMA. NGA has a decades-long history of providing geospatial intelligence support to HADR efforts, including support to federal search and rescue efforts for natural disasters like hurricanes, wildfires and earthquakes. (Full article here.)
North Korea preparing ICBM tests and spy satellite launch: South Korea intel - The Hill, 17 Aug 23
North Korea is reportedly preparing intercontinental ballistic missile (ICBM) tests and a spy satellite launch, according to South Korea's intelligence service. Over the last few months, North Korea has conducted numerous missile tests. The South Korean National Intelligence Service (NIS) told lawmakers that North Korean leader Kim Jong Un is expected to resume weapons testing in response to joint U.S.-South Korean military drills slated to begin next week and the upcoming summit of the U.S., South Korea and Japan scheduled for Friday. The intelligence agency said it had detected unusual activity at North Korean facilities, according to Yoo Sang-bum, one of the lawmakers who attended the intelligence briefing. One of the facilities produces solid-fueled ICBMs, and a separate one deals with liquid-fueled ICBMs, according to the intelligence. (Full article here.)
China Adds World's Biggest Energy Sector to Anti-Spy Push - Bloomberg via Financial Post, 16 Aug 23
China extended its anti-espionage push to the energy sector, calling for companies and agencies to halt leaks of information in industries including nuclear power and oil. Foreign forces are collecting data and information to interfere with China's efforts to ensure energy security and to distort its planning for a green transition, the National Energy Administration said in a statement on Wednesday. The agency called for more inspections and investigations to ensure confidentiality, and to increase punishment for violations. The announcement follows a broader push to restrict public information and expand anti-espionage laws as President Xi Jinping grows more wary of the US and its allies. China is the world's largest energy producer and consumer, mining and burning more than half the world's coal, importing more oil and gas than any other country, and constructing the largest fleet of solar panels and wind turbines. While information about those endeavors isn't as readily available as in places like the US and Europe, government agencies and research firms still regularly report data that allows companies, investors and academics to keep tabs on trends vital to global trade flows and the fight against climate change. (Full article here.)
Havana Syndrome — The Missing Piece of the Puzzle - Intel Today, 16 Aug 23
On October 3 2017, I coined the expression "Havana Syndrome" which is now universally used, both by mainstream media and the research community. Five years later, I came to the conclusion that these alleged attacks in Cuba never occurred. Yet, there is no doubt that such attacks did really occur before the events reported in Havana. As I have explained long ago, such microwave espionage attacks are conducted routinely. Nevertheless, there is a mystery that could not be explained. Why would the attackers raise the power to a level where it activates the Frey effect, thus warning the targeted individual? The experts hired by the CIA failed to answer that question. Here is the most likely explanation. (Full article here.)
N.Y.P.D.'s New Intelligence Chief Takes Reins of Secretive Unit - Harvard University's Belfor Center, 13 Aug 23
Rebecca Weiner, 46, the deputy commissioner of the counterterrorism bureau, grew up in a family that was well acquainted with clandestine work. Rebecca Weiner learned about catastrophic threats at an early age: She grew up in Santa Fe, N.M., near the cradle of the nuclear bomb. Her grandfather, a mathematician, fled Poland in 1939, studied at Harvard and then moved to New Mexico in 1943 to help develop atomic weapons. In college, Ms. Weiner studied the ethical questions that Manhattan Project scientists, and their wives, confronted as they devised the bombs that annihilated two Japanese cities, but that they hoped would "end war as we know it," she said. (Full article here.)
US Sanctions Against Serbia's Intel Boss Should Signal a More Holistic Policy Redo - Just Security, 16 Aug 23
The U.S. Treasury Department recently imposed sanctions on Serbia's intelligence chief, Aleksandar Vulin, owing to his involvement "in transnational organized crime, illegal narcotics operations, and misuse of public office." The sanctions also highlighted that Vulin had "used his public positions to support Russia, facilitating Russia's malign activities that degrade the security and stability of the Western Balkans and providing Russia a platform to further its influence in the region." The move was widely hailed by regional observers, among whom Vulin has long been derided for his ultra nationalist views. The most significant of these is his explicit promotion of the so-called "Serbian World" idea, which envisions the formal unification of all Serb-majority areas in the Western Balkans with Serbia proper, to create a version what was known during the Milosevic era as "Greater Serbia." (Full article here.)
Poisoning Critics: The Kremlin's Preferred Method of Dealing with Dissidents - Homeland Security Newswire, 19 Aug 23
The Kremlin may have been behind the poisoning of three prominent Russian journalists living in exile, according to a recent investigation by the Russian online portal The Insider. The investigation highlights that the journalists were known for their outspoken anti-Kremlin stance. Natalija Arno, Jelena Kostjutschenko and Irina Bablojan, the three female exiled journalists cited in the report, were admitted to the hospital after experiencing perplexing and unexplained symptoms. The investigation, which was published on August 15, quotes various experts, including a physician renowned for saving the life of opposition leader Alexei Navalny. These experts collectively point to the possibility of "exogenous poisoning" as a compelling explanation for the symptoms that the journalists experienced. (Full article here.)
Counterespionage Corner - Recent Arrests, Convictions, Expulsions, and more...
Cyberespionage Collection - Newly Identified Actors and Operations, Countermeasures, Policy, other...
---
The Latest from International Spy Museum Historian Andrew Hammond, PhD.
Spycast is the official podcast of the International Spy Museum and hosts interviews with intelligence experts on matters of HUMINT, SIGINT, IMINT, OSINT, and GEOINT. Spycast is hosted by historian Andrew Hammond, PhD.
15 Aug | "The Gambling Capital of the World: Intelligence, Las Vegas Style!" – with James Lockhart and Keith Michaels Keith Michaels and James Lockhart join Andrew Hammond to discuss intelligence in an unlikely place: Casinos! James and Keith have collectively over 30 years of experience within Las Vegas gaming surveillance. 
Past episodes:
08 Aug | "China's Corporate Spy War" – with CNBC's Eamon Javers
01 Aug | "The Eighteen Year Old Spy on the Manhattan Project: Ted Hall" – with Director Steve James
25 Jul | "Intelligence, Special Operations, and Strategy" – with Michael Vickers

---
The Latest Insights from Former CIA Acting Deputy Director for Operations Jack Devine.
In Other News The proprietary analytic newsletter crafted for The Arkin Group's private clients by former CIA Acting Deputy Director for Operations Jack Devine.
17 Aug | With the Chinese and Russian economies in significant flux, nations in the Global South are increasingly looking for new ways to engage and protect their interests. Just as the global economy was starting to show signs of recovery post-Covid, Russia launched a war on Ukraine that has had great ramifications on geopolitics and economic stability worldwide. Indeed, because of global interdependence on food, materials, access to energy and natural resources, regional conflicts now have an impact far beyond their borders. Threats like terrorism and climate change are also inherently transnational. While the current political upheaval in places like Niger, Libya, and Pakistan might not be directly attributable to Russia's invasion of Ukraine, the war has opened a door for geopolitical realignment. (Full version available to AFIO members in the coming days here.)
10 Aug | In Niger, a coup underpinned by anti-French sentiment makes space for Russia, but Putin isn't the partner the junta is hoping for.
04 Aug | Putin often behaves in an unpredictable way, but it's a sign of weakness and reveals his lack of strategic thinking.
27 Jul | The recent NATO summit succeeded in solidifying the alliance's goals - now it's time for implementation.
---
Daily Analysis of Security Issues and Geopolitical Trends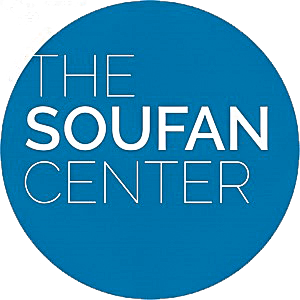 Intel Brief The Soufan Center's flagship, daily analytical product focused on complex security issues and geopolitical trends that may shape regional or international affairs. The Soufan Center was founded by former FBI Special Agent and Soufan Group CEO Ali Soufan.
22 Aug | Intel Brief is on break until 28 August. You can continue reading it here after that date.


---
Analysis of Global Security Events with WTOP National Security Correspondent JJ Green

Inside the SCIF - 17 August - North Korea getting nuclear weapons help from Russia?, Three suspected Russian spies arrested in Britain, Whelan, and more...
Target USA Podcast - 16 Aug - "Mistake" : NATO official says Ukraine could give territory to Russia to join

The Hunt Broadcast - 16 Aug - The coup in Niger is hampering counterterrorism efforts in West Africa




---
The Latest Insights from Jeff Stein and Colleagues in SpyTalk

16 Aug | The Power Behind Iranian Terror - Jonathan Broder
For decades, Iran's shadowy Islamic Revolutionary Guard Corp (IRGC) had a face: Maj. Gen. Qassem Soleimani – the dashing and charismatic mastermind of Tehran's military and intelligence operations across the Middle East. When a U.S. drone strike killed him in Baghdad in January 2020, Iran mourned the loss of a towering national hero. But there was one Iranian who may not have been so heart-broken: Soleimani's boss, Maj. Gen. Hossein Salami, the IRGC's overall commander and, until Soleimani's assassination, a powerful yet largely faceless bureaucrat in Iran's sprawling security establishment. (Full article here.)

16 Aug | IG Report Confirms Hate Speech in Classified IC Chat Rooms - Jeff Steinr
An investigation by the Intelligence Community's Inspector General has confirmed what SpyTalk first exclusively reported over a year ago: That a classified chat channel used by alphabet-agency employees was fouled by "transphobia, hate speech and misogynistic discussions." The misuse of the Intelink chat rooms for voicing and exchanging hate speech has been "systemic," the IG said in its undated report, first revealed Wednesday by The Washington Post's Tim Starks. SpyTalk based its March 2022 report mainly on a personal blog written by Dan Gilmore, a former mid-level administrator of the Intelink chat rooms, who said that the system "became a dumpster fire" of hate speech around 2019, during the administration of President Donald Trump, who had refused to condemn neo-Nazis who organized a provocative march in Charlottesville, VA. "Professionalism was thrown out the window, and flame wars became routine," wrote Gilmore, a 30-year veteran of Navy and NSA cryptologic systems. (Full article here.)

13 Aug | FBI's Intimidating Visit on Discord Leak Story - Jeff Stein
Paul Cobaugh, a 66-year-old former U.S. Army information warfare expert, has spent much of his retirement years writing books about political warfare and posting articles by others that he likes on LinkedIn. This week the FBI took notice of one of those articles Cobaugh posted back in April. Agents from the bureau's office in San Antonio, where Cobaugh lives, visited the veteran at his home on Wednesday and asked him to delete an article he had posted last April about the so-called Discord leaks, the massive trove of highly classified documents that a low level Air Force National Guard enlisted man has been charged with stealing and posting on social media. (Full article here.)


To support SpyTalk, subscribe here.



---
Video: Spying and Covert Action Made Simple featuring Jack Devine (61 mins) - Johns Hopkins University, 17 Aug 23
Host Michael Ard leads a curated conversation with Jack Devine, former Acting Director of CIA's operations outside of the United States on "Spying and Covert Action Made Simple." Jack Devine is a founding partner and President of The Arkin Group LLC, which specializes in international crisis management, strategic intelligence, investigative research and business problem solving. He is a 32-year veteran of the Central Intelligence Agency ("CIA"). Mr. Devine served as both Acting Director and Associate Director of CIA's operations outside the United States from 1993-1995, where he had supervisory authority over thousands of CIA employees involved in sensitive missions throughout the world. In addition, he served as Chief of the Latin American Division from 1992-1993 and was the principal manager of the CIA's sensitive projects in Latin America. Between 1990 and 1992, Mr. Devine headed the CIA's Counternarcotics Center, which was responsible for coordinating and building close cooperation between all major U.S. and foreign law enforcement agencies in tracking worldwide narcotics and crime organizations. From 1985-1987, Mr. Devine headed the CIA's Afghan Task Force, which successfully countered Soviet aggression in the region. In 1987, he was awarded the CIA's Meritorious Officer Award for this accomplishment. Mr. Devine's international experience with the U.S. government included postings to Latin America and Europe. During his more than 30 years with the CIA, Mr. Devine was involved in organizing, planning and executing countless sensitive projects in virtually all areas of intelligence, including analysis, operations, technology and management. He is the recipient of the Agency's Distinguished Intelligence Medal and several meritorious awards. He is a recognized expert in Intelligence matters and has written Op-Ed articles for The Washington Post, The Wall Street Journal, The Financial Times, Foreign Affairs Magazine, The World Policy Journal, Politico and The Atlantic Monthly. He has also made guest appearances on National Press Club, CNN, CBS, NBC, MSNBC, Fox News, CSPAN, Bloomberg News as well as the History and Discovery channels, PBS, NPR and ABC Radio. (Read full report here.)
Article: Which Ukrainian Political Formation Was Supported by CIA During Cold War - Kyiv Post, 14 Aug 23
In 1948, the CIA's Office of Policy Coordination (OPC) selected the émigré organization Ukrainian Supreme Liberation Council (ZP/UHVR) as the "most reliable, best organized and operationally most experienced group for use in exploiting anti-Communist activity of the Ukrainian resistance group then active in Ukraine." The CIA used various cryptonyms for its projects using ZP/UHVR, including QRDYNAMIC. Below are excerpts from an August 1971 the CIA's Covert Action division: "Memorandum for the Record." "SUBJECT: CIA Support of ZP/UHVR (Foreign Representation, Ukrainian Supreme Liberation Council) "During the 1971 (CIA) headquarters review of Project QRDYNAMIC, which supports the ZP/UHVR, the logical question was raised whether the CIA is in fact supporting the "right group" of Ukrainian emigres in its efforts to encourage dissidence in Soviet Ukraine. The undersigned officer has attempted to examine the present status of the world Ukrainian emigre community, with the aid of QRDYNAMIC principal agents, in order to reach a conclusion in this respect. (Read full report here.)
Article: Intelligence Agencies Warn Foreign Spies Are Targeting U.S. Space Companies - New York Times, 18 Aug 23
Chinese and Russian intelligence agencies are targeting American private space companies, attempting to steal critical technologies and preparing cyberattacks aimed at degrading U.S. satellite capabilities during a conflict or emergency, according to a new warning by American intelligence agencies. The National Counterintelligence and Security Center, the F.B.I. and the Air Force issued a new advisory to American companies Friday morning. The broad warning to industry said that foreign intelligence services could be targeting space firms, their employees and the contractors that serve those companies. Space companies' data and intellectual property could be at risk from attempts to break into computer networks, moles placed inside companies and foreign infiltration of the supply chain, officials said. (Read full report here.) (NOTE: This material may require a one time free subscription or sit behind a paywall.)
Article: Russia recruited operatives online to target weapons crossing Poland - Washington Post, 18 Aug 23
The cryptic job listings began appearing online early this year. The tasks were menial — posting fliers or hanging signs in public spaces — and the pay meager. But for a handful of refugees from eastern Ukraine, the promise of quick cash was too good to pass up. Respondents soon realized there was a catch: The jobs involved distributing pro-Russian propaganda on behalf of an anonymous employer. For those willing to complete the assignments anyway, the work then took a more ominous turn. Within weeks, recruits were tasked with scouting Polish seaports, placing cameras along railways and hiding tracking devices in military cargo, according to Polish investigators. Then, in March, came startling new orders to derail trains carrying weapons to Ukraine. (Read full report here.) (NOTE: This material may require a one time free subscription or sit behind a paywall.)
Article: CIA Is Sued for Records on Now Debunked Letter Falsely Claiming the Hunter Biden Laptop Story Was 'Russian Disinformation' - New York Sun, 18 Aug 23
A conservative legal and media nonprofit organization, Judicial Watch, has submitted a Freedom of Information Act request for CIA records related to the dissemination of a 2020 letter that claimed an explosive New York Post story about Hunter Biden's laptop was "Russian disinformation." Judicial Watch submitted a FOIA request "for all communications of the spy agency's Prepublication Classification Review Board (PCRB) regarding an October 19, 2020, email request to review and 'clear' a letter signed by 51 former intelligence community officials." Shortly after the Post's story about Mr. Biden's laptop broke, 51 former members of the intelligence community signed a letter that was proposed by Secretary Blinken and other top officials from both Democratic and Republican presidential administrations. (Read full report here.)
Article: Mystery deepens as Biden's Iran envoy-in-limbo Malley takes Princeton teaching job - Washington Times, 17 Aug 23
A top Biden administration diplomat reportedly under investigation on suspicion of mishandling classified information has been hired to teach foreign policy classes at Princeton University, the New Jersey school announced this week. Princeton's hiring of Robert Malley, the administration's chief Iran envoy, outraged Republicans who say they are still largely in the dark about why Mr. Malley's security clearance was suspended earlier this year. The longtime Democratic diplomat was a key architect of the Obama administration's 2015 nuclear deal with Iran and was leading President Biden's effort to revive that pact. His sudden disappearance from the foreign policy scene in Washington this spring left a host of unanswered questions. Some prominent Republicans publicly wondered whether Mr. Malley committed treason by sharing sensitive information with Iran or another foreign adversary. (Read full report here.)
Article: Russia turning to sleeper cells and unofficial agents - The Guardian, 15 Aug 23
An Argentinian couple living in Slovenia, a Mexican-Greek photographer who ran a yarn shop in Athens and now three Bulgarians arrested in Britain. Over the past year, police and security services across the globe have accused numerous people living apparently innocuous lives with being Russian intelligence agents or operatives. Many others have been accused of passing information to Russia, including a security guard at the British embassy in Berlin, sentenced to 13 years in prison, and more than a dozen people arrested in Poland accused of carrying out various tasks for Russian intelligence. Much about the three Bulgarians, said to be among five people detained in February, remains unclear. They have been charged but their trial is not until January, they have yet to enter pleas, and the British authorities have made no details public about the allegations. But elsewhere one thing is clear: since Vladimir Putin launched his full-scale invasion of Ukraine last February, Moscow has had to resort to riskier and less conventional methods of spying, mainly because so many of the spies it had placed under diplomatic cover in Europe have been expelled. (Read full report here.)
Article: Russia Has Shown Scant Interest in Prisoner Swaps for Dozens Held in U.S. Prisons - Wall Street Journal, 16 Aug 23
Setbacks securing the release of Wall Street Journal reporter Evan Gershkovich and other Americans held in Russia through a trade for high-profile Russians locked up in other countries have forced U.S. officials to refocus on a deal involving Russian prisoners in U.S. custody. One problem: it's unclear that Russia wants any of them. Hopes that Russia might trade for an accused spy in Brazilian custody were dealt a blow last month when Brazil's government denied a U.S. request to extradite him. U.S. officials have identified several other allied countries that have detained Russians who have ties to Russian intelligence services or are otherwise valuable, but the Brazilian example underscores the complications for the U.S. when a third country is involved. (Read full report here.) (NOTE: This material may require a one time free subscription or sit behind a paywall.)
Article: U.K. Arrests Bulgarian Trio Suspected of Spying for Russia - Wall Street Journal, 15 Aug 23
British police have arrested five people, including at least three Bulgarian nationals, believed to have been living undercover in the U.K. while working for Russian intelligence, the latest in a series of arrests across Western countries of alleged Russian agents posing as seemingly ordinary people. Three men and two women were arrested in early February on suspicion of violating the U.K.'s Official Secrets Act 1911, which criminalizes espionage, the Metropolitan Police said Tuesday. The five people were released on bail and are due to appear in court in September, the Met said. Three of the five—identified by the Met as Orlin Roussev, 45 years old, Biser Dzambazov, 42, and Katrin Ivanova, 31—were also charged with possession of false identity documents with improper intention, the Met said. The BBC, which first reported the arrests, said the three are Bulgarian nationals believed to be working for Russian intelligence. It said they were caught with forged passports and documents from the U.K., Bulgaria, France, Italy, Spain, Croatia, Slovenia, Greece and the Czech Republic. Two U.K. government officials confirmed that report to The Wall Street Journal. There have been a string of similar arrests of deep-cover Russian spies in recent months across a range of countries, often posing as South Americans but living in European countries. (Read full report here.) (NOTE: This material may require a one time free subscription or sit behind a paywall.)
Audio: - Russian Spies in Reality and Fiction with Calder Walton - Lawfare's Chatter Podcast, 16 Aug 23
Dr. Calder Walton, assistant director of the Applied History Project and Intelligence Project at Harvard University's Belfer Center for Science and International Affairs, has become one of the world's most highly respected intelligence historians. His most recent book, Spies: The Epic Intelligence War Between East and West, describes the long history of Russian spying--placing it into the wider context of the hundred-year espionage war between the East and West. And this gives him a remarkable perspective on how Soviet and Russian operations against the West have been portrayed in movies and television. David Priess spoke with Calder about his path to researching and writing within the intelligence history subfield; the story of the Mitrokhin archive; the Cambridge Five; the Rosenbergs; Oleg Penkovsky; Aldrich Ames; Robert Hanssen; Russian disinformation campaigns in historical context; enduring popular myths about the master recruits of the KGB; and much more. (Listen here.)
Article: World Brief: Spy Ring - Foreign Policy, 15 Aug 23
British police charged three Bulgarian nationals on Tuesday with possessing false identity documents as part of a larger national security investigation into Russian espionage efforts. Local officials have not yet confirmed evidence of spying, but British Metropolitan Police announced that the suspects were among five people arrested in February for counterterrorism offenses under the Official Secrets Act. According to the BBC, all three accused individuals first appeared in court in July for working with Russian security services. The suspects—Orlin Roussev, Biser Dzambazov, and Katrin Ivanova—allegedly possessed passports and other identity documents for the United Kingdom, Bulgaria, Croatia, the Czech Republic, France, Greece, Italy, Slovenia, and Spain. They also are accused of having forged press cards and clothes bearing Discovery Channel and National Geographic TV channel logos to carry out surveillance operations in London as well as Germany and Montenegro. (Read full report here.)
Book Reviews: War Books: The Lessons of Vietnam - West Point, 18 Aug 23
Welcome to another installment of our weekly War Books series! The premise is simple and straightforward. We ask an expert on a particular topic to recommend five books on that topic and tell us what sets each one apart. War Books is a resource for MWI readers who want to learn more about important subjects related to modern war and are looking for books to add to their reading lists. For this installment of War Books, we asked Bob Baker, a Vietnam veteran and author of the book Break in the Chain—Intelligence Ignored: Military Intelligence in Vietnam and Why the Easter Offensive Should Have Turned Out Differently to describe five books that are among those he recommends to readers who want to better understand the US war in Vietnam, its successes, and its failures. Included is Phoenix and the Birds of Prey: The CIA's Secret Campaign to Destroy the Viet Cong by Mark Moyar (1997). (Read full report here.)
Article: China Intensifies Espionage Crackdown Targeting Alleged Spies for the CIA - Time, 21 Aug 23
China is intensifying a crackdown on alleged spies for the U.S., saying it found another case of an individual informing the Central Intelligence Agency, adding to a series of espionage accusations between the two nations. The Chinese Ministry of State Security said Monday it is investigating a 39-year-old ministry official identified by his surname Hao for providing information to the CIA in exchange for money. This follows another case earlier this month involving an employee of a military industrial group. The latest claims come weeks after CIA director William Burns said his agency has made progress in rebuilding its network in China following setbacks in the country. Tensions between China and the U.S. have risen after a series of incidents in recent months, including an alleged spy balloon and military encounters in the South China Sea. (Read full report here.)
---
Can Private Sector Intelligence Benefit from U.S. Intelligence Community Analytic Standards? - International Journal of Intelligence and Counterintelligence, 14 Aug 23
The U.S. Director of National Intelligence (DNI)'s 2007 establishment of analytic standards in Intelligence Community Directive (ICD) 203 aided in the professionalization of the U.S. Intelligence Community (IC)'s analytical cadre, enshrining best practices across a diverse field of agencies and driving cultural shifts within and among U.S. IC agencies. Private sector intelligence analysis, although wide-ranging, finds itself in a growth period, driven by the recent pandemic; the increasing importance of environmental, social, and governance movements; and heightened geopolitical strife resulting from Russia's invasion of Ukraine and concern over China's aggressive foreign policies. To improve efficiency, objectivity, and value, private sector intelligence could benefit from adopting many of the standards set out in ICD 203, although absent a powerful referee like the DNI, training and enforcement of standards will remain a challenge. (Full report here.)
The Intelligence Community's Foreign Malign Influence Center (FMIC) – Analysis - Eurasia Review, 16 Aug 23
Congress established the Foreign Malign Influence Center (FMIC) under Section 5322 of the Damon Paul Nelson and Matthew Young Pollard Intelligence Authorization Act for Fiscal Years 2018, 2019, and 2020 (P.L. 116-92, codified as 50 U.S.C. §3059), amending the National Security Act of 1947 (P.L. 80-253). General concern over the potential for foreign interference in U.S. elections has grown with the recognition that foreign malign actors are able to employ sophisticated tools such as artificial intelligence (AI) to conduct disinformation campaigns. Congress created the center for policymakers to better understand and respond to such threats. FMIC is one of five mission centers within the Office of the Director of National Intelligence (ODNI). (48 mins) (Full report here.)
Steve James on his new film about a Manhattan Project scientist who was spying for the Soviets - National Public Radio, 18 Aug 23
NPR's Scott Simon talks with director Steve James — known for "Hoop Dreams" — about his new film, "A Compassionate Spy." It's about a Manhattan Project scientist who shared secrets with the Soviets. "There's a love story at the center of the new documentary, "A Compassionate Spy." Joan and Ted Hall, a couple who meet as University of Chicago students right after the Second World War - they share a love of poetry, Mozart, leftist politics and, soon, a secret. Ted tells Joan of something extraordinary, illegal and possibly treasonous. When he was the youngest scientist on the atomic bomb project, Ted Hall gave secrets to the Soviet Union."... (Full report here.)
National Security: Why is public service a members-only club? - Military Times, 18 Aug 23
In 2018, I attended an event at my public university where a large percentage of the student body had transferred from a local community college. The event was one of a few organized each year to connect students from underrepresented demographics with professionals in the security sphere. Many, like myself, are first-generation college students and first-generation Americans. We sat facing a panel of representatives who came to speak with us about working in national security. In the staggering discussion of acronyms, vague job descriptions, unpaid internships, prestigious fellowships, and nonchalant paths to success, it became clear that the surest way into public service was through personal connections, financial flexibility and an insane amount of luck. As millennials become the dominant workforce and Gen Z increases its presence in the workforce, the security sector must find a way to effectively attract and integrate diverse talent with the greatest ability to navigate new frontiers and develop innovative methods to protect the nation's interests. (Full report here.)
Opinion: Reauthorizing Section 702 of the Foreign Intelligence Surveillance Act is a national security imperative - The Hill, 16 Aug 23
A new report confirms what national security leaders have long warned: If Congress fails to reauthorize Section 702 of the Foreign Intelligence Surveillance Act (FISA), the U.S. stands at the brink of a self-inflicted national security calamity. The study — by an independent group of intelligence experts called the President's Intelligence Advisory Board (PIAB) — did not mince words: "History may judge the lapse of Section 702 authorities as one of the worst intelligence failures of our time." (Full report here.)
How I Caught Robert Hanssen with Eric O'Neil - Spycraft 101 Podcast, 20 Aug 23
This week Justin talks with author, attorney, public speaker, security expert, and former FBI agent Eric O'Neill. Eric is the founder of the Georgetown Group, a premier investigative services and security firm. In law, he specializes in national security matters. But long before that, he was a young investigative specialist with the FBI. In December of 2000, he was unexpectedly pulled off his normal duties for a special assignment, which would arguably be one of the most important ever in the history of the bureau. He was going to go undercover against one of the FBI's own senior special agents who was suspected of spying for the Russian government: Robert Hanssen. Eric's experiences and contributions to Hanssen's capture would later serve as inspiration for the feature film Breach. (Listen here.)
The New Frontline of Geopolitics : Understanding the Rise of State-Sponsored Cyber Attacks - Sentinel One, 16 Aug 23
The rise of nation-state cyber attacks has become a defining feature of modern geopolitics. With blurred lines between advanced persistent threats (APTs) and cybercrime, understanding this complex landscape has become a critical element in building a strong cybersecurity strategy. According to recent reports on the rise of state-sponsored cyber attacks, nation-state actors targeting critical infrastructures have doubled from 20% to 40% in the past two years alone. As for the costs? Organizations are estimating a total of $1.6 million per cyber incident. Not only is the frequency and financial consequences of such attacks accelerating, the threat landscape in which these nation-state actors now operate is also shifting. Cyber warfare and the use of cyberweapons in the ongoing Russo-Ukrainian war, for example, have magnified the intersection of conflict across geopolitical and digital surfaces. The challenge is that nation-state threat actors are well-funded and possess specialized skills, focusing their attacks on high-value targets including government and military entities, think tanks, universities, and those providing critical infrastructure services. (Full report here.)
The Sayanim: A Global Network Of Mossad Helpers - The Spy Network, 15 Aug 23
A secret network thrives within the shadowy corridors of international espionage, driven by allegiance, intrigue, and unseen hands. The hidden world of international volunteers carries a mystique that few truly understand, but among these enigmatic figures, the Israeli Sayanim command attention. As a unique phenomenon, a fusion of patriotism and intelligence operations that stretches across the globe, the Sayanim operate within Mossad, Israel's national intelligence agency, with precision and secrecy. I have used footage from BBC, New York Times and several other videos on Youtube. This is all under the fair use policy and by all means not meant to re-use and re-upload without any context. (Full report here.)
Visualizing the $105 Trillion World Economy in One Chart - Visual Capitalist, 09 Aug 23
By the end of 2023, the world economy is expected to have a gross domestic product (GDP) of $105 trillion, or $5 trillion higher than the year before, according to the latest International Monetary Fund (IMF) projections from its 2023 World Economic Outlook report. In nominal terms, that's a 5.3% increase in global GDP. In inflation-adjusted terms, that would be a 2.8% increase. The year started with turmoil for the global economy, with financial markets rocked by the collapse of several mid-sized U.S. banks alongside persistent inflation and tightening monetary conditions in most countries. Nevertheless, some economies have proven to be resilient, and are expected to register growth from 2022. (Access visual tool and full report here.)
Intelligence in History - A Collection of Recent Content
True Intelligence Matters in Film - Zero Dark Thirty - Kathryn Bigelow (2012)
Zero Dark Thirty is a 2012 American action thriller film directed by Kathryn Bigelow and written by Mark Boal. The film dramatizes the nearly decade-long international manhunt for Osama bin Laden, leader of the terrorist network Al-Qaeda, after the September 11 attacks. This search leads to the discovery of his compound in Pakistan and the military raid where bin Laden was killed on May 2, 2011. CIA support for the film's production has been a matter of controversy.

More information about this based-on-true-events production here.
Walking Tours - Washington, DC - Sundays (Dates/Times Vary)
Former intelligence officers guide visitors on two morning and afternoon espionage-themed walking tours: "Spies of Embassy Row" and "Spies of Georgetown." For more information and booking, click here or contact rosanna@spyher.co
---
Crown, Cloak, and Dagger: The British Monarchy and Secret Intelligence from Victoria to Elizabeth II
by Richard J. Aldrich and Rory Cormac
(Georgetown University Press, 01 Sep 23)
The British Royal Family and the intelligence community are two of the most mysterious and mythologized actors of the British State. Crown, Cloak, and Dagger offers a new history of how the two have been inextricably linked from the reign of Queen Victoria to the present. Richard J. Aldrich and Rory Cormac unveil a wealth of archival detail that changes our understanding of the role of the monarch in politics, intelligence, and international relations. Successive queens and kings have all played an active role in steering British intelligence, sometimes against the wishes of prime ministers. Even today, the monarch receives "copy No. 1" of every intelligence report. Attempted assassinations and kidnappings, the abdication crisis, world wars and the Cold War, and the death of Princess Diana are just some of the topics covered in the book. Fascinating and fast-paced, Crown, Cloak, and Dagger demonstrates that the British monarch continues to be far more than a figurehead. This book will inform as well as entertain anyone with an interest in history, espionage, and the royals.
Order book here.
Intelligence Agencies, Technology and Knowledge Production
by Rüdiger Bergien (Editor), Debora Gerstenberger (Editor), Constantin Goschler (Editor)
(Routledge Studies in Intelligence, 18 Feb 22)
This volume examines intelligence services since 1945 in their role as knowledge producers. Intelligence agencies are producers and providers of arcane information. However, little is known about the social, cultural and material dimensions of their knowledge production, processing and distribution. This volume starts from the assumption that during the Cold War, these core activities of information services underwent decisive changes, of which scientization and computerisation are essential. With a focus on the emerging alliances between intelligence agencies, science and (computer) technology, the chapters empirically explore these transformations and are characterised by innovative combinations of intelligence history with theoretical considerations from the history of science and technology and the history of knowledge. At the same time, the book challenges the bipolarity of Cold War history in general and of intelligence history in particular in favour of comparative and transnational perspectives. The focus is not only the Soviet Union and the United States, but also Poland, Turkey, the two German states and Brazil. This approach reveals surprising commonalities across systems: time and again, the expansion and use of intelligence knowledge came up against the limits that resulted from intelligence culture itself. The book enriches our global understanding of knowledge of the state and contributes to a historical framework for the past decade of debates about the societal consequences of intelligence data processing. This book will be of much interest to students of intelligence studies, science and technology studies, security studies and International Relations.
Order book here.
---
The Codebreakers of Bletchley Park: The Secret Intelligence Station that Helped Defeat the Nazis
by Sir John Dermot Turing (Author), Professor Christopher Andrew (Introduction)
(Arcturus, 20 Jul 20)
At Bletchley Park, some of Britain's most talented mathematicians, linguists, and intellectuals were assembled to break Nazi codes. Kept secret for nearly thirty years, we have now come to realize the crucial role that these codebreakers played in the Allied victory in World War II. Written by Dermot Turing - the nephew of famous codebreaker Alan Turing - this illustrated account provides unique insight into the behind-the-scenes action at Bletchley Park. Discover how brilliant and eccentric individuals such as Dilly Knox, Alan Turing and Joan Clarke were recruited, the social life that grew up around the park, and how they dealt with the ever-present burden of secrecy. Learn about the origins of international intelligence co-operation, as the United States sent representatives from the Army and Navy to learn about the new codebreaking techniques being developed in Britain, and how these experiences shaped efforts to break the Japanese codes. Including a foreword by Professor Christopher Andrew of Cambridge University, author of MI5's official history The Secret World, this book brings to life the stories of the men and women who toiled day and night to crack the seemingly unbreakable enigma code.
Order book here.
---
---
Call for Sources: Intelligence officers in Jordan between 1999-2022
Author Aaron Magid, who is writing on a book about King Abdullah, is looking to interview intelligence officers who were posted in Jordan in the 1999-2022 timeframe. He can be contacted at aaron.magid1@gmail.com.
Call for Sources: Cyprus 1974
A British history journalist, Andrew Southam, is writing a book about events in Cyprus 1974, which saw an attempted coup against president Archbishop Makarios, two interventions by Turkey, the fall of the Greek Junta, the cutting of aid to Turkey and the assassination of Ambassador Ron Davies; and contributed to the murder a year later of Athens CIA station chief Dick Welch besides other British, Greek and American officials over the subsequent 27 years. This work is an accurate narrative of events (initially called 'Cyprus'74, no control, no conspiracy'), rebutting with evidence various conspiracy allegations of US and/or British collusion with either Greece or Turkey. He would warmly welcome speaking to any intelligence officers who played a role in these events. He can be contacted at andrew2southam@yahoo.co.uk.
Call for Information: Rueben Efron (1911-1993), former CIA translator, HTLINGUAL.
Please contact Mark S. Zaid, Esq. at mark@markzaid.com or (202) 330-5610.
Call for Information: Arnold M. Silvier
Relative of Silvier, aka "Richie Boy," seeks information on the person (or works of) Silver, who was in the US Army during WWII and, later, CIA (1949 - 1978), with postings in Austria, Luxembourg, Germany, Turkey and Washington DC. Please contact nboicecounseling@gmail.com
Survey for Members: Skill Sets Needed for Intelligence Analysis Degree Holders to See Success After Graduation
Northeastern University Security and Intelligence Studies professor researching the skill sets required for Intelligence Analysis degree holders to see success after graduation welcomes the participation of AFIO members in a 5-minute survey in support of the research. Access survey here.
Call for Information: 430th CIC in Salzburg in 1946
I am currently writing about 430th CIC in Salzburg in 1946. I have a (large) CIC file and am now trying to track down further details about two officers mentioned in this: (1) Bill Taylor. The sources do not make clear whether the officer was Major Bill G. Taylor, GSC, Head of the Counter-Intelligence Bureau of G-2 (Intelligence Section), US Forces Austria, or "Mil.Reg." Captain Taylor of Salzburg. Any information on either/both of these officers would be most welcome. (2) Pace B Rose. Rose was a CIC Special Agent in Austria, later a CIA officer who continued to be attached to the Agency after retirement. He died on 3 January 2009. I would like to contact family and friends of Pace Rose. According to the internet, Rose had children, Donna R. Hilverts and Gary W. Rose, and five grandchildren and three great grandchildren. Please contact S.Cody@westminster.ac.uk with any information.
Call for Sources: Intelligence Officers Who Lived in Spain in the 1970s
Spanish journalist Francisco Jiménez is preparing a documentary about the intelligence services in Spain in the 70s. He is looking for intelligence officers who worked in Spain in those years. If you are willing to assist Francisco, he can be reached at fjimenez@globomedia.es.
Call for Sources: Intelligence activities in Grenada and the southern Caribbean between 1979, Operation Urgent Fury, Leonard Barrett
The Washington Post is developing a multi-part audio documentary series (i.e. podcast) chronicling the Grenadian revolution and the US intervention in 1983. They've interviewed nearly 100 people so far, ranging from the heads of state, former Grenadian officials, current and former US officials, veterans, and intelligence officers. They're looking for people who served at the time and may be knowledgeable about intelligence activities in Grenada and the southern Caribbean between 1979 and Operation Urgent Fury. They would also be interested in speaking with anyone who knew Leonard Barrett during the same period. If anyone is interested in participating, please reach out to Washington Post reporter Ted Muldoon via email at ted.muldoon@washpost.com or on Signal at 651-497-5449.
Call for papers: Energy Concerns in National Security and Business Intelligence: Identifying Threats and Developing Solutions - International Journal of Intelligence and Counterintelligence
The link between energy and national security is well established and is a continuing multifaceted problem. Every facet of the intelligence process (e.g., collection, analysis, and production) has played a significant role for governments and private industry in anticipating threats to this vital sector. For example, current intelligence assessments focusing on Europe's major energy concerns are stemming from supply-chain disruptions caused by a pandemic, Russia's war in Ukraine, climate change, and the phasing out of coal and phasing in of renewable sources. This conference provides an opportunity to discuss the contribution of business intelligence in understanding the threat to role of energy and national security interests. It brings together prominent academic voices, experienced practitioners, and policymakers, offering an opportunity to "bridge the gap" between these sectors. We are looking for conference participants to identify critical issues and challenges, competing perspectives, new and existing trends, creative solutions for new technologies, and the emergence of new market conditions.
Proposals, abstracts, or papers should be submitted by September 1.
More information, topic suggestions, and submission instructions here.
Call for papers: Intelligence and Post-War Reconstruction - International Journal of Intelligence and Counterintelligence
History shows that without planning for post-war reconstruction, apparent victory in war can lead to long-term defeat. On the other hand, wise post-war planning can lead to friendly, peaceful, and profitable relations between victor and vanquished. For political, socio-economic and security-related planning, intelligence plays a crucial role in estimating capabilities, securing infrastructure, locating persons of interest, and rebuilding. In honor of the 75th anniversary of the European Recovery Program (Marshall Plan) after the Second World War, the editors are particularly interested in papers dealing with intelligence concerning post-war reconstruction initiatives and planning connected to historical and recent conflicts. Both case studies and theoretical and methodological approaches are welcome. The studies may include, but do not have to be focused on, the following questions and issues:
The role of diplomatic and military intelligence during the conflict as preparation for post-war reconstruction, from the conceptual to the practical.
What intelligence needs to be collected to secure and boost reconstruction?
What contacts, networks, and infrastructure are necessary for intelligence to be effective?
Who has been or should be approached and/or recruited for reconstruction efforts based on intelligence?
When has intelligent post-war planning (or its opposite) been historically evident?
How should intelligence interact with formerly warring parties and international organizations to empower practical reconstruction efforts?
What intelligence collection challenges have services encountered in working for post-war peace?
How did intelligence factor in the European Recovery Program?
What was George C. Marshall's position on the role of intelligence in general or concrete examples related to "his" plan?
01 Nov 23 deadline. More information and submission instructions here.
Call For Articles: AFIO Journal, The Intelligencer
For the past four years, AFIO has included in The Intelligencer a series of articles on "when intelligence made a difference." Written by scholars, intelligence practitioners, students, and others, they cover events from ancient times to the modern world and in many countries. AFIO is soliciting articles for future issues. Most articles run between 2,000 and 3,000 words, although some are longer or shorter. If you have an idea for an article that fits the theme, email senior editor Peter Oleson at peter.oleson@afio.com.
---
Assistant Professor in Intelligence and Security - Leiden University - Netherlands
Leiden University's Institute of Security and Global Affairs (ISGA) is inviting applications for a full-time Assistant Professor position in Intelligence and National Security. The successful candidate will have a demonstrable research record in themes related to the vacancy and a strong teaching background in intelligence and security, or a related field, as well as in topics related to the Institute's Bachelor's and Master's programme offerings. The position is aimed at strengthening the Institute's teaching, research and grant-acquisition capacities in a phase of growth and exciting interdisciplinary research opportunities.
Additional information and application here.

Retired Federal Government Employees Wanted - National Security Agency - Fort Meade, Maryland
The National Security Agency (NSA) may occasionally need skilled civilian retirees to augment the existing work force on high priority projects or programs. In order to fill these temporary positions quickly, we need to know who may be interested and available to return to work with us on a short notice basis as well as their skills. Retirees provide expertise and corporate knowledge to temporarily support mission requirements, manpower shortfalls, and/or mentor the next generation of Agency employees. Salary Range: $86,335 - $170,800.
Additional information and application here.

Assistant/Associate Professor of Intelligence Studies (Global Security and Intelligence Studies) - Embry-Riddle Aeronautical University - Prescott, Arizona
Embry-Riddle Aeronautical University's Prescott, Arizona campus is accepting applications for a tenure-track assistant or associate-level professor of intelligence studies to teach intelligence courses to students in the Global Security and Intelligence program. The successful candidate will teach students about the intelligence community, strategic intelligence, the intelligence cycle and intelligence analysis, writing, and briefing. Prior experience working in the intelligence community is strongly preferred. We are interested in candidates with teaching acumen in intelligence analysis and writing using structured analytical techniques.
Additional information and application here.

---
Paul Shelton — Career DIA Officer

Paul T. Shelton, Jr., 80, of Springfield, VA died peacefully on August 18, 2023. He was born in Pensacola, FL. As the child of a Navy sailor, Paul lived in 11 different places by the age of 16. He had especially colorful stories from these early years, such as the time he and his friends were rescued by the Navy after their handmade raft drifted out to sea off the coast of Rhode Island, or when he was banned from the Sea Scouts in Guam for sneaking off their boat after curfew with his buddies. Despite these mishaps, he was recruited by the Defense Intelligence Agency in 1967 after completing his Bachelor and Master's degrees from Florida State University, and would spend the next 37 years working in the intelligence community, including serving two years in the Army.
Robert Sturgess — Decorated DOD Civilian

Robert Hull Sturgess, 84, born in Danbury, CT, peacefully passed away on August 10, 2023, in Glenelg, MD. Robert's legacy is defined by his distinguished 40-year career with the Department of Defense, where he exhibited unwavering commitment and earned accolades including the Meritorious Civilian Award and the Cryptologic Service Award. He retired in 1997. He was a member of the Phoenix Society.
Walter Kozak — Career NGA Officer

Walter John Kozak, 74, of Lake Monticello, Virginia succumbed to pancreatic cancer on August 10, 2023. Born in Augsburg, Germany, Walt immigrated to Northampton, Massachusetts in 1957 and with pride, became a naturalized citizen in June 1969. He was a member of the Northampton High School class of 1969. In 1972, Walt graduated from the Massachusetts Maritime Academy with a Bachelor in Nautical Science Degree and a commission in the United States Naval Reserve. After sailing for Mobil Oil, Walt moved to the Washington, D.C. area when he joined the Defense Mapping Agency (now NGA, the National Geospatial - Intelligence Agency) where he worked for 30 years. Walt was instrumental in developing and implementing the "paperless bridge" electronic navigation program for submarines and surface vessels. He was highly regarded by his colleagues and humbly received many accolades and commendations. After retiring from NGA, Walt concluded his professional career with JB&A as a contractor supporting NGA and Navy programs. Walt was proud that he spent over 30 years keeping the seas safe.
---
7 Sep 2023 (Thursday), 1900 CT - "Spies, Moles, and the Failure of Counterintelligence Programs." - Virtual - AFIO San Antonio Chapter
The Hollywood producer Arnon Milchan has been involved in over 130 full-length motion pictures but was also a spy...not for the United States. "Spies, Moles, and the Failure of Counterintelligence Programs." This will be an excellent look at the things you didn't know were going on. Because of the sensitivity of some of the topics, the program underwent a security review before release. A link to the Zoom program will be sent several days in advance to all chapter members and registrants. Please mark your calendars. Questions or Registration to Chapter President John Franklin, satxafio@gmail.com or call 210-863-0430.
"BONUS" INFORMATION: Cluster bombs are nasty weapons that can keep killing or wounding for years. Just ask any one-legged Laotian farmer 50 years after a war in which he had not even been born. The weapons have gotten even more sophisticated since the war in Southeast Asia. In the Gulf War statistics indicate several thousand civilians have been killed and 25 US troops who came into fatal contact with the weapons by accident. 80 US civilians were killed by "dud" cluster bombs. They are antipersonnel and area denial weapons. Although Geneva Conventions have tried to restrict the use of cluster munitions the effort has obviously not been successful. The link below is to a short video explaining the basic operation of a Russian cluster weapon. Cluster bombs take many forms in addition to being dropped as bombs, cluster weapons can be used in artillery shells and rockets. See video here.
9 Sep 2023 (Saturday), 1130 EDT - Indialantic, FL - AFIO Florida Satellite Chapter hosts Capt Paris Michaels PhD on "Türkiye in NATO?" The event will commence at 11:30 AM at the Doubletree Hotel, 1665 N. Stateroute A1A, Indialantic, FL 32903
Captain Michaels' presentation will follow a sit-down lunch. The cost is $35.00 per person.
Registrations or Qs to Larry Sanford, Chapter President, or call 978-502-3328.
14 Sep 2023 (Thursday), 1130-1400 PT - In Person - Col. Robert W. Parr, USAF (ret) on "12 Days with a Soviet Pilot Defector" - Basque Cultural Center, San Francisco - The AFIO Andre LeGallo Chapter. No host cocktail at 1130 hours (Pacific). Meeting starts at 1200 hours. Basque Cultural Center, 599 Railroad Avenue, South San Francisco, CA. RSVP and pre-payment required.
Register NOW: Eventbrite Registration link
RSVP and pre-payment is required. RSVP or Qs to Mariko.
See the AFIO Calendar of Events for scheduling further in the future.
---
29 Aug 2023 (Tuesday), 1400-1500 (ET) – Washington, DC – SPY with Me: Memory Loss Program – Virtual International Spy Museum Program
SPY with Me is an interactive virtual program for individuals living with dementia and their care partners. Join SPY as we use music and artifacts to explore some of our favorite spy stories. Programs last one hour and are held virtually through Zoom. Every month the same program is offered on two different dates. To register, please email Shana Oltmans at soltmans@spymuseum.org. Free but space is limited. Visit www.spymuseum.org.
31 Aug 2023 (Thursday), 1400-1500 (ET) – Washington, DC – SPY with Me: Memory Loss Program – Virtual International Spy Museum Program
SPY with Me is an interactive virtual program for individuals living with dementia and their care partners. Join SPY as we use music and artifacts to explore some of our favorite spy stories. Programs last one hour and are held virtually through Zoom. Every month the same program is offered on two different dates. To register, please email Shana Oltmans at soltmans@spymuseum.org. Free but space is limited. Visit www.spymuseum.org.
12 Sep 23, 0800-1700 (ET) – Virtual – Coffee & Conversation with NSA Assistant Deputy Director for China David Frederick – INSA
In a moderated conversation with Bishop Garrison, INSA's VP for Policy, Mr. Frederick will discuss: Strategic Competition with China, Concerns regarding the knowns and unknowns of the PRC's cyber capabilities and investments in future tech, Various AI tools and the role they play in both offensive and defensive cybersecurity operations, Preparing the future workforce with the technical skills and cultural understanding necessary to address PRC risks, and more! More information and registration here.
26-28 Sep 2023, 0830-1730 (ET) – Arlington, VA – 2023 ERII Counterespionage Conference – Espionage Research Institute International
Join Us for the 2023 ERII Counterespionage Conference. September 26, 27 & 28, 2023 at the AMA Washington Conference Center Arlington, Virginia. Counterespionage, Counterintelligence and TSCM Professionals Discuss Espionage News & Events, Emerging Surveillance Threats & the Impact of Changing Technologies on the Threat Detection Landscape. More information and registration here.
27 Sep 23, 0800-1700 (ET) – Arlington, VA – INSA's 6th New Intelligence Community Symposium – INSA
Join 250 intelligence and national security colleagues on Wednesday, Sept. 27, from 8:00 AM - 5:00 PM at the Army Navy Country Club in Arlington, VA for a full day of program focused on the challenges and opportunities our community faces as we build, foster, and advance a diverse, world-class workforce. The wide array of programming formats include fireside chats, ted talks, and engaging panel sessions. And of course, there will be plenty of time for networking and relationship building along the way. More information and registration here.
11 Oct 2023 (Wednesday), 1700-1900 (ET) - The 2nd Annual Cocktails & Codebreakers event - co-hosted by the National Cryptologic Foundation (NCF) and the Intelligence and National Security Foundation (INSF)
Attend to celebrate Men & Women in Cryptology at this 2nd Annual event. The program includes keynote speaker The Honorable Ronald S. Moultrie, Under Secretary of Defense for Intelligence & Security (USDI&S).
TBA Government speakers and guests have been invited to join this one of a kind event.

Ticket Registration: Individual Tickets = Early Bird & Members Rate of $150 - until September 4, 2023
Full Price Tickets = $189 per person (after September 4th)
Event location: The Hotel at Arundel Preserve: 7795 Arundel Mills Blvd, Hanover, MD 21076

Register now, or for more information, do so here.

14 - 25 April 2024 - Gary Powers' Cold War Espionage Tour of Austria, the Czech Republic, Slovakia & Hungary - Travel Dates: April 14 to 25,2024 - 12 days/10 nights

Join author & historian Gary Powers Jr. on this 12-day tour of Cold War and espionage related sites in Austria, the Czech Republic, Slovakia & Hungary
The deadline to enroll is 11/30/23 with a required deposit of $495. Final payment is due 12/30/23.
Day 1 : Departure from the USA
Day 2: Arrival Vienna — Welcome to Vienna, "Spy Capital of Europe." Meet your CHA Tour Director at the airport and transfer to your hotel. Begin your exploration of Vienna on a walking tour. Later, check into your hotel. Tonight, get to know your fellow travelers at our Welcome Dinner.
Day 3: Vienna — This morning, enjoy an espionage themed sightseeing tour of Vienna. Learn more about the history of postwar Vienna and secrets of the Cold War. Explore sites where the 1949 film noir classic, "The Third Man "starring Orson Welles, was filmed. See Harry Lime's apartment, the Hotel Sacher and Café Mozart, and hear stories about the film's production. Included is a visit to The Third Mon Museum. Later, visit Vienna's Prater Pork where you can ride the grand Ferris wheel featured in one of the film's most famous scenes. You will also have the opportunity to attend a screening of "The Third Mon" at Burg Kino, one of the world's oldest cinemas.
Day 4: Vienna-Misov-Rokycany-Prague — Journey across the Austrian border to the Czech Republic. Stop in Misov to visit the Atom Museum, the world's only nuclear weaponry open to the public. Lunch at a nearby restaurant is included. Continue to Rokycany to visit the Museum on the Demarkation Line, the largest non-state military museum in the country. Proceed to Prague, the Czech Republic's historic capital, where you spend the next three nights.
Day 5: Prague — Learn more about Cold War politics and espionage during your sightseeing tour of Prague. Visit the Prague Museum of Communism and explore Bezovka Nuclear Bunker, one of Prague's largest fallout shelters hidden beneath Parukarka Hill. Later, enjoy a walking tour of Prague to see the 500-year-old astronomical clock.
Day 6: Prague-Rozvadov-Pilsen-Prague — Enjoy a full-day excursion from Prague. Travel to Rozvadov to experience what life was like in the former Czechoslovakia in the days of Communism as you visit the Iron Curtain Museum. Stop in Pilsen to tour the famous Pilsner Urquell Brewery. Enjoy a brewery lunch before returning to Prague.
Day 7: Prague-Brno-Bratislava — Journey to Brno, the Czech Republic's second largest city, to tour the 10-Z Bunker, a highly classified Communist era nuclear fallout shelter, originally built as a shelter during the Nazi Occupation during World War II. Continue to Bratislava, the capital of Slovakia, located along the Danube, where the Austrian, Slovak and Hungarian borders meet. Check into your hotel where you spend the next two nights.
Day 8: Bratislava — This morning's sightseeing tour of Bratislava highlights the city's Communist era past. Included is a visit to the BS-8 Bunker and a tour of the remnants of a pre-WWII Czechoslovak fortification system and the border with Austria, known as the "Iron Curtain."
Day 9: Bratislava-Budapest — Travel across the Slovak border into Hungary as you make your way to the capital city, Budapest. Upon arrival, get acquainted with Budapest on a leisurely cruise along the Danube River. Later, check into your hotel where you spend the next two nights.
Day 10: Budapest — Learn more about Cold War and Communist history on your morning sightseeing tour of Budapest. Included today are visits to the Museum of Terror housing exhibits related to Fascist and Communist regimes in 20th-century Hungary, and Memento Park, a striking collection of statues from Hungary's past as part of the Soviet Bloc.
Day 11: Budapest-Sopron-Vienna — This morning, journey to Sopron to visit the Pan-European Picnic site where a peaceful meeting of Hungarians and Austrians took place on August 19,1989.This history-making demonstration at the border of the two nations caused a chain reaction in the region, leading to the collapse of the Iron Curtain, the Berlin Wall, and the eventual reunification of Germany. Return to Vienna to enjoy some free time in the Austrian capital. This evening, celebrate the last night of your tour at our Farewell Dinner.
Day 12: Departure for the USA — This morning, you will transfer to Vienna Airport to board your return flight. What's Included: • Round-trip air transportation from Washington, DC; • 10 nights in centrally located, four-star hotels; • Full-time CHA Tour Director; • Valuable insight & informative commentary by Gary Powers Jr.; • On-tour transportation by private motorcoach; • Breakfast & dinner (or lunch) daily; • Sightseeing tours & visits shown in itinerary (subject to change based on availability)
Tour Prices: Full Tour Price: $5,695 per person; Land Tour Price: $4,645 per person (does not include round-trip airfare and airport transfers); Repeat Gary Powers travelers will receive a $200 discount! Price based on double occupancy.
A $600 single room fee will apply for travelers without roommates.
The deadline to enroll is 11/30/23 with a required deposit of $495. Final payment is due 12/30/23.
Questions? Call 1-800-323-4466 or email info@cha-tours.com.
Enroll Online at: www.cha-tours.com/GaryPowers

---
---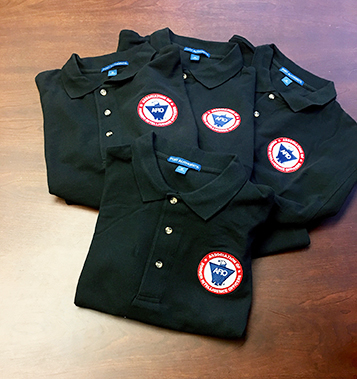 Now available: Black short-sleeved polo shirts with Embroidered AFIO logo
Show your support for AFIO with our new Black Short-sleeve Polo Shirts. Shirts are shrink and wrinkle resistant of fine cotton with a soft, "well-worn, comfy" yet substantial feel. They feature a detailed embroidered AFIO seal. Get a shirt for yourself and consider as gifts for colleagues, family, and friends. Only $50 each including shipping.
Sizes for (M) men, only; Small, Medium, Large, XL, XXL, and XXXL. $50 per shirt.
You may pay by check or credit card. Complete your order online here or mail an order along with payment to: AFIO, 7600 Leesburg Pike, Ste 470 East, Falls Church, VA 22043-2004. Phone orders at 703-790-0320. Questions? Contact Annette at: annettej@afio.com.
---

PopSocket for cellphones or tablets
Show your support to AFIO while enjoying the convenience offered by our AFIO Logo PopSocket. The PopSocket is most commonly used as a stand and as a grip for your mobile phone or tablet; handy for taking selfies, watching videos, and for texting. The PopSocket looks like a small button or sticker which, when closed, sticks flat to your mobile device. However, its accordion-like design enables it to pop open for use. The benefits of using a PopSocket make it a must-have accessory for your mobile phone or tablet. It also aids in keeping your phone from slipping off your hand during use, falling, or breaking.
Price: $15. Order this and other store items online here.
---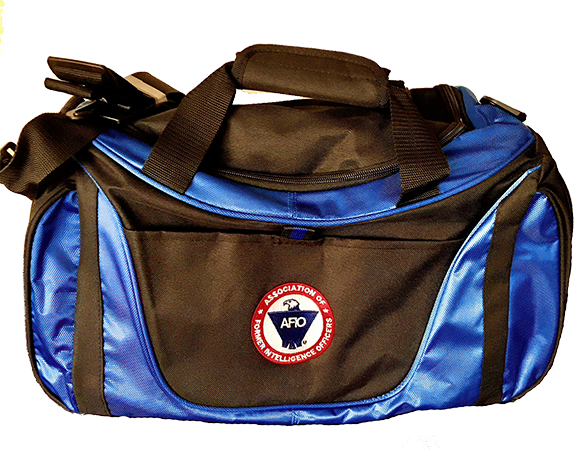 Duffel Bags - Royal Blue and Black with Full Color AFIO Logo This duffel has it all when it comes to value, style and organization.
600 denier polyester canvas with polyester double contrast; D-shaped zippered entry for easy access. Front pocket with hook and loop closure. End mesh pocket Easy-access end pockets. Four durable, protective feet and built-in bottom board for added strength. Web handles with padded grip. Detachable, adjustable shoulder strap.
Dimensions: 11"h x 19.75"w x 9.75"d; Approx. 2,118 cubic inches
Price: $50. Order this and other store items online here.
---
AFIO Mug with color glazed seal.

Made in the U.S.A., dishwasher-safe.
$35 includes shipping.

Sip your morning joe in style or use it to stash pens, cards, paperclips, or candy.
Order this and other store items online here.
---


Caps - Dark Navy with Navy AFIO Logo
An authentic silhouette with the comfort of an unstructured, adjustable fit. Fabric: 100% cotton. Unstructured. Fabric strap closure with adjustable D-clip. Price: $30. Order this and other store items online here.
---
PUBLISHED IN 2023
Be informed on career opportunities in the U.S. Intelligence Community
Intelligence as a Career - with updated listings of colleges teaching intelligence courses, and Q&As on needed foreign languages, as well as the courses, grades, extracurricular activities, and behavioral characteristics and life experiences sought by modern U.S. intelligence agencies.

AFIO's popular 47-page booklet reaches thousands of high school, college students, university guidance offices, and distributed in classes teaching intelligence, to help those considering careers in the U.S. Intelligence Community.

This is the all new fifth edition.
The publication is also popular with University Career Guidance Centers, professors and academic departments specializing in national security, and parents assisting children or grandchildren in choosing meaningful, public service careers.
This booklet is provided online as a public service from the generosity of AFIO board, volunteer editors/writers, donors, and members.
We thank all for their support which makes this educational effort possible.
Careers Booklet (new 2023 Fifth Edition) can be read or downloaded here

---
Guide to the Study of Intelligence...and...When Intelligence Made a Difference
"AFIO's Guide to the Study of Intelligence" has sold out in hard-copy.
It is available in digital form in its entirety on the AFIO website here.

Also available on the website here are the individual articles of AFIO's history project "When Intelligence Made a Difference" that have been published to date in The Intelligencer journal. More articles will be appear in future editions.
---
Address Technical Issues Or Unsubscribe
Some features of the email version of the WIN do not work for readers who have chosen the Plaintext Edition, some AOL users, and readers who access their email using web mail. You may request to change from Plaintext to HTML format here afio@afio.com. For the best reading experience, the latest web edition can be found here: https://www.afio.com/pages/currentwin.htm
To unsubscribe from the WIN email list, please click the "UNSUBSCRIBE" link at the bottom of the email. If you did not subscribe to the WIN and are not a member, you received this product from a third party in violation of AFIO policy. Please forward to afio@afio.com the entire message that you received and we will remove the sender from our membership and distribution lists.
---
Disclaimer and Legal Protection
Weekly Intelligence Notes (WINs) are a carefully selected collection of timely open source reports and announcements and other media focused on intelligence and related national security matters that is produced for non-profit educational use by AFIO members and WIN subscribers. WINs are protected by copyright and intellectual property laws. They may not be reproduced or re-sent without specific permission from the Producer. Opinions expressed in the materials contained in the WINs are solely those of the content creators listed with each item. Notices in the WINs about non-AFIO events do not constitute endorsement or recommendation by AFIO.

(c) 1998 thru 2023


---

AFIO Members Support the AFIO Mission - sponsor new members! CHECK THE AFIO WEBSITE at www.afio.com for back issues of the WINs, information about AFIO, conference agenda and registrations materials, and membership applications and much more! .

AFIO | 7600 Leesburg Pike, Suite 470 East, Falls Church, VA 22043-2004 | (703) 790-0320 (phone) | (703) 991-1278 (fax) | afio@afio.com
---
About AFIO | Membership Renewal | Change of Address | Upcoming Events | Chapter Locations | Corporate/Institutional Memberships | Careers in Intelligence Booklet | Guide to the Study of Intelligence | Intelligencer Journal | Weekly Intelligence Notes | Make A Donation | AFIO Store | Member-Only Section | Code of Ethics | Home Page
RETURN TO TOP
---