---
Russian Disinformation Campaigns Influence Sweden's NATO Aspirations - Clearance Jobs, 06 Sep 23
Just to show how Russian disinformation campaigns reach all parts of the globe, look no farther than the meddling going on in Sweden currently. Two events have played a part in the concerted false narrative that actually are real: Sweden has overtly joined a desire to join NATO which has manifested since the Russian invasion of Ukraine; An Iraqi refugee in Sweden burned copies of the Quran in front of one of the country's largest mosques twice this summer, a few months after a similar event took place in another part of Sweden. What does one have to do with the other? NATO membership requires all 30 nations who belong to organization must agree to a new country becoming a member. Turkey, a predominately-Muslim nation, has shown opposition to Sweden's membership, mainly due to the Quran burning incidents and a perceived lack of action by Sweden's government. While Sweden has condemned the acts, the fundamental rights associated with speech and assembly are carved into their constitution, which protects citizens from government action. (View report here.)
The Situation Room got a makeover. Here's what it looks like now - NPR, 08 Sep 23
In the bowels of the West Wing, there's a highly secure space where former President Barack Obama sat with his top advisers and watched in real time as U.S. special forces raided a compound in Pakistan and killed Osama bin Laden, the al-Qaida leader who planned the 9/11 attacks on the United States. The area is known as the Situation Room, and over the past year, it has been overhauled and upgraded with more than $50 million in improvements to security and capabilities, and is ready to reopen for operations. Literally everything was torn out from the conference room, the command center called the "watch floor" that supports it, and smaller rooms around them. The renovation extended five feet underneath the space, said Marc Gustafson, senior director for the White House Situation Room. (Full article here.)
Sensitive British Military and Intelligence Data Leaked: One Legacy System Was a Gateway to Huge Headaches - Clearance Jobs, 08 Sep 23
Even as internal threats remain – where an individual like Edward Snowden or Jack Teixeira can all too easily leak sensitive data online – there are also external operators that can be ever lurking, waiting to exploit weaknesses in third-party networks. It was just last month that gigabytes of sensitive data related to the British military intelligence sites were exposed by the infamous LockBit ransomware group. The group breached the computer systems of Zaun, a UK-based manufacturer of fencing systems for military sites and critical utilities. In this case, the rogue operatives compromised a legacy computer running Windows 7 – and used that as an initial point of access to the wider company network. The cyberattack, which the company described as "sophisticated," reportedly occurred in early August. The PC in question had been running software for one of the firm's manufacturing machines, and it has been removed and the vulnerability closed. (Full article here.)
Ex-US intelligence officer for North Korea points to growing concern on nuclear threat toward South - WTOP, 08 Sep 23
The founder of North Korea's ruling dynasty, an isolationist totalitarian leader named Kim Il Sung, was still building some of the country's first nuclear facilities when Syd Seiler arrived on the Korean Peninsula as a young U.S. military intelligence officer. Over the four decades since, Seiler has watched closely as Kim, his son and now his grandson have clung to their nuclear program and developed the potential to lob nuclear warheads at the U.S. and its allies if they choose. Now Seiler is freshly retired after decades of advising presidents, military commanders and diplomats, making reported secret trips to North Korea and serving as a lead negotiator on talks to contain its nuclear program. And he has a parting message to American leaders: Don't be discouraged. North Korea's fiery rounds of missile test launches are no reason to give up on the international sanctions and pressure, or to simply accept that the ruling Kim family is now a nuclear-armed power, Seiler told The Associated Press this week. "That's a failure of deterrence?" he asked, rhetorically. "That's nonsense. We're deterring an attack." (Full article here.)
China Unleashes AI-Powered Image Generation For Influence Operations - Info Security Magazine, 08 Sep 23
China has unveiled a new cyber capability powered by artificial intelligence, enabling the automatic generation of images for influence operations. These operations aim to mimic US voters across the political spectrum, fueling controversy along racial, economic and ideological lines. The findings come from a new report released by Microsoft Threat Analysis Center (MTAC) on Thursday. Titled "Sophistication, scope, and scale: Digital threats from East Asia increase in breadth and effectiveness," the research underscores the expanding threat of influence operations and cyber activities in the East Asia region. In particular, China-affiliated actors are employing AI-generated media to target politically divisive topics such as gun violence and disparaging US political figures and symbols. This technology surpasses previous campaigns with eye-catching content. The extent and timing of its mass deployment remain uncertain. Microsoft emphasized the urgency of addressing the weaponization of AI technology by cyber and influence threat actors. (Full article here.)
Top Cyber Official Accused of Workplace Misconduct at NSA in 2014, White House Last Year - The Intercept, 06 Sep 23
Anne Neuberger's ascent to national security eminence has been a steady, impressive climb. Her eight-year tour through the National Security Agency has culminated in a powerful position in President Joe Biden's National Security Council, where she helps guide national cybersecurity policy. Since 2007, Neuberger's rapid rise through some of the most secretive and consequential components of the U.S. global surveillance machinery earned her a reputation as a hyper-capable operator where the government most needs one. While her work has earned public plaudits, The Intercept learned Neuberger's tenure at the NSA triggered a 2014 internal investigation by the agency's inspector general following allegations that she created a hostile workplace by inappropriately berating, undermining, and alienating her colleagues. In 2015, the inspector general's report found that there was not enough evidence to sustain allegations that Neuberger fostered a hostile work environment, but it did conclude that she violated NSA policy by disrespecting colleagues. (Full article here.)
CIA seeks to recruit Russian officials with video about truth - Reuters, 08 Sep 23
The U.S. Central Intelligence Agency, which is trying to recruit more Russians as spies, has released a video targeting Moscow officials with an appeal to tell the truth about a system it said is riddled with lying sycophants. CIA Director William Burns said in July that disaffection among some Russians over the war in Ukraine was creating a rare opportunity to recruit spies, and that the CIA was not letting it pass. The agency released the video in Russian entitled "Why I made contact with the CIA - for myself" on social media which shows what is clearly supposed to be a Russian official walking through the snow of what looks like a Russian city. (Full article here.)
Number of Russian spies in US remains 'way too big,' says FBI director - The Hill, 08 Sep 23
FBI Director Christopher Wray said Thursday the number of Russian spies in the U.S. remains "way too big" despite recent efforts to root them out. "The Russian traditional counterintelligence threat continues to loom large," Wray said at an event at the International Spy Museum. "The Russian intelligence footprint — and by that, I mean Russian intelligence officers — is still way too big in the United States," he added. "And it's something that we're constantly bumping up against and trying to block and prevent and disrupt in every way we can." While Wray emphasized the U.S. has made "very positive, significant strides" on the issue in recent years, he also said they remain mindful of Moscow's "disproportionately large" footprint in the U.S., and the interests those individuals are advancing. "If anybody needs a reminder of what Russia's interests are, you can just look at what's going on in Ukraine," he said. "And so, we never lose sight of the fact that these are the same people that are involved in unconscionable activity and aggression in Ukraine." (Full article here.)
Shabtai Shavit, Former Top Israeli Spymaster, Dies at 84 - New York Times, 08 Sep 23
Shabtai Shavit, who as director-general of the Israeli intelligence agency the Mossad in the 1990s helped broker a peace agreement with Jordan, oversaw the assassinations of Islamic terrorists and navigated the global fallout from the collapse of the Soviet Union, died on Tuesday during a vacation in Italy. He was 84. His death was announced by the office of Prime Minister Benjamin Netanyahu. No cause was identified. David Barnea, the Mossad's current director, described Mr. Shavit as "a pillar of the world of operations, intelligence, security and strategy of the state of Israel." While the Mossad was credited with, and criticized for, numerous clandestine operations — among them targeted assassinations of terrorists, which Mr. Shavit defended — he and the agency were widely praised for their role in bringing Israel and Jordan to the table to sign a treaty in 1994, ending a state of war between the two countries that had existed since 1948, when Israel was founded. (Full article here.)
NRO & Space Force partner to launch SILENTBARKER/NROL-107 mission - Global Security, 10 Sep 23
The National Reconnaissance Office, in partnership with U.S. Space Force's (USSF) Space Systems Command, Space Launch Delta 45, and United Launch Alliance, successfully launched the SILENTBARKER/NROL-107 mission from Space Launch Complex 41 at Cape Canaveral Space Force Station today, at 8:47 a.m. EDT. SILENTBARKER is a joint NRO and USSF Space Domain Awareness (SDA) mission to meet Department of Defense and Intelligence Community space protection needs. "SILENTBARKER is yet another example of the strong relationship between the NRO and the U.S. Space Force, and the work we are doing together to advance America's interests in space," NRO Director Dr. Chris Scolese said. "The capabilities we are putting into orbit will help expand the U.S. intelligence advantage and keep our nation safe." (Full article here.)
Counterespionage Corner - Recent Arrests, Convictions, Expulsions, and more...
Cyberespionage Collection - Newly Identified Actors and Operations, Countermeasures, Policy, other...
---
The Latest from International Spy Museum Historian Andrew Hammond, PhD.
Spycast is the official podcast of the International Spy Museum and hosts interviews with intelligence experts on matters of HUMINT, SIGINT, IMINT, OSINT, and GEOINT. Spycast is hosted by historian Andrew Hammond, PhD.
05 Sep | "Kenya, East Africa, and America" – with African Intelligence Chief Wilson Boinett Brigadier General (Ret.) Wilson Boinett joins Andrew to discuss Kenyan intelligence. Wilson is the former Director of Kenya's National Intelligence Service.
Previous episode:

29 Aug | "David Petraeus on Ukraine & Intelligence" – with the former CIA Director & 4* General

---
The Latest Insights from Former CIA Acting Deputy Director for Operations Jack Devine.
In Other News The proprietary analytic newsletter crafted for The Arkin Group's private clients by former CIA Acting Deputy Director for Operations Jack Devine.
08 Sep | With a shakeup of the leadership of Ukraine's Defense Ministry and the successful breach of the Russia's first line of defense near Robotyne, there is renewed hope in Kyiv that its war effort will take on fresh momentum. U.S. Secretary of State Blinken was the first to reiterate international support with his surprise visit and $1 billion military aid package and this on the heels of committing the long-sought F16s. NATO commander Jens Stoltenberg was quick to follow stating, "We need to be with Ukraine, not only good times but also bad times… Because to support Ukraine is not an option." Ukraine's months-long slog to reach this milestone is more meaningful than many appreciate. In doing so, it has threatened critical Russian command centers and logistic hubs and imposed a major cost of attrition for Russia in troops and weapons, all the while doing its best to preserve Ukrainian forces. (Full version available to AFIO members in the coming days here.)
Previous Issue:
31 Aug | What Russia's invasion of Ukraine is revealing about modern diplomacy.
---
Daily Analysis of Security Issues and Geopolitical Trends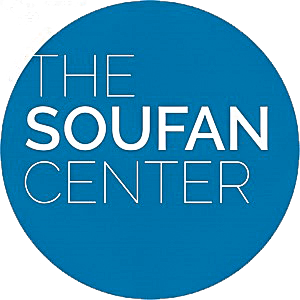 Intel Brief The Soufan Center's flagship, daily analytical product focused on complex security issues and geopolitical trends that may shape regional or international affairs. The Soufan Center was founded by former FBI Special Agent and Soufan Group CEO Ali Soufan.
12 Sep | G-20 Summit Reveals Deep Geopolitical Divisions and Increasing Competition

The recently concluded Group of Twenty (G-20) summit in New Delhi, India, exposed some deep geopolitical divisions among the world's most advanced economies while also demonstrating trends of increased competition, a focus on nationalism, and a retreat from globalism. Many of these trends were evident during the COVID-19 pandemic but have accelerated in recent years, especially regarding differences in economic policies and climate change. The United States and some European countries have struggled at times to connect with other countries in the grouping. Absent from the summit were the leaders of both China and Russia, just weeks after Beijing and Moscow sent representatives to attend the BRICS Summit in Johannesburg, South Africa. The G-20 summit's final communiqué failed to condemn Russia's invasion of Ukraine and only offered lukewarm language about the impacts of the conflict, likely a reflection of attempts to maintain a united front. Countries such as Brazil and South Africa have been seen as more willing to listen to the Kremlin's point of view on aspects of the war in Ukraine. In defense of the language used in the final statement, U.S. National Security Adviser Jake Sullivan commented, "From our perspective, it does a very good job of standing up for the principle that states cannot use force to seek territorial acquisition or to violate the territorial integrity and sovereignty or political independence of other states."
11 Sep | The State of Global Terrorism Twenty-Two Years After September 11

08 Sep | Bordering on Instability: Global Flashpoints that Could Lead to Escalation

07 Sep | Two Years After the Taliban Takeover, a Surge of Suicides Among Afghan Women

06 Sep | The Global Increase in Cross-Border Migration and the Challenges Ahead

05 Sep | Iraq Faces a Myriad of External and Internal Pressures

---
Analysis of Global Security Events with WTOP National Security Correspondent JJ Green

Inside the SCIF - 24 August - Prigozhin. Dead or Alive?, Spies in Poland, Spies in Washington, and more...
Target USA Podcast - 08 Sep - Russian Spy Ring Tried to Disrupt Ukraine Weapons

The Hunt Broadcast - 08 Sep - Poland battles surge in Kremlin spies and hybrid warfare




---
The Latest Insights from Jeff Stein and Colleagues in SpyTalk

08 Sep | A Red Hot Cold War Thriller - Gary Thomas
I confess to being a nut for spy novels— real ones, not "thrillers" stuffed with shootouts. (There is little gunplay in real-life espionage operations, except special ops—but that's playing in a different ballpark.) I gobble them like some chocoholic in Willy Wonka's factory. But I find too many of today's offerings to be bland confections. Too many Hersheys, too few Godivas. (Full article here.)

04 Sep | How a Harvard Academic Secretly Blunted a Daring Cold War KGB Op - Derek Leebaert
In the grim depths of the Cold War, Yuri Andropov, the tall, gaunt chairman of the Soviet KGB, came to a stark realization: Moscow had to do something to cope with the West's accelerating technological superiority. Without some quick and decisive remedy, he reckoned, the Soviet Union's vast military capacities—from intercontinental ballistic missiles to main battle tanks—could become irrelevant. (Full article here.)


To support SpyTalk, subscribe here.



---
Article: Iranian Cyber Attack on MEF Fails - Middle East Forum, 08 Sep 23
On September 8, 2023, the Middle East Forum (MEF) received a notification from the Microsoft Threat Intelligence Center regarding a spear-phishing attack directed at our research director, Jonathan Spyer. This sophisticated cyber-attack involved emails crafted meticulously to impersonate trusted sources with the intent to solicit sensitive information by leveraging detailed personal data to craft apparently legitimate requests to gain unauthorized access to secure systems. The assailant behind this attack is identified as the Mint Sandstorm group, a collective reportedly operating under Iran's Islamic Revolutionary Guard Corps (IRGC) intelligence arm. (Read full report here.)
Unabridged Audio Book: The Devil's Chessboard - Allen Dulles, the CIA, and the Rise of America's Secret Government by David Talbot - Audiobook Codex, 02 Apr 23
An explosive, headline-making portrait of Allen Dulles, the man who transformed the CIA into the most powerful—and secretive—colossus in Washington, from the founder of Salon.com and author of the New York Times bestseller Brothers. America's greatest untold story: the United States' rise to world dominance under the guile of Allen Welsh Dulles, the longest-serving director of the CIA. Drawing on revelatory new materials—including newly discovered U.S. government documents, U.S. and European intelligence sources, the personal correspondence and journals of Allen Dulles's wife and mistress, and exclusive interviews with the children of prominent CIA officials—Talbot reveals the underside of one of America's most powerful and influential figures. (Read full report here.)
Article: Draft Standards For Quantum Safe Cryptography Are Here - Semiconductor Engineering, 07 Sep 23
The world of security is constantly evolving, and in the few short weeks that have passed since my last blog on What It Takes To Make An SoC Design Quantum Safe, there have been some new and exciting developments in the world of quantum safe cryptography. On August 24th, 2023, NIST published the first three draft standards for general-purpose Quantum Safe Cryptography (also known as Post-Quantum Cryptography). These are draft standards are: FIPS 203 for ML-KEM (also known as CRYSTALS-Kyber); FIPS 204 for ML-DSA (also known as CRYSTALS-Dilithium); and FIPS 205 for SLH-DSA (also known as Sphincs+). The publication of these draft standards is an important milestone for the worldwide race to secure all online infrastructure and digital assets against the looming threat of cryptographically relevant quantum computers. It enables IT departments, device manufacturers, and governments to prepare for a transition to Quantum Safe Cryptography. (Read full report here.)
Article: Incidents In U.S. Stir Fear Of Beijing Espionage - Wall Street Journal, 05 Sep 23
Chinese nationals, sometimes posing as tourists, have accessed mil- itary bases and other sensitive sites in the U.S. as many as 100 times in recent years, ac- cording to U.S. officials, who describe the incidents as a po- tential espionage threat. The Defense Department, FBI and other agencies held a review last year to try to limit these incidents, which involve people who officials have dubbed gate-crashers because of their attempts—either by accident or intentionally—to get onto U.S. military bases and other installations with- out proper authorization. They range from Chinese nationals found crossing into a U.S. mis- sile range in New Mexico to what appeared to be scuba divers swimming in murky waters near a U.S. government rocket-launch site in Florida. (Read full report here.) (NOTE: This material may require a one time free subscription or sit behind a paywall.)
Article: China tries to enlist ordinary people to root out spies - New York Times, 02 Sep 23
China's ruling Communist Party is enlisting ordinary people to guard against perceived threats to the country, in a campaign that blurs the line between vigilance and paranoia. China's Ministry of State Security, a usually covert department that oversees the secret police and intelligence services, opened its first social media account as part of what official news media described as an effort at increasing public engagement. Its first post was a call for a "whole of society mobilization" against espionage. "The participation of the masses," the post said, should be "normalized." Chinese universities have ordered faculty members to take courses on protecting state secrets, even those who work in departments like veterinary medicine. A kindergarten in the eastern city of Tianjin organized a meeting to teach staff members how to "understand and use" China's anti-espionage law. (Read full report here.) (NOTE: This material may require a one time free subscription or sit behind a paywall.)
Article: The U-2 Dragon Lady As You Have Never Seen It Before - The War Zone, 06 Sep 23
For fans of military aviation — or flying in general — in the civilian world, the chance to get a ride in the cockpit of a combat aircraft is very likely top of many a bucket list. But there's surely one in-service military jet that has a little more allure than most, for which getting strapped into is just the prelude to a trip into the stratosphere. That jet is the unique U-2 Dragon Lady spy plane, and one civilian photographer recently got a chance to fly in it and execute an air-to-air shoot unlike any other. Our friend Blair Bunting, based out of Phoenix, Arizona, was that individual and he has documented his trip with his own incredible photos in his trademark style, as well as accompanying video, together with a written account about how it all came together. And, much like the U-2 itself, many of those images also look like they come from out of this world… (Read full report here.)
Article: U.S. Spy Agency Dreams of Surveillance Underwear It's Calling "Smart ePants" - The Intercept, 02 Sep 23
The future of wearable technology, beyond now-standard accessories like smartwatches and fitness tracking rings, is ePANTS, according to the intelligence community. The federal government has shelled out at least $22 million in an effort to develop "smart" clothing that spies on the wearer and its surroundings. Similar to previous moonshot projects funded by military and intelligence agencies, the inspiration may have come from science fiction and superpowers, but the basic applications are on brand for the government: surveillance and data collection. Billed as the "largest single investment to develop Active Smart Textiles," the SMART ePANTS — Smart Electrically Powered and Networked Textile Systems — program aims to develop clothing capable of recording audio, video, and geolocation data, the Office of the Director of National Intelligence announced in an August 22 press release. Garments slated for production include shirts, pants, socks, and underwear, all of which are intended to be washable. (Read full report here.)
OpEd: Is the CIA in your underwear? by Judge Andrew P. Napolitano - The Daily Press, 10 Sep 23
In a year, if a friend asks you if the CIA is in your underwear, you probably wouldn't take the question seriously. You'd be wrong. The CIA is spending millions in tax dollars to get into your underwear next year. Eleven years ago, when this column asked if the CIA was in your kitchen, people who read only the column's headline mocked it. Yet then-CIA Director David Petraeus gave a talk to CIA analysts that he fully expected to be kept secret. In the talk, he revealed that CIA vendors had discovered a means to log on to the computer chips in microwave ovens and dishwashers. From there, they could listen in real time to the conversations in a kitchen if those chatting were near the appliances Unfortunately for Mr. Petraeus but fortunately for the Constitution, one of his analysts was so critical of the CIA's disdain for constitutional norms that the analyst recorded a major portion of Mr. Petraeus' talk and leaked it to the media. Is the CIA in your kitchen? Yes. Not physically, but virtually. The CIA, notwithstanding a clause in its charter that prohibits it from engaging in surveillance in the United States or from engaging in any law enforcement activities, has a long history of domestic spying without search warrants.(Read full report here.)
Analysis: Key U.S. Intelligence Tool Set to Expire by George W. Croner - Foreign Policy Research Institute, 05 Sep 23
At the end of this year, America's most important intelligence tool is set to expire. Section 702 of the Foreign Intelligence Surveillance Act (FISA) allows the government to collect signals intelligence on foreign targets, even when that collection includes communications with Americans. However, Section 702 needs congressional approval to continue, and vocal critics both inside and outside Congress consider Section 702 unconstitutional. On July 21, 2023, the government released a redacted version of the Foreign Intelligence Surveillance Courty's (FISC) most recent opinion (dated April 11, 2023) addressing the government's request for continued Section 702 surveillance authority. The opinion likely represents the FISC's last word before Congress decides whether, or on what terms, to reauthorize Section 702 before the authority expires on December 31, 2023. Congress should reauthorize Section 702 because this critical intelligence collection program is conducted only in accordance with a carefully structured compliance regimen designed to minimize intrusions into US persons' privacy interests. Every court to have considered the question has concluded that operating the Section 702 program using this compliance structure is reasonable under the Fourth Amendment of the Constitution. (Read full report here.)
Article: Soviet television reconnaissance satellites - The Space Review, 05 Sep 23
Starting in the early 1960s, the Soviet Union launched hundreds of photo reconnaissance satellites that returned exposed film back to Earth in capsules. It was not until 1982 that the country orbited its first electro-optical reconnaissance satellite, capable of sending imagery back to Earth in near real time. As a stopgap measure, proposals were tabled in the 1960s and 1970s for achieving the same goal by using reconnaissance satellites carrying television cameras. Such cameras were ultimately flown on two uncrewed versions of the Almaz military space station in the late 1980s/early 1990s, but by that time the technology was already outdated. While some information on these projects has emerged in the past 20 years or so, the details remain sketchy. (Read full report here.)
Article: Iran accuses Israel of supplying potentially exploding parts for ballistic missile program - Washington Post, 31 Aug 23
Iran accused Israel on Thursday of trying to sabotage its ballistic missile program through faulty foreign parts that could explode, damaging or destroying the weapons before they could be used. The Israeli prime minister's office declined to comment on the allegation, though it comes amid a yearslong effort by both Israel and the U.S. to target Iran. A reporter also said the parts could be used in Iran's extensive arsenal of drones, which have grown in prominence amid their use by Russia in its war on Ukraine. The report described the alleged Israeli operation as "one of the biggest attempts at sabotage" it had ever seen. It accused Israeli Mossad agents of supplying the faulty parts, which the state TV report described as low-price "connectors." Footage aired by state TV showed the alleged parts, some of them popping up into the air, as if affected by an explosive. (Read full report here.) (NOTE: This material may require a one time free subscription or sit behind a paywall.)
Article: Revelations of Chinese espionage rock British Parliament - Washington Post, 11 Sep 23
British politicians were asking for answers on Monday after it was revealed that two men — one working as a researcher in Parliament — were arrested in March on suspicion of spying for China. A researcher, who worked directly with top lawmakers in the Conservative Party in government, said through his lawyers, "I am completely innocent." The Metropolitan Police confirmed that two men, one in his 20s and another in his 30s, were arrested in March under the Official Secrets Act. The police did not release names, as is custom here, as neither suspect has been charged. Both were given bail until October. They are being investigated by the Met's Counter Terrorism Command, which oversees espionage inquiries. The arrests were reported over the weekend by the Sunday Times of London, which said the younger man worked as a researcher for senior lawmakers from the Conservative Party in the British Parliament, and so would have full access to the Houses of Commons and Lords, as do staff and journalists. The newspaper said the researcher under suspicion worked for Alicia Kearns, chair of Foreign Affairs Committee, and her predecessor, Tom Tugendhat, now security minister. British Prime Minister Rishi Sunak said he confronted China's Premier Li Qiang on the sidelines of the G-20 summit in India on Sunday. (Read full report here.) (NOTE: This material may require a one time free subscription or sit behind a paywall.)
Article: China's spy agency blasts US for 'engagement and containment' approach - Financial Times, 04 Sep 23
China's powerful spy agency has attacked recent diplomatic overtures from the US as mixing engagement and containment, hinting that a possible meeting of the two countries' presidents in November will be in jeopardy if Washington does not show more "sincerity". The rare warning from the Ministry of State Security came less than a week after US commerce secretary Gina Raimondo visited Beijing, praising her meetings with Chinese officials but saying US businesses viewed China as increasingly "uninvestable". "Recently, a number of US officials visited China one after another, saying that the Biden administration has no intention to curb China's development or seek decoupling from China," the MSS said in a statement on its official WeChat social media account. The US strategy on rapprochement with China was "old wine in new bottles", the ministry said, pointing at Washington's approval of arms sales and military financing to Taiwan, over which Beijing claims sovereignty. "China will never relax its vigilance because of a few 'beautiful words' from the United States," it said. The MSS accused the US of continuing to "stir up trouble" in the South China Sea and Tibet. Washington has said it will punish Chinese officials responsible for what it called the forcible assimilation of 1mn Tibetan children in government-run boarding schools. (Read full report here.) (NOTE: This material may require a one time free subscription or sit behind a paywall.)
---
Espionage and foreign interference - Australian Federal Police, 08 Sep 23
In June 2018, the Australian Government introduced the National Security Amendment (Espionage and Foreign Interference) Act 2018 (EFI Act) to combat the growing challenge of foreign interference. The EFI Act amended existing offences in the Criminal Code Act 1995 (Cth) and introduced espionage-related offences. Some of the actions it criminalised include: covert and deceptive or threatening activities by persons intending to interfere with Australia's democratic systems and processes supporting the intelligence activities of a foreign government. (Full report here.)
Espionage in Warfare: How Spy Games Alter the Battlefield - SOFREP, 04 Sep 23
The fascinating world of espionage in warfare often brings to mind thrilling stories of individuals skulking in shadows, carrying out covert operations under the guise of anonymity. What you may not realize is how deeply embedded these clandestine activities are within the complex structure of modern warfare. With the constantly evolving nature of conflict, intelligence gathering, or 'spy games,' as some call it, is more critical than ever in shaping the battlefield. But what if you had a secret map or a bird's eye view of the terrain, giving you insight into their hiding spots? Better yet, what if you could subtly guide their decisions to favor your win? This, in essence, is the role of espionage in warfare. In this article, we will venture into the captivating and consequential world of espionage and how it fundamentally changes the dynamics on the battlefield. (Full report here.)
Time To Protect Chinese Americans Targeted by China's Espionage Teams - Heritage Foundation, 07 Sep 23
On Aug. 3, the Department of Justice indicted and arrested two U.S. sailors on separate charges of "transmitting sensitive military information to the People's Republic of China (PRC)." The sailors, Wei Jinchao and Zhao Wenheng, are accused of sending sensitive U.S. national security information to Chinese intelligence officers. Astoundingly, at least one sailor, Mr. Wei, was a citizen of China when he enlisted in the U.S. Navy. A concerning part of these two espionage cases is what they have in common. Both sailors had access to high levels of classified materials, and both were seeking operation information on amphibious ships. Though the Chinese Communist Party is well versed in modern, high-tech surveillance, it still uses tried-and-true espionage tactics. Perhaps that's because the U.S. government has repeatedly failed to protect its citizens from these well-known threats. More specifically, Washington has not done enough to protect Chinese Americans whom the Chinese government actively targets to become assets, as in the cases of Messrs. Wei and Zhao.(Full report here.)
Understanding National Security Strategies Through Time - Texas National Security Review, Fall 2023
Since 1986, Congress has required each president to write a national security strategy. How has this security document changed over the years, and where are the continuities and breaks between administrations? John Chin, Kiron Skinner, and Clay Yoo have mapped out the content and structure of the national security strategies that have been released since 1986 to answer these questions.(Full report here.)
Playing the Race Card to Protect Chinese Spies - The American Conservative, 05 Sep 23
Is it racist to think that a Chinese person is more likely to spy for China than someone with no Chinese ancestry who was born in America? That was the premise of much of the left-wing opposition to the Justice Department's so-called China Initiative, its investigation of Chinese technology theft that was launched in 2018 and canceled by the Biden administration in 2022 over claims of ethnic profiling. It is the premise of many news articles written about Chinese scientists leaving the United States in increasing numbers, supposedly because they feel targeted by authorities. Yet if you asked the average man on the street, he would say that taking someone's country of birth into account in an espionage investigation is just common sense.(Full report here.)
How corporations helped fuel the big business of spying - Popular Science, 07 Sep 23
In Overmatched, we take a close look at the science and technology at the heart of the defense industry—the world of soldiers and spies. You may not have heard of the National Reconnaissance Office, an intelligence organization whose existence wasn't declassified until 1992, but you have perhaps come across some of its creepy kitsch: patches from its surveillance-satellite missions. Consider the one that shows a yellow octopus strangling the globe with its tentacles, with the words "Nothing Is Beyond Our Reach" stitched beneath. Yikes. The office, known as the NRO, is in charge of America's spy satellites. The details of its current capabilities are largely classified, but we, the people, can get hints about it from public information—like the fact that the NRO donated two telescopes to NASA in 2012. The instruments were obsolete as far as the spies, who point their scopes at Earth instead of space, were concerned, but they were more powerful than the space agency's Hubble. (Full report here.) (NOTE: This material may require a one time free subscription or sit behind a paywall.)
The vulnerability of open societies to foreign espionage - Japan Times, 08 Sep 23
Studies of the role of intelligence operations inevitably have a "Rashomon"-like quality, with the same events yielding various, sometimes contradictory, interpretations. The world of intelligence, after all, is one of secrets, special-access compartments, covert action, clandestine relationships and occasionally off-the-books escapades. This makes it very difficult to assess successes and failures, and to chronicle the role of intelligence in political leaders' decisions. Harvard historian Calder Walton confronts this challenge head on in a new book, "Spies: The Epic Intelligence War Between East and West," which recounts the rise and role of modern intelligence capabilities through the history of the West's competition with the Russian security services. It is an ambitious and entertaining story, but one that is also firmly grounded in academic research. In fact, Walton's account sheds new light on seemingly well-studied events, from the Bolshevik Revolution and World War II to the deployment of moles in the ranks of American, British and Russian intelligence services at the end of the century. (Full report here.)
The Army's intelligence chief discusses the service's new OSINT strategy (32 mins) - Inside the IC Podcast, 08 Sep 23
The Army is making a strong push into open source intelligence. Earlier this year, the Army published its first OSINT strategy. The service's goal is to "professionalize" its OSINT workforce and use OSINT as an intelligence discipline "of first resort," Lt. Gen. Laura Potter, the Army's deputy chief of staff for intelligence, tells me in this week's show. Also joining the show is Dennis Eger, the Army's senior open source intelligence advisor. (Listen here.)
Visualized: The World's Population at 8 Billion - Visual Capitalist, 27 Sep 23
At some point in late 2022, the eight billionth human being will enter the world, ushering in a new milestone for humanity. In just 48 years, the world population has doubled in size, jumping from four to eight billion. Of course, humans are not equally spread throughout the planet, and countries take all shapes and sizes. The visualizations in this article aim to build context on how the eight billion people are distributed around the world. For extended coverage of this moment and what it means to the world, you can get access to our full report and webinar by signing up to VC+, our premium newsletter. (Access visual tool and full report here.)
Intelligence in History - A Collection of Recent Content
True Intelligence Matters in Film - Documentary - Spy Ops: Operation Jawbreaker - Marek Bures (08 Sep 23)
Just fifteen days after September 11th, 2001, CIA operatives land in Afghanistan with suitcases full of cash and a mission to dismantle the Taliban.

More information about this based-on-true-events production here.
Walking Tours - Washington, DC - Sundays (Dates/Times Vary)
Former intelligence officers guide visitors on two morning and afternoon espionage-themed walking tours: "Spies of Embassy Row" and "Spies of Georgetown." For more information and booking, click here or contact rosanna@spyher.co
---
From Red Terror to Mafia State: Russia's Intelligence Services and Their Fight for World Domination from Felix Dzerzhinsky to Vladimir Putin
by by Yuri Felshtinsky and Vladimir Popov
(Gibson Square, 26 Sep 23)
The history of Russia after 1917 is traditionally written as the rise of the Communist Party from Lenin to Stalin to Gorbachev. Is that still the correct approach? Based on a trove of new historical sources from inside the Russian secret services, this exceptional book retells the story in the light of modern Russia and starts with the pivotal role of Felix Dzerzhinsky, the leader of the Communist Secret Service, the Cheka. He is relatively unknown, but was even more important in the overthrow of the Tsarist regime and submission of its people than Lenin. The leaders of the various guises of the Cheka fought tooth and nail to wrest state control from the Communist party. With the presidency of Vladimir Putin in 1999, Dzerzhinsky's ultimate goal finally came to fruition. It explains why modern Russia is a state without ideology, the world's only mafia-state programmed to forever extort, pillage and loot.
Order book here.
National Security Surveillance in Southern Africa: An Anti-Capitalist Perspective
by Jane Duncan
(Zed Books, 28 Jul 22)
In spite of Edward Snowden's disclosures about government abuses of dragnet communication surveillance, the surveillance industry continues to expand around the world. Many people have become resigned to a world where they cannot have a reasonable expectation of privacy. The author looks at what can be done to rein in these powers and restructure how they are used beyond the limited and often ineffective reforms that have been attempted. Using southern Africa as a backdrop, and its liberation history, Jane Duncan examines what an anti-capitalist perspective on intelligence and security powers could look like. Are the police and intelligence agencies even needed, and if so, what should they do and why? What lessons can be learned from how security was organized during the struggles for liberation in the region? Southern Africa is seeing thousands of people in the region taking to the streets in protests. In response, governments are scrambling to acquire surveillance technologies to monitor these new protest movements. Southern Africa faces no major terrorism threats at the moment, which should make it easier to develop clearer anti-surveillance campaigns than in Europe or the US. Yet, because of tactical and strategic ambivalence about security powers, movements often engage in limited calls for intelligence and policing reforms, and fail to provide an alternative vision for policing and intelligence. Surveillance and Intelligence in Southern Africa examines what that vision could look like.
Order book here.
---
A State of Mind: Faith and the CIA
by Rolf Mowatt-Larssen
(Bookbaby, 01 Jun 20)
"A State of Mind: Faith and the CIA" is a memoir of the life and work of a CIA officer. It is also a journey of faith. During the Cold War, the art of handling and recruiting spies was the focus of intelligence work. In those days, the practice of espionage raised serious moral and ethical issues, but it was a well-established and universally accepted form of statecraft. The shocking 9/11/2001 terrorist attack on America forced a fundamental reassessment of the purpose of intelligence and its role in safeguarding a nation. US intelligence, the military, and their allies waged a global war against terrorism using extraordinary means that raised unprecedented moral and ethical issues. Spies were joined by drones. Extreme measures were developed to kill, capture and interrogate terrorists. A reluctant witness to history was compelled to answer the call from God and country.
Order book here.
---
---
Call for Information: Child of Roger O. Brady, a CIA psychologis 1951-1979, seeks information about his life. He served in Saipan and Lima, Peru. He was assigned to the Department of Psychology. Please contact Kate Brady Moore at mooreod@aol.com.
Call for Sources: Intelligence officers in Jordan between 1999-2022
Author Aaron Magid, who is writing on a book about King Abdullah, is looking to interview intelligence officers who were posted in Jordan in the 1999-2022 timeframe. He can be contacted at aaron.magid1@gmail.com.
Call for Sources: Cyprus 1974
A British history journalist, Andrew Southam, is writing a book about events in Cyprus 1974, which saw an attempted coup against president Archbishop Makarios, two interventions by Turkey, the fall of the Greek Junta, the cutting of aid to Turkey and the assassination of Ambassador Ron Davies; and contributed to the murder a year later of Athens CIA station chief Dick Welch besides other British, Greek and American officials over the subsequent 27 years. This work is an accurate narrative of events (initially called 'Cyprus'74, no control, no conspiracy'), rebutting with evidence various conspiracy allegations of US and/or British collusion with either Greece or Turkey. He would warmly welcome speaking to any intelligence officers who played a role in these events. He can be contacted at andrew2southam@yahoo.co.uk.
Call for Information: Rueben Efron (1911-1993), former CIA translator, HTLINGUAL.
Please contact Mark S. Zaid, Esq. at mark@markzaid.com or (202) 330-5610.
Call for Information: Arnold M. Silvier
Relative of Silvier, aka "Richie Boy," seeks information on the person (or works of) Silver, who was in the US Army during WWII and, later, CIA (1949 - 1978), with postings in Austria, Luxembourg, Germany, Turkey and Washington DC. Please contact nboicecounseling@gmail.com
Survey for Members: Skill Sets Needed for Intelligence Analysis Degree Holders to See Success After Graduation
Northeastern University Security and Intelligence Studies professor researching the skill sets required for Intelligence Analysis degree holders to see success after graduation welcomes the participation of AFIO members in a 5-minute survey in support of the research. Access survey here.
Call for Information: 430th CIC in Salzburg in 1946
I am currently writing about 430th CIC in Salzburg in 1946. I have a (large) CIC file and am now trying to track down further details about two officers mentioned in this: (1) Bill Taylor. The sources do not make clear whether the officer was Major Bill G. Taylor, GSC, Head of the Counter-Intelligence Bureau of G-2 (Intelligence Section), US Forces Austria, or "Mil.Reg." Captain Taylor of Salzburg. Any information on either/both of these officers would be most welcome. (2) Pace B Rose. Rose was a CIC Special Agent in Austria, later a CIA officer who continued to be attached to the Agency after retirement. He died on 3 January 2009. I would like to contact family and friends of Pace Rose. According to the internet, Rose had children, Donna R. Hilverts and Gary W. Rose, and five grandchildren and three great grandchildren. Please contact S.Cody@westminster.ac.uk with any information.
Call for Sources: Intelligence Officers Who Lived in Spain in the 1970s
Spanish journalist Francisco Jiménez is preparing a documentary about the intelligence services in Spain in the 70s. He is looking for intelligence officers who worked in Spain in those years. If you are willing to assist Francisco, he can be reached at fjimenez@globomedia.es.
Call for Sources: Intelligence activities in Grenada and the southern Caribbean between 1979, Operation Urgent Fury, Leonard Barrett
The Washington Post is developing a multi-part audio documentary series (i.e. podcast) chronicling the Grenadian revolution and the US intervention in 1983. They've interviewed nearly 100 people so far, ranging from the heads of state, former Grenadian officials, current and former US officials, veterans, and intelligence officers. They're looking for people who served at the time and may be knowledgeable about intelligence activities in Grenada and the southern Caribbean between 1979 and Operation Urgent Fury. They would also be interested in speaking with anyone who knew Leonard Barrett during the same period. If anyone is interested in participating, please reach out to Washington Post reporter Ted Muldoon via email at ted.muldoon@washpost.com or on Signal at 651-497-5449.
Call for papers: Intelligence and Post-War Reconstruction - International Journal of Intelligence and Counterintelligence
History shows that without planning for post-war reconstruction, apparent victory in war can lead to long-term defeat. On the other hand, wise post-war planning can lead to friendly, peaceful, and profitable relations between victor and vanquished. For political, socio-economic and security-related planning, intelligence plays a crucial role in estimating capabilities, securing infrastructure, locating persons of interest, and rebuilding. In honor of the 75th anniversary of the European Recovery Program (Marshall Plan) after the Second World War, the editors are particularly interested in papers dealing with intelligence concerning post-war reconstruction initiatives and planning connected to historical and recent conflicts. Both case studies and theoretical and methodological approaches are welcome. The studies may include, but do not have to be focused on, the following questions and issues:
The role of diplomatic and military intelligence during the conflict as preparation for post-war reconstruction, from the conceptual to the practical.
What intelligence needs to be collected to secure and boost reconstruction?
What contacts, networks, and infrastructure are necessary for intelligence to be effective?
Who has been or should be approached and/or recruited for reconstruction efforts based on intelligence?
When has intelligent post-war planning (or its opposite) been historically evident?
How should intelligence interact with formerly warring parties and international organizations to empower practical reconstruction efforts?
What intelligence collection challenges have services encountered in working for post-war peace?
How did intelligence factor in the European Recovery Program?
What was George C. Marshall's position on the role of intelligence in general or concrete examples related to "his" plan?
01 Nov 23 deadline. More information and submission instructions here.
Call For Articles: AFIO Journal, The Intelligencer
For the past four years, AFIO has included in The Intelligencer a series of articles on "when intelligence made a difference." Written by scholars, intelligence practitioners, students, and others, they cover events from ancient times to the modern world and in many countries. AFIO is soliciting articles for future issues. Most articles run between 2,000 and 3,000 words, although some are longer or shorter. If you have an idea for an article that fits the theme, email senior editor Peter Oleson at peter.oleson@afio.com.
---
Adjunct Faculty - Intelligence Studies - Fayetteville University - North Carolina
The mission of the Department of Intelligence Studies, Geospatial Sciences, Political Science and History is to provide high-quality educational programs and services in these degree-granting programs and in Philosophy and Sustainability. A major goal of the department's multi-disciplinary faculty is to help students develop key skills and foundational knowledge in the foregoing areas. By offering courses in realms ranging from critical thinking, the humanities, and social science to ethics, civic engagement, environmental studies & sustainability, and global literacy, the departmental faculty strive to empower students with the skills and knowledge they will need to excel in their chosen professions and become effective twenty-first century global citizens. The department will endeavor through its internship programs and will work closely with institutional partners, to provide career pathways for all majors that will assure transitions into meaningful jobs in their chosen field. Through teaching, research, and service, the Intelligence Studies, Geospatial Sciences, Political Science, History, and Philosophy faculty aim to promote the cultural, social, and economic well-being of the residents of the region and the nation.
Additional information and application here.

Assistant Professor in Intelligence and Security - Leiden University - Netherlands
Leiden University's Institute of Security and Global Affairs (ISGA) is inviting applications for a full-time Assistant Professor position in Intelligence and National Security. The successful candidate will have a demonstrable research record in themes related to the vacancy and a strong teaching background in intelligence and security, or a related field, as well as in topics related to the Institute's Bachelor's and Master's programme offerings. The position is aimed at strengthening the Institute's teaching, research and grant-acquisition capacities in a phase of growth and exciting interdisciplinary research opportunities.
Additional information and application here.

Retired Federal Government Employees Wanted - National Security Agency - Fort Meade, Maryland
The National Security Agency (NSA) may occasionally need skilled civilian retirees to augment the existing work force on high priority projects or programs. In order to fill these temporary positions quickly, we need to know who may be interested and available to return to work with us on a short notice basis as well as their skills. Retirees provide expertise and corporate knowledge to temporarily support mission requirements, manpower shortfalls, and/or mentor the next generation of Agency employees. Salary Range: $86,335 - $170,800.
Additional information and application here.

Assistant/Associate Professor of Intelligence Studies (Global Security and Intelligence Studies) - Embry-Riddle Aeronautical University - Prescott, Arizona
Embry-Riddle Aeronautical University's Prescott, Arizona campus is accepting applications for a tenure-track assistant or associate-level professor of intelligence studies to teach intelligence courses to students in the Global Security and Intelligence program. The successful candidate will teach students about the intelligence community, strategic intelligence, the intelligence cycle and intelligence analysis, writing, and briefing. Prior experience working in the intelligence community is strongly preferred. We are interested in candidates with teaching acumen in intelligence analysis and writing using structured analytical techniques.
Additional information and application here.

---
Arthur Choate — Decorated Former CIA Officer

Arthur H. Choate, 88, passed away peacefully on Wednesday, September 6, 2023. He was born in Gardner, MA and his early years were spent in Boston. He proudly served his nation in the United States Air Force and Central Intelligence Agency. His time with the CIA included tours in Vietnam and Okinawa. In recognition of his success in leading change and providing mentorship in financial management and audit at the CIA, he was selected to serve as the Director of Finance in the Directorate of Administration. For his outstanding service of 31 years, he was awarded the Distinguished Intelligence Medal and nominated for a CIA Trailblazer Award.
Dennis Peterson — Decorated Former CIA Executive

Dennis Charles Peterson, 86, passed on 24 Aug 23. He dedicated his life to the intelligence services of his country. A native son of North Dakota, Dennis personified the pioneering spirit. He was born in Underwood, North Dakota, later moving to his hometown of Washburn in 1939. After completing his high school curriculum in only three years, Dennis enlisted in the U.S. Air Force in August 1954. He attended the Air Force Security Service Technical School and was designated a Radio Traffic Intercept Analyst. Prior to departing the United States for his first overseas assignment, Dennis returned to graduate at the top of his class at Washburn High School in 1955. Dennis served in Germany from June 1955 to June 1958. Following his overseas duty, he utilized his G.I. Bill and attended Indiana Technical College in Fort Wayne, Indiana, in pursuit of his Aeronautical Engineering degree. Following his freshman year, he transferred to North Dakota State University (NDSU) in Fargo, North Dakota. Dennis graduated in May 1962 with a Bachelor of Science in Mechanical and Aeronautical Engineering. Dennis was recruited by the Central Intelligence Agency (CIA) and passed a rigorous interview and polygraph process, entering duty with the agency in June 1962. He would serve under President Kennedy during the Cuban Missile Crisis. Ironically, this was only one of three connections he would have to JFK's Presidency as his fellow Washburn High School graduate, Clinton Hill, was the Secret Service Agent famously jumping on the back of the Presidential Limousine in Dallas, and his future father-in-law, Charles "Chick" Reynolds was President Kennedy's official stenographer, who was also present on that sad day in November of 1963. Mr. Peterson's career continued as a foreign space weapons analyst, focusing on the Soviet Union's space program. He additionally served overseas as a Special Weapons and Space Training Officer with other U.S. allies. His ability to digest copious volumes of information placed him on a fast-track career progression. He advanced quickly through Section Chief, Branch Chief, Deputy Division Chief, Division Chief of two separate Divisions, and a member of the elite Senior Executive Service for the United States of America. His career in the United States Intelligence Community spanned more than 60 years through the dawn of the Soviet space program with Sputnik, until the collapse of the USSR. His tenure also saw the raise of other threats during the Global War on Terrorism and into the New Cold War Era with emerging threats from peer adversaries such as China and Russia. Dennis retired from the CIA with more than 32 years of service in 1994 and was awarded the Intelligence Medal of Merit as one of the pioneers that policymakers relied upon heavily during the height of the Cold War. He was a pivotal player in our nation's history when the threat of nuclear war was omnipresent. He continued to serve the United States of America in a similar capacity as a contractor with a large aerospace company, then later with another high-tech company, ultimately retiring for good in 2018 at the age of 81.
John Kriese — Senior IC Scientist

John Thomas Kriese passed on February 22, 2023, at 76 years old at his home in Seattle, leaving behind a legacy of technical excellence, exceptional leadership, and dedicated love for his family. John was born in Dallas, Texas, where he attended Jesuit Preparatory High School. He embraced the Jesuit teaching of using his talents to address the world's greatest needs and embarked on a lifetime of service in multiple technical and leadership roles as a public servant. John graduated magna cum laude from Notre Dame University with a degree in mechanical engineering. He then earned his Ph.D. in Nuclear Engineering at North Carolina State University in Raleigh, North Carolina, under an Atomic Energy Commission Special Fellowship. In service to our nation, he was commissioned as Second Lieutenant in the Army Reserve in 1971. At the height of the Cold War, John worked at Westinghouse in the Naval Reactors Program and then at the Los Alamos National Laboratory in the nuclear weapons design division. In 1986, he moved to Washington, D.C. where he began his almost 25 years of service as a Senior Executive in the U.S. Intelligence Community leading collection, analysis and program development activities. He served as Associate Director for Science and Technology in the Defense Intelligence Agency, Chairman of the Joint Atomic Energy Intelligence Committee, Chairman of the Measurement and Signature Intelligence Committee and as a Senior Scientist with the Central Intelligence Agency. He moved to Seattle in 2010 following his retirement from the CIA.
Joe Austin — Career CIA Officer

Joseph (Joe) Austin, 79, passed away peacefully on Wednesday, August 30, 2023 Joe was born in Glyndon, MD. He proudly served his nation in the United States Army and the Central Intelligence Agency. Joe's time with the CIA included tours in: Greece, 2 tours in Frankfurt, Germany, Singapore and a special assignment in Bosnia at the end of his career. Joe retired from the CIA on October 5, 1996 and moved to the Outer Banks of NC and, later, to Sebring, FL and Punta Gorda, Fl. He was diagnosed with acute Myeloid Leukemia, which he faced head on and battled while enjoying his remaining years with his wife and family.
14 Sep 2023 (Thursday), 1130-1400 PT - In Person - Col. Robert W. Parr, USAF (ret) on "12 Days with a Soviet Pilot Defector" - Basque Cultural Center, San Francisco - The AFIO Andre LeGallo Chapter. No host cocktail at 1130 hours (Pacific). Meeting starts at 1200 hours. Basque Cultural Center, 599 Railroad Avenue, South San Francisco, CA. RSVP and pre-payment required.
Register NOW: Eventbrite Registration link
RSVP and pre-payment is required. RSVP or Qs to Mariko.
21 Sep 2023 (Thursday), 11:30 AM (MT) - In Person - Dr. Sara Castro discusses "The Dixie Mission: US Intelligence in the Chinese Communist Party 1947-1949" - Colorado Springs, CO - AFIO Rocky Mountain Chapter.
Abstract: From 1947 to 1949, an interagency delegation of U.S. military and intelligence officials operated from the Chinese Communist Party (CCP) base area of Yan'an, China to observe how the CCP guerrillas were faring in their fights against the Japanese. Known as the "Dixie Mission," this group of Americans became the first U.S. officials to have extensive contact with Chinese Communist leaders such as Mao Zedong, Zhou Enlai, and Zhu De. The U.S. Army led the Dixie Mission, but it functioned as a true interagency mission, at least in the field. Its history thus offers a unique view of bureaucratic relationships playing out on a greater scale in Washington as executive branch and military organizations competed for resources and influence. Vulnerability to interagency rivalry, politicization, and logistical challenges regularly limited the intelligence that U.S. officials in Yan'an collected and disseminated to policymakers. This presentation will introduce the Dixie Mission and describe some of the unique intelligence it yielded. Bio: Sara B. Castro is an assistant professor of history at the U.S. Air Force Academy in Colorado Springs, CO, where she began teaching global and East Asian history in 2019. She is also the President of the North American Society of Intelligence Historians, and she serves on the editorial board of the International Journal of Intelligence and Counterintelligence. Castro was named a China Fellow at the Wilson Center in 2020. Before becoming a professor, Castro worked as an intelligence analyst for the Central Intelligence Agency. Her current research focuses on the history of U.S.-China relations through the lens of intelligence collection and analysis.
For more information, contact Steve Pease steve13507@gmail.com
13 Oct 2023 (Friday), 10:30am - 2pm - In-Person Tysons VA - REGISTRATION OPENED for AFIO National Fall Luncheon
This luncheon features fireside chat with Avril Haines, Director of National Intelligence, and Jennifer K. Ewbank, the Deputy Director of CIA for Digital Innovation
Check-in and badge pickup for Registered Attendees begins at 10:30 a.m.
NO registrations or walk-ins at hotel. No payment accepted for this event by mail or at the venue.


Fireside Chat with Avril Haines, Director of National Intelligence, begins at 11:00 a.m. Lunch served noon to 1:00 p.m.
Jennifer Ewbank, Deputy Director of CIA for Digital Innovation speaks at 1:00 p.m. Q&A follows each presentation.
Event ends at 2:00 p.m.
Luncheon prices are $60 for Members; $75 for nonmember guests and all Subscribers. Payment by credit card required at time of registration. No mailed checks or "at the door or at venue" payments accepted or permitted.
Register here
Registration closes when all spaces taken (or NLT 9 October).
Though we do not provide special overnight room rates, if you wish to make room reservations at the hotel, do so here. Cancellation Schedule:
AFIO must commit to the hotel facilities and regrets it must charge a cancellation fee. 100% refund until close of registration. No refunds or cancellations thereafter. You will receive a donation receipt for fees forfeited. A donor statement will be sent showing that you made a "gift to AFIO" in such instances. Gifts to AFIO are tax-deductible. All attendees must be members of AFIO or accompanied by a current member. Learn more about becoming a member at www.afio.com. Questions regarding membership? Contact office at 703-790-0320 or email afio@afio.com Questions regarding this event to events@afio.com
See the AFIO Calendar of Events for scheduling further in the future.
27 October 2023 - Naples, FL - Meeting of the New Southwest Florida Chapter
The chapter president, Hugo Harmatz, requests members contact him to give suggestions of topics and speakers for programs. He seeks to ensure the chapter meetings are enjoyable and interesting for all.
He can be reached at lawyur@aol.com
---
16 September 2023 (Saturday), 2:00-4:00pm – Washington, DC – In-Store Book Signing Event: The Syndicate Spy: A Juliet ArrowayNovel – In Store Book Signing at the International Spy Museum
Join us in the Spy Museum Store for a special book signing event for The Syndicate Spy: A Juliet Arroway Novel with author Brittany Butler. Brittany Butler spent nine years as a targeting officer within CIA's Directorate of Operations, Counterterrorism Center. Both at Langley and on temporary assignments in the Middle East, Brittany spearheaded operational efforts to achieve some of the most sensitive foreign intelligence objectives abroad. She has both first-hand knowledge of targeting methodologies used in the recruitment of spies and extensive field experience in working with foreign liaisons to discover and apprehend terrorists abroad. The first in a series, The Syndicate Spy weaves a story of fact and fiction, telling the true story of female intelligence officers who stand on their laurels of intellect and skill to see beyond religious and cultural barriers to find what unites them, rather than what divides them. Brittany lives by the ocean with her husband, three sons, and her dog, Gus. Visit www.spymuseum.org.
17 September 2023 (Sunday), 9-10am – Washington, DC – Yoga & Sound Bath at SPY – In Person International Spy Museum Program
To master the art of espionage, agents must learn to control body, mind, and spirit. Experience an all-level yoga flow session led by instructor Beth A. Wolfe, accompanied by a sound bath led by Mel of Beyond Yoga, a yoga teacher certified in crystal alchemy sound healing. Harmonic chords and binaural sounds will be played which promote balance and relaxation. We will practice in the inner sanctum of the Museum's Ballroom which offers a sweeping view of the SW waterfront (the Wharf), National Airport, and Nationals Park. All are welcome--the class is open to brand new and seasoned yogis alike! No previous yoga experience required. Please purchase tickets in advance and BYO yoga mat. Visit www.spymuseum.org.
20 September 2023 (Wednesday), 6:00pm – Washington, DC – SPY KIDS: ARMAGEDDON – In Person Spy Museum Program at AMC Tysons Corner in McLean, VA
Agents, join Netflix and the International Spy Museum for a special advanced screening of Spy Kids: Armageddon. In the film, when a game developer unleashes a powerful computer virus, the children of two secret agents must work together to save their parents — and the world. Everly Carganilla and Connor Esterson star with Zachary Levi and Gina Rodriguez in this reboot of the "Spy Kids" franchise. Coming to Netflix September 22. Program is free of charge but requires advanced registration. Seating is first-come, first-served.
21 Sep 2023 (Thu), 12:30 - 5pm ET - Boston, MA and Virtual - "Clandestine Operations Against China during the Early Cold War" - Boston University. AFIO members and friends are cordially invited to this free hybrid (in-person and remote) Boston University conference.
Join the Frederick S. Pardee Center for the Study of the Longer-Range Future, the Center for the Study of Asia, and the Kilachand Honors College for a conference titled "Clandestine Operations Against China during the Early Cold War." This conference will, in part, honor the service and sacrifice of CIA officer Richard "Dick" Fecteau, a Lynn, MA, native and Boston University alumnus. The conference will be a hybrid event, combining in-person participation with remote webinar attendance. The half-day conference will be held in the first-floor common room of Boston University's Kilachand Honors College (91 Bay State Road). Registration and the full conference agenda are here.
22 September 2023 (Friday), 12:00pm – Washington, DC – Inside the HEXAGON Secret Satellite Program with Ricky Deutsch – In Person International Spy Museum Program
The HEXAGON satellite program was the "Verify" in President Reagan's "Trust but Verify" negotiation strategy. Initiated by President Eisenhower, satellite intelligence provided film photography of denied areas. At 60-feet long and flying at 100 miles up, HEXAGON was the last film-based reconnaissance satellite used by the US. The program required cooperation between the CIA and the Air Force. It was guided by the National Reconnaissance Office. HEXAGON was designed in the 1960s and remained classified until September 17, 2011. Now the story can be told by someone who was there. Join us in person to hear about the history of film-based space intelligence from Ricky Deutsch. In the 1970s, Deutsch was a US Air Force Captain working as an Operations Director for HEXAGON. From the Satellite Test Center known as the "Blue Cube" in Sunnyvale, CA, Deutsch's military/contractor team generated mission critical commands to be sent to the satellite. Deutsch will reveal how the satellite was built, its major components, the inner workings of the Control Center, and how the satellite interface to six tracking stations worked. He'll detail the on-orbit functions and the role of the CIA to determine which "targets" should be photographed and how this material affected the outcome of the Cold War. Deutsch will also describe the slightly unbelievable way the film reentry vehicles were caught via parachute by C-130 aircraft at 15,000 feet! Visit www.spymuseum.org.
26 September 2023 (Tuesday), 2:00-3:00pm – Washington, DC – SPY with Me: Memory Loss Program – Virtual International Spy Museum Program
SPY with Me is an interactive virtual program for individuals living with dementia and their care partners. Join SPY as we use music and artifacts to explore some of our favorite spy stories. Programs last one hour and are held virtually through Zoom. Every month the same program is offered on two different dates. To register, please email Shana Oltmans at soltmans@spymuseum.org. Free but space is limited. Visit www.spymuseum.org.
26-28 Sep 2023, 0830-1730 (ET) – Arlington, VA – 2023 ERII Counterespionage Conference – Espionage Research Institute International
Join Us for the 2023 ERII Counterespionage Conference. September 26, 27 & 28, 2023 at the AMA Washington Conference Center Arlington, Virginia. Counterespionage, Counterintelligence and TSCM Professionals Discuss Espionage News & Events, Emerging Surveillance Threats & the Impact of Changing Technologies on the Threat Detection Landscape. More information and registration here.
27 September 2023 (Wednesday), 5:00-8:00pm – Washington, DC – Educator Night Out 2023 – In Person International Spy Museum Program
Enjoy an exclusive evening at the International Spy Museum where the red carpet will be rolled out just for teachers. Educators will uncover the secret history of history and discover new and exciting resources to enrich their students' learning across all subjects. During this open-house event, teachers can:explore SPY's exhibits with fellow educators, meet the Museum's youth education team, plan their students' next in-person or virtual SPY field trip, browse SPY's free curriculum and classroom activities, check out SPY's new Digital Learning HQ – an online multimedia tool for educators, be the first to check out SPY's new Exhibit Learning Guides, and shop with a special discount at the SPY store. Registration includes free Museum admission, a welcome bag, a chance to win prizes, and more. NOTE: This event is open to current K-12 classroom and resource teachers only (21+). A valid teacher ID will be required at check-in. See the website for acceptable forms of teacher ID. Educators can arrive any time between 5pm – 7pm (last entry time into the Museum). Program is free of charge but requires advanced registration – walk-up tickets will not be available. Visit www.spymuseum.org.
27 Sep 23, 0800-1700 (ET) – Arlington, VA – INSA's 6th New Intelligence Community Symposium – INSA
Join 250 intelligence and national security colleagues on Wednesday, Sept. 27, from 8:00 AM - 5:00 PM at the Army Navy Country Club in Arlington, VA for a full day of program focused on the challenges and opportunities our community faces as we build, foster, and advance a diverse, world-class workforce. The wide array of programming formats include fireside chats, ted talks, and engaging panel sessions. And of course, there will be plenty of time for networking and relationship building along the way. More information and registration here.
28 September 2023 (Thursday), 12:00pm – Washington, DC – Crown, Cloak, and Dagger with Richard Aldrich and Rory Cormac – Virtual International Spy Museum Program
Assassins, spies, terrorists, and lunatics have bedeviled the British Royal Family through the years; and some members of the Firm have been a bit suspicious themselves. Now the remarkable relationship between the Royals and the intelligence community is revealed in Crown, Cloak, and Dagger: The British Monarchy and Secret Intelligence from Victoria to Queen Elizabeth II. Join the authors, historians Richard J. Aldrich of the University of Warwick and Rory Cormac of the University of Nottingham, for an exploration of their majesties' role in the shadowy realm of secrets. From the origins of the British secret services as protection against the persistent attempts on Queen Victoria's life in the 19th century to the national security risk posed by former King Edward VIII and his American wife in the 1930s, the real stories trump even the most dramatic Netflix series. International Spy Museum Director of Adult Education Amanda Ohlke will interview Aldrich and Cormac about their original research and the new evidence they have uncovered to present the British monarchy in an entirely new light and reveal how far their majesties still call the shots in a hidden world. Just what exactly could make Queen Elizabeth II raise her eyebrow knowingly at prime ministers and spymasters? Visit www.spymuseum.org.
28 September 2023 (Thursday), 2:00-3:00pm – Washington, DC – SPY with Me: Memory Loss Program – Virtual International Spy Museum Program
SPY with Me is an interactive virtual program for individuals living with dementia and their care partners. Join SPY as we use music and artifacts to explore some of our favorite spy stories. Programs last one hour and are held virtually through Zoom. Every month the same program is offered on two different dates. To register, please email Shana Oltmans at soltmans@spymuseum.org. Free but space is limited. Visit www.spymuseum.org.
05 Oct 23, 1800-2130 (ET) – Washington, DC – Fireside conversation to discuss Dr. Mike Vickers's new memoir, By All Means Available: Memoirs of a Life in Special Operations, Intelligence, and Strategy. – PIPS Alumni Network and OSS Society
In 1984, Michael Vickers took charge of the CIA's secret war against the Soviets in Afghanistan. After inheriting a strategy aimed at imposing costs on the Soviets for their invasion and occupation of Afghanistan, Vickers transformed the covert campaign into an all-out effort to help the Afghan resistance win their war. More than any other American, he was responsible for the outcome in Afghanistan that led to the end of the Cold War. In By All Means Available, Vickers recounts his remarkable career, from his days as a Green Beret to his vision for victory in Afghanistan to his role in waging America's war with al-Qa'ida at the highest levels of government. In captivating detail, he depicts his years in the Special Forces—including his training to parachute behind enemy lines with a backpack nuclear weapon in the event of a Soviet invasion of Western Europe—and reveals how those experiences directly influenced his approach to shaping policy. Vickers has played a significant role in most of the military and intelligence operations of the past four decades, and he offers a deeply informed analysis of the greatest challenges facing America today, and in the decades ahead. Attendees will receive a signed copy of Dr. Vickers new book By All Means Available. A cocktail hour with light hors d'oeuvres will follow the program. This event has limited seating and early registration is recommended. More information and registration here.
11 Oct 2023 (Wednesday), 1700-1900 (ET) - The 2nd Annual Cocktails & Codebreakers event - co-hosted by the National Cryptologic Foundation (NCF) and the Intelligence and National Security Foundation (INSF)
Attend to celebrate Men & Women in Cryptology at this 2nd Annual event.
We have also extended the early bird ticket rate of $150 through Tuesday, September 12th.
This year, Cocktails and Codebreakers will celebrate "Men and Women in Cryptology." Following an opening networking reception, The Honorable Ronald S. Moultrie, Under Secretary of Defense for Intelligence & Security (USDI&S) and GEN Paul M. Nakasone, Commander, U.S. Cyber Command; Director, National Security Agency; Chief, Central Security Service, will participate in a joint Fireside Chat.

The Early Bird & NCF Member Rate of $150.00 is EXTENDED until 12 September 2023
Individual Tickets = Early Bird & Members Rate of $150 - until 12 September 2023
Full Price Tickets = $189 per person (after September 4th)
Event location: The Hotel at Arundel Preserve: 7795 Arundel Mills Blvd, Hanover, MD 21076

Register now, or for more information, do so here.

14 - 25 April 2024 - Gary Powers' Cold War Espionage Tour of Austria, the Czech Republic, Slovakia & Hungary - Travel Dates: April 14 to 25,2024 - 12 days/10 nights

Join author & historian Gary Powers Jr. on this 12-day tour of Cold War and espionage related sites in Austria, the Czech Republic, Slovakia & Hungary
The deadline to enroll is 11/30/23 with a required deposit of $495. Final payment is due 12/30/23.
What's Included: • Round-trip air transportation from Washington, DC; • 10 nights in centrally located, four-star hotels; • Full-time CHA Tour Director; • Valuable insight & informative commentary by Gary Powers Jr.; • On-tour transportation by private motorcoach; • Breakfast & dinner (or lunch) daily; • Sightseeing tours & visits shown in itinerary (subject to change based on availability)
Tour Prices: Full Tour Price: $5,695 per person; Land Tour Price: $4,645 per person (does not include round-trip airfare and airport transfers); Repeat Gary Powers travelers will receive a $200 discount! Price based on double occupancy.
A $600 single room fee will apply for travelers without roommates.
The deadline to enroll is 11/30/23 with a required deposit of $495. Final payment is due 12/30/23.
Questions? Call 1-800-323-4466 or email info@cha-tours.com.
Enroll Online at: www.cha-tours.com/GaryPowers

---
---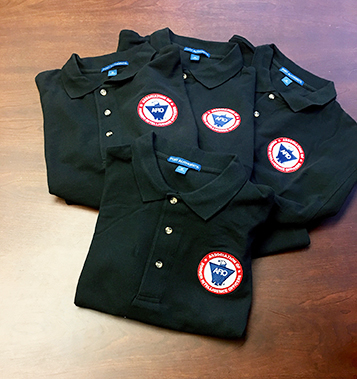 Now available: Black short-sleeved polo shirts with Embroidered AFIO logo
Show your support for AFIO with our new Black Short-sleeve Polo Shirts. Shirts are shrink and wrinkle resistant of fine cotton with a soft, "well-worn, comfy" yet substantial feel. They feature a detailed embroidered AFIO seal. Get a shirt for yourself and consider as gifts for colleagues, family, and friends. Only $50 each including shipping.
Sizes for (M) men, only; Small, Medium, Large, XL, XXL, and XXXL. $50 per shirt.
You may pay by check or credit card. Complete your order online here or mail an order along with payment to: AFIO, 7600 Leesburg Pike, Ste 470 East, Falls Church, VA 22043-2004. Phone orders at 703-790-0320. Questions? Contact Annette at: annettej@afio.com.
---

PopSocket for cellphones or tablets
Show your support to AFIO while enjoying the convenience offered by our AFIO Logo PopSocket. The PopSocket is most commonly used as a stand and as a grip for your mobile phone or tablet; handy for taking selfies, watching videos, and for texting. The PopSocket looks like a small button or sticker which, when closed, sticks flat to your mobile device. However, its accordion-like design enables it to pop open for use. The benefits of using a PopSocket make it a must-have accessory for your mobile phone or tablet. It also aids in keeping your phone from slipping off your hand during use, falling, or breaking.
Price: $15. Order this and other store items online here.
---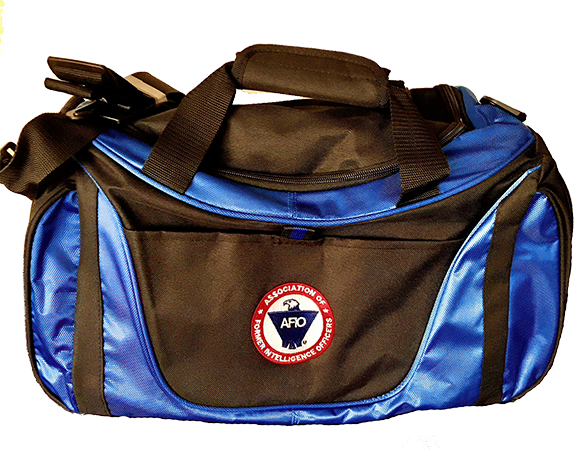 Duffel Bags - Royal Blue and Black with Full Color AFIO Logo This duffel has it all when it comes to value, style and organization.
600 denier polyester canvas with polyester double contrast; D-shaped zippered entry for easy access. Front pocket with hook and loop closure. End mesh pocket Easy-access end pockets. Four durable, protective feet and built-in bottom board for added strength. Web handles with padded grip. Detachable, adjustable shoulder strap.
Dimensions: 11"h x 19.75"w x 9.75"d; Approx. 2,118 cubic inches
Price: $50. Order this and other store items online here.
---
AFIO Mug with color glazed seal.

Made in the U.S.A., dishwasher-safe.
$35 includes shipping.

Sip your morning joe in style or use it to stash pens, cards, paperclips, or candy.
Order this and other store items online here.
---


Caps - Dark Navy with Navy AFIO Logo
An authentic silhouette with the comfort of an unstructured, adjustable fit. Fabric: 100% cotton. Unstructured. Fabric strap closure with adjustable D-clip. Price: $30. Order this and other store items online here.
---
PUBLISHED IN 2023
Be informed on career opportunities in the U.S. Intelligence Community
Intelligence as a Career - with updated listings of colleges teaching intelligence courses, and Q&As on needed foreign languages, as well as the courses, grades, extracurricular activities, and behavioral characteristics and life experiences sought by modern U.S. intelligence agencies.

AFIO's popular 47-page booklet reaches thousands of high school, college students, university guidance offices, and distributed in classes teaching intelligence, to help those considering careers in the U.S. Intelligence Community.

This is the all new fifth edition.
The publication is also popular with University Career Guidance Centers, professors and academic departments specializing in national security, and parents assisting children or grandchildren in choosing meaningful, public service careers.
This booklet is provided online as a public service from the generosity of AFIO board, volunteer editors/writers, donors, and members.
We thank all for their support which makes this educational effort possible.
Careers Booklet (new 2023 Fifth Edition) can be read or downloaded here

---
Guide to the Study of Intelligence...and...When Intelligence Made a Difference
"AFIO's Guide to the Study of Intelligence" has sold out in hard-copy.
It is available in digital form in its entirety on the AFIO website here.

Also available on the website here are the individual articles of AFIO's history project "When Intelligence Made a Difference" that have been published to date in The Intelligencer journal. More articles will be appear in future editions.
---
Address Technical Issues Or Unsubscribe
Some features of the email version of the WIN do not work for readers who have chosen the Plaintext Edition, some AOL users, and readers who access their email using web mail. You may request to change from Plaintext to HTML format here afio@afio.com. For the best reading experience, the latest web edition can be found here: https://www.afio.com/pages/currentwin.htm
To unsubscribe from the WIN email list, please click the "UNSUBSCRIBE" link at the bottom of the email. If you did not subscribe to the WIN and are not a member, you received this product from a third party in violation of AFIO policy. Please forward to afio@afio.com the entire message that you received and we will remove the sender from our membership and distribution lists.
---
Disclaimer and Legal Protection
Weekly Intelligence Notes (WINs) are a carefully selected collection of timely open source reports and announcements and other media focused on intelligence and related national security matters that is produced for non-profit educational use by AFIO members and WIN subscribers. WINs are protected by copyright and intellectual property laws. They may not be reproduced or re-sent without specific permission from the Producer. Opinions expressed in the materials contained in the WINs are solely those of the content creators listed with each item. Notices in the WINs about non-AFIO events do not constitute endorsement or recommendation by AFIO.

(c) 1998 thru 2023


---

AFIO Members Support the AFIO Mission - sponsor new members! CHECK THE AFIO WEBSITE at www.afio.com for back issues of the WINs, information about AFIO, conference agenda and registrations materials, and membership applications and much more! .

AFIO | 7600 Leesburg Pike, Suite 470 East, Falls Church, VA 22043-2004 | (703) 790-0320 (phone) | (703) 991-1278 (fax) | afio@afio.com
---
About AFIO | Membership Renewal | Change of Address | Upcoming Events | Chapter Locations | Corporate/Institutional Memberships | Careers in Intelligence Booklet | Guide to the Study of Intelligence | Intelligencer Journal | Weekly Intelligence Notes | Make A Donation | AFIO Store | Member-Only Section | Code of Ethics | Home Page
RETURN TO TOP
---