---
China appears to have suspended spy balloon program after February shootdown, US intel believes - CNN, 15 Sep 23
China appears to have suspended its surveillance balloon program following a major diplomatic incident earlier this year, when one of the country's high-altitude spy balloons transited the United States, multiple sources familiar with US intelligence assessments told CNN. US officials believe that Chinese leaders have made a deliberate decision not to launch additional balloons since the one over the US was shot down by American fighter jets in February, the sources said. The US has not observed any new launches since the episode occurred. The apparent suspension of the program comes as both the US and China have sought to stabilize an increasingly tense relationship. Asked for comment on the balloon program, Chinese embassy spokesperson Liu Pengyu told CNN that the February episode was "unexpected" and "isolated." (View report here.)
NSA, FBI warn of expanding use of 'deepfakes' in new report - Washington Times, 14 Sep 23
Criminals and intelligence services are expected to increase the use of "deepfakes" — manipulated and misleading audio and video images — to target government and the private sector for disinformation operations or financial gain, according to a new joint intelligence report. "Deepfakes are a particularly concerning type of synthetic media that utilizes artificial intelligence/machine learning (AI/ML) to create believable and highly realistic media," wrote the authors of the joint report by the National Security Agency, FBI, and Cybersecurity and Infrastructure Security Agency. (Full article here.)
Former leaders of Israel's security services are speaking out against Netanyahu's policies - Associated Press, 12 Sep 23
They contended with bloody uprisings, destabilizing wars and even the assassination of a prime minister during their service. But for dozens of former Israeli security commanders, the policies of Prime Minister Benjamin Netanyahu's far-right government are the biggest threat yet to the country's future. In unprecedented opposition, more than 180 former senior officials from the Mossad, the Shin Bet domestic security agency, the military and the police have united against steps they say will shatter Israel's resilience in the face of mounting threats from the West Bank, Lebanon and Iran. "We were used to dealing with external threats," said Tamir Pardo, a former head of Israel's Mossad intelligence agency and a leader of the new group. "We've been through wars, through military operations and all of a sudden you realize that the greatest threat to the state of Israel is internal." (Full article here.)
Military secrets leaked on 'War Thunder' forums yet again - Task and Purpose, 13 Sep 23
It's becoming increasingly clear that the quickest way to expose U.S. military secrets is to become a gamer. Case in point: A War Thunder player recently posted images from the F-117 Nighthawk's flight manual on a forum that players frequent, marking the 12th time that classified or sensitive information has been shared in the video game's community, according to Brandon Lyttle, of the Niche Gamer website. War Thunder, which is developed by Gaijin Entertainment, is a multiplayer game that attempts to give users a hyper-realistic simulation of U.S. and foreign military technologies. The forum's focus on realism has proved to be its Achilles heel, as players have repeatedly violated OPSEC to make a point or settle an argument. In this case, the data about the stealth fighter posted by the War Thunder user included locations of its sensors, engine specifications, and firing angles, Niche Gamer first reported on Monday. (Full article here.)
New leader for White House counterintelligence office is confirmed in Senate - The Record, 12 Sep 23
The Biden administration finally has a new leader for its counterintelligence office after the Senate easily confirmed Michael Casey for the job. Casey, the Democratic staff director for the Senate Intelligence Committee, was confirmed by unanimous consent on Tuesday to be director of the National Counterintelligence and Security Center (NCSC). He was tapped in June for the post — which has sat empty for about two and a half years — and approved by the Senate Intelligence Committee in July. His relatively swift confirmation stands in stark contrast to his predecessor, Bill Evanina, who had to wait almost two years to be approved by the Senate because of unrelated political reasons. (Full article here.)
Space Force 'actively' reviewing programs to potentially reduce secrecy: CSO Saltzman - Breaking Defense, 13 Sep 23
The Space Force is in the process of reviewing the classification level for each of its programs, in the hopes of clearing away at least some the secrecy that commanders long have complained make it more difficult for the service to do its job, Chief of Space Operations Gen. Chance Saltzman said Tuesday. "The problem is that sometimes we classified things so early in the life cycle. … We've protected very conservatively early on. Procedurally, then, we kind of carry that classification through to operational systems. That's a problem that we can fix," he told reporters at the annual Air and Space Force Association conference. "So, what we're doing is we're actively going in and looking at the programs as they go through the life cycle, and then revisiting the security classification before a system goes operational. We go: 'What do we really need to protect here and for what reason?' rather than just saying all of the premises that were made, all the assumptions that were made 10 years ago are still valid," he said. (Full article here.)
NSA plans new 'innovation pipeline' to focus on China - Federal News Network, 13 Sep 23
The National Security Agency's China directorate will soon launch an "innovation pipeline" focused on the competition with China and solving the NSA's most pressing challenges. David Frederick, the NSA's assistant deputy director for China, said the new program will be called "Red Ventures." During a webinar hosted by the Intelligence and National Security Alliance on Tuesday, Frederick said the effort should be launched within the next six months. "You'll be hearing about some opportunities to come and talk about potential solutions related to our challenge problems to feed a new innovation pipeline that we're going to establish," Frederick said. "That's meant to reach out to industry and also internally to our workforce to look for a whole range of solutions to our hardest problems." The focus will be on China and "the China mission," an NSA spokesman told Federal News Network. Frederick said the NSA would be working with "the defense industrial base and technology partners" on innovation.(Full article here.)
CIA 'looking into' allegations connected to COVID-19 origins - ABC News, 13 Sep 23
The Central Intelligence Agency (CIA) confirms to ABC News it is "looking into" accusations that several members of an agency team tasked with COVID-19 pandemic analysis were paid off "significant" hush money in order to buy a shift in their position about where the virus came from -- but the agency emphasized it does not pay its analysts to reach particular conclusions. "At [the] CIA we are committed to the highest standards of analytic rigor, integrity and objectivity. We do not pay analysts to reach specific conclusions," CIA spokesperson Tammy Kupperman Thorp said in a statement to ABC News. "We take these allegations extremely seriously and are looking into them. We will keep our Congressional oversight committees appropriately informed." The CIA's comment and review come in response to claims leveled in a new letter from two Republican House chairmen to CIA Director Bill Burns, sent Tuesday, which says there is a whistleblower within current, senior ranks of the agency, making these allegations. (Full article here.)
'Iron Felix' rises again over Russia's spy service in Moscow - Reuters, 11 Sep 23
A bronze statue of "Iron Felix" Dzerzhinsky, the ruthless founder of the Soviet secret police and architect of the Red Terror which followed the 1917 revolution, was unveiled on Monday at the headquarters of Russia's foreign spy service. Dzerzhinsky, a Polish noble-turned-revolutionary who helped lay the foundations of the repressive system over which Josef Stalin was to preside, is reviled by dissidents but is a hero to the spies who rule in Vladimir Putin's Russia. After the 1989 fall of the Berlin Wall, his statue was toppled to cheers in Poland and as the Soviet Union itself crumbled in 1991 a monument to Dzerzhinsky outside the KGB headquarters on Lubyanka Square in Moscow was toppled amid rejoicing by many. But now Felix is back among Russia's spies. (Full article here.)
Spy agencies battling the fentanyl crisis fear their most powerful weapon is at risk - American Military News, 15 Sep 23
American spies and intelligence agencies are quietly on the front lines of a global battle against fentanyl, a drug ravaging communities across the United States. Now a tool the CIA says is critical to that fight is at risk in Congress this fall. A 9/11-era surveillance program is enabling the intelligence community to monitor the production line of fentanyl overseas – from the smuggling of chemicals across the Pacific to its assembly in clandestine facilities throughout Mexico. Known as Section 702 of the Foreign Intelligence Surveillance Act, the program allows law enforcement and intelligence agencies to surveil foreigners who are located abroad and communicating on U.S. internet and phone service providers, without obtaining a warrant. (Full article here.)
Counterespionage Corner - Recent Arrests, Convictions, Expulsions, and more...
Cyberespionage Collection - Newly Identified Actors and Operations, Countermeasures, Policy, other...
---
The Latest from International Spy Museum Historian Andrew Hammond, PhD.
Spycast is the official podcast of the International Spy Museum and hosts interviews with intelligence experts on matters of HUMINT, SIGINT, IMINT, OSINT, and GEOINT. Spycast is hosted by historian Andrew Hammond, PhD.
12 Sep | "Irish Garda Intelligence Chief" – with Assistant Commissioner Michael McElgunn Michael McElgunn joins Andrew Hammond to discuss intelligence in the Republic of Ireland. Michael is the Assistant Commissioner of An Garda Síochána's Crime and Security Intelligence Service.
Previous episode:

05 Sep | "Kenya, East Africa, and America" – with African Intelligence Chief Wilson Boinett

---
The Latest Insights from Former CIA Acting Deputy Director for Operations Jack Devine.
In Other News The proprietary analytic newsletter crafted for The Arkin Group's private clients by former CIA Acting Deputy Director for Operations Jack Devine.
14 Sep | China's ambitions are bumping up against reality, but it's unclear if President Xi will reverse course this far down the line.It has been widely reported that the Chinese economy is in trouble- replete with high youth unemployment, a real estate crisis, and the exit of critical private investors. Non-performing loans and debt overload at the local government level, Chinese consumers who are saving vs spending, and an aging population due to the One Child policy era, are further contributing to China's economic stagnation. Indeed, regardless of the official state claim that there's no problem, China has fallen below the double-digit economic growth it needs to provide for its society- and there's real concern within both the Chinese and international communities about how President Xi is going to handle the challenging economic reality. (Full version available to AFIO members in the coming days here.)
Previous Issue:
08 Sep | With a shakeup of the leadership of Ukraine's Defense Ministry and the successful breach of the Russia's first line of defense near Robotyne, there is renewed hope in Kyiv that its war effort will take on fresh momentum.
---
Daily Analysis of Security Issues and Geopolitical Trends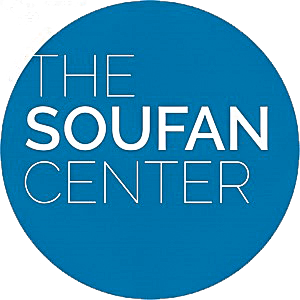 Intel Brief The Soufan Center's flagship, daily analytical product focused on complex security issues and geopolitical trends that may shape regional or international affairs. The Soufan Center was founded by former FBI Special Agent and Soufan Group CEO Ali Soufan.
19 Sep | U.S. and Iran Finalize Prisoner Swap

On September 18, five detained U.S. citizens and residents flew out of Iran as part of a prisoner swap deal that will also see approximately $6 billion in frozen Iranian oil revenues released to Qatar's central bank, where they can be accessed by Iran for humanitarian purposes. The five arbitrarily detained Americans are to be exchanged for five Iranians convicted of violating U.S. sanctions on Iran. The liberated Americans include Siamak Namazi, Emad Sharghi, Morad Tahbaz, and two others whom U.S. officials say asked not to be identified. Both Sharghi and Tahbaz have been held since 2018, while Namazi has been held since 2015. In August, as the agreement was close to being finalized, four of the five Americans were released from Iran's notorious Evin Prison to join the fifth U.S. citizen under house arrest in an Iranian hotel to await release. Namazi's father, Baqer, had also been held with him in Iran since 2016, but was released on humanitarian grounds in 2022 due to his failing health. The five Iranians to be freed by U.S. authorities include a U.S. permanent resident and a U.S.-Iranian dual national. A spokesperson for Iran's foreign ministry said only two of the five Iranian prisoners being freed by the United States would return to Iran; two had chosen to remain in the United States as legal residents, and one would return to a third country.
18 Sep | Not a Drop to Drink: Water Scarcity Gives Rise to Local Violence, International Disputes

15 Sep | Millions Displaced in Sudan as the Prospect of Another Genocide Looms Large

14 Sep | Despite Assad Normalization, Syria Remains a Powder Keg

13 Sep | Iran Taking Steps to Avoid Crisis Over its Nuclear Program, Agrees to Prisoner Swap with U.S.

12 Sep | G-20 Summit Reveals Deep Geopolitical Divisions and Increasing Competition

---
Analysis of Global Security Events with WTOP National Security Correspondent JJ Green

Inside the SCIF - 14 Sep - Border Security, Election Security, Spies in Warsaw, War in Ukraine, and more...
Target USA Podcast - 14 Sep - Putin and Kim pursue formal alliance

The Hunt Broadcast - 06 Sep - UK to label the Wagner mercenary group a terrorist organization




---
The Latest Insights from Jeff Stein and Colleagues in SpyTalk

15 Sep | A Royal Shade of Spies - Henry Allen
Good to know that the British royal family does more than cut ribbons and gently wave to onlookers—to know that a king of England is more than his ceremonial presence, the equivalent of a department-store Santa Claus—that despite a reputation of dimness and decadence the royals are actually canny manipulators of intelligence. Or so one learns from a reading of Crown, Cloak and Dagger by two British scholars who examine what happens when the kingdom's intelligence chiefs partner with what the British like to call the "soft power" of the monarchy. (Full article here.)

14 Sep | A CIA Epitaph on 9/11 - Jeff Stein
Cindy Storer was a valiant, even heroic, in my book, former CIA expert on Al Qaeda. All the frantic warnings of Cindy and her workmates, most of them women, that Bin Laden was coming for us went up in smoke and fire on September 11, 2001. And she's here to talk about it with me this week. "We don't really talk about how we feel at the anniversary, and I have kinda mixed emotions about it," she says. "I think of the people still working and still still in the fight, so to speak. I think of my friends who were actually in New York and Washington, D.C. and experienced both attacks. And for them, these anniversaries are more visceral because they were physically present and they saw things… (Full article here.)


To support SpyTalk, subscribe here.



---
Article: In Risky Hunt for Secrets, U.S. and China Expand Global Spy Operations - New York Times, 17 Sep 23
As China's spy balloon drifted across the continental United States in February, American intelligence agencies learned that President Xi Jinping of China had become enraged with senior Chinese military generals. The spy agencies had been trying to understand what Mr. Xi knew and what actions he would take as the balloon, originally aimed at U.S. military bases in Guam and Hawaii, was blown off course. Mr. Xi was not opposed to risky spying operations against the United States, but American intelligence agencies concluded that the People's Liberation Army had kept Mr. Xi in the dark until the balloon was over the United States. American officials would not discuss how spy agencies gleaned this information. But in details reported here for the first time, they discovered that when Mr. Xi learned of the balloon's trajectory and realized it was derailing planned talks with Secretary of State Antony J. Blinken, he berated senior generals for failing to tell him that the balloon had gone astray, according to American officials briefed on the intelligence. The episode threw a spotlight on the expanding and highly secretive spy-versus-spy contest between the United States and China. The balloon crisis, a small part of a much larger Chinese espionage effort, reflects a brazen new aggressiveness by Beijing in gathering intelligence on the United States as well as Washington's growing capabilities to collect its own information on China. (Read full report here.) (NOTE: This material may require a one time free subscription or sit behind a paywall.)
Article: Foreign student arrested in Norway on suspicion of espionage including electronic eavesdropping - Associated Press, 10 Sep 23
A 25-year-old foreign student has been arrested in Norway on suspicion of espionage, including illegal eavesdropping through various technical devices. Norway's domestic security agency, known by its acronym PST, told Norwegian media that the man, who was arrested on Friday, was charged in court on Sunday with espionage and intelligence operations against the Nordic country. The man, whose identity and nationality haven't been disclosed, has pleaded not guilty in initial police questioning. Norwegian authorities haven't said which country the man was allegedly spying for. (Read full report here.)
Article: Russia has 'neutralised' hundreds of foreign intelligence agents, top security official says - Reuters, 14 Sep 23
A top Russian security official said in an article published on Friday that Moscow had "neutralised" hundreds of foreign spies in recent years. Nikolai Patrushev, the secretary of Russia's Security Council, wrote in Russia's foreign intelligence agency's house magazine: "In recent years, hundreds of employees of foreign intelligence services, as well as other persons involved in organising intelligence and subversive activities against our country and our strategic partners, have been identified and neutralised". (Read full report here.)
Article: C.I.A. Discloses Identity of Second Spy Involved in 'Argo' Operation - New York Times, 14 Sep 23
In the midst of the 1979 Iran hostage crisis, the C.I.A. began what came to be noted as one of the spy agency's most successful publicly known operations: the rescue of six American diplomats who had escaped the overrun U.S. Embassy — using a fake movie as the cover story. "Argo," the real-life 2012 movie about the C.I.A.'s fake movie, portrayed a single C.I.A. officer, Tony Mendez, played by Ben Affleck, sneaking into Tehran to rescue the American diplomats in a daring operation. But in reality, the agency sent two officers into Tehran. For the first time on Thursday, the C.I.A. is releasing the identity of that second officer, Ed Johnson, in the season finale of its new podcast, "The Langley Files." (Read full report here.) (NOTE: This material may require a one time free subscription or sit behind a paywall.)
Article: Is There Still a Role for Regime Change? - Discourse, 15 Sep 23
Fifty years ago this week, a coup led by General Augusto Pinochet overthrew the elected Marxist government of Salvador Allende in Chile. Although the U.S. government didn't back the coup, it often used covert methods to limit the influence of Soviet-backed regimes in the region and install leaders who would be more favorable toward the U.S. This milestone reminds us how often the U.S. has sponsored "foreign-imposed regime change" (FIRC) over the years. Although not as common today as during the Cold War—during which time scholar Lindsey O'Rourke counts the U.S. launching 64 FIRC operations—the sponsorship of regime change, either by political pressure, economic sanctions, covert action or overt force, remains a potent U.S. foreign policy tool. O'Rourke adds that every president in the post-Cold War era has pursued regime-change policies. Foreign policy scholars often look askance at such activities, claiming they are ineffective, if not morally disagreeable. But despite the evidence, U.S. policymakers will always seek ways to positively shape the international environment for the country's national security objectives. Given this reality, we should consider when better principles on FIRC might be necessary. (Read full report here.)
Book Release: 'A Faithful Spy' by Jimmy Burns to be published by Chiselbury on 1 October 2023 - EinPress, 13 Sep 23
Chiselbury, the independent publisher, is pleased to announce that 'A Faithful Spy' by prize-winning author Jimmy Burns will be published on 1 October 2023. Drawing on previously undisclosed personal papers, this biography of Walter Bell gives a remarkable insight into the working of British Intelligence. Bell's long career in government service had him working as an MI6 and MI5 officer. He inhabited the shadowlands of secret intelligence straddling the Atlantic during World War Two before serving in the UK embassy, Washington, during a critical period in the post-war Anglo-American relationship. There were subsequent postings in Kenya, India and the Caribbean, where he keenly observed the challenging politics of the twilight of the British Empire. Since these were largely covert assignments, his high-level contacts with key historic figures such as FBI director J. Edgar Hoover, UK wartime MI6 chief in the US, Bill Stephenson, the Russian spies Donald Maclean and Kim Philby, British spy chiefs Dick White and Roger Hollis, and post-colonial independence leaders Jomo Kenyatta, Jawaharlal Nehru and Norman Manley have remained both undiscovered and undisclosed. Until now. (Read full report here.)
Analysis: Rogue Russian pilot tried to shoot down RAF surveillance aircraft in 2022 - BBC, 10 Sep 23
A Russian pilot tried to shoot down an RAF surveillance plane after believing he had permission to fire, the BBC has learned. The pilot fired two missiles, the first of which missed rather than malfunctioned as claimed at the time. Russia had claimed the incident last September was caused by a "technical malfunction". The UK's Ministry of Defence (MoD) publicly accepted the Russian explanation. But now three senior Western defence sources with knowledge of the incident have told the BBC that Russian communications intercepted by the RAF RC-135 Rivet Joint aircraft give a very different account from the official version. The RAF plane - with a crew of up to 30 - was flying a surveillance mission over the Black Sea in international airspace on 29 September last year when it encountered two Russian SU-27 fighter jets. (Read full report here.)
Article: My Encounters With a Suspected Spy - Wall Street Journal, 12 Sep 23
When the email from the alleged spy for China landed in my inbox, it took me a moment to realize I should pay attention to it. It was a speaking invitation and arrived on the afternoon of Jan. 2. Would I participate in a panel discussion for a forthcoming book about the contest between democracies and autocracies? Such requests cross my transom from time to time, and I admit I don't always respond quickly. I almost overlooked this one until a few details caught my eye. The invitation came on behalf of the China Research Group, a caucus of members of the British Parliament with hawkish views on Beijing. I respect one of the CRG's founders, Tom Tugendhat, who is now security minister. And I'd met the author of the book a few years before and was happy to help him launch his new work even though I suspected I wouldn't agree with parts of it. I accepted the invitation. (Read full report here.) (NOTE: This material may require a one time free subscription or sit behind a paywall.)
Article: Beijing claims US citizen jailed for life in China was decorated spy who worked undetected for decades - CNN, 13 Sep 23
Beijing claims an American citizen jailed for life in China earlier this year is a decorated spy who had worked for US intelligence for more than three decades, as it ramps up a campaign warning citizens to guard against foreign espionage. John Shing-Wan Leung, a 78-year-old US citizen who also holds permanent residency in Hong Kong, was sentenced to life in prison by a Chinese court in May on espionage charges. At the time, authorities provided no details about his case, except that he was detained by state security officers in April 2021. Months after the sentencing, the Ministry of State Security, China's main civilian spy agency, claimed in a social media post Monday that Leung had been recruited by US intelligence agencies in 1989 and received what it termed a "merit medal" for the large amount of intelligence he allegedly collected. (Read full report here.)
Article: China Sows Disinformation About Hawaii Fires Using New Techniques - New York Times, 11 Sep 23
When wildfires swept across Maui last month with destructive fury, China's increasingly resourceful information warriors pounced. The disaster was not natural, they said in a flurry of false posts that spread across the internet, but was the result of a secret "weather weapon" being tested by the United States. To bolster the plausibility, the posts carried photographs that appeared to have been generated by artificial intelligence programs, making them among the first to use these new tools to bolster the aura of authenticity of a disinformation campaign. For China — which largely stood on the sidelines of the 2016 and 2020 U.S. presidential elections while Russia ran hacking operations and disinformation campaigns — the effort to cast the wildfires as a deliberate act by American intelligence agencies and the military was a rapid change of tactics. (Read full report here.) (NOTE: This material may require a one time free subscription or sit behind a paywall.)
Book Release: The Zurich Printout - Frank Hawkins, 06 Sep 23
In this high-octane espionage thriller, the secretive world of Swiss banking collides with the clandestine operations of international intelligence agencies. When two friends inadvertently crack the code to Zurich's most closely guarded numbered accounts, they uncover a web of intrigue that stretches from the corridors of power in Washington, D.C., to the heart of the Kremlin and the sanctified halls of the Vatican. As suspicions escalate, the Americans point fingers at the Russians, believing it to be a provocative act of espionage, while the Russians are equally convinced that it's a cunning American intelligence ploy. However, lurking in the shadows is a Vatican cardinal who believes that this audacious breach is the work of the Devil himself. Amidst this chaos and mounting tension, a captivating and brilliant protagonist emerges, a woman as beautiful and sexy as she is smart. She's tasked with the unenviable mission of saving the Swiss banking system from total collapse while preventing a nuclear war that could plunge the world into chaos. (More information and order here.)
Article: Is That a Spy in Your Car? - The Free Press, 18 Sep 23
You know what the Chinese government does really well? Spy. Last year, a human rights group reported that the Chinese government had set up 100 secret "police stations"—seven of them in the U.S.—to spy on Chinese nationals. At the recently concluded G20 summit in New Delhi, the Chinese delegation refused to put some strangely shaped luggage through the hotel scanner. A hotel employee later reported that he saw "suspicious equipment" in one of the open suitcases. And just a few weeks ago, The Wall Street Journal reported that Chinese nationals, posing as tourists, have made some 100 attempts to gain access to U.S. military bases in recent years—including into a missile range in New Mexico. Chinese scuba divers have also been spotted swimming near a rocket launch site in Florida. Military investigators call them "gate-crashers." There is a second kind of spying that relies on technology instead of people. Earlier this year, a Chinese surveillance balloon was sighted traveling across the United States. Huawei, the giant Chinese telecommunications company that has close ties to the military, has long been suspected of creating a "backdoor" in its routers and other equipment, allowing it to scoop up information from U.S. users that can be sent back to China. In 2020, the U.S. Justice Department charged Huawei with conspiracy to steal trade secrets. (Huawei has denied that its equipment has been used to spy on the West.) And of course there's TikTok, which is owned by a Chinese company, and which many U.S. officials are convinced is used to collect data on Americans. (More information and order here.)
---
Complexity in Military Intelligence - International Journal of Intelligence and Counterintelligence, 30 May 2023 (made availabel to non-subscribers 15 Sep 23)
Intelligence studies missed social science's "complexity turn" more than twenty years ago. The aim of this article is to examine military intelligence from a complexity science perspective and discuss related concepts such as sensemaking and reflexivity. For this, military and intelligence theory, doctrine, and practice are studied. Complexity insights from military sciences are used to review mental models and current thinking in military intelligence. Rather than viewing it as a clearly defined and autonomous field or function embodied by a closed intelligence cycle, military intelligence is best seen as a situated practice. This situatedness is illustrated in two cases regarding vertical and horizontal contextual influences. First, a discussion of North Atlantic Treaty Organization deployments in Afghanistan shows important vertical influences: the impact of (political) context and task. Second, a review of United Nations missions exemplifies the horizontal dimension: the need for informal collaboration, ad hoc organization, and a holistic approach. However, both cases show vertical and horizontal influences. Overall, this article stresses the applicability of sensemaking rather than the intelligence cycle and makes suggestions for further incorporating complexity research into intelligence. (Full report here.)
Espionage by Europeans: treason and counterintelligence in post-Cold war Europe - Intelligence and National Security, 11 Sep 23
As war rages in Ukraine, counterintelligence has again taken centre stage for European intelligence agencies. In spite of the long-ascendant espionage threat, to date little is known about who is recruited, what motivated them and how they were caught. This article presents an analysis of espionage against European NATO and/or EU members, based on court convictions in 2010–2021. This provides a first overview of contemporary espionage in Europe, and complements previous research, which is dominated by single-case studies, mainly of Anglo-Saxon cases. Replicating large-N studies of American espionage, the study identifies transatlantic commonalities, including perpetrators being overwhelmingly male, middle-aged, and a mainly working outside of defence or intelligence agencies. But also differences, with Russia being by far the main instigator of espionage in Europe, a strong concentration of cases in Northern Europe, and a diversity of legislation coinciding with equally variable outcomes in court. Generally, the similarities speak to the nature of contemporary espionage, whereas the differences are chiefly attributable to geopolitical differences between the US and Europe. (Full report here.)
Head-in-Sand Approach Undermines American Intelligence - American Enterprise Institute, 12 Sep 23
The guns are now silent in Laascanood [Las Anod], the capital of Somaliland's Sool region. Insurgent forces comprised of Dhulbante clan militias, al-Shabaab terrorists, American-trained Danab commandos and Puntland forces overran Somaliland positions and forced Somaliland's army to retreat. The implications of the fighting have reverberations far beyond Somaliland. First, there is the China-Taiwan angle. Evidence suggests the outbreak of fighting was preplanned, not a spontaneous event. Second, the risk that local insurgents might turn the keys over to al-Shabaab remains high. Al-Shabaab seeks to establish a presence in the region from where they can levy taxes and extort money from people traveling between Somaliland and Somalia. The region does not need another terror safe haven. (Full report here.)
OSINT: Revolution or Renaissance? - AFCEA International's Signal, Sep 2023
The explosion of publicly available and commercially available information that is geotagged, time-boxed and capable of being rapidly aggregated has brought attributes to open-source intelligence (OSINT) long associated with more traditional intelligence disciplines. Conventionally used as a gap filler and to provide valuable context, OSINT's power as a mainstream tool for analysts and decision-makers has been enhanced and expanded. The most notable instance of this recently is the OSINT insight into the Russian invasion of Ukraine. Examples abound of "adtech" data accurately tracking troop movements and even providing targeting-level intelligence. This OSINT revolution is causing people to question how the intelligence community should organize itself to harness this evolving capability. (Full report here.)
Soviet Defector Database - Kevin P. RiehleLawfare, 15 Sep 23
This database is a companion to the 2020 book, Soviet Defectors: Revelations of Renegade Intelligence Officers 1924-1954 (Edinburgh University Press). It is the result of research in over a dozen archives, national and university, that contain information about Soviet intelligence history. It offers brief biographies of Soviet intelligence and state security officers who defected from the Soviet Union to countries around the world. A defector is a person who renounces allegiance to one state or cause in exchange for allegiance to another, in a way that is considered illegitimate by the losing entity. Defectors are a phenomenon that governments fear: they both repudiate the system from which they came, and, if they held a position of trust, provide a source of information about the inner workings of the system. This is particularly true of defectors from intelligence services, because they have privileged access to sensitive information that a government takes great care to keep secret. (Full report here.)
Role of imagery in support of OSINT - Part one (35 mins) - JANES Intelligence Podcast, 04 Sep 23
Robert Cardillo, President, Cardillo Group and previous Director of the National Geospatial Intelligence Agency and Deputy Director of the DIA, joins Harry Kemsley and Sean Corbett to discuss the importance of geospatial intelligence to enhance our use and understanding of OSINT. (Listen here.)
Spies, Satellites, and Data: How China is Expanding Surveillance Overseas - Asia Matters Podcast, 01 Sep 23
A spy balloon and China's presence in Cuba have put the spotlight on Beijing's surveillance network around the globe this year, further fueling tensions with the U.S. But what do we know about China's international intelligence operations? What are Beijing's goals, and how is it using secret agents alongside satellites, TikTok and other hi-tech tools to monitor what happens in other countries? To answer these questions, CSDS-Asia Matters' Paolo Bosonin spoke with former Pentagon official Kari Bingen – director of the aerospace security project at the Center for Strategic and International Studies – alongside Professor Chong Ja Ian from the National University of Singapore, and Liza Lin, Wall Street Journal reporter and co-author of the book, "Surveillance State: China's quest to build a new era of social control". (Listen here.)
Beyond Bias Minimization: Improving Intelligence with Optimization and Human Augmentation - International Journal of Intelligence and Counterintelligence, 13 Sep 23
For the last half-century, the U.S. and Allied Intelligence Community (IC) has sought to minimize the ostensibly detrimental effects of cognitive biases on intelligence practice. The dominant approach has been to develop structured analytic techniques (SATs), teach them to analysts in brief training sessions, provide the means to use SATs on the job, and hope they work. The SAT approach, however, suffers from severe conceptual problems and a paucity of support from scientific research. For example, a highly promoted SAT—the analysis of competing hypotheses—was shown in several recent studies to either not improve judgment quality or to make it worse. This article recaps the key problems with the SAT approach and sketches some alternative interventions. At the core of these proposals is the idea that intelligence agencies should be focused broadly on improving intelligence and not narrowly on minimizing bias. While the latter contributes to achieving the former, overemphasis on bias minimization could inadvertently bias agencies toward a singular form of intervention, blinding then from potentially more effective interventions. Two lines of alternative intervention are sketched. The first line focuses on postanalytic statistical optimization methods such as recalibration and performance-weighted aggregation of analysts' judgments. The second line focuses on a broad human augmentation program to optimize human cognition through better sleep, exercise, nutrition (including nootropic compounds), and biometric tracking. Both lines of effort would require substantial scientific investment by the IC to examine risks and efficacy. (Read full report here.)
Kevin Meiners: Cultivating Your Tribe (26 mins) - INSA's Intelligence Career Conversations podcast, season 1, episode 1, 13 Sep 23
On this week's episode of the ICC podcast, Kevin Meiners, former Deputy Director of National Intelligence for Enterprise Capacity, ODNI, joins host Jim Donnelly for a discussion about IC careers including his thoughts on whether there is a difference between "green and blue badgers", importance of mentors, value of finding your tribe (and sometimes blazing your own path!), and tips for building meaningful mentor/mentee relationships. In his most recent position in his federal government career until he retired in 2020, Kevin Meiners served in the Office of the Director of National Intelligence (ODNI) since July 2013 where, in his capacity as Deputy Director of National Intelligence for Enterprise Capacity, he was responsible for all matters pertaining to the National Intelligence Program (NIP), including resources, workforce, systems acquisition, advanced technology and facilities within the Intelligence Community, on behalf of the Director of National Intelligence. (Listen here.)
From Sea to Shining Sea: How Does Shipping Work? - Visual Capitalist, 26 Jun 23
Earth's surface is covered by 71% water, connecting every corner of the world, so it's no surprise that 80% of global trade is carried by ship. But how does it all work? This is part one of The Shipping Industry: Plotting a Course for the Future, a two-part series for our sponsor Seaspan Corporation about the current state and future of global maritime trade. (Access visual tool and full report here.)
Intelligence in History - A Collection of Recent Content
True Intelligence Matters in Film - Documentary - Spy Ops: Operation Pimlico - Marek Bures (08 Sep 23)
A Soviet double agent requests extraction from Moscow. MI-6 orchestrates a daring escapade to retrieve him before his cover is blown.

More information about this based-on-true-events production here.
Walking Tours - Washington, DC - Sundays (Dates/Times Vary)
Former intelligence officers guide visitors on two morning and afternoon espionage-themed walking tours: "Spies of Embassy Row" and "Spies of Georgetown." For more information and booking, click here or contact rosanna@spyher.co
---
The War of Words: How America's GI Journalists Battled Censorship and Propaganda to Help Win World War II
by Molly Guptill Manning
(Blackstone Publishing, 26 Sep 23)
At a time when civilian periodicals faced strict censorship, US Army Chief of Staff George Marshall won the support of President Franklin Delano Roosevelt to create an expansive troop-newspaper program. Both Marshall and FDR recognized that there was a second struggle taking place outside the battlefields of World War II―the war of words. While Hitler inundated the globe with propaganda, morale across the US Army dwindled. As the Axis blurred the lines between truth and fiction, the best defense was for American troops to bring the truth into focus by writing it down and disseminating it themselves. By war's end, over 4,600 unique GI publications had been printed around the world. In newsprint, troops made sense of their hardships, losses, and reasons for fighting. These newspapers―by and for the troops―became the heart and soul of a unit. From Normandy to the shores of Japan, American soldiers exercised a level of free speech the military had never known nor would again. It was an extraordinary chapter in American democracy and military history. In the war for "four freedoms," it was remarkably fitting that troops fought not only with guns but with their pens. This stunning volume includes fourteen pages of photographs and illustrations.
Order book here.
J. L. Austin: Philosopher and D-Day Intelligence Officer
by M. W. Rowe
(Oxford University Press, 11 Aug 22)
Austere, witty, and formidable, J. L. Austin (1911-1960) was the leader of Oxford Ordinary Language Philosophy and the founder of speech-act theory. This book--the first full-length biography of Austin--enhances our understanding of his dominance in 1950s Oxford, examining the significance of his famous Saturday morning seminars, and his sometimes tense relationships with Gilbert Ryle, Isaiah Berlin, A. J. Ayer, and Elizabeth Anscombe. Throwing new light on Austin's own intellectual development, it probes the strengths and weaknesses of his mature philosophy, and reconstructs his late unpublished work on sound symbolism. Austin's philosophical work remains highly influential, but much less well known is his outstanding contribution to British Intelligence in World War Two. The twelve central chapters thus investigate Austin's part in the North African campaign, the search for the V-weapons, the preparations for D-Day, the Battle of Arnhem, and the Ardennes Offensive, and show that, in the case of D-Day, he played a major role in the ultimate Allied victory. While exploring Austin's dramatic and romantic personal history, Rowe pays close attention to his harsh schooling and pre-war affair with a married Frenchwoman; his wartime marriage, bomb injury, and response to a colleague's murder; and his post-war family life, the growing influence of America, and his tragically premature death. Adding considerably to our knowledge of World War Two, and Austin's diverse and enduring influence, this biography reveals the true complexity of his character, and the full range and significance of his achievements.
Order book here.
---
Mission Yugoslavia: The OSS and the Chetnik and Partisan Resistance Movements, 1943-1945
by Blaž Torkar
(McFarland, 03 Jun 20)
Focusing on the wartime activities of the U.S. Office of Strategic Services (OSS) in Axis-controlled Yugoslavia during World War II, this book chronicles American policy, plans for sending aid and agents, and the establishment of the first training bases in North Africa and the Mediterranean. OSS missions and field operations with the Chetniks and Partisans are cataloged and analyzed for the first time, along with OSS views on Yugoslav border claims against Italy and Austria, the OSS position on Slovenia in postwar Yugoslavia, and the role of Yugoslavs cooperating within the OSS.
Order book here.
---
---
Call for Information: Child of Roger O. Brady, a CIA psychologist 1951-1979, seeks information about his life. He served in Saipan and Lima, Peru. He was assigned to the Department of Psychology. Please contact Kate Brady Moore at mooreod@aol.com.
Call for Sources: Intelligence officers in Jordan between 1999-2022
Author Aaron Magid, who is writing on a book about King Abdullah, is looking to interview intelligence officers who were posted in Jordan in the 1999-2022 timeframe. He can be contacted at aaron.magid1@gmail.com.
Call for Sources: Cyprus 1974
A British history journalist, Andrew Southam, is writing a book about events in Cyprus 1974, which saw an attempted coup against president Archbishop Makarios, two interventions by Turkey, the fall of the Greek Junta, the cutting of aid to Turkey and the assassination of Ambassador Ron Davies; and contributed to the murder a year later of Athens CIA station chief Dick Welch besides other British, Greek and American officials over the subsequent 27 years. This work is an accurate narrative of events (initially called 'Cyprus'74, no control, no conspiracy'), rebutting with evidence various conspiracy allegations of US and/or British collusion with either Greece or Turkey. He would warmly welcome speaking to any intelligence officers who played a role in these events. He can be contacted at andrew2southam@yahoo.co.uk.
Call for Information: Rueben Efron (1911-1993), former CIA translator, HTLINGUAL.
Please contact Mark S. Zaid, Esq. at mark@markzaid.com or (202) 330-5610.
Call for Information: Arnold M. Silvier
Relative of Silvier, aka "Richie Boy," seeks information on the person (or works of) Silver, who was in the US Army during WWII and, later, CIA (1949 - 1978), with postings in Austria, Luxembourg, Germany, Turkey and Washington DC. Please contact nboicecounseling@gmail.com
Survey for Members: Skill Sets Needed for Intelligence Analysis Degree Holders to See Success After Graduation
Northeastern University Security and Intelligence Studies professor researching the skill sets required for Intelligence Analysis degree holders to see success after graduation welcomes the participation of AFIO members in a 5-minute survey in support of the research. Access survey here.
Call for Information: 430th CIC in Salzburg in 1946
I am currently writing about 430th CIC in Salzburg in 1946. I have a (large) CIC file and am now trying to track down further details about two officers mentioned in this: (1) Bill Taylor. The sources do not make clear whether the officer was Major Bill G. Taylor, GSC, Head of the Counter-Intelligence Bureau of G-2 (Intelligence Section), US Forces Austria, or "Mil.Reg." Captain Taylor of Salzburg. Any information on either/both of these officers would be most welcome. (2) Pace B Rose. Rose was a CIC Special Agent in Austria, later a CIA officer who continued to be attached to the Agency after retirement. He died on 3 January 2009. I would like to contact family and friends of Pace Rose. According to the internet, Rose had children, Donna R. Hilverts and Gary W. Rose, and five grandchildren and three great grandchildren. Please contact S.Cody@westminster.ac.uk with any information.
Call for Sources: Intelligence Officers Who Lived in Spain in the 1970s
Spanish journalist Francisco Jiménez is preparing a documentary about the intelligence services in Spain in the 70s. He is looking for intelligence officers who worked in Spain in those years. If you are willing to assist Francisco, he can be reached at fjimenez@globomedia.es.
Call for Sources: Intelligence activities in Grenada and the southern Caribbean between 1979, Operation Urgent Fury, Leonard Barrett
The Washington Post is developing a multi-part audio documentary series (i.e. podcast) chronicling the Grenadian revolution and the US intervention in 1983. They've interviewed nearly 100 people so far, ranging from the heads of state, former Grenadian officials, current and former US officials, veterans, and intelligence officers. They're looking for people who served at the time and may be knowledgeable about intelligence activities in Grenada and the southern Caribbean between 1979 and Operation Urgent Fury. They would also be interested in speaking with anyone who knew Leonard Barrett during the same period. If anyone is interested in participating, please reach out to Washington Post reporter Ted Muldoon via email at ted.muldoon@washpost.com or on Signal at 651-497-5449.
Call for papers: Intelligence and Post-War Reconstruction - International Journal of Intelligence and Counterintelligence
History shows that without planning for post-war reconstruction, apparent victory in war can lead to long-term defeat. On the other hand, wise post-war planning can lead to friendly, peaceful, and profitable relations between victor and vanquished. For political, socio-economic and security-related planning, intelligence plays a crucial role in estimating capabilities, securing infrastructure, locating persons of interest, and rebuilding. In honor of the 75th anniversary of the European Recovery Program (Marshall Plan) after the Second World War, the editors are particularly interested in papers dealing with intelligence concerning post-war reconstruction initiatives and planning connected to historical and recent conflicts. Both case studies and theoretical and methodological approaches are welcome. The studies may include, but do not have to be focused on, the following questions and issues:
The role of diplomatic and military intelligence during the conflict as preparation for post-war reconstruction, from the conceptual to the practical.
What intelligence needs to be collected to secure and boost reconstruction?
What contacts, networks, and infrastructure are necessary for intelligence to be effective?
Who has been or should be approached and/or recruited for reconstruction efforts based on intelligence?
When has intelligent post-war planning (or its opposite) been historically evident?
How should intelligence interact with formerly warring parties and international organizations to empower practical reconstruction efforts?
What intelligence collection challenges have services encountered in working for post-war peace?
How did intelligence factor in the European Recovery Program?
What was George C. Marshall's position on the role of intelligence in general or concrete examples related to "his" plan?
01 Nov 23 deadline. More information and submission instructions here.
Call For Articles: AFIO Journal, The Intelligencer
For the past four years, AFIO has included in The Intelligencer a series of articles on "when intelligence made a difference." Written by scholars, intelligence practitioners, students, and others, they cover events from ancient times to the modern world and in many countries. AFIO is soliciting articles for future issues. Most articles run between 2,000 and 3,000 words, although some are longer or shorter. If you have an idea for an article that fits the theme, email senior editor Peter Oleson at peter.oleson@afio.com.
---
Adjunct Faculty - Intelligence Studies - Fayetteville University - North Carolina
The mission of the Department of Intelligence Studies, Geospatial Sciences, Political Science and History is to provide high-quality educational programs and services in these degree-granting programs and in Philosophy and Sustainability. A major goal of the department's multi-disciplinary faculty is to help students develop key skills and foundational knowledge in the foregoing areas. By offering courses in realms ranging from critical thinking, the humanities, and social science to ethics, civic engagement, environmental studies & sustainability, and global literacy, the departmental faculty strive to empower students with the skills and knowledge they will need to excel in their chosen professions and become effective twenty-first century global citizens. The department will endeavor through its internship programs and will work closely with institutional partners, to provide career pathways for all majors that will assure transitions into meaningful jobs in their chosen field. Through teaching, research, and service, the Intelligence Studies, Geospatial Sciences, Political Science, History, and Philosophy faculty aim to promote the cultural, social, and economic well-being of the residents of the region and the nation.
Additional information and application here.

Assistant Professor in Intelligence and Security - Leiden University - Netherlands
Leiden University's Institute of Security and Global Affairs (ISGA) is inviting applications for a full-time Assistant Professor position in Intelligence and National Security. The successful candidate will have a demonstrable research record in themes related to the vacancy and a strong teaching background in intelligence and security, or a related field, as well as in topics related to the Institute's Bachelor's and Master's programme offerings. The position is aimed at strengthening the Institute's teaching, research and grant-acquisition capacities in a phase of growth and exciting interdisciplinary research opportunities.
Additional information and application here.

Retired Federal Government Employees Wanted - National Security Agency - Fort Meade, Maryland
The National Security Agency (NSA) may occasionally need skilled civilian retirees to augment the existing work force on high priority projects or programs. In order to fill these temporary positions quickly, we need to know who may be interested and available to return to work with us on a short notice basis as well as their skills. Retirees provide expertise and corporate knowledge to temporarily support mission requirements, manpower shortfalls, and/or mentor the next generation of Agency employees. Salary Range: $86,335 - $170,800.
Additional information and application here.

Assistant/Associate Professor of Intelligence Studies (Global Security and Intelligence Studies) - Embry-Riddle Aeronautical University - Prescott, Arizona
Embry-Riddle Aeronautical University's Prescott, Arizona campus is accepting applications for a tenure-track assistant or associate-level professor of intelligence studies to teach intelligence courses to students in the Global Security and Intelligence program. The successful candidate will teach students about the intelligence community, strategic intelligence, the intelligence cycle and intelligence analysis, writing, and briefing. Prior experience working in the intelligence community is strongly preferred. We are interested in candidates with teaching acumen in intelligence analysis and writing using structured analytical techniques.
Additional information and application here.

---
Jack Warner — Former Assistant to Director U.S. Secret Service

John (Jack) Winton Warner, Jr., passed away on July 29, 2023. He was born and raised in the Albany, New York area and attended Colgate University in Hamilton, New York, where he was a long distance runner on the Varsity team. After graduation, he served in the United States Navy aboard the USS Boston CAG-1. A jazz enthusiast and trumpeter, forming bands in high school and college, he organized a musical group onboard ship. They spent evenings at sea playing for the troops. On shore, the band visited orphanages to entertain the children, and often joined in at clubs with local musicians. After the Navy, he relocated to Washington, DC, where he attended American University, obtaining a Master's Degree in Public Communications. He worked for a short time for the Federal Bureau of Investigation before joining the United States Secret Service, where he spent 16 years as an Assistant to the Director. He additionally served as the Director of the Office of Public Affairs as the agency's chief media spokesperson. Representing the organization, he served multiple years on the Boy and Girl Scouts of America National Explorer Presidents' Congress and National Law Enforcement Explorer Congress. In1990, he received the William H. Spurgeon III Award, the highest award to organizations and individuals in recognition of their significant leadership and contribution to the Exploring Program. After leaving the Secret Service, he established a consulting firm specializing in public media relations where he directed training programs for law enforcement associations and agencies. He co-authored the Law Enforcement Media Relations Handbook, A Guide to Effective Media Relations. He served as a member of the Adjunct Faculty of the International Association of Chiefs of Police, and was a member of the Public Relations Society of America.
John Kelly — Former NSA Executive

John Michael Kelly, 84, died at home of brain cancer on Friday, September 8. John was a senior executive at the National Security Agency, where he worked for 35 years, retiring in 1996.
Jerry Ferentinos — Decorated CIA Executive

Jerry John Ferentinos, a retired CIA Senior Administrative Officer and member of the Senior Intelligence Service, who served for 35 years, passed away on September 5, 2023 in Leesburg, VA. Jerry was born in Brooklyn, NY. He graduated from Syracuse University in 1952 and served in the US Army from 1952-1953, joining the CIA in 1953. He completed programs at the Army Language School in Monterey, CA, the Harvard Graduate School of Business, and the Department of State Seminar in National and International Affairs. He had assignments in Austria, Saipan, Greece (twice), Frankfurt, Hong Kong, Dominican Republic, Laos, and Vietnam, He traveled extensively in East Asia, Europe, and Central and South America. He served in several senior positions at Langley and received numerous citations, as well as the Intelligence Medal of Honor.
Jennifer Fuchs — Career NGA Officer

Jennifer Ann Fuchs of St. Louis, Missouri, entered the spiritual world on August 27, 2023. A graduate of Lindbergh High School, she went on to serve as the Editor-in-Chief of The Montage at Meramec Community College. She continued her studies at the University of Missouri Columbia, receiving her Bachelor's degree in 1998. After completing her undergraduate studies, Jennifer focused on finding a career that was both intellectually challenging and also allowed her to give back and make a difference. This led to a 17-year career with the National Geospatial-Intelligence Agency (NGA), first in Washington, DC, and then back in St. Louis, MO, to be closer to family. Jennifer not only achieved professional success at NGA, serving in many critical leadership roles and providing guidance and mentorship to those around her, but she also created and nurtured an environment of kindness, empathy, and humor everywhere she went. She is loved by many at NGA who were lucky enough to call her a colleague, mentor, and friend.
21 Sep 2023 (Thursday), 11:30 AM (MT) - In Person - Dr. Sara Castro discusses "The Dixie Mission: US Intelligence in the Chinese Communist Party 1947-1949" - Colorado Springs, CO - AFIO Rocky Mountain Chapter.
Abstract: From 1947 to 1949, an interagency delegation of U.S. military and intelligence officials operated from the Chinese Communist Party (CCP) base area of Yan'an, China to observe how the CCP guerrillas were faring in their fights against the Japanese. Known as the "Dixie Mission," this group of Americans became the first U.S. officials to have extensive contact with Chinese Communist leaders such as Mao Zedong, Zhou Enlai, and Zhu De. The U.S. Army led the Dixie Mission, but it functioned as a true interagency mission, at least in the field. Its history thus offers a unique view of bureaucratic relationships playing out on a greater scale in Washington as executive branch and military organizations competed for resources and influence. Vulnerability to interagency rivalry, politicization, and logistical challenges regularly limited the intelligence that U.S. officials in Yan'an collected and disseminated to policymakers. This presentation will introduce the Dixie Mission and describe some of the unique intelligence it yielded. Bio: Sara B. Castro is an assistant professor of history at the U.S. Air Force Academy in Colorado Springs, CO, where she began teaching global and East Asian history in 2019. She is also the President of the North American Society of Intelligence Historians, and she serves on the editorial board of the International Journal of Intelligence and Counterintelligence. Castro was named a China Fellow at the Wilson Center in 2020. Before becoming a professor, Castro worked as an intelligence analyst for the Central Intelligence Agency. Her current research focuses on the history of U.S.-China relations through the lens of intelligence collection and analysis.
For more information, contact Steve Pease steve13507@gmail.com
13 Oct 2023 (Friday), 10:30am - 2pm - In-Person Tysons VA - REGISTRATION OPENED for AFIO National Fall Luncheon
This luncheon features fireside chat with Avril Haines, Director of National Intelligence, and Jennifer K. Ewbank, the Deputy Director of CIA for Digital Innovation
Check-in and badge pickup for Registered Attendees begins at 10:30 a.m.
NO registrations or walk-ins at hotel. No payment accepted for this event by mail or at the venue.


Fireside Chat with Avril Haines, Director of National Intelligence, begins at 11:00 a.m. Lunch served noon to 1:00 p.m.
Jennifer Ewbank, Deputy Director of CIA for Digital Innovation speaks at 1:00 p.m. Q&A follows each presentation.
Event ends at 2:00 p.m.
Luncheon prices are $60 for Members; $75 for nonmember guests and all Subscribers. Payment by credit card required at time of registration. No mailed checks or "at the door or at venue" payments accepted or permitted.
Register here
Registration closes when all spaces taken (or NLT 9 October).
Though we do not provide special overnight room rates, if you wish to make room reservations at the hotel, do so here. Cancellation Schedule:
AFIO must commit to the hotel facilities and regrets it must charge a cancellation fee. 100% refund until close of registration. No refunds or cancellations thereafter. You will receive a donation receipt for fees forfeited. A donor statement will be sent showing that you made a "gift to AFIO" in such instances. Gifts to AFIO are tax-deductible. All attendees must be members of AFIO or accompanied by a current member. Learn more about becoming a member at www.afio.com. Questions regarding membership? Contact office at 703-790-0320 or email afio@afio.com Questions regarding this event to events@afio.com
16 October 2023 (Monday) 1730 (ET) - New York City - AFIO New York Chapter hosts Dr. Anthony R. Wells on "US-UK Intelligence in an Era of Global Challenges"
Speaker Bio: Dr. Anthony R. Wells has worked for British Intelligence as a British citizen and US Intelligence as a US citizen, at sea and ashore for both the Royal Navy and the US Navy. A fifty year veteran of the Five Eyes Intelligence community, Dr. Wells received his Ph.D in War Studies from King's College, University of London, and has Bachelor's and Master's from the University of Durham. Dr. Wells is the author of "Between Five Eyes: 50 Years of Intelligence Sharing," "Room39 and the Lisbon Connection", "A Tale of Two Navies", "Guarding Against Extremism in the 21St Century", and "UK-US Intelligence in an Era of Global Challenges."
5:30 - 5:55 Registration, Open bar & Hors d'oeuvres (hot)
6:00 - 7:00 Lecture
7:00 - 7:30 Open bar, Hors d'oeuvres & Book Signing
Venue: Marymount Manhattan College, Regina Peruggi Room, 221 E 71st St, New York, NY
Registration Fee: $50. Cash or check payable to David Hunt at the door
RSVP by 11 October 2023 (Limited Space) to afionyc@gmail.com or David Hunt at 301-520-1417
Cash or check payable at the door to "David Hunt." 

PLEASE ADVISE by 11 October if you are attending. Preferably to: afionyc@gmail.com, or call chapter President David Hunt at 301-520-1417.
27 October 2023 - Naples, FL - Meeting of the New Southwest Florida Chapter
The chapter president, Hugo Harmatz, requests members contact him to give suggestions of topics and speakers for programs. He seeks to ensure the chapter meetings are enjoyable and interesting for all.
He can be reached at lawyur@aol.com
See the AFIO Calendar of Events for scheduling further in the future.
---
20 September 2023 (Wednesday), 6:00pm – Washington, DC – SPY KIDS: ARMAGEDDON – In Person Spy Museum Program at AMC Tysons Corner in McLean, VA
Agents, join Netflix and the International Spy Museum for a special advanced screening of Spy Kids: Armageddon. In the film, when a game developer unleashes a powerful computer virus, the children of two secret agents must work together to save their parents — and the world. Everly Carganilla and Connor Esterson star with Zachary Levi and Gina Rodriguez in this reboot of the "Spy Kids" franchise. Coming to Netflix September 22. Program is free of charge but requires advanced registration. Seating is first-come, first-served.
21 Sep 2023 (Thu), 12:30 - 5pm ET - Boston, MA and Virtual - "Clandestine Operations Against China during the Early Cold War" - Boston University. AFIO members and friends are cordially invited to this free hybrid (in-person and remote) Boston University conference.
Join the Frederick S. Pardee Center for the Study of the Longer-Range Future, the Center for the Study of Asia, and the Kilachand Honors College for a conference titled "Clandestine Operations Against China during the Early Cold War." This conference will, in part, honor the service and sacrifice of CIA officer Richard "Dick" Fecteau, a Lynn, MA, native and Boston University alumnus. The conference will be a hybrid event, combining in-person participation with remote webinar attendance. The half-day conference will be held in the first-floor common room of Boston University's Kilachand Honors College (91 Bay State Road). Registration and the full conference agenda are here.
22 September 2023 (Friday), 12:00pm – Washington, DC – Inside the HEXAGON Secret Satellite Program with Ricky Deutsch – In Person International Spy Museum Program
The HEXAGON satellite program was the "Verify" in President Reagan's "Trust but Verify" negotiation strategy. Initiated by President Eisenhower, satellite intelligence provided film photography of denied areas. At 60-feet long and flying at 100 miles up, HEXAGON was the last film-based reconnaissance satellite used by the US. The program required cooperation between the CIA and the Air Force. It was guided by the National Reconnaissance Office. HEXAGON was designed in the 1960s and remained classified until September 17, 2011. Now the story can be told by someone who was there. Join us in person to hear about the history of film-based space intelligence from Ricky Deutsch. In the 1970s, Deutsch was a US Air Force Captain working as an Operations Director for HEXAGON. From the Satellite Test Center known as the "Blue Cube" in Sunnyvale, CA, Deutsch's military/contractor team generated mission critical commands to be sent to the satellite. Deutsch will reveal how the satellite was built, its major components, the inner workings of the Control Center, and how the satellite interface to six tracking stations worked. He'll detail the on-orbit functions and the role of the CIA to determine which "targets" should be photographed and how this material affected the outcome of the Cold War. Deutsch will also describe the slightly unbelievable way the film reentry vehicles were caught via parachute by C-130 aircraft at 15,000 feet! Visit www.spymuseum.org.
26 September 2023 (Tuesday), 2:00-3:00pm – Washington, DC – SPY with Me: Memory Loss Program – Virtual International Spy Museum Program
SPY with Me is an interactive virtual program for individuals living with dementia and their care partners. Join SPY as we use music and artifacts to explore some of our favorite spy stories. Programs last one hour and are held virtually through Zoom. Every month the same program is offered on two different dates. To register, please email Shana Oltmans at soltmans@spymuseum.org. Free but space is limited. Visit www.spymuseum.org.
26-28 Sep 2023, 0830-1730 (ET) – Arlington, VA – 2023 ERII Counterespionage Conference – Espionage Research Institute International
Join Us for the 2023 ERII Counterespionage Conference. September 26, 27 & 28, 2023 at the AMA Washington Conference Center Arlington, Virginia. Counterespionage, Counterintelligence and TSCM Professionals Discuss Espionage News & Events, Emerging Surveillance Threats & the Impact of Changing Technologies on the Threat Detection Landscape. More information and registration here.
27 September 2023 (Wednesday), 5:00-8:00pm – Washington, DC – Educator Night Out 2023 – In Person International Spy Museum Program
Enjoy an exclusive evening at the International Spy Museum where the red carpet will be rolled out just for teachers. Educators will uncover the secret history of history and discover new and exciting resources to enrich their students' learning across all subjects. During this open-house event, teachers can:explore SPY's exhibits with fellow educators, meet the Museum's youth education team, plan their students' next in-person or virtual SPY field trip, browse SPY's free curriculum and classroom activities, check out SPY's new Digital Learning HQ – an online multimedia tool for educators, be the first to check out SPY's new Exhibit Learning Guides, and shop with a special discount at the SPY store. Registration includes free Museum admission, a welcome bag, a chance to win prizes, and more. NOTE: This event is open to current K-12 classroom and resource teachers only (21+). A valid teacher ID will be required at check-in. See the website for acceptable forms of teacher ID. Educators can arrive any time between 5pm – 7pm (last entry time into the Museum). Program is free of charge but requires advanced registration – walk-up tickets will not be available. Visit www.spymuseum.org.
27 Sep 23, 0800-1700 (ET) – Arlington, VA – INSA's 6th New Intelligence Community Symposium – INSA
Join 250 intelligence and national security colleagues on Wednesday, Sept. 27, from 8:00 AM - 5:00 PM at the Army Navy Country Club in Arlington, VA for a full day of program focused on the challenges and opportunities our community faces as we build, foster, and advance a diverse, world-class workforce. The wide array of programming formats include fireside chats, ted talks, and engaging panel sessions. And of course, there will be plenty of time for networking and relationship building along the way. More information and registration here.
28 September 2023 (Thursday), 12:00pm – Washington, DC – Crown, Cloak, and Dagger with Richard Aldrich and Rory Cormac – Virtual International Spy Museum Program
Assassins, spies, terrorists, and lunatics have bedeviled the British Royal Family through the years; and some members of the Firm have been a bit suspicious themselves. Now the remarkable relationship between the Royals and the intelligence community is revealed in Crown, Cloak, and Dagger: The British Monarchy and Secret Intelligence from Victoria to Queen Elizabeth II. Join the authors, historians Richard J. Aldrich of the University of Warwick and Rory Cormac of the University of Nottingham, for an exploration of their majesties' role in the shadowy realm of secrets. From the origins of the British secret services as protection against the persistent attempts on Queen Victoria's life in the 19th century to the national security risk posed by former King Edward VIII and his American wife in the 1930s, the real stories trump even the most dramatic Netflix series. International Spy Museum Director of Adult Education Amanda Ohlke will interview Aldrich and Cormac about their original research and the new evidence they have uncovered to present the British monarchy in an entirely new light and reveal how far their majesties still call the shots in a hidden world. Just what exactly could make Queen Elizabeth II raise her eyebrow knowingly at prime ministers and spymasters? Visit www.spymuseum.org.
28 September 2023 (Thursday), 2:00-3:00pm – Washington, DC – SPY with Me: Memory Loss Program – Virtual International Spy Museum Program
SPY with Me is an interactive virtual program for individuals living with dementia and their care partners. Join SPY as we use music and artifacts to explore some of our favorite spy stories. Programs last one hour and are held virtually through Zoom. Every month the same program is offered on two different dates. To register, please email Shana Oltmans at soltmans@spymuseum.org. Free but space is limited. Visit www.spymuseum.org.
05 Oct 23, 1800-2130 (ET) – Washington, DC – Fireside conversation to discuss Dr. Mike Vickers's new memoir, By All Means Available: Memoirs of a Life in Special Operations, Intelligence, and Strategy. – PIPS Alumni Network and OSS Society
In 1984, Michael Vickers took charge of the CIA's secret war against the Soviets in Afghanistan. After inheriting a strategy aimed at imposing costs on the Soviets for their invasion and occupation of Afghanistan, Vickers transformed the covert campaign into an all-out effort to help the Afghan resistance win their war. More than any other American, he was responsible for the outcome in Afghanistan that led to the end of the Cold War. In By All Means Available, Vickers recounts his remarkable career, from his days as a Green Beret to his vision for victory in Afghanistan to his role in waging America's war with al-Qa'ida at the highest levels of government. In captivating detail, he depicts his years in the Special Forces—including his training to parachute behind enemy lines with a backpack nuclear weapon in the event of a Soviet invasion of Western Europe—and reveals how those experiences directly influenced his approach to shaping policy. Vickers has played a significant role in most of the military and intelligence operations of the past four decades, and he offers a deeply informed analysis of the greatest challenges facing America today, and in the decades ahead. Attendees will receive a signed copy of Dr. Vickers new book By All Means Available. A cocktail hour with light hors d'oeuvres will follow the program. This event has limited seating and early registration is recommended. More information and registration here.
11 Oct 2023 (Wednesday), 1700-1900 (ET) - The 2nd Annual Cocktails & Codebreakers event - co-hosted by the National Cryptologic Foundation (NCF) and the Intelligence and National Security Foundation (INSF)
Attend to celebrate Men & Women in Cryptology at this 2nd Annual event.
We have also extended the early bird ticket rate of $150 through Tuesday, September 12th.
This year, Cocktails and Codebreakers will celebrate "Men and Women in Cryptology." Following an opening networking reception, The Honorable Ronald S. Moultrie, Under Secretary of Defense for Intelligence & Security (USDI&S) and GEN Paul M. Nakasone, Commander, U.S. Cyber Command; Director, National Security Agency; Chief, Central Security Service, will participate in a joint Fireside Chat.

The Early Bird & NCF Member Rate of $150.00 is EXTENDED until 12 September 2023
Individual Tickets = Early Bird & Members Rate of $150 - until 12 September 2023
Full Price Tickets = $189 per person (after September 4th)
Event location: The Hotel at Arundel Preserve: 7795 Arundel Mills Blvd, Hanover, MD 21076

Register now, or for more information, do so here.

14 - 25 April 2024 - Gary Powers' Cold War Espionage Tour of Austria, the Czech Republic, Slovakia & Hungary - Travel Dates: April 14 to 25,2024 - 12 days/10 nights

Join author & historian Gary Powers Jr. on this 12-day tour of Cold War and espionage related sites in Austria, the Czech Republic, Slovakia & Hungary
The deadline to enroll is 11/30/23 with a required deposit of $495. Final payment is due 12/30/23.
What's Included: • Round-trip air transportation from Washington, DC; • 10 nights in centrally located, four-star hotels; • Full-time CHA Tour Director; • Valuable insight & informative commentary by Gary Powers Jr.; • On-tour transportation by private motorcoach; • Breakfast & dinner (or lunch) daily; • Sightseeing tours & visits shown in itinerary (subject to change based on availability)
Tour Prices: Full Tour Price: $5,695 per person; Land Tour Price: $4,645 per person (does not include round-trip airfare and airport transfers); Repeat Gary Powers travelers will receive a $200 discount! Price based on double occupancy.
A $600 single room fee will apply for travelers without roommates.
The deadline to enroll is 11/30/23 with a required deposit of $495. Final payment is due 12/30/23.
Questions? Call 1-800-323-4466 or email info@cha-tours.com.
Enroll Online at: www.cha-tours.com/GaryPowers

---
---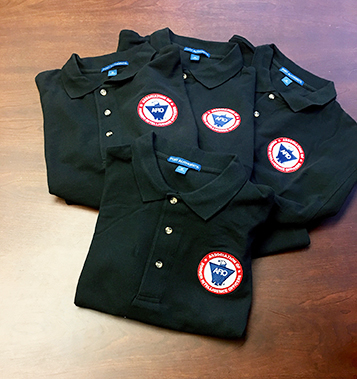 Now available: Black short-sleeved polo shirts with Embroidered AFIO logo
Show your support for AFIO with our new Black Short-sleeve Polo Shirts. Shirts are shrink and wrinkle resistant of fine cotton with a soft, "well-worn, comfy" yet substantial feel. They feature a detailed embroidered AFIO seal. Get a shirt for yourself and consider as gifts for colleagues, family, and friends. Only $50 each including shipping.
Sizes for (M) men, only; Small, Medium, Large, XL, XXL, and XXXL. $50 per shirt.
You may pay by check or credit card. Complete your order online here or mail an order along with payment to: AFIO, 7600 Leesburg Pike, Ste 470 East, Falls Church, VA 22043-2004. Phone orders at 703-790-0320. Questions? Contact Annette at: annettej@afio.com.
---

PopSocket for cellphones or tablets
Show your support to AFIO while enjoying the convenience offered by our AFIO Logo PopSocket. The PopSocket is most commonly used as a stand and as a grip for your mobile phone or tablet; handy for taking selfies, watching videos, and for texting. The PopSocket looks like a small button or sticker which, when closed, sticks flat to your mobile device. However, its accordion-like design enables it to pop open for use. The benefits of using a PopSocket make it a must-have accessory for your mobile phone or tablet. It also aids in keeping your phone from slipping off your hand during use, falling, or breaking.
Price: $15. Order this and other store items online here.
---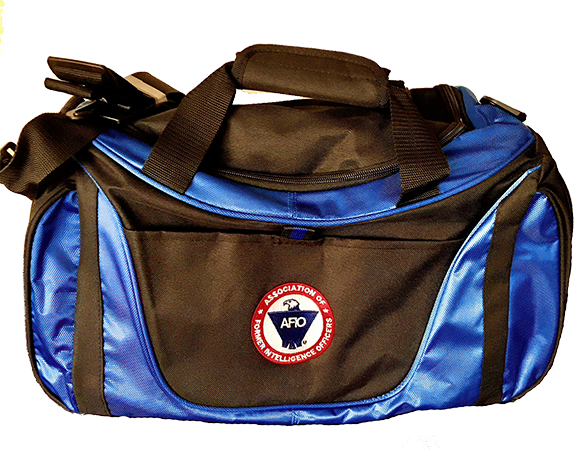 Duffel Bags - Royal Blue and Black with Full Color AFIO Logo This duffel has it all when it comes to value, style and organization.
600 denier polyester canvas with polyester double contrast; D-shaped zippered entry for easy access. Front pocket with hook and loop closure. End mesh pocket Easy-access end pockets. Four durable, protective feet and built-in bottom board for added strength. Web handles with padded grip. Detachable, adjustable shoulder strap.
Dimensions: 11"h x 19.75"w x 9.75"d; Approx. 2,118 cubic inches
Price: $50. Order this and other store items online here.
---
AFIO Mug with color glazed seal.

Made in the U.S.A., dishwasher-safe.
$35 includes shipping.

Sip your morning joe in style or use it to stash pens, cards, paperclips, or candy.
Order this and other store items online here.
---


Caps - Dark Navy with Navy AFIO Logo
An authentic silhouette with the comfort of an unstructured, adjustable fit. Fabric: 100% cotton. Unstructured. Fabric strap closure with adjustable D-clip. Price: $30. Order this and other store items online here.
---
PUBLISHED IN 2023
Be informed on career opportunities in the U.S. Intelligence Community
Intelligence as a Career - with updated listings of colleges teaching intelligence courses, and Q&As on needed foreign languages, as well as the courses, grades, extracurricular activities, and behavioral characteristics and life experiences sought by modern U.S. intelligence agencies.

AFIO's popular 47-page booklet reaches thousands of high school, college students, university guidance offices, and distributed in classes teaching intelligence, to help those considering careers in the U.S. Intelligence Community.

This is the all new fifth edition.
The publication is also popular with University Career Guidance Centers, professors and academic departments specializing in national security, and parents assisting children or grandchildren in choosing meaningful, public service careers.
This booklet is provided online as a public service from the generosity of AFIO board, volunteer editors/writers, donors, and members.
We thank all for their support which makes this educational effort possible.
Careers Booklet (new 2023 Fifth Edition) can be read or downloaded here

---
Guide to the Study of Intelligence...and...When Intelligence Made a Difference
"AFIO's Guide to the Study of Intelligence" has sold out in hard-copy.
It is available in digital form in its entirety on the AFIO website here.

Also available on the website here are the individual articles of AFIO's history project "When Intelligence Made a Difference" that have been published to date in The Intelligencer journal. More articles will be appear in future editions.
---
Address Technical Issues Or Unsubscribe
Some features of the email version of the WIN do not work for readers who have chosen the Plaintext Edition, some AOL users, and readers who access their email using web mail. You may request to change from Plaintext to HTML format here afio@afio.com. For the best reading experience, the latest web edition can be found here: https://www.afio.com/pages/currentwin.htm
To unsubscribe from the WIN email list, please click the "UNSUBSCRIBE" link at the bottom of the email. If you did not subscribe to the WIN and are not a member, you received this product from a third party in violation of AFIO policy. Please forward to afio@afio.com the entire message that you received and we will remove the sender from our membership and distribution lists.
---
Disclaimer and Legal Protection
Weekly Intelligence Notes (WINs) are a carefully selected collection of timely open source reports and announcements and other media focused on intelligence and related national security matters that is produced for non-profit educational use by AFIO members and WIN subscribers. WINs are protected by copyright and intellectual property laws. They may not be reproduced or re-sent without specific permission from the Producer. Opinions expressed in the materials contained in the WINs are solely those of the content creators listed with each item. Notices in the WINs about non-AFIO events do not constitute endorsement or recommendation by AFIO.

(c) 1998 thru 2023


---

AFIO Members Support the AFIO Mission - sponsor new members! CHECK THE AFIO WEBSITE at www.afio.com for back issues of the WINs, information about AFIO, conference agenda and registrations materials, and membership applications and much more! .

AFIO | 7600 Leesburg Pike, Suite 470 East, Falls Church, VA 22043-2004 | (703) 790-0320 (phone) | (703) 991-1278 (fax) | afio@afio.com
---
About AFIO | Membership Renewal | Change of Address | Upcoming Events | Chapter Locations | Corporate/Institutional Memberships | Careers in Intelligence Booklet | Guide to the Study of Intelligence | Intelligencer Journal | Weekly Intelligence Notes | Make A Donation | AFIO Store | Member-Only Section | Code of Ethics | Home Page
RETURN TO TOP
---