---
CONTENTS
Section I - INTELLIGENCE HIGHLIGHTS
Section II - CONTEXT & PRECEDENCE
Section IV - Scholarship Announcement, and Obituaries
Other Upcoming Events from Advertisers, Corporate Sponsors, and Others
For Additional AFIO and other Events two+ months or more... Calendar of Events
WIN CREDITS FOR THIS ISSUE: The WIN editors thank the following special contributors: pjk, mh, km, gh, mk, rd, fm, kc, jm, mr, jg, th and fwr. They have contributed one or more stories used in this issue.
The WIN editors attempt to include a wide range of articles and commentary in the Weekly Notes to inform and educate our readers. However, the views expressed in the articles are purely those of the authors, and in no way reflect support or endorsement from the WIN editors or the AFIO officers and staff. We welcome comments from the WIN readers on any and all articles and commentary.
CAVEATS: IMPORTANT: AFIO does not "vet" or endorse research inquiries, career announcements, or job offers. Reasonable-sounding inquiries and career offerings are published as a service to our members, and for researchers, educators, and subscribers. You are urged to exercise your usual caution and good judgment when responding, and should verify the source independently before supplying any resume, career data, or personal information.]
If you are having difficulties with the links or viewing this newsletter when it arrives by email, members may view the latest edition each week at this link. You will need your LOGIN NAME and your PASSWORD.
---
AFIO's 2017 Intelligence Community Mousepads are a great looking addition to your desk...or as a gift for others..
Made in USA. Click image for larger view.
These 2017 mousepads have full color seals of all 18 members of the US Intelligence Community on this 8" round, slick surface, nonskid, rubber-backed mouse pad with a darker navy background, brighter, updated seals. Also used, by some, as swanky coasters. Price still only $20.00 for 2 pads [includes shipping to US address. Foreign shipments - we will contact you with quote.] Order NEW MOUSEPADS here.
---
ANNOUNCEMENTS
In 2018, the Weekly Notes will be released Wednesday mornings.
---
First notice...first luncheon of 2018 ...for your calendar

Friday, 9 February 2018
Tysons, VA

Toni Hiley, CIA Museum Director
Center for the Study of Intelligence

and

Steve Coll, author/journalist
on his reviewer-praised forthcoming book debuting at event
DIRECTORATE S: The CIA and America's Secret Wars in Afghanistan and Pakistan, 2001-2016
---
Books of the Week
Spy Watching: Intelligence Accountability in the United States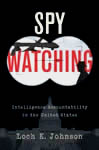 by Loch K. Johnson
(Oxford Univ Press, Jan 2018)
All democracies have had to contend with the challenge of tolerating hidden spy services within otherwise relatively transparent governments. Democracies pride themselves on privacy and liberty, but intelligence organizations have secret budgets, gather information surreptitiously around the world, and plan covert action against foreign regimes as means to protect citizens. In one sense, democracy and intelligence have been a poor match. Yet Americans live in an uncertain and threatening world filled with nuclear warheads, chemical and biological weapons, and home-grown and foreign terrorists intent on destruction. Without an intelligence apparatus scanning the globe, including our own citizens, to alert the US to these threats, the planet would be an even more perilous place.
Johnson explores the US' travails in its efforts to maintain effective accountability over its diverse spy services. Johnson explores the work of the famous Church Committee, a Senate panel that investigated America's espionage organizations in 1975 and established new protocol for supervising the CIA and the nation's sixteen other secret services. He explores why partisanship has crept into once-neutral intelligence operations, the effect of the 9/11 attacks on the expansion of spying, and the controversies related to CIA rendition and torture programs. He also discusses both the Edward Snowden case and the ongoing investigations into the theories of a Russian hacking of the 2016 US election. He seeks to find a sensible balance between the twin imperatives in a democracy of liberty and security.
Book may be ordered here.
---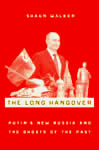 The Long Hangover: Putin's New Russia and the Ghosts of the Past
by Shaun Walker
(Oxford Univ Press, Jan 2018)
Make Russia Great Again. Sound familiar?
A deeply reported, bottom-up explanation of Russia's resurgence under Putin. By cleverly exploiting the memory of the Soviet victory over fascism in WW II, Putin's regime has made ordinary Russians feel that their country is great again.
This is a book about a lost generation: the millions of Russians who lost their country and the subsequent attempts to restore to them a sense of purpose. Packed with analysis but told mainly through vibrant reportage, it is a thoughtful exploration of the legacy of the Soviet collapse and how it has affected life in Russia and Putin's policies.
The book explores why Russia, unlike Germany, has failed to come to terms with the darkest pages of its past: Stalin's purges, the Gulag, and the war deportations. The narrative roams from the corridors of the Kremlin to the wilds of the Gulags and the trenches of East Ukraine. It puts the annexation of Crimea and the newly assertive Russia in the context of the delayed fallout of the Soviet collapse.
Walker provides insight into contemporary Russia and its search for a new identity, telling the story through the country's troubled relationship with its Soviet past. Walker explains Putin's goals and the government's official manipulations of history, and the expectations and motivations of ordinary Russians. He charts how Putin raised victory in WW II to the status of a national founding myth in the search for a unifying force to heal a divided country, and shows how dangerous the ramifications of this have been.
Book may be ordered here.
---
AFIO's 788-page Guide to the Study of Intelligence. Peter C. Oleson, Editor, also makes a good gift. View authors and table of contents here.

Perfect for professors, students, those considering careers in intelligence, and current/former officers seeking to see what changes are taking place across a wide spectrum of intelligence disciplines.
AFIO's Guide to the Study of Intelligence helps instructors teach about the large variety of subjects that make up the field of intelligence. This includes secondary school teachers of American History, Civics, or current events and undergraduate and graduate professors of History, Political Science, International Relations, Security Studies, and related topics, especially those with no or limited professional experience in the field. Even those who are former practitioners are likely to have only a limited knowledge of the very broad field of intelligence, as most spend their careers in one or two agencies at most and may have focused only on collection or analysis of intelligence or support to those activities.
For a printed, bound copy, it is $95 which includes Fedex shipping to a CONUS (US-based) address.
To order for shipment to a US-based CONUS address, use this online form,

To order multiple copies or for purchases going to AK, HI, other US territories, or other countries call our office at 703-790-0320 or send email to afio@afio.com to hear of shipment fees.
Order the Guide from the AFIO's store at this link.
The Guide is also available directly from Amazon at this link.
---
Section I - INTELLIGENCE HIGHLIGHTS

ISIS Claims Blast at Afghan Intelligence Agency in Kabul. The ISIS claimed responsibility for a suicide attack on Monday on a compound of Afghanistan's national intelligence agency in Kabul, which killed at least five people and wounded two.

The blast comes a week after the group claimed responsibility for an attack on a training facility of the same agency, the National Directorate for Security, in Kabul that ended when the attackers were killed before causing significant casualties.

In a statement issued through the group's Amaq news agency, ISIS said it was also behind Monday's attack.

In Kabul, security officials said the explosion was caused by a suicide bomber who approached the agency's entrance on foot before blowing himself up. All the casualties reported were of civilian passersby. [Read More: Harooni/thewire/26Dec2017]

Britain's Spy Agency Can't Stop Losing Cyber Talent to Major Tech Companies. The NSA isn't the only secretive national intelligence agency having trouble keeping its tech-savvy recruits. In a new document from the Intelligence and Security Committee of Parliament, Britain's spy agency describes its difficulty in fending off tech companies keen to poach its workers.

In the annual report, GCHQ highlights the growing international cyber threat and its need to scale up its own cyber operations accordingly, while noting that hiring and keeping cyber specialists in its ranks poses a strategic challenge.

"As noted previously, the level of resource allocated by Government to cyber related activities has increased considerably, and it is set to do so still further over the next five years," the report states.

"...The continued expansion of cyber-related work is dependent on the Government's ability to recruit and retain cyber specialists. GCHQ previously told us that it struggles to attract and retain a suitable and sufficient cadre of in-house technical specialists because it inevitably has to compete with big technology companies which are able to pay significantly more." [Read More: Hatmaker/techcrunch/28Dec2017]

Georgian Intelligence Service: Potential Attacks on Turkish and Georgian Diplomatic Missions Prevented. The State Security Service of Georgia (SSS) has revealed that the individuals who where involved in the special operation at Monk Gabriel Salosi street in Tbilisi on 21 November had been plotting attacks on Turkish and Georgian diplomatic missions. The conclusion was reached after law-enforcers examined the equipment used by the individuals.

The State Security Service reported at a special briefing today that the mobile phones and computer data which was examined has revealed that the terrorists possessed a secret cache of firearms, radio sets, maps and other materials which have now been seized by the SSS.

Prior to the special briefing, an hours-long special operation was carried out in Pankisi Gorge which started at 4 am today and followed on the special operation which took place earlier in Tbilisi. A total of 50 special task force officers were involved in the operation which was conducted in two villages of Pankisi Gorge - Duisi and Omalo. Five individuals were detained during the special operation, one of them seriously wounded.

The individuals detained in the Pankisi Gorge have already been identified: Zurab Gornakashvili, Ruslan Aldamov, Ramaz Margoshvili, Baddur Chopanashvili and Temirlan Machalikashvili. Machalikashvili was wounded in the forehead and was taken to hospital. All detainees are natives of Pankisi. According to the SSS, criminal proceedings against the aforesaid individuals have been instituted under Part 3 of Article 3311 of the Criminal Code of Georgia which involves the funding and assisting of terrorist activities. [Read More: jam-news/27Dec2017]

Defense Department Agency to Scout Potential New Homes in Suburban Maryland. The General Services Administration wants approval from Congress to seek new space for the Defense Intelligence Agency somewhere in suburban Maryland as the agency's lease in Prince George's County approaches expiration in 2019.

The DIA, part of the Department of Defense, now leases 266,000 square feet at 3300 75th Ave. in Landover under a lease with Government Properties Income Trust (Nasdaq: GOV) set to expire in about 18 months. The GSA recently sent a prospectus to the House Transportation and Infrastructure Committee seeking its authorization to look for potential alternatives to that location for the DIA, which processes information for combat and non-combat military missions across the globe. Government Properties, which acquired First Potomac Realty Trust earlier this year, bought the building in 2010 for $43.65 million from America's Capital Partners.

The search is one of about a half-dozen dated Nov. 30 that the the GSA recently sent to the House committee, its first batch since Dan Mathews was sworn in as head of the Public Buildings Service. Mathews, who crossed over from his former position as the House committee's senior staffer, has been trying to help the federal government work through a substantial backlog of expiring leases and make smarter decisions on how to manage the space it has. DIA is the only local prospectus of that group.

The DIA search is restricted to a reasonably small area, bounded by Riverdale Road, Baltimore-Washington Parkway, Maryland Route 202, and the Capital Beltway. But it's likely to attract a significant amount of interest from prospective landlords in the area given the overall softness in the commercial real estate market in suburban Maryland. [Read More: Sernovitz/bizjournals/26Dec2017]

US Diplomat Meets Venezuela FM Over Detained American. The top diplomat at the United States' embassy in Venezuela briefly met with that country's foreign minister on Thursday to "press" for the release of an American man detained since June 2016, the mission said in a statement.

Charge d'affaires Todd Robinson had a "frank" discussion with Foreign Minister Jorge Arreaza for 20 minutes, in which he asked for Joshua Holt, a 25-year-old Mormon missionary from the US state of Utah, to be freed, the statement said without giving further details.

Holt was arrested by Venezuelan intelligence officers on June 30, 2016 at his home on the outskirts of Caracas.

He is being held in the headquarters of the SEBIN intelligence agency under accusations of possessing weapons, being a spy and plotting against President Nicolas Maduro. [Read More: AFP/digitaljournal/28Dec2017]

Czech Rules for Intelligence Supervision Change. All Czech secret services, including the civilian counter-intelligence, are subject to the checking of the Chamber of Deputies under an amendment to the intelligence services that took effect on Monday.

In addition, the activities of intelligence services will be supervised by a new, five-member independent body, whose members will be selected by the Chamber of Deputies out of the candidates to be proposed by the government.

These should be trustworthy and generally respected personalities who have . the security clearance.

Now the Chamber of Deputies commissions supervise the work of the Security Information Service (civilian counter-intelligence) and the Military Intelligence with a focus on both intelligence and counter-intelligence. [Read More: CTK/praguemonitor/2Jan2018]



---
Section II - CONTEXT & PRECEDENCE

Inside the C.I.A.'s Journal. Some spy stories will be forever confined to memory, locked safes, and invisible ink. But for others there's a quarterly journal called Studies in Intelligence, published by the Central Intelligence Agency. "Every profession has its own literature," Andres Vaart, the publication's editor, said the other day. Since 1955, when it began, intelligence officers have filled its pages with analyses of old spy operations, book reviews, and tales of derring-do. "We have some great writers here," Vaart said. "Studies is where they get to speak their minds."

Vaart, who typically works off-site, in northern Virginia, was at the C.I.A.'s headquarters, in Langley, to discuss the journal's latest issue with his boss, Peter Usowski, the director of the C.I.A.'s Center for the Study of Intelligence. They were seated at a wooden table in a windowless room. Usowski was wearing a suit, but Vaart had a jauntier look, with a white turtleneck under an Argyle sweater-vest. Outside, snow dusted the wings of a decommissioned spy plane in the parking lot.

Vaart riffled through a pile of back issues. One featured an article titled "Cold War Spy Fiction in Russian Popular Culture"; another was called "Sputnik and U.S. Intelligence: The Warning Record." Vaart said, "We want to be of the moment."

"In the aftermath of Snowden, we published a piece on the psychology of leaks," Usowski said. With a touch of embarrassment, Vaart confessed that the journal's most-read piece was one from 2007: "The C.I.A.'s Role in the Study of U.F.O.s." (In sum: the agency looked for proof of flying saucers, but didn't find any.) [Read More: Schmidle/newyorker/8Jan2018]
Wilderness of Mirrors. Veteran CIA officer Cleveland Cram was nearing the end of his career in 1978, when his superiors in the agency's directorate of operations handed him a sensitive assignment: Write a history of the agency's Counterintelligence Staff. Cram, then 61, was well qualified for the task. He had a master's and Ph.D. in European History from Harvard. He had served two decades in the clandestine service, including nine years as deputy chief of the CIA's station in London. He knew the senior officialdom of MI-5 and MI-6, the British equivalents of the FBI and CIA, the agency's closest partners in countering the KGB, the Soviet Union's effective and ruthless intelligence service.

Cram was assigned to investigate a debacle. The Counterintelligence Staff, created in 1954, had been headed for 20 years by James Jesus Angleton, a legendary spy who deployed the techniques of literary criticism learned at Yale to find deep patterns and hidden meanings in the records of KGB operations against the West. But Angleton was also a dogmatic and conspiratorial operator whose idiosyncratic theories paralyzed the agency's operations against the Soviet Union at the height of the Cold War, and whose domestic surveillance operations targeting American dissidents had discredited the CIA in the court of public opinion.

In December 1974, CIA Director William Colby fired Angleton after the New York Times revealed the then-unknown counterintelligence chief had overseen a massive program to spy on Americans involved in anti-war and black nationalist movements, a violation of the CIA's charter. Coming four months after the resignation of Richard Nixon, Angleton's fall was the denouement of the Watergate scandal, propelling Congress to probe the CIA for the first time. A Senate investigation, headed by Sen. Frank Church, exposed a series of other abuses: assassination conspiracies, unauthorized mail opening, collaboration with human rights abusers, infiltration of news organizations, and the MKULTRA mind-control experiments to develop drugs for use in espionage.

The exposure of Angleton's operations set off a political avalanche that engulfed the agency in 1975 and after. The post-Watergate Congress established the House and Senate intelligence committees to oversee covert operations. The passage of the Foreign Intelligence Surveillance Act required the CIA to obtain warrants to spy on Americans. And for the first time since 1947, the agency's annual appropriation was slashed. [Read More: Morley/theintercept/1Jan2018]
The KGB Playbook for Infiltrating the Middle East. THE PLAN WAS SIMPLE but audacious: On October 3, 1969, the Lebanese Air Force pilot would turn up for his scheduled training flight in a French-made Mirage III-E interceptor jet. "Upon attaining an altitude of 3,000 feet," he was instructed, "radio the Beirut tower that you are experiencing generator trouble and your controls are malfunctioning. Then declare an emergency. Thereafter, acknowledge no radio transmissions...Four minutes after you cross the Soviet frontier, three interceptors will meet you and guide you to Baku in Azerbaijan...Should rendezvous fail, contact the base there on a frequency of 322 kilocycles..."

The pilot had driven a hard bargain with his Soviet handlers. Lieutenant Mahmoud Mattar's recruiter was a fellow Lebanese, his former flight instructor, who was cashiered from the air force for smuggling and hawking drugs and now earned an income as a commercial pilot for Middle East Airlines. It was a modest living, which didn't quite account for the luxuriant lifestyle Hassan Badawi enjoyed in Beirut or the large cash bundles he was known to tote around the city, especially when returning from overseas.

Badawi was a less-than-inconspicuous asset of Soviet intelligence, the GRU or military branch of it to be exact, and, perhaps hoping to entice his former pupil into betraying their country, he took it upon himself sweeten the pot for heisting one of the most sophisticated warplanes then in use by NATO countries. Mattar would receive $3 million for the Mirage, Badawi had said. But when Badawi finally introduced Mattar to his new GRU handler, Vladimir Vasileyv, the Russian expressed shock at the asked-for amount. The true price was $1 million. A negotiation ensued before prospective agent and officer compromised on $2 million.

Given the sensitivity of the operation and the risk it entailed, Mattar sought $600,000 up front, in cash. Vasilyev said he'd have to consult with his higher-ups back in Moscow, who wouldn't only include senior GRU officials but the uppermost echelons of the Soviet Politburo. The Soviet ambassador to Lebanon was briefed about the planned operation and was so nervous that he cancelled a meeting with his American counterpart until after it was carried off. [Read More: Weiss/thedailybeast/28Dec2017]
National Archives: British Spy Ewen Montagu was Granted his Dying Wish. When Ewen Montagu, the intelligence officer behind the most brilliant military deception of the Second World War, was dying he had one last wish: to learn how Operation Mincemeat, his creation and the plan that fooled the Nazis over the Allied invasion of Sicily in 1943, would go down in history.

Montagu already knew that the deception plan, which he had recounted in his book The Man Who Never Was, on which the film of the same name was based, was to be included in the official history of wartime intelligence. However, as he lived out his last months Montagu also knew that he would not be allowed to read what the historian Michael Howard had written. [Read More: Low/thetimes/29Dec2017]
The Ghostly Radio Station No One Claims to Run. In the middle of a Russian swampland, not far from the city of St Petersburg, is a rectangular iron gate. Beyond its rusted bars is a collection of radio towers, abandoned buildings and power lines bordered by a dry-stone wall. This sinister location is the focus of a mystery which stretches back to the height of the Cold War.

It is thought to be the headquarters of a radio station, "MDZhB", that no-one has ever claimed to run. Twenty-four hours a day, seven days a week, for the last three-and-a-half decades, it's been broadcasting a dull, monotonous tone. Every few seconds it's joined by a second sound, like some ghostly ship sounding its foghorn. Then the drone continues.

Once or twice a week, a man or woman will read out some words in Russian, such as "dinghy" or "farming specialist". And that's it. Anyone, anywhere in the world can listen in, simply by tuning a radio to the frequency 4625 kHz.

It's so enigmatic, it's as if it was designed with conspiracy theorists in mind. Today the station has an online following numbering in the tens of thousands, who know it affectionately as "the Buzzer". It joins two similar mystery stations, "the Pip" and the "Squeaky Wheel". As their fans readily admit themselves, they have absolutely no idea what they are listening to. [Read More: bbc/myjoyonline/31Dec2017]
The 7 Most Notorious Nazis Who Escaped to South America. After Allied forces defeated Germany in World War II, Europe became a difficult place to be associated with Adolph Hitler's Third Reich. Thousands of Nazi officers, high-ranking party members and collaborators - including many notorious war criminals - escaped across the Atlantic, finding refuge in South America, particularly in Argentina, Chile and Brazil.

Argentina, for one, was already home to hundreds of thousands of German immigrants and had maintained close ties to Germany during the war. After 1945, Argentine President Juan Per'n, himself drawn to fascist ideologies, enlisted intelligence officers and diplomats to help establish "rat lines," or escape routes via Spanish and Italian ports, for many in the Third Reich. Also giving aid: the Vatican in Rome, which in seeking to help Catholic war refugees also facilitated fleeing Nazis - sometimes knowingly, sometimes not.

As thousands of Nazis and their collaborators poured into the continent, a sympathetic and sophisticated network developed, easing the transition for those who came after. While no definitive evidence exists that Hitler himself escaped his doomsday bunker and crossed the ocean, such a network could have helped make it possible.

Below, a list of some of the most notorious Nazi war criminals who made their way to South America. [Read More: Klien/history/27Dec2017]
How Antivirus Software Can Be Turned Into a Tool for Spying. It has been a secret, long known to intelligence agencies but rarely to consumers, that security software can be a powerful spy tool.

Security software runs closest to the bare metal of a computer, with privileged access to nearly every program, application, web browser, email and file. There's good reason for this: Security products are intended to evaluate everything that touches your machine in search of anything malicious, or even vaguely suspicious.

By downloading security software, consumers also run the risk that an untrustworthy antivirus maker - or hacker or spy with a foothold in its systems - could abuse that deep access to track customers' every digital movement.

"In the battle against malicious code, antivirus products are a staple," said Patrick Wardle, chief research officer at Digita Security, a security company. "Ironically, though, these products share many characteristics with the advanced cyberespionage collection implants they seek to detect." [Read More: Perlroth/nytimes/1Jan2018]
Four Russians Are Either Traitors To Their Country Or Pawns In A Putin Power Game. Four Russian hackers have been rotting away in a notorious prison for more than a year - and they are either traitors to their country for telling U.S. intelligence agencies about Russian meddling in last year's U.S. election or just pawns in a bizarre power game by President Vladimir Putin.

Almost nothing about the cases against Sergei Mikhailov, Dmitry Dokuchaev, Ruslan Stoyanov and Georgy Fomchenkov is known, except that all four are being held on charges of treason. Their lawyers won't talk about details of the cases, and even the legal papers haven't been made public. Newsweek spoke to one of the men's lawyers, and he wouldn't even confirm the name of his client, let alone whether he pleaded guilty or not guilty.

The trials are at the core of the Russian election-hacking scandal, which has roiled American politics since even before Election Day last year. But the cases also may reveal Putin's darkest political instincts. The Russian media, which are largely controlled by the Kremlin, say the men are spies. Others say they are pawns.

Then again, in Putin's Russia, they may be both at the same time. [Read More: Fryer-Biggs/newsweek/27Dec2017]
Meet the CIA's Insectothopter. It was the 1970s, the Cold War was in full swing, and the U.S. Central Intelligence Agency's Office of Research and Development had developed a miniaturized listening device. But they didn't have a good way to maneuver the device into place without raising suspicions.

After scrapping the idea of a mechanical bumblebee, CIA engineers prototyped a dragonfly to carry the bug. Dubbed the Insectothopter, the bug-carrying bug was the agency's first insect-size unmanned aerial vehicle (UAV), and it seemed to show potential. Under ideal conditions, it had a range of 200 meters and a flight time of 60 seconds.

In taking a cue from nature, CIA engineers were wise to choose the dragonfly. Dragonflies are nimble aerialists, able to hover, glide, and even fly backward. They can turn 180 degrees in three wingbeats. The Insectothopter's 6-⁠centimeter-long body and 9-cm wingspan were well within the range of an actual dragonfly's dimensions. Plus, dragonflies are native to every continent except Antarctica, so their presence would be unremarkable, at least in the appropriate season. [Read More: Marsh/spectrum/29Dec2017]
---
On President Trump and the Intelligence Community. In October 2016, I wondered aloud on Lawfare why then-candidate Donald Trump did not believe the intelligence community's assessment that the Russian government conducted an intelligence operation intended to influence the 2016 U.S. presidential election. I offered two hypotheses:

[T]he more likely explanation for his rejection of the Intelligence Community's assessment is one of two things: either he i) simply has an extreme inherent skepticism about any information that originates from the Intelligence Community; or, ii) he affirmatively chooses not to accept this particular assessment that Russia is behind the attacks, but he won't explain to the public why he does not accept it.

My view at the time was that a president who rejects everything presented to him by the intelligence community would be a president who would make foreign policy and national security decisions that were uninformed or even reckless. Now, almost one year in to Trump's presidency, we are closer to knowing which of those theories is correct.

The president has been consistent in his rejection of the intelligence community's Russian influence assessment. He may be softening, ever slightly, however, on his rejection of the legitimacy of some work done by the intelligence community, even while he hardens his verbal attacks on the FBI and the special counsel. The takeaway is that the president's rejection of specific intelligence community assessments appears to be based on how they personally affect him, his administration, and those close to him, and not on a fundamental belief that the intelligence community and its work is not credible. [Read More: Cordero/lawfareblog/1Jan2018]

3 Important Entrepreneurship Lessons I Learned from the FBI. From 2010 to 2012, I worked as an Intelligence Analyst at the FBI's New York field office. This was my first job out of college and sidetracked me from an early career in tech. When I arrived I was assigned to the white collar division, investigating securities fraud crimes.

As a 21-year old, I was the youngest of 15 team members on my squad. There were former Wall Street brokers, accountants, and lawyers on my team. Needless to say, as this was my first real job, I didn't have a clue what I was doing when I first arrived.

Thankfully, I walked away with some valuable lessons that I took with me through the startup and tech world. Here are a few. [Read More: Polites/e27/27Dec2017]

Ability to Prioritise is a Must in Intelligence. A senior who mentored me in my early years in the Intelligence Bureau told me more than once that one should have the ability "to distinguish essentials from non-essentials" to be successful in the intelligence profession. He was an early recipient of Padma Shri for his work in the Northeast and always spoke on the strength of his experience, rather than bookish knowledge. I realised this when years later during an interactive spell at Delhi IIT's School of Management - where I was sent as a government nominee - a professor referred to the 19th century Italian social theorist and economist, Vilfredo Pareto, who had become famous for his simple postulation that "there are a significant few amongst the insignificant many" - known as the Pareto Law. My senior would have certainly mentioned this if he had known about Pareto and clearly what he said - in an equally effective short phrase - was therefore his own wisdom distilled out of his handling of intelligence over the years.

Intelligence is information, which gives an idea of "what lies ahead" - this could come from accessing a right source confidentially or from a competent analysis of whatever had become known even from open channels. Security is protection against the doings of the "invisible" enemy and this would be achieved only on the basis of intelligence, which used its secret instruments of tradecraft to unravel information about them. National level intelligence agencies have a constant inflow of information - raw or collated - that had to be scanned in an ongoing manner for its reliability and relevance. Picking up the grain from the chaff is the challenge in intelligence and reading the picture on the basis of a minimal number of pieces as in a jigsaw puzzle, a test of the analytical mind. No agency ever gets the complete picture of a threat in operation and its success lies in taking note of the "essentials" that the available information contained and establishing their connectivity. At a finer level of assessment-making, Einstein's thesis that "imagination is more important than knowledge" comes into play. Jigsaw puzzles test even a child's imagination. In intelligence analysis, capacity to foresee what lies even beyond the facts and data that had come to the analyst, is indeed vital.

In this age, where the pace of generation and dissemination of information is phenomenal, the key to success is the briskness with which the user of information would scan it for picking up reliable facts about the adversary or the competitor that would guide the course of "action". Intelligence by definition is "information for action". The profession of intelligence needs information-savvy people. Some essential traits of such people are that they do not shun reading and they are good in making a differentiation between what is relevant to the mission at hand and what is not, what is necessary in the short term as against what would be useful in the long run, and what is at best a minor hiccup different from what indeed had the potential of creating a major problem. It is this differentiation that in fact is the prescription for successful prioritisation in any situation. Time is now regarded as a resource at par with manpower and money, and being "smart" means being able to produce more with the same amount of resource, including time. This will happen if, among other things, the ability to prioritise is brought into play. [Read More: Pathak/sundayguardianlive/30Dec2017]



---
Section IV - Scholarship Announcement, and Obituaries
Five Full Tuition "Sir Richard Dearlove Scholarships" are now available for four-week summer security program in Cambridge, UK - Application Deadline is 23 February 2018
The Cambridge Security Institute at Cambridge University (UK) is now accepting applications for a four-week study programme at that institute. Sir Richard Dearlove (former head of MI6), KCMG, OBE, Chair of the Cambridge Security Initiative, announces five full tuition fee scholarships available to students attending the 2018 ISI summer programme. ISI will accept applications from qualified candidates currently enrolled in full-time education with a minimum GPA of 3.5 or equivalent.
DEADLINE: The deadline for submitting a scholarship application is 5pm GMT 23 February 2018. A Scholarship application can be made at the same time as, or after, submission of a full application to be accepted into the programme. Applications are available here.
George O. Kane, 86, a USAF intelligence analyst, died 23 December 2017 in Southern Pines, NC. He proudly served in the United States Air Force. He worked in civil service as an intelligence analyst for the Air Force, and later for the Army at the Foreign Science and Technology Center (now known as The National Ground Intelligence Center) in Charlottesville, VA. George was rightfully proud of the work he did in the intelligence community. His wife, Cliva, predeceased him. He is survived by a daughter and son, and other family. [Read More: dailyprogress/27Dec2017]
Fritz Lustig, 98, one of a hundred "secret listeners," all German-speaking émigrés, who worked for a branch of military intelligence known as MI9 during the second world war, died 18 December 2017 in the UK. In September 1940 he was released to join the British army's Pioneer Corps, and in 1943 when he was transferred to the Intelligence Corps to work at a clandestine unit known as Combined Services Detailed Interrogation Centre (CSDIC), under the jurisdiction of MI9 (later MI19). He overheard listeners overheard vital intelligence from survivors of the sunken German battleships, details of Hitler's secret weapon programme, the V-1 and V-2, and also listened to clandestine intercepts of Nazis boasting of successes as they captured, tortured, and murdered prisoners. Post-war he served as an accountant, and was a cellist. He is survived by two sons and other family. [Read More: Fry/theguardian/27Dec2017]
Lawrence Robert Jackson, 94, former USArmy, OSS, and CIA officer, died 8 December 2017. For over 30 yrs, Larry served in the US Army, OSS, and CIA, with tours to Germany, Vietnam, and Norway. For the next 20 yrs, he was an entrepreneur in Rockville, MD with Shane Co, which developed and installed commercial energy-saving systems. He loved discussing politics, telling stories, and visiting Scandinavia with his wife, Anne-Cathrine, who owned a Norwegian mountain cabin. He was active in Rotary Club and the Trinity and Norwegian Lutheran Churches. They toured most of the US, Europe, Asia, and Africa, enjoying one final trip overseas this past summer at age 94. He is survived by his two daughters and other family.
Allen Ray Elkins, 86, former CIA Director of Finance, and former AFIO Treasurer, died 21 December 2017 in Williamsburg, VA. He served in the US Marine Corps during the Korean War. He graduated from the University of Tennessee in 1957, where he was a member of Sigma Phi Epsilon Fraternity. After graduation, Allen joined CIA in 1957. During his 35-year CIA career he served in a variety of positions at overseas locations and in Washington, DC. In over 11 years of service in overseas posts, he was assigned to Okinawa; Frankfurt, Germany; Vientiane, Laos; Santo Domingo, Dominican Republic; and Rome, Italy. He was appointed to the National War College at Fort McNair, Washington, DC, where he graduated in the class of 1976. From 1983 to his retirement in 1988, he served as the CIA's Director of Finance. Following retirement, Allen continued working as a contract consultant at the DCI Center for Security Evaluation until 1992. He is the recipient of several citations and letters of commendation for his service over the years including the National Intelligence Certificate of Distinction (1979) and the CIA's Distinguished Intelligence Medal (1988), CIA's highest award for service. Allen is a life member of the AFIO where he served as Treasurer, and the National War College Alumni Association. He also served as president of the Williamsburg Chapter of the Central Intelligence Retirees Association (CIRA), and then served on the National Board of Director's for CIRA from 2001 to 2005. He is survived by two daughters and other family. [Read More: Williamsburg Yorktown Daily or dignitymemorial/21Dec2017]
Charles W. Kane, a former FBI agent and CIA officer, died last Sunday. He was a hero and patriot, loved his family and country, and contended with that ever-growing online world of conspiracists who continued to mention him in their weavings of conspiracies around the JFK Assassination and a few other events. Kane took it all in bemused stride. A memorial service for Charles W. Kane will be held at 1200, 14 January 2018 at: Peace Presbyterian Church 4881 Cove Road Stuart, Florida 34997. There will be a reception with light refreshments following the service at the Charles and Rae Kane Senior Center 900 SE Salerno Road Stuart, Florida 34997 [Read More: Dignity Memorial/legacy/20Dec2017]
Gordon Keith Dibble, 94, a former CIA Operations Officer, died 12 December 2017 in Gaithersburg, MD. Gordon was graduated from Yale in 1945. He then served with the 4th Division of the Marine Corps, and was wounded in the battle of Iwo Jima. After a five-month recovery, he returned to the Midwest, to a career in retail. His first job after the war was at Marshall Fields, where he sold socks to Clark Gable! He was subsequently recalled to active duty during the Korean War. In 1952, he joined the CIA. He served abroad in Taiwan, Turkey, Pakistan, Bangladesh, and Laos, retiring in 1985. He received the CIA Distinguished Intelligence Medal and the Intelligence Medal of Merit. His wife of 57 years, Margot, predeceased him in 2015. He is survived by two sons, three daughters, and other family.
A memorial service will be held at The Guild Chapel at Asbury Methodist Village, 211 Russell Avenue, Gaithersburg, MD on Monday, January 8, 2018 at 11 a.m. Interment will be held privately at Arlington National Cemetery. [Read More: Yale Alumni Magazine/12Dec2017]
Joseph P. Cantrel, 93, a CIA finance officer, died 21 December 2017 in Hagerstown, MD. He attended Georgetown University. He worked in finance at CIA for over 30 years, with foreign assignments in Switzerland and Germany. While abroad, he took up skiing, hiking, and yodeling. He was an active member of the Knights of Columbus. He is survived by a daughter and other family. [Read More: minnichfh/21Dec2017]
Previously announced...
Charles "Chuck" Galligan Cogan, 89, a former CIA officer, Harvard Professor...a second, extended obituary on his interest in international affairs and USG service...died 14 December 2017 Cambridge, MA. Dr. Cogan was a dedicated professional with a life-long interest in international affairs. He was as focused on his work and his research as ever, always with an eye on his next project. He spent the first decades of his professional life with the Central Intelligence Agency (CIA). [Read More: The Boston Globe/legacy/24Dec2017]
---
AFIO EDUCATIONAL EVENTS IN COMING TWO MONTHS....
Thursday, 18 January 2018, 11:30 AM - Colorado Springs, CO - The AFIO Rocky Mountain Chapter hosts Julio Gutierrez, discussing "Naval Intelligence from the Cold War to the Present."
The presentation includes a comparison of the Navy's all-source Intelligence operations and emphases during the Cold War, versus very different Naval Intelligence missions in 2017 -- especially asymmetric threats like terrorism, piracy, arms/drugs/human trafficking, WMD counter-proliferation, and the emergence of new strategic threats from Russia, China, and North Korea. New areas of strategic maritime competition encompass Russian Arctic development, Chinese exploitation of undersea methane hydrates, and Russian "new physical-principles weapons" threats.
Captain (Ret.) Julio Gutierrez had a 26-year Naval, Joint, Inter-Agency, National and Coalition Intelligence career around the globe, including F-14 Tomcat squadron, carriers, cruisers, expeditionary amphibious warfare, NATO SHAPE, Joint Chiefs of Staff, U.S. Central Command, and the Chief of Naval Operations' Strategic Studies Group. After active duty retirement in 2003, he was a GS future-concepts and unmanned systems technologist for the Naval Undersea Warfare Center, and NavSeaSysCom Technical Representative to NORAD & USNORTHCOM 2006-2011 for Maritime Homeland Defense. He is now a contract Maritime Security executive course instructor in the Naval Postgraduate School's Center for Civil-Military Relations, for foreign senior officers at Monterey and abroad. Education: Stanford B.A. (International Relations) and Naval War College Masters (National Security Strategy & Policy). Wife Cecily is a retired Naval Intelligence LCDR.
To Attend or for more information, contact Tom VanWormer at robsmom@pcisys.net
Thursday, 18 January 2018, 12:30 - 2 pm - Los Angeles, CA - The AFIO LA Chapter hears from Dr. Paul Smith on "Operational Remote Viewing."
Our next meeting features Dr. Paul Smith discussing "Operational Remote Viewing: Considerations and Concerns."
Dr. Smith is a retired Army intelligence officer, having worked at the tactical level during Desert Storm with the 101st Abn Div, and strategically in the special operations arena and at DIA, among other assignments. His primary expertise is remote viewing. For most of the seven years he was a captain assigned to a black project known these days as the Star Gate Program. Hh holds an MSSI degree from National Defense University focusing on the Middle East. After retiring, he earned a PhD from the University of Texas at Austin in philosophy.
Location: LAPD-ARTC 5951 W. Manchester Ave. L.A. CA 90045 ROOM 1E. Refreshments will be served.
RSVP ASAP and then mark your calendar. RSVP to Vince Autiero at AFIO_LA@yahoo.com. The meeting will include general chapter business matters at the conclusion of the guest speaker's presentation.
31 January 2018 (Wednesday), 11:30 am - San Francisco, CA - The AFIO San Francisco Chapter hosts Alan Brown on "The History of the Lockheed Skunk Works and the Development of the F-117A Stealth Fighter"
Alan Brown, former Director of Engineering at Lockheed discusses "History of the Lockheed Skunk Works and the Development of the F-117A Stealth Fighter" at this January meeting of the AFIO "Andre LeGallo" San Francisco Chapter.
WHERE: Basque Cultural Center, 599 Railroad Avenue, South San Francisco, CA 94080.
TIMING: 11:30AM no host cocktail; meeting and luncheon at noon.
RSVP: Register here. Reservation and pre-payment is required before January 21, 2018. The venue cannot accommodate walk-ins. Questions? Contact Mariko Kawaguchi, Board Secretary at afiosf@aol.com.
9 February 2018 - Tysons, VA - First AFIO luncheon of 2018 features Toni Hiley, CIA Museum Director, and Steve Coll, author/journalist, on The CIA and America's Secret Wars in Afghanistan and Pakistan
Our first luncheon of 2018 ...for your calendar. Toni Hiley, CIA Museum Director, Center for the Study of Intelligence speaks in the morning. Followed by lunch, and then a presentation by Steve Coll, author/journalist, on his reviewer-praised forthcoming book debuting at event, DIRECTORATE S: The CIA and America's Secret Wars in Afghanistan and Pakistan, 2001-2016.
Times: 10 am badge pickup; Hiley speaks at 11; lunch at noon; Coll at 1; event closes at 2.
Early registration here.
Other Upcoming Events from Advertisers, Corporate Sponsors, and Others
Sunday, 7 January 2018, 3 - 4 pm ' Washington, DC ' NSO In Your Neighborhood: An Espionage-Themed Concert ' at the International Spy Museum
This year's NSO In Your Neighborhood program heads to the vibrant Downtown and Penn Quarter areas of Washington, D.C. bringing a week's worth of free chamber music, orchestral concerts, educational events for the entire family, and much more! This family-friendly event features an NSO string quartet ― Marissa Regni and Glenn Donnellan violins; Eric deWaardt, viola; and Eugena Chang, cello ― performing espionage-themed music.
Event is free for museum attendees. Audiences for this performance will receive $5 discounts to visit the Museum. Visit www.spymuseum.org.
Wednesday, 10 January 2018, noon ' Washington, DC ' Global Terrorism, Espionage and Cybersecurity Monthly Update ' at the International Spy Museum
Be the first to learn the latest intelligence news! Join David Major, retired supervisory special agent of the FBI and former director of Counterintelligence and Security Programs at the NSC staff at the White House, for a briefing on the hottest intelligence and security issues, breaches, and penetrations. Presented in partnership with The Centre for Counterintelligence and Security Studies (CI Centre), these updates will cover worldwide events such as breaking espionage cases and arrest reports, cyber espionage incidents, and terrorist activity. Major uses his expertise to analyze trends and highlight emerging issues of interest to both intelligence and national security professionals and the public. Cases are drawn from the CI Centre's SPYPEDIA', the most comprehensive source of espionage information in the world, containing events and information that may not be reported by mainstream media outlets. Event is free. Visit www.spymuseum.org.
Wednesday, 17 January 2018, 6:30pm ' Washington, DC ' Escape the Enemy: An Aggressively Interactive Evening with Navy SEAL Clint Emerson ' at the International Spy Museum
When the world hands you a bad situation, Clint Emerson can give you the skills to be prepared. He should know. During his time as a Navy SEAL and Joint Special Operations Command Operator, he was a violent nomad―someone who traveled the world employing his unique set of skills to support operations in hostile environments against high value targets. Join Emerson for a crash course in restraint defeat. He will help you discover how to pick locks, break out of handcuffs, and generally get away. You'll receive a 10-piece lock-picking kit and practice padlock, so you can keep your newfound skills sharp when you return to your-hopefully-everyday ordinary life. Emerson is the author of 100 Deadly Skills: The SEAL Operative's Guide to Eluding Pursuers, Evading Capture, and Surviving Any Dangerous Situation--don't miss this chance to learn from an actual Special Forces operator how to actively and creatively protect yourself. Tickets for the general public: $20 per person; Members: $10. Visit www.spymuseum.org.
Tuesday, 23 January 2018, 6:30pm ' Washington, DC ' Sunken Gold: A Story of World War I Espionage ' at the International Spy Museum
On January 25, 1917, HMS Laurentic, a British ship laden with forty-four tons of Allied gold was sunk by German mines off the coast of Ireland. Desperate to recover the treasure, the Admiralty sent its best divers to salvage the gold. Their experiences in the tight confines of the sunken wreck drew the attention of Rear Admiral Reginald "Blinker" Hall, the Head of British Naval Intelligence, who organized the group into the legendary "Tin-openers." These divers, operating in live minefields, plumbed into freshly sunk U-boats searching for codes, ciphers, and other intelligence to assist the codebreaking operations of the mysterious Room 40 and help win the war. Joseph A. Williams, author of The Sunken Gold: A Story of World War I, Espionage, and the Greatest Treasure Salvage in History will recount, through newly discovered sources, the epic deeds of these covert divers, bringing to light the grit and determination their project demanded.
Co-sponsored by the Naval Intelligence Professionals. For NIP Member tickets email: soltmans@spymuseum.org.
Tickets for the general public: $10 per person; Members: $8. Visit www.spymuseum.org.
Friday, 26 January 2018, 6 - 9 pm ' Washington, DC ' Spy Fest: A Kidspy Family Festival ' at the International Spy Museum
Sitting in your comfy chair watching James Bond makes spy tradecraft look easy―now's your chance to find out if you could be the next 007. Do you have the savvy to beat a lie-detector? The smarts to break a top secret coded message? The wits to create secret writing? The moves of a Ninja? Families are invited to find out how they measure up at the Museum's Annual Spy Fest. Mini-missions, tradecraft demonstrations by the experts, and the chance to try spy skill challenges will give KidSpy agents and their handlers an insider's peek into the shadow world of spying―and who knows, there just may be a spy or two in your midst.
Tickets for the general public: $14 per person; Members: $12. Visit www.spymuseum.org.

---
Disclaimers and Removal Instructions
Weekly Intelligence Notes (WINs) are commentaries on Intelligence and related national security matters, based on open media sources, selected, interpreted, edited and produced for non-profit educational uses by members and WIN subscribers.
REMOVAL INSTRUCTIONS: We do not wish to add clutter to inboxes. To discontinue receiving the WINs:
a) IF YOU ARE A MEMBER - click here: UNSUBSCRIBE and supply your full name and email address where you receive the WINs. Click SEND, you will be removed from list. If this link doesn't open a blank email, create one on your own and send to afio@afio.com with the words: REMOVE FROM WINs as the subject, and provide your full name and email address where you are currently receiving them.
b) IF YOU ARE NOT A MEMBER, and you received this message, someone forwarded this newsletter to you [contrary to AFIO policies]. Forward to afio@afio.com the entire WIN or message you received and we will remove the sender from our membership and distribution lists. The problem will be solved for both of us.
CONTENTS of this WIN [HTML version recipients - Click title to jump to story or section, Click Article Title to return to Contents. This feature does not work for Plaintext Edition or for some AOL recipients]. If you wish to change to HTML format, let us know at afio@afio.com. The HTML feature also does not work for those who access their e-mail using web mail...however NON-HTML recipients may view the latest edition each week in HTML at this link: https://www.afio.com/pages/currentwin.htm
---
WINs are protected by copyright laws and intellectual property laws, and may not be reproduced or re-sent without specific permission from the Producer. Opinions expressed in the WINs are solely those of the editor's) or author's) listed with each article. AFIO Members Support the AFIO Mission - sponsor new members! CHECK THE AFIO WEBSITE at www.afio.com for back issues of the WINs, information about AFIO, conference agenda and registrations materials, and membership applications and much more!
(c) 2000, 2012, 2013, 2014, 2015, 2016, 2017, 2018. Please note AFIO's new address: AFIO, 7600 Leesburg Pike, Suite 470 East, Falls Church, VA 22043-2004. Voice: (703) 790-0320; Fax: (703) 991-1278; Email: afio@afio.com