---
CONTENTS
Section I - INTELLIGENCE HIGHLIGHTS
Section II - CONTEXT & PRECEDENCE
Section IV - Research Request, Tours, Jobs, and Obituaries
Other Upcoming Events from Advertisers, Corporate Sponsors, and Others
For Additional AFIO and other Events two+ months or more... Calendar of Events
WIN CREDITS FOR THIS ISSUE: The WIN editors thank the following special contributors: pjk, mh, km, gh, mk, rd, fm, kc, jm, mr, jg, th and fwr. They have contributed one or more stories used in this issue.
The WIN editors attempt to include a wide range of articles and commentary in the Weekly Notes to inform and educate our readers. However, the views expressed in the articles are purely those of the authors, and in no way reflect support or endorsement from the WIN editors or the AFIO officers and staff. We welcome comments from the WIN readers on any and all articles and commentary.
CAVEATS: IMPORTANT: AFIO does not "vet" or endorse research inquiries, career announcements, or job offers. Reasonable-sounding inquiries and career offerings are published as a service to our members, and for researchers, educators, and subscribers. You are urged to exercise your usual caution and good judgment when responding, and should verify the source independently before supplying any resume, career data, or personal information.]
If you are having difficulties with the links or viewing this newsletter when it arrives by email, members may view the latest edition each week at this link. You will need your LOGIN NAME and your PASSWORD.
---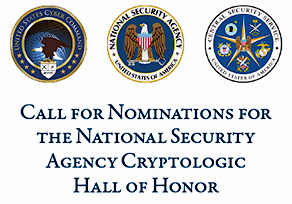 The National Cryptologic Museum Foundation (NCMF) invites your nominations for the National Security Agency Cryptologic Hall of Honor. The Hall was established in 1998 to pay tribute to Americans and others who have given distinguished service to the US in cryptology and related fields. The nomination process is open to all individuals, military, and civilian.
Nominees must be retired for a minimum of ten years and have made significant contributions to the security of the US in the field of cryptology. See "Tips to Aid You in Preparing a Nomination" on the nomination and selection process.

DEADLINE is Friday 30 March 2018. Mail your nominations to NCMF, POB 1682, Fort Meade, MD 20755 or send via email to cryptmf@aol.com.
---
AFIO National Luncheon Features Toni Hiley and Steve Coll

Friday, 9 February 2018
Tysons, VA

Toni Hiley, CIA Museum Director
Center for the Study of Intelligence

and

Steve Coll, author/journalist
on his reviewer-praised forthcoming book debuting at event
DIRECTORATE S: The CIA and America's Secret Wars in Afghanistan and Pakistan, 2001-2016
---
ELECTIONS CONTINUE FOR AFIO BOARD
Have you cast your vote?
AFIO National Board Elections continue for terms running 2018 thru 2021.
The list of candidates and their bios appear on online ballot accessed via link below.
Current members are asked to cast votes securely online now.
Election closes 11:59 pm EST 15 February 2018
---
Liza Mundy discusses
CODE GIRLS - American Women Who Cracked the German and Japanese Codes to Help Win WWII
at the Spring Cryptologic Program by the National Cryptologic Museum Foundation (NCMF).
14 March 2018 - 10 am - 1 pm (lunch follows) - Annapolis Junction, MD
The NCMF kickoff event for 2018 features award-winning Liza Mundy discussing "Code Girls: The Untold Story of the American Women Code Breakers of World War II."
As the US headed to war in 1941, two things became clear: victory depended on successful code-breaking and they didn't have enough people working on it. The solution: recruit women for cryptanalysis. Tens of thousands of women - mostly college students and teachers with an affinity for math, science, and foreign languages - answered the call for top-secret work as codebreakers. Their efforts shortened the war, saved countless lives, and gave them access to real careers; however, strict secrecy nearly erased them from history...until now. Mundy provides a riveting account of American courage, service, and scientific accomplishment.
Liza Mundy, a former staff writer for the Washington Post, is author of four books and has won many awards. She holds an AB from Princeton and an MA in English literature from UVA. She lives a mile from Arlington Hall, where the Army code-breaking women worked.
LOCATION: CACI Inc., Maryland Conference Center, 2720 Technology Dr, Annapolis Junction, MD 20755 [Google map link here]
REGISTER NOW: Fee, includes lunch, is $25 for members and guests. Mail check to "NCMF, PO Box 1682, Ft. Meade, MD 20755" or register online here. Further details are here or feel free to call the NCMF office at 301-688-5436. A PDF-format flyer describing event is here.
---
Books of the Week

Never Remember: Searching for Stalin's Gulags in Putin's Russia
by Masha Gessen
(Columbia Global Reports, Feb 2018)
Drawing on years of interviews, research, and travel, Gessen and photographer Friedman reflect on complex Russian attitudes to the legacy of the gulag in this vital collection of essays and photographs. Established in 1930, the gulag was a vast, brutal network of prison camps kept secret from the general population, in which millions of Soviet citizens were imprisoned or killed. Touching on the various populations of the camps, from the victims of Stalin's terror to later anti-Soviet dissidents, Gessen's brief essays focus on contemporary physical markers of the gulag -- the symbolic manifestations of how people choose to remember, or not remember, what happened. Many of the people she writes about are those who are invested in maintaining the known sites of camps: for example, Veniamin Iofe and Irina Flige, two members of the human rights organization Memorial, who discovered a mass grave in Sandormokh and worked with government agencies and other activists to eventually erect a series of monuments. Friedman's moody, panoramic black-and-white photos of the memorial sites convey a narrative that's fragmented, blurry, and ultimately incomplete, perfectly underscoring Gessen's text. The combination is a powerful meditation on contemporary Russia as seen through its relationship to the past. (Publishers Weekly).
Book may be ordered here.
---
Operation Chaos: The Vietnam Deserters Who Fought the CIA, the Brainwashers, and Themselves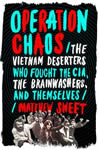 by Matthew Sweet
(Henry Holt, Feb 2018)
How the CIA tried to infiltrate a radical group of US military deserters, which leads from a bizarre political cult to the heart of the Washington establishment.
Stockholm, 1968. A thousand American deserters and draft-resisters are arriving to escape the war in Vietnam. They're young, radical, and want to start a revolution. Some even want to take the fight to America. The Swedes treat them like pop stars -- but the CIA seeks to halt it. To do that it uses deep-cover men of Operation Chaos and their allies -- agents who know how to infiltrate organizations and destroy from within. Within months, the GIs have turned on each other. Then the interrogations begin -- to discover who among them has been brainwashed, Manchurian Candidate-style, to assassinate their leaders.
When Matthew Sweet began investigating this story, he thought the madness was over. He was wrong. Instead, he became the confidant of an eccentric and traumatized group of survivors -- each with his own theory about the traitors in their midst. One of Sweet's interviewees accuses him of being a CIA agent and another suspects he's part of a secret plot by the British royal family to start WW III. Before long, he's deep in the labyrinth of truths and half-truths, wondering where reality ends and delusion begins.
Book may be ordered here.
---
2018 CIA-themed Wall Calendar and Day Planner
are now available through the International Spy Museum Bookshop.
This handsome calendar should hang in offices and homes to remind us of those who operate in the shadows who dedicated their lives for our freedoms.
To order the 2018 calendars or planners use this link.
The read about the calendar/planner project organized by a private citizen, visit CIA-ART.com.
Inspiration to have on your wall or desk top. And ideal gifts to send colleagues, friends, and others.
---
Section I - INTELLIGENCE HIGHLIGHTS

Financier Is Top Choice to Advise President on Intelligence Matters. The man who once reportedly dreamt of being the most powerful American in Afghanistan has now set his sights on a new intelligence job that would give him direct access to U.S. President Donald Trump and the White House.

After a year in office, Trump has zeroed in on a group of personal advisors on intelligence matters, and Stephen Feinberg, a billionaire financier who has angled for a position in the White House for nearly a year, is top on the list to lead it.

Feinberg will lead the President's Intelligence Advisory Board, six sources with knowledge of the matter told Foreign Policy. The sources requested anonymity to discuss sensitive intelligence matters and internal policy.

A spokeswoman for Feinberg declined to comment. [Read More: McLaughlin/foreignpolicy/22Jan218]

Lebanese Intelligence Turned Targets' Android Phones Into Spy Devices, Researchers Say. Lebanon's internal intelligence agency appears to have been caught spying on thousands of people - including journalists and military personnel - in more than 20 countries, according to researchers at the Electronic Frontier Foundation and Lookout, a mobile security company.

The spy operation, revealed on Thursday, is among dozens around the world uncovered by human rights groups and technical organizations in recent years as governments and intelligence agencies have started relying more on mobile and desktop spyware than on traditional forms of cloak-and-dagger espionage.

The researchers found what they said was evidence that Lebanon's intelligence agency - called General Directorate of General Security, or GDGS - spied on their targets' Android mobile devices and desktop computers using various methods for more than six years. Their primary attack method, researchers said, was through a series of decoy Android apps designed to look like widely used private, secure messaging services such as WhatsApp and Signal.

Once downloaded, the apps allowed spies to steal nearly everything off their victims' phones, including text messages with one-time passcodes for accessing email and other services, as well as contact lists, call logs, browsing history, audio recordings and photos. The apps also let the spies take photos using the phone's front or back camera, and turned the device into a silent microphone to capture audio. The apps were not designed to target Apple iPhone users. [Read More: Perlroth/nytimes/18Jan2018]

CIA Director Mike Pompeo on Russian Meddling, Expanding Operations with "More Risk". In his first in-depth network interview since taking control of the intelligence agency, CIA Director Mike Pompeo spoke with "CBS This Morning" co-host Norah O'Donnell at CIA headquarters. She asked about the intelligence community's relationship with the White House, and whether the president takes allegations of Russian interference in our elections seriously.

It was Pompeo's predecessor, former CIA Director John Brennan, who told Congress last year that he alerted the FBI to contacts between Russian officials and the Trump campaign, a central focus of the ongoing investigation by Special Counsel Robert Mueller.

O'Donnell asked Pompeo, "Have you seen any evidence of collusion with members of the Trump campaign at the time?"

"I wasn't on the campaign," Pompeo replied. "I haven't seen it...I can only say this: I've watched this administration deal with all of our adversaries in a way that has been robust. And the CIA, as part of that, is doing our part." [Read More cbsnews/22Jan2018]

British 15-year-old Gained Access to Intelligence Operations in Afghanistan and Iran by Pretending to be Head of CIA, Court Hears. A 15-year-old gained access to plans for intelligence operations in Afghanistan and Iran by pretending to be the head of the CIA to gain access to his computers, a court has heard.

From the bedroom of the Leicestershire home he shared with his mother, Kane Gamble used "social engineering" - where a person builds up a picture of information and uses it manipulate others into handing over more - to access the personal and work accounts of some of America's most powerful spy chiefs .

The teenager persuaded call handlers at an internet giant that he was John Brennan, the then director of the CIA, to gain access to his computers and an FBI helpdesk that he was Mark Giuliano, then the agency's Deputy Director, to re-gain access to an intelligence database.

He also targeted the US Secretary of Homeland Security and Barack Obama's Director of National Intelligence from his semi-detached council house in Coalville. [Read More: Dixon/telegraph/19Jan2018]

Alleged CIA China Turncoat Lee May Have Compromised U.S. Spies in Russia too. The arrest last week of a former CIA officer suspected of spying for China exposed one of the most significant intelligence breaches in American history. But the damage is even worse than first reported, sources familiar with the matter tell NBC News.

A secret FBI-CIA task force investigating the case concluded that the Chinese government penetrated the CIA's method of clandestine communication with its spies, using that knowledge to arrest and execute at least 20 CIA informants, according to multiple current and former government officials.

American officials suspect China then shared that information with Russia, which employed it to expose, arrest and possibly even kill American spies in that country, said the current and former officials, who declined to be named discussing a highly sensitive matter. The possible sharing with Russia has not previously been reported.

Those sobering findings, sometime after the inquiry began in 2012, led the CIA to temporarily shut down human spying in China, and to overhaul the way it communicates with its assets around the world, according to former government officials familiar with the case. [Read More: Winter, Dilanian, Dienst/nbcnews/19Jan2018]

Egypt's Sisi Fires Spy Chief as Shuffle of Top Aides Continues. Three months ago, President Abdel Fattah el-Sisi of Egypt had three close advisers: his army chief, his spy boss and his chief of staff. Just one still has a job.

On Thursday, he fired the spy chief, Khaled Fawzy, and replaced him with his chief of staff. In October, he fired the chief of defense.

In a curt statement, Mr. Sisi's office did not offer a reason for the dismissal of Mr. Fawzy, who had led the General Intelligence Service since December 2014 and was credited with spearheading the agency's revival after its failure to anticipate the Arab Spring in 2011.

But there were signs the decision was made quickly, mostly notably in the choice of Mr. Sisi's longtime aide and chief of staff, Abbas Kemal, to fill the position temporarily until another successor is found. [Read More: Walsh/nytimes/18Jan2018]

Turkey's Intel Agency MIT Backs Army in Afrin Operation. Turkey's National Intelligence Organization (MIT) continues to provide support to the Turkish Armed Forces (TSK) during the ongoing operation in Syria's northwestern Afrin region, according to a security source Monday.

On Saturday, Turkey launched Operation Olive Branch to remove PKK/KCK/PYD-YPG and Daesh terror groups from Afrin.

The PYD/PKK is the Syrian offshoot of the PKK terrorist group, which has been designated a terrorist organization by Turkey, the U.S. and the EU.

In its cooperation with the army, MIT analyzes satellite images and images recorded by the organization personnel in Afrin, which is followed by a notification to Turkish troops in the area that helps them in hitting their targets. [Read More: yenisafak/22Jan2018]

U.S. Navy Spots Russian Spy Ship 100 Miles off North Carolina Coast: Report. A Russian spy ship that appeared to be on course for United States coastal waters last week is now being tracked by the U.S. Navy, which has spotted it 100 miles off the coast of North Carolina, CNN reported.

Citing two U.S. military officials who spoke on the condition of anonymity, the broadcaster reported that Russia's Viktor Leonov vessel has been sighted in international waters, southeast from Wilmington, North Carolina. The U.S. Navy destroyer U.S.S. Cole is reportedly tracking the Russian ship.

The Viktor Leonov first sailed near the U.S. almost a year ago, within the first few weeks of the newly inaugurated administration of President Donald Trump.

It was spotted 30 miles off the coast of Connecticut in February then approached the U.S. Naval Submarine Base Kings Bay, passing 30 miles south of it, in March. [Read More: Sharkov/newsweek/23Jan2018]

Bulgaria Ex-Spy Chief Sentenced to 15 Years for Misappropriation of Funds. Bulgaria's former intelligence chief Kircho Kirov was sentenced to 15 years in jail on Tuesday for what prosecutors described as the misappropriation of 5.1 million levs ($3.19 million) of public funds between 2007 and 2011.

It was the second verdict against Kirov, who is already appealing a 10-year prison sentence handed down in 2015 in an earlier misappropriation case.

In the latest case, prosecutors said Kirov had ordered a subordinate to draw up false documents to siphon funds from the intelligence service budget.

He has denied wrongdoing and said he would appeal the new conviction, which he described as part of a politically motivated campaign to persuade foreigners that Bulgaria is cracking down on corruption. [Read More: reuters/23Jan2018]

Sisi Holds Talks with French Intelligence Chief on Middle East. President Abdel Fattah al-Sisi hosted the Chief of the French Directorate-General for External Security, Bernard Amy, in Cairo on Monday, and underlined the strength of bilateral relations between the two countries, as the parties discussed regional issues and conflicts in the Middle East.

The talks, held in the presence of the acting Director of General Intelligence Service, Abass Kamel, saw Sisi emphasize that Egypt will continue intensive cooperation with France across several fields.

The official spokesperson for the presidency, Bassam Radi, said that Amy conveyed French President Emmanuel Macron's greetings to Sisi, and reiterated France's pride to maintain strong relations with Egypt.

Amy also emphasized France's determination to continue cooperating and consulting with Egypt regarding ongoing crises and issues across the Middle East. [Read More: Al-Youm/egyptindependent/23Jan2018]


---
Section II - CONTEXT & PRECEDENCE

Trisis has the Security World Spooked, Stumped and Searching for Answers. More than four months have passed since a novel, highly sophisticated piece of malware forced an important oil and gas facility in the Middle East to suddenly shut down, but cybersecurity analysts still don't know who wrote the code.

Since last August, multiple teams of researchers in the public and private sectors have been examining what the perpetrators planted inside a nondescript Saudi computer network. It's a rare case involving a computer virus specially engineered to sabotage industrial control systems (ICS) - the gear that keeps factories and refineries running. Manipulating these systems can have a destructive impact far beyond the network.

Today, the incident's magnitude and implications are becoming increasingly clear to the victim, to several foreign governments and to the private sector teams that led incident response. What they all found has been described to CyberScoop as the "next generation of cyberweaponry" - a tool so dangerous that its mere existence significantly intensifies the global digital arms race.

Clues unearthed from September to December suggest that an intricate but slightly misconfigured cyberattack caused the mysterious shutdown. The affected company and the teams investigating the incident still have not publicly revealed where it occurred. [Read More: Bing/cyberscoop/16Jan2018]

50 Years Ago North Korea Seized a US Spy Ship and Humiliated Washington. There's only one active-duty vessel of the US Navy being held captive by a foreign government. It's a North Korean tourist attraction.

On Jan. 23, 1968, North Korea attacked and seized the USS Pueblo, a barely armed spy ship that had been operating in international waters off its coast. Sent to gather intelligence on the secretive nation's military, the vessel was unimpressive but did feature sensitive encryption equipment and intelligence documents. One American crewmember was killed in the seizure, and the 82 others were imprisoned and mistreated for nearly a year.

The 50th anniversary of ship's capture serves as a reminder that relations between Washington and Pyongyang were tense long before Donald Trump and Kim Jong-un traded insults like "little rocket man" and "dotard." It also offers lessons for today.

While the two countries have been at odds for over half a century, some periods have been worse than others. The year 1968, even by today's standards, was particularly bad. Then as now, the two sides exchanged strongly worded demands. Right after the ship's capture, the US Navy insisted the crew be returned and that North Korea apologize, adding the US could demand compensation under international law. [Read More: Mollman/qz/22Jan2018]

What's Next For Intelligence Gathering In China After Leak Of CIA Confidential Information. After an ex-CIA agent was arrested for allegedly giving confidential information to Chinese authorities, NPR's Mary Louise Kelly talks with Dennis Wilder, former CIA deputy assistant director for the region, about what it means for intelligence gathering in China.

MARY LOUISE KELLY, HOST: In Honolulu, Hawaii, in August of 2012, a team of FBI agents searched a hotel room. Inside a piece of luggage, they found a small, clear plastic travel pack and, inside that pack, a datebook and an address book. The books belonged to former CIA officer Jerry Chun Shing Lee. They contained handwritten notes and classified information, meeting places and the true names and phone numbers of CIA sources in China.

Lee was arrested this week at JFK Airport in New York. As The New York Times first reported, this comes as the CIA is trying to bounce back from one of the worst intelligence breaches in decades, a breach that has seen more than a dozen CIA sources in China killed or imprisoned.

Dennis Wilder retired from the CIA in 2016. He was deputy assistant director for East Asia and the Pacific. And I asked him how Lee's case fits into a pattern of China targeting former CIA officers. [Read More: npr/17Jan2018]

World's Top 10 Spy and Cold War Museums. INTERNATIONAL SPY MUSEUM, WASHINGTON DC, US: Engaging and illuminating, the museum features archival videos, photographs and a satisfying collection of hardware - buttonhole cameras, a KGB lipstick pistol, a poison-tipped umbrella of the type Bulgarian agents used to assassinate dissident Georgi Markov in London and a replica of the Aston Martin DB5 featured in the James Bond Goldfinger flick. One of the stars is an Enigma machine, the cipher device used by the German military during World War II. "Cracked" by the Allies, the decoded messages contributed substantially to their victory. See spymuseum.org

GERMAN SPY MUSEUM, BERLIN, GERMANY: This is pure entertainment, a collection of the gadgets and techniques used by the world's second oldest profession over the ages. There's a whole room devoted to James Bond, a password cracker, interactive touch-screens and images that document the work of espionage in the city once at the frontline of the Cold War. Highlight is the laser maze where visitors test their acrobatic skills, as in Oceans Twelve. See deutsches-spionagemuseum.de

THE CORNER HOUSE, RIGA, LATVIA: Latvia was once a Soviet puppet state that operated under the watchful eye of the KGB, Moscow's secret police, and their HQ in the capital of Riga was this former apartment building, still a potent symbol of occupation. Here, opponents of the regime were interrogated, tortured and executed and the offices and cells have been preserved in all their shabby and chilling detail to tell the story of life under Soviet rule. See kgbbuilding.lv

THE COLD WAR MUSEUM, WARRENTON, US: Housed in a former US Army Security Agency Field Station used by the CIA, this museum offers an I-spy view of some of the events that dominated word headlines during the Cold War, such as the Cuban Missile Crisis. Exhibits include a Soviet SA-2 surface-to-air missile deployed to Cuba during the missile crisis and US Nike missiles. The museum was founded by Francis Gary Powers jnr, son of the pilot shot down in a U-2 spy plane during a reconnaissance mission over the Soviet Union. See coldwar.org [Read More: Gebicki/stuff/23Jan2017]

'The Catcher Was a Spy' Retells Mysterious Tale of WWII Figure. In his Sundance Film Festival feature "The Catcher Was a Spy," director Ben Lewin overcomes the challenging task of retelling the true story of enigmatic figure Moe Berg during World War II.

"I think a lot of work went into rediscovering this mysterious man who morphed himself from a baseball player into a spy," Lewin said in an interview from Santa Monica, California.

The Catcher Was a Spy follows Berg's tale as he transitions from major league ballplayer into a spy for the Office of Security Services, a predecessor to the Central Intelligence Agency. The film stars Paul Rudd, as Berg, as well as Jeff Daniels, Guy Pierce, Paul Giamatti and Sienna Miller.

Berg, described as someone extremely intelligent who speaks nine languages, is recruited to stop German scientist Werner Heisenberg before he can build an atomic bomb for the Nazi regime, according to Sundance's film program. [McNaughton/parkrecord/17Jan2018]


---
OSS Society President Charles Pinck writes Trump has it all wrong. Look to Norway? Yes.
"President Donald Trump says the United States should admit more immigrants from countries like Norway. We should look to Norway, but not for immigrants. We should look to Norway for lessons in how to resist Russian efforts to subvert our democracy.

Norway is fighting Russia far better than Trump.

When Trump's remarks were reported last week, I was in Oslo representing the OSS Society at an event sponsored by the Gunnar Sonsteby Foundation. Sonsteby is Norway's most decorated World War II hero and a leader of the Norwegian resistance during World War II. The OSS, or Office of Strategic Services, was the World War II predecessor to the CIA, the military's U.S. Special Operations Command, or SOCOM, and the State Department's Bureau of Intelligence and Research. America's OSS supported the Norwegian resistance.

I toured Oslo's Resistance Museum that tells the story of Norway's Nazi occupation, heroic resistance, and eventual liberation. It includes a speech President Franklin D. Roosevelt gave in 1942. FDR said: "If there is anyone who still wonders why this war is being fought, let him look to Norway. If there is anyone who has any delusions that this war could have been averted, let him look to Norway; and if there is anyone who doubts the democratic will to win, again I say, let him look to Norway." [Read More: Pinck/defenseone/16Jan2018]

Has Jared Kushner Been Targeted By Chinese Spies? Earlier this month, the Rupert Murdoch-owned Wall Street Journal published a curious article about Wendi Deng Murdoch, Murdoch's ex-wife. According to the paper, United States counter-intelligence officials had warned White House senior adviser Jared Kushner that Deng might be using her friendship with him and his wife, Ivanka Trump, to advance Chinese interests in the U.S. Of particular concern was a planned $100 million construction project in Washington, D.C., which would have included a 70-foot tower that officials worried could be used for surveillance. The warning, reported the Journal, was part of a larger effort in early 2017 by national-security officials to alert Kushner that Chinese nationals and other people linked to China, like Deng, might target him as part of an influence operation. (A spokesperson for Deng told the Journal that she "has no knowledge of any F.B.I. concerns or other intelligence agency concerns relating to her or her associations" and no knowledge of the D.C. project. Neither she, nor Kushner, have been accused of any wrongdoing.)

Some government officials also flagged Kushner's meetings with Cui Tiankai, the Chinese ambassador to the U.S., according to The New Yorker. Ever since Henry Kissinger introduced the two during the election campaign, they have met multiple times, reportedly raising concerns that Beijing has attempted to use Kushner's ready access to his father-in-law, Donald Trump, to sway policy. In past administrations, such meetings were attended by "a retinue of China specialists and note-takers." Kushner's meetings, however, were more intimate. On at least one occasion, he met with Cui alone. Other encounters with Cui included ex-national-security adviser Michael Flynn, who has since pleaded guilty to lying to F.B.I. agents about his contacts with Russian officials.

From Cui's perspective, the meetings seem to have been fruitful. Following a discussion on February 1, 2017 (the same day Ivanka took their daughter, Arabella, to a lunar New Year celebration at the Chinese Embassy), Kushner persuaded Trump to drop his threats to abandon the "One China" policy, which affirms mainland control over Taiwan. He also passed along proposals from Cui to Secretary of State Rex Tillerson, who made his first official trip to Beijing in March.

Kushner's decision to exclude top China specialists from the meetings was met with misgiving because his lack of political experience was thought to make him vulnerable to Chinese demands. "He went in utterly unflanked by anyone who could find Beijing on a map. It was a dream come true. They couldn't believe he was so compliant," a former member of the National Security Council told The New Yorker. Some officials who were uninvited to the meetings apparently resorted to scouring intelligence reports to see how Chinese diplomats detailed their dealings with Kushner. (A spokesperson for Kushner told the outlet that none of the specialists in the region told him "he shouldn't be doing it the way he was doing it at the time.") [Read More: Thompson/vanityfair/22Jan2018]
---
Section IV - Research Request, Tours, Jobs, and Obituaries
Researcher/author Kenneth D. Alford seeks assistance of AFIO members:
My current project is James P. Atwood.
"I have hundreds of pages of typed transcripts of interviews with his closest business associates. These contain detail information regarding Atwoods' purchase of ocean going freighters, illegal dealings with 100 British sports cars, water chestnut farm, acquisition on tons of rusty nails, infidelity and counterfeiting of Third Reich high value daggers and more.
What is glaringly missing is Atwoods involvement with the CIA and international arm trade. Arrested by the Army's CID in the early 60s, for misuse of government mail, tax fraud and other matters, Atwood got the CIA to force the charges against him dropped. All the paperwork was supposed to have been destroyed but a copy of the 62-count indictment plus the Chicago Federal judge's orders have survived.
I am seeking reliable information Atwoods' involvement with the CIA and international arm trade. Where can I find a copy of the paperwork of the 62-count indictment against Atwood?"
Kenneth Alford is the author of eleven books, primarily on Third Reich treasures, painting, gold, silver and diamonds. Criminal Investigation Division, Counter Intelligence Corps and OSS records were heavily relied upon for this research. If you have info or comments about this project, contact Kenneth D. Alford: kenalf@gmail.com
UK Bound? Last Chance to experience "THE INTELLIGENCE TRAIL," London's critically acclaimed in-depth spy tour which has decided to curtail operations in 2018.
The tour, and its guide Brian Gray, have been featured on BBC Radio 2, prime time US television, and key media publications around the world. Having founded the 'Trail in 2009 however, Gray feels the time is right to complete the mission. He commented:
"Harold Macmillan, the late former British Prime Minister, famously opined that anyone who had worked in the security services for more than ten years was probably mad. I'm not sure whether that also applies to those merely educating people about the intelligence world, but with nine years on the frontlines of informing, educating, and perhaps entertaining people at the frontline of British intelligence education, it's time to slip back into the shadows."
Clients have included AFIO members as well as other members of the intelligence, diplomatic, military and security communities from around the world. And although only a limited number of private tour slots are available each month, Gray highlights that other dates can be arranged if need be to accommodate those whose travel plans or work itineraries are less flexible.
For further details on the different tours available, pricing and contact details, please visit https://intelligencetrail.com
Associate Threat Assessment Manager, Reston, VA
FireEye, Inc. is seeking an Associate Threat Assessment Manager, Reston, VA, with 3 to 20 years experience. Details are here.
Adm. Stansfield Turner. 94, former DCI who led major CIA overhaul, died 18 January 2018 in Seattle, WA. Turner was the Director of CIA in the late 1970s and, at behest of President Jimmy Carter, reorganized the clandestine service seeking to usher in focus on newer technology, but faced considerable resist, push-back, and bad press on both efforts. An Oxford-educated Rhodes scholar, Turner was one of the Navy's sharpest analytical minds and confident leaders. He was a four-star admiral and commander of NATO forces in Southern Europe when he was tapped in 1977 by President Jimmy Carter, a Naval Academy classmate, to lead the U.S. intelligence community. As DCI during the entire Carter administration, Adm Turner had an office in the Old Executive Office Building - next to the White House - and he met the president frequently for one-on-one briefings, becoming one of the most powerful DCIs in history when Carter signed an executive order giving Turner authority over the budget of most of the U.S. spy agencies. With his new mandate, DCI Turner emphasized satellite imagery, electronic intercepts, and eavesdropping devices - technology still in wide Agency use today. [Read More: Shapiro/washingtonpost/18Jan2018]
Warren Ernest Frank, 92, a former CIA Deputy Station Chief, died 15 January 2018 in Leonardtown, MD. Mr. Frank enlisted in the Army at the age of 18 during World War II and served in Austria, Germany, and France. He then graduated from University of Colorado Boulder and in 1947 he began his career with the CIA. He became an expert in espionage, counterintelligence, and covert action, and was a significant participant in the peaceful resolution of the Cuban Missile crisis. He later served as Deputy Station Chief in Germany, and as Station Chief in Indonesia. He received the Intelligence Medal of Merit. He retired in 1985. In retirement traveled extensively and spent several months a year living in the Philippines. In 2003 he moved to Southern Maryland to live on the water, where he enjoyed watching beautiful sunsets. He was an avid reader, especially enjoying history and foreign policy. He was a loving family man and a devoted grandfather. He always stressed the importance of a good education. In addition to his wife, Anna K. Riihela, he is survived by two daughters, a son, and other family. [Read More: The Washington Post/legacy/21Jan2018]
A Colleague of Charles Cogan? Attend his Celebration of Life.
In either Boston or Washington, join family, friends, and colleagues of Chuck Cogan in a Celebration of Life.
DC area will be Saturday, 10 February 2018, 11:30 am – 2:30 pm at Kenwood Golf and Country Club, 5601 River Road, Bethesda, MD.
Boston area will be Saturday, 27 January 2018, 11:30 am - 2:30 pm at the Harvard Faculty Club, 20 Quincey St, Cambridge, MA
Questions: contact Geoff Cogan, geoffrey.d.cogan@gmail.com or call 703-832-7651

---
AFIO EDUCATIONAL EVENTS IN COMING TWO MONTHS....
31 January 2018 (Wednesday), 11:30 am - San Francisco, CA - The AFIO San Francisco Chapter hosts Alan Brown on "The History of the Lockheed Skunk Works and the Development of the F-117A Stealth Fighter"
Alan Brown, former Director of Engineering at Lockheed discusses "History of the Lockheed Skunk Works and the Development of the F-117A Stealth Fighter" at this January meeting of the AFIO "Andre LeGallo" San Francisco Chapter.
WHERE: Basque Cultural Center, 599 Railroad Avenue, South San Francisco, CA 94080.
TIMING: 11:30AM no host cocktail; meeting and luncheon at noon.
RSVP: Register here. Reservation and pre-payment is required before January 21, 2018. The venue cannot accommodate walk-ins. Questions? Contact Mariko Kawaguchi, Board Secretary at afiosf@aol.com.
9 February 2018 - Tysons, VA - First AFIO luncheon of 2018 features Toni Hiley, CIA Museum Director, and Steve Coll, author/journalist, on The CIA and America's Secret Wars in Afghanistan and Pakistan
Register now for AFIO National's first luncheon of 2018. Toni Hiley, CIA Museum Director, Center for the Study of Intelligence speaks in the morning. Followed by lunch, and then a presentation by Steve Coll, author/journalist, on his reviewer-praised forthcoming book debuting at event, DIRECTORATE S: The CIA and America's Secret Wars in Afghanistan and Pakistan, 2001-2016.
Times: 10 am badge pickup; Hiley speaks at 11; lunch at noon; Coll at 1; event closes at 2.
Register here while space remains.
Friday, 9 February 2018, 1-2.15 pm - Westchester, CA - AFIO Los Angeles Chapter holds Business/Election Meeting
Key Points To Cover will be: • Chapter Officers Election; • Treasurer's Annual Business Report; • Bylaws Review; • Upcoming Guest Speakers; • Chapter Outreach Efforts, and • Open Discussion.
Location: Alejo's Italian Restaurant 8343 Lincoln Blvd, Westchester, CA 90045
Lunch Served-No Cost to Active Members
RSVP: No later than February 7, 2018 (Wed)
Email your attendance/reservation: AFIO_LA@Yahoo.com.
Saturday, 10 February 2018, 11:30-2 - Melbourne, FL - The AFIO Florida Satellite Chapter hears from Professor Scott Tilley on "Big Data and Predictive Analytics: Who Watches the Watchers?"
Florida Institute of Technology professor and regular Florida Today columnist Scott Tilley will address the current big data landscape, provide an overview of some of the tools available to manage massive datasets, and discuss some of the possible impacts of big data and predictive analytics on businesses and society at large in the coming years.
For further information and to register to attend meeting, contact FSC Chapter President at afiofsc@afio.com.
Tuesday, 13 February 2018, noon - MacDill AFB, FL - LCDR Don Barber discusses "Cyber deterrence, risk, and intelligence in the military" at this Florida Suncoast AFIO Chapter meeting.
LCDR Don Barber discusses "Cyber deterrence, risk, and intelligence in the military" at this Florida Suncoast AFIO Chapter meeting. The program is starts at noon.
Fee: $20 by check or cash at the door.
Reservations: Arrangements for base access for those without military ID must be made by Tuesday, 6 February, by contacting the Chapter Secretary, michaels@suncoastafio.org.
Location: MacDill AFB Surf's Edge Club, 7315 Bayshore Blvd, MacDill AFB, FL 33621.
---
Other Upcoming Events from Advertisers, Corporate Sponsors, and Others
Tuesday, 23 January 2018, 6:30pm – Washington, DC – Sunken Gold: A Story of World War I Espionage – at the International Spy Museum
On January 25, 1917, HMS Laurentic, a British ship laden with forty-four tons of Allied gold was sunk by German mines off the coast of Ireland. Desperate to recover the treasure, the Admiralty sent its best divers to salvage the gold. Their experiences in the tight confines of the sunken wreck drew the attention of Rear Admiral Reginald "Blinker" Hall, the Head of British Naval Intelligence, who organized the group into the legendary "Tin-openers." These divers, operating in live minefields, plumbed into freshly sunk U-boats searching for codes, ciphers, and other intelligence to assist the codebreaking operations of the mysterious Room 40 and help win the war. Joseph A. Williams, author of The Sunken Gold: A Story of World War I, Espionage, and the Greatest Treasure Salvage in History will recount, through newly discovered sources, the epic deeds of these covert divers, bringing to light the grit and determination their project demanded.
Co-sponsored by the Naval Intelligence Professionals. For NIP Member tickets email: soltmans@spymuseum.org.
Tickets for the general public: $10 per person; Members: $8. Visit www.spymuseum.org.
24 January 2018, 6-9:30 pm - Washington, DC - "A Year In Review with James Clapper" at the International Spy Museum
The International Spy Museum invites you to join them for a cocktail and hors d'oeuvres reception and an evening of conversation with James Clapper as he offers his perspective on a "Year in Review." Topics covered include North Korea, Iran, China, Russia, and other technologies of concern. Bring your questions for the Q&A.
Clapper is the former Director of National Intelligence, Under Secretary of Defense for Intelligence, Director of the National Geospatial-Intelligence Agency, and Director of the Defense Intelligence Agency. Lt. Gen Clapper worked under four Presidents, George H.W. Bush, George W. Bush, William Jefferson Clinton and Barack Obama after serving 32 years in the Air Force.
TIMING: Reception 6-7:15 pm, includes cocktails and heavy hors d'oeuvres; Conversation with James Clapper 7:15-8:30 pm; After-Glow Dessert Reception 8:30 - 9:30 pm
PRICES range from $275 per seat up to $15,000. Register here while space remains.
24 January 2018, 9 am to 5 pm EST - Washington, DC - Workshop on Workforce Development and Intelligence Analysis - National Academies of Sciences, Engineering and Medicine
Will also include two other national security-related workshops. A webcast of the intelligence analysis workshop will also be made available. More information on the workshops and access to the webcast can be found here.
The workshop will feature invited presentations and discussion to examine cutting-edge social and behavioral science research to better understand how to build an analytic workforcefrom recruitment to training and motivating through leadership leadership to identifying the optimal ways to collaborate with technology in teams to trends in future workforce development. The workshop is one of three workshops to be held. The workshops are designed to gather information for the Decadal Survey of Social and Behavioral Sciences for Applications to National Security. Input from the research communities is critical to the success of the SBS Decadal Survey. In advance of and during the workshops, research ideas and comments on ideas are encouraged.
Location: Keck Center, 500 Fifth St NW, Washington, DC
Friday, 26 January 2018, 6 - 9 pm – Washington, DC – Spy Fest: A Kidspy Family Festival – at the International Spy Museum
Sitting in your comfy chair watching James Bond makes spy tradecraft look easynows your chance to find out if you could be the next 007. Do you have the savvy to beat a lie-detector? The smarts to break a top secret coded message? The wits to create secret writing? The moves of a Ninja? Families are invited to find out how they measure up at the Museums Annual Spy Fest. Mini-missions, tradecraft demonstrations by the experts, and the chance to try spy skill challenges will give KidSpy agents and their handlers an insiders peek into the shadow world of spyingand who knows, there just may be a spy or two in your midst.
Tickets for the general public: $14 per person; Members: $12. Visit www.spymuseum.org.
Wednesday, 14 February 2018, 6pm – Washington, DC – Lips, Locks, and Body Language: Valentine's Day Spy Style – at the International Spy Museum
You may be in love with the shape of your partner but do you know what their body is saying to you? This Valentine's Day deceptive analysis expert Lena Sisco wants to help you become fluent in body language. She will reveal how to spot hidden emotions in facial expressions, how to tell if someone's body language is open or closed, and why it's important to read. She'll tell you about the body's three power zones…for romance you might want to pay particular attention to one of these. Also she can show you the best way to convey that you're interested, not interested, or really, really interested. Sisco is a former military intelligence officer and interrogator and author of You're Lying! She'll help you take control of a suggestive situation, even if it means interrogating the one you love or want to love!
Before the talk begins at 7, enjoy a complimentary cocktail, sweet treats, have your lip print analyzed, and pick up a few basic lock picking skills that can come in handy for handcuffs! Adult material - 18 and older strictly enforced.
Tickets for the general public: $35 per person; Members: $25.
Visit www.spymuseum.org.
Thursday, 22 February 2018, 6:30pm – Washington, DC – Breaking Cover: An Evening with Michele Rigby Assad – at the International Spy Museum
Working undercover, Michele Rigby Assad has operated in some of the most treacherous areas throughout the Middle East. Trained as a CIA counterterrorism specialist, Assad served her country for ten years, leading some of the most highly skilled operatives on the planet. The threats were real. The missions were perilous and the hazards of leading a double life in Iraq and other secret Middle Eastern locations were enormous. Now with her new book, Breaking Cover, she is able to share her covert life and the opportunities it presented to her, from protecting US national security to assisting people persecuted for their religious beliefs. Join Assad for a discussion of her former double life and the dramatic experiences that life in the CIA's directorate of operations offered her.
Pre-registered guests will be entered into a drawing to experience the Spy Museum's immersive adventure Operation Spy with Assad before the program on the 22nd. Winners will be able to bring one guest each. Breaking Cover will be available for sale and signing at the event.
Tickets for the general public: $15 per person; Members: $10.
Visit www.spymuseum.org.
Saturday, 24 February 2018, 11am - noon – Washington, DC – The Magic of Spying: Tradecraft Trickery – at the International Spy Museum
In the real-life world of espionage, spies often call upon the art of magic and illusion to distract the enemy, make evidence disappear, and escape unnoticed. Join professional magician, Peter Wood, as he demonstrates the art of misdirection, sleight of hand, and other illusions used by skilled spies. This one of a kind performance, custom-designed for the Spy Museum, is guaranteed to fascinate children and adults alike.
Ages: 7 and up* (one adult required for every five KidSpy agents).
Space is limited - advance registration required. Tickets for the general public: $10 per person; Members: $9. Visit www.spymuseum.org.
Wednesday, 28 February 2018 - Washington, DC - "The New Cold War?: The State of US-Russia Relations & Unconventional Threats to US Security" - a symposium at Georgetown University Law School.
The Journal of National Security Law & Policy annual symposium theme is "The New Cold War?: The State of U.S.-Russia Relations & Unconventional Threats to U.S. Security."
In addition to the following three panels, the symposium will also feature a lunchtime keynote speech by Laura Kennedy, former Deputy Assistant Secretary for European and Eurasian Affairs under the George W. Bush Administration.
Panel 1: Foreign Ties in the National Security Context: The Politics & Policies of Disclosure; Panelists will provide an overview of disclosure laws through the lenses of the Foreign Agents Registration Act (FARA) and the security clearance process. Panelists will explore questions including: (1) What precisely are FARA and the SF-86's reporting requirements? and (2) What are the legal ramifications for failing to register as a foreign agent or disclose foreign contacts on the SF-86?
Panel 2: The Russian Cyber Threat; Panelists will discuss the growing threat posed by Russian hackers and whether the current international legal regime governing cyberattacks adequately safeguards against the Russian cyber threat, and if it does not, what reforms are needed to mitigate this threat.
Panel 3: Russian State Organized Crime; Panelists will explore the dangers posed by Russian state organized crime being invested in the U.S. economy and businesses, how state-sponsored organized crime is different from regular organized crime, and how the techniques used to combat them are the same, and how they are different. A reception will follow, and additional details will be announced soon. RSVP for the symposium here.
4-7 April 2018 - San Francisco, CA - ISA2018: The International Studies Association (ISA) 59th Annual Convention includes an Intelligence Studies Section with a exceptional program.
The Intelligence Studies Section content (4 straight days, 30 panels and roundtables) is one small part of ISA's much larger conference. The full conference program is almost 300 pages; find details at the full conference website here. The Intelligence Studies Section (ISS) is one of thirty thematic sections that make up the ISA, has approximately 350 members, and has been sponsoring research about intelligence as a function of government since the mid-1980s. Additional information on the ISS can be found here.
If you have questions about the ISS program, contact the Section Chair: Stephen Marrin at marrinsp@jmu.edu or spm8p@yahoo.com
The updated program of Intelligence Studies Section panels at ISA2018 is here. Scan down that page to be dazzled by the number of presenters and breadth of intelligence and national security topics. This is a must attend conference.

---
Gift Suggestions:
AFIO's 788-page Guide to the Study of Intelligence. Peter C. Oleson, Editor, also makes a good gift. View authors and table of contents here.

Perfect for professors, students, those considering careers in intelligence, and current/former officers seeking to see what changes are taking place across a wide spectrum of intelligence disciplines.
AFIO's Guide to the Study of Intelligence helps instructors teach about the large variety of subjects that make up the field of intelligence. This includes secondary school teachers of American History, Civics, or current events and undergraduate and graduate professors of History, Political Science, International Relations, Security Studies, and related topics, especially those with no or limited professional experience in the field. Even those who are former practitioners are likely to have only a limited knowledge of the very broad field of intelligence, as most spend their careers in one or two agencies at most and may have focused only on collection or analysis of intelligence or support to those activities.
For a printed, bound copy, it is $95 which includes Fedex shipping to a CONUS (US-based) address.
To order for shipment to a US-based CONUS address, use this online form,

To order multiple copies or for purchases going to AK, HI, other US territories, or other countries call our office at 703-790-0320 or send email to afio@afio.com to hear of shipment fees.
Order the Guide from the AFIO's store at this link.
The Guide is also available directly from Amazon at this link.
AFIO's 2017 Intelligence Community Mousepads are a great looking addition to your desk...or as a gift for others..
Made in USA. Click image for larger view.
These 2017 mousepads have full color seals of all 18 members of the US Intelligence Community on this 8" round, slick surface, nonskid, rubber-backed mouse pad with a darker navy background, brighter, updated seals. Also used, by some, as swanky coasters. Price still only $20.00 for 2 pads [includes shipping to US address. Foreign shipments - we will contact you with quote.] Order NEW MOUSEPADS here.
Disclaimers and Removal Instructions
Weekly Intelligence Notes (WINs) are commentaries on Intelligence and related national security matters, based on open media sources, selected, interpreted, edited and produced for non-profit educational uses by members and WIN subscribers.
REMOVAL INSTRUCTIONS: We do not wish to add clutter to inboxes. To discontinue receiving the WINs:
a) IF YOU ARE A MEMBER - click here: UNSUBSCRIBE and supply your full name and email address where you receive the WINs. Click SEND, you will be removed from list. If this link doesn't open a blank email, create one on your own and send to afio@afio.com with the words: REMOVE FROM WINs as the subject, and provide your full name and email address where you are currently receiving them.
b) IF YOU ARE NOT A MEMBER, and you received this message, someone forwarded this newsletter to you [contrary to AFIO policies]. Forward to afio@afio.com the entire WIN or message you received and we will remove the sender from our membership and distribution lists. The problem will be solved for both of us.
CONTENTS of this WIN [HTML version recipients - Click title to jump to story or section, Click Article Title to return to Contents. This feature does not work for Plaintext Edition or for some AOL recipients]. If you wish to change to HTML format, let us know at afio@afio.com. The HTML feature also does not work for those who access their e-mail using web mail...however NON-HTML recipients may view the latest edition each week in HTML at this link: https://www.afio.com/pages/currentwin.htm
---
WINs are protected by copyright laws and intellectual property laws, and may not be reproduced or re-sent without specific permission from the Producer. Opinions expressed in the WINs are solely those of the editor's) or author's) listed with each article. AFIO Members Support the AFIO Mission - sponsor new members! CHECK THE AFIO WEBSITE at www.afio.com for back issues of the WINs, information about AFIO, conference agenda and registrations materials, and membership applications and much more!
(c) 2000, 2012, 2013, 2014, 2015, 2016, 2017, 2018. Please note AFIO's new address: AFIO, 7600 Leesburg Pike, Suite 470 East, Falls Church, VA 22043-2004. Voice: (703) 790-0320; Fax: (703) 991-1278; Email: afio@afio.com