---
CONTENTS
Section I - INTELLIGENCE HIGHLIGHTS
Section II - CONTEXT & PRECEDENCE
Section IV - Jobs and Obituaries
Other Upcoming Events from Advertisers, Corporate Sponsors, and Others
For Additional AFIO and other Events two+ months or more... Calendar of Events
WIN CREDITS FOR THIS ISSUE: The WIN editors thank the following special contributors: pjk, mh, km, gh, mk, rd, fm, kc, jm, mr, jg, th and fwr. They have contributed one or more stories used in this issue.
The WIN editors attempt to include a wide range of articles and commentary in the Weekly Notes to inform and educate our readers. However, the views expressed in the articles are purely those of the authors, and in no way reflect support or endorsement from the WIN editors or the AFIO officers and staff. We welcome comments from the WIN readers on any and all articles and commentary.
CAVEATS: IMPORTANT: AFIO does not "vet" or endorse research inquiries, career announcements, or job offers. Reasonable-sounding inquiries and career offerings are published as a service to our members, and for researchers, educators, and subscribers. You are urged to exercise your usual caution and good judgment when responding, and should verify the source independently before supplying any resume, career data, or personal information.]
If you are having difficulties with the links or viewing this newsletter when it arrives by email, members may view the latest edition each week at this link. You will need your LOGIN NAME and your PASSWORD.
---
ODNI and CIA release videos explaining career opportunities and new missions.
Click image to view on YouTube or start here.

---
AFIO National Luncheon Features Toni Hiley and Steve Coll

Friday, 9 February 2018
Tysons, VA

Toni Hiley, CIA Museum Director
Center for the Study of Intelligence

and

Steve Coll, author/journalist
on his reviewer-praised forthcoming book debuting at event
DIRECTORATE S: The CIA and America's Secret Wars in Afghanistan and Pakistan, 2001-2016
---
ELECTIONS CONTINUE FOR AFIO BOARD
Have you cast your vote?
AFIO National Board Elections continue for terms running 2018 thru 2021.
The list of candidates and their bios appear on online ballot accessed via link below.
Current members are asked to cast votes securely online now.
Election closes 11:59 pm EST 28 February 2018
---
Liza Mundy discusses
CODE GIRLS - American Women Who Cracked the German and Japanese Codes to Help Win WWII
at the Spring Cryptologic Program by the National Cryptologic Museum Foundation (NCMF).
14 March 2018 - 10 am - 1 pm (lunch follows) - Annapolis Junction, MD
The NCMF kickoff event for 2018 features award-winning Liza Mundy discussing "Code Girls: The Untold Story of the American Women Code Breakers of World War II."
Liza Mundy, a former staff writer for the Washington Post.
LOCATION: CACI Inc., Maryland Conference Center, 2720 Technology Dr, Annapolis Junction, MD 20755 [Google map link here]
REGISTER NOW: Fee, includes lunch, is $25 for members and guests. Mail check to "NCMF, PO Box 1682, Ft. Meade, MD 20755" or register online here. Further details are here or feel free to call the NCMF office at 301-688-5436. A PDF-format flyer describing event is here.
---
Books of the Week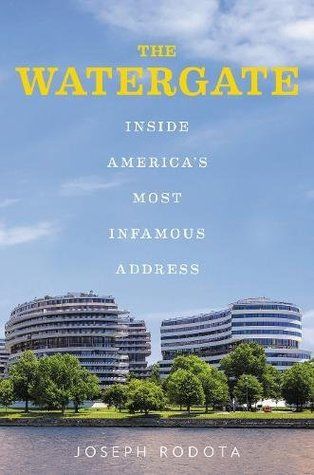 The Watergate: Behind Closed Doors in Washington's Most Famous Residence
by Joseph Rodota
(William Morrow, Feb 2018)
A building complex in Washington, DC's Foggy Bottom, the Watergate lent it's suffix to numerous scandals after the 1972 break-in at the Democratic National Committee headquarters there which eventually led to the resignation of President Richard Nixon. Rodota, a writer and communications manager in the Reagan White House, doesn't focus on the break-in but instead gives us a social history of the complex. "Tiger hostess" Anna Chennault throwing glamorous parties, Secretary of State Condoleezza Rice giving chamber music recitals, Court Justice Ruth Bader Ginsburg celebrating New Year's Eve with Antonin Scalia and their spouses. Include Walter Pforzheimer, former legislative counsel, CIA.
Book may be ordered here.
---
Journey into Europe: Islam, Immigration, and Identity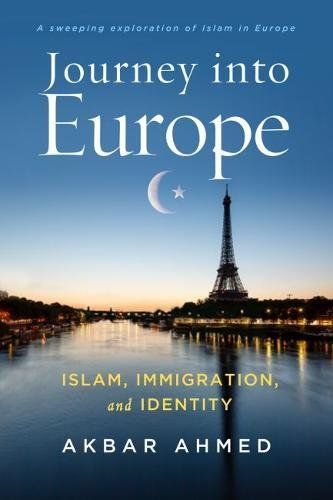 by Akbar Ahmed
(Brookings Institution Press, Feb 2018)
A dense but rewarding anthropological account of European reactions to Islam and Muslim immigrant communities, and vice versa. The term "tribalism" has long been reserved for so-called primitive societies, but "the classical attributes of tribes are present in modern European societies, however heavily they are buried or disguised, in cultural norms, language, rhetoric, symbolism, and assumptions of who 'we' are." When such tribes meet with Islamic ones with their own assumptions of ethnic identity, then trouble is bound to ensue, as it certainly has, with many manifestations. Ahmed is certain Islamic tribalism will work in the West.
Book may be ordered here.
---
2018 CIA-themed Wall Calendar and Day Planner
are now available through the International Spy Museum Bookshop.
This handsome calendar should hang in offices and homes to remind us of those who operate in the shadows who dedicated their lives for our freedoms.
To order the 2018 calendars or planners use this link.
The read about the calendar/planner project organized by a private citizen, visit CIA-ART.com.
Inspiration to have on your wall or desk top. And ideal gifts to send colleagues, friends, and others.
---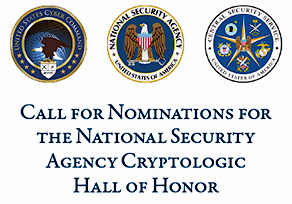 The National Cryptologic Museum Foundation (NCMF) invites your nominations for the National Security Agency Cryptologic Hall of Honor. The Hall was established in 1998 to pay tribute to Americans and others who have given distinguished service to the US in cryptology and related fields. The nomination process is open to all individuals, military, and civilian.
Nominees must be retired for a minimum of ten years and have made significant contributions to the security of the US in the field of cryptology. See "Tips to Aid You in Preparing a Nomination" on the nomination and selection process. DEADLINE is Friday 30 March 2018. Mail your nominations to NCMF, POB 1682, Fort Meade, MD 20755 or send via email to cryptmf@aol.com.
---
Section I - INTELLIGENCE HIGHLIGHTS

Dutch Intelligence Tipped off FBI, NSA on Russian Cyber Attacks. Intelligence-sharing agreements between various countries are nothing new; the United States' "Five Eyes" agreement between Australia, Canada, New Zealand, the UK, and the US is one well-known top-level alliance for sharing signals intelligence that dates back to the post-WW2 era. It's just one of many systems, both formal and informal, the US has in place for sharing information with our allies (and, in certain specific instances, countries we normally wouldn't label that way).

Generally, we don't find out which nations specifically contribute intelligence in which cases, this being a cataclysmic breach of operational security in its own right. But a recent report suggests the Dutch national intelligence service shared critical data with US agencies back in 2014 and 2015 - material that underpinned the findings of fact issued by the US national intelligence communities joint assessment that Russia had hacked the DNC and interfered in the 2016 election.

According to a new report published by de Volkskrant, the Dutch intelligence agency AIVD penetrated the computer network of a university adjacent to Red Square back in 2014, only to later realize they had tapped into APT29, aka Cozy Bear, one of the Russian government-affiliated organizations that penetrated the DNC and targeted other US government departments at various points. One question raised by many during the tumultuous 2016 US presidential election was how the US government and its various institutions could be certain of its analysis. Then-candidate Trump once argued that the individual behind the intrusions "could be somebody sitting on their bed that weighs 400 pounds."

We now know why various government agencies were certain of their conclusions. The building the Dutch hackers compromised had a closed-circuit TV network. Over a period of months, the AIVD team was able to watch everything the Russians did, including which specific individuals came and went. One reason the US intelligence agencies were so confident Russia was responsible was that the Dutch did a great lead of early legwork to demonstrate that known Russian intelligence operatives were working within Cozy Bear. [Read More: Hruska/extremetech/29Jan2018]

Spending Bill Limited Congress' Oversight of Secret Intelligence Activities, Senators Say. The White House can now direct US intelligence agencies to spend money and take covert action without approval of congressional oversight committees under a provision slipped into the bill that ended the government shutdown, leaders of the Senate intelligence committee say.

"You could potentially have an administration - any administration - go off and take on covert activities...with no ability for our committee...to say 'time out' or to say we actually disagree with that policy," said Sen. Mark Warner, D-Va., the panel's vice chairman.

A provision in the bill - requested by the White House and Pentagon - gives intelligence agencies an exemption from the law that requires them to get authorization from the intelligence committees before they spend taxpayer money, said Sen. Richard Burr, R-N.C., and chairman of the Senate panel.

Section 504 of the National Security Act gives the committees the power to withhold money from the intelligence agencies if they object to surveillance programs or other intelligence activities. [Read More: Kelly/usatoday/23Jan2018]

Intelligence Community Looking At Crowdsourcing For Predicting Geopolitical Events. NPR's Mary Louise Kelly speaks with Seth Goldstein, a program manager for Intelligence Advanced Research Projects Activity, about the $200,000 prize offered to anyone able to demonstrate accurate forecasting of a geopolitical event via crowdsourcing.

MARY LOUISE KELLY, HOST: Say you're a spy and you want to know who will win the upcoming presidential election in Brazil or what the spot price of Brent crude oil will be on a certain date a year from now. Well, you could turn to gadgets and gizmos and satellite intel, networks of agents, or you could outsource it to the wisdom of crowds. Here, I'll let him explain.

SETH GOLDSTEIN: My name is Seth Goldstein. I'm a program manager at the Intelligence Advanced Research Projects Activity.

KELLY: IARPA, as it's called. GOLDSTEIN: That's right. [Read More: npr/26Jan2018]

Nigeria's Intelligence Architecture Dysfunctional, Outdated - Report. The national security architecture is dysfunctional and needs urgent review, a presidential panel recommended in a report submitted to President Buhari on December 19.

The panel, led by former Minister of Foreign Affairs, Ambassador Baba Gana Kingibe, was set up in the aftermath of the Osborne Towers debacle.

Agents of the Economic and Financial Crimes Commission (EFCC) discovered $43 million stashed in an apartment in Osborne Towers, Ikoyi, Lagos.

The National Intelligence Agency (NIA) claimed the money saying it was approved for covert operations by the administration of former President Goodluck Jonathan. [Read More: Mutum/dailytrust/29Jan2018]

Finnish Government Calls for Urgent Approval of Intelligence Bill. Finland's government on Thursday urged opposition parties to back an intelligence bill being fast-tracked through parliament due to fears about spying by foreign governments and security concerns in the wake of the country's first militant attack.

The bill would give authorities new powers to monitor citizens online and allow the intelligence service to track communications beyond Finland's borders.

It requires changes to the constitutional law on privacy protection and fast-track approval, which is rare, demands the backing of five-sixths of parliament.

"The weakening of Finland's security situation and the need to prepare for activities threatening the national security of Finland have created an exceptional situation in which there is an immediate need to urgently amend the constitution," the government said in a statement. [Read More: reuters/25Jan2018]

Dutch Spy Service May Have Caught Russian Hackers on Tape. The Netherlands' spy service broke into the computers used by a powerful Russian hacking group and may be sitting on evidence relating to the breach of the U.S. Democratic National Committee, a Dutch newspaper and television show jointly reported Friday.

Reports carried in the respected daily Volkskrant and by the current affairs show Nieuwsuur said hackers working for the Dutch General Intelligence and Security Service penetrated the computers used by the group, often nicknamed Cozy Bear, in mid-2014 and watched them for at least a year, even managing to catch the hackers on camera.

Dutch Interior Minister Kajsa Ollongren, interviewed by reporters in The Hague before the government's weekly Cabinet meeting, declined to address the report, saying only that she was "very happy that we have good security services in the Netherlands that do their work well."

President Vladimir Putin's spokesman, Dmitry Peskov, said he had yet to see any official comment from the Dutch intelligence services on the matter. [Read More: Satter, Corder/sci-tech-today/26Jan2018]



---
Section II - CONTEXT & PRECEDENCE


'Rick is a Goddamn Russian Spy': Does the CIA Have a New Aldrich Ames on Its Hands? Aldrich "Rick" Ames was desperate for money. It was the mid-1980s, and the CIA's senior counterintelligence officer in the Soviet division had also grown disillusioned with his employer and the spy games between the United States and Soviet Union. So, on June 13 1985, inside his Langley office, Ames made a bold decision. He packed up a six-pound stack of documents that showed the case files and cryptonyms of some of the agency's best Soviet sources, each with code names such as TICKLE, GENTILE, MILLION and JOGGER.

Then, he stuffed the papers into plastic bags, jammed them into his briefcase, walked to an elevator, and walked out the door of the CIA, according to "Betrayal: The Story of Aldrich Ames, An American Spy," a 1995 book by a team of New York Times reporters. His next stop was the parking lot, where he got in his car, transferred the dossier into a plastic shopping bag, and drove to have lunch with a Soviet official.

"As they dined, the shopping bag sat under the table. It held nothing but the documents - and the soul of a burned-out CIA man," according to the "Betrayal" authors, who interviewed Ames. " In a sense, I was delivering myself along with them,' Ames said. 'I was saying: Over to you, KGB. You guys take care of me now. I've done this. I've demonstrated that I'm holding nothing back. You guys take care of me.' "

Does the CIA have a modern-day Ames on its hands now? For several years, federal investigators have been trying to determine whether a mole has been responsible for the imprisonment or deaths of the CIA's network of informants in China. Last week the Justice Department announced the arrest of a former CIA case officer who served in China, Jerry Chun Shing Lee, 53, a naturalized U.S. citizen who left the agency in 2007 and is a suspect in the China investigation. [Read More: Shapira/washingtonpost/26Jan2018]

Germany Cracks Down on Iranian Spies, Signals Major Shift. Is Germany in the midst of a major change in the way it treats Iran? Thus far, it's been a bit of a soft touch. Its tolerance of Iranian-backed terrorist groups has made Germany a safe haven for Iran. Berlin appears to be a major hub for Iranian espionage. But recent events suggest that might be changing.

German police cracked down on an alleged Iranian espionage campaign on January 16. They searched the homes and businesses of 10 alleged Iranian spies, but made no arrests. According to Deutsche Welle, these spies were gathering intelligence on Israeli and Jewish groups within Germany. The spies are suspected members of the al-Quds Brigade, a special forces unit of the Islamic Revolutionary Guard Corps (irgc).

Last year, the United States government designated the irgc as a terrorist group, but the European Union has not yet followed suit.

German news source Deutsche Welle wrote: "Iranian agents are believed to regularly spy on Israelis, Jewish institutions, Iranian dissidents and other targets abroad" (emphasis added throughout). Evidence backs this up. Between 2007 and 2017, Germany investigated 22 instances of Iranian espionage within its borders, putting Iran only slightly behind Russia, which was behind 27 cases of espionage in that same period. [Read More: thetrumpet/29Jan2018]

Ex-North Korean Spy Recounts Olympic Plot to Blow Up Plane. It was her first assignment as a North Korean secret agent.

In 1987, Kim Hyon Hui put a bomb on board Korean Air Lines Flight 858, killing all 115 on board on what she says was the direct order of Kim Jong Il, the son of North Korea's then-leader Kim Il Sung.

"The mission was to block the upcoming 1988 Seoul Olympic Games," says the soft-spoken 55-year-old, who in 1990 received a presidential pardon for her role in the atrocity after standing trial in South Korea.

Her dramatic story shows the lengths Pyongyang was prepared to go to disrupt the 1988 Summer Olympics, which were seen as a showcase for the South's development. The Boeing 707 blew up on November 29, 1987, over the Andaman Sea off the coast of Myanmar. [Read More: Hancocks, Kwon/cnn/26Jan2018]

Enemies Within Review - Richard Davenport-Hines Offers a Strange New Study of the Cambridge Spies. The British spy story, in fact and fiction, is an Edwardian mash-up of insular paranoia, late-empire adventurism, romantic class-consciousness and schoolboy fantasy. Its heroes, real and imagined, include Ian Fleming, Richard Hannay, Graham Greene, George Smiley, John le Carri and James Bond. Indeed, the entertainments of the double life became so braided into the actual work of SIS, the UK's Secret Intelligence Service, that it became sometimes impossible to distinguish between reality and make-believe.

After the Russian Revolution, SIS was the secret society that attracted a generation of young idealists, future Soviet agents whose names and exploits have passed into folklore as "the Cambridge spies": Anthony Blunt, Guy Burgess, John Cairncross, Donald Maclean and Kim Philby, who was also employed by the Observer. Their story became the real-life espionage thriller of the century, a sequence of human and institutional puzzles that have inspired a subgenre replete with myth and fabrication.

This is the tantalising mystery that Richard Davenport-Hines has chosen to elucidate in Enemies Within. How was it that five Cambridge undergraduates fell under the spell of Stalin's Russia?

On the face of it, there could not be a more experienced interrogator of a subject so festooned with myths of sleaze, power and treachery. Gossipy and opinionated, Davenport-Hines has written about Auden, Keynes, Profumo and Edward VII and is well-versed in the back alleys of Oxbridge, Whitehall and Westminster. Enemies Within is a peculiar and fascinating hybrid, a mix of history, anthropology, elegy and rant. Davenport-Hines insists at the outset that his subject is "the destruction of trust" in the British establishment. He is also at pains to tick off some of his precursors in this wilderness of mirrors: "Historians fumble their catches when they study individuals' motives rather than the institutions in which people work." Having declared his inspiration to be anthropological, he's certainly crammed a lot into these pages. [Read More: McCrum/theguardian/28Jan2018]

Tampa Man Sent Early Warning of Tet Offensive, But Who Was Listening? It was quiet in Saigon the night of Jan. 31, 1968, when Air Force Capt. David McNabb settled into his job as duty officer for a clandestine organization conducting special operations in the region.

Suddenly, explosions shattered the night, signaling an attack that would help turn public opinion back home against the war in Vietnam and bring American commanders to the realization they couldn't win it.

The night before, Army Col. John Singlaub - McNabb's commander and a founding member of the CIA - had ordered him to send a secret message to military leaders.

At 1:30 a.m. the next morning, the Tet Offensive will begin. [Read More: Altman/tampabay/29Jan2018]

NASA Scientist Accused of Terrorism Awaits Verdict in Turkish Trial. Early next month, Serkan Golge will learn whether his nightmare will continue. In July 2016, he and his family were in southern Turkey wrapping up a visit to relatives and preparing to return home to Houston, Texas, where the Turkish-American space scientist studies the effects of radiation on astronauts. But before his wife, Kubra, could finish strapping their two young sons into car seats, police arrived and took Golge away.

The police accused him of spying for the Central Intelligence Agency, and last April they charged the dual citizen with terrorism. "We were all stunned. It didn't make any sense," says computer scientist Alicia Hofler, a former colleague of Golge's at Old Dominion University in Norfolk, Virginia. A verdict is expected on 8 February; if convicted, Golge faces up to 15 years in prison.

He is one of several U.S. citizens and thousands of Turkish academics caught up in a crackdown following a July 2016 coup attempt. Scores of scientists are in prison, and many more have lost their jobs. Most academics now need permission to travel abroad. Turkey's president, Recep Tayyip Erdoğan, asserts the measures are necessary for national security: to root out allies or sympathizers of Fethullah G|len, a cleric living in exile in Pennsylvania whom Erdoğan has accused of masterminding the coup. But the crackdown quickly widened and has swept up even leftist and liberal opponents.

Harsh measures under an ongoing state of emergency could threaten the future of Turkish science, observers say. As long as a travel ban persists and "scientists currently jailed are not released, people won't be able to maintain their relations abroad," says Eugene Chudnovsky, a physicist at the City University of New York's Lehman College and co-chair of the Committee of Concerned Scientists, a nonprofit dedicated to protecting scientists' human rights. Ironically, before the coup Erdoğan was widely regarded as a patron of science, Chudnovsky says. "Many Turkish scientists will say that their situation had improved tremendously in terms of their economic situation, their ability to travel internationally," he says. "Now, of course, scientists are worried." [Read More: McTighe/sciencemag/24Jan2018]

Spy Who Saved 10,000 From Nazi Germany Earns Rare MI6 Tribute. MI6 has made a rare public tribute to a Second World War spy as the head of the intelligence service said its successes need no longer remain private.

Alex Younger lead tributes to Frank Foley, who used his position as Berlin station chief before the Second World War to issue thousands of visas to Jews struggling to escape Germany.

In rare public comments, the chief of the Secret Intelligence Service told members of Mr Foley's family and the Holocaust Educational Trust that it was difficult for the agency to tell of its successes, but the unassuming spy had been "a consummately effective intelligence officer".

He said: "There is a mantra that surrounds MI6's history that reads 'Our successes are private, our failures are public' ". [Read More: Farmer/telegraph/30Jan2018]



---
An Unexpectedly Smooth First Year for Trump's C.I.A. Director. It is easy to see why President Trump is fond of Mike Pompeo, the director of the C.I.A. Mr. Pompeo proudly plays up his conservative credentials, and he rarely passes up a chance to talk tough - except when it comes to Mr. Trump, of course.

In Mr. Pompeo's telling, the president is a sophisticated consumer of intelligence, and under his leadership, the C.I.A. is being reshaped into a leaner, more flexible organization whose officers have been freed to focus on stealing secrets, eliminating the United States' enemies and giving Mr. Trump the delicate information he needs to confront the challenges facing the country.

"I have seen 25-year intelligence professionals receive briefings," Mr. Pompeo said on Tuesday. "I will tell you that President Trump is the kind of recipient of our information at the same level as they are."

In a pair of public appearances this week, Mr. Pompeo, 54, a former Republican congressman from Kansas, marked his first year as C.I.A. director - a span that has, by most accounts, been outwardly smoother than many would have guessed. [Read More: Rosenberg/nytimes/23Jan2018]

Private and Government Defense and Intelligence Agencies Must Work Together. To address today's national security threats, the Central Intelligence Agency, Department of Defense, and broader national security community needs to hasten the use of 21st century technologies like machine learning and data analytics. But the current big proposals aren't going to provide serious innovation at the scale the U.S. Government needs.

Highly respected innovators, including Eric Schmidt of Alphabet and astrophysicist Neil deGrasse Tyson, recently rolled out a new series of recommendations to increase innovation across the Department of Defense (DoD).

Having led the implementation of similar programs at CIA, their recommendations sounded eerily familiar and I fear they won't break the DoD out of its technology rut any more than they have at the CIA.

Schmidt and deGrasse Tyson's newest recommendations include: Building an accelerator, establishing a system to elevate new ideas, creating a new data science and innovation career field and launching a training program for technology adoption. [Read More: Calhoun/thehill/26Jan2018]

David Ignatius: Ex-Spy Chiefs are Speaking Up ... Carefully. Richard Helms, the godfather of modern CIA directors, prided himself on keeping his mouth shut in public. He was delighted that his 1979 biography by Thomas Powers had the starchy title "The Man Who Kept the Secrets."

But that was then. In today's media-driven world, former intelligence chiefs appear so regularly on cable television that they probably need agents (not the trench-coated variety) to negotiate their contracts. Five recent directors or acting directors - John McLaughlin, Michael Hayden, Leon Panetta, Michael Morell and John Brennan - all provide regular television commentary. So does James R. Clapper Jr., the former director of national intelligence.

These "formers," as they sometimes describe themselves, are some of America's wisest experts on intelligence issues. They offer viewers valuable information and rebut inflammatory, inaccurate comments from President Donald Trump. They don't share secrets any more than Helms did. But it must be said that the formers have strayed rather far from the old patrician advice: "Never complain, never explain."

My worry is that when viewers see a Clapper or a Brennan on the tube criticizing Mr. Trump, they won't say: "Aha! At last some real expertise!" Instead, they'll fume that the spy chiefs are ganging up on the populist president. Conspiracy theories about an imaginary "deep state" will gain more traction, and the cycle of national mistrust will get worse. [Read More: Ignatius/post-gazette/28Jan2018]

Getting Intelligence Reform Right This Time: New Threats Bring New Opportunities. The United States' belated realization that foreign powers can wreak havoc on the American political process is already prompting discussions of how to thwart future interference directed at subverting democracy. Invariably the Intelligence Community (IC) and the broader U.S. national security enterprise will become targets for reform proposals. While such proposals are still inchoate, it is important to review the lessons of recent national security reforms. In the post-9/11 period, the emphasis on counterterrorism has narrowed the focus of national security reform toward a single issue, even as other threats - including those from state actors such as Russia and China - continued to challenge U.S. interests.

Although they produced entirely different results, the 9/11 attacks and the 2016 Russian influence campaign share several commonalities. Both were asymmetric assaults that exploited America's open society. The 9/11 hijackers relied on the freedom to travel, while Russian intelligence took advantage of uncensored media. Both episodes were met with a similarly unprepared public that was shocked by the developments, even though al-Qaeda and Russia had both engaged in mayhem for years prior to attacking the United States. Consequently, both events share what Richards Heuer, in his classic Psychology of Intelligence Analysis, described as "vividness," a cognitive bias that can distort decision-making.

Following 9/11, the U.S. implemented significant changes - partially due to the vividness factor - in how it looked at national security. Not only did stopping terrorist attacks become a top priority issue but policymakers fundamentally altered U.S. national security infrastructure to address violent, asymmetric, non-state threats. The permanence (e.g. the creation of an entirely new department) of these alterations means that even as threats have evolved, the U.S. is reliant on institutions anchored to a specific moment in time.

The Department of Homeland Security (DHS) and the Director of National Intelligence were the two most significant post-9/11 additions to the national security infrastructure. DHS is a bureaucratic Frankenstein - the most monumental of CT-driven reforms - that began life as an advisory office in the White House. Its existence is a cautionary tale. The executive and legislative branches created a mash-up of 22 agencies with one foot in and one foot outside of the IC. The White House then, almost immediately, deprived DHS of one of its primary, intended functions - strategic CT analysis - with the creation of the Terrorist Threat Integration Center, which, by way of the Intelligence Reform and Terrorism Prevention Act (IRTPA), became the National Counterterrorism Center. Creation of the Director of National Intelligence (DNI), also via the IRTPA, capped this harried, CT-oriented restructuring. Although the concept of a DNI had been circulating since at least 1978, its creation was ultimately linked to the 9/11 Commission's findings. [Read More: Tromblay/justsecurity/29Jan2018]
Jack Devine's Winter 2018 Intelligence Report.
Jack Devine (former Acting Director and Associate Director of CIA foreign operations) just released his Winter 2018 Intelligence Report. It covers... Trump one year later, the economic outlook, North Korea, Iran, Saudi Arabia, Russia, China, and Latin America. Trump One Year Later January 20th marked President Donald Trump's highly controversial first year in office. No matter one's political persuasion, it has been a remarkable year in which Trump received an unprecedented amount of media attention, here and abroad, largely on the negative side of the scale. While it's hard to calculate, with any degree of precision, just how much Trump's domestic political support has shifted, it seems clear that he has sparked a high level of grass-roots activism among the opposition. Whether it's sustainable through the mid-term congressional elections this November is an open question. The other wildcard will be the political impact on the voters of the recent wide-ranging congressional tax cuts. In this environment, the mid-term elections will be hotly contested, and the outcome a squeaker, even if the electorate "vote its pocketbook." Politics aside, as the cement hardens around the foundation of the Trump administration, it is becoming more formidable at home and in exerting its specific interests abroad. From North Korea and Pakistan to Israel and Saudi Arabia, whether one agrees with him or not, Trump is making his mark. It is a mistake to underestimate... [Read More: Devine/Winter2018IntelReport]

---
Section IV - Jobs and Obituaries
Associate Threat Assessment Manager sought for Reston, VA firm via FireEye.
Job Title: Associate Threat Assessment Manager sought by FireEye, Inc. Experience: 3 to 20 years. Job Location: Reston, VA
Trusted advisor for the customer in all matters concerning service delivery and ongoing projects Lead client and engagement teams in successful delivery of our FireEye as a Service solutions, exchange threat intelligence with clients and internal teams, and briefing existing clients, potential cients, and external groups on...more info here.
Charles Joseph Janak, 79, a career CIA officer with the Special Activities Division, died Friday, 19 January 2018 in Stone Ridge, VA after a ten-year battle with non-Hodgkin lymphoma. He was born in Smithville, TX where he raised horses and cattle on the family ranch. Hunting and woodworking with his dad were favorite early memories.
After graduation from Texas A&M University, Charlie joined the US Navy and entered Off icer Candidate School in Newport, RI. After receiving his commission, he volunteered for the Explosive Ordnance Disposal (EOD) program and went on to complete Underwater Swim School in Key West, FL and Explosive Ordnance Disposal (EOD) training at Indian Head, MD. He was then assigned as Officer in Charge (OIC) of the EOD team aboard the USS Lake Champlain, followed by service as OIC of EOD teams in Yokosuka, Japan and in Da Nang, Vietnam. Following military service, Charlie joined CIA where he served for over 40 years in a variety of positions, but primarily with the Office of Technical Service (OTS), Special Activities Division (SAD). His job took him around the world and he was treasured as a skilled and creative tech ops officer who unfailingly supported the Agency's mission and was always willing to share his unique skills. Most cherished by him were colleagues, especially those with the band of brothers and sisters of SAD. At home, he enjoyed wood and metalworking, designing and building furniture, and could repair or fabricate just about anything, earning the sobriquet "Super Tech." With his brother-in-law, Charlie enjoyed real, as well as conversational, exotic Texas animal hunting, and specialized in the cooking of Texas barbecue. But nothing surpassed his dedication and support for Texas Aggies and Dallas Cowboys. He is survived by his wife, Annette (currently the Events & Liaison officer at AFIO), by a son, a daughter, and other family. Charlie recently had the joy of meeting the family's first grandson, born a few weeks ago. [Read More: loudounfuneralchapel/19Jan2018]

Rogers "Rod" Corson Brooks, Lt Col, US Air Force, 101, former USAF and CIA, died 8 August 2017 in Arlington, VA. Born in 1915 in Drexel Hill, PA, he spent childhood in Washington, GA, then returned to Drexel Hill. He graduated from the University of Virginia in 1939 and from the UVA Law School in 1942 and then went into the Army Air Force, serving to October 1946. He was stationed in North Africa during WWII and received a Bronze Star.
Post-war, he continued to serve his country working for the War Assets Administration until 1948 when he began work for CIA where he served for 31 years. One of his positions was as Chief, Contract Personnel Division, Office of Personnel. He retired from the Agency in 1979.
He remained in the US Air Force Reserves until retiring as a Lieutenant Colonel in November 1975.
He is survived by a daughter and son, and other family. [Read More: The Washington Post/legacy/28Jan2018]

---
AFIO EDUCATIONAL EVENTS IN COMING TWO MONTHS....
31 January 2018 (Wednesday), 11:30 am - San Francisco, CA - The AFIO San Francisco Chapter hosts Alan Brown on "The History of the Lockheed Skunk Works and the Development of the F-117A Stealth Fighter"
Alan Brown, former Director of Engineering at Lockheed discusses "History of the Lockheed Skunk Works and the Development of the F-117A Stealth Fighter" at this January meeting of the AFIO "Andre LeGallo" San Francisco Chapter.
WHERE: Basque Cultural Center, 599 Railroad Avenue, South San Francisco, CA 94080.
TIMING: 11:30AM no host cocktail; meeting and luncheon at noon.
RSVP: Register here. Reservation and pre-payment is required before January 21, 2018. The venue cannot accommodate walk-ins. Questions? Contact Mariko Kawaguchi, Board Secretary at afiosf@aol.com.
9 February 2018 - Tysons, VA - First AFIO luncheon of 2018 features Toni Hiley, CIA Museum Director, and Steve Coll, author/journalist, on The CIA and America's Secret Wars in Afghanistan and Pakistan
Register now for AFIO National's first luncheon of 2018. Toni Hiley, CIA Museum Director, Center for the Study of Intelligence speaks in the morning. Followed by lunch, and then a presentation by Steve Coll, author/journalist, on his reviewer-praised forthcoming book debuting at event, DIRECTORATE S: The CIA and America's Secret Wars in Afghanistan and Pakistan, 2001-2016.
Times: 10 am badge pickup; Hiley speaks at 11; lunch at noon; Coll at 1; event closes at 2.
Register here while space remains.
Friday, 9 February 2018, 1-2.15 pm - Westchester, CA - AFIO Los Angeles Chapter holds Business/Election Meeting
Key Points To Cover will be: • Chapter Officers Election; • Treasurer's Annual Business Report; • Bylaws Review; • Upcoming Guest Speakers; • Chapter Outreach Efforts, and • Open Discussion.
Location: Alejo's Italian Restaurant 8343 Lincoln Blvd, Westchester, CA 90045
Lunch Served-No Cost to Active Members
RSVP: No later than February 7, 2018 (Wed)
Email your attendance/reservation: AFIO_LA@Yahoo.com.
Saturday, 10 February 2018, 11:30-2 - Melbourne, FL - The AFIO Florida Satellite Chapter hears from Professor Scott Tilley on "Big Data and Predictive Analytics: Who Watches the Watchers?"
Florida Institute of Technology professor and regular Florida Today columnist Scott Tilley will address the current big data landscape, provide an overview of some of the tools available to manage massive datasets, and discuss some of the possible impacts of big data and predictive analytics on businesses and society at large in the coming years.
For further information and to register to attend meeting, contact FSC Chapter President at afiofsc@afio.com.
Tuesday, 13 February 2018, noon - MacDill AFB, FL - LCDR Don Barber discusses "Cyber deterrence, risk, and intelligence in the military" at this Florida Suncoast AFIO Chapter meeting.
LCDR Don Barber discusses "Cyber deterrence, risk, and intelligence in the military" at this Florida Suncoast AFIO Chapter meeting. The program is starts at noon.
Fee: $20 by check or cash at the door.
Reservations: Arrangements for base access for those without military ID must be made by Tuesday, 6 February, by contacting the Chapter Secretary, michaels@suncoastafio.org.
Location: MacDill AFB Surf's Edge Club, 7315 Bayshore Blvd, MacDill AFB, FL 33621.
---
Other Upcoming Events from Advertisers, Corporate Sponsors, and Others
Wednesday, 28 February 2018 - Washington, DC - "The New Cold War?: The State of US-Russia Relations & Unconventional Threats to US Security" - a symposium at Georgetown University Law School.
The Journal of National Security Law & Policy annual symposium theme is "The New Cold War?: The State of U.S.-Russia Relations & Unconventional Threats to U.S. Security."
In addition to the following three panels, the symposium will also feature a lunchtime keynote speech by Laura Kennedy, former Deputy Assistant Secretary for European and Eurasian Affairs under the George W. Bush Administration.
Panel 1: Foreign Ties in the National Security Context: The Politics & Policies of Disclosure; Panelists will provide an overview of disclosure laws through the lenses of the Foreign Agents Registration Act (FARA) and the security clearance process. Panelists will explore questions including: (1) What precisely are FARA and the SF-86's reporting requirements? and (2) What are the legal ramifications for failing to register as a foreign agent or disclose foreign contacts on the SF-86?
Panel 2: The Russian Cyber Threat; Panelists will discuss the growing threat posed by Russian hackers and whether the current international legal regime governing cyberattacks adequately safeguards against the Russian cyber threat, and if it does not, what reforms are needed to mitigate this threat.
Panel 3: Russian State Organized Crime; Panelists will explore the dangers posed by Russian state organized crime being invested in the U.S. economy and businesses, how state-sponsored organized crime is different from regular organized crime, and how the techniques used to combat them are the same, and how they are different. A reception will follow, and additional details will be announced soon. RSVP for the symposium here.
Wednesday, 14 February 2018, 6pm – Washington, DC – Lips, Locks, and Body Language: Valentine's Day Spy Style – at the International Spy Museum
You may be in love with the shape of your partner but do you know what their body is saying to you? This Valentine's Day deceptive analysis expert Lena Sisco wants to help you become fluent in body language. She will reveal how to spot hidden emotions in facial expressions, how to tell if someone's body language is open or closed, and why it's important to read. She'll tell you about the body's three power zones ... for romance you might want to pay particular attention to one of these. Also she can show you the best way to convey that you're interested, not interested, or really, really interested. Sisco is a former military intelligence officer and interrogator and author of You're Lying! She'll help you take control of a suggestive situation, even if it means interrogating the one you love or want to love!
Before the talk begins at 7, enjoy a complimentary cocktail, sweet treats, have your lip print analyzed, and pick up a few basic lock picking skills that can come in handy for handcuffs! Adult material - 18 and older strictly enforced.
Tickets for the general public: $35 per person; Members: $25.
Visit www.spymuseum.org.
Thursday, 22 February 2018, 6:30pm – Washington, DC – Breaking Cover: An Evening with Michele Rigby Assad – at the International Spy Museum
Working undercover, Michele Rigby Assad has operated in some of the most treacherous areas throughout the Middle East. Trained as a CIA counterterrorism specialist, Assad served her country for ten years, leading some of the most highly skilled operatives on the planet. The threats were real. The missions were perilous and the hazards of leading a double life in Iraq and other secret Middle Eastern locations were enormous. Now with her new book, Breaking Cover, she is able to share her covert life and the opportunities it presented to her, from protecting US national security to assisting people persecuted for their religious beliefs. Join Assad for a discussion of her former double life and the dramatic experiences that life in the CIA's directorate of operations offered her.
Pre-registered guests will be entered into a drawing to experience the Spy Museum's immersive adventure Operation Spy with Assad before the program on the 22nd. Winners will be able to bring one guest each. Breaking Cover will be available for sale and signing at the event.
Tickets for the general public: $15 per person; Members: $10.
Visit www.spymuseum.org.
Saturday, 24 February 2018, 11am - noon – Washington, DC – The Magic of Spying: Tradecraft Trickery – at the International Spy Museum
In the real-life world of espionage, spies often call upon the art of magic and illusion to distract the enemy, make evidence disappear, and escape unnoticed. Join professional magician, Peter Wood, as he demonstrates the art of misdirection, sleight of hand, and other illusions used by skilled spies. This one of a kind performance, custom-designed for the Spy Museum, is guaranteed to fascinate children and adults alike.
Ages: 7 and up* (one adult required for every five KidSpy agents).
Space is limited - advance registration required. Tickets for the general public: $10 per person; Members: $9. Visit www.spymuseum.org.
14 March 2018 - 10 am - 1 pm (lunch follows) - Annapolis Junction, MD - Liza Mundy discusses CODE GIRLS - American Women Who Cracked the German and Japanese Codes to Help Win WWII at the Spring Cryptologic Program by the National Cryptologic Museum Foundation (NCMF).
The NCMF kickoff event for 2018 features award-winning Liza Mundy discussing "Code Girls: The Untold Story of the American Women Code Breakers of World War II."
As the US headed to war in 1941, two things became clear: victory depended on successful code-breaking and they didn't have enough people working on it. The solution: recruit women for cryptanalysis. Tens of thousands of women — mostly college students and teachers with an affinity for math, science, and foreign languages — answered the call for top-secret work as codebreakers. Their efforts shortened the war, saved countless lives, and gave them access to real careers; however, strict secrecy nearly erased them from history...until now. Mundy provides a riveting account of American courage, service, and scientific accomplishment.
Liza Mundy, a former staff writer for the Washington Post, is author of four books and has won many awards. She holds an AB from Princeton and an MA in English literature from UVA. She lives a mile from Arlington Hall, where the Army code-breaking women worked.
LOCATION: CACI Inc., Maryland Conference Center, 2720 Technology Dr, Annapolis Junction, MD 20755 [Google map link here]
REGISTER NOW: Fee, includes lunch, is $25 for members and guests. Mail check to "NCMF, PO Box 1682, Ft. Meade, MD 20755" or register online here. Further details are here or feel free to call the NCMF office at 301-688-5436. A PDF-format flyer describing event is here.
4-7 April 2018 - San Francisco, CA - ISA2018: The International Studies Association (ISA) 59th Annual Convention includes an Intelligence Studies Section with a exceptional program.
The Intelligence Studies Section content (4 straight days, 30 panels and roundtables) is one small part of ISA's much larger conference. The full conference program is almost 300 pages; find details at the full conference website here. The Intelligence Studies Section (ISS) is one of thirty thematic sections that make up the ISA, has approximately 350 members, and has been sponsoring research about intelligence as a function of government since the mid-1980s. Additional information on the ISS can be found here.
If you have questions about the ISS program, contact the Section Chair: Stephen Marrin at marrinsp@jmu.edu or spm8p@yahoo.com
The updated program of Intelligence Studies Section panels at ISA2018 is here. Scan down that page to be dazzled by the number of presenters and breadth of intelligence and national security topics. This is a must attend conference.

---
Gift Suggestions:
AFIO's 788-page Guide to the Study of Intelligence. Peter C. Oleson, Editor, also makes a good gift. View authors and table of contents here.

Perfect for professors, students, those considering careers in intelligence, and current/former officers seeking to see what changes are taking place across a wide spectrum of intelligence disciplines.
AFIO's Guide to the Study of Intelligence helps instructors teach about the large variety of subjects that make up the field of intelligence. This includes secondary school teachers of American History, Civics, or current events and undergraduate and graduate professors of History, Political Science, International Relations, Security Studies, and related topics, especially those with no or limited professional experience in the field. Even those who are former practitioners are likely to have only a limited knowledge of the very broad field of intelligence, as most spend their careers in one or two agencies at most and may have focused only on collection or analysis of intelligence or support to those activities.
For a printed, bound copy, it is $95 which includes Fedex shipping to a CONUS (US-based) address.
To order for shipment to a US-based CONUS address, use this online form,

To order multiple copies or for purchases going to AK, HI, other US territories, or other countries call our office at 703-790-0320 or send email to afio@afio.com to hear of shipment fees.
Order the Guide from the AFIO's store at this link.
The Guide is also available directly from Amazon at this link.
AFIO's 2017 Intelligence Community Mousepads are a great looking addition to your desk...or as a gift for others..
Made in USA. Click image for larger view.
These 2017 mousepads have full color seals of all 18 members of the US Intelligence Community on this 8" round, slick surface, nonskid, rubber-backed mouse pad with a darker navy background, brighter, updated seals. Also used, by some, as swanky coasters. Price still only $20.00 for 2 pads [includes shipping to US address. Foreign shipments - we will contact you with quote.] Order NEW MOUSEPADS here.
Disclaimers and Removal Instructions
Weekly Intelligence Notes (WINs) are commentaries on Intelligence and related national security matters, based on open media sources, selected, interpreted, edited and produced for non-profit educational uses by members and WIN subscribers.
REMOVAL INSTRUCTIONS: We do not wish to add clutter to inboxes. To discontinue receiving the WINs:
a) IF YOU ARE A MEMBER - click here: UNSUBSCRIBE and supply your full name and email address where you receive the WINs. Click SEND, you will be removed from list. If this link doesn't open a blank email, create one on your own and send to afio@afio.com with the words: REMOVE FROM WINs as the subject, and provide your full name and email address where you are currently receiving them.
b) IF YOU ARE NOT A MEMBER, and you received this message, someone forwarded this newsletter to you [contrary to AFIO policies]. Forward to afio@afio.com the entire WIN or message you received and we will remove the sender from our membership and distribution lists. The problem will be solved for both of us.
CONTENTS of this WIN [HTML version recipients - Click title to jump to story or section, Click Article Title to return to Contents. This feature does not work for Plaintext Edition or for some AOL recipients]. If you wish to change to HTML format, let us know at afio@afio.com. The HTML feature also does not work for those who access their e-mail using web mail...however NON-HTML recipients may view the latest edition each week in HTML at this link: https://www.afio.com/pages/currentwin.htm
---
WINs are protected by copyright laws and intellectual property laws, and may not be reproduced or re-sent without specific permission from the Producer. Opinions expressed in the WINs are solely those of the editor's) or author's) listed with each article. AFIO Members Support the AFIO Mission - sponsor new members! CHECK THE AFIO WEBSITE at www.afio.com for back issues of the WINs, information about AFIO, conference agenda and registrations materials, and membership applications and much more!
(c) 2000, 2012, 2013, 2014, 2015, 2016, 2017, 2018. Please note AFIO's new address: AFIO, 7600 Leesburg Pike, Suite 470 East, Falls Church, VA 22043-2004. Voice: (703) 790-0320; Fax: (703) 991-1278; Email: afio@afio.com