---
CONTENTS
Section I - INTELLIGENCE HIGHLIGHTS
Section II - CONTEXT & PRECEDENCE
Other Upcoming Events from Advertisers, Corporate Sponsors, and Others
For Additional AFIO and other Events two+ months or more... Calendar of Events
WIN CREDITS FOR THIS ISSUE: The WIN editors thank the following special contributors: pjk, mh, km, gh, mk, rd, fm, kc, jm, mr, jg, th and fwr. They have contributed one or more stories used in this issue.
The WIN editors attempt to include a wide range of articles and commentary in the Weekly Notes to inform and educate our readers. However, the views expressed in the articles are purely those of the authors, and in no way reflect support or endorsement from the WIN editors or the AFIO officers and staff. We welcome comments from the WIN readers on any and all articles and commentary.
CAVEATS: IMPORTANT: AFIO does not "vet" or endorse research inquiries, career announcements, or job offers. Reasonable-sounding inquiries and career offerings are published as a service to our members, and for researchers, educators, and subscribers. You are urged to exercise your usual caution and good judgment when responding, and should verify the source independently before supplying any resume, career data, or personal information.]
If you are having difficulties with the links or viewing this newsletter when it arrives by email, members may view the latest edition each week at this link. You will need your LOGIN NAME and your PASSWORD.
---
---
NOTICES
The Boston Marathon Bombing
Five Years On
AFIO members and their guests are invited to attend this special conference hosted by the Boston University community
Wednesday, 11 April 2018
on the BU campus in Boston, MA
BU Prof. John Woodward, a long-time AFIO member and former CIA officer, is serving as the conference coordinator.
15 April 2018 will be the fifth-year anniversary of the Boston Marathon bombing. To commemorate this event, the BU Pardee School of Global Studies and other Boston University organizations are sponsoring a conference featuring first responders, a panel of international scholars to discuss terrorism, a panel of legal experts to explain how the US prosecutes terrorists, and an historical exhibit provided by BU's Gotlieb Archival Research Center.
Two journalists who have written acclaimed books about the bombing are also scheduled to speak.
When: Wednesday, 11 April 2018, from 1-5:30 p.m., followed by a networking session.
Where: Barrister's Hall at the Boston University School of Law. RSVP: Though the conference is free of charge space is limited so registration is required. Please RSVP to eventsps@bu.edu
More information is here.
____________________________________
The Psychology of Espionage and Leaking
Monday, 23 April 2018, 5:30 - 8 pm
AFIO NY Metro Chapter hosts CIA's Dr. Ursula Wilder
Ursula M. Wilder PhD, a clinical psychologist with the CIA's Sherman Kent School for Intelligence Analysis, discusses the psychology of espionage and leaking. In her presentation this evening, she will provide crisp sketches of the three kinds of distorted personalities -- psychopathology, narcissism, and immaturity -- found in those who have abused their access to top-secret information and betrayed their country.
Dr. Wilder was a 2011-2012 Federal Executive Fellow at the Brookings Institution, where she studied the psychological rewards and challenges of professionals who work in counterterrorism. She also served as a member of the Editorial Board of CIA's inhouse journal, Studies in Intelligence.
Location: Society of Illustrators, 128 E 63rd St (between Park and Lexington), New York, NY 10065.
Timing: Registration starts at 5:30 pm, Speaker presentation starts at 6 pm. Fee: $50/person. Payment at the door only. Cash or check. Full dinner, cash bar.
RSVP: Strongly recommended that you RSVP to ensure space at event. Call or Email Chapter President Jerry Goodwin at afiometro@gmail.com or 646-717-3776.
---
Did you miss Liza Mundy's presentation at the National Cryptologic Museum Foundation's Spring Cryptologic Program?
Code Girls: The Untold Story of the American Women Code Breakers of World War II?
Code Girls brings to light key roles played by thousands of female codebreakers during WWII. Over 11k women comprised more than 70% of the war's domestic codebreakers, but Ms. Mundy barely found mention of their efforts. Learn more about the book via an essay by Mundy for Slate.com in the NCMF's Cryptologic Bytes archive.
View her 1:13 hr presentation on YouTube,
compliments of the NCMF.
Learn more about this program and NCMF here.
____________________________________
Books of the Week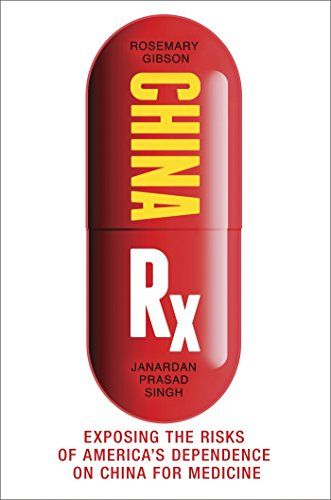 China Rx: Exposing the Risks of America's Dependence on China for Medicine
by Rosemary Gibson and Janardan Prasad Singh
(Prometheus Books, April 2018)
"The United States spends billions on nuclear submarines and fighter jets, but depends on a country that is an adversary to make medicines for its military personnel." Most of us refuse to give our pets anything made in China (after waves of poisonings from adulterated Chinese pet and baby products); yet, here we are... millions of Americans swilling down pills made of dodgy Chinese ingredients! And paying the highest price per pill worldwide, for the honor.
With the rise of globalization, antibiotics, antidepressants, birth control pills, blood pressure medicines, cancer drugs, among many others are made in China and sold here in the US. It is risky for the United States to become dependent on any one country as a source for vital medicines, especially given the uncertainties of geopolitics. Lapses in safety standards and quality control in Chinese manufacturing are another significant risk. - Kirkus
An alarming exposé. The authors explain why the fact that the U.S. no longer makes penicillin and China supplies most of the ingredients in today's prescription drugs is such a big problem and a threat to national security. An enemy could use tainted drugs or even an insufficient supply as a weapon. What if there weren't enough antibiotics? Too few FDA inspectors are on the job, which can increase the risk of contamination, as already happened with the blood thinner heparin. Drug companies keep the country of origin of ingredients secret because few Americans think medicines made in China are safe. [They're right.] - Booklist

Book may be ordered here.
---
Army of None: Autonomous Weapons and the Future of War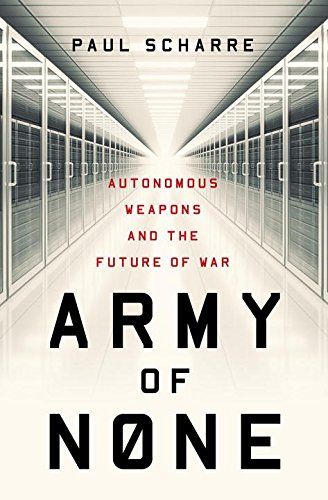 by Paul Scharre
(W. W. Norton & Company, Apr 2018)
What happens when a Predator drone has as much autonomy as a Google Waymo car? Or when a weapon that can hunt its own targets is hacked? Not science fiction since the technology exists to create weapons that can attack targets without any human input. Scharre, a Pentagon defense expert and former US Army Ranger, explores these next-generation, autonomous weapons, the movement to ban them, and the legal and ethical issues surrounding their use. Covers autonomous cyber weapons, submarine-hunting robot ships, and robot tank armies. Includes interviews with defense experts, ethicists, psychologists, and activists. At least thirty countries already have defensive autonomous weapons that operate under human supervision. Around the globe, militaries are racing to build robotic weapons with increasing autonomy. The ethical questions within this book grow more pressing each day.
Book may be ordered here.
---
Section I - INTELLIGENCE HIGHLIGHTS

CIA Offers Peek into Life of Trump's Nominee to Lead Agency (Videos). Kentucky native. Single. Oldest of five children. Father was in the Air Force. Johnny Cash fan.

The CIA offered a peek Thursday into the secret life of Gina Haspel, the former undercover agent President Donald Trump has picked to lead the intelligence agency.

After 30-plus years at the spy agency, with much of her career classified, Haspel has become best known for leaked details about her time as chief of base of a secret prison in Thailand where terror suspects were waterboarded after 9/11.

In an unusual two-page memo sprinkled with personal tidbits, the agency sought to try to change that before she faces the public spotlight of a confirmation hearing. [Read More: Waitt/americansecuritytoday/25Mar2018]

Russia's Security Targets Ex-KGB Agents in Lithuania Who Haven't Come Forward - Report. Russia's security is targeting public servants in Lithuania who have not declared their collaboration with the KGB, Lithuania's intelligence agencies said on Monday.

"For recruitment of Lithuanian citizens the Russian intelligence services still use the classified archives about the former KGB agents in Lithuania. Russian intelligence seeks and tries to discredit former secret KGB collaborators, who had not declared this fact, those who currently hold office in Lithuanian state institutions and possess information of interest to Russian intelligence or can influence decision making," the State Security Department and the Second Investigations Department under the Defense Ministry said in the traditional review of national security threats published on Monday.

Enforced in 2000, a law enabled former staff members and secret collaborators of the KGB and other Soviet special services to come forward and register with a special commission to have their data classified. Those who have not admitted their past risked publication and some restrictions of their professional activities. Lithuania had also provided the possibility to come forward in 1991-1992.

By the deadline, some 1,589 persons had come forward with their collaboration with secret services of the Soviet Union. [Read More: baltictimes/26Mar2018]

Congress Set To Approve Nearly $700 Million For Election Security, Source Says. Swing states, and even individual precincts within those states, present a significant point of vulnerability when it comes to the threat of election interference because of their potential to impact the result in a presidential race, the current secretary of the Department of Homeland Security and one of her key predecessors both told senators Wednesday.

Both officials appeared before the Senate intelligence committee to discuss election security, as Congress appeared ready to inject approximately $687 million into helping states improve their voting systems and granting additional funding to the FBI.

The decentralized nature of elections in the U.S. is often talked about as a strength. Because states run their own elections, it's impossible to break into one system and affect nationwide vote tallies or voter registrations.

But that decentralization also means local jurisdictions in places that can have an outsized effect on the outcome of national races - like Wisconsin, Pennsylvania and Michigan - will be forced to defend against cyber-threats posed by entire nation-state adversaries like Russia. [Read More: Parks/npr/21Mar2018]

Trump's New Security Adviser Known for Clashes with Spy Agencies. Incoming White House national security adviser John Bolton's history of clashes with U.S. intelligence agencies suggests how he might handle North Korea and Iran, two of the thorniest challenges he and U.S. President Donald Trump face.

Bolton takes over on April 9 from retiring Army Lt. Gen. H. R. McMaster. Based on his public statements, he shares Trump's dislike of the Iran nuclear deal and often-bellicose stance toward North Korea.

However, his pronouncements on both issues are at odds with the assessments of U.S. intelligence agencies.

In a 2017 article in the conservative National Review, Bolton accused Iran of "significant violations" of the 2015 nuclear accord curbing the Islamic Republic's nuclear program. [Read More: Landay, Strobel/reuters/23Mar2018]

Wyden Bill Aims to Boost Intelligence Spending Transparency. Sens. Ron Wyden, D-Ore., and Rand Paul, R-Ky., and Reps. Peter Welch, D-Vt., and Jim Sensenbrenner, R-Wis., rolled out legislation Friday that would require the president to disclose the topline annual budget request to Congress from each of the 16 federal agencies conducting intelligence activities.

Currently, spending levels for these federal intelligence agencies and activities is classified and hidden from the public, the lawmakers said.

The Intelligence Budget Transparency Act would require the president's annual budget request to make public the amount of funding budgeted for intelligence agencies and activities, creating greater transparency and oversight over how much is spent annually by the intelligence community.

"By operating secret programs funded by secret budgets, our national intelligence agencies enjoy a blank check as far as the American taxpayers are concerned," Wyden said. "With little to no public oversight, it is even more important that Americans have at least some sense of whether they're getting what they paid for. Requiring the disclosure of these budget requests is the first step in achieving greater accountability and transparency of these agencies." [Read More: ktvz/23Mar2018]

Germany May Reassess Intelligence Ties with Austria Over Police Raids. Germany's BfV domestic intelligence agency will have to reassess its ties with Austria if information it passed on was seized during police raids on its Austrian counterpart, the Interior Ministry in Berlin said.

The statement, made on Tuesday, is the first public indication that the case, which has set off a political storm in Austria, could also harm the country's access to foreign intelligence.

Prosecutors have placed five employees at Austria's BVT intelligence agency under investigation based on accusations they failed to delete sensitive information and may have intended to pass it on.

But the case has prompted accusations by the opposition of a purge at the BVT by the far-right Freedom Party (FPO), which controls the Interior Ministry. [Read More: reuters/21Mar2018]

Dutch Vote in Referendum on Spy Agency Tapping Powers. Dutch voters will decide on Wednesday whether spy agencies should have the power to install bulk taps on Internet traffic, just as news of Facebook's 50 million user profile leak returns digital privacy issues to the fore.

The referendum is non-binding, but Prime Minister Mark Rutte said in a televised debate on the eve of the vote his government would take the outcome seriously.

"It's not that our country is unsafe, it's that this law will make it safer," he said, advocating a "Yes" vote.

Dubbed the "trawling law" by opponents, the legislation would let spy agencies install taps targeting an entire geographic region or avenue of communication, store information for up to three years, and share it with allied spy agencies. [Read More: Sterling/businessinsider/21Mar2018]

Seoul to Seek Both Security Guarantee for N.K., Denuclearization: Spy Agency. South Korea plans to simultaneously seek to provide a security guarantee for North Korea and make the North give up nuclear weapons when the two Koreas hold a summit, Seoul's spy agency said Monday.

The National Intelligence Service (NIS) briefed lawmakers on the issue as South and North Korea are to hold high-level talks Thursday to prepare for a summit slated for late April.

"We are not to hold talks on the premise of the security guarantee for the North's regime," the spy agency was quoted as saying by lawmakers on the parliamentary intelligence committee. "There will be simultaneous pursuit of giving the North what it wants and making it abandon nuclear weapons."

North Korea's denuclearization is likely to top the agenda for the inter-Korean summit at a time when U.S. President Donald Trump has agreed to meet North Korean leader Kim Jong-un by May. [Read More: yonhapnews/26Mar2018]

Susan Pompeo's Role as 'First Lady of the CIA' Draws Critics, Defenders. Susan Pompeo, the wife of Central Intelligence Agency Director Mike Pompeo, has taken an unusually active and prominent role at the organization, and has fashioned herself as an unofficial "first lady of the CIA," according to people with knowledge of her activities.

Pompeo, who is a volunteer at the CIA, uses office space on the seventh-floor headquarters in Langley, Virginia, where senior leaders, including the director, have their offices. A support staff of CIA employees assists her in her duties, although that is not their full-time job. And Pompeo travels with her husband, who President Donald Trump nominated last week to replace Rex Tillerson as secretary of state, including on trips he takes overseas to meet with foreign intelligence officials.

Last year, Pompeo accompanied the CIA director on a trip to Great Britain, where he met with his counterpart Alex Younger, the head of the Secret Intelligence Service, or MI6, according to people familiar with the trip. Pompeo also went with the CIA director on a tour of Fort Monckton, a military base in southern England where MI6 trains its personnel.

While it is not unheard of for directors' spouses to take on volunteer work, particularly advocating for families, Susan Pompeo's presence at the agency, along with her use of office space and help from staff, has raised questions internally about the nature of her duties and why agency resources are being used to support her, according to people who spoke on the condition of anonymity to speak about a sensitive subject. [Read More: Harris/myajc/20Mar2018]

Kaspersky's 'Slingshot' Report Burned as ISIS-Focused Intelligence Operation. The U.S. government and Russian cybersecurity giant Kaspersky Lab are currently in the throes of a nasty legal fight that comes on top of a long-running feud over how the company has conducted itself with regard to U.S. intelligence-gathering operations.

A recent Kaspersky discovery may keep the feud alive for years to come.

CyberScoop has learned that Kaspersky research recently exposed an active, U.S.-led counterterrorism cyber-espionage operation. According to current and former U.S. intelligence officials, the operation was used to target ISIS and al-Qaeda members.

On March 9, Kaspersky publicly announced a malware campaign dubbed "Slingshot." According to the company's researchers, the campaign compromised thousands of devices through breached routers in various African and Middle Eastern countries, including Afghanistan, Iraq, Kenya, Sudan, Somalia, Turkey and Yemen. [Read More: Bing, O'Neill/cyberscoop/20Mar2018]



---
Section II - CONTEXT & PRECEDENCE

Director of the Defense Intelligence Agency: Who Is Robert P. Ashley Jr.? Army Lieutenant General Robert P. Ashley Jr., who has spent most of his career in Army intelligence, took over as director of the Defense Intelligence Agency on October 3, 2017. Defense Intelligence Agency (DIA) is the top spy agency in the Department of Defense, and provides information on foreign military capabilities. The DIA has about 16,500 employees with offices in more than 140 countries.

Ashley has spoken in favor of doing a better job of tracking information shared on social media and of sharing information with allies. Ashley replaced Marine Corps Lt. Gen. Vincent Stewart, who had served as DIA head since January 2015.

In his farewell statement, Stewart's advice to Ashley was to "Keep telling truth to power." To the DIA workforce, he said, "No matter what the challenges, the adversity or the objections, always speak truth to power, no matter the cost. Speak truth through your actions. Speak truth through your analysis. Speak truth through your tradecraft and standards. Never lose sight of it, because unless we are forthright, honest and candid we cannot fulfill our oath."

Ashley came into the military via the Reserve Officers Training Corps at Appalachian State University in North Carolina. He graduated from there in 1984 with a B.A. in political science and was commissioned a second lieutenant in the Army. Ashley subsequently earned master's degrees in strategic intelligence from Defense Intelligence College and in strategic studies from Army War College. [Read More: Straehley, Wallechinsky/allgov/25Mar2018]

CIA Recruiting: The Rare Topic The Spy Agency Likes To Talk About. Want to work at the CIA? Here's some guidance from Sheronda. We can't use her last name. But we can tell you she's the agency's chief of talent acquisition, or head of recruiting.

So, at what age can you start?

"We are looking for high school students to come in certain occupations," Sheronda said.

That's right. Some kids who have just graduated from high school can start working at the CIA. There's an even more extensive college internship program. [Read More: Myre/wamu/26Mar2018]

Science Channel's Deadly Intelligence to Premiere Sunday, April 8. new Science Channel series explores the suspicious deaths of scientific geniuses to determine if their demises were unfortunate coincidences or if these gifted minds were murdered for knowing too much. DEADLY INTELLIGENCE premieres Sunday, April 8 at 10pm ET/PT on Science Channel. What some experts have deemed cold or closed cases, others see as ongoing conspiracies based on bizarre circumstances, significant holes in investigations, and possible motives for murder.

In each of the eight, hour-long episodes, experts unravel the mysterious deaths of cutting-edge scientists, each caught in a web of intrigue before their lives were cut short. DEADLY INTELLIGENCE takes a closer look at the circumstances surrounding some of these fatalities to understand if ingenious research and discoveries cost brilliant scientists their lives.

The premiere episode looks to uncover the death of Frank Olson, a CIA employed biological warfare scientist, who died after falling out of the window of a New York City hotel in 1953. The official story is that he jumped, but his family believes he was murdered. One of the theories explored is that Olson, who witnessed brutal interrogations using biological agents he helped develop, may have developed misgivings about his work, leading the CIA to eliminate one of their own.

"It's said that knowledge is power, but in these compelling stories, knowledge is also tightly intertwined with mystery, conspiracy and perhaps even murder," said Caroline Perez, Vice President of Development and Production, Science Channel. "Innovative scientists have always run the risk of creating or discovering something so dangerous - or valuable - that others would kill for it." [Read More: broadwayworld/26Mar2018]

This KGB Chief Rang the Alarm About Russia-U.S. Cyberwars. No One Listened. In the late 1980s, when he helped oversee information security at the KGB, Vladimir Rubanov already had a grasp of what cyber wars would look like in the future - and they terrified him.

The Americans had far surpassed the Russians by then in most types of technology, not least with the invention of the internet and the personal computer. At the KGB headquarters and other facilities around Moscow, Rubanov had a chance to study these machines - slow, ugly and cumbersome things by today's standards, but still advanced enough for him to realize their potential in everything his agency did best: subversion, sabotage, intelligence gathering.

"From the very beginning it was clear," he tells TIME by phone from Moscow, where he now works mostly in the private sector. "We told our people, 'Look, the public may not realize yet what's going on. But we need to raise the alarm on a political level, because this stuff is a danger to our vital infrastructure.'"

The tables appear to have turned since then. The vital infrastructure now at risk is in the U.S., according to a March 15 report from the FBI and the Department of Homeland Security, which found that Russian hackers had penetrated deep into the control rooms of U.S. power stations, putting a finger on the light switch of American homes. "Since at least March 2016," the report states, "Russian government cyber actors...targeted government entities and multiple U.S. critical infrastructure sectors, including the energy, nuclear, commercial facilities, water, aviation, and critical manufacturing sectors." [Read More: Shuster/time/23Mar2018]

Spies Posing as Diplomats Have a Long History. In ordering the largest mass expulsion of Russian diplomats ever, the U.S. and its allies have upped the ante in an East-West spy game that dates to the Cold War and cast light on an unspoken but widespread practice in the cloak-and-dagger world: sending operatives abroad under diplomatic cover.

The tallies offered Monday by senior U.S. officials were striking: Far more than 100 Russian spies are on American soil masquerading as diplomats. The U.S. said it was kicking out 60, so even after they're gone, at least 40 will ostensibly remain, free to roam Washington and other major U.S. cities under the official imprimatur of their nation's foreign ministry.

So if they're truly spies and the United States knows it, why not expel them all?

The answer, experts say, is that espionage, while murky, potentially distasteful and often illegal, is an accepted international practice. All countries spy and most if not all send spies overseas disguised as diplomats - including the U.S. [Read More: Lee, Lederman/yahoo/26Mar2018]

The Guns of 007. Lieutenant Commander Ian Fleming served in the Royal Navy during World War II. Fleming's father, Valentine Fleming, was a wealthy Member of Parliament who was killed on the Western Front fighting the Germans in 1917, when young Ian was only nine. Winston Churchill penned Valentine's obituary.

A classically educated English gentleman, Ian Fleming volunteered his services to his country at a time when the very existence of Great Britain was mortally threatened by the Nazi scourge. Where younger men served in combat behind Enfield rifles, tanks, Spitfires, and destroyers, Fleming's skills took him to more delicate places. Ian Fleming was a spy.

His code name during the war was "17F," and he directed the operations of 30 Assault Unit and the subsequent T-Force during their combat operations. These British intelligence units moved ahead of friendly lines, securing intelligence and critical documents from enemy headquarters facilities. These units were loosely based upon German counterparts run by the legendary SS operative Otto Skorzeny.

Once the war was over, Fleming returned to civilian life and began writing. His wartime adventures provided fertile material for the most famous spy in history, MI6's inimitable 007. Fleming took the name James Bond from a real-world ornithologist of the day. He felt that the pedestrian name and its genesis were so non-descript and unremarkable as to make a proper undercover agent. [Read more: firearmnews/16March2018]


---
Canada Tries Domestic Bulk Collection: It Just Might Work. Canada is embarking on the most substantial overhaul of its national security institutions and governance in over three decades. Should C-59, a national security bill, become law, part four of the bill will amend the legislation governing the Canadian Security Intelligence Service (CSIS), in several significant ways. CSIS, also known as "the service," is Canada's domestic spy agency, whose primary mandate is investigating threats to Canada's security. Craig Forcese and Kent Roach already highlighted the proposed reforms to CSIS's threat-disruption powers. Another notable addition to the service's capabilities is the authority to collect, retain and use "datasets" in support of CSIS's domestic and foreign intelligence mandates.

The dataset regime is in part an answer to a 2016 decision of the Federal Court of Canada regarding CSIS's retention of metadata associated with lawfully collected communications. The court found that the service's indefinite retention of associated data that was not directly threat-related was based on an erroneous interpretation of the CSIS Act. While the court acknowledged the intelligence value of data analytics, it questioned whether the CSIS Act, now more than 30 years old, was keeping pace with changing technology. In response, C-59 creates a new regime that provides a clear legal authority for the collection and retention of information that is not definitively threat related, thereby enabling the service to leverage the power of data analytics.

Datasets are defined in Bill C-59 as a collection of information stored as an electronic record and characterized by a common subject matter. Dataset collection is governed by the new regime if the datasets contain personal information - defined under Canada's privacy legislation, as information about an identifiable individual - and do not directly and immediately relate to activities that represent a threat to the security of Canada. Depending on the circumstances, personally identifying information can be anything from your ethnicity to your telephone number or what college you attended.

Under the bill, datasets are classified as either publicly available, Canadian, or foreign - depending on their content. A Canadian dataset is one that predominantly relates to Canadians or persons within Canada, while a foreign dataset predominantly relates to non-Canadians outside Canada. [Read More: West/lawfareblog/26Mar2018]

Lockheed Is Proposing a Major 'Triple Intelligence' Upgrade for the U-2 Spy Plane. The U.S. Air Force seems to have effectively abandoned plans to retire its fleet of U-2S Dragon Lady spy planes in the near future. Now, amid especially high demands for strategic intelligence and concerns about a gap in aerial battlefield surveillance capabilities, Lockheed Martin is pitching proposals to give the iconic aircraft upgraded sensors and data links, as well as the ability to carry three different intelligence gathering systems all on the same mission.

Our good friend Stephen Trimble, head of Flightglobal's Americas Bureau, was first to get the new details after getting an exclusive tour of Lockheed Martin's Site 2 hangar, part of the company's facilities in Palmdale, California earlier in March 2018. Site 2 is home to the firm's U-2 program and is where it performs heavy depot maintenance on the planes for the Air Force. As a rule, the service sends each U-2 to the facility for a full overhaul approximately every 4,800 flight hours.

"My strategy is to put as much as we can within the [US military's next six-year budget plan], because we've got room to grow," Kyle Franklin, Lockheed Martin's U-2 program manager, told FlightGlobal during the visit. This is a significantly different attitude than the company might have had even last year.

Since 2011, the Air Force has gone back and forth on the idea of supplanting the Dragon Ladies with RQ-4 Global Hawk drones. As recently as 2016, the service still planned to retire the U-2S no later than 2020. [Read More: Trevithick/thedrive/20Mar2018]

Is Trump Ready to Dump Pakistan? As U.S. ambassador to Pakistan more than a decade ago, Ryan Crocker spent much of his time trying to convince the government in Islamabad to take action against militants moving freely inside the country and plotting attacks on U.S. forces in neighboring Afghanistan.

In 2007, toward the end of his three-year tenure, Crocker spoke with the head of the Pakistani army, Gen. Ashfaq Parvez Kayani, who explained why Islamabad was not ready to reverse course.

The United States had a short attention span, the general said, according to Crocker. "How long are you staying this time? Because you come and you go," Kayani told Crocker.

"If you think we are going to turn the Taliban and Haqqanis and others into mortal enemies of ours and watch you walk out the door, you are completely crazy. Are we hedging our bets? You bet we are." [Read More De Luce/foreignpolicy/26Mar2018]



---
Dann Cameron Leibig, 63, a former CIA Chief of Station, died 21 March 2018 of pancreatic cancer in Easton, MD. Dann graduated Cedar Crest HS, Lebanon, PA, in 1972. He received a BS in biology at Gettysburg College in 1976 and was a member of the Honor Counsel and President of Sigma Chi fraternity. He earned an MA in International Relations at University of Pennsylvania in 1978, and joined CIA in 1980. He served the Clandestine Service with honor and integrity and spent over 20 years abroad in Europe, Central Europe, and the Middle East. His service of over 33 years included in positions as line officer, Division Manager, Chief of Station, and Senior Intelligence Executive Officer. Dann was awarded the CIA Distinguished Career Intelligence Medal in March 2011. For the past five years, he provided lectures on intelligence matters to the University of Pennsylvania, Duke, Naval Academy, Gettysburg College, and others. Dann is survived by his wife of 40 years, Lynn Purnell, two children, and other family. [Read More: The Washington Post/legacy/26Mar2018]

Paul Vincent Stack. On Saturday March 3, 2018, Paul Vincent Stack of Darnestown, MD passed away. [Read More: The Washington Post/legacy/11Mar2018]

Jean Petersen Hopkins, 76, a former CIA officer, died 15 March 2018 in Lake of the Woods, VA After graduating from Dakota State University, Jean taught school for a year in Iowa. But she had a burning desire to see the world and chose to do so by joining the CIA. During her 28 years of service with the Agency, Jean had overseas assignments in Laos, Hong Kong, Austria, and South Korea. Jean was a gourmet cook and enjoyed first class dining. Her passion in retirement was planning trips and traveling. This included numerous trips within the US, the Caribbean and the EU. She also enjoyed ballet and the symphony at Kennedy Center which were always dressy affairs which included an after theater late night dinner, a nice hotel room and brunch the next day. Jean was a member of Lake of the Woods Church, a founding member of the Battlefields Chapter of the CIRA, and a member of Susan Allen Republican Women's Club. She was also a member of Debonair Red Hat Group and a board member serving the Stage Alive Community Concert Association. She is survived by her loving husband of 44 years, James "Jim" Hopkins, a sister and brother, and other family. [Read More: fredericksburg/20Mar2018]
David Gideon Moshe Ziegler, 83, a technology editor, died 13 March 2018 in Pikeville, KY. He was a longtime AFIO member. He is survived by a son and a daughter, and other family.


---
AFIO EDUCATIONAL EVENTS IN COMING TWO MONTHS....
10 April 2018, 11:30 am - 2 pm - MacDill AFB, FL - AFIO Suncoast FL Chapter hosts Lt Col Jen Snow USAF on "Special Operations: Innovative and Emerging Disruptive Technologies."
Lt Col Jen Snow USAF, speaks on innovation and emerging disruptive technologies relative to Special Operations concerns. JJ Snow is an Air Force Lt Colonel assigned as the U.S. Special Operations Command Innovation Officer and J5 Donovan Group Future Plans and Strategy Team Air Force Representative. In her current role, JJ serves as the government representative for technology outreach and engagement on behalf of the command and 545 interagency action officers spanning 40 different government agencies. She is responsible for maintaining a network of nontraditional experts to provide government with critical access, expertise and capacity across a broad spectrum of technologies to rapidly identify best of breed while also proactively responding to potential threat aspects of concern to Special Operations and national security. She supports senior government leadership in process innovation, innovation planning in big government, and the development of smart technology policy and advises on emerging disruptive technologies.
Timing: Check-in starting at 1130 hours; Cash wine and soda bar open at 1130 hours for those who wish to come early to socialize; Opening ceremonies, lunch and business meeting at noon, followed by our speaker.
Location: MacDill AFB's Surf's Edge Club, 7315 Bayshore Blvd, MacDill AFB, FL 33621. Anyone with special AFIO Base Access should proceed to the Bayshore Gate. If you need directions, please let us know.
Fee: $20/pp. You must present your $20 check payable to "Suncoast Chapter, AFIO" (or cash) at check-in to cover the luncheon. If you make a reservation, don't cancel and get a cancellation confirmation by the response deadline and then don't show up, you will be responsible for the cost of the luncheon.
RSVP Deadline: Tuesday, 3 April you should have sent your RSVP to Chapter Secretary Michael Shapiro at michaels@suncoastafio.org. You will receive a confirmation via email. If you do not get a confirmation, please contact the Chapter Secretary. Note: Meal Alternatives Available. When you RSVP, indicate a meal preference.
Thursday 19 April 2018, 6:30 pm - West Bloomfield, Michigan - AFIO Johnny Micheal Spann Memorial Chapter, Michigan hosts "Ritchie Boy" Dr. Guy Stern.
In January 2017 Dr. Stern received the French Knight of the Legion of Honor medal. Presented by the French Consul General, the award was created by Napoleon in 1802 and is the highest honor the country can bestow upon those who achieved remarkable deeds for France. Dr. Stern was honored for his role in liberating the country during World War II. Dr. Stern was a member of the Ritchie Boys who were the US special military intelligence officers and enlisted men of Work War II trained at Camp Ritchie, Maryland. Training included methods of intelligence, counterintelligence, interrogation, investigation and psychological warfare. Dr. Stern landed in Normandy 2 days after D-Day and begin special interrogation of German prisoners in France and Germany.
To attend or for more info, contact the Michigan chapter at afio.secretary@afiomichigan.org.
19 April 2018, Time: 12.30-2pm - Los Angeles, CA - The AFIO Los Angeles Chapter hosts LAPD Commissioner Soboroff.
The next scheduled meeting will feature speaker Steve Soboroff, President of the L.A.P.D. Police Commission.
Commisioner Soboroff will discuss challenges the department faces and the search for a new Chief of Police.
Location: 5651 W. Manchester Blvd. Los Angeles, CA 90045 RM 1G.
RSVP Vincent Autiero, President, AFIO-Los Angeles Chapter at afio_la@yahoo.com.
Monday, 23 April 2018, 5:30 - 8 pm - New York, NY - AFIO NY Metro Chapter hosts CIA's Dr. Ursula Wilder on "The Psychology of Espionage and Leaking."
Ursula M. Wilder PhD, a clinical psychologist with the CIA's Sherman Kent School for Intelligence Analysis, discusses the psychology of espionage and leaking. In her presentation this evening, she will provide crisp sketches of the three kinds of distorted personalities -- psychopathology, narcissism, and immaturity -- found in those who have abused their access to top-secret information and betrayed their country.
Dr. Wilder was a 2011-2012 Federal Executive Fellow at the Brookings Institution, where she studied the psychological rewards and challenges of professionals who work in counterterrorism. She also served as a member of the Editorial Board of CIA's inhouse journal, Studies in Intelligence.
Location: Society of Illustrators, 128 E 63rd St (between Park and Lexington), New York, NY 10065.
Timing: Registration starts at 5:30 pm, Speaker presentation starts at 6 pm. Fee: $50/person. Payment at the door only. Cash or check. Full dinner, cash bar.
RSVP: Strongly recommended that you RSVP to ensure space at event. Call or Email Chapter President Jerry Goodwin at afiometro@gmail.com or 646-717-3776.
Saturday, 28 April 2018, 6 - 8pm - Beaverton OR - The AFIO Columbia River Chapter hosts Terry Valois on "Insider Threat: Authorized Users, Privileged Access, Abused Trust."
The AFIO Columbia River Chapter hosts Terry Valois on "Insider Threat: Authorized Users, Privileged Access, Abused Trust." Valois is a Navy Cryptologic veteran and retired senior CIA officer with over 37 years of experience in the intelligence community and private sector.
He holds a Master of Science degree in Strategic Intelligence from National Intelligence University. Terry (CPP, PCI) is also the founder and owner of GreyFox Security Services, LLC, a small Portland, Oregon-based, veteran-owned private security and intelligence consulting firm specializing in security program management, insider threat program development, training and education, and open source/web intelligence and investigation research.
LOCATION: This unclassified program will be held in the Fab-15 Auditorium, Intel Aloha Campus, 3585 SW 198th Ave, Beaverton, OR 97078.
REGISTRATION: AFIO members and others are invited to attend. Current AFIO membership is not required. The event is free of charge with ample parking.
The content of this presentation is provided by the author and nothing therein should be construed to represent the positions of the United States Government or AFIO
For additional information contact Carl Wege at twege@ccga.edu or 912-222-8640.
Wednesday 23 May 2018 - San Francisco, CA - Historian Ralph Simpson discusses "History of the Enigma Machine" at this AFIO San Francisco Chapter meeting.
Ralph Simpson, Historian, discusses "The History of the Enigma Machine." Ralph Simpson worked in the computer industry for 32 years at IBM and Cisco Systems. He is now retired and volunteers at a local history museum. Mr. Simpson is the author of a cipher history book called Crypto Wars: 2000 Years of Cipher Evolution and is an avid collector of cipher machines, which can be seen on CipherHistory.com. Mr. Simpson lives in San Jose in a restored Victorian house, which is also home to his Cipher History Museum.
Time: 11:30 AM no-host cocktail; noon - meeting and luncheon begins.
Location: Basque Cultural Center, 599 Railroad Avenue, South San Francisco, CA 94080
To Register: Do so here (forthcoming). The venue cannot accommodate walk-ins.
Questions?: Contact Mariko Kawaguchi, Board Secretary at afiosf@aol.com.
---
Other Upcoming Events from Advertisers, Corporate Sponsors, and Others
4-7 April 2018 - San Francisco, CA - ISA2018: The International Studies Association (ISA) 59th Annual Convention includes an Intelligence Studies Section with a exceptional program.
The Intelligence Studies Section content (4 straight days, 30 panels and roundtables) is one small part of ISA's much larger conference. The full conference program is almost 300 pages; find details at the full conference website here. The Intelligence Studies Section (ISS) is one of thirty thematic sections that make up the ISA, has approximately 350 members, and has been sponsoring research about intelligence as a function of government since the mid-1980s. Additional information on the ISS can be found here.
If you have questions about the ISS program, contact the Section Chair: Stephen Marrin at marrinsp@jmu.edu or spm8p@yahoo.com
The updated program of Intelligence Studies Section panels at ISA2018 is here. Scan down that page to be dazzled by the number of presenters and breadth of intelligence and national security topics. This is a must attend conference.
Saturday, 7 April 2018, 2:30 - 6 p.m. - Fort Meade, MD - Movie Day at the National Cryptologic Museum - sponsored by the NCMF.
There will be two showings (2:30 pm and 6:00 pm) of National Treasure - Book of Secrets - starring Nicolas Cage, rated PG. Free admission and complimentary popcorn too! Click here to reserve your seat(s).
Wednesday, 11 April 2018, noon - Washington, DC - Global Terrorism, Espionage and Cybersecurity Update - at the International Spy Museum
Join David Major, retired supervisory special agent of the FBI and former director of Counterintelligence and Security Programs at the NSC staff at the White House, for a briefing on the hottest intelligence and security issues, breaches, and penetrations. Presented in partnership with The Centre for Counterintelligence and Security Studies (CI Centre), these updates will cover worldwide events such as breaking espionage cases and arrest reports, cyber espionage incidents, and terrorist activity. Major uses his expertise to analyze trends and highlight emerging issues of interest to both intelligence and national security professionals and the public. Cases are drawn from the CI Centre's SPYPEDIA.
Event is free. Visit www.spymuseum.org.
Wednesday, 11 April 2018 - Boston, MA - The Boston Marathon Bombing: Five Years On - A Conference.
"The Boston Marathon Bombing: Five Years On" - AFIO members and their guests are invited to attend this special conference hosted by the Boston University community. BU Prof. John Woodward, a long-time AFIO member and former CIA officer, is serving as the conference coordinator.
15 April 2018 will be the fifth-year anniversary of the Boston Marathon bombing. To commemorate this event, the BU Pardee School of Global Studies and other Boston University organizations are sponsoring a conference featuring first responders, a panel of international scholars to discuss terrorism, a panel of legal experts to explain how the US prosecutes terrorists, and an historical exhibit provided by BU's Gotlieb Archival Research Center. Two journalists who have written acclaimed books about the bombing are also scheduled to speak.
When: Wednesday, 11 April 2018, from 1-5:30 p.m., followed by a networking session.
Where: Barrister's Hall at the Boston University School of Law.
RSVP: Though the conference is free of charge space is limited so registration is required. Please RSVP to eventsps@bu.edu
More information is here.
Thursday, 12 April 2018, 6:30pm - Washington, DC - Introducing Chris Costa: The New Spy Museum Director - at the International Spy Museum
COL Christopher P. Costa (US Army, ret.) is the new Executive Director of the Spy Museum. He has done some things he can't even tell you about, but this evening he'll share what he can from an intense career in the intelligence community. Costa has most recently been the Special Assistant for the President & Senior Director for Counterterrorism at the White House National Security Council where he applied what he learned as a practitioner to policy making. Previously his career included 25 years of active duty deployed in hot spots such as Panama, Bosnia, Afghanistan, and Iraq. He's the recipient of two Bronze Stars for intelligence work in Afghanistan and has been inducted into the Commando Hall of Honor for the US Special Operations Command. His career has included human intelligence, special operations, counterintelligence, unconventional warfare, and now...museums! Join Spy Museum historian Dr. Vince Houghton when he sits down with Costa for an informal get-to-know-you.
Tickets for the general public: $10 per person; Museum members: free. Visit www.spymuseum.org.
13 April 2018, 11 am - Arlington, VA - NIP (Naval Intelligence Professionals) 2018 Spring Red Tie Luncheon features VAdm Kernan on "National Security Challenges."
Registration is currently underway for 2018 NIP Spring Luncheon (aka...Red Tie) being held at the stately Army Navy Country Club in Arlington, VA. A special guest goes along with what will be a special day: Vice Admiral Joe Kernan, USN (Ret), Under Seretary of Defense for Intelligence. He will share his thoughts and impressions of the current "National Security Challenges" facing the nation.
VADM Kernan was confirmed by the U.S. Senate at the USD(I) in November 2017. During his naval career, he commanded Seal Team Two, the Naval Special Warfare Development Group, Naval Special Warfare Command, and US Naval Forces Southern Command/Fourth Fleet. He also seved as Senior Military Assistant to former Defense Secretary Robert Gates and as Deputy Commander of the U.S. Southern Command.
Location: Army Navy Country Club (ANCC), Arlington, VA. Abundant free valet parking. A no-host social hour will commence at 1100 with lunch following at noon.
Registration: NO AT THE DOOR REGISTRATIONS, Reservation deadline is COB 6 April 2018
To register online do so here. To register by US Mail with check, send to: NIP, PO Box 11579 Burke, VA 22009. Include your menu selection - Salmon or Chicken or Vegetarian. Nonmembers of NIP are welcome to attend.
Thursday, 19 April 2018, 6:30-9:30pm - Washington, DC - Surveillance 101 with Eric O'Neill: Spy School Workshop - at the International Spy Museum
What if you were assigned to watch the most damaging spy in US history? As a young operative in the FBI, Eric O'Neill was put into position as Robert Hanssen's assistant with the secret task of spying on his boss, who was under suspicion of working for Russia. O'Neill's background with the FBI was in surveillance, so he was up to the challenge. But how would you measure up? It's your chance to find out.
O'Neill is prepared to share his hard-earned expertise with you. This intense small group introduction to surveillance will include learning the basics and conducting surveillance in the streets of DC. Will you be able to track the "Rabbit" without being "made?" You'll learn how to snap clandestine shots and keep your target in view so you won't miss operational acts or clandestine meetings. O'Neill will lead the exercise and help you learn how to blend into the shadows for the best spy results! Space is limited to only 16 participants - advance registration required.
To register, email Shana Oltmans at soltmans@spymuseum.org.
Tickets for the general public: $94 per person; Spy Museum members: $75. Visit www.spymuseum.org.
22 - 25 April 2018 - Tampa, FL - USGIF GEOINT 2018 Symposium on "Driving Data to Decisions and Actions."
Always a phenomenal event in number of panels, quality (fame) of speakers, and hundreds of latest tech exhibits. This is the GEOINT version of the dazzling Consumer Electronics Show...
Hear from senior defense and intelligence leaders such as NGA Director Robert Cardillo and USDI Joseph Kernan in keynotes, panels, and presentations.
Learn from 52 hours of professional development, training, and education sessions with PDUs and CEUs.
See the latest in technology, services, and solutions from 200+ exhibitors in more than 100,000 sq ft of exhibit space.
Networking with more than 4,000 GEOINT Community professionals from 40 countries spanning defense, intelligence, homeland security, industry, and academia.
Learn more about the GEOINT Symposium here
Or register now and start planning on your trip to GEOINT 2018 in Tampa.
Wednesday, 25 April 2018, 1-4pm - Washington, DC - Beware of the Predator - at the International Spy Museum
Join the Spy Museum Store as it meets author/career CIA Technical Operations officer, Warren D. Holston, and Intel analyst/contributing author, Dave White. Holston has worked throughout the Intelligence Community, Department of Defense, and defense industry for more than 30 years and was awarded the CIA's Intelligence Commendation Medal and the Distinguished Career Intelligence Medal. White has worked for the US government in a broad range of roles and missions within the Intelligence and Defense Communities for almost 30 years, including serving as a Deputy Senior Operations Officer and Identity Intelligence Analyst at the National Counterterrorism Center (NCTC) and as a biometrics technology consultant in the Intelligence Community.
Their latest book, Beware The Predator, is an easy-to-read guide for anyone who wants to raise their security awareness and defensive posture. This book will help you understand how to protect yourself, your family and business from criminal predators, corporate intrusion, and State sponsored spying. Whether you are a corporate or government executive, a high-net-worth individual, or someone simply concerned about identity theft and personal safety, you should be aware of the vulnerabilities to your personal data and predatory attacks against your assets and relationships.
Event is free. Visit www.spymuseum.org.
Thursday, 26 April 2018, 6:30pm - Washington, DC - Spy Chiefs: An Overview - at the International Spy Museum
In pop culture, the spy chief is an all-knowing, all-powerful figure who masterfully moves spies like pieces on a chessboard. How close to reality is that depiction, and what does it really take to be an effective leader in the world of intelligence? As editors of Spy Chiefs: Volume 1, Dr. Mark Stout, a program director at Johns Hopkins University, and Dr. Christopher Moran, an associate professor at the University of Warwick, will reveal what they have gleaned about the role of intelligence leaders in foreign affairs and national security in the US and the UK from the early 1940s to the present. They will discuss some of the most intriguing of these shadowy figures such as William Donovan and John Grombach, who ran an intelligence organization so secret that not even President Truman knew of it. They'll also explore questions about spy chief accountability and just how powerful they were...or weren't. Spy Chiefs will be available for sale and signing at the event.
Tickets for the general public: $10 per person; Spy Museum Members: $8. Visit www.spymuseum.org.
Friday, 18 May 2018, 1 - 2:30 pm - Annapolis Junction, MD - 2018 Henry F. Schorreck Lecture Speaker Series by NSA's Center for Cryptologic History on "The Pueblo Incident: A Fifty-Year Retrospective."
The National Cryptologic Museum hosts NSA's Center for Cryptologic History's 2018 Henry F. Schorreck Lecture Speaker Series which will explore "The Pueblo Incident: A Fifty-Year Retrospective."
The special guest speaker is Mitchell Lerner, Associate Professor of History and Director of the Institute for Korean Studies at Ohio State University. He is the author of The Pueblo Incident: A Spy Ship and the Failure of American Foreign Policy, which won the 2002 John Lyman Book Award.
"Remember," Rear Admiral Frank Johnson told the officers of the USS Pueblo just before they departed for their first mission, "you are not going out there to start a war." And yet, war appeared to be not far off when the spy ship was captured by North Korean forces on 23 January 1968, leaving one dead crewman and 82 other Americans held captive for a year in North Korean prison camps. This presentation will examine this controversial incident from start to finish, and will open a window into not only American decision making but also into the perspectives of North Korea, South Korea, and the Soviet Union.
REGISTRATION: Event is free. However, a full house is anticipated and thus, advanced registration is required at this link. The NSA-CCH will confirm registrations and answer any questions.
DIRECTIONS: The NCM is located at 8290 Colony Seven Rd, Annapolis Junction, MD 20701. Here is are directions to the Museum.
Qs or prefer to register by email?: contact Greg Nedved at gjnedve@nsa.gov to reserve the desired number of seats by email.
Wednesday, 28 November 2018, 6 - 10:30 pm - Washington, DC - International Spy Museum's Annual "William H. Webster Distinguished Service Award Dinner" honoring Adm McRaven
For your calendar. A special evening to illuminate the critical role of individuals and organizations serving the Intelligence Community, and to raise funds in support of the International Spy Museum.
The William H. Webster Distinguished Service Award Dinner will take place at The Ritz Carlton Hotel. More than 600 attendees are anticipated and will recognize the men and women who have served in the field of National Security with integrity and distinction. This annual tribute dinner is given by the International Spy Museum to an individual who has embodied the values of Judge William H. Webster. This year's honoree is a patriot for whom love of country has been his guiding principle: Admiral William H. McRaven, former US Special Operations Commander, former Joint Special Operations Commander, and Chancellor of The University of Texas System.
Schedule: 6 pm - VIP Reception; 6:30 pm - Cocktail Reception; 7:30 - 9 pm - Dinner & Awards; 9 - 10:30 pm - Dessert Reception.
Location: The Ritz-Carlton Hotel, 1150 22nd St NW, Washington, DC 20037. **Please note: this event is closed to Media**
Tickets Available Now: Prices range from $100,000 to a single seat for $495. Funds raised at this tribute dinner will support artifact preservation, educational programming, research, exhibits, and accessibility programs for underserved communities at the International Spy Museum. To purchase tickets now, do so here. To learn more about this annual dinner, it is available here.
---
Gift Suggestions:
AFIO's 788-page Guide to the Study of Intelligence. Peter C. Oleson, Editor, also makes a good gift. View authors and table of contents here.

Perfect for professors, students, those considering careers in intelligence, and current/former officers seeking to see what changes are taking place across a wide spectrum of intelligence disciplines.
AFIO's Guide to the Study of Intelligence helps instructors teach about the large variety of subjects that make up the field of intelligence. This includes secondary school teachers of American History, Civics, or current events and undergraduate and graduate professors of History, Political Science, International Relations, Security Studies, and related topics, especially those with no or limited professional experience in the field. Even those who are former practitioners are likely to have only a limited knowledge of the very broad field of intelligence, as most spend their careers in one or two agencies at most and may have focused only on collection or analysis of intelligence or support to those activities.
For a printed, bound copy, it is $95 which includes Fedex shipping to a CONUS (US-based) address.
To order for shipment to a US-based CONUS address, use this online form,

To order multiple copies or for purchases going to AK, HI, other US territories, or other countries call our office at 703-790-0320 or send email to afio@afio.com to hear of shipment fees.
Order the Guide from the AFIO's store at this link.
The Guide is also available directly from Amazon at this link.
AFIO's 2017 Intelligence Community Mousepads are a great looking addition to your desk...or as a gift for others..
Made in USA. Click image for larger view.
These 2017 mousepads have full color seals of all 18 members of the US Intelligence Community on this 8" round, slick surface, nonskid, rubber-backed mouse pad with a darker navy background, brighter, updated seals. Also used, by some, as swanky coasters. Price still only $20.00 for 2 pads [includes shipping to US address. Foreign shipments - we will contact you with quote.] Order NEW MOUSEPADS here.
Disclaimers and Removal Instructions
Weekly Intelligence Notes (WINs) are commentaries on Intelligence and related national security matters, based on open media sources, selected, interpreted, edited and produced for non-profit educational uses by members and WIN subscribers.
REMOVAL INSTRUCTIONS: We do not wish to add clutter to inboxes. To discontinue receiving the WINs:
a) IF YOU ARE A MEMBER - click here: UNSUBSCRIBE and supply your full name and email address where you receive the WINs. Click SEND, you will be removed from list. If this link doesn't open a blank email, create one on your own and send to afio@afio.com with the words: REMOVE FROM WINs as the subject, and provide your full name and email address where you are currently receiving them.
b) IF YOU ARE NOT A MEMBER, and you received this message, someone forwarded this newsletter to you [contrary to AFIO policies]. Forward to afio@afio.com the entire WIN or message you received and we will remove the sender from our membership and distribution lists. The problem will be solved for both of us.
CONTENTS of this WIN [HTML version recipients - Click title to jump to story or section, Click Article Title to return to Contents. This feature does not work for Plaintext Edition or for some AOL recipients]. If you wish to change to HTML format, let us know at afio@afio.com. The HTML feature also does not work for those who access their e-mail using web mail...however NON-HTML recipients may view the latest edition each week in HTML at this link: https://www.afio.com/pages/currentwin.htm
---
WINs are protected by copyright laws and intellectual property laws, and may not be reproduced or re-sent without specific permission from the Producer. Opinions expressed in the WINs are solely those of the editor's) or author's) listed with each article. AFIO Members Support the AFIO Mission - sponsor new members! CHECK THE AFIO WEBSITE at www.afio.com for back issues of the WINs, information about AFIO, conference agenda and registrations materials, and membership applications and much more!
(c) 2000, 2012, 2013, 2014, 2015, 2016, 2017, 2018. AFIO, 7600 Leesburg Pike, Suite 470 East, Falls Church, VA 22043-2004. Voice: (703) 790-0320; Fax: (703) 991-1278; Email: afio@afio.com