---
CONTENTS
Section I - INTELLIGENCE HIGHLIGHTS
Section II - CONTEXT & PRECEDENCE
Section IV - Research Request, Obituaries
Other Upcoming Events from Advertisers, Corporate Sponsors, and Others
For Additional AFIO and other Events two+ months or more... Calendar of Events
WIN CREDITS FOR THIS ISSUE: The WIN editors thank the following special contributors: ec, mh, km, gh, mk, rd, fm, kc, jm, mr, jg, th and fwr. They have contributed one or more stories used in this issue.
The WIN editors attempt to include a wide range of articles and commentary in the Weekly Notes to inform and educate our readers. However, the views expressed in the articles are purely those of the authors, and in no way reflect support or endorsement from the WIN editors or the AFIO officers and staff. We welcome comments from the WIN readers on any and all articles and commentary.
CAVEATS: IMPORTANT: AFIO does not "vet" or endorse research inquiries, career announcements, or job offers. Reasonable-sounding inquiries and career offerings are published as a service to our members, and for researchers, educators, and subscribers. You are urged to exercise your usual caution and good judgment when responding, and should verify the source independently before supplying any resume, career data, or personal information.]
If you are having difficulties with the links or viewing this newsletter when it arrives by email, members may view the latest edition each week at this link. You will need your LOGIN NAME and your PASSWORD.
---

DNI DANIEL COATS AT NIU
WASHINGTON - National Intelligence University (NIU) President Dr. J. Scott Cameron announced this week that the Honorable Daniel R. Coats, Director of National Intelligence will deliver the commencement address to NIU graduates on Friday, 27 July 2018. Coats, who was appointed 5th Director of National Intelligence by President Trump last year, has long experience as legislator and diplomat. He has served in both houses of Congress, as a U.S. Senator from Indiana from 1989 to 1999 and from 2011-2017, and as a Representative from Indiana's 4th District from 1981-1989. Coats also served as the U.S. Ambassador to Germany from 2001-2005.
The NIU Class of 2018 consists of approximately 250 students from around the intelligence community and the federal government. Students crossing the stage in July will receive one of the university's three degrees: Master of Science of Strategic Intelligence, Master of Science and Technology Intelligence, or Bachelor of Science in Intelligence. National Intelligence University is accredited by the Middles States Commission on Higher Education with its main campus located in Bethesda, MD. It operates under the Defense Intelligence Agency as the intelligence community's sole accredited, federal degree-granting institution. NIU faculty consist of subject matter experts from around the intelligence community who bring a wealth of knowledge and practical experience, as well as academic qualifications, to the classroom. In addition to the three degree programs, NIU offers graduate certificates in intelligence on specialized topics. Its alumni include many notable intelligence and national security leaders.
For more info: www.ni-u.edu
---
NOTICES
Filling Up...
AFIO's Triple-Header Spring Luncheon

Friday, 1 June 2018
features three keynote speakers

Richard W. Hoch, Deputy Director of CIA for Analysis,
on "The Directorate of Analysis and the Future of Analysis"
[Remarks are off the record. No recording, quoting, or media permitted]
Bruce Riedel, CIA and Brookings, on
"The Future of US-Saudi Relations,"
based on his book,
Kings and Presidents: Saudi Arabia
and the United States Since FDR.
R. Scott Decker, FBI, on Recounting the Anthrax Attacks:
Terror, the Amerithrax Task Force,
and the Evolution of Forensics in the FBI.
Badge pick-up at 9:15 to 10 a.m.
First speaker, Scott Decker, at 10 a.m.;
Bruce Riedel at 11 a.m. and CIA DD/A Hoch at 1 p.m.
Register here to ensure a seat.

Location: DoubleTree-Hilton, Tysons Corner, VA [formerly the Crowne Plaza], at 1960 Chain Bridge Rd, McLean, VA 22102.
---

Homeland Security Intelligence
Five-Day Executive Course
4 - 8 June 2018
Penn State Harrisburg

Penn State Harrisburg's Department of Continuing Education and School of Public Affairs are offering a five-day residential executive course from 4 - 8 June 2018. The course is designed for practitioners in homeland security enterprise, the intelligence community, and emergency management at local, state, and federal levels. Participants can register to receive three academic credits or continuing education units (CEU).
Click HERE to learn more.
---
Books of the Week
The Assault on Intelligence: American National Security in an Age of Lies
by Michael V. Hayden
(Penguin Press, May 2018)
A critique of the forces General Hayden sees as threatening to the Intelligence Community, beginning with Trump's discrediting of IC honesty and value, in a time when the IC's work has never been harder. Hayden warns that the world order is teetering on the brink. North Korea is on the verge of having a nuclear weapon that could reach all of the US, Russians have mastered a new form of information warfare that undercuts a democracy already shattered by deep cultural and social divisions and differing values, and the role of China in the global community remains unclear. Hayden emphasizes that experience and expertise, a devotion to facts, humility in the face of complexity, and a respect for ideas, is needed. American Intelligence—the ultimate truth teller, he says—has a responsibility in what seems to be a post-truth world beyond merely warning of external dangers.

While civil war or societal collapse is not imminent or inevitable, Hayden worries that some of democracy's core structures, processes, and attitudes are under stress. The premises on which we have based governance are now eroded or simply gone. An example is that some members of the IC are certain that Russians are in a state of outright cyber war against us and our institutions and cultural values, yet Trump ignores all evidence and is shooting the messenger.
Fundamental changes are afoot in the world and in the US, and Hayden suggests what those are and how crippled he believes the nation has become in the capacity to address them, and he supplies suggested responses. If we lose our intelligence, literally and figuratively, he is certain the type of democracy he values will die.

Book may be ordered here.
---
Political Risk: How Businesses and Organizations Can Anticipate Global Insecurity
by Condoleezza Rice and Amy B. Zegart
(Twelve Press, May 2018)
Former Secretary of State Rice and Professor Zegart, both Stanford political scientists, describe how political risk can affect businesses—and what to do about it.
SeaWorld is devastated by online social activism over its mistreatment of killer whales. Sony Entertainment loses trade secrets to hackers. Kazakhstan becomes independent, and Chevron faces a nightmare over an oil-and-gas concession in the dissolving Soviet Republic. These are the new dangers—from geopolitics to cyberthreats and terrorism—facing corporations in the turbulent global landscape of "unprecedented" economic opportunities and political risks of the past 30 years. During this period, potentially harmful actions are now available to individuals with cellphones, local officials using city ordinances, terrorists using truck bombs, and the UN imposing sanctions. "Anyone armed with a cell phone or a Twitter or Facebook account can create political risks."
Book examines the "notoriously difficult" job of managing the countless political risks that businesses face. Some firms excel, notably FedEx, Marriott, Disney, and the Lego Group as well as many cruise lines, chemical companies, law firms, tech companies, and others. Some have even created "mini-CIAs." Provides examples of companies that have succeeded or failed in meeting the new challenges and outlines key ways to approach risks: Get good information. Build trusting relationships. Analyze continually. Integrate political risk analysis into business decision-making. As the authors write in closing, "the most effective organizations have three big things in common: They take political risk seriously, they approach it systematically, and they lead from the top." -- Kirkus Reviews.

Book may be ordered here.
---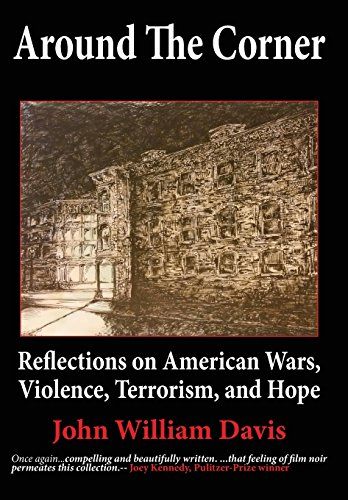 Around the Corner: Reflections on American Wars, Violence, Terrorism, and Hope
by John W. Davis
(Red Bike Publishing, Mar 2018)
Impressionist essays on people, events, laws, chance, and history from the perspective of this soldier, historian, and liaison officer. Davis, a retired US Army CI officer and linguist, was commissioned as an artillery officer in the 101st Air Assault Division. Thereafter, he went into counterintelligence where he served 37 years, 13 overseas in Europe during the Cold War. Later, in civil service, he served in a CI role for Space and Missile Defense Command. A linguist, Davis learned foreign languages in each country he served. This, and an earlier book, explore not only true events in his own life, but also the moral and ethical aspects of the secret world. Around the Corner expands his reflections on conflicted human nature to our present day traumas of war, terrorism, fear, and causes for hope.

Book may be ordered here.
---
Section I - INTELLIGENCE HIGHLIGHTS

Tech Firms, Including Microsoft, Facebook, Vow Not to Aid Government Cyber Attacks. Microsoft, Facebook and more than 30 other global technology companies on Tuesday announced a joint pledge not to assist any government in offensive cyber attacks.

The Cybersecurity Tech Accord, which vows to protect all customers from attacks regardless of geopolitical or criminal motive, follows a year that witnessed an unprecedented level of destructive cyber attacks, including the global WannaCry worm and the devastating NotPetya attack.

"We recognize that we live in a new world," Microsoft President Brad Smith said during a speech on Tuesday at the RSA cyber security conference in San Francisco. "We're living amidst a generation of new weapons, and where cyberspace has become the new battlefield."

Smith, who led efforts to organize the alliance, said the devastating cyber attacks in 2017 demonstrated the need for the technology sector to "take a principled path toward more effective steps to work together and defend customers around the world." [Read More: Reuters/nytimes/17Apr2018]

Is This the Salisbury Poisonings Hitman? Former KGB Captain Codenamed 'Gordon' is Russian Assassin Suspect. Counter terror police have identified a Russian assassin believed to be connected to the Salisbury poisonings.

In a sensational new development the Sunday People can disclose that officers suspect he is a 54-year-old former FSB spy - codename Gordon.

The man is thought to use the cover name Mihails Savickis as well as two other aliases.

But police fear he has already flown back to Russia and they may never get the chance to question him. [Read More: Nelson/mirror/22Apr2018]

NSA Develops Cyber Threat Intelligence Collaboration Platform, Tools. The National Security Agency has developed a suite of tools meant to provide wider access to insights on systems security research and facilitate the adoption of network-protection approaches in various industries.

NSA said Friday its Unfetter technologies are designed to provide a common lexicon of cyber attack definitions to allow network defenders and threat analysts to develop, share and utilize intelligence on malicious digital activities to enhance network security.

Unfetter's Analytic Exchange app serves as a collaboration platform for threat analysts while the Capability Assessment app lets network defenders evaluate security capacities, critical controls and content from the analysis sharing tool.

NSA's Unfetter system also features the Threat Dashboard app where cybersecurity intelligence analysts can create and track reports on attacker behavior, techniques and tools for customers. [Read More: Crews/executivegov/23Apr2018]

To Keep Foothold in Government Market, Satellite Imaging Companies Have to Gain Trust. The golden age of open source has arrived. A thriving commercial imagery industry has been welcome by U.S. intelligence agencies but it also has brought a new set of challenges.

Commercially available satellite data has never been more sophisticated or affordable, but vendors looking to sell to the government have to break down trust barriers.

There is no denying that intelligence analysts were raised to view unclassified data as less valuable than classified information, said Robert Cardillo, director of the National Geospatial Intelligence Agency. NGA supplies geospatial data to the nation's spy agencies and to the Defense Department.

The culture is not easy to change even in this era of rapid technological innovation, Cardillo said during a roundtable with reporters Monday at the GEOINT symposium. [Read More: Erwin/spacenews/23Apr2018]

KP Director Shpend Maxhuni Appointed as Head Kosovo Intelligence Agency. The Prime Minister's Office has issued a press release confirming Maxhuni's appointed as head of Kosovo's intelligence. Shpend Maxhuni was appointed as General Director of the Kosovo Police after Hashim Thaci and his party - the PDK came to power in 2007. Now with Thaci's blessing, he has been appointed chief of KIA. "Today, the President of Kosovo Hashim Thaci, jointly with Prime Minister, Ramush Haradinaj, have appointed new director of the Kosovo Intelligence Agency (KIA)," it is stated in the press release.

Maxhuni will replace Driton Gashi who was dismissed by PM Haradinaj for his role over the arrest and deportation of the six Turkish nationals suspected of their links with Gulen's movement. PM Haradinaj dismissed KIA chief and Interior Minister stating that he was not informed of the operation which was carried out in cooperation with Turkish national intelligence agency. According to the Law dismissal and appointing of the KIA chief is done by the President and Prime Minister. [Read More: gazetaexpress/20Apr2018]

Colombia to Dismantle Military Intelligence Agency 'Used to Embezzle Defense Funds'. Colombia's defense minister announced he would dismantle a military intelligence unit that is accused of being used by top military officials to embezzle defense funds.

The so-called Joint Regional Strategic Military Intelligence unit reportedly funneled defense funds meant for informants to front companies controlled by at least seven top military officials.

Defense Minister Luis Carlos Villegas said that the military has been investigating the alleged corruption since December when weekly Semana published the first of a series of articles on corruption in the military.

After the magazine published a second article on Sunday in which it claimed that the disgraced unit was used to embezzle more than $7 million, the minister took action. [Read More: Alsema/colombiareports/18Apr2018]

Angola President Fires Army Chief and Spy Boss - State Radio. Angola president Joao Lourenco on Monday fired over twenty officials including two security chiefs in a presidential decree announced on national radio, Portugal RTP.

The two affected officers are Army Chief General Geraldo Sachipengo Nunda and foreign intelligence chief André de Oliveira Sango. Reports indicate that about twenty other officials were affected by the latest purge.

The head of the armed forces before his sacking, was named by prosecutors last month as a suspect in an investigation of a scheme to negotiate a fraudulent international credit line of $50 billion.

He was named along with son of the former president Jose Filomeno dos Santos and a former governor of the central bank, Valter Filipe da Silva. [Read More: Shaban/africanews/23Apr2018]

Afghan MPs Move To Impeach Head Of Intelligence Agency. A number of lawmakers in Afghanistan's Wolesi Jirga (Lower House of Parliament) on Wednesday moved to impeach the chairman of the National Directorate of Security (NDS) Masoom Stanekzai.

However, this sentiment was not shared by all MPs.

Those who oppose the move said it had been at the request of lawmakers who have personal ambitions in terms of ousting the NDS chief.

But, parliament speaker Abdul Rauf Ibrahimi said a motion to impeach government officials was within their authority. [Read More: Ansar/tolonews/18Apr2018]

Iraq Offers Close Cooperation with Czech Intelligence Services. Iraq has offered the Czech Republic close cooperation between the country's secret services in the fight against terrorism. The Middle Eastern country is still dealing with the impact of the so-called Islamic State and is interested in Czech logistics help and technical expertise as well as the training of fighter pilots.

The Czech Republic could also help in the treatment of injured soldiers and civilians, Defence Minister Karla Slechtov' confirmed after meeting with her Iraqi counterpart Erfan al-Hiyali.

Around 50 Czech military personnel are currently serving in Iraq, providing training for personnel on the service of Czech-made L-159 fighter jets, defense against weapons of mass destruction, and training police officers. [Read More: Velinger/radio/23Apr2018]



---
Section II - CONTEXT & PRECEDENCE

Can You Pass the U.S. Army's World War I-Era Intelligence Test? During World War I, the U.S. Army needed a system that would quickly sort recruits into their ideal roles. Psychologist and noted eugenicist Robert Yerkes developed several tests that, among other things, would identify those capable of holding leadership positions, such as officers or intelligence specialists.

Literate recruits took the written Alpha test (sampled above), while illiterate applicants faced the visual Beta test (which you can find in our latest issue, on newsstands now). Military psychiatrists evaluated individuals who struggled with the tests, often marking those who failed as having naturally inferior intellect. In hindsight, it's clear that cultural background (how many people in the 1910s got to play tennis?) and the ethnic biases baked into the questions could sway the final outcome. [Read More: Cummins, Iozzio/popsci/23Apr2018]

How a Black Spy Infiltrated the Confederate White House. Confederate President Jefferson Davis occupied an anxious home in Richmond, Virginia, during the Civil War. A steady leak of information dripped from the highest ranks of the Confederacy to the Union. Davis was wary of a mole in his house, but had no idea how to stop the flow of information. Little did he know, a Union spy found her way into deepest parts of the Confederate White House as part of an abolitionist woman's spy ring.

These women, Elizabeth "Crazy Bet" Van Lew and Mary Bowser, a freed slave who posed as a Davis's servant, worked together to bring down the political fixtures of the South from the inside out.

Spies were common on both sides of the Civil War. Van Lew organized a spy ring in the heart of the Confederacy and Bowser, with her photographic memory and incredible acting skills, was able to relay critical intelligence to Van Lew, which would then make its way to the Union.

Spying on the most elite members of the Confederacy required the deception of more than just the enemy. In order to keep from exposing themselves, the women needed to fool society around them. They opted to be labeled as senseless and stupid instead of revealing themselves as the canny operators that they were. [Read More: Morgan/history/23Apr2018]

Notable US Spies Fast Facts. Here is a look at some US citizens who have been convicted of spying against the United States. [Read More: abc-7/18Apr2018]

A Cold War Poison Resurfaces in a Quiet English Town. During the Cold War, Soviet scientists at a secret, high-security lab worked frantically to counter the latest U.S. chemical weapons. More than four decades later, the nerve agent they developed apparently turned up in a quiet English town, where it nearly killed a former Russian spy and his daughter.

Vladimir Uglev said he was the scientist who in 1975 first synthesized A-234 - an odorless liquid deadlier than any other chemical weapons that existed at the time.

"Hundreds of thousands could have been killed with what I produced," the 71-year-old former researcher told The Associated Press.

Uglev detailed his deadly and secretive work, recalling how Kremlin leaders and the military were ambivalent about the chemical weapons program and eventually came to see it as burdensome and costly. And he described how the economic chaos that followed the Soviet Union's collapse could have led to the lethal poisons falling into unscrupulous hands. [Read More: Isachenkov/postregister/23Apr2018]

The CIA Is Getting a Private-Sector Makeover. Brian Bulatao remembers the call as if it came yesterday. After the 2016 election, he was on the phone with his old buddy Mike Pompeo, congratulating him for being Donald Trump's pick to lead the Central Intelligence Agency. Bulatao, who went to West Point with Pompeo in the early 1980s and later started a business with him in Kansas, was telling his friend what a great job he'd do - when Pompeo interjected. "He goes: 'Well, not so quick. I'm going to drag your butt with me!' "

In January 2017, Pompeo did just that, first bringing Bulatao on as a senior adviser at the CIA, and then tapping him as the agency's No. 3 executive. The job used to be called executive director, or exdir, and entails overseeing the day-to-day running of the CIA―budgets, logistics, personnel. But after Bulatao was appointed to the job in June 2017, he and Pompeo agreed to change his title to chief operating officer, underscoring their aim to bring a veneer of the private sector to the world of espionage.

Since then, Bulatao has tried to impose MBA-style management lessons on the CIA, to mixed reviews. Now, as his friend and boss prepares to take over as secretary of state, officials in Washington are wondering whether Bulatao will join him. The State Department, already hollowed out and demoralized by one management overhaul, may be about to get another one.

A former McKinsey & Co. consultant and Harvard MBA graduate, Bulatao exudes the air of a management consultant, ticking off such buzzwords as "streamline" and "strategic sourcing strategy" to describe the shakeup he says is under way at the agency. Like his boss, Bulatao had zero government administrative or intelligence experience before going to work at the CIA; six years ago, he was running an industrial packaging company in Dallas. [Read More: Syeed/bloomberg/19Apr2018]

These Former Intel Professionals are Running for Office to Check Trump. Former intelligence professionals angered by what they view as attacks on the intelligence community by President Donald Trump are channeling their grievances by running for office in 2018.

Running as Democrats, these former intelligence officers are touting their experience as part of their pitch to voters in their respective districts across the country.

In particular, they are taking aim at what they view as Trump's attacks on the intelligence and national security community.

The President has repeatedly criticized the special counsel's investigation into Russian interference in the 2016 US election and whether the Trump campaign was involved in any way in that interference. He has also openly questioned the assessment from intelligence agencies that Russia was involved in the hacking of the Democratic National Committee. [Read More: Grayer/cnn/19Apr2018]



---
South Africa's Damaged Intelligence System is at a Crossroads. South Africa's new Crime Intelligence head Peter Jacobs has a mountain to climb in order to fix the mess Richard Mdluli left behind. Minister Bheki Cele's announcement on 29 March of Jacobs's appointment is just one part of President Cyril Ramaphosa's arduous task of reversing the damage his predecessor Jacob Zuma did to state institutions.

Zuma typically selected dishonest, corrupt or incompetent people to head various government and state-owned agencies. It started with the country's security agencies, resulting in their consistent deterioration over time. Arguably, the intent was to prevent accountability for the large-scale looting of public funds and corruption that characterised his presidency. Ramaphosa's first step must be to remove those appointed for nefarious motives and replace them with highly skilled people whose integrity is beyond reproach.

Much of the damage done was to the South African Police Service's (SAPS) Crime Intelligence Division. Two months after Zuma became president in 2009, the little-known Mdluli was irregularly appointed as Crime Intelligence head following a meeting with cabinet ministers close to Zuma.

Mdluli maintained a low profile until he made headlines after being charged with murder, kidnapping and various related charges and suspended in May 2011. In November of that year he again made the news when he was further charged with fraud, corruption, theft and money laundering. His closeness to Zuma became apparent when he wrote a letter to Zuma claiming that the charges against him were as the result of a conspiracy against him and that if the charges were dropped, he would help Zuma. [Read More: Burger, Newham/issafrica/17Apr2018]

Inside the Competitive, Corrupt World of Russian Intelligence. Bottom Line: The Kremlin employs various often overlapping and competitive security and intelligence services to create multiple sources of intelligence, encourage risk-taking and keep a wary eye on each other. This has enabled Russian President Vladimir Putin to consolidate power by playing agencies off of each other to avoid uninvited power grabs. But these redundancies can also create inefficiencies that Russia can't afford as its economy continues to falter.

Background: The Soviet Union primarily relied on two intelligence services. The Committee for State Security (KGB) was tasked with foreign political and economic espionage, covert action - known as active measures - and domestic security, while the Main Intelligence Director (GRU) under the General Staff was responsible for military intelligence. Since the collapse of the Soviet Union, Russia broke the KGB largely into three services - the Federal Security Service (FSB), Foreign Intelligence Service (SVR), and the Federal Protection Service (FSO) - while cutting the GRU's workforce significantly. [Read More: Maxey/thecipherbrief/20Apr2018]

"A Different Kind of Propaganda": Has America Lost the Information War? Secluded on the second floor of the State Department's Harry S. Truman Building, just down the hall from the Counterterrorism Bureau, is the spy-proof chamber where the future of American warfare is being fought, one tweet at a time. The Global Engagement Center, or G.E.C., would be a mostly nondescript L-shaped office, if not for the hanging television monitors, tuned to the news, and high-walled cubicles where dozens of staffers labor over computers that have been retrofitted with special screens to prevent wandering eyes. No cell phones or electronic devices are allowed in or out.

The G.E.C. is, in a sense, Washington's answer to the Internet Research Agency, the St. Petersburg-based troll factory where Russian social-media specialists worked day and night to sway the course of the presidential election. Of course, it was probably already too late by the time the G.E.C. was established by President Barack Obama, in March 2016, an alternate to the Center for Strategic Counterterrorism Communications. It wasn't until December, weeks after Donald Trump had been elected, that the center's mandate was expanded beyond combating terrorist propaganda to include state-sponsored disinformation under the National Defense Authorization Act. Even then, the G.E.C. struggled to catch up. Lacking support or direction from Secretary of State Rex Tillerson's office, staffers' work was handicapped for much of Trump's first year in office. With less than 100 bodies working the disinformation beat, there were doubts both inside and outside the G.E.C. that the start-up-like group could overcome the bureaucratic obstacles of a White House with little interest in re-litigating the 2016 campaign, or even acknowledging the Russian threat.

"The problem is that the secretary wasn't going to wrap his head around this issue anytime soon, in the sense of I don't even think he knew what the G.E.C. was until summer, and even then I would be surprised if he really knew," one current State Department staffer told me. When Tillerson did acknowledge the G.E.C., the secretary and his top aides were perceived to be openly hostile toward its mission. In August, Politico reported that R.C. Hammond, who served as the State Department's head of communications until December of last year, had urged Tillerson not to spend nearly $80 million that had been earmarked for the G.E.C. by Congress, including about $60 million from the Defense Department, because the effort would upset Moscow. (Hammond dismissed this narrative.) And while insiders have praised acting coordinator Daniel Kimmage, telling me that there is no better person to lead the effort than the foreign-service officer - who is fluent in both Russian and Arabic, among other languages - one source said he never gained the trust of the Trump partisans he reported to. He "specifically was seen as an Obama person," the current State Department staffer said, noting that Kimmage was appointed to the post by a former John Kerry loyalist. "So people were suspicious. That also didn't help."

Although the G.E.C. doesn't represent the totality of U.S. efforts on the digital battlefield, its struggles are emblematic of larger intelligence failures spanning two administrations. Insiders familiar with the State Department's counter-disinformation effort say the problem was exacerbated when Congress and the Obama administration pushed the G.E.C. to combat Russia and other state actors. "In my view, they took something that was working pretty well and they kind of broke it, because they tried to do too much with too little in the way of resources and with too little in the way of vision," said a former State official in the Obama administration familiar with the situation. [Read More: Tracy/vanityfair/23Apr2018]



---
Section IV - Research Request, Obituaries
Scholar Seeking Primary Sources, First-hand Experience on Soviet-Afghan War. CPT Tom Doherty, Special Operations Instructor, is working on his Military History Masters capstone - Soviet-Afghan War - and has requested some research assistance. There were several contributing factors the Soviet loss in Afghanistan, most important was the greater will to win of the anti-Soviet Mujahidin forces and their willingness to absorb greater hardships and higher casualties over a longer period than the Soviets were. I am throwing a wide net out there looking for some primary sources for the Soviet-Afghan War. If any of you know someone that was directly involved, I would appreciate it. I could get the contact information from you or if you could pass on my contact information. It could have been policy side in any country that took part in the conflict officially or unofficially, Afghan (either side), someone involved in the fighting (any side) a journalist that was there, an NGO member that did some time over there etc. Additionally, any document diaries would be great. Send your findings, suggestions, sources to thomas.w.doherty10@gmail.com.
George T. Heacock, 97, CIA Officer, died 19 March 2018 in Hagerstown, MD.
George completed his freshman year at the University of Alabama before volunteering for the US Navy, rising to the rank of Chief Petty Officer (CPO) and served in the Office of Naval Intelligence in the Secretary of the Navy's Situation Room and the African Theater during WWII. He later completed his BS degree in accounting and finance in Washington, DC.
He joined CIA and received a letter of commendation from the Director commending him for his historic role in the services of the "intelligence" profession.
George enjoyed hunting and fishing and in his retirement years grew, grafted and hybridized hibiscus becoming a senior judge for the American Hibiscus Society.
He is survived by a sister, and other family. [Read More: heraldmailmedia/23Apr2018]
Art Hulnick, CIA Career Officer, BU Professor, AFIO Chapter Officer
Arthur S. Hulnick, 82, CIA Career Officer, BU Professor, AFIO Chapter Officer, Associate Professor Emeritus of International Relations at the Frederick S. Pardee School of Global Studies at Boston University, died in Boston 18 April 2018, after a protracted illness. He was a beloved teacher and colleague specializing in strategic and business intelligence. He established the study of intelligence at Boston University, at what was then called the Department of International Relations and is now the Pardee School of Global Studies. He had retired from active teaching in 2015 and continued to live in Brookline. He was honored by his colleagues with the title of Emeritus and celebrated at the 2015 Pardee School Convocation ceremony.
A graduate of Princeton University, Hulnick served as an Intelligence Officer in the US Air Force where one of his first jobs was interviewing North Korean defectors. After military service at the rank of captain, he embarked on a 28-year career at the CIA. Among assignments were serving on the President's Daily Brief, and as the Director of the CIA's Watch Office. Hulnick also served as the speechwriter for CIA Director William Webster. His last assignment was as an Officer in Residence at Boston University before retiring in 1992. He received CIA's Career Intelligence Medal.
"He was a professional in the CIA who was not afraid to speak the facts to power. At faculty meetings he could cut into the discussion and push the group on to make a decision," said Joseph Wippl, a former agency colleague.
Instead of briefing the President, Hulnick briefed rooms of enthralled students with his insights and explanations of the complexities of the multi-faceted world of intelligence. He served as the Director of Undergraduate Studies for the Department of International Relations and was valued as a student adviser.
He published Fixing the Spy Machine: Preparing American Intelligence for the 21st Century (1999) and Keeping Us Safe: Secret Intelligence and Homeland Security (2004), and many academic articles. In 2011, he was honored for his academic work by the Intelligence Studies Section of the International Studies Association with its distinguished Scholar Award. Art served for many years as the treasurer of the AFIO-New England Chapter.
Art emphasized to students that the baseline of ethics in intelligence is presenting the truth to the policymaker, as best as one can know the truth based on facts.
With his wife, Eileen Brandt, Art traveled regularly, and they frequently attended concerts in Boston and at Tanglewood. He collected vintage cameras, and among his cars was a 1929 Morris Minor from England.
He is survived by his wife, two daughters, and other family. [Read More: bu/18Apr2018]
James Lynsky MD, CIA Medical Officer
James E. Lynsky MD, 90, a CIA Medical Officer, died 20 March 2016 [just brought to our attention]. He attended Lakewood High School and then served in the US Army during WWII. While stationed in Korea, he was severely wounded and was sent to Tokyo for medical treatment. After arriving back in the US, he attended Ohio Wesleyan University and Ohio State medical school. He did his internship and residency program at Akron City Hospital. In 1960 he joined the US State Department and CIA and was sent to the Iron Curtain countries: Bulgaria, Romania, Hungary, Poland and Yugoslavia.
In 1966 he left the Agency and moved to California where he joined Kaiser Permanente and became Assistant Medical Director and then Medical Director at Kaiser Hospital in Bellflower. He remained Medical Director until he retired in 1991. He is survived by his wife Shirley of 63 years; three sons and two daughters, and other family.
Skip Marsh, Business Intelligence HW/SW Expert
Henry Schuyler "Skip" Marsh Jr, 71, Capt USAR, business intelligence computer hardware/software expert, died of melanoma on 12 March 2018 in Colorado Spring, CO.
Skip spent his childhood in Plymouth, WI. He received his Bachelors in Political Science at the University of Wisconsin at Oshkosh in 1968, and his Masters of Arts in Government at Ohio University in 1970.
He served as an active and reserve duty US Army Captain in the Infantry and Intelligence branches. His professional career included over 44 years of business experience, primarily in intelligence and security hardware programs in marketing and technical fields, serving as a manager, director, and Vice President of various defense consulting organizations. His work took him to locations around the world, including Iraq, Saudi Arabia, Panama, and Germany, where he managed special operations programs in support of the US Army and Special Forces Groups. Domestically, Skip managed drug interdiction and surveillance hardware development programs for the National Narcotics Border Interdiction System and for the Office of National Drug Control Policy, and included supporting the FBI Crisis Response and Hostage Rescue Teams in the successful rescue of nine hostages at a federal correctional institution. Other clients included His Royal Highness Prince Bandar of Saudi Arabia, as well as President George Bush Sr.
Among many hobbies, he enjoyed rodeo, country music, and cowboy poetry, and was well-read on Native American culture, the American West, WWII, and religious studies. He was a skilled marksman, car enthusiast, was a pit-crew member for Formula One racing, and enjoyed WWII airplanes. He restored B-17 bomber, as well as a P-38 warbird from the Pacific Theater.
Skip is survived by his wife of 35 years, Jennie Stevens Marsh, two daughters, and other family.
Randy Miller, NSA Senior Executive
Randolph A. Miller, 73, retired NSA Senior Executive, died 19 April 2018 in Baltimore, MD.
Randy earned a BS degree in Electrical Engineering from Bradley University in 1966. Upon graduation he joined the Air Force and was assigned to the National Security Agency, Fort Meade, MD where he served the country and the IC for four decades. He spent most of his career in R8 and successor organizations, managing the development and acquisition of large systems, which contributed to intelligence gathering across the world.
Randy was devoted to the NSA mission and to training the next generation of managers. He was known for matching his employees' skills with tasks and providing opportunities for those who worked for him. He has been called a great leader and good mentor. In recognition of his career achievements, Randy was appointed to the Senior Executive Service and honored with the Secretary of Defense Meritorious Civilian Service Award in 1997.
Randy retired from the Agency in 2001, but continued to provide support to the IC, working as a consultant for Leading Edge Design and Systems. He was a member of the Phoenix Society.
After retirement, Randy and his wife spent part of each year in St. Pete Beach, FL where Randy could go boating and fishing and watch the seabirds and other wildlife which Randy also carved replicas of set on bases of driftwood. He enjoyed great food and a good Manhattan, served up with dirty ice on the side.
He is survived by his wife, Suzette Morrow Miller, a son and other family.
Karl Muenzenmayer, CIA Officer
Karl Edward Muenzenmayer, 77, died 14 April 2018 in Potomac Falls, VA.
Karl graduated from Kansas State University with a degree in Mechanical Engineering. He joined CIA in 1963 for a career that he loved, spanning over 40 years. Karl traveled, led, and supported many efforts for our country. He was a tireless, pragmatic, and fair leader who rose to the ranks of the Senior Executive Service, with high postings during his career and several awards of distinction and merit.
He is survived by his wife of 57 years, Rebecca B. Muenzenmayer, three daughter, and other family. [Read More: The Washington Post/legacy/22Apr2018]

---
AFIO EDUCATIONAL EVENTS IN COMING TWO MONTHS....
Saturday, 28 April 2018, 6 - 8pm - Beaverton OR - The AFIO Columbia River Chapter hosts Terry Valois on "Insider Threat: Authorized Users, Privileged Access, Abused Trust."
The AFIO Columbia River Chapter hosts Terry Valois on "Insider Threat: Authorized Users, Privileged Access, Abused Trust." Valois is a Navy Cryptologic veteran and retired senior CIA officer with over 37 years of experience in the intelligence community and private sector.
He holds a Master of Science degree in Strategic Intelligence from National Intelligence University. Terry (CPP, PCI) is also the founder and owner of GreyFox Security Services, LLC, a small Portland, Oregon-based, veteran-owned private security and intelligence consulting firm specializing in security program management, insider threat program development, training and education, and open source/web intelligence and investigation research.
LOCATION: This unclassified program will be held in the Fab-15 Auditorium, Intel Aloha Campus, 3585 SW 198th Ave, Beaverton, OR 97078.
REGISTRATION: AFIO members and others are invited to attend. Current AFIO membership is not required. The event is free of charge with ample parking.
The content of this presentation is provided by the author and nothing therein should be construed to represent the positions of the United States Government or AFIO
For additional information contact Carl Wege at twege@ccga.edu or 912-222-8640.
Saturday, 12 May 2018, noon - Melbourne FL - The AFIO Florida Satellite Chapter presents chapter member Dr. Henry A. Fischer on "The History and Future of the American Security Council Foundation."
Dr. Henry A. Fischer will discuss "The History and Future of the American Security Council Foundation." The ASCF is the first public policy organization in America that has been helping to keep the nation and world safe since 1985 by promoting the principles of "Peace Through Strength." Dr. Fischer's presentation includes a short video on the "Step Up America Program. Dr. Fischer is a dentist and developer in Sebastian, Florida since 1962. He is the President of Henry Fischer and Sons, Inc., a heavy equipment company developing quiet lakefront communities and beach restoration. He has dedicated 4.5 miles off the Sebastian River to the State of Florida.
LOCATION: Amici's restaurant, 7720 N Wickham Rd, Melbourne, FL. AFIO members, their guests and interested parties are welcome to attend. Attendance is by registration only. To register, contact FSC Chapter President at afiofsc@afio.com.
Thursday, 17 May 2018, 11:30 AM - Denver, CO - The AFIO Rocky Mountain Chapter hosts Dr. Gail H. Nelson on US Strategic Early Warning ' Poland (1980-1981).
When the Polish workers organized into an independent anti-communist movement (Solidarity) against the regime during the Summer 1980, the US/NATO Indications & Warning System (IW) came alive under the assumption that the Warsaw Pact led by the Soviets would invade Poland if the movement was not crushed. It was the crisis scenario that the Warsaw Pact Political Affairs Analyst, Dr. Gail H. Nelson, had been prepared for in the wake of Moscow's invasion of Czechoslovakia in 1968. He provided strategic early warning of Martial Law in Poland over one year prior to its imposition on 13 December 1981. The accurate warning estimate reassured NATO leaders that the IW system could provide reliable warning of war in Europe were this worst-case scenario to present itself.
Dr. Nelson is a veteran US Intelligence Officer with over 45 years of experience in Eurasian political-military affairs. He was born into an Air Force culture in 1944 and experienced the transient life of military families assigned to the United Kingdom, Belgium, and France. He returned to California in 1962 to commence undergraduate studies and was commissioned in the US Air Force in 1967. He was assigned to the USAF Martin-Marietta Facility at Waterton, Colorado and destined for an ICBM career. Instead, he entered the University of Colorado Graduate School of Political Science specializing in German and Soviet Studies completing the MA in 1972 and the Ph.D. in 1979. He entered the Air Force Intelligence Service in 1974 and US Army Europe Intelligence in 1975 ' appointed the Warsaw Pact Political Affairs Analyst in 1977. He transferred to European Command in 1990 responsible for analysis of Russian and East European affairs. He retired from the US Civil Service and Air Force Reserve in 2001 as Chief of Theater Intelligence Estimates. He was appointed Senior Intelligence Advisor to the Afghanistan Chief of Military Intelligence in 2003 under contract. He performed similar positions in Manila and Baghdad before returning to Kabul in 2010 for one last expedition.
Please contact Tom VanWormer at robsmom@pcisys.net for more information.
Wednesday 23 May 2018 - San Francisco, CA - Historian Ralph Simpson discusses "History of the Enigma Machine" at this AFIO San Francisco Chapter meeting.
Ralph Simpson, Historian, discusses "The History of the Enigma Machine." Ralph Simpson worked in the computer industry for 32 years at IBM and Cisco Systems. He is now retired and volunteers at a local history museum. Mr. Simpson is the author of a cipher history book called Crypto Wars: 2000 Years of Cipher Evolution and is an avid collector of cipher machines, which can be seen on CipherHistory.com. Mr. Simpson lives in San Jose in a restored Victorian house, which is also home to his Cipher History Museum.
Time: 11:30 AM no-host cocktail; noon - meeting and luncheon begins.
Location: Basque Cultural Center, 599 Railroad Avenue, South San Francisco, CA 94080
To Register: Do so here (forthcoming). The venue cannot accommodate walk-ins.
Questions?: Contact Mariko Kawaguchi, Board Secretary at afiosf@aol.com.
Friday, 1 June 2018 - Tysons, VA - AFIO Spring Luncheon featuring Deputy Director of CIA for Analysis and two other keynote speakers
This special luncheon features three keynote speakers. They are: Richard W. Hoch, Deputy Director of CIA for Analysis, on "The Directorate of Analysis and the Future of Analysis" [Remarks are off the record. No recording, quoting, or media permitted] Bruce Riedel, CIA and Brookings, on "The Future of US-Saudi Relations," based on his book, Kings and Presidents: Saudi Arabia and the United States Since FDR. and R. Scott Decker, FBI, on Recounting the Anthrax Attacks: Terror, the Amerithrax Task Force, and the Evolution of Forensics in the FBI.
NOTE NEW TIMES: Badge pick-up at 9:15 to 10 a.m. First speaker, Scott Decker, at 10 a.m.; Bruce Riedel at 11 a.m. and DD/A Hoch at 1 p.m.
Registration opens Friday, 6 April. Link will appear at www.afio.com and in next Weekly Notes
Location: DoubleTree-Hilton, Tysons Corner, VA [formerly the Crowne Plaza], at 1960 Chain Bridge Rd, McLean, VA 22102.
---
Other Upcoming Events from Advertisers, Corporate Sponsors, and Others
22 - 25 April 2018 - Tampa, FL - USGIF GEOINT 2018 Symposium on "Driving Data to Decisions and Actions."
Always a phenomenal event in number of panels, quality (fame) of speakers, and hundreds of latest tech exhibits. This is the GEOINT version of the dazzling Consumer Electronics Show...
Hear from senior defense and intelligence leaders such as NGA Director Robert Cardillo and USDI Joseph Kernan in keynotes, panels, and presentations.
Learn from 52 hours of professional development, training, and education sessions with PDUs and CEUs.
See the latest in technology, services, and solutions from 200+ exhibitors in more than 100,000 sq ft of exhibit space.
Networking with more than 4,000 GEOINT Community professionals from 40 countries spanning defense, intelligence, homeland security, industry, and academia.
Learn more about the GEOINT Symposium here
Or register now and start planning on your trip to GEOINT 2018 in Tampa.
Wednesday, 25 April 2018, 1-4pm - Washington, DC - Beware of the Predator - at the International Spy Museum
Join the Spy Museum Store as it meets author/career CIA Technical Operations officer, Warren D. Holston, and Intel analyst/contributing author, Dave White. Holston has worked throughout the Intelligence Community, Department of Defense, and defense industry for more than 30 years and was awarded the CIA's Intelligence Commendation Medal and the Distinguished Career Intelligence Medal. White has worked for the US government in a broad range of roles and missions within the Intelligence and Defense Communities for almost 30 years, including serving as a Deputy Senior Operations Officer and Identity Intelligence Analyst at the National Counterterrorism Center (NCTC) and as a biometrics technology consultant in the Intelligence Community.
Their latest book, Beware The Predator, is an easy-to-read guide for anyone who wants to raise their security awareness and defensive posture. This book will help you understand how to protect yourself, your family and business from criminal predators, corporate intrusion, and State sponsored spying. Whether you are a corporate or government executive, a high-net-worth individual, or someone simply concerned about identity theft and personal safety, you should be aware of the vulnerabilities to your personal data and predatory attacks against your assets and relationships.
Event is free. Visit www.spymuseum.org.
Thursday, 26 April 2018, noon to 1:15 pm - Washington, DC - "The Geopolitics of Energy" Panel Discussion at DMGS
The Geopolitics of Energy: The Saudi Aramco IPO, Implications and Considerations is the theme of the panel discussion at the Daniel Morgan Graduate School of National Security (DMGS) by following moderator and participants: Moderator, Colonel Preston McLaughlin, USMC (Retired), Professor of National Security at Daniel Morgan Graduate School;
"The Economic Impact of the Saudi-ARAMCO IPO and Its Implications for the US Investment Community," Brigadier General Tom Cosentino, US Army (Retired), COO, Business Executives for National Security.
"An Inside View of ARAMCO and the Kingdom of Saudi Arabia," Rula Manasra, former Director of Regional Security and Government Affairs for the Middle East for Conoco Phillips.
"Regional Security Issues," Adam Seitz, Senior Researcher and Instructor on the Middle East, Marine Corp University.
"Net Assessment," Paul Michael Wihbey, Research Fellow on the Geopolitics of Energy at DMGS, Adjunct Professor at the University of Port Harcourt, Nigeria.
Q & A Session with Audience.
Where: DMGS, 1620 L St NW, Suite 700, Washington, DC 20036. Attire: Business or Business Casual
RSVP Required. "Daniel Morgan Graduate School Reserves the Right To Refuse Entry"
Please note that you must RSVP to attend this event. RSVP here
Questions? Frank Fletcher, Director of Lectures & Seminars at events@dmgs.org.
Thursday, 26 April 2018, 6:30pm - Washington, DC - Spy Chiefs: An Overview - at the International Spy Museum
In pop culture, the spy chief is an all-knowing, all-powerful figure who masterfully moves spies like pieces on a chessboard. How close to reality is that depiction, and what does it really take to be an effective leader in the world of intelligence? As editors of Spy Chiefs: Volume 1, Dr. Mark Stout, a program director at Johns Hopkins University, and Dr. Christopher Moran, an associate professor at the University of Warwick, will reveal what they have gleaned about the role of intelligence leaders in foreign affairs and national security in the US and the UK from the early 1940s to the present. They will discuss some of the most intriguing of these shadowy figures such as William Donovan and John Grombach, who ran an intelligence organization so secret that not even President Truman knew of it. They'll also explore questions about spy chief accountability and just how powerful they were...or weren't. Spy Chiefs will be available for sale and signing at the event.
Tickets for the general public: $10 per person; Spy Museum Members: $8. Visit www.spymuseum.org.
15-16 May 2018 - Tel Aviv, IS - "Challenges and Opportunities in a Changing and Complex Environment" theme of the Third International Conference on Intelligence
The Israel Intelligence Community Heritage & Commemoration Center (IICC) and Israel Defense presents the Third International Conference on Intelligence. The annual International Intelligence Conference on "Challenges and Opportunities in a Changing and Complex Environment" will be held at the initiative of the Israel Intelligence Heritage and Commemoration Center (the official association of former IDF Intelligence, Shin Bet, Mossad, and other organizations) and Israel Defense. The conference is attended by senior officials from Israel and around the world, as well as members of the intelligence community, experts, academics, industry leaders and innovative companies in the field.
Topics: Overview of the regional and global intelligence with which Israel contends; 70 Years of intelligence - where are we now, and how will we advance?; Challenges and opportunities of intelligence in the modern battlefield; Coping with the threats of terrorism in the global era; Intelligence Innovation: development of technologies in the Big Data Era and changes in the battlefield. A large exhibition will be held alongside the conference, with the participation of the established defense companies and startups, during which advanced weapons systems and technological means will be presented.
The huge exhibition will be held under the theme of 70 Years of Technological and Security Achievements
Event location: The Israel Trade Fairs Center, Tel Aviv. View brochure here.
Additional information at W: warfare.israeldefense.co.il / T: 074-703-1211 / F: 09-7671857 / E: info@israeldefense.co.il
Friday, 18 May 2018, 1 - 2:30 pm - Annapolis Junction, MD - 2018 Henry F. Schorreck Lecture Speaker Series by NSA's Center for Cryptologic History on "The Pueblo Incident: A Fifty-Year Retrospective."
The National Cryptologic Museum hosts NSA's Center for Cryptologic History's 2018 Henry F. Schorreck Lecture Speaker Series which will explore "The Pueblo Incident: A Fifty-Year Retrospective."
The special guest speaker is Mitchell Lerner, Associate Professor of History and Director of the Institute for Korean Studies at Ohio State University. He is the author of The Pueblo Incident: A Spy Ship and the Failure of American Foreign Policy, which won the 2002 John Lyman Book Award.
"Remember," Rear Admiral Frank Johnson told the officers of the USS Pueblo just before they departed for their first mission, "you are not going out there to start a war." And yet, war appeared to be not far off when the spy ship was captured by North Korean forces on 23 January 1968, leaving one dead crewman and 82 other Americans held captive for a year in North Korean prison camps. This presentation will examine this controversial incident from start to finish, and will open a window into not only American decision making but also into the perspectives of North Korea, South Korea, and the Soviet Union.
REGISTRATION: Event is free. However, a full house is anticipated and thus, advanced registration is required at this link. The NSA-CCH will confirm registrations and answer any questions.
DIRECTIONS: The NCM is located at 8290 Colony Seven Rd, Annapolis Junction, MD 20701. Here is are directions to the Museum.
Qs or prefer to register by email?: contact Greg Nedved at gjnedve@nsa.gov to reserve the desired number of seats by email.
3 - 15 June 2018 - Charlottesville, VA - 26th National Security Law Institute Call for Applications
The 26th National Security Law Institute will take place June 3 through June 15, 2018. The National Security Law Institute provides advanced training for government officials and professors of law and political science who teach or are preparing to teach graduate-level courses in national security law or related subjects requiring a detailed understanding of National Security Law. Applications are also invited from government attorneys in the national security community who are actively engaged in the practice of national security law or otherwise have a professional need for such training. This annual intensive two-week course is held at the University of Virginia School of Law in Charlottesville, Virginia. Prominent scholars and current and former government experts will take part in lectures, panels, and debates to address both theoretical background and important contemporary issues of national security law.
Topics addressed include: Contemporary Theory Concerning the Origins of War and the "Democratic Peace"; Aggression & Self-Defense; The ISIL Threat; Cyber Threats; War and Treaty Powers under the Constitution; Intelligence and the Law; Domestic and Transnational Terrorism; Nuclear, Biological, and Chemical Warfare Threats; Law of Armed Conflict; War Crimes and Their Prosecution; and Maritime Concerns/South China Sea.
Accommodations: Hyatt Place Charlottesville, 2100 Bond St (GPS use 1954 Swanson Dr), Charlottesville, VA. Approximately 25-30 participants are selected to attend each Institute. Participants are responsible for providing their own transportation to and from Charlottesville and paying a tuition fee of $1,950.00, which includes lodging, lunches, course materials, and any group dinners during the Institute. The deadline for applications for the 2018 Institute is May 11, 2018. For additional information please contact Bill Lacy regarding applications (blacy@law.virginia.edu) or Mer McLernon (mer@law.virginia.edu) for logistics (lodging, meals, etc.). The Center has a small fund from which to provide scholarship assistance to a few applicants who might otherwise not be able to attend the program. More information here.
Wednesday, 28 November 2018, 6 - 10:30 pm - Washington, DC - International Spy Museum's Annual "William H. Webster Distinguished Service Award Dinner" honoring Adm McRaven
For your calendar. A special evening to illuminate the critical role of individuals and organizations serving the Intelligence Community, and to raise funds in support of the International Spy Museum.
The William H. Webster Distinguished Service Award Dinner will take place at The Ritz Carlton Hotel. More than 600 attendees are anticipated and will recognize the men and women who have served in the field of National Security with integrity and distinction. This annual tribute dinner is given by the International Spy Museum to an individual who has embodied the values of Judge William H. Webster. This year's honoree is a patriot for whom love of country has been his guiding principle: Admiral William H. McRaven, former US Special Operations Commander, former Joint Special Operations Commander, and Chancellor of The University of Texas System.
Schedule: 6 pm - VIP Reception; 6:30 pm - Cocktail Reception; 7:30 - 9 pm - Dinner & Awards; 9 - 10:30 pm - Dessert Reception.
Location: The Ritz-Carlton Hotel, 1150 22nd St NW, Washington, DC 20037. **Please note: this event is closed to Media**
Tickets Available Now: Prices range from $100,000 to a single seat for $495. Funds raised at this tribute dinner will support artifact preservation, educational programming, research, exhibits, and accessibility programs for underserved communities at the International Spy Museum. To purchase tickets now, do so here. To learn more about this annual dinner, it is available here.
---
Gift Suggestions:
AFIO's 788-page Guide to the Study of Intelligence. Peter C. Oleson, Editor, also makes a good gift. View authors and table of contents here.

Perfect for professors, students, those considering careers in intelligence, and current/former officers seeking to see what changes are taking place across a wide spectrum of intelligence disciplines.
AFIO's Guide to the Study of Intelligence helps instructors teach about the large variety of subjects that make up the field of intelligence. This includes secondary school teachers of American History, Civics, or current events and undergraduate and graduate professors of History, Political Science, International Relations, Security Studies, and related topics, especially those with no or limited professional experience in the field. Even those who are former practitioners are likely to have only a limited knowledge of the very broad field of intelligence, as most spend their careers in one or two agencies at most and may have focused only on collection or analysis of intelligence or support to those activities.
For a printed, bound copy, it is $95 which includes Fedex shipping to a CONUS (US-based) address.
To order for shipment to a US-based CONUS address, use this online form,

To order multiple copies or for purchases going to AK, HI, other US territories, or other countries call our office at 703-790-0320 or send email to afio@afio.com to hear of shipment fees.
Order the Guide from the AFIO's store at this link.
The Guide is also available directly from Amazon at this link.
AFIO's 2017 Intelligence Community Mousepads are a great looking addition to your desk...or as a gift for others..
Made in USA. Click image for larger view.
These 2017 mousepads have full color seals of all 18 members of the US Intelligence Community on this 8" round, slick surface, nonskid, rubber-backed mouse pad with a darker navy background, brighter, updated seals. Also used, by some, as swanky coasters. Price still only $20.00 for 2 pads [includes shipping to US address. Foreign shipments - we will contact you with quote.] Order NEW MOUSEPADS here.
Disclaimers and Removal Instructions
Weekly Intelligence Notes (WINs) are commentaries on Intelligence and related national security matters, based on open media sources, selected, interpreted, edited and produced for non-profit educational uses by members and WIN subscribers.
REMOVAL INSTRUCTIONS: We do not wish to add clutter to inboxes. To discontinue receiving the WINs:
a) IF YOU ARE A MEMBER - click here: UNSUBSCRIBE and supply your full name and email address where you receive the WINs. Click SEND, you will be removed from list. If this link doesn't open a blank email, create one on your own and send to afio@afio.com with the words: REMOVE FROM WINs as the subject, and provide your full name and email address where you are currently receiving them.
b) IF YOU ARE NOT A MEMBER, and you received this message, someone forwarded this newsletter to you [contrary to AFIO policies]. Forward to afio@afio.com the entire WIN or message you received and we will remove the sender from our membership and distribution lists. The problem will be solved for both of us.
CONTENTS of this WIN [HTML version recipients - Click title to jump to story or section, Click Article Title to return to Contents. This feature does not work for Plaintext Edition or for some AOL recipients]. If you wish to change to HTML format, let us know at afio@afio.com. The HTML feature also does not work for those who access their e-mail using web mail...however NON-HTML recipients may view the latest edition each week in HTML at this link: https://www.afio.com/pages/currentwin.htm
---
WINs are protected by copyright laws and intellectual property laws, and may not be reproduced or re-sent without specific permission from the Producer. Opinions expressed in the WINs are solely those of the editor's) or author's) listed with each article. AFIO Members Support the AFIO Mission - sponsor new members! CHECK THE AFIO WEBSITE at www.afio.com for back issues of the WINs, information about AFIO, conference agenda and registrations materials, and membership applications and much more!
(c) 2000, 2012, 2013, 2014, 2015, 2016, 2017, 2018. AFIO, 7700 Leesburg Pike Suite 324, Falls Church, Virginia 22043. Voice: (703) 790-0320; Fax: (703) 991-1278; Email: afio@afio.com