---
CONTENTS
Section I - INTELLIGENCE HIGHLIGHTS
Section II - CONTEXT & PRECEDENCE
Other Upcoming Events from Advertisers, Corporate Sponsors, and Others
For Additional AFIO and other Events two+ months or more... Calendar of Events
WIN CREDITS FOR THIS ISSUE: The WIN editors thank the following special contributors: ec, mh, km, gh, mk, rd, fm, kc, jm, mr, jg, th and fwr. They have contributed one or more stories used in this issue.
The WIN editors attempt to include a wide range of articles and commentary in the Weekly Notes to inform and educate our readers. However, the views expressed in the articles are purely those of the authors, and in no way reflect support or endorsement from the WIN editors or the AFIO officers and staff. We welcome comments from the WIN readers on any and all articles and commentary.
CAVEATS: IMPORTANT: AFIO does not "vet" or endorse research inquiries, career announcements, or job offers. Reasonable-sounding inquiries and career offerings are published as a service to our members, and for researchers, educators, and subscribers. You are urged to exercise your usual caution and good judgment when responding, and should verify the source independently before supplying any resume, career data, or personal information.]
If you are having difficulties with the links or viewing this newsletter when it arrives by email, members may view the latest edition each week at this link. You will need your LOGIN NAME and your PASSWORD.
---
Call for Papers
The University of Texas at Austin Announces the 2018
"Bobby R. Inman Award" for Student Scholarship on Intelligence
The Intelligence Studies Project of The University of Texas at Austin announces the fourth annual competition recognizing outstanding student research and writing on topics related to intelligence and national security. The winner of the "Inman Award" will receive a cash prize of $5000, with two semifinalists each receiving a cash prize of $2500. This competition is open to unpublished work by undergraduate and graduate students enrolled in degree programs at accredited U.S. higher education institutions during the 2017-18 academic year. The deadline for submitting papers is June 30, 2018.
The Intelligence Studies Project was established at The University of Texas at Austin in 2013 as a joint venture of the Clements Center for National Security and the Robert Strauss Center for International Security and Law with the LBJ School of Public Affairs. The Project's mission is to improve understanding of intelligence activities and institutions through research, courses, and public events bringing intelligence practitioners together with scholars, students, and the public.
The Bobby R. Inman Award recognizes more than six decades of distinguished public service by Bobby R. Inman, Admiral, U.S. Navy (Ret.). Admiral Inman served in multiple leadership positions in the U.S. military, intelligence community, private industry, and at The University of Texas. His previous intelligence posts include Director of Naval Intelligence, Vice-Director of the Defense Intelligence Agency, Director of the National Security Agency, and Deputy Director of Central Intelligence. He continues to serve as a teacher, advisor, and mentor to students, faculty members, and current government officials while occupying the Lyndon B. Johnson Centennial Chair in National Policy at the LBJ School of Public Affairs. His areas of teaching and research are focused on political, economic, and military activities, policy processes and institutions, international affairs and diplomacy, and intelligence and national security.
Additional information about the Inman Award competition and the Intelligence Studies Project is available here.
____________________________________
---
NOTICES
Filling Up...
AFIO's Spring Luncheon

Friday, 1 June 2018
features three keynote speakers

Event is closed to members of the media and non-U.S. citizens.
Richard W. Hoch, Deputy Director of CIA for Analysis,
on "The Directorate of Analysis and the Future of Analysis"
[Remarks are off the record. No recording, quoting, or media permitted. Event is closed to all journalists.]
Bruce Riedel, CIA and Brookings, on
"The Future of US-Saudi Relations,"
based on his book,
Kings and Presidents: Saudi Arabia
and the United States Since FDR.
R. Scott Decker, FBI, on Recounting the Anthrax Attacks:
Terror, the Amerithrax Task Force,
and the Evolution of Forensics in the FBI.
Badge pick-up at 9:15 to 10 a.m.
First speaker, Scott Decker, at 10 a.m.;
Bruce Riedel at 11 a.m. and CIA DD/A Hoch at 1 p.m.
Register here to ensure a seat.

Location: DoubleTree-Hilton, Tysons Corner, VA [formerly the Crowne Plaza], at 1960 Chain Bridge Rd, McLean, VA 22102.
---
---
Books of the Week
Exploding Data: Reclaiming Our Cyber Security in the Digital Age
by Michael Chertoff
(Atlantic Monthly Press, July 2018)
The most dangerous threat we — individually and as a society and country — face today is no longer military, but rather the increasingly pervasive exposure of our personal information; nothing undermines our freedom more than losing control of information about ourselves. And yet, as daily events underscore, we are ever more vulnerable to cyber-attack. Chertoff, former Secretary of Homeland Security, surveys data collection and analysis and finds that both the legal system and international relations have yet to keep pace with technology.

Chertoff makes clear our laws and policies, written for an earlier time, need to be completely overhauled in the Internet era. On the one hand, the collection of data—more widespread by business than by government, and impossible to stop—should be facilitated as an ultimate protection for society. On the other, standards under which information can be inspected, analyzed, or used must be significantly tightened. In this call for action, Chertoff argues that what is at stake is not so much the simple loss of privacy, which is almost impossible to protect, but individual autonomy . . . the ability to make personal choices free of manipulation or coercion. Chertoff explains the complex legalities surrounding issues of data collection and dissemination, and charts a path that balances the needs of government, business, and individuals alike.

Book may be ordered here.
---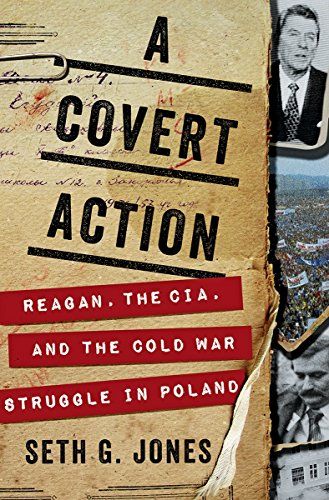 A Covert Action: Reagan, the CIA, and the Cold War Struggle in Poland
by Seth G. Jones
(W. W. Norton & Company, July 2018)
The untold story of the CIA's rescue of Solidarity, "Poland's flowering democratic movement." December 1981, CIA receives word that the Polish government has cut telephone communications with the West and closed the Polish border. The Agency's leaders quickly inform President Reagan, who is enjoying a weekend at Camp David. Within hours, Prime Minister Wojciech Jaruzelski has appeared on Polish national television to announce the establishment of martial law. A new era in Cold War politics has begun: Washington and Moscow are on a collision course.
In this gripping history, Jones reveals the little-known story of the CIA's subsequent operations in Poland, which produced a landmark victory for democracy during the Cold War. While the Soviet-backed Polish government worked to crush a budding liberal opposition movement, the CIA began a sophisticated intelligence campaign, code-named QRHELPFUL, that supported dissident groups. The most powerful of these groups was Solidarity, a trade union that swelled to a membership of ten million and became one of the first legitimate anti-Communist opposition movements in Eastern Europe. With President Reagan's support, the CIA provided money that helped Solidarity print newspapers, broadcast radio programs, and conduct a wide-ranging information warfare campaign against the Soviet-backed government. QRHELPFUL proved vital in establishing a free and democratic Poland.
Long overlooked by CIA historians and Reagan biographers, the story of QRHELPFUL features an extraordinary cast of characters including spymaster Bill Casey, CIA officer Richard Malzahn, Polish-speaking CIA case officer Celia Larkin, Solidarity leader Lech Walesa, and Pope John Paul II. Based on in-depth interviews and recently declassified evidence.

Book may be ordered here.
---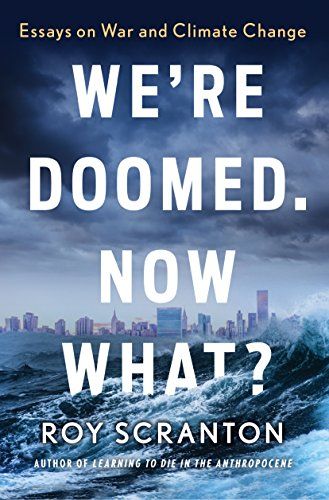 We're Doomed. Now What?: Essays on War and Climate Change
by Roy Scranton
(Soho Press, July 2018)
We are in an era of bewildering change—the breakup of the post-1945 global order, a multispecies mass extinction, and the beginning of the end of civilization as we know it. Not one of us is innocent, not one of us is safe. Now what?
This destabilizing era is characterized by the advent of the human species as a major geological force." No one, he writes, "intended this, and we seem to be incapable of preventing it." Scranton chronicles his tour of heavily polluted Galveston Bay, "so full of PCBs, pesticides, dioxin, and petrochemicals that fishing is widely restricted."
We are on the eve of what may be the human world's greatest catastrophe. Scranton faces the unpleasant facts with harrowing honesty, but doubts if the rest of us are able or willing to do so. Or perhaps we are already too late.
He addresses the crisis through a series of essays on climate change, war, literature, and loss. From sailing through the melting Arctic, preparing for Houston's next big storm, watching Star Wars, or going back to the streets of Baghdad he once patrolled as a soldier, Scranton approaches the world's ultimate and final problem with philosophical, demotic touch.

Book may be ordered here.
---
"We're not a nation of laws, but lawsuits" -- Dana Milbank, the Washington Post, 24 April 2018
Starr Wright USA Introduces Comprehensive
Federal Contractor Insurance Solution

Tens of Thousands of Federal Employees rely on Starr Wright to protect their career, and now contractors and consultants can, too. Starr Wright USA has served federal employees for more than 50 years. As America's leading provider of federal employee professional liability insurance, we believe everyone deserves an advocate.
Whether you are a part-time contractor or a full-time federal employee, Starr Wright USA gives you the insurance you need at the price you want, including a comprehensive one stop solution for Federal Contractors and Consultants.

Don't risk your way of life: Visit WrightUSA.com and secure your career today.
---
Section I - INTELLIGENCE HIGHLIGHTS


Physicists Decry Call for US Visa Restrictions on Chinese Researchers. Physicists are voicing concerns over academic freedom and the value of international collaboration after the Trump administration revealed that it is considering restricting Chinese scientists' ability to carry out research in US universities and institutes. The move - which could directly affect 300 000 researchers - is apparently motivated by fears that Chinese researchers may be involved in espionage activities and secretly transferring sensitive discoveries to the Chinese government.

The administration's attitude towards Chinese scientists is hardly new. In Senate testimony earlier this year, FBI director Christopher Wray asserted that Chinese "professors, scientists, students [in] basically every discipline" who are working in the US may be covertly gathering intelligence for the Chinese government. Speaking to a House of Representatives panel last month, former national counterintelligence executive Michelle Van Cleave [current AFIO National board member] stated that US R&D is "systematically targeted by foreign collectors to fuel their business and industry and military programmes at our expense." China, she added, "easily tops the threat list."

While the Trump administration has yet to decide to press on with the restrictions, critics of the move foresee long-term consequences for US universities to attract top-rated scientists and students from around the world. "We are concerned that the US administration is considering further restrictions on visas that could limit the travel of Chinese students and scholars from China to the United States," noted Rush Holt the former physicist and congressman who heads the American Association for the Advancement of Science in a statement. "Where specific and confirmed espionage is occurring, action must be taken, but obstructing scientific exchange based on non-specific concerns that could be applied to broad swaths of people is ill-conceived and damaging to American interests."

The Chinese-American community has also voiced its strong feelings about the issue. Charlie Woo, a former physicist and policy committee chair of the Committee of 100, an organization of leading Chinese Americans in business, government, academia, and the arts, acknowledges that "there are bad apples" among Chinese scientists and students who visit the US. "But if you single out only scientists from China, that's a slippery slope," he says. "I think this kind of policy can lead to racial profiling that in the long run will not be good for the country." [Read More: Gwynne/physicsworld/11May2018]

Former CIA Officer is Charged with Espionage. A former CIA officer has been charged with unauthorized possession of classified material and conspiring to commit espionage, the Justice Department announced Tuesday.

The department alleges that Jerry Chun Shing Lee, a 53-year-old former CIA case officer and US citizen, was asked to trade information for money by two Chinese intelligence officers in 2010 and 2011 while he lived in Hong Kong.

The former CIA officer is believed to have helped China dismantle a US spy network in the country and identify informants who were later killed or imprisoned. The New York Times reported in January that the imprisonment or execution of a dozen Chinese nationals working for the US was "one of the most devastating intelligence setbacks for the agency in recent decades."

The grand jury indictment announced Tuesday came after Lee's arrest in January, when he was charged with unlawful retention of national defense information but did not yet face a charge of espionage. [Read More: Watkins/cnn/8May2018]

Massive NASIC Project Could be One of Largest in Wright Patt History. A massive $182 million expansion of the National Air and Space Intelligence Center will be one of the largest in Wright-Patterson history and could be sped up in a pending defense authorization bill, a legislative analyst says.

The new building would be funded at one time instead of broken into two stages. The Air Force had initially asked for $116 million with another $66 million to be requested in future years.

Michael Gessel, Dayton Development Coalition vice president of federal programs, said construction of the new complex could be sped up and the amount of spending on the project outpaced Wright-Patterson construction by a wide margin in recent years.

"To put it in perspective, this building would receive more military construction funding than Wright-Patterson received in military construction funding in the last nine years," he said. [Read More: Barber/daytondailynews/10May2018]

Britain's Spy Chief Reveals 12 Terror Attacks Thwarted in 2017. Britain's intelligence chief today disclosed that the UK's security forces had thwarted at least 12 terrorist attacks directed against the country since the Islamic State (ISIS) claimed strike on the British Parliament building in March last year.

During an address to a meeting of European intelligence chiefs in Berlin today, MI5 director-general Andrew Parker also warned that ISIS continues to aspire to commit "devastating" attacks in Europe after losing territory in Syria and Iraq.

"Daesh (ISIS) still aspires to direct devastating and more complex attacks despite territorial losses and threats from Al Qaeda and other Islamist terror groups have not gone away," he said in his speech titled 'Hybrid Threats'.

He said: "Whilst Daesh has now lost its false caliphate in its strongholds in Syria and Iraq, tackling the group as a movement will require sustained international focus for years to come. As I speak today, they are seeking to regroup, and the threat seems likely to persist. [Read More: business-standard/14May2018]

Marine RQ-21 Blackjack Drones Are Flying Three Times More Than Expected In Iraq and Syria. The U.S. Marine Corps has been using Boeing Insitu's RQ-21 Blackjack unmanned aircraft so much in Iraq and Syria that it had to shift funds around earlier this year to help pay for unexpected operational costs. It's yet another example of the insatiable appetite for aerial intelligence, surveillance, and reconnaissance support across the U.S. military, as well as a desire within the Marines to better integrate the drones into the service's operations as intelligence gathering and electronic warfare platforms, and more.

In February 2018, the Pentagon approved a U.S. Navy request to reallocate nearly $18 million from other portions of the 2016 and 2017 fiscal year defense budgets to support Marine Corps RQ-21 operations. This included pulling funding from the U.S. Army's Tactical Signals Intelligence Payload program, which has reportedly run into trouble due to poor test performance, and line items that support Marine RQ-7Bv2 Shadow unmanned aircraft operations. In addition, more than half of the total money was already left over after lower-than-expected costs associated with the Blackjack operations in previous years.

"The U.S. Marine Corps has identified a spares and sustainment shortfall in FY 2018, due to RQ 21 flight hours for Operation Inherent Resolve (OIR) exceeding budgeted flight hours by more than 300 percent," the reprogramming document explained, using the official nickname for operations against ISIS in Iraq and Syria. The Pentagon, as with any federal agency, must seek congressional approval to use funds lawmakers approved for one particular purpose to pay for something else.

The request offers no additional detail about what the RQ-21s have been doing in the Middle East in the fight against ISIS. However, for years now, the Marine Corps has been actively supporting both Iraqi and Kurdish forces in Iraq and local, predominantly Kurdish partners in Syria, as well as U.S. and other coalition special operations forces advising those groups in both countries. [Read More: Trevithick/thedrive/14May2018]

German Intelligence Head Warns of Cyber Attacks on Critical Infrastructure. The head of Germany's domestic intelligence service, the Federal Office for the Protection of the Constitution (BfV), has warned of possible cyber attacks on the country's critical infrastructure.

Hans-Georg Maa'en told German broadcaster rbb that the country should be ready with "anti-sabotage" measures to deal with any future attacks.

"This means that we should implement malware in all our critical infrastructures that we could then perhaps activate at a point in time X, when a political dispute arises," Maa'en said in the interview, held ahead of a meeting of European security chiefs in Berlin.

Maa'en recalled the cyber attack on a Ukrainian power plant in December, 2015, saying the attacker had attempted an attack on Germany at around the same time. [Read More: dw/14May2018]

Egypt's Sisi Meets with Head of French Internal Intelligence Agency. Egyptian President Abdel-Fattah El-Sisi met with the head of France's General Directorate for Internal Security in Cairo on Monday to discuss regional issues and cooperation between Egypt and France, according to an official statement.

The meeting with Laurent Nunez was attended by Egypt's acting chief of intelligence Abbas Kamel, El-Sisi's spokesman Bassam Rady said in a statement.

El-Sisi conveyed his greetings to his French counterpart Emmanuel Macron, stressing the strength and depth of Egyptian-French relations and the importance of strengthening the ongoing cooperation between the two countries on all levels, including security and intelligence.

He also hailed the ongoing coordination and consultation between the two countries on regional and international issues of common interest, as well as counter-terrorism efforts, which reflect the depth of partnership between Egypt and France. [Read More: ahram/15May2018]



---
Section II - CONTEXT & PRECEDENCE

WWII Living Legend Finally Given the Honors he Deserves. Frank A. Gleason may not be a name that you're familiar with. But, given his contributions to the allied war effort during World War II, you should be. During the war, Gleason, now 97-years old, worked for the Overseas Strategic Service (OSS), an intelligence organization that was superseded by the Central Intelligence Agency. It was never his intention to become a spy but, smart as a whip and tough as nails, he was a perfect fit for the gig.

During the year he and his team operated behind enemy lines in China, they were responsible for disrupting enemy communications and the destruction of railway lines, and blew up over 100 bridges. They generally made life for Japanese troops stationed in the areas where they worked a living hell. The dangerous services that Gleason rendered on behalf of the Allies has gone all but unrecognized over the past 74 years. Unlike soldiers, spies generally don't get parades. According to Military Times, Gleason's time in the shadows has come to an end: Congress has recognized the veteran's service during the war with the award of a Congressional Gold Medal - the highest award that can be given to a civilian in the United States. The medal is awarded to individuals who "performed an achievement that has an impact on American history and culture that is likely to be recognized as a major achievement in the recipient's field long after the achievement."

Given that his service went unrecognized for so long, Gleason was, understandably, surprised by the honor. He's quoted in the Military Times as saying he was over-awed.

While the OSS was dissolved after the Second World War came to an end, Gleason opted to continue serving his country. He worked with the Army Corps of Engineers during the Korean War and oversaw a military supply installation during the Vietnam War. In 1971, he retired from the Army with the rank of Colonel. [Read More: Bellamy/boingboing/14May2018]

Genius, Conman and Double Agent - The Many Faces of the SA Spook Murdered in Serbia. A genius with an uncanny ability to retain extremely detailed information, an affable friend who could charm anyone around him and a dangerous double agent who backstabbed, among others, South African intelligence figures.

These are just some of the labels which have been pinned to George Darmanovic, a South African state security contract agent, following his murder in Serbia last Sunday.

Several sources described Darmanovic as a jovial and warm person to his friends, but also as a serial information peddler with extremely powerful contacts.

A few highly-placed sources told News24 that Darmanovic had been viewed in intelligence circles as being part of a parallel intelligence unit. [Read More: Dolley/news24/14May2018]

Explainer: How the Australian Intelligence Community Works. National security, intelligence and espionage have been in the headlines due to events abroad and significant developments at home. News of diplomatic expulsions, cyber-attacks, leaked documents about sweeping new surveillance powers and the creation of a new Home Affairs Department make it hard to follow.

What's more, everyone has heard of the CIA, for instance, but Australia's own national security organisations are comparatively unknown. So how is intelligence gathered? What are Australia's peak national security bodies and how do they interact?

Australia's national security architecture consists of a number of federal government departments and agencies, with links to state government counterparts. These include the state police forces and counter-terrorism authorities. Those arrangements are in transition, the full details of which are still to unfold.

The Major Players - The peak national security body in the Commonwealth is the National Security Committee of Cabinet (NSC). It includes the ministers of the principal departments concerned with national security, including the Departments of Defence, Home Affairs, Foreign Affairs and Trade, the Attorney-General, Prime Minister and Cabinet, and Treasury. [Read More: Blaxland/themandarin/11May2018]

Local Man, Former CIA Agent Awarded Congressional Gold Medal. A local man, German-born immigrant, who spent most of his working years in the shadows of society maintaining a low profile was recently recognized. Last Saturday at The Palms senior center Curtis Glenn received the Congressional Gold Medal - one of the highest civilian awards of courage in United States history - in recognition for the heroism he displayed throughout an illustrious career as a decorated U.S. serviceman and CIA intelligence agent during World War II.

Glenn, now 96 years old, served the Office of Strategic Services (OSS) for nearly three decades through the 1940s to 1970s. Glenn and members of OSS have been revered throughout U.S. history as being some of the bravest individuals to commit extreme acts of valor during times of war.

In December 2016, the OSS was granted the Congressional Gold Medal through an act passed unanimously in the Senate and House of Representatives. In February, congressional leaders met in Washington, D.C. to present the medal to living members of the OSS. Unfortunately Glenn could not attend the ceremony in person.

Last month he received the medal in the mail at The Palms where he currently resides. Despite being wheelchair bound and assisted by a caregiver, in Glenn's eyes, nothing could dishearten his spirits nor take away from this lifetime achievement. [Read More: Giroux/moultrienews/9May2018]

Sergei Skripal Was Retired, but Still in the Spy Game. Is That Why He Was Poisoned? The aging Russian spy had been a free man for only a few years when he turned up in Prague for a secret meeting with his former adversaries. He looked ill, but acted jovial, drinking with his Czech hosts and joking that his doctor had prescribed whiskey for high blood pressure.

Then he got down to business, rattling off information about Russian spycraft and the activities of former colleagues that might give the Czechs an edge over their foes.

This was Sergei V. Skripal, the former Russian spy who along with his daughter was nearly poisoned to death with a rare and toxic nerve agent 10 weeks ago, touching off a furious confrontation between Russia and the West that has played out like a Cold War thriller and led to the expulsion of more than 150 Russian diplomats from more than two dozen countries.

The British authorities have accused Russia of trying to assassinate Mr. Skripal, a charge the Russians angrily deny. One of Britain's highest ranking spymasters, the MI5 chief, Andrew Parker, lambasted Russia on Monday in a speech to security chiefs in Berlin, accusing the Kremlin of "barefaced lying" and "criminal thuggery," and warning Russia that it risked becoming a "more isolated pariah." [Read More: Schwirtz, Barry/nytimes/14May2018]

The Spy Museum's New Chief Was Actually a Spy. Christopher Costa spent two decades as an Army counterintelligence specialist, six years mentoring Navy SEALs, and 13 months on President Trump's National Security Council. So in some ways it makes perfect sense for this expert in international spying to run the International Spy Museum.

But Costa, who started his job as executive director in February, takes over at a big moment for the private museum. Next year, it will move from its cramped F Street, Northwest, location to a flashy new building at L'Enfant Plaza where, among other things, it can show off many of the 5,000 rare objects that intelligence historian and author Keith Melton donated last year.

How will a guy with zero museum experience handle that transition? To find out, we caught up with Costa at his bright office overlooking Penn Quarter, which has mementos from his military career and a muted TV tuned to cable news ("A very bad habit from working at the White House," he says). I asked if it was okay to record the interview. "We expect you to record in the Spy Museum!" he said.

This seems like a good time to ask what Americans don't understand about intelligence. [Read More: Beaujon/washingtonian/10May2018]



---
The Guardian View on Intelligence Cooperation: Don't Let Brexit Break It. When MI5 is open and straightforward there has to be something hidden in plain sight. This is a proposition that applies to all government departments, but for the security services it is especially important, and Andrew Parker's speech in Berlin on Monday is a fine example of the craft. On the surface, the message was perfectly clear: Britain faces a sustained and dangerous attack, in part from Islamist terrorists whose plots are being disrupted at a rate of one a month; in part from the Russian government, which not only poisoned the Skripals in Salisbury, he says, but followed this up with a campaign of barefaced lying and disinformation on social media to obscure its own responsibility. None of this is untrue or unimportant, but it is rather less important than the message conveyed in the less sensational parts of the speech, and even in the choice of place and time to deliver it.

This was the first public speech delivered by a head of MI5 outside Britain, and it was given to the German security service, one of our most important partners in both the headline struggles. Mr Parker praised the quality and depth of the current European cooperation on counter-terrorism and security, and the way that it has grown over the last five years. There are now 28 countries sharing information in real time, and this kind of cooperation is only going to become more important as time goes on. It is true that the UK, partly because of its tight intelligence links with the US, possesses the most effective security services in Europe, but the traffic in information, and the benefits of collective effort, work both ways. It was a great mistake for Theresa May to threaten to use British intelligence cooperation as a bargaining chip in the Brexit negotiations, as she appeared to do in a speech in 2017. After she had spoken, a delegation of British spy chiefs went to see her to explain how vital these bonds were for Britain's own security; that is also the really important message hidden in the plain text of Mr Parker's speech in Berlin.

Even though much intelligence cooperation is bilateral and bypasses the structures of the EU, much is not. The chaos of Brexit threatens British security very directly and of course it threatens the security of other European countries too if the security services lose their present ability to work together without borders or friction. This is perhaps most obvious in the fiasco of the Galileo system, where a mixture of greed and vanity on both sides of the Channel may leave Britain isolated from the European satellite positioning system when it finally starts working. But even the collaboration that Mr Parker went out of his way to praise is subject to the same kinds of regulatory problems as Galileo. Although his ostensible audience was fellow security professionals, the real audience was politicians, both here and in Europe, who need to understand the importance of giving the security services rules that allow them to work together.

Intelligence agencies must operate under democratic control, but one consequence of this principle is that they have to operate under fairly detailed rules. And so such matters as privacy legislation, data protection and regulatory oversight will have to be harmonised after Brexit. James Bond was not just a fantasy spy: he was also a fantastical projection of Britain's power and influence in the world. Mr Parker's speech is a reminder that the business of protecting Britain is much less dramatic than in the films - and that Britain is very much less of a superpower. [Read More: theguardian/14May2018]

Remaining Objective Is Hard, But the Best Leaders Figure Out How to Do It. There is no single leadership trait that guarantees success in any profession, but there is, based on my experience, one that many of the best leaders share: a fierce commitment to objectivity. And yet I realize it's often not easy for leaders to remain objective.

In my nearly three-decade career in the intelligence community, I have worked for and with 11 Directors of CIA and all five Directors of National Intelligence. Each has brought their own personality and skill set to the job, and each in their time has faced their own set of challenges, from deeply contentious relationships with the White House and Congress to unforeseen terrorist attacks on the homeland and U.S. diplomatic facilities overseas. I think each would agree that leading in the intelligence community is a daily exercise in crisis management, whether at the helm of CIA with its global analytic and operational responsibilities, or at the Office of the Director of National Intelligence with its oversight responsibilities for the entire intelligence community.

Amid all of this, our best leaders have demonstrated objectivity through their commitment to present only balanced and fact-based analysis in the Oval Office, in the White House Situation Room, in congressional testimony, and in public hearings. They don't shy away from delivering bad news or color judgments to support a particular policymaker narrative - they call it like they see it. That sometimes means providing brutally honest assessments when White House policies were failing (as was the case during the Vietnam War and, more recently, in Afghanistan), or pointing out when a policy seemed to be based more on hope than a tough-minded assessment of the underlying conditions at play.

Although objectivity is crucial, it's not always easy for a leader - whether in the intelligence community or elsewhere - to remain objective. Our newspapers are filled with stories of corporate finance departments and managers who have identified creative ways to manage earnings that downplay poor results. Similarly, we have all read accounts across multiple industries in which people facing tough stretch goals have been observed exaggerating their performance. [Read More: Dempsey/hbr/14May2018]

Gina Haspel is Too Qualified to Pass Up. It was one of the Clinton administration's biggest counterterrorism successes. Just weeks after al-Qaeda terrorists trained by Iran blew up U.S. embassies in Kenya and Tanzania in 1998, Gina Haspel's phone rang in the middle of the night. She was in her final weeks as station chief in what the CIA describes as an "exotic and tumultuous capital" in central Eurasia, and intelligence had just emerged that two senior al-Qaeda associates linked to the embassy bombings were on their way to the country where she was stationed.

Haspel swung into action, devising an operation to capture the terrorists. She worked around the clock, sleeping on the floor of her office, as agents tracked the terrorists to a local hotel, where the men were apprehended after a firefight. According to the CIA, "The successful operation not only led to the terrorists' arrest and subsequent imprisonment, but to the seizure of computers that contained details of a terrorist plot." For her efforts during the operation, which ultimately disrupted a terrorist cell, Haspel in 1999 received the George H.W. Bush Award for Excellence in Counterterrorism .

This is as much as the CIA has revealed, but according to press accounts, several senior al-Qaeda associates were captured in Baku, Azerbaijan, just weeks after the embassy bombings. They included Ihab Saqr , a top lieutenant of al-Qaeda leader Ayman al-Zawahiri, and Essam Marzouk, who also worked for Zawahiri and had trained two of the embassy bombers. Mossad, Israel's national intelligence agency, had reportedly intercepted signals indicating that Saqr was headed to Baku to meet an Iranian intelligence operative.

We should be thrilled that the woman behind this major counterterrorism success has been nominated to become the first female director of the CIA - and only the second person ever to rise to the agency's top post after spending her entire career in clandestine operations. But instead of being grateful that a seasoned, experienced intelligence operative has been chosen, Senate Democrats are threatening to kill her nomination. [Read More: Thiessen/washingtonpost/8May2018]

Trump Taps Private Equity Billionaire for Intelligence Advisory Role. Things have not gone particularly well for the ultra wealthy individuals who have tied themselves to the Trump administration. (See: Tom Barrack, Betsy DeVos, Wilbur Ross, Carl Icahn, along with all those CEO council members who stepped down post-Charlottesville.) And yet they keep coming. The latest addition: Stephen Feinberg, billionaire financier and co-chief executive of Cerberus Capital Management, a private equity firm based in New York.

The White House on Friday announced Trump's plans to appoint Feinberg, 58, to become chairman of the President's Intelligence Advisory Board, a group that reviews the intelligence community. Created under President Dwight Eisenhower in 1956, the board's job is to provide independent advice to the president on the quality and adequacy intelligence activities.

Under Trump, the board hasn't had any members. Feinberg, however, doesn't have any experience in the intelligence field. His Cerberus Capital does own defense contractor DynCorp, which derives most of its $3 billion in annual revenue from the government.

The White House appears to think Feinberg's lack of intelligence experience won't be problematic. In a press release announcing the pick, the administration said he brings "over 30 years of experience conducting organizational assessments, operational improvements, and complex reforms across foreign and domestic stakeholders" to his position. He co-founded Cerberus in 1992 and according to his firm's website held positions in the finance industry before that. [Read More: Stewart/vox/12May2018]



---
Geoffrey Hamilton Barnes, 60, a multilingual CIA Operations Officer operating in the Middle East, died after a long battle with cancer on 5 May 2018 in Fairfax, VA. Geoff was born at Marine Corps Air Ground Combat Center Twentynine Palms (CA). As a child he traveled the world with his family. He graduated from the University of Virginia and joined CIA in 1980 as a career trainee. He spent his CIA career as a case officer in the Directorate of Operations where the majority of his overseas assignments were in the Middle East. Geoff was fluent in Arabic, Turkish, and German, and proficient in a number of other languages.
Geoff enjoyed beach vacations with his family and vacations to the Rocky Mountains and the American Southwest. Vacations for Geoff were not complete without a party including Kara and Sophia, his brother, mom, mother-in-law, an uncle, and friends. Geoff believed that life is for living and sharing with the people, and pets, that you love beyond measure. He was an internationally ranked chess player and loved teaching chess to both children and adults. He was an accomplished artist, a gifted musician and much to the appreciation of his friends and loved ones, an expert story teller. Geoff was an avid motorcyclist and enjoyed the occasional cigar.
Geoff is survived by his second wife of six years, Kara, a daughter, a stepdaughter, a brother, and other family, and his treasured three dogs, Lulu, Bogey, and Rosie. [Read More: fairfaxmemorialfuneralhome/14May2018]
Birchard Clary Fossett Capt USN Ret), 84, a US Naval and NSA Officer, died 7 May 2018 in Columbia, MD. He attended Amherst College, Amherst, MA. Bud was a career Naval officer, stationed in Virginia Beach, Cyprus, Puerto Rico, Head Quarters DC, Adak, AK, and Fort Meade, MD.
He dedicated much of his life working for NSA.
He is survived by children and other family. [Read more: www.hardestyfuneralhome.com]
William Robert Kotapish, 89, CIA Director of Security, died 9 May 2018 in McLean, VA. Bill graduated from the University of Michigan and served in the Army Reserve for 13 years. Kotapish began his career as one of the first CIA polygraphers. In 1979 he became CIA's Director of Security, and later served as Senior Congressional Liaison for the CIA. Bill joined TRW in 1989, and in later years became a consultant and public speaker in the field of security management and communications. Mr. Kotapish's wife preceded him in death. He is survived by his six children, and other family. [Read More: The Washington Post/legacy/13May2018]
William Edward Lewis Jr, 86, an NSA Linguist and officer, died 11 May 2018 in Severna Park, MD. Bill served in the US Army from 1952-1955 and attended the Defense Language Institute at the Presidio of Monterey, CA where he discovered a gift for learning foreign languages. Bill's 38-year career as an NSA linguist led him to Herzo Base in Herzogenaurach, Germany where lasting friendships were made. A lifelong member of the Phoenix Society, Bill's long NSA career extended to 1989 when he retired. He was able to fulfill his dreams of travel through multiple assignments abroad in Harrogate and London, England with his own work and with that of his wife, Eileen. Bill is survived by his second wife, Eileen Gavin Lewis, a daughter, stepchildren, a first wife, Nancy Sullivan, two siblings, and other family.
Donald Waxman Muntz, 96, a CIA Clandestine Operations Officer, died 5 May 2018 in Charlottesville, VA. Don's studies at Washington University (St. Louis, MO) were interrupted by the onset of WWII. At age 20, he volunteered for the US Army Air Corps and piloted B-17 bombers on 35 combat missions over Nazi Germany. After the war Don returned to the US and completed a degree in history and political science under the GI Bill. He pursued graduate work in political science at the University of Zurich but his studies were interrupted by money problems and he decided to work for the US Government. He was hired by the US Military Administration to direct one of the Information Centers established in the Occupied Zone of West Germany. Sent to Marburg, Germany with free rein to do whatever would engender better relations with German citizens as America sought to help rebuild Europe, Don created the first free public library in Marburg and a public lecture program featuring inspirational messages from famous Americans. As the American Military Administration withdrew from West Germany, the US State Department stepped in to devise programs for engendering more local good will and democratization. Muntz, at age 27, was designated Resident Officer of three counties in the State of Hesse.
Based on his work in Germany, Don was recruited by CIA and stationed in Washington, DC to prepare daily briefings on foreign affairs for US presidents. Itching to see more of the world, Don began a series of field operations in the Clandestine Service. He served throughout the Far East spending six years in the Philippines where he mentored Filipino presidents on running free elections and instituting land reforms.
In retirement, Don and his wife, Carol, spent many years traveling abroad, sailing out of the Chesapeake Bay, skiing in the Rockies, and playing competitive tennis. As a youth in Iowa, he was trained in music and won the state baritone contest. In retirement, his bass solos delighted friends and neighbors. Don remained involved in business activities through market research consulting, political polling (Robot Statistics was one of the earliest polling firms to set up shop in the Philippines), and business administration. He became an expert on the international spice business.
Don is survived by his wife, Carol Spence Muntz, and other family. [Read More: dailyprogress/13May2018]

---
AFIO EDUCATIONAL EVENTS IN COMING TWO MONTHS....
Thursday, 17 May 2018, 11:30 AM - Denver, CO - The AFIO Rocky Mountain Chapter hosts Dr. Gail H. Nelson on US Strategic Early Warning - Poland (1980-1981).
When the Polish workers organized into an independent anti-communist movement (Solidarity) against the regime during the Summer 1980, the US/NATO Indications & Warning System (IW) came alive under the assumption that the Warsaw Pact led by the Soviets would invade Poland if the movement was not crushed. It was the crisis scenario that the Warsaw Pact Political Affairs Analyst, Dr. Gail H. Nelson, had been prepared for in the wake of Moscow's invasion of Czechoslovakia in 1968. He provided strategic early warning of Martial Law in Poland over one year prior to its imposition on 13 December 1981. The accurate warning estimate reassured NATO leaders that the IW system could provide reliable warning of war in Europe were this worst-case scenario to present itself.
Dr. Nelson is a veteran US Intelligence Officer with over 45 years of experience in Eurasian political-military affairs. He was born into an Air Force culture in 1944 and experienced the transient life of military families assigned to the United Kingdom, Belgium, and France. He returned to California in 1962 to commence undergraduate studies and was commissioned in the US Air Force in 1967. He was assigned to the USAF Martin-Marietta Facility at Waterton, Colorado and destined for an ICBM career. Instead, he entered the University of Colorado Graduate School of Political Science specializing in German and Soviet Studies completing the MA in 1972 and the Ph.D. in 1979. He entered the Air Force Intelligence Service in 1974 and US Army Europe Intelligence in 1975 - appointed the Warsaw Pact Political Affairs Analyst in 1977. He transferred to European Command in 1990 responsible for analysis of Russian and East European affairs. He retired from the US Civil Service and Air Force Reserve in 2001 as Chief of Theater Intelligence Estimates. He was appointed Senior Intelligence Advisor to the Afghanistan Chief of Military Intelligence in 2003 under contract. He performed similar positions in Manila and Baghdad before returning to Kabul in 2010 for one last expedition.
Please contact Tom VanWormer at robsmom@pcisys.net for more information.
Saturday, 19 May 2018, 2 pm - Kennebunk, ME - AFIO Maine Chapter hosts Amb. Ronald Neumann on "American Diplomacy and US-Afghanistan Policy."
AFIO Maine hosts a talk by American Academy of Diplomacy president and former ambassador Ronald Neumann. Formerly a deputy assistant secretary of state, Neumann served as ambassador to Algeria, Bahrain and Afghanistan and is a career member of the Senior Foreign Service. He also served in Baghdad with the Coalition Provisional Authority. Neumann will focus on issues in American diplomacy with the U.S. and Afghanistan. This may include policy goals and strategies in Afghanistan along with the risks, timelines and the roles of al-Qaida and the Islamic State. A question period will follow his presentation.
Location: Presentation starts at 2 pm at the Brick Store Museum's Program Center at 4 Dane St, Kennebunk, Maine. There is no fee to attend and event is open to the public.
Wednesday 23 May 2018 - San Francisco, CA - Historian Ralph Simpson discusses "History of the Enigma Machine" at this AFIO San Francisco Chapter meeting.
Ralph Simpson, Historian, discusses "The History of the Enigma Machine." Ralph Simpson worked in the computer industry for 32 years at IBM and Cisco Systems. He is now retired and volunteers at a local history museum. Mr. Simpson is the author of a cipher history book called Crypto Wars: 2000 Years of Cipher Evolution and is an avid collector of cipher machines, which can be seen on CipherHistory.com. Mr. Simpson lives in San Jose in a restored Victorian house, which is also home to his Cipher History Museum.
Time: 11:30 AM no-host cocktail; noon - meeting and luncheon begins.
Location: Basque Cultural Center, 599 Railroad Avenue, South San Francisco, CA 94080
To Register: Do so here (forthcoming). The venue cannot accommodate walk-ins.
Questions?: Contact Mariko Kawaguchi, Board Secretary at afiosf@aol.com.
Friday, 1 June 2018 - Tysons, VA - AFIO Spring Luncheon featuring Deputy Director of CIA for Analysis and two other keynote speakers
This special luncheon features three keynote speakers. They are: Richard W. Hoch, Deputy Director of CIA for Analysis, on "The Directorate of Analysis and the Future of Analysis" [Remarks are off the record. No recording, quoting, or media permitted] Bruce Riedel, CIA and Brookings, on "The Future of US-Saudi Relations," based on his book, Kings and Presidents: Saudi Arabia and the United States Since FDR. and R. Scott Decker, FBI, on Recounting the Anthrax Attacks: Terror, the Amerithrax Task Force, and the Evolution of Forensics in the FBI.
NOTE NEW TIMES: Badge pick-up at 9:15 to 10 a.m. First speaker, Scott Decker, at 10 a.m.; Bruce Riedel at 11 a.m. and DD/A Hoch at 1 p.m.
Registration opens Friday, 6 April. Link will appear at www.afio.com and in next Weekly Notes
Location: DoubleTree-Hilton, Tysons Corner, VA [formerly the Crowne Plaza], at 1960 Chain Bridge Rd, McLean, VA 22102.
---
Other Upcoming Events from Advertisers, Corporate Sponsors, and Others'
15-16 May 2018 - Tel Aviv, IS - "Challenges and Opportunities in a Changing and Complex Environment" theme of the Third International Conference on Intelligence
The Israel Intelligence Community Heritage & Commemoration Center (IICC) and Israel Defense presents the Third International Conference on Intelligence. The annual International Intelligence Conference on "Challenges and Opportunities in a Changing and Complex Environment" will be held at the initiative of the Israel Intelligence Heritage and Commemoration Center (the official association of former IDF Intelligence, Shin Bet, Mossad, and other organizations) and Israel Defense. The conference is attended by senior officials from Israel and around the world, as well as members of the intelligence community, experts, academics, industry leaders and innovative companies in the field.
Topics: Overview of the regional and global intelligence with which Israel contends; 70 Years of intelligence - where are we now, and how will we advance?; Challenges and opportunities of intelligence in the modern battlefield; Coping with the threats of terrorism in the global era; Intelligence Innovation: development of technologies in the Big Data Era and changes in the battlefield. A large exhibition will be held alongside the conference, with the participation of the established defense companies and startups, during which advanced weapons systems and technological means will be presented.
The huge exhibition will be held under the theme of 70 Years of Technological and Security Achievements
Event location: The Israel Trade Fairs Center, Tel Aviv. View brochure here.
Additional information at W: warfare.israeldefense.co.il / T: 074-703-1211 / F: 09-7671857 / E: info@israeldefense.co.il
Friday, 18 May 2018, 1 - 2:30 pm - Annapolis Junction, MD - 2018 Henry F. Schorreck Lecture Speaker Series by NSA's Center for Cryptologic History on "The Pueblo Incident: A Fifty-Year Retrospective."
The National Cryptologic Museum hosts NSA's Center for Cryptologic History's 2018 Henry F. Schorreck Lecture Speaker Series which will explore "The Pueblo Incident: A Fifty-Year Retrospective."
The special guest speaker is Mitchell Lerner, Associate Professor of History and Director of the Institute for Korean Studies at Ohio State University. He is the author of The Pueblo Incident: A Spy Ship and the Failure of American Foreign Policy, which won the 2002 John Lyman Book Award.
"Remember," Rear Admiral Frank Johnson told the officers of the USS Pueblo just before they departed for their first mission, "you are not going out there to start a war." And yet, war appeared to be not far off when the spy ship was captured by North Korean forces on 23 January 1968, leaving one dead crewman and 82 other Americans held captive for a year in North Korean prison camps. This presentation will examine this controversial incident from start to finish, and will open a window into not only American decision making but also into the perspectives of North Korea, South Korea, and the Soviet Union.
REGISTRATION: Event is free. However, a full house is anticipated and thus, advanced registration is required at this link. The NSA-CCH will confirm registrations and answer any questions.
DIRECTIONS: The NCM is located at 8290 Colony Seven Rd, Annapolis Junction, MD 20701. Here is are directions to the Museum.
Qs or prefer to register by email?: contact Greg Nedved at gjnedve@nsa.gov to reserve the desired number of seats by email.
Saturday, 19 May 2018, 1-4pm - Washington, DC - Allan Topol: Russian Resurgence ' at the International Spy Museum
Join the International Spy Museum for an in-store book signing of Russian Resurgence by Allan Topol. Allan is the author of thirteen novels of international intrigue. Two of them, Spy Dance and Enemy of My Enemy, were national best sellers. His novels have been translated into Japanese, Portuguese and Hebrew. One was optioned and three are in development for movies. Book Description: Twelve year old Nick, escaping from the burning of his grandfather's house in Potomac, Maryland by Russian thugs, is caught up in a plot by Russian President Kuznov to recreate the Soviet empire in eastern and central Europe. The linchpin of Kuznov's plan is an agreement with a corrupt Hungarian Prime Minister to permit Russia to move troops into Hungary. In Allan Topol's fast moving fourteenth novel, Craig Page and Elizabeth Crowder, working with Peter Toth, who bears the scars of the 1956 Hungarian Revolution, and Peter's grandson, Nick, try to thwart Kuznov's plot. The action moves from Paris to Grozny, to Washington, and finally to intriguing Budapest. Craig, Elizabeth and Nick face repeated attacks on their lives.
Event is free. Visit www.spymuseum.org.
Thursday, 24 May 2018, noon - 2 pm - Washington, DC - Code Girls Luncheon on "The Untold Story of the American Women Code Breakers of WWII" at the International Spy Museum
Join other attendees for a conversation with Liza Mundy, author of the national bestseller Code Girls: The Untold Story of the American Women Code Breakers of WWII, an irresistible and captivating story of the women behind the NSA codebreaking. Ticket price includes a copy of the book and lunch.
Fee: $69 per person. Register here.
Wednesday, 30 May 2018, 7-10pm - Washington, DC - Dinner with a Spy: An Evening with Mubin Shaikh - at 701 Restaurant with the International Spy Museum
Enjoy a martini "Shaikh'n Not Stirred" and a delicious three-course dinner* with Mubin Shaikh as he shares his personal journey from former extremist to undercover operative and global expert on terrorism. Shaikh is one of the very few people in the world to have actually been undercover in a homegrown terror cell. After coming out of extremism himself, he decided to use his connections as a former jihadist sympathizer and supporter to fight terrorism by working undercover for the Canadian Security Intelligence Service and the Royal Canadian Mounted Police's Integrated National Security Enforcement Team to infiltrate extremist persons and groups. All his prior investigations remain CLASSIFIED except for the "Toronto 18," his final one, a group that was infiltrated and eventually prosecuted in open court, where Shaikh testified in the Superior Court in 5 legal hearings over 4 years. Leaders of the group planned for catastrophic terror attacks including placing three truck bombs in Toronto that were the size of Oklahoma City's bomb, storming the Parliament, and beheading the Canadian Prime Minister.
To be one of only 12 guests at dinner at 701 Restaurant: email Amanda Ohlke at aohlke@spymuseum.org. Tickets for the general public: $265 per person; Members: $235 *includes hors d'oeuvres, and three-course dinner with signature cocktails and wine. Visit www.spymuseum.org.
3 - 15 June 2018 - Charlottesville, VA - 26th National Security Law Institute Call for Applications
The 26th National Security Law Institute will take place June 3 through June 15, 2018. The National Security Law Institute provides advanced training for government officials and professors of law and political science who teach or are preparing to teach graduate-level courses in national security law or related subjects requiring a detailed understanding of National Security Law. Applications are also invited from government attorneys in the national security community who are actively engaged in the practice of national security law or otherwise have a professional need for such training. This annual intensive two-week course is held at the University of Virginia School of Law in Charlottesville, Virginia. Prominent scholars and current and former government experts will take part in lectures, panels, and debates to address both theoretical background and important contemporary issues of national security law.
Topics addressed include: Contemporary Theory Concerning the Origins of War and the "Democratic Peace"; Aggression & Self-Defense; The ISIL Threat; Cyber Threats; War and Treaty Powers under the Constitution; Intelligence and the Law; Domestic and Transnational Terrorism; Nuclear, Biological, and Chemical Warfare Threats; Law of Armed Conflict; War Crimes and Their Prosecution; and Maritime Concerns/South China Sea.
Accommodations: Hyatt Place Charlottesville, 2100 Bond St (GPS use 1954 Swanson Dr), Charlottesville, VA. Approximately 25-30 participants are selected to attend each Institute. Participants are responsible for providing their own transportation to and from Charlottesville and paying a tuition fee of $1,950.00, which includes lodging, lunches, course materials, and any group dinners during the Institute. The deadline for applications for the 2018 Institute is May 11, 2018. For additional information please contact Bill Lacy regarding applications (blacy@law.virginia.edu) or Mer McLernon (mer@law.virginia.edu) for logistics (lodging, meals, etc.). The Center has a small fund from which to provide scholarship assistance to a few applicants who might otherwise not be able to attend the program. More information here.
Monday, 4 June 2018, 5:30 - 9:30 pm - Washington, DC - An Evening with General Hayden at the International Spy Museum
Join other guests at the Spy Museum for this private reception with General Michael V. Hayden to celebrate the launch of his newest book: The Assault on Intelligence: American National Security in an Age of Lies. It is a "blistering critique of the forces threatening the American intelligence community, in a time when that community's work has never been harder or more important." A evening of cocktails and hors d'oeuvres, followed by a fascinating conversation with former Director of the National Security Agency and the Central Intelligence Agency, General Michael Hayden.
Timing: 5:30pm VIP reception, Cocktails & hors d'oeuvres; 6 - 9:30pm - Program.
Location: International Spy Museum, 800 F Street NW, Washington, DC 20004.
Fee: $225
Register here, or for more information, contact Rebecca Diamond at rdiamond@spymuseum.org or 202.654.0954
Thursday, 7 June 2018, noon - Washington, DC - Facts and Fears with James R. Clapper at the International Spy Museum
When he stepped down in January 2017 as the fourth United States director of national intelligence, James Clapper had been President Obama's senior intelligence adviser for six and a half years, longer than his three predecessors combined. He led the US intelligence community through a period that included the raid on Osama bin Laden, the Benghazi attack, the leaks of Edward Snowden, and Russia's influence operation during the 2016 US election campaign. Join Clapper as he discusses his new book Facts and Fears, which offers a look inside the US Intelligence Community, gives his assessment of some of the most difficult challenges in our nation's history, and raises the big moral and ethical questions facing the intelligence community today. Facts and Fears will be available for sale and signing at the event.
Fee: $15 per ticket. Register here.
20 June 2018 - Annapolis Junction, MD - NCMF Summer Cryptologic Program features Dr. Janet Breslin-Smith on "American Diplomatic and Military Strategy and its Clash with Saudi Culture."
The 2018 NCMF Summer Cryptologic Program will feature Dr. Janet Breslin-Smith with a presentation on American diplomatic and military strategy, and its clash with Saudi culture. Janet Breslin-Smith is president of Crosswinds International Consulting. She draws on a 30-year career in public service, including leadership roles in the US Senate, the National War College, and in Saudi Arabia, where she focused on higher education and outreach to women. She has written and lectured on strategy and culture, macroeconomics and Islam, women, Islam, and Saudi Arabia. Her article, "The Struggle to Erase Saudi Extremism," appeared in November 2015 in the New York Times. She is the co-author of The National War College: A History of Strategic Thinking in Peace and War. Breslin-Smith, a professor of national security strategy for 14 years at the National War College in Washington, D.C., was the first woman to chair that department. She was named Outstanding Professor at the College in 2006. Prior to her academic career, she was legislative director for Sen. Patrick J. Leahy and deputy staff director of the Senate Agriculture Committee. Breslin-Smith resided in Riyadh, Saudi Arabia, from 2009 through 2013, with her husband, Ambassador James Smith. She developed extensive contacts with Saudi women leaders in higher education, medicine, business, banking, and philanthropy. She lectured at Alfaisal University, the Diplomatic Studies Institute and CellA+ women's business networks. She consulted with Saudi women members newly appointed to the Shura Council. Breslin-Smith earned her PhD from the University of California at Los Angeles and her undergraduate degree in international relations from the University of Southern California.
Where: CACI, Inc., 2720 Technology Dr, Annapolis Junction, MD 20701. For further information and registration, visit this link. Registration at that link to be available shortly.
Tuesday, 10 July 2018, 6:45 pm - Washington, DC - "The Cambridge Five: Soviet Intelligence Spies" discussed by author Calder Walton at the Smithsonian
Kim Philby's name is almost synonymous with Soviet espionage. But Philby was not alone: Along with Donald Maclean, Guy Burgess, Anthony Blunt, and John Cairncross, he was one of five "Cambridge spies" who penetrated the heart of British intelligence at the height of the Cold War. Using recently declassified British, American, and Soviet intelligence records, Calder Walton, Ernest May Fellow in history and policy at Harvard's Kennedy School of Government, explores the lives and treachery of these British elites from Cambridge University recruited into Soviet intelligence in the 1930s. He examines why they betrayed their homeland for Russia, how close British intelligence came to catching them, reveals another hitherto-undisclosed Soviet spy recruited from Cambridge, and evidence for a similar Soviet espionage ring at Oxford. Walton assesses the damage the Cambridge spies did to the British secret state, and to Britain's closest intelligence ally, the United States. He also sees the story as more than ancient history, and discusses how the legacy of the Cambridge spies is still reflected in contemporary Russian intelligence operations.
Walton is the author Empire of Secrets: British intelligence, the Cold War and the Twilight of Empire [Overlook Pr, 2013].
To Register: use code: 1H0354. $30 Smithsonian Members; $45 nonmembers.
Location: S. Dillon Ripley Center, 1100 Jefferson Dr SW, Metro: Smithsonian (Mall exit) More information or to register.
Wednesday, 28 November 2018, 6 - 10:30 pm - Washington, DC - International Spy Museum's Annual "William H. Webster Distinguished Service Award Dinner" honoring Adm McRaven
For your calendar. A special evening to illuminate the critical role of individuals and organizations serving the Intelligence Community, and to raise funds in support of the International Spy Museum.
The William H. Webster Distinguished Service Award Dinner will take place at The Ritz Carlton Hotel. More than 600 attendees are anticipated and will recognize the men and women who have served in the field of National Security with integrity and distinction. This annual tribute dinner is given by the International Spy Museum to an individual who has embodied the values of Judge William H. Webster. This year's honoree is a patriot for whom love of country has been his guiding principle: Admiral William H. McRaven, former US Special Operations Commander, former Joint Special Operations Commander, and Chancellor of The University of Texas System.
Schedule: 6 pm - VIP Reception; 6:30 pm - Cocktail Reception; 7:30 - 9 pm - Dinner & Awards; 9 - 10:30 pm - Dessert Reception.
Location: The Ritz-Carlton Hotel, 1150 22nd St NW, Washington, DC 20037. **Please note: this event is closed to Media**
Tickets Available Now: Prices range from $100,000 to a single seat for $495. Funds raised at this tribute dinner will support artifact preservation, educational programming, research, exhibits, and accessibility programs for underserved communities at the International Spy Museum. To purchase tickets now, do so here. To learn more about this annual dinner, it is available here.
---
Gift Suggestions:
AFIO's 788-page Guide to the Study of Intelligence. Peter C. Oleson, Editor, also makes a good gift. View authors and table of contents here.

Perfect for professors, students, those considering careers in intelligence, and current/former officers seeking to see what changes are taking place across a wide spectrum of intelligence disciplines.
AFIO's Guide to the Study of Intelligence helps instructors teach about the large variety of subjects that make up the field of intelligence. This includes secondary school teachers of American History, Civics, or current events and undergraduate and graduate professors of History, Political Science, International Relations, Security Studies, and related topics, especially those with no or limited professional experience in the field. Even those who are former practitioners are likely to have only a limited knowledge of the very broad field of intelligence, as most spend their careers in one or two agencies at most and may have focused only on collection or analysis of intelligence or support to those activities.
For a printed, bound copy, it is $95 which includes Fedex shipping to a CONUS (US-based) address.
To order for shipment to a US-based CONUS address, use this online form,

To order multiple copies or for purchases going to AK, HI, other US territories, or other countries call our office at 703-790-0320 or send email to afio@afio.com to hear of shipment fees.
Order the Guide from the AFIO's store at this link.
The Guide is also available directly from Amazon at this link.
AFIO's 2017 Intelligence Community Mousepads are a great looking addition to your desk...or as a gift for others..
Made in USA. Click image for larger view.
These 2017 mousepads have full color seals of all 18 members of the US Intelligence Community on this 8" round, slick surface, nonskid, rubber-backed mouse pad with a darker navy background, brighter, updated seals. Also used, by some, as swanky coasters. Price still only $20.00 for 2 pads [includes shipping to US address. Foreign shipments - we will contact you with quote.] Order NEW MOUSEPADS here.
Disclaimers and Removal Instructions
Weekly Intelligence Notes (WINs) are commentaries on Intelligence and related national security matters, based on open media sources, selected, interpreted, edited and produced for non-profit educational uses by members and WIN subscribers.
REMOVAL INSTRUCTIONS: We do not wish to add clutter to inboxes. To discontinue receiving the WINs:
a) IF YOU ARE A MEMBER - click here: UNSUBSCRIBE and supply your full name and email address where you receive the WINs. Click SEND, you will be removed from list. If this link doesn't open a blank email, create one on your own and send to afio@afio.com with the words: REMOVE FROM WINs as the subject, and provide your full name and email address where you are currently receiving them.
b) IF YOU ARE NOT A MEMBER, and you received this message, someone forwarded this newsletter to you [contrary to AFIO policies]. Forward to afio@afio.com the entire WIN or message you received and we will remove the sender from our membership and distribution lists. The problem will be solved for both of us.
CONTENTS of this WIN [HTML version recipients - Click title to jump to story or section, Click Article Title to return to Contents. This feature does not work for Plaintext Edition or for some AOL recipients]. If you wish to change to HTML format, let us know at afio@afio.com. The HTML feature also does not work for those who access their e-mail using web mail...however NON-HTML recipients may view the latest edition each week in HTML at this link: https://www.afio.com/pages/currentwin.htm
---
WINs are protected by copyright laws and intellectual property laws, and may not be reproduced or re-sent without specific permission from the Producer. Opinions expressed in the WINs are solely those of the editor's) or author's) listed with each article. AFIO Members Support the AFIO Mission - sponsor new members! CHECK THE AFIO WEBSITE at www.afio.com for back issues of the WINs, information about AFIO, conference agenda and registrations materials, and membership applications and much more!
(c) 2000, 2012, 2013, 2014, 2015, 2016, 2017, 2018. AFIO, 7600 Leesburg Pike, Suite 470 East, Falls Church, VA 22043-2004. Voice: (703) 790-0320; Fax: (703) 991-1278; Email: afio@afio.com