---
CONTENTS
Section I - INTELLIGENCE HIGHLIGHTS
Section II - CONTEXT & PRECEDENCE
Section IV - Jobs, Research Requests, Obituaries
Other Upcoming Events from Advertisers, Corporate Sponsors, and Others
For Additional AFIO and other Events two+ months or more... Calendar of Events
WIN CREDITS FOR THIS ISSUE: The WIN editors thank the following special contributors: ec, mh, km, gh, mk, rd, fm, kc, jm, mr, jg, th, ed, and fwr. They have contributed one or more stories used in this issue.
The WIN editors attempt to include a wide range of articles and commentary in the Weekly Notes to inform and educate our readers. However, the views expressed in the articles are purely those of the authors, and in no way reflect support or endorsement from the WIN editors or the AFIO officers and staff. We welcome comments from the WIN readers on any and all articles and commentary.
CAVEATS: IMPORTANT: AFIO does not "vet" or endorse research inquiries, career announcements, or job offers. Reasonable-sounding inquiries and career offerings are published as a service to our members, and for researchers, educators, and subscribers. You are urged to exercise your usual caution and good judgment when responding, and should verify the source independently before supplying any resume, career data, or personal information.]
If you are having difficulties with the links or viewing this newsletter when it arrives by email, members may view the latest edition each week at this link. You will need your LOGIN NAME and your PASSWORD.
---
NOTICES
Time is running short to hear Dr. Breslin-Smith discuss...
"Sex and Strategy: Why We are Adrift in the Middle East"
Wednesday, 20 June 2018 - Annapolis Junction, MD
The presentation will take place from 10am to 11:30am. Lunch will begin at 11:45 am and event closes at 1pm
This NCMF Summer Cryptologic Program features Dr. Janet Breslin-Smith

The 2018 National Cryptologic Museum Foundation's Summer Cryptologic Program features Dr. Janet Breslin-Smith with a presentation on American diplomatic and military strategy, and its clash with Saudi culture. Breslin-Smith is president of Crosswinds International Consulting. She draws on a 30-year career in public service, including leadership roles in the US Senate, the National War College, and in Saudi Arabia. Her article, "The Struggle to Erase Saudi Extremism," appeared in November 2015 in the New York Times. She is a professor of national security strategy for 14 years at the National War College in Washington, DC — the first woman to chair that department.
More information about this program can be found here.
Where: CACI, Inc., 2720 Technology Dr, Annapolis Junction, MD 20701. For further information and registration, do so here.
---
SIGINT in the Arts: Exhibition at the Smithsonian
Trevor Paglen: Sites Unseen. Trevor Paglen blurs the lines between art, science, and investigative journalism to construct unfamiliar and at times unsettling ways to see and interpret the world around us. Inspired by the landscape tradition, he captures the same horizon seen by American photographers Timothy O'Sullivan in the nineteenth century and Ansel Adams in the twentieth. Only in Paglen's photographs is the infrastructure of surveillance also apparent---a classified military installation, a spy satellite, a tapped communications cable, a drone, an artificial intelligence (AI). Trevor Paglen: Sites Unseen is a mid-career survey, the first exhibition to present Paglen's early photographic series alongside his recent sculptural objects and new work with AI. It carries on the long history of programs by the Smithsonian American Art Museum examining America's changing relationship to the landscape. With this presentation, SAAM is contributing to the important and ongoing conversation about privacy and surveillance in contemporary society. Paglen's photographs show something we are not meant to see, whose concealment he regards as symptomatic of the historical moment we inhabit. His objects act in opposition to what his images have exposed, imagining another and potentially different world. Paglen is a conceptual artist with activist intentions. Helping to better see the particular moment we live in and producing spaces in which to envision alternative futures are among his chief concerns. Trevor Paglen: Sites Unseen is organized by John Jacob, SAAM's McEvoy Family Curator for Photography, and is accompanied by a fully illustrated catalogue. FREE PUBLIC PROGRAMS June 20, 6:30 p.m. - Artist Lecture with Trevor Paglen
---
Books of the Week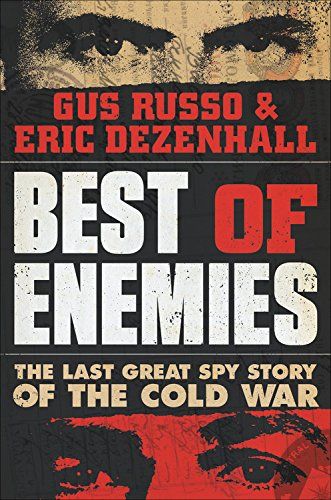 Best of Enemies: The Last Great Spy Story of the Cold War
by Gus Russo and Eric Dezenhall
(Twelve Publications,Oct 2018)
In 1978, CIA operations officer/maverick Jack Platt and KGB agent Gennady Vasilenko were new arrivals on the Washington, DC intelligence scene, with Jack working out of the CIA's counterintelligence office and Gennady out of the Soviet Embassy. Both men, notorious iconoclasts, were assigned to seduce the other into betraying his country in the urgent final days of the Cold War; instead, they became the best of friends. A friendship that never should have happened. Their story is one of treachery, comic misunderstandings, bureaucratic inanity, the Russian Mafia, and landmark intelligence breakthroughs of the past half century. These two espionage cowboys reveal how they became behind-the-scenes players in solving some celebrated 20th century spy stories, including the discovery of the Soviet mole Robert Hanssen, the 2010 spy swap which freed Gennady from Soviet imprisonment, and how Robert De Niro played a real-life role in helping Gennady stay alive during his incarceration in Russia after being falsely accused of spying for the Americans. Through their eyes, we see the distinctions between the Russian and American methods of conducting espionage and the painful birth of the new Russia, whose leader, Vladimir Putin, dreams he can roll back to the ideals of the old USSR.

Book may be ordered here.
---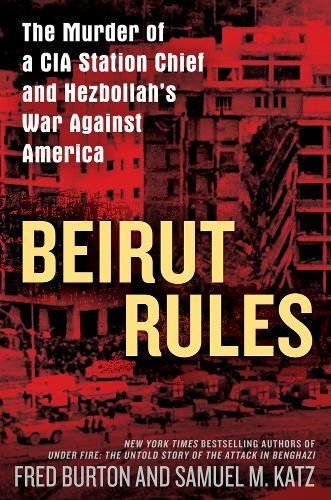 Beirut Rules: The Murder of a CIA Station Chief and Hezbollah's War Against America
by Fred Burton and Samuel Katz
(Berkley, Oct 2018)
After a deadly terrorist bombing at the American embassy in Lebanon in 1983, only one man inside the CIA possessed the courage and skills to rebuild the networks destroyed in the blast: William Buckley. But the new Beirut station chief quickly became the target of a young terrorist named Imad Mughniyeh. Beirut Rules is the account of Buckley's abduction, torture, and murder at the hands of Hezbollah terrorists. Draws on declassified documents as well as interviews with Buckley's co-workers, friends, and family, Burton and Katz reveal how the relentless search for Buckley in the wake of his kidnapping ignited a war against terror that continues to shape the Middle East to this day.

Book may be ordered here.
---
Two recent books released by member Edward F. Mickolus PhD areThe Secret Book of Intelligence Community Humor (The Secret Book of Spy Humor) (Volume 2) and Two Spies Walk Into A Bar (The Secret Book of Spy Humor) (Volume 3). Both volumes as by Wandering Woods Publishers, and released in May 2018 online as paperback or Kindle versions. Click title to purchase from Amazon.
---
Section I - INTELLIGENCE HIGHLIGHTS

Former Intelligence Officer Charged with Trying to Share Secrets with China. FBI agents arrested a former Defense Intelligence Agency officer Saturday as he was about to board a plane to China on charges that include attempting to share defense secrets with the Chinese government.

Ron Rockwell Hansen, 58, was seized by federal agents on his way to the Seattle-Tacoma International Airport. He faces a number of federal charges, including the attempted transmission of national defense information to the People's Republic of China, acting as an unregistered foreign agent for China, bulk cash smuggling, structuring monetary transactions and smuggling goods from the United States.

Assistant Attorney General Demers said Hansen, "allegedly received hundreds of thousands of dollars while illegally acting as an agent of China."

"His alleged actions are a betrayal of our nation's security and the American people and are an affront to his former intelligence community colleagues," Demers said in a statement. "Our intelligence professionals swear an oath to protect our country's most closely held secrets and the National Security Division will continue to relentlessly pursue justice against those who violate this oath." [Read More: Cummings/usatoday/4June2018]

Another Defense Agency to Tap CIA's Commercial Cloud. The U.S. Army agency responsible for providing military intelligence on foreign ground forces plans to use the C2S Cloud - the same cloud developed by Amazon Web Services for the CIA and intelligence community.

The Army's National Ground Intelligence Agency issued a one-year task order earlier this month to purchase cloud services from the Amazon-developed cloud at the unclassified, secret and top secret classification levels.

NGIA will become the second Defense agency - after U.S Transportation Command - to move classified data or applications to the C2S cloud, and could facilitate further cloud computing adoption across the Army.

"Migration to the [C2S] Cloud provides the opportunity to evaluate and potentially re-invent how Army [military intelligence] delivers IT services and make use of intelligence data and analytics to meet mission requirements," the task order states. [Read More: Konkel/defenseone/4June2018]

Australian Intelligence-Sharing Flaws Spark Biggest Spy Review in 40 Years. The biggest review of spy laws in more than 40 years will be unveiled today, amid growing concerns that 'national security agencies are unable to pass crucial information to police and other intelligence services about threats to national security.

Attorney-General Christian Porter will today reveal the government has appointed former ASIO boss and senior federal public servant Dennis Richardson to head the review, which could usher in the biggest shake-up of national security legislation since the 1974 Hope royal commission into the intelligence services.

The review comes as Islamic radicals ramp up their focus on Southeast Asia and tensions mount with China over the Turnbull government's foreign-interference laws.

The decision to hold the inquiry will stoke fresh debate about the powers of intelligence agencies to investigate Australian citizens both in Australia and abroad. It also reflects longstanding frustrations within the national security community that many of the laws governing their activities have become obsolete or unworkable. [Read More: Maley/theaustralian/30May2018]

Lebanese Intelligence Service Arrests Syrian Reporter Near Lebanon-Syria Border. The Committee to Protect Journalists today expressed concern about the arrest of Abdel Hafez al-Houlani, a reporter for the Syrian pro-opposition news website Zaman al-Wasl.

Four men in plainclothes on May 24 entered al-Houlani's tent in the Wafa al-Umani refugee camp in the northeastern Lebanese city of Arsal, 77 miles (123 km) northeast of Beirut, identified themselves as members of the Lebanese intelligence service, and took al-Houlani to an unknown destination, according to his employer, news reports, and the Syrian Journalists Association.

Although charges have not been filed against al-Houlani, news reports citing an anonymous Lebanese intelligence official said that the journalist was arrested because of his media activities.

According to an article from the journalist's employer, al-Houlani was transferred to the Defense Ministry prison in Beirut, but the article did not specify when he was transferred. [Read More: cpj/30May2018]

MI5 Intelligence to be Shared with Local Councils. MI5 intelligence will be shared with bodies outside the security community, such as councils, local police or government departments, in a drive to stop terror suspects before attack plots can crystallise.

Ministers will also bring forward strengthened anti-terror laws to allow earlier interventions, and target the "insider threat" at airports amid warnings the aviation system remains a "totemic" target.

Details of the measures emerged as the Government unveiled its new blueprint for tackling terror.

In a major shift, MI5 will declassify information on individuals who have appeared on its radar - but are not currently under active investigation. [Read More: scotsman/4June2018]

Austria Plans Overhaul of Intelligence Agency. Austria announced plans on Tuesday to overhaul its main domestic intelligence agency after a controversy in which the far-right interior minister was accused by political opponents of trying to purge its ranks.

The police raided offices of the Federal Office for the Protection of the Constitution and Counterterrorism (BVT) early this year as part of an investigation into five officials on suspicion of failing to handle sensitive information properly.

That led some allied countries to fear that intelligence they had given to Austria might have been compromised.

There have been allegations in the Austrian media and by the political opposition that the officials under investigation are close to Chancellor Sebastian Kurz's conservative People's Party (OVP), which ran the Interior Ministry for decades. [Read More: todayonline/5June2018]

Covert Phone Call Played at Trial of Ex-CIA Agent. In a recorded phone call from prison following his arrest for the alleged sale of defense secrets to China, former CIA agent Kevin Patrick Mallory played a risky guessing game with his son.

Mallory, who was arrested on charges of espionage and making false statements to authorities last June, wanted information from his son but would not say directly what he was after.

So in an excerpt played in a Virginia federal court Friday, jurors heard Mallory giving his son a series of indirect clues, probing him for a list of what FBI agents seized when they raided his home a day earlier.

Agents turned Mallory's bedroom closet inside out until finally an officer found a ball of tin foil concealing a Toshiba 32GB SIM card. [Read More: Buchman/courthousenews/1June2018]

Hacker Linked to Russian Intelligence Sentenced to Five Years in Prison. A 23-year-old man who pleaded guilty for his role in helping Russian spies hack into email accounts was sentenced to five years in prison on Tuesday.

Karim Baratov, a Kazakhstan-born Canadian citizen, was arrested in Toronto last year before being extradited to the United States. Prosecutors say he was part of a group working with two intelligence agents from Russia's Federal Security Service (FSB).

Baratov pleaded guilty in November for playing a role in the massive 2014 Yahoo data breach. That breach saw information tied to 500 million accounts stolen from the company. He was also charged with hacking into over 11,000 emails as part of an illegal hacking business he ran including helping Russian spies hack into 80 such accounts.

Sentencing came later than initially planned after Judge Vince Chhabria told prosecutors last month that their request of an eight-year sentence seemed "way out of whack compared to most hackers." Baratov's lawyers were asking for a 45-month sentence. After further filings from the government aiming to justify their request, Chhabria decided on a five-year sentence for Baratov. [Read More: O'Neill/cyberscoop/29May2018]

Feature: Atop the Great Wall, Int'l Counter-Terrorism Forum Applauded. Commodore Adesola Akano Adesope, deputy director of Nigeria's Foreign Liaison of Defense Intelligence Agency, was thrilled to walk on the Great Wall.

Adesope attended an international counter-terrorism forum hosted by China's armed police force, which concluded in Beijing last weekend.

The Great Wall-2018 International Forum on Counter-terrorism attracted more than 180 military and police representatives from 28 countries, including France, Pakistan, Jordan, Egypt, and Mexico. This year's forum focused on the theme of counter-terrorism in mountainous regions.

Participants took a group trip to the Great Wall after they visited an armed police training base in suburb Beijing. [Read More: xinhaunet/4June2018]



---
Section II - CONTEXT & PRECEDENCE

Late CIA Director's Roslyn Estates House for Sale. Bids are currently being accepted on the Roslyn Harbor compound once owned by the director of the Central Intelligence Agency.

The 8.2-acre property, known as Mayknoll, belonged to the late William J. Casey, a New York native who served as director of the CIA from 1981 to 1987, the year of his death. The compound, which has been in the Casey family for 70 years, sits along Hempstead Bay and includes a main house, five guest cottages, a garden area and a pool.

The Grand Manor style main house, built in the mid-1850s, is a "functioning mansion of the era but it has modern amenities," says James Connelly, the director of government relations-principal for Washington, D.C.-based Summit Commercial Real Estate.

Features within the mansion include a solarium, a library that housed Casey's extensive collection of books on espionage, and a first-level office that was used by the CIA security team, Connelly says. [Read More: Gavin/newsday/2June2018]

NATO's Military Intelligence Community Meets in Ottawa. On 23-24 May 2018, the Military Intelligence Committee held one of two annual meetings in Ottawa, Canada. NATO Nations and key stakeholders responsible for Intelligence met to discuss key Intelligence topics and ongoing strands of work.

With the ever-changing security environment, NATO is facing many challenges that bear an Intelligence dimension. Consequently, NATO and Nations have been implementing a more coordinated approach to Intelligence analysis and Intelligence sharing. Good Intelligence helps NATO protect lives and prevent conflicts. That is why NATO is taking a number of measures to improve the way NATO and Nations cooperate in this area.

As part of this process, NATO set up the Joint Intelligence and Security Division at NATO HQ Brussels last year. This is the most important reform in the history of NATO Intelligence Cooperation. The new division has allowed NATO to become more effective when using the Intelligence received from Allies and to improve its Situational Awareness. NATO has established a new Terrorism Intelligence Cell, allowing Allies to more effectively share Information and Analysis on terrorist threats. NATO has also developed a hybrid strategy to better counter these threats, to include hybrid elements in NATO's training and exercises. NATO has also increased its cooperation with other organisations, including the European Union.

Finally, since being officially accredited in September 2016, the NATO Counter Intelligence Centre of Excellence (NATO CI COE) located in Krakow, Poland has been the primary hub of NATO expertise in Military Counter-Intelligence. The COE aims to expand the capabilities of the Alliance and its member Nations to enhance NATO Counter-Intelligence and improve interoperability. The Centre acts as a catalyst for NATO adaptation and operations by supporting the development, promotion and implementation of new policies, concepts, strategies and doctrine. [Read More: nato/31May2018]

The Dead Spy, The Drowned MP, The Lost Canoeist: The People Who Fake Death and Why They Do It. Even the master spy storyteller John Le Carré wouldn't have tried to get away with the plotline: on Tuesday this week obituaries were being written for the Russian journalist, Arkady Babchenko, following official reports he had been shot dead in the Ukrainian capital, Kiev.

Babchenko had been fiercely critical of Vladimir Putin in his writings and many around the world saw his "assassination" as yet another case of a dissenting voice being silenced by alleged Russian forces.

However, less than 24 hours after his apparent murder made global news, there were audible gasps of shock and surprise when Babchenko was unveiled at a press conference held by Ukrainian police. Unlike Monty Python's famous parrot - he had certainly not ceased to be.

Babchenko explained that he had staged this own death with the help of the Ukrainian authorities as part of a ruse to track down the people who he claimed were trying to kill him. Such was the secrecy of the plan that not even his wife and children were in on the plan. [Read More: Boyd/irishtimes/31May2018]

MI6 is Trying to Shake Its James Bond Problem with This Video. Britain's Secret Intelligence Service (SIS), commonly known as MI6, has always had a love-hate relationship with its most famous fictional operative, James Bond. And for all that senior MI6 officials complain that the Bond films perpetuate serious misconceptions about their trade, they can still use his reputation to attract applicants.

Until the Intelligence Services Act 1994, even acknowledging the existence of the Secret Intelligence Services (SIS) proved difficult - but today, the SIS website notes that its headquarters in London's Vauxhall "has become easily identifiable from its appearances in several James Bond films."

Now, reconciled to being in the public eye, the agency has released a recruitment video to attract new talent - one that clearly tries to shake off the Bond brand. As the Daily Mail exclaimed, MI6 has a clear purpose in mind: to dispel the "license to kill" image and instead highlight "the 'soft' skills it is looking for in new staff."

The male narrator in the agency's recruitment video tells listeners that "we are intelligence officers" while a shark swims by in a pool. Images of the shark are inter-cut with shots of a child and then a woman (presumably mother) gazing at the tank, as the narrator states, "We don't do what you think." Instead of "swimming with the shark" in classic Bond style, the video emphasizes "picking up on the silent cues that matter" - by implication, signals intelligence and subtle reconnaissance work. As the woman and child embrace, the narrator concludes that the skill set MI6 is seeking is "everyday" and that "secretly, we are just like you." [Read More: Dodds, Funnell/fastcompany/30May2018]

Inside a CRADA: NGA Explores Emerging Geospatial Tech in Cooperative Deal with Planet. Government technology typically revolves around money changing hands.

But some government deals don't come with cash.

The National Geospatial-Intelligence Agency announced last month it had entered into such a deal - a Cooperative Research and Development Agreement (called a CRADA) - with commercial imagery provider Planet. The CRADA allows the company the chance to give NGA early access and insights into the analytics it's developing for geospatial imagery, said Jennifer Marcus, vice president of federal operations at Planet.

NGA has contracted with Planet before and has an ongoing contract with the company for its global imagery feed. But through the CRADA, NGA is getting a deeper look at the automated analysis Planet could offer on that data, according to Mike Applegate, Planet subscription program manager for NGA. [Read More: Ehlinger/fedscoop/4June2018]

Service Dog Trained by Millersville University Student Heads to CIA for Specialized Training. A service dog trained by a Millersville University student has been selected to receive specialized training by the Central Intelligence Agency, the school announced Thursday.

Brian Kirn, who graduated from the university this spring, began training Martin, a Labrador retriever, through Susquehanna Service Dogs in the spring of 2016. He was compelled to volunteer as a puppy raiser by one of his professors, Theotis Braddy, who often challenges his students to consider how they can help improve the lives of those who suffer from disabilities, the school said in a press release.

"I ask students to be intentional because when they do, they actually see that their actions can make a difference," Braddy said. "Brian saw that right away. He is a very genuine young man who cares about making a difference."

Kirn was responsible for an hour of training for Martin every day, mandatory outings with SSD and constant work on proper behavior and manners. The dog joined Kirn in class, on dates and at work. [Read More: Schweigert/fox43/31May2018]

The Pakistani Spy Who Knew Too Much. Have you ever heard of former Pakistani spymaster Lt General (retired) Asad Durrani before his controversial book was launched in New Delhi on May 23 and why he was barred from leaving his country?

If no, then here is your chance to know the man who made headlines in international media throughout last week.

Durrani, a former Director General of the Inter-Services Intelligence (ISI), came into the limelight after the launching of the controversial book The Spy Chronicles: RAW, ISI and the Illusion of Peace, which he co-authored with his contemporary Indian spy chief Amarjit Singh Dulat and a journalist Aditya Sinha.

Durrani who has also served as a diplomat, himself missed the book launch as he was denied Indian visa. [Read More: Ahmed/gulfnews/1June2018]

Former Deputy Director of Central Intelligence Talks About Caring for Families of CIA's Fallen. John McLaughlin was deputy director of Central Intelligence on September 11, 2001, and recalls vividly the reaction he had as the attacks were unfolding.

"My thought was, 'That's it. That's it,'" he told CBS Senior National Security contributor and host Michael Morell on this week's special Memorial Day episode of "Intelligence Matters." "We were, throughout that summer, dealing with an avalanche of reporting about a potential terrorist attack. But we were frustrated in not knowing when exactly this would happen, what the target would be, what the method would be," McLaughlin said. "And in that moment, all of that became clear."

As the nation paused this week to remember those who have given their lives in service, Morell and McLaughlin discussed the origins of the CIA Officers Memorial Foundation - which was founded just after 9/11 - and whose core mission is to provide for the education of children who lose a parent in the CIA's service. McLaughlin shared the stories of some of the agency's fallen officers and those of their children, who, with the Foundation's help, have gone on to pursue impressive careers of their own.

Demand for the Foundation's support is growing, he told Morell. "There are 125 stars now carved on the Memorial Wall at CIA, where a star is carved each time an officer dies in the line of duty," he said. "And by my count, more than a third of those stars have been carved since 9/11 - which is a pretty graphic illustration of the danger that has come to CIA officers in this period of strife after those attacks," McLaughlin said. [Read More: Gazis/cbsnews/30May2018]



---
NEW POLL: Glasnost for US Intelligence: Will Transparency Lead to Increased Public Trust?
Earlier this month, the Chicago Council on Foreign Affairs published our report on the first round of a polling project sponsored by the Texas National Security Network aimed at shedding light on Americans' perceptions of our intelligence agencies and testing the claim that efforts by these agencies to be more open will enhance their democratic legitimacy. (The full report, including survey methodology, poll results, and limited policy analysis is available here.)
The good news from this initial report is that the intelligence community is generally viewed by the public as effective, particularly in preventing acts of terrorism. But, Americans remain largely unconvinced that these agencies respect their privacy and civil liberties while undertaking this necessary work. Americans are not inclined to extend these same rights to foreigners whose communications may be subject to U.S. surveillance, as required by current policy. And, despite more than a decade of vigorous public debate over controversial intelligence programs, we discovered that few Americans actually understand the institutional framework for supervising and overseeing U.S. intelligence.
Key takeaways of the poll: • Americans generally regard the intelligence community as effective, particularly in preventing terrorism and learning the plans of hostile powers. • Americans are less convinced the intelligence community is respectful of privacy and civil liberties. • Less informed Americans, particularly younger people, were less likely to view the intelligence community as effective. • Americans broadly were supportive of the intelligence community using all lawful means to acquire intelligence, but were divided on the need for surrendering privacy rights. • Republicans were even more likely than Democrats or Independents to say the intelligence community helps the country produce sound foreign policies. • Though less than a majority, Democrats were more likely than Republicans or Independents to support protecting the privacy rights of foreigners. [Read more: Slick & Busby/LAWFARE/ 29May2018 and in ChicagoCouncil]
The Spies Have A Leading Role In The North Korea Summit. When Mike Pompeo became CIA director last year, he immediately set his sights on North Korea and its opaque nuclear program.

"Within weeks of me coming here, I created a Korea Mission Center, stood it up with a senior leader who had just retired, brought him back to run the organization," Pompeo said in January.

He didn't name that senior leader, but was referring to Andrew Kim, a Korean-American who grew up in South Korea.

President Trump was clearly impressed with Pompeo's initiative on North Korea, and sent him there - reportedly with Andrew Kim - on a secret trip in April to lay the groundwork for the possible summit between Trump and North Korean leader Kim Jong Un. If the summit happens, it would be the first meeting between leaders of the two countries. [Read More: Myre/wbur/1June2018]

How Sweden is Preparing for Russia to Hack its Election. Russia has been repeatedly accused of interfering in recent elections. But Sweden is determined it won't fall victim to any such meddling - with millions of leaflets being distributed and propaganda-spotting lessons for students.

As campaigning intensified in the French election, the team of now President Emmanuel Macron said it was a target for "fake news" by Russian media and the victim of "hundreds if not thousands" of cyber-attacks from inside Russia.

In Washington, sanctions were recently imposed on 19 Russians accused of interference in the 2016 US election and "destructive" cyber-attacks.

While the Kremlin denies interfering in foreign elections - with Vladimir Putin saying there is "nothing to discuss" - concerns remain. [Read More: Brattberg, Maurer/bbc/31May2018]

Secrets of a Successful Spy Marriage. Over its six seasons, "The Americans" has dramatized the tension between effective espionage and a happy marriage for a fictional KGB couple. For the Soviet bloc intelligence services, who regularly sent couples across the Iron Curtain as deep cover spies, this tension was more than dramatic fodder. It was a serious operational problem.

To manage this problem, a manual I found in the archive of the East German Ministry for State Security, the KGB franchise better known as the Stasi, shows that spy couples were selected and trained as much for their marital strength as their tradecraft.

Among socialist spies, the Stasi stole the show when it came to infiltrating "illegal residents" into West Germany. This strength arose from constraints: Without diplomatic recognition until the mid-1970s, East Germany did not have embassies in the West from which to run "legal residences." But it was easy to pose as a political refugee from the East. There were also no language difference. Disguised as everyday West Germans, many stole secrets for decades, serving as the backbone for the Stasi's spy operations against the West.

These illegal residents recruited and managed human sources abroad. Residents could also gather information directly by penetrating Western governmental institutions. The most infamous of these residents rose to become a top aide to the West German chancellor. By the fall of the Berlin Wall, the Stasi's foreign branch had more than 30 illegal residents serving in the Federal Republic. [Read More: Bollfrass/warontherocks/30May2018]

In Defense of the CIA's Moral Compass. In a recent op-ed published in the Wall Street Journal, titled 'At the CIA, Immorality Is Part of the Job', a retired lawyer and former commissioner for Major League Baseball, Mr. Fay Vincent, opined about the CIA's history and culture, finding it a "farce" to even talk about morality. His position was that CIA officers do not, and should not, consider themselves bound by conventional morals, as their profession is inherently amoral. Mr. Vincent appears to know little about the CIA, has never served there, and is flat wrong.

CIA officers, by virtue of the Agency's history and culture, rigorous training, continued oversight from both within and outside the Agency, are intensely aware of the criticality of morality. They recognize that intelligence and espionage function at the border of legality, in a secret and compartmented world. They are well aware that a secret intelligence service can be a danger to democracy, and that the skills of the trade; clandestinity and obfuscation, could, if misused, insulate them from consequences. As a result - something I witnessed first-hand - American professional intelligence officers treasure, guard and cherish their morality.

On my very first day at CIA, I participated in the various rituals of "Entry on Duty." These varied from the mundane (filling out insurance forms) to inspiring (taking an oath to support the Constitution and being sworn in). One of the very first speakers, a veteran agency officer, asked a provocative question of my group of newly-inducted officers: "what is the difference between the job you have taken and a similar job with the KGB?" An impassioned discussion followed. We all realized that it wasn't how we do the business of espionage (we differ, but the basics of espionage and the concepts of intelligence are the same worldwide); and it wasn't that American policy, which we would help inform, was "better." The difference was two-fold. The first has been embodied in our oath - we are a service that obeys the Constitution, and the laws that flow from it. There was no "higher oath" (as Mr. Vincent posits) which trumps the Constitution or law.

The second difference was less rigid, more ambiguous, but equally important. It was the idea that the ship we would be joining would be sailing dark waters, often on the edge of moral maps - and thus we were honor bound to cherish and follow our moral compasses. Morality was central. We would be lying, and concealing, "recruiting spies and stealing secrets." We would often be in uncharted waters. We would need those compasses. [Read More: Cash/thecipherbrief/31May2018]


---
Section IV - Jobs, Research Requests, Obituaries
Job Title: Senior Incident Response Analyst with 4 to 20 years experience
Job Location: Reston, VA
Duties: Identify security issues and risks associated with security events and manage the incident response process. Participate in the incident response and investigation process for identified security events. Perform network and system forensics in response to security incidents. Optimize and customize security monitoring tools... [more info on this job here]

Job Title: Senior Data Scientist with 8 to 20 years experience
Job Location: Reston, VA; Milpitas, CA
Duties: This role will require experience building, analyzing and maintaining supervised learning models, as well as familiarity with malware detection and binary analysis. You will be expected to analyze model results and work with domain experts, engineers and other data scientists on your team to develop and implement improvemen... [more info here]

Job Title: Senior Incident Response with 5 to 20 years experience
Job Location: Alexandria, VA; Reston, VA; New York, NY; Atlanta, GA
Duties: Conduct host forensics, network, forensics, log analysis, and malware triage in support of incident response investigations Utilize Mandiant and FireEye technology to conduct large scale investigations and examine endpoint and network based sources of evidence Recognize and codify attacker tools, tactics, and procedures in... [more info here]

Job Title: Security Analyst - Managed Defense Firm
Job Location: Reston, VA
Duties: What We Will Do For You On a daily basis, you'll find the most malicious attacker activity the Internet has to offer Let you scour systems and analyze tons of network traffic looking for attacker presence Be Challenged to evolve how we detect and respond to attackers by authoring new and innovative Indicators of Compromise... [more info here]

Job Title: FLARE - Vulnerability / Reverse Engineer (Top Secret)
Job Location: Reston, VA
Duties: Work with a team of experienced reverse engineers, vulnerability researchers & exploit developers Exploit hardware and software vulnerabilities in FireEye and client products Support the company's research and development efforts Requirements Strong programming skills in C and Python Ability to analyze disassembly of x86 an... [more info here]

Job Title: Senior Test Automation Developer with 9 to 12 years experience
Job Location: Reston, VA
Duties: Thorough understanding in systems analysis and design techniques. Perform automated regression test runs Work with development and the testing teams to devise and execute testing strategies for a distributed software system. Demonstrated ability to implement automation solutions throughout the testing lifecycle using Java,... [more info here]
Research for Biography of Sidney Gottlieb. Does anyone have information or recollections about the late Sidney Gottlieb, who headed MKULTRA and later became chief of Technical Services? A former New York Times correspondent who now teaches at Brown University, Stephen Kinzer, is writing Gottlieb's biography and is eager for information. He can be reached at stephen_kinzer@brown.edu.
Participate in IARPA's "CREATE" Study to refine intelligence analysis. Steven Rieber, IARPA Program Manager wrote: "I am a program manager at IARPA (the Intelligence Advanced Research Projects Activity), where I manage an R&D program that is developing methods to help intelligence analysts produce better-reasoned analytic reports. We are currently looking for volunteers to test the online analytic tools. AFIO members might be interested in participating, so please let them know of this opportunity. The program is called CREATE (Crowdsourcing Evidence, Argumentation, Thinking and Evaluation). It is a multi-million-dollar, multi-year research effort to improve the core process of intelligence analysis: making well-reasoned inferences from incomplete information. Here is the sign-up page. Here is an IARPA tweet on CREATE. And here is more information on CREATE.

Frank Charles Carlucci III, 87, former Deputy Director CIA, Secretary of Defense, and Diplomat, AFIO Honorary Board Member, died 3 June 2018 in McLean, VA of complications related to Parkinson's disease.
He graduated Princeton in 1952 with a degree in international relations. After two years in the Navy, he spent a year in a two-year MBA program at Harvard and also began an executive training program at the Jantzen swimsuit company before deciding that this, too, was not for him. Long interested in foreign affairs, in 1956 he joined the Foreign Service and was sent to Congo in 1960 at the cusp of its independence from Belgium. That November, he helped save from an angry mob a carload of Americans whose vehicle had struck and killed a Congolese bicyclist in the capital of Léopoldville. He returned to Washington in 1962 and took over the Congo desk at the State Department. Passing through Washington in 1969 after working at the embassy in Brazil, Mr. Carlucci got together with his former college wrestling pal, Donald Rumsfeld, who was head of the Office of Economic Opportunity, and persuaded him to become deputy director for operations at the anti-poverty agency. Over the next two years, Carlucci became the deputy to Weinberger, who led first the Office of Management and Budget and then the old Department of Health, Education and Welfare.
Upon his return from Portugal in 1978, Carlucci accepted an assignment from President Jimmy Carter to serve as deputy CIA director, under Stansfield Turner. Carlucci took over the day-to-day operational control while Turner focused on firing more than 200 experienced spies, some of them station chiefs in Eastern Europe, so that he could turn their resources over to reliance on satellites. Mr. Carlucci's willingness to use human operatives as well as satellites for intelligence gathering and covert action was credited with helping ease the tension.
When President Reagan tapped Weinberger to run the Pentagon in 1981, the new defense secretary insisted on having Mr. Carlucci as his No. 2. Carlucci left DOD in 1982 and joined Sears, Roebuck & Co., where Rumsfeld was on the board, and accepted the presidency of a new export services firm called Sears World Trade, based in Washington. The job made him a wealthy man, but the company never turned a profit, and Sears folded it. In 1986, he returned to government amid scandal at the National Security Council during the Iran Contra scandal. In the search for a new national security adviser, Carlucci was the unanimous recommendation of Weinberger, Secretary of State George P. Shultz, CIA Director William Casey and Attorney General Edwin Meese III.
Assuming control at the NSC, Mr. Carlucci returned it to its traditional role as "a staff arm" to coordinate policy, and not as an action agency. During his year in the job he fired 24 of the 59 professional staffers, eliminated Oliver North's political-military section, and appointed a full-time general counsel reporting directly to him. Carlucci named Colin L. Powell as his deputy.
Carlucci became defense secretary in 1987 and over the next two years instituted painful budget cuts and base closings as the Cold War wound down and the country entered an economic slump. After retiring from public service in 1989, Carlucci joined the Carlyle Group and led the new private-equity firm into defense industry investments that reaped sizable profits. He later became chairman and, in 2003, chairman emeritus. Mr. Carlucci's first marriage, to Jean Anthony, ended in divorce. In 1976, he married Marcia McMillan Myers. In addition to his wife, survivors include two children from his first marriage, a daughter from his second marriage, a sister, and other family. [Read More: dignitymemorial/4June2018 and WashPost and NYTimes]
Rita Meade Kirkpatrick, 95, served in OSS and CIA, died 18 May 2018 in Middleburg, VA she was a graduate of the University of Iowa. Beginning in 1944, she served in the Office of Strategic Services, later the CIA, retiring in 1965 as an executive assistant. In OSS she met the man who became her husband, Lyman B. Kirkpatrick Jr, who rose to become inspector general and executive director of the CIA. Following her husband's retirement from the CIA, she followed him to Rhode Island, where he was a Distinguished University Professor of political science at Brown. They settled in Middleburg after his retirement from Brown. She is survived by a sister and four stepchildren.
Dorothy Bragdon McCormick, 96, an educator who served in OSS, died 11 April 2018 in McLean, VA. Dorothy was educated in the Philippines where her father served on the staff of General Douglas MacArthur, and at several other military postings around the world. Ultimately she settled in Washington, DC, near to her father, who was classmate, close friend, and advisor to President Dwight D. Eisenhower. Dorothy graduated from the University of North Carolina Chapel Hill in 1942. Following college, she was commissioned in the US Navy (WAVEs), attaining the rank of Lieutenant, JG, privileged as one of the few armed female naval couriers. Upon the conclusion of WWII, she entered service in the OSS. Dorothy married a well-known Republican political leader and strategist and transitioned to role of mother, homemaker, and volunteer for various organizations, including docent at the Smithsonian Institution Museum of Natural History. In 1960, Dorothy formed a play group for the children of friends which evolved into the creation of Country Play School in 1964, situated in the lower level of the family home. By 1971, the school moved to larger quarters in McLean, VA and became the Country Day School where it served generations of children as a center of early childhood education. During her stewardship of the school, Dorothy earned a master's degree in early childhood education from Wheelock College. She received numerous awards for her educational achievements. Dorothy retired in 2002. She is survived by six children and other family.
---
AFIO EDUCATIONAL EVENTS IN COMING TWO MONTHS....
Monday, 24 September 2018, 5:30 - 8 pm - New York, NY - AFIO NY Metro Chapter hosts Elizabeth Peek on "The Inextricable Links between Economics, Intelligence, and National Security."
Elizabeth Peek is a writer and columnist for The Fiscal Times, an online bipartisan policy journal, covering politics, finance, and economics. In prior years she was the lead business columnist for the New York Sun, and contributing editor to the New York Post, the Huffington Post, The Motley Fool, the Wall Street Journal, and Women on the Web, as well as to numerous magazines. She is a frequent guest on Bloomberg TV shows, CBS, Fox, and CNBC.
One of the first women partners of a major bracket Wall Street firm, she moved on to Wertheim & Company where she was one of the top three oilfield analysts ranked by Institutional Investor Magazine. She became Associate Director of Research, Head of International Research, and director of the firm's equity business in Tokyo, and then a General Partner and then a Managing Director of Wertheim Schroder after the two companies merged.
She graduated with honors in economics from Wellesley College and is a certified CFA.
Location: Society of Illustrators, 128 E 63rd St (between Park and Lexington), New York, NY 10065.
Timing: Registration starts at 5:30 pm, Speaker presentation starts at 6 pm. Fee: $50/person. Payment at the door only. Cash or check. Full dinner, cash bar.
RSVP: Strongly recommended that you RSVP to ensure space at event. Call or Email Chapter President Jerry Goodwin at afiometro@gmail.com or 646-717-3776.
Monday, 3 December 2018, 5:30 - 8 pm - New York, NY - AFIO NY Metro Chapter hosts Jen Easterly on "Cyber Attacks, Terrorism, and other Threats to National Security."
Jen Easterly is currently a Managing Director of Morgan Stanley, having joined the firm after 26 years of U.S. government service in national security, military intelligence, and cyber operations. Previously, Jen served on the National Security Council as Special Assistant to the President and Senior Director for Counterterrorism where she led the development of U.S. counterterrorism policy and strategy.
Prior to that, she was the Deputy for Counterterrorism at the NSA, a position she assumed following retirement from the US Army, where her service included command and staff assignments in the intelligence and cyber fields, as well as tours of duty in Haiti, Bosnia, Kosovo, Iraq, and Afghanistan.
A graduate of West Point, she holds a Master's degree in Politics, Philosophy, and Economics from the University of Oxford where she studied as a Rhodes Scholar. A member of the Council on Foreign Relations and a French-American Foundation Young Leader, Jen is the recipient of the Council on Foreign Relations International Affairs Fellowship, the George S. Franklin Fellowship, and the Director, National Security Agency Fellowship. She also serves on the Board of Trustees of the Morgan Stanley Foundation.
Location: Society of Illustrators, 128 E 63rd St (between Park and Lexington), New York, NY 10065.
Timing: Registration starts at 5:30 pm, Speaker presentation starts at 6 pm.
Fee: $50/person. Payment at the door only. Cash or check. Full dinner, cash bar.
RSVP: Strongly recommended that you RSVP to ensure space at event. Call or Email Chapter President Jerry Goodwin at afiometro@gmail.com or 646-717-3776.
---
Other Upcoming Events from Advertisers, Corporate Sponsors, and Others'
Thursday, 7 June 2018, noon - Washington, DC - Facts and Fears with James R. Clapper at the International Spy Museum
When he stepped down in January 2017 as the fourth United States director of national intelligence, James Clapper had been President Obama's senior intelligence adviser for six and a half years, longer than his three predecessors combined. He led the US intelligence community through a period that included the raid on Osama bin Laden, the Benghazi attack, the leaks of Edward Snowden, and Russia's influence operation during the 2016 US election campaign. Join Clapper as he discusses his new book Facts and Fears, which offers a look inside the US Intelligence Community, gives his assessment of some of the most difficult challenges in our nation's history, and raises the big moral and ethical questions facing the intelligence community today. Facts and Fears will be available for sale and signing at the event.
Fee: $15 per ticket. Register here.
Tuesday, 19 June 2018, 11:30 am - 1 pm - McLean, VA - The DIForum hosts Dr. Robert H. Latiff, (Maj Gen USAF-Ret) on "Preparing for the New Global Battlefield."
The Defense Intel Alumni Association luncheon features Dr. Robert H Latiff, Major General USAF (retired) discussing The Future of War: Preparing for the New Global Battlefield.
Dr. Robert H. Latiff retired from the U.S. Air Force in 2006. He is a consultant, providing advice on advanced technology matters to corporate and government clients and to universities. Dr. Latiff is an Adjunct Faculty Member with the John J. Reilly Center for Science, Technology, and Values at the University of Notre Dame. He is also a Research Professor at George Mason University, with interests primarily in technologies to support the U.S. Intelligence Community. He received his Ph.D. and his M.S. in materials science and his B.S. in Physics from the University of Notre Dame and is a graduate of the National Security Fellows Program at Harvard's JFK School of Government. He is a member of the Intelligence Community Studies Board and the Committee on International Security and Arms Control of the National Academies of Sciences, Engineering, and Medicine.
MG Latiff's remarks will be off the record and not for attribution
Location: Pulcinella Restaurant, 6852 Old Dominion Drive, McLean, Virginia 22101
Fee: $30pp
RSVP here.
20 June 2018 - Annapolis Junction, MD - NCMF Summer Cryptologic Program features Dr. Janet Breslin-Smith on "Sex and Strategy: Why We are Adrift in the Middle East."

The 2018 National Cryptologic Museum Foundation's Summer Cryptologic Program features Dr. Janet Breslin-Smith with a presentation on American diplomatic and military strategy, and its clash with Saudi culture. Breslin-Smith is president of Crosswinds International Consulting. She draws on a 30-year career in public service, including leadership roles in the US Senate, the National War College, and in Saudi Arabia. Her article, "The Struggle to Erase Saudi Extremism," appeared in November 2015 in the New York Times. She is a professor of national security strategy for 14 years at the National War College in Washington, DC — the first woman to chair that department.
The presentation will take place from 10am to 11:30am. Lunch will begin at 11:45 am and event closes at 1pm.
More information about this program can be found here.
Where: CACI, Inc., 2720 Technology Dr, Annapolis Junction, MD 20701. For further information and registration, do so here.
Tuesday, 10 July 2018, 6:45 pm - Washington, DC - "The Cambridge Five: Soviet Intelligence Spies" discussed by author Calder Walton at the Smithsonian
Kim Philby's name is almost synonymous with Soviet espionage. But Philby was not alone: Along with Donald Maclean, Guy Burgess, Anthony Blunt, and John Cairncross, he was one of five "Cambridge spies" who penetrated the heart of British intelligence at the height of the Cold War. Using recently declassified British, American, and Soviet intelligence records, Calder Walton, Ernest May Fellow in history and policy at Harvard's Kennedy School of Government, explores the lives and treachery of these British elites from Cambridge University recruited into Soviet intelligence in the 1930s. He examines why they betrayed their homeland for Russia, how close British intelligence came to catching them, reveals another hitherto-undisclosed Soviet spy recruited from Cambridge, and evidence for a similar Soviet espionage ring at Oxford. Walton assesses the damage the Cambridge spies did to the British secret state, and to Britain's closest intelligence ally, the United States. He also sees the story as more than ancient history, and discusses how the legacy of the Cambridge spies is still reflected in contemporary Russian intelligence operations.
Walton is the author Empire of Secrets: British intelligence, the Cold War and the Twilight of Empire [Overlook Pr, 2013].
To Register: use code: 1H0354. $30 Smithsonian Members; $45 nonmembers.
Location: S. Dillon Ripley Center, 1100 Jefferson Dr SW, Metro: Smithsonian (Mall exit) More information or to register.
17 October 2018 - Laurel, MD - NCMF General Membership Meeting & Annual Symposium - Hold the date.
The National Cryptologic Museum Foundation hosts their General Membership Meeting and Annual Symposium. More details to follow later in the year.
Registration is $25 for NCMF members and $50 for guests (includes complimentary one-year NCMF membership).
Deadline to register has not been announced. Additional details at www.cryptologicfoundation.org.
Event location likely to be: The Kossiakoff Center, Johns Hopkins University/Applied Physics Laboratory.
Wednesday, 28 November 2018, 6 - 10:30 pm - Washington, DC - International Spy Museum's Annual "William H. Webster Distinguished Service Award Dinner" honoring Adm McRaven
For your calendar. A special evening to illuminate the critical role of individuals and organizations serving the Intelligence Community, and to raise funds in support of the International Spy Museum.
The William H. Webster Distinguished Service Award Dinner will take place at The Ritz Carlton Hotel. More than 600 attendees are anticipated and will recognize the men and women who have served in the field of National Security with integrity and distinction. This annual tribute dinner is given by the International Spy Museum to an individual who has embodied the values of Judge William H. Webster. This year's honoree is a patriot for whom love of country has been his guiding principle: Admiral William H. McRaven, former US Special Operations Commander, former Joint Special Operations Commander, and Chancellor of The University of Texas System.
Schedule: 6 pm - VIP Reception; 6:30 pm - Cocktail Reception; 7:30 - 9 pm - Dinner & Awards; 9 - 10:30 pm - Dessert Reception.
Location: The Ritz-Carlton Hotel, 1150 22nd St NW, Washington, DC 20037. **Please note: this event is closed to Media**
Tickets Available Now: Prices range from $100,000 to a single seat for $495. Funds raised at this tribute dinner will support artifact preservation, educational programming, research, exhibits, and accessibility programs for underserved communities at the International Spy Museum. To purchase tickets now, do so here. To learn more about this annual dinner, it is available here.
Wednesday, 5 December 2018 - Annapolis Junction, MD - 18th Annual NCMF Pearl Harbor Program
Join the National Cryptologic Foundation on 5 December for their 18th Annual Pearl Harbor Memorial Program. Speaker and topic TBA.
When: 10-11:30 am, followed by lunch.
Cost: $25 for NCMF members, $50 for guests (complimentary one-year NCMF membership included with guest purchase).
Where: CACI Inc., Maryland Conference Center, 2720 Technology Drive, Annapolis Junction, MD 20755
RSVP or More Info: Registration links will be provided later in year. A check may be mailed to NCMF, PO Box 1682, Ft. Meade, MD 20755. For further details, call NCMF office at 301-688-5436
---
Gift Suggestions:
AFIO's 788-page Guide to the Study of Intelligence. Peter C. Oleson, Editor, also makes a good gift. View authors and table of contents here.

Perfect for professors, students, those considering careers in intelligence, and current/former officers seeking to see what changes are taking place across a wide spectrum of intelligence disciplines.
AFIO's Guide to the Study of Intelligence helps instructors teach about the large variety of subjects that make up the field of intelligence. This includes secondary school teachers of American History, Civics, or current events and undergraduate and graduate professors of History, Political Science, International Relations, Security Studies, and related topics, especially those with no or limited professional experience in the field. Even those who are former practitioners are likely to have only a limited knowledge of the very broad field of intelligence, as most spend their careers in one or two agencies at most and may have focused only on collection or analysis of intelligence or support to those activities.
For a printed, bound copy, it is $95 which includes Fedex shipping to a CONUS (US-based) address.
To order for shipment to a US-based CONUS address, use this online form,

To order multiple copies or for purchases going to AK, HI, other US territories, or other countries call our office at 703-790-0320 or send email to afio@afio.com to hear of shipment fees.
Order the Guide from the AFIO's store at this link.
The Guide is also available directly from Amazon at this link.
AFIO's 2017 Intelligence Community Mousepads are a great looking addition to your desk...or as a gift for others..
Made in USA. Click image for larger view.
These 2017 mousepads have full color seals of all 18 members of the US Intelligence Community on this 8" round, slick surface, nonskid, rubber-backed mouse pad with a darker navy background, brighter, updated seals. Also used, by some, as swanky coasters. Price still only $20.00 for 2 pads [includes shipping to US address. Foreign shipments - we will contact you with quote.] Order NEW MOUSEPADS here.
Disclaimers and Removal Instructions
Weekly Intelligence Notes (WINs) are commentaries on Intelligence and related national security matters, based on open media sources, selected, interpreted, edited and produced for non-profit educational uses by members and WIN subscribers.
REMOVAL INSTRUCTIONS: We do not wish to add clutter to inboxes. To discontinue receiving the WINs:
a) IF YOU ARE A MEMBER - click here: UNSUBSCRIBE and supply your full name and email address where you receive the WINs. Click SEND, you will be removed from list. If this link doesn't open a blank email, create one on your own and send to afio@afio.com with the words: REMOVE FROM WINs as the subject, and provide your full name and email address where you are currently receiving them.
b) IF YOU ARE NOT A MEMBER, and you received this message, someone forwarded this newsletter to you [contrary to AFIO policies]. Forward to afio@afio.com the entire WIN or message you received and we will remove the sender from our membership and distribution lists. The problem will be solved for both of us.
CONTENTS of this WIN [HTML version recipients - Click title to jump to story or section, Click Article Title to return to Contents. This feature does not work for Plaintext Edition or for some AOL recipients]. If you wish to change to HTML format, let us know at afio@afio.com. The HTML feature also does not work for those who access their e-mail using web mail...however NON-HTML recipients may view the latest edition each week in HTML at this link: https://www.afio.com/pages/currentwin.htm
---
WINs are protected by copyright laws and intellectual property laws, and may not be reproduced or re-sent without specific permission from the Producer. Opinions expressed in the WINs are solely those of the editor's) or author's) listed with each article. AFIO Members Support the AFIO Mission - sponsor new members! CHECK THE AFIO WEBSITE at www.afio.com for back issues of the WINs, information about AFIO, conference agenda and registrations materials, and membership applications and much more!
(c) 2000, 2012, 2013, 2014, 2015, 2016, 2017, 2018. AFIO, 7600 Leesburg Pike, Suite 470 East, Falls Church, VA 22043-2004. Voice: (703) 790-0320; Fax: (703) 991-1278; Email: afio@afio.com