---
CONTENTS
Section I - INTELLIGENCE HIGHLIGHTS
Section II - CONTEXT & PRECEDENCE
Section IV - Obituaries, Jobs, Research Assistance
Other Upcoming Events from Advertisers, Corporate Sponsors, and Others
For Additional AFIO and other Events two+ months or more... Calendar of Events

WIN CREDITS FOR THIS ISSUE: The WIN editors thank the following special contributors: ec, po, mh, km, gh, mk, rd, fm, kc, jm, mr, jg, th, ed, and fwr. They have contributed one or more stories used in this issue.

The WIN editors attempt to include a wide range of articles and commentary in the Weekly Notes to inform and educate our readers. However, the views expressed in the articles are purely those of the authors, and in no way reflect support or endorsement from the WIN editors or the AFIO officers and staff. We welcome comments from the WIN readers on any and all articles and commentary.

CAVEATS: IMPORTANT: AFIO does not "vet" or endorse research inquiries, career announcements, or job offers. Reasonable-sounding inquiries and career offerings are published as a service to our members, and for researchers, educators, and subscribers. You are urged to exercise your usual caution and good judgment when responding, and should verify the source independently before supplying any resume, career data, or personal information.]
If you are having difficulties with the links or viewing this newsletter when it arrives by email, members may view the latest edition each week at this link. You will need your LOGIN NAME and your PASSWORD.

---

Gifts appropriate for intelligence officers, colleagues, recruitments, agents, advisors, and family.

The AFIO Store has following new items ready for quick shipment:

NEW: Long and Short-Sleeved Shirts with embroidered AFIO Logo

Show your support for AFIO with our new Polo Shirts. Be the first to buy these new, high quality, subtle heathered grey shirts of shrink and wrinkle resistant fine cotton with a soft yet substantial feel. They feature a detailed embroidered AFIO seal. Get a shirt for yourself and consider as gifts for colleagues, family, and friends. Only $45 each including shipping.
Sizes of (M) men or (W) women shirts; Small, Medium, Large, XL, XXL, and XXXL. At this time all orders will arrive as Short Sleeve shirts.
You may pay by check or credit card. Complete your order online here or mail an order along with payment to: AFIO, 7600 Leesburg Pike, Ste 470 East, Falls Church, VA 22043-2004. Phone orders at 703-790-0320.
If interested in other shirt colors or sleeve lengths, contact Annette at: annettej@afio.com.

---

NEW: Mug with color glazed logo. Made in America. (We left out all that lead-based glaze and hidden toxins in those mugs made in China being sold by other organizations). Also sturdy enough to sit on desk to hold pens, cards, paperclips, and candy.

This handsome large, heavy USA-made ceramic mug is dishwasher-safe with a glazed seal. $35 per mug includes shipping. Order this and other store items online here.

---

---

Recently Spotted of Interest:

Was FISA Gamed? Mueller Investigation Was Driven by Pious Hypocrisy

by Victor Davis Hanson, historian, Hoover Institution, Stanford University.

Special counsel Robert Mueller's two-year, $30 million, 448-page report did not find collusion between Donald Trump and Russia.

Despite compiling private allegations of loud and obnoxious Trump behavior, Mueller also concluded that there was not any actionable case of obstruction of justice by the president. It would have been hard in any case to find that Trump obstructed Mueller's investigation of an alleged crime.

One, there was never a crime of collusion. Mueller early on in his endeavors must have realized that truth, but he pressed ahead anyway. It is almost impossible to prove obstruction of nothing.

Two, Trump cooperated with the investigation. He waived executive privilege. He turned over more than 1 million pages of administrative documents. He allowed then-White House counsel Don McGahn to submit to over 30 hours of questioning by Mueller's lawyers.

Three, anyone targeted by a massive investigation who knows he is innocent of an alleged crime is bound to become frustrated over a seemingly never-ending inquisition.

Trump's reported periodic rages at the Muller investigation are regrettable but not unnatural, given that Mueller expended a huge amount of government resources to confirm what many knew at the outset: that there was never any collusion with the Russian government to warp the 2016 election.

Yet Mueller's team went down every blind alley relating to its investigation—except where Obama-era officials were likely culpable for relevant unethical or illegal behavior.

The Foreign Intelligence Surveillance Act warrants were integral to Mueller's investigations. But there is no mention of how the FISA court was deceived by not being told that the chief evidence used to obtain the warrants was an unverified dossier paid for in part by the Hillary Clinton campaign and the Democratic National Committee. [Read rest of Hanson article here/DailySignal/25Apr2019]

Also see Victor Davis Hanson's YouTube video on: "Mueller Probe Could Backfire on Those Who Fabricated Russia-Collusion Narrative" here and runs 49:03.

---

The Next Wave Of Attacks May Be Right Here

by Charles "Sam" Faddis, former CIA operations officer with thirty years of experience in the conduct of intelligence operations in the Middle East, South Asia and Europe.
April 26, 2019 in AND.

ISIS Regroups: The recent devastating attacks in Sri Lanka have shocked the world. Current information indicates that at least 253 people were killed in bombings at three churches and three hotels on Easter morning in three separate cities on the South Asian island. Hundreds more were wounded, and total casualties may ultimately be determined to exceed a thousand. Additional explosions that occurred as police investigated the attacks and warnings that more suicide bombers may be at large, have only added to the psychological impact.

Sri Lankan authorities have implicated two local Islamic groups in the attack. The sophistication of the bombings and their coordination, however, suggests something more than a homegrown plot. ISIS has claimed the attacks and released a video that purports to show the attackers pledging to martyr themselves. The backgrounds of the known suicide bombers also show significant international travel and, for some, education abroad. The feeling is palpable that what we have just seen is another large scale, well-planned attack, on the pattern of Mumbai or Paris.

It seems an opportune and appropriate time, then, to consider where we are in the so-called "war on terror," where we are headed and what we must do going forward. [Read more: Faddis/AND/26Apr2019]

---
---
UPCOMING EVENTS

The Role of Intelligence in a Free Society
Cyberwar, Leaks, FISA, Domestic and Foreign Use and Misuse of Intelligence, Concocting Reasons to Spy on Political Rivals,
plus the all new International Spy Museum.

ONLY 5 Days Remain to attend
AFIO's 2019 Symposium
Thursday and Friday, 9-10 May 2019 - in Washington DC and McLean/Tysons VA

Register here.

PROGRAM: speakers and venues here.
Register online now to attend the symposium by using this secure link.
Or use this printable PDF Registration form here to be completed and mailed/faxed/emailed back to AFIO.
PROGRAM: The tentative program for both days may be viewed here.
HIGHLIGHTS:

Thursday, 9 May is Day One at the International Spy Museum's New L'Enfant Plaza location two days before they officially open.
Buses will depart from the DoubleTree Hotel, Tysons at 8 a.m. sharp to arrive at the new International Spy Museum at 9 a.m.

Remarks will be provided by Museum Representatives COL Christopher Costa USA (Ret.), Executive Director of the museum; and Dr. Vince Houghton, the museum's Curator and Historian.

External speakers will include STEPHEN K. BLACK, Director, Office of Intelligence and CI, Department of Energy; DAVID IGNATIUS, author and journalist; and PETER SINGER, author and futurist.

TIMING: Breakfast and lunch will be provided at the museum.

Return trip back to hotel will be at 3 p.m.

Friday, 10 May is Day Two and will be held at the DoubleTree Hilton Hotel, Tysons Corner, and features a full day of speakers and panels.

MORNING: The day starts with Welcome by JAMES HUGHES, AFIO President, former CIA and NSA, and M.E. SPIKE BOWMAN, AFIO Chairman, former Navy, NSA, FBI, ODNI, followed by a presentation by ROBERT JACKALL, Professor Emeritus, Williams College, discussing "Intelligence Work in a Postmodern World."

The morning panel, moderated by ROBERT S. LITT, former General Counsel of the Office of the Director of National Intelligence, will cover "Intelligence and Democracy: Time to Rethink FISA and Intelligence Oversight." It features panelists GLENN GERSTELL, General Counsel, NSA; JOHN RIZZO, former Chief Legal Officer, CIA; and SUZANNE SPAULDING, Under Secretary for the National Protection and Programs Directorate, DHS in what should be a spirited exchange of views.

LUNCH: Our luncheon keynote will be CHRIS INGLIS, former Deputy Director, National Security Agency.

Ambassador RONALD NEUMANN, President of the American Academy of Diplomacy, follows.

AFTERNOON: An afternoon panel on "Totalitarian States' Use of Technology Against the U.S." will be moderated by CHRISTOPHER PARKER, former CIA Clandestine Operations and S&T officer (and member of AFIO Board), with panelists Ambassador JOSEPH DeTRANI, former Director of the National Counterproliferation Center; KEVIN McCARTY, former CIA and National Security Council Staff; JOHN SANO, former Deputy Director, CIA's National Clandestine Service (and AFIO Board); and TOSHI YOSHIHARA PhD, former professor Tufts University's Fletcher School of Law and Diplomacy, and at the Naval War College.

Day Two includes buffet breakfast and lunch.

EVENING: The day will close with an evening cocktail reception and our "Spies in Black Ties" five-course Champagne Banquetfeaturing a presentation by John Bennett, former Director of CIA's National Clandestine Service.

TIMING: Day Two begins at 7 a.m. with a buffet breakfast and chapter workshop. Programs begin at 9 a.m. Daytime programs end at 4:30 p.m. Optional Cocktail reception and "Spies in Black Ties" Banquet from 6 to 9:30 p.m.
Buses will transport attendees from the DoubleTree Hilton, Tysons, to the International Spy Museum and back. The second day of event takes place at the DoubleTree Hilton, Tysons, 1960 Chain Bridge Rd, McLean, VA 22102. To be ready for early departure by buses on Day One, it is recommended that attendees consider staying overnight starting Wednesday, 8 May. Overnight sleeping room reservations may be made online at this link or by calling (703) 893-2100. The special room rate is $139/night but ACT NOW for it ends shortly. You must reference our group code AAF. You may also locate rooms at this or other nearby Tysons/Vienna hotels using online services, e.g., Trivago, Expedia, Travelocity, or Orbitz.
Register online now to attend the symposium by using this secure link.
Or use this printable PDF Registration form here to be completed and mailed/faxed/emailed back to AFIO.
PROGRAM: The tentative program for both days may be viewed here.
New and Forthcoming Books of the Week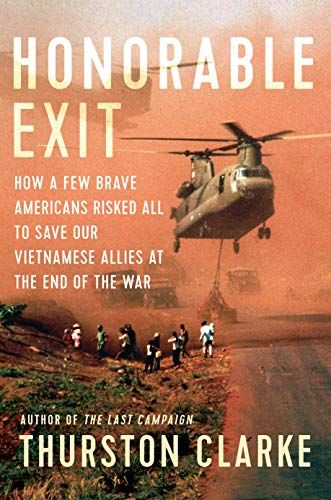 Honorable Exit: How a Few Brave Americans Risked All to Save Our Vietnamese Allies at the End of the War
by Thurston Clarke
(Doubleday, Apr 2019)
In 1973 U.S. participation in the Vietnam War ended in a cease-fire and a withdrawal that included promises by President Nixon to assist the South in the event of invasion by the North. But in early 1975, when North Vietnamese forces began a full-scale assault, Congress refused to send arms or aid. By early April that year, the South was on the brink of a defeat that threatened execution or years in a concentration camp for the untold number of South Vietnamese who had supported the government in Saigon or worked with Americans.
Thurston Clarke begins Honorable Exit by describing the iconic photograph of the Fall of Saigon: desperate Vietnamese scrambling to board a helicopter evacuating the last American personnel from Vietnam. It is an image of U.S. failure and shame. Or is it? By unpacking the surprising story of heroism that the photograph actually tells, Clarke launches into a narrative that is both a thrilling race against time and an important corrective to the historical record. For what is less known is that during those final days, scores of Americans—diplomats, businessmen, soldiers, missionaries, contractors, and spies—risked their lives to assist their current and former translators, drivers, colleagues, neighbors, friends, and even perfect strangers in escape. By the time the last U.S. helicopter left Vietnam on April 30, 1975, these righteous Americans had helped to spirit 130,000 South Vietnamese to U.S. bases in Guam and the Philippines. From there, the evacuees were resettled in the U.S. and became American citizens, the leading edge of one of America's most successful immigrant groups.
Into this tale of heroism on the ground Clarke weaves the political machinations of Henry Kissinger advising President Ford in the White House while reinforcing the delusions of the U.S. Ambassador in Saigon, who, at the last minute, refused to depart. Groundbreaking, page-turning, and authoritative, Honorable Exit is a deeply moving history of Americans at a little-known finest hour.
"America's years in Vietnam were full of shame, but the last days of the war saw a remarkable effort at redemption. Breaking rules set by their higher-ups, ordinary Americans—servicemen, diplomats, spies, private citizens—moved heaven and earth to get their Vietnamese friends and allies to safety. Thurston Clarke's Honorable Exit brings this little-known story to light with the speed and power of a riveting thriller. It challenges us to remember a time when Americans refused to abandon desperate people in a far-off country. It's a kind of Schindler's List for America's lost war."
—George Packer, author
"Thurston Clarke has a genius for finding episodes in history that deserve reexamination. Just as the U.S. rescued its employees and allies from the embassy roof, this gifted story-teller has found gems of heroism, honor, and suspense in an agonizing chapter of the American story."
—Strobe Talbott, former Deputy Secretary of State and distinguished fellow in residence at Brookings

Book may be ordered here.
---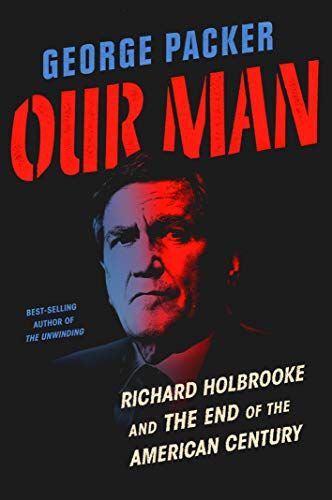 Our Man: Richard Holbrooke and the End of the American Century
by George Packer
(Knopf, May 2019)
A brilliant, abrasive diplomat struggles to resolve foreign conflicts while fighting bureaucratic wars at home in this scintillating biography. Richard Holbrooke was brilliant, utterly self-absorbed, and possessed of almost inhuman energy and appetites. Admired and detested, he was the force behind the Dayton Accords that ended the Balkan wars, a post-Cold War era diplomatic achievement. His power lay in an utter belief in himself and his idea of a muscular, generous foreign policy. From his days as a young adviser in Vietnam to his last efforts to end the war in Afghanistan, Holbrooke embodied the postwar American impulse to take the lead on the global stage. But his sharp elbows and tireless self-promotion ensured that he never rose to the highest levels in government that he so desperately coveted. His story is thus the story of America during its era of supremacy: its strength, drive, and sense of possibility, as well as its penchant for overreach and heedless self-promotion and overconfidence. Packer has drawn his account from Holbrooke's diaries and papers, providing a nonfiction narrative that is both intimate and epic in its revelatory portrait of this extraordinary and deeply flawed man and the elite spheres of society and government he inhabited.

Book may be ordered here.
---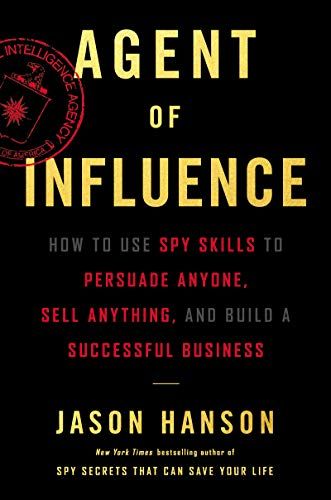 Agent of Influence: How to Use Spy Skills to Persuade Anyone, Sell Anything, and Build a Successful Business
by Jason Hanson
(Dey Street Books, May 2019)
Spies communicate in code and employ a range of techniques to survive in diverse environments. But to be effective they must be business savvy—they must know how to successfully persuade others. In fact, intelligence agents are among the best salesmen in the world. Jason Hanson, a former CIA officer, security specialist, and winner of ABC's hit reality series Shark Tank, describes how to use spy techniques to bolster business strategies—from self-advocation to selling to interviewing—and make more money.
Whether we realize it or not, each one of us is a salesman. Every day, you sell yourself—your talents, your value, and your ideas to colleagues, to friends, and even your partner. At the office you maneuver in code to receive a promotion, a higher salary, professional recognition. Learn how to better sell your ideas and yourself.
Learn how to strategically plan your day to mastering the steps you'll need to embrace challenges and set achievable, personal goals. He teaches you how to craft a sales personality and target business opportunities using SADR — "spotting," "assessing," "developing," and "recruiting."

Book may be ordered here.
---
Path of the Devil - Camino del Diablo: Based on True Events of A DEA Agent and Two Private Investigators
by Dianne L DeMille PhD, Larry Ray Hardin, Jeffrey Pearce, and Randy Torgerson
(Dianne's Consultant Services, Feb 2019)
A story of true events that occurred 1991-1996. DEA Agent Larry Hardin and two private investigators, Jeff Pearce and Randy Torgerson, were determined to bring down the Meraz organization along the southwestern border. For five years the three men spearheaded two separate, and simultaneous investigations in different locations that eventually merged. Larry's case hit one roadblock after another when presented to five different Arizona US Attorney's over the years. DEA headquarters prepared the case, and after several attempts to prosecute, Larry transferred to Bogota, Colombia.
Jeff and Randy provided information to Larry to build his case when they found the Meraz's were working with corrupt employees of their California client. The Meraz's attempted to murder two DEA agents (1970s) and were connected to the murders of Kiki Camerena, George Montoya, Paul Seema, Jose Montoya, Dan Elkins, and Michael Crowe. Larry was determined to indict the Meraz's.

Book may be ordered here.
---
Recently Spotted of Interest:
Andrew McCabe as acting FBI director started the FBI investigation specifically targeting Trump and urged appointment of a special counsel based entirely on a deliberately dishonest and deceitful predicate as is clear from McCabe's book
by Ronald Kessler, author/former Wall Street Journal and Washington Post journalist
See Kessler's YouTube interview: "McCabe tactics reminiscent of J. Edgar Hoover" here. Video runs 3:28.
---
The Russians and the Dossier: Mueller should have investigated whether Moscow used Steele in its interference.
by Kimberley A. Strassel, Wall Street Journal
One of the biggest failures of the Mueller probe concerns not what was in the final report, but what was not. Close readers will search in vain for any analysis of the central document in this affair: the infamous "dossier." It's a stunning omission, given the possibility that the Russians used that collection of reports to feed disinformation to U.S. intelligence agencies, sparking years of political maelstrom.
The dossier—compiled by former British spy Christopher Steele on behalf of Fusion GPS, an opposition-research firm working for the Hillary Clinton campaign and the Democratic National Committee—fed to the Federal Bureau of Investigation and the media the principal allegations of the "collusion" narrative. It claimed Paul Manafort was at the center of a "well-developed" Trump-Russia "conspiracy"; that Carter Page served as his intermediary, conducting secret meetings with a Kremlin official and the head of a state energy company; that Michael Cohen held a clandestine meeting in Prague with Vladimir Putin cronies; and that the Russians had compromising material on Donald Trump, making him vulnerable to blackmail. The dossier was clearly important to the FBI probe. Its wild claims made up a significant section of the FBI's application for a secret surveillance warrant on Mr. Page.
The Mueller report exposes the dossier claims as pure fiction. Yet in describing the actions of the Trump campaign figures the FBI accused, the report assiduously avoids any mention of the dossier or its allegations. Mr. Mueller refers to Mr. Steele and his work largely in passing, as part of the report's description of how former FBI Director James Comey informed Mr. Trump of the dossier's existence. The dossier is blandly described several times as "unverified allegations compiled" by Mr. Steele.
Once Mr. Mueller established that the dossier was a pack of lies, he should have investigated how it gained such currency at the highest levels of the FBI. Yet his report makes clear he had no interest in plumbing the antics of the bureau, which he led from 2001-13. Instead, he went out of his way to avoid the dossier and give cover to the FBI. [Read rest of Strassel commentary here/WSJ/25Apr2019]
---
Section I - INTELLIGENCE HIGHLIGHTS

China's Spying Poses Rising Threat to U.S. Officials say the country's recruitment and cyber theft efforts are becoming more pervasive.

The espionage case of a former CIA case officer shows the breadth of Chinese efforts to use U.S. intelligence personnel to gain access to nonpublic information from the government.

Chinese spies are increasingly recruiting U.S. intelligence officers as part of a widening, sustained campaign to shake loose government secrets.
Senior U.S. law enforcement and intelligence officials have escalated their warnings characterizing Chinese espionage as the single most significant long-term strategic threat, encompassing both spycraft intended to steal government secrets and the sustained heist of intellectual property and research from the corporate and academic worlds.

While the Trump administration has sought to emphasize the damage of Beijing's economic espionage―an area of focus in bilateral trade talks―current and former U.S. officials say China has also grown bolder and more successful in traditional spy games, including targeting less conventional recruits. The effort is being abetted by an ocean of hacked personal data that may help pinpoint who is vulnerable to inducements.

A series of recent espionage cases, including that of a former Central Intelligence Agency case officer who was scheduled to go to trial next week, show the breadth of Chinese efforts to use U.S. intelligence personnel to gain access to nonpublic information from the government. "China cases historically have involved economic espionage, and specifically targeting former intel officers seems like a new trend," said Jeff Asher, a former CIA officer who is now a consultant. Mr. Asher said the trend might be linked to the 2015 theft of more than 20 million files from the U.S. Office of Personnel Management, which included background-check records for government employees. U.S. officials have linked that hack to China, which has denied it, and have worried for years how China could be analyzing its files and correlating it with other breached data sets to find espionage targets.

Senior U.S. officials have publicly warned with increasing frequency about the national and economic security implications of China's multi-pronged spying operations, describing it as a whole-of-society challenge. [Read more - though uses paywall for subscribers only: Aruna Viswanatha and Dustin Volz/WallStreetJournal/28Apr2019] [NOTE: WSJ requires a subscription to read full article.]

In-Q-Tel President Chris Darby on the Intelligence Community's Innovation Challenges. Rapid technological shifts have had a profound impact on the traditional capabilities - and competitive advantages - of the U.S. intelligence and defense communities, according to Chris Darby, the president and CEO of In-Q-Tel (IQT). Created in 1999, IQT functions as a strategic investment arm of the CIA and broader national security community.

Technology "underpins society today in a way it never has before," Darby said. "I think if you look at everything from projection of power to pre-deployment of capability, it's about technology. It's about your nation's technology and the way it is deployed around the world. And we're seeing adversaries leverage that, I think, quite successfully."

In a recent interview, Darby, who took the helm at IQT in 2006, told "Intelligence Matters" host and CBS News senior national security contributor Michael Morell that a "democratization" of technologies like satellites and geolocation services had served to close the capabilities gap between the United States and other nations.

"I don't need to be a wealthy nation anymore to have an intelligence capability, to shape or impact another nation, to even have some level of kinetic impact with cyber and things like that," he said. "There's a leveling of the playing field." [Read more: Gazis/CBSNews/24April2019]

UMD Signs MOU With 102nd Intelligence Wing. UMass Dartmouth and the 102nd Intelligence Wing formally signed a memorandum of understanding Monday afternoon which would, in part, bring together both parties to collaborate on undergraduate and graduate cybersecurity program development.

Congressman William Keating, who spent eight years on the Homeland Security Committee and is now on the Armed Services Committee, spoke at the event hosted at the UMass Dartmouth Charlton College of Business and called this MOU a blueprint for tomorrow.

"We will be successful and as we're successful, this will be a model for the rest of the country. You will see other schools, and other bases, and other assets that we have in our military and our security use this model and once again we're leading the way here in Southeastern Massachusetts," Keating said. [Read more: Chiavaroli/SouthCoastToday/29April2019]

US Intelligence Wants to Develop Tools to Detect Construction Projects Around the World. The U.S. Director of National Intelligence's Intelligence Advanced Research Projects Activity (IARPA) office has issued a draft grant offer for the development of a system that can detect construction activity worldwide. The announcement is part of the agency's Space-based Machine Automated Recognition Technique (SMART) program.

The new machine learning technology must have broad-area search functionality that will allow for the monitoring of large, global construction projects. The system, according to an analysis of the draft request by Nextgov, must also be able to merge photos from U.S., foreign and commercial satellites and reconcile them with archived data, weather patterns and environmental factors. The tech must also be able to process images from drones and other aircraft.

The purpose of the system will be to develop "easy-to-implement" tools to help the agency's overtasked human staff "efficiently analyze, assess and utilize big data." IARPA officials will be taking suggestions and questions about the grant project until May 10 and then will issue a formal funding offer. Once a developer is identified, the project should take four years to complete. [Read more: Slowey/ConstructionDive/24April2019]

French Intelligence Summons Journalists After Release of Classified Report on Arms in Yemen. Three journalists face questioning next month by France's domestic intelligence agency after releasing a classified report detailing French weapons being used in Yemen. In a statement on Thursday, 37 news outlets voiced support for their colleagues.

The 15-page report by France's DRM(Direction du renseignement militaire) military intelligence agency showed that French arms, including tanks and laser-guided missile systems sold to Saudi Arabia and the United Arab Emirates, are being used by a Saudi-led coalition fighting Iran-backed Houthi rebels in Yemen.

The document - which was intended to be seen by French President Emmanuel Macron and only a small handful of ministers - was leaked to the independent investigative website Disclose, which published it in full on April 15, thereby drawing a new round of publicscrutiny of French involvement in the war in Yemen. [Read more: France24/26April2019]

Former State Department Official Pleads Guilty to Accepting Gifts From Chinese Intelligence. A former State Department employee pleaded guilty Wednesday to trading sensitive information with Chinese intelligence officers in exchange for lavish gifts.

At a hearing in DC federal court, Candace Claiborne, who had worked for the State Department in countries across the globe since 1999, spoke softly and wiped her eyes with a tissue as she formally admitted to conspiring to defraud the government.

Claiborne was charged in 2017 with taking gifts including electronics, vacations and a fully-furnished apartment, as well tuition payments to a Chinese fashion school for a family member, from two Chinese officials, and lying about her interactions with them on clearance forms and in interviews with government background investigators.

According to plea documents, Claiborne met with the intelligence officials monthly while on a posting in China and on multiple occasions handed over manila envelopes stuffed with printed cables, white papers and other non-public documents about the movements and discussions of US diplomats. [Read more: Shortell/CNN/24April2019]


---
Section II - CONTEXT & PRECEDENCE

Watch Linked to 1952 Spy-Plane Crash No Longer Tells Time. But It Tells Quite a Story. After nearly 67 years, Uncle Norm's watch has come home to his family.

Red rust stains cloud the inside of the crystal on the stainless steel Rolex Oyster Datejust timepiece.

Its original leather wristband is gone, though band pins remained in place.

The watch no longer tells time. But it tells quite a story. [Read more: Kane/WinstonSalemJournal/29April2019]

Russians Likely Used This Beluga Whale As a Spy. Here's Why. Fishermen in Norway came across a Russian spy late last week, but the interloper wouldn't reveal its mission, and with good reason: It couldn't, because it was a beluga whale (Delphinapterus leucas).

However, the beluga whale's outfit gave it away. The surprisingly tame whale was wearing a harness that read "Equipment of St. Petersburg," indicating that it was likely trained by the Russian navy to be used for special operations, according to news sources.

But why would the Russian navy use a beluga whale for special ops - as opposed to a bottlenose dolphin (Tursiops truncatus) or a California sea lion (Zalophus californianus), like the U.S. Navy does? Here's a look at why these marine mammals are drafted into service by some countries. [Read more: Geggel/LiveScience/30April2019]

Five Eyes Cyber Summit - Five Things We Learned. If you spend too much time in certain poorly illuminated corners of the internet, you will find a fair few people who characterise the Five Eyes intelligence alliance as a front for a shadowy cabal committed to spying on citizens, no doubt while spreading chemtrails and pulling the strings of the New World Order.

Not the kind of organisation you would expect to see chatting happily on stage at a conference centre in Glasgow, as representatives of all five of the Five Eyes did at the CyberUK conference taking place this week.

In fairness to online conspiracy theorists, such public appearances are rare. Indeed, the UK National Cyber Security Centre, which organises the annual event, claimed this was the first time representatives of all five member nations - the UK, the US, Australia, Canada, and New Zealand - have appeared publicly together in the UK.

That they have done so at an event dedicated to cyber speaks to the fact that, for the 20 security and intelligence agencies that form Five Eyes, perhaps the biggest threat they face comes malware - rather than moles. [Read more: Trendall/PublicTechnology/25April2019]

How Police Can Gain Intelligence From Gang Graffiti. Gang graffiti is one of the most misunderstood elements in gang investigations. It can literally mean nothing in certain instances, while in other circumstances it conveys important messages between gang members - both friend and foe.

Gang investigators need to be able to separate the important from the irrelevant. This starts with knowing the gangs in your jurisdiction, what they claim as turf and their monikers.

Here are some ways investigators can gain intelligence from gang graffiti. [Read more: Perna/PoliceOne/25April2019]


---
What Insurgency Will Look Like in 2030 - by Peter Singer. Will be speaker at upcoming AFIO Symposium.
The author of Ghost Fleet has some guesses — and some questions that U.S. defenders will have to answer. Robots, artificial intelligence, cyberwar, 3D printing, bio-enhancements, and a new geopolitical competition; the 21st century is being shaped by a range of momentous, and scary, new trends and technologies. We should also expect them to shape the worlds of insurgency and terrorism.
With so much change, it is too early to know all that will shake out from these new technologies in the years leading toward 2030 and beyond. But we can identify a few key trends of what will matter for war and beyond, and resulting questions that future counter-insurgents will likely have to wrestle with. Below are three, pulled from a recent New America report on what the tech and wars of 2030 might portend.
The End of Non-Proliferation: A common theme in the diverse technology areas expected to change warfare most significantly (the hardware of robotics to the software of AI, to the "wetware" of human performance modification) is that they are neither inherently military nor civilian. Both the people and organizations that research and develop these technologies and those that buy and use them will be both government and civilian. They will be applied to conflict, but also areas that range from business to family life. A related attribute is that they are less likely to require massive logistics systems to deploy, while the trend of greater machine intelligence means that they will also be easier to learn and use―not requiring large training or acquisitions programs. These factors mean that insurgent groups will be able to make far more rapid gains in technology and capability than previously possible. [Read more: Singer/DefenseOne/28Apr2019]
U.S. Threatens U.K. On Huawei And Intelligence-Sharing. When the news leaked last week that the U.K. would ignore U.S. warnings and deploy Huawei equipment within its 5G network, the immediate response from Washington was relatively muted and understated. Not any longer it seems.

On Monday, the U.S. sent a stark message across the Atlantic: "It is the United States' position that putting Huawei or any other untrustworthy vendor in any part of the 5G telecommunications network is a risk," said Robert Strayer, as reported by Reuters. This can hardly come as a surprise to the U.K. Washington has made no secret of its binary view of Huawei's equipment, and the U.K. is its closest ally, even within the Five Eyes.

The heated debate at the U.K.'s supposedly secret National Security Council made headlines when, despite the last-minute leaking of CIA warnings alleging that Huawei had been funded by branches of China's military and intelligence, Prime Minister Theresa May decided to favor national economics over geopolitics. The decision prompted a major political backlash, the strength of which was clearly unexpected in Downing Street. [Read more: Doffman/Forbes/29April2019]
In Vetoing Congress's Yemen Resolution, Trump Stood Up to a Lawbreaking Legislature. Congress misunderstands its constitutional role regarding the use of force. Article by Robert F. Turner
On April 16, President Trump vetoed Senate Joint Resolution 7. Pursuant to the 1973 War Powers Resolution, the new statute directed the president to "remove United States Armed Forces from hostilities in or affecting the Republic of Yemen" ― where they are assisting a Saudi-led coalition that is present with the consent of Yemen's government — within 30 days. There was an exception for forces "engaged in operations directed at al Qaeda or associated forces."
The veto was essential to upholding Trump's oath of office to "preserve, protect and defend the Constitution." Many, no doubt, voted "aye" because they honestly believe that Congress must approve all military operations and thus has the authority to remove forces from Yemen. But ignorance of the law is no excuse. If members of Congress believe the president's foreign policies are misguided, they may communicate those concerns to him. But, with very limited exceptions largely involving treaties, nominations, and (now-illegal) all-out wars of aggression, legislators may not superimpose their own policy preferences over the constitutional discretion of the president to manage our foreign policy. The veto was also correct as a policy matter. While some support for the statute was simply politically partisan, some was clearly intended to protest the Saudi murder of American journalist Jamal Khashoggi or to address the tragic humanitarian crisis in Yemen ― arguably the greatest such crisis in the world today. But the statute would have rewarded Iran (which provides ballistic missiles and other support to Yemen's Shiite Houthis, who hate Israel, Jews, and the United States, and admire Iran's Hezbollah terrorists), undermined peace and stability in the region, and placed at risk one of the most important maritime chokepoints to international petroleum commerce. The Houthis have fired Iranian ballistic missiles at ships in the Red Sea, including at the U.S.S. Mason; and Major General Qassem Soleimani ― commander of Iran's elite Quds force ― declared last July that Iran might use proxies to disrupt oil shipments through the strategically critical Bab el-Mandeb Strait. Most wise people hope the United Nations peace efforts will succeed, but removing a major incentive for the Houthis to compromise will not likely further that end. [Read more: Turner/NationalReview/26Apr2019]

Why a Space Force Could be Good for Business. In the contentious Space Force debate, many of the questions have been about its cost and whether a separate military branch would do a better job than the Air Force at defending satellites and preparing for a future conflict in space.

But not much has been said about what a Space Force could mean for business. Carissa Bryce Christensen, CEO of Bryce Space and Technology, said the surging commercial space industry views a Space Force as a much needed nexus between the military and the business community.

"There is the potential benefit of being able to build a more integrated national and even international space community around military and intelligence space needs," Christensen said on Monday at the Future of War conference hosted by New America and Arizona State University. [Read more: Erwin/SpaceNews/29April2019]

The Spies Who Came In From The Continent. From John le Carré's novels to the insatiable popular interest in James Bond, Britain has long enjoyed, and cultivated, an image of producing superior spies. This reputation is based on more than myth. For decades during and following World War II, the painstaking real-world work of British intelligence officers was one of the United Kingdom's primary sources of power.

That power, and its underlying foundations, is now in jeopardy thanks to Brexit, which will have a cascading series of repercussions for British intelligence: It will shut Britain out of European Union institutions that have benefited British national security, and it may also jeopardize the special intelligence relationship with the United States, which may look to deepen relations with Brussels instead. But while Brexit may now be inevitable, there are still ways for the U.K. to avoid this outcome. [Read more: Walton/ForeignPolicy/27April2019]

The Spycraft Revolution. The world of espionage is facing tremendous technological, political, legal, social, and commercial changes. The winners will be those who break the old rules of the spy game and work out new ones. They will need to be nimble and collaborative and - paradoxically - to shed much of the secrecy that has cloaked their trade since its inception.

The balance of power in the spy world is shifting; closed societies now have the edge over open ones. It has become harder for Western countries to spy on places such as China, Iran, and Russia and easier for those countries' intelligence services to spy on the rest of the world. Technical prowess is also shifting. Much like manned spaceflight, human-based intelligence is starting to look costly and anachronistic. Meanwhile, a gulf is growing between the cryptographic superpowers - he United States, United Kingdom, France, Israel, China, and Russia - and everyone else. Technical expertise, rather than human sleuthing, will hold the key to future success.

In another major change, the boundaries between public and private sector intelligence work are becoming increasingly blurred. Private contractors have become an essential part of the spy world. Today, intelligence officers regularly move into the private sector once they leave government. The old rule that you are "either in or out" has become passé. That shift has allowed some ex-spies to get extremely rich, but it is also eroding the mystique - and the integrity - of the dark arts practiced in the service of the state. [Read more: Lucas/ForeignPolicy/27April2019]
---
Section IV - Obituaries, Jobs, Research Assistance
Benson "Buff" Buffham, Former NSA D/DIR
Benson Buffham, 99, former NSA Deputy Director, died 24 April 2019 in Pompano Beach, FL.
Buff was one of a group of senior NSA officials known for their management ability, and who were called on to fill a wide variety of difficult jobs at headquarters and in the field, often on short notice.
Mr. Buffham graduated in 1941 from Wesleyan University in Middletown, CT with a degree in economics and minors in French and Spanish. Drafted into the Army in 1942, at the outset of American participation in World War II, he was selected for the Army's cryptologic service on the basis of his outstanding aptitude test scores. He made his transition to civilian employment, first at the Army Security Agency, then the Armed Forces Security Agency, and the National Security Agency. His career was capped with the two most senior civilian positions at NSA, Deputy Director and Special U.S. Liaison to the UK. He became a member of the Cryptologic Hall of Honor in 2008.
Mr. Buffham retired from the Agency in 1980 after 38 years of service.
In retirement, he and his wife lived in Florida and enjoyed years of golf, travel, and other pursuits. He had always been known to his colleagues as a golfer as proficient on the links as he had been behind the D/DIR's desk.
He is survived by his sons Richard and John Buffham, daughter, Jean Isler, and other family.
Sully de Fontaine, former OSS Officer and MACV-SOG Forces
Sully Hubert de Fontaine, Col USA(Ret), 92, OSS/SOE Officer, Special Forces, died 22 April 2019 in Boulder City, NV.
Sully was born in Brussels, Belgium to French parents and began his military career in 1943, trained by the British SOE and SAS he then joined the OSS. He parachuted into occupied France to escort shot down American crews to safety. He served with Belgium's military as an officer in the Korean War, then immigrated to the United States, enlisting in the army and subsequently becoming an officer. He began his U.S. Special Operations career with the 10th SFGA [Special Forces Group Airborne] during the Hungarian uprising, then taught at the Special Warfare School in Fort Bragg in North Carolina. Returning to the 10th SFGA he led a rescue mission in the Congo, then served as an "observer" with French Paratroops in the Algerian War. Then Captain, he served three tours in Viet Nam, first commanding an A-Team, then a B-Team, and MACV-SOG, subsequently returning as director of a Special Investigation Branch of the CID. In 1973 as a LTC he returned to South East Asia as the Field Element Commander of the Joint Casualty Recovery Center, a Special Operations effort.
Following retirement in 1976 his civilian career was as significant as his military. His civilian occupations included Special Agent - Western Montana Bureau of Investigations; Senior Agent, Nevada Gaming Control Board; Senior Vice President, Corporate Security, United Gaming Inc. Las Vegas, Nevada; President, International Consulting Agency, Inc.; Corporate Investigator, Park Place Entertainment, Inc., Las Vegas, Nevada; and Director of Investigations, Venetian Macau LTD., China.
During his service he was awarded over twenty American and Foreign decorations to include the Legion on Merit (w/OLC), Bronze Star with V, Purple Heart (W/OLC), MSM, Joint Service Commendation Medal with V, Air Medal with V, Combat Infantry Badge, Master Parachute Badge, British Air Service Parachute Badge. As a member of the OSS he was awarded the Congressional Gold Medal in 2018.
Sully is survived by his wife Angelique of 48 years, a son, and other family. He will be buried with military honors at Arlington National Cemetery at a later date.
Sully was a longtime member of the Intelligence Community and the AFIO organization. He presented several riveting talks to the Chapter over the years describing his experiences during World War II in Europe and North Africa. Our Chapter and indeed, our country, has lost a great man. RIP Sully and soar with the eagles. -- Linda M. Cohn, Secretary, Las Vegas AFIO Chapter in which Sully was active.
Richard Lugar, Naval Intel Officer and Senator
Richard Green Lugar, 87, former Naval Intelligence Officer and six-term Senator, died 28 April 2019 in Falls Church, VA of complications from chronic inflammatory demyelinating polyneuropathy, a neurological disorder.
Lugar was one of the foremost voices on U.S. foreign policy ― championing efforts to end apartheid in South Africa, oust Philippine strongman Ferdinand Marcos and secure the former Soviet Union's weapons of mass destruction ― and whose primary defeat in 2012 by a tea party candidate shocked the political establishment.
He was high school valedictorian, and in 1954, he graduated, first in his class, from Denison University in Ohio. After his two years as a Rhodes scholar at the University of Oxford in England, Mr. Lugar joined the Navy, completed Officer Candidate School and was assigned to the Pentagon as intelligence briefer for Adm. Arleigh Burke, chief of naval operations. Lugar returned to Indianapolis in 1960 and helped his brother Tom manage the family company. He also won a seat on the local school board, where his reform efforts were noticed. In 1967, at 35, he ran for mayor, pledging to revitalize the city, and was elected to the first of two terms.
His initiatives ― including the merger of city and county agencies ― were praised by President Richard M. Nixon, and Mr. Lugar was proclaimed "Richard Nixon's favorite mayor." The title was bestowed by a reporter, not Nixon, but nevertheless brought him national prominence.
In 1974, Mr. Lugar ran for the U.S. Senate against a popular Democratic incumbent, Birch Bayh. He lost, but two years later he easily defeated the state's other Democratic incumbent, Vance Hartke, and thereafter, he had little trouble dispatching Democratic challengers.
He was a briefing officer in CNO-IP when on active duty in the Pentagon.
Mr. Lugar began his public-service career on the Indianapolis school board and achieved national attention as the city's mayor before winning election to the Senate in 1977. He twice chaired the Foreign Relations Committee and he was the panel's ranking Republican from 2007 until his defeat, by which time he was the longest-serving senator in Indiana history.
The cerebral, soft-spoken former Eagle Scout and Rhodes scholar never claimed to be a colorful personality. "Dick has maintained that childhood capability of walking into an empty room and blending right in," former Environmental Protection Agency administrator William Ruckelshaus, a fellow Hoosier and a friend, once joked at a Lugar roast.
But Mr. Lugar's civility and grasp of substantive issues drew widespread respect. "He was kind of the E.F. Hutton of the Senate. When he spoke, people listened because they knew that he had independently thought through his position and weighed it on the merits," Michael J. Glennon, an international law professor at Tufts University and former legal counsel to
the Senate committee, said in an interview.
Mr. Lugar ran for president in 1996, vowing to test whether voters valued "serious talk about issues" over "cheap shots and sound bites." The answer was not encouraging. Neither his sober ― some said wooden ― campaign appearances nor his proposal for a national sales tax attracted much interest. He seemed "like a fox-trot man caught in a rock-and-roll
culture," New York Times reporter R.W. Apple Jr. observed at the time.
His hopes for the vice presidency also went unfulfilled. In 1980, he was on Ronald Reagan's shortlist but didn't get the nod, and in 1980, George H.W. Bush tapped Indiana's junior senator, Dan Quayle, as his running mate. Mr. Lugar never complained publicly. A moderate conservative who came of age in the Cold War, he viewed the proliferation of weapons of mass destruction as the most serious threat to national security, and it was in that area that he left his greatest mark.
As the Soviet Union collapsed, he and other policymakers feared its nuclear, chemical and biological weapons might fall into the wrong hands.
In 1991, Mr. Lugar teamed with the Senate Armed Services Committee chairman, Sam Nunn (D-Ga.), to push through legislation to help Russia and other former Soviet republics secure their arsenals and, in most cases, dismantle them entirely.
The initiative ― officially the Cooperative Threat Reduction Program but better known as Nunn-Lugar ― provided funding and expertise that during the next two decades led to the deactivation of more than 7,500 nuclear warheads and hundreds of other weapons and delivery systems, according to the Defense Department. Ukraine, Belarus and Kazakhstan eliminated all of their nuclear arms.
After Nunn retired in 1997, Mr. Lugar continued to promote the program and its expansion to countries outside the old Soviet empire.
His legacy . . . is the thousands of missiles and bombers and submarines and warheads that no longer threaten us because of his extraordinary work,"
said President Barack Obama in 2013 as he awarded Lugar the Presidential Medal of Freedom, the nation's highest civilian honor.
Lugar was also a key supporter of arms-control treaties, including a pact banning chemical weapons that was ratified in 1997 over conservative GOP opposition. In 2010, he worked closely with the Obama administration to overcome similar resistance to the New START nuclear-weapons-reduction treaty with Russia.
In his first stint as chairman of the Foreign Relations Committee, Mr. Lugar played an influential role on two hot-button issues. Although a faithful supporter of Reagan's agenda, he led the Senate in overriding Reagan's veto of legislation imposing stiff economic sanctions on apartheid South Africa. He also helped bring about the ouster of Marcos in the Philippines.
As leader of a congressional delegation, Mr. Lugar traveled to the Philippines to observe the 1986 presidential election and told Reagan that widespread vote fraud invalidated Marcos's claim to reelection.. Reagan, a friend of Marcos's, initially stood by him, insisting that fraud had also been committed by the challenger, Corazon Aquino. Mr. Lugar, however, refused to back down; telling PBS's "The MacNeil/Lehrer NewsHour" that Marcos should either hold new elections or leave office. Mr. Lugar was not alone in urging a tough stand with Marcos,
whose opulent lifestyle coupled with the country's sliding economy was encouraging a Communist insurgency. But coming from a Reagan loyalist, the Hoosier's comments added significant weight to the anti-Marcos push.
In the end Reagan withdrew his support, forcing Marcos to step down and securing the presidency for Aquino. Paying tribute to Mr. Lugar when he visited the Philippines in 1989, Aquino said his intervention had saved the U.S.-Philippine relationship, the Associated Press reported.
Lugar had concerns about the Bush administration's plans to invade Iraq in 2003 and particularly its strategy for governing Iraq after Saddam Hussein's removal from power in Baghdad. Yet Mr. Lugar voted to give the president broad authority to make war and did not forcefully criticize the administration's Iraq policy until 2007.
As chairman of the Agriculture Committee from 1995 to 2001, Mr. Lugar pushed to reduce crop subsidies, a position unusual for a legislator from a farm state and unwelcomed by farming interests. As the manager of his family's 604-acre farm outside Indianapolis, he had hands-on knowledge of federal crop programs and considered them largely wasteful.
Mr. Lugar was such an institution that when he ran for a sixth term in 2006, the Democrats did not put up an opponent. But by 2012, the tea party revolution was in full swing, and an old complaint ― that Mr. Lugar was more concerned with the world's problems than Indiana's ― had gained resonance.
Disclosure that the 80-year-old incumbent had sold his Indianapolis home more than three decades earlier but still used it as his voting address reinforced the out-of-touch claim.
Portraying Mr. Lugar as too liberal, Mourdock hammered at his votes for financial bailout legislation and Obama's two Supreme Court nominees. He won the primary with 60 percent of the vote but in November lost to Joe Donnelly, a Democrat.
After leaving the Senate, he created the Lugar Center. Among other projects, the center joined with Georgetown University to produce the Bipartisan Index ― a ranking of members of Congress by how often they co-sponsor legislation with members of the other party. The index echoed a message in Mr. Lugar's Senate farewell speech. "Too often," he told his colleagues, "we have failed to listen to one another and question whether the orthodox views being promulgated by our parties make strategic sense for America's future."
He is survived by his wife, Charlene Smeltzer, four sons, a sister, and other family. He was an active member of AFIO up to the time of his death.
Priscilla Reid, US Navy SSO, Intel Officer, and Naval Criminal Investigative Service Officer
Priscilla Camille Reid, 64, US Navy SSO, Intel Officer, and Naval Criminal Investigative Service Officer, died 23 April 2019.
After graduating from Northern Lebanon High School she joined the US Navy. After her four years of active service she ended her enlistment to be a wife and mother. She enrolled and completed a B.S. degree in Criminal Justice and a Master's degree in Forensic Science at National University. She worked for the U. S. Navy Civil Service as a Special Security Officer (SSO), retiring from Civil Service as the South West Regional SSO after 38 years of service. She was one of 9 Navy SSO's in the country.
In 1984 she rejoined the Naval Reserve and was commissioned as an Intel Officer. As a Naval Reserve Officer, she spent most of her career as a Naval Criminal Investigative Service (NCIS) Agent. She deployed to Japan, as an Agent afloat on USS Kitty Hawk CV 63, and was assigned to the Northern Kuwait NCIS office. During her 23 years of service she received numerous awards including the Navy & Marine Corps Commendation Medal. In 1993 she also joined the San Diego Sheriff's Underwater Recovery Team as a Reserve Deputy. She retired after 16 years as the Admin Sgt for the Recovery Team.
She is survived by her husband, Gary, two daughters, two step-daughters, and other family.
Bob Tolle, Deputy Chief of Staff for Intelligence, US Navy
Robert Joseph Tolle, Capt USN-Ret, 82, former Deputy Chief of Staff for Intelligence, US Navy, died 23 April 2019 in Fairfax, VA.
Bob attended Tipton High School, Lady of Lakes Seminary, and Saint Meinrad Seminary. After a year of introspection at Seminary and operating a liquid fertilizer truck, Bob joined the U.S. Navy and attended Officer Candidate School (OCS). He dedicated 27 years to the Navy as an Intelligence Officer traveling the globe, including Deputy Chief of Staff for Intelligence, Commander Sixth Fleet; Chief of Staff for Intelligence, Commander Middle East Force; Director of Current Intelligence, Commander-In-Chief Pacific Fleet; Executive Assistant to Director of Naval Intelligence, Office of Naval Intelligence; Executive Assistant, Office of Assistant Secretary of the Navy for Research, Engineering & Systems; Director, Naval Investigative Service; Director of Intelligence Support, Office of Chief of Naval Operations, Center for Naval Analyses.
Captain Tolle retired from the Navy in 1989 and worked with the National Institute of Justice and as President of Technology Planning Consultants, LLC.
He is a distinguished graduate of the National War College and the Naval War College. He received several distinguished awards during his career including Navy Distinguished Service, Legion of Merit, and Meritorious Service Medals.
He will be remembered for his faith, compassion for others, his strong character and his complete devotion to his wife, family and friends.
He is survived by his wife of 58 years, Joan Mehl Tolle, two daughters and a son, and other family.
---
Industrial Security Support Analyst - Defense Security Service, Alexandria, VA
Sayres and Associates Corp has a vacant Industrial Security Support Analyst position on a current contract supporting the Defense Security Service, Capital Region, Alexandria, VA. The position is located 3 days a week in Alexandria, VA and 2 days a week in Chantilly, VA. The candidate must have an active TS clearance. The contract has 4+ years remaining. All retired 1811s and 0132 have the desired skills to meet customer requirements. Forward any questions to Mike at Michael.monroe@sac-corp.org
Review job requirements and apply here: Industrial Security Support Analyst - Capital Region (Job ID# 1065397)
Responsibilities
Sayres is seeking an experienced Industrial Security Support Analyst with current TOP SECRET clearances, verifiable in JPAS, to support the Defense Security Service (DSS) Capital Regional Office, headquartered in Alexandria, VA. There will be possible travel to the DSS Headquarters in Quantico, VA a few times a year and to other locations in the Capital Region. The Industrial Security Support Analyst will assist DSS Industrial Security Representatives (ISRs) with research and analysis to support DSS' new risk-based methodology for providing industrial security oversight. The Industrial Security Support Analyst will be responsible for the following:
1. Identify assets whose loss, compromise, or damage of, would adversely affect national security.
2. Understand the threats to those assets under industry's purview or control.
3. Identify and analyze industry business processes involving those assets.
4. Identify and document the security controls that industry has in place to mitigate the risks to the facility's assets.
5. Assist in conducting pre-security research to facilitate the security review at the facility.
Qualifications & Clearance Requirements
Education, Work Experience, Skills, and Clearance Requirements:
1. Bachelor's degree. Minimum of five (5) years' experience with security-related data systems such as ISFD, e-FCL, and JPAS OR five (5) years' experience in counterintelligence.
2. Minimum of five (5) years' experience in program management support and working with high ranking officials in a management support capacity.
3. Understand and apply the principles of research to analyze, evaluate, and interpret raw data collected from multiple sources.
4. Plan, organize, and coordinate research taking into consideration actual or potential problems in finding available or suitable sources of data.
5. Prepare, present, and defend portions of finished research and analysts' products.
6. Must present professional appearance, demeanor, acumen, respectfulness, and the ability to work well with others in a team environment.
7. Available to travel several times a month to Regional Offices located in Andover, MA and to the DSS Headquarters in Quantico, VA a few times a year.
8. Current Top Secret security clearance verifiable in JPAS prior to start date.
Highly Desired:
1. At least three (3) years' total experience through a combination of industrial security and counterintelligence positions.
2. Experience with Palantir.
FireEye Has Many Positions in Reston and Alexandria, Virginia
Job Title:

Company:

Experience:

2 to 20 years

Salary:

Full Time

Job Location:

Reston, VA

Software Developer Reston, VA Full time Company Description FireEye is the leader in intelligence led security as a service. Working as a seamless, scalable extension of customer security operations, FireEye offers a single platform that blends innovative security technologies, nation state grade threat intelligence, and wo...

---

Job Title:

Company:

Experience:

4 to 20 years

Salary:

Full Time

Job Location:

Fort Belvoir, VA

Senior Software Developer Reston, VA, us Full time Company Description FireEye is the leader in intelligence led security as a service. Working as a seamless, scalable extension of customer security operations, FireEye offers a single platform that blends innovative security technologies, nation state grade threat intellige...

---

Job Title:

ICS/OT Practice Leader, Mandiant Consulting Services (Remote)

Company:

Experience:

8 to 15 years

Salary:

Full Time

Job Location:

Washington, DC

ICS/OT Practice Leader, Mandiant Consulting Services (Remote) Washington, DC, USA Full time Company Description FireEye is the leader in intelligence led security as a service. Working as a seamless, scalable extension of customer security operations, FireEye offers a single platform that blends innovative security technolo...

---

Job Title:

Company:

Experience:

5 to 20 years

Salary:

Full Time

Job Location:

Washington, DC

Staff Site Reliability Engineer (SRE) Washington, DC, USA Full time Company Description FireEye is the intelligence led security company. Working as a seamless, scalable extension of customer security operations, FireEye offers a single platform that blends innovative security technologies, nation state grade threat intelli...
CAVEAT: AFIO does not "vet" or endorse research inquiries, career announcements, or job offers. Reasonable-sounding inquiries and career offerings are published as a service to our members, and for researchers, educators, and subscribers. You are urged to exercise your usual caution and good judgment when responding, and should verify the source independently before deciding if you wish to supply a resume, career data, or personal information. Your participation in research aids the Intelligence Community and future officers.
Thinkers Wanted! Johns Hopkins Applied Physics Labs (APL) is recruiting participants for problem-solving & reasoning research. AFIO Members are asked to consider participating.
We're looking for highly motivated, inquisitive, open-minded individuals to solve challenging problems alone or in teams.
"Great minds often don't think alike—that's the power of crowdsourcing. CREATE tools will help analysts reason collaboratively and competitively—so that the strongest argument wins out." Steven Rieber, PhD, IARPA CREATE Program Manager
You can join the CREATE research study if you:
· Are 18 years or older
· Read and write English fluently
· Have reliable internet access and will accept cookies from the study website
Join CREATE! Be part of groundbreaking research to improve reasoning.
What will we learn from CREATE?
CREATE research studies will help us learn more about how people reason when solving complex problems, and how they communicate their reasoning to other people. We are particularly interested in how teams share and evaluate possible solutions, and how they collaborate to develop a common solution. Our findings will inform and shape the tools and processes that intelligence analysts use to develop and communicate their reasoning. Our goal is to help the Intelligence Community reason comprehensively and communicate clearly so
that they can, in turn, help our policymakers and government leaders make better decisions.
Although this research is focused on helping the Intelligence Community, the same insights can also help other professionals who solve hard problems from incomplete evidence.
Who is funding this research? The CREATE research studies are funded by the Office of the Director of National Intelligence, Intelligence Advanced Research Projects Activity.
Professor/Researcher Seeks Identification of Events Significantly Affected by Intelligence for "When Intelligence Made a Difference" AFIO Publication
AFIO is beginning a new educational project entitled "When Intelligence Made a Difference." We invite you to identify events involving any nation or organization when the outcome was affected significantly by intelligence.
We plan to publish edited submissions serially in our print-only member magazine Intelligencer: Journal of US Intelligence Studies.
If you are interested in contributing an article, please email peter.oleson@afio.com. Briefly state what event you have in mind, and include your bio. [AFIO will identify authors by name and current or former title only ― no multi-line biographies.] If your suggestion is a good fit for this project, we will respond asking for your comments on that event, not to exceed 1,500 words (excluding footnotes).
When you send your article and bio, please let us know if you have ever had prior employment or contract work within the US Intelligence Community -- and, to meet pre-publication review requirements, supply a copy of the official approval letter or email you received back, naming and clearing for publication the article you are sending us. Without this, we are unable to consider or include your article in the publication.
As with most nonprofit academic publications, contributors will not be paid, however AFIO will publish under broad, pro-educational Creative Commons copyright. Therefore, authors retain the right to use their articles anywhere else they wish, after its publication in Intelligencer.
Eight weeks after publication of your contribution in the print-only version of Intelligencer, the article will then appear on AFIO's website for general public/educational access. Since the time of 1) an article's acceptance, and 2) appearance in print, and then 3) inclusion online can run eighteen months to three years from start-to-finish, a title-author listing of all accepted forthcoming articles (but no summaries) will be included in a print edition of Intelligencer and online. So it is imperative authors be patient as these articles are released on this serialized basis, in our two or three journal issues per year. By submitting an article to us authors acknowledge and accept these provisions.
This project would make a good class assignment. Accepted articles would give students a publication credit in a recognized journal.
Again, if you wish to participate or explore more aspects of this project, email Peter Oleson at peter.oleson@afio.com.
---
AFIO EDUCATIONAL EVENTS IN COMING TWO MONTHS....
Wednesday, 8 May 2019, 1130 - Albuquerque, NM - AFIO New Mexico Chapter hears Sam Shaw on "Overview of Sound, methods of generation, and directional control."
Mr. Sam Shaw will present Part 2 on his Overview of Sound, methods of generation, and directional control at this AFIO New Mexico Chapter meeting.
Location of event: "The Egg & I" restaurant on Menaul just east of Louisiana, next door to Chili's, 6909 Menaul Boulevard Northeast, Albuquerque, NM 87110, (505) 888-3447
Fee to attend: Meeting is Free.
11:00 AM (Arrive, Order Lunch - available at separate cost), 11:30 AM (Call To Order), 1:00 PM (Adjourn)
Our meetings are normally open to present and former members of Federal, Military (uniformed and civilian), State and Local Agencies and selective others who support the Intelligence Community.
If you desire further information, please contact one of the following:
Sam Shaw - Phone: 505-379-3963 e-mail: President@afionm.org
Tom Dyble - Phone: 505-299-3242 e-mail: Vice-President@afionm.org
9-10 May 2019 - Washington DC and McLean VA - Register for AFIO 2019 Symposium
HIGHLIGHTS: Thursday, 9 May is Day One at the International Spy Museum's New L'Enfant Plaza location two days before they officially open. Buses will depart from the DoubleTree by Hilton, Tysons at 8 a.m. sharp to arrive at the International Spy Museum at 9 a.m. Featuring remarks by COL Christopher Costa USA (Ret.), Executive Director of the museum; and Dr. Vince Houghton, the museum's Curator and Historian. Other speakers Stephen K. Black, Director, Office of Intelligence and CI, DOE; David Ignatius, author and journalist; Peter Singer, author and futurist. Breakfast and lunch will be provided at the museum. Return trip back to hotel will be at 3 p.m.
Friday, 10 May is Day Two at the DoubleTree by Hilton, Tysons and features a full day of speakers and panels. The day starts with a welcome and orientation by James Hughes, AFIO President, former CIA and NSA, and M.E. Spike Bowman, AFIO Chairman, former Navy, NSA, FBI, ODNI, followed by a presentation by Robert Jackall, Professor Emeritus, Williams College. The morning panel is moderated by Robert S. Litt and covers "Intelligence and Democracy: Time to Rethink FISA and Intelligence Oversight." It features panelists Glenn Gerstell, John Rizzo, Suzanne Spaulding. Our luncheon keynote will be Chris Inglis, former Deputy Director, NSA. Amb. Ronald Neumann, President American Academy of Diplomacy, follows. Christopher Parker's afternoon panel on "Totalitarian States Use of Technology Against the U.S." features panelists Amb. Joseph DeTrani, Kevin McCarty, John Sano, and Toshi Yoshihara. Day Two also includes buffet breakfast and lunch. This second day will close with an evening cocktail reception and our "Spies in Black Ties" Banquet. Day Two Daytime program will begin at 9 a.m. (buffet breakfast and chapter workshop begin at 7 a.m.) Daytime program ends at 4:30 p.m. Cocktail reception and "Spies in Black Ties" Banquet from 6 to 9:30 p.m. featuring a presentation by John Bennett, former Director of CIA's National Clandestine Service.
PROGRAM: The tentative program for both days may be viewed here.
Buses will transport attendees from the DoubleTree by Hilton, Tysons to the International Spy Museum and back. The second day of this event takes place at the DoubleTree by Hilton, Tysons, 1960 Chain Bridge Rd, McLean, VA 22102. To be ready for early departure by buses on Day One, it is recommended that attendees consider staying overnight starting Wednesday, 8 May. Reservations may be made online at this link or by calling (703) 893-2100. The special event room rate is $139/night and is available until 6 April 2019 or until all rooms are filled. You must reference our group code AAF. You may also locate rooms at this or other nearby Tysons/Vienna hotels using online services, e.g., Trivago, Expedia, Travelocity, or Orbitz.
Register online now to attend the symposium by using this secure link.
Or use this printable PDF Registration form here to be completed and mailed/faxed/emailed back to AFIO. PROGRAM: The tentative program for both days may be viewed here.
Monday, 13 May 2019, 5:30 p.m. - New York, NY - AFIO NY Metro hosts Jeff McCausland, University Professor and CBS National Security Consultant
Dr. Jeff McCausland, a visiting professor of International Security Studies at Dickinson College (Carlisle, PA), former Dean of the Army War College. He is currently involved in a project for the National Nuclear Security Administration focused on nuclear weapons in South Asia and proliferation of weapons of mass destruction. He serves as a national security consultant for CBS radio and television. He routinely does analysis for CBS on issues such as Iraq, European security, arms control, or related questions of national security policy. His topic this evening will be: "Back to the Future: Battlefield Nuclear Weapons in South Asia."
Location: Society of Illustrators, 128 E 63rd St (between Park and Lexington), New York, NY 10065.
Timing: Registration starts at 5:30 pm, Speaker presentation starts at 6 pm. Fee: $50/person. Payment at the door only. Cash or check. Full dinner, cash bar.
RSVP: Strongly recommended that you RSVP to ensure space at event. Call or Email Chapter President Jerry Goodwin at afiometro@gmail.com or 646-717-3776.
15 May, 2019 (Wednesday), 11:30 a.m. - San Francisco, CA - The AFIO San Francisco Chapter hosts DEA Assistant Regional Director (ret) Bruce Goldberg on Illicit Drug Traffic Control and International Cooperation
Speaker: DEA Assistant Regional Director (ret) Bruce Goldberg
Topic: Mr. Goldberg will discuss how he and his team of agents collaborated with the Ecuadorian Special Police and Military to uncover and investigate the first ever narco-submarine.
Timing: 11:30 a.m. no-host cocktails; 12 noon meeting
Location: Basque Cultural Ceneter, 599 Railroad Ave, South San Francisco, CA
RSVP: Enter your registration here.
Thursday, 16 May 2019, 11:30 a.m. – Colorado Springs – The AFIO Rocky Mountain Chapter hosts Dr. Gail Nelson, discussing "Thinking in Time: Strategic Intelligence Parameters Today."
Synopsis: "Thinking in Time" encompasses the Strategic Intelligence Threats that plague nations across the geopolitical and ideological divide. The brief captures many major challenges by recommending classic Estimative Intelligence Methodologies in Annual Regional and Country Geopolitical Formats for regular review by senior national security staffs thus facilitating the demand for Special Estimates and Crisis Scenario Development during emerging crises. The absence of these finished intelligence products exponentially increases the liabilities of risk management and miscalculation exactly at a time when leaders demand accuracy in assessing adversary intentions in a complex world.
Gail Nelson, Ph.D. a veteran DOD Intelligence Officer, received his Political Science BA at California State College, Long Beach, in 1966 and completed doctoral work at the University of Colorado in 1979. His career assignments include US Army Europe, US Air Forces Europe, and US European Command specializing in Russian and East European Geopolitical Affairs. He later was appointed Senior Advisor to the Afghan Chief of Military Intelligence; and performed similar responsibilities in the Philippines and Iraq. His published monographs explore the Political Psychology of Nazi Genocide; Soviet Defense Decision Making; Warsaw Pact Crisis Management; and biographies on Security & Intelligence leaders. He was awarded the Meritorious Civilian Service Medal during the Cold War, the Distinguished Civilian Service Medal in 2001, and foreign advisory recognitions later.
For more information or to attend, contact steve13507@gmail.com.
25 May 2019, 11:30am - 2pm - Patrick AFB, FL - AFIO Florida Satellite Chapter hosts Col Mike McCalister USA(Ret) discussing "CENTCOM and SpecOps."
Colonel Mike McCalister, USA (ret.) served in the U.S. Army and the Army National Guard for over thirty years. He occupied a senior staff positon in CENTCOM in the special operations area. He has been an instructor at the university level and served in various command positions in the National Guard. He will address us on his experiences in CENTCOM and, with any luck, in the SpecOps area as he may be able to share.
Timing: 11:30 AM - 12:15 PM: Social Hour, greet old, new members and guests (limited cash bar – honor system); 12:15 PM: Sit-Down lunch
NOTE NEW Location: The Tides, 1001 N. Hwy A1A, Bldg #967, Patrick AFB, FL 32925
TO ATTEND: Prepaid reservations are required which must be received by 20 May 2019. To reserve, please contact the chapter treasurer (if you did not directly receive a form to register for the lunch). She can be reached at afiofsctreas@gmail.com.
For those with a registration form, complete it and send check and meal choice to: Chapter Treasurer Rhonda Rhoads, PO Box 410158, Melbourne, FL 32941.
Rhonda can also be reached at afiofsctreas@gmail.com, and at 321 626 -4465.
Paid, advance registration is required and none can be accepted after 20 May.
Please note new meeting venue at top of this announcement.
Menu Choices are: Parmesan-crusted chicken breast with cream corn chipotle sauce (C); Pulled BBQ pork plate with cole slaw and roasted potatoes. (P); Dessert is key lime pie with Chantilly cream.
Cost is $28/members, $30 non-members.
Wednesday 18 September 2019, 5:30 p.m. - New York, NY - AFIO NY Metro Chapter hosts Larry Loftis, on SOE Hero, Odette Sansom, in his book Code Name: Lise
Larry Loftis is the author of Code Name: Lise―The True Story of the Woman Who Became WWII's Most Highly Decorated Spy, the story of Odette Sansom (1912-1995), a Frenchwoman living in England, wife of an Englishman and mother of 3 daughters, who was recruited into Britain's Special Operations Executive (SOE) to conduct espionage in France during WW II with her commander, and yet-to-be second husband, Peter Churchill. Leaving her daughters in a convent school and with relatives, she joined the rigorous training program, becoming proficient with a wide range of weapons, learning the fine points of spycraft, and perfecting her new identity with the code name Lise. In France she proved herself fearless. Hunted by the Germans, in 1943, Odette and Peter were captured, imprisoned, and tortured. Loftis describes Odette's ordeal in grisly detail. Two lies saved her: She pretended that she and Peter were married (they would be after the war) and that Peter was related to Winston Churchill. In defeat, the Gestapo hoped to use her as a bargaining chip.
Location: Society of Illustrators, 128 E 63rd St (between Park and Lexington), New York, NY 10065.
Timing: Registration starts at 5:30 pm, Speaker presentation starts at 6 pm. Fee: $50/person. Payment at the door only. Cash or check. Full dinner, cash bar.
RSVP: Strongly recommended that you RSVP to ensure space at event. Call or Email Chapter President Jerry Goodwin at afiometro@gmail.com or 646-717-3776.
---
Other Upcoming Events from Advertisers, Corporate Sponsors, and Others
3 May 2019, 11 am - 2 pm - Arlington, VA - Naval Intelligence Professionals Spring/Red Tie Luncheon to hear CDR Wiley on "Does Analytical Excellence Still Matter?"
Speaker will be Neil Wiley, CDR, USN (Ret), a member of the Defense Intelligence Senior Executive Service (DISES) and is the DIA Functional Manager for Analysis. With over 30 years of experience in the national security arena, Mr. Wiley has served both as a naval officer and civilian intelligence professional. He leads DIA's all-source analytic effort across the regional, functional and S&TI portfolios, producing Defense Intelligence in support of policymakers, military planners and warfighters, and defense acquisition. Mr. Wiley also serves as Functional Manager for all-source analysis for the Defense Intelligence Enterprise, responsible for the alignment, quality, and integrity of the analytic output of the DIA, the service intelligence centers and the combatant commands.
At the luncheon, we will also be pleased to honor Ms. Lynn Wright as the annual Red Tie award recipient for 2019.
Timing: 1100-1200 - No-Host Social; 1200 -1300 - Luncheon; 1230-1300 - Mr. Neil Wiley - Guest Speaker (Confirmed): Topic -- Does Analytical Excellence Still Matter?.
Registration Closes 30 April 2019. To register online do so here.
To register and pay by check, please send checks to: NIP, P.O. Box 90461, Washington, DC 20090
Please remember to include your menu entree selection - Salmon or Chicken or Vegetarian - when registering via mail.
No WALK UPS.
Location: Army Navy Country Club in Arlington, VA, The ANCC is a world class venue located conveniently near Suitland and minutes from the Pentagon in Arlington, VA, with spectacular views of the Capital and abundant free valet parking.
Wednesday, 8 May 2019, 7:30 to 8:45 pm - McLean, VA - The Future of the War on Terror ― ISIS and After by Ilan Berman at the Westminster Institute
Timing: Reception at 7 pm, program begins at 7:30.
Ilan Berman is Senior Vice President of the American Foreign Policy Council in Washington, DC. An expert on regional security in the Middle East, Central Asia, and Russia, he has consulted for both the CIA and the Defense Department, and provided assistance on foreign policy and national security issues to a range of governmental agencies.
Event location: Westminster Institute, 6729 Curran St, McLean, VA 22101
Fee: None
Register Here.
16 May 2019, 6 pm - Washington, DC - "Night of Heroes Gala 2019" by the PENFED Foundation

The PENFED Foundation hosts their impressive annual "Night of Heroes Gala 2019" at the beautiful Mandarin Oriental, 330 Maryland Ave SW, Washington, DC 20024. This year marks the 15th annual gala honoring our unsung heroes ― military children. Each year, the PenFed Foundation raises more than $1.5 million for military heroes through this hallmark event. Last year's event sold out and raised $2.5 million! Do not miss your opportunity to support Military Heroes.
6 pm General Reception and Silent Auction; 7 pm Dinner Program; After Dinner - Dessert Reception. To learn more...or to register.
17 May 2019, Noon to 1:30pm - Washington, DC - The International Spy Museum Luncheon and Book Signing with Lynne Olson
A luncheon at the new International Spy Museum features Lynne Olson, historian, journalist, author of Madame Fourcade's Secret War. The sponsor/host of the luncheon is Museum board member, former Governor (Michigan) Jim and Janet Blanchard. Olson will share insights from her book, which is an account of Marie-Madeline Fourcade, the woman who headed the largest spy network in occupied France during World War II.
Location: International Spy Museum, 700 L'Enfant Plaza SW, Washington, DC 20024.
Fee: $90 per person.
To register, do so here.
Thursday, 23 May 2019, 9 - 10:30 am - Washington, DC - The Georgetown Center on National Security and the Law Breakfast to Celebrate Launch of the Foreign Intelligence Collection
You are invited to attend a breakfast to celebrate the launch of the Foreign Intelligence Collection.

Curated by Professor Laura K. Donohue and Jeremy McCabe, the Foreign Intelligence Collection contains:
• the legislative histories of all statutory changes to the Foreign Intelligence Surveillance Act (FISA);
• all publicly available opinions and orders issued by the Foreign Intelligence Surveillance Court (FISC) and Foreign Intelligence Surveillance Court of Review (FISCR);
• all FISA-related cases in non-specialized Article III courts;
• statutorily required and special reports on FISA and correspondence between FISC and Congress; and
• an annotated bibliography of select secondary sources related to FISA, FISC/FISCR, and FI law.
The fully-searchable website is designed to be a resource for the judiciary, clerks, legal advisors, amici, government attorneys, members of Congress and their staff, lawyers, scholars, journalists, students, companies, members of the public, and anyone with an interest in or need to understand the legal framework for U.S. foreign intelligence collection.
The panel discussion launching the website will include an overview of the site, a discussion of the materials, and information on the assigned Georgetown Identification (GID) numbers applied to facilitate use of the information.
Professor Laura K. Donohue, Professor of Law, Georgetown Law Center, Director, Center on National Security and the Law and Jeremy McCabe, Research Services Librarian, Georgetown Law Library
Carrie Cordero, Senior Fellow and General Counsel, Center for a New American Security, Adjunct Professor, Georgetown Law Center (moderator)
Event will be held at Georgetown University, McDonough 200. Light breakfast provided.
Please RSVP here or to nationalsecurity@law.georgetown.edu.
Qs? Contact nationalsecurity@law.georgetown.edu.
2 - 5 June 2019 - San Antonio, TX - GEOINT 2019
GEOINT 2019 is hosted and produced by the United States Geospatial Intelligence Foundation (USGIF), a non-profit, non-lobbying educational organization, the annual GEOINT Symposium is the nation's largest gathering of industry, academia, and government to include Defense, Intelligence and Homeland Security Communities as well as commercial, Fed/Civil, State and Local geospatial intelligence stakeholders.
The event annually attracts more than 4,000 attendees from all over the world, features more than 250 exhibiting organizations, offers 50 hours of training sessions, and countless opportunities to learn, exchange ideas, and network. The event is held at the Henry B. Gonzalez Convention Center in San Antonio, TX.
Need support for your request to attend? Download the GEOINT 2019 Justification Letter.
5 June 2019, 10 a.m. - 1:30 p.m. - Annapolis Junction, MD - Summer NCMF Cryptologic Program: The Tian'anmen Square Massacre of 4 June 1989 - A Day that Marked a Turning Point in Chinese History with Author Greg Nedved and Dr. Laura Kaplan Murray.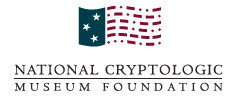 On the 30th Anniversary of this significant event in Chinese history, the National Cryptologic Museum Foundation (NCMF) invites you to come and learn about this tragedy from two NSA Center for Cryptologic History historians and experts on Chinese society. We are thrilled to have Mr. Greg Nedved and Dr. Laura Kaplan Murray with us as our special guest speakers. Lunch will follow the morning presentation, and a book sale will include a book by Mr. Nedved, Presidential Foreign Language Trivia. To view a 2-page program flyer of the event, access it here.
TIMING: 10 a.m-11:45 a.m.program followed by lunch noon-1 p.m.
LOCATION: CACI Inc., Maryland Conference Center, 2720 Technology Dr, Annapolis Junction, MD 20755
FEE: Registration Fee, inclusive of lunch, is $25 for members and guests.
REGISTER: Register online here or mail your check to NCMF, PO Box 1682, Ft. Meade, MD 20755.
Qs?: call the NCMF office at 301-688-5436
To learn more about the topic or speakers, as well as the presentation, do so here.
Monday, 10 - 12 June 2019, 8 am - 5 pm - Queens County, NY - IAFIE 15th Annual Conference Featuring John Miller, Deputy Commissioner of Intelligence & Counter-terrorism, NYPD.
The International Association for Intelligence Education (IAFIE) expects many excellent papers and panels at their upcoming annual conference in New York City. Several distinguished speakers will include John Miller, Deputy Commissioner of Intelligence and Counterterrorism, NYPD. Don't miss this great opportunity to network and get the latest developments in intelligence education.

Consider bringing any interested students to the conference. There is another wonderful student poster competition planned and your students' participation is welcomed!
Event location: St Johns University, Queens Campus, NY. Accommodations arranged with Courtyard New York Queens/Fresh Meadows, or Fairfield Inn & Suites NY Queens/Fresh Meadows. Shuttle services between both locations and the conference location will be available. The campus is conveniently situated halfway between Laguardia and JFK airports.
To register: do so at this link.
Qs?: Additional information available from Keith Cozine at tel 973-928-1154 or cozinek@stjohns.edu
Wednesday, 6 November 2019, 6 - 10:30 pm - Washington, DC - Michael Morell and Jill Singer, Co-Chairs, invite you to The Honorable William H. Webster Distinguished Service Award Dinner at the International Spy Museum
The William H. Webster Distinguished Service Award Dinner will take place at the new home of the International Spy Museum in L'Enfant Plaza. On this special evening, more than 500 attendees will gather to recognize the men and women who have served in the field of National Security with integrity and distinction.
Each year, The Honorable William H. Webster Distinguished Service Award is given to an individual who has embodied the values of our esteemed friend, mentor, and leader ― Judge William H. Webster. This year's honoree is someone known for his invaluable service and contributions to the Intelligence Community, someone that has worked from the ground up and has been both a provider and consumer of intelligence with more than 20 years of experience. It is with great pride that we announce the 2019 honoree is General Michael V. Hayden, former Director of the National Security Agency, Principal Deputy Director of National Intelligence, and Director of the Central Intelligence Agency.
AWARD DINNER CO-CHAIRS: Mr. Michael Morell, Senior Counselor, Beacon Global Strategies and Former Deputy Director and former Acting Director, Central Intelligence Agency; Ms. Jill Singer, Vice President, National Security, AT&T Public Sector & Wholesale; Former Chief Information Officer, National Reconnaissance Office.
Tickets range from $495 to $15,000. Explore your registration options here.
This event is closed to media.
Event location: The New International Spy Museum, 700 L'Enfant Plaza SW, Washington, DC 20024. Directions here.
---
Gift Suggestions:
AFIO's 788-page Guide to the Study of Intelligence. Peter C. Oleson, Editor, also makes a good gift. View authors and table of contents here.

Perfect for professors, students, those considering careers in intelligence, and current/former officers seeking to see what changes are taking place across a wide spectrum of intelligence disciplines. AFIO's Guide to the Study of Intelligence helps instructors teach about the large variety of subjects that make up the field of intelligence. This includes secondary school teachers of American History, Civics, or current events and undergraduate and graduate professors of History, Political Science, International Relations, Security Studies, and related topics, especially those with no or limited professional experience in the field. Even those who are former practitioners are likely to have only a limited knowledge of the very broad field of intelligence, as most spend their careers in one or two agencies at most and may have focused only on collection or analysis of intelligence or support to those activities.
For a printed, bound copy, it is $95 which includes Fedex shipping to a CONUS (US-based) address.
To order for shipment to a US-based CONUS address, use this online form,

To order multiple copies or for purchases going to AK, HI, other US territories, or other countries call our office at 703-790-0320 or send email to afio@afio.com to hear of shipment fees.

Order the Guide from the AFIO's store at this link.

The Guide is also available directly from Amazon at this link.
AFIO's Intelligence Community Mousepads are a great looking addition to your desk...or as a gift for others.
Made in USA. Click image for larger view.
These 2017 mousepads have full color seals of all 18 members of the US Intelligence Community on this 8" round, slick surface, nonskid, rubber-backed mouse pad with a darker navy background, brighter, updated seals. Also used, by some, as swanky coasters. Price still only $20.00 for 2 pads [includes shipping to US address. Foreign shipments - we will contact you with quote.] Order MOUSEPADS here.
Disclaimers and Removal Instructions
Weekly Intelligence Notes (WINs) are commentaries on Intelligence and related national security matters, based on open media sources, selected, interpreted, edited and produced for non-profit educational uses by members and WIN subscribers.
REMOVAL INSTRUCTIONS: We do not wish to add clutter to inboxes. To discontinue receiving the WINs:
a) IF YOU ARE A MEMBER - click here: UNSUBSCRIBE and supply your full name and email address where you receive the WINs. Click SEND, you will be removed from list. If this link doesn't open a blank email, create one on your own and send to afio@afio.com with the words: REMOVE FROM WINs as the subject, and provide your full name and email address where you are currently receiving them.
b) IF YOU ARE NOT A MEMBER, and you received this message, someone forwarded this newsletter to you [contrary to AFIO policies]. Forward to afio@afio.com the entire WIN or message you received and we will remove the sender from our membership and distribution lists. The problem will be solved for both of us.
CONTENTS of this WIN [HTML version recipients - Click title to jump to story or section, Click Article Title to return to Contents. This feature does not work for Plaintext Edition or for some AOL recipients]. If you wish to change to HTML format, let us know at afio@afio.com. The HTML feature also does not work for those who access their e-mail using web mail...however NON-HTML recipients may view the latest edition each week in HTML at this link: https://www.afio.com/pages/ currentwin.htm
---
WINs are protected by copyright laws and intellectual property laws, and may not be reproduced or re-sent without specific permission from the Producer. Opinions expressed in the WINs are solely those of the editor's or author's listed with each article. AFIO Members Support the AFIO Mission - sponsor new members! CHECK THE AFIO WEBSITE at www.afio.com for back issues of the WINs, information about AFIO, conference agenda and registrations materials, and membership applications and much more!
(c) 2000, 2012, 2013, 2014, 2015, 2016, 2017, 2018, 2019. AFIO, 7600 Leesburg Pike, Suite 470 East, Falls Church, VA 22043-2004. Voice: (703) 790-0320; Fax: (703) 991-1278; Email: afio@afio.com
---
About AFIO | Membership Renewal | Change of Address | Upcoming Events | Chapter Locations | Corporate/Institutional Memberships | Careers in Intelligence Booklet | Guide to the Study of Intelligence | Intelligencer Journal | Weekly Intelligence Notes | To Make A Donation | AFIO Store | Member-Only Section | Code of Ethics | Home Page
---