---
CONTENTS
Section I - INTELLIGENCE HIGHLIGHTS
Section II - CONTEXT & PRECEDENCE
Section IV - Obituaries, Jobs, Research Assistance
Other Upcoming Events from Advertisers, Corporate Sponsors, and Others
For Additional AFIO and other Events two+ months or more... Calendar of Events

WIN CREDITS FOR THIS ISSUE: The WIN editors thank the following special contributors: ry, ec, po, mh, km, gh, mk, rd, fm, kc, jm, mr, jg, th, ed, and fwr. They have contributed one or more stories used in this issue.

The WIN editors attempt to include a wide range of articles and commentary in the Weekly Notes to inform and educate our readers. However, the views expressed in the articles are purely those of the authors, and in no way reflect support or endorsement from the WIN editors or the AFIO officers and staff. We welcome comments from the WIN readers on any and all articles and commentary.

CAVEATS: IMPORTANT: AFIO does not "vet" or endorse research inquiries, career announcements, or job offers. Reasonable-sounding inquiries and career offerings are published as a service to our members, and for researchers, educators, and subscribers. You are urged to exercise your usual caution and good judgment when responding, and should verify the source independently before supplying any resume, career data, or personal information.]
If you are having difficulties with the links or viewing this newsletter when it arrives by email, members may view the latest edition each week at this link. You will need your LOGIN NAME and your PASSWORD.

---

Gifts appropriate for intelligence officers, colleagues, recruitments, agents, advisors, and family.

The AFIO Store has following new items ready for quick shipment:

NEW: Long and Short-Sleeved Shirts with embroidered AFIO Logo

Show your support for AFIO with our new Polo Shirts. Be the first to buy these new, high quality, subtle heathered grey shirts of shrink and wrinkle resistant fine cotton with a soft yet substantial feel. They feature a detailed embroidered AFIO seal. Get a shirt for yourself and consider as gifts for colleagues, family, and friends. Only $45 each including shipping.
Sizes of (M) men or (W) women shirts; Small, Medium, Large, XL, XXL, and XXXL. At this time all orders will arrive as Short Sleeve shirts.
You may pay by check or credit card. Complete your order online here or mail an order along with payment to: AFIO, 7600 Leesburg Pike, Ste 470 East, Falls Church, VA 22043-2004. Phone orders at 703-790-0320.
If interested in other shirt colors or sleeve lengths, contact Annette at: annettej@afio.com.

---

NEW: Mug with color glazed logo. Made in America. (We left out all that lead-based glaze and hidden toxins in those mugs made in China being sold by other organizations). Also sturdy enough to sit on desk to hold pens, cards, paperclips, and candy.

This handsome large, heavy USA-made ceramic mug is dishwasher-safe with a glazed seal. $35 per mug includes shipping. Order this and other store items online here.

---

---

Call for Papers: The University of Texas at Austin Announces the 2019 "Bobby R. Inman Award" for Student Scholarship on Intelligence

Austin, Texas – The Intelligence Studies Project of The University of Texas at Austin announces the fifth annual competition recognizing outstanding student research and writing on topics related to intelligence and national security. The winner of the "Inman Award" will receive a cash prize of $5000, with two semifinalists each receiving a cash prize of $2500. This competition is open to unpublished work by undergraduate and graduate students enrolled in degree programs at accredited U.S. higher education institutions during the 2018-19 academic year. The deadline for submitting papers is June 30, 2019.

The Intelligence Studies Project was established at The University of Texas at Austin in 2013 as a joint venture of the Robert Strauss Center for International Security and Law and the Clements Center for National Security with the LBJ School of Public Affairs. The Project's mission is to improve understanding of intelligence activities and institutions through research, courses, and public events bringing intelligence practitioners together with scholars, students, and the public.

The Bobby R. Inman Award recognizes more than six decades of distinguished public service by Bobby R. Inman, Admiral, U.S. Navy (Ret.). Admiral Inman served in multiple leadership positions in the U.S. military, intelligence community, private industry, and at The University of Texas. His previous intelligence posts include Director of Naval Intelligence, Vice-Director of the Defense Intelligence Agency, Director of the National Security Agency, and Deputy Director of Central Intelligence. He continues to serve as a teacher, advisor, and mentor to students, faculty members, and current government officials while occupying the Lyndon B. Johnson Centennial Chair in National Policy at the LBJ School of Public Affairs. His areas of teaching and research are focused on political, economic, and military activities, policy processes and institutions, international affairs and diplomacy, and intelligence and national security.

Additional information about the Inman Award, including submission requirements and previous winners, is available here.
---
UPCOMING EVENTS
The Tian'anmen Square Massacre of 4 June 1989
A Day that Marked a Turning Point in Chinese History

SPEAKERS: Author Greg Nedved and Dr. Laura Kaplan Murray

Summer NCMF Cryptologic Program

5 June 2019, 10 a.m. - 1:30 p.m. - Annapolis Junction, MD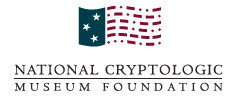 On the 30th Anniversary of this significant event in Chinese history, the National Cryptologic Museum Foundation (NCMF) invites you to come and learn about this tragedy from two NSA Center for Cryptologic History historians and experts on Chinese society. We are thrilled to have Mr. Greg Nedved and Dr. Laura Kaplan Murray with us as our special guest speakers. Lunch will follow the morning presentation, and a book sale will include a book by Mr. Nedved, Presidential Foreign Language Trivia. To view a 2-page program flyer of the event, access it here.
TIMING: 10 a.m-11:45 a.m.program followed by lunch noon-1 p.m.
LOCATION: CACI Inc., Maryland Conference Center, 2720 Technology Dr, Annapolis Junction, MD 20755
FEE: Registration Fee, inclusive of lunch, is $25 for members and guests.
REGISTER: Register online here or mail your check to NCMF, PO Box 1682, Ft. Meade, MD 20755.
Qs?: call the NCMF office at 301-688-5436
To learn more about the topic or speakers, as well as the presentation, do so here.
---
National Centers of Academic Excellence (CAE) have been updated on AFIO's website
The listing of those universities certified as "CAE" = Center of Academic Excellence program institutions as established by the Director of National Intelligence, has been extensively updated. Centers of Academic Excellence (CAE) [aka National Centers for Academic Excellence] includes those institutions specializing in IA (Information Assurance): Cyber Defense and Cyber Operations. 
Other Recent CAE News: 2019 CAE Virtual Career Fair
This year, the Centers of Academic Excellence (CAE) in Cybersecurity is hosting the third annual CAE Virtual Career Fair (VCF) 27 September 2019... Read More
---
New and Forthcoming Books of the Week
Moscow has Ears Everywhere: New Investigations on Pasternak and Ivinskaya
by Paolo Mancosu
(Hoover Institution Press, Mar 2019)
The conflict between Soviet Communists and Boris Pasternak over the publication of Doctor Zhivago did not end when he won the Nobel Prize, or even when the author died. Paolo Mancosu tells how Pasternak's expulsion from the Soviet Writers' Union left him in financial difficulty. After Pasternak's death, Olga Ivinskaya, his companion, literary assistant, and the inspiration for Zhivago's Lara, also received some of the Zhivago royalties. After the KGB intercepted Pasternak's will on her behalf, the Soviets arrested and sentenced her to eight years of labor camp. The ensuing international outrage inspired a secret campaign in the West to win her freedom. Mancosu's new book—the first to explore the post-Nobel history of Pasternak and Ivinskaya—provides extraordinary detail on these events, in a thrilling account that involves KGB interceptions, fabricated documents, smugglers, and more. While a general reader will respond to the dramatic human story, specialists will be rewarded with a rich assemblage of new archival material, especially letters of Pasternak and Ivinskaya from the Feltrinelli Archives and the Hoover Institution Library and Archives.

Book may be ordered here.
---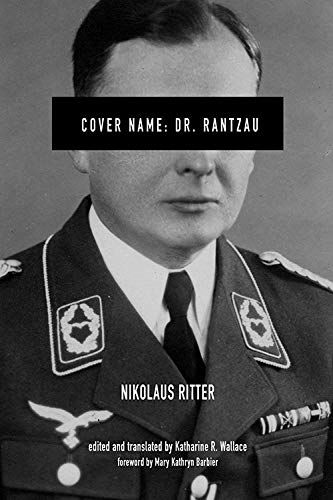 Cover Name: Dr. Rantzau
by Nikolaus Ritter, with Katharine R. Wallace, Editor/translator
(University Press of Kentucky, May 2019)
A gripping diary-like personal account of espionage during the Second World War and one of very few historic memoirs written by an ex-Abwehr officer. Detailed is how Colonel Nikolaus Ritter, following a brief World War I career and over ten years as a businessman in America, returned to Germany in spring of 1935 and became Chief of Air Intelligence in the Abwehr. He was assigned to establish a network of agents to gather information on British and US airfields, aircrafts, and state-of-the-art developments in the aerospace industry. Among others, Ritter's cover names were Dr. Rantzau and Dr. Reinhard in Holland, Belgium, and Luxembourg, Dr. Jansen in Hungary, Dr. Renken in Germany, and Mr. Johnson in America. Throughout his service in the Abwehr, Ritter smuggled America's most jealously guarded secret, the Norden bombsight and the Sperry gyroscope, into Germany, and coordinated the planning for the invasion of the British Isles (Operation Sea Lion). Ritter was incarcerated by the British in 1945 and sent to the Bad Nenndorf interrogation centre.
Katharine Ritter Wallace, the daughter of Col. Ritter, presents the first English translation of the German World War II memoir. With a combination of collected documents, correspondences, personal notes, communications with peers, and from memory, revealing an insider's glimpse of the German intelligence service and a handler's expansive and diverse agent network.

Book may be ordered here.
---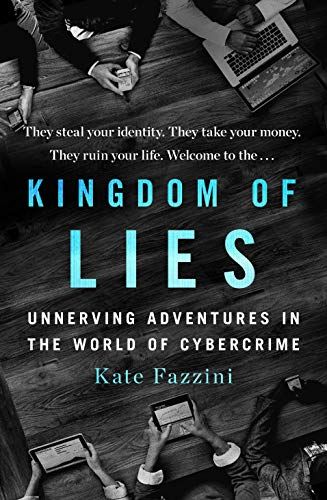 Kingdom of Lies: Unnerving Adventures in the World of Cybercrime
by Kate Fazzini
(St. Martin's Press, May 2019)
Behind-the-scenes look at the interconnected cultures of hackers, security specialists, and law enforcement. A 19-year-old Romanian student stumbles into a criminal ransomware ring in her village. Soon she is extorting Silicon Valley billionaires for millions–without knowing the first thing about computers.
A veteran cybersecurity specialist has built a deep network of top notch hackers in one of the world's largest banks. But then the bank brings in a cadre of ex-military personnel to "help."
A cynical Russian only leaves his tiny New Jersey apartment to hack sports cars at a high performance shop in Newark. But he opens his door to a consultant who needs his help.
A hotel doorman in China once served in the People's Army, stealing intellectual property from American companies. Now he uses his skills to build up a private side-business selling the data he takes from travelers to Shanghai's commercial center.
Kingdom of Lies follows the intertwined stories of cybercriminals and ethical hackers as they jump from criminal trend to criminal trend, crisis to crisis. A cybersecurity professional turned journalist, Fazzini illuminates the many lies companies and governments tell us about our security, the lies criminals tell to get ahead, and the lies security leaders tell to make us think they are better at their jobs than they are.
Good reading for anyone contemplating a career in cybersecurity and a useful tool for turning people's thoughts in that direction.

Book may be ordered here.
---
FICTION by former officer: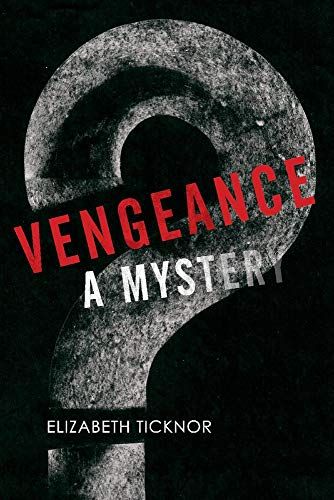 Vengeance: A Mystery
by Elizabeth Ticknor
(BookBaby, Mar 2019)
Amateur detectives, Ruth, her husband, Ted, and their neighbors, retired CIA operatives, Lil and David are back to solve another murder. Their neighbor's nineteen-year-old granddaughter, Katie — a troubled young woman with a recurring drug habit — is dead. The police conclude Katie died of an accidental drug overdose. Katie's grandmother, Connie, is convinced her granddaughter has been murdered, and enlists the help of her four neighbors who begin looking for likely suspects. Whittling down that list is a challenge since Katie fantasized that dozens of casual acquaintances were in love with her. Had one of her fantasy romances gone wrong? Our team of professionals is put to the test after a second murder occurs. Leads take them from Delaware, to Arizona, to Virginia in pursuit of the killer. The author is a former CIA operations analyst.

Paperback Book may be ordered here. Kindle version also available.
---
| | |
| --- | --- |
| At right, public service recognition week short video from our outstanding corporate member Starr Wright USA, which supplies special insurance policies to intelligence officers and other government officials. Click image above, or here, to view video. | |
| At right, a request by the FBI seeking tips, pursuing justice during Police Week, as the FBI intensifies its efforts to identify and arrest fugitives believed to be involved in the assault or murder of law enforcement officers. Click image at right for full story, or view story here. | |
---
---
Section I - INTELLIGENCE HIGHLIGHTS

Ex-Intelligence Analyst Released Ahead of Trial. A former government intelligence analyst charged with leaking classified documents to a reporter is being released from custody while he awaits trial.

Thirty-one-year-old Daniel Everette Hale of Nashville, Tennessee, was arrested Thursday morning on charges filed under the federal Espionage Act.

At an initial appearance Thursday afternoon in Nashville, a magistrate ordered Hale' release under pretrial supervision until his next hearing. That will be May 17 in Virginia.

An indictment filed in Alexandria, Virginia, states Gale worked as an intelligence analyst for the Air Force and later for the National Geospatial-Intelligence Agency. [Read more: AP/9May2019]

Venezuela: Maduro Targets Ex-Spy Chief Figuera in Outburst. Venezuela's president, Nicolás Maduro, has accused his former spy chief of being a CIA infiltrator who helped mastermind last week's botched attempt to topple him.

In a televised address, Maduro claimed General Manuel Cristopher Figuera - the most powerful figure to join Juan Guaidó's failed 30 April uprising - had been recruited by US intelligence services in 2018.

This week Figuera released a video statement from outside Venezuela accusing Maduro and his circle of looting state wealth while "demanding more sacrifices" from citizens, whom he called upon to rise up "build a new state".

Maduro said Figuera - until last week the the head of Venezuela's feared Bolivarian intelligence service, Sebin - was about to be detained when he defected to throw his weight behind Guaidó's unsuccessful revolt. [Read more: Phillips/Caracas/10May2019]

Former Head of Ethiopian Intelligence Charged in Absentia. The former head of Ethiopia's intelligence service was charged in absentia on Tuesday with misuse of power and corruption, part of a crackdown by Prime Minister Abiy Ahmed's government on senior security officials suspected of rights abuses.

Details of the two charges against Getachew Asefa, former head of the National Intelligence and Security Service, and 25 other defendants ran to 106 pages.

Getachew is accused of torture, causing deaths during interrogations and detaining members of opposition groups - at a time when they were labelled terrorist groups and banned under the previous government.

Four of those charged, including Getachew, are missing; the charge sheet says they are hiding in the Tigray region. The rest are in custody. [Read more: Reuters/7May2019]

NGA Announces Stacey Dixon as Deputy Director. The National Geospatial-Intelligence Agency announced May 9 that Stacey Dixon, Ph.D., director of the Intelligence Advanced Research Projects Activity, has been named the agency's eighth deputy director.

"Dr. Dixon is a proven leader who has a deep understanding of NGA and the entire intelligence community, its current challenges and the bright opportunities that lie ahead," said NGA Director Vice Adm. Robert Sharp. "She has earned a stellar reputation for synthesizing complex national security problems, developing solutions, boldly leading enterprise operations and caring for people."

Prior to her IARPA directorship, Dixon held a number of positions within the intelligence agency. [Read more: NGA/9May2019]


---
Section II - CONTEXT & PRECEDENCE

Army GLOs Enable Joint Combat Power, Battlefield Safety. The Department of Defense receives a significant amount of its intelligence from the Air Force distributed common ground system, which is an enterprise of globally networked analysts and cyber professionals linked together by a global communications architecture.

Although geographically separated, the sites work together to provide worldwide intelligence to multiple theaters of operation.

The 497th Intelligence, Surveillance, and Reconnaissance Group at Joint Base Langley-Eustis, Virginia, houses Distributed Ground System-1. In daily operations, intelligence Airmen utilize the expertise of Army ground liaison officers to translate Army operational and tactical terminology and graphics in operations orders to verbiage that Airmen can understand. [Read more: Wilson/AFNS/13May2019]

CIA Recruiting Comes Out Into The Open. At a superhero extravaganza in Washington, comic book fans dressed the part. No matter which way you turned, middle-aged men were in Batman costumes.

Not exactly the place you'd expect a CIA discussion on recruiting foreign spies. And yet CIA staff historian Randy Burkett, wearing khakis and a polo shirt with the CIA logo, was doing exactly that.

"We came up with this game," explained Burkett, who handed out copies of an actual letter Albert Einstein sent to President Franklin D. Roosevelt in 1939 warning about early Nazi efforts on an atomic bomb.

Einstein was already in the U.S. by this time. But for this game, the twist was to pretend he was still in Nazi Germany and figure out how to recruit him - without getting him arrested or killed. [Read more: Myre/NPR/13May2019]

'The Shadow War': How a Chinese Spy Stole Some of the Pentagon's Most Sensitive Secrets. To his American friends and contacts, Stephen Su was an affable businessman and gregarious guy.

"People liked him," Bob Anderson, the FBI's former head of counterintelligence, told me. "They didn't think he was an asshole and I know that sounds stupid, but people are people and that's how it started."

Stephen Su, who also went by his Chinese name Su Bin, lived in his native China but traveled frequently to the United States and Canada, to build a business in the aviation and aerospace sectors. His company, Lode-Tech, was a small player in a field of giants. However, from 2009 to 2014, Su steadily and deliberately built a network of close business contacts inside far bigger US and Canadian defense contractors who held some of most sensitive US military contracts.

"So, he cultivates you over time," Anderson recalled. [Read more: Sciutto/CNN/8May2019]

Wippl Publishes Article on Spydom's Chiefs Evaluated. Joseph Wippl, Professor of the Practice of International Relations at the Frederick S. Pardee School of Global Studies at Boston University, published a recent review of Spy Chiefs: Intelligence Leaders in the United States and United Kingdom and Spy Chiefs: Intelligence Leaders in Europe, the Middle East, and Asia (Georgetown University Press, Washington, DC, 2018) by Christopher Moran, Mark Stout, Ioanna Iordanou, and Paul Maddrell.

Wippl's article, entitled "Spydom's Chiefs Evaluated," was published in the International Journal of Intelligence and Counterintelligence.

From the abstract of the article: [Read more: BU/13May2019]


---
Apollo's Shadow: The CIA and the Soviet Space Program During the Moon Race. Sputnik was not a strategic surprise for the CIA. Unlike Pearl Harbor, the intelligence community had plenty of data about what was happening inside the Soviet Union in the months before October 1957 and, in fact, had warned the White House that the Soviet Union was planning on launching a satellite into Earth orbit very soon. The CIA had also warned that a successful satellite could become a propaganda victory for the Soviet Union. It was not the intelligence community that failed the American government with Sputnik; the failure was the inability of senior American political leadership, notably President Dwight D. Eisenhower, to understand how the American public - and the rest of the world - would respond.

In retrospect, looking back over half a century later, for the duration of the Space Race with the Soviet Union, the United States intelligence community did a remarkably good job at assessing Soviet capabilities in space. Over time they acquired greater capabilities, such as ground-based tracking and communications interception antennas, photo-reconnaissance satellites, and eventually satellites able to collect the faint whispers of telemetry signals from Soviet rockets and ICBMs. But the CIA and other agencies also developed good analytical tools, refining them by talking to American spacecraft and rocket experts, and learning how and why certain technological paths are taken and others avoided. Understanding how rocket programs worked enabled the CIA's space and missile analysts to better interpret Soviet actions, and anticipate future ones. [Read more: Day/SpaceReview/13May2019]

Unveiling Algeria's Dark Side: The Fall of the Butcher of Algiers. The popular protests in Algeria, the most dynamic political process in the Arab world since the Arab Spring, have not only toppled a dictator, they have also brought to jail the darkest figure in the country's tortured past: former intelligence chief Muhammad Medične, also known as the Butcher of Algiers. A thorough public investigation of his quarter-century in office would expose the ugly side of Algeria's opaque police state.

Medične was the longest-serving intelligence chief in the world when he was sacked by President Abdelaziz Bouteflika in 2015. He was notorious for being hidden from view: There are only a handful of photos of him, and most are fuzzy. He was known as the leader of the army faction called Les eradicators, which advocated a ruthless war against political Islam and Islamic terrorists in the country, a campaign that led to a decade-long civil war. It was said that if you saw Medične's face, it was the last you ever saw
- an apocryphal story intended to intimidate. [Read more: Riedel/Brookings/8May2019]

The U-2 Spy Plane Still Deserves a Lot of Respect. Even while accompanying the aircraft carrier strike group Abraham Lincoln into the Persian Gulf, going nose-to-nose with Iran's military and flying at 70,000 feet, the U-2 spy plane is likely one aircraft that will never land on an aircraft carrier or Iranian soil. But it is every inch a warplane and spy tool that Congress and the Pentagon must keep top of mind when it comes to doling out the resources and technology.

This is the same plane - with some modifications - that was piloted by Francis Gary Powers and shot down by the Soviet Union in 1960.

With a fleet that now comprises 32 aircraft, known as Dragon Ladies, they have flown over every major battlefield and contested frontier in the more than half a century since the plane first debuted in 1955. The U-2 is the third leg - perhaps most ignored and least understood because of its elite, top-secret status - of today's espionage triad that also includes drones and spy satellites. Often, because unlike drones or satellites, it is piloted on board by top-of-the-line specialists able to react quickly to every observation, it is often the most important leg. But the plane and the courageous pilots who fly it to the doorstep of space deserve to be more publicly recognized and rewarded for their unsung roles in preserving America's security. [Read more: Andelman/CNN/10May2019]

The Saga of the Chinese Mole Reads Like a Thriller. Behind last week's admission by a former CIA officer that he plotted to spy for China lies an astonishing tale of Beijing's espionage against America - and the vindication of other CIA officers who were falsely suspected of being the Chinese mole.

This saga has a classic thriller plot, in which a suspect must find the real villain to clear his name. Unfortunately, most of the details of the true-life version remain secret, under seal at the U.S. Attorney's office in Alexandria or in the vaults of the CIA. But knowledgeable sources sketched parts of the story that aren't classified.

Jerry Chun Shing Lee, who was a CIA case officer from 1994 to 2007, pleaded guilty May 1 to conspiring with Chinese intelligence agents to provide secret information. U.S. officials won't discuss the precise damage Lee did, but intelligence experts believe he was part of an aggressive Chinese spy operation that led to the exposure, arrest and execution of at least 20 CIA sources inside China. For an intelligence service like the CIA, that's as bad as it gets. [Read more: Ignatius/WashingtonPost/13May2019]

Dan Hoffman: On Mother's Day, I Think of CIA Assignments That Kept Me Far From My Family. I returned home from having served almost two years as the CIA chief of station in a South Asian conflict zone in June 2016, just before Father's Day. Having missed too many birthdays and holidays over the years, I felt blessed to celebrate Father's Day both as a father and a son.

I had not been present for most of my 3-year-old son's life. For him it was now "mommy's house, mommy's car, mommy's other car." He had no concept of what I was doing overseas, only that I was not home where I belonged. For weeks after my return he would ask only for his mother to snuggle him in bed before he went to sleep.

My 6-year-old son had finished preschool and kindergarten. Music now captivated him. I understood how Tom Hanks' character in "Cast Away" must have felt when he returned home after years stranded on a deserted island following a plane crash.

Life had carried on in my absence. I had missed my kids growing up and sharing everything with my wife. I had to catch up as best I could on their lives, which were - at least in my eyes - so rapidly transformed. [Read more: Hoffman/Fox/10May2019]


---
Section IV - Obituaries, Jobs, Research Assistance
Maureen Crandall, an Economics professor and former CIA employee
Maureen Sullivan Crandall, 77, died 28 April 2019 in Lexington, VA.
She grew up in Windsor, CT, and graduated from the Loomis Chaffee School. She was a Cum Laude graduate of Smith College, and also of Northwestern University, where she earned a PhD in economics. Her career in economics included teaching at Lake Forest College in Illinois and at Wellesley College in Massachusetts, and also as a member of the faculty at MIT's Sloan School and Energy Laboratory. Thereafter in Washington, she worked for Foster Associates, Inc., the Central Intelligence Agency, the Department of Energy, and the National Defense University (NDU), where she taught economics and other courses to military and civilian students. She retired from federal service in 2014.
She was an adjunct professor of energy and security at Georgetown University's School of Foreign Service. She published numerous papers and book reviews on energy economics and policy, and authored the book, Energy, Economics & Politics in the Caspian Region: Dreams and Realities, published by Praeger Security International in 2006. She served as President of the National Capital Area Chapter of the United States Association for Energy Economics in 2006-2007, and also in various capacities on the national council of the USAEE, which gave her its Senior Fellow Award in 2009. She won faculty research awards at NDU in both 2008 and 2009. In 1991 CIA awarded her the National Intelligence Medal of Achievement for her work on energy topics in the first Gulf War. She was known for her excellent command of her subjects, enthusiasm, and extraordinary teaching capabilities.
She is survived by two brothers, a son and a daughter, an ex-husband, and other family.
A memorial reception will be held from 5 to 8 p.m., Friday, May 17, 2019, at Carmon Funeral Home, 807 Bloomfield Avenue, Windsor, CT. Interment will take place at 11 a.m., Saturday, May 18, 2019, at Palisado Cemetery, Windsor, CT.
Jim Kennedy, Asst IG at NSA
James C. Kennedy, 90, a former Assistant Inspector General at NSA, died 28 April 2019.
Mr. Kennedy retired from the National Security Agency in 1985 having served 35 years. Prior to retirement he was the Assistant Inspector General.
He was a proud member of the Phoenix Society.
He is survived by his loving wife of over 65 years, Clara B. Kennedy, a son, and other family.
Dick Schmidt, former CIA officer
Richard Leo Schmidt, 79, died 25 April 2019 in Falls Church, VA.
Dick graduated from Holstein (Ohio) High School and earned a BA degree from Morningside College in Sioux City, IA. Following graduation, he entered the U.S. Army and was deployed to Thailand, Bangkok for two years, with short term assignments to Saigon. Following his military service, Dick returned to Sioux City, IA where he was an insurance underwriter for one year before joining the Central Intelligence Agency.
In retirement he enjoyed European travel and sports, especially football, soccer, golf and bowling.
Dick is survived by two daughters, and other family.
Charlie Seidel, former CIA DO Executive
We just learned that Charles B. Seidel, a 26 veteran of CIA who served as a Senior Executive (SIS) in the Directorate of Operations before retiring in June 2006, died 6 May 2019...doing what he loved . . . teaching/talking intelligence operations, and working/living in the Middle East.
During this CIA tenure, Mr. Seidel was responsible for dealing directly with the political, military and intelligence leadership in more than six countries in which he served, principally in the Middle East.
Seidel's US Government career while with CIA focused most heavily on Egypt, Iraq and Libya. He served for seven years in Egypt where he was a primary interlocutor between the US Intelligence Community and the Egyptian government at the highest levels. He served in this same capacity in Iraq during 1989-1990 and was a principal there during the invasion of Kuwait.
Mr. Seidel directed all CIA Iraqi operations in the Middle East immediately prior to the 2003 Iraq war and again was the most senior Intelligence Community representative in the period immediately after the fall of Saddam. Mr. Seidel served in leadership positions in several cities in which he served, including Amman, Damascus, London and New York.
In retirement, Seidel maintained regular contact with senior government officials in Egypt, Jordan, Iraq and other Middle Eastern countries in support of a wide range private sector projects in the Middle East. Among these projects was his leadership in overseeing field efforts to recover Libyan assets stolen by the Qadhafi regime. This activity brought Mr. Seidel in direct contact with banking officials across the Middle East, North and South Africa as well as Western Europe.
During his US Government career, Seidel was twice awarded the Intelligence Star for valor by the Central Intelligence Agency, the CIA equivalent of the U.S. military Silver Star.
He didn't finish that assignment for operational reasons. How apropos that he transitioned to the Station upstairs while working in Saudi.
NOTE: When a formal obituary appears, we will update/correct the information above.
---
Faculty Opportunities in Cybersecurity:
FireEye Has Three Positions in Reston, Virginia
Job Title:

Company:

Experience:

7 to 20 years

Employment Type:

Full Time

Job Location:

Reston, VA

Product Manager Big Data/Data Analytics Reston, VA Full time Company Description FireEye is the leader in intelligence led security as a service. Working as a seamless, scalable extension of customer security operations, FireEye offers a single platform that blends innovative security technologies, nation state grade threat...

Job Title:

Company:

Experience:

5 to 20 years

Employment Type:

Full Time

Job Location:

Reston, VA

Project Manager & Scrum Master (REMOTE) Reston, VA, USA Full time Company Description FireEye is the leader in intelligence led security as a service. Working as a seamless, scalable extension of customer security operations, FireEye offers a single platform that blends innovative security technologies, nation state grade t...

Job Title:

Company:

Experience:

Open

Employment Type:

Full Time

Job Location:

Reston, VA

Senior Build and Release Engineer Reston, VA, USA Full time Company Description FireEye is the leader in intelligence led security as a service. Working as a seamless, scalable extension of customer security operations, FireEye offers a single platform that blends innovative security technologies, nation state grade threat...
CAVEAT: AFIO does not "vet" or endorse research inquiries, career announcements, or job offers. Reasonable-sounding inquiries and career offerings are published as a service to our members, and for researchers, educators, and subscribers. You are urged to exercise your usual caution and good judgment when responding, and should verify the source independently before deciding if you wish to supply a resume, career data, or personal information. Your participation in research aids the Intelligence Community and future officers.
STANDING RESEARCH PROJECT BY AFIO: Professor/Researcher Seeks Identification of Events Significantly Affected by Intelligence for "When Intelligence Made a Difference" AFIO Publication
AFIO is beginning a new educational project entitled "When Intelligence Made a Difference." We invite you to identify events involving any nation or organization when the outcome was affected significantly by intelligence.
We plan to publish edited submissions serially in our print-only member magazine Intelligencer: Journal of US Intelligence Studies.
If you are interested in contributing an article, please email peter.oleson@afio.com. Briefly state what event you have in mind, and include your bio. [AFIO will identify authors by name and current or former title only ― no multi-line biographies.] If your suggestion is a good fit for this project, we will respond asking for your comments on that event, not to exceed 1,500 words (excluding footnotes).
When you send your article and bio, please let us know if you have ever had prior employment or contract work within the US Intelligence Community -- and, to meet pre-publication review requirements, supply a copy of the official approval letter or email you received back, naming and clearing for publication the article you are sending us. Without this, we are unable to consider or include your article in the publication.
As with most nonprofit academic publications, contributors will not be paid, however AFIO will publish under broad, pro-educational Creative Commons copyright. Therefore, authors retain the right to use their articles anywhere else they wish, after its publication in Intelligencer.
Eight weeks after publication of your contribution in the print-only version of Intelligencer, the article will then appear on AFIO's website for general public/educational access. Since the time of 1) an article's acceptance, and 2) appearance in print, and then 3) inclusion online can run eighteen months to three years from start-to-finish, a title-author listing of all accepted forthcoming articles (but no summaries) will be included in a print edition of Intelligencer and online. So it is imperative authors be patient as these articles are released on this serialized basis, in our two or three journal issues per year. By submitting an article to us authors acknowledge and accept these provisions.
This project would make a good class assignment. Accepted articles would give students a publication credit in a recognized journal.
Again, if you wish to participate or explore more aspects of this project, email Peter Oleson at peter.oleson@afio.com.
---
AFIO EDUCATIONAL EVENTS IN COMING TWO MONTHS....
15 May, 2019 (Wednesday), 11:30 a.m. - San Francisco, CA - The AFIO San Francisco Chapter hosts DEA Assistant Regional Director (ret) Bruce Goldberg on Illicit Drug Traffic Control and International Cooperation
Speaker: DEA Assistant Regional Director (ret) Bruce Goldberg
Topic: Mr. Goldberg will discuss how he and his team of agents collaborated with the Ecuadorian Special Police and Military to uncover and investigate the first ever narco-submarine.
Timing: 11:30 a.m. no-host cocktails; 12 noon meeting
Location: Basque Cultural Ceneter, 599 Railroad Ave, South San Francisco, CA
RSVP: Enter your registration here.
Thursday, 16 May 2019, 11:30 a.m. – Colorado Springs – The AFIO Rocky Mountain Chapter hosts Dr. Gail Nelson, discussing "Thinking in Time: Strategic Intelligence Parameters Today."
Synopsis: "Thinking in Time" encompasses the Strategic Intelligence Threats that plague nations across the geopolitical and ideological divide. The brief captures many major challenges by recommending classic Estimative Intelligence Methodologies in Annual Regional and Country Geopolitical Formats for regular review by senior national security staffs thus facilitating the demand for Special Estimates and Crisis Scenario Development during emerging crises. The absence of these finished intelligence products exponentially increases the liabilities of risk management and miscalculation exactly at a time when leaders demand accuracy in assessing adversary intentions in a complex world.
Gail Nelson, Ph.D. a veteran DOD Intelligence Officer, received his Political Science BA at California State College, Long Beach, in 1966 and completed doctoral work at the University of Colorado in 1979. His career assignments include US Army Europe, US Air Forces Europe, and US European Command specializing in Russian and East European Geopolitical Affairs. He later was appointed Senior Advisor to the Afghan Chief of Military Intelligence; and performed similar responsibilities in the Philippines and Iraq. His published monographs explore the Political Psychology of Nazi Genocide; Soviet Defense Decision Making; Warsaw Pact Crisis Management; and biographies on Security & Intelligence leaders. He was awarded the Meritorious Civilian Service Medal during the Cold War, the Distinguished Civilian Service Medal in 2001, and foreign advisory recognitions later.
For more information or to attend, contact steve13507@gmail.com.
25 May 2019, 11:30am - 2pm - Patrick AFB, FL - AFIO Florida Satellite Chapter hosts Col Mike McCalister USA(Ret) discussing "CENTCOM and SpecOps."
Colonel Mike McCalister, USA (ret.) served in the U.S. Army and the Army National Guard for over thirty years. He occupied a senior staff positon in CENTCOM in the special operations area. He has been an instructor at the university level and served in various command positions in the National Guard. He will address us on his experiences in CENTCOM and, with any luck, in the SpecOps area as he may be able to share.
Timing: 11:30 AM - 12:15 PM: Social Hour, greet old, new members and guests (limited cash bar – honor system); 12:15 PM: Sit-Down lunch
NOTE NEW Location: The Tides, 1001 N. Hwy A1A, Bldg #967, Patrick AFB, FL 32925
TO ATTEND: Prepaid reservations are required which must be received by 20 May 2019. To reserve, please contact the chapter treasurer (if you did not directly receive a form to register for the lunch). She can be reached at afiofsctreas@gmail.com.
For those with a registration form, complete it and send check and meal choice to: Chapter Treasurer Rhonda Rhoads, PO Box 410158, Melbourne, FL 32941.
Rhonda can also be reached at afiofsctreas@gmail.com, and at 321 626 -4465.
Paid, advance registration is required and none can be accepted after 20 May.
Please note new meeting venue at top of this announcement.
Menu Choices are: Parmesan-crusted chicken breast with cream corn chipotle sauce (C); Pulled BBQ pork plate with cole slaw and roasted potatoes. (P); Dessert is key lime pie with Chantilly cream.
Cost is $28/members, $30 non-members.
Wednesday 18 September 2019, 5:30 p.m. - New York, NY - AFIO NY Metro Chapter hosts Larry Loftis, on SOE Hero, Odette Sansom, in his book Code Name: Lise
Larry Loftis is the author of Code Name: Lise―The True Story of the Woman Who Became WWII's Most Highly Decorated Spy, the story of Odette Sansom (1912-1995), a Frenchwoman living in England, wife of an Englishman and mother of 3 daughters, who was recruited into Britain's Special Operations Executive (SOE) to conduct espionage in France during WW II with her commander, and yet-to-be second husband, Peter Churchill. Leaving her daughters in a convent school and with relatives, she joined the rigorous training program, becoming proficient with a wide range of weapons, learning the fine points of spycraft, and perfecting her new identity with the code name Lise. In France she proved herself fearless. Hunted by the Germans, in 1943, Odette and Peter were captured, imprisoned, and tortured. Loftis describes Odette's ordeal in grisly detail. Two lies saved her: She pretended that she and Peter were married (they would be after the war) and that Peter was related to Winston Churchill. In defeat, the Gestapo hoped to use her as a bargaining chip.
Location: Society of Illustrators, 128 E 63rd St (between Park and Lexington), New York, NY 10065.
Timing: Registration starts at 5:30 pm, Speaker presentation starts at 6 pm. Fee: $50/person. Payment at the door only. Cash or check. Full dinner, cash bar.
RSVP: Strongly recommended that you RSVP to ensure space at event. Call or Email Chapter President Jerry Goodwin at afiometro@gmail.com or 646-717-3776.
---
Other Upcoming Events from Advertisers, Corporate Sponsors, and Others
Thursday, 16 May 2019, 2 - 3pm - Washington, DC - "China and International Telecommunications Issues Facing the US" is topic at this Daniel Morgan Graduate School program
Michael O'Rielly, Commissioner, Federal Communications Commission, will discuss "China and International Telecommunications Issues Facing the US."
Michael O'Rielly was nominated for a seat on the Federal Communications Commission by President Barack Obama and was sworn into office in November 2013. In January 2015, he was confirmed and sworn into office for a second term, which extends until June 30, 2019.
Prior to joining the agency, Commissioner O'Rielly spent almost 20 years working in prominent Republican communication policy and leadership positions for the U.S. House of Representatives and the U.S. Senate.
Most recently, he served as a Policy Advisor in the Office of the Senate Republican Whip, led by U.S. Senator John Cornyn (R-TX).
Commissioner O'Rielly received his B.A. from the University of Rochester.
Event is being held at the Daniel Morgan Graduate School, 1620 L St NW, Suite 700, Washington, D.C. 20036
RSVP Required here.
Direct questions to Frank Fletcher, Director of Lectures & Seminars by email to, events@dmgs.org.
Please note that you must RSVP to attend this event.
Daniel Morgan Graduate School of National Security reserves the right to refuse entry.
16 May 2019, 6 pm - Washington, DC - "Night of Heroes Gala 2019" by the PENFED Foundation

The PENFED Foundation hosts their impressive annual "Night of Heroes Gala 2019" at the beautiful Mandarin Oriental, 330 Maryland Ave SW, Washington, DC 20024. This year marks the 15th annual gala honoring our unsung heroes ― military children. Each year, the PenFed Foundation raises more than $1.5 million for military heroes through this hallmark event. Last year's event sold out and raised $2.5 million! Do not miss your opportunity to support Military Heroes.
6 pm General Reception and Silent Auction; 7 pm Dinner Program; After Dinner - Dessert Reception. To learn more...or to register.
17 May 2019, Noon to 1:30pm - Washington, DC - The International Spy Museum Luncheon and Book Signing with Lynne Olson
A luncheon at the new International Spy Museum features Lynne Olson, historian, journalist, author of Madame Fourcade's Secret War. The sponsor/host of the luncheon is Museum board member, former Governor (Michigan) Jim and Janet Blanchard. Olson will share insights from her book, which is an account of Marie-Madeline Fourcade, the woman who headed the largest spy network in occupied France during World War II.
Location: International Spy Museum, 700 L'Enfant Plaza SW, Washington, DC 20024.
Fee: $90 per person.
To register, do so here.
Thursday, 23 May 2019, 9 - 10:30 am - Washington, DC - The Georgetown Center on National Security and the Law Breakfast to Celebrate Launch of the Foreign Intelligence Collection
You are invited to attend a breakfast to celebrate the launch of the Foreign Intelligence Collection.

Curated by Professor Laura K. Donohue and Jeremy McCabe, the Foreign Intelligence Collection contains:
• the legislative histories of all statutory changes to the Foreign Intelligence Surveillance Act (FISA);
• all publicly available opinions and orders issued by the Foreign Intelligence Surveillance Court (FISC) and Foreign Intelligence Surveillance Court of Review (FISCR);
• all FISA-related cases in non-specialized Article III courts;
• statutorily required and special reports on FISA and correspondence between FISC and Congress; and
• an annotated bibliography of select secondary sources related to FISA, FISC/FISCR, and FI law.
The fully-searchable website is designed to be a resource for the judiciary, clerks, legal advisors, amici, government attorneys, members of Congress and their staff, lawyers, scholars, journalists, students, companies, members of the public, and anyone with an interest in or need to understand the legal framework for U.S. foreign intelligence collection.
The panel discussion launching the website will include an overview of the site, a discussion of the materials, and information on the assigned Georgetown Identification (GID) numbers applied to facilitate use of the information.
Professor Laura K. Donohue, Professor of Law, Georgetown Law Center, Director, Center on National Security and the Law and Jeremy McCabe, Research Services Librarian, Georgetown Law Library
Carrie Cordero, Senior Fellow and General Counsel, Center for a New American Security, Adjunct Professor, Georgetown Law Center (moderator)
Event will be held at Georgetown University, McDonough 200. Light breakfast provided.
Please RSVP here or to nationalsecurity@law.georgetown.edu.
Qs? Contact nationalsecurity@law.georgetown.edu.
Wednesday, 29 May 2019, 7:30 - 8:45 pm - McLean, VA - "Caliphaters and Apocalyptic Jihad: The Dynamics of the Most Powerful Millennial Movement of the 21st Century" - topic of Richard Landes's talk at the Westminster Institute
Richard Landes, Director and co-founder of the Center for Millennial Studies, and Senior Fellow at the Center for International Communication at Bar-Ilan University (2015 to present), will discuss: "Caliphaters and Apocalyptic Jihad: The Dynamics of the Most Powerful Millennial Movement of the 21st Century." He is the author of a number of books, including Heaven on Earth: The Varieties of the Millennial Experience.
Of his topic, he says: "Millennial movements seek to usher in 'heaven on earth,' a messianic era in which evil has been destroyed and good finally triumphs. When motivated by a sense of imminent success, apocalyptic-millennial movements move into active phase. The most dangerous of all these movements are those which believe in an active cataclysmic scenario (we are the agents of the necessary and massive destruction of evil that will clear the path), leading to an imperial millennial dream (we will rule the world). Currently Global Jihad represents one of the largest and most dangerous of all such movements known in history. The current ignorance of Westerners about this dimension of the problem and its dynamics constitutes a major weakness in our ability to resist. Worse, certain Western responses enable this movement."
Dr. Landes taught history at Boston University for 25 years and was Director and co-founder of the Center for Millennial Studies. For four years prior, he taught at the University of Pittsburgh. He is also the editor of The Apocalyptic Year 1000: Studies in the Mutation of European Culture; and Encyclopedia of Millennialism and Millennial Movements.
He received an M.A. and Ph.D. from Princeton University in history and a B.A. from Harvard University. He also attended the Ecole Normale Supérieure in Paris.

No fee to attend. Register here.
Location: Westminster Institute, 6729 Curran St, McLean, VA 22101
Qs?: Contact Institute Director Robert R. Reilly at 703-288-2885 or at br@westminster-institute.org.
2 - 5 June 2019 - San Antonio, TX - GEOINT 2019
GEOINT 2019 is hosted and produced by the United States Geospatial Intelligence Foundation (USGIF), a non-profit, non-lobbying educational organization, the annual GEOINT Symposium is the nation's largest gathering of industry, academia, and government to include Defense, Intelligence and Homeland Security Communities as well as commercial, Fed/Civil, State and Local geospatial intelligence stakeholders.
The event annually attracts more than 4,000 attendees from all over the world, features more than 250 exhibiting organizations, offers 50 hours of training sessions, and countless opportunities to learn, exchange ideas, and network. The event is held at the Henry B. Gonzalez Convention Center in San Antonio, TX.
Need support for your request to attend? Download the GEOINT 2019 Justification Letter.
5 June 2019, 10 a.m. - 1:30 p.m. - Annapolis Junction, MD - Summer NCMF Cryptologic Program: The Tian'anmen Square Massacre of 4 June 1989 - A Day that Marked a Turning Point in Chinese History with Author Greg Nedved and Dr. Laura Kaplan Murray.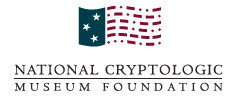 On the 30th Anniversary of this significant event in Chinese history, the National Cryptologic Museum Foundation (NCMF) invites you to come and learn about this tragedy from two NSA Center for Cryptologic History historians and experts on Chinese society. We are thrilled to have Mr. Greg Nedved and Dr. Laura Kaplan Murray with us as our special guest speakers. Lunch will follow the morning presentation, and a book sale will include a book by Mr. Nedved, Presidential Foreign Language Trivia. To view a 2-page program flyer of the event, access it here.
TIMING: 10 a.m-11:45 a.m.program followed by lunch noon-1 p.m.
LOCATION: CACI Inc., Maryland Conference Center, 2720 Technology Dr, Annapolis Junction, MD 20755
FEE: Registration Fee, inclusive of lunch, is $25 for members and guests.
REGISTER: Register online here or mail your check to NCMF, PO Box 1682, Ft. Meade, MD 20755.
Qs?: call the NCMF office at 301-688-5436
To learn more about the topic or speakers, as well as the presentation, do so here.
Monday, 10 - 12 June 2019, 8 am - 5 pm - Queens County, NY - IAFIE 15th Annual Conference Featuring John Miller, Deputy Commissioner of Intelligence & Counter-terrorism, NYPD.
The International Association for Intelligence Education (IAFIE) expects many excellent papers and panels at their upcoming annual conference in New York City. Several distinguished speakers will include John Miller, Deputy Commissioner of Intelligence and Counterterrorism, NYPD. Don't miss this great opportunity to network and get the latest developments in intelligence education.

Consider bringing any interested students to the conference. There is another wonderful student poster competition planned and your students' participation is welcomed!
Event location: St Johns University, Queens Campus, NY. Accommodations arranged with Courtyard New York Queens/Fresh Meadows, or Fairfield Inn & Suites NY Queens/Fresh Meadows. Shuttle services between both locations and the conference location will be available. The campus is conveniently situated halfway between Laguardia and JFK airports.
To register: do so at this link.
Qs?: Additional information available from Keith Cozine at tel 973-928-1154 or cozinek@stjohns.edu
Wednesday, 6 November 2019, 6 - 10:30 pm - Washington, DC - Michael Morell and Jill Singer, Co-Chairs, invite you to The Honorable William H. Webster Distinguished Service Award Dinner at the International Spy Museum
The William H. Webster Distinguished Service Award Dinner will take place at the new home of the International Spy Museum in L'Enfant Plaza. On this special evening, more than 500 attendees will gather to recognize the men and women who have served in the field of National Security with integrity and distinction.
Each year, The Honorable William H. Webster Distinguished Service Award is given to an individual who has embodied the values of our esteemed friend, mentor, and leader ― Judge William H. Webster. This year's honoree is someone known for his invaluable service and contributions to the Intelligence Community, someone that has worked from the ground up and has been both a provider and consumer of intelligence with more than 20 years of experience. It is with great pride that we announce the 2019 honoree is General Michael V. Hayden, former Director of the National Security Agency, Principal Deputy Director of National Intelligence, and Director of the Central Intelligence Agency.
AWARD DINNER CO-CHAIRS: Mr. Michael Morell, Senior Counselor, Beacon Global Strategies and Former Deputy Director and former Acting Director, Central Intelligence Agency; Ms. Jill Singer, Vice President, National Security, AT&T Public Sector & Wholesale; Former Chief Information Officer, National Reconnaissance Office.
Tickets range from $495 to $15,000. Explore your registration options here.
This event is closed to media.
Event location: The New International Spy Museum, 700 L'Enfant Plaza SW, Washington, DC 20024. Directions here.
---
Gift Suggestions:
AFIO's 788-page Guide to the Study of Intelligence. Peter C. Oleson, Editor, also makes a good gift. View authors and table of contents here.

Perfect for professors, students, those considering careers in intelligence, and current/former officers seeking to see what changes are taking place across a wide spectrum of intelligence disciplines. AFIO's Guide to the Study of Intelligence helps instructors teach about the large variety of subjects that make up the field of intelligence. This includes secondary school teachers of American History, Civics, or current events and undergraduate and graduate professors of History, Political Science, International Relations, Security Studies, and related topics, especially those with no or limited professional experience in the field. Even those who are former practitioners are likely to have only a limited knowledge of the very broad field of intelligence, as most spend their careers in one or two agencies at most and may have focused only on collection or analysis of intelligence or support to those activities.
For a printed, bound copy, it is $95 which includes Fedex shipping to a CONUS (US-based) address.
To order for shipment to a US-based CONUS address, use this online form,

To order multiple copies or for purchases going to AK, HI, other US territories, or other countries call our office at 703-790-0320 or send email to afio@afio.com to hear of shipment fees.

Order the Guide from the AFIO's store at this link.

The Guide is also available directly from Amazon at this link.
AFIO's Intelligence Community Mousepads are a great looking addition to your desk...or as a gift for others.
Made in USA. Click image for larger view.
These 2017 mousepads have full color seals of all 18 members of the US Intelligence Community on this 8" round, slick surface, nonskid, rubber-backed mouse pad with a darker navy background, brighter, updated seals. Also used, by some, as swanky coasters. Price still only $20.00 for 2 pads [includes shipping to US address. Foreign shipments - we will contact you with quote.] Order MOUSEPADS here.
Disclaimers and Removal Instructions
Weekly Intelligence Notes (WINs) are commentaries on Intelligence and related national security matters, based on open media sources, selected, interpreted, edited and produced for non-profit educational uses by members and WIN subscribers.
REMOVAL INSTRUCTIONS: We do not wish to add clutter to inboxes. To discontinue receiving the WINs:
a) IF YOU ARE A MEMBER - click here: UNSUBSCRIBE and supply your full name and email address where you receive the WINs. Click SEND, you will be removed from list. If this link doesn't open a blank email, create one on your own and send to afio@afio.com with the words: REMOVE FROM WINs as the subject, and provide your full name and email address where you are currently receiving them.
b) IF YOU ARE NOT A MEMBER, and you received this message, someone forwarded this newsletter to you [contrary to AFIO policies]. Forward to afio@afio.com the entire WIN or message you received and we will remove the sender from our membership and distribution lists. The problem will be solved for both of us.
CONTENTS of this WIN [HTML version recipients - Click title to jump to story or section, Click Article Title to return to Contents. This feature does not work for Plaintext Edition or for some AOL recipients]. If you wish to change to HTML format, let us know at afio@afio.com. The HTML feature also does not work for those who access their e-mail using web mail...however NON-HTML recipients may view the latest edition each week in HTML at this link: https://www.afio.com/pages/ currentwin.htm
---
WINs are protected by copyright laws and intellectual property laws, and may not be reproduced or re-sent without specific permission from the Producer. Opinions expressed in the WINs are solely those of the editor's or author's listed with each article. AFIO Members Support the AFIO Mission - sponsor new members! CHECK THE AFIO WEBSITE at www.afio.com for back issues of the WINs, information about AFIO, conference agenda and registrations materials, and membership applications and much more!
(c) 2000, 2012, 2013, 2014, 2015, 2016, 2017, 2018, 2019. AFIO, 7600 Leesburg Pike, Suite 470 East, Falls Church, VA 22043-2004. Voice: (703) 790-0320; Fax: (703) 991-1278; Email: afio@afio.com
---
About AFIO | Membership Renewal | Change of Address | Upcoming Events | Chapter Locations | Corporate/Institutional Memberships | Careers in Intelligence Booklet | Guide to the Study of Intelligence | Intelligencer Journal | Weekly Intelligence Notes | To Make A Donation | AFIO Store | Member-Only Section | Code of Ethics | Home Page
---