---
CONTENTS
Section I - INTELLIGENCE HIGHLIGHTS
Section II - CONTEXT & PRECEDENCE
Section IV - Obituaries, Jobs, Research Assistance
Other Upcoming Events from Advertisers, Corporate Sponsors, and Others
For Additional AFIO and other Events two+ months or more... Calendar of Events

WIN CREDITS FOR THIS ISSUE: The WIN editors thank the following special contributors: ry, ec, po, mh, km, gh, mk, rd, fm, kc, jm, mr, jg, th, ed, and fwr. They have contributed one or more stories used in this issue.

The WIN editors attempt to include a wide range of articles and commentary in the Weekly Notes to inform and educate our readers. However, the views expressed in the articles are purely those of the authors, and in no way reflect support or endorsement from the WIN editors or the AFIO officers and staff. We welcome comments from the WIN readers on any and all articles and commentary.

CAVEATS: IMPORTANT: AFIO does not "vet" or endorse research inquiries, career announcements, or job offers. Reasonable-sounding inquiries and career offerings are published as a service to our members, and for researchers, educators, and subscribers. You are urged to exercise your usual caution and good judgment when responding, and should verify the source independently before supplying any resume, career data, or personal information.]
If you are having difficulties with the links or viewing this newsletter when it arrives by email, members may view the latest edition each week at this link. You will need your LOGIN NAME and your PASSWORD.

---

Gifts appropriate for intelligence officers, colleagues, recruitments, agents, advisors, and family.

The AFIO Store has following new items ready for quick shipment:

NEW: Long and Short-Sleeved Shirts with embroidered AFIO Logo and New Mugs with color-glazed permanent logo

Show your support for AFIO with our new Polo Shirts. Be the first to buy these new, high quality, subtle heathered grey shirts of shrink and wrinkle resistant fine cotton with a soft yet substantial feel. They feature a detailed embroidered AFIO seal. Get a shirt for yourself and consider as gifts for colleagues, family, and friends. Only $45 each including shipping.
Sizes of (M) men or (W) women shirts; Small, Medium, Large, XL, XXL, and XXXL. At this time all orders will arrive as Short Sleeve shirts.
You may pay by check or credit card. Complete your order online here or mail an order along with payment to: AFIO, 7600 Leesburg Pike, Ste 470 East, Falls Church, VA 22043-2004. Phone orders at 703-790-0320.
If interested in other shirt colors or sleeve lengths, contact Annette at: annettej@afio.com.

---

NEW: Mug with color glazed logo. Made in America. (We left out all that lead-based glaze and hidden toxins in those mugs made in China being sold by other organizations). Also sturdy enough to sit on desk to hold pens, cards, paperclips, and candy.

This handsome large, heavy USA-made ceramic mug is dishwasher-safe with a glazed seal. $35 per mug includes shipping. Order this and other store items online here.

---

---
---
Hold the Date
1 November 2019, 10:30 am - 2 pm - Tysons, VA - SAVE THE DATE for this final AFIO luncheon of 2019. Event features Jonna Mendez, former CIA Chief of Disguise, co-author of (with Tony Mendez, and Matt Baglio) The Moscow Rules: The Secret CIA Tactics That Helped America Win the Cold War, and Vince Houghton PhD, Spy Museum Historian, discussing his just released The Nuclear Spies: America's Atomic Intelligence Operation against Hitler and Stalin.

Jonna Mendez's presentation starts at 11 a.m. Mendez (Spy Dust: Two Masters of Disguise Reveal the Tools and Operations That Helped Win the Cold War), share (with late husband Tony Mendez) their experiences as spies in Moscow during the height of the Cold War in the mid-1980s. The authors begin with the initial list of "the Moscow Rules" and continue to discuss briefly the current state of affairs in Russia under Vladimir Putin, and how they interfered with the 2016 U.S. election.
Vince Houghton PhD, historian and curator of the International Spy Museum, makes his presentation at 1 p.m. on The Nuclear Spies: America's Atomic Intelligence Operation against Hitler and Stalin. He asks why did the US intelligence services fail so spectacularly to know about the Soviet Union's nuclear capabilities following WWII? The Manhattan Project's intelligence team had penetrated the Third Reich and knew every detail of the Nazi 's plan for an atomic bomb. What changed and what went wrong?
Venue: DoubleTree by Hilton, 1960 Chain Bridge Rd, Tysons Corner, VA 22182 Phone: (703) 893-2100. Directions at this link.
Hold the date. Links to online registration will be provided next month.
---
June 30th Deadline Approaches
Call for Papers: The University of Texas at Austin 2019 "Bobby R. Inman Award" for Student Scholarship on Intelligence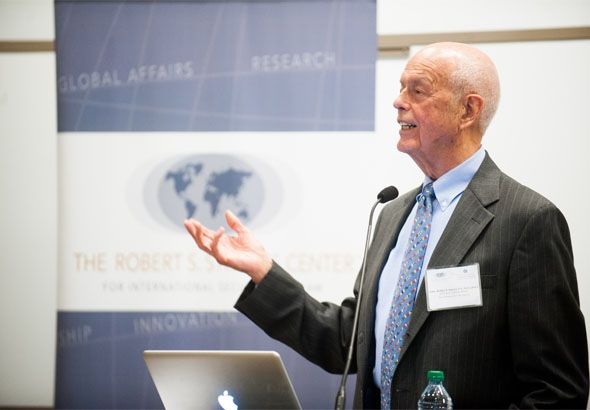 Austin, Texas – The Intelligence Studies Project of The University of Texas at Austin announces the fifth annual competition recognizing outstanding student research and writing on topics related to intelligence and national security. The winner of the "Inman Award" will receive a cash prize of $5000, with two semifinalists each receiving a cash prize of $2500. This competition is open to unpublished work by undergraduate and graduate students enrolled in degree programs at accredited U.S. higher education institutions during the 2018-19 academic year. The deadline for submitting papers is June 30, 2019.

The Intelligence Studies Project was established at The University of Texas at Austin in 2013 as a joint venture of the Robert Strauss Center for International Security and Law and the Clements Center for National Security with the LBJ School of Public Affairs. The Project's mission is to improve understanding of intelligence activities and institutions through research, courses, and public events bringing intelligence practitioners together with scholars, students, and the public.

The Bobby R. Inman Award recognizes more than six decades of distinguished public service by Bobby R. Inman, Admiral, U.S. Navy (Ret.). Admiral Inman served in multiple leadership positions in the U.S. military, intelligence community, private industry, and at The University of Texas. His previous intelligence posts include Director of Naval Intelligence, Vice-Director of the Defense Intelligence Agency, Director of the National Security Agency, and Deputy Director of Central Intelligence. He continues to serve as a teacher, advisor, and mentor to students, faculty members, and current government officials while occupying the Lyndon B. Johnson Centennial Chair in National Policy at the LBJ School of Public Affairs. His areas of teaching and research are focused on political, economic, and military activities, policy processes and institutions, international affairs and diplomacy, and intelligence and national security.

Additional information about the Inman Award, including submission requirements and previous winners, is available here.
---
Just Released and Forthcoming Books of the Week
From Russia With Blood: The Kremlin's Ruthless Assassination Program and Vladamir Putin's Secret War on the West
by Heidi Blake
(Mulholland Books, Sep 2019)
In 2014, Scot Young plummeted from the window of his London penthouse. Despite his repeated warnings to friends, family, and the police that he was being tailed by a Russian hit-squad, and the deaths of his eight associates, British police declared Young's fall "a suicide" and closed the case within minutes of arriving on scene.

For years, Young was a high-rolling British fixer for a ring of exiled Russian oligarchs, most notably Boris Berezovsky, who had extensive organized crime connections and came to the UK tailed by teams of Russian spies deployed to track their every move. Public enemies of Putin, these émigrés extracted enormous wealth from Russia and openly criticized Putin's regime, using their power and influence abroad to raise questions about an emboldened FSB. As tensions rose, however, bodies began to mysteriously pile up, yet any British investigations were notably subdued and quickly shut down.
Based on 250 boxes of documents, years of reporting, and interviews with hundreds of associates, From Russia With Blood tells one of the most important geopolitical stories of our time, revealing how the death of Berezovsky, Young, and countless others can be linked to Putin's larger assassination program–and how Western governments are failing to protect those living abroad against the threat..

Book may be preordered here.
[N.B. Intelligencer Senior Editor Peter Oleson wrote several articles based on his own research and other sources including the Blake series on those Russians described above. Those two articles and tables of mysterious deaths can be viewed here or use the two links to PDFs of those articles which follow:
Wet Affairs, Part I: Stalin's Disciple: Vladimir Putin and Russia's Newest "Wet Affairs" and Wet Affairs, Part II: Significant Murders or Attacks Related to Putin's Regime -- both by Peter Oleson. ]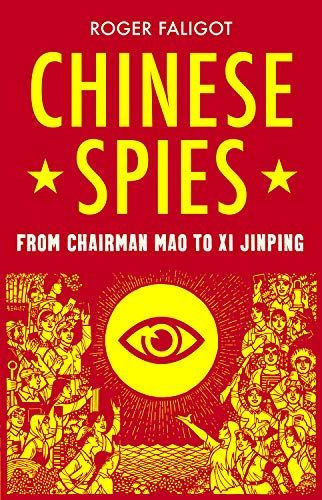 Chinese Spies: From Chairman Mao to Xi Jinping
by Roger Faligot, translated by Natasha Lehrer
(Hurst, Aug 2019)
"China is not just a country with intelligence services, but rather an intelligence state. In this wide-ranging book, Faligot traces this trajectory from pre-revolutionary Shanghai to the present and reveals a phenomenon for which the West is ill-prepared."—Nigel Inkster, former Director of Operations and Intelligence, MI6, and Director of Transnational Threats & Political Risk, IISS
"As China seeks to improve its global image, this book brings us fully up to date and reminds us of the iron grip in which China's totalitarian-communist system holds the country."—Le Point
"The unstoppable rise of the Chinese secret service has seen it grow greater in size than all other intelligence services worldwide. ... Roger Faligot's study traces in full the history of an organization that has long been successfully diversifying into technological and economic warfare in a new long-term strategy. As Faligot puts it, 'China's manpower is unrivalled', and its vast diaspora network is unique. [Its agents] play a decisive role in conquering new fossil fuel sources; in saturating foreign markets; and in conquering the global cellphone market. Now is the time urgently to read this absolutely fascinating and highly valuable study."—Diplomatie Magazine
"No stone is left unturned in Faligot's astounding and exhaustive who's who of Chinese espionage. The revelations prove as scary as the revolutions. Anyone inclined to welcome China's rediscovered world stature needs to read this book."—John Keay, author of China: A History
"An astounding and unmatched source book on the extraordinary reach of the PRC intelligence network EL At once fascinating and chilling, it's a book I found hard to put down."—Clive Hamilton, author of Silent Invasion

Book may be preordered here.
---
Betrayal in Berlin: The True Story of the Cold War's Most Audacious Espionage Operation
by Steve Vogel
(Custom House, Sep 2019)
Story of the Berlin Tunnel, one of the West's greatest espionage operations of the Cold War—and the dangerous Soviet mole who betrayed it. Its code name was "Operation Gold," an audacious CIA plan to construct a clandestine tunnel into East Berlin to tap into critical KGB and Soviet military telecommunication lines. The tunnel, crossing the border between the American and Soviet sectors, would have to be 1,500 feet (the length of the Empire State Building) with state-of-the-art equipment, built and operated under the feet of Cold War adversaries. Success would provide the CIA and the British SIS access to a treasure of intelligence; exposure might spark a dangerous confrontation with the Soviets. Yet as the Allies were burrowing into the German soil, a traitor, code-named Agent Diamond by his Soviet handlers, was burrowing into the operation itself and compromising it from infancy.
Vogel recreates post-war Berlin, a scarred, shadowy snakepit with thousands of spies and innumerable cover stories. Vogel also provides a vivid account of George Blake, the traitor who betrayed the project. Drawing upon years of archival research, secret documents, and rare interviews with Blake himself, Vogel has crafted a thrilling account of a daring Cold War operation, compromised yet still useful.

Book may be preordered here.
---
---
2019 CAE Virtual Career Fair
This year, the Centers of Academic Excellence (CAE) in Cybersecurity is hosting the third annual CAE Virtual Career Fair (VCF) 27 September 2019...
Read More
---
Just released online...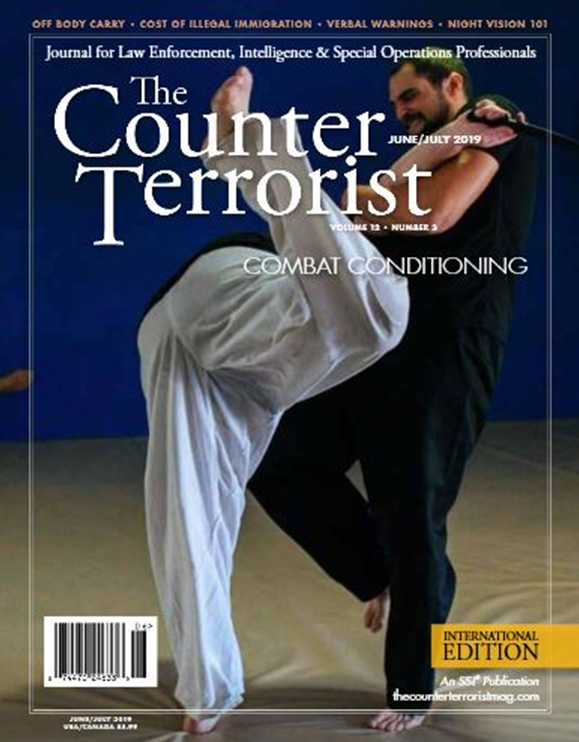 June-July 2019 issue of The Counter Terrorist
Journal for Law Enforcement, Intelligence & Special Operations Professionals
Homeland Security Officials and interested stakeholders
.
Contents: COMBAT CONDITIONING: The Foundations of Survival; VERBAL WARNING: A Potential Deadly Trap; HOW MUCH DOES ILLEGAL IMMIGRATION COST YOU?; Twenty Things You Need to Know about Night Vision; Eating Our Own, and Product Review: Phantom, Patriot3, VERTX Transit Sling Bag.
Click here or image above to read online or to download as PDF.
---
---
---
Section I - INTELLIGENCE HIGHLIGHTS

Pakistan Appoints Lt General Faiz Hameed as New Intelligence Chief of the Country. Pakistan has replaced chief of its top spy agency Inter-Service Intelligence (ISI) only after eight months on the job.

Lt Gen Faiz Hameed has been appointed as the new director general of the ISI, replacing Lt Gen Asim Munir, who had been posted as the ISI Chief in October last year.

Lt Gen Hameed's appointment came as part of the latest round of postings and transfers in the Pakistan armed forces.

Lt Gen Munir's eight-month stint as the ISI chief was probably one of the shortest among those who had taken this post. [Read more: Ahmed/GulfNews/17June2019]

CIA Officer to be 'Embedded' at University of New Mexico. The Central Intelligence Agency is setting up a presence at New Mexico's largest university.

The Albuquerque Journal reports an active-duty CIA intelligence officer will be embedded on the University of New Mexico's campus. Under an agreement with the school, the officer will carry a teaching or research load comparable to his faculty colleagues.

In addition, the officer will participate, if possible, in the academic life of the university just like other professors.

CIA spokeswoman Chelsea Robinson says the officer will teach at the school beginning this fall as part of the agency's Visiting Intelligence Officers Program. [Read more: AP/17June2019]

AWS CEO Credits Intelligence Community for Cloud's Public Sector Growth. Public-sector adoption of commercial cloud is booming, particularly in the U.S., Amazon Web Services CEO Andy Jassy said Wednesday. And he largely credits the U.S. intelligence community - through its successful adoption of the cloud in 2013 - as the pioneer of the movement.

Six years ago, when the CIA struck a $600 million deal with AWS to build out a private cloud for the entire IC, commercial cloud services were "just picking up mainstream adoption in the public sector," he said at the 2019 AWS Public Sector Summit.

The IC's deal with AWS "not only really helped get governments on track using the cloud, but it was a huge impact because so many enterprises said, 'If it's secure enough and performant enough for the intelligence community of the United States, it's probably secure enough and performant enough for us,'" Jassy said. "It just changed people's outlooks and had a huge impact. I think [the intelligence community is] having a great deal of success on top of AWS. And what it's really done is helped them move much more quickly in accomplishing the mission in a rate that wasn't really viable before." [Read more: Mitchell/FedScoop/12June2019]

UA Will Launch Intelligence and Information Operations Degree. With $1.5 million in funding from the U.S. Defense Intelligence Agency, the University of Arizona will create the country's first Bachelor of Applied Science in intelligence and information operations. The new degree will be offered beginning this fall.

The funding accompanied the DIA's designation of the UA Bachelor of Applied Science in intelligence studies program as an Intelligence Community Center for Academic Excellence. Only eight grants were awarded nationally, with the UA earning the highest score. This designation follows one recently given by the National Security Agency, which designated the UA program in cyber operations as a Center of Academic Excellence in Cyber Operations, one of only 21 in the country.

"The Department of Defense and its intelligence community partners have begun to merge their cyber, intelligence and information operations capabilities to counter new threats," Linda Denno, head of the UA Department of Applied Sciences, said. "We are creating a degree program to mirror these capabilities and our proposal to the DIA leveraged the successful model we implemented for our cyber program."

The five-year grant from the DIA will be used to transform the intelligence studies degree program - which is based at UA South, the UA's campus in Sierra Vista - into the new intelligence and information operations degree program. [Read more: AZBigMedia/12June2019]

Zelensky Appoints Head of Foreign Intelligence Service. President of Ukraine Volodymyr Zelensky on Tuesday, June 11, appointed Vladyslav Bukharev Head of the Foreign Intelligence Service (SZR) of Ukraine.

That's according to Deputy Head of the Presidential Administration Ruslan Riaboshapka who spoke at a Kyiv briefing, an UNIAN correspondent reports.

"A decree was signed on appointing a chairman of the Foreign Intelligence Service. Vladyslav Bukharev has been appointed," Riaboshapka said.

The official told UNIAN the new intelligence chief is a People's Deputy from the Batkivshchyna Party. [Read more: Unian/11June2019]

Sir Simon Gass Appointed to Chair UK Joint Intelligence Committee. The Cabinet Secretary Sir Mark Sedwill, with the agreement of the Prime Minister, has today announced the appointment of Sir Simon Gass as the new Chair of the Joint Intelligence Committee.

Sir Simon has been the interim Chair of the Joint Intelligence Committee since February while on loan from his role as Commandant of the Royal College of Defence Studies. During his diplomatic career, he has gained a wide experience of national and international security and intelligence issues. [Read more: Gov.Uk/18June2019]


---
Section II - CONTEXT & PRECEDENCE

Want to Recruit the Next Generation of Public Servants? Show Them What Leadership Looks Like. "Duty, Honor, Country." Many will recognize those words as the motto of the United States Military Academy. But they are also the credo that guides many of America's greatest public servants. On Friday night, the Intelligence and National Security Alliance (INSA) honored one such servant, former Chief of the National Security Agency (NSA) and U.S. Cyber Command, General Keith B. Alexander. The William Oliver Baker Award is given every year by INSA, "distinguishing an extraordinary individual for their sustained commitment to excellence in intelligence and national security affairs." Past awardees have included Leon Panetta, George Tenet, Charles Allen, Robert Gates, Gen. Michael Hayden, and Sen. Barry Goldwater.

The award ceremony highlighted Gen. Alexander's life of service and leadership. Both in his own words and from the praise of his peers, the evening highlighted the virtues of a life in service to our nation. As the national security and intelligence industries fight for the next generation of talent - especially in tech - Gen. Alexander is a perfect example of what young people need to see: how to live a life of purpose. [Read more: D'Agati/ClearanceJobs/17June2019]

Exhibit Traces History of Secret Language School at Fort Snelling. A new photo exhibit at Historic Fort Snelling in Minneapolis invites viewers back in time to World War II, when the fort housed a secret language school.

The Military Intelligence Service Language School trained second-generation Japanese-American men, or nisei, to be interpreters in the Pacific Theater. The Twin Cities chapter of the Japanese-American Citizens League mounted the new exhibit in connection with the Minnesota Historical Society. It opened on Saturday.

"There were so many acts of heroism and bravery," said Sally Sudo, a member of the education committee of the Twin Cities Japanese-American Citizens league. "Because of the fact that they looked like the enemy, if they were out of uniform, they could be killed easily by friendly fire."

Once trained, the men served with U.S. and Allied forces across the Pacific, working as interpreters and interrogators of Japanese prisoners. [Read more: Bright/MPRNews/16June2019]

Ultimate Mossad Mission to be Held During November 18-25. An 8-day-long program titled 'Ultimate Mossad Mission' will be held in Israel from November 18, 2019. Participants of this program will be able to listen to briefings by a former head of Mossad as well as intelligence agents, who will share their riveting stories with the audience. Participants will also get the opportunity of taking part in a hands-on training experience with field agents of the Israeli security agency.

According to information, Mossad will show the participants as to how Israel is a leading player in today's world's cyber warfare. [Read more: [Blitz/18June2019]

NCSU Study: Lack of Trust, Information Silos Inhibit Academic-US Intel Agency Collaborations. An analysis of U.S. intelligence programs aimed at collaborating with academic and industry partners finds that these collaborations are valuable for addressing complex intelligence challenges. The study also notes that institutional silos, lack of information sharing and lack of trust are obstacles to getting the most out of these collaborative efforts.

The researchers point to the Laboratory for Analytic Sciences (LAS) as the first long-term, collocated attempt at collaboration between the intelligence community, academia and industry. As such, the study authors report that the LAS holds promise as a laboratory that can be used by the intelligence community and its partners to develop effective approaches to cooperation and collaboration.

The LAS is a research partnership between North Carolina State University and the National Security Agency, based on NC State's campus.

"We looked at five collaborative intelligence programs," says Beverly Tyler, a professor of management, innovation and entrepreneurship at NC State who is co-author of a paper on the work. [Read more: Shipman/WRALTechWire/14June2019]

AFSPC Airmen Round Half-Way Point in Space Intelligence Intern Program. In order to combat rising threats in the space domain, the Intelligence, Surveillance and Reconnaissance Directorate at Headquarters, Air Force Space Command and the Space Security and Defense Program stood up the Space Intelligence Intern Program in July 2018. The 24-month program is designed to improve the space foundational intelligence base for candidates to succeed in future space intelligence leadership roles.

In its inaugural year, SIIP is developing two junior officers - Capt. Devin Hightower and 1st Lt. Rebecca Bosworth - in SSDP's threat division.

When asked about the importance of in-depth space knowledge for intelligence officers, Lt. Gen. VeraLinn "Dash" Jamieson, deputy chief of staff for ISR and Cyber Effects Operations at Headquarters, U.S. Air Force, and inspiration for the program, highlighted the opportunity that SIIP will provide to Airmen.

"ISR for and from space will be the critical element to successfully conduct joint operations in the contested space domain," said Jamieson. "The Space Intelligence Intern Program is an effort that ensures the Air Force ISR Enterprise has a professionalized space intelligence cadre that will excel in future space operations." [Read more: Dorroh/AirForce/13June2019]

City of Secrets: Estimated 10,000 People in DC Are Spies. Every day, in the predawn hours, long before official Washington, D.C. stirs from its slumber, the quiet rumble of transit begins deep beneath the city, in the streets, on its waterways and in the skies. It grows, hour by hour, to a full-blown symphony of organized chaos, punctuated by voices, horns, sirens and motorcades, as the city of 700,000 swells to more than one million.

Waves of civil servants, military and law enforcement officers, business people, students, diplomats and tourists saturate the city.

That is the scene on a typical weekday in the world's most powerful city- whose business revolves around secret meetings, information and documents. Woven into that orderly bedlam are sophisticated networks of foreign nationals whose sole purpose is to steal secrets.

They are spies. [Read more: Green/WTOP/17June2019]


---
Study: Intelligence Community Benefits From Collaborations, And Can Do Better. How does one design and sustain interdisciplinary, cross-sector collaboration to improve intelligence results for twenty-first century security threats? Because the research, technology, and business advances - once the purview of governments - are prevalent in industry and academia, many intelligence community (IC) elements seek insights into how to enhance interdisciplinary and cross-sector collaboration. However, there is limited institutional understanding of how to design, establish, and sustain the successful hybrid organizations required for innovation. This paper will analyse five past and present initiatives designed to create interdisciplinary, cross-sectoral collaboration within different agencies of the US IC and external elements. We will discuss key features of each effort, their successes and challenges, identify common themes and key success factors, and, propose which collaborative model might be most advantageous for a particular type of project based on project constraints. In so doing, we provide direction for IC leaders seeking to improve academia-industry-intelligence partnerships for future planning on intelligence-funded collaborations. [Read more: Shipman/NSU/11June2019]

Should Companies Based in Authoritarian Countries be Permitted to Invest in Sensitive Areas of Another Country's Economy? 5G technology promises to be truly revolutionary. Not only will it make communications virtually instantaneous, but it has the potential to unlock the 'Internet of Things'. 5G could connect super high-speed internet, with almost no time lag, to physical objects so that they can be remotely controlled or even work autonomously. This could include anything from home appliances to robotics with potential military application such as autonomous vehicles or drones that can collaborate with each other. The technology will also control train signals, traffic lights, and power supplies. However, as the technology advances, the possibilities increase for a hostile actor with access to the network to cause severe disruption.

Recently, concerns have been expressed about companies based in China investing in critical 5G infrastructure around the world. The main fear is that Chinese companies could be compelled by their "State" to build backdoors into software that would allow Chinese intelligence services to access and control data for espionage and sabotage operations. [Read more: Wenton/SCMagazine/18June2019]

Cuba's Intelligence Masterstroke in Venezuela. Much has been said about the behavior of Venezuela's Bolivarian regime, its evolving character, its dramatic economic mismanagement, and the impact it has projected throughout the American hemisphere, including its bilateral ties to Cuba.

At a first glance, it would seem that - based on classical international relations scholarship referents when it comes to assessing national power such as population, territory, natural resources, and sheer economic size - Venezuela is the senior partner. Yet a crucial factor is missing to examine how the balance of power truly works in the dynamic framework of said bilateral relation.

Beyond the evident ideological, political, and diplomatic affinities between the rulers of both countries, the crucial factor that has been overlooked even by most experts is the strong presence and operational intensity of Cuban intelligence agencies in Venezuela. A different picture - one that challenges conventional wisdom - might emerge when one considers this angle.

Such a topic is important considering its deep geopolitical implications. It also raises pertinent questions: What if Venezuela is not necessarily the senior partner after all? The fact that it has not been addressed is perhaps a result of the intrinsically covert nature of intelligence activities. [Read more: Alonso-Trabanco/GeopoliticalMonitor/18June2019]


---
Section IV - Obituaries, Jobs, Research Assistance

Jim Bates, Senior NSA Executive, a Leading Member of Math Community

James Edward Bates, 91, a senior NSA executive and a leading member of the math community, died 3 June 2019 in Adelphi, MD.
Jim was valedictorian of the Weatherwax High School [Aberdeen, WA] class of 1946 and joined the Navy the same year to pursue a career in music. He later settled in Seattle, WA to work on a dual Bachelor's degree in Statistics and Russian at the University of Washington. He returned to Washington, DC in 1952 and started work with NSA as a cryptanalyst, first at Arlington Hall and then Fort Meade, MD, where he worked until his retirement in April 1985. Jim was Chief of CA in G4 and A54 and was also the co-founder of the Crypto Society. He was a former Phoenix Society member.
Jim and wife, Fran, first lived in Falls Church VA and then moved to Greenbelt MD in 1953 where they were active members of the community and of St. Hugh's Catholic church. They were also a founding family of Woodland Hills.
Jim's wife, Frances A. Woodring, died in 2004. He is survived by three daughters, four sons, and other family.

Dick Bernard, NSA Senior Executive

Richard Lynn Bernard, 90, NSA Senior Executive, died of leukemia in Cincinnati, OH on 12 June 2019.
Dick grew up in Pittsburgh, PA. He received an Electrical Engineering degree from the University of Cincinnati in 1952 and then a Masters Degree in Engineering Administration from George Washington University in 1955. In 1975 he completed the Executive Course at the Federal Executive Institute. His military career included ROTC at the University of Cincinnati and service as an USAF Officer assigned to NSA in 1953 and 1954. He was one of the first USAF Officers assigned as a computer maintenance engineer at NSA.
While at NSA in 1953, he worked on ABNER, one of NSA's first computers. He soon was in charge of a team doing R&D on a new special purpose computer. In 1956, as chief of three teams maintaining large special-purpose computers, he planned and supervised the movement of these systems from the D.C. area to Fort Meade, MD.
In 1959, Dick completed an extensive study of electronic intelligence (ELINT) signals processing for the DoD, and became the lead in specialized areas of ELINT R&D policy. He had a role in drafting the DoD directive that established NSA's ELINT responsibilities and became chairman of a working group that reviewed all DoD ELINT R&D efforts.
In 1962, successful as project manager for a major new telemetry collection/processing system, he was named project manager for two additional field collection systems in key areas. Dick led the first large-scale planning effort for high-frequency signal remoting in 1970.
Throughout the 1970s, Bernard was a senior manager at NSA as field manager for large-scale collection programs, and was NSA's senior technical representative in several projects with government and foreign partners.
As director of the Defense Special Missile and Astronautics Center (DEFSMAC) from mid-1980 to mid-1983, he implemented major upgrades and new concepts in operations for this critical DoD organization.
Dick retired from the NSA in December 1984 to join private industry. He was awarded the NSA Meritorious Civilian Award in 1982, and selected as a charter member of the Senior Cryptologic Executive Service in 1982.
Post-NSA, he worked as a Senior Program Manager at GTE Government Systems Corporation (now part of General Dynamics) until 1995. He returned to NSA to became a part time consultant to the Center for Cryptologic History where he wrote numerous monographs and articles on NSA's technical history. He served as an advisor on NSA history and as advisor to the Cryptologic Museum Foundation. In 2018 he was inducted into the NSA Hall of Honor.
Mr. Bernard was a member of the Phoenix Society (an NSA retiree organization), the Cryptologic Museum Foundation, several professional organizations, and the Church of Ascension and Holy Trinity Episcopal Church in Cincinnati, OH. He enjoyed travel, photography, and golf.
His wife of 55 years, Nancy Gaines Bernard, predeceased him. He is survived by a daughter, and other family.
A Celebration of Life for Dick Bernard will be held at the Episcopal Church of Ascension and Holy Trinity, 335 Burns Ave, Wyoming, OH 45215 on Saturday, 29 June 2019 at 10 am, with a reception to follow. The family will receive visitors at Evergreen Retirement Community, 230 W Galbraith Rd, Cincinnati, OH 45215 on Friday, 28 June 2019 from 5:30-7:30 pm in the Manor House.

Leo Cardillo, CIA Operations Officer, NWFCU Board Member

Leo Frank Cardillo, 76, a career CIA Operations Officer, died 13 June 2019 in Clifton, VA.
Born in Brooklyn, NY, he went on to attend MIT, earning a BS degree in electrical engineering in 1964. He continued taking courses throughout his life at George Washington University and George Mason University.
Leo worked for the CIA for thirty-two years until his retirement in 1996 as a Senior Intelligence Service officer. His career took him to Europe and Africa where he lived and worked for seven years in service of his country.
After his federal career, he worked another five years as a government contractor in Washington DC. For over twenty years Leo served on the Northwest Federal Credit Union Board of Directors.
In addition, he held positions in the Christmas Cove Improvement Association, 711 Investment Club, and Northern Virginia Bridge Association. He was also active in the DC Radio Control Club and the State Department's Senior Seminar Alumni Association.
An avid runner, Leo completed a half dozen Marathons and enjoyed many other sports.
Along with his wife, Bobbee Lee Anderson, Leo is survived by two daughters, a son, and other family.

Thérèse Le Gallo, a CIA Operations Officer, President of AFIO's San Francisco Chapter

Thérèse A. Le Gallo, 53, former CIA Operations Officer and Senior Intelligence Consultant, died of breast cancer 26 May 2019 in Northern California. She served as the President of AFIO's "André Le Gallo" San Francisco Bay Area Chapter, having taken over for her father under whose name the chapter currently operates.
The daughter of undercover CIA officers, Cathy and André Le Gallo, Thérèse spent her childhood in Casablanca and Rabat, Morocco, Bamako, Mali, Bucharest, Romania, and Tehran, Iran. Stateside her home base was McLean, VA where she graduated from Langley High School in 1983.
Thérèse obtained a BA in Mass Communications from Miami University of Ohio in 1987. Inspired by a global perspective, her summer internships at NBC news and summer jobs at the American Embassy in Tel Aviv, she joined CIA's National Clandestine Service as a Case Officer in 1987. After training, she was taught Greek in preparation for what would be years living in Greece recruiting informants for the U.S. Thérèse had similar experiences when she was younger.
Growing up in Iran, she was under the impression her father worked for the US Department of State. When the Iranian Revolution broke out in 1979, Thérèse and her family quickly moved back to the States. When she was sixteen, her father sat her down and told her that he had been doing more in Iran than working for State; he was, in fact, working undercover for the CIA.
In her own capacity as a Clandestine Services Officer, she flourished in Greek and French languages and led counterintelligence and counterterrorism operations for over fifteen years.
She married in 1989, lived in Athens, Greece, Northern Virginia, and Geneva, Switzerland and had two children. In 1999, she settled with her children in the San Francisco Bay Area. She met her second husband at the FBI in San Francisco and they married in 2004.
Following the discovery of cancer and effective treatment, she worked for the CIA Recruitment Center in the Bay Area. The family then transfered to Washington D.C. where she served as a consultant for five years with Booz Allen Hamilton and then SAIC/LEIDOS. Her leadership and contributions yielded numerous awards from the US Intelligence Community and resulted in new mandates by the Federal Government in counter terrorism preparedness planning.
In 2014 Thérèse's cancer returned and the family decided to move back to the San Francisco Bay area to be close to family and friends in her final days. She fought valiantly but lost her battle with the disease.
Thérèse will be remembered for her outgoing personality, dedication to family, perseverance and joie de vivre. She enjoyed a very fulfilling life of travel, adventure, life long friendships, marriage, raising two children, and over a twenty year career in the Federal Government working as a CIA Operations Officer. Throughout her unique life experience, Thérèse was reminded often how precious life is. She had a tremendous sense of being present and making the most of her time with people and places, and recognizing the beauty in nature.
Philanthropically, Thérèse enjoyed her time as President of AFIO's San Francisco Chapter, and was a Dame for the charitable foundation Commandery of St. Francis, Order of Saint John's Knights Hospitaller which supports Veterans programs.
She is survived by her devoted husband of 14 years, Craig Fair, a daughter Brittany Tholan, son Preston Tholan, and other family.

William Tim Hoy Mau, 94, a renowned NSA Analyst and Linguist, died 13 July 2018 in Sonoma, CA.
At NSA Bill was a linguist and manager, where he worked in E3, retiring in 1987. He was a member of the Phoenix Society.
He was born in Honolulu, HI. On 7 December 1941, Japanese planes bombed Pearl Harbor, and Hawaii was plunged into WW II. Martial law was declared, and public transportation came to a standstill.
Bill worked for the US Air Force in Hawaii and later took a job with the Department of Defense in Washington, DC. In 1959, he went to work at Fort Meade, MD, and remained there for nearly 60 years. He held a bachelor's degree in history from the University of Maryland and had a special interest in museums and historical sites. He took his three children on frequent visits to the Smithsonian Institution, Lincoln, and Jefferson Memorials, and Civil War battlefields. The family often picnicked by the Potomac River on Sundays.
After his retirement from NSA, Bill took pleasure in tending to his garden, listening to music, spending time with his grandchildren, and traveling often to Hawaii, California, and the southeast US.
Bill's beloved wife, Thelma, predeceased him. He is survived by a son and two daughters.

Alma Priscilla Powell, 93, a CIA Analyst, died 29 May 2019 in Berryville, VA.
She joined the CIA was an analyst at the CIA until her retirement in 1993.
She is survived by a son, a daughter, and other family.

John Purinton Rickels, 84, died of complications of surgery on 29 May 2019 in Sarasota, FL.
In 1954, he enlisted in the Army and dedicated himself to the service of his country. Easily identifiable with his large stature and ever-present cigar, John had a distinguished 30-year career in the U.S. Army, including tours of Korea, Germany, and Vietnam. He was awarded the Defense Superior Service Medal by Secretary of Defense Casper Weinberger. After retiring from the Army as a Sergeant Major in 1985, he continued to work for the National Security Agency until 1997.
John had a strong sense of honor, duty, and service, with an unwavering moral code. Patient and devoted to his family, he could fix any problem and was a consummate handyman. After retirement, John continued to travel, visiting all 50 states and many countries - most recently Cuba. He enjoyed playing golf and tennis, listening to jazz, genealogy, growing tomatoes and walking his grand-dogs. John loved reading the newspaper cover-to-cover and delighted in watching Jeopardy to test his vast knowledge.
John is survived by his wife of 57 years, Christa Martha Rickels, a daughter, a son, and other family.

Rosemary Wenchel, Pioneer of Military Cybersecurity Passes

Rosemary Swanton Wenchel, 69, a pioneer in U.S. cyberspace operations for the U.S. Navy, Department of Defense, and the Department of Homeland Security, died 11 May 2019.
She attended the University of Maryland and spent two decades traveling the world raising her two children before embarking on a 30-year career serving our Nation as a member of the DoD Senior Executive Service and Assistant Secretary for Cybersecurity at DHS.
Some of her positions from latest to earliest were: Deputy Assistant Secretary Cybersecurity Coordination, DHS HQ; Deputy Assistant Secretary, DHS; Chief Technology Officer, Navy Cyber Warfare Development Group; Senior Research Fellow, Pennsylvania State University Applied Research Laboratory; Director, Cyber Capabilities and Operations Support, Office of The Secretary of Defense (OUSDI); Deputy Director, Battlespace Awareness Branch, Chief of Naval Operations, N6, US Navy; Chief Scientist, Naval Information Operations and Cryptology, US Navy; Head, Computational Analysis, Design Engineering and Testing Lab, Naval Information Warfare Activity; Director, Naval Information Warfare Analysis Center, US Naval Research Lab, US Navy; and her first position as Computer Systems and Network Manager, Naval Security Group, US Navy.
In her personal life, she was well known for her beautiful peonies, azaleas and camellias, traveling with her family.
She is survived by her husband, George, a son, and other family.

Soviet Dissidents' Enemy No.1: KGB General Bobkov Dies in Moscow. Gen. Filipp Bobkov, a veteran of Soviet counterintelligence whose job at the KGB involved quashing dissidents and preventing flare ups of ethnic tensions, has died in Moscow aged 93.

Bobkov passed away at a Moscow hospital after a lengthy ailment, his family and friends told Russian media on Monday. A retired four-star general, he was a controversial figure in Russian history, serving as head of what was essentially the secret police responsible for tackling genuine threats to the USSR, but also blatant persecution of its dissidents. In his later years, he worked for a media tycoon Vladimir Gusinsky.

His intelligence career started in 1945 with an appointment to a school of Smerh, the Soviet military organization, the name of which literally means "death to spies." At the time he was a 20-year-old man who had to lie about his age to enroll as a volunteer shortly after the Nazi invasion and rose to a decorated platoon commander on the battlefield. He graduated as an officer and investigator for the Ministry of State Security, which was what the contemporary incarnation of the soviet state security apparatus was called. [Read more: RT/17June2019]


---
Starr Companies has an opening for Director of National Capital Region
Employment Duration: Full Time
Location: Washington, DC
Travel: Up to 50%
Responsibilities: The ideal candidate will have prior experience working in, and relationships previously established within, the U.S. Federal Government, to include experience working in an HR or Benefits role:
• Consolidate Trade Association and US Fed Govt outreach under one individual; Maintain these relationships once established
• Develop new relationships and opportunities with Trade Associations that Starr Wright currently does not have relationships with
• Develop and maintain relationships with all US Fed Govt Agencies, to include attending Open Houses, New Hiring Events, and maintaining dialogue with US Fed Agency HR Departments to insure that Starr Wright offerings remain front-and-center to these Agencies' employees
• Working with Starr Wright Marketing Director, develop and execute new marketing opportunities and strategies within the US Capitol Region, and other locations with high-density US Federal Government Employee populations
• Developing other ancillary insurance products designed for the unique needs of the US Federal Government Employee
Thank you very much for your assistance in this regard. If you have any questions or would like to discuss in person, please just let us know.
Full job posting - description is here.
Faculty Opportunities in Computer Science and Cyber Security
• Assistant Professor or Associate Professor, Computer Science, University of South Alabama. Full details here.
• Assistant Professor of Information Technology, Middle Georgia State University. Full details here.
• Capitol Technology University (Laurel, MD), Cyber Security Department, Adjunct Professor. Full details here.
• Cybersecurity/ Information Systems and Technology - Cybersecurity - Assistant Professor Tenure Track, San Bernardino, CA. Full details here.
FireEye Has Four Positions in Reston, Virginia, and Suitland, Maryland
Job Title:

Company:

Experience:

2 to 20 years

Employment Type:

Full Time

Job Location:

Reston, VA

Software Developer (Secret or Top Secret Clearance) Reston, VA Full time Company Description FireEye is the leader in intelligence led security as a service. Working as a seamless, scalable extension of customer security operations, FireEye offers a single platform that blends innovative security technologies, nation state...

---

Job Title:

Company:

Experience:

4 to 20 years

Employment Type:

Full Time

Job Location:

Reston, VA

Senior Software Developer (Secret or Top Secret Clearance) Reston, VA, United States Full time Company Description FireEye is the leader in intelligence led security as a service. Working as a seamless, scalable extension of customer security operations, FireEye offers a single platform that blends innovative security techn...

---

Job Title:

Company:

Experience:

4 to 20 years

Employment Type:

Full Time

Job Location:

Suitland, MD

Cyber Threat Analyst Suitland, Maryland, United States Full time Company Description FireEye is the leader in intelligence led security as a service. Working as a seamless, scalable extension of customer security operations, FireEye offers a single platform that blends innovative security technologies, nation state grade th...

---

Job Title:

Company:

Experience:

7 to 10 years

Employment Type:

Full Time

Job Location:

Reston, VA

Technical Writer Reston, VA Full time Company Description FireEye is the leader in intelligence led security as a service. Working as a seamless, scalable extension of customer security operations, FireEye offers a single platform that blends innovative security technologies, nation state grade threat intelligence, and worl...
CAVEAT: AFIO does not "vet" or endorse research inquiries, career announcements, or job offers. Reasonable-sounding inquiries and career offerings are published as a service to our members, and for researchers, educators, and subscribers. You are urged to exercise your usual caution and good judgment when responding, and should verify the source independently before deciding if you wish to supply a resume, career data, or personal information. Your participation in research aids the Intelligence Community and future officers.
Thinkers Wanted for IARPA/Johns Hopkins Create 2 Challenge! Johns Hopkins Applied Physics Lab, with IARPA, is recruiting people who love to solve puzzles, logic games, and analytic problems to participate in research studies that explore crowdsourced reasoning.
Thank you to over 2700 people who have participated in the eight challenges in CREATE Challenge Series 1.
CREATE Challenge Series 2 with exciting new problem-solving challenges starts on June 14 and will continue until July 22. Join us!
Signup now to contribute to groundbreaking research!
We're looking for highly motivated, inquisitive, open-minded individuals to solve challenging problems alone or in teams. You can join the CREATE research study if you:
• Are 18 years or older
• Read and write English fluently
• Have reliable internet access and will accept cookies from the study website
What are participants saying about the CREATE Research Study?
"I enjoy these kinds of brain teasers. I feel like they keep me sharp. I'd do these for a living if it was possible!"
"I have never been in a program that challenged my mind like this does. I thrive on this type of work. I learn how other people think/reason and it's always fulfilling when all of the answers are attained! (Hopefully correct!)"
"I like the chance to pretend I am a super-spy and to feel like my bent toward solving puzzles might actually serve some useful purpose."
What will we learn from CREATE?
CREATE research studies will help us learn more about how people reason when solving complex problems, and how they communicate their reasoning to other people. We are particularly interested in how teams share and evaluate possible solutions, and how they collaborate to develop a common solution.
Our findings will inform and shape the tools and processes that intelligence analysts use to develop and communicate their reasoning. Our goal is to help the Intelligence Community reason comprehensively and communicate clearly so that they can, in turn, help our policymakers and government leaders make better decisions.
Although this research is focused on helping the Intelligence Community, the same insights can also help other professionals who solve hard problems from incomplete evidence.
Who is funding this research?
The CREATE research studies are funded by the Office of the Director of National Intelligence, Intelligence Advanced Research Projects Activity (IARPA).
What if I still have questions? Send any questions to info@create.jhuapl.edu.
Join the CREATE research study!
Pacific Northwest AFIO Chapter Was Active Years Ago. This Researcher Seeks Info on Its History from current/former Members
We are looking for persons who may have been associated with a lapsed AFIO chapter in the Seattle Washington area. The chapter lapsed roughly a decade ago and we are looking to do a little research into the history of that chapter while respecting the privacy of chapter members. Our intent is ultimately to provide some history of AFIO in the Northwest region of the country for our members and potentially on a local chapter website. We are looking only for chapter history no names of any individuals will be published without explicit permission of the persons involved. If anyone has any information, they would like to share please contact Carl Wege at the Columbia River Chapter of AFIO twege@ccga.edu.
STANDING RESEARCH PROJECT BY AFIO: Professor/Researcher Seeks Identification of Events Significantly Affected by Intelligence for "When Intelligence Made a Difference" - a new AFIO Project
AFIO is beginning a new educational project entitled "When Intelligence Made a Difference." We invite you to identify events involving any nation or organization when the outcome was affected significantly by intelligence.
We plan to publish edited submissions serially in our print-only member magazine Intelligencer: Journal of US Intelligence Studies.
If you are interested in contributing an article, please email peter.oleson@afio.com. Briefly state what event you have in mind, and include your bio. [AFIO will identify authors by name and current or former title only ― no multi-line biographies.] If your suggestion is a good fit for this project, we will respond asking for your comments on that event, not to exceed 1,500 words (excluding footnotes).
When you send your article and bio, please let us know if you have ever had prior employment or contract work within the US Intelligence Community -- and, to meet pre-publication review requirements, supply a copy of the official approval letter or email you received back, naming and clearing for publication the article you are sending us. Without this, we are unable to consider or include your article in the publication.
As with most nonprofit academic publications, contributors will not be paid, however AFIO will publish under broad, pro-educational Creative Commons copyright. Therefore, authors retain the right to use their articles anywhere else they wish, after its publication in Intelligencer.
Eight weeks after publication of your contribution in the print-only version of Intelligencer, the article will then appear on AFIO's website for general public/educational access. Since the time of 1) an article's acceptance, and 2) appearance in print, and then 3) inclusion online can run eighteen months to three years from start-to-finish, a title-author listing of all accepted forthcoming articles (but no summaries) will be included in a print edition of Intelligencer and online. So it is imperative authors be patient as these articles are released on this serialized basis, in our two or three journal issues per year. By submitting an article to us authors acknowledge and accept these provisions.
This project would make a good class assignment. Accepted articles would give students a publication credit in a recognized journal.
Again, if you wish to participate or explore more aspects of this project, email Peter Oleson at peter.oleson@afio.com.
---
AFIO EDUCATIONAL EVENTS IN COMING TWO MONTHS....
Tuesday, 25 June 2019, 11 am - Ponte Vedra Beach, FL - AFIO North Florida Chapter hosts Bill Dayhoff, former FBI Director of Virtual Threat Analysis Center
We are extremely happy to have Bill Dayhoff, retired FBI - Director, Virtual Threat Analysis Center (2011-2016), as our guest speaker. Bill will be talking about his career in the FBI specifically regarding terrorism funding, various fraud schemes, 9/11 related incidents, etc. Bill recently retired from Ameris Bank where he served as the Chief Fraud Officer. Our chapter has recently moved our meeting venue from Orange Park to The Plantation at Ponte Vedra. We're also shifted to weekday events instead of Saturdays. Additionally, several of our members live in the Ponte Vedra area.
Event Location: The Clubhouse at The Plantation at Ponte Vedra, 101 Plantation Dr, Ponte Vedra Beach, FL 32082.
Please RSVP to Ken Meyer, AFIO NF Chapter Secretary, at kmeyer12@bellsouth.net. Cost is $25 cash at the event that begins at 11 am with lunch beginning at Noon. If you do plan on attending we MUST have your email address available for gate security at least five days before the event.
Wednesday 18 September 2019, 5:30 p.m. - New York, NY - AFIO NY Metro Chapter hosts Larry Loftis, on SOE Hero, Odette Sansom, in his book Code Name: Lise
Larry Loftis is the author of Code Name: Lise―The True Story of the Woman Who Became WWII's Most Highly Decorated Spy, the story of Odette Sansom (1912-1995), a Frenchwoman living in England, wife of an Englishman and mother of 3 daughters, who was recruited into Britain's Special Operations Executive (SOE) to conduct espionage in France during WW II with her commander, and yet-to-be second husband, Peter Churchill. Leaving her daughters in a convent school and with relatives, she joined the rigorous training program, becoming proficient with a wide range of weapons, learning the fine points of spycraft, and perfecting her new identity with the code name Lise. In France she proved herself fearless. Hunted by the Germans, in 1943, Odette and Peter were captured, imprisoned, and tortured. Loftis describes Odette's ordeal in grisly detail. Two lies saved her: She pretended that she and Peter were married (they would be after the war) and that Peter was related to Winston Churchill. In defeat, the Gestapo hoped to use her as a bargaining chip.
Location: Society of Illustrators, 128 E 63rd St (between Park and Lexington), New York, NY 10065.
Timing: Registration starts at 5:30 pm, Speaker presentation starts at 6 pm. Fee: $50/person. Payment at the door only. Cash or check. Full dinner, cash bar.
RSVP: Strongly recommended that you RSVP to ensure space at event. Call or Email Chapter President Jerry Goodwin at afiometro@gmail.com or 646-717-3776.
1 November 2019, 10:30 am - 2 pm - Tysons, VA - SAVE THE DATE for this final AFIO luncheon of 2019. Event features Jonna Mendez, former CIA Chief of Disguise, co-author of (with Tony Mendez, and Matt Baglio) The Moscow Rules: The Secret CIA Tactics That Helped America Win the Cold War, and Vince Houghton PhD, Spy Museum Historian, discussing his just released The Nuclear Spies: America's Atomic Intelligence Operation against Hitler and Stalin.
Jonna Mendez's presentation starts at 11 a.m. Mendez (Spy Dust: Two Masters of Disguise Reveal the Tools and Operations That Helped Win the Cold War), share (with late husband Tony Mendez) their experiences as spies in Moscow during the height of the Cold War in the mid-1980s. The authors begin with the initial list of "the Moscow Rules" and continue to discuss briefly the current state of affairs in Russia under Vladimir Putin, and how they interfered with the 2016 U.S. election.
Vince Houghton PhD, historian and curator of the International Spy Museum, makes his presentation at 1 p.m. on The Nuclear Spies: America's Atomic Intelligence Operation against Hitler and Stalin. He asks why did the US intelligence services fail so spectacularly to know about the Soviet Union's nuclear capabilities following WWII? The Manhattan Project's intelligence team had penetrated the Third Reich and knew every detail of the Nazi 's plan for an atomic bomb. What changed and what went wrong?
Venue: DoubleTree by Hilton, 1960 Chain Bridge Rd, Tysons Corner, VA 22182 Phone: (703) 893-2100. Directions at this link.
Hold the date. Links to online registration will be provided next month.
Wednesday 4 December 2019, 5:30 p.m. - New York, NY - AFIO NY Metro Chapter hosts CIA Officer (Ret) Dr. John A. Gentry discussing "IC Political Activism since 2016 -- Origins and Implications."
Partisan political activism by current and former intelligence officers since mid-2016 is the largest and most significant politicization of intelligence by intelligence officers in U.S. history. This presentation will explore the causes and the wholly negative consequences of this new form of politicization for the IC and the country.

Dr. John A. Gentry was for 12 years an intelligence analyst at the CIA, where he worked mainly economic issues associated with the Soviet Union and Warsaw Pact countries; for two of those years he was senior analyst on the staff of the National Intelligence Officer for Warning. He is a retired U.S. Army Reserve officer, with most assignments in special operations and intelligence arenas. On active duty, he was executive officer of a special forces operational detachment. As a reservist, he was mobilized and spent much of 1996 as a civil affairs officer in Bosnia. Dr. Gentry also is an adjunct associate professor with the School of International and Public Affairs, Columbia University. He formerly taught at the College of International Security Affairs, National Defense University, at the National Intelligence University, and at George Mason University. His research interests primarily are in intelligence and security studies. He publishes frequently in Intelligence and National Security and International Journal of Intelligence and CounterIntelligence. Georgetown University Press published his co-authored book, Strategic Warning Intelligence: History, Challenges and Prospects, in early 2019. He is a member of the Editorial Committee of the International Journal of Intelligence and CounterIntelligence. He is adjunct professor at Georgetown University.
Location: Society of Illustrators, 128 E 63rd St (between Park and Lexington), New York, NY 10065.
Timing: Registration starts at 5:30 pm, Speaker presentation starts at 6 pm. Fee: $50/person. Payment at the door only. Cash or check. Full dinner, cash bar.
RSVP: Strongly recommended that you RSVP to ensure space at event. Call or Email Chapter President Jerry Goodwin at afiometro@gmail.com or 646-717-3776.
---
Other Upcoming Events from Advertisers, Corporate Sponsors, and Others
Wednesday, 19 June 2019, 11 am - 2 pm - Arlington, VA - CIRA Luncheon - Speaker: Amb Joseph DeTrani, CIA expert on US Relations with North Korea and China
Ambassador Joseph DeTrani has served the public interest for more than three decades in the Central Intelligence Agency, the Office of the Director of National Intelligence (ODNI), and the State Department. Ambassador DeTrani had a distinguished career at CIA and the ODNI and is a highly recognized expert on North Korea which continues to be at the forefront of US national security and diplomatic interests. Moreover, Ambassador DeTrani has significant experience in directing and coordinating CIA and IC efforts in matters concerning China and Counterproliferation.
At CIA, Ambassador Detrani led Divisions in the Directorate of Operations and the Office of Technical Services, the Office of Public Affairs, and the Crime and Narcotics Center. At the ODNI, he served as Special Advisor to the DNI, the Director of the National Counterproliferation Center, and National Issue Manager for Counterproliferation and North Korea. He also served with the rank of Ambassador as the US Special Envoy for the Six-Party Talks with North Korea. Ambassador DeTrani is a graduate of New York University and recipient of several awards for his service to the Intelligence Community including the Distinguished Career Intelligence Medal and the Donovan Award. He is past President of the Industry and National Security Alliance (INSA). Ambassador DeTrani has published extensively on matters concerning China, North Korea, and Proliferation.
At a time when US relations with North Korea and China are of intense interest, CIRA is very fortunate to have such a distinguished speaker. Please join your fellow members in extending a warm welcome to Ambassador DeTrani.
Luncheon Location will be at the usual Arlington, VA location known to members. Fee: $27pp.

Send Reservation/Payment to CIRA, Box 7154, McLean, VA 2210 or make reservation + payment online on CIRA's website under Main Menu/Online Payments.
Monday, 24 June 2019, 6:30 - 7:30pm - Washington, DC - Graduate Admissions Information Session at Daniel Morgan Graduate School of National Security
Meet staff, students, and faculty.
Looking for the next step in your career with a focus on national security and intelligence? Come to the Daniel Morgan Graduate School of National Security's Open House. Refreshments will be served while you get an in-depth presentation from our admissions team as they present on the opportunities that await you with a degree from DMGS. Speak to their scholar-practitioner faculty, visit with current students and learn about the admissions process.
RSVP or Address questions to Jackie Linde by email at linde@dmgs.org
Location: Daniel Morgan Graduate School of National Security, 1620 L St NW #Suite 700, Washington, DC 20036. P: 202-759-4988.
Nearest Metro Stations: Farragut North and West.
Saturday, 28 September 2019 - Tysons Corner, VA - HOLD THE DATE: CIRA Annual Dinner
HOLD THE DATE. The 2019 annual CIRA dinner will be held in Tysons Corner. The cost will be $110 per person.
As was the case last year, the selected Tysons Corner hotel has reserved a block of rooms at reduced rates for attendees traveling from out of town. Information on menu choices will be forwarded in the near future.
Program: Cocktail Reception starts 6 pm; Dinner begins 7:30 pm; Presentations begin 8:45 pm. Full details when finalized.
The evening's program will include the presentation of the first CIRA Lloyd Salvetti award. There will be periodic updates on menu, reduced room rates, and updates on the evening program including the presentation of the Lloyd Salvetti Award. Meanwhile, put this date in your calendar and stay tuned for follow-ups. When available, specifics on location, registration, and other questions, will be announced on CIRA's webpage.
Wednesday, 6 November 2019, 6 - 10:30 pm - Washington, DC - Michael Morell and Jill Singer, Co-Chairs, invite you to The Honorable William H. Webster Distinguished Service Award Dinner at the International Spy Museum
The William H. Webster Distinguished Service Award Dinner will take place at the new home of the International Spy Museum in L'Enfant Plaza. On this special evening, more than 500 attendees will gather to recognize the men and women who have served in the field of National Security with integrity and distinction.
Each year, The Honorable William H. Webster Distinguished Service Award is given to an individual who has embodied the values of our esteemed friend, mentor, and leader ― Judge William H. Webster. This year's honoree is someone known for his invaluable service and contributions to the Intelligence Community, someone that has worked from the ground up and has been both a provider and consumer of intelligence with more than 20 years of experience. It is with great pride that we announce the 2019 honoree is General Michael V. Hayden, former Director of the National Security Agency, Principal Deputy Director of National Intelligence, and Director of the Central Intelligence Agency.
AWARD DINNER CO-CHAIRS: Mr. Michael Morell, Senior Counselor, Beacon Global Strategies and Former Deputy Director and former Acting Director, Central Intelligence Agency; Ms. Jill Singer, Vice President, National Security, AT&T Public Sector & Wholesale; Former Chief Information Officer, National Reconnaissance Office.
Tickets range from $495 to $15,000. Explore your registration options here.
This event is closed to media.
Event location: The New International Spy Museum, 700 L'Enfant Plaza SW, Washington, DC 20024. Directions here.
---
Gift Suggestions:
AFIO's 788-page Guide to the Study of Intelligence. Peter C. Oleson, Editor, also makes a good gift. View authors and table of contents here.

Perfect for professors, students, those considering careers in intelligence, and current/former officers seeking to see what changes are taking place across a wide spectrum of intelligence disciplines. AFIO's Guide to the Study of Intelligence helps instructors teach about the large variety of subjects that make up the field of intelligence. This includes secondary school teachers of American History, Civics, or current events and undergraduate and graduate professors of History, Political Science, International Relations, Security Studies, and related topics, especially those with no or limited professional experience in the field. Even those who are former practitioners are likely to have only a limited knowledge of the very broad field of intelligence, as most spend their careers in one or two agencies at most and may have focused only on collection or analysis of intelligence or support to those activities.
For a printed, bound copy, it is $95 which includes Fedex shipping to a CONUS (US-based) address.
To order for shipment to a US-based CONUS address, use this online form,

To order multiple copies or for purchases going to AK, HI, other US territories, or other countries call our office at 703-790-0320 or send email to afio@afio.com to hear of shipment fees.

Order the Guide from the AFIO's store at this link.

The Guide is also available directly from Amazon at this link.
AFIO's Intelligence Community Mousepads are a great looking addition to your desk...or as a gift for others.
Made in USA. Click image for larger view.
These 2017 mousepads have full color seals of all 18 members of the US Intelligence Community on this 8" round, slick surface, nonskid, rubber-backed mouse pad with a darker navy background, brighter, updated seals. Also used, by some, as swanky coasters. Price still only $20.00 for 2 pads [includes shipping to US address. Foreign shipments - we will contact you with quote.] Order MOUSEPADS here.
Disclaimers and Removal Instructions
Weekly Intelligence Notes (WINs) are commentaries on Intelligence and related national security matters, based on open media sources, selected, interpreted, edited and produced for non-profit educational uses by members and WIN subscribers.
REMOVAL INSTRUCTIONS: We do not wish to add clutter to inboxes. To discontinue receiving the WINs:
a) IF YOU ARE A MEMBER - click here: UNSUBSCRIBE and supply your full name and email address where you receive the WINs. Click SEND, you will be removed from list. If this link doesn't open a blank email, create one on your own and send to afio@afio.com with the words: REMOVE FROM WINs as the subject, and provide your full name and email address where you are currently receiving them.
b) IF YOU ARE NOT A MEMBER, and you received this message, someone forwarded this newsletter to you [contrary to AFIO policies]. Forward to afio@afio.com the entire WIN or message you received and we will remove the sender from our membership and distribution lists. The problem will be solved for both of us.
CONTENTS of this WIN [HTML version recipients - Click title to jump to story or section, Click Article Title to return to Contents. This feature does not work for Plaintext Edition or for some AOL recipients]. If you wish to change to HTML format, let us know at afio@afio.com. The HTML feature also does not work for those who access their e-mail using web mail...however NON-HTML recipients may view the latest edition each week in HTML at this link: https://www.afio.com/pages/ currentwin.htm
---
WINs are protected by copyright laws and intellectual property laws, and may not be reproduced or re-sent without specific permission from the Producer. Opinions expressed in the WINs are solely those of the editor's or author's listed with each article. AFIO Members Support the AFIO Mission - sponsor new members! CHECK THE AFIO WEBSITE at www.afio.com for back issues of the WINs, information about AFIO, conference agenda and registrations materials, and membership applications and much more!
(c) 2000, 2012, 2013, 2014, 2015, 2016, 2017, 2018, 2019. AFIO, 7600 Leesburg Pike, Suite 470 East, Falls Church, VA 22043-2004. Voice: (703) 790-0320; Fax: (703) 991-1278; Email: afio@afio.com
---
About AFIO | Membership Renewal | Change of Address | Upcoming Events | Chapter Locations | Corporate/Institutional Memberships | Careers in Intelligence Booklet | Guide to the Study of Intelligence | Intelligencer Journal | Weekly Intelligence Notes | To Make A Donation | AFIO Store | Member-Only Section | Code of Ethics | Home Page
---