---
CONTENTS
Section I - INTELLIGENCE HIGHLIGHTS
Section II - CONTEXT & PRECEDENCE
Section IV - Obituaries, Jobs, Research Assistance
Other Upcoming Events from Advertisers, Corporate Sponsors, and Others
For Additional AFIO and other Events two+ months or more... Calendar of Events

WIN CREDITS FOR THIS ISSUE: The WIN editors thank the following special contributors: ry, ec, po, mh, km, gh, mk, rd, fm, kc, jm, mr, jg, th, ed, and fwr. They have contributed one or more stories used in this issue.

The WIN editors attempt to include a wide range of articles and commentary in the Weekly Notes to inform and educate our readers. However, the views expressed in the articles are purely those of the authors, and in no way reflect support or endorsement from the WIN editors or the AFIO officers and staff. We welcome comments from the WIN readers on any and all articles and commentary.

CAVEATS: IMPORTANT: AFIO does not "vet" or endorse research inquiries, career announcements, or job offers. Reasonable-sounding inquiries and career offerings are published as a service to our members, and for researchers, educators, and subscribers. You are urged to exercise your usual caution and good judgment when responding, and should verify the source independently before supplying any resume, career data, or personal information.]
If you are having difficulties with the links or viewing this newsletter when it arrives by email, members may view the latest edition each week at this link. You will need your LOGIN NAME and your PASSWORD.

---

Gifts appropriate for intelligence officers, colleagues, recruitments, agents, advisors, and family.

The AFIO Store has following new items ready for quick shipment:

NEW: Long and Short-Sleeved Shirts with embroidered AFIO Logo and New Mugs with color-glazed permanent logo

Show your support for AFIO with our new Polo Shirts. Be the first to buy these new, high quality, subtle heathered grey shirts of shrink and wrinkle resistant fine cotton with a soft yet substantial feel. They feature a detailed embroidered AFIO seal. Get a shirt for yourself and consider as gifts for colleagues, family, and friends. Only $45 each including shipping.
Sizes of (M) men or (W) women shirts; Small, Medium, Large, XL, XXL, and XXXL. At this time all orders will arrive as Short Sleeve shirts.
You may pay by check or credit card. Complete your order online here or mail an order along with payment to: AFIO, 7600 Leesburg Pike, Ste 470 East, Falls Church, VA 22043-2004. Phone orders at 703-790-0320.
If interested in other shirt colors or sleeve lengths, contact Annette at: annettej@afio.com.

---

NEW: Mug with color glazed logo. Made in America. (We left out all that lead-based glaze and hidden toxins in those mugs made in China being sold by other organizations). Also sturdy enough to sit on desk to hold pens, cards, paperclips, and candy.

This handsome large, heavy USA-made ceramic mug is dishwasher-safe with a glazed seal. $35 per mug includes shipping. Order this and other store items online here.

---

---
---
Hold the Date
1 November 2019, 10:30 am - 2 pm - Tysons, VA - SAVE THE DATE for this final AFIO luncheon of 2019. Event features Jonna Mendez, former CIA Chief of Disguise, co-author of The Moscow Rules: The Secret CIA Tactics That Helped America Win the Cold War, and Vince Houghton PhD, Spy Museum Historian, discussing his just released The Nuclear Spies: America's Atomic Intelligence Operation against Hitler and Stalin.

Jonna Mendez's presentation starts at 11 a.m. Mendez (Spy Dust: Two Masters of Disguise Reveal the Tools and Operations That Helped Win the Cold War), share (with late husband Tony Mendez) their experiences as spies in Moscow during the height of the Cold War in the mid-1980s. The authors begin with the initial list of "the Moscow Rules" and continue to discuss briefly the current state of affairs in Russia under Vladimir Putin, and how they interfered with the 2016 U.S. election.
Vince Houghton PhD, historian and curator of the International Spy Museum, makes his presentation at 1 p.m. on The Nuclear Spies: America's Atomic Intelligence Operation against Hitler and Stalin. He asks why did the US intelligence services fail so spectacularly to know about the Soviet Union's nuclear capabilities following WWII? The Manhattan Project's intelligence team had penetrated the Third Reich and knew every detail of the Nazi 's plan for an atomic bomb. What changed and what went wrong?
Venue: DoubleTree by Hilton, 1960 Chain Bridge Rd, Tysons Corner, VA 22182 Phone: (703) 893-2100. Directions at this link.
Hold the date. Links to online registration will be provided next month.
---
June 30th Deadline Has Arrived
Call for Papers: The University of Texas at Austin 2019 "Bobby R. Inman Award" for Student Scholarship on Intelligence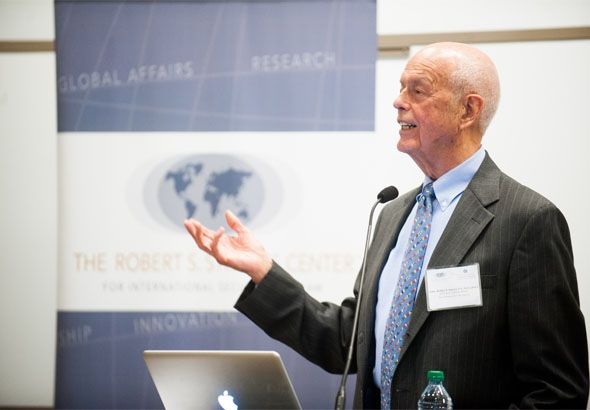 Austin, Texas – The Intelligence Studies Project of The University of Texas at Austin announces the fifth annual competition recognizing outstanding student research and writing on topics related to intelligence and national security. The winner of the "Inman Award" will receive a cash prize of $5000, with two semifinalists each receiving a cash prize of $2500. This competition is open to unpublished work by undergraduate and graduate students enrolled in degree programs at accredited U.S. higher education institutions during the 2018-19 academic year. The deadline for submitting papers is June 30, 2019.

The Intelligence Studies Project was established at The University of Texas at Austin in 2013 as a joint venture of the Robert Strauss Center for International Security and Law and the Clements Center for National Security with the LBJ School of Public Affairs. The Project's mission is to improve understanding of intelligence activities and institutions through research, courses, and public events bringing intelligence practitioners together with scholars, students, and the public.

The Bobby R. Inman Award recognizes more than six decades of distinguished public service by Bobby R. Inman, Admiral, U.S. Navy (Ret.). Admiral Inman served in multiple leadership positions in the U.S. military, intelligence community, private industry, and at The University of Texas. His previous intelligence posts include Director of Naval Intelligence, Vice-Director of the Defense Intelligence Agency, Director of the National Security Agency, and Deputy Director of Central Intelligence. He continues to serve as a teacher, advisor, and mentor to students, faculty members, and current government officials while occupying the Lyndon B. Johnson Centennial Chair in National Policy at the LBJ School of Public Affairs. His areas of teaching and research are focused on political, economic, and military activities, policy processes and institutions, international affairs and diplomacy, and intelligence and national security.

Additional information about the Inman Award, including submission requirements and previous winners, is available here.
---
Just Released and Forthcoming Books of the Week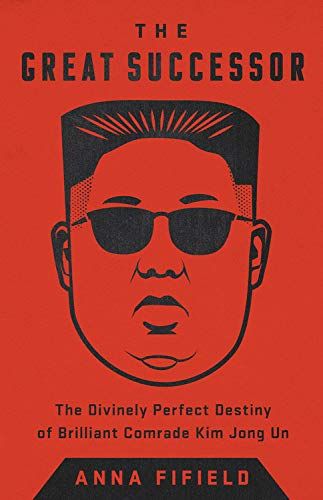 The Great Successor: The Divinely Perfect Destiny of Brilliant Comrade Kim Jong Un
by Anna Fifield
(PublicAffairs, June 2019)
"Intelligent, insightful, sometimes comic, and also worrying: Anna Fifield has written a vivid, compelling, and, above all, illuminating portrait of a rogue family's rule over the world's most reclusive nation." —General David Petraeus (US Army, Ret.), director of the CIA when Kim Jong Un became leader
"An important, riveting, and detailed account of the rise of Kim Jong Un. Anna Fifield, who is an intrepid reporter and a lively writer, breaks important new ground in The Great Successor. Drawing on a broad array of sources, including remarkable defector accounts, she paints a disturbing portrait of a country fueled by heady delusions of military strength; a potent, bizarre ideology; an unflinching devotion to nuclear weapons; and a disturbing addiction to crystal methamphetamine. Spoiler alert: be prepared for a lot of gore." —Evans J.R. Revere, senior advisor with the Albright Stonebridge Group and former senior state department official with 50 years of experience working on Korea
The behind-the-scenes story of the rise and reign of the world's strangest and most elusive tyrant, Kim Jong Un, by the journalist with the best connections and insights into the bizarrely dangerous world of North Korea. Fifield is the Beijing bureau chief for The Washington Post. She previously covered Japan and the Koreas for the Post, and was the Seoul correspondent for the Financial Times.
Fifield reconstructs Kim's past and present based on sources near him and explains the dynastic mission of the Kim family. The archaic notion of despotic family rule matches the almost medieval hardship the country has suffered under the Kims.
Portrait of the oddest and most secretive political regime in the world—isolated yet internationally relevant, bankrupt yet in possession of nuclear weapons—and its ruler, the self-proclaimed Beloved and Respected Leader, Kim Jong Un.

Book may be ordered here.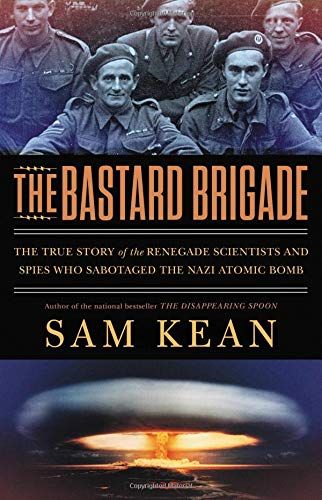 The Bastard Brigade: The True Story of the Renegade Scientists and Spies Who Sabotaged the Nazi Atomic Bomb
by Sam Kean
(Little Brown and Co, July 2019)
Story of a renegade group of scientists and spies determined to keep Adolf Hitler from obtaining the ultimate prize: a nuclear bomb.
In the middle of building an atomic bomb, the leaders of the Manhattan Project were alarmed to learn that Nazi Germany was outpacing the Allies in nuclear weapons research. Hitler, with just a few pounds of uranium, would have the capability to reverse the entire D-Day operation and conquer Europe. So Americans assembled a rough and motley crew of geniuses – dubbed the Alsos Mission – to go into Axis territory to spy on, sabotage, and assassinate members of Nazi Germany's feared Uranium Club.
We learn of the incredible cast of characters—both heroes and rogues—including: Moe Berg the major league catcher who abandoned the game for a career as a multilingual international spy; Werner Heisenberg the Nobel Prize-winning physicist credited as the discoverer of quantum mechanics; a key contributor to the Nazi's atomic bomb project and the primary target of the Alsos mission; Colonel Boris Pash a high school science teacher and veteran of the Russian Revolution who fled the Soviet Union with a deep disdain for Communists and who later led the Alsos mission; Joe Kennedy Jr. the charismatic, thrill-seeking older brother of JFK whose need for adventure led him to volunteer for the most dangerous missions the Navy had to offer; Samuel Goudsmit a washed-up physics prodigy who spent his life hunting Nazi scientists across the globe; and Irène and Frederic Joliot-Curie a physics Nobel-Prize winning power couple who used their unassuming status as scientists to become active members of the resistance.
These scientists and soldiers played a vital and largely untold role in turning back one of the darkest tides in human history.

Book may be ordered here.
---
---
2019 CAE Virtual Career Fair
This year, the Centers of Academic Excellence (CAE) in Cybersecurity is hosting the third annual CAE Virtual Career Fair (VCF) 27 September 2019...
Read More
---
Just released online...

Just released Volume XIII, Issue 3 (June 2019) of Perspectives on Terrorism (PT), the peer-reviewed online journal of the Terrorism Research Initiative (TRI) and the Institute of Security and Global Affairs (ISGA).
.
Contents: Articles — Global Jihadism after the Syria War by Tore Refslund Hamming; Call of Duty Jihad: How the Video Game Motif has Migrated Downstream from Islamic State Propaganda Videos by Cori E. Dauber, Mark D. Robinson, Jovan J. Baslious, and Austin G. Blair; A Phoenix Rising from the Ashes? Daesh after its Territorial Losses in Iraq and Syria by Ronen Zeidel and Hisham al-Hashimi; Knowing What to Do: Academic and Practitioner Understanding of How to Counter Violent Radicalization by Daniel Koehler and Verena Fiebig; Blurred Lines: The New 'Domestic' Terrorism by Gregory D. Miller.
Research Notes — The Utility of Disabled Fighters in the Islamic State by Chelsea Daymon.
Resources — Bibliography: Islamic State (IS, ISIS, ISIL, Daesh) (Part 5) Compiled and selected by Judith Tinnes; Bibliography: Boko Haram Compiled and selected by Judith Tinnes; Counterterrorism Bookshelf: 62 Books on Terrorism and Counter-Terrorism-Related Subjects Reviewed by Joshua Sinai.
Book Review: J.M. Berger, Extremism. (The MIT Press, Essenial Knowledge Series 2018) Reviewed by Daniela Scerri
Recent Online Resources for the Analysis of Terrorism and Related Subjects Compiled and selected by Berto Jongman — 115+ Academic Theses (Ph.D. and MA) on the Role of the Internet in Facilitating and Combating Radicalization, Extremism, Terrorism, and Cyber-Terrorism, written in English between 1995 and 2019 Compiled and selected by Ryan Scrivens Announcements
Conference Monitor/Calendar of Events (June - September 2019) Compiled by Reinier Bergema
About Perspectives on Terrorism .
Click here or image above to read online.
---
---
---
Section I - INTELLIGENCE HIGHLIGHTS

Canada's National Security Landscape Will Get a Major Overhaul This Summer. Canada's national security architecture is about to undergo a major demolition and rebuild this summer, now that C-59 has received royal assent.

The bill - which, after two years, passed through both houses of Parliament this week - gives Canada's signals intelligence agency new powers, although most of its new authority will come into force down the road.

Once the prime minister and cabinet issue an order, the Communications Security Establishment will be permitted under C-59 to launch cyberattacks (also called "active cyber operations") for the first time in Canadian history. [Read more: Tunney/CBCNews/23June2019]

CIA Seeks Expanded Definition of "Covert Agents". At the request of the Central Intelligence Agency, the pending intelligence authorization bill includes a provision that would expand the definition of "covert agents" whose identities are protected from unauthorized disclosure.

The identities of intelligence officers who are serving abroad or who have done so within the past 5 years are already protected by current law.

But the new Senate intelligence authorization bill would expand that protection to include all unacknowledged intelligence personnel even if they never leave the country.

The bill would "protect the identities of all undercover intelligence officers, and United States citizens whose relationship to the United States is classified, regardless of the location of the individuals' government service or time since separation of government service" (section 305). [Read more: Aftergood/FAS/19June2019]

China's Hackers Accused Of 'Mass-Scale Espionage' Attack On Global Cellular Networks. An Israeli-U.S. cybersecurity firm released a new report on Monday evening, claiming that "nation-state" hackers had compromised the systems of at least ten cellular carriers around the world to steal metadata related to specific users. Albeit unconfirmed, both the targeted individuals and the hackers are believed to link to China.

None of the affected carriers or targeted individuals have been named.

Cybereason claimed that the sophistication and scale of the attack, which they have dubbed Operation Softcell, bear the hallmarks of a nation-state action and that the individual targets - military officials and dissidents - tie to China. All of which points to the Chinese government as the likely culprit. The affected carriers. were in Europe, Africa, the Middle East and Asia. None were thought to be in the United States. [Read more: Doffman/Forbes/25June2019]

Sri Lanka's Army Commander Says Working with India on Intelligence. Sri Lanka's army commander confirmed they were working with Indian counterparts on intelligence following the Easter Sunday bombings by Islamist extremists supportive of Islamic State.

Intelligence officers from both countries were focussed on combatting the threat to Islamic State, Army Lieutenant General Mahesh Senanayake said during an event at Maduru Oya army camp on Saturday.

"A crisis could occur in any country which has ensured security, at any given time. However, the intelligence affairs of the country will be carried out in cooperation with the Indian intelligence units," Senanayake said. [Read more: TamilGuardian/24June2019]

Mossad Chief Accepts Cyber Defender Award At Annual Cyber Week Confab. Israel's national intelligence agency, known as the Mossad, was awarded the Cyber Defender Award on Tuesday during the opening plenary of the 9th annual Cyber Week conference, hosted at Tel Aviv University. Mossad Director Yosef "Yossi" Cohen accepted the award on behalf of the spy organization with a discussion about the future of cybersecurity.

"We are surrounded on all sides by the cyber world. As a result, we are beginning to be increasingly vulnerable and more exposed to targeted cyber attacks. The links between cyber and physical dimensions create vulnerabilities of an unprecedented scale. This risk is becoming more and more substantial as vulnerabilities are discovered by malicious entities. Therefore we need cooperation between governments and companies," Cohen said. [Read more: NoCamels/25June2019]

Maduro's Ex-Spy Chief Lands in U.S. Armed with Allegations Against Venezuelan Government. In a palace said to be filled with plotters, turncoats and thieves, Venezuelan President Nicolás Maduro could count on the loyalty of at least one man: Gen. Manuel Ricardo Cristopher Figuera.

The muscular 55-year-old was one of the revolution's true believers, having spent a decade as security chief for the late Hugo Chávez, the father of Venezuela's socialist state and Maduro's mentor. He studied the art of intelligence with the masters in communist Cuba. He reached the zenith of his power in October with his appointment as head of Maduro's intelligence police - the feared SEBIN.

And yet, when the U.S.-backed opposition leader Juan Guaidó announced his uprising April 30 to oust Maduro, Figuera emerged as a surprise conspirator - and, as the uprising failed, a man suddenly sprinting for his life into the hands of U.S. operatives in neighboring Colombia.

After nearly two months in hiding here in the Colombian capital, protected around the clock by a security detail, Figuera arrived in the United States on Monday armed with allegations about Maduro's government: The illicit gold deals. The Hezbollah cells working in Venezuela. The extent of Cuban influence inside Maduro's Miraflores Palace. [Read more: Faiola/WashingtonPost/24June2019]


---
Section II - CONTEXT & PRECEDENCE

Panther Strike. National Guard military intelligence (MI) Soldiers recently participated in Panther Strike, the largest military intelligence collective training event in the U.S. Army.

Panther Strike 19, a two-week MI exercise, took place in June at Camp Williams, Utah. The annual multilateral, MI exercise serves to develop and enhance the technical competence of members of the counterintelligence, human intelligence (HUMINT), geospatial, all-source and signal intelligence communities. The exercise simulates full-spectrum intelligence-gathering operations within a deployed combined joint task force.

Planned and executed by the Army National Guard's 300th Military Intelligence Brigade, Panther Strike is used to effectively train and prepare MI Soldiers for future deployments. [Read more: White-Jenkins/CitizenSoldier/23June2019]

Who Exactly Was the Spy in Moscow Station? While reading The Spy in Moscow Station, I kept noticing a sub-tone emanating from the narrative, a steady low signal, like tinnitus through a subwoofer. I couldn't place the noise, but it felt familiar and more than a little grating. It was, I eventually realized, the sound of an axe being ground.

Written by former NSA, ODNI and Disney executive Eric Haseltine, The Spy in Moscow Station tells the story of NSA officer Charles Gandy's relentless quest to discover Soviet technical penetrations of the American embassy in Moscow during the last years of the Cold War. From a technical operations standpoint, Haseltine tells an interesting and important story of the dangers of underestimating or misunderstanding the technical capability of adversaries. While the events depicted are four decades in the past, the technology remains relevant today, and the book contains lessons to guard against complacency in today's world of pervasive cyber warfare. However, Haseltine does a poor job of conveying or capturing a wider intelligence and counterintelligence picture of Moscow. The book is further undermined by a whiff of unforgotten grudges and depiction of specific encounters which strain credulity. [Kolbe/TheCipherBrief/25June2019]

Nominations Now Open: Pinnacle Awards Intelligence Executive of the Year. Nominations are now open for WashingtonExec's Annual Pinnacle Awards, and we want to know which intelligence executives had the biggest impact supporting the intelligence community.

The Pinnacle Awards embody the WashingtonExec spirit of highlighting successful executives and businesses saving money and fostering innovation for federal clients across the region. The awards will culminate in an Oct. 31 ceremony and luncheon at the Ritz Carlton Tysons Corner, where the chosen executives will be recognized.

For the Intelligence Executive of the Year Award, nominations may come from peers, employees, supervisors and fellow industry leaders. This category focuses on industry executives who lead intelligence practices and support federal agencies within the intelligence community, including CEOs, chief operations officers and vice presidents. [Read more: Walsh/WashingtonExec/24June2019]

This New Russian Spy Drone Looks a Lot Like an Owl. Russia has unveiled a combat surveillance drone intended to resemble a menacing owl spreading its wings.

The avian imposter was showcased at the Defense Ministry's annual military expo in the outskirts of Moscow on Tuesday.

Footage from the event published by the ministry's Zvezda news channel show the remote-controlled wheeled drone rolling across a grassy field before takeoff. The owl drone is equipped with a laser beam to guide artillery and aviation, the channel reported. [Read more: MoscowTimes/25July2019]

Declassified U2 Spy Photos Reveal New Archaeological Findings. During the Cold War, the United States operated a series of clandestine reconnaissance missions using U2 spy planes flying as high as 70,000 feet over Europe, the Middle East, and Asia. The program came to a famous and public end when the Soviet Union shot down American Pilot Francis Gary Powers on May 1, 1960, but prior to these events American pilots had flown dozens of missions collecting detailed photographic documentation of the terrain. Those photographs are proving invaluable to archaeologists working in the Middle East today.

In a new open-access paper published in Advances in Archaeological Practice, Emily Hammer and Jason Ur detail their latest efforts to both make the data from these U2 flights accessible to the public and to demonstrate their importance to ongoing research projects in the Middle East. Aerial imagery is useful in archaeology for identifying features that can be difficult to see at ground level. In this study, the U2 images have also helped Hammer and Ur to identify archaeological sites that have been damaged or destroyed over the past 60 years. [Read more: Anderson/Forbes/25June2019]

Heroes of a Generation: The Spy who Fought for Love. A broken heart drove Patricia Warner into World War II - where she became a spy in Spain, leaving her newborn son and the safety of home behind to avenge her husband's death.

She went undercover as a flamenco dancer, attended bullfights, helped downed American pilots escape from occupied France and meticulously reported all she saw back to London and Washington, D.C., by Morse code.

She was bitten by a black widow spider, tailed by the enemy, made connections with local resistance fighters and kept her eye on pro-Nazi government officials - risking her life as she grieved the loss of her first love.

It was 1942 and the war came crashing down on her happy marriage. Her husband - Robert Ludlow Fowler III - was 23. She was 21. [Read more: Dwinell/BostonHerald/22June2019]


---
There May Not Be A Next Time. On July 9, 1755 General Edward Braddock, commander of a British expedition sent to capture Fort Duquesne, a French fortification located on the site of modern-day Pittsburgh, suffered a catastrophic defeat. His army was cut to pieces a matter of a few miles from its objective by a much smaller force of French and Indians, and only the heroic efforts of a young George Washington, Braddock's aide de camp, prevented an even greater slaughter. The British had suffered a crushing defeat in what came to be known in North America as the French and Indian War, a titanic struggle for supremacy between Britain and France.

Analysis of Braddock's defeat ever since has tended to skew heavily to the overly simplistic. The French and Indians hid behind trees. The British were fools and stood in the open wearing red. Case closed.

The truth is much more complex and much more illuminating. Braddock was no fool. He was a highly experienced professional British Army officer. He was commanding a force composed overwhelmingly of line regiments of the British Army. This army had fought all over the planet for generations and vanquished any number of foes. Braddock was not on holiday. He knew what he was about, and he was proceeding as he been taught to do.

He was also, unfortunately, in a brand-new world, where the old rules did not apply and where adherence to them could be deadly. [Read more: Faddis/ANDMagazine/19July2019]

The Secrecy of Being in MI6 is Tough - but Life Gets Harder Once You Leave. If the rumours that swelled this week are to be believed - that Rory Stewart followed in his father's footsteps by joining MI6 - then he has done the decent thing. Although life as a spy may have brought opportunities his way, he has kept quiet about his alleged incognito career, and tried to build a new life: just what former Secret Intelligence Service recruits are supposed to do. When we leave, we even sign documents stating that we will not make use of our previous employment. But not all of us achieve that.

I was recruited at Oxford University during the Cold War, which felt like something out of a John le Carré novel. My tutor asked me one day whether I had "ever thought of working for your country" - not understanding quite what he was referring to, I said yes, after which followed a letter in my pigeonhole (from an anonymous government department) asking me to London for an interview.

I would go on to work an intelligence analyst and operational officer, a period that included time undercover among heroin smuggling gangs, and looking into the trafficking of terrorist weapons.

But what do you do once your spy career ends? [Read more: Ferguson/TheTelegraph/23June2019]

Herbert E. Meyer, RIP. The man who fought the Cold War's version of the Deep State and dragged it, kicking and screaming, into support for the radical change in strategy that eventually won the Cold War has passed on to his heavenly reward.

With deep sadness, I must share with our readers the news that Herbert E. Meyer passed away Sunday morning around 10 A.M. Herb suffered a traumatic brain injury while riding his bicycle, a daily exercise routine when he was home on the Puget Sound island where he and his wife Jill lived, and was hospitalized for months afterward in a coma. His family emails that Jill was with him as he passed, and it was peaceful and quick.

The full story of Herb's enormous contribution to world history has never been told, but he is one of the unsung heroes who deserves credit for ending the Cold War. As assistant to President Reagan's director of Central Intelligence, William Casey, and vice chairman of the CIA's National Intelligence Council, Herb was responsible for production of the U.S. National Intelligence Estimates and other top-secret projections for the president and his national security advisers. In that role, he was the first senior U.S. official to forecast the fall of the USSR.

Let that sink in a moment. [Read more: Lifson/AmericanThinker/24June2019]

Is the Air Force Serious About Intelligence, Surveillance, and Reconnaissance? The U.S. Air Force claims to have the best intelligence, surveillance, and reconnaissance (ISR) force in the world, and a plan to enhance decisive advantage amidst great power competition. The Air Force also has a culture and history that values ISR significantly below fighters and bombers. Will the Air Force implement its ISR plan, or will priority and resources go to platforms that put fire and steel on target?

The ability to discover activities not otherwise visible to policymakers and military commanders is still vitally important for military planning and options as well as for warning of surprise attacks. ISR aircraft have supported American military commanders and national security policymakers in both war and peace for over 150 years, dating back to the American Civil War. The U.S. Air Force was assigned airborne ISR roles and missions at the outset of its establishment as a separate military service. Current Air Force doctrine recognizes that in the information age, Air Force ISR capabilities operate from and through multiple domains to provide essential, timely intelligence on adversaries' capabilities to decision-makers and joint force commanders. ISR is often the first additional capability a combatant commander requests in a crisis or contingency situation, and those capabilities often must remain in place to monitor the situation even after a crisis is resolved. [Read more: Stiegel/WarOnTheRocks/25June2019]



---
Section IV - Obituaries, Jobs, Research Assistance
Dan Bumstead, CIA Operations Officer
Daniel Downs Bumstead, 84, a CIA Operations Officer, died 11 March 2019 in Naples, FL
Dan was born in Ohio, where went to Kenyon College, and was known for being an athlete, scholar, and President of the Student Council. He was inducted into Kenyon's Hall of Fame for his basketball career. While in college he signed with the Cincinnati Reds minor league, where he was a pitcher for three years. After graduating from Kenyon, he joined the Air Force as a reconnaissance coordinator in Morocco, where he met his first wife, Cynthia Kelley. After a year in the Air Force, Dan was recruited into the CIA, beginning a 34-year career that took him to Morocco, Iran, France, Belgium, Portugal, Cuba, and Central America. During his many years living in Paris, first in the 1970s and then in the 1980s, he developed fluent French, and a love of wine and good food. He enjoyed an in-depth exchange of views on European and global politics, accompanied by a large snifter of Armagnac. 1974 found him in Lisbon at the time of the Carnation Revolution. He was deeply involved in Iranian affairs, particularly during the fall of the Shah, escaping Tehran shortly before the taking of the American hostages in 1979.
In retirement, Dan was a voracious reader of political books, articles, and journals involving Intelligence, Castro, and Terrorism. He also enjoyed fly fishing and tennis. He won several singles and doubles titles in the US and Bermuda. He also became active in the Naples (FL) Council on World Affairs. Dan's served on the Board for 12 years, and as President of the Council from 2008-2010, and served 20 years leading his Great Decisions Group.
He will be remembered for many things, not least his ability to hold a dinner party in thrall to funny stories and tall tales, most of which grew taller and funnier with each recounting.
He is survived by his wife of 38 years, Cynthia Barrett Edwards, two daughters, and other family, including an Australian Labradoodle named Casey, after a certain fellow at the CIA.
Bob Clark, CIA Senior Scientist
Robert Louis Clark, 76, a CIA Senior Scientist, died of pneumonia on 11 June 2019 in McLean, VA.
Bob graduated from Virginia Military Institute in 1963 and was subsequently employed by the U.S. Army and the CIA. He retired from the CIA in 2009 as a senior scientist/engineer.
After retirement he volunteered his time and expertise to Rock Spring Congregational United Church of Christ as systems administrator.
He leaves his wife, Bettie Ferrell Clark, two sisters, and other family.
A celebration of his life will be held at Rock Spring Church in Arlington on 13 July 2019.
Herb Meyer, Vice Chair, CIA's National Intelligence Council
Herbert E. Meyer, 73, Vice Chairman of CIA's NIC, died 23 June 2019 in Friday Harbor, WA, of a September 2018 traumatic brain injury and coma incurred from being struck by an unidentified vehicle while riding his bicycle.
During the Reagan Administration, Herb served as Special Assistant to DCI William Casey, and Vice Chairman of the CIA's National Intelligence Council. In these positions, he managed production of the National Intelligence Estimates and other top-secret projections for the President and his senior National Security advisers. Meyer is credited by some for being the first senior USG official to forecast the Soviet Union's collapse, which he did in the early 1980s -- to considerable political derision. He later was awarded the National Intelligence Distinguished Service Medal, which was the Intelligence Community's highest honor at that time.
He previously was an associate editor of FORTUNE magazine, and authored several books under his Storm King Press imprint, including The War Against Progress, Real-World Intelligence, and Hard Thinking. With his wife, Jill, he co-authored the handbook, How to Write. He also authored several eBooks.
A prolific essayist, Meyer's commentaries on intelligence and politics were seen in The Wall Street Journal, National Review Online, Policy Review, The American Thinker, and Ricochet. He also served as a guest on television and radio talk shows. In 2003, Mr. Meyer produced and hosted The Siege of Western Civilization, a DVD outlining the threats to our security, our economy, and our culture that became an international best seller.
"Herb always said he was unable to write the true story of his work because of national security considerations. I can only hope that someday, scholars with access to the full archives will write the story of how America turned away from accepting the permanence of an evil regime of communism and developed the intelligence that brought down the USSR without the firing of a shot. When that happens, Herb may finally be recognized for his enormous contribution. Because of his ability to see through the gauze of shared assumptions that obscure the truth in complex human matters, he was a superb writer, the kind who makes it look easy. I urge readers to take a look at his archive of articles for American Thinker and to consider purchasing some of his books from Storm King Press." — Thomas Lifson, American Thinker, 24 June 2019.
Herb is survived by his wife, Jill, and other family. A formal obituary has not been released.
Jim Prucnal, served CIA at Area 51
James Walter Prucnal, 79, served CIA with Area 51 and other Black Projects, died 22 May 2019. The following comes from the Roadrunners:
Jim served in the United States Air Force for four years beginning in October 1958. Following his military service, Jim joined the Central Intelligence Agency, reporting to Area 51 in November 1964 as a finance officer under CIA Commander Werner Weiss, the Desert Fox. Jim remained at Area 51, serving the CIA for 35 years, retiring in September 1995 and joining EG&G Special Projects and then JT3 until his final retirement in 2005.
In his retirement, Jim did not stray far from Area 51. He joined the Roadrunners Internationale Association of retired CIA, USAF, and contractor veterans who served during the CIA's U-2 and A-12 spyplane era at Area 51. Jim continued to serve as the treasurer for the Roadrunners though declining health ultimately required assistance from his wife, Judy. ...
The Roadrunners recall Jim being a quiet, mild-spoken man with a brilliant mind. Unfortunately, Jim was never able to reveal his accomplishments at Area 51 as they remain classified and vital to national security. Though the same national security restrictions still apply to most of the Roadrunners, they have told non-classified humorous stories about their time at Area 51. One such tale involving Jim was his serving the CIA at Area 51 with former USAF Lt. Col. John Henry "Hank" Meirdierck, best described as a "crusty old colonel" who was one of the USAF test and instructor pilots training the CIA U-2 detachments at Area 51 in 1955-1956. Following the U-2 training, the USAF had attached Meirdierck to the CIA as its operations officer at Area 51 for the Project OXCART. In 1964, he retired from the USAF and remained at Area 51 as a GS-15 OSA budget officer with his office directly across the hall from Jim's. Jim's story is that each morning he brought a newspaper with him on the flight to Area 51, where before he had a chance to read it, it would disappear. He discovered that Hank was stealing his newspaper. Those who knew both Hank and Jim know how they contrasted in almost every way, thus adding humor to what transpired beneath the shroud of secrecy at Area 51. The coyote and road runner cartoons come to mind.
The Roadrunners extend their condolences to Judy and family and share their loss of a great American who served his country long and hard.
Carol Staubach, CIA/NRO Senior Officer
Carol Burns Staubach, 72, Senior CIA/NRA Officer, died 3 June 2019 in Oro Valley, AZ.
Born in Johnstown, PA, Carol attended the University of Pittsburgh graduating with a degree in Mathematics, Physics, and Secondary Education. Following a few years teaching high school math, Carol moved to Washington DC in 1970 joining the CIA where she held multiple positions in the Office of Computer Services. In 1984 she was appointed the Director of the New Building Communications Program; there she led the installation of all communications services for the new CIA Headquarters Building.
In 1988 she was assigned to the National Reconnaissance Office (NRO) where she held senior director positions in three different Directorates. She managed ground stations, led research, development, and engineering of satellites and development of new satellite technologies. She retired in 2003 as the Director, Imagery Systems Acquisition and Operations.
Upon leaving the government, Carol went to work for Booz Allen Hamilton becoming Senior Vice President in 2006.
In 2012 she left BAH as a Senior Executive Advisor to the Intelligence Community and retired in Tucson, AZ.
Carol was very accomplished and respected, not only in CIA/NRO but across the IC, receiving many honors and awards. She was a member of the AFCEA Intelligence Panel and served on several Boards of Directors including Women in Aerospace, Challenger Center for Space Science, Virginia Commercial Space Flight Authority and the Stone Canyon Community Foundation.
Carol enjoyed traveling with her husband, family and friends. She was an avid scuba diver and skier, and loved to explore different cities and countries with her grandkids each year as a way to pass on her love of travel to the next generation. Her favorite spot was on the roof deck of her home at sunset. When not on the roof, you could usually find Carol in the kitchen cooking an amazing meal for family gatherings.
She is survived by her husband of 47 years, Tom, and other family.
---
Georgetown Law is seaching for a National Security Program Director for their national security programs.
The National Security Program Director oversees the national security JD and LL.M. and student experience at Georgetown Law. This position will design and develop major program components including strategy, policy, and process. S/he maintains curricula, conducts research, leads professional conferences, and provides student support. While producing ideas for faculty review and implementing programs that reflect faculty interest, the incumbent will evaluate effectiveness to meet programmatic goals. Reporting to the Faculty Director of the Center on National Security and the Law (CNSL), the Program Director has additional duties that include but are not limited to:
Student and Alumni Professional Development
• Oversee students' academic choices, career preparation, and job placement.
Assist with new student orientation, with a particular emphasis on incoming national security law students.
• Advise JD and LL.M. students on courses appropriate to their interests and future goals.
• Run the law school's annual Security Clearance Workshop for interested students.
• Provide opportunities for students to meet with legal professionals in all aspects of national security law to help them to learn about a variety of different possible career paths through talks, panels, discussions, site visits, and other events.
• Run the annual National Security Career Fair, in conjunction with George Washington Law School and the American Bar Association, held alternately at Georgetown Law and George Washington Law
• Maintain a database of former students and individuals connected with Georgetown Law who have experience or are practicing in the field of national security law.
• Maintain the program's Linkedln site.
• Provide career advice to JD and LL.M. students and help them to connect with alumni in the field to ensure that they have the best advice going forward.
• Circulate job opportunities to current students and alumni.
• Provide educational and career advice to Georgetown Law alumni who want to move into national security law or who are already in the field.
Curriculum Development
• Continue to strengthen Georgetown Law's national security curriculum.
• Undertake an annual, comprehensive curriculum review, meeting with the Faculty Director of CNSL and the national security faculty cohort to: determine which courses would enhance the offerings at Georgetown Law; reduce duplicative courses; eliminate outmoded courses; and identify potential adjunct faculty for needed areas.
• Help to develop practicums, internships, and externships in the field.
• Evaluate adjunct faculty and provide them with pedagogical assistance to strengthen their performance in the classroom.
Marketing and Recruiting
• Market the program to and recruit top JD and LL.M. national security law students.
• Develop, contribute to, and help to maintain the national security law program's website.
• Maintain an online presence for the program in social media.
• Assist Faculty in annually selecting the national security law scholar.
Strategic Planning
• In partnership with the Faculty Director, design and implement a strategic vision for the JD/LL.M. and LL.M. in National Security Law.
• Create regular and ongoing opportunities for national security Faculty, Adjunct Faculty, and Students to provide feedback on the JD/LL.M. program.
• Create regular and ongoing opportunities for Georgetown Law to hear from professionals in the field what the most important skills are for students to develop at Georgetown Law and beyond.
Qualifications
• J.D. degree
• At least 7 years of progressive experience related to this field
• Demonstrated organizational skills and strong collaborative skills
• Experience in and good knowledge of the field of national security law
• A commitment to excellence in the classroom, curricular development, and career placement for the students
• Experience in academic administration as well as management and mentorship is preferred
Please apply with a cover letter, resume, and transcript at the Georgetown Career Opportunities Portal.
Any questions may be directed to Nadia Asancheyev, at na76@georgetown.edu, or 202-662-4072.
Applications are due Friday July 19, 2019.
Starr Companies has an opening for Director of National Capital Region
Employment Duration: Full Time
Location: Washington, DC
Travel: Up to 50%
Responsibilities: The ideal candidate will have prior experience working in, and relationships previously established within, the U.S. Federal Government, to include experience working in an HR or Benefits role:
• Consolidate Trade Association and US Fed Govt outreach under one individual; Maintain these relationships once established
• Develop new relationships and opportunities with Trade Associations that Starr Wright currently does not have relationships with
• Develop and maintain relationships with all US Fed Govt Agencies, to include attending Open Houses, New Hiring Events, and maintaining dialogue with US Fed Agency HR Departments to insure that Starr Wright offerings remain front-and-center to these Agencies' employees
• Working with Starr Wright Marketing Director, develop and execute new marketing opportunities and strategies within the US Capitol Region, and other locations with high-density US Federal Government Employee populations
• Developing other ancillary insurance products designed for the unique needs of the US Federal Government Employee
Thank you very much for your assistance in this regard. If you have any questions or would like to discuss in person, please just let us know.
Full job posting - description is here.
Faculty Opportunities in Computer Science and Cyber Security
• Assistant Professor or Associate Professor, Computer Science, University of South Alabama. Full details here.
• Assistant Professor of Information Technology, Middle Georgia State University. Full details here.
• Capitol Technology University (Laurel, MD), Cyber Security Department, Adjunct Professor. Full details here.
• Cybersecurity/ Information Systems and Technology - Cybersecurity - Assistant Professor Tenure Track, San Bernardino, CA. Full details here.
FireEye Has Three Positions in Reston, Virginia
Job Title:

Company:

Experience:

7 to 20 years

Employment Type:

Full Time

Job Location:

Reston, VA

Manager, Data Science Reston, VA Full time Company Description FireEye is the leader in intelligence led security as a service. Working as a seamless, scalable extension of customer security operations, FireEye offers a single platform that blends innovative security technologies, nation state grade threat intelligence, and...

Job Title:

Company:

Experience:

Open

Employment Type:

Full Time

Job Location:

Reston, VA

Senior Build and Release Engineer Reston, VA, USA Full time Company Description FireEye is the leader in intelligence led security as a service. Working as a seamless, scalable extension of customer security operations, FireEye offers a single platform that blends innovative security technologies, nation state grade threat...

Job Title:

Company:

Experience:

5 to 20 years

Employment Type:

Full Time

Job Location:

Reston, VA

Technical Writer Reston, VA Full time Company Description FireEye is the leader in intelligence led security as a service. Working as a seamless, scalable extension of customer security operations, FireEye offers a single platform that blends innovative security technologies, nation state grade threat intelligence, and worl...
CAVEAT: AFIO does not "vet" or endorse research inquiries, career announcements, or job offers. Reasonable-sounding inquiries and career offerings are published as a service to our members, and for researchers, educators, and subscribers. You are urged to exercise your usual caution and good judgment when responding, and should verify the source independently before deciding if you wish to supply a resume, career data, or personal information. Your participation in research aids the Intelligence Community and future officers.
STANDING RESEARCH PROJECT BY AFIO: Professor/Researcher Seeks Identification of Events Significantly Affected by Intelligence for "When Intelligence Made a Difference" - a new AFIO Project
AFIO is beginning a new educational project entitled "When Intelligence Made a Difference." We invite you to identify events involving any nation or organization when the outcome was affected significantly by intelligence.
We plan to publish edited submissions serially in our print-only member magazine Intelligencer: Journal of US Intelligence Studies.
If you are interested in contributing an article, please email peter.oleson@afio.com. Briefly state what event you have in mind, and include your bio. [AFIO will identify authors by name and current or former title only ― no multi-line biographies.] If your suggestion is a good fit for this project, we will respond asking for your comments on that event, not to exceed 1,500 words (excluding footnotes).
When you send your article and bio, please let us know if you have ever had prior employment or contract work within the US Intelligence Community -- and, to meet pre-publication review requirements, supply a copy of the official approval letter or email you received back, naming and clearing for publication the article you are sending us. Without this, we are unable to consider or include your article in the publication.
As with most nonprofit academic publications, contributors will not be paid, however AFIO will publish under broad, pro-educational Creative Commons copyright. Therefore, authors retain the right to use their articles anywhere else they wish, after its publication in Intelligencer.
Eight weeks after publication of your contribution in the print-only version of Intelligencer, the article will then appear on AFIO's website for general public/educational access. Since the time of 1) an article's acceptance, and 2) appearance in print, and then 3) inclusion online can run eighteen months to three years from start-to-finish, a title-author listing of all accepted forthcoming articles (but no summaries) will be included in a print edition of Intelligencer and online. So it is imperative authors be patient as these articles are released on this serialized basis, in our two or three journal issues per year. By submitting an article to us authors acknowledge and accept these provisions.
This project would make a good class assignment. Accepted articles would give students a publication credit in a recognized journal.
Again, if you wish to participate or explore more aspects of this project, email Peter Oleson at peter.oleson@afio.com.
---
AFIO EDUCATIONAL EVENTS IN COMING TWO MONTHS....
Saturday, 20 July 2019, 10am - 3pm - Dedham, MA - AFIO New England hosts Membership Business Meeting, Speaker, and Discussions
The AFIONE meeting schedule is as follows: Registration & Gathering, 1000 ― 1030; Membership meeting 1030 ― 1045; Morning Discussion Session 1045 to 1200; Luncheon at 1200 - 1300. The Morning session will be open discussion. Our afternoon speaker will be from 1300 ― 1430 with adjournment by 1500. The Morning session will cover various business-related items, general discussion regarding recent events of interest to the membership and a presentation by one of our members.
Full details when available.
LOCATION: The AFIONE chapter meeting will be held at the MIT Endicott House in Dedham Mass. Their website is here. Address is: 80 Haven Street, Dedham, MA 02026. Should you elect to stay at the Endicott House, Mike Assad has arranged a room rate of $140.00. Please mention AFIO/NE and Mike Assad when you make your reservation.
For additional information contact us at afionechapter@gmail.com
Reservations are $25.00 per person. Emails regarding your plans to attend will be accepted if you are late meeting the deadline. These must be sent to Sarah Moore no later than 7 days prior to the event. Paid in advance the cost of the luncheon is $25 per person.
Mail name of attendee and any guests to: AFIO/NE, Sarah Moore, PO Box 1203, Orange, CT 06477.
Wednesday 18 September 2019, 5:30 p.m. - New York, NY - AFIO NY Metro Chapter hosts Larry Loftis, on SOE Hero, Odette Sansom, in his book Code Name: Lise
Larry Loftis is the author of Code Name: Lise―The True Story of the Woman Who Became WWII's Most Highly Decorated Spy, the story of Odette Sansom (1912-1995), a Frenchwoman living in England, wife of an Englishman and mother of 3 daughters, who was recruited into Britain's Special Operations Executive (SOE) to conduct espionage in France during WW II with her commander, and yet-to-be second husband, Peter Churchill. Leaving her daughters in a convent school and with relatives, she joined the rigorous training program, becoming proficient with a wide range of weapons, learning the fine points of spycraft, and perfecting her new identity with the code name Lise. In France she proved herself fearless. Hunted by the Germans, in 1943, Odette and Peter were captured, imprisoned, and tortured. Loftis describes Odette's ordeal in grisly detail. Two lies saved her: She pretended that she and Peter were married (they would be after the war) and that Peter was related to Winston Churchill. In defeat, the Gestapo hoped to use her as a bargaining chip.
Location: Society of Illustrators, 128 E 63rd St (between Park and Lexington), New York, NY 10065.
Timing: Registration starts at 5:30 pm, Speaker presentation starts at 6 pm. Fee: $50/person. Payment at the door only. Cash or check. Full dinner, cash bar.
RSVP: Strongly recommended that you RSVP to ensure space at event. Call or Email Chapter President Jerry Goodwin at afiometro@gmail.com or 646-717-3776.
1 November 2019, 10:30 am - 2 pm - Tysons, VA - SAVE THE DATE for this final AFIO luncheon of 2019. Event features Jonna Mendez, former CIA Chief of Disguise, co-author of The Moscow Rules: The Secret CIA Tactics That Helped America Win the Cold War, and Vince Houghton PhD, Spy Museum Historian, discussing his just released The Nuclear Spies: America's Atomic Intelligence Operation against Hitler and Stalin.
Jonna Mendez's presentation starts at 11 a.m. Mendez (Spy Dust: Two Masters of Disguise Reveal the Tools and Operations That Helped Win the Cold War), share (with late husband Tony Mendez) their experiences as spies in Moscow during the height of the Cold War in the mid-1980s. The authors begin with the initial list of "the Moscow Rules" and continue to discuss briefly the current state of affairs in Russia under Vladimir Putin, and how they interfered with the 2016 U.S. election.
Vince Houghton PhD, historian and curator of the International Spy Museum, makes his presentation at 1 p.m. on The Nuclear Spies: America's Atomic Intelligence Operation against Hitler and Stalin. He asks why did the US intelligence services fail so spectacularly to know about the Soviet Union's nuclear capabilities following WWII? The Manhattan Project's intelligence team had penetrated the Third Reich and knew every detail of the Nazi 's plan for an atomic bomb. What changed and what went wrong?
Venue: DoubleTree by Hilton, 1960 Chain Bridge Rd, Tysons Corner, VA 22182 Phone: (703) 893-2100. Directions at this link.
Hold the date. Links to online registration will be provided next month.
Wednesday 4 December 2019, 5:30 p.m. - New York, NY - AFIO NY Metro Chapter hosts CIA Officer (Ret) Dr. John A. Gentry discussing "IC Political Activism since 2016 -- Origins and Implications."
Partisan political activism by current and former intelligence officers since mid-2016 is the largest and most significant politicization of intelligence by intelligence officers in U.S. history. This presentation will explore the causes and the wholly negative consequences of this new form of politicization for the IC and the country.

Dr. John A. Gentry was for 12 years an intelligence analyst at the CIA, where he worked mainly economic issues associated with the Soviet Union and Warsaw Pact countries; for two of those years he was senior analyst on the staff of the National Intelligence Officer for Warning. He is a retired U.S. Army Reserve officer, with most assignments in special operations and intelligence arenas. On active duty, he was executive officer of a special forces operational detachment. As a reservist, he was mobilized and spent much of 1996 as a civil affairs officer in Bosnia. Dr. Gentry also is an adjunct associate professor with the School of International and Public Affairs, Columbia University. He formerly taught at the College of International Security Affairs, National Defense University, at the National Intelligence University, and at George Mason University. His research interests primarily are in intelligence and security studies. He publishes frequently in Intelligence and National Security and International Journal of Intelligence and CounterIntelligence. Georgetown University Press published his co-authored book, Strategic Warning Intelligence: History, Challenges and Prospects, in early 2019. He is a member of the Editorial Committee of the International Journal of Intelligence and CounterIntelligence. He is adjunct professor at Georgetown University.
Location: Society of Illustrators, 128 E 63rd St (between Park and Lexington), New York, NY 10065.
Timing: Registration starts at 5:30 pm, Speaker presentation starts at 6 pm. Fee: $50/person. Payment at the door only. Cash or check. Full dinner, cash bar.
RSVP: Strongly recommended that you RSVP to ensure space at event. Call or Email Chapter President Jerry Goodwin at afiometro@gmail.com or 646-717-3776.
---
Other Upcoming Events from Advertisers, Corporate Sponsors, and Others
Saturday, 28 September 2019 - Tysons Corner, VA - HOLD THE DATE: CIRA Annual Dinner
HOLD THE DATE. The 2019 annual CIRA dinner will be held in Tysons Corner. The cost will be $110 per person.
As was the case last year, the selected Tysons Corner hotel has reserved a block of rooms at reduced rates for attendees traveling from out of town. Information on menu choices will be forwarded in the near future.
Program: Cocktail Reception starts 6 pm; Dinner begins 7:30 pm; Presentations begin 8:45 pm. Full details when finalized.
The evening's program will include the presentation of the first CIRA Lloyd Salvetti award. There will be periodic updates on menu, reduced room rates, and updates on the evening program including the presentation of the Lloyd Salvetti Award. Meanwhile, put this date in your calendar and stay tuned for follow-ups. When available, specifics on location, registration, and other questions, will be announced on CIRA's webpage.
Wednesday, 6 November 2019, 6 - 10:30 pm - Washington, DC - Michael Morell and Jill Singer, Co-Chairs, invite you to The Honorable William H. Webster Distinguished Service Award Dinner at the International Spy Museum
The William H. Webster Distinguished Service Award Dinner will take place at the new home of the International Spy Museum in L'Enfant Plaza. On this special evening, more than 500 attendees will gather to recognize the men and women who have served in the field of National Security with integrity and distinction.
Each year, The Honorable William H. Webster Distinguished Service Award is given to an individual who has embodied the values of our esteemed friend, mentor, and leader ― Judge William H. Webster. This year's honoree is someone known for his invaluable service and contributions to the Intelligence Community, someone that has worked from the ground up and has been both a provider and consumer of intelligence with more than 20 years of experience. It is with great pride that we announce the 2019 honoree is General Michael V. Hayden, former Director of the National Security Agency, Principal Deputy Director of National Intelligence, and Director of the Central Intelligence Agency.
AWARD DINNER CO-CHAIRS: Mr. Michael Morell, Senior Counselor, Beacon Global Strategies and Former Deputy Director and former Acting Director, Central Intelligence Agency; Ms. Jill Singer, Vice President, National Security, AT&T Public Sector & Wholesale; Former Chief Information Officer, National Reconnaissance Office.
Tickets range from $495 to $15,000. Explore your registration options here.
This event is closed to media.
Event location: The New International Spy Museum, 700 L'Enfant Plaza SW, Washington, DC 20024. Directions here.
21-22 November 2019 - Phoenix, AZ - CAE in Cyber Security Annual Symposium
The CAE in Cyber Security Symposium is right around the corner! CAE is Centers of Academic Excellence. If your institution belongs to the CAE-CD, CAE-2Y, CAE-R, or CAE-CO Program, you are eligible to participate. Details to follow several months from now.
Direct your questions to info@caecommunity.org. What are CAEs? More information here.
Upcoming CAE events and the Cyber Security Symposium.
---
Gift Suggestions:
AFIO's 788-page Guide to the Study of Intelligence. Peter C. Oleson, Editor, also makes a good gift. View authors and table of contents here.

Perfect for professors, students, those considering careers in intelligence, and current/former officers seeking to see what changes are taking place across a wide spectrum of intelligence disciplines. AFIO's Guide to the Study of Intelligence helps instructors teach about the large variety of subjects that make up the field of intelligence. This includes secondary school teachers of American History, Civics, or current events and undergraduate and graduate professors of History, Political Science, International Relations, Security Studies, and related topics, especially those with no or limited professional experience in the field. Even those who are former practitioners are likely to have only a limited knowledge of the very broad field of intelligence, as most spend their careers in one or two agencies at most and may have focused only on collection or analysis of intelligence or support to those activities.
For a printed, bound copy, it is $95 which includes Fedex shipping to a CONUS (US-based) address.
To order for shipment to a US-based CONUS address, use this online form,

To order multiple copies or for purchases going to AK, HI, other US territories, or other countries call our office at 703-790-0320 or send email to afio@afio.com to hear of shipment fees.

Order the Guide from the AFIO's store at this link.

The Guide is also available directly from Amazon at this link.
AFIO's Intelligence Community Mousepads are a great looking addition to your desk...or as a gift for others.
Made in USA. Click image for larger view.
These 2017 mousepads have full color seals of all 18 members of the US Intelligence Community on this 8" round, slick surface, nonskid, rubber-backed mouse pad with a darker navy background, brighter, updated seals. Also used, by some, as swanky coasters. Price still only $20.00 for 2 pads [includes shipping to US address. Foreign shipments - we will contact you with quote.] Order MOUSEPADS here.
Disclaimers and Removal Instructions
Weekly Intelligence Notes (WINs) are commentaries on Intelligence and related national security matters, based on open media sources, selected, interpreted, edited and produced for non-profit educational uses by members and WIN subscribers.
REMOVAL INSTRUCTIONS: We do not wish to add clutter to inboxes. To discontinue receiving the WINs:
a) IF YOU ARE A MEMBER - click here: UNSUBSCRIBE and supply your full name and email address where you receive the WINs. Click SEND, you will be removed from list. If this link doesn't open a blank email, create one on your own and send to afio@afio.com with the words: REMOVE FROM WINs as the subject, and provide your full name and email address where you are currently receiving them.
b) IF YOU ARE NOT A MEMBER, and you received this message, someone forwarded this newsletter to you [contrary to AFIO policies]. Forward to afio@afio.com the entire WIN or message you received and we will remove the sender from our membership and distribution lists. The problem will be solved for both of us.
CONTENTS of this WIN [HTML version recipients - Click title to jump to story or section, Click Article Title to return to Contents. This feature does not work for Plaintext Edition or for some AOL recipients]. If you wish to change to HTML format, let us know at afio@afio.com. The HTML feature also does not work for those who access their e-mail using web mail...however NON-HTML recipients may view the latest edition each week in HTML at this link: https://www.afio.com/pages/ currentwin.htm
---
WINs are protected by copyright laws and intellectual property laws, and may not be reproduced or re-sent without specific permission from the Producer. Opinions expressed in the WINs are solely those of the editor's or author's listed with each article. AFIO Members Support the AFIO Mission - sponsor new members! CHECK THE AFIO WEBSITE at www.afio.com for back issues of the WINs, information about AFIO, conference agenda and registrations materials, and membership applications and much more!
(c) 2000, 2012, 2013, 2014, 2015, 2016, 2017, 2018, 2019. AFIO, 7600 Leesburg Pike, Suite 470 East, Falls Church, VA 22043-2004. Voice: (703) 790-0320; Fax: (703) 991-1278; Email: afio@afio.com
---
About AFIO | Membership Renewal | Change of Address | Upcoming Events | Chapter Locations | Corporate/Institutional Memberships | Careers in Intelligence Booklet | Guide to the Study of Intelligence | Intelligencer Journal | Weekly Intelligence Notes | To Make A Donation | AFIO Store | Member-Only Section | Code of Ethics | Home Page
---