---
CONTENTS
Section I - INTELLIGENCE HIGHLIGHTS
Section II - CONTEXT & PRECEDENCE
Section IV - Obituaries, Jobs, Research Request
Other Upcoming Events from Advertisers, Corporate Sponsors, and Others
For Additional AFIO and other Events two+ months or more... Calendar of Events

WIN CREDITS FOR THIS ISSUE: The WIN editors thank the following special contributors: rsy, ec, po, pj, mh, km, gh, mk, rd, fm, kc, jm, mr, jg, th, ed, and fwr. They have contributed one or more stories used in this issue.

The WIN editors attempt to include a wide range of articles and commentary in the Weekly Notes to inform and educate our readers. However, the views expressed in the articles are purely those of the authors, and in no way reflect support or endorsement from the WIN editors or the AFIO officers and staff. We welcome comments from the WIN readers on any and all articles and commentary.

CAVEATS: IMPORTANT: AFIO does not "vet" or endorse research inquiries, career announcements, or job offers. Reasonable-sounding inquiries and career offerings are published as a service to our members, and for researchers, educators, and subscribers. You are urged to exercise your usual caution and good judgment when responding, and should verify the source independently before supplying any resume, career data, or personal information.]
If you are having difficulties with the links or viewing this newsletter when it arrives by email, members may view the latest edition each week at this link. You will need your LOGIN NAME and your PASSWORD.

---

AFIO's Latest Project is Now Online:

PROJECT: When Intelligence Made a Difference - a new series by editor Peter Oleson, is available here.

Released in Spring-Summer 2019 edition of Intelligencer and now available online as PDFs are:

• Project overview and theme by Peter Oleson
• George Washington, Spymaster Extraordinaire: A Master of Intelligence, Counterintelligence, and Military Deception by Gene Poteat
• Lafayette and the French Intrigue to Lead the American Revolution by Gene Poteat
• How Sweden Chose Sides by Michael Fredholm
• George Washington's Attacks on Trenton and Princeton, 1776-77 by Ken Daigler

---

---

Gifts appropriate for intelligence officers, colleagues, recruitments, agents, advisors, and family.

The AFIO Store has following new items ready for quick shipment:

NEW: Short-Sleeved Shirts with embroidered AFIO Logo and New Mugs with color-glazed permanent logo

Show your support for AFIO with our new Polo Shirts. Be the first to buy these new, high quality, subtle heathered grey short sleeve shirts of shrink and wrinkle resistant fine cotton with a soft yet substantial feel. They feature a detailed embroidered AFIO seal. Get a shirt for yourself and consider as gifts for colleagues, family, and friends. Only $45 each including shipping.
Sizes of (M) men or (W) women shirts; Small, Medium, Large, XL, XXL, and XXXL. At this time all orders will arrive as Short Sleeve shirts.
You may pay by check or credit card. Complete your order online here or mail an order along with payment to: AFIO, 7600 Leesburg Pike, Ste 470 East, Falls Church, VA 22043-2004. Phone orders at 703-790-0320.
If interested in other shirt colors or sleeve lengths, contact Annette at: annettej@afio.com.

---

NEW: Mug with color glazed logo. Made in America. (We left out all that lead-based glaze and hidden toxins in those mugs made in China being sold by other organizations). Also sturdy enough to sit on desk to hold pens, cards, paperclips, and candy.

This handsome large, heavy USA-made ceramic mug is dishwasher-safe with a glazed seal. $35 per mug includes shipping. Order this and other store items online here.

---

---

---


Click image above or here for a letter from AFIO's President and more information on Starr Wright Coverage.
---
Recently seen on "Declassified"...and the article about it on CNN. Click image 1 and 2 below to explore.
Explore true stories of America's covert operations told firsthand by the men and women who were there.
How the FBI tracked down 'the spy who couldn't spell'
By Yudhijit Bhattacharjee, CNN
Bhattacharjee is an award-winning writer who covers espionage, cybercrime, science and medicine.
To learn more about the story below, and watch CNN's "Declassified" above
which appears every Sunday at 11 p.m. ET/PT.
---
Newly Released and Forthcoming Books of the Week
Someone Is Out to Get Us: A Not So Brief History of Cold War Paranoia and Madness
by Brian Brown
(Twelve, Nov 2019)
A vivid revisionist history of the Cold War, redefining the period from the end of WWII to the fall of the Berlin Wall as a "compendium of misconceptions, fallacies, frauds, comedies, tragedies, lies, and deceits." Arguing that the Soviet Union was much weaker than the American public was led to believe, Brown details how the Cold War distorted U.S. politics. His examples include FBI director J. Edgar Hoover's creation of an "illegal" surveillance state; the laundering of the reputations of Nazi doctors and scientists so they could research mind control and biological warfare for the U.S. military; McCarthyism and the Hollywood blacklist; the "domino theory" that led to the Vietnam War; the "unconscionable waste" of the "heedless" nuclear arms race; and the CIA's destabilization of democratically-elected governments in Guatemala and Iran. Brown breezes through the rest of the 1960s and the 1970s before crediting "once-in-a-millennium" Soviet leader Mikhail Gorbachev for thawing relations with the West by ending the arms race. Provides a highly-selective portrait of U.S. government misbehavior.
Book may be ordered here.
---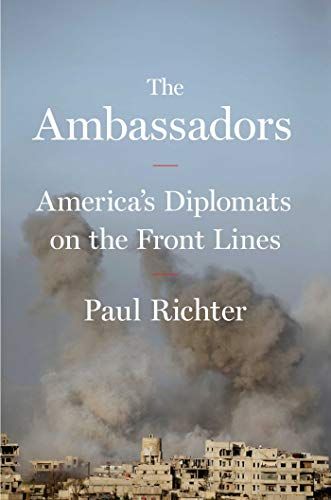 The Ambassadors: American Diplomats on the Front Lines
by Paul Richter
(Simon & Schuster, Nov 2019)
"There are no ticker tape parades for diplomats," a State Department official once said. This book gives them the recognition they deserve.
Richter shows how American ambassadors are the unconventional warriors in the Muslim world—running local government, directing drone strikes, nation-building, and risking their lives on the front lines. And unheralded.
Front-line diplomats are unheralded, but crucial in the line of national defense in the Middle East. Richter shares stories of four expeditionary diplomats who "do the hardest things in the hardest places." From Ryan Crocker's effort to organize a new Afghan government after the fall of the Taliban, while threatening the life of a Pashtun warlord—a US ally—to ensure that tanks could join US forces in the Afghan war. Ryan Robert Ford, the sole American official for the province of Najaf in central Iraq, tries to restart the economy and deal with growing militia violence—and ends us held hostage by a Shia militia. And then there is J. Christopher Stevens who began a two-year assignment in the US embassy in Libya. He was killed in the September 11, 2012 terrorist attack on the Benghazi mission; a death that persuaded President Obama that the U.S. should henceforth limit its role in the Middle East. Finally, Anne Patterson arrived in Islamabad in July, 2007. Patterson was chosen for Pakistan—considered the world's most dangerous country—by proving her skills in a series of grueling assignments, including as ambassador to Colombia at the height of the anti-drug war.

Richter's account is an important addition to appreciating the roles of these brave diplomats, and an in-depth look into the complexity and length of these wars and nation-building,
Book may be ordered here.
---
Checkpoint Charlie: The Cold War, The Berlin Wall, and the Most Dangerous Place On Earth
by Iain MacGregor
(Scribner, Nov 2019)
A colorful, kaleidoscopic history of the Berlin Wall from the perspectives of soldiers, military police, journalists, spies, and citizens from England, America, and West and East Germany. Highlights include the story of a top-secret American special forces unit stationed in West Berlin and tasked with sabotaging the Soviet army in case of invasion; in such a scenario, the soldiers' life expectancy was estimated to be 72 hours. MacGregor also unearths little-known facts, including the average amount West Germany paid from 1961 to 1989 to ransom more than 30,000 East German political prisoners (250,000 marks, or €100,000 in today's money), and the nickname for the area near Dresden that was the only part of East Germany without access to West German TV ("Valley of the Clueless"). The book's strongest sections are set during and immediately after the wall's construction and in the years leading up to its fall. MacGregor's dramatic reconstruction of the night the wall fell features the enlightening viewpoint of Maj. Gen. Robert Corbett, commandant of Berlin's British sector. —Publishers Weekly
Book may be ordered here.
---
AFIO National Board Elections Continue...

CAST YOUR VOTE
FOR 2020-2023 MEMBERS OF
AFIO NATIONAL BOARD
Vote for Three of Four Candidates
If you wish, instead, to download a ballot, print, and mail it back, use this PDF.
Voting closes on 27 December 2019
---
---
Section I - INTELLIGENCE HIGHLIGHTS

Ottawa Challenges Court Order to Turn Over Details of Spy Operation on Chinese Embassy. The federal government is fighting a court order to turn over details about a spying operation on the Chinese embassy in Ottawa, arguing that such a release would jeopardize national security and international relations.

The government's appeal, which comes amid heightening tensions between China and Canada, was filed in September after Federal Court Justice Richard Mosley ordered Canadian Security Intelligence Service documents be handed over to the defence in the criminal proceeding against Qing Quentin Huang.

Mr. Huang, a one-time employee of a military contractor in Burlington, Ont., was arrested after allegedly calling the embassy to try to pass along Canadian naval secrets to the Chinese. He was charged in 2013 with violating the Security of Information Act after CSIS, which had been bugging the embassy as part of an unrelated intelligence investigation, recorded his conversations and passed the tapes to RCMP investigators.

Over the past six years, the case has bounced among four levels of courts over fears it would expose intelligence secrets. [Read more: Freeze/Globe&Mail/4November2019]

Kremlin Defends Putin Decorating Bulgarian 'Spy'. The Kremlin on Tuesday defended President Vladimir Putin's decision to confer a state award on a Bulgarian charged with spying for Russia and warned of "very negative consequences" if this affected ties.

NATO and EU member Bulgaria was previously a Soviet satellite and is now a rare ally of Russia in Europe.

But tensions spiked in September when Bulgarian prosecutors charged a pro-Russian activist, Nikolay Malinov, with espionage and banned his alleged Russian handler from entering Bulgaria.

Malinov however travelled to Moscow to attend the televised award ceremony at the Kremlin on Monday as Russia marked Unity Day, a public holiday. [Read more: AFP/5November2019]

West Darfuris Torch Offices of Intelligence Service. On Thursday, angry protesters attacked the offices of the West Darfur General Intelligence Service (GIS) in Asonga, after a young man was allegedly tortured by militiamen. The buildings burned to the ground.

A listener explained to Radio Dabanga that problems started when elements of the Rapid Support Forces, Sudan's main government militia, abused residents of Asonga, 27 km east of the West Darfur capital El Geneina, on Wednesday evening.

"As a result, a dispute broke out. The militiamen then took a young man with them to the offices of the security apparatus, and tortured him," he reported.

"The next morning, a number of angry people set the offices on fire. Members of the GIS shot at them, and wounded three people. A security offices was injured as well." [Read more: Dabanga/1November2019]

Britain's GCHQ Eavesdropping Spies Celebrate 100 Years of Cracking Codes. Britain's GCHQ eavesdropping agency, one of the world's most sophisticated spy services, celebrates its 100th birthday on Friday with a party for allied spies from the U.S.-led "Five Eyes" intelligence alliance.

GCHQ, which gathers communications from around the world to identify and disrupt threats to Britain, traces its history back to 1919 and is best known for breaking Germany's Enigma code during World War Two.

"For GCHQ, it has been a century of shortening wars, saving lives and giving the UK a technical edge," said GCHQ Director Jeremy Fleming, who used to work at Britain's MI5 security service.

"Who we are has been shaped by the changing threats and technology around us. In the future we will continue to face enormous complexity but also enormous opportunity." [Read more: Reuters/1November2019]

Andrew Hallman Named ODNI Principal Executive. Andrew Hallman, a more than three-decade intelligence community veteran, has been appointed principal executive at the Office of the Director of National Intelligence. ODNI said Wednesday that Hallman will assume the duties of the principal deputy director of national intelligence until the Senate confirms a presidential nominee for the position.

Hallman most recently served as deputy director for digital innovation at the CIA, where he oversaw digital and cyber integration efforts across the agency's mission areas. He also held a deputy director role at ODNI and served as an intelligence briefer to the president earlier in his career.

According to acting DNI Joseph Maguire, Hallman's IC experience is " tremendously valuable as our nation faces a dynamic range of current and future global threats."

Hallman holds a master's degree in international affairs from the American University and a bachelor's degree in public affairs management from Michigan State University. [Rivers/ExecutiveGov/4November2019]


---
Section II - CONTEXT & PRECEDENCE

FBI Statement Before the House Homeland Security Committee - Global Terrorism: Threats to the Homeland. Good morning Chairman Thompson, Ranking Member Rogers, and members of the committee.

Thank you for the opportunity to appear before you today to discuss the current threats to the United States homeland. Our nation continues to face a multitude of serious and evolving threats ranging from homegrown violent extremists (HVEs) to cyber criminals to hostile foreign intelligence services and operatives. Keeping pace with these threats is a significant challenge for the FBI. Our adversaries - terrorists, foreign intelligence services, and criminals - take advantage of modern technology to hide their communications; recruit followers; and plan, conduct, and encourage espionage, cyber attacks, or terrorism to disperse information on different methods to attack the U.S. homeland and to facilitate other illegal activities.

Just as our adversaries evolve, so, too, must the FBI. We live in a time of acute and persistent terrorist and criminal threats to our national security, our economy, and indeed our communities. These diverse threats underscore the complexity and breadth of the FBI's mission: to protect the American people and uphold the Constitution of the United States. [Read more: FBI/30October2019]

Behind the Scenes of Germany's Foreign Intelligence Service. There was a time when no one was supposed to know Germany's foreign intelligence service, the BND, even existed. In the initial years after the Second World War, the game of hide-and-seek sometimes took on grotesque forms. The German secret service agency responsible for foreign countries used the name "civil servants' accommodation." At the time, BND offices were hidden away in the town of Pullach, south of Munich. Today the agency resides in central Berlin.

Not a bad location for a government agency that works in secret and is supposed to guarantee Germany's security. In order to increase public acceptance of an agency that is no stranger to glitches and scandals, the BND has changed tack. Locating its new extensive, architecturally somewhat drab-looking headquarters in the heart of the German capital was a clear statement, and the exhibition that opened at the visitor center on Tuesday even more so.

The center has been open since early 2019 and is considered to be unique in the world, a fact that the BND, which is controlled by the German chancellor's office, is proud of. [Read more: Fürstenau/DW/5November2019]

How the FBI Tracked Down 'The Spy Who Couldn't Spell'. Before Edward Snowden's infamous data breach, the largest theft of government secrets was committed by a man whose intricate espionage scheme and coded messages were made even more complex by his dyslexia.

His name was Brian Regan, and he would become known as "the spy who couldn't spell."

Regan foreshadowed Snowden in exploiting digital access to defense secrets on a massive scale, devising a meticulous strategy to download, copy and bury hundreds of pages of classified documents. He deployed a multi-layered encryption system to mask his messages to foreign governments and the location of burial sites.

Although he muddled the execution through a series of mistakes, Regan came dangerously close to succeeding. His heist revealed how vulnerable government secrets had become in the digital age. [Read more: Bhattacharjee/CNN/1November2019]

Final Report to Hirohito About Sorge Spy Ring Hid Lax Oversight. Recently found documents presented to Emperor Hirohito about Soviet spy Richard Sorge show that facts were fudged to avoid embarrassing government agencies that seemed unaware of the potentially war-changing espionage ring operating under their noses.

In one of the largest spy scandals of the 20th century, Sorge, who worked in Tokyo as a correspondent for a German newspaper in the early 1940s, established close ties with Japanese insiders and obtained top secret military information that he passed on to Moscow.

Among the more important items dispatched from Sorge revolved around what the Japanese military would do when fighting broke out between the Soviet Union and Germany. His reports said Japan would move into Asia in the south rather than attack the Soviet Far East.

That information allowed the Soviet military to concentrate its forces on the Western Front and contributed to crucial counterattacks against the Nazis in late 1941. [Read more: Nagai/TheAsahiShimbun/5November2019]

Meet the Halibut: America's Secret Cold War Spy Submarine (It Made History). Key point: The USS Halibut was specially made for some of the most secret missions ever conducted against America's rivals.

One of the most unusual submarines of the Cold War was named after one of the most unusual fish in the sea. Halibut are flatfish, bottom-dwelling predators that, unlike conventional fish, lie sideways with two eyes on the same side of the head and ambush passing prey.

Like the halibut flatfish, USS Halibut was an unusual-looking submarine, and also spent a considerable amount of time on the ocean floor. Halibut was a "spy sub," and conducted some of the most classified missions of the entire Cold War.

USS Halibut was built as one of the first of the U.S. Navy's long-range missile ships. [Read more: Mizokami/TheNationalInterest/4November2019]


---
BRIXMIS: The Cold War Mission Through The Eyes Of A British Spy. BRIXMIS was a unit of the British Army set up at the end of the Second World War as a liaison mission between the wartime allies: Britain, France, America, and The Soviet Union.

The term BRIXMIS itself stands for the 'British Commander-in-Chief's Mission to the Soviet Forces in Germany'.

However, BRIXMIS rapidly became, in common with United States (USMLM) and French Allied Military Liaison Missions (FMLM), something quite different.

The seemingly benign concept of liaison evolved very rapidly into an undefined and undeclared synonym for highly professional intelligence collection patrolling in East Germany. [Read more: Butler/Forces/5November2019]

Reorienting the Coast Guard: A Case for Patrol Forces Indo-Pacific. Today, in the Middle East, hundreds of U.S. Coast Guard personnel man six patrol boats and state-of-the-art training facilities in what is the only operational Coast Guard presence outside the United States. These forces have operated alongside the U.S. 5th Fleet since the outset of Operation Iraqi Freedom. Their unit, Patrol Forces Southwest Asia, was created at the request of U.S. Naval Forces Central Command in 2002 and has since gone about its business - supporting U.S. Navy requirements for maritime interdiction operations, escort missions, and force protection - essentially unchanged. Meanwhile, thousands of miles away in the Indo-Pacific, the U.S. Coast Guard lacks even a single operational vessel west of Guam, despite the fact that it is the central theater for U.S. maritime strategy.

If the U.S. Department of Defense is serious about emerging from a period of strategic atrophy, the U.S. Coast Guard's international posture should also change to reflect America's emphasis on great power competition. Unfortunately, legacy defense requirements are holding the Coast Guard back. Current plans to commit a new generation of upgraded platforms to the less critical Central Command mission will serve only to lock in this resource fixation for the foreseeable future. Rather than dedicate part of its recapitalizing force to yesteryear's strategy, the U.S. Coast Guard should seize the opportunity to reorient itself, creating a Patrol Forces Indo-Pacific to address today's national objectives. Doing so would allow the force to turn away from the ever-distracting Central Command sideshow to invest in key security partnerships and field a credible counter to the Chinese all-of-nation long-term strategy in the Indo-Pacific. [Read more: Herzinger/WarOnTheRocks/5November2019]

Sandworm Book Review. Andy Greenberg's Sandworm has achieved what I thought was no longer possible: it scares me. Sandworm is the story of the Russian GRU hacking team that has evolved in a few short years into the most methodical, persistent, and destructive intelligence agency cyber warriors. After reading Sandworm you will not doubt those superlatives. You certainly cannot dispute "most destructive," since Sandworrm is responsible for NotPetya, a viral scourge that caused over $10 billion in real damages around the world in June, 2017.

You have probably read Greenberg's Wired article about the NotPetya attack against Ukraine that spilled over into much of the rest of the world. From his early writing here at Forbes, where he covered technology and the internet and morphed into a security journalist (Andy was the one who invited me to become a contributor to Forbes), to his long form reporting at Wired, Greenberg has become a valuable source of original reporting. In Sandworm: A New Era of Cyberwar and the Hunt for the Kremlin's Most Dangerous Hackers, available November 5, 2019, Greenberg hunts down the researchers on the front line who experienced the trail of destruction left by these hackers, and provides their personal stories. He makes the irrefutable connection to the GRU, the intelligence arm of the Russian military, the same unit that Crowdstrike identified as infiltrating the DNC, although not the ones who eventually stole and leaked the emails. That was a group dubbed FancyBear.

NotPetya gets most of the attention in the enterprise because it impacted so many companies, from Maersk, the shipping giant, to Merk, the pharma company, to TNT in Europe. Greenberg adds to our understanding of the destruction NotPetya caused, including to US medical centers, many of which relied on a medical transcription service that was disabled for weeks, causing havoc for patients and doctors. [Read more: Stiennon/Forbes/2November2019]

Can We Predict the Next Leaker Using Threat Profiling Techniques? Intelligence - whether you look at it as a community, business, or profession - is inextricably bound by secrecy and security. Not only do intelligence personnel routinely collect and analyze highly sensitive and classified information about national threats, but these professionals must also actively work to protect that information from getting into the hands of adversaries and those who wish harm upon our nation.

Security is so important to the success of intelligence that professionals who specialize in information, network, and physical security have evolved along parallel trajectories over the past decades. Yet, despite the billions of dollars spent every year on each of these areas of security, it's not enough to contain 100 percent of information leaks.

As recent embarrassing news stories can attest, leakers continually plague U.S. intelligence and national security. Leakers are individuals who share sensitive or classified information on a large scale, typically using the media as a conduit for their actions. These individuals are very different than spies, who often steal information for use by a foreign government or entity. [Read more: Kleinsmith/InPublicSafety/30October2019]



---
Section IV - Obituaries, Jobs, Research Request

Bob Painter, Senior NSA Cryptologist, Lawyer

Robert Kessler Painter, 89, Senior NSA Cryptologist, died 26 October 2019 in Silver Spring, MD.
Born in Elgin, IL, he grew up in Gary, IN, and Gibson City, IL. He worked his way through college, earning a B.S. with highest honors at the University of Illinois, and later earned a J.D. at George Washington Law. Commissioned as a second lieutenant in 1953, he was assigned to the newly-formed National Security Agency.
Continuing a distinguished career there as a civilian, he was twice a field chief in East Asia, the first Senior Operations Officer in the National Security Operations Center, and a charter member of the Senior Cryptologic Executive Service. He retirement in 1986. He was a member of AFIO.
He is survived by his wife of 64 years, Margaret Painter, two sons and a daughter, and other family.

Shmuel Moriya, Ex-spy Who Set Up Zionist Underground in Iraq, Dies at 95. By the time of his death this week at the age of 95, Shmuel Moriya's deeds of derring-do could easily have filled a thick volume. It would include organizing the first illegal immigration to pre-state Israel by air; setting up the Shin Bet security service's undercover unit, known as the mistarvim; and capturing an SS member who had infiltrated the Israel Defense Forces.

Moriya, originally named Sami Muallem, was born in Basra, Iraq in 1924. As a young man he helped set up the city's Zionist underground. In 1947, he moved to Baghdad, where he organized illegal immigration to pre-state Israel on behalf of the Mossad L'Aliyah Bet, which later became the Mossad intelligence agency.

In the summer of 1947, he helped organize what became known as Operation Michaelberg, named after the two American pilots, Michael and Vessenberg, who flew around 100 immigrants from Iraq to pre-state Israel in two flights. His job was to liaise between the Mossad L'Aliyah Bet agents, who organized the operation under the command of Shlomo Hillel, and the Zionist underground in Iraq. "Madness, lunacy, a story from heaven," he later said of it. [Read more: Aderet/Haaretz/6November2019]


---
Homeland Security Position with E3 Sentinel
E3 Sentinel based in DC-area has unique opportunity for someone with strong communications and/or consulting skills and an interest in the homeland security space. The person who ends up in this role will be working directly with some senior federal clients to help design and implement a communications strategy for their agency. If interested in learning more, contact Rosanna Minchew at rminchew@e3sentinel.com. More about E3 Sentinel is available here.
FireEye Has Many Intelligence Positions Available For You - Worldwide - Contract, Full-time, Part-time, Interns
Explore the many career and contractor intelligence jobs available here. Jobs openings in Cyber Security include - Advisory, Architecture, Digital Forensics & Incident Response, Penetration Testing, Threat Research. They positions are needed here: New York, Chicago, Manila, Reston, Dallas, Atlanta, Suitland, Singapore, Denver, Las Vegas, Phoenix, Doha, Stockholm, London, Milpitas, multiple cities in Australia, Washington, Indianapolis, Tampa, Santiago, Alexandria, Seattle, Carlsbad, Houston, San Francisco, Arlington, Dubai, Amsterdam, Ft Belvoir, Minneapolis, Mexico City, San Diego, Boston, El Segundo, Philadelphia, San Antonio, Chiyoda, Ft Huachuca, Ft Gordon, Ft Meade, Ft Shafter, Kuwait City, Seoul, Sttutgart, Salt Lake City, Austin, Dublin, Bangalore, Cork, Colorado Springs... Explore the many career and contractor intelligence jobs available here.
Faculty Opportunities: Cybersecurity faculty, professionals, and Master's or PHD Graduates can find jobs for CAE designated institutions through the listings below. Listings are by University with the most recent at the top.
Searching for U.S. Expert on Syrian Military Intelligence between 1977-82 for fee-based advice
Dear AFIO Members - I am a lawyer working in Montreal, Quebec, Canada. I work in the area of immigration and refugee law, and am working on the case of an older Syrian man who is trying to be admitted to Canada.
I am looking to obtain written (paid) expertise (3-5 pages) on various subjects with respect to the Syrian Military Intelligence ('SMI'), between 1977 and 1982.
We are wondering if you or a colleague to whom you can refer this request, would be able to provide answers to a series of questions? We are willing to compensate this expert (or multiple experts). Please provide, in advance, what your fee would be.

If you would rather speak on the phone, please let me know.

Please reply to: Peter Shams, Avocat • Lawyer, peter@hadekelshams.ca or call him at (Voice) 514.439.0800; (Fax) 514.439.0798. Address:
Hadekel Shams s.e.n.c.r.l./LLP, 305, rue Bellechasse est, bureau 400A, Montréal (Québec) H2S 1W9, Canada.

---
AFIO EDUCATIONAL EVENTS IN COMING TWO MONTHS....
Saturday, 9 November 2019, 11:30am - 2pm - Indialantic, FL - Rudy Enders on 1961 Bay of Pigs Operations - at this Florida Satellite Chapter meeting
Guest Speaker is AFIO Florida Satellite Chapter Member Rudy Enders.
American efforts to disable or overthrow the Castro regime in Cuba did not end with the failed Bay of Pigs operation in 1961. CIA was tasked by the National Security Council Special Group to continue infiltrating Cuban exile teams into Cuba to recruit, organize and train indigenous forces to wage a guerilla warfare campaign designed to overthrow the communist government. This led to a number of covert CIA maritime operations to insert teams and resupply them, with the hand of the US government hidden or plausibly denied. Our speaker will relate his experience in the conduct of at least one of these operations.
TIMING: 11:30 AM - 12:15 PM: Social Hour, greet old, new members and guests. Cash bar. 12:15 PM: Sit-Down lunch
LOCATION: Doubletree Melbourne Beach Oceanfront, 1665 N. Highway A1A, Indialantic, FL 32903
FOOD CHOICES: Chicken Francese, chicken breast sautéed in a buttery lemon and wine sauce (C); Chef's Choice of either Pasta Marinara or Pasta Primavera. (P); Vegetables, dessert, coffee and iced tea included. Costs are $32 members, $36 non-members.
TO ATTEND: Prepaid reservations are required which must be received by 5 November 2019. To reserve, send food choices and names of self+guests with send check, payable to AFIO FSC, to: Chapter Treasurer Rhonda Rhoads, P.O Box 410158, Melbourne, FL 32941.
Rhonda can also be reached at afiofsctreas@gmail.com and at 321 626 -4465.
Paid, advance registration is required and none will be accepted after November 5.
Wednesday, 13 November 2019, 1130 - Albuquerque, NM - AFIO New Mexico Chapter hears Tom Dyble on "Part II -- Chaos in Cairo - Arab Spring in Egypt"
Speaker Tom Dyble will provide Part 2 of his presentation on "Chaos in Cairo: Arab Spring in Egypt" based on David D. Kirkpatrick's book "Into the Hands of the Soldiers: Freedom and Chaos in Egypt and the Middle East".
Location of event: "Sunnyside Up Cafe" formerly the "The Egg & I" restaurant on Menaul just east of Louisiana, next door to Chili's.
6909 Menaul Boulevard Northeast, Albuquerque, NM 87110, (505) 888-3447
Fee to attend: Meeting is Free.
11:00 AM (Arrive, Order Lunch - available at separate cost), 11:30 AM (Call To Order), 1:00 PM (Adjourn)
Our meetings are normally open to present and former members of Federal, Military (uniformed and civilian), State and Local Agencies and selective others who support the Intelligence Community.
If you desire further information, please contact one of the following:
Sam Shaw - Phone: 505-379-3963 e-mail: President@afionm.org
Tom Dyble - Phone: 505-299-3242 e-mail: Vice-President@afionm.org
Wednesday, 13 November 2019, 11:30 a.m. no-host cocktails; 12 noon - San Francisco, CA - The "Andre Le Gallo" San Francisco Chapter hosts Dr. Matthew Brazil on Beijing's Spy Apparatus
Dr. Matthew Brazil, a non-resident Fellow at The Jamestown Foundation, worked in Asia for over 20 years as a U.S. Army officer, American diplomat, and corporate security manager. He is the co-author of Chinese Communist Espionage: An Intelligence Primer (Annapolis: Naval Institute Press, Nov 2019)
Hitherto, almost all writings about Beijing's espionage and influence operations have focused on individual cases that shed little light on the actual nature of their organs of state security. Dr. Brazil will speak about how he and his co-author researched original sources in Chinese and unearthed new insights into Beijing's most secret operations at home and abroad.

RSVP: Your registration via Eventbrite may be quickly completed here.
Thursday, 21 November 2019, 11:30 a.m. - Colorado Springs, CO - The AFIO Rocky Mountain Chapter hosts Edin Mujkic, discussing "The Balkans: A Joker in Putin's Sleeve"
Synopsis: This presentation by Edin Mujkic discusses Russian interference in Balkan politics, the American and European role in the Balkans, as well as the potential for escalation of the situation toward violence. From interference in the United States domestic politics to support of some of the most brutal regimes in the world, Russia is again the focus of attention. Whether it is media attention, or attention of intelligence and national security professionals, there is a consensus that Vladimir Putin is engaged in a campaign of undermining the post-World War II international theater and generally the Western democracies. While attention where Putin's next move will be, is usually focused on the Baltics or the Middle East, the situation in the Balkans is not generating much attention. The Balkans, always on the periphery of European politics, until it explodes, is fertile ground for Vladimir Putin to exploit its weaknesses and complicate European and world affairs. The political quagmire in Bosnia and Herzegovina that does not have a government since elections in the Fall of 2018, relations between Serbia and Kosovo, the role of Croatia, a NATO member, in internal affairs of Bosnia and Herzegovina, are not only exploited, but directly influenced by Moscow.
Biography: Edin Mujkic is an Assistant Professor in the School of Public Affairs for University of Colorado Colorado Springs. He is also a UCCS Daniels Fund Ethics Initiative Faculty Fellow for 2017-2018. Edin received his BA from Auburn University Montgomery, majored in Political Science, with a minor in Criminal Justice. Edin followed up his Bachelor's Degree with a Master's in International Relations (2008) and was a Prince Khalid bin Sultan fellow. Upon completing his Master's degree, Edin entered the Public Administration and Policy Ph.D. program at Auburn University graduating December 2012. While earning his PhD, Edin furthered his education studying Strategic Leadership and National Security at Air War College, Maxwell Air Force Base, AL. Edin is continuing his research focusing on national security, defense, homeland security and U.S. foreign policy.
For more information, please contact: steve13507@gmail.com.
Wednesday 4 December 2019, 5:30 p.m. - New York, NY - AFIO NY Metro Chapter hosts CIA Officer (Ret) Dr. John A. Gentry discussing "IC Political Activism since 2016 -- Origins and Implications."
Partisan political activism by current and former intelligence officers since mid-2016 is the largest and most significant politicization of intelligence by intelligence officers in U.S. history. This presentation will explore the causes and the wholly negative consequences of this new form of politicization for the IC and the country.

Dr. John A. Gentry was for 12 years an intelligence analyst at the CIA, where he worked mainly economic issues associated with the Soviet Union and Warsaw Pact countries; for two of those years he was senior analyst on the staff of the National Intelligence Officer for Warning. He is a retired U.S. Army Reserve officer, with most assignments in special operations and intelligence arenas. On active duty, he was executive officer of a special forces operational detachment. As a reservist, he was mobilized and spent much of 1996 as a civil affairs officer in Bosnia. Dr. Gentry also is an adjunct associate professor with the School of International and Public Affairs, Columbia University. He formerly taught at the College of International Security Affairs, National Defense University, at the National Intelligence University, and at George Mason University. His research interests primarily are in intelligence and security studies. He publishes frequently in Intelligence and National Security and International Journal of Intelligence and CounterIntelligence. Georgetown University Press published his co-authored book, Strategic Warning Intelligence: History, Challenges and Prospects, in early 2019. He is a member of the Editorial Committee of the International Journal of Intelligence and CounterIntelligence. He is adjunct professor at Georgetown University.
Location: Society of Illustrators, 128 E 63rd St (between Park and Lexington), New York, NY 10065.
Timing: Registration starts at 5:30 pm, Speaker presentation starts at 6 pm. Fee: $50/person. Payment at the door only. Cash or check. Full dinner, cash bar.
RSVP: Strongly recommended that you RSVP to ensure space at event. Call or Email Chapter President Jerry Goodwin at afiometro@gmail.com or 646-717-3776.
Thursday, 5 December 2019, 12:30 - 2 pm - Los Angeles, CA - AFIO Los Angeles Chapter meeting features Dr John Gans discussing "White House Warriors: How the NSC Transformed the American Way of War."
Dr. John Gans will be the guest speaker for the Los Angeles Chapter of AFIO and discuss key topics of his newly published book White House Warriors: How the National Security Council Transformed the American Way of War, which covers the people and power of the National Security Council staff.
Gans is Perry World House's Director of Communications and Research. In addition to leading Perry World House's Graduate Associates program, he teaches Penn undergraduate and graduate students. Prior to joining Perry World House, he was the chief speechwriter to Secretary of Defense Ash Carter at the Pentagon. In addition to leading the writing team at the Defense Department, Gans served as senior speechwriter for Defense Secretary Chuck Hagel and Secretary of the Treasury Jack Lew.
In 2019, Gans published White House Warriors: How the National Security Council Transformed the American Way of War, which the Wall Street Journal said was a "bottom-up history," The New Republic called "enlightening," and Lawfare concluded it was "rollicking and compellingly told." Gans earned his Ph.D. from Johns Hopkins University's School of Advanced International Studies.
We look forward to your attendance. Please mark your calendar and your spouse or other guests are welcomed.
Event Location: 5651 W Manchester Ave, Los Angeles, CA 90045. Map or Directions here.
Full refreshments served
RSVP: afio_LA@yahoo.com
Questions to Vincent Autiero, President, AFIO-Los Angeles Chapter, at afio_LA@yahoo.com.
Monday, 10 February 2020, 5:30 p.m. - New York, NY - AFIO NY Metro Chapter hosts CIA Officer (Ret) and Author/Disguise Expert Jonna Mendez
Jonna Mendez (Spy Dust: Two Masters of Disguise Reveal the Tools and Operations That Helped Win the Cold War), share (with late husband Tony Mendez) their experiences as spies in Moscow during the height of the Cold War in the mid-1980s. The authors begin with the initial list of "the Moscow Rules" and continue to discuss briefly the current state of affairs in Russia under Vladimir Putin, and how they interfered with the 2016 U.S. election. Additional details to follow in coming months.
Location: Society of Illustrators, 128 E 63rd St (between Park and Lexington), New York, NY 10065.
Timing: Registration starts at 5:30 pm, Speaker presentation starts at 6 pm. Fee: $50/person. Payment at the door only. Cash or check. Full dinner, cash bar.
RSVP: Strongly recommended that you RSVP to ensure space at event. Call or Email Chapter President Jerry Goodwin at afiometro@gmail.com or 646-717-3776.
---
Other Upcoming Events from Advertisers, Corporate Sponsors, and Others
Wednesday, 6 November 2019, 6 - 10:30 pm - Washington, DC - Michael Morell and Jill Singer, Co-Chairs, invite you to The Honorable William H. Webster Distinguished Service Award Dinner at the International Spy Museum
The International Spy Museum is proud to announce the keynote speaker for the Museum's annual dinner will be The Honorable George J. Tenet, former Director of Central Intelligence.
As one of longest serving and most influential CIA directors in history, DCI Tenet shares the unique perspective of intelligence in action at the highest level. He will share his experiences and long-standing relationship with this year's Webster Service Awardee, General Michael V. Hayden (Ret.), former Director of the National Security Agency, Principal Deputy Director of National Intelligence, and Director of the Central Intelligence Agency.
The William H. Webster Distinguished Service Award Dinner will take place at the new home of the International Spy Museum in L'Enfant Plaza. On this special evening, more than 500 attendees will gather to recognize the men and women who have served in the field of National Security with integrity and distinction.
Each year, The Honorable William H. Webster Distinguished Service Award is given to an individual who has embodied the values of our esteemed friend, mentor, and leader ― Judge William H. Webster. This year's honoree is someone known for his invaluable service and contributions to the Intelligence Community, someone that has worked from the ground up and has been both a provider and consumer of intelligence with more than 20 years of experience. It is with great pride that we announce the 2019 honoree is General Michael V. Hayden, former Director of the National Security Agency, Principal Deputy Director of National Intelligence, and Director of the Central Intelligence Agency.
AWARD DINNER CO-CHAIRS: Mr. Michael Morell, Senior Counselor, Beacon Global Strategies and Former Deputy Director and former Acting Director, Central Intelligence Agency; Ms. Jill Singer, Vice President, National Security, AT&T Public Sector & Wholesale; Former Chief Information Officer, National Reconnaissance Office.
Tickets range from $495 to $15,000. Explore your registration options here.
This event is closed to media.
Event location: The New International Spy Museum, 700 L'Enfant Plaza SW, Washington, DC 20024. Directions here.
Tuesday, 19 November 2019, 1 - 5:30 p.m. reception to follow - Boston, MA - "Using Rapid DNA to Advance Justice" - conference at Boston University
This Boston University Event is sponsored by The Frederick S. Pardee School of Global Studies, the BU Police Department & the Metropolitan College of Applied Social Sciences
DNA has been used for criminal justice purposes since the 1980s but current DNA methods are slow and some labs are backlogged by years. The recent development of Rapid DNA has reduced processing time from months to minutes, increasing expediency and accuracy. Leam more about this cutting edge technology with transformational global implications.
Speakers include:
• Ed Davis, Former Boston Police Commissioner,
• John Boyd, Office of Biometric Identity Management, Department of Homeland Security,
• Richard Seiden, M.D., Ph.D., Founder & Chief Scientific Officer, ANDE Corp.
A panel of subject matter experts including:
• Prof. Robin Cotton, Ph.D., Director, Biomedical Forensic Science, BU School of Medicine.
The conference chair is Prof. John Woodward, J.D., Pardee School.

Event Location: Barrister's Hall, BU School of Law, 765 Commonwealth Ave., Boston, MA
There is no conference fee but you must RSVP to: Ms. Madison Sargeant msrgnt@bu.edu
21-22 November 2019 - Phoenix, AZ - CAE in Cyber Security Annual Symposium
The CAE in Cyber Security Symposium is right around the corner! CAE is Centers of Academic Excellence. If your institution belongs to the CAE-CD, CAE-2Y, CAE-R, or CAE-CO Program, you are eligible to participate. Details to follow several months from now.
Direct your questions to info@caecommunity.org. What are CAEs? More information here.
Upcoming CAE events and the Cyber Security Symposium.
---
Gift Suggestions:
AFIO's 788-page Guide to the Study of Intelligence. Peter C. Oleson, Editor, also makes a good gift. View authors and table of contents here.

Perfect for professors, students, those considering careers in intelligence, and current/former officers seeking to see what changes are taking place across a wide spectrum of intelligence disciplines. AFIO's Guide to the Study of Intelligence helps instructors teach about the large variety of subjects that make up the field of intelligence. This includes secondary school teachers of American History, Civics, or current events and undergraduate and graduate professors of History, Political Science, International Relations, Security Studies, and related topics, especially those with no or limited professional experience in the field. Even those who are former practitioners are likely to have only a limited knowledge of the very broad field of intelligence, as most spend their careers in one or two agencies at most and may have focused only on collection or analysis of intelligence or support to those activities.
For a printed, bound copy, it is $95 which includes Fedex shipping to a CONUS (US-based) address.
To order for shipment to a US-based CONUS address, use this online form,

To order multiple copies or for purchases going to AK, HI, other US territories, or other countries call our office at 703-790-0320 or send email to afio@afio.com to hear of shipment fees.

Order the Guide from the AFIO's store at this link.

The Guide is also available directly from Amazon at this link.
AFIO's Intelligence Community Mousepads are a great looking addition to your desk...or as a gift for others.
Made in USA. Click image for larger view.
These 2017 mousepads have full color seals of all 18 members of the US Intelligence Community on this 8" round, slick surface, nonskid, rubber-backed mouse pad with a darker navy background, brighter, updated seals. Also used, by some, as swanky coasters. Price still only $20.00 for 2 pads [includes shipping to US address. Foreign shipments - we will contact you with quote.] Order MOUSEPADS here.
Disclaimers and Removal Instructions
Weekly Intelligence Notes (WINs) are commentaries on Intelligence and related national security matters, based on open media sources, selected, interpreted, edited and produced for non-profit educational uses by members and WIN subscribers.
REMOVAL INSTRUCTIONS: We do not wish to add clutter to inboxes. To discontinue receiving the WINs:
a) IF YOU ARE A MEMBER - click here: UNSUBSCRIBE and supply your full name and email address where you receive the WINs. Click SEND, you will be removed from list. If this link doesn't open a blank email, create one on your own and send to afio@afio.com with the words: REMOVE FROM WINs as the subject, and provide your full name and email address where you are currently receiving them.
b) IF YOU ARE NOT A MEMBER, and you received this message, someone forwarded this newsletter to you [contrary to AFIO policies]. Forward to afio@afio.com the entire WIN or message you received and we will remove the sender from our membership and distribution lists. The problem will be solved for both of us.
CONTENTS of this WIN [HTML version recipients - Click title to jump to story or section, Click Article Title to return to Contents. This feature does not work for Plaintext Edition or for some AOL recipients]. If you wish to change to HTML format, let us know at afio@afio.com. The HTML feature also does not work for those who access their e-mail using web mail...however NON-HTML recipients may view the latest edition each week in HTML at this link: https://www.afio.com/pages/currentwin.htm
---
WINs are protected by copyright laws and intellectual property laws, and may not be reproduced or re-sent without specific permission from the Producer. Opinions expressed in the WINs are solely those of the editor's or author's listed with each article. AFIO Members Support the AFIO Mission - sponsor new members! CHECK THE AFIO WEBSITE at www.afio.com for back issues of the WINs, information about AFIO, conference agenda and registrations materials, and membership applications and much more!
(c) 2000, 2012, 2013, 2014, 2015, 2016, 2017, 2018, 2019. AFIO, 7600 Leesburg Pike, Suite 470 East, Falls Church, VA 22043-2004. Voice: (703) 790-0320; Fax: (703) 991-1278; Email: afio@afio.com
---
About AFIO | Membership Renewal | Change of Address | Upcoming Events | Chapter Locations | Corporate/Institutional Memberships | Careers in Intelligence Booklet | Guide to the Study of Intelligence | Intelligencer Journal | Weekly Intelligence Notes | To Make A Donation | AFIO Store | Member-Only Section | Code of Ethics | Home Page
---