---
Section I - INTELLIGENCE HIGHLIGHTS

How US Spy Agencies are Tracking the Coronavirus Pandemic. The US intelligence community is using its unique abilities to monitor foreign countries to keep track of the spread of the coronavirus pandemic and establish whether nations are being truthful about the extent of the outbreak.

The Office of the Director of National Intelligence and the CIA are providing a steady flow of intelligence to oversight committees on Capitol Hill, giving the intelligence committees in the House and Senate daily briefings and updates on the spread of the virus, according to two congressional aides. The updates are focusing mainly on the tally of those cases and whether they match what is being reported publicly.

That's the value the intelligence agencies bring, a former senior intelligence officer said. "They are assessing foreign intent, activity, and reporting." [Read more: CNN/13March2020]

UK Sets Up Body to Monitor 'Hostile Activity' by Foreign Spies. The Government has established a cross-Whitehall body to monitor the threat to Britain from foreign spies, it has been disclosed.

The Joint State Threats Assessments Team (JSTAT) was set up in 2017 in response to the growing threat of espionage and subversion by foreign powers.

Its existence has only now been disclosed publicly by Home Secretary Priti Patel in the face of what she described as "sustained and hostile activity" aimed at threatening UK national security.

She said the decision had been taken to maximise its utility to the wider national security community, while enabling greater engagement with outside organisations such industry and academics. [Read more: ShropshireStar/17March2020]

DRC: Death of Léon Lukaku, the Head of Counter-Espionage, Remains a Mystery. Several government sources, as well as sources within the Congolese intelligence services, confirmed only the basic information with us: Léon Lukaku, head of the counter-espionage service of the National Intelligence Agency (ANR), died on Monday in Kinshasa.

The cause of his death is, for the moment, unknown.

Several executives of the Congolese intelligence services, under cover of anonymity, however, said he was "sick".

According to our information, Lukaku had been suspended from his post as director of the ANR's counter-espionage services in February. [Read more: Tshiamala/TheAfricaReport/11March2020]

Senior Al-Shabaab Intelligence Commander Killed by Fellow Militants in Somalia. A former senior Al-Shabaab operative has been killed in Somalia, spy agency NISA sensationally claimed on Tuesday, although the reports could not be independently verified.

Muse Moalim, who coordinated the Al-Shabaab's spy wing, famously known as Amniyat within the capital, Mogadishu, is said to have been killed by the militants at the vicinity of Buale town in Middle Juba region.

According to Fahad Yasin-led NISA, Moalim, who is linked to several sophisticated attacks within Somalia, was executed under unclear circumstances after his arrest in Middle Juba region.

The spy agency said: "Al-Shabaab has executed Muse Moalim, its former intelligence head within Mogadishu. He was killed at Buale town on Monday night." [Read more: GaroweOnline/11March2020]

UK Intelligence Agency Warns of Cybercriminals Exploiting the Coronavirus Outbreak. A division of GCHQ (Britain's equivalent to the NSA) has warned the public to be on their guard against cybercriminals exploiting the Coronavirus outbreak.

The National Cyber Security Centre (NCSC) has described on its blog how criminals have spread malware via emails purporting to contain important updates about the COVID-19 outbreak, and that attempts have also been made to scam unsuspecting users and phish passwords and sensitive information.

In response to the Coronavirus-related cybercrime threat, the NCSC says it has taken steps to automatically discover and take down malicious sites exploiting the Coronavirus outbreak to serve up phishing attacks and malware. [Read more: Cluley/SecurityBoulevard/16March2020]

Rajko Kozmelj Steps Down as SOVA Intelligence Agency Boss. The head of the Slovenian intelligence agency SOVA, Rajko Kozmelj, stepped down on Tuesday with immediate effect. He said he had received no instructions or guidelines from the new government, which he sees as a sign of personal distrust. [Subscription in English: STA/17March2020 or free in Slovenian: MMC/17March2020]


---
Section II - CONTEXT & PRECEDENCE

Secret Identity of 4th Soviet Spy Who Stole US Atomic Bomb Secrets Revealed. For over 70 years, the identity of three of the Americans that spied for the Soviet Union and stole information from Los Alamos, speeding up the development of nuclear weapons in the USSR, has been known.

For an equal period, the identity of the fourth member of the group, only known by the trade name "Godsend," has been shrouded in mystery.

Godsend, with his three compatriots, stole information about America's nuclear efforts and passed it on to the Soviets between 1940 and 1948. Now his real name has come to light and can be revealed.

His name is Oscar Seborer. He was employed on the Manhattan Project based at the Los Alamos National Laboratory in New Mexico. The Manhattan Project was the project in which the first nuclear weapons were designed. [Read more: Winston/WarHistoryOnline/13March2020]

The Black Dispatch: Spying While Black. African Americans served as spies during the American Revolution with the belief that their service would prove the loyalty of the people, improve their condition and for the ever present promises of freedom. However, the status of African Americans largely did not change as a result of their service. Neither side kept their promises.

African Americans amazingly clung to those same beliefs during the Civil War, and once again the Black Dispatch set to work gathering information. Again, they used their marginalized status and their perceived ignorance, both of which would be their greatest assets.

Mary Elizabeth Bowser's contributions to the war effort were so awesome that she was inducted into the Military Intelligence Hall of Fame in 1995. Bowser was born enslaved to the Richmond Van Lew family. Elizabeth Van Lew, the daughter, was an abolitionist and pro-Union who freed Bowser and sent her North to be educated.

When war broke out, Elizabeth pretended to be odd, earning the nickname of "Crazy Bet," all the while establishing the Richmond Underground spy ring. [Read more: Gordon/PhiladelphiaSun/12March2020]

A Spy Agency's Challenge: How To Sort A Million Photos A Day. When the U.S. government took its first satellite photos in 1960, it wasn't easy getting those pictures back to Earth.

After the satellite took the pictures, the film was dropped from space in a capsule attached to a parachute. A military plane with a large hook flew by to collect the capsule in midair over the Pacific Ocean.

"They called the pilots who flew these missions 'star catchers,' because they were catching what looked like stars falling from the sky," said Katie Donegan, with the National Geospatial-Intelligence Agency, or NGA.

She says all this effort might yield a few grainy, black-and-white shots of a Soviet military site. [Read more: Myre/NPR/12March2020]

Spying on Coronavirus: A Little-Known US Intel Outfit Has Most Important Mission Yet. Last month, well before the World Health Organization declared COVID-19 a global pandemic, a little-known unit within the Defense Intelligence Agency had already predicted that the outbreak would reach pandemic proportions.

The warning came from the National Center for Medical Intelligence, a senior defense official told NBC News. The NCMI, as it is known, is an obscure patch of the U.S. spying community that is now in the midst of one of the most important missions in its history. The warning was first reported by Newsweek.

The NCMI is the intelligence community's eyes and ears when it comes to global disease outbreaks. While the CIA also has a medical intelligence unit, current and former officials said, the NCMI, headquartered at Fort Detrick, Maryland, is the clearing ground for classified information and analysis related to the coronavirus outbreak. [Read more: Dilanian/NBCNews/13March2020]

The Space Force Will Need Space Intelligence. The military will have to beef up its space intelligence as it stands up the United States Space Force says the new service's vice commander.

"What we really need most is elements of a war fighting domain and military service that have been lacking over the years. We need our own core intelligence capability," said Space Force Vice Commander Lt. Gen. David Thompson.

Traditionally, both the military and intelligence community has seen space as a vantage from which to gather intelligence, but as the military switches to viewing it as a war fighting domain instead of a benign environment, the need for intelligence about space has increased. That includes knowing what objects are in space, where they are, what capabilities they have and what threat they pose to U.S. military and intelligence assets.

For Thompson, that means the nascent Space Force will need to build out its own intelligence capabilities as it grows increasingly independent of the United States Air Force. [Read more: Strout/C4ISRNet/11March2020]


---
The Secret History of a Cold War Mastermind. The legend of Gus Weiss, hero of the Cold War, ends 11 stories below the balcony of his condo at the Watergate complex in Washington, DC, on November 25, 2003. A broken corpse on the sidewalk.

In life, Weiss had liquidy blue eyes and an aristocratic air. He stood 5'7" and in later years developed a slight hunch. He spoke with a breezy Southern accent and wore J. Press suits. The autoimmune disease alopecia, which he developed as a teenager, left him hairless from head to toe. He wore a chestnut-colored wig and smelled vaguely of toupee adhesive. He drifted off into daydreams at inopportune moments. He laughed with a high-pitched giggle. "A wonderful storyteller," recalls one lifelong friend. "He'd talk to you in tales." Yet Weiss kept almost everybody at a distance. Only a handful of people ever truly got to know him. Richard V. Allen, his onetime boss on Richard Nixon's National Security Council, calls him "one of the most discreet men I ever knew."

Around Washington, insiders vaguely understood Weiss as a mysterious but brilliant eccentric with a thinly veiled penchant for insubordination. Obituaries remembered him as an adviser to four presidents, executive director of the White House Council on International Economic Policy, assistant for space policy to the secretary of defense. According to his obit in The Washington Post, "Much of his government work centered on national security, intelligence organizations and concerns over technology transfers to communist countries. [Read more: French/Wired/11March2020]

U.S. Space Force's First Offensive Weapon Is a Satellite Jammer. The U.S. Space Force has received its first offensive weapon system, but it may not be what you think. The "weapon" is actually a jammer capable of preventing adversaries from accessing their own military communications satellites. While that may not sound like much on the surface, it has huge implications for modern armed forces that rely on satellites to receive orders from home.

The Space Force's 4th Space Control Squadron, based at Peterson Air Force Base, Colorado, received a Counter Communications System Block 10.2 system. The Pentagon described it in 2019 as a:

"...expeditionary, deployable, reversible offensive space control (OCS) effects applicable across the full spectrum of conflict. It prevents adversary Satellite Communications (SATCOM) in Area of Responsibility (AOR) including Command & Control (C2), Early Warning and Propaganda, and hosts Rapid Reaction Capabilities in response to Urgent Needs."

In other words CCS can be flown into a wartime theater on a military transport airplane and then turned on to cut off nearby enemy units from their own military communications satellites. It would cut adversaries off from their own satellite communications, including videoconferencing, and prevent them from receiving warnings of impending U.S. and allied missile strikes. [Read more: Mizokami/PopularMechanics/17March2020]


---
Section IV - Research Requests, Obituaries, Jobs
Help Choose the IAFIE 2020 Intelligence Education Instructor of the Year
If you know outstanding teachers in the field of intelligence, please nominate them as explained below, before the 1 April 2020 deadline.
The IAFIE (International Association for Intelligence Education) recognizes individuals who have excelled in intelligence instruction, which includes both academic and professional training instruction.

Nominations may be submitted by a supervisor, colleague or other individual. Self-nomination is also allowed and encouraged. The nominee must submit an application package, the contents of which are described below, by 1 April. An IAFIE subcommittee will select the winner.

Read full details of the application process here.
Questions? Contact jonsmith@coastal.edu.
Nat Alderman, US Army Intelligence, Army Security Agency (NSA)
Nathaniel J Alderman Jr, Col, USA (Ret), RDJTF CS GP, 87, a former Army Security Agency (NSA) employee, died 10 March 2020 in Saint Petersburg, FL. An obituary has not yet appeared. Of his passing, the Suncoast Chapter Secretary wrote: "Nat played significant roles in intelligence during the Cold War and held a number of positions in our Chapter, always a stalwart supporter of our group and its mission. As important, Nat was a thorough gentleman and terrific conversationalist."
Nat's children have not yet settled arrangements. We will provide an obituary and other information as we receive it.
Frank Archibald, Former Director, National Clandestine Service, CIA
Francis Xavier Archibald, 64, former Director, CIA's National Clandestine Service, died 13 March 2020 in Phoenix, AZ of consequences of an unsuccessful double-lung transplant.
Born in Charleston, SC, Frank graduated from Hanahan High School, a member of the Hawks' so-called "Iron Men" football team, playing both offense and defense positions for entire games. He enlisted in the U.S. Marine Corps in 1974 and served with distinction as an Infantryman and leader earning the rank of Sergeant. After leaving the Marine Corps, he graduated from Clemson University in 1983, where he was a Captain of the Tigers' rugby team. He remained an ardent, lifetime supporter and fan of Clemson and its football team in particular. Frank then joined the CIA and began an extraordinary national security career.
Over 31 years with the CIA, Frank served in Latin America, Africa, the Balkans, Southeast and Southwest Asia. He held senior assignments at CIA Headquarters in Counterterrorism and Counterintelligence, and was Chief of the Latin American Division. He was a Distinguished Graduate of the National War College in 2001. The capstone of his career was being selected the Director of the National Clandestine Service [DNCS], an assignment leading all of CIA's operations worldwide -- a position from which he led thousands of CIA officers in hundreds of locations would wide in intelligence collection and covert action.
During his CIA career, he received the CIA's highest award, the Distinguished Intelligence Cross for heroism, as well as numerous other CIA awards. Frank retired from the CIA in 2015.
Frank subsequently became a senior advisor for the Crumpton Group, an international consulting firm that provides clients with intelligence-driven solutions. He also served on the Board of Directors for the OSS Society. While working for the Crumpton Group, Frank and his wife Lisa maintained homes in Mesa, AZ, and Mount Pleasant, SC.
A voracious reader with a lifelong interest in American history and its political, military, and social leaders, he studied and admired the leadership lessons and traits of many, including President Eisenhower, General Walter Bedell Smith, and Martin Luther King, Jr.
He traveled the world serving America, but dearly loved his home state of South Carolina, in particular its low country, friendly and interesting people, local culture, food and environment. Over the years, more than one of Frank's shoes was lost to "pluff mud"-a type of marsh mud around Charleston that creates a powerful suction when stepped on - reminding him he was home. Shrimp and grits were often on his lunch and dinner menus, and he never missed an opportunity to strike up a friendly conversation with his low country neighbors.
Whether in South Carolina or Arizona, Frank enjoyed the company of family and friends. Christmas often found him dressed as Santa, playing the role for his grandchildren. He organized treasure hunts and played the role of a leprechaun, to ensure their happiness. For the older children whose lives he was privileged to join as they were just starting out in life, Frank provided career guidance, mentoring, advice on good citizenship and responsibility, and a boundless generosity of spirit and love.
His natural, easygoing, self-effacing demeanor drew family members, friends, and others to him. He was always ready to share a story or laugh with those he met and enjoyed the company of people. A telling example of Frank's gentleness of spirit and love of family was his care and use of his late mother's 2001 truck. Frank maintained it regardless of cost, driving it carefully around the streets of South Carolina and across the country to Arizona. Frank's truck is still with us; he is with his beloved mother.
Frank is survived by his wife, Lisa Perry Archibald; his father, Francis; two brothers; two sisters; and other family.
A memorial to honor his life will be announced when conditions permit a large social gathering and arrangements are completed.
Joe Halbe, CIA
Joseph F. Halbe, 85, died 22 January 2020 in Glenn Dale (Columbia), MD from Glioblastoma -- a brain tumor.
Born in Girardville, PA he attended grade school and high school at St. Joseph's Catholic School. After graduation he moved to Maryland and was employed by the Washington, D.C. Public Library. A few years later he enlisted in the US Army, attended Army Language School in California and was stationed in Germany. After his honorable discharge he began his career at the Central Intelligence Agency, travelling extensively, with long term assignments in Vienna, Austria, and Zanzibar, Tanzania, as well as a three month assignment in Norway towards the end of his career. After retiring from the agency, he enjoyed retired life for a couple years before beginning a second career with MSM Security Services in Greenbelt, MD.
He enjoyed opera, model railroading, traveling, and languages. He was fluent in German and Czech and also spoke Swahili. He was also a life member of Veterans of Foreign Wars Maryland Auxiliary # 341, and was an active member of Ascension Catholic Church in Bowie. His Catholic faith was strong and he read extensively on the subject.
He is survived by a brother Bill of Greenbelt, MD, a sister, and other family.
Erma Packman, Linguist, OSS and CIA, RAND Editor
Erma Fuchs Packman, 97, former Linguist, OSS and CIA, died 6 March 2020 in Rockville, MD.
She was born in Brooklyn, NY, and spent early childhood in the south, where her father, a public health engineer, helped to implement mosquito control. They moved to Washington, D.C., in 1933, where her father implemented milk sanitation and became an officer in the US Public Health Service. After attending E.V. Brown Elementary, Alice Deal Junior High, and Woodrow Wilson High School, she studied Russian and French at Cornell during WW II.
Upon graduation, she went to work in the Pentagon for the OSS, tracking Russian Order of Battle. Following the end of the war, her Russian skills led her to a precursor of the CIA, where she met her husband of 64 years, Martin Packman, then a Japanese linguist and subsequently a career Civil Servant at the U.S. Department of State. They worked together at the CIA for a time in the early 1950s, after which she became an agency contractor while raising her two sons.
During the 1960s and 70s, she hosted numerous meticulously planned dinner parties for Foreign Service colleagues and foreign embassy personnel. In addition, she planned, planted, and steadfastly maintained colorful flower beds and shrubs throughout the yard of their house. When her sons were in high school, she became the chief editor for Department of Defense research projects at the RAND Corporation, where she worked for the rest of her career. At RAND, she championed the softball team.
She is survived by two sons and other family.
George Rocawich, Naval and NSA Cryptographer
George Eric Rocawich Jr, 89, a Naval and NSA Cryptographer, died 11 March 2020 in Millersville, MD.
He was born in Cleveland, OH where he attended Holy Name and West Tech High schools. He enlisted in the Navy at age 16 in 1946 and spent 9 years in cryptography with the Naval Security Group. Duty stations were: Washington, DC; aircraft carriers USS FDR, Midway, and Coral Sea; Port Lyautey, French Morocco, and Cheltenham, MD. He continued his cryptologic career at the National Security Agency (NSA) from 1955 to 1988. Following retirement, he returned to NSA for 7 more years as a re-employed annuitant. Subsequently, he worked another 7 years for the Richards Group (a townhouse development) in Crofton, MD. George was a member of: the Naval Cryptologic Veterans Association; Phoenix Society; American Philatelic Society; Annapolis and Bowie Stamp Clubs.
He is survived by his wife of 64 years, Frances D. Kissinger Rocawich, two daughters, a son, a sister, and other family.
Marla Warner, NSA Intelligence Analyst
Marlene "Marla" Jane Warner, 68, an NSA Intelligence Analyst, died 6 February 2020.
Born in Sapporo, Japan, Marla grew up as an Air Force "brat." Her family relocated several times during her childhood to U.S. bases in the Midwest and California. After graduating from high school in 1969, Marla joined the U.S. Air Force where she served as an air traffic controller for three years.
Upon completion of her military service, Marla joined Grumman Aircraft in Isfahan, Iran supporting the F-14 Tomcat program there and later Grumman Energy in San Diego. At the same time, she began studies through the University of Maryland and earned a BS in Business Administration in 1983. She began a 31-year career at the National Security Agency in 1988 as an Intelligence Analyst. She worked in a variety of mission areas with the last one being the Agency Director's number-one priority. Marla was a diligent and accomplished analyst, well respected and loved by her colleagues.
Marla actively supported animal welfare charities and military service organizations. She enjoyed cooking, caring for and feeding local wildlife, and assembling an array of valuable collectibles.
She is survived by her husband of 40 years, Carl Warner, her mother, two brothers, pets Penny and Pipper, and other family.
A memorial gathering will be held in the near future and burial will be scheduled at Arlington National Cemetery at a later date.
Bob Walson, CIA Case Officer
Robert Charles Walson, 81, a CIA Case Officer, died 25 February 2020 in Ashburn, VA of complications from dementia.
Born in Detroit, MI to immigrant parents, early on he was imbued with a sense of adventure.
Bob enlisted in the US Army and completed Airborne training at Ft. Bragg, NC then joined the 102nd ASA in Heidelberg, Germany, in 1961. During his time there, he became fluent in German and later also French. He traveled throughout Europe, saw the Berlin wall going up, ran with the bulls in Pamplona, and met Gary Schroen, who would remain his dear friend for the remainder of his life. After his discharge, he spent three months hitchhiking through Eastern Europe and into Iran. Bob was with Company B, 12th Special Forces Unit. Bob returned to Detroit to graduate with a degree in Journalism from Wayne State University.
After working as a newspaper reporter, in the Public Information Office of the Gov. of Michigan, and in public relations at General Motors, Bob went to Washington, DC to begin training as a case officer for the CIA. During his time with the Agency, Bob earned his Master's Degree. His work took him to many countries, and two war zones. He will always be remembered for his heroic efforts following a plane crash in Laos. Bob suffered severe injuries in the crash but, with fuel covering them all, was able to kick out the door which had jammed during the crash, saving the lives of the pilot and other passengers including Laotian General Vang Pao.
Bob held a 6th degree black belt in Tae Kwan Do, and was instrumental in establishing the art in the U.S. He wrote the definitive book, TaeKwan-Do in 1972 and was a Tae Kwan Do instructor. An athletic man, he was also a ski instructor.
He is survived by his wife of 24 years, Karen, two sons, and other family. In accordance with his wishes, his ashes will be scattered in the Atlantic Ocean, "Because I flew over it so many times."
Paul Wilt, Naval Intelligence Officer
Paul Harris Wilt, Commander, USN(Ret), 46, a Naval Intelligence Officer, died of a heart attack on 7 March 2020 in Singapore.
Paul's last position in the Navy was Assistant Naval Attache to Singapore, after which he stayed in that country and became a Director for his beloved Yale University's Alumni Programs and Events.
He leaves behind a wife, Niki, and three young children; Wesley, Annabelle, and Eliana.
The family asks for former colleagues to provide them with memories and photos of Paul which will be compiled into books for the children. Please send to NikiPaul11@gmail.com.
A celebration of Paul's life was held on 17 March 2020 at the U.S. Ambassador's residence in Singapore.

---
IT Acquisitions Subject Matter Expert for Intelligence Community Client; Other Openings in Reston and Bolling AFB
E3/Sentinel has a funded opening for an IT Acquisitions Subject Matter Expert with specific experience in IT architecture requirements to support an IC customer. Candidate will assist in developing innovative business strategies and procurement policy/processes. Only candidates with TS/SCI clearances will be considered. Contact Rosanna Minchew rminchew@e3sentinel.com for more details.
E3/Sentinel has multiple openings for Contracts Specialists, Acquisition Analysts, Cost/Pricing Analysts and Contracts Closeout Specialists. Positions in Reston and at Bolling AFB. TS/SCI required to be considered for interview. Polygraph preferred. Contact Rosanna Minchew rminchew@e3sentinel.com for more details.
Adjunct instructors at the University of Texas at El Paso (US)
The National Security Studies Institute at the University of Texas at El Paso (UTEP) (see their website here) is seeking adjunct instructors to teach online graduate-level courses:
Legal Issues in Intelligence and National Security
Propaganda and Influence Operations
Intelligence and Counterterrorism
Political Economy of Terrorism
Risk Analysis
Emergency Management
Public Health and Homeland Security
A PhD in public policy, security studies, political science, or a related field is required.
Interested and eligible applicants should contact Stephen Coulthart (sjcoulthart@utep.edu).
Two Positions at James Madison University for Assistant or Associate Professor - Intelligence Analysis
James Madison University (JMU) located in Harrisonburg, VA, seeks applicants for two faculty positions in its Bachelor's Degree Program in Intelligence Analysis (IA). The appointments will be at the Assistant or Associate Professor level and will reside within the larger School of Integrated Sciences. The IA program offers a multidisciplinary undergraduate degree with an emphasis on methodology and technology to prepare students to become analysts, with a specialization in intelligence analysis. Its graduates have been successful in securing positions as analysts in both the public and private sectors, to include the Intelligence Community, military and law enforcement organizations, defense contractors, and major consulting firms. The program emphasizes methodology and synthesizes critical and creative thinking methods with technological tools for data collection, visualization, and analysis with situational knowledge of a problem's political, economic, social, and technological context with strong communicative and professional skills to support decision-making.
Ideal candidates will be comfortable in an interdisciplinary, diverse setting and possess the potential for becoming an excellent teacher to future analysts in one or more intelligence domains including national security, military, homeland security, law enforcement, private sector security, cyber security, and geospatial. They optimally have a background in either mixed-methods, qualitative, or quantitative research and analysis methods. We especially encourage applications from candidates that can leverage the use of systems thinking, employ data science in analysis, support the development of writing skills, or teach ethics specifically for future analysts. The typical teaching load in the school is 3 courses per semester.
We welcome applicants from all academic disciplines—to include the humanities, social sciences, and sciences—that provide a knowledge foundation for doing analysis. Prospective candidates should review our curriculum online to identify areas that match their expertise and to locate potential areas that they could help the program to develop. The program values teaching excellence as well as one-on-one professional mentoring and seeks candidates who can demonstrate potential for both. In addition, the position requires the potential for an active program of scholarly activity. The position requires either a Ph.D. in a relevant academic field by the date of hire (for a tenure-track appointment) OR Master's Degree with substantial experience in the field (for appointment on a Renewable Term Contract).
More information or applications may be found here.
New Positions Available with Thomson Reuters

Job Title: Washington Bureau Chief
Experience: 10 to 20 years
Employment Type: Full Time
Job Location: Washington, DC
Reuters, the news and media division of Thomson Reuters, is the world's largest international multimedia news provider reaching more than one billion people every day. Reuters provides trusted business, financial, national, and international news to professionals via Thomson Reuters desktops, the world's media organizat...[full details here]
________________________________________
Job Title: Account Executive, Federal
Experience: 5 to 20 years
Employment Type: Full Time
Job Location: Washington, DC
Account Executive, Federal Job Description Position Objective/ Mission This role exists to sell online legal and investigative research, integrated workflow solutions in the federal government market. Outcomes Consistently achieve monthly, quarterly, and full year new sales quotas with a mix across the sales bag. Maintain a...[full details here]
________________________________________
Job Title: Facility Security Analyst
Experience: 3 to 9 years
Employment Type: Full Time
Job Location: McLean, VA
This position is responsible for planning and establishing security procedures to comply with Federal Regulations for handling classified information and material within a program environment. This position will support a FOCI organization and perform security functions that are required by National Industrial Security Oper...[full details here]
________________________________________
Job Title: Government Analyst
Experience: 2 to 20 years
Employment Type: Full Time
Job Location: McLean, VA
Provide insightful, well researched analysis and guidance to clients bases on rigorous, in depth analysis using public records, proprietary data, and open source data (including social media). Provide client support, including but not limited to meeting client inquiries, delivering ad hoc reporting, advising on analytic bes...[full details here]
________________________________________
Many other jobs available with Thomson-Reuter. Email Brian Lemley for a list with descriptions and links.
FireEye Has Many Intelligence Positions Available For You - Worldwide - Contract, Full-time, Part-time, Interns
Explore the many career and contractor intelligence jobs available here. Jobs openings in Cyber Security include - Advisory, Architecture, Digital Forensics & Incident Response, Penetration Testing, Threat Research. They positions are needed here: New York, Chicago, Manila, Reston, Dallas, Atlanta, Suitland, Singapore, Denver, Las Vegas, Phoenix, Doha, Stockholm, London, Milpitas, multiple cities in Australia, Washington, Indianapolis, Tampa, Santiago, Alexandria, Seattle, Carlsbad, Houston, San Francisco, Arlington, Dubai, Amsterdam, Ft Belvoir, Minneapolis, Mexico City, San Diego, Boston, El Segundo, Philadelphia, San Antonio, Chiyoda, Ft Huachuca, Ft Gordon, Ft Meade, Ft Shafter, Kuwait City, Seoul, Sttutgart, Salt Lake City, Austin, Dublin, Bangalore, Cork, Colorado Springs... Explore the many career and contractor intelligence jobs available here.
---
AFIO EDUCATIONAL EVENTS IN COMING TWO MONTHS....

CANCELLED for Public Safety from Coronavirus - Thursday, 19 March 2020, 11:30 a.m. - Colorado Springs - The AFIO Rocky Mountain Chapter hosts Amb. Mary Ann Casey discussing "Lessons in Cooperation: A Diplomat's View"

Synopsis: Amb. Mary Ann Casey will share some of the challenges she encountered during her tenure in oil-and-gas-rich Algeria, where she served as ambassador at a time of major conflict between the Algerian security services and that country's home-grown Islamic fundamentalist movement. Close collaboration with the US national security community was central to the success of the Embassy's efforts to ensure the safety of American personnel, while pursuing the US foreign policy agenda in Algeria. Ambassador Casey's talk will provide an insider's account of how events unfolded.
Biography: Ambassador Mary Ann Casey is Middle East specialist, who developed deep area expertise in Arab North Africa while working in that region for twelve years as an American diplomat.
Among other assignments, she was selected by President Bush Sr. to be his Ambassador to Algeria and later by President Clinton to serve as his Ambassador to Tunisia.
Mary Ann also spent more than a decade in Washington D.C. at the State Department, where she had a variety of responsibilities, including Director for North Africa. Later, in the Bureau of Intelligence and Research, she managed a team of 100 professionals engaged in global research and analysis for the Secretary of State.
As a Diplomat in Residence at the University of Colorado, Mary Ann worked with several of the University's international studies programs and taught a course on the Art and Practice of Diplomacy. After her retirement from the State Department, she lectured periodically at the Joint Forces Staff College in Norfolk Virginia as part of the Senior Fellows Program. She now serves on the Advisory Board for CU-Boulder's Program in International Affairs.

For more information please contact our Secretary Steve Pease at steve13507@gmail.com - CANCELLED for Public Safety from Coronavirus

CANCELLED for Public Safety from Coronavirus -

Saturday, 21 March 2020, 2 p.m. - Kennebunk, ME - AFIO Maine hosts FSO Louis Sell on "Bosnia and Kosovo: Unfinished Business"

"Bosnia and Kosovo: Unfinished Business" is the theme of FSO Louis Sell's presentation which begins at 2 p.m. at the Program Center of the Brick Store Museum at 4 Dane St.
The speaker is retired Foreign Service Officer Louis Sell, who was a State Department expert on U.S.-Soviet relations for many years, serving in strategic locations including Moscow, Vienna, Yugoslavia, Bosnia and Kosovo. An adjunct professor at the University of Maine at Farmington, he is also the author of "From Washington to Moscow: US-Soviet Relations and the Collapse of the USSR;" "Slobodan Milosevic and the Destruction of Yugoslavia" and numerous articles.
In Bosnia in 1995 and Kosovo in 1999, US-led international coalitions ended the conflict and provided the peoples of these regions the opportunity to build democratic, prosperous, and Western-oriented futures. There have been successes but a quarter-century later questions are arising about the long-term viability of these settlements.
This is the latest in a series of discussions relating to the importance of intelligence in current public affairs. The meeting is open to the public and a question-and-answer session will follow the presentation.
There is no fee to attend.
For more about the AFIO and its upcoming events, visit www.afiomaine.org.

CANCELLED for Public Safety from Coronavirus - Saturday, 21 March 2020, 5:30 p.m. - Oak Lawn, IL - Terry Donat, MD discusses "Pandemics and National Security" at Indiana/Illinois AFIO Chapter

AFIO's Indiana/Illinois Chapter hosts Terry Donat, M.D. speaking on "Pandemics and National Security."
Dr. Terry Donat is the first physician certified as an Illinois Professional Emergency Manager. He is trained in acute Radiation Emergency Medicine, the Medical Management of Chemical and
Biological Casualties and as a past National Disaster Life Support Instructor. He also serves as an external resource and speaker for both the FBI Chicago Field Office WMD Coordinator and
the FBI WMD Directorate Biological Countermeasure Unit. He is a lifetime member of the Special Operations Medical ssociation (SOMA); serves as the Health and Public Health Sector
Chief for lnfraGard Chicago; serves aside James Terbush, MD MPH, as co-chair of the Healthcare Industry Advisory Group of the Jr'ifraGard National Disaster Resilience Council and is a member
of the Healthcare and Public Health Sector Coordinating Council - DHS/DHHS. He is keenly interested in the promising capabilities of DNA data storage, as well as assessing those threats, risks, and vulnerabilities of infrastructure and evolving dual-use technologies relevant to homeland and national security.
Event includes cocktails and dinner.
Fee: $40 per person.
Location: Stony Creek Golf Course, 5850 W 103rd St, Oak Lawn, IL 60453
REGISTER or MORE INFO: Contact John Fanning (Treasurer) at 708-433-9522 or johnf@fanninginc.com CANCELLED for Public Safety from Coronavirus

CANCELLED for Public Safety from Coronavirus - Saturday, 9 May 2020 -- Indialantic, FL - Florida Satellite Chapter hears Col Prince on the Qu'ran

The speaker will be AFIO Florida Satellite Chapter member Col. Bill Prince, USA (ret.) After graduating from West Point, Bill served in Vietnam with both Ranger and Special Forces units. He resigned his regular army commission to accept a position as a CIA case officer, with subsequent experiences in numerous hostile environments. He has a graduate degree from Harvard, where his studies focused on the Middle East. The topic of his address will be the Qur'an, a subject he has studied extensively.

Please note that attendance at Florida Satellite Chapter meetings is always well within current CDC guidelines against gatherings of fifty or more.

Timing: 11:30 AM - 12:15 PM: Social Hour, greet old, new members and guests. Cash bar. 12:15 PM: Sit Down lunch

TO ATTEND: Prepaid reservations are required which must be received by 2 May 2020.

Florida Satellite Chapter meets at the Doubletree Melbourne Beach Oceanfront, 1665 N. Highway A1A, Indialantic, FL 32903.
For more information, or to register for the luncheon meeting, contact Chapter Treasurer Rhonda Rhoads, P.O Box 410158, Melbourne, FL 32941. Rhonda can also be reached at afiofsctreas@gmail.com and at 321-626-4465. CANCELLED for Public Safety from Coronavirus
---
Other Upcoming Events from Advertisers, Corporate Sponsors, and Others
CANCELLED for Public Safety from Coronavirus - Thursday, 19 March 2020, 1:30 - 2:30 p.m. - Annapolis Junction, MD - National Cryptologic Museum Lecture Series: Queens of Code
Queens of Code: Panel of women working on top secret information technology projects at NSA in the 1960s, 70s, and 80s tell their stories.
Queens of Code is a women's technology history project involving collecting stories, experiences, and insights from women who worked in information technology at NSA in the 1960s, 70s,and 80s. Because their jobs were often top secret, and they worked on sensitive national security programs, they couldn't discuss what they were doing - not even with their families. In many cases, they couldn't even confirm they worked at the Agency. Queens of Code is bringing the NSA's computing women out of the shadows, allowing them to claim their rightful place in history and the ever-evolving story of how technology has altered America's position in the world. These women created innovations in technology and expanded women's career opportunities for the generations that followed.
Come hear their stories. Come ask them questions. Free event, however, registration is required and seats are limited. Click the link below to register via EventBrite.
More information and registration at this link.
Location: National Cryptologic Museum - Magic Room, 8290 Colony Seven Rd, Annapolis Junction, MD 20701. [Program description provided by NCM] - CANCELLED for Public Safety from Coronavirus
CANCELLED for Public Safety from Coronavirus - Thursday, 19 March 2020, 6 p.m. - Alexandria, VA - Naval Intelligence Professionals March No-Host Social
The National Capital Region chapter-sponsored NIP "Third Thursday" No-Host social will feature Ms. Terry Roberts, former deputy director of Naval Intelligence and founder/president/CEO White Hawk CEC, Inc.
Her topic is "Risk Analytics in a Digital Age."
Please join us for socializing, professional insight and libations. Happy Hour begins at 6:00 PM, remarks by our guest speaker 6:30-7:15 PM, followed by informal discussion. You do not have to be a NIP member to attend
Location: Daniel O'Connell's Irish Bar and Restaurant, 112 King St, Alexandria, VA 22314.
To attend: just show up! CANCELLED for Public Safety from Coronavirus
Saturday, 21 March 2020, 11 a.m. - 12:30 p.m. - Reston, VA - CHINA: Confronting an Emerging National Security Threat with Admiral, U.S. Navy (Retired), Jonathan W. Greenert Former Chief of Naval Operations Former Member of the Joint Chiefs of Staff
This event is co-sponsored by the Movement for the Renaissance of Vietnam, the National Bureau of Asian Research, and The Institute of World Politics

About the lecture: The discussion is on PRC's military rise, its maritime strategic interests and on U.S. military strategy to confront the

About the speaker: Admiral, U.S. Navy (Retired), Jonathan W. Greenert served as the 30th Chief of Naval Operations from 2011-2015. As CNO, he was a member of the Joint Chiefs of Staff. Other Washington experience included: Vice CNO (2009-11), Navy's CFO (N8), and Navy Deputy Comptroller. He has extensive military leadership experience (10 years) in the Indo-Pacific region, including service in Japan (3 years) and Guam (1 year). A nuclear engineer by training/education, he commanded the nuclear submarine USS HONOLULU. He currently serves as a director on corporate boards, a consultant and advisor. He holds the John M. Shalikashvili Chair in National Security Studies at the National Bureau of Asian Research.

Event location: Pragmatics, Inc, 1761 Business Center Dr, Reston, VA 20190
Register here.
CANCELLED for Public Safety from Coronavirus - 25-28 March 2020 - Honolulu, HI - International Studies Association (ISA) conference Intelligence Studies Section (ISA/ISS) Panels at ISA2020
Various links below provide a view of the extensive program of the Intelligence Studies Section being held as part of ISA2020...the International Studies Association (ISA) conference in Honolulu, Hawaii on 25-28 March. The Intelligence Studies Section is one of thirty thematic sections that make up the ISA, has approximately 400 members, and has been sponsoring research about intelligence as a function of government since the mid-1980s. This Intelligence Studies Section content (4 straight days, 30 panels and roundtables) is one (highly impressive) small part of ISA's much larger conference.
Information about the conference is here.
And the full conference program of almost 300 pages is here.
The ISA/Intelligence Studies Section Program (kindly supplied by Steve Marrin) may be viewed here. CANCELLED for Public Safety from Coronavirus
CANCELLED for Public Safety from Coronavirus - 26-29 April 2020 - Tampa, FL - USGIF GEOINT 2020 Symposium
US Geospatial-Intelligence Foundation's GEOINT 2020 Symposium has the theme, "New Decade, New Challenges, New Strategies."
Learn more. Network with more than 4,000 GEOINT Community professionals from 40+ countries spanning defense, intelligence, homeland security, industry, and academia. See the latest in technology, services, and solutions from 200+ exhibitors in more than 100,000 sq ft of exhibit space. Learn from 50+ hours of professional development, training, and education sessions with PDUs and CEUs.
All official GEOINT 2020 hotels are conveniently located within walking distance of the Tampa Convention Center, and are only available through the GEOINT Symposium website and our registration partner SPARGO.
Do not delay reserving your hotel room, booking your flight, or registering for the nation's premier geospatial intelligence event of the year, which returns to Tampa from Sunday, April 26, to Wednesday, April 29.
View program, speakers, and registration requirements here.
CANCELLED for Public Safety from Coronavirus - Wednesday, 25 March 2020, 1:30 - 2:30pm - Annapolis Junction, MD - National Cryptologic Museum Lecture Series: Women in Cryptology
In the world of codes and ciphers, women have always played a role. Throughout American history, women have provided vital information to military leaders, done the daily grind searching for the enemy's secrets, and pioneered new scientific fields. Learn about the contributions and talents these women have brought to cryptology.
This lecture is free, but registration is required. Register via EventBrite - see link below.
More information and registration available at this link.
Location: National Cryptologic Museum - Magic Room, 8290 Colony Seven Rd, Annapolis Junction, MD 20701. [Program description provided by NCM] CANCELLED for Public Safety from Coronavirus
CANCELLED for Public Safety from Coronavirus - 25 - 27 June 2020 - Pordenone, Italy - IAFIE 2020 Annual Conference - Intelligence Education, Research and Practice in the 2020s
The 2020 Annual Conference of the International Association for Intelligence Education (IAFIE) will be held in Pordenone, Italy from June 25 to 27. This year IAFIE and IAFIE EC are joining hands in organising a joint annual conference examining the intelligence requirements for the next decade 2020- 2030, with its changing threat environment and fast developing technological advancements. The conference papers will reach out to other cognate disciplines for a multidisciplinary approach and brings scholars and practitioners together for a blend of research and applied discussions on intelligence. This will be the 5th Annual Conference of IAFIE EC. The topics/themes for the conference are Intelligence Analysis, Intelligence Domains, Management of Intelligence Community, and Intelligence Education and Research. Authors of recent books, monographs and reports in line with these topics/themes are also invited to submit proposals to participate in Author Roundtables. Please email your general enquiries to iafie2020@ecoleuniversitaireinternationale.net. More information here. CANCELLED for Public Safety from Coronavirus
Saturday, 24 October 2020, 5:30 p.m. - Washington, DC - Save the Date! PenFed Foundation's 2020 Night of Heroes Gala
PUT ON CALENDAR AND HOLD THE DATE: The Pentagon Federal (PenFed Credit Union) Foundation will be hosting their spectacular Night of Heroes Gala on Saturday, 24 October 2020 at the Mandarin Oriental in Washington, D.C. Last year's annual gala raised over $1.5 million and honored children of military families.
VIP Reception at 5:30 PM
General Reception and Silent Auction at 6:00 PM
Location: The Mandarin Oriental, 1330 Maryland Ave SW, Washington, D.C.
Attire: Black Tie or Military Dress
RSVP: October 2, 2020
Click here to learn more or sponsor a table.
---
In addition to the new Royal Blue long sleeve shirts, and the gray long sleeve hooded sweatshirts, the AFIO Store also has the following items ready for quick shipment:
NEW: LONG and Short-Sleeved Shirts with embroidered AFIO Logo and New Mugs with color-glazed permanent logo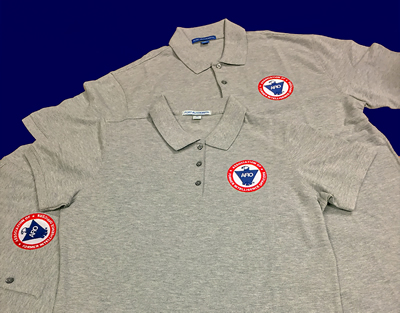 Show your support for AFIO with our new Polo Shirts. Be the first to buy these new, high quality, subtle heathered grey short sleeve shirts, and dark blue long sleeved shirts, of shrink and wrinkle resistant fine cotton with a soft yet substantial feel. They feature a detailed embroidered AFIO seal. Get a shirt for yourself and consider as gifts for colleagues, family, and friends. Only $45 each including shipping.
Sizes of (M) men or (W) women shirts; Small, Medium, Large, XL, XXL, and XXXL. At this time all orders will arrive as Short Sleeve shirts.
You may pay by check or credit card. Complete your order online here or mail an order along with payment to: AFIO, 7600 Leesburg Pike, Ste 470 East, Falls Church, VA 22043-2004. Phone orders at 703-790-0320. If interested in other shirt colors or sleeve lengths, contact Annette at: annettej@afio.com.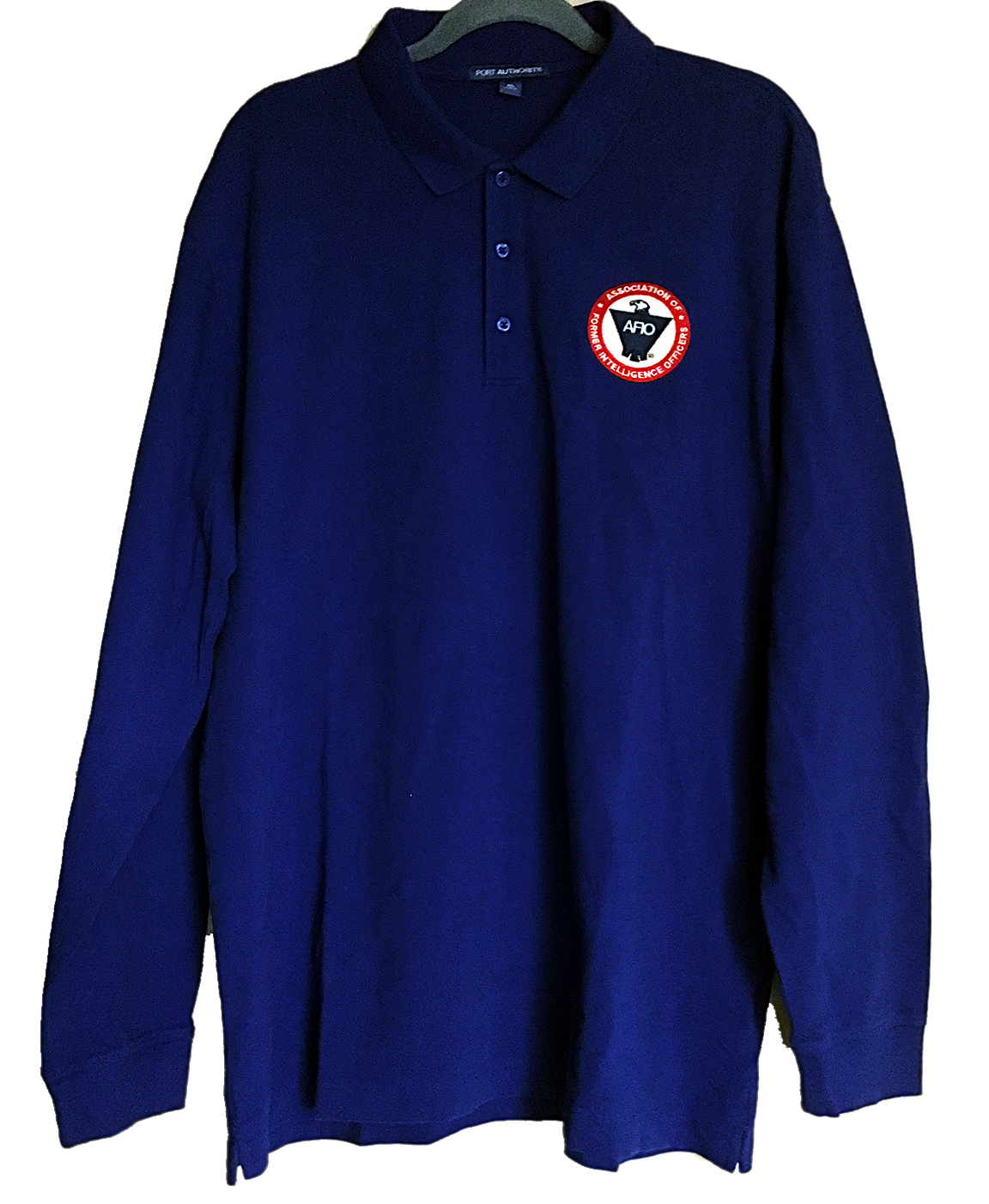 Long-Sleeved Shirts and Hooded Sweatshirts with embroidered AFIO Logo
Show your support for AFIO with our new long-sleeved Polo Shirts and Hooded Sweatshirts.
Both items are high quality and shrink resistant and feature a detailed embroidered AFIO seal. The color of the long-sleeved Polo Shirts is royal blue; the price is $55 and includes shipping.
The Hooded Sweatshirts are dark grey; the price is $70 and includes shipping.
Purchase a shirt and sweatshirt for yourself and consider as gifts for colleagues, family, and friends.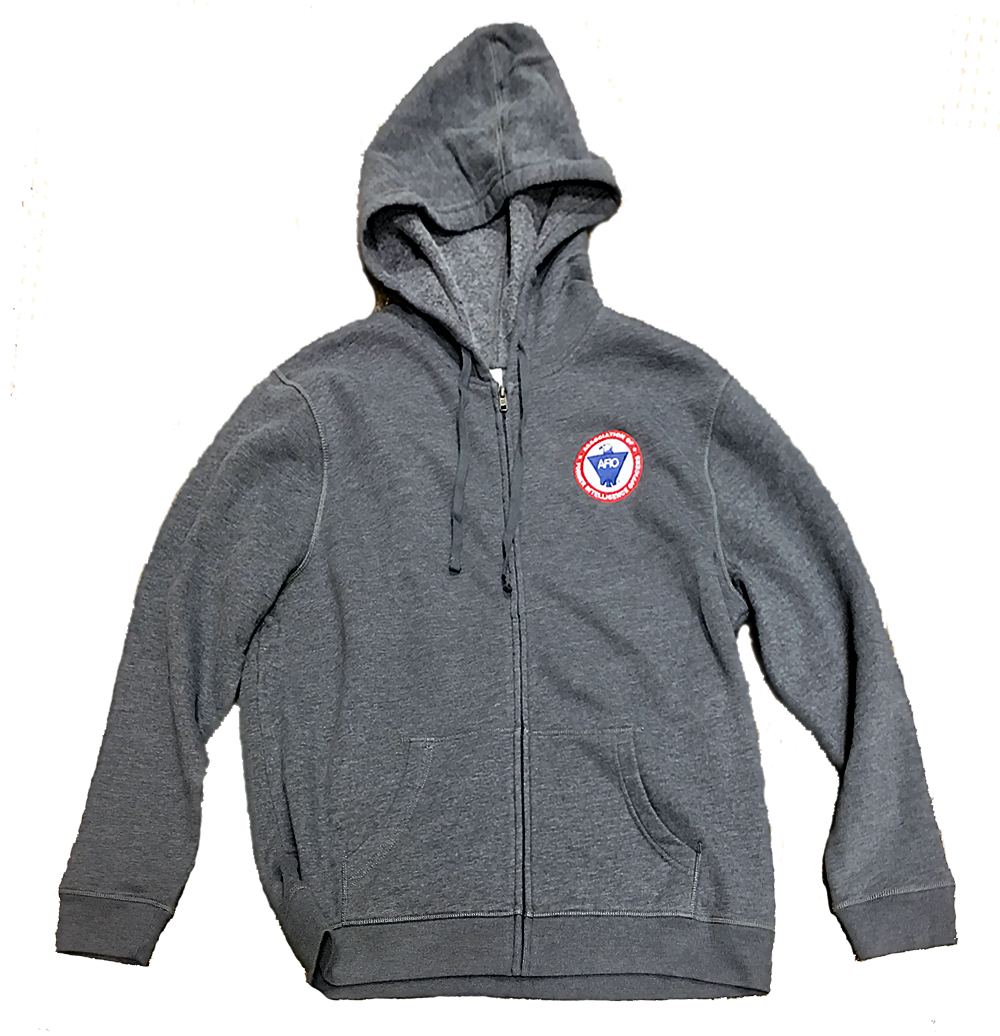 Both items are available in men's sizes: Small, Medium, Large, XL, XXL, and XXXL. The long-sleeved Polo Shirts and Hooded Sweatshirts are not available in ladies' sizes.
---
NEW: Mug with color glazed logo. Made in America. (We left out all that lead-based glaze and hidden toxins in those mugs made in China being sold by other organizations). Also sturdy enough to sit on desk to hold pens, cards, paperclips, and candy.
This handsome large, heavy USA-made ceramic mug is dishwasher-safe with a glazed seal. $35 per mug includes shipping. Order this and other store items online here.
AFIO's Intelligence Community Mousepads are a great looking addition to your desk...or as a gift for others.
Made in USA. Click image for larger view.
These 2017 mousepads have full color seals of all 18 members of the US Intelligence Community on this 8" round, slick surface, nonskid, rubber-backed mouse pad with a darker navy background, brighter, updated seals. Also used, by some, as swanky coasters. Price still only $20.00 for 2 pads [includes shipping to US address. Foreign shipments - we will contact you with quote.] Order MOUSEPADS here.
---
Guide to the Study of Intelligence and When Intelligence Made a Difference
"AFIO's Guide to the Study of Intelligence" has sold out in hard-copy.
However, it is available in digital form in its entirety on the AFIO website here.

Also available on the website here are the individual articles of AFIO's history project "When Intelligence Made a Difference" that have been published to date in The Intelligencer journal. More articles will be forthcoming in future editions.
---
Disclaimers and Removal Instructions
Weekly Intelligence Notes (WINs) are commentaries on Intelligence and related national security matters, based on open media sources, selected, interpreted, edited and produced for non-profit educational uses by members and WIN subscribers.
REMOVAL INSTRUCTIONS: We do not wish to add clutter to inboxes. To discontinue receiving the WINs:
a) IF YOU ARE A MEMBER - click here: UNSUBSCRIBE and supply your full name and email address where you receive the WINs. Click SEND, you will be removed from list. If this link doesn't open a blank email, create one on your own and send to afio@afio.com with the words: REMOVE FROM WINs as the subject, and provide your full name and email address where you are currently receiving them.
b) IF YOU ARE NOT A MEMBER, and you received this message, someone forwarded this newsletter to you [contrary to AFIO policies]. Forward to afio@afio.com the entire WIN or message you received and we will remove the sender from our membership and distribution lists. The problem will be solved for both of us.
CONTENTS of this WIN [HTML version recipients - Click title to jump to story or section, Click Article Title to return to Contents. This feature does not work for Plaintext Edition or for some AOL recipients]. If you wish to change to HTML format, let us know at afio@afio.com. The HTML feature also does not work for those who access their e-mail using web mail...however NON-HTML recipients may view the latest edition each week in HTML at this link: https://www.afio.com/pages/currentwin.htm
---
WINs are protected by copyright laws and intellectual property laws, and may not be reproduced or re-sent without specific permission from the Producer. Opinions expressed in the WINs are solely those of the editor's or author's listed with each article. AFIO Members Support the AFIO Mission - sponsor new members! CHECK THE AFIO WEBSITE at www.afio.com for back issues of the WINs, information about AFIO, conference agenda and registrations materials, and membership applications and much more!
(c) 1998 thru 2020. AFIO, 7600 Leesburg Pike, Suite 470 East, Falls Church, VA 22043-2004. Voice: (703) 790-0320; Fax: (703) 991-1278; Email: afio@afio.com
---
About AFIO | Membership Renewal | Change of Address | Upcoming Events | Chapter Locations | Corporate/Institutional Memberships | Careers in Intelligence Booklet | Guide to the Study of Intelligence | Intelligencer Journal | Weekly Intelligence Notes | To Make A Donation | AFIO Store | Member-Only Section | Code of Ethics | Home Page
---