---
CONTENTS
Section I - INTELLIGENCE HIGHLIGHTS
Section II - CONTEXT & PRECEDENCE
Section IV - Research Requests, Obituaries, Jobs
Other Upcoming Events from Advertisers, Corporate Sponsors, and Others
For Additional AFIO and other Events two+ months or more... Calendar of Events

WIN CREDITS FOR THIS ISSUE: The WIN editors thank the following special contributors: rsy, ec, po, pj, mh, km, gh, mk, rd, fm, kc, jm, mr, jg, th, ed, and fwr. They have contributed one or more stories used in this issue.

The WIN editors attempt to include a wide range of articles and commentary in the Weekly Notes to inform and educate our readers. However, the views expressed in the articles are purely those of the authors, and in no way reflect support or endorsement from the WIN editors or the AFIO officers and staff. We welcome comments from the WIN readers on any and all articles and commentary.

CAVEATS: IMPORTANT: AFIO does not "vet" or endorse research inquiries, career announcements, or job offers. Reasonable-sounding inquiries and career offerings are published as a service to our members, and for researchers, educators, and subscribers. You are urged to exercise your usual caution and good judgment when responding, and should verify the source independently before supplying any resume, career data, or personal information.]
If you are having difficulties with the links or viewing this newsletter when it arrives by email, members may view the latest edition each week at this link.

---

Guide to the Study of Intelligence and When Intelligence Made a Difference

"AFIO's Guide to the Study of Intelligence" has sold out in hard-copy.
However, it is available in digital form in its entirety on the AFIO website here.

Also available on the website here are the individual articles of AFIO's history project "When Intelligence Made a Difference" that have been published to date in The Intelligencer journal. More articles will be forthcoming in future editions.

---

---

AFIO Gift items for colleagues or self.

Long-Sleeved Shirts and Hooded Sweatshirts with embroidered AFIO Logo

Show your support for AFIO with our new long-sleeved Polo Shirts and Hooded Sweatshirts.

Both items are high quality and shrink resistant and feature a detailed embroidered AFIO seal. The color of the long-sleeved Polo Shirts is royal blue; the price is $55 and includes shipping.

The Hooded Sweatshirts are dark grey; price is $70 and includes shipping.

Purchase a shirt and sweatshirt for yourself and consider as gifts for colleagues, family, and friends.

Both items are available in men's sizes: Small, Medium, Large, XL, XXL, and XXXL. The long-sleeved Polo Shirts and Hooded Sweatshirts are not available in ladies' sizes.

You may pay by check or credit card. Complete your order online here or mail an order along with payment to: AFIO, 7600 Leesburg Pike, Ste 470 East, Falls Church, VA 22043-2004. Phone orders at 703-790-0320.

PAGE DOWN TO BOTTOM OF THE NOTES TO SEE MORE AFIO GIFTS. All of these items are appropriate for intelligence officers, colleagues, recruitments, agents, advisors, and family.

---

Also worth visiting are these insightful blogs, podcasts, newsletters, and articles by WTOP's JJ Green

Target USA - The National Security Podcast with JJ Green. Whether its terrorists, anarchists, cyber criminals or nation states, America has a target on its back. WTOP National Security Correspondent J.J. Green investigates the threats facing the U.S., the people behind them, the agencies fighting them and their impact on Americans.

Leaks, Lags and Lies. Journalism has found itself at the crossroads of duty and the lure of celebrity. Celebrity is not a dirty word. It's a necessary element of our society. Those blessed with it often use the attendant power and resources to champion the causes of the disadvantaged.

Inside the SCIF - JJ Green's National Security Newsletter
---
Special Items for our members:
Three articles brought to AFIO's attention by several members as follows:
China Must Be Held Accountable for the Wuhan Coronavirus Ravaging the World
Op-Ed by by Brig. Gen. Robert S. Spalding (USAF-Ret) in American Military News.
Gen. Rob Spalding is a national security policy strategist, specializing in Chinese economic competition and influence. He served in senior positions of strategy and diplomacy within the Defense and State Departments for more than 26 years, retiring as a brigadier general. He was the chief architect for the Trump Administration's National Security Strategy (NSS), and the Senior Director for Strategy to the President at the NSC. Spalding is author of Stealth War: How China Took Over While America's Elite Slept [Portfolio, Oct 2019].
The first global war of the 21st century began in December without a shot fired. A Wuhan doctor in China noticed some patients admitted to the hospital were exhibiting viral pneumonia consistent with SARS. Only it wasn't SARS. When he tried to sound the alarm, he triggered the Chinese Communist Party's (CCP) authoritarian control on information. Discussion of the illness was prohibited, and the doctor – who tried to warn colleagues through social media – was detained. The results of patient samples that had been sequenced to reveal their genomes were quickly squashed, and the samples destroyed before the results could be made public.
The WHO was notified early on, but they were prevented by the CCP to travel to Wuhan. Meanwhile, the CCP denied there was any danger to the public while 175,000 people traveled from Wuhan to all over China and the world. The virus was now set free to follow the new way of war detailed in the pages of Unrestricted Warfare. This book was written by two Peoples Liberation Army Colonels as a strategy to defeat a militarily superior United States.
The new way of war – trade, economic, propaganda and media – has now been unleashed to aid the Chinese Communist Party. To better understand this, forget everything known about how the world works. Instead, think of globalization... His opinion piece continues here.
---
FBI Warned about 'Biosecurity Risk' after Chinese Nationals Snuck Suspicious Vials into US
by Jerry Dunleavy in WashingtonExaminer
An intelligence bulletin from the FBI late last year warned of a growing "biosecurity" threat within the United States after Chinese nationals were caught attempting to sneak potentially dangerous viruses into the country by plane.
The "tactical intelligence report" from the FBI's Weapons of Mass Destruction Directorate assessed in November that "foreign scientific researchers who transport undeclared and undocumented biological materials into the U.S. in personal carry-on and/or checked luggage almost certainly present U.S. biosecurity and biosafety risks," according to the unclassified document obtained by Yahoo News.
Even when these samples were declared, investigators warned, "It is impossible to determine, without testing, the validity of the contents of the samples and if they pose a risk to U.S. human, animal, or plant populations."
The bureau's Chemical and Biological Intelligence Unit pointed to at least three separate instances in 2018 and 2019 where Chinese nationals tried to bring undeclared samples of bacteria and viruses, some of them potentially highly dangerous, into the U.S. All of the failed attempts were stopped by Customs and Border Protection at Detroit Metropolitan Airport. Dunleavy's article continues here.
---
Suspected SARS Virus and Flu Samples Found in Luggage: FBI Report Describes China's 'Biosecurity Risk'
by Sharon Weinberger, Jana Winter and Martin De Bourmont for Yahoo News
In late November 2018, just over a year before the first coronavirus case was identified in Wuhan, China, U.S. Customs and Border Protection agents at Detroit Metro Airport stopped a Chinese biologist with three vials labeled "Antibodies" in his luggage. The biologist told the agents that a colleague in China had asked him to deliver the vials to a researcher at a U.S. institute. After examining the vials, however, customs agents came to an alarming conclusion. "Inspection of the writing on the vials and the stated recipient led inspection personnel to believe the materials contained within the vials may be viable Middle East Respiratory Syndrome (MERS) and Severe Acute Respiratory Syndrome (SARS) materials," says an unclassified FBI tactical intelligence report obtained by Yahoo News. The report, written by the Chemical and Biological Intelligence Unit of the FBI's Weapons of Mass Destruction Directorate (WMDD), does not give the name of the Chinese scientist carrying the suspected SARS and MERS samples... Article continues here.
---
One of the special benefits of membership in AFIO is your authorized access to CIA's inhouse gift shop — the EAA Store. It requires a quick preapproval process described here to all newly joined and current AFIO members. And then allows you to purchase online their unusual logo'd gift items for self or colleagues. Here are a few of the latest: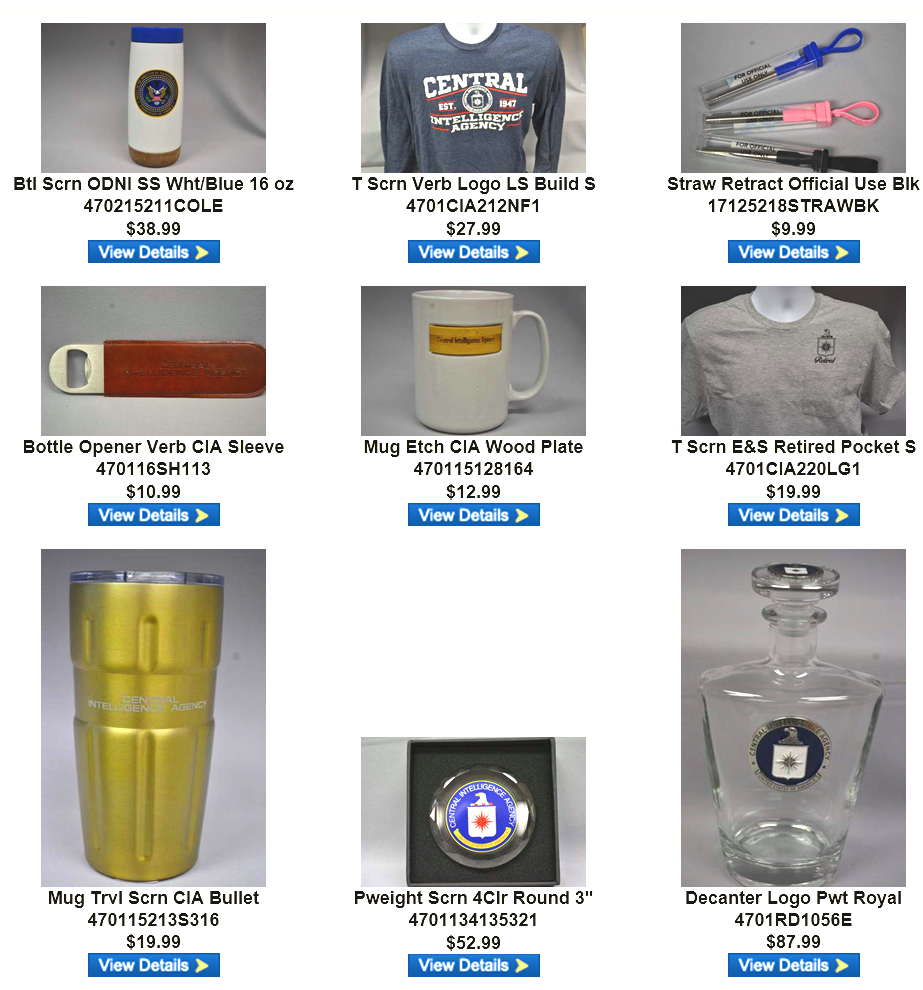 ---
Newly Released and Forthcoming Books of the Week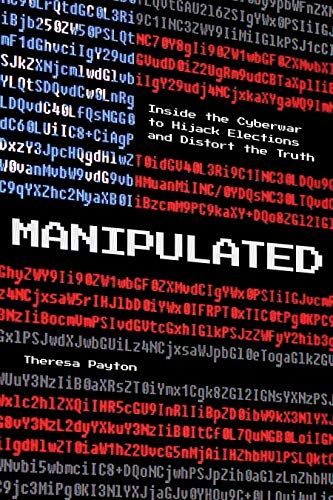 Manipulated: Inside the Cyberwar to Hijack Elections and Distort the Truth
by Theresa Payton
(Rowman & Littlefield Publishers, Apr 2020)
According to Payton, American elections are extremely vulnerable to outside interference, and the American electorate is being subjected to information tampering and cyber hacking — by foreign and domestic actors. She points out how American politicians are failing to address these concerns with individuals on both sides hoping to benefit from the interference. And how that may influence America's future politics. Payton can't be dismissed as a liberal Democratic cynic since her credentials are firmly rooted in the work she did for the George W. Bush administration. Payton clearly knows her stuff, and though her wonkish attention to details sometimes makes for dry reading, she paints a timely, frightening picture. Shows the risks of all forms of voting and underscores the dangers of all the recent promotion of e-voting and absentee voting. Both are open doors to fraud and ballot box stuffing.
Book may be ordered here.
---
Codebreakers (Images of the The National Archives)
by Stephen Twigge
(Casemate, Pen and Sword History, Apr 2020)
Story of British Codebreakers from the reign of Elizabeth I to the Cold War. It explores the use of ciphers during the Napoleonic wars, the role of the Royal Mail's Secret Office and the activities the Admiralty's 'Room 40' leading to the creation of the Government's Code and Cypher School.
The main theme of the book are the events of the Second World War and the battle to break the German enigma codes. The center of Britain's codebreaking operation was located at Bletchley Park in rural Buckinghamshire and it was from here that a hastily assembled army of codebreakers battled to decipher Nazi Germany's secret wartime communications. The deciphered high-level signals intelligence was known as Ultra and had a major influence on the outcome of the war, most notably contributing to crucial successes in the battle for the Atlantic and the D-Day landings in June 1944.
The book also reveals the work undertaken in the Far-East and the allied efforts to break the Japanese military cipher code named Purple. The book ends with a re-assessment of the work undertaken by the British code breaker and mathematician Alan Turing and a brief overview of the codebreaking operations undertaken by GCHQ during the formative period of the Cold War.
Book may be ordered here.
---
Exit from Hegemony: The Unraveling of the American Global Order
by Alexander Cooley and Daniel Nexon
(Oxford University Press, Apr 2020)
We live in a period of great uncertainty about the fate of America's global leadership. Many believe that Donald Trump's presidency marks the end of liberal international order—the very system of global institutions, rules, and values that shaped the American international system since the end of WW II. Trump's rejection of liberal order, criticisms of long-term allies of the US, and affinity for authoritarian leaders certainly undermines the American international system, but the truth is that liberal international order has been quietly eroding for at least 15 years.
Cooley and Nexon identify three distinct ways in which the liberal international order is undergoing fundamental transformation. First, Russia and China have targeted the order, positioning themselves as revisionist powers by establishing alternative regional institutions and pushing counter-norms. Second, weaker states are hollowing out the order by seeking patronage and security partnership from nations outside of the order, such as Saudi Arabia and China. Even though they do not always seek to disrupt American hegemony, these new patron-client relationships lack the same liberal political and economic conditions as those involving the US and its democratic allies. Third, a new series of transnational networks emphasizing illiberalism, nationalism, and right-wing values increasing challenges the anti-authoritarian, progressive transnational networks of the 1990s. These three pathways erode the primacy of the liberal international order from above, laterally, and from below, allowing it to implode — with or without Trump.
Book may be ordered here.
---
Section I - INTELLIGENCE HIGHLIGHTS

NGA To Tap Commercial Data On Military Targets. The National Geospatial-Intelligence Agency (NGA) will announce plans in May to contract with commercial companies to for analyze satellite and other imagery data of military targets, says David Gauthier, head of NGA's new(ish) Commercial and Business Operations Group.

While the first contracts will be small, the move is a big step toward the spy agency's goal of creating a "hybrid" pool of data that combines commercial imagery with low-resolution but high re-revisit rates with traditional high-resolution that is less timely Intelligence Community imagery provided by the National Reconnaissance Office (NRO) and others.

"We do foresee in the future a hybrid architecture, where we definitely require both national systems for their capabilities, and commercial systems for their capabilities," he said. [Read more: Hitchens/BreakingDefense/3April2020]

The Space Force is with them - California Airmen Stand-up the 234th Intelligence Squadron, Operating Location-A to Serve the Newest Service Branch - and They are Looking to Recruit. California Airmen are taking intelligence capability to the highest frontier - space - by standing up a new operating location at Joint Forces Training Base, Los Alamitos, California. With the recent creation of the Space Force, the 234th Intelligence Squadron (IS) at Beale Air Force Base, is setting up shop in Southern California to play an important role in missions already in action.

"The new unit will bring highly-coveted intelligence capability to the senior intelligence officer for the U.S. Space Force," said Senior Master Sgt. Gregory Brooks, 234th Operating Location-A superintendent.

"Space is contested domain so there is a high demand for space intelligence," said Brooks. "And now more than ever with the transition to the Space Force."

The 234th mission is critical to national security. Brooks says they are well on their way to delivering improved capability. [Read more: Lewis/DVIDS/5April2020]

FBI Arrests Russian Rapper For Crypto Money Laundering, Cites Damning Instagram. United States authorities have arrested a Russian national under allegations of money laundering - using his Instagram that promoted his rap career as evidence against him.

Per court filings unsealed on March 30, an FBI investigator alleged that Maksim Boiko laundered money using cryptocurrencies, including via disgraced exchange BTC-e. The authorities also say that Boiko conspired with transnational organized crime organization QQAAZZ.

Seemingly a resident of Los Angeles, Boiko entered the U.S. on January 19 carrying $20,000 in cash. According to the FBI affidavit, Boiko told airport security that his money came from investments in Bitcoin and rental properties in Russia.

Skeptical of this explanation, authorities would go on to arrest Boiko in Miami on March 27. [Read more: Post/Cointelegraph/1April2020]

India Intercepts Suspected Missile Gear. India seized Chinese-manufactured equipment bound for Pakistan in February that officials claimed could be used for Islamabad's ballistic missile program.

India's Defense Research and Development Organization (DRDO) said that an industrial autoclave was found on a ship that left Jiangyin Port, China and was headed to Karachi, Pakistan. The ship was detained in India's Kandla Port on Feb. 3 when the autoclave was confiscated on the basis of an intelligence tip-off, according to Indian officials quoted in the press. The ship was then allowed to continue to Pakistan.

The DRDO said the autoclave seized from the ship was listed as an industrial dryer. Autoclaves are a dual-use technology that can be used in the production of rocket motors for ballistic missiles. India passed a law in 2005 that prohibits the trans-shipment of materials and technologies relevant to developing weapons of mass destruction and their delivery systems. [Read more: ACA/April2020]

Trump Plans to Tap New Orleans Attorney for CIA Watchdog Post. President Donald Trump plans to nominate Peter M. Thomson, an attorney at the New Orleans white-shoe law firm Stone Pigman, to be the next inspector general for the Central Intelligence Agency.

The White House announced the move on Monday. If confirmed by the U.S. Senate, Thomson would head an independent oversight office at the CIA tasked with rooting out corruption, fraud, misconduct or mismanagement at the spy agency.

Thomson, who works primarily in white-collar criminal defense, spent 23 years as a federal prosecutor with the U.S. Department of Justice, according to the White House announcement, including a stint on special assignment with another spy agency, the National Security Agency. He received both his undergraduate and law degrees from Tulane University. [Read more: Stole/NOLA/6April2020]


---
Section II - CONTEXT & PRECEDENCE

Gina Haspel, CIA Director, Named to 2020 Wash100 for Developing New Technologies, Documents to Enhance Security Measures. Executive Mosaic is honored to present Gina Haspel, director of the Central Intelligence Agency, as an inductee into the 2020 Wash100 Award for developing new technologies and policies that enhance safety within the agency as well as national security.

This marks Haspel's second-consecutive Wash100 Award. She secured her previous Wash100 Award in 2019 for her efforts to improve the CIA as an intelligence service and diversifying the agency's workforce.

Haspel was confirmed by the Senate in May 2018 to become the first female director of the agency in history. In her role, she oversees intelligence collection and analysis, covert action, liaison relationships with foreign services and counterintelligence operations. She has used her experience to spearhead operations at the agency throughout 2019 and into 2020.

Most notably, in Jan. 2020, Haspel led the CIA's development of a technology that would disable the U.S.-made anti-air missiles given to foreign allies if needed. [Read more: Sybert/ExecutiveBiz/3April2020]

Secret Footage from WWII Spy Center Bletchley Park Discovered. Incredibly rare World War II footage of British spy staff shot at a site connected to the famous codebreaking facility Bletchley Park has been discovered and published online.

The 11-minute video is thought to be a compilation of footage shot at the Whaddon Hall facility used by communication staff from the UK's Special Intelligence Service (SIS) - also known as MI6 - from 1939 to 1945, according to a press release from the Bletchley Park Trust published Friday.

During the war, Bletchley Park, a mansion in Buckinghamshire, England, was home to the British government's Code and Cypher School, where codebreakers famously cracked Nazi Germany's Enigma cypher.

It is the only wartime film of a site linked to the project and features members of MI6 Section VIII, who were responsible for passing intelligence from Bletchley Park to Allied commanders in the field. [Read more: Guy/CNN/3April2020]

Russia's Giant Nuclear Spy Ship Was a Floating Disaster. In June 1981, the Soviet Union began building a huge, nuclear-powered reconnaissance ship specifically designed to sail thousands of miles to the U.S. missile test site at the remote Kwajalein Atoll in the middle of the Pacific Ocean. There, the vessel would sit for months, hoovering up electronic data in order to determine what America's most secretive weapons could do.

But the spy ship Ural, completed in May 1983, sailed only once - from the Baltic shipyard where she was built to her home port of Vladivostok - and never went anywhere near Kwajalein. Hobbled by faulty hardware, cursed with bad luck and starved of funds for repairs, Ural was slowly dismantled.

The giant spy ship's sad history is a window into the vast, sophisticated and highly secret machinations of Cold War espionage - machinations that sometimes didn't quite work out as planned. And sometimes resulted in weaponry that was more dangerous to its operators than to the enemy. [Read more: Axe/TheNationalInterest/7April2020]

Coming to London: 6 New Blue Plaques to Honor Female Spies and Suffragettes. International Women's Day was a month ago on 8 March, but celebrating amazing women never stops - and the latest scheme to honour some of our most brilliant women is the English Heritage's Blue Plaques for Women 2020 scheme. Suffragettes, spies and groundbreaking sculptors are just some of the pioneers chosen to be commemorated in London.

With only 14 percent of over 950 London blue plaques celebrating women, English Heritage is working to readdress the balance with the six new plaques, being rolled out throughout the year. Anna Eavis, Curatorial Director and Secretary of the English Heritage Blue Plaques Panel, said: "Our efforts to address the gender imbalance within the London Blue Plaques scheme are starting to yield some strong results and we are delighted to be able to announce these six new plaques. It is a long road but we are well on our way to receiving equal number of public nominations for men and women."

Who are the women being recognised by the scheme? Here are the six notable women that the Blue Plaque scheme plan to commemorate this year: [Read more: Challis/Hello/7April2020]


---
Intelligence: The Old Country Problem. Mariam Taha Thompson, a U.S. Army Arabic linguist contractor, was charged with espionage on March 4th. She was detected accessing eight intel documents between December 30, 2019, and February 10, 2020. These documents contained names, personal data and photos of foreign sources of information. The 61 year old linguist did not have a legitimate reason to look at those documents and apparently did not officially have access to those databases either. So the investigation continues to determine how she got access. Thompson was stationed at Erbil, in Kurdish Iraq at the time and the FBI searched her living quarters on an American base and found a document she had hidden containing the personal information on three of the names she had viewed. She had passed this information on to a nephew who worked for the Lebanese Ministry of the Interior. This nephew apparently had connections with Hezbollah. She had begun her data searches the day after U.S. airstrikes on the Iraqi branch of Hezbollah. Iran had ordered Hezbollah to find ways to strike back at the Americans. Thompson, who was born in Lebanon but moved to the U.S. and became a citizen, is being charged with Delivering Defense Information to Aid a Foreign Government and if found guilty could be sentenced to life in prison.

Disloyal linguists and translators are not a new problem for the U.S. Army or the Department of Defense. [Read more: StrategyPage/3April2020]

Coronavirus: How Will it Change National Security and Spying? A senior intelligence officer rushes in to a meeting with the latest report and places it in front of anxious politicians and policymakers.

In the past, it might have contained details about a planned terrorist attack - perhaps a cell in the Middle East looking at a new way of taking down an airline. This would lead to the well-practised national security machine cranking into gear.

But in the future, that report may instead be about an outbreak of a virus in a far-off country which was being concealed by its government.

Since the 9/11 attacks nearly 20 years ago, national security has been dominated by terrorism. But there have been voices over the years who have argued the notion of 'security' should be broadened and the coronavirus crisis has raised a significant question about whether global health security should be a more central part of national security. [Read more: Corera/BBC/2April2020]

The Intelligence Community is Hiring During this Time of Crisis. As we have seen our economy change we have heard of some employers like Amazon, Walmart, InstaCart and others hiring a massive amount of people to fulfill demand. These are all critical jobs during this time but there are some other employers who are hiring whose jobs and need for good people are just as critical. On March 25, 2020 the Intelligence Community held a virtual career fair where ten government agencies were looking for talented and dedicated individuals to work for our country's national and homeland security. These ten agencies are still hiring so let's take a look at each and their hiring needs: [Read more: Dortch/FNN/3April2020]


---
Section IV - Research Requests, Obituaries, Jobs
CALLING ALL WOMEN INTELLIGENCE OFFICERS: Book author seeks interviews with female intelligence officers
Liza Mundy, author of Code Girls: The Untold Story of the American Women Code Breakers of World War II, is working on a book about the history of women at the CIA. She is eager to interview women intelligence professionals, retired and active, to gather their insight into topics including their own careers; the intelligence community's changing climate for women; signal achievements by women and female teams, including, for example, the women of Alec station; and encounters with early pioneers such as Eloise Page and others. The CIA public affairs office is cooperating. The book will be published by Crown, a major commercial publisher. The aim is to highlight women's contributions to intelligence and national security—a female equivalent to Evan Thomas's The Very Best Men. If you would be willing to chat and share your insights, please contact Liza at lizamundy@gmail.com or 703-517-1542 (phone, text or Signal app).
Her book Code Girls was a New York Times best-seller and received glowing reviews in publications including The Washington Post, The New York Times, and Studies in Intelligence, which said that "Code Girls pays tribute to an unsung group of patriotic Americans who, more than seven decades later, are just now receiving their due." It won awards including "Best General Audience Intelligence Book" of 2018 from AFIO, which said that "Code Girls does for women of that era what Hidden Figures did for African American women of the 1960s and Windtalkers did for the native American code communicators of World War II." In addition, she is currently a scholar-in-residence with the history office at NSA, where she is researching the postwar careers of female codebreakers, looking at many of the same issues.
Bill Allard, General Counsel, DIA; CIA Officer/Contractor
William John Allard, 75, former Attorney, CIA; General Counsel, DIA, died 6 April 2020 in Great Falls, VA.
Bill's early life growing up in Syracuse was surrounded by family and his friends who were like family fondly called "The Hell Raisers" of Tipperary Hill. This upbringing made him a proud Irishman and Brooklyn Dodgers fan for life. He attended Christian Brother's Academy and Syracuse University after which he joined the US Army.
Following his time in the Army, Bill moved to Washington, DC and began a storied career in CIA highlighted by many achievements including serving as General Counsel for the Defense Intelligence Agency. After retiring from the federal government, his love of country inspired his continued work as an independent government contractor where he served to today. Colleagues enjoyed Bill's surface "gruffness," knowing deep down was a great friend with wit and a smile.
Outside of work his other passions included being a life-long learner with never enough time to read as much as he had curiosity to learn. Particular topics of interest included history, music, stocks, investing, and deepening his understanding of his Catholic faith. He was president of his investment club. When not reading he could be found gardening, enjoying and preserving nature. He was a longtime AFIO member.
He is survived by his wife of 45 years Noreen and his three daughters.
A memorial service to be coordinated for a later date in 2020 when it is safe for family and friends to gather again.
Honor Blackman, British Actress in Bond Films and Spy TV Series
Honor Blackman, 94, an English actress widely known for many roles, but particularly for AFIO members as Bond girl Pussy Galore in Goldfinger. She died 5 April 2020 in Lewes, East Sussex, UK.
Blackman was also known for playing Cathy Gale in the 1960s TV series The Avengers opposite Patrick Macnee.
She was born in Plaistow, London, UK. She was best known for an early role in the 1964 James Bond movie "Goldfinger" where she was Pussy Galore, who declared herself immune to Agent 007's charms before judo-flipping him.
She joined the spy series "The Avengers" for its second season in 1962, replacing Ian Hendry as the co-star of Patrick Macnee, who played John Steed, an almost painfully cultured British intelligence agent. Her character, Mrs. Cathy Gale, was an anthropologist who enjoyed martial arts and dressing head to toe in leather while saving the world from increasingly bizarre plots and conspiracies.
It was only after Ms. Blackman left the series two years later that the show was exported to the US; American viewers were introduced instead to her successor, Diana Rigg, as Mr. Macnee's newest partner, Emma Peel.
Ms. Blackman gave up "The Avengers" to take the role in "Goldfinger," the third movie in the Bond series. In her late 30s when she made the film, she turned out to be one of the oldest "Bond girls" in the series, although she always objected to that term.
"I consider Bond girls to be those ladies who took one look at Bond and fell on their backs," Ms. Blackman told the website Cambridge News in 2012. Early on in "Goldfinger," Ms. Galore declares to Bond, "I am immune to your charms" and judo-flips him into a haystack. (It turns out not to be a permanent immunity, however.)
She is survived by a daughter, a son, and other family.
[See obituaries at NYTimes or BBC]
Stan Sporkin, General Counsel, CIA
Stanley S. Sporkin, 88, former General Counsel, CIA, died 23 March 2020 of heart failure at a hospice center in Rockville, MD.
A graduate of Penn State University and Yale University School of Law, Sporkin had a 50-plus year career as director of enforcement for the Securities and Exchange Commission, general counsel of the CIA, and as a federal judge appointed by Ronald Reagan.
After graduating from Pennsylvania State University in 1953, Judge Sporkin became a certified public accountant and then received a law degree from Yale University in 1957. He moved to Washington in 1961 to join the SEC after briefly working in private practice.
"I always found clients were interested in getting as close to the edge of the law, one leg dangling over the line," he told The Post in 1977. "If you didn't do it, they'd say there was always a guy down the street who had done it for a friend. There seemed to be something wrong with that kind of atmosphere, to lend your God-given talents to that."
Judge Sporkin also played a small but significant role in the Watergate scandal in the 1970s, after he had advised SEC Chairman William J. Casey to ignore a request to delay an investigation of financier Robert L. Vesco. Vesco, who became a fugitive in Cuba, had secretly given $200,000 — paid in $100 bills delivered in a suitcase — to the reelection campaign of President Richard M. Nixon.
Two former members of Nixon's Cabinet, Attorney General John N. Mitchell and Commerce Secretary Maurice Stans, went on trial in 1974 on charges of conspiracy and obstruction of justice. (Both were acquitted.)
During the trial, Judge Sporkin testified that Casey was not part of the scheme to hide Vesco's money. He said he told Casey, "Someday you are going to be thankful for relying on my judgment in this matter."
Casey emerged from Watergate unscathed and went on to become director of the Central Intelligence Agency. In 1981, he named Judge Sporkin the agency's general counsel.
At the CIA, Judge Sporkin issued a legal opinion justifying the Reagan administration's secret sale of arms to Iran in the mid-1980s. He was grilled by Congress in 1987 over his statement that the president could authorize "a certain activity in a foreign country" without telling Congress if he deemed it "necessary in the interest of national security."
Judge Sporkin's nomination to a federal judgeship by Reagan was held up for months by senators who opposed his activism at the SEC before he was confirmed in December 1985.
After retiring from the bench in 2000, Judge Sporkin had a private law practice that included acting as an "ombudsman" and public sounding board for the petroleum producer BP. He was a resident of Chevy Chase, MD.
When he retired from the bench in 2000, he entered private practice, and became ombudsman for BP to hear worker complaints from Alaska and elsewhere. He worked as an attorney until his death. At the SEC, he helped create the Foreign Corrupt Practices Act of 1977, persuading more than 600 companies to make voluntary disclosures of questionable foreign payments. In 1978 he won the Rockefeller Public Service Award for administering justice and reducing crime. The following year he won the Presidents Award for Distinguished Federal Civilian Service.
Sporkin is survived by his wife of 64 years, Judith Imber, a sister, a daughter, two sons, and other family. Burial will be private. A memorial service will be held at a later time
On the final day that Judge Sporkin served on the U.S. District Court, about a dozen other judges sat in the gallery to watch. When the final case had been heard, one of those judges, Norma Holloway Johnson, rose and said to Judge Sporkin, "You have brought to this bench a resolute sense of independence, dignity, courage, compassion and common sense in the pursuit of justice. . . . To say the least, you have always called things as you see them."
---
IT Acquisitions Subject Matter Expert for Intelligence Community Client; Other Openings in Reston and Bolling AFB
E3/Sentinel has a funded opening for an IT Acquisitions Subject Matter Expert with specific experience in IT architecture requirements to support an IC customer. Candidate will assist in developing innovative business strategies and procurement policy/processes. Only candidates with TS/SCI clearances will be considered. Contact Rosanna Minchew rminchew@e3sentinel.com for more details.
E3/Sentinel has multiple openings for Contracts Specialists, Acquisition Analysts, Cost/Pricing Analysts and Contracts Closeout Specialists. Positions in Reston and at Bolling AFB. TS/SCI required to be considered for interview. Polygraph preferred. Contact Rosanna Minchew rminchew@e3sentinel.com for more details.
Adjunct instructors at the University of Texas at El Paso (US)
The National Security Studies Institute at the University of Texas at El Paso (UTEP) (see their website here) is seeking adjunct instructors to teach online graduate-level courses:
Legal Issues in Intelligence and National Security
Propaganda and Influence Operations
Intelligence and Counterterrorism
Political Economy of Terrorism
Risk Analysis
Emergency Management
Public Health and Homeland Security
A PhD in public policy, security studies, political science, or a related field is required.
Interested and eligible applicants should contact Stephen Coulthart (sjcoulthart@utep.edu).
Two Positions at James Madison University for Assistant or Associate Professor - Intelligence Analysis
James Madison University (JMU) located in Harrisonburg, VA, seeks applicants for two faculty positions in its Bachelor's Degree Program in Intelligence Analysis (IA). The appointments will be at the Assistant or Associate Professor level and will reside within the larger School of Integrated Sciences. The IA program offers a multidisciplinary undergraduate degree with an emphasis on methodology and technology to prepare students to become analysts, with a specialization in intelligence analysis. Its graduates have been successful in securing positions as analysts in both the public and private sectors, to include the Intelligence Community, military and law enforcement organizations, defense contractors, and major consulting firms. The program emphasizes methodology and synthesizes critical and creative thinking methods with technological tools for data collection, visualization, and analysis with situational knowledge of a problem's political, economic, social, and technological context with strong communicative and professional skills to support decision-making.
Ideal candidates will be comfortable in an interdisciplinary, diverse setting and possess the potential for becoming an excellent teacher to future analysts in one or more intelligence domains including national security, military, homeland security, law enforcement, private sector security, cyber security, and geospatial. They optimally have a background in either mixed-methods, qualitative, or quantitative research and analysis methods. We especially encourage applications from candidates that can leverage the use of systems thinking, employ data science in analysis, support the development of writing skills, or teach ethics specifically for future analysts. The typical teaching load in the school is 3 courses per semester.
We welcome applicants from all academic disciplines—to include the humanities, social sciences, and sciences—that provide a knowledge foundation for doing analysis. Prospective candidates should review our curriculum online to identify areas that match their expertise and to locate potential areas that they could help the program to develop. The program values teaching excellence as well as one-on-one professional mentoring and seeks candidates who can demonstrate potential for both. In addition, the position requires the potential for an active program of scholarly activity. The position requires either a Ph.D. in a relevant academic field by the date of hire (for a tenure-track appointment) OR Master's Degree with substantial experience in the field (for appointment on a Renewable Term Contract).
More information or applications may be found here.
Do not let Social Distancing slow your career. New Positions Available with Thomson Reuters
Job Title:

Company:

Experience:

1 to 2 years

Employment Type:

Full Time

Job Location:

Washington, DC

Federal Client Manager The role of the Federal Client Manager is to increase and retain Westlaw, CLEAR and public records revenue, along with integrated workflow software solutions in the Federal market while strengthening customer relationships. Attain assigned revenue attainment goals Achieve assigned sales goals Develop...

Job Title:

Company:

Experience:

2 to 20 years

Employment Type:

Full Time

Job Location:

Media, PA; Philadelphia, PA; Washington, DC

As a Technical Client Manager with Thomson Reuters Legal, you are active in the pre and post sales work at assigned law firms providing technical troubleshooting as required and consulting on Legal products that touch the firm's IT infrastructure and processes. The Technical Client Manager works in an assigned territory add...

Job Title:

Company:

Experience:

2 to 20 years

Employment Type:

Full Time

Job Location:

McLean, VA; Rochester, NY

You will be part of the specialized TRSS development team and will design implement and deliver software solutions and data science efforts, as well as enhance and support existing applications. You will engage the TRSS analytical staff to gather requirements, generate ideas, and develop documentation. You will demo new sof...

Job Title:

Company:

Experience:

5 to 20 years

Employment Type:

Full Time

Job Location:

Washington, DC

Account Executive, Federal Job Description Position Objective/ Mission This role exists to sell online legal and investigative research, integrated workflow solutions in the federal government market. Outcomes Consistently achieve monthly, quarterly, and full year new sales quotas with a mix across the sales bag. Maintain a...

Job Title:

Company:

Experience:

4 to 20 years

Employment Type:

Full Time

Job Location:

Eagan, MN; New York, NY; Washington, DC

Working as part of a global (UK/US) team, to co ordinate and compile existing Practical Law content and present it in a new version of Practical Law for use by compliance professionals. To research and write new Practical Law content for online publication specifically targeting this user base. The role will also involve ma...

Job Title:

Company:

Experience:

2 to 20 years

Employment Type:

Full Time

Job Location:

McLean, VA

Thomson Reuters Special Services, LLC delivers a comprehensive suite of solutions designed to help customers achieve mission objectives, address uncertainty, and identify and manage risk. We leverage Thomson Reuters' market leading solutions to help our clients perform intelligence collection and analysis of a range of secu...

Job Title:

Company:

Experience:

10 to 20 years

Employment Type:

Full Time

Job Location:

Washington, DC

Reuters, the news and media division of Thomson Reuters, is the world's largest international multimedia news provider reaching more than one billion people every day. Reuters provides trusted business, financial, national, and international news to professionals via Thomson Reuters desktops, the world's media organizat...

Job Title:

Company:

Experience:

3 to 20 years

Employment Type:

Full Time

Job Location:

McLean, VA

TRSS is a small, dynamic, technology heavy, security focused environment where members of the IT team contribute in a variety of areas. All team members perform helpdesk support for onsite and remote employees, help maintain various network systems, and contribute to the implementation of new systems. After hours support an...

Job Title:

Company:

Experience:

5 to 20 years

Employment Type:

Full Time

Job Location:

Washington, DC

White House Correspondent Reuters is looking for an experienced and talented reporter to join our team for a new role covering the Trump administration. The successful candidate will break news on the Trump presidency, its policies and dramas and help Reuters set the agenda beyond the daily headlines. She or he will tell th...

Job Title:

Company:

Experience:

2 to 20 years

Employment Type:

Full Time

Job Location:

Washington, DC

. Produce, edit, write and deliver agency video stories from both office and field Coordinate daily and planned news coverage and work closely with the NY and DC teams . Work closely with multimedia and video packaging teams to produce comprehensive reporting Respond quickly to major breaking news events, in a responsible m...

Job Title:

Company:

Experience:

5 to 20 years

Employment Type:

Full Time

Job Location:

Washington, DC

Reuters is looking for an ambitious Agriculture, Energy and Climate Policy Reporter to join its Commodities & Energy Policy team in Washington, DC. The reporter will be expected to cultivate an excellent source network across both government and industry to break news on U.S. biofuels policy, farm subsidies, trade issues, p...

Job Title:

Company:

Experience:

3 to 20 years

Employment Type:

Full Time

Job Location:

McLean, VA; Philadelphia, PA

Support field sales representatives in identifying and closing CLEAR sales opportunities Conduct demonstrations of the CLEAR product line both in person and via WebEx Prospect and identify new opportunities for CLEAR products with government customers Provide expertise to the field regarding CLEAR data sources and product c...

Job Title:

Company:

Experience:

2 to 20 years

Employment Type:

Full Time

Job Location:

Boston, MA; New York, NY; Washington, DC

You will manage a team of Account Executives and Client Managers selling, retaining, renewing and expanding our Productivity suite of Legal Software Solutions into Law Firms within the Global Large Law (GLLF) sub segment. You will be required to work collaboratively across the GLLF sales team and with key stakeholders withi...

Job Title:

Company:

Experience:

3 to 20 years

Employment Type:

Full Time

Job Location:

McLean, VA

TRSS is a small, dynamic, technology heavy, and security focused environment where members of the IT team contribute in a variety of areas. All team members perform helpdesk support for onsite and remote employees, help maintain various network systems, and contribute to the implementation of new systems. After hours suppor...

Job Title:

Company:

Experience:

3 to 20 years

Employment Type:

Full Time

Job Location:

McLean, VA

Work directly with internal resources as well as customer technology staff to support custom TRSS solutions Provide technical sales and solution architecture support for TRSS program opportunities Provide input to TRSS business, technology and product development leadership teams using technical expertise and knowledge of c...

Job Title:

Company:

Experience:

5 to 20 years

Employment Type:

Full Time

Job Location:

Atlanta, GA; Miami, FL; Washington, DC; Charlotte, NC

Thomson Reuters is seeking a motivated enterprise technology Sales Executive who is passionate about a career in sales. This is a hunter position where the selected candidate will be focused on new business development and will be responsible for representing our products and solutions to potential clients. While working in...

Job Title:

Company:

Experience:

7 to 20 years

Employment Type:

Full Time

Job Location:

New York, NY; San Francisco, CA; Washington, DC; Los Angeles, CA

Help run, write and sub edit a global file covering human trafficking and modern day slavery as well as other human rights issues Initiate and oversee unique storytelling using various multimedia tools Sub edit other stories from our team of 50 staff and more than 200 freelance journalists Help promote the Thomson Reuters F...

Job Title:

Company:

Experience:

2 to 20 years

Employment Type:

Full Time

Job Location:

McLean, VA

You will be part of the specialized TRSS development team and will design implement and deliver software solutions and data science efforts, as well as enhance and support existing applications. You will engage the TRSS analytical staff to gather requirements, generate ideas, and develop documentation. You will demo new sof...

Job Title:

Company:

Experience:

7 to 20 years

Employment Type:

Full Time

Job Location:

Washington, DC

Provide professional and consulting services to customer engagements (programs/projects) and associated team(s) to ensure provision of the best implementation and support for our Court Management Solutions productized offerings in a profitable manner. The Engagement Manager works in a matrix manner leveraging resources acro...

Job Title:

Company:

Experience:

4 to 20 years

Employment Type:

Full Time

Job Location:

Philadelphia, PA; Washington, DC

The objective of the Associate Account Executive (AAE) program is to provide a pool of qualified candidates who are ready and able to fill open Account Executive positions within the channel. The AAE position is part of a formal field sales training program designed to provide training and experience to position the AAE to...

Job Title:

Company:

Experience:

2 to 20 years

Employment Type:

Full Time

Job Location:

Boston, MA; Chicago, IL; New York, NY; Washington, DC

Manage revenue growth of client accounts and be responsible for account renewal, expansion and up sell Build strategic and trusted relationships with key stakeholders and contacts at all levels across their business to ensure no single point of failure Represent your clients internally and ensure effective hand off of clien...

Job Title:

Company:

Experience:

2 to 20 years

Employment Type:

Full Time

Job Location:

McLean, VA

Work closely with a team of data scientists to create, design, and build a proof of concept related to the field of national and global security Write well designed, well constructed, and well tested code Perform statistical analyses or create machine learning models Present your progress at the end of the engagement Basic...

Job Title:

Company:

Experience:

2 to 20 years

Employment Type:

Full Time

Job Location:

Media, PA; Washington, DC

Attains assigned revenue account goals Establishes solid, long term customer relationships and cultivates new business opportunities by diagnosing needs, presenting solutions and addressing customer concerns Provides high quality client management and customer support services to assigned accounts Presents and implements le...
________________________________________

Many other jobs available with Thomson-Reuter. Email Brian Lemley for a list with descriptions and links.

FireEye Has Many Intelligence Positions Available For You - Worldwide - Contract, Full-time, Part-time, Interns

Explore the many career and contractor intelligence jobs available here. Jobs openings in Cyber Security include - Advisory, Architecture, Digital Forensics & Incident Response, Penetration Testing, Threat Research. They positions are needed here: New York, Chicago, Manila, Reston, Dallas, Atlanta, Suitland, Singapore, Denver, Las Vegas, Phoenix, Doha, Stockholm, London, Milpitas, multiple cities in Australia, Washington, Indianapolis, Tampa, Santiago, Alexandria, Seattle, Carlsbad, Houston, San Francisco, Arlington, Dubai, Amsterdam, Ft Belvoir, Minneapolis, Mexico City, San Diego, Boston, El Segundo, Philadelphia, San Antonio, Chiyoda, Ft Huachuca, Ft Gordon, Ft Meade, Ft Shafter, Kuwait City, Seoul, Sttutgart, Salt Lake City, Austin, Dublin, Bangalore, Cork, Colorado Springs... Explore the many career and contractor intelligence jobs available here.
---
AFIO EDUCATIONAL EVENTS IN COMING TWO MONTHS....

CANCELLED for Public Safety from Coronavirus - Saturday, 9 May 2020 -- Indialantic, FL - Florida Satellite Chapter hears Col Prince on the Qu'ran

The speaker will be AFIO Florida Satellite Chapter member Col. Bill Prince, USA (ret.) After graduating from West Point, Bill served in Vietnam with both Ranger and Special Forces units. He resigned his regular army commission to accept a position as a CIA case officer, with subsequent experiences in numerous hostile environments. He has a graduate degree from Harvard, where his studies focused on the Middle East. The topic of his address will be the Qur'an, a subject he has studied extensively.

Please note that attendance at Florida Satellite Chapter meetings is always well within current CDC guidelines against gatherings of fifty or more.

Timing: 11:30 AM - 12:15 PM: Social Hour, greet old, new members and guests. Cash bar. 12:15 PM: Sit Down lunch

TO ATTEND: Prepaid reservations are required which must be received by 2 May 2020.

Florida Satellite Chapter meets at the Doubletree Melbourne Beach Oceanfront, 1665 N. Highway A1A, Indialantic, FL 32903.
For more information, or to register for the luncheon meeting, contact Chapter Treasurer Rhonda Rhoads, P.O Box 410158, Melbourne, FL 32941. Rhonda can also be reached at afiofsctreas@gmail.com and at 321-626-4465. CANCELLED for Public Safety from Coronavirus.

RESCHEDULED from Spring: Friday, 23 October 2020, 10:30 a.m. - 2 p.m. - Tysons, VA - AFIO National Fall Luncheon features Washington Post columnist David Ignatius, and Author, former Post reporter Stephen Vogel

HOLD THE DATE: The morning speaker will be David Ignatius, author of the upcoming intelligence novel, The Paladin: A Spy Novel [WW Norton, May 2020]. Ignatius is a Washington Post columnist and has been covering the Middle East and CIA for nearly three decades.
Of Ignatius' forthcoming novel, reviewers wrote: "For me nothing is more intriguing than life inside our intelligence agencies. David Ignatius uses his decades' worth of reporting experience to take us there in this fast-moving, jaw-dropping drama that reads like it was ripped from the headlines. I recommend you grab a copy and hold on tight for the entire thrilling ride." — Brian Kilmeade, Fox News.
"David Ignatius once again takes readers behind the scenes of America's most secretive bureaucracy, revealing in fiction what could never be declassified in fact. The Paladin is yet another stirring read from one of America's most revered reporters and gifted storytellers." — Joe Scarborough, MSNBC
The afternoon program features Stephen Vogel, author of Betrayal in Berlin: The True Story of the Cold War's Most Audacious Espionage Operation [Custom House, Sept 2019]. Vogel is a former Washington Post reporter who covered the federal government. He was based overseas from 1989 through 1994 where he covered the fall of the Berlin Wall and the first Gulf War, and subsequently reported on military operations in Somalia, Rwanda, the Balkans, Afghanistan and Iraq.
Of Betrayal in Berlin, Former CIA Officer Sandy Grimes wrote: "The best spy book I have ever read...Steve Vogel is a talented and gifted writer who brings the personalities and idiosyncrasies of every participant in this operation to life. His research is vast, varied, and full of detail. It is truly one of those rare books you can't put down."
Registration will open in late September.

Venue: DoubleTree by Hilton, 1960 Chain Bridge Rd, Tysons Corner, VA 22182 Phone: (703) 893-2100. Directions at this link.
---
Other Upcoming Events from Advertisers, Corporate Sponsors, and Others
CANCELLED for Public Safety from Coronavirus - 26-29 April 2020 - Tampa, FL - USGIF GEOINT 2020 Symposium
US Geospatial-Intelligence Foundation's GEOINT 2020 Symposium has the theme, "New Decade, New Challenges, New Strategies."
Learn more. Network with more than 4,000 GEOINT Community professionals from 40+ countries spanning defense, intelligence, homeland security, industry, and academia. See the latest in technology, services, and solutions from 200+ exhibitors in more than 100,000 sq ft of exhibit space. Learn from 50+ hours of professional development, training, and education sessions with PDUs and CEUs.
All official GEOINT 2020 hotels are conveniently located within walking distance of the Tampa Convention Center, and are only available through the GEOINT Symposium website and our registration partner SPARGO.
Do not delay reserving your hotel room, booking your flight, or registering for the nation's premier geospatial intelligence event of the year, which returns to Tampa from Sunday, April 26, to Wednesday, April 29.
View program, speakers, and registration requirements here.
17 June 2020, 10 a.m. to 1 p.m. - Annapolis Junction, MD - The NCMF Summer Cryptologic Program features Seth Jones on "Covert Action."
(Date is subject to change depending upon COVID-19 related restrictions.)

This National Cryptologic Museum Foundation 2020 Summer program features Political Scientist & Author Seth Jones. Jones is a senior advisor at the Center for Strategic and International Studies (CSIS) in Washington, DC. His most recent book, A Covert Action: Reagan, the CIA, and the Cold War Struggle in Poland, details the dramatic untold story of one of the CIA's most successful intelligence operations during the Cold War, which has important implications for today's threat from Russia. Learn more about Jones's books.
Registration is not yet open, but the fee will be $25 and will include lunch. For your convenience, we will offer easy online registration. You may also mail-in your registration fee using the Flyer/Registration form (coming soon). Or mail checks to NCMF, P.O. Box 1682, Fort George G. Meade, Maryland 20755-9998, and include the names of all registrants. For more details, please call the NCMF office at 301-688-5436.

Visit the NCMF Event Page for updates. (Date is subject to change depending upon COVID-19 related restrictions.)
CANCELLED for Public Safety from Coronavirus - 25 - 27 June 2020 - Pordenone, Italy - IAFIE 2020 Annual Conference - Intelligence Education, Research and Practice in the 2020s
The 2020 Annual Conference of the International Association for Intelligence Education (IAFIE) will be held in Pordenone, Italy from June 25 to 27. This year IAFIE and IAFIE EC are joining hands in organising a joint annual conference examining the intelligence requirements for the next decade 2020- 2030, with its changing threat environment and fast developing technological advancements. The conference papers will reach out to other cognate disciplines for a multidisciplinary approach and brings scholars and practitioners together for a blend of research and applied discussions on intelligence. This will be the 5th Annual Conference of IAFIE EC. The topics/themes for the conference are Intelligence Analysis, Intelligence Domains, Management of Intelligence Community, and Intelligence Education and Research. Authors of recent books, monographs and reports in line with these topics/themes are also invited to submit proposals to participate in Author Roundtables. Please email your general enquiries to iafie2020@ecoleuniversitaireinternationale.net. More information here. CANCELLED for Public Safety from Coronavirus
NEW DATE - Saturday, 24 October 2020, 5:30 p.m. - Washington, DC - Save the Date! PenFed Foundation's 2020 Night of Heroes Gala
PUT ON CALENDAR AND HOLD THE DATE: The Pentagon Federal (PenFed Credit Union) Foundation will be hosting their spectacular Night of Heroes Gala on Saturday, 24 October 2020 at the Mandarin Oriental in Washington, D.C. Last year's annual gala raised over $1.5 million and honored children of military families.
VIP Reception at 5:30 PM
General Reception and Silent Auction at 6:00 PM
Location: The Mandarin Oriental, 1330 Maryland Ave SW, Washington, D.C.
Attire: Black Tie or Military Dress
RSVP: October 2, 2020
Click here to learn more or sponsor a table.
---
In addition to the new Royal Blue long sleeve shirts, and the gray long sleeve hooded sweatshirts, the AFIO Store also has the following items ready for quick shipment:
NEW: LONG and Short-Sleeved Shirts with embroidered AFIO Logo and New Mugs with color-glazed permanent logo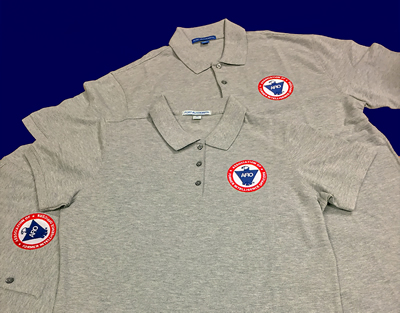 Show your support for AFIO with our new Polo Shirts. Be the first to buy these new, high quality, subtle heathered grey short sleeve shirts, and dark blue long sleeved shirts, of shrink and wrinkle resistant fine cotton with a soft yet substantial feel. They feature a detailed embroidered AFIO seal. Get a shirt for yourself and consider as gifts for colleagues, family, and friends. Only $45 each including shipping.
Sizes of (M) men or (W) women shirts; Small, Medium, Large, XL, XXL, and XXXL. At this time all orders will arrive as Short Sleeve shirts.
You may pay by check or credit card. Complete your order online here or mail an order along with payment to: AFIO, 7600 Leesburg Pike, Ste 470 East, Falls Church, VA 22043-2004. Phone orders at 703-790-0320. If interested in other shirt colors or sleeve lengths, contact Annette at: annettej@afio.com.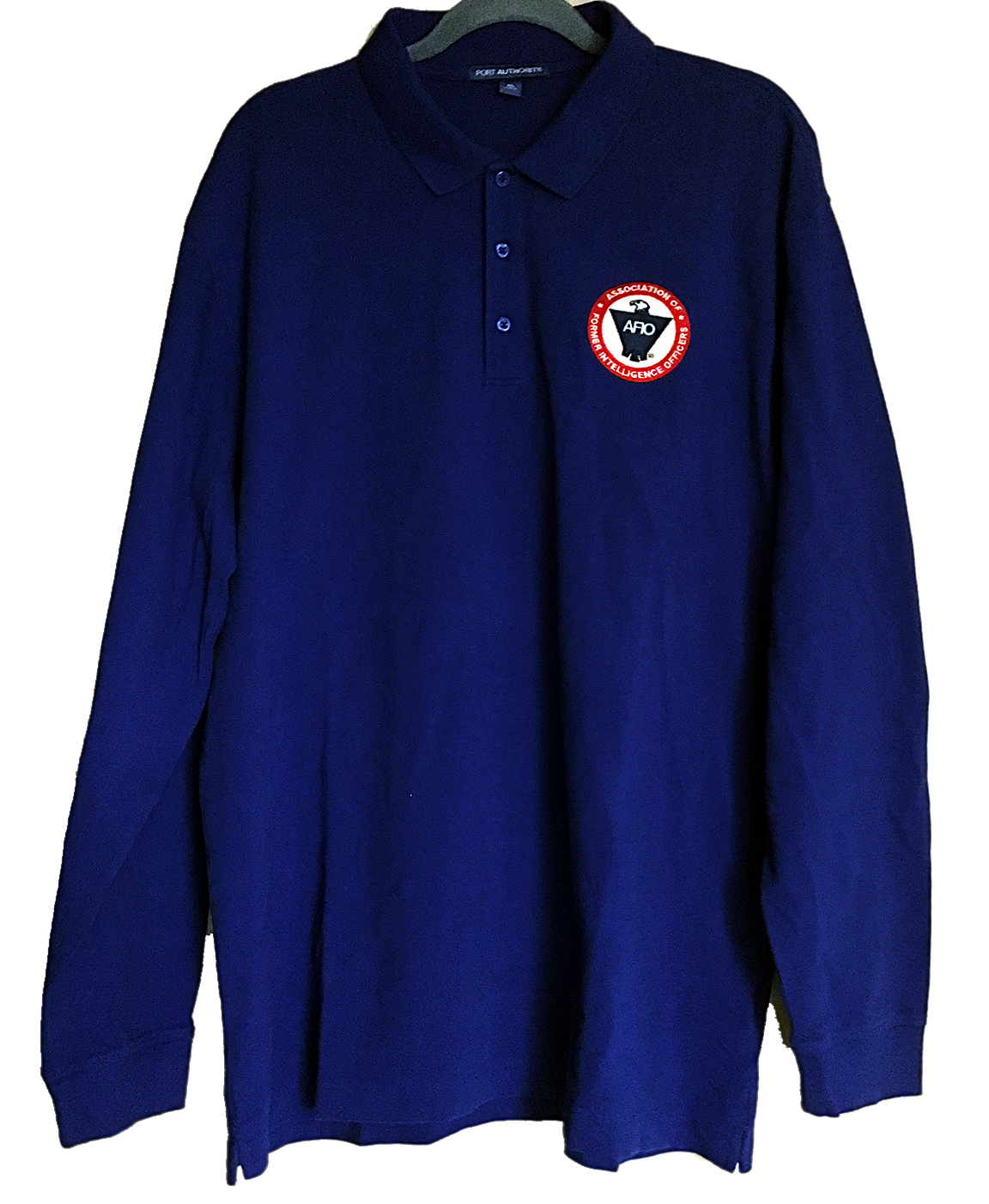 Long-Sleeved Shirts and Hooded Sweatshirts with embroidered AFIO Logo
Show your support for AFIO with our new long-sleeved Polo Shirts and Hooded Sweatshirts.
Both items are high quality and shrink resistant and feature a detailed embroidered AFIO seal. The color of the long-sleeved Polo Shirts is royal blue; the price is $55 and includes shipping.
The Hooded Sweatshirts are dark grey; the price is $70 and includes shipping.
Purchase a shirt and sweatshirt for yourself and consider as gifts for colleagues, family, and friends.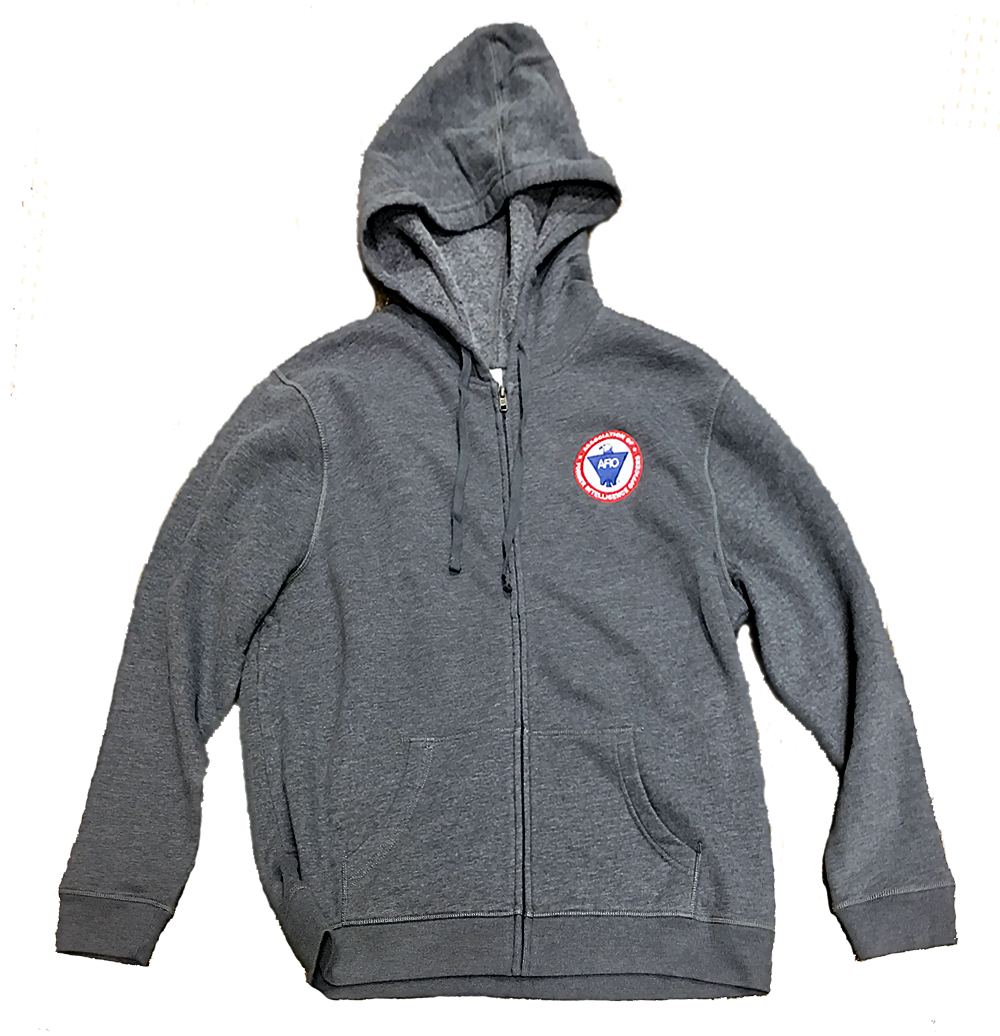 Both items are available in men's sizes: Small, Medium, Large, XL, XXL, and XXXL. The long-sleeved Polo Shirts and Hooded Sweatshirts are not available in ladies' sizes.
---
NEW: Mug with color glazed logo. Made in America. (We left out all that lead-based glaze and hidden toxins in those mugs made in China being sold by other organizations). Also sturdy enough to sit on desk to hold pens, cards, paperclips, and candy.
This handsome large, heavy USA-made ceramic mug is dishwasher-safe with a glazed seal. $35 per mug includes shipping. Order this and other store items online here.
AFIO's Intelligence Community Mousepads are a great looking addition to your desk...or as a gift for others.
Made in USA. Click image for larger view.
These 2017 mousepads have full color seals of all 18 members of the US Intelligence Community on this 8" round, slick surface, nonskid, rubber-backed mouse pad with a darker navy background, brighter, updated seals. Also used, by some, as swanky coasters. Price still only $20.00 for 2 pads [includes shipping to US address. Foreign shipments - we will contact you with quote.] Order MOUSEPADS here.
---
Guide to the Study of Intelligence and When Intelligence Made a Difference
"AFIO's Guide to the Study of Intelligence" has sold out in hard-copy.
However, it is available in digital form in its entirety on the AFIO website here.

Also available on the website here are the individual articles of AFIO's history project "When Intelligence Made a Difference" that have been published to date in The Intelligencer journal. More articles will be forthcoming in future editions.
---
Disclaimers and Removal Instructions
Weekly Intelligence Notes (WINs) are commentaries on Intelligence and related national security matters, based on open media sources, selected, interpreted, edited and produced for non-profit educational uses by members and WIN subscribers.
REMOVAL INSTRUCTIONS: We do not wish to add clutter to inboxes. To discontinue receiving the WINs:
a) IF YOU ARE A MEMBER - click here: UNSUBSCRIBE and supply your full name and email address where you receive the WINs. Click SEND, you will be removed from list. If this link doesn't open a blank email, create one on your own and send to afio@afio.com with the words: REMOVE FROM WINs as the subject, and provide your full name and email address where you are currently receiving them.
b) IF YOU ARE NOT A MEMBER, and you received this message, someone forwarded this newsletter to you [contrary to AFIO policies]. Forward to afio@afio.com the entire WIN or message you received and we will remove the sender from our membership and distribution lists. The problem will be solved for both of us.
CONTENTS of this WIN [HTML version recipients - Click title to jump to story or section, Click Article Title to return to Contents. This feature does not work for Plaintext Edition or for some AOL recipients]. If you wish to change to HTML format, let us know at afio@afio.com. The HTML feature also does not work for those who access their e-mail using web mail...however NON-HTML recipients may view the latest edition each week in HTML at this link: https://www.afio.com/pages/currentwin.htm
---
WINs are protected by copyright laws and intellectual property laws, and may not be reproduced or re-sent without specific permission from the Producer. Opinions expressed in the WINs are solely those of the editor's or author's listed with each article. AFIO Members Support the AFIO Mission - sponsor new members! CHECK THE AFIO WEBSITE at www.afio.com for back issues of the WINs, information about AFIO, conference agenda and registrations materials, and membership applications and much more!
(c) 1998 thru 2020. AFIO, 7600 Leesburg Pike, Suite 470 East, Falls Church, VA 22043-2004. Voice: (703) 790-0320; Fax: (703) 991-1278; Email: afio@afio.com
---
About AFIO | Membership Renewal | Change of Address | Upcoming Events | Chapter Locations | Corporate/Institutional Memberships | Careers in Intelligence Booklet | Guide to the Study of Intelligence | Intelligencer Journal | Weekly Intelligence Notes | To Make A Donation | AFIO Store | Member-Only Section | Code of Ethics | Home Page
---