---
CONTENTS
Section I - INTELLIGENCE HIGHLIGHTS
Section II - CONTEXT & PRECEDENCE
Section IV - Research Requests, Obituaries, Jobs
Other Upcoming Events from Advertisers, Corporate Sponsors, and Others
For Additional AFIO and other Events two+ months or more... Calendar of Events

WIN CREDITS FOR THIS ISSUE: The WIN editors thank the following special contributors: rsy, ec, po, pj, mh, km, gh, mk, rd, fm, kc, jm, mr, jg, th, ed, and fwr. They have contributed one or more stories used in this issue.

The WIN editors attempt to include a wide range of articles and commentary in the Weekly Notes to inform and educate our readers. However, the views expressed in the articles are purely those of the authors, and in no way reflect support or endorsement from the WIN editors or the AFIO officers and staff. We welcome comments from the WIN readers on any and all articles and commentary.

CAVEATS: IMPORTANT: AFIO does not "vet" or endorse research inquiries, career announcements, or job offers. Reasonable-sounding inquiries and career offerings are published as a service to our members, and for researchers, educators, and subscribers. You are urged to exercise your usual caution and good judgment when responding, and should verify the source independently before supplying any resume, career data, or personal information.]
If you are having difficulties with the links or viewing this newsletter when it arrives by email, members may view the latest edition each week at this link.

---

DEADLINE HAS ARRIVED. Last week to respond to Call for Papers by The University of Texas at Austin for the 2020 "Bobby R. Inman Award" for Student Scholarship on Intelligence


The Intelligence Studies Project of The University of Texas at Austin has reached the paper submission deadline for the sixth annual competition recognizing outstanding student research and writing on topics related to intelligence and national security. The winner of the "Inman Award" will receive a cash prize of $5,000, with two semifinalists each receiving a cash prize of $2,500. This competition is open to unpublished work by undergraduate and graduate students enrolled in degree programs at accredited U.S. higher education institutions during the 2019-20 academic year. The deadline for submitting papers is June 30, 2020.

Additional information about the Inman Award, including submission requirements and previous winners, is available at www.intelligencestudies.utexas.edu/inman-award.

---

Series of Cryptologic Museum Webinars on Cybersecurity

Cybersecurity Virtual Classroom
ONLINE CYBERSECURITY CHATS by the National Cryptologic Museum Foundation

The Cyber Center for Education and Innovation (CCEI) have been conducting a series of Cybersecurity Chats as part of their special CCEI Cybersecurity Series. These online chats for K-12 students [but older ages would benefit, too], are presented by cybersecurity professionals and experts. General information on the series is here.

There are many online chats that follow and they may be found here.

If you wish to share your own cybersecurity/cryptology expertise, review the instructions here

---

One of the special benefits of membership in AFIO: access to CIA's inhouse gift shop — the EAA Store.

It requires a quick preapproval process described here to all newly joined and current AFIO members. And then allows you to purchase online their unusual logo'd gift items for self or colleagues. Here is the latest photo EAA released on June 22 featuring some of their newest items:

---

AFIO Gift items for colleagues or self.

Long-Sleeved Shirts and Hooded Sweatshirts with embroidered AFIO Logo

Show your support for AFIO with our new long-sleeved Polo Shirts and Hooded Sweatshirts.

Both items are high quality and shrink resistant and feature a detailed embroidered AFIO seal. The color of the long-sleeved Polo Shirts is royal blue; the price is $55 and includes shipping.

The Hooded Sweatshirts are dark grey; price is $70 and includes shipping.

Purchase a shirt and sweatshirt for yourself and consider as gifts for colleagues, family, and friends.

Both items are available in men's sizes: Small, Medium, Large, XL, XXL, and XXXL. The long-sleeved Polo Shirts and Hooded Sweatshirts are not available in ladies' sizes.

You may pay by check or credit card. Complete your order online here or mail an order along with payment to: AFIO, 7600 Leesburg Pike, Ste 470 East, Falls Church, VA 22043-2004. Phone orders at 703-790-0320.

PAGE DOWN TO BOTTOM OF THE NOTES TO SEE MORE AFIO GIFTS. All of these items are appropriate for intelligence officers, colleagues, recruitments, agents, advisors, and family.

---
---
Special Items for our members:
— The Pending Hong Kong National Security Law —
Member, Chinese Communist Espionage Author, discusses on BBC

BBC's Karin Giannone interviews Matthew Brazil, co-author of the book Chinese Communist Espionage: An Intelligence Primer (Annapolis: Naval Institute Press, 2019). They discuss the pending Hong Kong National Security Law being written by the National People's Congress in Beijing and the implications of the Chinese security services operating openly there in the near future. Recorded 20 June 2020. Click image above to view 4 minute interview.
---
Crafting the History of AFIO Chapters
Report from Richard Cohn, AFIO National VP for Chapters: Tony Wege, President of the Columbia River [Northwest] Chapter, led a team effort to research and draft "History of AFIO in the Pacific Northwest." It's a good read, providing a compilation of efforts by the AFIO pioneers in the Northwest establishing chapters and sustaining them by attracting interest with prominent speaking engagements until attrition led to a decline in activity.

Tony has granted permission to share the paper with other Chapter officers with encouragement they consider a similar project: documenting their Chapter's history. See link above to view the 3-page PDF history. Consider capturing your chapter's history before the institutional memories are lost.
---
Executive Director Sought for Washington, DC "Teaching Site"
The Bush School of Government and Public Service of Texas A&M University
The Bush School of Government and Public Service of Texas A&M University invites applications for the full-time position of an Executive Director for its new Washington, D.C. teaching site where courses will be offered toward professional master's degrees in the fields of international affairs, and national security and intelligence. The executive director will lead the standup and subsequent operations of a fully-implemented Texas A&M teaching site, including managing the accreditation and licensing processes. The executive director will be responsible for all business and administrative operations, oversee academic operations and curriculum, and supervise faculty and staff at the site.
The position requires a candidate to have had at least ten years of management experience in the fields of government, higher education or equivalent areas. Candidates with a master's degree, J.D. or Ph. D. are preferred. The successful candidate will have extensive experience in the Washington policy world and demonstrated management skills in a policy and/or academic environment. Additionally, the successful candidate will have a vision of how to develop and grow professional master's degree programs in international affairs and national security geared toward government professionals and those aspiring to be government professionals. Teaching experience in an appropriate academic field is encouraged but not required. The Executive Director will report to the Dean of the Bush School.
Salary will be commensurate with experience and nature of the responsibilities of the position. The start date for this position will be as soon as available.
Applications should include a resume, letter of interest, and complete contact information for three references uploaded here.
Point of Contact: Ms. Rane Cunningham at bushschoolgbs-search@tamu.edu
Review of applications will begin immediately and will continue until the position is filled.
---
"Operation Overlord: OSS and the Battle for France" - Now available online
Saturday, 6 June 2020, marked the 76th anniversary of D-Day when more than 150,000 American and Allied soldiers stormed the beaches of Normandy to save the world from tyranny. The OSS Society produced an award-winning short documentary about D-Day: "Operation Overlord: OSS and the Battle for France" which tells the story of Allied special forces whose daring exploits changed the course of World War II. The film includes an introduction by The Honorable Leon Panetta. It was written and directed by Carl Colby, an award-winning documentary filmmaker whose father, William Colby, jumped into Nazi-occupied France as an OSS Jedburgh. The film's executive producer is Charles Pinck, The OSS Society's president.
Watch full documentary here. Runs ~15 minutes.
---
Jack Devine, Former CIA DDO, has released this 19 June 2020 list of special intelligence/national security topics from the Arkin Group in their "Other News" email to their private clients:
Here is a roundup of some significant global developments you may have missed this week:
A border clash between Chinese and Indian soldiers this week killed at least 20 and raises the specter of escalating conflict over a long-unresolved dispute.
North Korea blew up the liaison office near the North-South border that had been used to hold talks between the two sides, effectively scuttling South Korean President Moon Jae-in's dogged efforts at improving ties.
U.S. Secretary of State Mike Pompeo met with China's seniormost diplomatic official Yang Jiechi in Hawaii this week amid steadily rising tensions across all facets of the relationship - commercial, diplomatic, and military. .
Read the full commentary they have on the above news stories, and learn more about The Arkin Group's unique services here.
And a 23 June podcast was released on "Practical Advice for Crisis Preparedness in Latin America — COVID-19 Update." This S&C Critical Insights Podcast features Jack Devine and Sullivan & Cromwell Partner Sergio Galvis discussing crisis planning and protocols in Latin America in view of the COVID-19 pandemic. They cover how businesses operating in Latin America might prioritize revisions to their crisis protocols to account for pandemics and other unknown global risks. The conversation draws on Jack's longtime experience at the CIA and The Arkin Group, an international risk consulting and strategic intelligence firm that specializes in crisis management, investigative research, and business problem solving. Listen to the 9-min Podcast
---
Always worth visiting the blogs, podcasts, newsletters, and articles by WTOP's impressive JJ Green
Target USA - The National Security Podcast with JJ Green.
Of special interest from INSIDE THE SCIF this week was this: THE HUNT — On this week's edition of The Hunt with WTOP national security correspondent J.J. Green, An Air Force sergeant who is already in jail for the killing of a California sheriff's deputy was charged this week with murdering a federal security officer in Oakland. Scott Stewart, VP at Torchstone Global, discusses the situation, which may be a case of domestic terrorism.
Also just released under the Target USA podcast is Episode 229 — Russia sentences Paul Whelan to 16 years hard labor.
American Paul Whelan, arrested and tried for what his family believes was a "set up," was sentenced to a long prison term this week. They say their only hope now is the U.S. government – which hasn't done anything to help – so far. But that may be changing now.
JJ's newest series is: COLORS...on Race in America - Colors EP. 1 — Setting the Table for "A Dialogue on Race in America"
Chris Core is white and JJ Green is black. They're journalists and friends. Almost 30 years ago they launched a radio show, called "Black and White," after the L.A riots, to create a non-judgmental venue for people to talk about race. Now, after George Floyd's death, they're doing it again. Welcome to "Colors."
Inside the SCIF - JJ Green's National Security Newsletter - subscribe to it.
---
Newly Released, Overlooked, or Forthcoming Books
Geospatial Intelligence: Origins and Evolution
by Robert M Clark
(Georgetown Univ Press, July 2020)
Tells the story of how the current age of geospatial knowledge evolved from its ancient origins to become ubiquitous in daily life across the globe, weaving a tapestry of stories about the people, events, ideas, and technologies that affected the trajectory of what has become known as GEOINT.

Author Robert M. Clark explores the historical background and subsequent influence of fields such as geography, cartography, remote sensing, photogrammetry, geopolitics, geophysics, and geographic information systems on GEOINT. Although its modern use began in national security communities, Clark shows how GEOINT has rapidly extended its reach to other government agencies, NGOs, and corporations. This global explosion in the use of geospatial intelligence has far-reaching implications not only for the scientific, academic, and commercial communities but for a society increasingly reliant upon emerging technologies. Drones, the Internet of things, and cellular devices transform how we gather information and how others can collect that
information, to our benefit or detriment.
"Robert Clark has compiled an informative and interesting chronicle of the newest intelligence discipline, GEOINT. I would recommend this well-organized and readable treatise to anyone interested in the evolution of intelligence in this country." —James Clapper, former Director of National Intelligence (2010-17), the Defense Intelligence Agency (1991-95), and the National Imagery and Mapping Agency (NIMA) (2001-6)
Book may be ordered here.
---
Wuhan Diary: Dispatches from a Quarantined City
by Fang Fang, Translated by Michael Berry
(HarperVia, May 2020)
On January 25, 2020, after the central government imposed a lockdown in Wuhan, acclaimed Chinese writer Fang Fang began publishing an online diary. In the days and weeks that followed, Fang Fang's nightly postings gave voice to the fears, frustrations, anger, and hope of millions of her fellow citizens, reflecting on the psychological impact of forced isolation, the role of the internet as both community lifeline and source of misinformation, and most tragically, the lives of neighbors and friends taken by the deadly virus. 
A fascinating eyewitness account of events as they unfold, Wuhan Diary captures the challenges of daily life and the changing moods and emotions of being quarantined without reliable information. Fang Fang speaks out against injustice, abuse of power, and other problems which impeded the response to the epidemic and gets herself embroiled in online controversies because of it.
"This book is most scorching in Fang Fang's calls to hold to account the leaders who downgraded and minimized the virus, wasting nearly three weeks and allowing it to seep into the world at large. She rallies around this topic like Henry V pacing the floorboards before the Battle of Agincourt. She may live meekly during the lockdown, but she writes bold sentences." (New York Times)
"Wang's book remains a glimpse into a distressing future." (The New Yorker)
"Fang Fang's Wuhan diary remains significant as a document of the trivial, tragic and absurd during Wuhan's 76 days of lockdown. Such a document is especially important now, when so much of how the coronavirus spread — and what governments across the world did or did not do to contain it — is already being contested by the U.S. and China." (NPR)
Kindle version may be ordered here.
---
Unattributed quote:
Humans were never meant to have instantaneous person-to-person, constant worldwide communications. The Internet has become a tsunami of truths, falsehoods, and everything in between, 24/7, always at hand, interrupting, demanding attention. Our social and political systems are unprepared for the way it distorts events in realtime, or how to handle the consequences. Human reactions historically were methodical, slow, deliberative. The virtual world moves at cokehead speeds faster than human cognition or rationality. With outcomes to match.
---
Guide to the Study of Intelligence and When Intelligence Made a Difference
"AFIO's Guide to the Study of Intelligence" has sold out in hard-copy.
However, it is available in digital form in its entirety on the AFIO website here.

Also available on the website here are the individual articles of AFIO's history project "When Intelligence Made a Difference" that have been published to date in The Intelligencer journal. More articles will be forthcoming in future editions.
---
---
Section I - INTELLIGENCE HIGHLIGHTS

CIA to Launch Nationwide Recruitment Ad Campaign to 'Excite' Americans to Apply. The Central Intelligence Agency on Monday is expected to launch its first-ever streaming recruitment ad in an effort to "excite" Americans to apply.

The CIA told Fox News that they are launching the ad campaign, titled "Discover the CIA: Your Nation Is Counting On You," to "offer a glimpse" of their global mission.

CIA recruitment numbers for 2019 were their best on record in the past decade, and the agency is hoping the new ad campaign can boost that even further.

The advertisements will come in 90-, 60-, and 15-second versions, and are set to run on multiple platforms starting Monday afternoon. [Read more: FoxNews/22June2020]

Germany Accuses Iran, Syria, Jordan, Turkey, Russia, China of Espionage. The intelligence service of the southern German state of Baden-Württemberg on Monday accused Iran, Syria, Jordan, Turkey, Russia and China of espionage activities.

The Jerusalem Post's review of the 181-page intelligence document authored by German officials shows that Syria's regime is believed to have exploited migration waves to maximize its covert activities in Germany. Jordan, which has previously not appeared in prior intelligence documents, engaged in espionage in the federal republic.

"With the progressive stabilization of the regime in the civil war, the Syrian intelligence services are again able to work at home and abroad. The main task remains to research opponents of the regime. This includes Islamist groups as well as secular and Kurdish opposition groups. With the migration movements in recent years, both opponents and supporters of the regime have come to Germany. [Read more: Weinthal/JPost/21June2020]

Australian DoD Establishes New Defence Intelligence Group. The Australian Department of Defence (DoD) has established a new group to strengthen its intelligence capabilities.

Named Defence Intelligence Group (DIG), the group will support the Australian Defence Force (ADF) in its missions and operations.

DIG will include the Defence Intelligence Organisation (DIO), Australian Geospatial-Intelligence Organisation (AGO) and other intelligence components across the ADF and broader DoD.

The group was established following an independent Review from the Defence Intelligence Enterprise. [Read more: ArmyTechnology/19June2020]

NRO to Increase Investments in Commercial Space Technology. The National Reconnaissance Office is keeping an eye on the commercial space industry and is looking for opportunities to use private sector-funded technologies to support intelligence and defense agencies, a senior official said.

"We're tracking what's going on in the commercial realm and we're thinking about how we can adapt, both processes and technology, to take better advantage of that," Intelligence Community Space Executive John Paul Parker said on a June 17 podcast hosted by the American Institute of Aeronautics and Astronautics.

The NRO, which develops the nation's spy satellites, supports both the intelligence community and the Defense Department. [Read more: Erwin/SpaceNews/19June2020]

India, Pakistan to Expel Embassy Staff in Tit-for-Tat Spy Dispute. India has said it will expel half the staff in Pakistan's embassy in New Delhi over alleged spying by officials there, prompting Islamabad to say it would respond in kind.

Relations between the nuclear-armed rivals are strained and tit-for-tat expulsions of diplomats, often on charges of espionage, are common.

Neither country has a permanent ambassador in place and in the last month each country has accused the other of illegally arresting and torturing its diplomats. [Read more: AlJazeera/23June2020]



---
Section II - CONTEXT & PRECEDENCE

As the Intelligence Community Returns to Work, Employees Confront New Anxieties. More federal employees and contractors in the intelligence community have been gradually returning to their office spaces in the past two weeks.

But for IC leadership, "reopening" isn't only about rearranging office spaces and cobbling together cleaning supplies and hand sanitizer, it's also about easing the concerns of their employees and contractors who are uneasy or nervous to return to the physical workplace.

"They've been home for so long, and they're trying to come back to an environment that they hadn't been in for almost three months now," John McDermott, an emergency management specialist at the State Department's Bureau of Intelligence and Research (INR), said Tuesday during a webinar organized by the Intelligence and National Security Alliance. [Read more: Ogrysko/FNN/17June2020]

When the CIA Interferes in Foreign Elections. Russian President Vladimir Putin tends to respond to questions about his government's interference in the 2016 U.S. presidential election with a mix of denials and countercharges. It is the United States, he alleged in June 2017, that "all over the world is actively interfering in electoral campaigns in other countries." The purpose of this claim is to excuse and distract from Russia's actions, and in many places overseas, it's working. From Kyiv to Brussels to London, government officials told me that they assume the Central Intelligence Agency (CIA) frequently interferes in elections abroad.

This perception is understandable: for decades, it was true. The CIA's first-ever covert action program was an operation to manipulate Italy's 1948 election. American intelligence officers spread incendiary propaganda, bankrolled their preferred candidate, and orchestrated grassroots initiatives-all to advantage Italy's centrist forces over their leftist competitors. After the Italian Communist Party lost, the 1948 operation became "a template," David Robarge, the CIA's chief internal historian, told me, for what the agency then did in "many, many countries" in competition with its Soviet counterpart, the KGB. From Chile and Guyana to El Salvador and Japan, the CIA and the KGB targeted democratic elections across the globe. Some of those operations manipulated ballots directly; others manipulated public opinion; all were designed to influence election outcomes.

Then, the Cold War ended, and the opposing objectives of Moscow's and Washington's electoral operations - to spread or to contain communism - became obsolete. Since then, Russian intelligence has interfered in many foreign elections, not to advance an ideology but to promote divisive and authoritarian-minded candidates, sow chaos and confusion, and delegitimize the democratic model. But what of the CIA? [Read more: Shimer/ForeignAffairs/21June2020]

How Israel Became a World Leader in 'Special Mission' Intelligence Aircraft. And Why It Matters. Israel is building some of the most sophisticated special mission intelligence gathering aircraft globally, according to Israel Aerospace Industries. The Israeli company recently announced a new contract for a $350 million aircraft to be outfitted for a European country with IAI's ELTA Systems. These aircraft are unique for intelligence gathering and are key to managing the modern battlefield countries find themselves competing in. However the specific components, capabilities and elements of these sophisticated aircraft are often sensitive information or shrouded in secrecy. [Read more: Frantzman/TheNationalInterest/20June2020]

Project Impact: 'Disease Intelligence' and how the CIA Traced Epidemics out of Cold War Asia. As the CIA would later say, it all started "innocently enough" with unexplained school closings in southeast China in the winter of 1966. But then travelers entering Hong Kong began reporting that things were getting bad on the mainland, with a disease "raging" in one province.

By mid-January 1967, "the epidemic in Canton was out of control," according to a declassified article in the CIA's internal journal, referring to the city now known as Guangzhou. China's military took over hospitals in the region, but eventually the "entire public health infrastructure began to collapse."

That epidemic was an outbreak of meningitis, scientists later determined, but it was also the beginning of a CIA program, one of the first in "disease intelligence," a boutique field of espionage and analysis that aims to uncover the signs before and consequences after a pandemic. [Read more: Ferran/ABCNews/20June2020]


---
Indonesia's Intelligence Service is Coming Out to Counter COVID-19. Amid the COVID-19 pandemic, almost all Indonesian national security agencies have been heavily involved in the response. The government is filled with retired military and police general officers, most of whom have leading roles in the government's COVID-19 Task Force. The Task Force itself is filled with active duty military and police officers.

With great responsibility comes great power, as these national security agencies' roles have extended amid the pandemic response. The Armed Forces (TNI)'s supposed role in the pandemic response is to provide military assets to support in term of logistics, supply, and transport. They soon became the administrator of COVID-19 emergency hospitals in Kemayoran, Jakarta and Galang Island, Riau Islands. Meanwhile, the Police (POLRI)'s role in the pandemic response is to enforce social distancing and other mitigation measures. However, their role soon extended to crackdowns against criticism of the government. By June 15, they are already investigating 130,680 coronavirus-related hoaxes, have arrested 17 suspects, and are prosecuting 87 suspects.

Nevertheless, compared to TNI and POLRI, the extended role of the State Intelligence Agency (BIN) is arguably the most problematic. [Read more: Chairil/TheDiplomat/19June2020]

The Challenges of Effective Counterterrorism Intelligence in the 2020s. The terrorist threat is vastly different today than it was on 9/11. Social media has empowered extremist movements and terrorist groups to network and organize online, making it far easier for them both to recruit newcomers and to direct or inspire attacks. Violent far-right extremism has reemerged as a threat, inspiring a number of devastating attacks across the Western world targeting Jews, Christians and Muslims alike. And the United States's terrorist decapitation policy, which has led to the high-level killings of al-Qaeda's Osama bin Laden and Anwar al-Awlaki as well as the Islamic State leader Abu Bakr al-Baghdadi, has damaged each of those terrorist entities - even though the threats they respectively pose continue largely unabated. But beyond those transformational changes, a number of smaller transitions and subtler trends are taking place, all of which have the possibility to dramatically alter opportunities and successes for the United States in the ongoing war on terror. From the increasing prominence of terrorist manifestos to the dominance of lone actors to the convergence of extremist ideologies, these changes are likely to intensify throughout the next decade - presenting new challenges and hurdles to intelligence and law enforcement agencies charged with countering this highly dynamic and evolving threat. [Read more: Hoffman&Ware/Lawfare/21June2020]


---
Section IV - Research Requests, Obituaries, Jobs
Call for Papers by the University of Texas at Austin for the 2020 "Bobby R. Inman Award" for Student Scholarship on Intelligence
Austin, Texas – The Intelligence Studies Project of The University of Texas at Austin announces the sixth annual competition recognizing outstanding student research and writing on topics related to intelligence and national security. The winner of the "Inman Award" will receive a cash prize of $5,000, with two semifinalists each receiving a cash prize of $2,500. This competition is open to unpublished work by undergraduate and graduate students enrolled in degree programs at accredited U.S. higher education institutions during the 2019-20 academic year. The deadline for submitting papers is June 30, 2020.

The Intelligence Studies Project was established at The University of Texas at Austin in 2013 as a joint venture of the Robert Strauss Center for International Security and Law and the Clements Center for National Security with the LBJ School of Public Affairs. The Project's mission is to improve understanding of intelligence activities and institutions through research, courses, and public events bringing intelligence practitioners together with scholars, students, and the public.

The Bobby R. Inman Award recognizes more than six decades of distinguished public service by Bobby R. Inman, Admiral, U.S. Navy (Ret.). Admiral Inman served in multiple leadership positions in the U.S. military, intelligence community, private industry, and at The University of Texas. His previous intelligence posts include Director of Naval Intelligence, Vice-Director of the Defense Intelligence Agency, Director of the National Security Agency, and Deputy Director of Central Intelligence. He continues to serve as a teacher, advisor, and mentor to students, faculty members, and current government officials while occupying the Lyndon B. Johnson Centennial Chair in National Policy at the LBJ School of Public Affairs. His areas of teaching and research are focused on political, economic, and military activities, policy processes and institutions, international affairs and diplomacy, and intelligence and national security.

Additional information about the Inman Award, including submission requirements and previous winners, is available at www.intelligencestudies.utexas.edu/inman-award.
Intelligence Analysts -- Help Your Profession
ONET Data Collection Program (Occupational Information Network, www.onetonline.org) is working on this ongoing project to provide updated occupational information to the public, and are currently updating the classification of Intelligence Analysts.
If you are an Intelligence Analyst, ONET would like to call upon you to learn more about this work and provide necessary updates to the ONET resource. The aggregate results of this research are used to update information about this work at the O*NET Database for the millions of people who access it for career exploration and job analysis.
Intelligence Analysts - Gather, analyze, or evaluate information from a variety of sources, such as law enforcement databases, surveillance, intelligence networks or geographic information systems. Use intelligence data to anticipate and prevent organized crime activities, such as terrorism.
To participate contact Matt Robinson, O*NET Business Liaison, Research Triangle Institute, Phone: 919-926-6617 or email him at mrobinson@onet.rti.org. More info at www.rti.org; https://onet.rti.org; www.onetcenter.org; and www.doleta.gov/programs/onet.
Richard Boyd, DOD/ONI
Richard Bernard Boyd Sr, 81, DOD/ONI, died 7 June 2020.
Richard was born in Brooklyn, NY. He attended Power Memorial High School, and graduated from St. Louis University in 1961 with a BA in Philosophy. He enlisted in the Navy, became a navigator for a P2 squadron, attained the rank of Lieutenant, and served five years. He resettled in the Washington, DC area with his family and began work for the Office of Naval Intelligence.
In 1975, he earned a Master's degree in System's Management. Richard advanced to be the Director of the Mission Planning and Analysis Center until his retirement in 1999. He continued to work post-retirement where he was part of the May 1999 search and discovery of the Israeli submarine, INS Dakar.
He is survived by his wife, Roberta Dana Boyd, four daughters and a son, and other family.
Due to the Covid-19 pandemic, services will be held at a later date.
Joe Hichar, NSA EE & Technical Leader
Joseph Kenneth Hichar II, 63, NSA EE & Technical Leader, died 6 June 2020 in Ellicott City, MD from synovial sarcoma.
He was born in Cambridge, MA to two collage professors. He graduated from Amherst Central High School in 1974 and from
the Massachusetts Institute of Technology in 1978. He worked for the the National Security Agency for over 37 years and retired in 2015
as a senior electrical engineer and technical leader. He was the recipient of numerous career-related awards. He then continued to serve the U.S. Government as a consultant for Federal Data Systems (FEDDATA) into 2019.
Joe loved reading about scientific topics in general and his hobbies included computer architecture and home networking in general when given the chance. Even as a boy, he was curious about how things worked and would often take things apart to study them. Fortunately, he was generally able to put those things back together again…and make improvements.
In the past, he had also enjoyed sailing and flying and had been a member of the Fort Meade Flying Club. Joe was an active member of the Phoenix Society.
He is survived by his wife, Clifford Sheri Hichar, a daughter and son, and other family.
Roger Jones, CIC, CIA
Roger Jones, 84, CIC, CIA, died 6 June 2020 in Sperryville, VA.
Roger grew up in Truman, a small town in southern Minnesota. He attended St. Olaf College and graduated from the University of Minnesota with a major in psychology. He joined the US Army and studied German at the Army Language School in Monterey, CA, and then spent the rest of his military career with the Counter Intelligence Corps in Germany.
He returned to the US and joined the CIA, working for a few years both in Washington, DC and New York City, NY. He then decided to start his own business called "College Graduates Club," a social club offering gatherings to single people in the Washington, DC area, part of that business eventually transformed into another venture, "Ski Trips Unlimited," which offered group trips to ski destinations in Canada, Colorado, New England but primarily to Seven Springs Resort in western Pennsylvania. He retired from the ski trip business in 2000, and began to spend more time on his property in Rappahannock County, VA as well as on a ranch in Montana, developing properties into nature preserves.
Most of Roger's activities revolved around his love of raptors such as kestrels, hawks, eagles, and owls. He banded and recorded data for thousands of birds in Virginia, Minnesota, and Montana. He also installed and maintained bird boxes for American Kestrels, Eastern Bluebirds, and Barn Owls in several counties of three states.
Roger also enjoyed travel and saw seven continents, visiting nature sanctuaries all over the world. He was a keeper of statistics, a giver of parties, a player of games, a collector of friends, a taker of risks who organized competitions, wildlife adventure trips, and made many lifelong connections.
He is survived by a daughter Paula of Haymarket, VA, a son, and other family.
Tom Moorman, , USAF Vice Chief of State, Intelligence, and Director of SDI
Thomas Samuel Moorman Jr, General, USAF (Ret), 79, USAF Intelligence and Space Command Officer, Director of SDI, died 18 June 2020 at NIH in Bethesda, MD.
Tom began a distinguished 35-year Air Force career after graduating from Dartmouth College in 1962. He served as an intelligence officer with the B-47 bombardment wing, the Director of the Office of Space Systems, Vice Commander of the 1st Space Wing, several staff positions at Air Force Space Command, and numerous operational and staff positions in space, aircraft reconnaissance and intelligence units.
In 1987, Tom became Director of Space and Strategic Defense Initiative Programs where he directed the development and procurement of satellites, launch vehicles, anti-satellite weapons, strategic radars, and space command centers. From 1990 to 1994, he served as vice commander and commander of Air Force Space Command, responsible for the operation of the Air Force space systems, space surveillance radars, and the ICBM force. Tom's last military assignment was as Vice Chief of Staff of the Air Force. From July 1994 until his retirement in August 1997, he oversaw and managed the day-to-day activities of the Air Staff, chaired the Air Force Council, and was the Air Force representative to joint and interagency organizations, including the JROC and Quadrennial Defense Review.
After retirement, he served with Booz Allen Hamilton, and served on numerous boards and studies, including the Space Commission. He also served on space-related studies and task forces on behalf of the DOD, U.S. IC, and NOAA.
He is survived by his wife of 54 years, Barbara Stadler Moorman, two sons, and other family.
An inurnment at Arlington National Cemetery will be held at a future date.
Dick Passman, Pioneering Aerospace and Spy Satellite Engineer
Richard A. Passman, 94, Pioneering Aerospace and Spy Satellite Engineer, died 1 April 2020 from complications of Covid-19.
Born in Cedarhust, NY. Dick earned a B.S. and M.S. in Aero Engineering and B.S. in Math from University of Michigan. After service in Navy Pilot Training, WWII, and work at Grumman, he was chief aerodynamicist at Bell Aircraft Corporation through 1956, working on rocket aircraft X-l (breaking the Sound Barrier), X-2 (mach 3), and X-16. Next at Genera Electric, in PA, he was Manager of Advanced Systems, and developed re-entry vehicles for CORONA, the first spy satellite, MOL, LANDSAT, plus systems for Apollo.
He moved to Washington, DC in 1974 where he joined the Department of Energy to be Deputy Director of the LMFBR reactor program. He ended his career at Grumman, helping to re-design the ISS, Space Station.
In retirement he volunteered at the Smithsonian Air and Space Museum, where he co-wrote X15: The World's Fastest Rocket Plane and the Pilots Who Ushered In The SpaceAge.
Passman enjoyed family, friends, playing piano, baking bread, attending concerts, travel, and golf.
He leaves his wife of 70 years, Minna Hocky Passman, three sons, and other family.
Frank Reynolds Jr, CIA Operations and Air Force Officer
Frank L. Reynolds Jr, 90, CIA Operations and Air Force Officer, died 11 June 2020.
Mr. Reynolds received a B.A. from Louisiana Tech in 1950, an M.A. from Vanderbilt University in 1951 and pursued doctoral studies at Northwestern University from 1954 to 1956. He was a 1970 graduate of the Air War College.
Frank served the US Air Force as a reserve intelligence officer for 28 years after being drafted for the Korean War with a final assignment as commander of the Metropolitan Washington area Air Force Reserve. He retired with the rank of Colonel. He received numerous awards and commendations during his service to include in support of Desert Storm and the Arab/Israel war. He received the Distinguished Intelligence Medal from the CIA and the Legion of Merit from the USAF.
Frank served over three decades with the Central Intelligence Agency, where he held numerous leadership positions to include the Director of the Office of Current Production and Analysis Support supervising several hundred analysts and directed production of the President's Daily Brief and the National Intelligence Daily. He also directed the CIA Operations Center.
As an expert in Soviet and Cuba military matters, he frequently briefed congressional leaders and foreign heads of state. As Director of the Office of African and Latin American Analysis, he briefed the Senate and House Foreign Relations, Armed Services and Oversight committees. Additionally, he performed duties as the CIA representative to the U.S. Pacific Command in Hawaii.
After his CIA retirement in 1992, he served as First Vice Chairman of the Arlington County Republican Committee and several committees supporting John Warner's Congressional and Senate campaigns. He also served on other local campaigns. He was an avid duck and goose hunter, fisherman, and member of the American Kennel Club. He raised and showed boxers and papillons. He was a proud Eagle Scout and an accomplished sports fan of University of Virginia athletics, the Nationals, and dedicated Redskins ticket holder. He served on the vestry as a deacon at St. George's Episcopal Church in Arlington and, later, was a member of the Church of the Holy Comforter in Vienna.
He is survived by two sons, a daughter, and other family. He will be missed by his beloved dog Amy. Services private.
Tony Schinella, SIS CIA Analyst, Military NIO for NIC
Tony Ming Schinella, 52, SIS CIA Analyst, Military NIO for NIC, died unexpectedly 14 June 2020.
Tony was a double major at the Massachusetts Institute of Technology (MIT) with degrees in Computer Science and History. He also obtained a Master's in Public Policy (MPP) degree from Harvard University's Kennedy School of Government. He possessed a towering intellect and chose to apply his energy and ability at the CIA where he led a distinguished, if largely hidden, career in intelligence. Outside of public view across some 30 years, he achieved high rank, earned the respect of senior government officials with whom he worked, and garnered numerous awards for his work here and abroad. His peers considered him one of the finest CIA officers of his generation.
At the time of his death, he was serving as the National Intelligence Officer for Military Issues on the National Intelligence Council, as the most senior military analyst in the US Intelligence Community. His rise to that position from his start in 1991 as a graduate fellow was a steady one. He had the ability to retain an enormous amount of information, discern underlying patterns and causal relationships, and draw clear conclusions from complex events. His ability to express his conclusions in clear, precise language made him invaluable within and beyond the CIA in a number of crises. From the Balkans, to Afghanistan, Yemen, and Iraq, he provided unique insights to senior US policymakers. Over the decades, Tony accepted on some of the most difficult analytic assignments. He followed nearly the entirety of the Balkan conflict and his analytic judgments helped US diplomats bring a restive peace to Bosnia. Volunteering after 9/11, he was among the first to help US forces understand Taliban military capabilities, saving US lives, and providing direct support to the US forces and allies who fought al Qa'ida in Afghanistan.
For years his work on the ground war in Afghanistan was required reading for policymakers struggling to bring to a conclusion America's longest war, just as years earlier he and a small group of colleagues were instrumental in forging a deeper understanding of the dynamics at play within Iraq. Tony's analytic skills were grounded in his love for and understanding of history. He was the author of Bombs Without Boots: The Limits of Airpower, published by Brookings Institution Press in 2019. Tony's legacy will live on in the hundreds of intelligence and military officers that he mentored.
Tony was a member of the Senior Intelligence Service and had earned multiple awards for his exceptional performance and support to the US military.
A gifted comic and inspired raconteur, he frequently made colleagues laugh. He travelled to more than 100 countries on six continents, spoke several languages, abd was happiest when his passport was full of stamps before the expiration date.
Absent his wisdom, the country's leaders will struggle harder to address a range of crises.
He is survived by his wife, Sara Corcoran, two daughters, his father, two brothers, and other family.
Jon Wilson, CIA Operations Trainer
Jon Spence Wilson, 80, CIA Operations Trainer, died 21 June 2020 in Williamsburg, VA.
He was born in Ogden, UT. He was a member of The Church of Jesus Christ of Latter-day Saints. He attended Ogden High School, then served 3 years in the US Army. Following military service, he served his faith as a Mormon missionary in Austria. He then attended Weber State University, graduating with a degree in European History with a minor in German.
Following graduation, in 1967 he accepted a position with the Central Intelligence Agency in Washington D.C. Jon and his family enjoyed many years together as they traveled through his employment, living in North Carolina, Colorado, Utah, Germany, and Virginia. His love of others endeared Jon to his coworkers and business associates, extended family and friends. He loved his work, retiring in September 1993 and continuing working as an instructor until this year.
Jon was a great storyteller with a memory for details. He leaves behind a legacy of laughter, strong will, courage, faith, hard work and love through the many trials he faced in his 80 years of life. He loved to play golf, board games with family, crossword puzzles, wordsmithing, cooking and eating out. He was an accomplished steel guitar player, winning many awards including first place in the 1958 National Music Association Festival in Long Beach, CA. His love for sharing with those he worked with, family and friends were part of his character, although he never sought the limelight. Jon could always be trusted to put his best effort in every situation.
Jon is survived by his wife of 53 years, Alice Sarantis Wilson, a daughter and a son, and other family.

---
Executive Director for The Bush School of Government and Public Service of Texas A&M University at their new "Teaching Site" in Washington, DC
The Bush School of Government and Public Service of Texas A&M University invites applications for the full-time position of an Executive Director for its new Washington, D.C. teaching site where courses will be offered toward professional master's degrees in the fields of international affairs, and national security and intelligence. The executive director will lead the standup and subsequent operations of a fully-implemented Texas A&M teaching site, including managing the accreditation and licensing processes. The executive director will be responsible for all business and administrative operations, oversee academic operations and curriculum, and supervise faculty and staff at the site.
The position requires a candidate to have had at least ten years of management experience in the fields of government, higher education or equivalent areas. Candidates with a master's degree, J.D. or Ph. D. are preferred. The successful candidate will have extensive experience in the Washington policy world and demonstrated management skills in a policy and/or academic environment. Additionally, the successful candidate will have a vision of how to develop and grow professional master's degree programs in international affairs and national security geared toward government professionals and those aspiring to be government professionals. Teaching experience in an appropriate academic field is encouraged but not required. The Executive Director will report to the Dean of the Bush School.
Salary will be commensurate with experience and nature of the responsibilities of the position. The start date for this position will be as soon as available.
Applications should include a resume, letter of interest, and complete contact information for three references uploaded here.
Point of Contact: Ms. Rane Cunningham at bushschoolgbs-search@tamu.edu
Review of applications will begin immediately and will continue until the position is filled.
Texas A&M University is committed to enriching the learning and working environment for all visitors, students, faculty, and staff by promoting a culture that embraces inclusion, diversity, equity, and accountability. Diverse perspectives, talents, and identities are vital to accomplishing our mission and living our core values.
The Texas A&M System is an Equal Opportunity/Affirmative Action/Veterans/Disability Employer committed to diversity.
IT Acquisitions Subject Matter Expert for Intelligence Community Client; Other Openings in Reston and Bolling AFB
E3/Sentinel has a funded opening for an IT Acquisitions Subject Matter Expert with specific experience in IT architecture requirements to support an IC customer. Candidate will assist in developing innovative business strategies and procurement policy/processes. Only candidates with TS/SCI clearances will be considered. Contact Rosanna Minchew rminchew@e3sentinel.com for more details.
E3/Sentinel has multiple openings for Contracts Specialists, Acquisition Analysts, Cost/Pricing Analysts and Contracts Closeout Specialists. Positions in Reston and at Bolling AFB. TS/SCI required to be considered for interview. Polygraph preferred. Contact Rosanna Minchew rminchew@e3sentinel.com for more details.
Adjunct instructors at the University of Texas at El Paso (US)
The National Security Studies Institute at the University of Texas at El Paso (UTEP) (see their website here) is seeking adjunct instructors to teach online graduate-level courses:
Legal Issues in Intelligence and National Security
Propaganda and Influence Operations
Intelligence and Counterterrorism
Political Economy of Terrorism
Risk Analysis
Emergency Management
Public Health and Homeland Security
A PhD in public policy, security studies, political science, or a related field is required.
Interested and eligible applicants should contact Stephen Coulthart (sjcoulthart@utep.edu).
Two Positions at James Madison University for Assistant or Associate Professor - Intelligence Analysis
James Madison University (JMU) located in Harrisonburg, VA, seeks applicants for two faculty positions in its Bachelor's Degree Program in Intelligence Analysis (IA). The appointments will be at the Assistant or Associate Professor level and will reside within the larger School of Integrated Sciences. The IA program offers a multidisciplinary undergraduate degree with an emphasis on methodology and technology to prepare students to become analysts, with a specialization in intelligence analysis. Its graduates have been successful in securing positions as analysts in both the public and private sectors, to include the Intelligence Community, military and law enforcement organizations, defense contractors, and major consulting firms. The program emphasizes methodology and synthesizes critical and creative thinking methods with technological tools for data collection, visualization, and analysis with situational knowledge of a problem's political, economic, social, and technological context with strong communicative and professional skills to support decision-making.
Ideal candidates will be comfortable in an interdisciplinary, diverse setting and possess the potential for becoming an excellent teacher to future analysts in one or more intelligence domains including national security, military, homeland security, law enforcement, private sector security, cyber security, and geospatial. They optimally have a background in either mixed-methods, qualitative, or quantitative research and analysis methods. We especially encourage applications from candidates that can leverage the use of systems thinking, employ data science in analysis, support the development of writing skills, or teach ethics specifically for future analysts. The typical teaching load in the school is 3 courses per semester.
We welcome applicants from all academic disciplines—to include the humanities, social sciences, and sciences—that provide a knowledge foundation for doing analysis. Prospective candidates should review our curriculum online to identify areas that match their expertise and to locate potential areas that they could help the program to develop. The program values teaching excellence as well as one-on-one professional mentoring and seeks candidates who can demonstrate potential for both. In addition, the position requires the potential for an active program of scholarly activity. The position requires either a Ph.D. in a relevant academic field by the date of hire (for a tenure-track appointment) OR Master's Degree with substantial experience in the field (for appointment on a Renewable Term Contract).
More information or applications may be found here.
Do not let Social Distancing slow your career. New Positions Available with Thomson Reuters
Many other jobs available with Thomson-Reuter. Email Brian Lemley for a list with descriptions and links.
FireEye Has Many Intelligence Positions Available For You - Worldwide - Contract, Full-time, Part-time, Interns
Explore the many career and contractor intelligence jobs available here. Jobs openings in Cyber Security include - Advisory, Architecture, Digital Forensics & Incident Response, Penetration Testing, Threat Research. They positions are needed here: New York, Chicago, Manila, Reston, Dallas, Atlanta, Suitland, Singapore, Denver, Las Vegas, Phoenix, Doha, Stockholm, London, Milpitas, multiple cities in Australia, Washington, Indianapolis, Tampa, Santiago, Alexandria, Seattle, Carlsbad, Houston, San Francisco, Arlington, Dubai, Amsterdam, Ft Belvoir, Minneapolis, Mexico City, San Diego, Boston, El Segundo, Philadelphia, San Antonio, Chiyoda, Ft Huachuca, Ft Gordon, Ft Meade, Ft Shafter, Kuwait City, Seoul, Sttutgart, Salt Lake City, Austin, Dublin, Bangalore, Cork, Colorado Springs... Explore the many career and contractor intelligence jobs available here.
---
AFIO EDUCATIONAL EVENTS IN COMING TWO MONTHS....


Thursday, 25 June 2020, noon-1:15 PST - virtual - AFIO Los Angeles Dr Patrick Roberts, Rand Corp, on "How Should AI Be Governed?"

The Los Angeles Chapter has an interesting topic that will be of great concern as the chapter moves forward in the future, presented by Dr. Patrick Roberts a political scientist at the RAND Corporation. "How Should Artificial Intelligence Be Governed?"
Dr. Patrick S. Roberts is a political scientist at the RAND Corporation, with a focus on homeland security, disasters, nuclear nonproliferation, and the policy process. Roberts is the author of Disasters and the American State: How Politicians, Bureaucrats, and the Public Prepare for the Unexpected (Cambridge, 2013). He has published in a variety of scholarly and popular journals, including an essay proposing to use AI for Peace and another op-ed on the Catholic Church's interventions in AI ethics.
TO PARTICIPATE: You still need to RSVP your attendance to AFIO_LA@yahoo.com and I will then forward you passcodes and additional information as to the platform that we will use as we approach the meeting date. Look forward to your attendance!
Questions: Vincent Autiero, President, AFIO-Los Angeles Chapter, 5651 W Manchester Ave, Los Angeles, CA 90045; afio_la@yahoo.com.

RESCHEDULED from Spring: Friday, 23 October 2020, 10:30 a.m. - 2 p.m. - Tysons, VA - AFIO National Fall Luncheon features Washington Post columnist David Ignatius, and Author, former Post reporter Stephen Vogel

HOLD THE DATE: The morning speaker will be David Ignatius, author of the upcoming intelligence novel, The Paladin: A Spy Novel [WW Norton, May 2020]. Ignatius is a Washington Post columnist and has been covering the Middle East and CIA for nearly three decades.
Of Ignatius' forthcoming novel, reviewers wrote: "For me nothing is more intriguing than life inside our intelligence agencies. David Ignatius uses his decades' worth of reporting experience to take us there in this fast-moving, jaw-dropping drama that reads like it was ripped from the headlines. I recommend you grab a copy and hold on tight for the entire thrilling ride." — Brian Kilmeade, Fox News.
"David Ignatius once again takes readers behind the scenes of America's most secretive bureaucracy, revealing in fiction what could never be declassified in fact. The Paladin is yet another stirring read from one of America's most revered reporters and gifted storytellers." — Joe Scarborough, MSNBC
The afternoon program features Stephen Vogel, author of Betrayal in Berlin: The True Story of the Cold War's Most Audacious Espionage Operation [Custom House, Sept 2019]. Vogel is a former Washington Post reporter who covered the federal government. He was based overseas from 1989 through 1994 where he covered the fall of the Berlin Wall and the first Gulf War, and subsequently reported on military operations in Somalia, Rwanda, the Balkans, Afghanistan and Iraq.
Of Betrayal in Berlin, Former CIA Officer Sandy Grimes wrote: "The best spy book I have ever read...Steve Vogel is a talented and gifted writer who brings the personalities and idiosyncrasies of every participant in this operation to life. His research is vast, varied, and full of detail. It is truly one of those rare books you can't put down."
Registration will open in late September.

Venue: DoubleTree by Hilton, 1960 Chain Bridge Rd, Tysons Corner, VA 22182 Phone: (703) 893-2100. Directions at this link.
---
Other Upcoming Events from Advertisers, Corporate Sponsors, and Others
22 June 2020 - LIVE - International Spy Museum has reopened to visitors. Click image below to explore exhibits and ticketing.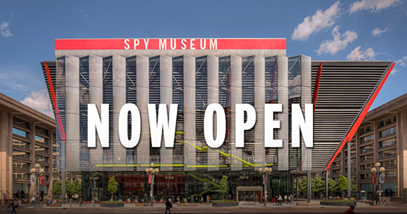 Upcoming virtual (and a few live, post-quarantine) events at the International Spy Museum. Click event to explore and register for event. All virtual events require pre-registration.
Access all upcoming Spy Museum events directly from their website: https://www.spymuseum.org/calendar/upcoming/1/
Wednesday, 24 June 2020, 5-6 pm EDT - The Magic of Spying with Peter Wood
Wednesday, 24 June 2020, 5:30 pm EDT - Virtual Spy Trivia
Thursday, 25 June 2020, noon EDT - Curator's Corner: The Spy Writers You Love to Read
27 July 2020, Spy Camp 2020: Session 1, 9 am - 3 pm
3 August 2020, Spy Camp 2020: Session 2, 9 am - 3 pm
7 November 2020, 14th Annual Parade of Trabants, 10 am - 4 pm
14 November 2020, Operation Secret Sleepover, 7 pm - 9:30 am
Thursday, 25 June 2020, noon – 12:30pm EDT - Virtual - "Russian Cyber Operations in a Year of Crisis" is topic of this discussion hosted by Georgetown University Press et al.
US Naval Postgraduate School Lecturer Scott Jasper on Russian Cyber Operations in a Year of Crisis.
We encourage you to submit your thoughts and questions ahead of time via social media using #BooksforaBetterWorld and tagging us on Facebook and Twitter.
Register for the event here or to view other upcoming Georgetown University Press virtual events.
Thursday, 25 June 2020, 1 - 2:30 p.m. EDT - Virtual - Virtual Fireside Chat on Improving Cyber-Oriented Education
The Cyber Center for Education & Innovation (CCEI) is partnering with the National Cyber Group, DreamPort, and Whiteford Taylor Preston to host a suite of esteemed panelists during a virtual Fireside Chat . During the event, you'll hear from CSC Commissioners, as well as Diane M. Janosek, Commandant for the National Cryptologic School, NSA, and additional Industry Leaders, as we discuss the Cyberspace Solarium Commission's 2020 Report, its educational aspects, and the opportunities for and challenges to making meaningful and sustainable progress toward improving cyber-oriented education. We hope you will join us and will share this information with others. LEARN MORE AND REGISTER TODAY.
NEW DATE - Saturday, 24 October 2020, 5:30 p.m. - Washington, DC - Save the Date! PenFed Foundation's 2020 Night of Heroes Gala
PUT ON CALENDAR AND HOLD THE DATE: The Pentagon Federal (PenFed Credit Union) Foundation will be hosting their spectacular Night of Heroes Gala on Saturday, 24 October 2020 at the Mandarin Oriental in Washington, D.C. Last year's annual gala raised over $1.5 million and honored children of military families.
VIP Reception at 5:30 PM
General Reception and Silent Auction at 6:00 PM
Location: The Mandarin Oriental, 1330 Maryland Ave SW, Washington, D.C.
Attire: Black Tie or Military Dress
RSVP: October 2, 2020
Click here to learn more or sponsor a table.
---
In addition to the new Royal Blue long sleeve shirts, and the gray long sleeve hooded sweatshirts, the AFIO Store also has the following items ready for quick shipment:
NEW: LONG and Short-Sleeved Shirts with embroidered AFIO Logo and New Mugs with color-glazed permanent logo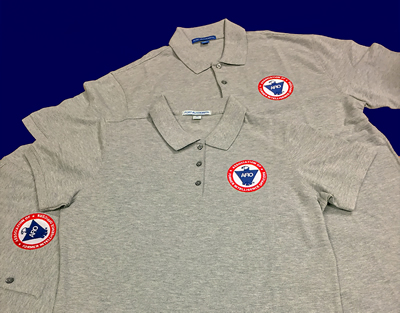 Show your support for AFIO with our new Polo Shirts. Be the first to buy these new, high quality, subtle heathered grey short sleeve shirts, and dark blue long sleeved shirts, of shrink and wrinkle resistant fine cotton with a soft yet substantial feel. They feature a detailed embroidered AFIO seal. Get a shirt for yourself and consider as gifts for colleagues, family, and friends. Only $45 each including shipping.
Sizes of (M) men or (W) women shirts; Small, Medium, Large, XL, XXL, and XXXL. At this time all orders will arrive as Short Sleeve shirts.
You may pay by check or credit card. Complete your order online here or mail an order along with payment to: AFIO, 7600 Leesburg Pike, Ste 470 East, Falls Church, VA 22043-2004. Phone orders at 703-790-0320. If interested in other shirt colors or sleeve lengths, contact Annette at: annettej@afio.com.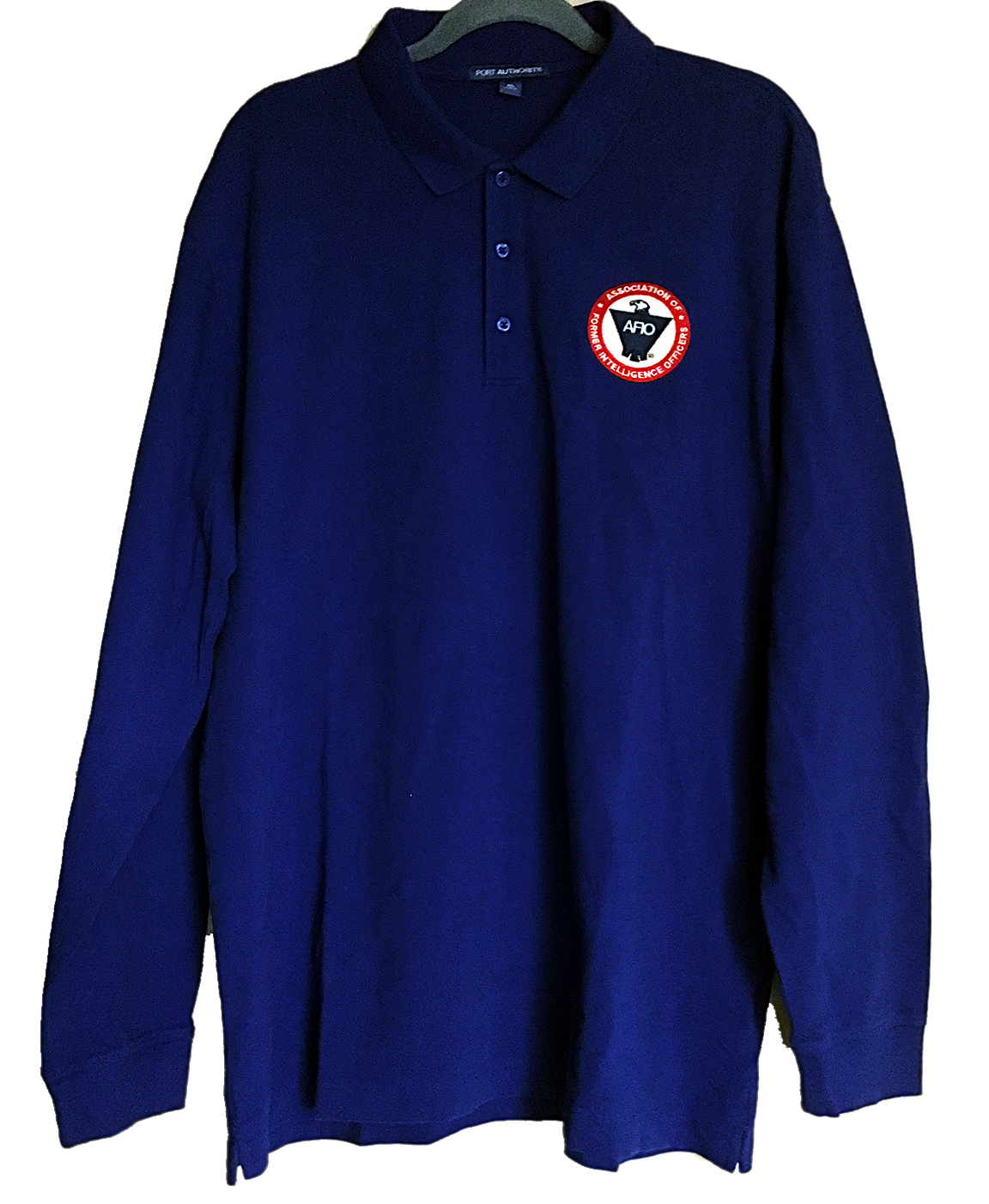 Long-Sleeved Shirts and Hooded Sweatshirts with embroidered AFIO Logo
Show your support for AFIO with our new long-sleeved Polo Shirts and Hooded Sweatshirts.
Both items are high quality and shrink resistant and feature a detailed embroidered AFIO seal. The color of the long-sleeved Polo Shirts is royal blue; the price is $55 and includes shipping.
The Hooded Sweatshirts are dark grey; the price is $70 and includes shipping.
Purchase a shirt and sweatshirt for yourself and consider as gifts for colleagues, family, and friends.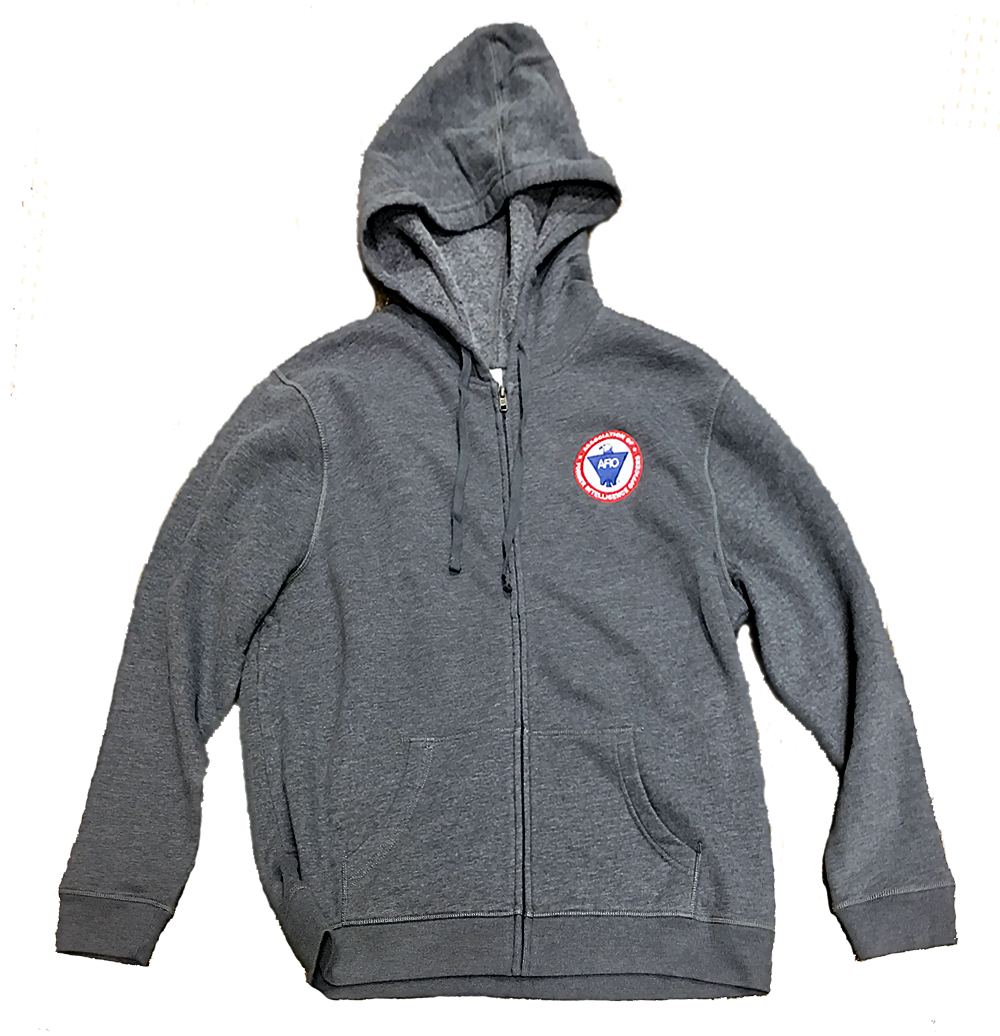 Both items are available in men's sizes: Small, Medium, Large, XL, XXL, and XXXL. The long-sleeved Polo Shirts and Hooded Sweatshirts are not available in ladies' sizes.
---
NEW: Mug with color glazed logo. Made in America. (We left out all that lead-based glaze and hidden toxins in those mugs made in China being sold by other organizations). Also sturdy enough to sit on desk to hold pens, cards, paperclips, and candy.
This handsome large, heavy USA-made ceramic mug is dishwasher-safe with a glazed seal. $35 per mug includes shipping. Order this and other store items online here.
AFIO's Intelligence Community Mousepads are a great looking addition to your desk...or as a gift for others.
Made in USA. Click image for larger view.
These 2017 mousepads have full color seals of all 18 members of the US Intelligence Community on this 8" round, slick surface, nonskid, rubber-backed mouse pad with a darker navy background, brighter, updated seals. Also used, by some, as swanky coasters. Price still only $20.00 for 2 pads [includes shipping to US address. Foreign shipments - we will contact you with quote.] Order MOUSEPADS here.
---
Guide to the Study of Intelligence and When Intelligence Made a Difference
"AFIO's Guide to the Study of Intelligence" has sold out in hard-copy.
However, it is available in digital form in its entirety on the AFIO website here.

Also available on the website here are the individual articles of AFIO's history project "When Intelligence Made a Difference" that have been published to date in The Intelligencer journal. More articles will be forthcoming in future editions.
---
Disclaimers and Removal Instructions
Weekly Intelligence Notes (WINs) are commentaries on Intelligence and related national security matters, based on open media sources, selected, interpreted, edited and produced for non-profit educational uses by members and WIN subscribers.
REMOVAL INSTRUCTIONS: We do not wish to add clutter to inboxes. To discontinue receiving the WINs:
a) IF YOU ARE A MEMBER - click here: UNSUBSCRIBE and supply your full name and email address where you receive the WINs. Click SEND, you will be removed from list. If this link doesn't open a blank email, create one on your own and send to afio@afio.com with the words: REMOVE FROM WINs as the subject, and provide your full name and email address where you are currently receiving them.
b) IF YOU ARE NOT A MEMBER, and you received this message, someone forwarded this newsletter to you [contrary to AFIO policies]. Forward to afio@afio.com the entire WIN or message you received and we will remove the sender from our membership and distribution lists. The problem will be solved for both of us.
CONTENTS of this WIN [HTML version recipients - Click title to jump to story or section, Click Article Title to return to Contents. This feature does not work for Plaintext Edition or for some AOL recipients]. If you wish to change to HTML format, let us know at afio@afio.com. The HTML feature also does not work for those who access their e-mail using web mail...however NON-HTML recipients may view the latest edition each week in HTML at this link: https://www.afio.com/pages/currentwin.htm
---
WINs are protected by copyright laws and intellectual property laws, and may not be reproduced or re-sent without specific permission from the Producer. Opinions expressed in the WINs are solely those of the editor's or author's listed with each article. AFIO Members Support the AFIO Mission - sponsor new members! CHECK THE AFIO WEBSITE at www.afio.com for back issues of the WINs, information about AFIO, conference agenda and registrations materials, and membership applications and much more!
(c) 1998 thru 2020. AFIO, 7600 Leesburg Pike, Suite 470 East, Falls Church, VA 22043-2004. Voice: (703) 790-0320; Fax: (703) 991-1278; Email: afio@afio.com
---
About AFIO | Membership Renewal | Change of Address | Upcoming Events | Chapter Locations | Corporate/Institutional Memberships | Careers in Intelligence Booklet | Guide to the Study of Intelligence | Intelligencer Journal | Weekly Intelligence Notes | To Make A Donation | AFIO Store | Member-Only Section | Code of Ethics | Home Page
---