---
CONTENTS
Section I - INTELLIGENCE HIGHLIGHTS
Section II - CONTEXT & PRECEDENCE
Section IV - Research Requests, Jobs, Obituaries
Other Upcoming Events from Advertisers, Corporate Sponsors, and Others
For Additional AFIO and other Events two+ months or more... Calendar of Events

WIN CREDITS FOR THIS ISSUE: The WIN editors thank the following special contributors: rsy, ec, po, pj, mh, km, gh, mk, rd, fm, kc, jm, mr, jg, th, ed, and fwr. They have contributed one or more stories used in this issue.

The WIN editors attempt to include a wide range of articles and commentary in the Weekly Notes to inform and educate our readers. However, the views expressed in the articles are purely those of the authors, and in no way reflect support or endorsement from the WIN editors or the AFIO officers and staff. We welcome comments from the WIN readers on any and all articles and commentary.

CAVEATS: IMPORTANT: AFIO does not "vet" or endorse research inquiries, career announcements, or job offers. Reasonable-sounding inquiries and career offerings are published as a service to our members, and for researchers, educators, and subscribers. You are urged to exercise your usual caution and good judgment when responding, and should verify the source independently before supplying any resume, career data, or personal information.]
If you are having difficulties with the links or viewing this newsletter when it arrives by email, members may view the latest edition each week at this link.

---

Series of Cryptologic Museum Webinars on Cybersecurity

Cybersecurity Virtual Classroom
ONLINE CYBERSECURITY CHATS by the National Cryptologic Museum Foundation

The Cyber Center for Education and Innovation (CCEI) have been conducting a series of Cybersecurity Chats as part of their special CCEI Cybersecurity Series. These online chats for K-12 students [but older ages would benefit, too], are presented by cybersecurity professionals and experts. General information on the series is here.

There are many online chats that follow and they may be found here.

If you wish to share your own cybersecurity/cryptology expertise, review the instructions here

---

One of the special benefits of membership in AFIO: access to CIA's inhouse gift shop — the EAA Store.

It requires a quick preapproval process described here to all newly joined and current AFIO members. And then allows you to purchase online their unusual logo'd gift items for self or colleagues. Here is the latest photo EAA released on July 21 featuring some of their newest items:

---

Guide to the Study of Intelligence and When Intelligence Made a Difference

"AFIO's Guide to the Study of Intelligence" has sold out in hard-copy.
However, it is available in digital form in its entirety on the AFIO website here.

Also available on the website here are the individual articles of AFIO's history project "When Intelligence Made a Difference" that have been published to date in The Intelligencer journal. More articles will be forthcoming in future editions.

---
---
Special Items for our members:
RUSSIAN BOUNTY STORY - Member Opinions and Analyses
In Russian bounty debate, once again this administration lacks intelligence
by Nicholas Dujmovic, Opinion Contributor, 9 July 2020 for The Hill
Let's lay aside for a moment the question about whether President Trump was or wasn't informed about the U.S. intelligence assessment that Russian military intelligence — the GRU — paid bounties to Taliban fighters in Afghanistan to kill Americans. As a former career intelligence officer who helped produce the President's Daily Brief, it's hard to envision any plausible scenario in which a president should not be briefed on such a matter. But this president, as we know, is different. Opinion piece continues here...
---
What Russian Bounties Story Says About National Security Process Of Trump Administration
By George W. Croner, 14 July 14 for the Foreign Policy Research Institute
With its passage of the National Security Act of 1947, Congress created the National Security Council (NSC) as part of its reorganization of the federal government's national security apparatus following World War II. The primary role of the NSC is to advise the president regarding the integration of foreign, military, and domestic policies which relate to national security by evaluating risks to national security, weighing policy options, and providing the president with analysis and recommendations regarding those actions or policies. Article continues here...
---
Two Women Spies - One American, One Russian
Nancy Wake by Peter FitzSimons
A journalist in Nazi-occupied Paris, Nancy Wake worked as a spy for Allied forces and was notorious among the Gestapo for evading their clutches. In a 2011 stirring biography, learn about the heroic woman called "the white mouse" by her enemies. $1.99 for a few days on Kindle. [TY DB]
---
An Interview with Former KGB/SVR Illegal Intelligence Officer Elena Vavilova
Elena Vavilova (aka Tracey Foley) was a KGB/SVR illegal intelligence officer based in Canada, France, and the United States. Together with her husband Andrey Bezrukov (aka Donald Heathfield) and eight other Russian intelligence officers, she was arrested in the FBI Operation Ghost Stories in June 2010 and later exchanged in a prisoner swap between the U.S. and Russia.
The Russian humanitarian prize "Na Blago Mira" [For the Good of the World] website published this interview with Elena Vavilova on May 26, 2020.
For the Good of the Motherland. On the Centenary of Russia's Foreign Intelligence Service (SVR): An Interview with Elena Vavilova
Na Blago Mira May 26, 2020
A new book by the retired foreign intelligence officer, Colonel of the Foreign Intelligence Service (SVR) Elena Vavilova "Encrypted Heart" was released recently. It is the second novel from her book series "Female Intelligence Officer. My Undercover Life." The "Na Blago Mira" Prize website published this interview with Vavilova, conducted by a friend of the Prize, journalist Zoya Bardina.
In this conversation, Elena Stanislavovna [Vavilova] talked about the significant events and experiences in her life and her forgiveness of betrayal.
- Elena Stanislavovna, what did you dream about as a child? Do you still have the same dreams?
- In childhood, everyone dreams of having an interesting occupation. I wanted to be an actress, or a ballerina, art attracted me. I went to a music school, studied ballet, and saw myself on stage. I tried to enroll at the Theater Institute in Leningrad and major in art criticism but was not successful. I returned to my native Tomsk and enrolled as a history major. Of course, that's the humanities, but still not too far removed from art.
[Interview continues at The Chekist Monitor here...]
---
Russian Intelligence Blog: Also recommended to readers is the blog above: The Chekist Monitor. It provides English translations of Russian-language sources on the activities of the FSB, SVR, GRU, and other Russian intelligence and security agencies. It also provides English translation of the popular culture and historical portrayals of Soviet intelligence agencies (NKVD, KGB) in contemporary Russia.
---
Newly Released, Overlooked, or Forthcoming Books
Ghosting the News: Local Journalism and the Crisis of American Democracy
by Margaret Sullivan
(Columbia Global Reports, July 2020)
A dire warning on the decline of daily newspapers and the danger that their disappearance poses for democracy.
Tells the most troubling media story of our time: How democracy suffers when local news dies. From 2004 to 2015, 1,800 print newspaper outlets closed in the US. One in five news organizations in Canada has closed since 2008. One in three Brazilians lives in news deserts. The absence of accountability journalism has created an atmosphere in which indicted politicians were elected, school superintendents were mismanaging districts, and police chiefs were getting mysterious payouts. This is not the much-discussed fake-news problem—it's the separate problem of a critical shortage of real news.
Sullivan charts the contours of the damage, and surveys a range of new efforts to keep local news alive—from non-profit digital sites to an effort modeled on the Peace Corps. No nostalgic paean to the roar of rumbling presses, Sullivan instead sounds a loud alarm, alerting citizens to a growing crisis in local news that has already done serious damage.
Book may be ordered here.
---
Mission: Career Transition: A Career Change Guide for Intelligence, Military, Foreign Affairs, National Security, and Other Government Professionals
by Alison Pentz Bouwmeester
(APB Book, July 2020)
Where do the spies, diplomats, soldiers, and FBI agents go when their formal service ends? For most, full retirement is not an immediate reality. The decision to leave or retire from government is hard! Deciding what to do next is harder. Author and Career Coach Bouwmeester served 28 years as a senior leader in the CIA's Directorate of Operations. After retiring from the Agency, she spent a decade as a senior business executive in the defense contracting industry. In 2018, she became a Certified career coach and founded Futurity to coach others through successful career transitions as someone who has "walked the walk." In this book, dozens of former intelligence, diplomatic, military and national security professionals share candid comments, tips, and advice. Considering a job change? Pondering a second career? Thinking about potential retirement? This is your guide!
Foreword by Hon. Susan M. Gordon. Also available as Kindle version.
Book may be ordered here.
---
Zashifrovannoe serdtse [trans: Encrypted Heart]
by Vavilova Elena Stanislavovna
(Eksmo, May 2020) In Russian only
Fiction
Young Russian "illegal" spy Dasha Kokorina has been tasked with identifying secret channels of terrorist financing. Living in Hong Kong under the name of Stella Lei, she deals with difficulties and deprivations that comes with her secret mission. She speaks perfect Mandarin and English and has a believable legend explaining her childhood and previous life. She manages not to burn her cover even when recognizing her own mother in a park in Paris. The only thing Stella cannot deny herself is the right to love. The young spy falls in love with a handsome Lebanese man but hides it from her handlers in Moscow. Little does she know that these strong feelings will push her to the verge of failure…
Elena Vavilova a.k.a. Tracey Lee Ann Foley, also commonly known as Ann Foley, is an author, speaker and former deep-cover Russian intelligence officer. She finished her intelligence career in 2010 at the rank of Colonel.
She became the inspiration for the main character in the critically acclaimed TV show "The Americans" (FX Networks 2013-2018).
Born in Russia, Elena has lived and worked in Canada, France and the United States. She is Fluent in Russian, English and French.
Book may be ordered here. Also available from Russia here. Vavilova's website is here.
---
AFIO Gift items for colleagues or self.
Available as a thank you for donations are the new AFIO Breathe-easy logo face masks:
These soft, form-fitting, washable, non-medical grade fabric face masks have a double-layer tight weave with wide behind-the-ear elastics to make long periods of wear comfortable. Also easier to quickly put on or take off. Blue on outside, white inside so you never mistake the exposed side. The masks do not have a nose wire but are sculpted, shaped, and sewn to fit most users. The all-cloth composition allows the masks to be washed or steam-disinfected without concern over metal wires. The color logo is washable and a permanent part of the mask.
The masks, however, are not for sale. They are being offered strictly as a thank you gift to our donors.
For tax-deductible donations of $50 you will receive a receipt and our thank you gift of two of these newly-arrived face masks.
Donations of $100 receive four masks to be sent to the same address. Other amounts and split-shipments are available.
To donate now to support AFIO's programs and publications, please do so here.
We wish all members and donors continued good health, safe social distancing, and warmly appreciate any support you are able to provide the association.
PAGE DOWN TO BOTTOM OF THE NOTES TO SEE MORE AFIO GIFTS. All of these items are appropriate for intelligence officers, colleagues, recruitments, agents, advisors, and family.
---
---
Section I - INTELLIGENCE HIGHLIGHTS

Canadian Federal Court Recommends External Review of Spy Agency. A Canadian federal court on Thursday recommended an external review of the Canadian Security Intelligence Service after it found the agency failed to disclose it relied on information that was likely obtained illegally when seeking court warrants.

In a decision, Justice Patrick Gleeson recommended a comprehensive external review of the country's main spy agency that aims to "fully identify systemic, governance and cultural short-comings and failures."

The review, the judge said, should also consider the manner in which legal advice is being delivered to intelligence agency and its interactions with Canada's Justice Department. [Read more: Johnson/Reuters/16July2020]

US Launches 4 Secret Spy Satellites to Orbit. A Northrop Grumman Minotaur IV rocket launched from the Mid-Atlantic Regional Spaceport (MARS) in Virginia today (July 15) at 9:46 a.m. EDT (1346 GMT), carrying the NROL-129 mission to orbit for the U.S. National Reconnaissance Office (NRO) and Space Force.

The NRO develops and operates the nation's fleet of spy satellites, the activities of which are generally classified. So we don't know exactly what the NROL-129 spacecraft will be doing up there, or even what their final orbital destinations are.

"NROL-129 supports NRO's overall national security mission to provide intelligence data to United States senior policy makers, the intelligence community and Department of Defense," NRO officials wrote in the mission's press kit. [Read more: Wall/Space/15July2020]

Tunisia: Terror Attack Targeting Military Patrol Foiled. Tunisian security forces foiled Monday a terror attack after they nabbed a terrorist on verge of attacking a security patrol in one governorate in the south of the country.

The ministry of the interior in a statement said the attack involved an improvised bomb device. The alleged terrorist, an affiliate of the Islamic state group (ISIS), is unknown to authorities, it added.

This is the second incident this month. Last week, the interior ministry indicated that a terrorist linked to ISIS was rounded. [Read more: NorthAfricaPost/21July2020]

South Africa: What McBride's Appointment Means for the Country's Intelligence Services. President Cyril Ramaphosa this week confirmed his first pick as the director of the foreign branch of the State Security Agency (SSA).

He takes over the helm of one of the most important positions in an organisation riddled with vacancies, instability and internal strife.

His appointment has been hailed as an effort to bring stability to the SSA and to professionalise the intelligence services. [Read more: Coleman/UPNNewsInfo/17July2020]



---
Section II - CONTEXT & PRECEDENCE

Inside the Intelligence Community's New Plan for Commercial Imagery. Starting in 1961, the National Reconnaissance Office has been tasked with designing, building, launching and operating the United States' fleet of intelligence satellites. Over the years, that mission has evolved, bolting on new components and missions.

Now in 2020, the NRO is looking to change once again, moving beyond the status quo by issuing a new set of contracts toward the end of this year that will reshape the intelligence community's relationship with commercial imagery.

Peter Muend, the head of NRO's commercial imagery efforts, told C4ISRNET that the agency is "obviously very committed to utilizing commercial imagery to the maximum extent practical in support of defense, national security and all the other mission areas that we serve." [Read more: Stout/DefenseNews/18July2020]

University of Southern California Establishes an Intelligence Community Center for Academic Excellence. The Intelligence Community Center for Academic Excellence (IC-CAE), a new center at USC through the USC Viterbi School of Engineering and the Dornsife College of Letters, Arts and Sciences founded in conjunction with collaborating universities across the country, will bring together engineering and international relations students to study the fields of national security and intelligence.

The field of national security encompasses a wide range of opportunities for students, and USC IC-CAE was established to ensure equal opportunity to understand the inner workings of this field.

"With this new program, we are providing opportunities for students at USC, as well as students at minority-serving, non-PhD-granting institutions to understand how science and technology relate to a broader, national security context,"said Brandi Jones, the Vice Dean for Diversity and Strategic Initiatives at USC Viterbi and co-director of the Center. [Read more: SecurityMagazine/15July2020]

The Return Of Cozy Bear: Russian Hackers In The Crosshairs Of Western Intelligence Agencies - Again. Six years ago, Dutch intelligence agents reportedly infiltrated a malicious group of hackers working out an office building not far from the Kremlin. Dutch agents hacked into a security camera that monitored people entering the Moscow building, according to the Dutch newspaper de Volkskrant; they also reportedly monitored in 2016 as the hackers broke into the servers of the U.S. Democratic Party.

The hackers came to be known as APT-29 or The Dukes, or more commonly, Cozy Bear, and have been linked to Russia's security agencies. According to the report, the Dutch findings were passed onto U.S. officials, and may have been a key piece of evidence that led U.S. authorities to conclude the Kremlin was conducting offensive cyberoperations to hack U.S. political parties during the 2016 presidential campaign

Fast forward to 2020: the Cozy Bear hackers are back - though for those watching closely, they never really went anywhere. [Read more: Eckel/RadioFreeEurope/18July2020]

With a New Setup, the Air Force Hopes to Improve Information Warfare Operations. The Air Force is realigning the cyber mission force teams it provides to U.S. Cyber Command as a way to have intelligence personnel work more closely with cyber operators.

In the past, Air Forces Cyber was made up of cyber and intelligence personnel from 24th Air Force and 25th Air Force, respectively. However, the arrangement created difficulties with command relationships and oversight of teams since the intelligence operators served beneath a separate Air Force command with a separate commander.

But in October, the Air Force decided to merge 24th and 25th Air Force into 16th Air Force/Air Forces Cyber, placing cyber, intelligence, surveillance and reconnaissance, electronic warfare and weather capabilities under one commander, and creating the Air Force's first information warfare entity. The new organization also serves as the Air Force's component to Cyber Command.

The new organization of teams moves intelligence forces from the 70th Intelligence, Surveillance and Reconnaissance Wing to the 67th Cyber Operations Wing. [Read more: Pomerleau/DefenseNews/20July2020]

Documentary to Uncover Story of 'Nazi Spy' Who Lived in the Donegal Gaeltacht. And while it might sound like a fictional tale of wartime intrigue, in a new documentary, veteran BBC correspondent Kevin Magee uncovers the double life of Irish language scholar Dr Ludwig Mühlhausen.

In Nazi sa Ghaeltacht, on Sunday 26 July on BBC Two Northern Ireland at 10pm, Kevin investigates what Mühlhausen, a Nazi party member and German linguist, was really doing in the Donegal Gaeltacht in 1937 in the run up to the Second World War.

In the one-hour documentary, made for BBC Gaeilge by Macha Media, with support from Northern Ireland Screen's Irish Language Broadcast Fund, Kevin follows Mühlhausen's journey - ostensibly in the Gaeltacht to collect folklore but secretly gathering information which would be exploited by the Third Reich. [Read more: Armitage/BallymenaTimes/21July2020]



---
China Will Use Huawei to Spy Because So Would You. Boris Johnson's government announced Tuesday that it would block the Chinese telecommunications giant Huawei from Britain's next-generation cellular 5G network. A review by Britain's National Cyber Security Centre (NCSC) had concluded that recent U.S. sanctions imposed on Huawei would make it impossible for Britain to use its 5G technology.

But apart from such technical questions, the underlying question about Huawei equipment - whether it poses a threat to British national security - deserves far more attention. Previously, the NCSC assessed that Huawei's risk could be mitigated by limiting its access to the "periphery" of Britain's 5G network while shielding its sensitive "core." It is reassuring that Britain's signals intelligence service, GCHQ, which the NCSC is part of, has investigated Huawei since it first entered Britain's broadband network years ago and has not to date detected any evidence of malicious Chinese state cyberactivity through Huawei.

Absence of evidence, however, should not be interpreted as evidence of absence - or intent. In fact, there is a long history of all kinds of governments exploiting commercial communication companies to collect foreign intelligence in bulk to further their interests and protect their national security. The British and U.S. governments have themselves been previous perpetrators of such exploitation-and victims. [Read more: Walton/ForeignPolicy/14July2020]

The Spies Who Lived Here: How I Found James Bond's Precise Address. Iam in London. In Chelsea to be precise, at the entrance to Wellington Square off the King's Road, where I am being interviewed for the French radio station RTL - à distance sociale - about James Bond. The reason why we're at Wellington Square is because this is where James Bond lived. Obviously, James Bond is a fictional character and didn't actually live anywhere. However, it is strange how in the case of some fictional characters a kind of reality begins to take over their lives, as if they really did live and breathe, had an actual address and a mortgage.

I point out to the interviewer that, a few yards across the King's Road from where we're standing, almost directly opposite, is the entrance to Bywater Street. Believe it or not, I tell him, another famous fictional spy, John le Carré's George Smiley, lived in Bywater Street. This extraordinary coincidence causes some excited consternation and we stop recording and cross the road. In Bywater Street, we start recording again. "George Smiley lived here? Amazing. What number?" the interviewer asks. Number 9, I say. You see what I mean.

I suppose the most famous fictional abode for a character is Sherlock Holmes's 221b, Baker Street. James Bond's address and George Smiley's have yet to achieve the same legendary status, but give them time. [Read more: Boyd/TLS/17July2020]

My Friend, the Spy: Why Espionage Is Still an Inside Job. Underground, a Warner Brothers movie from 1941, was among the first American films to explicitly show the evils of Nazism. Among their notorious deeds in the movie, the Nazis released a prisoner from the dreadful Oranienburg concentration camp. To gain his release, he was forced to identify his fellow conspirators in the German underground by leading the Gestapo to their hiding place. It is said this same espionage technique was used some 40 plus years later when a convicted Baader-Meinhof political terrorist gang member was released. He was let go only on the condition he show where his former comrades were hiding.

In the clandestine world, little changes. Little changes because it works. [Read more: Davis/ClearanceJobs/16July2020]


---
Section IV - Research Requests, Jobs, Obituaries
Are You Interested in Joining the Women's Intelligence Network?

The Women's Intelligence Network (WIN) connects, supports, and promotes female scholars who work in the field of Intelligence Studies. WIN is hosted in Europe and the UK by the King's Intelligence Studies Group (KISG) and in North America by the North American Society for Intelligence History (NASIH).
The overall goal is to get more research by and on women promoted, supported, and elevated in the field of Intelligence Studies.
WIN organises brown-bag lunches with one of three overall themes: female scholar presenters; gender and intelligence research topics; topics centring on problems faced by women in their professional advancement.
GOALS: WIN awards the annual Polly Corrigan Prize for the best publication in Intelligence Studies by a female author. It runs a (wo)mentoring programme for emerging female scholars. It aims specifically to support PhD students and early career researchers in the critical moments after finishing the PhD. WIN meets regularly at conferences, such as at the annual conventions of NASIH, ISA, and others. At these meetings emerging and established scholars come together informally to network and share information on relevant conferences, research initiatives, and fellowships.
WIN also publishes gender-inclusive syllabi in Intelligence Studies. During a time when there is still a strong gender imbalance within the field of Intelligence Studies, WIN hopes to bring research by and on women to greater prominence within the field and the larger scholarly community.
To Join: Membership is free, and the network welcomes people of all gender identities and sexual orientations as members. If you are interested in becoming a member of WIN, you can send an email to womenintelnetwork@gmail.com with your current position, research interests, and email address. You will then be added to the mailing- and membership list.
Intelligence Analysts -- Help Your Profession
ONET Data Collection Program (Occupational Information Network, www.onetonline.org) is working on this ongoing project to provide updated occupational information to the public, and are currently updating the classification of Intelligence Analysts.
If you are an Intelligence Analyst, ONET would like to call upon you to learn more about this work and provide necessary updates to the ONET resource. The aggregate results of this research are used to update information about this work at the O*NET Database for the millions of people who access it for career exploration and job analysis.
Intelligence Analysts - Gather, analyze, or evaluate information from a variety of sources, such as law enforcement databases, surveillance, intelligence networks or geographic information systems. Use intelligence data to anticipate and prevent organized crime activities, such as terrorism.
To participate contact Matt Robinson, O*NET Business Liaison, Research Triangle Institute, Phone: 919-926-6617 or email him at mrobinson@onet.rti.org. More info at www.rti.org; https://onet.rti.org; www.onetcenter.org; and www.doleta.gov/programs/onet.
Seeking Counterintelligence Cyber Instructors for JCITA at Quantico, VA
Operational Intelligence, LLC, an E3/Sentinel company is looking for Counterintelligence Cyber Instructors for JCITA at Quantico, VA.
Duties include creating courses and content to facilitate instruction of cyber methodologies for counterintelligence professionals.
Current DoD TS/SCI Clearance and accreditation from a CI Special Agent course required.
Please contact OI Lead Recruiter Stacey McKinney, C: 571-214-1992 or stacey.mckinney@oi-llc.com or E3/Sentinel Principle Rosanna Minchew, rminchew@e3sentinel.com
Seeking Counterintelligence Surveillance Instructors for JCITA at Quantico, VA
Operational Intelligence, LLC, an E3/Sentinel company is looking for Counterintelligence Surveillance Instructors for JCITA at Quantico, VA to provide CI subject matter expertise for course development, instruction, and mentorship.
Current DoD TS/SCI Clearance and experience conducting discreet CI Surveillance and CI countersurveillance operations using DoD methodology required.
This position requires work after hours, weekend and travel within the NCR.
Please contact OI Lead Recruiter Stacey McKinney, C: 571-214-1992 or stacey.mckinney@oi-llc.com or E3/Sentinel Principle Rosanna Minchew, rminchew@e3sentinel.com
Seeking Russian and Arabic linguist positions supporting DIA at Quantico, VA
Russian and Arabic linguist positions supporting DIA at Quantico, VA, available with Operational Intelligence, LLC, an E3/Sentinel company. Active TS/SCI required.
Please contact OI Lead Recruiter Stacey McKinney, C: 571-214-1992 or stacey.mckinney@oi-llc.com or E3/Sentinel Principle Rosanna Minchew, rminchew@e3sentinel.com
Seeking Director, Intelligence Analysis Division (IAD), Intelligence Analyses Division, Alexandria, VA, Closing Date is 8/8/20

Enjoy challenging work and make important contributions to the Nation
The Institute for Defense Analyses (IDA) is a not-for-profit corporation that operates three Federally-Funded Research Centers (FFRDCs): the Systems and Analyses Center sponsored by the Office of the Secretary of Defense; the Science and Technology Policy Institute serving the Office of Science and Technology Policy, the National Science Foundation, and other offices and councils within the executive branch of the federal government; and the Center for Communications and Computing serving the National Security Agency. IDA provides objective analyses of national security issues and related national challenges, particularly those requiring extraordinary scientific, technical, and analytic expertise.
The Intelligence Analyses Division (IAD), one of eight research divisions within the Alexandria, VA-based Systems and Analyses Center (SAC), provides the Department of Defense, the intelligence community, and other departments and agencies objective, high-quality, responsive research and analyses across a wide array of critical intelligence issues and disciplines.
Apply Now. Additional details: Director, Intelligence Analysis
Executive Director for The Bush School of Government and Public Service of Texas A&M University at their new "Teaching Site" in Washington, DC
The Bush School of Government and Public Service of Texas A&M University invites applications for the full-time position of an Executive Director for its new Washington, D.C. teaching site where courses will be offered toward professional master's degrees in the fields of international affairs, and national security and intelligence. The executive director will lead the standup and subsequent operations of a fully-implemented Texas A&M teaching site, including managing the accreditation and licensing processes. The executive director will be responsible for all business and administrative operations, oversee academic operations and curriculum, and supervise faculty and staff at the site.
The position requires a candidate to have had at least ten years of management experience in the fields of government, higher education or equivalent areas. Candidates with a master's degree, J.D. or Ph. D. are preferred. The successful candidate will have extensive experience in the Washington policy world and demonstrated management skills in a policy and/or academic environment. Additionally, the successful candidate will have a vision of how to develop and grow professional master's degree programs in international affairs and national security geared toward government professionals and those aspiring to be government professionals. Teaching experience in an appropriate academic field is encouraged but not required. The Executive Director will report to the Dean of the Bush School.
Salary will be commensurate with experience and nature of the responsibilities of the position. The start date for this position will be as soon as available.
Applications should include a resume, letter of interest, and complete contact information for three references uploaded here.
Point of Contact: Ms. Rane Cunningham at bushschoolgbs-search@tamu.edu
Review of applications will begin immediately and will continue until the position is filled.
Texas A&M University is committed to enriching the learning and working environment for all visitors, students, faculty, and staff by promoting a culture that embraces inclusion, diversity, equity, and accountability. Diverse perspectives, talents, and identities are vital to accomplishing our mission and living our core values.
The Texas A&M System is an Equal Opportunity/Affirmative Action/Veterans/Disability Employer committed to diversity.
IT Acquisitions Subject Matter Expert for Intelligence Community Client; Other Openings in Reston and Bolling AFB
E3/Sentinel has a funded opening for an IT Acquisitions Subject Matter Expert with specific experience in IT architecture requirements to support an IC customer. Candidate will assist in developing innovative business strategies and procurement policy/processes. Only candidates with TS/SCI clearances will be considered. Contact Rosanna Minchew rminchew@e3sentinel.com for more details.
E3/Sentinel has multiple openings for Contracts Specialists, Acquisition Analysts, Cost/Pricing Analysts and Contracts Closeout Specialists. Positions in Reston and at Bolling AFB. TS/SCI required to be considered for interview. Polygraph preferred. Contact Rosanna Minchew rminchew@e3sentinel.com for more details.
Adjunct instructors at the University of Texas at El Paso (US)
The National Security Studies Institute at the University of Texas at El Paso (UTEP) (see their website here) is seeking adjunct instructors to teach online graduate-level courses:
Legal Issues in Intelligence and National Security
Propaganda and Influence Operations
Intelligence and Counterterrorism
Political Economy of Terrorism
Risk Analysis
Emergency Management
Public Health and Homeland Security
A PhD in public policy, security studies, political science, or a related field is required.
Interested and eligible applicants should contact Stephen Coulthart (sjcoulthart@utep.edu).
Two Positions at James Madison University for Assistant or Associate Professor - Intelligence Analysis
James Madison University (JMU) located in Harrisonburg, VA, seeks applicants for two faculty positions in its Bachelor's Degree Program in Intelligence Analysis (IA). The appointments will be at the Assistant or Associate Professor level and will reside within the larger School of Integrated Sciences. The IA program offers a multidisciplinary undergraduate degree with an emphasis on methodology and technology to prepare students to become analysts, with a specialization in intelligence analysis. Its graduates have been successful in securing positions as analysts in both the public and private sectors, to include the Intelligence Community, military and law enforcement organizations, defense contractors, and major consulting firms. The program emphasizes methodology and synthesizes critical and creative thinking methods with technological tools for data collection, visualization, and analysis with situational knowledge of a problem's political, economic, social, and technological context with strong communicative and professional skills to support decision-making.
Ideal candidates will be comfortable in an interdisciplinary, diverse setting and possess the potential for becoming an excellent teacher to future analysts in one or more intelligence domains including national security, military, homeland security, law enforcement, private sector security, cyber security, and geospatial. They optimally have a background in either mixed-methods, qualitative, or quantitative research and analysis methods. We especially encourage applications from candidates that can leverage the use of systems thinking, employ data science in analysis, support the development of writing skills, or teach ethics specifically for future analysts. The typical teaching load in the school is 3 courses per semester.
We welcome applicants from all academic disciplines—to include the humanities, social sciences, and sciences—that provide a knowledge foundation for doing analysis. Prospective candidates should review our curriculum online to identify areas that match their expertise and to locate potential areas that they could help the program to develop. The program values teaching excellence as well as one-on-one professional mentoring and seeks candidates who can demonstrate potential for both. In addition, the position requires the potential for an active program of scholarly activity. The position requires either a Ph.D. in a relevant academic field by the date of hire (for a tenure-track appointment) OR Master's Degree with substantial experience in the field (for appointment on a Renewable Term Contract).
More information or applications may be found here.
Do not let Social Distancing slow your career. New Positions Available with Thomson Reuters
Many other jobs available with Thomson-Reuter. Email Brian Lemley for a list with descriptions and links.
FireEye Has Many Intelligence Positions Available For You - Worldwide - Contract, Full-time, Part-time, Interns
Explore the many career and contractor intelligence jobs available here. Jobs openings in Cyber Security include - Advisory, Architecture, Digital Forensics & Incident Response, Penetration Testing, Threat Research. They positions are needed here: New York, Chicago, Manila, Reston, Dallas, Atlanta, Suitland, Singapore, Denver, Las Vegas, Phoenix, Doha, Stockholm, London, Milpitas, multiple cities in Australia, Washington, Indianapolis, Tampa, Santiago, Alexandria, Seattle, Carlsbad, Houston, San Francisco, Arlington, Dubai, Amsterdam, Ft Belvoir, Minneapolis, Mexico City, San Diego, Boston, El Segundo, Philadelphia, San Antonio, Chiyoda, Ft Huachuca, Ft Gordon, Ft Meade, Ft Shafter, Kuwait City, Seoul, Sttutgart, Salt Lake City, Austin, Dublin, Bangalore, Cork, Colorado Springs... Explore the many career and contractor intelligence jobs available here.
---
Jack Halpin, CIA Officer
John Francis Halpin, 93, CIA Officer, died 8 July 2020 in McLean, VA.
Jack was born in Washington DC. He served honorably in the U.S. Navy in the Pacific Theater during WWII. He had long career at the Central Intelligence Agency where he was awarded the Career Intelligence Medal in 1984.
He was a longtime member of the Edward Douglas White Council of the Knights of Columbus. He will be remembered for his remarkable religious charity, his personal affability, and great tenor voice.
He is survived by two sons, a daughter, and other family.
Len Hawley, Director, National Security Council, Served on 9/11 Commission
Leonard Roy Hawley, Colonel, U.S. Army (Ret.), 73, NSC Director, on 9/11 Commission, died 12 July 2020 at Walter Reed Medical Center from complications of leukemia. He lived in Fairfax, VA. As an army officer and civilian, he spent his life in service to the nation. Born in Traverse City, MI, Len graduated from West Point and served 25 years in the U.S. Army. He led combat units and eventually served the Army Chief of Staff, the Joint Staff, and taught at National Defense University.
Len lived the values of West Point and viewed public service as a distinct privilege as well as a deep responsibility. He valued the challenge of working as a team to address complex problems, whether leading an armor battalion or managing international crises with the United Nations. As a civilian, Len was a serious strategic thinker. He dedicated the last 25 years of his life to working with domestic institutions to resolve international crises peacefully.
After staff experiences in the U.S. Senate and the House of Representatives, he joined the Clinton administration as a crisis response official, holding positions including (Acting) Deputy Assistant Secretary of Defense, Deputy Assistant Secretary of State for Peacekeeping and Humanitarian Assistance, and as a director at the NSC. He served on the 9/11 Commission and became a recognized speaker and mentor at military and civilian institutions on interagency management of crisis response. He believed in the importance of sharing the lessons he learned with the next generation of leaders.
He was adjunct faculty at the University of Maryland and American University of Kosovo and co-edited "The Quest for Viable Peace" (2005), a ground-breaking book on post-conflict interventions, which is still in print.
Len was humble and curious, a role model and mentor to many. He had a boundless capacity for friendship. He was unwaveringly supportive of his wife, children, and grandchildren, always championing their interests—especially in school and on the soccer field. He was a great supporter and mentor to his colleagues and friends, taking every opportunity to promote their achievements. He always sought understanding and was an engaged listener. Was quick to praise and show appreciation. He inspired people to meet challenges and do their best. He laughed often. Survivors include his wife of 51 years, Elaine J. Hawley, two sons, and other family.
Danny Knauf, Senior NSA Officer
Daniel John Knauf, 72, a Navy Cryptologic Officer, NSA intelligence official, screenwriter, died 20 March 2020.
Born in Port Chester, NY, he rose to some of the highest levels of government service. He attributed that to his fine teachers and classmates at Port Chester High School.
A graduate of American University, he entered the US Navy in 1966 as an enlisted Seaman and rose to become a Commissioned Officer. While studying Arabic in Washington, DC, he met and married a French exchange student, BiBiche. Their adventures took them around the world. Danny often enthralled his friends with his sea story tales of "chasing the bad guys" while serving on active duty and as a drilling Navy Reservist with the Navy Security Group. He routinely deployed on several Navy ships around the Mediterranean and Black Seas providing Communications Security (COMSEC) direct support to contiguous deployed Navy forces. He retired from the Navy as a full Commander.
As an Arabic linguist and skilled SIGINT analyst, he advanced in Naval Cryptology and joined the National Security Agency where he rose to be one of its highest ranking Senior Executive Service members, serving in many varied capacities to include COMSEC assignments working with NASA in their Space Program, NSA Assistant Inspector General Office assignments, CIA assignments, served a year as the NSA Representative to the FBI, and served as the NSA representative to a Presidential counter-terrorism group, and as the Chief of the National COMSEC Monitoring and Analysis Division within the DDI Organization.
Upon his 2001 retirement from the NSA, he served as the Director of Worldwide Information Systems Security for Johnson and Johnson. With that company he would often visit Washington's Crossing in Pennsylvania where the remains of several unnamed Revolutionary War patriots were buried; these visits deeply touched Dan and he vowed to always remember the sacrifice they had made. Some of his ashes will rest with those patriots.
In his fourth career Danny became certified as a Master Screenwriter, authoring several plays and screen scripts from comedy to spy thrillers that reflected his life and values. He had extensive knowledge of philosophy, history, politics, classical music, art and a way with words. In this context, during lunch breaks while assigned to the DDI he taught a free classical musical appreciation course to anyone who might want to expand their horizons. An effective manager, he knew his people and listened to their concerns.
He was a member of the Phoenix Society, and of the Skeptics Society. He loved a good cigar. Danny always embraced the West Point Cadet Prayer. He rose to the challenge to always "do the harder right, instead of the easier wrong."
As the end approached, he did not have any regrets, and retained his sense of humor and his love for BiBiche. Those who had the pleasure to know him, thank him for injecting fun and excitement in their lives.
He is survived by his wife of 50 years, BiBiche, and numerous friends and admirers. He will rest in the Sarasota National Cemetery in Florida.
---
AFIO EDUCATIONAL EVENTS IN COMING TWO MONTHS....
CANCELED: Friday, 23 October 2020, 10:30 a.m. - 2 p.m. - Tysons, VA - AFIO National Fall Luncheon features Washington Post columnist David Ignatius, and Author, former Post reporter Stephen Vogel
The morning speaker was to be David Ignatius, author of the upcoming intelligence novel, The Paladin: A Spy Novel [WW Norton, May 2020]. Ignatius is a Washington Post columnist and has been covering the Middle East and CIA for nearly three decades.
Of Ignatius' forthcoming novel, reviewers wrote: "For me nothing is more intriguing than life inside our intelligence agencies. David Ignatius uses his decades' worth of reporting experience to take us there in this fast-moving, jaw-dropping drama that reads like it was ripped from the headlines. I recommend you grab a copy and hold on tight for the entire thrilling ride." — Brian Kilmeade, Fox News.
"David Ignatius once again takes readers behind the scenes of America's most secretive bureaucracy, revealing in fiction what could never be declassified in fact. The Paladin is yet another stirring read from one of America's most revered reporters and gifted storytellers." — Joe Scarborough, MSNBC
The afternoon program would have featured Stephen Vogel, author of Betrayal in Berlin: The True Story of the Cold War's Most Audacious Espionage Operation [Custom House, Sept 2019]. Vogel is a former Washington Post reporter who covered the federal government. He was based overseas from 1989 through 1994 where he covered the fall of the Berlin Wall and the first Gulf War, and subsequently reported on military operations in Somalia, Rwanda, the Balkans, Afghanistan and Iraq.
Of Betrayal in Berlin, Former CIA Officer Sandy Grimes wrote: "The best spy book I have ever read...Steve Vogel is a talented and gifted writer who brings the personalities and idiosyncrasies of every participant in this operation to life. His research is vast, varied, and full of detail. It is truly one of those rare books you can't put down."
---
Other Upcoming Events from Advertisers, Corporate Sponsors, and Others
Thursday, 23 July 2020, 6 pm EDT - Teleconference - NIP July Virtual Speaker Series features Scott Bray, Deputy Director of Naval Intelligence
Naval Intelligence Professionals host Scott W. Bray, Deputy Director of Naval Intelligence (N2N6I) and Director, Naval Intelligence Activity, for this Teleconference. The topic is: "A Senior Leader perspective on returning to Naval Intelligence from the Office of the Director of National Intelligence and the role and mission of the Naval Intelligence Activity."
Bray's biography is here.
AGENDA: • RDML (Ret.) Cothron welcoming remarks and introduction of Mr. Bray; • Mr. Bray's remarks; • Q & A moderated by CAPT (Ret.) Bob Allen: Please email questions before or during teleconference to: bob_allen36@hotmail.com.
TIMES: 1800/6PM EDT; 1500/3PM PDT; 1200/12PM HST
Format: Teleconference
Dial in: (425) 436-6200
Access Code: 571920
(Please sign in beginning 15 min prior to start; do not choose "host," and MUTE your phone.)
The International Spy Museum has reopened to visitors. Click image below to explore exhibits and ticketing.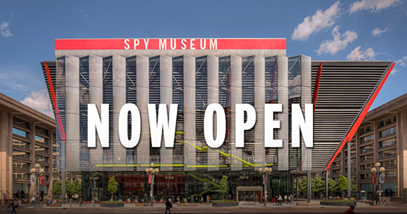 Upcoming virtual (and a few live, post-quarantine) events at the International Spy Museum. Click event to explore and register for event. All virtual events require pre-registration.
Access all upcoming Spy Museum events directly from their website: https://www.spymuseum.org/calendar/upcoming/1/
27 July 2020, Spy Camp 2020: Session 1, 9 am - 3 pm
3 August 2020, Spy Camp 2020: Session 2, 9 am - 3 pm
7 November 2020, 14th Annual Parade of Trabants, 10 am - 4 pm
14 November 2020, Operation Secret Sleepover, 7 pm - 9:30 am
NEW DATE - Saturday, 24 October 2020, 5:30 p.m. - Washington, DC - Save the Date! PenFed Foundation's 2020 Night of Heroes Gala
PUT ON CALENDAR AND HOLD THE DATE: The Pentagon Federal (PenFed Credit Union) Foundation will be hosting their spectacular Night of Heroes Gala on Saturday, 24 October 2020 at the Mandarin Oriental in Washington, D.C. Last year's annual gala raised over $1.5 million and honored children of military families.
VIP Reception at 5:30 PM
General Reception and Silent Auction at 6:00 PM
Location: The Mandarin Oriental, 1330 Maryland Ave SW, Washington, D.C.
Attire: Black Tie or Military Dress
RSVP: October 2, 2020
Click here to learn more or sponsor a table.
---
In addition to the new Royal Blue long sleeve shirts, and the gray long sleeve hooded sweatshirts, the AFIO Store also has the following items ready for quick shipment:
NEW: LONG and Short-Sleeved Shirts with embroidered AFIO Logo and New Mugs with color-glazed permanent logo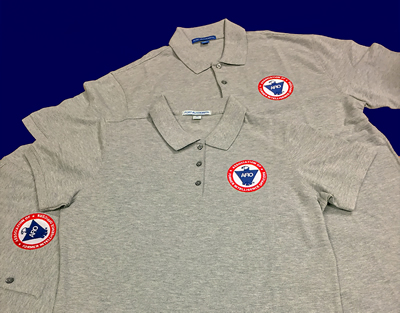 Show your support for AFIO with our new Polo Shirts. Be the first to buy these new, high quality, subtle heathered grey short sleeve shirts, and dark blue long sleeved shirts, of shrink and wrinkle resistant fine cotton with a soft yet substantial feel. They feature a detailed embroidered AFIO seal. Get a shirt for yourself and consider as gifts for colleagues, family, and friends. Only $45 each including shipping.
Sizes of (M) men or (W) women shirts; Small, Medium, Large, XL, XXL, and XXXL. At this time all orders will arrive as Short Sleeve shirts.
You may pay by check or credit card. Complete your order online here or mail an order along with payment to: AFIO, 7600 Leesburg Pike, Ste 470 East, Falls Church, VA 22043-2004. Phone orders at 703-790-0320. If interested in other shirt colors or sleeve lengths, contact Annette at: annettej@afio.com.
Available as a thank you for donations are the new AFIO logo face masks:
These soft, form-fitting, washable, non-medical grade fabric face masks have wide behind-the-ear elastics to make long periods of wear comfortable. Also easier to quickly put on or take off. Blue on outside, white inside. The masks do not have a nose wire but are sculpted, shaped, and sewn to fit most users. The all-cloth composition allows the masks to be washed or steam-disinfected without concerns over metal wires. The color logo is washable and a permanent part of the mask.
The masks, however, are not for sale. They are being offered strictly as a thank you gift to our donors.
For tax-deductible donations of $50 you will receive a receipt and our thank you gift of two of these newly-arrived face masks.
Donations of $100 receive four masks to be sent to the same address. Other amounts and split-shipments are available.
To donate now to support AFIO's programs and publications, please do so here.
We wish all members and donors continued good health, safe social distancing, and warmly appreciate any support you are able to provide the association.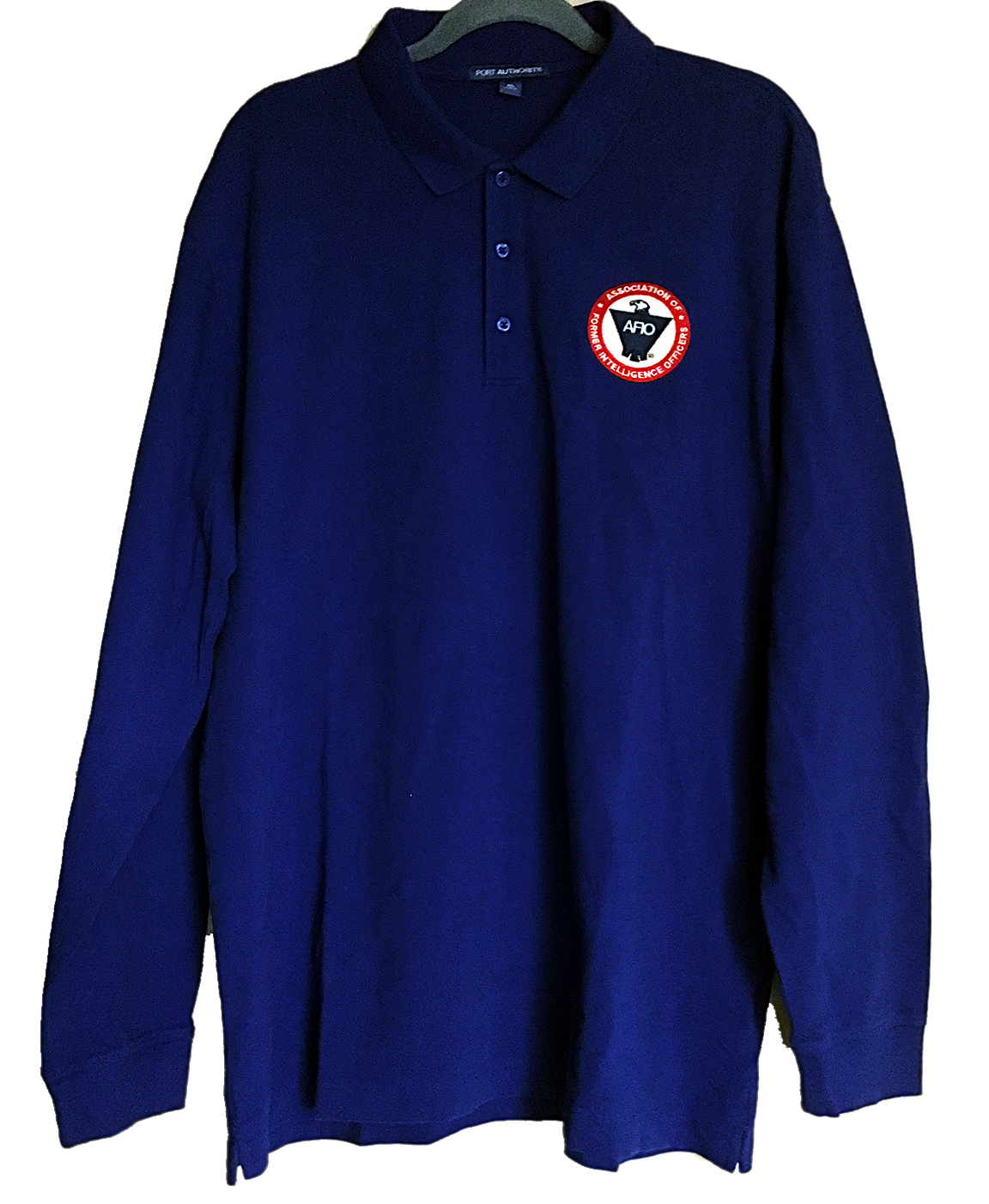 Long-Sleeved Shirts and Hooded Sweatshirts with embroidered AFIO Logo
Show your support for AFIO with our new long-sleeved Polo Shirts and Hooded Sweatshirts.
Both items are high quality and shrink resistant and feature a detailed embroidered AFIO seal. The color of the long-sleeved Polo Shirts is royal blue; the price is $55 and includes shipping.
The Hooded Sweatshirts are dark grey; the price is $70 and includes shipping.
Purchase a shirt and sweatshirt for yourself and consider as gifts for colleagues, family, and friends.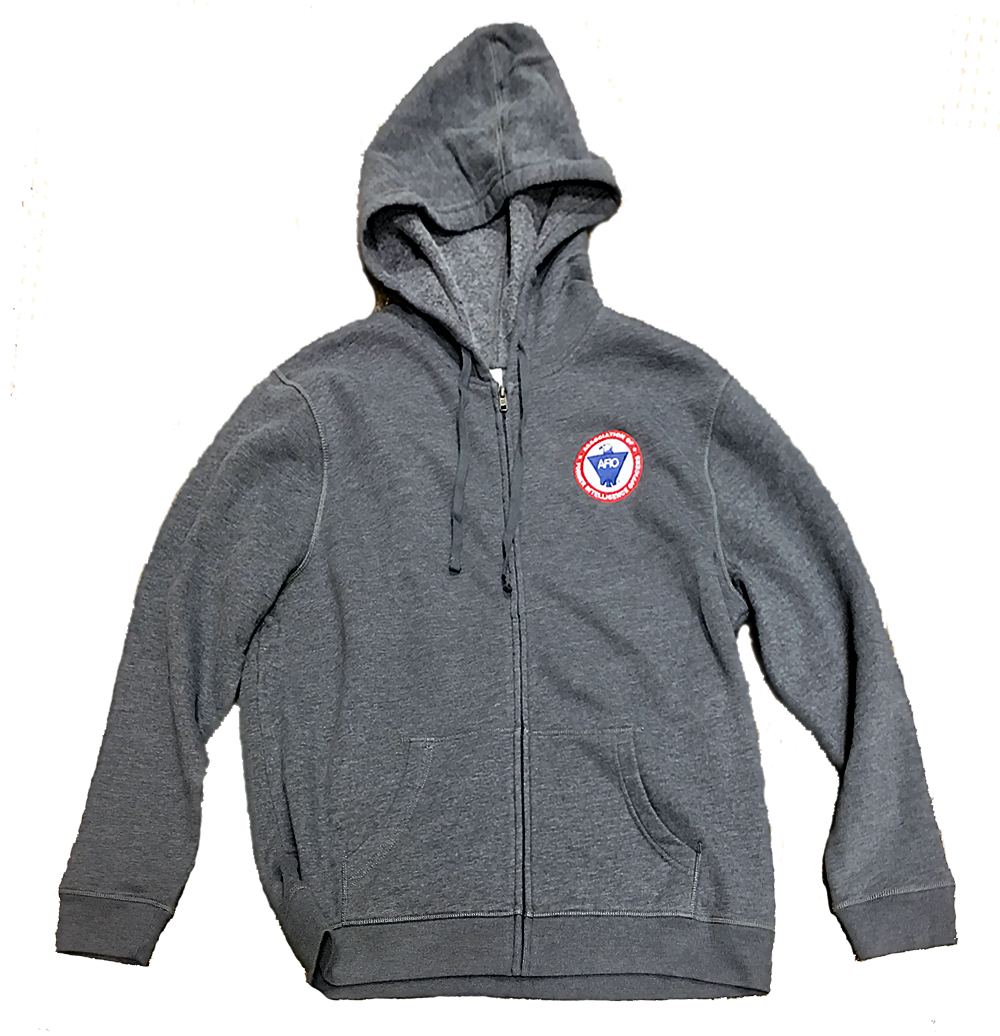 Both items are available in men's sizes: Small, Medium, Large, XL, XXL, and XXXL. The long-sleeved Polo Shirts and Hooded Sweatshirts are not available in ladies' sizes.
---
AFIO Mug with color glazed logo. Made in America. Sturdy enough to sit on desk to hold pens, cards, paperclips, and candy.
This handsome large, heavy USA-made ceramic mug is dishwasher-safe with a glazed seal. $35 per mug includes shipping. Order this and other store items online here.
AFIO's Intelligence Community Mousepads are a great looking addition to your desk...or as a gift for others.
Made in USA. Click image for larger view.
These 2017 mousepads have full color seals of all 18 members of the US Intelligence Community on this 8" round, slick surface, nonskid, rubber-backed mouse pad with a darker navy background, brighter, updated seals. Also used, by some, as swanky coasters. Price still only $20.00 for 2 pads [includes shipping to US address. Foreign shipments - we will contact you with quote.] Order MOUSEPADS here.
---
Guide to the Study of Intelligence and When Intelligence Made a Difference
"AFIO's Guide to the Study of Intelligence" has sold out in hard-copy.
However, it is available in digital form in its entirety on the AFIO website here.

Also available on the website here are the individual articles of AFIO's history project "When Intelligence Made a Difference" that have been published to date in The Intelligencer journal. More articles will be forthcoming in future editions.
---
Disclaimers and Removal Instructions
Weekly Intelligence Notes (WINs) are commentaries on Intelligence and related national security matters, based on open media sources, selected, interpreted, edited and produced for non-profit educational uses by members and WIN subscribers.
REMOVAL INSTRUCTIONS: We do not wish to add clutter to inboxes. To discontinue receiving the WINs:
a) IF YOU ARE A MEMBER - click here: UNSUBSCRIBE and supply your full name and email address where you receive the WINs. Click SEND, you will be removed from list. If this link doesn't open a blank email, create one on your own and send to afio@afio.com with the words: REMOVE FROM WINs as the subject, and provide your full name and email address where you are currently receiving them.
b) IF YOU ARE NOT A MEMBER, and you received this message, someone forwarded this newsletter to you [contrary to AFIO policies]. Forward to afio@afio.com the entire WIN or message you received and we will remove the sender from our membership and distribution lists. The problem will be solved for both of us.
CONTENTS of this WIN [HTML version recipients - Click title to jump to story or section, Click Article Title to return to Contents. This feature does not work for Plaintext Edition or for some AOL recipients]. If you wish to change to HTML format, let us know at afio@afio.com. The HTML feature also does not work for those who access their e-mail using web mail...however NON-HTML recipients may view the latest edition each week in HTML at this link: https://www.afio.com/pages/currentwin.htm
---
WINs are protected by copyright laws and intellectual property laws, and may not be reproduced or re-sent without specific permission from the Producer. Opinions expressed in the WINs are solely those of the editor's or author's listed with each article. AFIO Members Support the AFIO Mission - sponsor new members! CHECK THE AFIO WEBSITE at www.afio.com for back issues of the WINs, information about AFIO, conference agenda and registrations materials, and membership applications and much more!
(c) 1998 thru 2020. AFIO, 7600 Leesburg Pike, Suite 470 East, Falls Church, VA 22043-2004. Voice: (703) 790-0320; Fax: (703) 991-1278; Email: afio@afio.com
---
About AFIO | Membership Renewal | Change of Address | Upcoming Events | Chapter Locations | Corporate/Institutional Memberships | Careers in Intelligence Booklet | Guide to the Study of Intelligence | Intelligencer Journal | Weekly Intelligence Notes | To Make A Donation | AFIO Store | Member-Only Section | Code of Ethics | Home Page
---