---
CONTENTS
Section I - INTELLIGENCE HIGHLIGHTS
Section II - CONTEXT & PRECEDENCE
Section IV - Research Requests, Jobs, Obituaries
Other Upcoming Events from Advertisers, Corporate Sponsors, and Others
For Additional AFIO and other Events two+ months or more... Calendar of Events

WIN CREDITS FOR THIS ISSUE: The WIN editors thank the following special contributors: rsy, ec, po, pj, mh, km, gh, mk, rd, fm, kc, jm, mr, jg, th, ed, and fwr. They have contributed one or more stories used in this issue.

The WIN editors attempt to include a wide range of articles and commentary in the Weekly Notes to inform and educate our readers. However, the views expressed in the articles are purely those of the authors, and in no way reflect support or endorsement from the WIN editors or the AFIO officers and staff. We welcome comments from the WIN readers on any and all articles and commentary.

CAVEATS: IMPORTANT: AFIO does not "vet" or endorse research inquiries, career announcements, or job offers. Reasonable-sounding inquiries and career offerings are published as a service to our members, and for researchers, educators, and subscribers. You are urged to exercise your usual caution and good judgment when responding, and should verify the source independently before supplying any resume, career data, or personal information.]
If you are having difficulties with the links or viewing this newsletter when it arrives by email, members may view the latest edition each week at this link.

---

Recommended Reads:
The Arkin Group's October 2 "In Other News" letter to clients by former Operations Officer Jack Devine features...
• Venezuela is receiving fuel from Iran as it deals with growing social unrest due to gas and food shortages
• Armenia has accused Turkey of shooting down one of its jets amid the most recent escalation of a long-simmering Armenian-Azerbaijani conflict over Nagorno-Karabakh, a patch of disputed territory sandwiched between the two.
• Indian announcements on defense purchases and additional deployments to the Himalayas are spurring speculation that it may be preparing for the possibility – even if remote – of an armed conflict with China at the two countries' contested border.

Inside the SCIF by JJ Green, WTOP - Issue #82, 24 September has new details about Russian authorities seizing the apartment of Alexei Navalny, Election Security, North Korea, many other topics.
---
Continuing Series of Cryptologic Museum Webinars on Cybersecurity

Cybersecurity Virtual Classroom
ONLINE CYBERSECURITY CHATS by the National Cryptologic Museum Foundation

The Cyber Center for Education and Innovation (CCEI) have been conducting a series of Cybersecurity Chats as part of their special CCEI Cybersecurity Series. These online chats for K-12 students [but older ages would benefit, too], are presented by cybersecurity professionals and experts. General information on the series is here.

There are many online chats that follow and they may be found here.

If you wish to share your own cybersecurity/cryptology expertise, review the instructions here

---

One of the special benefits of membership in AFIO: access to CIA's inhouse gift shop — the EAA Store.

It requires a quick preapproval process described here to all newly joined and current AFIO members. And then allows you to purchase online their unusual logo'd gift items for self or colleagues. Here is the latest photo EAA released on Sep 25 featuring some of their newest items:

---

Guide to the Study of Intelligence and When Intelligence Made a Difference

"AFIO's Guide to the Study of Intelligence" has sold out in hard-copy.
However, it is available in digital form in its entirety on the AFIO website here.

Also available on the website here are the individual articles of AFIO's history project "When Intelligence Made a Difference" that have been published to date in The Intelligencer journal. More articles will be forthcoming in future editions.

---
---
Special Items for our members:
AFIO NOW Interview #3 Released
---

Released 6 October 2020
Interview of Thursday, 17 September 2020 between Bruce Riedel, Director, The Intelligence Project at the Center for Middle East Policy, and AFIO President James Hughes, a former CIA Operations Officer.
TOPIC: Mr. Riedel discusses his background and crucial work while on the National Security Council during the 1990 Iraq War. The interview runs 30 minutes. Please note: The Riedel video faced some technical difficulties during recording, and post-production editing was unable to completely fix audio/video syncing. We apologize for the inconvenience.
Prior videos in series:

Interview #2: Martin C. Faga, former Director, National Reconnaissance Office

Interview #1: Joseph W. Augustyn, former CIA Clandestine Services Officer

Series Introduction: Stewart Baker, Chairman, and James Hughes, President
NOTE: Closed Captioning is available with each video. To turn on while viewing, click the CC
button at bottom right of viewing window. If viewing on a mobile browser or device, click on video image while it is running and three dots will appear at top right edge to turn CC on or off. Full program info and bios of speakers appear below video either using the "SHOW MORE" or the caron (or down caret symbol) at far right on mobile devices.
---
Jeff Stein's "SpyTalk" Column has resumed.
SpyTalk by Jeff Stein - for Oct 4: "Walter Reed a Top Russian Spy Target"
Moscow may have already bugged the hospital and recruited doctors and other medical workers, says former top CIA Russia hand. Trump's health is the target.
Russian intelligence has long targeted Walter Reed Medical Center and is unquestionably pressing its spies to gather information on the state of Donald Trump's health, a former CIA station chief in Moscow says.
"They are on full court press, just like everybody else, to determine what's going on," Dan Hoffman, a retired former CIA clandestine services division officer tells SpyTalk. "They're pulsing all their sources," and "closely watching" Trump's public appearances to size up his health.
Article continues here.
---
THE HISTORIANS — DIA History Video Series
The Historians is a video series focused on important people and events throughout DIA's history. DIA historians Greg Elder, Paul Isakson, Lisa Temple and Orlando Pacheco give a behind-the-scenes look at the stories that help make DIA the agency it is today.
In episode one, Deck of Cards, historian Greg Elder takes you back to the 2003 invasion of Iraq and the creation of the playing cards to help troops identify the most wanted members of Saddam Hussein's regime.
In episode two,True American Hero, historian Paul Isakson tells the story of Brig. Gen. Jon Reynolds, and DIA's involvement in his rescue from the Hanoi Hilton prison in Vietnam.
In episode three, DIA Historian Orlando Pacheco details the life and legacy of former DIA Director Lt. Gen. Sam Wilson, a U.S. Army officer who is cited as the first to use the term "counterinsurgency."
In episode four, historian Greg Elder explores how DIA helped put a Man on the Moon. Also hear from some DIA officers as the describe their memories of the moon landing 50 years later.
In episode five, DIA Chief Historian Greg Elder examines DIA's exploitation of the Soviet Union's MiG-25 Foxbat interceptor.
In episode six, historian Lisa Temple tells the story of Operation Babylift, the name given to the mass evacuation of children from South Vietnam to the United States and other countries at the end of the Vietnam War in 1975. DIA played a vital roll in the execution of the operation
---
Writers, Officers: Please Provide A Brief Article for This Ongoing AFIO History Project
AFIO's educational project "When Intelligence Made a Difference" seeks writers to identify events throughout history involving any nation or organization when the outcome was affected significantly by intelligence.
AFIO has been publishing edited submissions serially in Intelligencer released two to three times a year.
To see what has been published, it is available here. Also look at the Fall edition of the journal arriving in the mail of all members and subscribers over the next three weeks.
Those readers interested in contributing an article, should email peter.oleson@afio.com.
For instructors, this project makes a great class assignment. Accepted articles give students a publication credit in a recognized journal.
---
Newly Released, Overlooked, or Forthcoming Books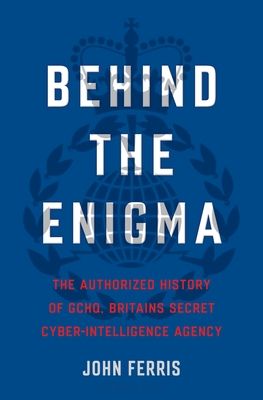 Behind the Enigma: The Authorized History of GCHQ, Britain's Secret Cyber Intelligence Agency
by John Ferris
(Bloomsbury Publishing, Oct 2020)
For a hundred years GCHQ — Government Communications Headquarters — has been at the forefront of British secret statecraft. Born out of the need to support military operations in WWI, and fought over ever since, today it is the UK's biggest intelligence, security, and cyber agency and a powerful tool of the British state.
Famed primarily for its codebreaking achievements at Bletchley Park against Enigma ciphers in WWII, GCHQ has intercepted, interpreted and disrupted the information networks of Britain's foes for a century, and yet it remains the least known and understood of British intelligence services. It has been one of the most open-minded, too: GCHQ has always demanded a diversity of intellectual firepower, finding it in places which strike us as ground-breaking today, and allying it to the efforts of ordinary men and women to achieve extraordinary insights in war, diplomacy, and peace. GCHQ shapes British decision-making more than any other intelligence organization and, along with its partners in the Five Eyes intelligence partnership-including the our' National Security Agency—has become ever more crucial in an age governed by information technology.
Book may be ordered here.
---
Between Five Eyes: Fifty Years Inside the Five Eyes Intelligence Community
by Anthony R. Wells
(Casemate, Sep 2020)
UK/US intelligence and the wider Five Eyes community of Canada, Australia and New Zealand is primarily about one main thing: Relationships. Wells charts fifty years of change, turmoil, intense challenges, successes and failures, and never-ending abiding Five Eyes relationships. He traces the development of institutions that he firmly believes have sustained, and indeed may have saved, Western democracies and their allies from those ill disposed to the value system and culture of our nations. More than a chronology of the UK/US intelligence community during this fifty-year period, it is also a personal insight into key relationships and the abiding strength of the United States and the United Kingdom and its Five Eyes allies relationships. The author is the only living person to have worked for British Intelligence as a British citizen and US Intelligence as a US citizen. As a fully trained and accredited security officer for two US intelligence organizations, Wells relied on his extensive unclassified collection of papers, personal notes and diaries, as well as his family library for source material.
Book may be ordered here.
---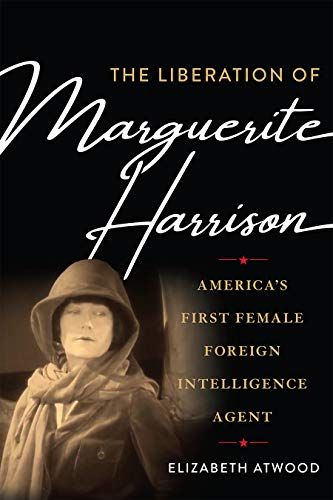 The Liberation of Marguerite Harrison: America's First Female Foreign Intelligence Agent
by Elizabeth Atwood
(Naval Institute Press, Sep 2020)
Atwood, a former newspaper reporter and editor who worked for two decades at the Baltimore Sun, profiles a Sun reporter turned spy of an earlier generation. From the end of WWI into the 1920s, Marguerite Harrison, a 39-year-old socialite from Baltimore, spied for the U.S. Army and Department of State in Germany, Russia, and the Middle East. "The fact that she accomplished these missions when many Americans still believed women should not involve themselves in the sometimes dirty business of government and politics," Atwood writes in the preface, "is testament to both her talents and the vision of the men who trusted her." Though Harrison is considered the first female foreign intelligence officer for the U.S., she's never before been the subject of a biography,and her story has gone largely untold.
Book may be ordered here.
---
---
Section I - INTELLIGENCE HIGHLIGHTS

Report: North Korea Ambassador to Italy Defected to South. The acting North Korean ambassador to Rome who went missing in 2018 has chosen to seek asylum in South Korea, according to a South Korean press report.

South Korean television network JTBC reported Tuesday Jo Song Gil, rumored to have been seeking asylum in a third country, has chosen to resettle in the South.

Jo's disappearance from Pyongyang's Embassy in Rome caused a stir in Italy, where major newspapers like La Repubblica reported in January 2019 Jo was seeking entry into the United States and was under the protection of Italian intelligence. CNN described the incident as an "Italian mystery with international implications."

South Korea was mostly ruled out as a destination for Jo. The Italian foreign ministry at the time said Jo's daughter had been repatriated to North Korea to live with grandparents, according to JTBC. [Read more: Shim/UPI/6October2020]

Robert Levinson: Iran Told to Pay $1.45bn to Missing American's Family. A US judge has ordered Iran to pay $1.45bn (1.23bn euros; £1.12bn) to the family of an ex-FBI agent who vanished during a visit to the country in 2007.

A ruling awarded Robert Levinson's wife and children $1.35bn in punitive damages and $107m in compensatory damages for kidnapping.

There was no immediate response from the Iran government, which has always denied knowing his status or location. [Read more: BBC/6October2020]

Israel Army Recruits Ex-Intelligence Officers to Spy on Arab Israelis. The Israeli army is recruiting former intelligence officers from the Shin Bet to spy on Palestinians living in Israel under the pretext of combating the coronavirus, Israel's Walla news site revealed.

The site quoted senior sources in the Home Front Command as saying that the army has contacted former officers in the Shabak, who are known for their knowledge of Arabs living in Israel, and asked them to join a new "security body" tasked with tracking coronavirus infections.

A former army officer, who had been contacted by the army, told the news site that while the official aim of the new "security body" is to help obtain information about coronavirus infections within the Palestinian community in Israel, he fears the new body has greater plans for the future. [Read more: MiddleEastMonitor/6November2020]

Work Begins On Starlink-Like Constellation Of Small Hypersonic Missile-Tracking Satellites. The U.S. military has hired L3Harris and SpaceX to build small satellites with powerful infrared sensors capable of spotting and tracking ballistic missiles and hypersonic weapons. These satellites could become part of a large and broader early warning constellation with hundreds of space-based sensors and communications nodes watching for incoming threats, monitoring their flight, and potentially providing targeting data to missile defense assets.

The Pentagon announced that the Space Development Agency (SDA) had awarded the contracts to L3Harris and SpaceX, worth around $193.5 million and just over $149 million, respectively, on Oct. 5, 2020. Each company will be responsible for building four satellites, each with a wide field of view (WFOV) overhead persistent infrared (OPIR) sensor, in support of work on what SDA calls Tranche 0 of the Tracking Layer of the planned overarching early warning constellation. [Read more: Trevithick/TheDrive/6October2020]

Whistleblower Edward Snowden's Book Earnings Should Go to U.S. Government, Court Rules. The United States is entitled to more than $5.2 million from former National Security Agency contractor Edward Snowden's book royalties, a federal court ruled this week, according to the U.S. Department of Justice.

In a statement, the department said the U.S. District Court for the Eastern District of Virginia on Tuesday also ruled in favor of setting up a trust for the government for any future earnings from Snowden's book, which had been the subject of a federal lawsuit.

A lawyer for Snowden did not immediately respond to a request for comment. [Read more: Reuters/1October2020]


---
Section II - CONTEXT & PRECEDENCE

The China Threat: Foreign Intelligence Services Use Social Media Sites to Target People with Security Clearances. China and - other foreign governments are using professional networking social media sites to target people with U.S. government security clearances. Foreign intelligence services may use fake profiles, seemingly benign requests, the promise of lucrative payouts, and other tactics to try to gain non-public and classified information for their benefit. The FBI urges everyone - especially those who hold (or have held) security clearances - to be cautious when approached by individuals online regarding career opportunities. [Read more: FBI/1October2020]

Safeguarding Your Vote: A Joint Message on Election Security. The directors of the FBI, National Security Agency, Cybersecurity and Infrastructure Security Agency, and National Counterintelligence and Security Center discuss their agencies' commitment to protect the integrity of the 2020 election. [Read/Watch: FBI/5October2020]

Why are MI5 and MI6 so Famous and What Happened to the Other Secret Military Intelligence Departments? The mystery surrounding British spies has meant that for over 100 years the public has been fascinated by their presence or non presence as the case may be.

The heroic stories of James Bond, told through novels and films, have ensured that the secretive world of espionage has remained firmly in the public gaze.

The two most famous British spy agencies are MI5 and MI6, (both based in London) but there were in fact 15 other Military Intelligence departments which have now either disbanded or were absorbed into MI5 and MI6.

MI5 looks after domestic issues, but has officially been known as the Security Service since 1931 - the use of MI5 has become a shorthand name for the agency. [Read more: Molyneaux/MyLondon/1October2020]

A Call to Spy Highlights Virginia Hall, the Most Powerful Female Secret Agent in Modern History. Though the name Virginia Hall might not be familiar to most, during World War II, the American from Baltimore, who was living in Europe before war broke out, ended up becoming one of the most powerful and revered spies working for the Allied forces.

The new IFC film A Call to Spy (out now on Demand) stars Sarah Megan Thomas as Hall (who also wrote and produced the film), Stana Katic as fellow spy Vera Atkins, and Radhika Apte as a spy and wireless operator Noor Inayat Khan.

In real life, the three women were part of Winston Churchill's Special Operations Executive, which helped undermine the Nazi regime in France.

Hall's story is particularly fascinating. [Read more: Telling/People/2October2020] [See IFC Film preview info here.and trailer here.]

The CIA Wanted the Best and the Brightest. They Found Them at Yale. The invitation down the rabbit hole came in the spring of 1957. "I'd like to talk to you about a job and your future," said the man on the line.

Henry "Sam" Chauncey Jr. was a soon-to-be graduating Yale history major and was used to calls from recruiters. In those days an Ivy League degree carried more weight even than today and several large companies were already courting him. There was an offer from Procter & Gamble and another from Chemical Bank, which later combined with Chase. But this was different. This offer came from the government and carried an air of adventure, maybe even danger.

The man on the phone (Chauncey says his name was Max but is not sure of the spelling of his last name) and Chauncey met twice, first in Yale's career-placement office and then at George and Harry's, a popular cocktail bar near campus. In these meetings, Max formalized an invitation into a world of shadows and hidden recordings, of coded messages and double meanings. The world behind the world where the rest of us live.

Max didn't mention the name of the organization he represented. He didn't have to. [Read more: Ofgang/ConnecticutMagazine/30September2020]


---
What if Sherman Kent was Wrong? Revisiting the Intelligence Debate of 1949. There's little the United States intelligence community holds more sacred than the teachings of Sherman Kent. Widely considered the "father" of American intelligence, his stamp upon the profession is indelible. His name is practically synonymous with both the craft of analysis and the standard model of intelligence-policy relations. His book Strategic Intelligence for American World Policy remains "the text by which succeeding generations of fledgling analysts [are] schooled, a book that studs the footnotes of those that followed."

But what if he was wrong? [Read more: Brown/WarOnTheRocks/1October2020]

The Kremlin Takes On a Resurrected Navalny. In his first press interview after being poisoned, the Russian opposition activist Alexei Navalny told Germany's Der Spiegel magazine that President Vladimir Putin was personally behind the attempt on his life, and that the Russian leadership won't stop poisoning people any time soon.

Putin's press secretary Dmitry Peskov's response to Navalny's comments on October 1 was unexpectedly blunt and expansive. "We consider some of the assertions made in the aforementioned publication extremely offensive and also unacceptable," he told journalists.

Peskov also repeated State Duma Speaker Vyacheslav Volodin's claims that Navalny "is working with the intelligence agencies and state authorities of Western countries," and went as far as to specify: "Specialists from the U.S. CIA are working with him right now." In fact, Peskov added, Navalny's comments in his interview with Der Spiegel - and indeed all his public activity - were dictated to him by those same CIA specialists.

Peskov's vitriolic attack on Navalny on two fronts - calling him a CIA puppet and accusing him of insulting the president - is a continuation of attempts to marginalize Navalny, despite the drastically changed circumstances. [Read more: Baunov/CarnegieMoscowCenter/6October2020]

The 10 Weirdest Military Mysteries. The world is full of mysteries and the military world is no exception. Each war has been accompanied by strange stories, potential double agents, secret messages and unsolved disappearances. Scary? Intriguing? You tell me! Keep scrolling to learn about the top 10 mysterious events in military history. [Read more: Sulc/WeAreTheMighty/5October2020]

The Risks of Politicizing the U.S. Intelligence Community. Is the Trump administration politicizing intelligence and the community that provides it? Johns Hopkins University's John McLaughlin, who was acting CIA director during the George W. Bush administration, and Larry Diamond, who also served under President George W. Bush and has written extensively about the decline of democracy and the rise of authoritarianism, join Nick Schifrin to discuss. [Read/Listen: PBS/1October2020]


---
Section IV - Research Requests, Jobs, Obituaries
The Vienna Tunnel - "Operation Silver" - Researcher Seeks More Info
After retiring from the CIA I ended up living in Vienna, Austria and got interested in the "Vienna Tunnel." It was a SIS/MI6 operation from 1949-52 or so which tapped Soviet phone lines between Soviet HQs and Moscow. It was the inspiration for the Berlin Tunnel in that same era. Very little information has been made public about the Vienna Tunnel and much of the information doesn't seem to make sense. If you have any ideas for how to find this tunnel or knowledge about this operation I would love to hear from you at hholmer1@gmail.com. Than you in advance, -Hans
Did you know: Eloise Page, Elizabeth Sudmeier, Adelaide Hawkins, or Mary Hutchison at CIA? Please assist this author.
I am a historian and the author of several nonfiction books [see Rise of the Rocket Girls: The Women Who Propelled Us from Missiles to the Moon to Mars]. Over the past few years I've been gathering material on a group of women who worked for the CIA. Penguin Random House will be publishing my group biography on their stories. I have been working with the CIA liaison office directly and they have been supportive of this project. My goal is to highlight the successes of the agency during the 1950s and 60s through the work of these four incredible women.
I would love to hear from AFIO members who may have stories or reminiscences about the women I'm writing about. These women are: Eloise Page, Elizabeth Sudmeier, Adelaide Hawkins, and Mary Hutchison.
I am a New York Times bestselling author and my writing has appeared in The New York Times, The Atlantic, The Los Angeles Times, Time magazine, Science Friday, as well as many other outlets.
Replies to Nathalia Holt PhD at nat@nathaliaholt.com. More info on this author at https://www.nathaliaholt.com/ or @nathaliaholt
Full Time Assistant Professor for Intelligence Studies Program at Catholic University, Washington, DC
AFIO Members with Academic Credentials! Potential Full Time Teaching Opportunity in 2022 in Catholic University's Intelligence Program
University located at 620 Michigan Ave NE, Washington, DC
Former CIA officer and staff historian Nicholas Dujmovic retired in 2016 to become the founding director of the Intelligence Studies Program at the Catholic University of America (CUA) in Washington, D.C. The program is successful and growing. The undergraduate Certificate in Intelligence Studies currently has 76 students enrolled--the largest such program on campus. The program continues to expand the number of intelligence courses offered, as well as their variety.
Dr. Dujmovic is optimistic that a full time position at the assistant professor level will open in the summer of 2022.
He is reaching out early to the AFIO community to identify potential candidates with the following attributes:
Significant service (at least 15 years) as a professional intelligence officer involved in analysis, operations, technical collection, or possibly support. A recent retiree closing a successful career would be ideal.
A Ph.D. from an accredited university in political science, history, area studies, a comparable field or a relevant STEM field.
Teaching experience at the university level, either undergraduate or graduate.
Evidence of past scholarship and a willingness to engage in further research and publication, consistent with CUA's commitment to excellence as a "research university."
An enthusiasm for teaching and advising mostly undergraduate students.
AFIO members wishing to learn more are encouraged to contact Dr. Dujmovic at dujmovic@cua.edu.
Assistant Professor of Criminal Justice - UTEP - University of Texas at El Paso
The University of Texas at El Paso's College of Liberal Arts, Department of Criminal Justice, is seeking a full-time tenure-track "Assistant Professor of Criminal Justice."
Position Description: The position begins Fall 2021 at the Assistant Professor level. Responsibilities include conducting and publishing scholarly research, seeking extramural funding, teaching face-to-face and online courses, and service to the department, university, and profession.
About UTEP: The University of Texas at El Paso is a Carnegie R1 and Community Engaged research university in the heart of the U.S.-Mexico border region, in a bicultural metroplex of over 800,000 people. UTEP faculty are nationally recognized for their commitment to student success, teaching, and research. UTEP enrolls more than 25,000 students, of whom nearly 80 percent are Latino/Latina. UTEP provides equal access and social mobility for over 50% of its student body of first generation students. UTEP comprises 10 academic colleges/schools. The Department of CJ offers an online B.A. in Security Studies, a Master of Science in Intelligence and National Security and a Master of Defense and Strategic Studies. The department also offers a B.A. in Criminal Justice, an equivalent 100% online B.A., and an M.S. in Criminology and Criminal Justice.
Required Qualifications: Applicants must have a Ph.D. in Criminal Justice, Criminology or closely related field in Intelligence and/or Security Studies from an accredited university. ABD applicants will be considered if doctorate will be completed by Fall 2021. Active research agenda and published scholarly journal articles are required to apply. Applicants with only a J.D., Psy.D., or Ed.D. will not be considered.
Preferred Areas: All research/teaching areas of criminal justice and criminology will be considered, but preference will be given to candidates who have demonstrated teaching and/or research areas in at least one of these areas: security studies, open source intelligence, or quantitative methods/statistics.
Application Instructions and Contact Information: To apply, visit https://www.utep.edu/employment Applicants must electronically submit: (1) letter of interest that includes teaching areas and research expertise, (2) curriculum vita, (3) one scholarly publication or dissertation manuscript, and (4) names and full contact information of three references that we may contact. If you have questions about the position, please contact the Search Committee Chair, Dr. Egbert Zavala, at EgbertZ@utep.edu.
Application Review Date: Review of applications will begin October 5th, 2020 and will continue until the position is filled.
Hiring decisions are based on budget approval. To explore UTEP, do so here. To apply for the position, contact Dr. Zavala at EgbertZ@utep.edu.
Adjunct instructors at the University of Texas at El Paso (US)
The National Security Studies Institute at the University of Texas at El Paso (UTEP) (see their website here) is seeking adjunct instructors to teach online graduate-level courses:
Legal Issues in Intelligence and National Security
Propaganda and Influence Operations
Intelligence and Counterterrorism
Political Economy of Terrorism
Risk Analysis
Emergency Management
Public Health and Homeland Security
A PhD in public policy, security studies, political science, or a related field is required.
Interested and eligible applicants should contact Stephen Coulthart (sjcoulthart@utep.edu).
---
---
AFIO EDUCATIONAL EVENTS IN COMING TWO MONTHS....
Wednesday, 7 October 2020, 12 noon - Virtual Zoom - The "Andre Le Gallo" San Francisco Chapter hosts Rear Admiral John Bitoff, U.S. Navy (ret) on Restoring Civility to Our Public Discourse

Rear Admiral John Bitoff will address what many perceive as the rise of incivility in America. Through the lens of history, he looks at the root causes of the corrosion of manners, and of downright meanness, and he considers why the virtues of humility and kindness seem to be on the wane.
The admiral extols civility by recounting military stories and personal anecdotes, and exploring the writings of philosophers, writers, scientists and leaders. His experience in leading men and women in difficult circumstances, of service in the highest level of the military, and his efforts in the field of international relations - particularly arms control - make him especially well-suited to address the topical subject of civility.
Rear Admiral John Bitoff, U.S. Navy (ret), has commanded destroyers, the master training base of the Atlantic Fleet, the Combat Logistics Ships in the Pacific Fleet, served as Executive Assistant to the Chairman of The Joint Chiefs of Staff, integrated women aboard U.S. Third Fleet ships, and implemented a Nuclear Forces Treaty with the Soviet Union. He also carried the last Olympic Torch out of San Francisco onto the Golden Gate Bridge for the 1996 Summer Games.
His talk on Civility arises from these life experiences, and is most timely in today's world.
To participate: This meeting will be conducted via Zoom. Registration link is here.
15 October 2020, 12:30 - 1:30 p.m. PST - Virtual Go-To-Meeting - "Challenges Facing Cyber Intelligence" - Topic of AFIO Los Angeles Chapter Meeting
The AFIO L.A. Chapter will hold its next virtual meeting on featuring guest speaker Prof. Al Lewis discussing "Challenges Facing Cyber Intelligence."
Al Lewis is currently a doctoral candidate in Strategic Intelligence in the School of Security and Global Studies at the American Military University. His primary areas of research includes the role of the Advanced Persistent Threat (APT) within state-sponsored cyber conflict and advocacy for ethics in cyberspace. Al is an Adjunct Professor at the George Washington University where he teaches Cyber Threat, Policy, & Strategy to graduate students in the Elliott School of International Affairs. Additionally, Al currently oversees the Cybersecurity Operations Center of Boeing, the world's largest aerospace and defense company. Before that he served the United States of America as a Special Agent in the Secret Service where he conducted International cybercrime investigations, computer forensics, and executive protection operations. Lastly, Al served in the United States Marine Corps, as a Force Reconnaissance Platoon Commander, conducting deep reconnaissance and direct actions missions around the world
We look forward to your attendance, and if any of your members would like to attend, please feel free to let them know we welcome their participation.
Virtual Platform: Go To Meeting
RSVP For Meeting Link: AFIO_LA@yahoo.com.
5 Nov 2020, 11:30 a.m. CST - Virtual - "Current U.S. Immigration Issues" - theme of this virtual event by the AFIO San Antonio, TX Chapter
U.S. immigration policy was one of the first discussed by the U.S. Congress in 1790 and began our long history of immigration laws for the United States of America. Our current immigration policy stems from landmark legislation of 1952 with the Immigration and Nationality Act (INA), and has been amended significantly seventeen times since and shaped by Presidential executive orders.
Family reunification, labor supply, and humanitarian issues are the main basis of our current immigration policy while immigration enforcement seeks the restriction to those who merit entry and residence here in this great country.
This will be a short overview of selected current immigration issues. Presented by Fred Schellenberg.
Meeting begins at 11:30 a.m. Central Standard Time. If already a SA Chapter Member, mark your calendar. You will be sent a link for the online presentation prior to the meeting. If not a member, contact President John Franklin johntf3@gmail.com.
There is no charge to attend these meetings.

---
Other Upcoming Events from Advertisers, Corporate Sponsors, and Others
The International Spy Museum has reopened to visitors.
Click here to explore events, exhibits, and ticketing.
Upcoming virtual (and a few live, post-quarantine) events at the International Spy Museum. Click event to explore and register for event. All virtual events require pre-registration.
Access all upcoming Spy Museum events directly from their website: https://www.spymuseum.org/calendar/upcoming/1/
7 November 2020, 14th Annual Parade of Trabants, 10 am - 4 pm
14 November 2020, Operation Secret Sleepover, 7 pm - 9:30 am
Sunday, 27 September 2020, 2 PM EDT - Virtual Zoom - In the Shadows: The Secret, Intense Struggle to Mount a Second Berlin Airlift in 1961 - presentation by Colonel. G. H. "Hork" Dimon (USAF, ret.) for the Cold War Museum
Have you ever heard of the "The Second Berlin Airlift"—a time when preparations for which caused the Cold War to grow hot, Americans to be killed, and aircraft and equipment to be blown up? Probably not, for it occurred in the shadows as all eyes were focused on the Autumn 1961 Crisis when the Berlin Wall went up. Also probably not because the unadvertised Soviet plans for another Berlin blockade—and the backbreaking effort to prevent it—never made the news then and, indeed, it is hard to find any record of that effort today.
This is the 35th in a series of presentations sponsored by the Museum featuring expert eyewitnesses to significant Cold War events and activities.

For full event description, speaker bio, and other information, use this event link.
Cost: $20, 100% of which is a contribution to the Cold War Museum.

Location: Online Only. Registration required. Eventbrite ticket buyers will receive a link to the virtual room on the Zoom platform where this event will take place. They are recording the whole event, including the Q&A, for the Museum's archives.
For more information and ticketing on Eventbrite, please click here.
1 to 29 October 2020, 6:30 - 7:30 pm EDT - Virtual Event - The OSS Society hosts An "Oh So Social" Conversation Series Celebrating the OSS' 75-Year Legacy

Hear leading figures from the Intelligence and Special Operations Communities discuss critical national security issues.
The OSS Society is hosting a month-long series of conversations throughout October with some of the leading figures from the Intelligence and Special Operations Communities to celebrate the Office of Strategic Services' 75-year legacy. They will be moderated by Dr. Michael Vickers who served as the Undersecretary of Defense for Intelligence. Each event will include a unique OSS-themed libation presented by cocktail historian and noted author Philip Greene who has served as The OSS Society's bartender at The William J. Donovan Award® Dinner for many years. We are calling it an "Oh So Social" Conversation Series. (During World War II, so many OSS personnel were listed in the Social Register it was said the initials "O.S.S." really stood for "Oh So Social.")
Upon buying a series pass, you will receive access to five consecutive events throughout the month of October. Twenty-four hours prior to each event, you will receive an email from ohsosocial@osssociety.org that will contain a unique private link for the event. Speakers' biographies, articles related to the topic of discussion and the recipe for the evening's highlighted drink will also be emailed to you and are available on the event page after you register. Your registration is valid for the entire five-part series. Tickets purchased after the first event are not discounted and no refunds are available after purchase.
Program:
Moderated by the Hon. Michael G. Vickers
1 October 2020: A Third Special Operations Forces Revolution -- Colonels David Maxwell USA Ret., Mark Mitchell USA, Ret. & Keith Nightingale USA, Ret.
8 October 2020: Current & Future State of SOF -- Adm. Eric Olson, USN (Ret.)
15 October 2020: INR75: The Bureau of Intelligence & Research -- The Hon. Ellen McCarthy, Asst. Secretary of State for INR
22 October 2020: The Future of Intelligence -- Michael Morell, former Acting Director of CIA
29 October 2020: OSS75: Its Legacy & Lessons -- Sec. Robert Gates, Sec. Leon Panetta, Adm. William McRaven, USN (Ret.) & Gen. David Petraeus, USA (Ret.)
Special Cocktail Presentations by noted author & cocktail historian Philip Greene
All Online Event. Fee - $250 – $1,000. No Refunds
To Attend or explore more about this event, do so here.
Wednesday, 7 October 2020, 4 - 5:30 PM EDT - Webinar and Livestreamed Facebook - "Chinese Communist Espionage" with Dr. Matthew Brazil at this Institute of World Politics free Event

You are cordially invited by the Institute of World Politics in Washington, DC to an Asia Initiative Lecture Series (AILS) webinar presentation on the topic: Chinese Communist Espionage with Dr. Matthew Brazil.
Hitherto, almost all writings about Beijing's espionage and influence operations have focused on individual cases that shed little light on the actual nature of China's organs of state security. Dr. Matthew Brazil will speak about how he and his co-author researched original sources in Chinese and unearthed new insights into Beijing's most secret operations at home and abroad.
Speaker: Matt Brazil is a non-resident Fellow at The Jamestown Foundation. He worked in Asia for over 20 years as a U.S. Army officer, American diplomat, and corporate security manager. He is the co-author of Chinese Communist Espionage: An Intelligence Primer (Annapolis: Naval Institute Press, Nov 2019), which can be found in hardcover and Kindle versions here.
More information on the book and this topic may be viewed here. The author's compendium of espionage terms in Chinese and photos from the world of Chinese Communist espionage may be seen here.
More information on this free virtual event or to Register, do so here.
Friday, 16 October 2020, 10:30 a.m. to 1:15 p.m. EDT - Virtual Go-to-Meeting - NIP 2020 Annual General Membership and BoD Meeting
The 2020 NIP Annual General Membership and BoD Meeting will be held virtually from 1030-1130 EDT on Friday, 16 October, and is open to all NIP members. Results of voting for NIP Board members and officers will be announced and we will provide a report on NIP finances, Foundation efforts and other NIP initiatives.
We'll take a break from 11:30 to 12:30 EDT at which time VADM Jeff Trussler and RADM Kelly Aeschbach will provide an update on Naval Intelligence until 13:15.
Your comments and observations on this first ever NIP virtual general membership meeting are appreciated and may be sent to naval.intelligence.pros@gmail.com
NIP Members may attend the meeting through the Go To Meeting video conference software or simply dial in for audio. We'll start the conference up at 1000 EDT and leave it open until 1330. Link and instructions for connecting are below.
Go To Meeting Conferencing Instructions:
Join the meeting from your computer, tablet or smartphone.
https://global.gotomeeting.com/join/874144765
You can also dial in using your phone.
(For supported devices, tap a one-touch number below to join instantly.)
United States: +1 (872) 240-3311
- One-touch: tel:+18722403311,,874144765#
Access Code: 874-144-765
New to GoToMeeting? Get the app now and be ready when your first meeting starts: https://global.gotomeeting.com/install/874144765
More details at NIP website.
22 October 2020, 1 pm EST - Virtual - NCMF General Membership Meeting & Annual Symposium
Join our colleagues at the National Cryptologic Museum Foundation for their first virtual General Membership Meeting & Annual Symposium. The theme of the program is "A Virtual Afternoon at the Museum." For those who do not live in the DC-MD-VA area, this is the perfect opportunity for you to attend the October Meeting/Program AND explore the Museum!
This year's program features a virtual Museum tour, Foundation and Museum updates, and a keynote presentation by Dr. Michael Warner, U.S. Cyber Command Historian and Lt. Col. John Childress, USA. Warner and Childress will speak on themes from their recent book The Use of Force for State Power: History and Future. The book was published in 2020 by Palgrave Macmillan and is also available via Kindle.
*** The program will be free, but registration is required. Stay tuned for the opening of registration and for details on how to view the virtual program. A recording of the program will be made available on our website at a later date.
Full agenda, registration and other details here.
NEW DATE - Saturday, 24 October 2020, 5:30 p.m. - Washington, DC - Save the Date! PenFed Foundation's 2020 Night of Heroes Gala
PUT ON CALENDAR AND HOLD THE DATE: The Pentagon Federal (PenFed Credit Union) Foundation will be hosting their spectacular Night of Heroes Gala on Saturday, 24 October 2020 at the Mandarin Oriental in Washington, D.C. Last year's annual gala raised over $1.5 million and honored children of military families.
VIP Reception at 5:30 PM
General Reception and Silent Auction at 6:00 PM
Location: The Mandarin Oriental, 1330 Maryland Ave SW, Washington, D.C.
Attire: Black Tie or Military Dress
RSVP: October 2, 2020
Click here to learn more or sponsor a table.
Wednesday, 27 October 2021 - Washington, DC - HOLD THE DATE - 30th Anniversary Gala and Chancellor's Dinner - Institute of World Politics
Refreshingly non-virtual...but an actual event. Shifted one year because of Covid-19 inconveniences.
Join IWP in October 2021 to celebrate IWP's 30th anniversary -- 1990 - 2020.
Schedule: 6:00 PM Cocktail Reception; 7:00 PM Dinner
Location: The Mayflower Hotel, 1127 Connecticut Ave NW, Washington, DC.
Additional details to follow.
---
In addition to the new Royal Blue long sleeve shirts, and the gray long sleeve hooded sweatshirts, the AFIO Store also has the following items ready for quick shipment:
NEW: LONG and Short-Sleeved Shirts with embroidered AFIO Logo and New Mugs with color-glazed permanent logo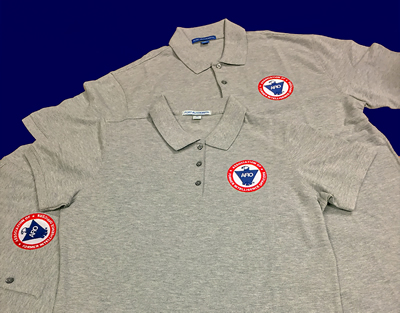 Show your support for AFIO with our new Polo Shirts. Be the first to buy these new, high quality, subtle heathered grey short sleeve shirts, and dark blue long sleeved shirts, of shrink and wrinkle resistant fine cotton with a soft yet substantial feel. They feature a detailed embroidered AFIO seal. Get a shirt for yourself and consider as gifts for colleagues, family, and friends. Only $45 each including shipping.
Sizes of (M) men or (W) women shirts; Small, Medium, Large, XL, XXL, and XXXL. At this time all orders will arrive as Short Sleeve shirts.
You may pay by check or credit card. Complete your order online here or mail an order along with payment to: AFIO, 7600 Leesburg Pike, Ste 470 East, Falls Church, VA 22043-2004. Phone orders at 703-790-0320. If interested in other shirt colors or sleeve lengths, contact Annette at: annettej@afio.com.
Available as a thank you for donations are the new AFIO logo face masks:
These soft, form-fitting, washable, non-medical grade fabric face masks have wide behind-the-ear elastics to make long periods of wear comfortable. Also easier to quickly put on or take off. Blue on outside, white inside. The masks do not have a nose wire but are sculpted, shaped, and sewn to fit most users. The all-cloth composition allows the masks to be washed or steam-disinfected without concerns over metal wires. The color logo is washable and a permanent part of the mask.
The masks, however, are not for sale. They are being offered strictly as a thank you gift to our donors.
For tax-deductible donations of $50 you will receive a receipt and our thank you gift of two of these newly-arrived face masks.
Donations of $100 receive four masks to be sent to the same address. Other amounts and split-shipments are available.
To donate now to support AFIO's programs and publications, please do so here.
We wish all members and donors continued good health, safe social distancing, and warmly appreciate any support you are able to provide the association.
---
AFIO Mug with color glazed logo. Made in America. Sturdy enough to sit on desk to hold pens, cards, paperclips, and candy.
This handsome large, heavy USA-made ceramic mug is dishwasher-safe with a glazed seal. $35 per mug includes shipping. Order this and other store items online here.
---
Guide to the Study of Intelligence and When Intelligence Made a Difference
"AFIO's Guide to the Study of Intelligence" has sold out in hard-copy.
However, it is available in digital form in its entirety on the AFIO website here.

Also available on the website here are the individual articles of AFIO's history project "When Intelligence Made a Difference" that have been published to date in The Intelligencer journal. More articles will be forthcoming in future editions.
---
Disclaimers and Removal Instructions
Weekly Intelligence Notes (WINs) are commentaries on Intelligence and related national security matters, based on open media sources, selected, interpreted, edited and produced for non-profit educational uses by members and WIN subscribers.
REMOVAL INSTRUCTIONS: We do not wish to add clutter to inboxes. To discontinue receiving the WINs:
a) IF YOU ARE A MEMBER - click here: UNSUBSCRIBE and supply your full name and email address where you receive the WINs. Click SEND, you will be removed from list. If this link doesn't open a blank email, create one on your own and send to afio@afio.com with the words: REMOVE FROM WINs as the subject, and provide your full name and email address where you are currently receiving them.
b) IF YOU ARE NOT A MEMBER, and you received this message, someone forwarded this newsletter to you [contrary to AFIO policies]. Forward to afio@afio.com the entire WIN or message you received and we will remove the sender from our membership and distribution lists. The problem will be solved for both of us.
CONTENTS of this WIN [HTML version recipients - Click title to jump to story or section, Click Article Title to return to Contents. This feature does not work for Plaintext Edition or for some AOL recipients]. If you wish to change to HTML format, let us know at afio@afio.com. The HTML feature also does not work for those who access their e-mail using web mail...however NON-HTML recipients may view the latest edition each week in HTML at this link: https://www.afio.com/pages/currentwin.htm
---
WINs are protected by copyright laws and intellectual property laws, and may not be reproduced or re-sent without specific permission from the Producer. Opinions expressed in the WINs are solely those of the editor's or author's listed with each article. AFIO Members Support the AFIO Mission - sponsor new members! CHECK THE AFIO WEBSITE at www.afio.com for back issues of the WINs, information about AFIO, conference agenda and registrations materials, and membership applications and much more!
(c) 1998 thru 2020. AFIO, 7600 Leesburg Pike, Suite 470 East, Falls Church, VA 22043-2004. Voice: (703) 790-0320; Fax: (703) 991-1278; Email: afio@afio.com
---
About AFIO | Membership Renewal | Change of Address | Upcoming Events | Chapter Locations | Corporate/Institutional Memberships | Careers in Intelligence Booklet | Guide to the Study of Intelligence | Intelligencer Journal | Weekly Intelligence Notes | To Make A Donation | AFIO Store | Member-Only Section | Code of Ethics | Home Page
---