---
CONTENTS
Section I - INTELLIGENCE HIGHLIGHTS
Section II - CONTEXT & PRECEDENCE
Section IV - Research Requests, Jobs, Obituaries
Other Upcoming Events from Advertisers, Corporate Sponsors, and Others
WIN CREDITS FOR THIS ISSUE: The WIN editors thank the following special contributors: rsy, ec, po, pj, mh, km, gh, mk, rd, fm, kc, jm, mr, jg, th, ed, and fwr. They have contributed one or more stories used in this issue.

The WIN editors attempt to include a wide range of articles and commentary in the Weekly Notes to inform and educate our readers. However, the views expressed in the articles are purely those of the authors, and in no way reflect support or endorsement from the WIN editors or the AFIO officers and staff. We welcome comments from the WIN readers on any and all articles and commentary.

CAVEATS: IMPORTANT: AFIO does not "vet" or endorse research inquiries, career announcements, or job offers. Reasonable-sounding inquiries and career offerings are published as a service to our members, and for researchers, educators, and subscribers. You are urged to exercise your usual caution and good judgment when responding, and should verify the source independently before supplying any resume, career data, or personal information.]
If you are having difficulties with the links or viewing this newsletter when it arrives by email, members may view the latest edition each week at this link.

---

Recommended Reads:

The Arkin Group's November 6 "In Other News" letter to private clients by former Operations Officer Jack Devine features...
• Beijing's suspension of Chinese fintech juggernaut Ant Financial's initial public offering, triggered by billionaire and company co-founder Jack Ma's comments criticizing China's financial regulatory environment, displays the degree to which political priorities trump other considerations in China.
• ISIS has claimed credit for a terrorist attack in central Vienna earlier this week that killed at least five and injured more than 20.
• A Taliban attack on the governor's compound in Kunduz in northern Afghanistan was likely carried out by a drone, signaling a troubling shift in the nature of ongoing warfare in the country.

---

Inside the SCIF by JJ Green, WTOP - Issue #88, 5 November has conjectures by retired senior IC figures on the 2020 Election, military ballots missing or yet to be counted, UK and NHS Fight Cyber Crime Attacks, more.
And in The Target USA podcast, Episode: 249 — "Former DNI concerned about Russia's next move" discusses opinions of former DNI Jim Clapper who insists he's still concerned Russia has another 2020 Election play left. Podcast is here.

---

---

---

Continuing Series of Cryptologic Museum Webinars on Cybersecurity

Cybersecurity Virtual Classroom
ONLINE CYBERSECURITY CHATS by the National Cryptologic Museum Foundation

The Cyber Center for Education and Innovation (CCEI) have been conducting a series of Cybersecurity Chats as part of their special CCEI Cybersecurity Series. These online chats for K-12 students [but older ages would benefit, too], are presented by cybersecurity professionals and experts. General information on the series is here.

There are many online chats that follow and they may be found here.

If you wish to share your own cybersecurity/cryptology expertise, review the instructions here

---

One of the special benefits of membership in AFIO: access to CIA's inhouse gift shop — the EAA Store.

It requires a quick preapproval process described here to all newly joined and current AFIO members. And then allows you to purchase online their unusual logo'd gift items for self or colleagues. Here is the latest photo EAA released on November 10th featuring some of their newest items:

---

Guide to the Study of Intelligence and When Intelligence Made a Difference

"AFIO's Guide to the Study of Intelligence" has sold out in hard-copy.
However, it is available in digital form in its entirety on the AFIO website here.

Also available on the website here are the individual articles of AFIO's history project "When Intelligence Made a Difference" that have been published to date in The Intelligencer journal. More articles will be forthcoming in future editions.

---
---
Special Items for our members:
---
Considerable work has been done on AFIO's LinkedIn and YouTube video pages.
We suggest members who use social media visit those two sites below to
Connect with us on LinkedIn and YouTube to be notified as new material appears on those pages.



---
Video Interview with CIA Chief Historian, PDB Editor
---

Released 3 November 2020
Interview of Friday, 16 October 2020 with David Robarge PhD, CIA Chief Historian, PDB Editor. Host-Interviewer: AFIO President James Hughes, a former CIA Operations Officer..
TOPIC: Dr Robarge discusses the complexities of counterintelligence, moles, penetrations, double agents, deep cover, and the world of James Angleton. He also provides a quick survey of the extent of foreign and domestic espionage. He closes with tips on how scholars, researchers, students, and curious members of the public may use CIA online resources available to learn more about intelligence and CIA history, including many assessments of recent events.
The interview runs 34 minutes.
Access Robarge video here or click above image.
---
Prior videos in series:
NOTE: Closed Captioning is available with each video. To turn on while viewing, click the CC
button at bottom right of viewing window. If viewing on a mobile browser or device, click on video image while it is running and three dots will appear at top right edge to turn CC on or off. Full program info and bios of speakers appear below video either using the "SHOW MORE" or the caron (or down caret symbol) at far right on mobile devices.
---
Other items brought to our attention:
UK spy agency to launch offensive cyber operation against anti-vaccine propaganda | intelNews.org
BRITAIN'S SIGNALS INTELLIGENCE AGENCY is preparing to launch a major offensive cyber operation against state-sponsored propaganda aimed at undermining research on the COVID-19 vaccine. According to the London-based Times newspaper, which published the information about the purported cyber operation, it will be aimed mostly against disinformation campaigns coming out of Russia. [Article continues here... intelNews.org]
---
The world's most unlikely spy - A Movie Review by BBC World News
A previously hidden figure of the spy world is finally being recognised in a new film. It's one of several recent movies about real women and resistance, says Caryn James. No one saw Virginia Hall coming. An American working for British intelligence during World War Two, she had lost a leg in a hunting accident years before. She named her prosthetic leg Cuthbert, and went on to become the first woman field agent sent into France before and during the occupation. She set up spy networks and safe houses, and engineered a prison escape and the explosion of Nazi supply lines. [Article continues here...BBC_Culture]
---
Harvard's Belfer Center Offering Online Executive Education Programs in Intelligence and Cybersecurity
Senior Executives in National and International Security November 30 – December 11, 2020
Cybersecurity: The Intersection of Policy and Technology January 11-15, 2021
---
The CICENTRE Now Offers Online Training
The CICentre now has the capability to present all their training courses virtually. They have done this successfully and can do the same for other organizations. Two popular courses (of many) are #510–Understanding and Profiling the Insider Threat (1-5 days) and #207–An Introduction to the People's Republic of China's Intelligence Services (1-3 days). Details on these courses and others here.
SPYPEDIA is also available in addition to virtual training. SPYPEDIA is the Centre's continuously updated counterintelligence and security database with current and historical espionage and terrorism cases, as well as the latest news, podcasts, videos, CI calendar events, quotes, reports, and more. Details on Spypedia and CiCentre membership is here.
CICENTRE book reviews and recommendations are here.
---
---
Writers, Officers: Please Provide A Brief Article for This Ongoing AFIO History Project
AFIO's educational project "When Intelligence Made a Difference" seeks writers to identify events throughout history involving any nation or organization when the outcome was affected significantly by intelligence.
AFIO has been publishing edited submissions serially in Intelligencer released two to three times a year.
To see what has been published, it is available here. Also look at the Fall edition of the journal arriving in the mail of all members and subscribers over the next three weeks.
Those readers interested in contributing an article, should email peter.oleson@afio.com.
For instructors, this project makes a great class assignment. Accepted articles give students a publication credit in a recognized journal.
---
Newly Released, Overlooked, or Forthcoming Books
American Spies: Espionage against the United States from the Cold War to the Present
by Michael J. Sulick
(Georgetown Univ Press, Sep 2020) Now in PAPER
EVERY AFIO member, every career officer, every professor or student of intelligence should have a copy of this book on their shelves. Read, annotated, and consulted. It's now available in paperback, as audiobook, and ebook. All these formats for a reason: it's indispensable.

"Drawing on a long career in the CIA's clandestine service, Michael Sulick's survey of espionage in America during and after the Cold War presents balanced analytical comparative case summaries that emphasize the most significant operations that challenged American intelligence agencies. Fascinating stories, well written, and a much needed contribution to the literature. For a basic understanding of America's contemporary espionage history — read this book!" — Hayden Peake, intelligence bibliographer, Curator of CIA Historical Intelligence Collection
"As director of CIA, I found my regular counterintelligence briefings to be depressing affairs: how could seemingly loyal, normal Americans stoop to (at best) ill-advised and (too frequently) disloyal and illegal behavior. If only I had had the chance to read Mike Sulick's American Spies, I might have known and better understood. Sulick's readable style and obvious espionage expertise translate into an expert's view of what has motivated betrayal by Americans in the modern era. His narrative reads like a fictional page-turner but with a practitioner's understanding of a real world where betrayal has become far too common. This is a must-read if one hopes to understand what it will take to keep America's secrets secret." — Michael Hayden, General USAF (Retired), former director of CIA, former director of NSA

"This and Sulick's first volume describe some of the most damaging spies in our history with gripping accounts of their motives, espionage, and the temper of the times. The detailed, often compelling accounts fascinate. But more importantly, they sound a loud warning buzzer to once again challenge our near chronic disbelief — even today — about the extent of spying directed against America and the perennial readiness of some to betray it." — Peter Earnest, former executive director, International Spy Museum

"In this, his second volume of Spying in America, retired intelligence officer and historian Michael Sulick presents vividly to readers how America, as a primary intelligence target of foreign countries and groups, protects against these attacks within the competing democratic challenges of national security and civil liberties. Sulick's extensive research gives a professional's up-to-date analysis of Russian, Chinese, and Cuban successes, and introduces us to the newer threats from terrorist organizations and cyber espionage." — Burton Gerber, retired CIA senior operations officer
Book may be ordered here from GUP. Or from Amazon.
---
Chinese Communist Espionage, An Intelligence Primer by Peter Mattis and Matt Brazil is available under special USNI discount. The U.S. Naval Institute is running its holiday sale with 50% off and free shipping. Once your purchase enters the cart, you can adjust the quantity; the low price with free freight is applied. Use this link to do so.
---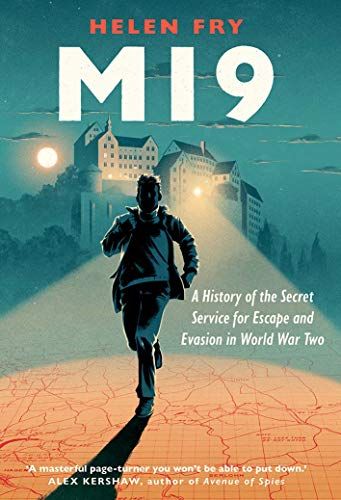 MI9: A History of the Secret Service for Escape and Evasion in World War Two
by Helen Fry
(Yale Univ Press, Nov 2020)
"A thoroughly comprehensive study of a much-neglected secret wartime organisation." —Nigel West, author of MI6.
A thrilling history of MI9—the WWII organization that engineered the escape of Allied forces from behind enemy lines. When Allied fighters were trapped behind enemy lines, one branch of military intelligence helped them escape: MI9. The organization set up clandestine routes that zig-zagged across Nazi-occupied Europe, enabling soldiers and airmen to make their way home. Secret agents and resistance fighters risked their lives and those of their families to hide the men.

Fry draws upon declassified files and eyewitness testimonies from across Europe and the US, providing a significant reassessment of MI9's wartime role. Central to its success were figures such as Airey Neave, Jimmy Langley, Sam Derry, and Mary Lindell—one of only a few women parachuted into enemy territory for MI9. This astonishing account combines escape and evasion tales with the previously untold stories behind the establishment of MI9—and reveals how the organization saved thousands of lives.
Book may be ordered here.
---
---
Section I - INTELLIGENCE HIGHLIGHTS

Austria Plans Intelligence Agency Reforms After Attack. Austria's leader called Thursday for more legal options to fight extremism and for an overhaul of the country's domestic intelligence agency in the wake of this week's deadly attack by an Islamic State sympathizer who authorities knew had tried to buy ammunition in neighboring Slovakia.

The gunman, identified as 20-year-old Kujtim Fejzulai, had a previous conviction for trying to join IS in Syria and had been given early release in December.

Slovakian authorities tipped off Austria on July 23 that two people using a car with Austrian license plates had attempted to purchase assault rifle ammunition at a shop in Bratislava. Austrian public security director Franz Ruf acknowledged Thursday that they had identified one of them as "probably" Fejzulai by Oct. 16 - more than two weeks before the attack - and said an independent investigation would look into whether mistakes were made. [Read more: AP/5November2020]

Czech Intel Report Targets Russian, Chinese Spies. The Czech Republic's intelligence agency said Tuesday Russian and Chinese spies posed an imminent threat to the EU member's security and other key interests last year.

In its annual report, the Security Information Service (BIS) said the intelligence services of Russia and China played an important role in promoting their interests abroad.

"The key difference is that Russia seeks to destabilise and disintegrate its opponents, while China is trying to build a Sinocentric global community wherein other nations acknowledge the legitimacy of China's interests," BIS said.

All Russian intelligence services were active on Czech territory in 2019. [Read more: AFP/10November2020]

MIRC Welcomes New Senior Enlisted Leader. Military Intelligence Readiness Command welcomed its newest senior enlisted leader to the command team, Sept. 11.

Command Sgt. Maj. Michael J. Robinson relinquished his responsibility as the senior enlisted leader of MIRC to Command Sgt. Maj. Brian T. Bertazon during a change of responsibility ceremony at U.S. Army Reserve Command, Fort Bragg, North Carolina.

"I look forward to serving you the Army's most precious resource as your advocate and advisor to the commander and USARC," said Bertazon. [Read more: Arce/ARMY/8November2020]

Two Russian Spy Ships Operating Near Important Military Base In Scotland. The Russian Navy has a sizable fleet of dedicated intelligence gathering ships. Festooned with antenna, their crews listen in to other country's communications, and analyze radar and other military transmissions. So NATO countries are naturally uncomfortable when one takes up position close to their ports and bases.

Now two Russian Navy intelligence gathering ships have taken up position off the British coast. They are in the Moray of Firth, north of Aberdeen, and just miles from the important air base at RAF Lossiemouth. The ships were visible on commercial satellite imagery on November 6.

They are on the opposite coast to where a wrecked Wave Glider uncrewed surface vessel (USV) was discovered in early October. Although there has been speculation that the unclaimed craft was a Russian intelligence gathering craft, we are confident that this isn't the case. The Russian intelligence ships are therefore unrelated. It is however a reminder that the intelligence game is still being played around the British Isles and in the North Atlantic. [Read more: Sutton/NavalNews/8November2020]

Greece and France to Share Intelligence on Jihadists in Europe. With a wave of terrorism that has hit the French cities of Paris and Nice, as well as the Austrian capital of Vienna, Greece and France will boost intelligence sharing.

Athens and Paris agreed to boost intelligence sharing on known or suspected terrorists, Kathimerini reported.

A task force to monitor Algerian, Tunisian and Moroccan jihadists that have lived or passed through Greece to reach other areas of Europe will be established, according to sources cited by Kathimerini.

Currently 25 suspected jihadists are being monitored, an unnamed senior official said. [Read more: Antonopoulos/GreekCityTimes/10November2020]

Japan Welcomes South Korean Intelligence Chief Visit as Chance to Talk. Japan on Monday welcomes the visit of South Korea's intelligence chief Park Jie-won as an opportunity to discuss frosty ties between Seoul and Tokyo, the government's chief spokesman said.

South Korea's National Intelligence Service chief arrived in Tokyo on Sunday and met senior ruling Liberal Democratic Party lawmaker Toshihiro Nikai, Kato said.

"Ties between Japan and South Korea are strained and for these two long-time friends to meet and talk is meaningful," Chief Cabinet Secretary Katsunobu Kato said during a regular press briefing. [Read more: Read more: Reuters/9November2020]

Egypt, UK to Boost Bilateral Security, Intelligence Cooperation. Egypt's President received on Monday Chief of the British Secret Intelligence Service (MI6) Richard Moore during which Abdul Fattah al-Sisi stressed the importance of boosting bilateral cooperation with the UK in various fields, primarily security and intelligence.

The meeting was also attended by Head of the Egyptian General Intelligence Services Abbas Kamel and the British Ambassador in Cairo.

Egyptian presidential spokesman Bassam Radi said that the meeting discussed ways to enhance bilateral security and intelligence cooperation on various related issues. Radi added that after welcoming Moore, Sisi asked him to convey greetings to Prime Minister Boris Johnson and stressed that Egypt has placed great importance on bilateral cooperation in various fields. [Read more: AsharqAl-Awsat/10November2020]

Hoax Circulates Online that CIA has Granted Thai Protest Leaders Political Asylum in the United States. Multiple Facebook posts have shared a claim that Thai protest leaders have been granted political asylum in the United States by the CIA. The claim is false: the CIA does not grant political asylum as it falls under the US Department of Homeland Security; the protest leaders were still in Thailand - and you cannot claim asylum in the US until you are in America; the US Embassy in Bangkok said the claim was "completely false".

The captions translate to English as: "Several Free Youth leaders have already applied to seek asylum to USA. The CIA has already approved this and allowed these students to do further study in US with US scholarships, and they will return to teach at Thammasat University in 5-10 years."

The claim has been circulating on Facebook and in other Thai-language media reports.

However, the claim is false. [Read more: AFP/6November2020]


---
Section II - CONTEXT & PRECEDENCE

Could Scotland Go It Alone in a World of Espionage? Former Spymaster Gives his View. IT'S a miserable, rainy day in London when I catch up with Sir David Omand - which is fitting, as he's pouring buckets of cold water over the idea of Scotland setting up its own intelligence agencies following independence. A separate Scotland just wouldn't cut it when it comes to the spy game, he believes.

Omand is Scottish. He grew up in Glasgow, aced his exams, and went to Cambridge where he graduated with a double first before joining GCHQ - Government Communications Headquarters - the UK's top-secret listening post. Omand later became GCHQ director, making him one of Britain's most powerful spies. He spoke to The Herald on Sunday on the eve of the publication of his new book, How Spies Think.

"You have to keep asking, 'are we going to be better off in defence and security terms as a result of independence' and the answer to that is no, I can't see how you can be better off," he says. Post-independence the key would be "minimising the loss of security". [Read more: MacKay/TheHerald/8November2020]

Forgotten history: The Women who Fought in the French Resistance. The female members of the French Resistance who played their part in liberating France are often forgotten, but their stories are fascinating.

They did not yet have the right to vote, but women in France played a key part in weakening the enemy from within during the Nazi occupation from 1940-44.

Yet, their stories have gone largely untold.

"These women have really gone under the radar," said Anne Sebba, a British author whose book Les Parisiennes, published in 2018, traces the lives and battles of female Resistance fighters in the French capital during World War II. [Read more: TheLocal/10November2020]

Los Alamos Celebrates Five-Year Anniversary Of Manhattan Project National Historical Park With Virtual Events. Los Alamos, New Mexico - where discoveries are made - will be hosting a series of virtual events to commemorate the fifth anniversary of the Manhattan Project National Historical Park (MAPR). In celebration, November 10-17 will feature National Park and historical themed events via Zoom and social media, with additional information, links and resources available on the main event page at lacnm.us/mapr.

"Manhattan Project National Historical Park is an incredible excursion into the past of Los Alamos and the science that changed the world, and we're thrilled to celebrate its fifth anniversary," said Linda Matteson with the Los Alamos County Manager's Office. "Recognizing that people are staying home and staying safe, this celebration will largely take part online, allowing people from across the globe to commemorate the occasion and to dive into the history of the Secret City." [Read more: LosAlmosReporter/5November2020]


---
See How the Space Force, Drug Law Changes, and Terminology Affects Your Security Clearance. While some things take center stage in elections, it's important to notice when state laws change, which could lead to confusion for clearance holders. While the country voted on candidates, they also voted in DC. and Oregon to decriminalize psilocybin. We wrote a while ago about more states legalizing marijuana with election day, but this week we focused on what happens when magic mushrooms are legalized in specific places. It's important to note these changes because while you may no longer need to worry about a criminal record due to psychedelic habits, when some of these things remain illegal at the federal law, it can impact your clearance process.

We also continue to see how Space Force is shaping up with new positions. The National Security Space Association recently called for reforms in space security policy, practices, and governance. The industry group is pushing for establishing reciprocity for access and security between DoD and the intelligence community. [Read more: Hamilton/ClearanceJobs/9November2020]

A Letter to President-elect Biden on Restoring Relations with the Intelligence Community. With former Vice President Joe Biden's election win now certain, we can turn our attention to restoring the faith and competence in U.S. government institutions, including improved, less politicized relations between federal agencies and the White House. That is particularly true of the Intelligence Community (IC). With years of experience at CIA as a guide, and with the hope that we can move on from this painful chapter, we offer this letter to President-elect Biden on key actions that should be implemented immediately - within days even - after taking office on Jan. 20, 2021. This is not a prescription for the future of the IC. These are simply our recommendations to immediately bolster a demoralized community that is indispensable to U.S. national security and must be made whole and healthy again. [Read more: Polymeropoulos&Sipher/JustSecurity/9November2020]


---
Section IV - Research Requests, Jobs, Obituaries
The Vienna Tunnel - "Operation Silver" - Researcher Seeks More Info
After retiring from the CIA I ended up living in Vienna, Austria and got interested in the "Vienna Tunnel." It was a SIS/MI6 operation from 1949-52 or so which tapped Soviet phone lines between Soviet HQs and Moscow. It was the inspiration for the Berlin Tunnel in that same era. Very little information has been made public about the Vienna Tunnel and much of the information doesn't seem to make sense. If you have any ideas for how to find this tunnel or knowledge about this operation I would love to hear from you at hholmer1@gmail.com. Than you in advance, -Hans
Did you know: Eloise Page, Elizabeth Sudmeier, Adelaide Hawkins, or Mary Hutchison at CIA? Or have insights on Women in Intelligence? Please assist this author.
Nathalia Holt, Ph.D., author of Rise of the Rocket Girls: The Women who Propelled Us from Missiles to the Moon to Mars, is writing a book about the history of women at the CIA during the Cold War. She is eager to interview retired and active intelligence professionals, both men and women, to gather insight into the role of women at the CIA. She is particularly interested in those who knew Eloise Page, Adelaide Hawkins, Mary Hutchison, and Elizabeth Sudmeier. The CIA public affairs office is cooperating. The book will be published by Penguin Random House. The aim is to highlight the untold successes of the CIA during the early Cold War period and the role of women officers. If you would be willing to chat and share your insights, please contact Nathalia at nathaliaholt@gmail.com or 805-616-1690 (phone, text or Signal app). Holt's book Rise of the Rocket Girls was a New York Times best-seller and received glowing reviews. USA Today called her book, "Illuminating… these women are vividly depicted at work, at play, in and out of love, raising children — and making history. What a team — and what a story!" Her work has appeared in numerous publications including The New York Times, The Los Angeles Times, The Atlantic, Slate, Popular Science, and Time. She is a former fellow at the Ragon Institute of MGH, MIT and Harvard University.
Replies to Nathalia Holt PhD at nat@nathaliaholt.com. More info on this author at https://www.nathaliaholt.com/ or @nathaliaholt
Full Time Assistant Professor for Intelligence Studies Program at Catholic University, Washington, DC
AFIO Members with Academic Credentials! Potential Full Time Teaching Opportunity in 2022 in Catholic University's Intelligence Program
University located at 620 Michigan Ave NE, Washington, DC
Former CIA officer and staff historian Nicholas Dujmovic retired in 2016 to become the founding director of the Intelligence Studies Program at the Catholic University of America (CUA) in Washington, D.C. The program is successful and growing. The undergraduate Certificate in Intelligence Studies currently has 76 students enrolled--the largest such program on campus. The program continues to expand the number of intelligence courses offered, as well as their variety.
Dr. Dujmovic is optimistic that a full time position at the assistant professor level will open in the summer of 2022.
He is reaching out early to the AFIO community to identify potential candidates with the following attributes:
Significant service (at least 15 years) as a professional intelligence officer involved in analysis, operations, technical collection, or possibly support. A recent retiree closing a successful career would be ideal.
A Ph.D. from an accredited university in political science, history, area studies, a comparable field or a relevant STEM field.
Teaching experience at the university level, either undergraduate or graduate.
Evidence of past scholarship and a willingness to engage in further research and publication, consistent with CUA's commitment to excellence as a "research university."
An enthusiasm for teaching and advising mostly undergraduate students.
AFIO members wishing to learn more are encouraged to contact Dr. Dujmovic at dujmovic@cua.edu.
Assistant Professor of Criminal Justice - UTEP - University of Texas at El Paso
The University of Texas at El Paso's College of Liberal Arts, Department of Criminal Justice, is seeking a full-time tenure-track "Assistant Professor of Criminal Justice."
Position Description: The position begins Fall 2021 at the Assistant Professor level. Responsibilities include conducting and publishing scholarly research, seeking extramural funding, teaching face-to-face and online courses, and service to the department, university, and profession.
About UTEP: The University of Texas at El Paso is a Carnegie R1 and Community Engaged research university in the heart of the U.S.-Mexico border region, in a bicultural metroplex of over 800,000 people. UTEP faculty are nationally recognized for their commitment to student success, teaching, and research. UTEP enrolls more than 25,000 students, of whom nearly 80 percent are Latino/Latina. UTEP provides equal access and social mobility for over 50% of its student body of first generation students. UTEP comprises 10 academic colleges/schools. The Department of CJ offers an online B.A. in Security Studies, a Master of Science in Intelligence and National Security and a Master of Defense and Strategic Studies. The department also offers a B.A. in Criminal Justice, an equivalent 100% online B.A., and an M.S. in Criminology and Criminal Justice.
Required Qualifications: Applicants must have a Ph.D. in Criminal Justice, Criminology or closely related field in Intelligence and/or Security Studies from an accredited university. ABD applicants will be considered if doctorate will be completed by Fall 2021. Active research agenda and published scholarly journal articles are required to apply. Applicants with only a J.D., Psy.D., or Ed.D. will not be considered.
Preferred Areas: All research/teaching areas of criminal justice and criminology will be considered, but preference will be given to candidates who have demonstrated teaching and/or research areas in at least one of these areas: security studies, open source intelligence, or quantitative methods/statistics.
Application Instructions and Contact Information: To apply, visit https://www.utep.edu/employment Applicants must electronically submit: (1) letter of interest that includes teaching areas and research expertise, (2) curriculum vita, (3) one scholarly publication or dissertation manuscript, and (4) names and full contact information of three references that we may contact. If you have questions about the position, please contact the Search Committee Chair, Dr. Egbert Zavala, at EgbertZ@utep.edu.
Application Review Date: Review of applications will begin October 5th, 2020 and will continue until the position is filled.
Hiring decisions are based on budget approval. To explore UTEP, do so here. To apply for the position, contact Dr. Zavala at EgbertZ@utep.edu.
JTSUSA Has numerous career and part-time assignments available for cleared former military personnel. See listing here. Or contact Arnie.Gerstein@jtsusa.com or visit www.jtsusa.com
Adjunct instructors at the University of Texas at El Paso (US)
The National Security Studies Institute at the University of Texas at El Paso (UTEP) (see their website here) is seeking adjunct instructors to teach online graduate-level courses:
Legal Issues in Intelligence and National Security
Propaganda and Influence Operations
Intelligence and Counterterrorism
Political Economy of Terrorism
Risk Analysis
Emergency Management
Public Health and Homeland Security
A PhD in public policy, security studies, political science, or a related field is required.
Interested and eligible applicants should contact Stephen Coulthart (sjcoulthart@utep.edu).
---
John BeVier, NSA SIGINT Expert
John Laurence BeVier, 82, former NSA SIGINT Expert, died 31 October 2020 in Baltimore, MD.
John graduated from Ohio State University in 1962 with a major in mathematics, minor in physics. He spent six months in the Army Reserves at Fort Knox before embarking on a 40-year career with the National Security Agency. He taught or influenced hundreds of analysts, technical professionals and managers, many at the top echelons.
BeVier used his extensive technical knowledge by taking vague, embryonic concepts and molding them into useful, productive techniques, culminating in practical improvements to the entire effort.
He invested much time and effort in the training and development of college interns who have been able to profit greatly from his expert technical knowledge with respect to both the complex analytic problem and computer programming techniques.
He is survived by his wife, Sue BeVier, a brother, children and other family.

David Goldberg, CIA/DIA/OSD WMD Expert
David Michael Goldberg Sr, 82, a CIA/DIA/OSD WMD Expert, died of complications of Parkinson's Disease 30 October 2020 in Denver, CO.
In 1951 David moved to Washington DC, graduating from Anacostia High School in 1956. He earned a B.S. in Chemistry from George Washington University in 1962. David's career spanned 35 years including work as a chemist for the American Chemical Society in Washington, DC, an administrator at the University of Virginia Chemistry Department in Charlottesville, VA, and as chemical warfare analyst for several US intelligence agencies, including the CIA and DIA.
In 1989, David served as a special liaison for the Office of the Secretary Defense at the Pentagon.
One of David's most significant career accomplishments was a special assignment with the United Nation's Special Commission to inspect Iraq's WMD capabilities, traveling multiple times to Iraq to inspect potential WMD sites following the first Gulf War. David's final assignment was a branch chief working for the US Army National Ground Intelligence Center in Charlottesville, VA. In 1996, David retired from the federal government finally settling in Steamboat Springs, Colorado.
In Colorado, he was an active member of the Yampa Valley Singers and the Colorado Democratic Party.
David is survived by wife Sandra, a brother, two sons, and other family.
Jack Greaney, Associate General Counsel CIA; former AFIO Executive Director
John Kennedy Greaney, 94, Associate General Counsel CIA; former AFIO Executive Director, died 31 October 2020 in Silver Spring, MD.
Jack grew up in Washington, DC, attended St. Gabriel's grade school, and graduated from St. John's College High School in 1944. He attended Georgetown University and Columbus School of Law. During the occupation of Europe, after World War II, he served as an officer in the U.S. Army and retired from the US Army Reserves with the rank of Major.
In 1980, he retired from the Central Intelligence Agency as Associate General Counsel, after 29 years of service. When he started in 1951 (four years after the National Security Act created the Agency) he watched the offices of the then-fledging successor to the OSS spread out in various buildings including the "temporary" buildings on the Mall. He was part of the team supporting the giants who were creating the Nation's modern Intelligence Community. Early in his career, he served on the Far East Desk of the Directorate of Operations. His 1961-1964 assignment to Taipei, Taiwan, was the only permanent change of station move of his career. He played an instrumental role in obtaining asylum for the Dalai Lama who was fleeing Tibet with the Chinese military on his heels. In less than 24 hours during 1959, he orchestrated a complex series of exchanges between DC, the Himalayas, and India, to assure the Dalai Lama found a safe perch in India to wait out the attacks on Tibet. In 1965 he shifted to the Office of General Counsel (OGC) as the seventh attorney. His boss, then-chief of the Far East Division, William Colby, encouraged he take it. He was awarded the Intelligence Medal of Merit.
Upon retirement he worked for nine years as Executive Director of AFIO (1980-1989) which provided him with the chance to leverage his unique knowledge, skills, and experience working with senior IC colleagues whom he respected. It also eased him into real retirement.
Jack enjoyed telling jokes, family gatherings, spending time in Bethany Beach, DE, and visits from his beloved grandchildren and great-grandchildren.
He is survived by six children and other family.
Barbara Kuehn, CIA Officer
Barbara Ann Kuehn, 56, a CIA Officer, died 31 October 2020 in Bethesda, MD.
Barbara was born in Lancaster, PA. After earning a BA in International Business and Spanish at Lebanon Valley College, she moved to Montgomery County, MD with her future husband, to begin a career with CIA. She served with the CIA for 31 years, including numerous overseas assignments and multiple deployments to the Middle East. She was described as a "rock star" by colleagues.
Barbara enjoyed life and her many interests which included the performing arts, cooking, fine wine, and entertaining her many friends. Her most loved activity was sharing time with her husband and two cats, Joe and Jackson.
Barbara is survived by her husband, Kenneth, her mother, her father, and triplet siblings.
---
AFIO EDUCATIONAL EVENTS IN COMING TWO MONTHS....
3 Dec 2020, 11:30 a.m. CST - Virtual - "Lessons Learned from 25 Years in Counter-Terrorism" - CIA Operations Officer Bob Dougherty at this San Antonio, TX Chapter virtual event
In the short presentation "Lessons Learned from 25 Years in Counter-Terrorism," veteran CIA operations officer Bob Dougherty utilizes real-world examples from his long operational career with the Agency to illustrate some major lessons he learned throughout his time in the field focused on Counter-Terrorism. Some of these lessons were learned the hard way, and some were taught and demonstrated to him by fellow CIA officers.
Meeting begins at 11:30 a.m. Central Standard Time. If already a SA Chapter Member, mark your calendar. You will be sent a link for the online presentation prior to the meeting. If not a member, contact President John Franklin johntf3@gmail.com.
There is no charge to attend these meetings.
Wednesday, 9 December 2020, 12 noon PST - Virtual via Zoom - The "Andre Le Gallo" San Francisco Chapter hosts Farhad Mansourian on The Islamic Republic of Iran and the new United States Administration
This meeting will be conducted via Zoom. Registration link is here.
Farhad Mansourian is a former anti-terrorist officer in the Iranian Imperial Army at the time when Islamic Fundamentalists were attempting to overthrow the 2500 year old Monarchy in Iran. Upon the fall of the Shah of Iran, Mr. Mansourian escaped to the United States where he has remained active and in close contact with current Iranian & Middle East events.
Mr. Mansourian has provided high level analysis on Iranian, Middle Eastern and Islamic issues for local, state and numerous federal agencies including the Pentagon, the White House, Pacific Region Organized Crime Drug Enforcement Task Force (OCDETF), DEA and the FBI Joint Terrorism Task Force in San Francisco, Oakland and San Jose, California. He is the author of many articles published in a variety of national and international publications and numerous radio and television appearances.
Mr. Mansourian brings a unique hands-on and insightful perspectives on the latest events in the Middle East. Some of the topics presented will include: the decision making process in the Islamic Republic of Iran; the role of security and intelligence agencies in that process; upcoming June 2021 Presidential election in Iran, The Biden Administration, The Trump Administration arms deal; what the Iranian leaders say, what they hope for and what the Iranian people want.
---
Other Upcoming Events from Advertisers, Corporate Sponsors, and Others
Friday, 13 November 2020, 1000-1100 EST - Webcast - US Naval Institute and CSIS host session on "Information Warfare: From A Supporting Role To A Leading Role" with VADM Trussler
In the 2020 Maritime Security Dialogue Series hosted by the U.S. Naval Institute and CSIS, will be a discussion with
VADM Jeffrey E. Trussler, USN, Deputy Chief of Naval Operations for Information Warfare/Director of Naval Intelligence
Moderated by Brian Katz, Fellow, International Security Program, Transnational Threats Project, CSIS
on the topic of: "Information Warfare: From A Supporting Role To A Leading Role"
This event will be webcast live from the registration page here.
The International Spy Museum has reopened to visitors.
Click here to explore events, exhibits, and ticketing.
Upcoming virtual (and a few live, post-quarantine) events at the International Spy Museum. Click event to explore and register for event. All virtual events require pre-registration.
Access all upcoming Spy Museum events directly from their website: https://www.spymuseum.org/calendar/upcoming/1/
14 November 2020, Operation Secret Sleepover, 7 pm - 9:30 am
Thursday, 19 November 2020, 2300/11PM BST; 1800/6PM EST; 1500/3PM PST; 1100/11AM HST - Virtual - NIP September 2020 Virtual Speaker Series
Video Conference (Go to Meeting)
GUEST SPEAKER: Mr. Matt Zullo, Retired U.S. Navy Cryptologic Technician (Interpretive) Master Chief, CTICM (SS), and author of the book series "The U.S. Navy's On the Roof Gang", tracing the origins of the Navy's radio intelligence organization in the interwar and early years of WWII
TOPIC: "The On The Roof Gang" – The History of the Navy's Cryptologic Pioneers.
Please join my meeting from your computer, tablet or smartphone at this link. You can also dial in using your phone. United States: +1 (872) 240-3311 Access Code: 507-949-765 As always, please mute your device/phone.
AGENDA: • RDML (Ret.) Cothron, NIP Chairman, welcoming remarks. • Introduction to the new NIP READBOOK publication by CDR (Ret.) Sue Himes, NIP Editor. • Introduction of CTICM (Ret.) Matt Zullo and discussion (slide presentation) • Q & A encouraged throughout the presentation moderated by CAPT (Ret.) Bob Allen. - Please ask your questions in the GoToMeeting chat window or email your questions in advance/during the video conference to: bob_allen36@hotmail.com. Questions will be presented to by the moderator in stride
---
In addition to the new Royal Blue long sleeve shirts, and the gray long sleeve hooded sweatshirts, the AFIO Store also has the following items ready for quick shipment:
NEW: LONG and Short-Sleeved Shirts with embroidered AFIO Logo and New Mugs with color-glazed permanent logo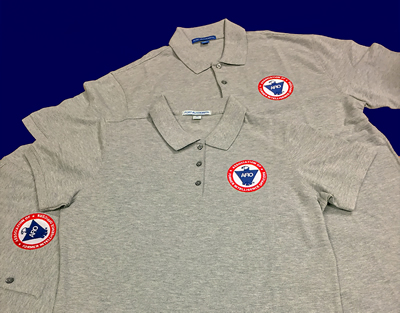 Show your support for AFIO with our new Polo Shirts. Be the first to buy these new, high quality, subtle heathered grey short sleeve shirts, and dark blue long sleeved shirts, of shrink and wrinkle resistant fine cotton with a soft yet substantial feel. They feature a detailed embroidered AFIO seal. Get a shirt for yourself and consider as gifts for colleagues, family, and friends. Only $45 each including shipping.
Sizes of (M) men or (W) women shirts; Small, Medium, Large, XL, XXL, and XXXL. At this time all orders will arrive as Short Sleeve shirts.
You may pay by check or credit card. Complete your order online here or mail an order along with payment to: AFIO, 7600 Leesburg Pike, Ste 470 East, Falls Church, VA 22043-2004. Phone orders at 703-790-0320. If interested in other shirt colors or sleeve lengths, contact Annette at: annettej@afio.com.
Available as a thank you for donations are the new AFIO logo face masks:
These soft, form-fitting, washable, non-medical grade fabric face masks have wide behind-the-ear elastics to make long periods of wear comfortable. Also easier to quickly put on or take off. Blue on outside, white inside. The masks do not have a nose wire but are sculpted, shaped, and sewn to fit most users. The all-cloth composition allows the masks to be washed or steam-disinfected without concerns over metal wires. The color logo is washable and a permanent part of the mask.
The masks, however, are not for sale. They are being offered strictly as a thank you gift to our donors.
For tax-deductible donations of $50 you will receive a receipt and our thank you gift of two of these newly-arrived face masks.
Donations of $100 receive four masks to be sent to the same address. Other amounts and split-shipments are available.
To donate now to support AFIO's programs and publications, please do so here.
We wish all members and donors continued good health, safe social distancing, and warmly appreciate any support you are able to provide the association.
---
AFIO Mug with color glazed logo. Made in America. Sturdy enough to sit on desk to hold pens, cards, paperclips, and candy.
This handsome large, heavy USA-made ceramic mug is dishwasher-safe with a glazed seal. $35 per mug includes shipping. Order this and other store items online here.
---
Guide to the Study of Intelligence and When Intelligence Made a Difference
"AFIO's Guide to the Study of Intelligence" has sold out in hard-copy.
However, it is available in digital form in its entirety on the AFIO website here.

Also available on the website here are the individual articles of AFIO's history project "When Intelligence Made a Difference" that have been published to date in The Intelligencer journal. More articles will be forthcoming in future editions.
---
Disclaimers and Removal Instructions
Weekly Intelligence Notes (WINs) are commentaries on Intelligence and related national security matters, based on open media sources, selected, interpreted, edited and produced for non-profit educational uses by members and WIN subscribers.
REMOVAL INSTRUCTIONS: We do not wish to add clutter to inboxes. To discontinue receiving the WINs:
a) IF YOU ARE A MEMBER - click here: UNSUBSCRIBE and supply your full name and email address where you receive the WINs. Click SEND, you will be removed from list. If this link doesn't open a blank email, create one on your own and send to afio@afio.com with the words: REMOVE FROM WINs as the subject, and provide your full name and email address where you are currently receiving them.
b) IF YOU ARE NOT A MEMBER, and you received this message, someone forwarded this newsletter to you [contrary to AFIO policies]. Forward to afio@afio.com the entire WIN or message you received and we will remove the sender from our membership and distribution lists. The problem will be solved for both of us.
CONTENTS of this WIN [HTML version recipients - Click title to jump to story or section, Click Article Title to return to Contents. This feature does not work for Plaintext Edition or for some AOL recipients]. If you wish to change to HTML format, let us know at afio@afio.com. The HTML feature also does not work for those who access their e-mail using web mail...however NON-HTML recipients may view the latest edition each week in HTML at this link: https://www.afio.com/pages/currentwin.htm
---
WINs are protected by copyright laws and intellectual property laws, and may not be reproduced or re-sent without specific permission from the Producer. Opinions expressed in the WINs are solely those of the editor's or author's listed with each article. AFIO Members Support the AFIO Mission - sponsor new members! CHECK THE AFIO WEBSITE at www.afio.com for back issues of the WINs, information about AFIO, conference agenda and registrations materials, and membership applications and much more!
(c) 1998 thru 2020. AFIO, 7600 Leesburg Pike, Suite 470 East, Falls Church, VA 22043-2004. Voice: (703) 790-0320; Fax: (703) 991-1278; Email: afio@afio.com
---
About AFIO | Membership Renewal | Change of Address | Upcoming Events | Chapter Locations | Corporate/Institutional Memberships | Careers in Intelligence Booklet | Guide to the Study of Intelligence | Intelligencer Journal | Weekly Intelligence Notes | To Make A Donation | AFIO Store | Member-Only Section | Code of Ethics | Home Page
---