---
CONTENTS
Section I - INTELLIGENCE HIGHLIGHTS
Section II - CONTEXT & PRECEDENCE
Section IV - Research Requests, Jobs, Obituaries
Other Upcoming Events from Advertisers, Corporate Sponsors, and Others
WIN CREDITS FOR THIS ISSUE: The WIN editors thank the following special contributors: rsy, ec, po, pj, mh, km, gh, mk, rd, fm, kc, jm, mr, jg, th, ed, and fwr. They have contributed one or more stories used in this issue.

The WIN editors attempt to include a wide range of articles and commentary in the Weekly Notes to inform and educate our readers. However, the views expressed in the articles are purely those of the authors, and in no way reflect support or endorsement from the WIN editors or the AFIO officers and staff. We welcome comments from the WIN readers on any and all articles and commentary.

CAVEATS: IMPORTANT: AFIO does not "vet" or endorse research inquiries, career announcements, or job offers. Reasonable-sounding inquiries and career offerings are published as a service to our members, and for researchers, educators, and subscribers. You are urged to exercise your usual caution and good judgment when responding, and should verify the source independently before supplying any resume, career data, or personal information.]
If you are having difficulties with the links or viewing this newsletter when it arrives by email, members may view the latest edition each week at this link.

---

Recently Seen Online:

"Intelligence Matters" Podcasts by former acting Director of the CIA Michael Morell

JAN 6, 2021—American Withdrawal in the Middle East: The Atlantic Council's Will Wechsler. In this episode Morell speaks with Will Wechsler, the director of Middle East programs at the Atlantic Council, about why the Middle East is still of strategic importance to the United States. Wechsler discusses the perception in the Middle East that the U.S. is withdrawing, the influx of young men in the region, and the potential for more negotiations after the Abraham Accords.PLAY

DEC 29, 2020—DECLASSIFIED: Former CIA Officer Marc Polymeropoulos on the Triple Agent: In this episode Marc Polymeropoulos, former senior CIA intelligence service officer who had a 26-year career in public service, looks back to the day that seven service members were lost to suicide bomber Humam al-Balawi, who at the time, was working as a double agent. Marc talks about why it was important to interview al-Balawi in person, the mistakes that were made, and what important lessons he still keeps with him. PLAY

The Morell "Intelligence Matters" series is also available on CBSNews, Google, American-Podcasts, PlayerFM, Stitcher, Art19. These links lead to the Dec 2 podcast but also allow access to all earlier ones.

---

Inside the SCIF by JJ Green, WTOP - Issue #95, 7 January has new details on all the Chaos on Capitol Hill.
The latest Target USA Podcast 257 features: The Hunt.
The Russia hack according to Sue Gordon. Former Deputy DNI Sue Gordon explains the danger and damage of a recent, massive cyber hack and why Russia is the likely culprit.

---

The Latest... from the popular "SpyTalk" Series

Jan 11: "She Had a Code: The Secret Life of Elizebeth Smith Friedman" by Patricia Ravaigi
A new PBS film hails the life of an unsung pioneering cryptologist
Article here

Jan 11: "The Secret Life of a Female Code Breaker" by Patricia Ravaigi
A new PBS film hails the life of pioneering code breaker Elizebeth Smith Friedman
Article here

Jan 9: "Kabul on the Potomac" by Jeff Stein
Confusion, finger-pointing reign in wake of Capitol violence, deaths
Article here

Jan 8: "Capitol Bombs Hunt Could Take Weeks" by Elaine Shannon
Counter-terror veterans worry explosives could have been planted
Article here

Readers can subscribe for free at the moment here.

---

From our colleagues at the National Cryptologic Museum...

They invite you to join them on January 29th at 10am EST for their first virtual program of 2021, "American Codebreakers at Bletchley Park, 1941-1945," to be held via Zoom webinar with guest speaker, Dr. David Sherman. Dr. Sherman will discuss a secret February 1941 U.S. visit to Britain's wartime codebreaking center and how it set the stage for the enduring partnership that emerged after World War II, a partnership often called the closest and most important relationship in the history of intelligence. His monograph on the 1941 mission, The First Americans, is available online from the Center for Cryptologic History. Learn more about Dr. David Sherman here on their Quarterly Programs page.

Other Forthcoming documentaries: "The Codebreaker: Wife. Mother. Secret American Hero."
PBS Documentary Film About Elizebeth Friedman - Debuts in January 2021

Film Description Based on the book The Woman Who Smashed Codes: A True Story of Love, Spies, and the Unlikely Heroine Who Outwitted America's Enemies, The Codebreaker reveals the fascinating story of Elizebeth Smith Friedman, the groundbreaking cryptanalyst whose painstaking work to decode thousands of messages for the U.S. government would send infamous gangsters to prison in the 1920s and bring down a massive, near-invisible Nazi spy ring in WWII. Her remarkable contributions would come to light decades after her death, when secret government files were unsealed. But together with her husband, the legendary cryptologist William Friedman, Elizebeth helped develop the methods that led to the creation of the powerful new science of cryptology and laid the foundation for modern codebreaking today. More info at the National Cryptologic Museum Foundation website here.


---

"A Spy in the FBI"

New Dominion Pictures LLC. Click to view trailer.

Robert Hanssen is a contradiction. On the surface he is a family man, devout Catholic, and career FBI agent. Secretly, he is a spy, betraying the trust of everyone he knows. In the final years of the Cold War, Hanssen positions himself within the FBI to spy for the Soviets, compromising sources and programs through the entire US counterintelligence community. While the FBI and CIA search for the mole in their midst, his fellow agents, friends, and family have no clue of his second life. His betrayal runs deeper that selling out his country as he is carrying on secret relationships and keeping secrets from his wife. But Hanssen can't hide forever from the best detectives in the world. Former FBI agents and journalists recount Hanssen's life, what drew him to espionage, how he stayed hidden in plain sight for over 20 years, and the events that brought down the most damaging spy in American history.

Documentary will premiere on the REELZ channel on Sunday, February 14th at 8:00 pm ET / 9:00 pm CT. REELZ is channel 692 HD on Verizon FIOS, channel 238 on DIRECTV, channel 299 on Dish Network, and channel 799 on AT&T U-verse. It's also available in HD on other cable systems nationwide. More info here.

---

---

One of the special benefits of membership in AFIO: access to CIA's inhouse gift shop — the EAA Store.

It requires a quick preapproval process described here to all newly joined and current AFIO members. And then allows you to purchase online their unusual logo'd gift items for self or colleagues. Here is the latest photo EAA released on December 16 featuring some of their newest items:

---

Writers, Officers: Please Provide A Brief Article for This Ongoing AFIO History Project

AFIO's educational project "When Intelligence Made a Difference" seeks writers to identify events throughout history involving any nation or organization when the outcome was affected significantly by intelligence.
AFIO has been publishing edited submissions serially in Intelligencer released two to three times a year.
To see what has been published, it is available here. Also look at the Fall edition of the journal arriving in the mail of all members and subscribers over the next three weeks.
Those readers interested in contributing an article, should email peter.oleson@afio.com.
For instructors, this project makes a great class assignment. Accepted articles give students a publication credit in a recognized journal.

---

Guide to the Study of Intelligence and When Intelligence Made a Difference

"AFIO's Guide to the Study of Intelligence" has sold out in hard-copy.
However, it is available in digital form in its entirety on the AFIO website here.

Also available on the website here are the individual articles of AFIO's history project "When Intelligence Made a Difference" that have been published to date in The Intelligencer journal. More articles will be forthcoming in future editions.

---
---
---
Visit, Follow, Subscribe to AFIO's LinkedIn, Twitter, and YouTube pages to receive updates.
Members who use social media or wish to explore, will find new announcements and other material on AFIO's Twitter and LinkedIn pages. New videos on our YouTube page appears below as well.
Access them here: LinkedIn, Twitter, and YouTube. By following or subscribing on those sites, one can be notified as new material appears.




---
Just released to members-only...
"North Korea — the issues from the outgoing, and facing the incoming, US administrations."

Released 12 January 2021
Victor Cha PhD
Former Director for Asian Affairs, National Security Council

on "North and South Korea — Issues Facing the Incoming Biden Administration"
Interview of Monday, 8 December 2020 of Victor Cha, former Director for Asian Affairs at the NSC; Chair, Dept of Govt and Sch of Foreign Service, Georgetown University. Interviewer - John Sano, former Deputy Director of CIA's National Clandestine Service; Intelligence Professor at two colleges. Host: James Hughes, AFIO President, a former CIA Operations Officer.
TOPIC: Victor Cha and John Sano discuss North Korea -- the issues from the outgoing and facing the incoming US administrations.
The interview runs 38 minutes which includes numerous Q&As..
Access Cha video on our YouTube page here or log into the Member-Only area of our website here.
---
Prior Videos in the "AFIO Now" Series
To view them, visit our YouTube page here
or log into the Member-Only area of our website here.
---
Joseph W. Augustyn, former CIA Clandestine Services Officer on "CIA's Role in the Creation of the Department of Homeland Security"

Seth Jones PhD, Director, Transnational Threats Project, CSIS on "A Covert Action"

David Priess PhD, Author, former Senior CIA Analyst and PDB Briefer on "The President's Book of Secrets"

Everette Jordan, Dep Asst Sec for IC Integration, Office of Intel and Analysis, Treasury on "Enjoying a Rich, Challenging Intelligence Career Spanning Multiple Agencies."

Bruce Riedel, former CIA Senior Analyst, Served on National Security Council during Iraq War on "Early Gulf War Policy Decisions"

Shelby Pierson, Election Threats Executive, Office of the Director of National Intelligence on "Nationwide Election Security"

Bruce Klingner, Former CIA Deputy Division Chief for Korea; Heritage Foundation Fellow on "U.S. Strategy Towards North Korea"

Series Introduction: Stewart Baker, Chairman, and James Hughes, President

Nicholas Dujmović, Professor, Author, former CIA Historian, PDB Editor on "Guidelines and Experiences Teaching Intelligence at the University Level"

David Robarge, CIA Chief Historian, PDB Editor on "The Complexities of Counterintelligence"

Vince Houghton PhD, Director, National Cryptologic Museum on "Nuking the Moon...and Other Intelligence Themes and Military Plots Left on the Drawing Board"

Martin C. Faga, former Director, National Reconnaissance Office on "NRO Support to the Gulf War"

Many more interviews have been conducted, and will be released throughout 2021. Stay tuned.
---
Other items brought to our attention:
Recommended Reads:
Jack Devine's (former CIA DO) Op-Ed on The Hill: Biden's Day 1 Russia problem...
After a half-century of closely observing how our adversaries surreptitiously collect intelligence on the United States and our friends across the globe, few espionage operations trouble me more than the recent Russian cyber attack on our federal agencies. Not only is this one of the largest and most potentially damaging hacks of all time, but it represents a dangerous escalation in the spy v. spy struggle in which the intelligence world has engaged for decades. How President-elect Biden responds will complicate his opening days and possibly define his legacy. The outlines of the Russian attack are starting to reveal themselves and serve as a wake-up call for all. As the U.S. Cybersecurity and Infrastructure Security Agency has warned, hackers who pose "a grave risk to the federal government" attacked the SolarWinds IT management software suite in March 2020. Malware was then installed by more than 17,000 customers, SolarWinds reported, including some of our most sensitive federal agencies. The list of victims includes the State Department, Homeland Security, Energy, Treasury and on and on. [Article continues here.]
[Devine: was Acting Director and Associate Director of CIA's operations outside US 1993-1995. Also served as Chief of the Latin American Division 1992-1993. Headed the CIA's Counternarcotics Center 1990-92]
The Arkin Group's January 8 "In Other News" letter to private clients by former Operations Officer Jack Devine features...
• Foreign governments around the world reacted to the violence in Washington on January 6 with shock and condemnation.
• A group of U.S. intelligence agencies has publicly named Russia as the likely party behind a series of devastating hacks last year that compromised several branches of the U.S. government and a number of private sector firms.
• Iran notified the International Atomic Energy Agency on Monday that it has resumed enriching uranium to 20% at its Fordow nuclear facility, an open violation of the 2015 nuclear deal signed with powers including the US, UK, and China.
• China arrested at least 53 Hong Kong citizens with links to the island's pro-democracy movement before dawn on Wednesday in what is widely thought to be the nail in the coffin for what remains of opposition to mainland authority.
---
Smolensk Crash Investigation Continues Despite Russian Lies and Disinformation
Communiqué, Polish Subcommittee for Reinvestigation of the Smolensk Crash...
On July 28, 2020, at the request of members of the Civic Coalition, a meeting of the parliamentary national defense committee was convened. The meeting was devoted to the activities of the Government Subcommittee for Re-investigation of the Causes of the Smolensk Disaster (Subcommittee). The head of the Subcommittee, former head of the Ministry of National Defense Antoni Macierewicz, presented a video documentary and a communiqué on the status of the investigation. According to the Subcommittee, the evidence proves beyond any doubt that explosions took down the Polish Tupolev in Smolensk on April 10, 2010 with the Polish President Lech Kaczynski and the Polish leadership on board. Proofs of explosion can be found on the one hand in the nature of the damage to the structure of the plane and the scattering of its fragments, and on the other hand, by the injuries to the victims. "The scale of passenger injuries is much greater than might have been expected - 45 percent of the victims experienced multiple fragmentation of the body; 74 percent of the victims had no clothes, either wholly or partially. Very severe burns occurred in 47 percent of the victims, most of whom were found outside of the area of ground fire, even at a distance of more than 50 meters. Many victims have been found to have foreign debris stuck into their body - shards of sheathing, glass, and even fragments of a steel bearing," it is reported on the video presentation. On the basis of the conducted research and analyzes, the Subcommittee concluded that such injuries could not have occurred just as a result of the plane colliding with the ground. [Article continues at Smolensk Crash News Digest here]
---
Quick Insights:
A spyplane crashed outside Area 51 a half-century ago. This explorer found it. Article here in PopSci.
How a retired Army Ranger helped Ron Rivera separate the interesting from the important. Article here in WashPost.
The Danger of Exaggerating China's Technological Prowess. The conventional wisdom about Beijing's supposed advantages in AI and 5G shows how incomplete tech knowledge can lead to policy mistakes. Article here in Wall Street Journal.
---
Two Upcoming Spy Series...
Netflx Series: SPYCRAFT premiere's 20 January 2021
Spycraft — The spy game is a serious business, and throughout history, the tools and technologies developed for it have mattered as much as the spies themselves. Series looks at the techniques methods and technologies used in espionage. Examines the amazing gadgetry behind some of history's greatest stories of espionage, the ingenious minds that invented them, and the officers or agents that put them to use with accounts from ancient history to modern day intrigue.

Season 1 Trailer, featuring tradecraft expert Keith Melton, here. Also see producer's website and longer introductory video for series on YouTube here
---
Also forthcoming series on Sundance Now: Shadow Lines - Espionage in Reindeer Country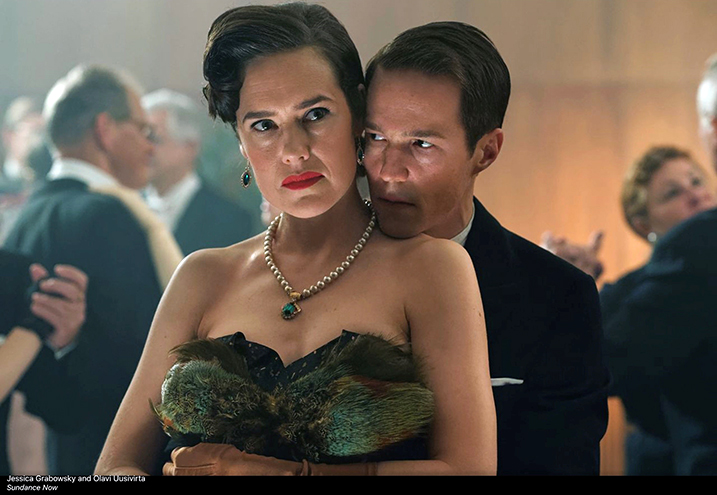 Set in the 1950s, Shadow Lines follows Helena, a student just returned to Helsinki from America, who is being recruited by her godfather to join a top-secret Finnish task force in furthering the work of its ongoing missions: to prevent two global powerhouses — the United States and the Soviet Union — from meddling in Finland's presidential election, and to keep their homeland independent while the CIA and the KGB vie for control of the country. But as Helena begins to discover the truth about her past, her personal and professional lives collide. With long-kept secrets and political agendas coming to a head, the team must overcome lies and distrust if they have any chance of succeeding in their missions. A second season of the multilingual (Finnish, English, and Russian) thriller is currently in development.
The premiere date of the ten-episode first season of Shadow Lines on Sundance Now in the US hasn't been announced yet.
Stay tuned for updates. View Episode 1 trailer here.
Review of series appears in Wall Streeet Journal: 'Shadow Lines' Review: Espionage in Reindeer Country Cold War intrigue heats up this tale of Finnish spies and KGB agents. by John Anderson, 23 Dec 2020. The recent death of John le Carré was a reminder of what a gift the Cold War was, at least to fiction. Once a seemingly inexhaustible vein of the factual and fantastical, it was a subject Le Carré himself moved away from after the Soviet Union was dissolved. But the spy series "Shadow Lines," set in mid-'50s Finland, is proof that the gift can keep on giving, especially if one examines it from an unfamiliar angle. (Review continues here but might entail paywall$.)
---
Newly Released, Overlooked, or Forthcoming Books
The Princess Spy: The True Story of World War II Spy Aline Griffith, Countess of Romanones
by Larry Loftis
(Atria Books, Feb 2021)
When Aline Griffith was born in a quiet suburban New York hamlet, no one had any idea that she would go on to live a life of glamour and danger. As the US enters WWII, the young college graduate is desperate to aid in the war effort, but no one is interested in a bright-eyed young woman whose only career experience is modeling clothes. Aline's life changes when, at a dinner party, she meets a man named Frank Ryan and reveals how desperately she wants to do her part for her country. Within a few weeks, he helps her join the OSS—a brief wartime outfit that later led to creation of the post-war CIA. With a code name and expert training, she is sent to Spain to be a coder, but is soon given the additional assignment of attending parties to infiltrate the upper echelons of society, mingling with high-ranking officials, diplomats, and titled Europeans, any of whom could be an enemy agent. Against this backdrop of galas and dinner parties, she recruits sub-agents and engages in deep-cover espionage to counter Nazi tactics in Madrid. After marrying the Count of Romanones, one of the wealthiest men in Spain, Aline secretly continues her covert activities, being given special assignments when abroad that would benefit from her social skills and connections.
Book may be ordered here.
---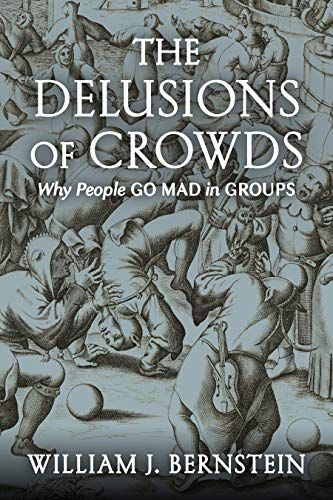 The Delusions Of Crowds: Why People Go Mad in Groups
by William J. Bernstein
(Atlantic Monthly Press, Jan 2021)
God, greed, and the yen for conformity reliably override reason, according to this sweeping survey of religious and financial manias. Neurologist and historian Bernstein shares vivid accounts of several centuries of sectarian crazies, from the Anabaptists who took over the German city of Münster in 1534, imposing communism and polygamy and executing dissenters, to Branch Davidian messiah David Koresh and the Islamic State. On the finance front, he recaps the South Sea bubble in 18th-century England, the 1990s tech bubble, and other stock market frenzies. Bernstein lucidly deploys neurobiology, behavioral economics, and social psychology to explain why reason fails and other instances, noting, for example, that many people will believe two obviously unequal line segments to be the same length if other people say they are. Unfortunately, his conflation of all irrational doctrine with madness makes him sound somewhat hysterical about even mainstream religious politics: the "dangerous" end-times beliefs of American evangelical conservatives could, he suggests, "incinerate a large portion of humanity" by facilitating nuclear war. The result is an entertaining and insightful analysis of delusional outbursts that occasionally goes too far. —Publishers Weekly
Book may be ordered here.
---
---
Section I - INTELLIGENCE HIGHLIGHTS

William Burns Is Biden's Choice for C.I.A. Director. President-elect Joseph R. Biden Jr. has selected William J. Burns, a career State Department official who led the U.S. delegation in secret talks with Iran, to run the C.I.A.

In selecting Mr. Burns, Mr. Biden is turning to an experienced diplomat with whom he has a long relationship. The two men have worked together on foreign policy issues, not just during the Obama administration, but also while Mr. Biden led the Senate Foreign Relations Committee.

Mr. Biden said Mr. Burns's first task would be to make sure intelligence collection and analysis were not influenced by politics after years of President Trump's attacks on the intelligence agencies.

In a statement early Monday, the president-elect said that Mr. Burns, 64, "shares my profound belief that intelligence must be apolitical and that the dedicated intelligence professionals serving our nation deserve our gratitude and respect." [Read more: Barnes&Verma/NYTimes/11January2020]

National Security Council Launches Task Force to Investigate Solar Winds Cyberattack. The National Security Council staff has launched a task force to coordinate the investigation and remediation of the recent Solar Winds cyberattack involving federal government networks.

The task force - called the Cyber Unified Coordination Group (UCG) - is composed of representatives from the Federal Bureau of Investigation (FBI), the Cybersecurity and Infrastructure Security Agency (CISA), the Office of the Director of National Intelligence (ODNI), and the National Security Agency (NSA).

Ultimately, the UCG remains focused on ensuring that victims are identified and able to remediate their systems and that evidence is preserved and collected. While the UCG will work to further understand the scope of the incident, it already has made some determinations. [Read more: Kovaleski/HomelandPreparednessNews/12January2021]

Algerian Foreign Intelligence Chief Sacked Over Mishandling Libya's Crisis. Algerian media said the country's Chief of General Staff had sacked the Chief of Foreign Intelligence, Mohammed Bouzit, in what observers believed to be a reaction to "Bouzit's failure in tackling regional files, including Libya's."

Asharq Al-Awsat newspaper reported an Algerian Parliament source, who remained unnamed, that the Foreign Intelligence Chief was sacked Thursday when he was received at the General Staff headquarters. Bouzit has been occupying this position for a few months only, while the source said Libya's file was one of the massive failures that led to his dismissal.

The failure lies in the fact that Algeria wasn't included in any of the Libyan dialogue tracks, unlike Tunisia and Morocco which both hosted UN-led dialogues for the Libyan crisis, and thus; this was contrary to President Abdelmajid Tebboune who wanted Algeria to be part of the Libyan political settlement. [Read more: Assad/TheLibyaObserver/9January2021]

Rajasthan Man Honey-Trapped by ISI Agent Arrested for Spying. The CID (special branch) on Sunday arrested the husband of a former sarpanch from Jaisalmer district who was honey-trapped by a Pakistani ISI agent and leaked sensitive information about the Indian army.

The 42-year-old man identified as Satyanarayan Paliwal is a resident of Lathi village which is near the International Border between India and Pakistan, was arrested on charges of spying under the Officials Secrets Act,1923 .

Intelligence agencies had nabbed Paliwal three days back from near the Pokran firing range. He was questioned for two days by the officials and he confessed to spying and having shared information over social media. [Read more: Dev/TheFreePressJournal/10January2021]

Taipai: New Justice System Aims to Better Uncover Espionage. A new system requiring that all closed investigations on national security violations be forwarded to the Taiwan High Prosecutors' Office is to take effect next month.

Hopefully it will give the prosecutorial system more efficient means to identify Chinese espionage and establish countermeasures, Chief High Prosecutor Hsing Tai-chao (邢泰釗) said.

Tai Wen-liang (戴文亮), executive secretary of the Prosecution of Severe National Security and Social Order Offenses Section, would lead efforts to review and analyze all offenses, seeking to link individuals, places, modi operandi and cash flow, Hsing said on Friday.

A lack of interdepartmental communication resulted in each agency focusing only on cases involving itself, but if agencies worked together, it would be easier to judge whether cases are individual incidents, or parts of a greater, more organized case, Hsing said.[Read more: TaipeiTimes/12January2021]


---
Section II - CONTEXT & PRECEDENCE

Capitol Attack's Cybersecurity Fallout: Stolen Laptops, Lost Data and Possible Espionage. When hostile actors penetrated the Capitol Building on January 6, they gained access to individual chambers and offices and remained at large within the Capitol complex for well over two hours.

We have reports that items were stolen. One report comes from acting US Attorney for DC, Michael Sherwin, who stated "items, electronic items were stolen from senators' offices, documents and ... we have to identify what was done to mitigate that." My local Senator, Jeff Merkley (D-Ore.), reported that at least one laptop had been stolen.

Amid stolen laptops, lost data and potential espionage, the cybersecurity consequences of this attack will take months to sort out. Here's a look at the cybersecurity issues. [Read more: Gewirtz/ZDNet/11January2021]

US Space Force Becomes 18th Member of U.S. Intelligence Community. Today, the U.S. Space Force, the newest branch of the military, joins the IC. Its mission: monitor threats to U.S. satellites and other space-based assets.

For decades, the United States Intelligence Community has used satellites to collect intelligence on its enemies' activities on the ground. The Space Force intelligence division function will monitor threats to these satellites and will start off "trying to look at what are the characterizations of things in space that might be hostile," one senior intelligence official said. "... It all blends together very seamlessly and bringing them into the intelligence community ensures that."

On Friday, the Space Force became the 18th member of the IC; it's the first time since 2006 that a new organization has been admitted to a group that includes the Office of the Director of National Intelligence, CIA, Defense Intelligence Agency, National Security Agency, National Geospatial-Intelligence Agency, National Reconnaissance Office, Army, Navy, Marine Corps, and Air Force. [Read more: Tucker/DefenseOne/8January2021]

Securing the Legal Foundation for Australia's Intelligence Agencies. The Richardson review, released last month, amounts to the most significant review of Australia's intelligence legislative framework since the Hope Royal Commission on Intelligence and Security in the 1970s. Back then, as David Irvine has noted, former judge Robert Hope laid out operating principles to ensure the intelligence community was properly managed and accountable. Dennis Richardson, a veteran public servant, former head of ASIO and the departments of Defence and Foreign Affairs, as well as ambassador to Washington 2005-2010, has sought to ensure the intelligence community of the modern era is still subject to the same goals following sweeping changes.

The public release of the $18 million Richardson review was delayed be almost 12 months due to the Covid-19 pandemic. Officially known as the Comprehensive Review of the Legal Framework of the National Intelligence Community, it amounted to the first wide-ranging consideration of the many national security laws passed since the 11 September 2001 terror attacks (allowing that the Independent National Security Legislation Monitor conducts reviews on specific matters). The legislative framework governing intelligence agencies has evolved considerably since the Australian Security Intelligence Organisation Act 1979 and the Intelligence Services Act 2001 were first introduced.

The Richardson review was timely to account for a dramatically changed world, too. [Read more: Hammond-Errey/TheInterpreter/11January2020]

From Double Agents to Kermit the Frog: A New Book/Walking Tour Guide Links Local Sites to Historic Events and Figures. More than a few of us took up walking the neighborhood last year to get some exercise and pass the time under shutdown orders. Mark Fitzpatrick did more than that. He turned up a number of hidden historical treasures on his walks around Tenleytown, AU Park, Forest Hills, Van Ness and North Cleveland Park. He first wrote about them on Facebook, and at his friends' urging, he wrote a book.

Spies, Bombs, and Beyond: A Walking History of Washington DC's Tenleytown is a collection of rich, eclectic histories of 70 sites in the area.

One wonders how many pairs of shoes he has worn out exploring Tenleytown and uncovering local connections to famous figures including Charles Dickens, Henry Kissinger and Kermit the Frog, lesser-known luminaries including a Revolutionary War hero, and some infamous figures, such as the spies of the title. [Read more: ForestHillsConnection/12January2020]

How America's 'First Female Cryptanalyst' Cracked the Code of Nazi Spies in World War II - and Never Lived to See the Credit. In October 1957, American cryptologist and codebreaker Elizebeth S. Friedman and her husband, William F. Friedman, were the subjects of a short article in TIME magazine about their new book debunking a long-held theory that William Shakespeare wasn't the true author of his plays, and that a cipher was hidden within his texts pointing to the "real" author's identity. "The Friedmans' credentials are impressive," commented TIME, adding that William led the team that broke the Japanese "PURPLE" code a few months before Pearl Harbor.

While William was considered during his lifetime to be America's leading cryptologist, and is remembered today as the godfather of the National Security Agency, Elizebeth's achievements have only received greater recognition in recent years, after World War II records detailing her role were declassified. In fact, the Shakespeare project, which Elizebeth had first encountered as a young woman in 1916, now seems like a minor side project compared to her other achievements. Widely known as "America's first female cryptanalyst," in World War I, Elizebeth and William directed an unofficial code-breaking team employed by the national government. During the Prohibition era, she was responsible for breaking codes used by narcotics and alcohol smugglers, incriminating high-profile mob-run rum rings, including that of Al Capone in New Orleans. But her biggest achievement was uncovering a Nazi spy ring operating across South America in 1943—a feat that J. Edgar Hoover took full credit for on behalf of the FBI. Friedman, meanwhile, took her involvement to the grave. [Read more: Haynes/TIME/11January2021]


---
The Return of US Intelligence. Tradition has it that when less-than-beloved CIA station chiefs are transferred from their posts abroad, their long-suffering staff celebrate with a wheels-up party. If tradition still holds, champagne corks were popping at CIA headquarters when Donald Trump lost his presidential re-election bid to Joe Biden. It is no secret that America's intelligence services have been in the crosshairs of one of the most ignorant, paranoid, and antagonistic presidents ever to have held the office. Trump wore his distrust of spies and intelligence analysts on his sleeve, right next to his disregard for US national security.

By contrast, as a former vice president and chair of the Senate Foreign Relations Committee, Biden is by all accounts a knowledgeable and appreciative consumer of intelligence. Simply by picking up the reins, his administration will go a long way toward restoring a sense of normalcy in the intelligence community (and across the rest of the federal government).

Moreover, Biden has selected a seasoned team whose leading members are already well known to one another and to the intelligence community. In their new roles, they will have to address a wide array of issues. As with all transitions, their inboxes are doubtless already overflowing with advice. But the immediate priority, clearly, is to start repairing the enormous damage that the Trump administration has done to people and relationships in every part of the intelligence community. [Read more: Harrington/ProjectSyndicate/7January2021]

Spies, Journalists and the Literature of Witness. Reading Clarissa Ward's On All Fronts: The Education of a Journalist, her memoirs of a remarkable career as a conflict zone reporter, it was almost as if I was reviewing the life and experiences that many of us lived at CIA. I became thoroughly engrossed in the book, as I dedicated several hours each day and night over scotch and in front of a hot fire to dive into Ward's narrative.

Ward's story honors the quest for the truth and she conveys her experiences in a manner in which I identified to such a degree that I was compelled to put the book down and reflect on my own life. She describes war zones that became a blur; the loneliness of international travel; bearing witness to horrible human suffering, and what our fellow man can do to innocents while waging war. The unwashed clothes and smelling like you had not showered for weeks, and intense relationships with locals who you would one day leave behind as you returned to safety. Fighting the bureaucracy of big organizations, whose executives back in the US 'never got it,' especially when pieces that you had written didn't run or when you were bumped for bigger stories. Was I reading about journalists or about grizzled CIA case officer? The answer was clear. It was both.

Ward begins her book with a description of her childhood, and I must admit that I was not enamored with her wealthy upbringing at British boarding schools. Perhaps this is my own prejudice against wealth and power, as I was the son of a middle-class college professor at Rutgers University in New Jersey. Yet Ward admits she was quite lonely in her upbringing, and never glamorizes her childhood. Leaving home at age 10 for boarding school was a seemingly painful experience. Earning a degree from Yale, and the longing to do more after the September 11, 2001 attacks, led to her first job at Fox News. After serving as a producer for several years, her first real breakthrough in journalism was in Iraq, a place I frequented at the early stages of my career as well. [Read more: Polymeropoulos/TheCipherBrief/12January2021}

Active Presence of Chinese Intelligence in Afghanistan. Amid rapidly growing Sino- Pakistan relations and Pakistan's belligerent moves to derail Afghanistan initiatives to warm up to India, the recent busting of a robust Chinese spy syndicate in Kabul raises many questions.

Such questions further threaten the fragile polity in Afghanistan impinging on the security status of this country which is still struggling to come to terms with some semblance of peace. The condemnable presence of undercover Chinese intelligence operatives on the Afghan soil also calls for the Indian agencies to further reinforce its counterintelligence resources to combat a joint enterprise by Pakistan and China to damage Indian and Afghan geopolitical interests.

But before this recommendation, it seems important to examine how things unfolded leading the Chinese intelligence personnel to capitalise on Afghanistan to garner intelligence or execute some covert operations as a collaborator of Pakistan. [Read more: Mukharji/WION/12January2020]



---
Section IV - Research Requests, Jobs, Obituaries
Researcher Looking for Intelligence Officers with Knowledge of Cuban Government and Drug Trade
Hello. I am Alan Cunningham, a current graduate student at Norwich University where I am pursuing a Master's degree in International Relations. At Norwich, I am currently working on my Master's thesis, which focuses on Cuban governmental involvement in the drug trade from the 1960s to the 1980s, exploring how the use of narcotics can be a method of establishing effective diplomatic relationships and making war against an adversary. While I have gained a significant amount of information, I am making this announcement to see if any intelligence officers or analysts has information in regards to Cuban involvement in the drug trade and would be open to being interviewed by myself for my thesis. If you are interested in being interviewed or desire more information about my research before proceeding, please email me at alan.c.cunningham@gmail.com and I can go into more detail about my project.
Did you work in CIA's Alec Station or bin Laden Issue Station?
Author of four-volume history of anti-American terrorism at home and abroad from Eisenhower through Trump administrations would like to connect with anyone who worked in the CIA's Alec Station or Bin Laden Issue Station for assistance in writing an accurate profile of the unit for volume III (Clinton and Bush administrations). Please contact Dennis Pluchinsky at dpluchinsky@rocketmail.com.
The Vienna Tunnel - "Operation Silver" - Researcher Seeks More Info
After retiring from the CIA I ended up living in Vienna, Austria and got interested in the "Vienna Tunnel." It was a SIS/MI6 operation from 1949-52 or so which tapped Soviet phone lines between Soviet HQs and Moscow. It was the inspiration for the Berlin Tunnel in that same era. Very little information has been made public about the Vienna Tunnel and much of the information doesn't seem to make sense. If you have any ideas for how to find this tunnel or knowledge about this operation I would love to hear from you at hholmer1@gmail.com. Than you in advance, -Hans
Did you know: Eloise Page, Elizabeth Sudmeier, Adelaide Hawkins, or Mary Hutchison at CIA? Or have insights on Women in Intelligence? Please assist this author.
Nathalia Holt, Ph.D., author of Rise of the Rocket Girls: The Women who Propelled Us from Missiles to the Moon to Mars, is writing a book about the history of women at the CIA during the Cold War. She is eager to interview retired and active intelligence professionals, both men and women, to gather insight into the role of women at the CIA. She is particularly interested in those who knew Eloise Page, Adelaide Hawkins, Mary Hutchison, and Elizabeth Sudmeier. The CIA public affairs office is cooperating. The book will be published by Penguin Random House. The aim is to highlight the untold successes of the CIA during the early Cold War period and the role of women officers. If you would be willing to chat and share your insights, please contact Nathalia at nathaliaholt@gmail.com or 805-616-1690 (phone, text or Signal app). Holt's book Rise of the Rocket Girls was a New York Times best-seller and received glowing reviews. USA Today called her book, "Illuminating… these women are vividly depicted at work, at play, in and out of love, raising children — and making history. What a team — and what a story!" Her work has appeared in numerous publications including The New York Times, The Los Angeles Times, The Atlantic, Slate, Popular Science, and Time. She is a former fellow at the Ragon Institute of MGH, MIT and Harvard University.
Replies to Nathalia Holt PhD at nat@nathaliaholt.com. More info on this author at https://www.nathaliaholt.com/ or @nathaliaholt
THREE Faculty Openings for 2021 at Hilbert College, Hamburg, NY
Assistant Professor, Criminal Justice; Assistant Professor, Forensic Science/Crime Scene Investigation; and Assistant Professor, Intelligence & Data Analysis.
Interested candidates can view our job postings here.
Full Time Assistant Professor for Intelligence Studies Program at Catholic University, Washington, DC
AFIO Members with Academic Credentials! Potential Full Time Teaching Opportunity in 2022 in Catholic University's Intelligence Program
University located at 620 Michigan Ave NE, Washington, DC
Former CIA officer and staff historian Nicholas Dujmovic retired in 2016 to become the founding director of the Intelligence Studies Program at the Catholic University of America (CUA) in Washington, D.C. The program is successful and growing. The undergraduate Certificate in Intelligence Studies currently has 76 students enrolled--the largest such program on campus. The program continues to expand the number of intelligence courses offered, as well as their variety.
Dr. Dujmovic is optimistic that a full time position at the assistant professor level will open in the summer of 2022.
He is reaching out early to the AFIO community to identify potential candidates with the following attributes:
Significant service (at least 15 years) as a professional intelligence officer involved in analysis, operations, technical collection, or possibly support. A recent retiree closing a successful career would be ideal.
A Ph.D. from an accredited university in political science, history, area studies, a comparable field or a relevant STEM field.
Teaching experience at the university level, either undergraduate or graduate.
Evidence of past scholarship and a willingness to engage in further research and publication, consistent with CUA's commitment to excellence as a "research university."
An enthusiasm for teaching and advising mostly undergraduate students.
AFIO members wishing to learn more are encouraged to contact Dr. Dujmovic at dujmovic@cua.edu.
Assistant Professor of Criminal Justice - UTEP - University of Texas at El Paso
The University of Texas at El Paso's College of Liberal Arts, Department of Criminal Justice, is seeking a full-time tenure-track "Assistant Professor of Criminal Justice."
Position Description: The position begins Fall 2021 at the Assistant Professor level. Responsibilities include conducting and publishing scholarly research, seeking extramural funding, teaching face-to-face and online courses, and service to the department, university, and profession.
About UTEP: The University of Texas at El Paso is a Carnegie R1 and Community Engaged research university in the heart of the U.S.-Mexico border region, in a bicultural metroplex of over 800,000 people. UTEP faculty are nationally recognized for their commitment to student success, teaching, and research. UTEP enrolls more than 25,000 students, of whom nearly 80 percent are Latino/Latina. UTEP provides equal access and social mobility for over 50% of its student body of first generation students. UTEP comprises 10 academic colleges/schools. The Department of CJ offers an online B.A. in Security Studies, a Master of Science in Intelligence and National Security and a Master of Defense and Strategic Studies. The department also offers a B.A. in Criminal Justice, an equivalent 100% online B.A., and an M.S. in Criminology and Criminal Justice.
Required Qualifications: Applicants must have a Ph.D. in Criminal Justice, Criminology or closely related field in Intelligence and/or Security Studies from an accredited university. ABD applicants will be considered if doctorate will be completed by Fall 2021. Active research agenda and published scholarly journal articles are required to apply. Applicants with only a J.D., Psy.D., or Ed.D. will not be considered.
Preferred Areas: All research/teaching areas of criminal justice and criminology will be considered, but preference will be given to candidates who have demonstrated teaching and/or research areas in at least one of these areas: security studies, open source intelligence, or quantitative methods/statistics.
Application Instructions and Contact Information: To apply, visit https://www.utep.edu/employment Applicants must electronically submit: (1) letter of interest that includes teaching areas and research expertise, (2) curriculum vita, (3) one scholarly publication or dissertation manuscript, and (4) names and full contact information of three references that we may contact. If you have questions about the position, please contact the Search Committee Chair, Dr. Egbert Zavala, at EgbertZ@utep.edu.
Application Review Date: Review of applications will begin October 5th, 2020 and will continue until the position is filled.
Hiring decisions are based on budget approval. To explore UTEP, do so here. To apply for the position, contact Dr. Zavala at EgbertZ@utep.edu.
JTSUSA Has numerous career and part-time assignments available for cleared former military personnel. See listing here. Or contact Arnie.Gerstein@jtsusa.com or visit www.jtsusa.com
Adjunct instructors at the University of Texas at El Paso (US)
The National Security Studies Institute at the University of Texas at El Paso (UTEP) (see their website here) is seeking adjunct instructors to teach online graduate-level courses:
Legal Issues in Intelligence and National Security
Propaganda and Influence Operations
Intelligence and Counterterrorism
Political Economy of Terrorism
Risk Analysis
Emergency Management
Public Health and Homeland Security
A PhD in public policy, security studies, political science, or a related field is required.
Interested and eligible applicants should contact Stephen Coulthart (sjcoulthart@utep.edu).
---
Angelo Addona, CIA Operations Officer
Angelo Francis Addona, 94, CIA Operations Officer, died 17 October 2020 in Scottsdale, AZ.
Addona was a graduate of St. Johns University in NYC and of Brooklyn Law School. Subsequent to practicing law in Waterbury, CT, his birthplace, he accepted positions in Washington, DC with the Senate Banking and Currency Committee and the Securities and Exchange Commission.
He served in the Army Air Corps (375th Bombardment Squadron). He then joined the CIA in the early 1950s. His background in law and with the commissions was useful in his subsequent government work of the next decades. During his thirty years with the Agency Mr. Addona was posted to various overseas locations.
Upon his retirement he relocated to Cape Cod, MA where he and his wife restored a 1767 colonial farmhouse. When winters became uncomfortable, they alternated with Scottsdale, AZ. While in Arizona, from 1999 until shortly before his death, Addona returned to his first vocation, the law, and volunteered at Friendly House in Phoenix providing immigration counseling. He also was active with The Musical Instrument Museum, a short drive from his residence, where he served as a guide. He served in that capacity into his 90s.
He is survived by his two daughters. His wife of 67 years, Micheline Couturier Addona, died in 2013.
Bob Arndt, NSA Officer
Robert Clarke Arndt, 85, NSA Officer, died 25 December 2020 in Elizabethtown, PA.
He earned a B.S. degree from Newark College of Engineering and pursued a Master's degree from the University of Maryland. He was employed by the National Security Agency in various technical and management positions including engineering, research, information technology, and installations and logistics. In 1985, he was conferred the rank of Meritorious Executive in the Senior Cryptologic Executive Service by President Ronald Reagan for sustained superior accomplishment in management of programs of the US Government and for noteworthy achievement of quality and efficiency in the public service. He was awarded the Exceptional Civilian Service Award and medal in 1987 and retired from in 1995 following assignment as Special US Liaison Officer-Canada.
Bob was a Phoenix Society member and served on the Phoenix Society Board of Directors.
In addition to an accomplished career, he led an active life of recreation. He was an avid racquetball and squash player, snow skier, bicyclist, and world traveler. At age 65, he climbed Mount Fuji, the highest mountain in Japan. He was also a skilled carpenter, auto mechanic and electrician.
Bob was a man of faith and service, dedicated to his family, and beloved by close friends and co-workers. He served his country in the United States Army and the local community as church councilman, election judge and Boy Scout leader.
In addition to his wife of 61 years, Renate H. Arndt, he is survived by two sons, and other family.
Peter Comras, Criminal Investigator, Forensic Science Specialist
Peter Leonard Comras PhD, 84, Criminal Investigator, Forensic Science Specialist, died 4 January 2021 at the Delray Beach, FL.
Born in Massachusetts, Peter was the son of Harry and Eva Comras.
Peter enlisted in the US Army in 1954 at the age of 17. He later became a Special Agent in the Army Criminal Investigation Division. After retiring from the Army as a Chief Warrant Officer 3, Peter continued to serve this country as a Special Agent with the U.S. Commerce Department for several more years before opening his own private investigation firm. During his military career, Peter was awarded multiple medals including the Bronze Star and Legion of Merit. His greatest accomplishment was keeping all his men in Vietnam alive. Peter held a Baccalaureate degree in law enforcement and security, a Master's degree in police science and administration, and a PhD in forensic science.
Peter enjoyed a wide array of membership in professional associations, including AFIO. After his retirement, Peter served as a volunteer with the Delray Beach Police Department and also served in several veterans and police organizations.
He is survived by his wife, Myrna Rowe Comras, two sons, and other family.
Monty Montague, CIA Officer
Henry Colton Montague, 93, CIA Officer, died 25 December 2020 from Covid-19 and a subsequent stroke.
Monty was born in Bellefonte, PA. His family moved to the Washington DC area in 1935. After attending Woodbury Forest School in Virginia and Western High School he entered the US Army and was assigned to the 81st Armored Division, which deployed to South Korea in 1946-48. On return he attended Sampson College in NY. He moved back to Washington, DC where he finished a masters degree in psychology at American University.
In 1952 Monty began a 33-year federal career with the Central Intelligence Agency's Office of Personnel, retiring in 1985. During his career he earned numerous awards, including the Career Intelligence Medal.
In 1955, with his wife Dot, he bought their first home in Vienna, VA, where they lived for 60 years. Monty and Dot were active with the Wesley and Epiphany United Methodist Churches. He served as a scout leader for a Boy Scout Troop. A lifetime member of the Freemasons, he eventually served as Lodge Master for Concord Lodge 307 in Vienna. Monty was involved in planning Vienna portions of the popular W&OD Trail. A resident of Tyson's Green, he fought to protect surrounding forest buffers and was an early planner for the local Cardinal Hill Swim and Racquet Club.
He loved to visit the family's retreat near Sperryville, VA. and enjoyed hiking and backpacking with family and friends. During retirement he and Dot visited New Zealand, Australia, the British Isles, Alaska, many European countries, and National Parks throughout the continental U.S. An avid Scuba Diver for over 20 years, he explored Atlantic shipwrecks and coral reefs in Florida and the Caribbean Islands.
He is survived by his wife, Dorothy B. Montague; two sons and two daughters, and other family.
Dolores Murray, CIA Operations Officer
Dolores Holleran Murray, 89, CIA Operations Officer, died 3 January 2021 in Arlington, VA due to complications of Parkinson's disease.
She was born in Manchester, NH, and attended Catholic schools. Upon graduating from high school, Dolores left home after winning a Chase scholarship and graduated from the University of New Hampshire in 1952 with a B.A in Political Science. She worked summers at restaurants in Ogunquit and Kittery, Maine throughout college. Subsequently, she moved to Washington, DC to pursue a PhD in International Relations at Georgetown University at night. There she worked at various jobs, including as a second and third-grade teacher in Anacostia in the mid-1950s, and a switchboard operator, before becoming an Analyst then an Operations Officer for the Agency. While she had completed a draft doctoral dissertation on the revolution in the Congo, she was not able to complete her degree due to CIA policy prohibiting publication of her dissertation. Still, during her assignment, Dolores served for over a year in the capacity of Acting Chief of Station in Brazzaville until a new Chief was appointed, one of the first women to act in such a role.
It was during this time Dolores met her future husband, John C. Murray, also an intelligence officer, while they were in cryptology training at the Vint Hill facility near Warrenton, VA. They traveled to Istanbul and made the trip to Rome where a friend of Jack's had arranged for them to be married at a chapel in the Vatican. They traveled in Europe, honeymooning in Innsbruck, Austria. After returning to Washington from overseas, and pursuant to CIA policy at the time, Dolores resigned from the Agency. The family joke was the Government got two experienced officers for the price of one.
After the two were married in 1959, she left the Agency and accompanied her husband and young family during his assignments to the Sudan and Zambia. The family returned to the US and settled in Arlington, VA in 1966.
The family was posted to Khartoum, Sudan 1961-1962. The next assignment was Lusaka in newly independent Zambia, from 1964-1965. The family settled in Arlington, VA where they resided for over 30 years. Jack was never posted overseas again, though he was on TDY in Kingston, Jamaica during 1973.
Dolores was an involved and inspirational Mom, homemaker and a confidante to Jack as they could talk shop in the evenings. Tooling around the Washington area in her right-hand drive baby blue VW station wagon with a white roof, shipped home from Zambia, Dolores often garnered attention from passerbys.
After caring for and losing her husband to cancer in 1979, she worked a variety of public interest jobs including as a professional editor at the College and University Press in Falls Church, as a technical editor for Defense contractor proposals and evening work doing direct marketing for Public Interest Communications. In the eighties and nineties, she also worked temporary appointments at the Library of Congress for the Congressional Research Service, the Law Library of Congress and as a Census Enumerator for the 2000 Census.
She served on the Board of Rachel's Women's Center and with House of Ruth, both serving formerly homeless women and families in Washington, as well as serving as Vice President of the UNH Alumni Association, Washington, DC office, the second largest in the nation. She loved music and art.
Survivors include a daughter, two sons, and other family.
Francis Ryan, CIA Officer
Francis E. Ryan, 92, a CIA Officer, died 4 January 2021 in Vienna, VA.
He was born in Scranton, PA. Francis graduated from the University of Scranton in 1951 and began his career with the CIA. Upon his retirement he was awarded the Career Intelligence Medal and transitioned to service with the US Department of State.
In the private sector he was Vice President of USATREX Intl. Inc., and then President of Rytec, Inc., retiring in his 80s.
He is survived by his wife Christine, a son, a daughter, and other family.
---
AFIO EDUCATIONAL EVENTS IN COMING TWO MONTHS....
Monday, 18 January 2021, 1 PM EST - Virtual - AFIO Atlanta hosts Chapter member Harvey Klehr on "In Search of Godsend, the Fourth Soviet Spy at Los Alamos."
Harvey Klehr PhD is the Andrew W. Mellon Professor of Politics and History, Emeritus, at Emory University. He has written many books on espionage in the United States and the American Communist Party's history, among them Venona: Decoding Soviet Espionage in America (1999) and Spies: The Rise of the KGB in America (2009). He will discuss his work unmasking the fourth Soviet spy at the Manhattan Project, recently published in Studies in Intelligence. All members and friends of AFIO are invited.
For details, contact Atlanta Chapter President Brian Hooper at brian@afioatlanta.com or 404.403.8004.
Thursday, 21 January 2021, noon - 1 PST - Virtual via GoToMeeting - L.A. Chapter hosts Dr Ray Batvinis, Historian, Author, and former FBI speaks on "Agent Zhora: The Most Devastating Spy in American History"
Our guest speaker will be Ray Batvinis, a former FBI Special Agent. He will discuss: Agent Zhora: The Most Devastating Spy in American History
William Wolfe Weisband [Agent Zhora], an American who is considered by many scholars as the most damaging spy in the nation's history. He was a KGB source working as a Russian linguist for the Army Security Agency and the Armed Forces Security Agency - both were predecessors of the NSA. He was at the heart of American codebreaking against the Russians at the dawn of the Cold War and did incalculable damage to American security in the run up to the Korean War.
Raymond J. Batvinis PhD is a historian and educator specializing in the discipline of counterintelligence as a function of statecraft. For twenty-five years (1972-1997) Dr. Batvinis was a Special Agent of the FBI concentrating on counterintelligence and counterterrorism matters. His assignments included the Washington Field Office and the Intelligence Division's Training Unit at FBI headquarters. Later he served in the Baltimore Division as a Supervisory Special Agent where he supervised the espionage investigations of Ronald Pelton, John and Michael Walker, Thomas Dolce and Daniel Walter Richardson.
Following 9/11, Dr. Batvinis returned to the FBI for three years managing a team of former FBI agents and CIA officers who taught the Basic Counterintelligence Course at the FBI Academy. In addition to authoring scholarly articles, he has contributed to the Oxford History of Intelligence, an anthology of essays, published in 2009 by Oxford University Press. He has produced two books on the history of the FBI's counterintelligence program. The Origins of FBI Counterintelligence, (University Press of Kansas [UPK], 2007), and Hoover's Secret War Against Axis Spies, (UPK, 2014). He is currently writing a biography of William Weisband, an early Cold War American spy, while completing the third of a three volume history of the FBI's activities during World War II.

To participate or if you have other questions about this or other Los Angeles Chapter or meetings, email Vincent Autiero, President, at afio_la@yahoo.com To participate in the above event, email him and he will send you the link for the virtual GoToMeeting event.
Thursday, 28 January 2021, 6 PM EST - Virtual & In-Person - AFIO Atlanta hosts its monthly Thursday Cigar & Strategy Group social.
For details, contact Atlanta Chapter President Brian Hooper at brian@afioatlanta.com or 404.403.8004.
---
Other Upcoming Events from Advertisers, Corporate Sponsors, and Others
Thursday, 14 January 2021, noon EST - Virtual - Virtual Spy Chat with Chris Costa and Special Guest John O. Brennan - hosted virtually by the International Spy Museum
Join us for an online discussion of the latest intelligence, national security, and terrorism issues in the news. Spy Museum Executive Director Chris Costa, a former intelligence officer of 34 years, will lead the briefing. He will be joined by John O. Brennan, who served as President Obama's Homeland Security and Counterterrorism Advisor from 2009 to 2012 and as Director of the CIA from 2013 to 2017. Following their discussion of key issues, you'll be able to ask questions via our online platform. Sponsored by Accenture.
Event is free – Registration required. Visit www.spymuseum.org.
Friday, 15 January 2021, 11 a.m. - 12:30 p.m. - Ocala, FL - "Robert Wallace...America's 'Q' to discuss spy gadgets at upcoming Master the Possibilities event"
Yes...a physical event. A good sign for starting the new year.
The not-for-profit lifelong learning center Master the Possibilities is hosting AFIO Member Bob Wallace, former director of CIA's Office of Technical Service. Wallace's presentation, titled "Q" Lives: Spy Gadgets for Every Season," will be held PHYSICALLY in the Circle Square Cultural Center, 8395 S.W. 80th St. in Ocala, FL.
The course fee for the presentation is $5 for members and $10 for non-members. The event is open to the public. Registration is required, as space is limited.
Wallace, who served 33 years with the CIA as case officer and Director of Clandestine Technical Programs, will talk about how the development of spy technology has transformed espionage operations from Revolutionary War covert communications to present day disinformation operations.
Wallace earned his BA in History from Ottawa (Kansas) University in 1966 and an MA in Political Science from the University of Kansas in 1968. He served in U.S. Army during 1968-1970, leading long-range reconnaissance patrol teams of Company E, 75th Rangers in Vietnam.
Wallace joined CIA as an operations officer in 1971. His career at the CIA included five field tours and Chief of Station assignments. Headquarters tours were with the Comptroller's Office, Director of the Office of Technical Service and Acting Director of the Foreign Broadcast Information Service.
After retiring from the Agency in 2003, Wallace founded Artemus Consulting Group and was a part-time oral historian for CIA's Center for the Study of Intelligence.
Wallace has co-authored many books.
Books will be available for purchase and there will be a book signing immediately following the presentation.
To Register online, do so here. Or call (352) 861-9751 M-F, 9 a.m. to 4 p.m.
Attendees will be required to bring and wear a personal mask or face shield and to complete and sign a Coronavirus screening form prior to entry into the event.
Sunday, January 17, 2021, 2-3:30 pm EST - Zoom Virtual - The Cold War Museum hosts David Hatch, NSA's Chief Historian, discussing "What Was Likely the Most Important and Most Secret Counterintelligence Project of the Early Cold War? And What Did It Allow Us to Do?" Access to view a recorded version of this presentation, to view on your own schedule, is also available to all event registrants.
The Cold War Museum invites you to attend (virtually) a presentation by David Hatch, the Historian of the NSA on "VENONA: How an Astonishing and Closely-Held Work of Decryption Led Us to the Atomic Spies, the Cambridge Five, and Much More."
VENONA was probably the best counterintelligence tool the United States had in the early Cold War. The ability to decrypt an exceedingly difficult cryptosystem used by the Soviet intelligence services gave the United States unprecedented insights into Soviet espionage tradecraft as well as Soviet espionage targets, and significant clues to the identities of Americans cooperating in passing secrets to the USSR. Dr. Hatch will give an overview of the program, discuss some specific cases and talk about VENONA's impact on the early Cold War.

Dr. David Hatch has his MA from Indiana University, Bloomington, and his Ph.D. from American University in the District of Columbia. He has worked at the National Security Agency as analyst, supervisor, and staff officer. Since 1993, he has been the NSA Historian. Dr. Hatch is the author of many classified and unclassified articles about NSA's history and the history of cryptology, and has been a talking head on many television documentaries.
To participate live or to view recording of event, buy ticket via Eventbrite, then access event video as your leisure. A special link to that video will be provided to those who need it from CWM Executire Director Jason Hall. Registrants should email Jason@coldwar.org.
Cost: $20, 100% of which is a contribution to the Cold War Museum.
Location: ONLINE ONLY. Eventbrite ticket buyers will receive a link to the virtual room on the Zoom platform where this event will take place. We are recording the whole event, including the Q&A, for the Museum's archives.
For more information and ticketing, use this link.
This is the 39th in a series of presentations sponsored by the Museum featuring eyewitnesses to, and other experts on, significant Cold War events and activities.
Thursday, 21 January 2021, noon EST - Virtual - Frank Figliuzzi, The FBI's Keeper of the Code – hosted virtually by the International Spy Museum
As the FBI's former head of counterintelligence, Frank Figliuzzi had a unique opportunity to study patterns of conduct among high-achieving individuals, as well as the errors made by unethical persons. He came to understand that maintaining a "code of excellence" was the key to success in any field. Appointed the FBI's Chief Inspector by then Director Robert Mueller, as "Keeper of the Code," Figliuzzi was charged with overseeing sensitive internal inquiries, target shooting reviews, and performance audits. He ensured each employee met the Bureau's exacting standards. Now, drawing on his distinguished career serving as a special agent for twenty-five years with leadership positions in major American cities, Figliuzzi takes us on a personal journey with The FBI Way: Inside the Bureau's Code of Excellence. Join International Spy Museum Historian and Curator Andrew Hammond for a discussion with Figliuzzi about his memoir, the lessons he's learned, and the FBI execs who he believes erred! Following their discussion, you'll be able to ask questions via our online platform.
Event is free – Registration required. Visit www.spymuseum.org.
Monday, 25 January 2021, noon EST - Virtual - Dead Doubles with Trevor Barnes - hosted virtually by the International Spy Museum
In 1960, alerted by the CIA, MI5 discovered two British spies stealing secrets from the highly sensitive submarine research center in Portland in southwest England. In the wake of the spies' sensational trial, the FBI would uncover the true identity of the enigmatic Lonsdale—Konon Molody, a Russian who had lived in California before being recruited by the KGB. While in jail Molody and the Cohens opened secret talks with MI5 to betray Russia, but before they had the chance, the KGB blackmailed Britain into spy swaps to fly them back to Moscow. Join International Spy Museum Historian and Curator Andrew Hammond in conversation with journalist and intelligence historian Trevor Barnes as we mark the 60th anniversary of the arrest of the Portland Spy Ring. Barnes is the author of Dead Doubles: The Extraordinary Worldwide Hunt for One of the Cold War's Most Notorious Spy Rings. He and Hammond will explore how he drew on never-before-seen MI5 and FBI files, private family archives, and sources in Russia to illuminate one of the most infamous spy cases from the Cold War. Following their discussion, you'll be able to ask questions via our online platform. Event is free – Registration required. Visit www.spymuseum.org.
Wednesday, 27 January 2021, noon EST - Virtual - Adolf Tolkachev, the Billion Dollar Spy - hosted virtually by the International Spy Museum co-sponored with the Council on Intelligence Issues
What is a good spy worth? In the case of this one, an estimate by the US Air Force specialist who used the intelligence gained from this one source to terminate or direct research, "somewhere in the neighborhood of $2 billion…" That was before the source, Adolf Tolkachev, delivered another 179 rolls of film with thousands of pages of Soviet documents. Burton Gerber, a legendary CIA officer and senior leader and Moscow Chief during much of the operation, will join Washington Post journalist and Pulitzer Prize winning author David E. Hoffman for a discussion of the Tolkachev case. William D. "Bill" Murray, a retired senior operations officer of the CIA and co-founder of the Council on Intelligence Issues, will be moderating this program. Please join us for this unique presentation which will bring you deeply into one of the most successful and important US espionage operations of the late 20th century, and then you'll be able to ask questions via our online platform. Co-sponsored by the Council on Intelligence Issues.
Event is free – Registration required. Visit www.spymuseum.org
28 January 2021, 6 pm EST - Virtual - OSS Society "Oh So Social" Conversation with Sec James Mattis and Hon. Mike Vickers

OSS Society kicks off their "Oh So Social" Monthly Conversation Series for 2021 with a presentation by Secretary James Mattis and the Honorable Michael Vickers. Event includes a special cocktail presentation by noted author/cocktail historian Philip Greene.
There is no charge to attend. To register, use this link.
---
In addition to the new Royal Blue long sleeve shirts, and the gray long sleeve hooded sweatshirts, the AFIO Store also has the following items ready for quick shipment:
NEW: LONG and Short-Sleeved Shirts with embroidered AFIO Logo and New Mugs with color-glazed permanent logo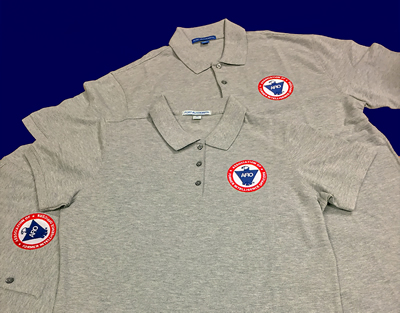 Show your support for AFIO with our new Polo Shirts. Be the first to buy these new, high quality, subtle heathered grey short sleeve shirts, and dark blue long sleeved shirts, of shrink and wrinkle resistant fine cotton with a soft yet substantial feel. They feature a detailed embroidered AFIO seal. Get a shirt for yourself and consider as gifts for colleagues, family, and friends. Only $45 each including shipping.
Sizes of (M) men or (W) women shirts; Small, Medium, Large, XL, XXL, and XXXL. At this time all orders will arrive as Short Sleeve shirts.
You may pay by check or credit card. Complete your order online here or mail an order along with payment to: AFIO, 7600 Leesburg Pike, Ste 470 East, Falls Church, VA 22043-2004. Phone orders at 703-790-0320. If interested in other shirt colors or sleeve lengths, contact Annette at: annettej@afio.com.
Available as a thank you for donations are the new AFIO logo face masks:
These soft, form-fitting, washable, non-medical grade fabric face masks have wide behind-the-ear elastics to make long periods of wear comfortable. Also easier to quickly put on or take off. Blue on outside, white inside. The masks do not have a nose wire but are sculpted, shaped, and sewn to fit most users. The all-cloth composition allows the masks to be washed or steam-disinfected without concerns over metal wires. The color logo is washable and a permanent part of the mask.
The masks, however, are not for sale. They are being offered strictly as a thank you gift to our donors.
For tax-deductible donations of $50 you will receive a receipt and our thank you gift of two of these newly-arrived face masks.
Donations of $100 receive four masks to be sent to the same address. Other amounts and split-shipments are available.
To donate now to support AFIO's programs and publications, please do so here.
We wish all members and donors continued good health, safe social distancing, and warmly appreciate any support you are able to provide the association.
---
AFIO Mug with color glazed logo. Made in America. Sturdy enough to sit on desk to hold pens, cards, paperclips, and candy.
This handsome large, heavy USA-made ceramic mug is dishwasher-safe with a glazed seal. $35 per mug includes shipping. Order this and other store items online here.
---
Guide to the Study of Intelligence and When Intelligence Made a Difference
"AFIO's Guide to the Study of Intelligence" has sold out in hard-copy.
However, it is available in digital form in its entirety on the AFIO website here.

Also available on the website here are the individual articles of AFIO's history project "When Intelligence Made a Difference" that have been published to date in The Intelligencer journal. More articles will be forthcoming in future editions.
---
Disclaimers and Removal Instructions
Weekly Intelligence Notes (WINs) are commentaries on Intelligence and related national security matters, based on open media sources, selected, interpreted, edited and produced for non-profit educational uses by members and WIN subscribers.
REMOVAL INSTRUCTIONS: We do not wish to add clutter to inboxes. To discontinue receiving the WINs:
a) IF YOU ARE A MEMBER - click here: UNSUBSCRIBE and supply your full name and email address where you receive the WINs. Click SEND, you will be removed from list. If this link doesn't open a blank email, create one on your own and send to afio@afio.com with the words: REMOVE FROM WINs as the subject, and provide your full name and email address where you are currently receiving them.
b) IF YOU ARE NOT A MEMBER, and you received this message, someone forwarded this newsletter to you [contrary to AFIO policies]. Forward to afio@afio.com the entire WIN or message you received and we will remove the sender from our membership and distribution lists. The problem will be solved for both of us.
CONTENTS of this WIN [HTML version recipients - Click title to jump to story or section, Click Article Title to return to Contents. This feature does not work for Plaintext Edition or for some AOL recipients]. If you wish to change to HTML format, let us know at afio@afio.com. The HTML feature also does not work for those who access their e-mail using web mail...however NON-HTML recipients may view the latest edition each week in HTML at this link: https://www.afio.com/pages/currentwin.htm
---
WINs are protected by copyright laws and intellectual property laws, and may not be reproduced or re-sent without specific permission from the Producer. Opinions expressed in the WINs are solely those of the editor's or author's listed with each article. AFIO Members Support the AFIO Mission - sponsor new members! CHECK THE AFIO WEBSITE at www.afio.com for back issues of the WINs, information about AFIO, conference agenda and registrations materials, and membership applications and much more!
(c) 1998 thru 2021. AFIO, 7600 Leesburg Pike, Suite 470 East, Falls Church, VA 22043-2004. Voice: (703) 790-0320; Fax: (703) 991-1278; Email: afio@afio.com
---
About AFIO | Membership Renewal | Change of Address | Upcoming Events | Chapter Locations | Corporate/Institutional Memberships | Careers in Intelligence Booklet | Guide to the Study of Intelligence | Intelligencer Journal | Weekly Intelligence Notes | To Make A Donation | AFIO Store | Member-Only Section | Code of Ethics | Home Page
---